! >
Broadway To Vegas
  
  REVIEWS INTERVIEWS COMMENTARY NEWS

| | |
| --- | --- |
| | |
AN AMERICAN IN PAIRS REVIEW - - THE VISIT REVIEW - - SOMETHING ROTTEN REVIEW - - TIGER JAM - - 2015 GREENS IN THE DAY, BLUES IN THE NIGHT - - SIR ARTHUR CONAN DOYLE IN BELFAST - - McQUEEN STAGE DEBUT - - FRIDA KAHLO'S GARDEN - - DONATE . . . Scroll Down
















Copyright: May 10, 2015
By: Laura Deni
CLICK HERE FOR COMMENT SECTION


ENJOY THREE DISTINCTIVELY DIFFERENT BROADWAY MUSICALS


AN AMERICAN IN PARIS

Robert Fairchild as Jerry Mulligan and the cast of An American in Paris. Photo by Angela Sterling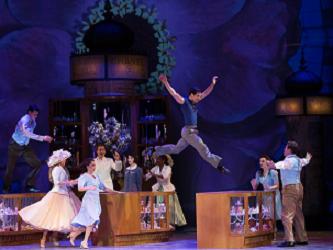 as delectable as a French parfait.

Usually comparing a Broadway show to the film upon which it is based has the stage version coming in a poor second, given all of the effects and broader scope celluloid offers. Not in this case. The Broadway version of An American In Paris, currently at the Palace Theatre, holds it own both in the production quality and with the cast.

As with the movie, George and Ira Gershwin's songs are the above the title attraction. However, this cast is equal to the 1951 movie version which starred Gene Kelly and Leslie Caron and also featured the neurotic and acerbic Oscar Levant as Adam Cook, a role titled Adam Hochberg in the Broadway version, played by the droll Brandon Uranowitz.

Georges Guétary, in his only American film appearance, was in the flick as Henri Baurel and Nina Foch was cast as Milo Roberts. In this stage version that name has been lengthened to Milo Davenport - a wealthy beauty who is not opposed to buying a man, coolly played by the elegant Jill Paice. The talented Max von Essen is Baurel, heir to a textile fortune, who longs to be a cabaret singer. Veanne Cox is Madame Baurel - Henri's mother. She knows how to get a laugh while pulling on your heartstrings.

An enthralling, beautiful production, which captivates and entertains. When you are assuming roles created by Gene Kelly and Leslie Caron, those are difficult ballet/tap shoes to fill.

He's handsome enough to drool over, and he can sing and dance, too. That's the male lead Robert Fairchild - a New York City Ballet principal dancer - as Jerry Mulligan, an American soldier who remains in Paris after WWII, in an attempt to become a painter. In the Leslie Caron role is the petite Leanne Cope of London's Royal Ballet - who is making her musical theater debut. She more than equals the dancing skills of Caron, as the French girl Jerry Mulligan falls in love with.

Perfectionist Gene Kelly is no doubt smiling from his cloud on high.

When the world ballet is a major component of the production, one might assume that is a turn-off to those who prefer to sit home and watch television. In this case, even the most ardent beer and pretzel aficionado will be mesmerized by this thrilling production.

When the dance isn't ballet, it's jazz and tap - a triangle of seamless movement.

Memorable George and Ira Gershwin songs include I Got Rhythm, I'll Build a Staircase to Paradise, S Wonderful, The Man I Love, Fidgety Feet, They Can't Take That Away From Me, I've Got Beginner's Luck, and the pensive Concerto in F, are just some of the numbers played to perfection by a full orchestra; or laying a contemplative mood through the piano keys.

There is incredible dancing, from high kick exuberance to darkly introspective, all beautifully choreography by Christopher Wheeldon, who is making his Broadway debut and also directs this memorable production. Audience are caught up in the spellbinding dancing not often seen on The Great White Way - all brought to life on stage by a cast delivering gossamer performances.

Many segments almost stop the show, including the more in depth and darker 14-minute plus ballet scene which beautifully floats by. There is the delightful "fantasy" performance of Max von Esssen as Henri Baurel in I'll Build a Stairway to Paradise complete with Radio City glam showgirls with legs up to their armpits and rhinestones and feathers covering x-rated parts. Max von Essen's tenor is splendid.

The cast also includes Caitlin Abraham, Will Burton, Attila Joey Csiki, Michael Cusumano, Taeler Cyrus, Ashlee Dupré, Rebecca Eichenberger, Sara Esty, Laura Feig, Jennie Ford, Kurt Froman, Heather Lang, Dustin Layton, Nathan Madden, Gia Mongell, Candy Olsen, Rebecca Riker, Adam Rogers, Sam Rogers, Shannon Rugani, Garen Scribner, Sam Strasfeld, Sarrah Strimel, Charlie Sutton, Allison Walsh, Scott Willis and Victor J. Wisehart.



Robert Fairchild as Jerry Mulligan & Leanne Cope as Lise Dassin in An American in Paris. Photo by Angela Sterling
An American In Paris is the romantic story of a young American soldier who attempts to start a new life as a painter, a beautiful French girl and an indomitable European city, each yearning for a new beginning in the aftermath of war.

An old fashioned romantic musical, with the addition of a few in depth color characterization to the film's flimsy storyline by book writer Craig Lucas, who manages not to weight it down too much through fleshed out re-imagination.

Dancers Robert Fairchild and Leanne Cope also are skilled at singing and delivering dialogue. They grab the audience and transport them into their world. Cope, as the young Paris lass who has basically never known anything except war, is both pragmatic and wistful. She's agreed to marry a man she doesn't love because he was kind to her during the war. Fairchild, as a soldier looking to the future, is energetic and hopeful. Together, you can feel the kinetic sparks of romance.

This Broadway musical is as witty, romantic and bombastic as the Paris locale.

The creative team is comprised of six-time Tony Award-winners Bob Crowley creating the awesome sets and costumes, even exceeding the high standard one has come to expect from him. The scenery is emotionally important, providing a voice for the city of Paris as it, too, tries to overcome the ravages of war.

Four-time Tony winner Natasha Katz's lighting is seductive and inportant. Excellent sound by Jon Weston. 59 Productions (projections) artfully and flawlessly blends digital with live action.

Orchestra:Conductor Todd Ellison. Assistant Conductor/Piano Greg Anthony Rassen. Flute: Kathleen Nester; Woodwinds: Lino Gomez, Deborah Avery, John Winder; French horn: Russ Rizner; Trumpet: Dominic DeRasse, Alex Holton; Trombone: Bruce Eidem, Jeff Caswell; Percussion/Asst. Conductor Andrew Blanco; Drums: Warren Odze; Accordin: William Schimmel; Violin/Concert Master: Martin Agee; Violin: Robin Zeh; Viola: Richard Brice; Cello: Stephanie Cummins, Alisa Horn; Bass: Mark Vanderpool.

The musical score has been adapted, arranged and supervised by Rob Fisher; orchestrations by Christopher Austin; dance arrangements by Sam Davis; musical supervision by Todd Ellison; additional orchestrations by Don Sebesky and Bill Elliott and musical direction by Brad Haak. The Associate Director is Jacquelin Barrett and the Associate Choreographer is Dontee Kiehn. Casting is by Telsey + Company/Rachel Hoffman. Production stage manager, Rick Steiger.

A word heavy thesaurus wouldn't have enough synonyms for 'glorious' to describe this production. An American in Paris is a confection not to be missed.

SOMETHING ROTTEN!

Brad Oscar and Brian d'Arcy James in Something Rotten! Photo: Joan Marcus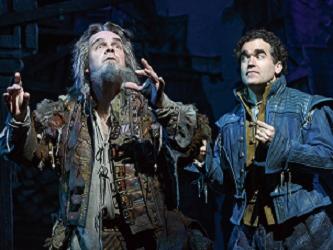 offers lots of laughs and out-to-there codpieces. There are penis jokes and Jew jokes. The mind set may be aimed for a 13-year-old boy, but the clever writing by Karey Kirkpatrick and John O'Farrell is a Maaster Class.

The show last Thursday night had the bulk of the tickets sold as a benefit for St. Francis Food Pantries and Shelters, who were honoring Edward Piccinich and John Vazquez. Inside each Playbill was a flyer asking the audience to remain seated at the end of the play for "a special Awards Presentation on stage" to the two individuals.

Because the vast majority of the audience knew each other there was a lot of chatting and people exchanging seats. Everyone applauded at the appropriate times, but it was difficult to get a read on their opinions of this show, because they were at the performance for a secondary reason.

This is a hilarious musical send up of William Shakespeare, incorporating spoofs of virtually every major musical mounted on Broadway within the last twenty years.

To fully enjoy and appreciate this musical you need both a knowledge of Shakespeare and Broadway musicals.

Music and Lyrics by Wayne Kirkpatrick and Karey Kirkpatrick. Directed and Choreographed by Casey Nicholaw, who also helmed The Book of Mormon.

The official description goes like this: "Welcome to the '90s - the 1590s - long before the dawn of premium tickets, star casting and reminders to turn off your cell phones. Brothers Nick and Nigel Bottom are desperate to write a hit play but are stuck in the shadow of that Renaissance rockstar known as "The Bard." When a local soothsayer foretells that the future of theatre involves singing, dancing and acting at the same time, Nick and Nigel set out to write the world's very first musical! But amidst the scandalous excitement of Opening Night, the Bottom Brothers realize that reaching the top means being true to thine own self... and all that jazz."

If Forbidden Broadway and Spamalot had a child, this would be their smart-eleck teenage son. Unbridled adolescent, mocking humor.

When creating silly, there is a fine line not to cross, thus becoming totally stupid. Something Rotten! manages to keep the laughs on a low brow high. While the songs and material are there, a lot of credit has to be given to those behind the scenes - many of whom worked together on the runaway hit The Book of Mormon.

Arranger Glen Kelly and Tony winning orchestrator Larry Hochman (who earned a Tony nomination for this production) earned every penny of their fees making this musical jig saw puzzle come together.

The production stars Brian d'Arcy James, Christian Borle, John Cariani and Brad Oscar, each of whom delivers a Bravo! performance.

Brian d'Arcy James owns the stage in his energetic, flawless, and dynamic portrayal of Nick Bottom. The same can be said for Christian Boyle as Shakespeare. When the two are on stage together, neither tries to upstage the other. Rather, they display a rare event of two tremendously talented actors who are each giving 110 percent. It looks like they are enjoying every second. In turn, so does the audience.

As an off-beam fortune teller who gets mixed signals, this is - thus far - Oscar's finest career performance.



Michael James Scott as The Minstrel in Something Rotten! Photo: Joan Marcus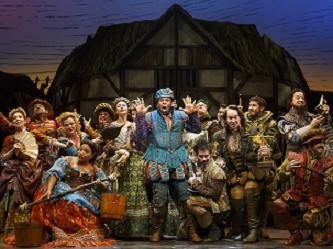 Set in the 1590s, the musical has not yet been invented.

Christian Borle perfectly portrays Shakespeare as a sexy rock star who is in love with his image. Usually the debate is whether it was Shakespeare or Bacon who penned the classics. In this version The Bard is ripping off an unknown writing team, the Bottom Brothers - Nigel Bottom, a Casper Milquetoast nerd played by John Cariani and his brother, the more aggressive Nick, played by Brian d'Arcy James. They are at the bottom of the rung because Shakespeare has a lock on the performance market.

Desperate for some success, and knowing that would require one upping The Bard, divine intervention is sought in the form of a seer, Nostradamus' nephew (Brad Oscar) who also happens to be named Nostradamus.

The goal - to know what will become the next ticket buying craze.

The seer mulls things over in a most exuberant number. Our soothsayer declares that the coming theatrical sensation will be something called a "musical."

Nick finds the idea bazaar: "An actor is saying his lines and then, out of nowhere, he just starts singing? That is the stupidest thing that I have ever heard. . . find it hard to believe people would actually pay to see something like this. ... Sounds miserable."

Indeed, the musical form comes to be with a chorus line of Elizabethans spoofing One from A Chorus Line. Then there is the plagiarizing of the Bottom brothers' creation by Shakespeare - a musical called Omelette, which tells the story of Hamlet. To accomplish that, 'borrowing' from every Broadway show you can remember takes place,including; The Phantom of the Opera, Les Miserables, Pippin, Annie, West Side Story and An American in Paris. There are even dancing eggs and omelettes.

Funny songs, premature ejaculation jokes, bad taste coupled with over the top costumes and elaborate scenery.

On the distaff side, Heidi Blickenstaff is Nick's wife Bea, a pro-feminist cross-dresser who, in order to augment the family's meager income, takes a job selling manure - only she uses a different word.

Kate Reinders is Portia, Nigel's Puritan girlfriend, whose father Brother Jeremiah (Brooks Ashmanskas) disaproves.

Getting the laughs are Gerry Vichi as a Jewish theater lover who dabbles in backing productions. He's named Shylock. Peter Bartlett does double duty ia Lord Clapham/Master of the Justice.

Costumer Gregg Barnes proves he's an expert at oversized codpieces, and colorful costumes from Elizabethan to Puritan.

Scenic designer the Tony winning Scott Pask, who also served in the same position on The Book of Mormon, knows how to clown around with Tudor. Peppy lighting by Jeff Croiter.

Sound by Peter Hylenski; hair design by Josh Marquette; makeup design by Milagros Medina-Cerdeira; technical supervisor, Juniper Street Productions; production stage manager, Charles Underhill; associate director, Steve Bebout; associate choreographer, John MacInnis; music direction/vocal arrangements by Phil Reno; music coordinator, John Miller.

At the St. James Theatre.

THE VISIT

Chita Rivera as Claire with her eunuchs in The Visit. Photo: Joan Marcus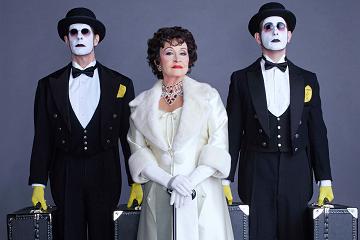 is haunting and socially relevant.

A dark musical by Kander and Ebb starring Chita Rivera as Claire Zachanassian in her first original role in more than two decades. The last time was also a Kander and Ebb creation, Kiss of the Spiderwoman, which I saw at the Broadhurst Theatre in May 1993.

Rivera was a legend then.

At 82, the two-time Tony winner takes control of the stage with her icy glare and persona draped in white satin, furs and jewels - a stark contrast to the decaying town where she has returned.

The reason for her visit is Anton Schell, played by Roger Rees. Once there had been a great love between them. He not only jilted her, but the contemptable man had his associates claim Claire was promiscuous, when she wasn't - thus destroying her life, driving her out of town and leaving her no other option other than to become a whore.

Claire arrives with her entourage - Rudi (Tom Nelis), Louis Perch (Matthew Deming) and Jacob Chicken (Chris Newcomer) - a butler, and two blind eunuchs, dressed in tuxes with black bowler hats, wearing sunglasses, heavy white netherworld makeup and - significantly - yellow shoes, gloves and pocket handkerchiefs. They sing in falsettos. There are dozens of black bags - and a coffin.

Claire is both the victim and the scales of justice.

Eerie, chilling and thought provoking.

Some of the plot and characters can't be revealed for fear of spoiling - such as who are, or were, those eunuchs and why did the town fall into such carnage? This is a production that needs to be seen, not merely read about.

This musical version of The Visit has been morphing for 14 years; the last creation totally completed by Kander and Ebb before Ebb's death in 2004, although Kander has done some re-writing. European flavor is enhanced through the use of musical instruments such as additional violins, an accordion and a zither. Tony winner David Loud is music director who did the vocal and dance arrangements. The orchestrations are by Tony winner Larry Hochman.

Rivera has been the star of the show since it's onset. First staged in Chicago in 2001, The Visit received a production in 2008 at the Signature Theater in Arlington, Va. last spring at the Williamstown Theater Festival in Massachusetts - which also marked Rivera's debut at that storied festival.

Based on Swiss author Friedrich Dürrenmatt's 1956 black comedy, as adapted by Maurice Valency; reworked by Tony winner Terrence McNally and directed by Tony winner John Doyle.

Set in once prosperous but now war torn and poverty stricken city of Brachen, Switzerland; Rivera plays Claire Zachanassian a much-widowed billionaire - the richest woman in he world - who returns to the town where she grew up in a hard scrabled existance, ending up humiliated and ostracized. Life has made her wealthy. As Claire sings: "I married very often, and I widowed very well."

Never-the-less her adult existance hasn't been all that kind. She has a prostetic leg and artifcial hand, the results an airplane crash. While others didn't survive, Claire soldiered on. Despite the best efforts of many, Claire is indomitable.

The town is in desperate need of a financial savior and Claire has informed the major that she is willing to provide German marks, which come with a condition.

Claire offers the pitiful citizens a 10 billion-mark endowment for the town, plus an additional two million apiece for each citizen. Her condition is the death of the shopkeeper Anton Schell. His betrayal forced her exile and into the life of a whore.

"The world has made me into a whore," she sings. "I make the world my brothel now."

Claire knows that with wealth comes power.

Despite her acquired wealth and power, she had never forgiven - or forgotten - Anton Schell.



Chita Rivera, Roger Rees and the cast of The Visit. Photo: Joan Marcus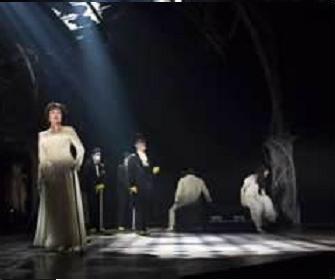 The town and the people who treated Claire so despicably have gotten the decaying rot they deserved. While some have called this play one of vengence, it's really one of delayed justice.

It's actually one of the most important plays ever written about the equality of women.

It centers on how men abuse women and how society neither proects nor afford women equal rights.

The second tier message is meant to be thought provoking; about ethics, responsibility, human nature and how money corrupts.

Those two important sociological issues are interwoven, using the mystery of why Claire has returned, as the storyboard.

Saturated with black humor, The Visit was written in 1956. It is a brilliantly crafted, mufti-layered condemnation of injustices foisted upon women. People haven't changed. There's still a plethora of self absorbed men taking advantage of women who never forget. People love to wield power in the most self serving of ways. Although few have ever had their lives destroyed by betrayal, and fewer still have had the opportunity to be corrupted by wealth, the scathing social statements in this play are for the masses. It's a feminist play if there ever was one, and the women's rights crowd should openly embraced it.

In the official History of Switzerland chapter, Switzerland's Long Way To Women's Rights, this play was used as an example.

"Women did not achieve full suffrage in Switzerland until 1971 (in one canton until 1990), along with neighboring Liechtenstein, the only European country to limit women's voting rights at the time. Women still lacked voting rights when the author refashioned the play as an opera libretto for Gottfried von Einem (premiered 1971). The sham vote at the end, where Claire (nor any of the women - added by Broadway To Vegas) has no say, followed by the false ascription of the town's new wealth to ill, highlights this injustice in Swiss society. Symbolically, Claire lacks a hand and foot – tools to control her destiny. She has been thrown by men into prostitution against her will."

Tony award costumer Hould-Ward dresses the residents in shabby coats, the dirt of their behavior permeating the fabric.

They are self centered creatures who think that if they simply apologize to Claire, she should not only forgive, but be generous to them.

Showing their true color - yellow - it doesn't take the good citizens long to twist their morals to justify Anton's murder as a trade-off to obtain the life style and comforts they crave. Greed breaks out. A buying spree - on credit - takes place even before a final decision on Anton's proposed death is reached.

If ever there was a production which demonstrates the power of color - this is it. The set is appropriately grim, dismal and morbid in shades of despair and resignation. Yellow - signifying money - becomes a focal point in the production number Yellow Shoes, in which shades and hues of yellow appear as gloves, footwear, bank notes, a tennis racket, hat, fur and a gun, as the townsfolk clamor for the tangibles they can't yet afford.

Claire is cynical, but she has a soft underbelly which forced circumstances have caused her to hide. True love - even if lost - is an emotion that can be expressed as hatred, even when feelings linger.

Roger Rees who isn't a singer, plays Anton Schell the man who destroyed Claire's life. The younger versions of Claire and Schell are beautifully portrayed by Michelle Veintimilla and John Riddle.

The show opens with a sensuous, startling segment where Veintimilla and Riddle dance the dance of love as the young Claire and Schell. Choreography by Graciela Daniele, the extremely sexual dance is meant to show the intensity of the love Claire and Anton once shared.

Another poignant segment is one in which Rivera and Veintimilal dance Love and Love Alone, a melancholy pas de deux of the younger and older Claire.

Love has always been strange. As the aged man, Anton Schell may have some anguished moments, but basically he's self absorbed. He seems to feel some remorse over his treatment of Claire but his world revolves around him and he's not capable of atonement. He's a coward. If he hadn't been, he never would have destroyed Claire.

In an emotional exchange between Claire and Anton, he admits he's always loved her and wonders about her life; while using excuses to explain his behavior. You sense he knows he'll pay a price.

The superb supporting cast includes Jason Danieley as the town's schoolmaster Frederick Kuhn, who is Anton Schell's last real friend. He delivers a moving solo, The Only One. David Garrison is the mayor, who must shoulder the responsibility for whatever decisions are made about Claire's money versus the death proposal; and then there is Anton's bitter wife, played by Mary Beth Peil. She flashes her wedding ring at Claire, knowing that part of her husband's heart has always belonged to another.

The exceptional cast also includes David Garrison (Peter Dummermut), George Abud (Karl Schell), Diana Dimarzio (Annie Dummermut), Rick Holmes (Father Josef), Aaron Ramey (Otto Hahnke), Elena Shaddow (Ottilie Schell), and Timothy Shew (Hans Nusselin).

With Tony winner Scott Pask's scenic design, the grisly decayed railway station is haunted by what was and what might have been. Even the vines strangulating the station can't cut off the memories. There's a skeletal ceiling of shattered glass, perhaps symbolizing the destruction of long ago dreams.

Japhy Weideman's haunting lighting adds depth and punctuates the performance.

Musical Director David Loud. Assistant Conductor Jesse Kissel. Orchestra: Paul Woodiel, Sarah Carter, Jim Donica, Michael Miglior, Julie Ferrara, CHarles Rosen, Bruce Doctor and Charles Sauss.

Sound by Dan Moses Schreier; hair and wig design by Paul Huntley; makeup design by J. Jared Janas; music coordinator, John Monaco; associate director, Adam John Hunter; associate choreographer, Maddie Kelly; production stage manager, Lorie M. Doyle; technical supervision by Hudson Theatrical Associates.

One confusing aspect is that inside each Playbill is a card asking patrons to vote on "Which do you think is sweeter? Love or Revenge? Ponder the question as you watch the show. Then share youre choice over social media for a chance to win two tickets."

The word revenge is never mentioned in the show. The Visit has nothing to do with revenge. It's about justice; and it does a brilliant job of showing the true nature of people. Using the label 'revenge' does an injustice to women.

The Visit has been recorded as a cast album. The company gathered on Monday, April 27th for the original cast recording. The recording will be produced by the Emmy Award winning and Grammy nominated producer Michael Croiter. The official release date will be June 26th, 2015. The Visit cast album will be a joint release of two labels: Broadway Records and Yellow Sound Label and will be co-executive produced by Hunter Arnold, Carl Daikeler and Sandi Moran.

Tony award winner Donna McKechnie is learning the part, hoping to star in a future production. She, too, would be great as Claire.



Broadway To Vegas is supported through advertising and donations. Priority consideration is given to interview suggestions, news, press releases, etc from paid supporters. However, no paid supporters control, alter, edit, or in any way manipulate the content of this site. Your donation is appreciated. We accept PAYPAL. Thank you for your interest.




ART AND ABOUT


FRIDA KAHLO'S GARDEN

Frida Kahlo Self Portrait with Thorn necklace and Hummingbird. 1940. Banco de Mexico. Photo: The New York Botanical Garden.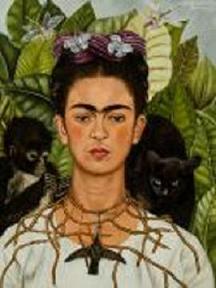 focusing on the iconic artist's engagement with nature in her native country of Mexico. The exhibition will be the first solo presentation of Kahlo's work in New York City in more than 25 years, and the first exhibition to focus exclusively on Kahlo's intense interest in the botanical world.

The landmark Enid A. Haupt Conservatory at The New York Botanical Garden will come alive with the colors and textures of Frida Kahlo's home country of Mexico during the 2015 exhibition. Visitors entering the exhibition will view a re-imagined version of Kahlo's garden at Casa Azul, the artist's childhood home outside of Mexico City where she resided in her later years, transforming it with traditional Mexican folk-art objects, colonial-era art, religious ex-voto paintings, and native Mexican plants.

Passing through the blue courtyard walls, visitors will stroll along lava rock paths lined with flowers, showcasing a variety of plants native to Mexico. A scale version of the pyramid at Casa Azul-originally created to display pre-Columbian art collected by Kahlo's husband, famed muralist Diego Rivera-will showcase Mexican terra-cotta pots filled with plants found in her garden.

Of Kahlo's approximately 200 paintings, 55 are self-portraits, and many more are portraits of friends and colleagues, including art patrons. Many of these portraits incorporate plants and other organic materials. In her still-life paintings, she depicts a variety of Mexican fruit and flowers alongside animals, Mexican folk art, and pre-Columbian objects. Kahlo's inclusion of plants and nature in her work spans her entire career but her most intensive dedication to the still-life genre dates to the 1940s and 1950s, particularly as her health declined and she was increasingly confined to her home and garden, which underwent its most significant period of development during the 1930s and 1940s.

May 16-November 1, 2015 The New York Botanical Garden.

GO EAST

Nortse Zen meditation 2012, edition 2/3, 6 monk's robes, metal frames, butter lamps, Chinese money, scriptures and sand, dimensions variable, each frame approx 100 × 100 × 80 cm © the artist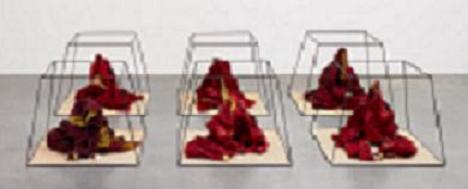 This exhibition showcases Australian philanthropists Gene and Brian Sherman's collection of contemporary Asian art, including artists from the Philippines, Japan, Taiwan, Indonesia, Tibet, Thailand, Vietnam and China.

These dramatic and visually compelling works emerge within specific cultural contexts, yet speak to each other of colliding worlds.

A monumental installation by Indian artist Jitish Kallat will also transform the Gallery's entrance court.

Presented in partnership with Sherman Contemporary Art Foundation.

May 14–July 26, 2015 at the Art Gallery New South Wales, Sydney, Australia.









SWEET CHARITY


STATE THEATRE 2015 BENEFIT GALA CONCERT takes place Saturday, May 16, 2015 at The Heldrich in New Brunswick, New Jersey.

Featured performance by Beach Boys Co-Founder Brian Wilson. Plus auctions, live dance band, food and open bars.

The black tie preferred gala will honor: Investors Bank receiving the Corporate Award. Louis and Sharon Cyktor receive the Patron Award and Warren R. Zimmerman will receive the Exemplary Leadership Award.

2015 Gala Co-Chairs: Brent Podlogar and Susan Podlogar. Vice-Chairs: Jacqueline Hancock-Pena and Scott Fergang.

2015 Gala Committee: Ann H. Asbaty, Lisa Berlin, Madiha Boraie, Mary Agnes Brodowski, Diane Garback, Cathy Gombas, Eileen Harkins, Bill Herman, Carolyn and Dave Horn, Ernie W. Knewitz, Curt Lang, Andrew J. Markey, Richard T. McDonald, Karen Needham, John Reissner, Dave Retcher, Frank Santiago, Peter Stavrianidis, Ph.D, and Maggie Stavrianidis, and Jennifer Zimmer.

2015 GREENS IN THE DAY, BLUES IN THE NIGHT Celebrity Golf Tournament and Gala takes place May 16, 2015 in Atlanta, GA.

Kenny Leon, Tony Award winning director and Artistic Director of True Colors Theatre Company, and Samuel L. Jackson will host a group of celebrity guests from the entertainment, sports, and media worlds for a day of entertainment and golf to raise funds for the True Colors Theatre Company's highlighted education program the August Wilson Monologue Competition.

The August Wilson Monologue Competition offers students from low-income neighborhoods, where arts programs are minimal to non-existent due to budget constraints, the opportunity to study theatre.

The program builds the skills and confidence of the youth in the following participating cities: Atlanta, Boston, Chicago, Dallas, Greensboro, New York City, Pittsburgh, Portland, Seattle and Los Angeles.

Students of all races have the opportunity to explore African American culture and history. Participants in the AWMC are offered free acting workshops to prepare for the competition and future mentoring opportunities.

The top three finalists at the Atlanta regionals win scholarship prizes and an all-expenses paid trip to NYC to attend a Broadway show and participate in celebrity-led acting workshops.

Celebrity guests have included LaTanya Richardson Jackson, Steve Harvey, Julius "Dr. J" Erving, Angela Bassett, Phylicia Rashad, Glynn Turman, Dikembe Mutumbo, Jasmine Guy, Ryan Cameron, Richard Roundtree, James McDaniel and Earl Billings.

Event Chairs are: Sallie Adams Daniel, Troutman Sanders Chief Development and Diversity Officer, Shirley Strawberry, Co-Host of The Steve Harvey Morning Show, and Charmaine Ward, Georgia Pacific Sr. Director of Community Affairs.

TIGER JAM the annual Tiger Woods Celebrity Golf Classic returns to Mandalay Bay Resort and Casino in Las Vegas May 15-16, 2015.

To date, the exciting concert event, hosted by Tiger Woods, has raised approximately $16 million for the college-access programs of the Tiger Woods Foundation.

Tiger Jam is one of the best weekends of the year and has a tradition of featuring incredible performances by some of today's best musical talents. Grammy Award-winning artists such as No Doubt, Sting, Stevie Wonder, Prince, Bon Jovi, The Goo Goo Dolls, The Eagles, John Mellencamp, Celine Dion, Train, LeAnn Rimes, Don Henley, Christina Aguilera, Seal, Babyface and Van Halen have all performed at past Jams. In addition to the concert, Tiger Jam highlights include top-notch epicurean fare and exclusive live and silent auctions featuring one-of-a-kind luxury items.

A COCKTAIL PARTY TO SUPPORT Guild Hall's production of Arthur Miller's All My sons takes place Tuesday, May 19, 2015 at the Manhattan townhouse of Marty and Michele Cohen.

Three weeks before Opening Night, meet Alec Baldwin, Laurie Metcalf, director Stephen Hamilton and the producers, and get the inside scoop from Alec Baldwin on what attracted him to this American classic by Arthur Miller.

Gild Hall is located in The Hamptons. Te production opens June 19.





SPREADING THE WORD


HAL PRINCE'S BROADWAY No individual has played a more pivotal a role in shaping Broadway than director/producer Hal Prince. During this moderated interview, Prince reflects on his legendary career complemented by live performances of his works sung by soloists interlaced throughout an evening of conversation and song. The program concludes with an interactive Q&A session with the audience. May 14 at the Smith Center in Las Vegas.

SECRET LIVES OF THE UNDERGROUND RAILROAD author Don Papson discusses the network of "secret lives" explored in his new book, Secret Lives of the Underground Railroad. Abolitionist newspaper editor Sydney Howard Gay and black New Yorker Louis Napoleon formed an interracial team to aid fugitive slaves during the 1850s. Gay kept a record of their work from 1855 to 1856, and this amazing document is published here for the first time. Papson and his coauthor Tom Calarco bring these two men to life as they recount their activities over many years.

At the Rokeby Museum in Ferrisburg, VT on Sunday, May 17, 2015.

Rokeby Museum is a National Historic Landmark that connects visitors with the human experience of the underground railroad and with the lives of the Robinsons, who lived on and farmed this land for nearly 200 years.

SIR ARTHUR CONAN DOYLE IN BELFAST in May 1925 Sir Arthur Conan Doyle delivered two lectures on spiritualism to a packed Ulster Hall in Belfast, Ireland.

To mark the 90th anniversary of his visit, columnist and commentator Alex Kane talks on Sherlock Holmes and his Creator.

Oscar Ross, from the local Holmes Society, talks about the controversial visit - an event peppered with preachers, pickets and press censorship.

May 14, 2015 at Ulster Hall in Belfast, Ireland.


CURTAIN DOWN


DR.ZHIVAGO will shutter today, May 10, closing at a full loss, after 26 previews and 23 regular performances at the Broadway Theatre. The show starred Tam Mutu and Kelli Barret with a soundtrack by Lucy Simon.



WINNERS OF THE OUTER CRITICS CIRCLE AWARDS whose names will be announced tomorrow, May 11, 2015. See OCC Nominees and Winners list



McQUEEN Written by James Phillips.

Directed by John Caird.

'I've got a 600-year-old elm tree in my garden. I made up a story: a girl lives in it and comes out of the darkness to meet a prince and becomes a queen.' Alexander McQueen, 2008.

McQueen is a journey into the visionary imagination and dark dream world of Alexander McQueen, fashion's greatest contemporary artist. Set on a single London night, it is more than a bio-play. It is stepping into the fairy story landscape of McQueen's mind, the landscape seen in his immortal shows, where with a dress an urchin can become an Amazon, where beauty might just help us survive the night. A girl has watched McQueen's Mayfair house for eleven consecutive days. Tonight she climbs down from her watching tree and breaks into his house, to steal a dress, to become someone special. He catches her, but, instead of calling the police, they embark together on a journey through London and into his heart.

British actor Stephen Wight will play the eponymous Alexander McQueen, alongside Hollywood actress, Dianna Agron, in her London stage debut.

Production design by David Farley and choreography by Christopher Marney, lighting by David Howe, sound by John Leonard and video and projection design by Tim Bird.

McQueen will be staged at the St. James Theatre in London from May 12 until June 6, 2015.

MEMPHIS Book and lyrics by Joe DiPietro. Music and lyrics by David Bryan. Based on a concept by George W. George.

From the underground dance clubs of 1950s Memphis, Tennessee, comes the hot Broadway musical that bursts off the stage with explosive dancing, irresistible songs and a thrilling tale of fame and forbidden love. Inspired by actual events, Memphis is about a radio DJ who wants to change the world and a club singer who is ready for her big break.

Winner of the Tony Award for Best Musical, Memphis features an original score by Bon Jovi's David Bryan that evokes the powerhouse funk of James Brown, the hot guitar riffs of Chuck Berry, the smooth harmonies of the Temptations and the silken, bouncy pop of the great girl groups of the period. Turn up that dial! It's time for Broadway's roof-raising rock 'n' roll musical.

May 12-July 12, 2015 at the Walnut Street Theatre in Philadelphia, PA.

CABARET Book by Joe Masteroff. Based on the Play by John Van Druten and stories by Christopher Iserwood.

Music by John Kander. Lyrics by Fred Ebb.

Broadway Production Directed by Harold Prince.

Directed by Matthew Gardiner.

Willkommen to the Kit Kat Club, the hottest nightclub in seedy, prewar Berlin; here, life is beautiful.

American writer Cliff Bradshaw travels to Berlin searching for inspiration. He finds it in English club performer Sally Bowles and they begin a torrid affair. However, outside their door, the Nazis' impending rise to power heralds a brutal end to their decadent way of life.

Featuring the treasured songs Maybe This Time, Willkommen, Don't Tell Mama and the title song, Kander and Ebb's Tony Award-winning masterpiece graces the Signature stage for the first time in twenty years.

May 12 - June 28, 2015 MAX Theatre, Signature Theater in Arlington, VA.

THE PRICE by Arthur Miller.

Directed by Michael Bloom.

An intimate, powerful story about the cost of the choices we make. In an overstuffed New York City attic apartment, two estranged brothers meet to sell off what remains of their deceased father's furniture and find themselves in an emotional renegotiation of the past.

Celebrate the 100th anniversary of Arthur Miller's birth with this brilliant, powerful, and deeply moving play May 13- June 21, 2015 at the Olney Theatre in Olney, Maryland.


WHO'S WHERE




EDDIE PALMIERI'S LATIN JAZZ SEPTET.nine-time Grammy Award winner and Latin Recording Academy Lifetime Achievement Award recipient performs Afro-Cuban rhythms and hot Latin jazz Saturday, May 16, Walt Whitman Theatre at Brooklyn College in Brooklyn, NY.

BETTE MIDLER entertains Monday, May 11, 2015 at the Amalie Arena in Tampa, Florida. On Wednesday she's in the spotlight at the Philips Arena in Atlanta, GA. Saturday's gig is at the Smoothie King Arena in New Orleans.

NEIL DIAMOND entertains Tuesday, May 12, at the SAP Center in San Jose, CA. Friday finds hin on stage at the Valley View Casino Center in San Diego. Next Sunday, May 17, his tour stops at Mandalay Bay Events Center in Las Vegas.

BOZ SCAGGS the Grammy Award-winning singer-songwriter-guitarist has been making musical hits since the '60s, blending pop, rock and R&B in crowd favorite songs. During this performance Scaggs will feature tracks from his new collaboration album, A Fool to Care, as a part of his live repertoire. May 13, 2015 at the Smith Center in Las Vegas.

U2 INNOCENCE + EXPERIENCE TOUR open a two night stand Thursday, May 14, at Rogers Arena in Vancouver, BC.

TAYLOR SWIFT appearing at the Rock in Rio USA event in Las Vegas on Friday, May 15, 2015.

RUSH on stage Tuesday, May 12, at the Xcel Energy Center in Saint Paul, MN. On Thursday the tour stops at the Scottrade Center in St. Louis. Saturday finds them at Austin 360 Amphitheater in Austin, TX.

NICKELBACK are down under this week with a show Friday, May 15, at the Rod Laver Arena in Melbourne, Australia.

NEW KIDS ON THE BLOCK are in the spotlight Monday, May 11, at the Viejas Arena in San Diego. Tuesday's stop is at the Gila River Arena in Glendale, AZ. Thursday's stop is at the American Airlines Center in Dallas. On Friday they bring their tour to the Smoothie King Center in New Orleans. Saturday finds them at the Toyota Center in Houston.


















Next Column: May 17, 2015
Copyright: May 10, 2015 All Rights Reserved. Reviews, Interviews, Commentary, Photographs or Graphics from any Broadway To Vegas (TM) columns may not be published, broadcast, rewritten, utilized as leads, or used in any manner without permission, compensation and/or credit.
Link to Main Page
---
Laura Deni



For the snail mail address, please E-mail your request.
CLICK HERE FOR COMMENT SECTION