! >
Broadway To Vegas
  SHOW REVIEWS     CELEBRITY INTERVIEWS     GOSSIP     NEWS 
| | |
| --- | --- |
| | |
Copyright: May 10, 1999
By: Laura Deni
CLICK HERE FOR COMMENT SECTION

WIT AND PARADE TOP DRAMA DESK AWARDS
The 50th Anniversary of the Drama Desk celebrated Sunday night by bestowing their 44th annual awards. Hosted by Bernadette Peters, the festivities featured performances from The Civil War, Fosse and Parade.

Special awards went to; The Actor's Fund, Sony Classical for its Columbia Broadway Masterworks Series and to Al Hirschfeld, who received a Lifetime Achievement Award.

Appearing were: Jace Alexander, Jane Alexander, Bea Arthur, Charles Busch, Stockard Channing, Kristin Chenoweth, Jim Dale, Sandy Duncan, Harvey Fierstein, Laurence Fishburne, Buck Henry, Wayne Knight, Swoosie Kurtz, Camryn Manheim, Tony Roberts and George Segal.

The winners included: Wit, named Outstanding New Play. Parade took home the prize for Outstanding New Musical. Brian Dennehy was named Outstanding Actor for his role in Death of a Salesman while Kathleen Chalfant won in the Outstanding Actress category for her role in Wit.

Brent Carver was named Outstanding Actor in a Musical - Parade. Carolee Carmello Parade and Bernadette Peters Annie Get Your Gun, tied in the Outstanding Actress in a Musical Category.

There was also a tie in the Outstanding Revival of a Play category, between Death of a Salesman, and The Iceman Man Cometh. You're A Good Man, Charlie Brown, was awarded Outstanding Revival of a Musical.

EMMY AWARDS, HEPBURN AND THEATER


Billy Goldenberg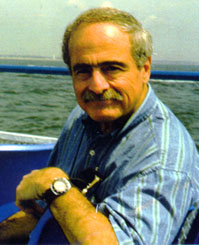 If the play is the thing then off-Broadway and regional theatre is the place to launch it, according to four time Emmy winning composer Billy Goldenberg, who is leaving LaLa Land to return to his first love - the theatre. "The problem with Broadway now is that it is very expensive. It's a completely different audience," said Goldenberg, who started out in 1966 "writing the incidental music for a Broadway show called An Evening With Mike Nichols and Elaine May. That was the beginning of my theater career.

"I also worked on Green Willow,which was a musical that Frank Loesser wrote starring Tony Perkins," added the composer, who comes from a musical family.

Moe Goldenberg

His father, Moe Goldenberg, "was head of the percussion department of Julliard and wrote many percussion text books which are still used today," proudly related his son.

"He died in 1969," continued Billy. "He was also with the NBC Symphony Orchestra, on staff at WOR and then NBC."

Sister Lucy worked at B.M.I. keeping track of royalty payments. Billy's 87-year old mother, Issy, who lives on Long Island, still plays the viola in a chamber music quartet. Cousin-in-law Al Levitt quipped, "she still does gigs."

If music was in Billy's blood, theater was in his heart. Now he's returning to his first love. "Theatre is what I always wanted to do, but everything changed in the 60s when new musicals came in like Hair. A lot of us who were writing for the Broadway theatre, at that time, really felt alienated from it.

"We came to California and became film composers - Marvin Hamlisch, myself, David Shire," he said.

All found enormous success.

Goldenberg penned the television themes for Kojak, Rhoda, Our House, Bare Essence, Alias Smith and Jones, Harry-O, NBC'S World Premiere Movie, and Columbo.

Goldenberg did Barbra Streisand's first television special and was the musical director and arranger for the Petula Clark l967 TV special, which led to the 1968 Elvis Presley comeback special. Goldenberg has been nominated for 32 Emmy Awards and took home statues for Rage of Angels, King, a mini series about Martin Luther King, the Bi-Centennial mini series Benjamin Franklin - The Rebel. and Queen of the Stardust Ballroom, which is taking on new life.

"We're still doing it, actually," said Goldenberg about the poignant play."It wasn't a play, it was a musical," he corrected. "Marilyn and Alan Bergman wrote the lyrics, I wrote the music and the book was by Jerry Katz, which was a true story about his mother.

Maureen Stapleton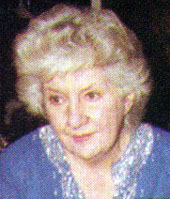 "It started out on television with Maureen Stapleton. She sang quite a few songs. We had seven or eight songs in the show. It's very interesting that a lot of people don't remember that as being a musical. That doesn't make me feel bad at all because the thing is - the songs were so integrated that people just didn't realize what was happening," he said regarding the viewer becoming so emotionally involved with the production that the musical numbers and dramatic action fused.

The original television production also starred Charles Durning with Michael Branden and Charlotte Rae. Choreography by Marge Champion.

"We did a really successful production of Queen of the Stardust Ballroom last year in Chicago, at a repertory company, because I wanted to rewrite it - because it wasn't very good when we did it as a stage play. After the television special with Maureen Stapleton we did it on Broadway with Dorothy Louden. Then back in 94 it was done in Long Beach with Tyne Daly. Michael Bennett who directed Chorus Line, directed it. He had a lot of problems - drugs being a part of it. We were dealing with a lot of things that we didn't know about before we went into it, which really destroyed the production.

"This new production is a whole new version. What is nice is that all of us got together and we did it the way we had always wanted to do it. It was a success. Now it will have a life. The rewriting was done by the original team-Marilyn and Alan Bergman, I did the music and Jerry the book.

"It's a much better piece," emphasized Goldenberg, who mentions a powerful regional theater and a marvelous household name star and then told me not to print it, "because the deal is only 99% set."

In discussing the state of Broadway today, Goldenberg lamented, "The problem with Broadway now is that it is very expensive. It's a completely different audience. You have to be pretty well off to just go to the theater. I remember when I was going to college, I used to see a Broadway show for $2.00," recalled Goldenberg, a Columbia math major, who played piano at the Upstairs/Downstairs cabaret and wrote some songs for the Kukla Fran and Ollie Show.



The Kukla, Fran and Ollie Show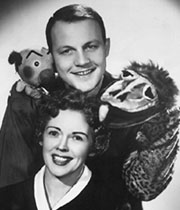 "It bothers me that today a lot of young people can't afford to go to the Broadway theatre. It seems to be a place for the wealthy only, who can afford the preposterous prices."

As for mounting a show, Goldenberg sees the road leading to regional and off-Broadway. "The overhead is so large that they can't afford to take chances with things anymore. Most of the stuff they do now is proven. That's why you see so many English shows. The shows that start out in London, and get good reviews over there. Then producers will take a chance on them, because they are proven.

"At this point I have no particular wish to go back to Broadway, because I don't like what's there. I don't think you have the freedom that you have off Broadway, or even in regional theatre.

"I think the only way to do it today is to start in regional theatre, where you can work on paying off your show and then perfecting it in a place that is not going to be as expensive as a Broadway theatre. A lot of successful Broadway shows have come from regional theater. The other place they come from is off-Broadway, like Rent which started out off Broadway.

"That's what I want to do - gravitate back to the theatre. I want to do it off-Broadway and do something very inventive. Whether it goes to Broadway or not is of no consequence. I just would like to do something good."

Bea Arthur - everything but rodeo and porno

Recently Goldenberg has been the musical conductor for Bea Arthur's one-woman show. A couple of weeks ago they helped raise $125,000 at the sixth annual Evening Under the Stars black-tie gala benefitting the Aids Assistance Program in Palm Springs. Arthur opened and closed her show with songs from Stardust Ballroom and told anecdotes from her long career saying, "I've done everything but rodeo and porno."

Goldenberg, who sees most of the Broadway shows indicated he had "seen and liked Parade." He was anxious to get back to New York to see the new Cy Coleman effort, Exactly Like You, a courtroom farce about a man who lock his mother-in-law in a closet, which had been receiving a lot of negative reviews - possibly because it is a farce not a comedy and many people don't know the difference. A farce and a melodrama are siblings. A comedy is a distant cousin. A farce sets out to provoke laughter using any device it can summon, the chief one being the unexpected. Often a farce has no further objective than to divert and amuse. If you don't enjoy the absurd, you won't appreciate a farce.

"I know Cy very well," added Goldenberg. "He's a good friend, a terrific guy. I don't think he made out well on this," said Goldenberg referring to Exactly Like You, "I can't imagine that anything he does is that bad, because he's a wonderful composer. I'm going back to New York in a week and I hope to see it before it closes."

What brings Goldenberg to the Big Apple is a disease he shares with Katharine Hepburn.

Katharine Hepburn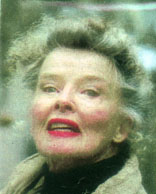 "It's Dystonia, which means movement disorder. In other words, anything in your body that functions because of movement. If there is a disorder of that movement, they call it a dystonia. In my case I have something called Spasmatic Dystonia, which means my vocal cords tend to spasm and then close shut.

"Parkinson's Disease is also a movement disorder, which is more serious because it can be fatal. Dystonia is not fatal. Katharine Hepburn does not have Parkinson's," he stressed. "She has something called Essential Tremor. That is a type of Dystonia. As a matter of fact, we have the very same doctor and we get the very same treatments, which are injections of botulism toxin.

"Dr. Mitchell Brin is the head of the Movement Disorder Group at Mt. Sinai Hospital in NY. He's one of the leading neurologists in the United States. He deals with every type of neurological condition, but his specialty is dystonia and movement disorders.

"Ten years ago they came out with a treatment where the patient is injected with very small amounts of botulism. It' s really quite remarkable. It takes care of the condition for a short time. Then you have to renew it every three or four months. I've had it now for ten years. There have been times when I've gone five or six months before I have another treatment.

"Katharine Hepburn was getting the same type of treatment - the botulism toxin - which were helping her somewhat. Her Dystonia was somewhat more advanced.

"There are many people who have this condition and don't even know it.When I first had it I couldn't speak at all. It came on suddenly and nobody diagnosed it correctly. One doctor said I had cancer. Another doctor said it was a sinus condition. I found you really have to search around until you find a doctor that knows what he is doing. Dr. Brin is my hero," praised his patient.

Goldenberg explained that Dystonia can affect any part of the body where there is movement. "Eyelids, for instance. People will get Dystonia in the eyelids, which will close and the person won't be able to open their eyes. The botulism toxin injection allows them to open their eyelids. They are very close to a cure for both Dystonia and Parkinson's. The big problem is that there is no support for medical research," he complained.

" It's bad enough that the National Endowment for the Arts is gone, but I don't care about that as much as I do medical research. So, I've done a lot of fund raising. We donated our final performance of Queen of the Stardust Ballroom last summer to the Dystonia Foundation.

"At the end of this month, May 28-29, we're having our first doctor-patient symposium in Victoria, off of Vancouver. Doctors from all over the country will sit down with patients in panel discussions. We hope that raises the awareness level of the disease."



Broadway To Vegas is supported through advertising and donations. Priority consideration is given to interview suggestions, news, press releases, etc from paid supporters. However, no paid supporters control, alter, edit, or in any way manipulate the content of this site. Your donation is appreciated. We accept PAYPAL. Thank you for your interest.


TRIBUTES TO BLUE EYES
The Rat Pack at the Sands Hotel, Las Vegas: Peter Lawford, Sinatra, Dean Martin, Sammy Davis, Jr., and Joey Bishop.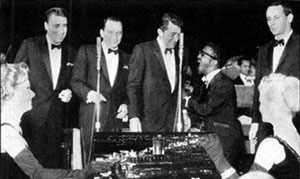 This week marks the first anniversary of the Chairman of the Board's ascension into the emeritus position.

The Rat Pack Is Back, a musical about Frank's heydey at the Sands Hotel, Las Vegas, set to open June 9 in the Desert Inn Hotel's Starlight Lounge. David Cassidy is co-producer. Frankie Randall, who knew Sinatra well, presents Sinatra, My Way at the Annenberg Theater, Palm Springs Desert Museum. It's a musical tribute featuring a line of showgirls, Pat Rizzo's 20 piece orchestra, comedian Paul Desmond, Russ Loniello as Dean Martin, Louie Velez as Sammy Davis, Jr. and Randall doing the song Sinatra made famous.

A Swinging Salute to Sinatra is a mainstay in the Celebrity Room of Liveri's also located in Frank's beloved Palm Springs.



FRANK SINATRA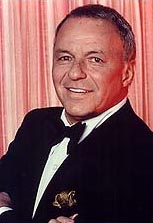 The Museum of Television & Radio on NYC has offered up This Is Sinatra! the 90-minute video - a 1962 concert taped for British television and never shown in this country. It's Ol' Blue Eyes doing The Lady Is a Tramp, At Long Last Love, and 27 other Sinatra classics.

Screenings at the Museum of Television and Radio continue through May 30.

Sinatra A Celebration at The Red Blazer in NYC will have a special added performance marking his one year passing May 14 at 7:30 p.m.

The show features Cary Hoffman with Stan Rubin's 14 piece big band performing orchestrations inspired by the original Sinatra arrangements.




THE MUSIC GOES ROUND AND ROUND

Elaine St. George says, as a lesbian, she wants to do for the cabaret scene what Ellen DeGeneris did for television. Considering Ellen tanked in the ratings and disappeared from the network, I'm not sure such a fate is what St. George and her CD Just Around the Corner - songs of love and longing from the 1903s - deserve.



ELAINE ST. GEORGE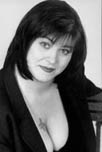 The soprano delivers a well-thought out group of numbers. Her renditions of Love Is Just Around the Corner, and A Kiss to Build A Dream On are bright and bubbly. Her voice shows depth with the mournful Shanghai Lil and Then I'll Be Tired Of You. She offers up an interesting duet with producer/arranger/musician Paul Kats on Mine. St. George is particularly effective with a strong, varied delivery on I Got Plenty of Nothin', and Dedicated To You.

St. George is a talented singer who deserves a chance. It's tough for any singer to travel the oily, cobblestone path to success. Most singers need to be goal oriented toward music in order to survive - much less succeed. By championing her own sexual preference as a tie-in to her music the singer sends out mixed messages, setting forth the possibility of confusing what music is all about - words and lyrics that touch the very spirit within each person - on their own individual terms. St. George deserves to be heard by a cross section of people who appreciate good music. I question whether her campaigning to do for the cabaret scene was DeGeneris did for television is going to - in itself- encourage people to rush out to buy her CD. No more so that a male singer announcing he's straight and wants to do for cabaret what John Wayne did for movies, is going to make people run out to buy his album.

Music is a unique - powerful - entity; having the ability to become an individual emotional experience, capable of touching all people, regardless of race, creed, color or sexual preference. Ms. St. George has a lovely CD which is extremely enjoyable. She has an opportunity to become a success - unless after coming out of a closet and standing on a soap box, she discovers she has backed herself into a corner. There is nothing wrong with her championing for fairness and rights for her sexual preference. Whether a relative unknown has enough clout to do so by so strongly linking any type of a personal life into a fledging career, is another issue.

Elaine St. George's Just Around The Corner songs of love and longing from the 1930's on the Two E Music label, is a wonderful showcase for her singing ability. Delightful listening. Special credit to Paul Katz for arrangements, piano, guitar and vocals; Robby Kishoff on guitar; Tom McGrath; percussion; Frank Wagner, bass; Mia Wu, violin and Lauren Simonds doing an enjoyable performance on spoons - yes, spoons.


APPLAUSE, APPLAUSE



THE ANNUAL ALPERT AWARD IN THE ARTS will be presented May 15 at Santa Monica's Herb Alpert Foundation.

CalArts will present the honorees with $50,000 fellowships.

They are: Ralph Lemon in dance; Lourdes Portillo for film-video; George E. Lewis in music; Brian Freeman for theater, and Pepon Osorlo in visual arts.

JULIE ANDREWS

Julie Andrews and Carol Burnett

is honored May 13 during the 50th anniversary of New Dramatists, an organization dedicated to developing new playwrights.

Andrews is being honored for her lasting contributions to the theater.

Presenting the award will be Julie's long time friend Carol Burnett, with whom she did several television specials.

Honorary chairman for the event is playwright Arthur Miller.


WHO'S WHERE


CAROL BURNETT when she isn't saluting her buddy Julie Andrews, will be boning up on her lines. The talented lady returns to Broadway in Putting It Together, the revue with words and music by Stephen Sondheim. Burnett received rave reviews during the October 4-November 29 run at the Mark Taper Forum in Los Angeles. Others in the Los Angeles production included; John Barrowman, Susan Egan, Michael Nouri and Bronson Pinchot.

GEORGE SEGAL, BUCK HENRY AND WAYNE KNIGHT take over as stars of Art May 11. Segal starred in A Touch of Class received an Oscar nomination for Who's Afraid of Virginia Woolf, and currently delights TV viewers as the star of Just Shoot Me. Knight is immediately recognized as Newman on Seinfeld, and as Office Don on Third Rock From the Sun. Henry is the multi-talented actor, writer and director who received an Oscar nomination for his screenplay to The Graduate. He joined Actors' Equity as an 18-year-old in 1948. He created Get Smart, for which he won a 1967 writing Emmy. Trained in improvisational theater, Buck was in House of Blues, at the Pasadena Playhouse in 1987. He gave up a stand-up comic career because he "never liked working in places where people drank and yelled at me." By stepping into Art the three talented men will discover what they hear from the audience is applause.

BURT BACHARACH next Sunday, May 16 in a rare NYC performance. Lehman Center Concert Hall.

JOHNNY MATHIS May 14-15, Bally's Hotel, Las Vegas.

EDDY ARNOLD who has sold more than 85 million records during his 55-year career opens tomorrow, Tuesday, May 11, at the Orleans Hotel, Las Vegas, performing through May 16.

SUNSET BLVD starring Petula Clark, May 11-16 Carr Performing Arts Center, Orlando, Florida.

LOU RAWLS Saturday May 15 Fantasy Springs Casino, Indio, CA.

GLADYS KNIGHT a Las Vegas resident, on Tuesday, takes over the lead in Smokey Joe's Cafe Virginia Theater, NYC

RUTHIE HENSALL the former girlfriend of Prince Edward, joined the NewYork cast of Chicago as double killer Velma Kelly. Ruthie must have the entire play memorized. In the London production Ruthie was Roxie Hart.

LOUIE ANDERSON brings his contemporary observations on obesity, alcoholism, fame, success and family to the Top of the Riv stage May 14-15, Riviera Hotel, Las Vegas.

MARY TYLER MOORE discusses her life and experiences Sunday, May 16, Gammage Auditorium, Phoenix, Arizona.


SWEET CHARITY

MATTHEW BRODERICK steps in for this year's AIDS Walk May 16 in Central Park. Tony Randall usually leads the step off, but this year Randall and his family are out of the country.

NOTHING TO LAUGH AT Benefit performance to benefit Ellen Harrington, wife of comedian Ron Shock. Ellen was in an auto accident last August followed by a stroke, which left her immobile, unable to speak, paralyzed and with little memory. Shock, who was a regular on the comedy club circuit, gave up his career to care for his wife. The Riviera Hotel, Las Vegas staging a benefit June 15.



EVITA opens May 12 at the Pantages Theatre, Los Angeles. Larry Fuller who choreographed the 1979 Broadway premiere has re-created that production's staging for this national tour. This production also features the musical's first all-Latin leads Natalie Toro, playing Evita is of Puerto Rican descent. Her alternate, Ana Maria Andricain, is Cuban-American. Raul Esparza, who plays Che' is also Cuban-American. Juan Peron is played by Raymond Jaramillio McLeod, whose mother is from Spain. The Tim Rice & Andrew Lloyd Webber musical runs through May 30, and reaches Broadway in September.

THORTON WILDER'S The Ages of Man at the Blue Heron Arts Center, will include the New York premieres of Youth and The Rivers Under the Earth and revival of Infancy and Childhood. Now in it's 12th season The Willow Cabin Theatre Company's cast for The Ages of Man will include: John Bolger, Ken Forman, Larry Gleason, Robert Harte, Sarah Lively, Angels Nevard, Linda Powell, Christine Radman, Maria Radman, Jonathan Sea, and Jed Sexton. The set design will be by John Kasarda, the costume design by Mary Nemecek Peterson, and the lighting design by Matthew McCarthy. Performances begin May 14.

DONALD SUTHERLAND has returned to the stage 18 years after he played Broadway in Edward Albee's failed adapation of Lolita. Sutherland stars in the American premiere of French playwright Eric-Emmanuel Schmitt's Enigma Variations. The production is at the Mark Taper Forum, Los Angeles. Jamey Sheridan co-stars.

AFTER THE RAIN will have it's off-Broadway North American premiere at the newly formed The Red Hudson Company. The play, which received several European awards, is written by Sergi Belbel. Directed by Daniel Kadin the savage and surreal comedy reproduces the strange and sexual intimacy office life imposes on virtual strangers. Amid power politics and sexual intrigues; helicopters crash, love blossoms, cat-fights prevail, promotions are secured. Illicit acts are performed on the roof ... and then it rains. Preview Performances begin May 19.

AN EVENING WITH ADAM GUETTEL (See Broadway To Vegas column of April 5, 1999) One night only, Wed. May 12 Town Hall, NYC. The program also features Kristen Chenoweth, Theresa McCarthy, Audra McDonald, Billy Porter & Jubilant Sykes.

FOOTLOOSE May 11-16, Jones Hall in Houston.


THIS AND THAT


GEORGE STRAIT and his country music festival last Saturday at the Sam Boyd Stadium, Las Vegas, was a sell out with over 16,000 of the tickets sold going to out of towners from 47 states and Canada. Promoter SFX was jubliant.

THE CHARLESTON MUSEUM in South Carolina is celebrating its 25th anniversary with Queens and Commoners of the New Kingdom, an original exhibition of ancient Egyptian culture from formost collections of The British Museum in London. The exhibition runs until the end of June.



Mention BROADWAY TO VEGAS for Special Consideration
Call (800) 942-9027









Next Column: May 17, 1999
Copyright: May 10, 1999. All Rights Reserved. Reviews, Interviews, Commentary, Photographs or Graphics from any Broadway To Vegas (TM) columns may not be published, broadcast, rewritten, utilized as leads, or used in any manner without permission, compensation and/or credit.
Link to Main Page
---
Laura Deni


CLICK HERE FOR COMMENT SECTION