! >
Broadway To Vegas
  
  REVIEWS INTERVIEWS COMMENTARY NEWS

| | |
| --- | --- |
| | |
WHO'S AFRAID OF VIRGINIA WOOLF? CD REVIEW - - BROOKLYN BOWL OPENS IN LAS VEGAS - - SEATTLE REP 2014 GALA - - OSF TO HOST HIP-HOP POETRY OPEN MIC EVENTS - - NEW EGOT SONGWIRTER ROBERT LOPEZ - - CLICK! CLANG! DING! THE AMERICAN TYPWRITER - - BOUQUETS TO ART - - ON THE BRINK - - DONATE . . . Scroll Down




Copyright: March 9, 2014
By: Laura Deni
CLICK HERE FOR COMMENT SECTION


THE POWER OF PROFOUND THEATER - WHO'S AFRAID OF VIRGINIA WOOLF? - FOR YOUR LISTENING PLEASURE


Who's Afraid of Virginia Woolf? is a 1962 play by Edward Albee which examines the breakdown of the marriage of a middle-aged couple. When the 2012 Broadway revival was staged at the Booth Theatre, represented by the Jeffrey Richard Public Relations firm, 40 psychotherapists attended the play and afterwards took part in a discussion with the actors and director, during which the question of the unhappiness of the main characters was discussed - a protracted and painful struggle with infertility.

When Albee wrote the play infertility, which is experienced by one in ten couples, was a taboo subject. In fact, in the spring of 1963, the trustees of Columbia University overruled the unanimous recommendation of the Pulitzer Prize drama jury and refused to award Albee's play the prize in drama that year - because of "its unprecedented portrayal of a dysfunctional marriage and the scathing language with which it speaks."

The play startled and captivated audiences and won the 1963 Tony Award for Best Play.

The psychotherapists using Who's Afraid of Virginia Woolf? as a symposium, was also turned into a serious study piece printed in Psychology Today, penned by Anne Malavé, Ph.D. who is Faculty, and Supervisor at the William Alanson White Institute. Her main focus is on adoption, infertility, and third party reproduction.

She explained: "Set in George and Martha's living room on the campus of a small New England College to which the younger couple has been invited, they all drink too much, tell secrets and behave badly. Eventually, the older couple's infertility becomes apparent as the focus of the play shifts to a fifth character, the fantasy son of George and Martha. This "son" has been imagined by the older couple to avoid the grief of never having had an actual child."

According to Malavé, infertility "has wrought havoc in couples' relationships, driving each partner to despair, threatening the bonds of their original attachment to each other, and challenging their understanding of being human."

"In 1962 when Albee wrote this play there was no IVF, no ART, and no ICSI," continued Malavé. "There was only adoption, a subject Albee knows something about as he was adopted himself. Adoption, in 1962, meant a closed and "confidential" adoption with the birthparents remaining anonymous, though their presence was felt in the minds and imaginations of adopted individuals and their adoptive parents.

"Likewise, unborn children may maintain a psychological presence in the lives of infertile and involuntarily childless couples and there are few opportunities for mourning. While there is hope that the couple will eventually accept and even embrace childlessness, a state referred to as "childfree", this transcendence did not occur for George and Martha," opined Malavé.

At the time Virginia Woolf was written the prevailing psychoanalytic theory blamed women for their "psychogenic infertility", caused by "unconscious conflicts" about becoming a mother. This unhelpful approach to infertility further stigmatized women and eroded self-esteen and self-worth," she concluded.

"With the success associated with modern advances in fertility treatments, rates of involuntary childlessness have decreased. But now the pain and the stigmatization of those who remain involuntary childless may be even greater," the article stated.

Who's Afraid of Virginia Wolff? has remained as powerful and popular as it was when the play opened Broadway at the Billy Rose Theatre on Saturday, October 13, 1962. The original cast featured Uta Hagen as Martha, Arthur Hill as George, Melinda Dillon as Honey and George Grizzard as Nick. It was directed by Alan Schneider who won the Tony for Best Director of a Play. Hill grabbed the Tony for Best Actor for his portrayal of George and Uta Hagan took home the Tony for Best Actress for her portrayal of Martha.

In 1963, Columbia Masterworks released a four-LP boxed recording of the original Broadway cast performing the entire play. The release contained a sixteen-page booklet with photos from the original production, critical essays by Harold Clurman and Walter Kerr, cast and crew biographies, and a short article by Goddard Lieberson on the task of recording the play. The introduction is by Edward Albee, (who was present during the February 17, 1963 recording session) in which he relates, "I cannot conceive of anyone wanting to buy [this] massive album; but...every playwright wants as much permanence for his work as he can get."

The recording was issued in both stereo (DOS 687) and monaural (DOL 287) formats and won the Grammy Award for Best Spoken Word Recording 1962-63. It is out-of-print and was never re-released in other formats and is highly prized among collectors, as a play with such adult themes had never been recorded for the general public before.

Now Masterworks Broadway has re-released the 1963 Columbia Masterworks original Broadway cast recording on a truly magnificent 2-disc CD set.

The articulation is perfect as is the sound balancing and micing. No distractions, echoes, static or interference. Just sit back, stare at your player and become engrossed in Who's Afraid of Virginia Woolf?



In the studio recording the original Broadway cast album. Seated: George Grizzard, Melinda Dillon. Standing: Arthur Hill, Uta Hagen. Photo: Masterworks Broadway.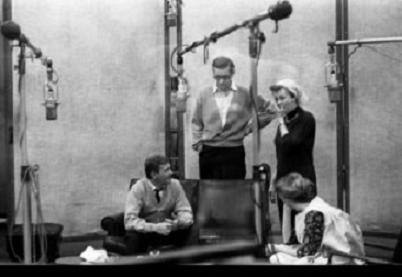 The powerful force of the voices pulls your into the play, creating a total understanding of why, in the heyday of radio, families would sit around the radio and stare at the red light indicating the machine was turned on.

While a live show or watching a performance on a DVD have their power and persuasion, there is something hypnotically magical about listening to this audio recording. Your imagination is not only encouraged, but required to be in focus. You can visualize the scenery, costumes, actors, movement. You can put your own spin on items which compliment your vision of the words; rather than seeing somebody else's manifestation, which may distract from your concept.

The time restrictions listening to this audio CD are the same as viewing a DVD - this isn't mood music. You can multi-task provided it doesn't require a lot of thinking. Otherwise, you are hypnotized into listening to Who's Afraid of Virginia Woolf?

The lines are pointed, droll, sarcastic, opionated and powerful. Footsteps are clearly distinguished. The sound is of such perfection that simultaneous multiple laughter can be easily and clearly be distinguished. Ice cubes being dropped into a glass are heard, but don't interfere with the words being spoken. The sound of a phonograph needle removed from a record; the delicate dribble of liquor being poured into a glass are captured, accenting but not interrupting the biting Albee penned dialogue.

George and Martha engage in dangerous emotional games. They argue - about everything. He insults and mocks. Yet, in various dimensions they love and need each other.

George is an associate professor of history and Martha is the daughter of the president of the college. After they return home drunk from a party, Martha reveals she has invited a young married couple, whom she met at the party, for a drink. The guests arrive - Nick, a biology professor (who Martha thinks teaches math), and his wife, Honey. As the two couples drink, Martha and George engage in scathing verbal abuse in front of Nick and Honey. The younger couple is first embarrassed and later enmeshed. They stay.

Martha taunts George aggressively and he retaliates with his usual passive aggression. He insults her age . . . He recalls kissing her by force on the living room rug. . . Martha tells an embarrassing story about how she humiliated him with a sucker-punch in front of her father. . . Martha thinks that if you aren't carrying on like a hyena you aren't having any fun. . . . He comments, "There are very few sights more disgusting that you with a couple of drinks in you and your skirt up over your head."

All the while, references are made to a non-existent son.

Albee described the inspiration for the title thus:

"I was in there (a bar) having a beer one night, and I saw "Who's Afraid of Virginia Woolf?" scrawled in soap, I suppose, on this mirror. When I started to write the play it cropped up in my mind again. And of course, who's afraid of Virginia Woolf means who's afraid of the big bad wolf . . . who's afraid of living life without false illusions. And it did strike me as being a rather typical, university intellectual joke."

One of the most iconic plays ever written, the last line on Disc 1 is the continuity thread, becoming the first line on Disc 2. When the CD ends, the inclination is to play it again.

The CD will be available through Arkiv Music on March 18, 2014.





Broadway To Vegas is supported through advertising and donations. Priority consideration is given to interview suggestions, news, press releases, etc from paid supporters. However, no paid supporters control, alter, edit, or in any way manipulate the content of this site. Your donation is appreciated. We accept PAYPAL. Thank you for your interest.





ART AND ABOUT


CLICK! CLANG! DING! THE AMERICAN TYPWRITER

Sholes & Glidden, Decorated, 1876, 15 x 16 x 16 in., Collection of Greg Fudacz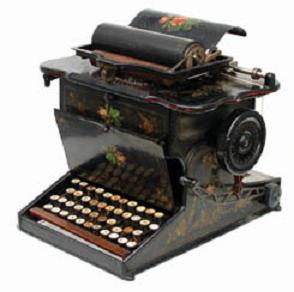 This exhibition will include over 20 machines and wartime badges that span nearly 100 years, dating from 1873 to 1966.

All the typewriters are American made, with a focus on models built in Connecticut.

One of the highlights to be displayed is a Sholes and Glidden dated 1876, three years after the first commercially successful typewriter was produced.

There were 3,000 decorated models that were originally made by Remington at their sewing machine factory in Ilion, NY. Roughly 200 of these rare and extremely desirable machines have been found as of today.

A typewriter is not only an object of precision and design, but a tool used to communicate ideas. During the Industrial Revolution, as more and more of the population became educated, the need to communicate to an increasingly educated population made the typewriter an indispensable tool to produce text more quickly. When typewriters were first introduced, design was an important element; they were expensive so they needed to be attractive as objects.

Collector Greg Fudacz looks for attractive, well-built and well-designed machines that are hard to come by. What he finds most thrilling about collecting, is the hunt. He confesses "Letting them go is hard, if I have three or four of anything, I want more."

Expect to fall in love with these once common household and workplace machines all over again.

The displayed opened yesterday and remains on view through June 1, 2014. The Opening Reception takes place on Thursday, March 13, 2014 at the New Britain Museum of American Art in New Britain, CT.

BOUQUETS TO ART

William Joseph McCloskey, Oranges in Tissue Paper, ca. 1890. Floral design by Friends of Filoli. Photograph © Greg A. Lato / latoga photography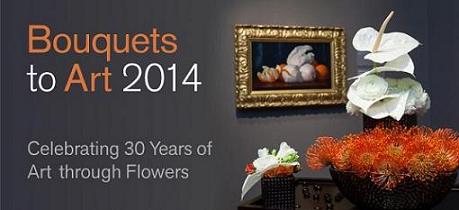 This year's presentation of the spectacular design showcase marks 30 years of this enchanting annual springtime tradition, when gifted floral designers bring their imaginative interpretations to works in the de Young's permanent collection.

Whether quirky, stunning, or simply beautiful, the designs are always captivating. This weeklong exhibition also features an Opening Night Gala and Preview, catered luncheons, a luxury-prize raffle, and children's hands-on art activities.

Bouquets to Art Opening Night Gala and Preview takes place Monday, March 17. Honorary Gala Chair: Lonna Wais. Be among the first to view the fabulous floral exhibits displayed throughout the museum.

Dine on sumptuous food and cocktails by McCall Catering & Events, and enjoy live music and special entertainment. Advance tickets are required; no tickets will be sold at the door.

A special series of Floral Design Demonstrations takes place during the week, where experts share industry tips and trends and create arrangements onstage in the de Young's Koret Auditorium.

Some demonstrations have already sold out, but if you're lucky you can get tickets for Thierry Chantrel's Classic Designs with a Modern Twist and Laura Dowling's Flower Inspirations in the Natural Style, both happening March 19.

March 18, 2014 – March 23, 2014 Permanent Collection Galleries de Young Galleries, San Francisco, CA.

SHAMIL TANNA: ENCORE EXHIBITION a series of photographs taken of performers in the moments directly after they have walked off stage, offering an intriguing and previously unseen view of the world's favorite artists and rising stars.

Encore, an ongoing project which has in the making for several years aims to capture the raw emotion of a live stage performance through a simple portrait taken within seconds of the artist leaving the stage.

This unique project, on display only until March 23, 2014, at the Royal Albert Hall in London offers a rare view into the world of musicians by showing the emotional and physical effects that a live performance can have on them, capturing the elation, euphoria, and adrenaline of the moment.

ON THE BRINK: A MONTH THAT CHANGED THE WORLD A hungry teenage assassin fired two shots that forever changed the world on June 28, 1914.

The series of events that triggered the outbreak of World War I will be on display in On The Brink, a special exhibition which opens March 15 at the National World War I Museum at Liberty Memorial in Kansas City, Missouri.

Gavrilo Princip placed the world "on the brink" in 1914 as his two bullets struck and killed heir to the throne of the Austro-Hungarian Empire Archduke Franz Ferdinand and his wife outside the capital of Bosnia-Herzegovina.

The special exhibition, On the Brink: A Month That Changed the World showcases the underground organizations, diplomatic communications and international newspaper reporting of the assassination and its political aftershock in a manner never seen before.

The assassination led to the Austro-Hungarian Empire declaring war on Serbia and, eventually, the world's first global war by the end of August, 1914. The exhibition, located in Memory Hall and free with admission to the Museum, runs through mid-September, 2014.


SWEET CHARITY


THE ELTON JOHN AIDS FOUNDATION 22nd annual Academy Awards Viewing Party, held on Sunday, March 2, 2014, in West Hollywood Park, California raised $5.1 million for the fight against AIDS.

SEATTLE REP 2014 GALA a very special evening celebrating the Rep's Next 50 years and honoring the 28-year tenure of Managing Director Benjamin Moore.

Cocktails, Gourmet Dinner on stage in the Bagley Wright Theatre, Entertainment & Raise the Paddle.

Net proceeds will benefit Seattle Rep's artistic and educational programming.

Saturday, March 15, 2014.


OSF TO HOST HIP-HOP POETRY OPEN MIC EVENTS
The Q Brothers who describe themselves as: "We are those two guys who share parents and rap with the kiddies at Lolla, ACL, and Hangout Fest. We also rewrite Shakespeare plays into hip hop musical add-RAP-tations."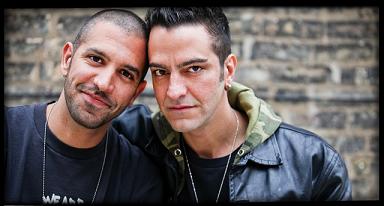 The Oegon Shakespeare Festival (OSF) will host three free Hip-Hop Poetry Open Mic events this spring on March 10, April 7 and May 5. All Hip-Hop Poetry Open Mic events will take place at the Black Swan on the OSF campus.

In addition to opening the stage for the community to share their talents via all styles of poetry, music, dance, and theatre, each night will highlight a different featured artist: the Q Brothers on March 10, Samiya Bashir on April 7 and Los Porteños on May 5.

The first featured artists of the three-event series are the Q Brothers. Musicians, actors, writers, educators, and DJ's, GQ and JQ created and starred in the award-winning, internationally-acclaimed productions, Othello: The Remix and Funk It Up About Nothin' - both musical, hip hop "add-RAP-tations" of Shakespeare's classics. OSF has commissioned the Q Brothers to create a contemporary language, hip-hop version of The Two Gentlemen of Verona, a commission made possible by a grant from the Hitz Foundation.

These events are open to the community, providing an opportunity to work on original material in front of live and deeply supportive audiences. OSF has been producing the free poetry slams and open mics since 2007.


THE WHITE HOUSE AND AFI STAGE 1ST STUDENT FILM FESTIVAL
President Barack Obama speaks with winning students at the White House Student Film Festival on February 28, 2014. Official White House Photo by Pete Souza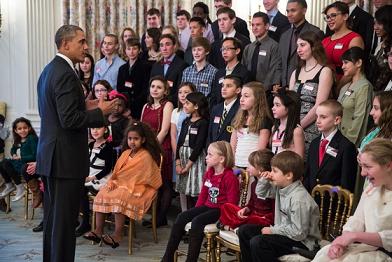 Despite making it difficult for the press to easily learn the names of the student winners, the White House in collaboration with the American Film Institute hosted more than a dozen young filmmakers at the first-ever White House Student Film Festival, where the official 16 selections were screened on Friday, February 28, 2014.

Special guests included Kal Penn, Bill Nye, and Neil deGrasse Tyson from the Hayden Planetarium, along with Conan O'Brien who addressed the students by video.

Students from all across the country created more than 2,500 short films illustrating the role that technology plays in their classrooms, why it's so important, and how it will change the educational experience for kids in the future.

More than 60 of the young filmmakers came to the White House for the festival, where 16 official selections were screened in four categories: Future Innovators, World of Tomorrow, Building Bridges and Young Visionaries.

Making the films were an involved, detailed and, in most cases, a group process. For instances, Gabriel Garcia, 17, a junior at High Tech High in Chula Vista, CA directed and edited the film Beyond the Crossfire. He was among 45 students who worked on the project, which illustrates how technology connects students to people and information. The project also touts an upcoming documentary by the same name that looks at gun violence.

Thru the Lens of a Tiger, was created by students at Wilson High School in Washington, D.C. Wilson High School students Jason Perry and Alicia Oluhara represented the project at the White House screening.

Daniel Nemroff a junior at Friends Central School in Wynnewood, PA who directed, edited and did the visual effects for his winning project, made a point of thanking his teachers.

President Barack Obama spoke with students in the State Dining Room prior to the White House Student Film Festival in the East Room of the White House. And, as the President said himself, "these movies are awesome."


IMPRESSED BY AMERICAN WARRIOR GAMES PRINCE HARRY LAUNCHES INVICTUS GAMES
Prince Harry delivering a speech to launch the Invictus Games. Photo: Clarence House.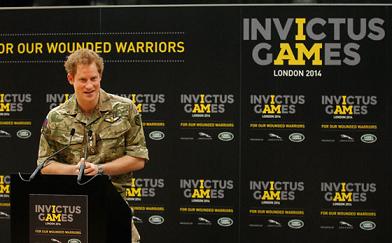 When Prince Harry visited American last year, he made no secret that he was impressed with the Warrior Games which he participated in while visiting Colorado.

At that time he vowed to create similar games in the United Kingdom.

True to his word, the most eligible bachelor in the world has made a passionate plea for Britain to come out and support a London-based Paralympic-style championship for injured servicemen and women that he has launched. His intention is to stop soldiers from being forgotten even as the Afghan war ends.

Prince Harry spoke at the Copper Box at the London Olympic Arena to launch the Invictus Games.

Invictus - a Latin word meaning unvanquished - unconquerable.

Prince Harry, known as Capt. Wales, is an active duty Army officer. He was dressed in fatigues and gave a short presentation before he later joined some of the wounded troops in a demonstration of seated volleyball.

"It's not about supporting the conflict in Afghanistan, it's not about supporting war, it's not about supporting the forces themselves, but come along, show your support, look at the journey these guys have been through," Harry said.

Harry added: "It's not about winning or losing. The fact that the guys have got to this stage to be able to take part in these events, they have already won in my mind. "The games itself is an excuse to bring attention to the legacy part. We want to try to get as many of these servicemen and women back into society - giving them jobs and making sure that all the core values that they have been taught in services to make them amazing, wonderful, strong, inspirational people, that they bring it back into the community for the younger generation. Why wouldn't you do that?"

Capt. Wales continued: "We're drawing down from Afghanistan and people will forget because something will come into the news - look at how busy the world is at the moment."

Organizers said more than 300 wounded, injured and sick servicemen and women, serving and veteran, from 13 nations would compete in eight adaptive sports in London from September 10-14, 2014.

The event will include: archery, wheelchair basketball, road cycling, indoor rowing, wheelchair rugby, swimming, sitting volleyball and a driving challenge.

Countries taking part range from Afghanistan and Iraq to Germany, Italy and New Zealand.








SPREADING THE WORD


THE BROOKLYN BOWL famous in Brooklyn and London opened an edition in Las Vegas yesterday, March 8, 2014.

Located on the Strip at The Linq which is home to what is soon to officially open, the world's largest observation wheel, Brooklyn Bowl is a three story entertainment venue including a 2,000-seat live stage performance area, dining, drinking, and 32 bowling lanes.

Elvis Costello and The Roots perform at Brooklyn Bowl March 15-16.

STEPHEN WARD Andrew Lloyd Webber's latest musical will close on March 29, 2014, less than four months after opening at the Aldwych Theatre on the West End. The show, based around the real life sex and spy scandal of Stephen Ward, an osteopath and socialite who was instrumental in the Profumo sex scandal, which threatened to topple the Conservative government in 1963. Put on trial for living off immoral earnings, Ward took an overdose of tablets and died three days after being found guilty.

With the closing, the stage versions of Hilary Mantel's historical novels Wolf Hall and Bring Up the Bodies have been announced as transferring to to the Aldwych, slated to begin May 1, 2014.

Set in Tudor England, they tell of Thomas Cromwell, the commoner-turned-politician who became King Henry VIII's right-hand man. The plays, which each last three hours and star Ben Miles as Cromwell and Nathaniel Parker as Henry, have enjoyed sell-out success in Stratford since opening in December.

BARRY BOSTWICK has been added as a guest start taking part at the 33rd annual William Inge Theatre Festival, at Independence Community College in Independence, Kansas. The actor will participate in a professional ensemble for a concert reading of new play by Arthur Kopit, titled BecauseHeCan. Arthur Kopit's new techno thriller about identify theft opens the Inge Festival on Wednesday, March 26, 2017.

I CAN'T SING the X Factor spoof musical written by comic Harry Hill, which is currently in previews at the London Palladium has experienced a few setbacks. First the start of the preview performances, slated to begin February 27, were delayed until March 5 because of technical problems. Then the audience was left to twiddle their thumbs for almost 50 minutes between acts during the first performance.

In a statement, the team behind the musical said: "We have a huge and ambitious set, which is thrilling our audiences when they see it, but we're aware that the turnaround between acts needs to be quicker and our technical teams continue to work extremely hard on shortening it.

"The preview period for any new West End show is, by its nature, a time for ironing out any issues and we fully recognize there's still work to do on the interval length, which is getting shorter all the time, and we thank everyone for their patience."

The statement concluded: "We've had an absolutely terrific response from our preview audiences, with standing ovations each night so far."

The musical, due to open on March 26, stars Nigel Harman as X Factor honcho Simon Cowell.

JOHN TRAVOLTA has become the butt of jokes for mangling Idina Menzel's name when he introduced her during the Oscar telecast. Nobody is going to be more embarrassed than Travolta. However, since the name flub thousands (if not millions) of people, who had never heard of the Tony Award winning singer and actress, now know of her. Those who weren't sure how to pronounce her name - now know. Travolta gave her more name recognition - no pun intended - than a press agent with a creative mind and an unlimited budget could have accomplished. She didn't really need a career boost, but she got one.



SONGWIRTER ROBERT LOPEZ 39, elevated into the rarified status as a member of EGOT when he won the Academy Award for his Original Song composition of Let It Go from the animated film musical Frozen.

He is only the 12th individual to become an EGOT - those few who have won an Emmy, Grammy, Oscar and Tony.

The prestigious membership includes Richard Rodgers, Helen Haes, Rita Moreno, John Gielgud, Audrey Hepburn, Marvin Manlisch, Jonathan Tunick, Mel Brooks, Mike Nichols, Whoopi Goldberg and Scott Rudin.

Stage and screen greats Barbra Streisand, Liza Minnelli and James Earl Jones, are also EGOT, but received one of their awards as a special honor, rather than winning in a competition category.

Lopez is not only the youngest person to become an EGOT, he also holds the record for taking only ten years to complete the difficult achievement.

Lopez won a Daytime Emmy for The Wonder Pets, in the category of Outstanding Achievement in Musical Direction and Composition; his Grammy was for the cast album for The Book of Mormon, in the Best Musical Theatre Album category; his Tony Awards were for Avenue Q Best Original Score and The Book of Mormon Best Original Score as well as Best Book of a Musical.

Lopezco-wrote the score to Frozen with his wife, fellow Oscar winner Kristen Anderson-Lopez.

KENNEDY CENTER CHAIRMAN David M. Rubenstein has announced the selection of Deborah F. Rutter as the next Kennedy Center president. Ms. Rutter currently serves as the President of the Chicago Symphony Orchestra Association and will assume her Kennedy Center duties on September 1, 2014.



OTHER DESERT CITIES by Jon Robin Baitz.

Directed by Lindsay Posner.

The play is described as "a fierce and funny drama deftly exploring family politics, love, loss and redemption."

Brooke Wyeth returns to the family home in Palm Springs for the first time in six years with some incendiary news for her Republican parents Polly and Lyman, her brother Trip and her recovering alcoholic Aunt Silda. She is about to publish a memoir about her family, exposing a pivotal moment in their painful and explosive past, her actions threatening to push fractured family relations to a point beyond repair.

The production will be designed by Robert Innes Hopkins, with lighting by Peter Mumford and music by Michael Bruce.

This is also the first production in a season of in-the-round production at the Old Vic.

This UK premiere begins performances March 13 prior to an official opening March 24, for a run through May 24, 2014 at the Old Vic in London.

FLYIN' WEST written by Pearl Cleage.

Directed by Saundra McClain.

Four African-American women journey west to the all-black town of Nicodemus, Kansas in search of the freedom promised by the end of the Civil War. The Homestead Act of 1860 offered 320 acres of free land to U.S. citizens willing to settle in the western states. Based in part on actual journal entries, Flyin' West highlights the struggles of black homesteaders who, following the advice of charismatic leader Benjamin "Pap" Singleton, took advantage of the Act to flee the racism and oppression of the South. Cleage gives us a glimpse of the tribulations faced by freed slaves even after the abolition of slavery, and of the quarter of a million unmarried or widowed black women who moved west to escape a white male-dominated world.

"The play is a work of fiction, but Nicodemus is a real place and the story is inspired by historical fact," says McClain. "These settlers were running away from the lawlessness and the lynching of Jim Crow. Back in the cities, they were starting to lose some of the freedoms they had grown accustomed to during Reconstruction. Many didn't realize until they got to Kansas just how rough it was going to be. It had been painted as the promised land by Pap Singleton. They were seeking a black Utopia."

Starring Aisha D. Benton, Robin Braxton, Boise Holmes, Dylan Mooney, Leilani Smith, Cheri Lynne Vanden Heuvel.

Set design for Flyin' West is by JR Bruce; lighting design is by Donna Ruzika; costume design is by Kim DeShazo; sound design is by Dave Mickey; props are by Patty and Gordon Briles; wigs are by Anthony Gagliardi; production stage manager is Pat Loeb; and casting is by Michael Donovan Casting.

Previews: March 12 and March 13. Performances: March 14 – April 6 at the International City Theatre at the Long Beach Performing Arts Center, Long Beach, CA.

BUDDY HOLLY, RITCHIE VALENS & BIG BOPPER: WINTER DANCE PARTY is the official live and authentic re-creation of Buddy Holly, Ritchie Valens and the Big Bopper's final tour, and the only show endorsed by both the Holly and Valens estate.

The stars include John Mueller, Linwood Sasser and Ray Anthony.

John Mueller, the former star of the U.S. touring version of the London/Broadway hit musical Buddy: The Buddy Holly Story, performs as Buddy Holly. Linwood Sasser has performed as the Big Bopper with John Mueller's Winter Dance Party since 2008 and Ray Anthony performs as Ritchie Valens and starred in the Legends of Rock & Roll at the Imperial Palace in Las Vegas.

The totally authentic and energetic four piece band (guitar, drums, stand-up bass and sax) includes Grammy award winning saxophonist, Mike Acosta.

Each live concert performance includes over two hours hit songs of the 50's era such as: That'll Be the Day, Peggy Sue, Oh, Boy, Rave On, La Bamba, Chantilly Lace.

March 14-16 at Bridgeport's Downtown Cabaret Theatre in Bridgeport, CT.

THE FABULOUS PALM SPRINGS FOLLES welcomes Darlene Love to the star slot beginning March 11.

Love was a hit at the recent Adacemy Awards' show when she delivered a musical acceptance speech after 20 Feet From Stardom was named Best Documentary.

An icon among background singers and a renowed solo artist, Love, 72, will appear through May 18 when the Follies closes its doors forever.

Just this February, OWN (Oprah Winfrey Network) acquired the television rights to Love's memoir, My Name Is Love: The Darlene Love Story, which will be adapted into a scripted television movie.

The Fabulous Palm springs Follies can be enjoyed at the historicPlaza Theatre in Palm Springs, CA.

PAUL ROBESON by Phillip Hayes Dean who also will be making his Los Angeles directorial debut.

Starring two time Emmy Award winner Keith David in this one-man play accompanied by pianist/musical director Byron J. Smith.

A powerful chronicle of the life of Paul Robeson, Phillip Hayes Dean's play takes us from his childhood in New Jersey to his adult life around the world. An All-American athlete and a lawyer with Columbia Law School credentials, Robeson faces the racism prevalent in society in the early part of the twentieth century. He strives to rise above, and it is his triumph in that struggle that turns Robeson into a modern day hero.

Realizing the racist system would not allow him to practice as a lawyer, Robeson turns to singing, something he had learned well in the church choir. His singing leads to acting and his acting, with all the accolades due a master, leads him around the world. But every place he visits he sees the strains of racism in its many forms. The more he sees, the more he speaks out, using his influence and stature to try and enlighten those around him. After some time in Europe, he returns to the United States to perform and speak out about the injustices in the country he loves. Confronting racism again, he sticks to his values, adhering to no party line, but is accused of being a Communist, an agitator and much more. He is blacklisted and his passport is revoked, but he goes on speaking out whenever he can.

For eight years Robeson fights to clear his name. Finally, the social climate begins to change and toward the end of his life, Robeson's passport is reinstated along with some of the glory and respect he earned along the way.

In addition to director Phillip Hayes Dean, the creative team includes scenic design by Edward E. Haynes, Jr., costume design by Wendell C. Carmichael, lighting design by Dan Weingarten, sound design by Bob Blackburn and choreography by Keith Young. The production stage manager is David Blackwell.

Presented by Ebony Repertory Theatre, performances will run March 12 – 30, 2014 with an official press opening on March 14 at the Nate Holden Performing Arts Center in Los Angeles.

CAPT. JOHN SMITH GOES TO UKRAINE created by Bob Holman, performance artist Susan Hwang, Ukrainian musician Julian Kytasty and director Virlana Tkacz has been extended through Friday, March 14 at LaMaMa E.T.C. in New York City.

Everyone knows about Pocahontas, but few are aware that shortly before Smith first sailed for Virginia, he was an adventurer in the Mediterranean and fought against the Ottoman Turks. In 1602, he was captured and sold as a slave. His master, a Turkish nobleman, sent him as a gift to his mistress, who fell in love with him. Taken across the Black Sea, he escaped through what is now Ukraine. He returned to England in 1604 and joined the Virginia Company of London in 1606, setting sail for the New World in 1607. Smith's autobiography, published in 1630, is the primary source for this play. Although the theatre piece is grounded in historical material, the issues raised in "Capt. John Smith Goes to Ukraine" find reflections in today's headlines from Kyiv.

The show is a comedy/musical/historical epic-in-an hour with three characters. John Smith is played by Bob Holman, founder of Bowery Poetry Club in New York. Susan Hwang, a Korean-American comic/performance artist & accordion player, plays all of Smith's love interests. Julian Kytasty, a legendary Ukrainian traditional musician, provides the sound score. Performed in Ukrainian and English.

Projections by Volodymyr Klyuzko with Mikhail Shraga include archival discoveries and beautiful engravings by John Payne from the original 1630 edition of Smith's book.


WHO'S WHERE


BRUNO MARS has two, two night stands this week. The first begins Monday, March 10 at the Allphones Arena in Sydney, Australia and the second starts Saturday, March 15, at the Vector Arena in Auckland, New Zealand.

MILEY CYRUS brings her tour to the Xcel Energy Center in Saint Paul, MN on Monday, March 10. On Wednesday she stars at the American Airlines Center in Dallas. Thursday finds her at the BOK Center in Tulsa, OK. Saturday's show is at the AT&T Center in San Antonio, TX. Next Sunday she'll fill the Toyota Center in Houston with her energetic production.

LADY ANTEBELLUM onstage Monday, March 10, at the Agrodome in Vancouver, BC. Wednesday's show is at the Taco Bell Arena in Boise, ID. Friday finds them at the Events Center in Reno, NV. On Saturday they take to the stage of the Citizens Business Bank Arena in Ontario, CA. Next Sunday, March 16, they perform at the Save Mart Center in Fresno, CA.

MICHAEL BOLTON is in Florida this week. Monday's show is at the Capitol Theatre in Clearwater. On Wednesday he's on stage at the Kravis Center in West Palm Beach. On Friday he'll be playing his hits at the Florida Theatre in Jacksonville. Next Sunday, March 16, he makes a stop at the King Center for the Performing Arts in Melbourne.

MICHAEL BUBLE takes to the stage Monday, March 10, to perform at the SSE Hydro in Glasgow, Scotland. On Wednesday he's be delighting his fans at the NIA in Birmingham, UK.

KEB' MO the three-time Grammy winner combines the old-fashioned country blues of Robert Johnson with touches of soul and folksy storytelling. His solo acoustic performance takes place, Sunday, March 16 on the Main Stage of the Flynn Center in Burlington, VT.

VIOLINIST EMMANUEL SALVADOR performs March 14, at the residence of the Ambassador of Portugal, Nuno Brito in Washington, DC as part of the Embassy Series. This concert sold out weeks ago with a waiting list.

JACK JONES who has a cameo in David O'Russell's Oscar-nominated film American Hustle as well as being heard on the soundtrack singing I've Got Your Number, performs an afternoon concert show on Sunday, March 16, at the Edgerton Center for the Performing Arts on the campus of Sacred Heart University in Fairfield, Connecticut

IL DIVO with guest star Tony and Olivier Award winner Lea Salonga are in the spotlight Monday, March 10, at Budokan Hall in Tokyo. Wednesday's gig is at the Taipei Arena in Taiwan. The international quartet features tenor Urs Buhler of Switzerland, baritone Carlos Marin of Spain, pop artist Sebastien Izambard of France and tenor David Miller from the United States.




FINAL OVATION


MARTIN GOTTFRIED renown drama critic died at New York-Weill Cornell Medical Center on March 6, 2014 from pneumonia complications. He was 80.

HIn addition to being a drama critic, he penned biographies on Arthur Miller, Jed Harris, Angela Lansbury, Danny Kaye, Stephen Sondheim, George Burns and Bob Fosse.

His best known books were Broadway Musicals in 1979, and followed it up with More Broadway Musicals, in 1991.

He received Rockefeller Foundation grants in 1966 and in 1967. And, his first book of criticism, A Theatre Divided: The Postwar American Stage, published in 1967, won the George Jean Nathan Award for dramatic criticism.

He was a guest professor of theatre at Columbia University, Carnegie-Mellon University, Rutgers University and Colorado College.

GARRY STUART FOY Broadway theatrical consultant for performer flying and sound design, passed away February 26, 2014 in Las Vegas. He was 58.

Born into the famous Flying By Foy theatrical family, he was the son of Peter and Barbara Foy.

Garry enjoyed a broad range of theatrical pursuits from a very early age. He studied acting at UNLV's children's theatre, but found a greater interest in sound and lighting design. He earned his Class 1 FCC license while still in high school and became the youngest DJ in the country, with his own radio show on KLUC FM. Garry graduated from Valley High School in 1974, soon became a member of IATSE Local 720, worked as a stage technician for Lido de Paris at the Stardust Hotel in Las Vegas and toured with the Ice Capades as an Audio Supervisor.

In 1979, Garry joined his father to create the flying for a Broadway revival of Peter Pan, personally flying Sandy Duncan for the show's run at the Lunt-Fontanne Theatre in New York and the subsequent National Tour.

He returned to Las Vegas to pursue a dual career as a Flying Director for Flying by Foy and a Head Soundman for Las Vegas production shows at the Hacienda and Riviera.

Garry rose through the ranks to become Flying by Foy's President and Chief of Operations.

His love of electronics and sound design led to the creation of the world's first self-contained radio-controlled flying system. He spearheaded the addition of a 10,000 square foot studio facility dedicated to improving the art of flying and supervised the development of automated control systems for flying performers. Garry consolidated his passion for audio engineering and theatrical flying with the creation of Foy Flight and Sound. He was currently serving as Relief Soundman for the Las Vegas Hotel (LVH) and working as an independent consultant for flying and special effects.

His father Peter Foy passed away in 2005. Among his survivors are his mother, Barbara Foy, and his sister, Teresa Foy McGeough. Services will be held today, Sunday, March 9, in Las Vegas.

SHEILA MacRAE died March 6, 2014 at the Lillian Booth Actor's Home in Englewood, N.J. She was 92.

From 1966-70 she played the role of Alice Kramden, the sharp-tongued wife of bus driver Ralph Kramden, played by Jackie Gleason in The Honeymooners.

The blonde beauty, who was an exceptional singer, got her acting start at the Millpond Playhouse in Roslyn, N.Y.

A versatile actress, singer and impersonator, she teamed with her first husband singer Gordon MacRae in a night club act which was a Las Vegas mainstay.

They also appeared on stage together, in such musicals as the 1964 production of Bells Are Ringing, and Guys and Dolls, in which she played the role of Miss Adelaide, a part that she took to Broadway in the 1965 revival.

Her union to Gordon MacRae (1941-1967) produced two daughters, actresses Heather MacRae and Meredith MacRae, and two sons, William Gordon MacRae and Robert Bruce MacRae. A successful actress, Meredith died from brain cancer in 2000 and composer Robert Bruce (born April 6, 1954). who died on June 14, 2010.

Her second marriage in 1967 to Ronald Wayne ended in a 1970 divorce.

MacRae is survived by her children, actress Heather and William Gordon, known as Gar who is retired from Paramount Studios as a Sound Engineer; grandchildren, Allison Mullavey; Zak, Josh, Jeremy, Caitlin, and Michael MacRae; and two great-grandchildren, Niko and Jotaro.

HANK RIEGER a longtime NBC press representative who also served as the first elected president of the Academy of Television Arts & Sciences, died March 5, 2015 of natural causes at an assisted living facility in Oceanside, Calif.. He was 95.

Beginning in 1965 he spent nearly 15 years as head of West Coast press and publicity for NBC. In 1977, he began serving the first of two terms as president of the academy after the organization's split of its East and West Coast chapters. He was also the founding publisher of the academy's Emmy magazine. In 1979 he left NBC to form his own publicity and consulting company, which had ESPN as a longtime client.

Before getting into PR, he worked as a journalist at the United Press International bureau in Los Angeles when it was in direct competition with the Associated Press. One of Rieger's claims to fame was that he got the tip in 1962 that Marilyn Monroe had died. "We beat the tail off AP on that one," he said.

TED BERGMANN the producer of early Grammy and National Football League telecasts, died Sunday. March 1, 2014, following surgery in Santa Monica, Calif. He was 93.

Bergmann was an American television and radio producer, screenwriter, announcer, network and advertising executive, who broke into television, working for the Dumont Television Network in the late 1940s, he would eventually rise in the ranks at the network during the 1950s. Later on, beginning in the 1967, Bergmann would take on even more jobs, first beginning as a scriptwriter for the popular CBS-TV variety/comedy series The Smothers Brothers Comedy Hour, eventually branching out and taking on the role of producer and production manager for several popular TV series from the 1970s through the 1990s.

Neil Portnow President/CEO of The Recording Academy issued the following statement: "Television and radio producer Ted Bergmann was a pioneer in broadcast media, bringing major entertainment events and groundbreaking scripted shows to network TV. He was the first person to bring the annual Grammy Awards to television, creating 'The Best On Record' - a post-show edited version of the annual ceremony featuring performances and presentations. Bergmann produced 'The Best On Record' for seven years and helped raise awareness for our annual industry event, which ultimately lead to its transition into a live telecast. His passion for and commitment to his work was exemplified by his participation in several industry organizations and his representation of television before congressional committees and the FCC. The entertainment industry has lost one of its visionary veterans, and his work will forever be preserved on film to help guide and inspire future generations. Our sincerest condolences go out to his family, friends, and the medium to which he was so devoted."















Next Column: March 16, 2014
Copyright: March 9, 2014. All Rights Reserved. Reviews, Interviews, Commentary, Photographs or Graphics from any Broadway To Vegas (TM) columns may not be published, broadcast, rewritten, utilized as leads, or used in any manner without permission, compensation and/or credit.
Link to Main Page
---
Laura Deni



For the snail mail address, please E-mail your request.
CLICK HERE FOR COMMENT SECTION