! >
Broadway To Vegas
  
 SHOW REVIEWS CELEBRITY INTERVIEWS GOSSIP NEWS

| | |
| --- | --- |
| | |
COMMUNICATING THROUGH A MASK - - KANDER AND EBB CELEBRATION - - WILLIAM S. PALEY TELEVISION FESTIVAL - - THE QUANTUM EYE - - NEW YORK CITY BALLET RETURNS TO LONDON - -JUDITH IVEY STARS IN THE AMERICAN DREAM AND THE SAND BOX - - HONG KONG CHINESE ORCHESTRA - - CELEBRITY AUTOBIOGRAPHY: IN THEIR OWN WORDS' - - DONATE . . . Scroll Down


Copyright: March 9, 2008
By: Laura Deni

CLICK HERE FOR COMMENT SECTION
ENTERTAINER ADMITS DECEPTION


He has trouble convincing his audiences that he isn't psychic. Sam Eaton's show, The Quantum Eye, has been manipulating people's minds for the past two years. Currently home at The Snapple Theatre in New York City's Times Square - the show is a deception.

Eaton spoke with Broadway To Vegas about his parlor mentalism brought into the 21st century.

"One of the things that I make a big point of is - we're not actually psychic," Eaton immediately declares. "I am specifically doing mentalism which is mind reading and manipulation of the audience. All it is, is using con artist's techniques and psychology and it looks like mind reading."

The Quantum Eye is the second longest running magic show in New York.

"It is amazing how little magic there is in New York on a regular basis," he said with a surprised tone in his voice. "To tell you the truth, I don't know why. It is definitely a cultural dynamic. It's a very different culture - much more of a New York experience than a Vegas experience."

"It's not stagey, virtually no props.

Sam Eaton on stage with his infamous Sharpie marker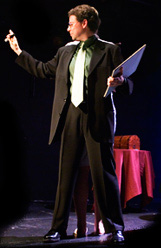 The most technical thing I use is a Sharpie marker. It's all mind magic, dealing with the audience. It's a very different performance from what most people picture what magic is going to be."

Eaton got into the mind manipulation bag through personal revelation.

"I've always been involved in magic but I ran another business, an IT consulting firm for 20 years. My first wife became very ill and we were going to spiritual healers and any alternative, as well as doing all of the traditional medicines," he sadly recalled. "In the process I met con artists. And, it just enraged me. I have a background in magic, so I knew what they were doing. I thought - this is the most evil thing I have seen - that they would take advantage of people in this situation."

With the passing of his wife, Eaton went through a reassessment of his own life.

"A few years later I was doing a life change and I decided I was going to pursue some things that I loved. Life is too short. It was basically a total direction change. I sold my business and I began working on doing a stage show. I figured the only way to do a stage show is - do a stage show."

It entertainment with a subtle message.

He riles against people who pray on anybody who has been given a bad medical diagnosis - and the worms come out of the woodwork in a variety of species; friends, relatives, co-workers, strangers. A hidden motive is power. Helping empowers them with their importance and eventually can be the means to take what you have - be it money, possessions or occupation.

"I like to educate about con artists," he stressed. "They are taking people who are desperate and seeking out those people. They are looking to increase their reputation. They are looking to make money off of the situation. People in terrible situations are contacted left and right by psychics. Now, some of these people are well meaning and actually believe in their powers."

"And, many of them are leeches of life - whether they are looking for money, power, or attention. Basically, I say, if money or power comes into the picture I would doubt"... and his voice trailed off in cynical laughter.

"Even if they are not charging money, think about the power situation," he cautioned. "Money will come into play eventually. They are building up trust. Then, eventually, the big con happens. Ask yourself; are they making money off of what they do? Are they using you for PR or publicity?"

"I am sure there are some out there who are using these techniques and doing good," he conceded. "They are helping people to heal and letting people come to closure, But, they are unregulated and most of them are very power obsessed. Because of that, they see the control they have over people and the control that people give them. And, it's hard line not to cross - they have more power and the problem persists. The problem with educating people - even in an entertaining way - about being conned is that people don't want to believe the truth."

"Even though I am saying these things during the show, after each show I am out in the lobby talking to people, and I have to convince several people that I am not psychic. During each show I say: You are being charged a ticket price, there are playbills with writing credits and directing credits and people still think I am a psychic."

"It's something that you really can't laugh at, because it tells a lot about the human condition and expectations," he cautioned. "I have to be so sensitive to this because if I say the wrong things I can really upset them. And, I try to do it as gently as possible - to educate them that I am not saying these things don't exist - I don't believe they do."

"I think there are miracles all around us. But, I can be in a room of 300 people and we all see the same thing, but in different ways and we can all be wrong. I think that is amazing. We all make the same wrong assumptions and that's where magicians work."

"We are all fed with so much information. We can't possible process it."

Eaton offers a fun test:

Look at the text below and quickly count the number of "F"s you see.



(The correct answer is at the bottom of this article)

"I want to convey to the audience a certain lesson - keep in mind that I'm just using you and it certainly looks real, doesn't it? This is a show that could have been done 2,000 years ago. It's not using any technology. It's all individuals interacting. I'm having people come away with more of a predisposition to asking questions."

"I try to minimize using what other magicians use. I do use cards, I think twice in an evening. One is that I memorize a deck of cards in about 45 seconds, which is more entertaining that you might think. I do demonstrations of mental abilities," he said about his card counting ability - a practice which is banned in casinos.

"That's okay," he quipped. ""I have never gambled."

While Eaton gets star billing, frequently it is the audience that steals the show. Audience members are brought on stage to get into the act.

"I ask questions and determine who is lying. And, I describe many of the techniques that I am using. Some are skills and many of the things I do during the evening involve using a con artist's trick of deception, slight of hand and misdirection. It looks like mind reading. I'm mixing together real skills and deceptions."

"Psychics" know that people's interests/troubles fall into three categories; money-love-health, which helps the predictions.

"Someone who practices the deceptions that I do can do what is called a cold reading of a person, which is done without knowing anything about them. You walk into a room - seeing them "cold" so to speak, and are able to determine an enormous amount about them with generic statements that 90 percent of the people are going to agree with about themselves. That is followed by certain clues about their physical being - based on their age, sex, whether or not they have a wedding ring on, how they are dressed, certain things and you can build an amazingly accurate description that they will not disagree with. From there, in the course of interaction, they can feed you an enormous amount of information that you mirror back to them," he explained.

"That is a cold reading. Then there is a warm reading and a hot reading." he continued and mentioned the name of a famous psychic indicating that the person "is not even that good," elaborating that the performer "literally spies on the audience on the way in. It's using your people to spy on the audience waiting to get in, mixing in with the audience to do research on them to reveal impossible information. "I'm here because of my uncle, who are you here about?"

Expressions can also be a giveaway.

"You study a person's expression. It's amazing how much information people give you. Now, I've had moments on stage which floored me, when I've had things come out of me which were accurate. People in the profession learn to take credit for those moments of coincidence. If I do 500 performances there are going to be amazing coincidences."

While Eaton does stage corporate and private party events he refuses to do private readings because - as he is prone to say - "I am not a psychic!"

"I have actually ended my relationship with several entertainers because - although in their programs they would say 'I am an entertainer' - they would do private readings for people who were convinced that they were a psychic."

"That absolutely crosses the line for me. I don't want to have anything to do with those people. I'm so clear about that. I don't want it to be a gray line at all. A lot of entertainers leave it gray and are coy about it. I understand where they are coming from. They are comfortable with that; I am not. I want to be very clear. I am not psychic."

His shows are customized.

"Corporate events often times have a message. Private parties can be a 500 person birthday party or a party for 12 people. I have three different shows. I'm different from most magicians because most magicians do magic tricks. I do a complete show. I give them a choice of length of time and the kind of show, but they are all the magic/mind reading element. With 12 people everyone is participating. With 500 people in a room, only some people get on stage. Everything I do is audience participation. If you're going to read people's minds you have to have the person participate."

While Eaton's act has evolved into an extremely popular performance, Eaton gives credit to his audiences.

"It's all about the audience," he stressed.

"If you see the show and then see it again in three months, it's basically going to be the same show, but the show is going to be wildly different because of the audience. Sometimes I'll do different magic based upon the people. The people take you in different directions and that's very interesting."

"In a sense my art form is closer to improv comedy than it is to a magician. Because I'm talking and always interacting with the audience. In that sense, it's a different situation every evening."

"I am a deceiver. I have a lot of skills. Intuition is a part of it, but it's a whole lot of other things. Born on Friday the 13th in New York, Eaton has lived in the West Village for 20 years. "It has turned into a unbelievable hot neighborhood around me," he said of an area which was once the stomping grounds for biker gangs and prostitutes.

He's thrilled with his 200-seat venue located in the heart of Times Square. "We're attracting a lot of tourists. And, the show is also an advertisement for me to do corporate events and private parties. It has raised my visibility. It gives me enormous freedom to experiment with the show and I'm under no pressure," said the easy going Eaton.

"About 20 percent of the audience is now children, which is new for me. I'm also surprised at how young the children are. Mostly they are the children of tourists. Early on I said no children under 12 should come to the show. Well, I was wrong," he admitted. "Kids as young as seven and eight are appreciating it. They are a lot more sophisticated than I was at that age! It's a sophisticated show, not visual and I'm surprised they are following it. They come to me afterwards and they are enthralled. In a some ways it's more what they think of magic when they want to do magic. It's making something happen with their minds. Not a big tiger illusion."



Catherine Russell as Margaret Brent in The Perfect Crime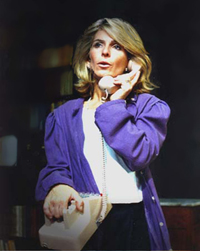 The Quantum Eye shares a stage with The Perfect Crime which is the longest running murder mystery on Broadway and a production which Broadway To Vegas enjoyed when it was off-Broadway at Theatre Four.

The Quantum Eye and The Perfect Crime are a compatible pairing. Hopefully audiences will see both shows.

"They have been very supportive of me," he said. "The owner of the theater is the star of The Perfect Crime. I have enormous respect for her. She starred in the show and made it happen."

Catherine Russell originated the role of Margaret Brent and has played every performance but four since the play opened in April of 1987. She teaches undergraduate acting at New York University and is also a principal in MGR Consulting, a new theatre general management and consulting firm that helps producers, playwrights and actors create and manage long-running shows.

F TRICK ANSWER: Some people see only four. Most see five. Some get six. Very few see seven, which is the correct number. Really, go back & count again, slower this time. We are not as observant as we think.


COMMUNICATING THROUGH A MASK
Dana Wieluns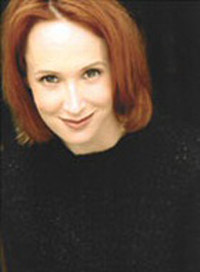 Masks. We all wear them. Whether emotional or physical, masks can shield or project.

Fafalo creates a vibrant, topsy-turvy world that's an original, myth-based comic fantasy. Using colorful Balinese masks and huge, spectacular puppets to conjure up the excitement and comedy of the circus, Fafalo is a fairy tale for adults about a most unlikely candidate who is crowned king in the mythical kingdom of Galliandra.

Dana Wieluns, a graduate of the Dell'Arte International School of Physical Theatre, and a recipient of a BA in English Literature with a Certificate in Theatre and Dance from Princeton University is the Mask and Movement Coach for this production. Wieluns spoke with Broadway To Vegas about using masks to speak volumes.

"My first professional acting job out of college was a children's theater company called The Shoestring Players, which is still in existence. That is a physical theater company," said Wieluns who was born in Delaware and raised in Chester County, PA.

"The founder of that company was very interested in myths," she continued. "He was a protégé of Joseph Campbell. What he would do is create four folk tales from around the world and enact those tales. It was through that experience as a performer when I realize that the world of physical theater was something that I wanted to further and trained in. Princeton had been such classic training. I loved Princeton. Like any experience in life you only really appreciate it after you get away from it. The faculty were amazing. I don't think I truly, truly appreciated what it was like to have Toni Morrison teaching on campus. I was an English major. Obviously, I made the relationships that are still my best friends in the world. That was really important, too."

"Then in New York it was sort of Actors Studio type of model. My first job caused me to become very excited by the expressivity of the body - specifically as opposed to the psychological model."

The masks Wieluns uses on stage can be full or half masks - just don't say Halloween.

"I cringe whenever I hear the word Halloween associated with masks. These are not at all the same thing," she exclaimed. "This is a rare opportunity for an audience to see a fully masked show. The masks themselves are gorgeous - hand crafter from Bali. Often we see pieces like that in museums, but we don't see them being filled by talented actors performing in a full play."

"In this situation we use all half masks. When half masks are used they are intended to be used whenever there is speaking," she explained.

"Certainly the mast is an icon - if you look at movies - what the mast represents. It is often used as a symbol as someone who is scarred physically or otherwise, such as Phantom of the Opera."

Frequently the color and design of a masks denote whether the character is a friend or foe, young or old.

"The masks we are using we commissioned from a Balinese mask maker. They are similar to the Chinese, in that they have their own cosmology. We did not ask for specific Balinese characters to denote types. However, because of what the mask maker brings to the mask in terms of his sensitivity, our villain looks like a Balinese villain. The hero, the person with the love interest, looks likes a Balinese Prince."

"The effort was collaborative," she added.



Stephen Legawiec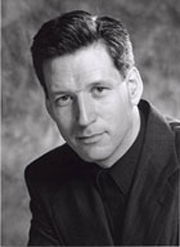 Having an input was author and director of Fafelo Stephen Legawiec who is Wieluns' husband. Legawiec (Le GAHV yetz), son of composer/violinist Walter Legawiec, received his BFA in Design and Illustration from Washington University in St. Louis. He did post-graduate work in theatre at both Cornell and Rutgers Universities as well as studying with the American Mime Theatre in New York City under the direction of Paul J. Curtis.

In 1991 Legawiec founded the Invisible Theatre Project, an ensemble theatre exploring the origins of theatre using ritual as a dramatic form. He has researched myth and world theatre in Europe, Asia and Africa and is a member of the International School of Theatre Anthropology, under the direction of Eugenio Barba, which studies the nature of performance through culture. The Ziggurat Theatre was founded in Los Angeles in 1996 to continue to explore the relevance of myth and ritual to a contemporary audience.



Nyoman Setiawan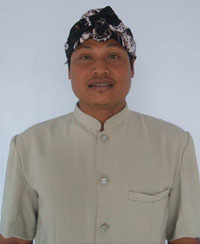 "Mask maker Nyoman Setiawan has many times made masks for Westerners," continued Wieluns about Nyoman who lives in a village that is home to Sanggar Tari Topeng Regeg, a famous dance troupe that performs traditional dances for religious ceremonies around Bali. He began learning to carve masks at age 15 under the guidance of his father, a master mask-maker who was then 65 years old. Nyoman creates more than 100 kinds of masks using pule wood and goatskin, mainly for sacred religious purposes but also for popular use.

"We had met him personally when we went to Bali about a year ago," Wieluns explained. "Steven E-mailed sketches. It was very collaborative. Then Nyoman would work on it and E-mail the photo back. His work was really tailored for our characters."

"Mask is not part of the American popular theater tradition, and audiences rarely get to see fully masked productions by local companies," commented Wieluns. "Mask work is physically and creatively demanding for actors because actors must use their entire bodies to make the mask come alive. All of the characters' thoughts and desires must be crafted into specific physical choices and communicated through the mask - relying on the text to tell the story is not enough."

Rather than constraining a performer or production, the use of masks can liberate.

"In terms of casting, you are not required to cast to type. It just so happens that our ingénue, who is a singer, is an ingénue. But, you are liberate from that. As long as a person can evoke those qualities with their body and voice - the face is covered. It doesn't matter so much that they look the type."

Wieluns speaks from personal experience. In a production last year she played a male - a gangster.



Dana Wieluns on stage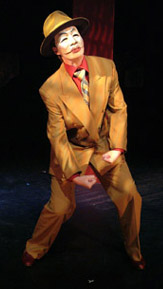 "It was essentially a one person show. I played that character as well as two other characters who were female. That is really the power of the mask and why I am so drawn to it. It is so transformative. As a performer you can delve - go places that without the mask - for whatever reasons - you are limited by your identity - your looks. But the mask can really bring out things that you wouldn't necessarily access in yourself without it. It's liberating."

Wieluns had studied the art of mask making. It's a process some associate with ancient death masks.

First a mold of the person's face is made. The face is first greased and then covered with strips - be they Plaster of Paris or Paper Mache.

"When you pull it off you basically have a negative of their face. You pour plaster in that and then you can work on that forever. That can be transformed into anything - do all forms of sculpting. There are many different methods. I like to sculpt in clay and then put the Paper Mache over that."

"His technique is different as far as I can tell," she observed about Nyoman's work. "First of all, he does not work from that negative/positive construction. None of the masks were made from the actor's specific measurements. All he needs to know is if it is being made for a man or a woman and then he goes with proportions. There are certain proportions from the forehead to the eyes, between the eyes to the nose and the nose to the mouth. That is how he works."

"These are carved in wood. Amazingly they more or less fit all of our actors. We have had to do very little adjusting with them - maybe just loosen the strap. They are lightweight, ship well and can easily go on tour."

"Many of the masks are painted white," she added. "With those, the actors will probably be in white greasepaint - certainly their mouths are colored in some fashion."

Theatrical masks have been utilized since Paleolithic times. The rich ancient history of Greek theater is inextricably linked to the use of masks. They were large, with conventionalized features and exaggerated expressions; the wide mouth of the mask contained a brass megaphone to help project the actor's voice to the large audiences. These masks fell into two general categories, tragic and comic, with many variations for both types. In Rome, masks were used in comedy and by pantomimists.

In the mystery and miracle plays of medieval Europe, masks were used to portray dragons, monsters, allegorical characters such as the seven deadly sins, and, inevitably, the devil. The actor portraying God frequently wore a gilt mask. During the Renaissance, half masks covering the eyes and nose were used in the commedia dell'arte; these masks are the apparent ancestor of the modern domino mask, which covers only the eyes. Masks were employed in Renaissance courtly entertainments such as the masque and the ballet de cour, and they survived in ballet until the late 18th century.

In Indonesia, masks are used in village ritual dance dramas and in dramas derived from shadow-puppet plays. The traditional pageants and religious-didactic plays of China required masks representing kings, princesses, and grotesque characters, and the mystery plays of Tibet feature masked players representing demons and other spirits. In Japan, the most famous use of masks is in the No plays; made of lacquered or gilded plaster by highly respected artisans.



John Achorn and John Mobastero in Fafalo. Photo by Ed Krieger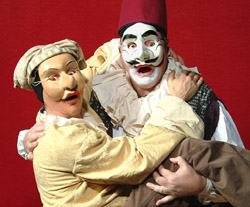 In this current 90 minute incarnation Wieluns explained that "we have six actors playing 18 characters including three over 10-foot puppets made by Steven. This is a show that is definitely for adults. It's not a scary play although there is a villain in it."

Fully masked throughout the play are actors John Achorn, Julia Emelin, Anna Heinl, Li-Ann Lim, John Monastero and David Valdez. At the end the audience does get to connect with a human face.

"The actors come out in the mask of whatever character they were just playing. They will bow and then they take the mask off, so the audience can see their faces. I think the audience wants to see their faces. That is also part of the magic of it too at the end of it, because throughout the entire play you never see anyone's face."

Ziggurat Theatre Company has been L.A.'s critically-acclaimed myth-based ensemble for over a decade, presenting plays that explore world myths, cultures and rituals using dance, drama, music, masks and movement. The ziggurat is the Babylonian step pyramid that connects the earth with heaven. The company chose the name because "theater allows us to step into the world of the gods - or invites them to step into ours." The Los Angeles Times wrote, "Ziggurat Theatre has garnered well-deserved acclaim for its evocative weaving of disparate elements into rich, expertly-staged explorations of the human psyche."

Following this production the company is relocating to New England. "We are keeping our associations in Los Angeles, but the theater is moving," said Wieluns. "Both my husband I are from the east coast," said Wieluns who last October gave birth to the couple's first child, a daughter named Lyra. "Now that we have a baby, it is time to go back and raise our child where our families live."

Fafalo opens on Friday, March 14, with performances continuing through April 13 at the Miles Memorial Playhouse in Santa Monica.


KANDER AND EBB CELEBRATION
John Kander and Fred Ebb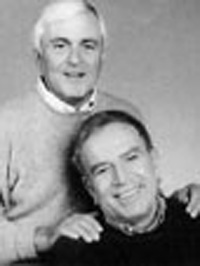 Signature Theatre in Arlington, Virginia celebrates the longest-running songwriting partnership in the history of Broadway - John Kander and Fred Ebb.

The legendary songwriting team is saluted in a four month celebration featuring new productions of Kiss of the Spider Woman, The Happy Time and the East Coast premiere of Kander and Ebb's new musical The Visit starring Broadway legends George Hearn and Chita Rivera.

Others events include cabaret performances by Karen Akers, to the acclaimed Bowen McCauley Dance Company to the eye opening Kander and Ebb Gallery Exhibition Colored Lights.

The many entertainment sides of Kander and Ebb - from film to musical theater to cabaret - the entire canon of their witty and sharp lyrics along with their engaging vamps and musical melodies will grace the Signature stage in this retrospective.

First You Dream: The Songs of Kander & Ebb launches the cabaret segment of the Kander & Ebb Celebration with Karen Akers performing 15 of their songs March 11-16.

The series begins with the Tony award winning Kiss of the Spider Woman starring Natascia Diaz. The rarely produced The Happy Time follows April 1-June 1.

Two-time Tony winners and Broadway legends George Hearn and Chita Rivera star in The Visit, this new musical based on one of the great plays of the 20th Century written by Friedrich Dürrenmatt. Presented May 13 – June 22. Music by John Kander, Lyrics by Fred Ebb. Book by Terrence McNally. Choreographed by Ann Reinking. Directed by Frank Galati.

Colored Lights is a retrospective of the career and life of Kander & Ebb on Broadway and beyond. This special exhibition draws on the materials and artifacts of their writing partnership. Free and open to the public. March 11 – June 22 in the Mead Lobby.

One On One with John Kander takes place on May 12 when the legendary songwriter sits down with Artistic Director Eric Schaeffer for a conversation on his career, his songs, and his collaboration with the late Fred Ebb.



Broadway To Vegas is supported through advertising and donations. Priority consideration is given to interview suggestions, news, press releases, etc from paid supporters. However, no paid supporters control, alter, edit, or in any way manipulate the content of this site. Your donation is appreciated. We accept PAYPAL. Thank you for your interest.


SPREADING THE WORD


MORTIER AT THE MORGAN Be among the first to hear from Gerard Mortier, the New York City Opera General Manager-Designate, when he speaks about The Enchantment of Opera, in the first of a series of lectures he'll deliver Tuesday, March 11, at the Morgan Library & Museum in New York City.

THE 25th ANNUAL WILLIAM S. PALEY TELEVISION FESTIVAL will take place March 14 to 27 at the historic Cinerama Dome at the ArcLight in Hollywood, CA. Paleyfest is an interactive pop culture event, connecting fans with the casts and creators of their favorite series as well as the icons who have changed or are changing the face of media.

Named for William S. Paley, founder of both the Center and CBS, Paleyfest continues its twenty-five-year tradition of celebrating the collaborative creativity behind making great entertainment content—from the genesis of an idea to that vital connection with audiences the world over. Kicking off the festival Friday, March 14, is Elvis '68 Comback Special. In person will be Priscilla Presley, Steve Binder producer/director and producer Bones Howe.

On March 15 Pushing Daisies will be spotlighted. In Person: Kristin Chenoweth, "Olive Snook," Bruce Cohen, Executive Producer, Bryan Fuller, Creator/Executive Producer, Dan Jinks, Executive Producer, Swoosie Kurtz, "Lily Charles," Peter Ocko, Coexecutive Producer, Lee Pace, "Ned," and Barry Sonnenfeld, Executive Producer.

The week is chocked full of fascinating events and closes March 27, with the spotlight on Mad Men. In person will be the creator/executive producer Matthew Weiner.

WPAS CONVERSATIONS WITH LEGENDS: PIANIST ALFRED BRENDEL Alfred Brendel is recognized by audiences the world over for his ability to communicate the emotional and intellectual depths of the music he performs. In a rare interview with Washington Performing Arts Society President Neale Perl and Benjamin Roe, the former music director of National Public Radio, Brendel talks about his life, career, and music. There is a light reception with wine at the end of the evening. This event comes one day after Brendel's final U.S. concert on the WPAS Piano Masters Series at Strathmore. Tuesday, March 18, The Embassy of Austria in Washington, D.C.


SLAMMER ENGAGEMENT


It's not a sought after booking, but Broadway actor James Barbour is doing a 60-day star turn in jail. Last seen in the world premiere of A Tale of Two Cities, the singer/actor was sentenced in a Manhattan court Feb. 29 to a 60-day jail term and three years' probation.

The sentencing was a result of Barbour's January guilty plea to "two misdemeanor counts of endangering the welfare of a minor."

Barbour has appeared on Broadway in Assassins, Urinetown, Jane Eyre, Carousel, Cyrano - The Musical and Beauty and the Beast - had been indicted in 2006 on nine counts of engaging in criminal sexual acts, sexual abuse and endangering the welfare of a child.

The 41-year-old actor admitted that he sexually touched a 15-year-old female fan when she visited him backstage following a performance of Jane Eyre in 2001 and when she later visited his apartment on New York's Upper West Side.

Barbour will not have to register as a sex offender because of a plea deal in which he pleaded guilty to a misdemeanor. That lesser charge was in exchange for the 60-day jail sentence and three years of probation.



NEW YORK CITY BALLET returns to London for the first time in more than 25 years with over 90 extraordinary dancers and four programs from the company's unparalleled repertoire.

Program One is Essential Balanchine who will be spotlighted in three signature works. Set to Tchaikovsky's passionate score, Serenade was the first work Balanchine made in America and grew from a simple lesson in stage technique into one of the sublime masterpieces of the ballet repertoire. Agon and Symphony in C similarly demonstrate Balanchine's innovative and innately musical approach, as well as the breathtaking speed and refinement for which New York City Ballet is world-renowned.

Program Two is a celebration of its long association with the revered choreographer Jerome Robbins, who epitomized the post-war American dance and theatre scene. His versatility and extraordinary talents are fully displayed in three signature works: The Four Seasons, set to a magnificent operative score by Verdi; the daring and experimental Moves, a ballet without music; and The Concert, Robbins' uproariously funny parody of a Chopin piano recital.

Program Three is Four Voices. True to the pioneering spirit of Balanchine and Robbins, New York City Ballet continues to commission new works from the world's brightest choreographic talents including Alexei Ratmansky, Director of the Bolshoi Ballet, New York City Ballet Resident Choreographer Christopher Wheeldon, star Italian choreographer Mauro Bigonzetti and the New York City Ballet's own Ballet Master in Chief, Peter Martins. This dazzling program showcases some of the finest recent work created for a company that refuses to rest on its artistic laurels.

Program Four is Ballet and Broadway: A Musical Celebration. A virtuoso showcase of thrilling and much-loved works by three of New York City Ballet's most celebrated choreographers. Thou Swell, Peter Martin's lavish tribute to composer Richard Rodgers is juxtaposed with Balanchine's delightfully quick Tarantella and the swaggering Western Symphony, set to traditional American folk melodies. The program concludes with Jerome Robbins' thrilling West Side Story Suite, which features the original dance sequences from his landmark musical. March 12-22 at the London Coliseum, England.

SWEENEY TODD Music and Lyrics by Stephen Sondheim. Book by Hugh Wheeler from an adaptation by Christopher Bond. Music Orchestrated by Sarah Travis. Directed and Designed by John Doyle. Lighting Design by Richard Jones. Sound Design by Dan Moses Schreier.

Starring; Judy Kaye, David Hess, Diana DiMarzio, Benjamin Eakeley, Benjamin Magnuson, Steve McIntyre, Lauren Molina, Elisa Winter, Megan Loomis, Edmund Bagnell and Keith Buterbaugh.

Innovative, intimate and ingenious, this revolutionary new production of Sweeney Todd originated in London and was the most talked-about show by Broadway audiences last year. Directed by Tony Award-winner John Doyle, this dazzling reinvention of a magnificent musical thriller - where the band of devilish characters are all musicians. The legendary demon barber, hell-bent on revenge, takes up with his enterprising neighbor in a delicious plot to slice their way through London's upper crust. Justice will be served - along with lush melody, audacious humor and bloody good thrills.

March 11 - April 6 Ahmanson Theatre, Los Angeles,CA.

CELEBRITY AUTOBIOGRAPHY: IN THEIR OWN WORDS' created by Emmy nominated writer and performer Eugene Pack and co-produced/developed with Dayle Reyfel, has been extended through March 24 at the Triad Theater in NYC.

Celebrity Autobiography: In Their Own Words features a line up of revolving performers who interpret the actual words and stories written by the famous and the infamous, in both solo and ensemble "chamber" pieces. Some of the "authors" that are featured include Ivana Trump, Vanna White, Mr. T, Star Jones, Kenny Loggins, Tommy Lee, Sylvester Stallone, 'N Sync, Zsa Zsa Gabor, David Cassidy, Neil Sedaka, Britney Spears, Madonna, Burt Reynolds and Loni Anderson, as well as the infamous memoirs of Elizabeth Taylor, Eddie Fisher and Debbie Reynolds, which are edited together to create a Rashomon-esque playlet in the participants' own words.

Scheduled to Appear Monday, March 10th; Matthew Broderick, Kristen Johnston, Rachel Dratch, Rick Holmes, Kristen Wiig, Sherri Shepherd, Eugene Pack, Dayle Reyfel, Richard Kind and Claudia Shear.

MY THING OF LOVE Written by Alexandra Gersten. A dark comedy about a marital triangle in which the wife tries to save the marriage, the husband seeks self understanding and the waif like mistress craves attention.

Darin Anthony directs the cast which includes; Heather Fox as Kelly, Johanna McKay as Elly, Josh Randall as Jack and John Schumacher as Garn.

Performances through April 5 at the Syzygy Theatre Group in Burbank, CA.

CONCRETE FOLK VARIATIONS, CHAPTER ONE: DEATH OF A SUGAR DADDY

Photo by Susan Simpson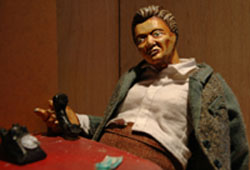 Written, directed and designed by Susan Simpson. Performed by Dan Rae Wilson, Katie Shook and Beth Peterson.

An emotionally gripping noir set in McCarthy-era Los Angeles told through intricately crafted small-scale puppets, projections and a minimalist mid-century Los Angles cityscape. When a prominent society maven and philanthropist who secretly slums at lesbian dives is murdered, L.A.P.D. beat cop Loretta Salt turns reluctant investigator and steps into an infested swamp of corruption, brutality and subterfuge.

Part one of a serial puppet play that will be presented in installments throughout 2008. Chapter Two opens in June.

Chapter One continues through March 22 at The Manual Archives in Los Angeles.

KING ARTHUR Music by Henry Purcell. Libretto by John Dryden. Conducted by Jane Glover. Director and Choreographer is Mark Morris. The eminent Isaac Mizrahi provides the wonderfully wild array of costumes.

Behold the crowning glory! When Purcell's theatrical masterpiece meets Mark Morris's unrivaled imagination, the result is a lot of inspiration, a little pomp and circumstance, and an unforgettable extravaganza that far surpasses the same old song and dance.

Starring: Soprano Mhairi Lawson, Soprano Sarah Jane McMahon, Soprano Heidi Stober, Countertenor Iestyn Davies, Tenor Steven Sanders, Baritone Daniel Mobbs and Baritone Alexander Tall.

Set Design by Adrianne Lobel. Lighting Design by James F. Ingalls.

Sung in English with English supertitles. A co-production with ENO/Mark Morris Dance Group in association with Cal Performances, Berkeley. March 5-15 New York City Opera.

AFFLUENZA! by James Sherman. Directed by Maura Farver.

A farce about greed and how it affects a family living in style in Chicago. Nancy Evans ( See Broadway To Vegas column of July 2, 2006 ) plays the part of the ex-wife who returns to visit her ex and causes mayhem. Evans quips that "It is worth coming, just to see my outfit!!"

The New York premiere takes place March 13-April 6 at The Lion Theatre at Theatre Row in NYC.

THE AMERICAN DREAM and THE SANDBOX written and directed by Edward Albee. Starring two-time Tony Award-winner Judith Ivey, Obie, Drama Desk, Outer Critic's Circle Award-winner Myra Carter and Obie and Drama Desk Award-winner George Bartenieff.

The production is part of the theater's Heritage Series, which presents revivals of shows that started out at the Cherry Lane. Performances March 11 thru April 19. Discussions with Edward Albee will take place following the performances on Tuesday, March 18 and Tuesday, April 8.


| | | |
| --- | --- | --- |
| | | |
WHO'S WHERE


ALANIS MORISSETTE stars at the HP Pavilion in San Jose, CA on Wednesday, March 12. On Friday she is at the Reno Events Center in Reno, NV. Next Sunday she is on stage at the Staples Center in Los Angeles.

CELTIC WOMAN has a busy week. On Monday, March 10, they open a three night stand at the Providence Performing Arts Center in Providence, RI. On Friday they perform at the Mohegan Sun in Uncasville, CT. They Saturday they open a two nighter at Radio City Music Hall in NYC.

VAN MORRISON jets back to American from his European tour for a special gig Thursday, March 13, at the Ryman Auditorium in Nashville.

THE KINGSTON TRIO open a two night stand tonight, March 9, at Venice Little Theatre in Venice, FL. They have a two night romp March 14-15 at Jacoby Symphony Hall in Jacksonville, FL.

CELINE DION in a two night stand March 11-12 at the Kyocera Dome in Osaka, Japan.

BON JOVI on Monday, March 10, play the first of a two date engagement at the Air Canada Centre in Toronto, Ontario. The second performance is on Wednesday. On Saturday the show is at the Mellon Arena in Pittsburgh, PA.

JUDY COLLINS singing Saturday, March 15, at the Heritage Theatre in Campbell, CA. Next Sunday, March 16, she can be enjoyed at the Arkley Center in Eureka, CA.

FOREIGNER perform Thursday, March 13 at the Star Pavilion in Kansas City, MO. On Friday the show is at the Wildhorse Saloon in Nashville. Saturday finds them at Little River Casino in Manistee, MI.

HONG KONG CHINESE ORCHESTRA was founded in 1977 and is the only professional, full-sized Chinese orchestra in Hong Kong. The Orchestra consists of 85 musicians performing in four sections comprising bowed-strings, plucked strings, wind and percussion instruments. While deeply rooted in its Chinese cultural heritage, the Orchestra's repertoire includes both traditional folk music and contemporary full scale works. It also explores new frontiers in music through commissioning works of different types and styles. Over the years, the Orchestra has commissioned more than 1700 original compositions and arrangements from all over the world. They perform March 14 at the Royal Festival Hall, South Bank Centre in London. On Saturday the show is at Bridgewater Hall in Bridgewater, UK.

PENINSULA SYMPHONY joins in the festivities leading up to the 2008 Beijing summer Olympics with Chinese Spring Festival. highlighting symphonic and choral music from China, as well as one of the greatest and most entertaining of the great masterworks, Stravinsky's Firebird. Also included in the evening's selections is the Yellow River Concerto. The concert will culminate with the World Premiere of the celebrated Chinese-born composer, Gang Situ's ( See Broadway To Vegas column of May 14,2006 ) Leaving Bai-Di, based on a seventh century poem describing life along the Yangtze River.

The Peninsula Symphony, led by music director and conductor Mitchell Sardou Klein, is a 90-member community orchestra in its 59th season, Peninsula Symphony performances are on March 14 at the San Mateo Performing Arts Center and March 15 at the Flint Center in Cupertino, CA.



Next Column: March 16, 2008
Copyright: March 9, 2008. All Rights Reserved. Reviews, Interviews, Commentary, Photographs or Graphics from any Broadway To Vegas (TM) columns may not be published, broadcast, rewritten, utilized as leads, or used in any manner without permission, compensation and/or credit.
Link to Main Page
---
Laura Deni


CLICK HERE FOR COMMENT SECTION