! >
Broadway To Vegas
  SHOW REVIEWS CELEBRITY INTERVIEWS GOSSIP NEWS

| | |
| --- | --- |
| | |
BROADWAY MUSICIANS STRIKE-SETTLEMENT REACHED TUESDAY - - WAYNE NEWTON HONORED - - DOLLY PARTON'S BOOKS - - RICH LITTLE GETS A HARVEY - - A UNIQUE CABARET VENUE - - DAYS OF OUR LIVES STAR ENTERTAINS - - SHOWEST SHINES WITH STARS - - CATHERINE ZETA-JONES WANTS TO SING MICHAEL DOUGLAS WANTS TO GOLF - - DONATE . . . Scroll Down


STARS SHINE AT SHO WEST
Catherine Zeta-Jones in Chicago
Celebrating its 29th year, ShoWest the world's largest motion picture industry convention, was held from March 3rd - 6th at Bally's and Paris Hotels Las Vegas with more than 5700 industry members attending.

Catherine Zeta-Jones, ShoWest's Supporting Actress of the Year, and a Best Supporting Actress nominee for Chicago, said she has been "a frustrated Vegas lounge act all my life. But I don't know whether the world is ready for that." While Zeta-Jones, who is about to give birth to her second child, may be dreamed of singing in Vegas, her husband Michael Douglas not only is dreaming of playing golf in Las Vegas, he is doing something about it.

At Caesars Palace, Douglas announced that his nationally televised celebrity golf tourney will be held May 16 to May 18 at Cascata , a private golf course near Boulder City, Nevada. The event will benefit the Motion Picture & Television Fund.

Jack Valenti, president of the Motion Picture Association of America, extolled a night at the movies as the best family entertainment value in the nation. He said a family of four spends an average of about $23 at the movies, but might pay $236 for a Broadway play, $214 at a pro football game or $184 attending a music concert.

Valenti said box office receipts for 2002 totaled $9.5 billion, up 13.2 percent from the $8.4 billion he reported a year ago. "The economics of the business are good," he declared.

The trade convention featured seminars and conferences concluding with Thursday night's gala award ceremony. Honorees included Adam Sandler, Brian Grazer, Diane Lane, Antwone Fisher, David Heyman, Chris Wedge, LL Cool J, Sam Mendes, Christopher Walken and Catherine Zeta-Jones.

One of the big events was a screening of Finding Nemo, the new animated adventure from Disney's Pixar Animation Studio. The flick stars Albert Brooks as a clown fish who sets out to find his lost son. It is scheduled for a May 30 nationwide release.

Before the ShoWest screening Las Vegas resident Robert Goulet, backed by a chorus line of Disney Dancers, sang You've Got a Friend in Me. Goulet then introduced Walt Disney Studios Chairman Dick Cook who touted Pixar's contribution to the Disney empire. He was followed by Apple and Pixar Chief Executive Officer Steve Jobs who addressed the industry gathering, as did Pixar veep John Lasseter and Nemo director Andrew Stanton.

If there was a central convention theme it was film piracy.

Ben Affleck, James Cameron, Sean Astin, special effects guru Stan Winston, composer Michael Kamen, the late cinematographer Conrad Hall and a throng of film craftsmen have lent their names, faces and voices to an attack on digital piracy in the form of a 72-second public service announcement produced by 20th Century Fox.

Jim Gianopulos, chairman of Fox Filmed Entertainment, unveiled the antipiracy trailer Wednesday at ShoWest. He said that Fox, working with the MPAA, is making it available to theater owners nationwide. "A big part of what we believe is important to deal with this challenge - apart from the technological means, which we are pursuing daily - is education," Gianopulos explained.

"We need to teach this generation that stealing is stealing, in whatever form. People must be taught that the so-called victimless crime of downloading movies has the power to cost real people real jobs - not just executives like me or others in this room, but hundreds of thousands of people."

"Studios have got to rethink how they advertise Academy Award movies because screeners are also a part of how pirates get hold of our material," Valenti said. Gianopulos observed that his studio has successfully had screeners removed from eBay and that the issue of screeners was one that the studio was wrestling with. He called for an industry wide approach suggesting registering each individual screener.



Brian Grazer and Ron Howard
Academy Award-winning producer Brian Grazer was honored with the prestigious Lifetime Achievement Award. He received his award at the annual Gala Awards Banquet, sponsored by The Coca-Cola Company, on Thursday, March 6th.

Grazer, who is co-chairman of Imagine Entertainment along with Ron Howard, has been personally nominated for three Academy Awards, and in 2002 he won the Best Picture Oscar for A Beautiful Mind. This year, Grazer produced 8 Mile, starring Eminem. On its opening weekend, the film grossed $51.2 million dollars - the highest ever for an R-rated non-sequel.

Over the years, Grazer's films and TV shows have been nominated for a total of 39 Oscars and 17 Emmys. At the same time, his movies have generated more than $10.5 billion in worldwide theatrical, music, and video grosses. Coming up in 2003 are The Cat in the Hat, starring Mike Myers and Intolerable Cruelty, the next feature from the Coen brothers, starring George Clooney and Catherine Zeta-Jones.

SHOWEST WINNERS

MALE STAR OF THE YEAR: Adam Sandler
FEMALE STAR OF THE YEAR: Diane Lane
SUPPORTING ACTOR OF THE YEAR: Christopher Walken
SUPPORTING ACTRESS OF THE YEAR: Catherine Zeta-Jones
LIFETIME ACHIEVEMENT AWARD: Brian Grazer, producer
DIRECTOR OF THE YEAR: Sam Mendes Road to Perdition
PRODUCER OF THE YEAR: David Heyman Harry Potter and the Chamber of Secrets
MALE STAR OF TOMORROW: James Todd Smith, a.k.a. LL Cool J
FEMALE STAR OF TOMORROW: Alison Lohman
SCREENWRITER OF THE YEAR: Antwone Fisher
ANIMATION DIRECTOR OF THE YEAR: Chris Wedge Ice Age

SOAP STAR KICKS OFF NEW USO CELEBRITY TOUR PROGRAM
James Reynolds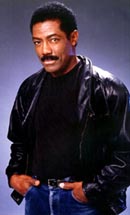 Days of Our Lives star James Reynolds becomes the first to participate in the USO Celebrity Education Program -- a new tour opportunity for celebrities to showcase their talents and demonstrate their appreciation for service members and their families - when he heads to Kaiserslautern, Germany, March 26-30.

The Vietnam veteran and former Marine will visit Department of Defense Education Activity schools, giving talks to students, hold question-and answer-sessions, sign autographs and meet with after-school clubs. He intends to emphasize to students the importance of staying in school and continuing their education, as well as learning about the arts.

Last December, Reynolds toured with other Days of Our Lives cast members, visiting service members stationed in the Mediterranean. It was his second USO tour.

Reynolds portrays police commander Abe Carver on the NBC Emmy Award-winning soap opera Days of Our Lives. He also can be seen on NBC's soap opera Generations as Henry Marshall, for which he received an Emmy nomination for Outstanding Lead Actor in a Drama Series. Reynolds has made numerous stage appearances, including a starring role in Buffalo Soldier, a play depicting black U.S. Army troops in the American West following the Civil War. He was nominated for an NAACP Theatre Award for this role. Reynolds also runs the Freemont Centre Theater in Los Angeles and Free State Productions, a film and television production company in Kansas.

Raised in the small farming community of Oskaloosa, Kansas following graduation from high school, Reynolds joined the Marines. After boot camp he was assigned to the Information Service Office where, first stationed in Hawaii, he became a reporter for the service newspaper, The Windward Marine. Later he was sent to Vietnam and served for almost a year with a variety of units in and around Chu Lai, adding battlefield reporting to his combat duties, until a wound resulted in his discharge.

Returning to the States, Reynolds enrolled in Topeka's Washburn University, majoring in pre-law and journalism. Advised that the best place on campus to meet girls was the theater department, he began auditioning and performing in plays. In addition to his improved social life, Reynolds reaped another unexpected benefit -- he discovered a passion for acting. He went on to appear not only in regular campus productions of musicals and dramatic plays, but with local theater groups as well. He also spent time as a film reviewer for the Topeka Daily Capitol and, as part of his duties, interviewed a number of filmdom's brightest talents, not aware that one day reporters would be interviewing him.

USO entertainment tours are made possible by Anheuser-Busch, AT&T, BAE SYSTEMS, Clear Channel Worldwide, Coca-Cola, PricewaterhouseCoopers, S&K Sales Company, USAA Foundation and VFW.



Broadway To Vegas is supported through advertising and donations. Priority consideration is given to interview suggestions, news, press releases, etc from paid supporters. However, no paid supporters control, alter, edit, or in any way manipulate the content of this site. Your donation is appreciated. We accept PAYPAL. Thank you for your interest.


FORGET THE DUMB BLONDE JOKES: CABARET SINGER CREATES OWN NICHE
Shelly Cullin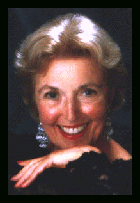 March is Cabaret Month in New York City. While The Big Apple is the Mecca for cabaret, we found a singer who has created her own cabaret niche - high in the hills of Carmel, California.

Although Shelly Cullin performed last month in Manhattan at The Triad, this veteran performer has created a way to perform while literally staying at home.

She spoke with Broadway To Vegas about her unique cabaret venture that has turned into a popular romantic experience.

"I do concerts in our home. We have a beautiful view of the Bay. I give private concerts for groups of 12. People who want an intimate evening in a lovely setting without a bunch of drunks or smokers.

"I either do the desert-champagne-coffee party or wine and hors d'oeuvres. I have it catered. Good china and my crystal champagne flutes are used. I work in a gown and my men work in black ties. Ladies love to wear their long dresses and have a dressy evening."

"I've been working with a wonderful guitarist, who was with Tom Jones for eight years, Steve Ezzo. He accompanies me on guitar. It's very romantic. I do all of the Great American Songbook and some of my own personal favorites."

"The age group varies. I have people who are stunned with the whole idea of cabaret. They have never experienced it. And, I have people who are cabaret goers and are happy to have a new place to hear it. It's a throwback to the days of elegance and romance."

"People love to do this for birthdays or a special anniversary. I'm doing one March 15, which is a surprise birthday celebration. This gentleman is taking his wife out to dinner. Then he is going to tell her that he is taking her to some place that she has never been before. Then their party comes here. We're in the hills. We overlook the Bay and the sailboats. We have deer going across our yard in back. It's gorgeous."

It wasn't always that way for the child Shelly Mitchell who grew up to become Shelly Cullin.



Shelly Cullin performing in a Black Bottom contest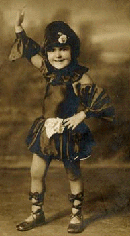 She started performing at the age of three when her mother entered her in a Black Bottom Contest.

"It was a song with a very politically incorrect lyric - A black bottom/ The girl's got' em/The boys want em/But can't have em - I sang that and then slapped my little rear end. I had no idea what I was saying," laughed Shelly.

"My mother was a wonderful lady who, at 16, was spotted by a talent scout because she was so beautiful. He wanted to give her a screen test. My grandfather said - I will not have a trollop in my family."

"My mother's name was Syd. She married my father at 16. He was a fashion designer of children's wear. His name? Inconsequential. He deserted us - over and over again. Finally, we were living on the East Coast and he sent us to California, my brother, mother and me, to have a vacation. Once we were out here he just disappeared. I didn't see him again until I was 24."

"I was very interested in seeing him. I was on tour with Kiss Me Kate. We were in Philadelphia, which was the last place that I had seen him. I tried to locate him. I called his office, spoke with him. I said - Could we possibly have lunch? I had not seen him since I was 12. He said - Yes, but when you come here, please don't say who you are. I said okay and went up there. That was the last time I ever saw or spoke to him. I arranged for comped seats to the show, but he did not come. Then he died in 1962."



Words of wisdom from Beverly Sills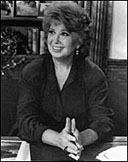 "I'm not bitter," insisted Shelly. "Beverly Sills said something that has really become a part of my world - she said, with that wonderful laugh that she has - I'm not always happy but I'm usually cheerful," repeated Shelly. "That just says it all. When people ask - how are you? They don't really expect a negative answer. They want to hear fine and go on."

Shelly and her brother brought home the bacon. "In those days mothers stayed home and baked cookies. My brother first supported the family. He was 19 when my father deserted us. He quit pre-med school and worked as an usher at night in Warner Brothers' theater in Hollywood and as an extra during the daytime. He was never able to go back to pre-med. I graduated from high school at 15. By the time I was 16 I was singing with Jose Pablo's Latin-American orchestra during intermissions at the Hollywood Palladium."

That led to her being a soloist with Xavier Cugat at Ciro's. Before there was Abbe Lane or Charo there was Shelly. In between she was under contract to Paramount Studios and did the voice over as Axis Sally in Robert Mitchum's first major film, The Story of G. I. Joe.



World War II cheesecake photo of Shelly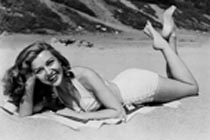 Along with that came the cheesecake publicity photos.

"Pinup girls showed up everywhere during the war: on posters, on the fuselage of planes, on lockers - everywhere. So, when I was asked to do pin-up pictures for studio publicity, I was delighted to comply. I showed up at the beach on a chilly day in my yellow, two-piece, side-laced swimsuit--the bikini of its day. If you look closely at the original photograph, however, you can almost see the gooseflesh. It was really chilly that day! I was named Miss C-54 by the military."

As we head closer to war Shelly expressed concern for the troops stationed stateside as well as those overseas.

"I entertained the troops. I sang. My experiences were strictly in the United States because my mother would not permit me to go overseas. She was sure I'd fall in a fox hole and break my neck," she laughed. "I entertained any place they sent me in the United States. I was with the Victory Committee, which was different from the USO. The USO was a paid organization and the Victory Committee was all volunteer."

"I think sometimes we forget that soldiers are stationed in the United States. I don't think we realize that these boys are training for - God knows what. And, that they are away from home, whether it's 2,000 miles away or 50 miles. It's the same loneliness."

At that time Shelly was under contract to Paramount. While Shelly was part of the studio system she never knew the mistreatment of a Judy Garland.

"Judy Garland was a unique case," continued Shelly. "They worked her very hard, because she had such great potential. They were going to make hay while the sun shone. For me the studio system was a time of cultivation. Now young people are thrown into the business literally with very little training. They sort of get in there because they are beautiful or because they are unusual looking."

While most people think of films in relationship to movie studios, in the early days of television it was the movie studios who were in on the ground floor.

"What I did at the studio was in experimental television. It was fascinating. We could not wear red lipstick. We had to wear brown. We couldn't wear colors. If you wanted a white look you wore light blue. At the time there were only 250 sets between LA and San Diego. There was Paramount and there was Don Lee Mutual Station. I did voice overs. I did a physical fitness program in my little two-piece black bathing suit. I sang in Las Vegas when there were only two major hotels. The Lone Palm and the El Rancho, that was even before the Flamingo. I was just a little kid. My mother went with me. I always wanted mother there. I was very square. And, I did musicals."

One of those was the original production of Lend an Ear, which starred Carol Channing, Gene Nelson and Bob Scheerer. The director and choreographer was Gower Champion. With a book, lyrics, music and sketches by Charles Gaynor Lend An Ear made theatrical history when the show was transplanted from Hollywood to Broadway.

Another was Kiss Me Kate.

The show opened in Los Angeles, and from there Shelly and the Kate company traveled to San Francisco, Chicago, Boston, Washington DC. Julie Wilson who played Bianca left the show in Chicago to replace Lisa Kirk in the Broadway production. In her place came Betty George, with Shelly as her standby.

"I had been Julie's standby. She became very ill. I had to go on for Betty for a week. Betty was enormous. She weighed about fifty pounds more than I weighed. On a tall day I am five-feet-two. I don't think of myself as tiny. I think of myself as very tall. But, they had to sew me into the costumes."

Her short stature didn't prevent her from becoming one of the famed Harry Conover models, called The Conover Girls. Long before the term supermodel was coined, there were the Conover Girls who had status. Many achieve their own star power such as Sandra Dee. Harry Conover, the head of that famous New York modeling agency, happened to be at a Girl Scout fashion show when he spotted Dee and immediately signed the 12-year-old girl from Bayonne NJ , to a contact. The next day Dee signed a year's contract as cover girl for The American Girl Magazine. While Shelly, like Sandra, had a junior sized body, Shelly's face had a more sophisticated aura, so she was used as a hat and hand model. She offered a few beauty tips.

"Protect your hands!" she stressed. "Put sunscreen on your hands. Otherwise you wind up with sun spots and all kind of bad things. That way the skin stays nice and smooth. And, rubber gloves. I have a pair in each bathroom and two pairs in the kitchen. One for clean up and one for food. I don't even cut food with bare hands. They help prevent cuts and a lot of foods have chemicals that are hard on hands. They also protect long nails."

"My hands have changed very little. So, I could model today," said Shelly who stays fit by playing tennis three times a week and walking the beach with her second husband.

Her first marriage, which produced a son, ended in divorce. Then she found her soul mate.

Shelly's optimistic love conquers all attitude met reality when 38-years-ago she married a man with two children.



Shelly and Bob Cullin at a Battle of Midway Commemorative Dinner, 2002. Bill is a veteran of that battle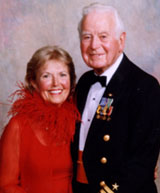 "I was prepared for love to conquer all. But, it was really difficult," she admitted. "There was a 10-year-old boy. He and my son are five months apart. His daughter was 16. And believe me she did not want or need me. But, now I think she is more mine than Bill's. I was persistent. I came in loving the children because they were Bill's. My son was thrilled because he was getting a brother and sister. But, that had to be worked on as well. He was all for it and they weren't. It was very tough for them. So, they had to be approached with delicacy, love and encouragement."

"Bill was a Navy pilot for over 20 years. Then he retired and went into the aero space business. He got his degree at MIT as did my son. My son adores and worships Bill. And, why not? He is absolutely the best. We are just like Velcroed together. It's a real love story."

While the children were in college, Shelly decided to also join the campus set.



A statue of George Mason on the campus of the university named in his honor.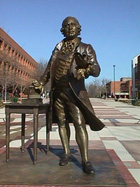 As her 50th birthday approach she was about to receive her bachelor's degree from George Mason University, which has three campuses around the Washington, D.C. area. Mason, a close friend of George Washington, was one of the greatest of the founding fathers of the United States, yet he is among the least known. One of his most famous quotes from the 1787 Constitutional Convention is; "Slavery discourages arts & manufactures. The poor despise labor when performed by slaves... Every master of slaves is born a petty tyrant. They bring the judgment of heaven on a Country."

"I was nominated by the Fulbright Committee - I had a dual language project," Shelly recalled. "I already had two professors ready to underwrite my project. I had letters and all kind of stuff - and I was headed for summa cum laude. Then the Fulbright Committee withdrew their support because of my age. Discrimination because of age was allowed at that time. It said in the Fulbright tenants, preference will be given - imagine using the word preference - preference will be given to those between the ages of 18 and 33. And, I was almost 50. I had friends that said go to the ACLU. I said you know what if the academia doesn't want me, I don't want them. My last year I just never cracked a book. So, instead of summa cum laude I graduated magna cum laude.

"Fulbright has since changed their rules."

The Fulbright Scholar application now states: Applicants will be considered without regard to race, color, religion, sex, age, national origin and/or physical impairment

"They had to change their rules," she said a little ruefully.

"Oh, sure I'm glad I went back to school," Shelly continued. "You know, I wouldn't change a day of my life. My son has his doctorate in math. His wife has hers in social science. Our daughter - the one who really didn't want me - lives in Hawaii with her husband who is with the Chevron Corporation. She is one dynamite girl. The youngest, who is a boy, is a Navy Captain stationed at the Pentagon."

"Bill has a wonderful expression - when in a hole, don't dig. So, if you have a problem, wait for it to go away. If you can do something about it, fine. If you can't, sit back and say, this too shall pass. And, it generally does. I am a firm believer that if you really want something enough - go after it."





DOLLY PARTON

Dolly Parton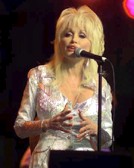 will be among the recipients of the 2003 Governor's Awards in the Arts, the state of Tennessee's highest honor given in the arts. The presentations will be made Tuesday at Ryman Auditorium.

Gov. Phil Bredesen and his wife, Andrea Conte, will present Parton with the Lifetime Achievement Award.

''Dolly is an American icon and a Tennessee treasure. Her accomplishments in music are staggering, and her contributions to our state are immeasurable," said Rich Boyd, executive director of the Tennessee Arts Commission. "She's being honored not only for her music but for her humanitarian efforts on behalf of the people of East Tennessee."

The fun loving and outgoing Parton who has seven Grammy Awards, nine Country Music Association (CMA) Awards, membership in the Songwriter's Hall of Fame and the Grand Ole Opry, started the Imagination Library Program in 1995 in her hometown in Sevier County, Tennessee, as a way of helping children achieve their dreams. Growing up in a home without books left a real impression on her, and she wanted to give back to "the kids back home" by providing books to them. She sends a book a month to every child born in Sevier County from birth until their fifth birthday. This 60 volume gift is called the Dolly Parton's Imagination Library. Each child receives an age-appropriate, hard cover book in the mail as a gift.

Other communities have expressed interest in the program, so Parton created a process where communities can replicate the program. At last count their were more than 200 sites in 23 states. Just this year, Parton teamed up with the Bureau of Indian Affairs, and her Imagination Library Program has been adopted by 92 Indian communities nationwide.

"I can't think of anyone more deserving of this award than Dolly Parton. She has contributed so much to our state through her music, her commitment to education, and her generosity," adds Boyd.

In addition to Parton, there are 13 other awards that will be presented in three different categories; Folklife Heritage, Distinguished Artist, and Arts Leadership.

Folklife Heritage Awards will be presented to: Howard Armstrong, a renowned fiddler, mandolinist, painter, and writer; Ralph Blizard, a legendary old-time fiddler and 2002 National Heritage Fellowship recipient; musician Roy Harper who has spent his musical career preserving the songs and musical traditions of pre-World War II country music and Clara Fodor who immigrated to the United States in 1938 from her native Hungary. She is an artist known for her intricate and detailed embroidered wall hangings celebrating her patriotism and love of her adopted country. Fodor's embroidery technique is similar to the traditional Hungarian method of laying satin stitches on the surface of the fabric. When she was a child, a vision disability prohibited her from participating in school sewing classes. Fodor learned embroidery from observing a neighbor.

The Arts Leadership Awards will go to George L. Mabry of Clarksville, director of the Nashville Symphony Chorus; Memphis arts supporter/philanthropist Bob Cannon; Chattanooga-area arts supporter H. Grant Law; the Metro Nashville Arts Commission; the Southeast Center for Education in the Arts at the University of Tennessee at Chattanooga; and Arts & Antiques, a monthly publication in northeast Tennessee.



Roland Carter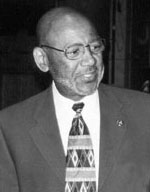 Receiving Distinguished Artist Awards are: Roland Carter, a professor of music at the University of Tennessee at Chattanooga, and a nationally recognized composer, conductor, and pianist; Jim Gray of Knoxville, known for his maritime paintings and helping to create the artists' community in Gatlinburg; and sculptor Luther Hampton of Memphis who has served as a major creative influence, and credited with opening the door for many African American artists.

The awards have been presented since 1971. The 2003 Governor's Awards in the Arts are being presented by the Tennessee Arts Commission, in partnership with BellSouth, Gaylord Entertainment, and Tennesseans for the Arts.

WAYNE NEWTON

Wayne Newton Photo By: Laura Deni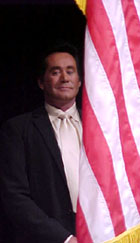 who returns to the Stardust Hotel in Las Vegas on March 17, received the 2003 American Legion National Commander's Public Relations Award.

American Legion National Commander Ronald F. Conley presented the award on March 5 to the Las Vegas resident at a Washington, D.C. luncheon in his honor in recognition of the entertainer's longstanding support for the U.S. military past and present.

"Wayne Newton is a king with the common touch," Conley said. "He's an extraordinary talent who acknowledges publicly the sacrifices of ordinary Americans who serve in our nation's armed forces. He leads USO tours to perform for deployed U.S. troops. In his performances, he often says something positive about the values of our great nation and about the people who guard those values with their lives. Mr. Newton Mr. Las Vegas' is a great entertainer and a great American."

Past recipients of the award include NASCAR, Wal-Mart, NBC's Tom Brokaw and Ambassador Alan Keyes.

The American Legion is the nation's largest veterans organization. It was founded on March 15-17, 1919, in Paris, France, by a group of American World War I veterans.

RICH LITTLE will receive the 2003 Harvey Award from the James M. Stewart Museum Foundation on March 27th at a tribute dinner in his honor at the Indiana Country Club . He will also make an appearance at The Jimmy Stewart Museum located in Stewart's Pennsylvania hometown, Indiana, about 45 miles northeast of Pittsburgh, from 1:00 - 2:00 p.m. on that day to sign autographs.

The award is given annually to someone associated with Stewart whom the foundation judges to have continued the actor's tradition in the performing arts.

Little, 64, has often impersonated Stewart. Past winners include June Allyson, Janet Leigh, Shirley Jones and Ernest Borgnine.

Stewart, who died in 1997 at 89, starred in the 1950 film Harvey, in which his character, Elwood P. Dowd, befriends an invisible rabbit named Harvey. The award depicts a lamppost like the one in the film, where Dowd meets Harvey.


LESSONS IN HIGH KICKING


For anyone who's ever dreamed of dancing with The Radio City Rockettes, The Rockette Experience, presented by Danskin may bring that dream a bit closer to reality.

Radio City Entertainment is offering dancers and dreamers the opportunity to learn the world famous Rockette precision dance technique.

For a fee of $85 you can sign up to take a dance class taught by a Rockette and learn choreography from the Rockette repertoire plus much more.

Workshops take place March 15, 22 and 30.


OTHER PEOPLE'S MONEY


MUSICIANS STRIKE Picket lines went up Friday after Musicians from Local 802 failed to reach an agreement with The League of American Theatres and Producers. Two shows - La Boheme and Flower Drum Song, which is slated to close on March 16 - called off last Friday night's performances even before Actors' Equity and the stagehands union, the International Alliance of Theatrical Stage Employes, said its members wouldn't cross the picket lines, thus shutting down Broadway musicals for the first time in 25 years. Broadway musicians last went on strike in September 1975, shutting down nine musicals for 25 days. This time the strike affects about 325 musicians working in 18 musicals. Drama and comedy productions such as Say Goodnight, Gracie are open. Negotiators are hung up on orchestra minimums, which range from three to 26, depending on the size of the theater. No talks were scheduled over the week-end.

In a statement issued Saturday, Mayor Michael Bloomberg said: "In these challenging times, the darkening of Broadway casts a long shadow over the heart of the Big Apple. I urge the theater owners and musicians' union to resolve their differences as quickly as possible, so we can put the hustle and bustle back into Times Square."

The producers estimate the walkout cost the city $2.5-3.0 million in lost revenue this past weekend.

ADDED TUESDAY: After Mayor Bloomberg ordered round the clock negotiations, which began on Monday, a settlement was announced Tuesday morning, March 11,2003.



THE NEW MOON The second production of City Center Encores! Great American Musicals in Concert 10th anniversary season is its first foray into a score from the well known composer of operettas, Sigmund Romberg. Book and Lyrics by Oscar Hammerstein II, Frank Mandel, and Laurence Schwab.

Gary Griffin directs the production which stars Rodney Gilfry.

This 1928 musical is loosely based on a true story, set prior to the French revolution. A French aristocrat with revolutionary sympathies, wanted by the French authorities, is captured in New Orleans and is being returned on the ship New Moon, when the crew mutinies. Stout Hearted Men, - also known as Shoulder to Shoulder - and Lover Come Back to Me are among the songs from this production.

City Center Encores!'s Artistic Director is Jack Viertel, Musical Director is Rob Fisher; and Director-in-Residence is Kathleen Marshall. City Center President and Executive Director is Judith E. Daykin. Mar 27 Mar 30 at City Center in New York City .

SALOME by Oscar Wilde opening April 20 at the Ethel Barrymore Theatre, will star Al Pacino as King Herod. Marisa Tomei will portray the title character, best known for her dance of the seven veils. Also in the cast are Dianne Wiest and David Strathairn. The director is Estelle Parsons. Preview performances begin April 12, and the production closes June 7. For Pacino this will be a repeat performance. In 1992 he played Herod in a production at Circle in the Square which starred Sheryl Lee as Salome.

BROWN BUTTERFLY Conceived by Craig Harris with Marlies Yearby's Spirits Dance Theater is a multimedia work celebrating the style, spirit, and times of Muhammad Ali. Performed by an ensemble of dancers and musicians, Brown Butterfly presents the power of a man who, through controversy, adversity, and triumph became an American icon. March 13 at the World Financial Center Winter Garden, NYC.

STRING FEVER by Jacquelyn Reingold. In this quirky comedy, Lily (Cynthia Nixon) grapples with love, loss, donor insemination and turning 40. She finds surprising answers in a scientific Theory of Everything. Directed By Mary B. Robinson with Cynthia Nixon, Cecilia deWolf, Evan Handler, David Thornton, Tom Mardirosian, Jim Fyfe. The Mainstage Production of the EST/Sloan Project First Light 2003 Festival String Fever was commissioned by the Sloan Foundation, which awards grants to playwrights who tackle science related topics - i.e. Lily uses string theory as a metaphor for her life.

David Gordon Sets. Michael Krass Costumes. Michael Lincoln Lights. Rob Gould Sound. Tiffany N. Thetard Stage Manager.

Performances through March 23.Ensemble Studio Theatre, NYC.

BOB THE BUILDER adjusted his tool belt and put on his hard hat as he, Wendy, and his team of machines, Lofty, Muck, Scoop, Roley and Dizzy, embarked on their first-ever nationwide tour which opened last week at the Municipal Auditorium in Nashville. Bob the Builder Live! recreates Bob and the team's vibrant world in an arena setting and brings to life the story of how they use teamwork and a "can-do" attitude to transform a junkyard into a bandstand. The live building yard fun also incorporates 11 songs from Bob's hit album, including Can We Fix It? and Bob's version of Lou Bega's Mambo No. 5 as well as four songs written especially for the show. The production closes this evening in Nashville and then moves to the Macon Centreplex in Macon, Georgia for shows March 11-12 with a March 14-16 engagement slated for the Charlotte Coliseum in Charlotte, N.C.

A DAY IN THE DEATH OF JOE EGG by Peter Nichols. Directed by Laurence Boswell.

Direct from their acclaimed run on London's West End come British comedian Eddie Izzard and Olivier Award nominee Victoria Hamilton in A Day in the Death of Joe Egg, Peter Nichols' dark comedy. This production also stars three time Tony Award nominee Dana Ivey. This highly anticipated production, also featuring Margaret Colin, Michael Gaston and Madeleine Martin, concerns a young couple's struggle to cope with marriage, work and family. As their problems escalate, they resort to fantasy and humor to escape from the drudgery of everyday life.

March 14 - May 25 at the American Airlines Theatre, New York City.

MARISOL written by Jose Rivera and presented by greasy joan & co. at the Viaduct in Chicago, will have a post-play discussion with Jose Rivera, moderated by Henry Godinez, Resident Artistic Associate of the Goodman Theatre, on Thursday March 13. Then on Friday, March 14, at the Reynolds Club on the University of Chicago campus, Riviera will discuss Marisol, the process of playwriting, and how politics enters into his creative work. The discussion will be moderated by Steppenwolf's Literary Manager Ed Sobel, who also teachers playwriting at the University of Chicago. A wine and cheese reception will follow.

LAWRENCE WELK SHOW

Lawrence Welk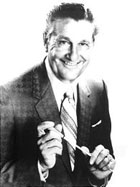 currently on a 23 city tour commemorating what would have been the 100th birthday of Welk, who was born March 11, 1903. Lawrence Welk died in 1992. The production is being staged by original cast members from the popular Lawrence Welk television show which was on network television from 1955 to 1971. It was in syndication, with new shows produced, until 1982. In recent years, it has been picked up by public television where it is the No. 1 syndicated show on PBS, and the only TV show that's still in production after 50 years.

On March 11 the show will be in Salt Lake City at Abravanel Hall.

The show includes singer Ralna English, marimba-playing Jack Imel, dancer Mary Lou Metzger, country singer Ava Barber, jazz clarinetist Henry Cuesta and musician Dick Dale. Because Tuesday's show is the official birthday celebration, a number of other Welk regulars will be in attendance. Among them, champagne lady Norma Zimmer, accordion player Myron Floren and singer Guy Hovis. Lawrence Welk Jr. and his family will also be in the audience. And, after the concert, the audience will be treated to a special birthday cake.


WHO'S WHERE


ELLEN DeGENERES performs Tuesday at the Capitol Theatre in Yakima, Washington. On Friday she'll be getting laughs at the Midland Theater in Kansas City, and on Saturday she'll be telling stories at the Avalon Theatre in Grand Junction, Colorado.

MARCEL MARCEAU something French that nobody is boycotting, on stage March 10 in Knoxville, Tennessee. On March 12 he'll be delighting the crowds in Huntington, West Virginia. He performs a two nighter March 14-15 in Providence, Rhode Island.

DR. PHIL McGRAW in his Tell It Like It Is seminar March 15 at the Aladdin Hotel in Las Vegas.

DAVID BRENNER telling funny stories March 10-13 at the Suncoast in Las Vegas.

LORRIE MORGAN center stage Friday at Turning Stone Casino in Verona, New York.

THE IRISH ROVERS perform tonight at the Prairie Arts Center in Schamburg, Illinois. On Tuesday the show is in Highland, Michigan at Milford High School. On Friday the fun on stage is in Lancaster, Pennsylvania at the American Music Theatre. They close out the week, Saturday, in Rahway, New Jersey at the Union County Arts Center.

DIXIE CHICKS on Monday will be in the spotlight at Shepherd's Bush Empire in London. This is part of their Dixie Chicks Top of the World Tour which their first tour in three years

CAROL CHANNING brings her stories, songs and distinctive voice to the Mohegan Sun Casino in shows March 12-16.

JOHN McDERMOTT entertaining March 14 at the Count Basie Theatre in Red Bank, New Jersey.

GEORGE THOROGOOD AND THE DESTROYERS Friday and Saturday at Harrah's Lake Tahoe.

BELINDA CARLISLE singing Tuesday March 11 in Anaheim, California at the House of Blues. On Thursday she can be found at The Rialto in Tucson, Arizona. Friday she's in the spotlight in Phoenix at the Celebrity Theatre and on Saturday the show is in Redwood City, California at the Fox Theatre.

TORI AMOS performs Tuesday in Toledo, Ohio at the Stranahan Theatre. On Thursday the show is in Buffalo, New York at Shea's Performing Arts Center and on Saturday she is on stage in Louisville, Kentucky at the Palace Theatre.

BRUCE SPRINGSTEEN AND THE E STREET BAND Monday at the Dunkin Donuts Civic Center in Providence, Rhode Island and on Tuesday at the Blue Cross Arena in Rochester, New York.

OSSY OSBOURNE at The Hard Rock in Las Vegas on March 14.

NATALIE COLE entertaining at the Hilton Hotel in Las Vegas on March 14-15.

LOU RAWLS AND NANCY WILSON on stage at Pairs Hotel in Las Vegas March 14-15.


PIFFLE AND PROFUNDITIES


JESSICA BIEL of 7th Heaven fame came to Las Vegas to celebrated her 21st birthday with a group of her friends.
















Next Column: March 16, 2003
Copyright: March 9, 2003. All Rights Reserved. Reviews, Interviews, Commentary, Photographs or Graphics from any Broadway To Vegas (TM) columns may not be published, broadcast, rewritten, utilized as leads, or used in any manner without permission, compensation and/or credit.
Link to Main Page
---
Laura Deni



U.S. Postal Address: Post Office Box 60538, Las Vegas, NV 89160
CLICK HERE FOR COMMENT SECTION