! >
Broadway To Vegas
  
  REVIEWS INTERVIEWS COMMENTARY NEWS

| | |
| --- | --- |
| | |
DOWNTON ABBEY A FAVORITE HANGOUT FOR ROYALS - -CONTROVERSIAL EQUITY 99-SEAT THEATER ISSUE CREATES HEATED FEELINGS - - GRATEFUL DEAD'S 50th ANNIVERSARY TICKETS - - LAUREN BACALL: THE LOOK - - BLOOMBERG PHILANTHROPIES ANNOUNCE PUBLIC ART FINALISTS - - WILLIAM SHATNER, WAYNE NEWTON & SHIRLEY MacLAINE AT RED CROSS BALL - - TWO MILLION DOLLAR VAJRADHARA - - BJORK RETROSPECTIVE - - DONATE . . . Scroll Down




Copyright: March 8, 2015
By: Laura Deni
CLICK HERE FOR COMMENT SECTION


CONTROVERSIAL EQUITY 99-SEAT THEATER ISSUE CREATES HEATED FEELINGS
A Steady Rain by Keith Huff. The Odyssey Theatre Ensemble production transferred to the Guthrie Theater in Minneapolis. L to R: Thomas Vincent Kelly and Sal Viscuso. Photo credit: Enci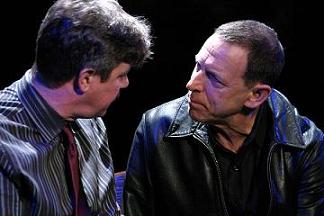 Actors Equity Association (AEA) is the U.S. labor union that represents more than 50,000 Actors and Stage Managers…with 125 professional and support staff throughout its four office cities. There are approximately 6,000 Equity members in Los Angeles. Causing the Los Angeles theater crowd to hyperventilate is a 14-page proposal by the AEA to change the way the 99-seat or under theater pays their actors. Equity wants actors performing in these small venues to receive better wages.

Under the current Equity agreement that governs the theaters, actors receive $7 to $15 a performance, depending upon the ticket price and seating capacity. and no pay at all for rehearsals. The new proposal would raise pay to the current California minimum wage of $9 an hour for performances. It would also guarantee rehearsal pay.

The union's national governing council is scheduled to deliberate the issue on April 21. If the the proposal goes into effect, L.A. actors who typically receive about $280 for an eight-week rehearsal and performance period could see their earnings jump to about $1,080 – or more, if the rehearsal sessions were lengthy.

To some it might seem like a no brainer - why wouldn't somebody want more money?

Collectively, the actors and those in executive creative positions within the Los Angeles 99-seat community want Equity to buzz off, and they aren't hesitant to express their feelings.

Equity has stated that it is true that if the actors are paid more, some of the small theaters will not be able to meet increased costs and be forced to shutter.

Broadway To Vegas provided questions to the L.A.'s 99-seat community. John Flynn, Gary Grossman and Simon Levy, members of the 99-Seat Permanent Review Committee provided the following response.

If there are some small theaters that might shutter if this proposition passes, are those really venues that overextended when they opened in the first place?

These theaters have always struggled to survive, but it is unfair to categorize them as overextended. Artistic well-being has always been the primary goal, not financial well-being. Many of these theaters have been around for dozens of years – 25, 30, 40 years and more. They are an integral part of the Los Angeles landscape. The majority of these small theaters were built by members of Actors Equity, who became actor/producers so they could help support their fellow actors practice their art. Many leaders have consistently used personal money to cover financial shortfalls if and when they occur. These theaters are all 501c3 institutions and rely on grants and individual donations to help them survive. AEA's proposal will not just affect some small theaters. A large majority of 99-seat theaters will be forced to close their doors.

From a business standpoint, most small businesses fail. Why do small theaters feel they don't have the same risks?

Doing theater in L.A. is not about being a commercially viable business. It's about artists being allowed to practice their craft.

Should those who want to open a small theater be more grounded in reality - have more of a financial background - rather than think if they open it people will come. Somehow the bills will get paid, or they can beg favors from suppliers?

Theater is not a business ecosystem. Again, theater artists are producing and acting in theater for the love of it – not to make huge pots of money. Some business sense is necessary and some grounding as well, but how not-for-profit theaters survive and thrive is a totally different model with only a few similarities to small business ventures.



Small Engine Repair by John Pollono. The Rogue Machine production transferred to the MCC Theater in NYC. L to R: Jon Bernthal as Terence Swaino and John Pollono as Frank. Photo credit: John Perrin Flynn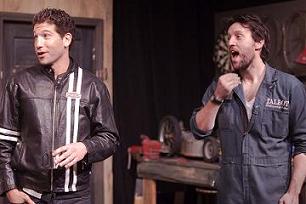 "Actors" are stating that they are opposed to getting more money - the only segment of the work force that doesn't think their wages should be increased. Why?

Actors want to be able to volunteer their services so that they can continue to perform on stage and produce their art. It is not viable that a production limited to 99-seats can make enough money to pay actors minimum wage.

No actors are being forced to work under the current Plan. Actors working under the Plan can leave a rehearsal or a production at any time, for any reason, which they often do, usually for auditions or TV or film work. In fact, there are larger theaters here that offer paying contracts should actors choose not to work in, or to leave, an intimate theater production.

Many of our intimate theaters are already paying actors more than what the current Plan's stipends call for. For the past year or two, the Theatrical Producers League of Los Angeles and other important voices in our community have proactively tried to engage Equity in discussions about how to reform this agreement, believing that the Plan should be formally revised to incorporate a tiered system of stipends for performances as well as rehearsal time.

Equity has refused to engage in these discussions. Instead, New York-based Equity administrators have taken steps to ensure that this decades-old plan will be unilaterally made unavailable to its members and their theaters. Equity has put forward a proposal that will actually hurt Equity actors by denying them their legally protected right to volunteer their talent in a non-profit theater company. This is being framed as a labor dispute by the union, but that's disingenuous. The dispute is not between the union and employers because there are no employers – it is between the union and its own members, who want to be allowed to volunteer.

Negative reactions have ranged from accusations that "Actors Equity Association is on a mission to 'kill' small theater in Los Angeles" to "the original purpose (of small theaters) is to work with friends"

AEA seems to be willing to introduce their plan with no consideration as to the consequences to this thriving community or to their own members who wish to continue to volunteer. Los Angeles small theater exists so artists, including Equity actors and new playwrights, can have a viable laboratory to practice and perfect their craft and their art, and Los Angeles small theater is having a national impact. Plays developed here are playing all over the United States, off-Broadway, in significant regional theaters, and even in London's West End.

The community is concerned because Equity itself has stated they have no data to prove their actions will provide more work for their members. The community is concerned that even if the advisory referendum is voted down by the LA membership, the National Council (headquartered in New York) can still pass it. AEA seems to have forgotten that the original purpose of the 99-seat plan was that LA Actors asked their union to allow them the right to volunteer their services as actors in theaters of 99 seats or less. The 99 seat plan was not born out of a producer's desire to do theater. This was always an actors' plan. The original plan was an agreement between Equity and its members that stipulated under what conditions an actor could volunteer his or her services. The plan can be improved, but these proposals are not the way.

Because of this controversy, are small theaters coming across as really nothing more than an extension of a high school theater club; or, are they a professional outlet for seriously crafting projects?

We've never considered the likes of Jason Alexander, Alfred Mollina, Ed Harris, Tim Robbins, Noah Wyle, Jeffrey Tambor, Helen Hunt, Mary McDonald, French Stewart, Laurie Metcalf, Tony Shaloub, etc, actors who would be performing in high school theater clubs. (Maybe at one time). L.A. has the largest pool of professional actors willing to work in 99-seat theater. It is a place they value. It produces the art they want to produce. It's the place where they can still do the work they dreamed of doing when they began. These small theaters are the true dream factories. Actors voluntarily choose to work in 99-seat theater, and their union should allow them their right to work as they wish. More than 70 shows which have originated in these small theaters have gone on to major productions elsewhere and include such significant contributions to our national heritage as Tracers, which if not the instigator was a primary contributor to the Vietnam Veteran's movement.

Is the major purpose of small venues to feed the ego of individuals who like to tell people they are actors? Are they really just free, private social clubs for a group of people with a similar interest to meet and commensurate?



Exits and Entrances by Athol Fugard. The Fountain Theatre production transferred to Primary Stages in NYC. L to R: William Dennis Hurley and Morlan Higgins Photo credit: Ed Krieger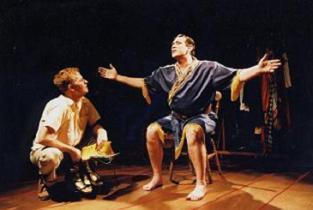 The large majority of work being done in 99-seat theater is about creating art. It is a workshop for those who have vision and desire but who make their living on sitcoms and as supporting cast in television and film. It is a laboratory for the creative spirit. The actors don't need to be told they are actors; frequently they are the best actors in this country. It is also a place where young actors with talent and drive can work with seasoned professionals. These opportunities don't exist anywhere else in the country precisely because financial restraints have eradicated them.

Are there bombs? Do people sometimes put up plays that should never have seen the light of day? Do some people use the opportunity to stroke their own egos? Of course. But that very freedom is also why there are new interpretations of old work that stuns, and new original work that then moves off-Broadway.

Why wouldn't the Los Angeles Self-Produced Project Code and the Los Angeles Membership Company Rule solve most arguments actors in small theaters might state.

Under the Los Angeles Self-Produced Project Code, AEA members would be allowed to self-produce, but they cannot do so at any established 501c3 theatre company or as a co-production. They can do this as a one-off rental, which would be prohibitively expensive.

Under the Los Angeles Membership Company Rule, actors would have to already be on the membership roster of a previously established membership company when the rule goes into effect. If a company cannot accept any new members, it will eventually die out. It also restricts opportunities for young actors starting out and for actors of color. Any new members would have to be paid minimum wage for rehearsals and performances. This would create a two-class system. Old members would work for free, while new members would have to be paid.

In either case Equity has stipulated that both the Self-Produced Code and the Los Angeles Membership Company Rule are internal union rules and can be modified or eliminated at any time.

Are the "producers" or "artistic directors" of these small theaters worried that if they don't increase ticket prices - which their audience might not be willing to pay - that their salary will have to be reduced in order to pay their actors?

Producers and artistic directors are not making significant salaries under the current 99-seat plan. The majority of producers and artistic directors working in 99-seat theatre volunteer their services, just as the actors do. Artistic leaders are more concerned that even if they were to increase tickets prices considerably, that there will still not be enough income to cover the new costs. Substantial ticket cost increases would certainly adversely affect local audiences who are mostly middle income and could well be priced out of the ability to attend live theater.






Broadway To Vegas is supported through advertising and donations. Priority consideration is given to interview suggestions, news, press releases, etc from paid supporters. However, no paid supporters control, alter, edit, or in any way manipulate the content of this site. Your donation is appreciated. We accept PAYPAL. Thank you for your interest.




ART AND ABOUT


BJORK

Bjork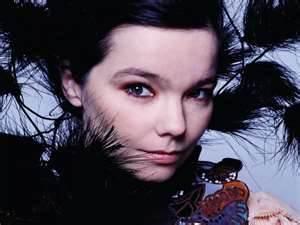 a retrospective dedicated to the multifaceted work of the singer, composer, and musician.

Björk offers an experience of music in many layers, with instruments, a theatrical presentation, an immersive sound experience, a focused audio guide, and related visualizations—from photography and music videos to new media works.

The exhibition draws from more than 20 years of the artist's daring and innovative career, beginning with her eight full-length albums and multiple collaborations with directors, photographers, designers, artists, and other experimental practitioners, and culminating in a new, immersive music and film experience commissioned by MoMA.

The exhibition is conceived and organized by Klaus Biesenbach, Chief Curator at Large at MoMA and Director of MoMA PS1.

The product of a close collaboration between Mr. Biesenbach and Björk, the exhibition brings together a chronology of sounds, videos, objects, instruments, costumes, and images that express the artist's overarching project: her music.

Chronologically, the exhibition begins with the release of Björk's first mature solo album, Debut, in 1993, and proceeds through her career up to her most recent work in 2015, including a new video and music installation commissioned especially for the Museum, Black Lake, which also appears on her new album, Vulnicura.

March 8, 2015–June 7, 2015 at MoMA in New York City.

LAUREN BACALL: THE LOOK

Norman Norell, evening set, cashmere, silk jersey, sequins, circa 1958, USA. Gift of Lauren Bacall.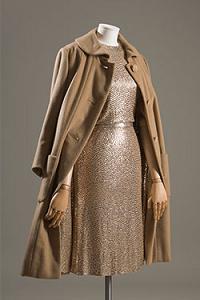 Emanuel Ungaro, pantsuit, silk damask, circa 1973, France. Gift of Lauren Bacall.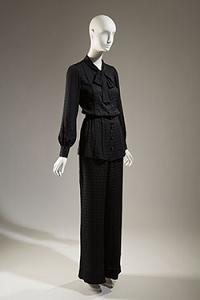 is the first exhibition to exclusively celebrate the film and theater star's unique style. Bacall's own garments take the spotlight in this exhibition, which also explores Bacall's personal relationships with several of the fashion designers who dressed her.

Approximately one dozen garments have been selected from a collection of 700 that Bacall donated to the museum between 1968 and 1986. Also on display are photographs, magazine pieces, film posters, and archival footage.

Lauren Bacall: The Look includes work by designers Marc Bohan, Pierre Cardin, Norman Norell, Yves Saint Laurent, and Emanuel Ungaro, focusing on pieces from the 1960s and 1970s.

Selections include: a vivid pink wool coat by Norman Norell, worn by Bacall in the 1964 film Sex and the Single Girl. Bacall established an ongoing relationship with Norell, as well as with a number of other important designers. In 1968, she hosted Bacall and the Boys, a CBS television special that presented the fall collections of some of her favorite designers.

The exhibition displays photographs of Bacall with her "boys," who include Marc Bohan, Pierre Cardin, Yves Saint Laurent, and Emanuel Ungaro.

Clips from the television special, along with a selection of the garments Bacall wore in it, are in the exhibition. Highlights include a Cardin mini-dress and a Christian Dior evening gown. The fuchsia Cardin dress is devoid of adornment but is accented with molded 3D pyramid shapes. Ostrich plumes at the wrists and hem of the silk jersey Dior gown give it a dramatic flair. Bold design choices such as these extended to Bacall's off-screen wardrobe as well, as seen in a Norell "subway coat" ensemble. A modest tan overcoat opens to reveal a lining emblazoned with gold sequins and a matching sequin sheath dress. A beaded ensemble by Yves Saint Laurent demonstrates Bacall's audacious attitude when it came to dressing.

Throughout her life, Bacall borrowed style cues from menswear. Examples in the exhibition include an ivory silk pantsuit by Norell and a black silk pantsuit by Ungaro. Both are impeccably cut and share certain elements: wide legs, high waistlines, and kerchiefs at the neck that reference a man's tie. Images of Bacall relaxing at home complement these garments. While the photographs were taken decades apart, Bacall's look from one to the other is remarkably unchanged and altogether chic. Her ease and confidence were ever-present elements of The Look. Gallery at Fashion Institute of Technology in New York City through April 4, 2015.

THE EUROPEAN FINE ART FOUNDATION (TEFAF) MAASTRICHT

Vajradhara. Nepal/Tibet, c. 16th century Gilt and cast copper repousse. 94 cm (37 in). Photo: Rossi & Rossi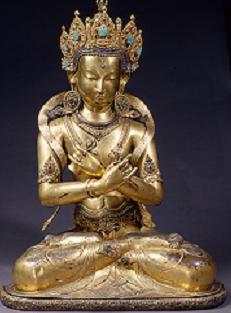 one of the world's leading art and antique events takes place at the Exhibition and Congress Centre (MECC) in Maastricht, Netherlands from March 13-22, 2015.

Of the numerous items on exhibit will be an extremely rare and exceptionally large 16th century repoussé and cast gilt copper sculpture of Vajradhara, the ultimate primordial Buddha, presented by Rossi & Rossi.

. Resplendent and serene, this outstanding Vajradhara was made by Newar artists, probably working in Tibet, and at 94cm high is one of the largest classical Himalayan repoussé metal sculptures of any period known to date.

The entire figure of Vajradhara is made in gilt and cast copper repoussé, demonstrating sophisticated and highly skilled metalworking techniques. The elegant hands, the left one holding the traditional bell, while the right holds a vajra, are cast in gilt copper and separately attached.

The sculpture, with the exception of the back, glows with luxurious rich gilding, and the crown, a later 19th century replacement, and other elements of ornate jewelery are extravagantly set with precious gemstones.

If you're in the market, you can buy it. Considered a steal for US $2,000,000.





SWEET CHARITY


THE 58th ANNUAL RED CROSS BALL IN PALM BEACH FLORIDA

William Shatner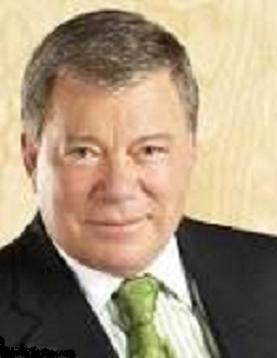 took place Saturday, February 28, from 6 pm to midnight, but not without some ancillary headline making stories.

Leonard Nimoy died and William Shatner got sucker punched for respecting his commitment to appear at the Red Cross function, rather than breaking his contract to attend Nimoy's funeral. No flight from Palm Beach could get him back to Los Angeles in time for the funeral.

The measure of your opinion of a person isn't how you overreact at a funeral, but rather how you treated them while they were alive.

Attending a funeral isn't going to bring a person back to life - making them hail, hearty and happy. Funerals are for those left behind.

Grief is also an individual experience and there is no right or wrong way.

If it was crucial for Nimoy's family that Shatner attend, they would have contacted him, checked out his schedule and coordinated the funeral around that schedule. The families of both Shatner and Nimoy know the insides of show business.

The troublemakers are the fans - necessary to keep the income rolling in; but dangerous when they start running the show.

William Shatner had been contracted to appear at the Red Cross Ball at the Trump owned resort Mar-a-Lago in Palm Beach. That's a professional commitment to an important charity. No contract escape clause is going include attending funerals of friends. Tickets starting at $1,000 per person were sold based on Shatner appearing, along with Las Vegan Wayne Newton and Oscar winner Shirley MacLaine.

The evening raised $1.2 million for a very worthwhile cause.

Out of control fans who feel that everyone else should cow-tow to their every whim get their feelings of self worth by jerking others around. Entities that enable them are equally to blame.

Shatner is the proud spokesperson for the discount travel website Priceline, in fact stating that he and his wife had used Priceline to find their flight to Palm Beach.

"I hold Priceline as a banner whenever I travel because you get some great seats, great cars (and) great hotels from Priceline," Shatner said.

If there had been any possibility of Priceline finding Shatner a flight that somehow could have exceeded the speed of light, they would have done so.

According to reports coming from the event, Shatner was "still overcome with emotion after the death of his friend and co-star Leonard Nimoy the day before, lamenting that he wouldn't be able to attend the funeral because of his appearance in Palm Beach.

"He had a good, long life," Shatner, 83, said of Nimoy. "He did a lot of things. He inspired a lot of people. He was loved by a lot of people and he loved a lot of people. I'm remembering my friend of 50 years, Leonard Nimoy, who cherished everything the Red Cross stands for. In his honor, let us all perform an act of kindness for somebody," Shatn er told the 700 people at the gala.

Ambassadors, foreign diplomats and international philanthropists from around the world attended the 58th International Red Cross Ball which was chaired by Patrick Park. Shatner, Wayne Newton and Shirley MacLaine, along with International Honorary Chairs Melania and Donald Trump and Honorary Co-Chairs Michele and Howard Kessler and Kathryn and Leo Vecellio, helped transport guests Around the World in Eighty Days, the theme for this year's spectacular gala celebration.

Guests arriving at the oceanfront property were greeted with a line of flags from different countries. Attendees enjoyed a cocktail reception, during which they dined on elegant foods from an international food court featuring 20 stations around the Mar-a-Lago pool while the Palm Beach Symphony performed.

As if that wasn't enough food, the guests then made their way into the Grand Ballroom for a formal dinner, and some comments and entertainment from the stars.

"There are so many dire things happening, both in this country and abroad, that require humanitarian intervention," Shatner commented, citing the as the driving force that brought Newton, MacLaine and him together.

The American Red Cross shelters, feeds and provides emotional support to individuals impacted by disasters both large and small; supplies more than 40 percent of the nation's blood; teaches skills that save lives; provides international humanitarian aid; and supports military members and their families. The Red Cross is a not-for-profit organization that depends on volunteers and the generosity of the American public to perform its mission.

THE FOUNDATION FOR AIDS RESEARCH on Saturday, March 14, 2015, will present the inaugural amfAR Hong Kong event. The black-tie gala will include a cocktail reception, dinner, live auction conducted by Simon dePury, and top-flight entertainment. Like all amfAR charity events, amfAR Hong Kong will draw an exciting and diverse range of distinguished guests, including international celebrities and famous names from the worlds of entertainment, fashion, business, and philanthropy.

Taking place at Shaw Studios in Hong Kong special recognition will be paid to Michelle Yeoh.

Chair: Pansy Ho. Honorary Chair: Gwyneth Paltrow.

Event Co-Chairs: Victoria Beckham, Naomi Campbell, Veronica Chou, Kenneth Cole, Serge Dumont, Larry Gagosian, Milutin Gatsby, Nayla Hayek, Marc Jacobs, Emily Lam Ho, Cathy Lee, Xin Li, Kate Moss, Wendi Murdoch, Michelle Ong, Dee Poon, David Tang, Claudine Ying, Andrew Yuen, and Yvette Yung.

A NIGHT AT SARDI'S featuring a medley of Broadway's most popular songs, benefiting the Alzheimer's Association, takes place at The Beverly Hilton Hotel in Beverly Hills, CA on March 18, 2015.

A Night at Sardi's is an annual celebrity musical revue and awards dinner to benefit the care, support and research efforts of the Alzheimer's Association. More than 850 prominent entertainment industry leaders and celebrities gather to recognize advances in the fight against Alzheimer's - and rally around the growing movement to end the disease.

The cocktail attired event begins with a cocktail reception followed by dinner and the program.

To date, A Night at Sardi's has raised more than $25 million to address this rapidly growing health crisis. The Alzheimer's Association funds cutting-edge research, raises awareness and helps to address the needs of Americans living with the disease and their caregivers.

MICHAEL McDERMOTT AND KATHLEEN MULREADY in a celebration of all things Irish. Music, stories and light refreshments. Sunday, March 16, at the Centerbrook Meeting House in Centerbrook, CT.

All proceeds to benefit the Ivoryton Playhouse in Ivoryton, CT.


DOWNTON ABBEY A FAVORITE HANGOUT FOR ROYALS
Mexico's First Lady Angelica Rivera (third left) is joined by Sophie, Countess of Wessex (fourth right) on a visit to meet the cast of Downton Abbey, from left to right: Elizabeth McGovern, Hugh Bonneville, Laura Carmichael, Michelle Dockery and Sophie McShera. Photo: Getty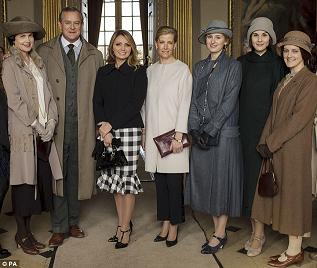 No wonder Carson is such a stickler for manners and polished silver. It seems the set of Downton Abbey is where the real royals like to hang out.

On March 12 Duchess Kate, that's Prince George's mum, will be the latest royal to make a visit to Ealing Studios in London, where scenes are shot for the popular period show.

The wife of Prince William, due to deliver her second child next month, will meet and greet several cast and crew members during her 90-minute tour.

The visit is "to celebrate the success of the award-winning production," the Palace said.

The 6th season is currently in production and Duchess Kate will watch one of the scenes being filmed in the servant quarters.

Kate will also get a chance to chat with series creator Julian Fellowes; tour the makeup, wardrobe and set-building departments; and greet cast members Hugh Bonneville (Lord Grantham), Elizabeth McGovern (Cora, the Countess of Grantham), Dame Maggie Smith (Violet, the dowager countess), Phyllis Logan (Mrs. Hughes), Lesley Nicol (Mrs. Patmore), Robert James-Collier (Thomas) and Sophie McShera (Daisy).

William and Kate are fans of the series. In 2011, the Duchess of Cornwall told Jessica Findlay-Brown, who played Lady Sybil that she and Prince William were both avid viewers.

Last week Sophie, the Countess of Wessex, that's Prince Edward's wife, took the glamorous Mexican First Lady Angélica Rivera, a former soap opera star, on an unofficial private tour of the set.

The age defying 45-year-old mother-of-three, and wife of President Enrique Pena Nieto, is famous in Latin America for playing La Gaviota - the seagull - in the hit Mexican soap opera Distilling Love.

Both women looked lovely.

Sophie, a mother of two, looks remarkably young. She appeared in a classic and elegant Prada coat, accented with Bruce Oldfield high heeled shoes, a Sophie Habsburg Design bag called Moneypenny in burgundy and a Jaeger-LeCoultre Reverso watch.

The royal and Ms Rivera posed for a picture with Elizabeth McGovern, who plays Lady Cora, Hugh Bonneville aka the Earl of Grantham, Laura Carmichael who plays Lady Edith, Lady Mary actress Michelle Dockery and Sophie McShera who plays Daisy. It's not the first time Sophie has visited the set and the show's cast members have supported the Countess at events for Tomorrow's People, a charity helping disadvantaged people. The Countess is the charity's Patron.

Last November, Sophie attended a Tomorrow's People fundraiser at St George's church, London, with Downton stars including Laura Carmichael, Jim Carter and Penelope Wilton.

The Earl and Countess of Grantham are apt to get jaded.

Another fan of the drama is Camilla, the Duchess of Cornwall who calls herself a Downton 'addict'.

Lesley Nicol, who plays Mrs Patmore the cook in the popular series, met Camilla at a charity event and disclosed to the press that the wife of Prince Charles says she never misses an episode."Camilla loves Downton Abbey," she said. "We have spoken and she genuinely loves the show."

Beating Duchess Kate to the Downton Abbey set was her own family. Her sister Pippa Middleton, her parents Carole and Michael and brother James were invited through the series' historical advisor Alastair Bruce - also Sky's royal commentator - who is a friend of the family.

Other notables who have visited the Crawley household include Ashton Kutcher and Mile Kunis, George Clooney and his future wife Amal Alamuddin, Star Trek and Star Wars director JJ Abrams, who also declared that he is a huge fan.

Maggie Gyllenhaal not only visited the set but hinted that she's like a guest role.


BLOOMBERG PHILANTHROPIES ANNOUNCE PUBLIC ART FINALISTS


Twelve cities were selected by Bloomberg Philanthropies as finalist cities in the running to receive up to $1 million each as part of the Public Art Challenge, a new program aimed at supporting temporary public art projects that engage communities, enhance creativity, and enrich the vibrancy of cities.

Mayors of U.S. cities with 30,000 residents or more were invited to submit proposals for innovative temporary public art projects that address a civic issue, and demonstrate close collaboration between artists or arts organizations and city government.

More than 230 cities submitted proposals for consideration in the Public Art Challenge, representing 68 million residents across the United States.

Proposals cover a range of areas such as the revitalization of decayed downtown areas, underutilized waterfronts, and vacant neighborhoods. They also address other social themes including civil rights, neighborhood safety, environmental sustainability, and promoting city identity.

"At a time when imaginative ideas are redefining every industry, cities increasingly realize how important it is to embrace and encourage creativity," said Michael R. Bloomberg. "There was a great response to the challenge we issued, and we hope these projects spur new excitement about the ways public art can strengthen neighborhoods, inspire residents and fuel local economies."

The following 12 finalists have been invited to submit a full proposal:

1. Albany, Schenectady and Troy, NY – Breathing Lights Illuminating the Need for Community Revitalization The City of Albany, in partnership with its neighboring cities of Schenectady and Troy, proposes to illuminate up to 500 vacant homes nightly over two months. Working with artist Adam Frelin and more than 25 community and private sector partners, this multi-site installation aims to regenerate interest in once-vibrant neighborhoods that currently have high vacancy rates. This consortium proposes to culminate the project with a regional summit on vacant homes and abandoned buildings to engage local residents, prospective buyers and investors, and policy makers.

2. Albuquerque, NM – Albuquerque's Orphan Signs of Route 66 and Beyond: Engaging Youth and Local Artists to Enliven Barren Spaces. Albuquerque proposes to commission artwork for 20 unused, uniquely-designed, vintage road sign frames located in empty lots and alongside vacant businesses on Route 66. The City plans to issue a national RFP for artists to create site-specific installations for many of these "orphan signs." As part of the project, two local non-profit arts organizations, Working Classroom and Friends of the Orphan Signs, will engage youth and local artists in transforming several of the signs and enlivening the barren spaces they occupy through art interventions.

3. Atlanta, GA – Freedom Now Highlighting Atlanta's Civil Rights Legacy proposes to activate Freedom Park, a 200-acre public park located in the heart of Atlanta's civil rights district, through interactive installations of art. A series of colorful glass arches designed by artist Xenobia Bailey would be installed throughout the park along with calls to action that invite viewers to initiate conversations about freedom. Four local artists will be invited to develop art projects that highlight Atlanta's legacy of advancing freedom, encouraging interaction among viewers, and promoting dialogue about contemporary civil rights issues.

4. Boston, MA – The Sapphire Necklace Using Culture to Enliven the Harbor The City of Boston proposes to invigorate its harbor by linking four waterfront sites through artist projects. In partnership with the Institute of Contemporary Art and Massachusetts College of Art and Design, the City plans to commission artists Janet Cardiff and George Bures Miller to develop an immersive site-specific artwork alongside pop-up exhibitions and installations by regional and local artists that will reimagine these public spaces.

5. Chicago, IL – Make Way for Art: Activating Chicago's Public Plazas Revitalizing Public Space through Art proposes to commission artists to work with local stakeholders in reimagining six geographically and demographically diverse public spaces. Designated artists will develop projects to renew underutilized public malls and plazas through a multi-year initiative of artist-community collaborations, art experiences, and performances.

6. Des Moines, IA – Listening to Water Calling Attention to Local River Ecology and Urban Water Trails proposes to create art projects along its public waterways to engage the community in dialogue about local river ecology. Partnering with curator M. Jessica Rowe, these art projects will aim to explore urban water trails, watershed planning and river space.

7. Gary, IN – ArtHouse: A Social Kitchen Connecting Food and Art to Develop a Cultural District proposes to transform a vacant building into a cultural hub that showcases visual and culinary arts. Partnering with artist Theaster Gates, the City will use this public space as a catalyst to develop a cultural district and promote urban revitalization.

8. Grand Rapids, MI – SiTE: LAB – Rumsey Street Project Revitalizing Vacant Structures for Art Performances would convert four adjacent vacant structures into a temporary art center with large-scale site specific art installations and performances. Partnering with SiTE: LAB and Habitat for Humanity of Kent County, the City plans to conduct an international design competition to temporarily transform the site into a vibrant cultural destination before transitioning it to affordable housing.

9. Hartford, CT – Subject Matter Honoring and Inspiring Civically Engaged Citizens proposes a series of community portraits and neighborhood processions by artist Nari Ward to honor the City's past and future. The project aims to generate conversations about local issues, inspiring and honoring citizen participation. The community portraits would be distributed via social media, newspapers and magazines, and exhibited on billboards and buses.

10. Los Angeles, CA – CURRENT: LA River Call to Action on Water Conservation Through Art would establish a Public Art Biennial, with an inaugural installation of contemporary art along the Los Angeles River. Working with independent curator Marc Pally, the City would commission five large-scale, multidisciplinary art works, along with smaller commissions and educational programming to support the focus of topics including water conservation, ecology and drought.

11. Maplewood, MN – Kid City Empowering the Youth Community proposes a series of interactive installations and collaborative programs to strengthen connections among the City's multi-cultural youth community. Participatory arts group Z Puppets Rosenschnoz plans to engage middle school students and teens in reimagining their city, sparking dialogue about current challenges and potential solutions through a multidisciplinary arts initiative.

12. Spartanburg, SC – Seeing Spartanburg in a New Light Addressing Crime through Creative Partnerships proposes temporary light installations on city-owned public spaces in up to seven neighborhoods to coincide with National Night Out, an annual event that promotes crime prevention efforts, police-community partnership and neighborhood camaraderie. Artist Erwin Redl plans to collaborate with the City's Police and Fire departments, and neighborhood associations selected through a competitive process, to develop and design light installations that would transform open spaces and create safer and more vibrant neighborhoods.

Submissions were evaluated on their potential viability as dynamic public art projects, capacity to establish or strengthen public-private partnerships, inclusion of strong audience engagement strategies, and commitment to evaluating outcomes and impact on the host city.

Cities of all sizes applied: nearly 50% of the 237 submissions were from cities with populations between 30,000 and 100,000, 38% had populations between 100,000 and 500,000, and 13% of the applicant cities had over 500,000 residents. A variety of artistic disciplines were represented amongst the applications: 61% of the proposed public art projects involved visual art, 19% combined multiple disciplines, 17% featured digital media, and 3% were performing art projects.

The Public Art Challenge grant will cover development, execution and project related expenditures but will not fund 100% of project costs.

The grant is intended to provide catalytic funds as part of a strong, committed consortium of supporters. At least three winning cities will be selected in May to execute their projects over a maximum of 24 months.








SPREADING THE WORD


TONY VELLELA TALKS THEATER WITH MICHAEL CERVERIS Michael Cerveris exploded onto the Broadway scene in 1993 as the fantastic pinball wizard in The Who's Tommy. He won a Tony for his role in Sondheim's Assassins, has been captain of the Titanic and did a wild stint downtown in Hedwig and the Angry Inch.

Join him in discussion with playwright and critic Tony Vellela to learn more about Michael's remarkable career; how he balances his energies to excel as an actor, singer and guitarist; and his particular expertise with Stephen Sondheim's work.

Thursday, March 12 at the 92Y in New York City.

AN EVENING WITH JASON ALEXANDER the award-winning actor, beloved for his portrayal of George Costanza on NBC's Seinfeld, offers selections from his favorite Broadway musicals with symphony orchestra. A multi-talented veteran of the stage, Alexander performs a memorable evening of singing, dancing, and comedy.

March 13 - March 14 at the Civic Center Music Hall in Oklahoma City.

HONEYMOON IN VEGAS: CONVERSATION & PERFORMANCE WITH THE CAST & CREATIVE TEAM OF THE BROADWAY SHOW Honeymoon In Vegas, takes place Sunday, March 15, at the 92Y in New York City.

Moderated by Julie James, the award-winning Program Director of Sirius XM Radio's On Broadway station and hosts Broadway Names with Julie James.

Enjoy performances and hear from the cast and creative team about this razzle-dazzle tale of love, gambling - and skydiving Elvises.

Participants include: Tony Danza who stars as Tommy Korman in the production is one of America's most iconic television, film and stage stars for over 30 years, heralded for Taxi, Who's the Boss?, the recent Don Juan and many other performances.

Tony nominated Rob McClure who stars as Jack Singer has appeared on Broadway in Chaplin: The Musical, I'm Not Rappaport and Avenue Q, and at 92Y in Kathleen Marshall's salute to MGM Musicals. Brynn O'Malley who stars as Betsy Nolan has performed in Broadway's Annie, Wicked, Sunday in the Park with George, Hairspray and Beauty and the Beast.

Andrew Bergman (Book) is writer and director of the 1992 film Honeymoon in Vegas, as well as writer of Blazing Saddles, Soapdish, and many other films. Jason Robert Brown (Music & Lyrics) is the three-time Tony Award-winning composer, lyricist and orchestrator.

Gary Griffin (Director) is the award-winning Broadway director of The Color Purple and The Apple Tree, and associate artistic director of Chicago Shakespeare Theatre. Denis Jones (Choreographer) is associate choreographer for Broadway's Legally Blonde and Dirty Rotten Scoundrels.

BARRY EDELSTEIN IN CONVERSATION WITH CAREY PERLOFF, ARTISTIC DIRECTOR OF AMERICAN CONSERVATORY THEATER takes place Sunday, March 15 at The Old Globe in San Diego.

This special discussion between Old Globe Artistic Director Barry Edelstein and Artistic Director of the legendary American Conservatory Theater Carey Perloff will explore the state of American theatre and the future of the country's regional theatres, as well as Perloff's new memoir about her personal and professional journey in the arts, Beautiful Chaos: A Life in the Theater. After the presentation, Perloff will also sign copies of the book, which will be available for purchase at the event.

CONDUCTOR SIR SIMON RATTLE will join the London Symphony Orchestra (LSO). He is currently director of the Berlin Philharmonic Orchestra, where he has been since 2002 and has three years left on his contract. He will take up the position at the LSO from September 2017.

The LSO is regarded as one of the UK's flagship orchestras and its principal conductor is one of the most high-profile roles in classical music. Others to have held the title previously include Andre Previn, Michael Tilson Thomas and Sir Colin Davis.

Its current principal conductor, Valery Gergiev, is to step down at the end of 2015.

ROLF HARRIS a famed entertainer who was awarded a CBE by Queen Elizabeth in 2006 has been stripped of the honor by Her Majesty following his conviction on child sex abuse charges.

Police and prosecutors said Harris, an artist and musician who first earned fame in the 1950s with the top 10 hit novelty song Tie Me Kangaroo Down, Sport, had used his fame to abuse girls for years. He received a six year jail sentence in July 2014 for repeatedly abusing young girls over decades when he was a much loved host on children's television.

An announcement in the London Gazette, Britain's official newspaper of record, said:

"The Queen has directed that the appointment of Rolf Harris to be a Commander of the Civil Division of the Most Excellent Order of the British Empire [CBE], dated June 17, 2006, shall be cancelled and annulled and that his name shall be erased from the register of the said Order."


OTHER PEOPLE'S MONEY


A VIAL OF SIR WINSTON CHURCHILL'S BLOOD could be yours. It will be auctioned off in London on Thursday by Duke's Auctions.

The tiny capsule containing Churchill's blood has been kept by Patricia Fitzgibbon since 1962.

It seems that the World War II leader was on holiday in Monte Carlo three years before his death when he fell out of his bed and fractured his hip. He was treated in a hospital where Fitzgibbon was a student nurse. She asked permission to keep the small vial labeled: 'Sir Winston S Churchill WWB9.'

Her request was approved and now, on the 50 year anniversary of Churchill's death, the vial of blood is available to the highest bidder.

Timothy Medhurst from Duke's said: "The blood is a poignant reminder of an injury which marked the beginning of the end for Churchill and as such, we expect there to be great interest in it. It could sell for thousands."

ENDSTATION THEATRE COMPANY located at Sweet Briar College vows to survive, despite the announcement last Tuesday that Sweet Briar will shutter August 25, citing "insurmountable financial challenges."

"Endstation is forever indebted to Sweet Briar College, its administration, and its community. It served as Endstation's home for nearly eight years. Without the support of Sweet Briar, none of our work would have been possible. We are deeply saddened by this news. Sweet Briar College was our greatest collaborator," stated Endstation Artistic Director Geoffrey Kershmer in a statement. "We want to assure our audiences that Endstation Theatre Company will continue producing work despite this sad news. In the last two years we have begun to perform beyond the campus and now have a permanent office location in downtown Lynchburg. Our upcoming summer productions are being performed at multiple locations, which include Thomas Jefferson's Poplar Forest, Lynchburg Parks and Recreation's Miller Center, and the Academy of Fine Arts. Four of our summer performances of Two Gentlemen of Virginia are currently scheduled for Sweet Briar College. If the location of these performances move, we will notify you immediately."

Sweet Briar's board of directors unanimously voted February 28 to close the 114-year-old private liberal arts school and announced its decision in a news release Tuesday, March 3, 2015. The rural campus, located just north of Lynchburg, Va. in Amherst County, has an all-female student body of approximately 700, according to the latest US News and World Report statistics.

GRATEFUL DEAD'S 50th ANNIVERSARY TICKETS all 210,000 of them - for to their farewell July 3-5 concerts at Soldiers Field in Chicago - sold out within minutes on Saturday, February 28, 2015. Original ticket prices were $59.50 to $199.50.

The four original members will perform live together. The reunion will also feature an all-star supporting cast in Phish frontman Trey Anastasio and keyboardists Jeff Chimenti and Bruce Hornsby.



LEAH LANE daughter of six-time Tony Award winning Broadway producer Stewart Lane and Bonnie Comley made her debut at the 60th Anniversary of the Viennese Opera Ball at the Waldorf in New York City.

Other show business/society names in attendance were escort Cole Rumbough, grandson of Dina Merrill and Omar Sharif, Jr. the grandson of Oscar nominee and three-time Golden Globe winning actor Omar Sharif. The young Sharif has a master's degree in comparative politics from the London School of Economics. Also an actor, his brain power should come as no surprise. His grandfather earned a degree in mathematics and physics at the University of Cairo, before studying acting at the Royal Academy of Dramatic Art in London.

The debutant is an accomplished performer, having worked with the Metropolitan Opera, the Dicapo Opera Theatre, The Hanover Theater, and the Tilles Center. She was a member of the Camp Broadway Kids Chorus at Carnegie Hall and the Macy's Thanksgiving Day Parade. In 2014, she co-founded the Sho Off Dance Company, a dance company dedicated to the art of step dance.

Besides performing, Leah Lane is also an established writer. She began her foray into writing with the children's books Are We There Yet? and This Never Happens in the City.. She recently attended the Young Playwrights Urban Retreat and participated in a summer program at the Royal Academy of Dramatic Arts. Her children's play, Moey's Fairy Tale Adventure was performed at the Dix Hills Performing Arts Center at Five Towns College in December 2013.


STORK REPORT


ACTRESS SARA GILBERT AND HALL OF FAME SONGWRITER LINDA PERRY are parents of a baby boy born Saturday, February 28, 2015 in Los Angeles.

Named Rhodes Emilio Gilbert Perry, he is the first child for the couple who wed Sunday, March 30, 2014. The new bundle of joy was welcomed home by Gilbert's daughter Sawyer, 7½, and son Levi, 10, from her previous relationship.

CARRIE UNDERWOOD AND HUSBAND MIKE FISHER she is the multi-platinum country singing star and he is the Canadian professional ice hockey player who is a member of the Nashville Predators - became parents on Friday, February 27, 2015. The new addition to their family is a baby boy, which they named Isaiah Michael.



SOON a World Premiere with Book, Music & Lyrics by Nick Blaemire.

Directed by Matthew Gardiner.

It is the hottest summer in human history and, in a few short months, all water on earth will evaporate.

In response, twenty-something Charlie has taken to her couch with only her beloved possessions: peanut butter, Wolf Blitzer and Herschel, the fish. Her mother, roommate and sometimes-boyfriend all attempt to persuade her to leave her apartment and enjoy life. However, as Charlie's memories take over, more complicated reasons for her self-inflicted hibernation emerge as she confronts her deferred dreams and considers the possibility of life and love just outside her door.

"Filled with Blaemire's (Glory Days) trademark quirky style and reminiscent of past Signature contemporary musicals [title of show] and The Last Five Years, Soon's youthful humor, energy and wit deliver a searing and sardonic commentary on what to do with the time you have left," according to the venue.

March 10 - April 26, 2015 in the ARK Theatre of Signature Theater in Arlington, VA.

FREEDOM'S SONG: ABRAHAM LINCOLN AND THE CIVIL WAR by Frank Wildhorn, Gregory Boyd and Jack Murphy; Music by Frank Wildhorn; Adapted by Richard Hellesen and Mark Ramont.

Directed by Jeff Calhoun.

This epic musical features the words of Abraham Lincoln and music inspired by the letters of those who lived through the Civil War. With rousing music, stirring speeches and rich, historic costumes, Freedom's Song evokes the soaring hopes and tragic losses of the real people of Civil War America. Through a series of highly theatrical vignettes, we see everyday Americans courageously confront the gritty realities of a tattered nation and a war that pitted brother against brother. Lincoln's inspirational words intermix with these stories, imagining a bloody nation once again unified and the return of a truly United States.

Ford's Theatre is developing this work as part of the Ford's 150, a series of events commemorating the 150th anniversary of Lincoln's assassination.

March 13-May 20, 2015 at Ford's Theatre in Washington, DC.

THE FLYING DUTCHMAN by Richard Wagner. Libretto by the composer Washington National Opera revival.

Directed by Stephen Lawless.

Two-time Grammy winner Eric Owens makes his staged role debut as The Dutchman.

Also starring German soprano Christiane Libor, Estonian bass Ain Anger, and American tenor Jay Hunter Morris all making their r WNO debuts in performances conducted by WNO Music Director Philippe Auguin and Eric Weimer.

Condemned to wander the seas upon a ship of ghosts, he can only venture ashore once every seven years to seek his salvation: a woman's unconditional love. When Senta, the beguiling daughter of a sea captain, pledges to be faithful to him forever, it seems the ancient curse might finally be broken. But her jealous huntsman suitor poses just one of many obstacles in a tale where greed, fidelity, and misfortune collide in full force.

Set Designer: Giles Cadle. Costume Designer: Ingeborg Bernerth. Lighting Designer: Joan Sullivan-Genthe.

In German with projected English titles. March 7-21, 2015 at the Opera House at the Kennedy Center in Washington, DC.


WHO'S WHERE




JANE CONDON AND MAUREEN LANGAN two Irish stand-up comediennes, will be making people laugh on Friday, March 13, just in time for St. Patrick's Day. The Palace Theatre in Stamford, CT.

THE LONDON SYMPHONY ORCHESTRA'S Principal Guest Conductor Michael Tilson Thomas celebrates his 70th birthday this month with a pair of concerts focusing on British and Russian music, along with a nod to his American roots. Thursday, March 12, and Sunday, March 15, at the Barbican in London.

BARBARA COOK Broadway icon who is the recipient of Kennedy Center Honors and Tony, Grammy, and Drama Desk awards, has a two nighter in Las Vegas at The Smith Center March 13-14.

MAROON 5 takes to the stage Monday, March 9, at the Wells Fargo Center in Philadelphia. On Wednesday their gig is at Nationwide Arena in Columbus, OH. On Friday they star at the Consol Energy Center in Pittsburgh. Saturday finds them at the KFC Yum! Center in Louisville, KY.

NEIL DIAMOND will be singing his hits Tuesday, March 10 at the Dunkin' Donuts Center in Providence, RI. On Friday he's in the spotlight at the Mohegan Sun Arena in Uncasville, CT.

CHICK COREA AND HERBIE HANCOCK team up for performances Saturday, March 14, at the Paramount Theatre in Seattle, WA. Next Sunday, they are on stage at the Chan Shum Concert Hall in Vancouver, BC.

BILLY IDOL has gone Down Under for a show Saturday, March 14, at the Kings Park & Botanic Garden in Perth.

USHER stars at Olympic Hall in Munich, Germany on Monday, March 9. Tuesday finds him at the Wiener Stadthalle in Vienna, Austria. Thursday's romp is at the SAP Arena in Mannheim, Germany. On Saturday the tour stops at the Capital FM Arena in Nottingham, UK and next Sunday, March 15, he can be enjoyed at the Motorpoint Arena in Sheffield, UK.


FINAL OVATION


ORRIN KEEPNEWS writer and jazz producer died March 1, 2015. He was 91.

Keepnews was born in the Bronx on March 2, 1923. He graduated from Columbia University with a degree in English in 1943. Subsequently, he was involved in bombing raids over Japan in the final months of World War III, before returning for graduate studies at Columbia in 1946.

While working as an editor for the book publishers Simon Schuster, Keepnews moonlighted as editor of The Record Changer, a small jazz magazine, after fellow Columbia graduate Bill Grauer became its owner in 1948. Keepnews wrote one of the earliest profiles of Thelonious Monk, then little known, for the publication.

In 1952 Grauer and Keepnews produced a series of reissues on RCA Victor's Label "X". The following year Grauer and Keepnews founded Riverside Records, which was initially devoted to reissue projects in the traditional and swing jazz idioms.

After a period of freelance activity, Keepnews started Milestone Records in 1966 with a new business partner, pianist Dick Katz. In 1985 Keepnews founded Landmark Records, whose catalog included albums recorded by the Kronos Quartet of music by Bill Evans and Monk, as well as straight jazz albums. Landmark passed to Muse Records in 1993.

Keepnews was married to Lucile (née Kaufman) from 1948 until her death in 1989. His second wife, a clothing designer, Martha Egan, survived him. Also surviving are his two sons Peter Keepnews, an editor at The New York Times and a writer on jazz subjects, and David Keepnews, who teaches nursing and health policy at Hunter Collgee in New York City.

Neil Portnow President/CEO of The Recording Academy issued the following statement: "Four-time Grammy winner and Recording Academy Trustees Award recipient Orrin Keepnews was one of jazz's greatest advocates whose passion and enthusiasm for the music led him to help create some of the most noteworthy recordings in the genre. A jazz journalist and album notes writer, he ultimately would become a record executive and producer of some of the most quintessential recordings by the likes of Thelonious Monk, Sonny Rollins, Bill Evans, Wes Montgomery, and Cannonball Adderley, among others. His attention to detail and his genuine love of jazz music earned him the respect of musicians, and for seven decades he devoted his life to every aspect of the genre — whether in the studio, in the marketplace, or through his writings. Additionally, Orrin's longstanding service to The Recording Academy as an elected leader was indispensable to our organization. Our creative community has lost an American treasure, and his legacy will serve as a potent reminder of the importance of one of our nation's most original art forms. Our deepest sympathies go out to his family, his friends, and all those who share his commitment to keep jazz an ever-present and thriving part of our culture."

















Next Column: March 15, 2015
Copyright: March 8, 2015 All Rights Reserved. Reviews, Interviews, Commentary, Photographs or Graphics from any Broadway To Vegas (TM) columns may not be published, broadcast, rewritten, utilized as leads, or used in any manner without permission, compensation and/or credit.
Link to Main Page
---
Laura Deni



For the snail mail address, please E-mail your request.
CLICK HERE FOR COMMENT SECTION