! >
Broadway To Vegas
  
 SHOW REVIEWS CELEBRITY INTERVIEWS GOSSIP NEWS

| | |
| --- | --- |
| | |
LOVE NEVER DIES; COME FLY AWAY AND THE OPERA BLISS - -ELVIS PRESLEY FASHION KING EXHIBIT AT GRACELAND - - JEWS ROCK - - 2010 ST. PATRICK DAY PARADES AND PLAYS - - TELEVISED PENIS PROCEDURE CAUSES LAWSUIT - - WAYNE NEWTON'S WIFE WANTS SEPARATE ASSETS - - POWER SURGE DELAYS BARRY MANILOW'S VEGAS OPENING - - LONDON THEATRES HAVE RAT PROBLEM - - DONATE . . . Scroll Down


MAJOR MUSICAL OPENINGS IN LONDON, BROADWAY AND AUSTRALIA ATTRACT WORLD INTEREST


A sequel to Phantom of the Opera, a dancing musical about Frank Sinatra which carries the blessing of his family, and an opera about death, which has taken a decade to create.

First up is Love Never Dies, the new Andrew Lloyd Webber musical, a sequel to Phantom of the Opera. Music composed by Lloyd Webber, with a book and lyrics crafted by Glenn Slater.

This eagerly anticipated world premiere is directed by Jack O'Brien. Choreography is by Jerry Mitchell, the versatile Tony Award winner, who is busy on both continents. The creative force behind Peep Show at Planet Hollywood in Las Vegas, the revue which took a brief hiatus to remodel the theatre, reopened March 1 and stars Holly Madison and Josh Strickland. The production is billed as "the only striptease spectacular in Las Vegas."

So far Love Never Dies has survived the leading lady coming down with a 103 degree fever, causing cancellation of the first scheduled preview. Then, when the previews began, there was a mechanical malfunction.

The creatives are hoping the kinks have been worked out during the previews. During the first preview performance a minor technical hitch took place after the first number resulting director Jack O'Brien jumping to the stage to assure the audience "that's not it… !" and "that has never happened before." He asked for a little patience as the crew worked behind the curtain to fix the issue. According to cast bloggers "after only a few minutes the show was ready to restart. It had all gone so swimmingly in the afternoon's dress rehearsal too!"

Starring Ramin Karimloo as The Phantom and Sierra Boggess as Christine. In 2005 Boggess was hand picked by Andrew Lloyd Webber and Hal Prince to originate the role of Christine Daae in a brand new production of The Phantom of the Opera at the Venetian Hotel in Las Vegas. That led to Sierra making her Broadway debut, in November 2007, creating the title role in Disney's The Little Mermaid.

Karimloo has been receiving standing ovations after he sings Til I Hear You Sing in the first act. Likewise, Boggess, the one felled by the fever, has been receiving audience kudos for her aria rendition of Love Never Dies.



Ramin Karimloo (The Phantom) and Sierra Boggess (Christine). Boggess received her big break starring in Las Vegas Photo c. Catherine Ashmore for Love Never Dies.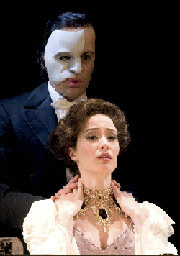 She blogged that she had been given a thorough check up from the doctor. "He was stunned by how quickly I had recovered, the fever disappeared as quickly as it arrived, he had never seen anything like it!"

Looking forward to returning to her palatial dressing room couldn't have hurt the recovery process.

The Phantom of the Opera, based on the French novel by Gaston Leroux, has proved a huge success the world over and has been seen by over 100 million people, making it the single most successful entertainment entity in history. The show has been translated into 15 languages and has played in over 25 different countries, including China, Brazil, Poland and Korea.

Major musical revivals and sequels haven't fared so well. Thus, the entertainment world is looking towards London this week to see if Andrew Lloyd-Webber, who has been recovering from prostate cancer while preparing for the London run, can change history.

Ten years after the mysterious disappearance of The Phantom from the Paris Opera House, Christine Daaé accepts an offer to come to America and perform at New York's fabulous new playground of the world - Coney Island.

Arriving in New York with her husband Raoul and their son Gustave, Christine soon discovers the identity of the anonymous impresario who has lured her from France to sing.

This brand-new show is a roller coaster ride of obsession and intrigue - in which music and memory can play cruel tricks - and The Phantom sets out to prove that, indeed, Love Never Dies.

A heavy burden rests on the capable shoulders of five-time Tony Award winning designer Bob Crowley. This production doesn't have a chandelier, but there is that roller coaster.



Jerry Mitchell, André Ptaszynski, Andrew Lloyd Webber and Jack O'Brien in rehearsal. Photo c. Catherine Ashmore for Love NeverDies..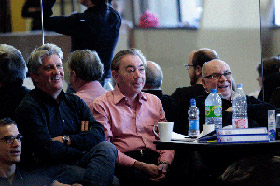 Neill Girton, who made the prosthetics used in Love Never Dies took a different creation approach than the one used in Phantom. The prosthetics Ramin wears are made in silicone rather than the foam used for The Phantom of the Opera. This material - although slightly heavier than foam - allows the actor much more freedom for facial expression and also looks much more "skin like" in texture.

Other crucial members of the team include Naomi Donne, who has created the make up, Campbell Young, the Wigs Supervisor for the show and Ivo Coveney, who has created the Phantom's iconic mask. Sandra O'Brien (Biddie) is the Wigs Mistress and Debbie Goodship (Lolly) her Deputy, must all work in well-structured harmony.

At the beginning of previews the make-up process took well over an hour with a goal of "around 45 minutes" by opening night.

Before the first week of previews ended, the buzz on the street heralded the costumes as scene stealing.

The cast was quick to blog that while many stage plays costumes and fabrics can be obtained from specialist or vintage shops, or rented from theatrical costumers, Love Never Dies is such a large scale spectacular period piece, the costumes needed to be designed and created as unique pieces. That meant that much of the fabric itself had to be created - specially printed, painted, stenciled or treated.

Enter the costume team headed by Nicola Killeen. Working from Crowley's original drawings, Nicola and her colleagues liaise closely with Irene Bohan the costume supervisor who oversees the process of getting Crowley's designs from page to stage – by preparing the fabric that will then be turned into a wearable costume. Sample fabrics were created and tested for length and color. The fabric also needs to be able to withstand the daily wear and tear and constant handling that a theatrical costume endures and yet fall correctly and be in keeping with the period look of the piece. Fabric was then digitally printed on what amounts to a large color printer, steamed dry and then decorated.

The massive cast includes Joseph Millson who plays Raoul; Liz Robertson will play 'Madame Giry; Summer Strallen will play Meg Giry; Fleck, Squelch and Gangle are played respectively by Niamh Perry, Adam Pearce and Jami Reid-Quarrell.

The cast also includes Derek Andrews, Dean Chisnall, Helen Dixon, Lucie Downer, Paul Farrell, Charlene Ford, Chris Gage, Lucy van Gasse, Celia Graham, Simon Ray Harvey, Jack Horner, Erin Anna Jameson, Pip Jordan, Jessica Kirton, Louise Madison, Janet Mooney, Colette Morrow, Tam Mutu, Ashley Nottingham, Tom Oakley, Mark Skipper, Jonathan Stewart, Tim Walton and Annette Yeo.

The World Premiere of Love Never Dies will officially open in London on March 8, 2010 at the Adelphi Theatre. The show will subsequently open in New York on November 11, 2010 and then in Australia in 2011



Composer Brett Dean, director Neal Armfield and lyricist Amanda Holden hard at work on Bliss. Photo for Opera Australia by Bridget Elliot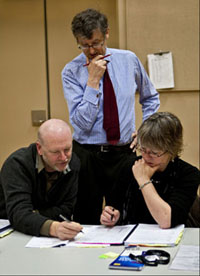 Bliss, based on Peter Carey's novel, has been over a decade in the making. Simone Young commissioned it, the late Richard Hickox embraced it, and now, finally, Opera Australia brings it to the stage. This first production, directed by Neil Armfield, conducted by Elgar Howarth and with Peter Coleman-Wright as Harry Joy opens March 14 at the Sydney Opera House before moving to the Arts Centre, Melbourne from April 20.

"Harry Joy was to die three times, but it was his first death which was to have the greatest effect on him…"

Bliss is a novel which defines that 80s generation. No-one forgets the opening line of Peter Carey's darkly comic fable, which charts the adventures of Harry Joy, an advertising executive who, after having a close encounter with death, finds himself sucked into a Kafkaesque series of events.

This opera contains coarse language, scenes of a graphic sexual nature and adult themes. It is not recommended for children.

It is recommended that patrons get out their shoulder pads and dress to impress when they attend the opening. Alice Babidge's costumes for Bliss are set to rekindle iconic 80's fashion.

The combination of Brett Dean's music, Amanda Holden's words and Peter Carey's kaleidoscopic imagination is heralded as a potent.

In explaining how she brought the words to the stage Holden blogged; "No opera librettos I know (apart from Pelléas, Elektra, Wozzeck, all based on plays) quote directly from their literary sources, and this libretto is about 9,000 words, perhaps less than a tenth of the length of the novel."

"I took the story to pieces, distilled it and rebuilt it for the stage, like a massive multi-dimensional jigsaw. Not surprisingly, a lot is left out, but some new ideas also arrived – for instance the quirky Ballad of Little Titch, the act III chorus, inspired by Paradise Lost, and the final Sonnet, after Milton. The opera uses short scenes, sharply contrasted - a feature of the book - which offered us a panoply of colorful characters and situations to contrast and interact with the central protagonist, Harry Joy. It has been fun to write solos, ensembles, choruses and dialogue in a style that is hopefully both Careyesque and colloquially Australian."

Bliss was commissioned by Opera Australia with assistance by the Australian Government through the Australia Council for the Arts' New Australian Stories Initiative.

Come Fly Away conceived, choreographed, and directed by Tony Award-winner Twyla Tharp and featuring vocals by Frank Sinatra is currently in previews with the official opening set for Thursday, March 25, at the Marquis Theatre in The Big Apple.

A visionary working amicably with a control group is usually an oxymoron. In this case it works.

The visionary is Twyla Tharp. The control group is Sinatra Enterprises, which has actually given their blessing to this production.

It's not the first time the Sinatra clan has teamed with Tharp.

Come Fly Away is the most elaborate chapter in one of the most fruitful collaborations in contemporary dance. Twyla Tharp's creative relationship with the music of Frank Sinatra began in 1976 with the premiere of Once More Frank, a duet created for the American Ballet Theatre, performed by Tharp and Mikhail Baryshnikov. The collaboration continued with Nine Sinatra Songs, Tharp's acclaimed piece for fourteen dancers which had its world premiere with Twyla Tharp Dance in 1982, and was followed by Sinatra Suite, a duet featuring Baryshnikov and Elaine Kudo, which had its world premiere in 1984 with American Ballet Theatre at the Kennedy Center.

Citing it as one of the purest expressions of his body of work, Ol' Blue Eyes requested that Sinatra Suite be performed when he received his Kennedy Center Honors Award.

Come Fly Away, the Sinatra-inspired dance piece, incorporates original masters of Sinatra's voice, which are backed by a live on-stage band. The musical follows four couples as they fall in and out of love during one song and dance filled evening at a nightclub. Blending the legendary vocals of Frank Sinatra with a live on stage 19-piece big band and 15 of the world's finest dancers, the new musical weaves an unparalleled hit parade of classics, including Fly Me To The Moon; Let's Fall In Love; Witchcraft; Summer Wind; Body & Soul; It's All Right with Me; Take Five; That's Life; Nice 'n' Easy and My Way into a soaring musical fantasy of romance and seduction.

The show's score combines classic and newly discovered vocal performances from the Sinatra archives along with signature arrangements - Nelson Riddle, Billy May, Quincy Jones - as well as brand new charts for this fresh innovative musical.

Music supervision is by the late Sam Lutfiyya and Patrick Vaccariello. Additional arrangements and orchestrations are by Dave Pierce and Don Sebesky.

Come Fly Away stars Matthew Stockwell Dibble, Holley Farmer, Laura Mead, Charlie Neshyba-Hodges, Rika Okamoto, Karine Plantadit, Keith Roberts and John Selya, all of whom were in last fall's acclaimed world premiere production at Atlanta's Alliance Theatre through October 11, 2009 The production also features vocalist Hilary Gardner.



Broadway To Vegas is supported through advertising and donations. Priority consideration is given to interview suggestions, news, press releases, etc from paid supporters. However, no paid supporters control, alter, edit, or in any way manipulate the content of this site. Your donation is appreciated. We accept PAYPAL. Thank you for your interest.


ART AND ABOUT


ELVIS PRESLEY FASHION KING

Elvis Presley: Fashion King exhibit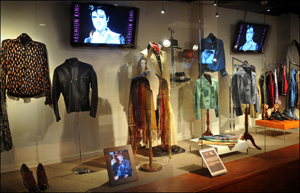 Everybody knows the elaborate stage costumes of Elvis Presley. Few know how the man dressed off stage.

Boring and ordinary - yes. But, it was Elvis!

Thus, whatever daytime duds he wore, became a fashion statement for others to emulate.

If you're thinking blue denim jeans - wrong. The fabric - denim - brought back unhappy memories of growing up poor As an adult he never wore a pair of denim jeans unless he was working on his ranch.

Nor are there any blue suede shoes which were part of a song, but never a part of his wardrobe.

The opening of Elvis Presley: Fashion King at Graceland is part of the year-long celebration of Elvis Presley's 75th Birthday . The exhibit is the first of its kind at Elvis' home in Memphis, and explores fashion trends ushered in by the King of Rock 'n' Roll.

Elvis Presley: Fashion King showcases everything from the king's handmade shirts and casual suits to his flashy jewelry and shoes, giving visitors a first-hand look at how rock 'n' roll royalty dressed. Visitors will see the evolution of Elvis' outfits, from an artist's sketch to the final product, and how these custom creations were made.

Many of Elvis' shirts had elastic in the wrists and at the elbows because Presley favored the "poofy" look. Those were custom-made by Lansky Brothers on Beale Street and by the Ice Capades Costume Co. Presley liked bright colors as evident with the heavy use of orange or purple paisley.

The exhibit provides visitors with the feeling that they are peeking into Elvis' personal closet. There are casual suits, top coats, hats, scarves, accessories, including a custom necklace featuring more than 220 diamonds and a 11.5-carat diamond solitaire ring - surrounded by lightning bolts and his "TCB" emblem. Nestled among his belts and rings are Smith & Wesson and a Colt 45-caliber pistols with custom-made turquoise handles.

Catalogued by inventory specialist Sheila James, Elvis Presley: Fashion King will be open through March of 2012. Also opening as part of the year-long birthday celebration is a special exhibit featuring Elvis' iconic stage costumes from 1969-1977. This exhibit charts the evolution of the design of Elvis' stage wear, popularized during his Las Vegas engagements and concert tours. Inspired by Elvis' great interest in karate, simple wool gabardine suits were engineered with tunic-style tops and long, karate-style belts knotted to one side with the ends dangling from the hip. More than 20 of these costumes, now considered works of art, will be on display throughout 2010 in this special exhibit,

MARINA ABRAMOVIC: THE ARTIST IS PRESENT

Marina Abramovic. Portrait with Flowers. 2009. Black-and-white gelatin silver print; photo: Marco Anelli. © 2010 Marina Abramovic. Courtesy the artist and Sean Kelly Gallery/Artists Rights Society (ARS), New York
Marina Abramovic is a New York based Serbian and Yugoslavian who has been described as the "grandmother of performance art." Abramovic's work explores the relationship between performer and audience, the limits of the body, and the possibilities of the mind.

She is spotlighted with 700 hours of live performance, 39 "reperformers," 40 years of history - live at MoMA in New York City March 14-May 31, 2010.

This performance retrospective traces the prolific career of Marina Abramovic - approximately fifty works spanning over four decades of her early interventions and sound pieces, video works, installations, photographs, solo performances, and collaborative performances made with Ulay (Uwe Laysiepen).

In an endeavor to transmit the presence of the artist and make her historical performances accessible to a larger audience, the exhibition includes the first live re-performances of Abramovic's works by other people ever to be undertaken in a museum setting.

In addition, a new, original work performed by Abramovic will mark the longest duration of time that she has performed a single solo piece. All performances, one of which involves viewer participation, will take place throughout the entire duration of the exhibition, starting before the Museum opens each day and continuing until after it closes, to allow visitors to experience the timelessness of the works.

Works in the exhibition are reperformed by: Maria José Arjona, Brittany Bailey, John Bonafede, Lydia Brawner, Rachel Brennecke (aka Bon Jane), Rebecca Brooks, Isabella Bruno, Hsiao Chen, Rebecca Davis, Angela Freiberger, Kennis Hawkins, Michael Helland, Igor Josifov, Elana Katz, Cynthia Koppe, Heather Kravas, Gary Lai, Abigail Levine, Jacqueline Lounsbury, Isabelle Lumpkin, Elke Luyten, Alexander Lyle, Justine Lynch, Tom McCauley, Nick Morgan, Andrew Ondrejcak, Tony Orrico, Will Rawls, Matthew Rogers, George Emilio Sanchez, Ama Saru, Jill Sigman, Maria S. H. M., Layard Thompson, Amelia Uzategui Bonilla, Deborah Wing-Sproul, Yozmit, and Jeramy Zimmerman.

Organized by Klaus Biesenbach, Chief Curator, Department of Media and Performance Art, The Museum of Modern Art.

JEWS ROCK: A PHOTOGRAPHIC CELEBRATION OF ROCK AND ROLL'S JEWISH HERITAGE

Hall and Oates 1979. Photo by Janet Macoska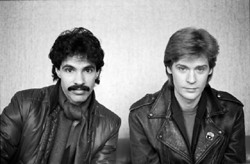 opens Wednesday, March 10, 2010 at the Gotthelf Art Gallery at the Lawrence Family Jewish Community Center in La Jolia, CA.

Jews Rock! reveals and celebrates Jewish musicians, record industry executives, concert promoters, songwriters and innovators who were the cornerstone of the birth and growth of rock and roll music.

Rock and roll is the soundtrack of our lives and Cleveland based photo journalist Janet Macoska, a lapsed Catholic, has provided many of the visuals.

Her work is in the permanent collection of The Rock and Roll Hall of Fame and Museum, The National Portrait Gallery in London and in Hard Rock Café restaurants, hotels and casinos all around the planet. David Bowie, Led Zeppelin, The Clash, AC/DC, and The Kinks are just some of the artists who have used her work on their CD's.

This exhibit features more than 60 photos of Jewish musicians - many of them icons in the industry - who are the faces of rock and roll. Those include; Jane's Addiction singer Perry Farrell, deceased Ramones' singer Joey Ramone, singer-guitarist Susanna Hoffy of The Bangles, former Clash guitarist Mick Jones, Lou Reed, Velvet Revolver, Blondie, Jefferson Airplane and Simon & Garfunkel.

To coincide with this opening, Artie Kornfeld "The Father of Woodstock" will share rock and roll stories and musical insight. A co-producer of Woodstock at the age of 26, Kornfeld has continued in the music business for over 40 years and worked with many of rock and rolls most famous icons. Just a few of the artists signed, promoted or developed by Kornfeld include: Sheryl Crow, Sarah McLachlan, Bruce Springsteen, Tracy Chapman, Melissa Etheridge, Vanilla Ice, Depeche Mode, Billy Joel, John Fogerty, Santana, Steve Perry, Kiss, Neil Young, Bonnie Raitt, Tom Petty, Pink Floyd, Aerosmith, Blondie, Davy Jones, Bob Seger, The Cowsills, J. Giles Band, Roger Miller, Linda Ronstadt, Alanis Morissette, Lou Rawls, George Segal, Joe South, Wilson Phillips, Alice Cooper, Joe Cocker, ZZ Top, Marshall Tucker, Greg Allman Band, Quiet Riot, Eddie Money and Patti Griffin.

Macoska will share highlights she has witnessed from behind her camera.

The exhibit Jews Rock! runs through May 19, 2010.





SPREADING THE WORD


AMELIA PANEL DISCUSSIONS in the weeks leading up to the world premiere of Amelia, Seattle Opera will present a variety of panel discussions, lectures, and other special events designed to provide unique insight into the development of this new work and reach out to new communities with particular ties to the opera's story and themes.

The first event, a panel discussion takes place March 13 and will serve as a forum for a conversation about the Vietnam War from different perspectives.

Panelists: Claire J. Gilstad - U.S. Air Force, 1966 to 1994. Gilstad flew 283 missions as an AC-47 gunship pilot in Vietnam during a 12-month tour in 1968. After the Vietnam War he remained in the Air Force, flying C-133, F-4, C-130 and C-141 aircraft. He spent 14 years as a Staff Officer in the 14th Air Force Headquarters, Air Force Reserve Command Headquarters, and at the Pentagon. Gilstad, a docent at Museum of Flight, retired from the Air Force as a colonel in 1994 and is currently a civilian pilot and aircraft-owner.

Ray Rignel - U.S. Navy. Rignel flew carrier-based A-6 Intruders off of Navy Carriers on over 100 missions in Vietnam from 1970 to 1971. A docent at The Museum of Flight, Rignel was an airline pilot for the Flying Tigers from 1973 to 1989, and for FedEx from 1989 to 2004 as a Captain on DC-10, DC-8, and MD-11 aircraft.

Major Joe Crecca - U.S. Air Force. In 1966, Crecca was assigned to the 480th Tactical Fighter Squadron of the 366th Tactical Fighter Wing "Gunfighters," in Vietnam. During his 87th combat mission, this F-4 combat pilot was forced to eject over North Vietnam in August 1966. He was taken as a Prisoner of War and spent over 6 years in captivity, before finally being released during Operation Homecoming on February 18, 1973. He eventually returned to flying status and continued to serve as a combat-ready pilot through 1978.

Saturday, March 13, at The Museum of Flight in Seattle, Washington.





CELEBRATING ST. PATRICK'S DAY


Since St. Patrick's Day takes place on a Wednesday, it seems only reasonable that the festivities begin the preceding week-end.

Thus, Shamrock Fest 2010, the nation's biggest St. Patrick's Day Festival in the Mid-Atlantic Region. The all day event takes place March 13 at the RFK Memorial Stadium in Washington, DC.

The Roots will be performing and there will be more than 40 acres of party space. Expect strolling entertainers, dozens of party areas, 40+ bands and DJs, carnival rides, 10 stages, an Irish Village with all your fave Irish bars, basketball viewing tents (for you March Madness fans), games, beer trucks, meet D.C. United players, and so much more.

The St. Patrick's Day parade in New York City is the nation's latest. Just so there is no confusion, in the five buroughs of Manhattan, there are actually four St. Patty parades. The first two step off today in Staten Island and Queens. Those are followed by the Brooklyn parade next Sunday, March 15, with the over-the top 249th Saint Patrick's Day Parade in Manhattan on the actual date, March 17th.

"On the streets of New York since 1762 - the oldest, largest, and best in the world" The parade marches up 5th Avenue, clan by clan. The Parade starts at 44th Street, marches up Fifth Avenue past St. Patrick's Cathedral at 50th Street all the way up past the American Irish Historical Society at 83rd and the Metropolitan Museum of Art at 83rd Street to 86th Street, where the parade finishes.

In Boston, the South Boston St. Patrick's Day Parade 2010 takes place on Sunday, March 14, 2010. South Boston is Boston's most Irish neighborhood and has a glorious tradition of helping others while keeping Irish heritage alive. Southie's annual wearin' of the green will feature marching bands and pipe bands from throughout North America. Since 1901 this parade has become a prominent part of South Boston's history.

San Francisco isn't taking a back seat to anybody and stages their 159th St Patrick's Day Parade and Festival March 13, 2010.

For those who would rather watch a play than a parade, Irish Rep in NYC is presenting George Bernard Shaw's Candida, directed and designed by Tony Walton through April 18. The production stars Melissa Errico in the title role, while Brian Murray portrays Candida's father, Mr. Burgess. The cast also includes Zanthe Elbrick, Josh Grisetti, Ciaran O'Reilly and Sam Underwood.

Martin Casella's comedy The Irish Curse at the SoHo Playhouse begins performances on St. Patrick's Day, March 17. The production stars Dan Butler, best known as Bulldog on Frasier, Roderick Hill who starred in Butley on Broadway opposite Nathan Lane, Scott Jaeck, Brian Leahy and Austin Peck. Matt Lenz will direct.



LEGALLY SPEAKING


GET FULL DISCLOSURE BEFORE DISPLAYING YOUR PENIS in a complaint filed in Los Angeles Superior Court, plaintiff Tyler Bowling, 21, of Minneapolis, asserts he suffered "relentless embarrassment and harassment" in phone calls and emails from both acquaintances and strangers - because the producers of the CBS-TV show The Doctors tricked him into appearing on the program.

First reported by Courthouse News, the complaint states that he contacted Dr. William Groff in January 2009, after seeing the doctor's Web site, which advertised a laser treatment for pearly penile papules, which are harmless, noncontagious, skin-colored bumps. Bowling states that the following month he made an appointment at Groff's Cosmetic Surgery Center in La Jolia, CA to undergo the $4,500 procedure.

Two days after he made the appointment, Bowling contends, Groff's secretary contacted him by telephone and offered the procedure for free provided Bowling would "discuss his condition" on The Doctors. "Minutes" later, Bowling says, The Doctors producer Lauree Dash called him to talk about his appearance, though he had not signed a waiver allowing Dr. Groff or his secretary to share his medical information.

Bowling flew to Los Angeles that afternoon and the following day met with Groff, who examined him and anesthetized his penis. Groff didn't tell Bowling about any risks associated with the laser treatment, Bowling charges, although court papers state that the procedure is an off-label use of the Lumenis Co2 laser.

Bowling claims that Groff decided to perform the surgery before he even met Bowling. Bowling says when he got cold feet that he was assured by Groff's secretary that only doctors and medical students watched the show.

He claims she failed to tell him that there was a 200-person studio audience.

Then, it is claimed, Dash told Bowling the show would be broadcast nationwide on CBS.

"Based on this newly disclosed information, plaintiff immediately voiced his reservations and second thoughts about appearing," the complaint states. "Ms. Dash proceeded to cajole, assuage and persuade plaintiff that appearing was no 'big deal' and that no one would see the episode and that plaintiff's appearance would be anonymous," according to the complaint.

Bowling seeks punitive damages for privacy invasion, fraud, negligent misrepresentation, emotional distress, and misappropriate of his likeness.

The defendants are Dr. William Groff, La Jolla Cosmetic Surgery Centre, CBS Television Distribution, Stage 29 Media Productions, and Lumenis. Bowling is represented by Walter Batt.

WAYNE NEWTON'S WIFE attorney Kathleen McCrone Newton last Tuesday filed papers in Las Vegas to separate her assets from those of her husband. That clears the way for debt collectors to seize only the solely owned property of the financially troubled performer. ( See Broadway To Vegas column of February 21, 2010 ) Assets which Kathleen claim are her property include art, jewelry, a library and musical instruments - insisting the objects do not belong to her husband, according to TMZ.com. which first broke the story.


CUE THE CAT - RATS, MICE AND FLEAS STEAL SPOTLIGHT FROM ACTORS


Actors in London's West End are being forced to share the stage with mice, rats and fleas, according to a survey released by Equity.

Three-quarters of the 350 actors and stage managers surveyed, representing 24 different theatres, reported that their theatre had a "problem with vermin and infestations" and two-thirds agreed there was "evidence of vermin infestation inside your dressing room".

"The findings have shocked even hardened West Enders," the union said in its report.

Equity general secretary Christine Payne said the findings suggested that each night, more than 600 actors and stage managers would go to work knowing they were likely to see and smell vermin, "both living and decomposing," at work.

"I accept that many West End theatres are old and difficult buildings to manage, but this is running out of control," she added. "These appalling conditions must come to an end."

Some of the comments from those participating in the survey include;

"I had tiny bite marks on my lipstick recently when I left the lid off."

"We see and hear mice. They eat through food packaging and even through one of the girl's warm-up tops."

"Our floors have been eaten by mice, and they leave their feces."

"Mice, mice, mice. Quite often there is an unpleasant smell which usually turns out to be a dead one."

The respondents also complained that only half the theatres have a clean area for preparing food and drink that the script requires actors to consume on stage in many shows. "We're not underestimating the difficulty of it, or saying how it can be done," said Martin Brown of Equity.

"We're a trade union, not rat-catchers. What we are saying is that there is no other group of workers in the world expected to go to work night after night in these conditions, and it cannot be beyond the wit of man to devise a solution.

"Perhaps a theatre cat or two might not go amiss - a fine old theatre tradition that seems to have fallen into disuse of late."


SWEET CHARITY


OPERA ON TAP in conjunction with their Chapters in Ann Arbor/ Ypsilanti, Atlanta and Chicago, raised money through performances for Doctors Without Borders, The Red Cross and Partners in Health totaling over $2800. In addition, their partners at New Orleans Opera have raised over $2500 for the Red Cross. Fundraising performances included OOT New Orleans shows.




OTHER PEOPLE'S MONEY


HEADS UP, TIGER WOODS Sotheby's will auction a rare, large blue diamond that was once part of the legendary De Beers Millennium collection, with fierce bidding expected on the $4.6-$5.8 million estimate price. The gem is the star lot at Sotheby's Hong Kong jewels and jadeite 2010 spring sale on April 7.

Listed property of a private collector. Statements released by Sotheby's indicate that the 5.16 carat, pear-shaped internally flawless Fancy Vivid Blue gem is the first diamond of its kind to appear at an auction from the collection that De Beers, the world's largest diamond producer, presented in 2000 to celebrate the millennium.

Blue diamonds are among the rarest of all gems and owe their natural blue color to the presence of the chemical element boron during the stone's formation.

In May 2009, a 7.03-carat cushion-shaped internally flawless fancy vivid blue diamond set the world record price per carat for any gemstone at a Sotheby's Geneva auction when it was bought by a Hong Kong collector for $9.48 million dollars.

LILY TOMLIN AND JANE WAGNER are the financial backers behind My Trip Down the Pink Carpet starring Will and Grace Emmy Award winner Leslie Jordan. Directed by David Galligan, the show opens April 14 in NYC.

CHINA ARTS AND ENTERTAINMENT GROUP whose general manager is Zhang Yu, is determined to compete in the global marketplace. China Arts and Entertainment Group evolved from a public institution to an enterprise. Since the move from public to private in 2004, the group's total assets have increased by 250 percent, according to Zhang. Last month, the group was granted credit not exceeding $147 million by the Industrial and Commercial Bank of China. According to Zhang, the cash will be used to promote the company's productions in overseas markets, build its national ticketing system and performance venues.

"Our aim is to become a major arts and entertainment group, like Walt Disney or Time Warner," he told the press. Era, a multi-media show which the group co-produced with the Shanghai Media Group, has attracted more than 1.7 million viewers since 2005. Zhang now intends to tour the show overseas and hopes "it will have a response similar to Mamma Mia."



WHEN THE RAIN STOPS FALLING by Andrew Bovell. Directed by David Cromer.

The cast features Tony Award-winning actress Victoria Clark, Mary Beth Hurt, Richard Topol, Kate Blumberg, Rod McLachlan, Susan Pourfar, Will Rogers, Michael Siberry and Henry Vick.

It's raining. Gabriel York is awaiting the arrival of his grown son whom he hasn't seen since he was seven. "I know what he wants. He wants what all young men want from their fathers. He wants to know who he is. Where he comes from. Where he belongs. And for the life of me I don't know what to tell him."

That's the beginning of this compelling family saga that takes us back and forth in time from one generation to another, from 1959 to 2039, from London to Australia. With four generations of fathers and sons, their mothers, lovers and wives, the play is epic in its scope, yet at the same time extraordinarily intimate.

The production has sets by David Korins, costumes by Clint Ramos, lighting by Tyler Micoleau, sound by Fitz Patton and original music by Josh Schmidt.

When the Rain Stops Falling received its Australian premiere in 2008 at the Adelaide Festival, and was later produced by the Sydney Theater Company where it received the Best New Australian Work honor at the Sydney Theatre Awards, and moved on to a West End run at the Almeida Theatre in London. When the Rain Stops Falling officially opens its sold-out engagement Off-Broadway at Lincoln Center Theater's Mitzi E. Newhouse Theater on March 8 with performances through April 18.

THE BEAST OF BROADWAY a world premiere penned by Faye Greenberg and Robert L. Freedman, based in part on the best-selling book The Abominable Showman by Howard Kissell. Directed by TheatreZone artistic director Mark Danni.

Starring Tony nominee David Garrison as the late theatrical producer David Merrick - Broadway's most famous and successful producer.

Unfortunately, he was also the most hated, reviled and feared man in show business. He was capable of great achievement, often accompanied by staggering acts of cruelty. Was he misunderstood? Was he the monster his enemies and those he hurt said he was, or is the truth somewhere in the middle? Performances through March 14 at the G&L Theatre in Naples, Florida.

THE MIRACLE WORKER by William Gibson. Directed by Kate Whoriskey.

Starring Abigail Breslin as Helen Keller, Alison Pill as Annie Sullivan, Jennifer Morrison portrays Kate Keller, Elizabeth Franz is Aunt Ev, Matthew Modine is Captain Keller, Tobias Segal is cast as James. With Daniel Oreskes, Michael Cumm, Simone Joy Jones, Yvette Ganier and Lance Chantiles-Wertz.

Sets by Derek McLane; costumes by Paul Tazewell; lighting by Kenneth Posner; music and sound by Rob Milburn and Michael Bodeen; hair design by Charles LaPointe; physical coaching and movement by Lee Sher.

At the Circle in the Square Theater in NYC.

BARRY MANILOW scheduled to open last Friday at Paris Hotel in Las Vegas, opened a day late after a power surge caused a computer malfunction. The theatrical and musical instruments were disabled, requiring more than 24 hours for all computer components to re-set. Staged by choreographer and director Jeffrey Hornaday, the new two-year contact calls for 156 shows.

THE CHARM OF MAKING a world premiere by LADCC Award-winning playwright Timothy McNeil. Directed by Academy Award winner Milton Justice.

Set in present day, small town Mississippi, The Charm of Making examines the conflict of religion vs. human nature through the eyes of the last living members of an old Southern family, as they struggle with the past of their dead relatives and their present as family and individuals. Elvin Randolph attempts to break the chains of the past. He is aided by his loving but volatile sister Morgan, and opposed by his opinionated, but equally loving brother, Baptist preacher Samuel.

The cast of nine includes Jon Boatwright as Samuel, Thor Edgell as Elvin, May Quigley Goodman as Lottie, Nicholas Hargous as Cameron, Bonnie McNeil as Morgan, Timothy McNeil as Romeo and Juliet, Matthew Oliva as Andrew, Alfredo J. Orrego as Paul and T.M. Rawlins as Jenny.

Joining the creative team with Justice are Alain Villeneuve (set designer), Paige Selene Luke (lighting designer), Yaitza Rivera (production stage manager) and Zulivet Diaz (stage manager). The Charm of Making is presented March 12 – April 25, 2010 by the Stella Adler Los Angeles Theatre Collective, the newly formed theatre company of Stella Adler-Los Angeles, Academy and Theatre.

TRYING

Francis Biddle (far right) is perhaps best known for the time he served as a judge at the international military tribunal at Nuremberg, where he ruled on the fates of high-profile Nazis Hermann Goering and Rudolf Hess. He was also the Attorney General under Roosevelt.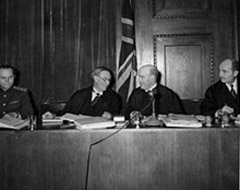 by Joanna McClelland Glass. Directed by Jenny Sullivan.

Starring father-and-daughter actors Robin Gammell and Winslow Corbett.

Trying is a poignant, poetic and powerful story about a relationship between Francis Biddle, Attorney General under Roosevelt and Chief Judge at the Nuremburg trials; and Sarah, a tenacious 25-year-old woman from the Canadian plains, one of a string of secretaries Biddle's wife has hired to help him put his affairs in order at the end of his long an illustrious career. Biddle, 81, is in poor health, proud and cantankerous as he begins to confront his own mortality. Sarah, however, is also headstrong, and from her early life on the prairie has developed a strength and wisdom beyond her years. Despite the difference in ideologies and age, the two forge a friendship. The play is autobiographical in nature and is written by Joanna McClelland Glass, who worked for Biddle in the late 60s.

Scion of an old Philadelphia Mainline family - his ancestor William Biddle bought land directly from William Penn and he was a distant relative of James Madison - the real Francis Biddle was a complicated man. A Harvard graduate and a successful attorney, he threw off the expectations of his upbringing and made it his life's work to stand up for the downtrodden and fight for what is right. And yet, despite his sense of social justice and the great good he achieved in his lifetime - he was part of the tribunal that convicted Hermann Goering and Rudolph Hess - he was not without contradictions. It was Biddle's duty during World War II to order the FBI to round up Japanese-born American citizens and take them to interment camps, a fact that continued to haunt him throughout his life. In a letter to Stanford Professor Shiko Furukawa, he later wrote, "Never again will I trust that mystic cliché' 'military necessity.'

The design team includes; Set and Lighting Designer Tom Giamario; Costume Design is by Cathy Parrott; Sound Design by David Beaudry; T. Theresa Scarano is Prop Designer.

Trying originated at the Victory Gardens Theatre in Chicago. It moved Off-Broadway in 2004 in a production starring Fritz Weaver and was one of the final roles essayed by James Whitmore in a Washington, D.C. production.

Trying opens March 13 at Rubicon Theatre in Ventura, CA.

.



WHO'S WHERE


MARTIN SHORT the award winning actor and comedian presents a musical evening of comedy - an energetic combination of songs, videos, bits and sketches, which showcases everything Short does best, bringing together many of the characters who made him famous. March 13-14 at the Scottsdale Center for the Performing Arts in Scottsdale, Arizona.

JOE FRANK IN JUST AN ORDINARY MAN NPR's Joe Frank takes the Steppenwolf stage for an updated performance of Just an Ordinary Man, originally produced in Los Angeles. Saturday, March 13, 2010 . in the Steppenwolf Downstairs Theatre, Chicago.

DAVID BRENNER brings his sharp wit March 8 to the Maltz Theatre in Jupiter, Florida. In addition to his stand-up gigs, the Las Vegas resident is recognized as a political pundit, on news-oriented shows on such networks as CNN and The Fox Network.

MARIINSKY PRCHESTRA (KIROV) with conductor Valery Gergiev. Formerly known as the Kirov Orchestra, they will be performing the works by Rachmaninoff and Shostakovich. Special Presentation March 15, 2010 at the National Arts Centre in Ottawa, Canada.

DAVE MATTHEWS BAND continued their European tour with a stop Tuesday, March 9, at The O2 in Dublin, Ireland. On Thursday the show is at the S.E.C.C. in Glasgow. Friday finds the band at O2 Academy in Birmingham, England and on Saturday they can be enjoyed at the Falkoner Theatre in Copenhagen, Denmark.

LADY GAGA in the spotlight Monday, March 9 at the Trent FM Arena in Nottingham, United Kingdom.

GEORGE WINSTON opens a two night stand at the Firehouse Center for the Performing Arts in Newburyport, MA on Monday, March 8. On Friday he's on stage at the Sanctuary in Chatham, NJ.

HARRY CONNICK, JR on tour in New Zealand with a show Thursday, March 11, at the Civic Theatre in Auckland.

WEDNESDAY NIGHT AT THE IGUANA with hosts Dana Lorge and Richard Skipper. Barry Levitt on keyboard & Morrie Louden on bass. Wednesday's guests include: David Alpher & Jenny Litt, Cate Doyle, Larry Merritt, Louise Quick, Nicholas Tamagna, Pam Tate, Maureen Taylor. Iguana VIP Lounge, NYC.

CARRIE UNDERWOOD on stage Thursday, March 11, at the Sovereign Center in Reading, PA. On Friday she performs at the times Union Center in Albany, NY. On Saturday the show is at the Dunkin' Donuts Center in Providence, RI.

MICHAEL BUBLE sings Wednesday, March 10, at the Amway Arena in Orlando, FL. On Friday he opens a two night gig at BankAtlantic Center in Sunrise, FL.

BON JOVI takes to the stage Thursday, March 11, at the Bank Arena in Wichita, KS. On Saturday the show is at Fargodome in Fargo, ND.





Next Column: March 14, 2010
Copyright: March 7, 2010. All Rights Reserved. Reviews, Interviews, Commentary, Photographs or Graphics from any Broadway To Vegas (TM) columns may not be published, broadcast, rewritten, utilized as leads, or used in any manner without permission, compensation and/or credit.
Link to Main Page
---
Laura Deni



U.S. Postal Address: Post Office Box 60831, Las Vegas, NV 89160
CLICK HERE FOR COMMENT SECTION