! >
Broadway To Vegas
  
  REVIEWS INTERVIEWS COMMENTARY NEWS

| | |
| --- | --- |
| | |
CHRIS ROCK DELIVERS BITING OSCAR INTRO - -NASCAR WEEK-END IN LAS VEGAS - - HUGHIE TO CLOSE EARLY - - PIERRE BONNARDI: PAINTING ARCADIA - - SHIRLEY MacLAINE WORKING ON A NEW MOVIE - - BOOKING CHANGES AT THE GREEK THREATRE - - THE SCHOOL OF AMERICAN BALLET 2016 WINTER BALL - - #TECHSTYLE - - DONATE . . . Scroll Down






Copyright: March 6, 2016
By: Laura Deni
CLICK HERE FOR COMMENT SECTION


CHRIS ROCK DELIVERS BITTING OSCAR INTRO ALTHOUGH PROTESTERS TWISTED THEIR COMPLAINT
Academy Award nominated Angela Bassett.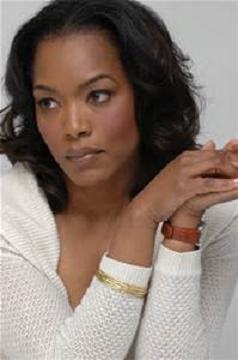 Chris Rock's opening Oscar monologue addressing the controversy that the Academy Award acting nominees were all white, was pointed, powerful and funny.

If he made viewers uncomfortable when he pointed out that in the 50s and 60s the nominees were also all white, but the black community didn't complain since they had more important issues on their mind - such as lynching - his point was well made.

His analogies were meant to shock.

The controversy this year really wasn't over diversity in the acting profession. It was Jada Pinkett Smith throwing a temper tantrum because her husband Will Smith wasn't nominated. Had her spouse received a nomination, an educated guess is that she wouldn't have unleashed unbridled outrage and demanded that the Oscars be boycotted.

I don't vote for any movie awards, but I do cast votes for a couple of theatrical awards. Many a year I managed to whittle the nominees down to two and then agonized over how to cast my vote. In either placing a name in nomination or in voting for the winner, never have I considered the race of the actor.

Certainly the Oscars are weighted against nonwhites. Rock explained it perfectly, that Hollywood is 'sorority racist,' explaining: "It's like, 'We like you Rhonda, but you're not a Kappa.'"

Of course the Academy should have a broader based group than old, white men.

Those are issues that had nothing to do with the original complaint.

The bent out of shape complainers weren't positioning that blacks aren't offered parts or don't get the jobs; and thus wouldn't have had the opportunity to even be nominated. They were complaining that non whites had parts but didn't get nominated for an award.



Tony, Emmy and SAG Award winning Viola Davis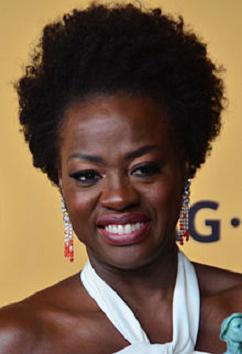 That morphed into the more politically correct (meaning anyone who argues must be a bigot) charge that the movie industry is biased against people of color.

That there isn't enough work for non white actors is a self indulgent fuzzy complaint.

There isn't enough work for actors - period. Never has been and never will be. It's supple and demand based upon what the public wants and is willing to pay to see.

Most of those who call themselves actors aren't very good. Acting isn't easy. Making a role look real is one of the most difficult accomplishments to pull off.

It doesn't matter your sex, race or body type. Acting is tough.

Thirty-five years ago the hue and cry was that there were no parts for women over 40. Women of a certain age were discriminated against was the frequent headline making complaint.

When Angela Lansbury, 90; Maggie Smith, 81; Judi Dench, 81; Marla Gibbs, 84; Helen Mirren, 70; Diane Keaton, 70; Meryl Streep, 66; Whoopi Goldberg, 60; Angela Bassett, 57; Marcia Gay Harden, 56; Julianne Moore, 55; Sandra Bullock, 51; Viola Davis, 50; and the late Ruby Dee and Isabel Sanford (to name only a few) hit the "women of a certain age" category, acting parts were still offered to them. Could that be because those ladies are actually talented and move the box office?



Whoopi Goldberg is an EGOT, winning Emmy, Grammy, Oscar and Tony awards.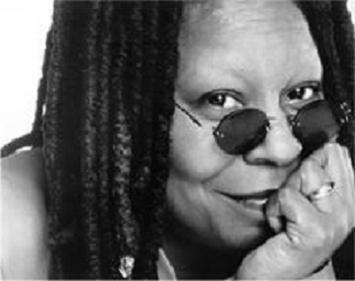 Get the word out that Meryl Streep wants to do a film and that woman will have a phone that rings off the hook and enough scripts at her feet to indicate that a small forest was sacrificed.

When actors - of any ethnicity - complain that the roles aren't out there, they are really saying there either aren't any parts being presented to them; or that they are offered roles that they don't want. The more fame and money in the bank an actor acquires, the more selective they can become in what they consider a good role.

Many female actors refuse to admit they are no longer an ingénue and don't want to play a grandmother. Other actors have egos that will only accommodate a starring role and won't consider a co-starring or even a smaller role, even though the part might be interesting and important to the plot line.

And, yeah, there aren't a lot of Asian actors standing in cattle call lines. That is a different mind set. Asian children in Asia or America are raised to appreciate the value of art and to play an instrument, but at the forefront is security. From the time they are toddlers Asian children are taught that it is their responsibility to care for their parents. The lower the economic standing and educational level of the parents the more they are dependent upon their child. The child needs a good education to work in a high paying job, so that one day they can care for their elderly parents. Acting offers no security and mostly poor pay. The child is the personal IRA for the Asian parent who will get nervous if their offspring doesn't have steady employment and isn't saving for the retirement of that parent.

In Asia, parents browbeat their children to succeed in school so they can attend university in America to become doctors, engineers and other high paying professions. They do not badger their child to do well in school so they can come to American and become an actor.

Unlike other ethic groups Asians rarely organize and protest. Even though there are now more immigrants coming to America from China than Mexico, it's the Mexican American vote which can sway.

American Chinese are the least likely of all ethnicities to vote. That's because of the Chinese Exclusion Act, which didn't allow Chinese immigrants to become citizens. Many Chinese Americans still feel they are not 'real' citizens.



During World War II Japanese Americans were forced into internment camps, eliminating their prospects of work in the movie industry. In 2003 Japanese actor Ken Watanabe was nominated for a Best Supporting Actor Academy Award for his role as Lord Katsumoto in The Last Samurai. Despite battling stomach cancer, on March 17, 2016 he is is set to returned to his starring role on Broadway in The King and I for which he received a Tony Award nomination.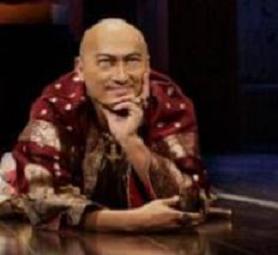 It was not until China became an ally of the U.S. against Japan in World War II that, on December 17, 1943, the Chinese Exclusion Act was repealed permitting Chinese Americans to become citizens, although many states banned naturalized Chinese citizens from owning land or businesses.

As part of the newer Chinese exclusion policy of NASA, in April 2011, the 112th United States Congress banned NASA from using its funds to host Chinese visitors at NASA facilities.

In May 2015 a report Hidden in Plain Sight: Asian American Leaders in Silicon Valley, conducted by the Ascend Foundation, a nonprofit Asian membership organization for business professionals based in New York, found that although Asian Americans may be well represented in the high-tech San Francisco Bay Area, they are severely underrepresented at the executive levels. The report is based on an analysis of 2013 employment data filed with the U.S. Equal Employment Opportunity Commission by five major Silicon Valley tech companies: Google, Hewlett-Packard, Intel, LinkedIn and Yahoo. The LA Times indicated that third generational Chinese still face a glass ceiling in the tech industry.

The report found that white men had a 42% advantage over white women when it came to being promoted to the executive level and a 260% advantage over Asian women. The report also found that whites have a 150% advantage over Asian Americans, regardless of gender.

Every political candidate currently running for president has mentioned China in a detrogratory or cautionary tone.

Referring back to Chris Rock explaining that blacks didn't complain about an Oscar snub in the 50s and 60s because they were more concerned about finding a relative lynched - the Chinese community currently has more important issues than how many of their race have a gold plated metal statue.

It's going to take another two generations before the Chinese are so fully assimilated into American culture that how many Oscar nominations are received by an Asian finds its blip on the radar.

As a reminder - this high profile flap started because Jada Pinkett Smith was upset that her husband Will Smith didn't receive an Oscar nomination. Had he, the smart money would speculate that she wouldn't have announced an Oscar boycott because not enough blacks were nominated.

Hollywood actors come in all shades. It's a shame but a lot of talented people don't win awards - or even get nominated.






Broadway To Vegas is supported through advertising and donations. Priority consideration is given to interview suggestions, news, press releases, etc from paid supporters. However, no paid supporters control, alter, edit, or in any way manipulate the content of this site. Your donation is appreciated. We accept PAYPAL. Thank you for your interest.




ART AND ABOUT


#TECHSTYLE

Designed by Iris van Herpen and Neri Oxman, printed by Stratasys, Cape and skirt, 2013. Object Connex multiple-materials; 3-D printed. Museum purchase with funds donated by the Fashion Council. © M. Zoeter x Iris van Herpen. Photography by Eloy Ricardez Luna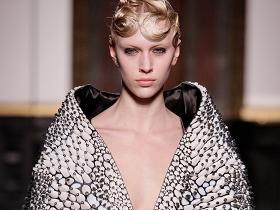 Clothes that respond to the environment, dresses you can tweet, and garments that come off a 3-D printer ready to wear - all of these innovations are poised to have a profound impact on the future of the fashion industry.

Designers have embraced these innovations and "#techstyle" explores how the synergy between fashion and technology is not only changing the way designers design, but also the way people interact with their clothing.

The exhibition draws on the MFA's collection of contemporary fashion and accessories, and features key pieces from innovators in the field including a digitally-printed dress from Alexander McQueen's Plato's Atlantis collection (Spring/Summer 2010/2011) and Iris van Herpen's 3-D printed dress (2013) produced in collaboration with MIT designer and assistant professor Neri Oxman.

Visitors experience the cutting edge of hi-tech fashion with special commissions created by Cute Circuit, Hussein Chalayan, and Cambridge-based Nervous System.

March 6, 2016 – July 10, 2016 at the Museum of Fine Art in Boston.

PIERRE BONNARD: PAINTING ARCADIA

Les Dancers by Pierre Bonnard ca. 1896 Oil on cardboard. Musée d'Orsay. Acquired in 2013.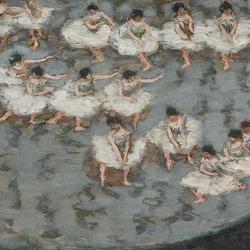 is the first major international presentation of Pierre Bonnard's work to be mounted on the West Coast in half a century. The exhibition features more than 70 works that span the artist's complete career, from his early Nabi masterpieces, through his experimental photography, to the late interior scenes for which he is best known.

The exhibition celebrates Bonnard (French, 1867–1947) as one of the defining figures of modernism in the transitional period between Impressionism and abstraction. Several themes from Bonnard's career will emerge, including the artist's great decorative commissions where the natural world merges with the bright colors and light of the South of France, where windows link interior and exterior spaces, and where intimate scenes disclose unexpected phantasmagorical effects.

Among the many significant paintings on view are Man and Woman (1900, Musée d'Orsay), in which the artist has depicted his lifelong companion and one of his constant subjects, Marthe de Méligny. Also featured are such masterpieces as The Boxer (Self-Portrait) (1931, Musée d'Orsay) and The Work Table (1926–1937, National Gallery of Art); and decorative panels and screens, including View from Le Cannet (1927, Musée Bonnard) and Pleasure (1906–1910, Musée d'Orsay).

Pierre Bonnard: Painting Arcadia offers a fresh interpretation of Bonnard's repertoire, and a reconsideration of the artist as one of the foremost practitioners of modernism. On display through May 15, 2016 at the Legion of Honor in San Francisco.






SWEET CHARITY


THE SCHOOL OF AMERICAN BALLET 2016 WINTER BALL takes place Monday, March 14, 2016 at the David H. Koch Theater in New York City.

Chairmen: Joyce Giuffra, Julia Koch, Serena Lese and Young Patron Chairmen Noreen Ahmad and Amanda Brotman. The Corporate Chariman is Magali Jallot.

The black tie event begins with cocktails and dinner followed by The Encore, dessert and dancing.

A highlight of the evening includes a one-time-only performance by the students of the School of American Ballet choreographed by Peter Walker, who was selected by Peter Martins, Artistic Director and Chairman of Faculty for SAB, for the second consecutive year.

The proceeds from the event enhance every aspect of the School's extraordinary ballet training program, helping to provide $2 million annually in student scholarships, as well as supporting faculty, maintaining world-class studios and offering vital student programs beyond the classroom.

OPERA UP CLOSE GALA DINNER takes place March 14, 2016 at modern European food restaurant Frederick's in Islington, England.

Starting with "a glass of bubbles on reception," that is followed by a three-course dinner.For dessert, Frederick's will be serving a burnt lemon cream with raspberries.

Between courses, a talented ensemble of OperaUpClose's most accomplished singers will perform a medley of arias and duets from the company's repertoire.

ACTRESSES DAME JUDI DENCH AND JOANNA LUMLEY HAVE JOINED EVE APPEAL a British charity which fights the five gynecological cancers. The organization has launched its annual Make Time For Tea event, a month-long series of tea parties to raise funds and awareness in the fight against ovarian cancer.

Celebrities were asked to pick their dream tea party guests. Dame Judi and Joanna both chose Shakespeare.

A survey of 1,000 women by the charity showed 60 per cent feel most comfortable talking about serious health issues over a cup of tea and the Eve Appeal hopes women will hold their own fundraising events.

Chief executive Athena Lamnisos said: 'We need to encourage women to speak openly about gynaecological health, whether with friends, relatives or professionals.'


SPREADING THE WORD


SHIRLEY MacLAINE

Shirley MacLaine is both filming a new movie and on a book tour.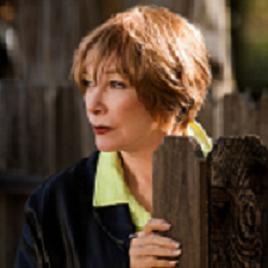 is workingon a new film called The Last Word, penned by Stuart Ross Fink. Amanda Seyfried and Anne Heche costar in the flick being filmed in Santa Clarita, California.

The premise of the picture is that Harriett (MacLaine) is a retired businesswoman who tries to control everything around her. When she decides to write her own obituary, a young journalist (Amanda Seyfried) takes up the task of finding out the truth resulting in a life-altering friendship.

Director Mark Pellington said: "This is a funny, heartwarming and emotionally tender tale of life. It explores the true source of power for independent women, and is a riotous life-affirming film about the lessons learned through time and the generational gifts that are bestowed."

In the middle of March MacLaine heads out on a book tour touting her latest book Above The Line: My Wild Oats Adventure.

THE VERY HUNGRY CATERPILLAR SHOW Jonathan Rockefeller's acclaimed production, currently staged at 47th Street Theatre in New York City, will present an Autism Friendly show on Saturday, March 12 and on Saturday, March 19 a Spanish Language show.

The Very Hungry Caterpillar Show, features a menagerie of 75 enchanting puppets during a magical 60-minute show that faithfully adapts four of Eric Carle's beloved books for the stage: The Artist Who Painted a Blue Horse, Mister Seahorse, The Very Lonely Firefly and, of course, The Very Hungry Caterpillar.

The cast includes: Jake Bazel, Ariel Lauryn, Mindy Leanse, Weston Long, Kayla Prestel.

The creative team also includes Eric Wright (Puppetry), Raul Abrego (Set Designer), Nicholas Rayment (Lighting Designer), Nate Edmondson (Sound Designer & Composer), The Puppet Kitchen (Puppets), CESA Entertainment (General Management).

The Very Hungry Caterpillar Show runs through March 27, 2016.


OTHER PEOPLE'S MONEY


BECKY COLWELL has officially taken over as new general manager in charge of booking The Greek Theatre in Los Angeles. She was named to that position last October. Cowell, 43, works under the international entertainment group SMG which manages about 230 theaters, stadiums and other venues around the world.

For the last 40 years the 6,000 seat Greek Theatre had been managed and booked by Nederlander Concerts.

Under new rules implemented by the City of Los Angeles, the Greek will operate under an "open booking" model which means anyone, not just one specific promoter, can hold a date on the calendar with an approved user agreement and a $25,000 deposit.

Currently there are approximately 40 shows booked for the 2016 season, including Mexican mariachi star Pepe Aguilar, Grammy winners Chris Stapleton and Alabama Shakes to veteran stars Iggy Pop, Ringo Starr and Bonnie Raitt.

THE ELTON JOHN AIDS FOUNDATION raised over $6.2 million at the annual Academy Awards viewing party.

NASCAR WEEK-END in Las Vegas took place March 3-5 with an more than 150,000 attending, generating more than $146 million in nongaming economic impact for Southern Nevada.

In addition to people in cars driving around in circles, there were approximately 10 bands performing including:

Chris Heers Band, Sylvia St. James Gospel Choir, Vinyl Vault, the Scotty Alexander Band, Red Rock Ramblers, Sin City Kiss, WolfCreek and Scott Rhiner and The Moanin' Blacksnakes. In addition, the Joey V Blues Experience and the Royal Dixieland Jazz Band will be among the acts to perform at the Winner's Circle stage.


CURTAIN DOWN


HUGHIE a revival of a Eugene O'Neill one-act play starring Oscar winner Forest Whitaker in his Broadway debut, is closing early on March 27, 2016 because of poor ticket sales. The total loss is estimated to be $3 million.



WOMEN LAUGHING ALONE WITH SALAD by Sheila Callaghan.

Directed by Neel Keller.

Featuring Lisa Banes, Nora Kirkpatrick, David Clayton Rogers, and Dinora Z. Walcott

"What's on the menu for Meredith, Tori, and Sandy: the three women in Guy's life? Healthy lifestyles, upward mobility, meaningful sex? Or self-loathing and distorted priorities? "Inspired by the strangely ubiquitous advertising trend of picturing attractive women blissfully eating salad, award-winning playwright Sheila Callaghan breaks all the rules of our image-obsessed culture in Women Laughing Alone With Salad. This raw comedy is served with a side of feminism and tossed with abrasive imagery, biting social critique, and devastating humor."

Choreography by Ken Roht. Scenic Design by Keith Mitchell. Costume Design by Ann Closs-Farley. Lighting Design by Elizabeth Harper. Sound Design by John Zalewski. Projection Design by Keith Skretch.

Women Laughing Alone With Salad has its West Coast premiere through April 3, 2016 at the Kirk Douglas Theatre in Culver City, CA>

THE ROYALE a new play by Marco Ramirez.

Directed by Rachel Chavkin.

Featuring McKinley Belcher III, Khris Davis, Montego Glover, John Lavelle, and Clarke Peters.

Loosely based on the real-life experiences of Jack Johnson, the first African-American heavyweight world champion, The Royale tells, in six rounds, the fictional story of Jay "The Sport" Johnson (to be played by Khris Davis), a charismatic Negro Heavyweight Champion. It's 1905 and as Johnson faces his opponents - and confronts his demons - he exposes the troublesome events in his life that have propelled him into the ring with a burning desire to become the undisputed heavyweight champion of the world.

Sets by Nick Vaughan, costumes by Dede Ayite, lights by Austin R. Smith, and sound by Matt Hubbs.

The Royale opens on Monday, March 7 at the Mitzi E. Newhouse Theater in New York City.

SOUTHERN COMFORT a new musical with book and lyrics by Dan Collins, music by Julianne Wick Davis, and based on the film by Kate Davis.

Directed by Thomas Caruso and conceived for the stage by Robert DuSold and Thomas Caruso.

Based on Kate Davis' 2001 Sundance Award-winning documentary, Southern Comford is billed as "a courageous, heart-soaring musical that tells the true story of a group of transgender friends living life on their own terms in the back hills of rural Georgia."

Winner of the prestigious Jonathan Larson Award, this folk and bluegrass-inspired musical is a celebration of redefining family and choosing love over every obstacle.

The cast features Donnie Cianciotto (Sam); Lizzie Hagstedt (Storyteller Musician, Bass); Jeffrey Kuhn (Jackson); Elizabeth Ward Land (Storyteller Musician, Percussion); David M. Lutken (Storyteller Musician, Guitar); Jeff McCarthy (Lola Cola); Morgan Morse (Musician); Annette O'Toole (Robert Eads); Aneesh Sheth (Carly); Robin Skye (Melanie); and Joel Waggoner (Storyteller Musician, Violin).

The official press opening is on Tuesday, March 8 with performances through Sunday, March 27 at The Public Theater in New York City.

THE NEW WORLD SYMPHONY: DVORAK IN AMERICA is a puppet and object theater work examining the influence of African-American and Native American music upon the great 19th-century Czech composer Antonín Dvorák (1841-1904). The piece is written and directed by Vít Horejš

Performed by Czechoslovak American Marionette Theatre.

The show traces how Dvorák helped America accept its beautiful multicultural musical traditions by his enthusiasm for African-American and Native American music during his short but influential time in the USA.

Composer and Musical Director is saxophonist James Brandon Lewis. Playing with Lewis will be Luke Stewart on bass and Warren Trae Crudup III on drums. Two Dvorák experts, Michael Beckerman (Chair of NYU's Music Department) and conductor Maurice Peress, have provided dramaturgical assistance.

The piece depicts Dvorák's creative and family life during his tenure as the Director of the National Conservatory of Music of America in NYC, and the highlights of his three-year stay in the US (1892-1895) in NY and in the "little Bohemia" of Spillville, Iowa where he spent the summer of 1893.

While in America, Dvorák declared that African-American and Native American music would be the foundation on which new American music would rise up. As we all know, this happened, although the contemporary musical idioms (not only in America but throughout the world) based on African-American music are very different from what the Czech composer envisioned.

During his time in New York, Dvorák composed his landmark The New World Symphony, a work inspired by Spirituals and the Hiawatha story.

His creation of the symphony is an important theme of the play. The characters of the play include Dvorák and his family (including his wife's sister, Josefína Cermáková, the love of his life, for whom he composed the song-cycle "Cypresses"), the founder of the American Conservatory of Music, Janet Thurber, who was his patron; his African-American students Harry Burleigh and Will Marion Cook and various New York musicians - his students and protégés. Chief Big Moon of the Hunkpapa Tribe (one of the seven council fires of the Lakota) discourses eloquently on Native American music. Several African-American luminaries also make appearances in the play, including poet Paul Laurence Dunbar, soprano Sissieretta Jones, Frederick Douglass and Ida B. Wells. Music ranges from spirituals and work songs to Dvorák's original compositions, to jazz and rock.

The play's prologue is performed by ten inch marionettes in a "family" puppet theater stage that is familiar to most Czech children to this day. This particular antique theatre and marionettes belonged to the mother of Madeleine Albright when she was a child in pre-WWI Czechoslovakia. As a little girl, the future U.S. Secretary of State used it to put on puppet shows for her family and friends. She donated this marionette theater to the Czech community in New York City three years ago and it currently resides in Bohemian Hall.

For this production, the company has created new puppets from musical instrument parts, found objects and traditional elements to act alongside its collection of antique Czech marionettes. Costume designer is Theresa Linnihan, set designer is Tom Lee and lighting designer is Federico Restrepo.

The actor/puppeteers are Deborah Beshaw-Farrell, Michelle Beshaw, Vít Horejš, Harlem-Lafayette, Theresa Linnihan, Valois Mickens, John Scott Richardson and Ben Watts (as Dvorák).

Presented by GOH Productions and Dvorák-American Heritage Association (DAHA). La MaMa Theatre will present the play's world premiere run March 10-27, 2016 in its Ellen Stewart Theatre, New York City.

THE EFFECT by Lucy Prebble.

Directed by David Cromer.

Starring Kati Brazda, Hudson Carter, Susannah Flood, and Steve Key.

Hearts racing. Minds reeling. Knees buckling. Connie and Tristan have palpable chemistry - or is it a side effect of a new super-antidepressant? They are volunteers in a clinical trial, but their sudden and illicit romance forces the supervising doctors to face off over the ethical consequences of their work.

The National Theatre of Great Britain's North American wing presents the North American premiere of The Effect at the Barrow Street Theatre in New York City.

TRIBUTE TO THE FOLLIES From the legendary Folies Bergčre to the Ziegfeld Follies of Broadway to the Fabulous Palm Springs Follies, the theatrical revue has been a staple of entertainment for well over 100 years. The McCallum pays tribute to these wonderful performers with its own Vaudeville variety show.

Featuring singer Tony Sandler, Olate Dogs, Raspyni Brothers, comedian Pete Barbutti, Dorothy Kloss and Ken Prescott, Lindy Sisters, The Follies Dancers and The Follies Orchestra.

Three performances March 10-11 at the McCallum Theatre in Palm Desert, California.

THE MYSTERY OF LOVE & SEX by Bathsheba Doran.

Directed by Robert Egan.

Charlotte is in love with her best friend Jonny. And her new friend Claire. How can she explain her love life to her parents, who are keeping intimate secrets of their own? "The Mystery of Love & Sex offers an explosive look at romance, race, and our connections to each other in a world full of tangled and complicated differences."

The cast includes Sharon Lawrence, David Pittu, York Walker, and Mae Whitman.

Scenic Design byTakeshi Kata. Costume Design by Laura Bauer. Lighting Design by Rui Rita. Original Music and Sound Design by Karl Fredrik Lundeberg.

On stage at the Mark Taper Forum in Los Angeles through March 20, 2016.

110 IN THE SHADE Music by Harvey Schmidt; Lyrics by Tom Jones; Book by N. Richard Nash. Based on the play The Rainmaker,

Directed and Choreographed by Marcia Milgrom Dodge.

In sweltering 1950s Texas, headstrong and eternally single Lizzie Curry dreams of a romantic life with someone who is her equal. When a charming stranger named Starbuck swaggers into town, he vows to end the region's drought and awakens Lizzie to the promise she holds within.

Featuring Tracy Lynn Olivera as Lizzie and Kevin McAllister as File, with Ben Crawford as Starbuck.

Following the 7:30 p.m. performance of 110 in the Shade on March 19, talk theatre with fellow audience members as well as members of the cast, who will be on hand to discuss the production. This free event takes place at the restaurant Bistro D'Oc, located just across the street from Ford's Theatre. A cash bar will be available.

March 11-May 14, 2016 at Ford's Theatre in Washington, DC.


WHO'S WHERE




KRISTIN CHENOWETH performs March 12, 2016: at Segerstrom Hall in Costa Mesa, CA.

THE MOODY BLUES entertain Tuesday, March 8, 2016 at the Dr. Phillips center for the Performing Arts in Orlando, FL On Wednesday the show is at the King Center in Melbourne, FL. On Thursday the tour stops at the Germani Arena in Estero, FL. Friday finds them at the St. Augestine Amphitheatre in Saint Augustine, FL and on Saturday they take to the stage at the Fox Theatre in Atlanta, GA.

ELLIE GOULDING is in the UK this week, On Tuesday, March 8, she appears at the Motorpoint Arena in Cardiff. On Thursday she stars at the Echo Arena in Liverpool. Saturday finds her at the Arena in Sheffield, UK. Next Sunday, March 13, her tour stops at The Capital FM Arena in Nottingham.

PINK MARTINI entertain Thursday, March 10, at the Scottish Rite Auditorium in Collingswood, NJ. Friday's gig is at the Paramount Theatre in Rutland, VT.

MONTREUX COMEDY GALA For the first time, Montreux Comedy and Culture Emulsion are presenting an international comedy gala in Dubai, UAE. On March 9 -10, 2016 a group of Swiss, Belgian, Canadian and French comedians who played the Montreux Comedy Festival in 2015 will be performing. Thomas Wiesel, Laura Laune, Rachid Badouri and Pierre Croce will present the best of their one-man shows to the Emirates' francophone expats at this exceptional Gala.

IL DIVO perform Thursday, March 10 at Luna Park in Buenos Aires, Argentina.

JAZZ UNDER GLASS the popular s series features monthly performances provided in a partnership between the Toledo Art Museum and the Art Tatum Jazz Society takes place in the Museum's Glass Pavilion on March 10. Israeli-born, award-winning jazz pianist Guy Mintus performs a solo set.


FINAL OVATION


CHARLIE TUNA legendary radio personality died in his sleep on February 19, 2016 in Tarzana, California. He was 71.

He was said to have worked on more stations and formats than anyone in Los Angeles radio history.

He was also heard daily on the Armed Forces Radio Network, where he had a 6,000-episode run from 1971-96.

In addition to his radio career, Tuna appeared in movies Rollercoaster and Raquet and announced for TV shows including Scrabble, The Mike Douglas Show, Thicke of the Night and America's Top 10 With Casey Kasem. He also hosted syndicated movie show Cinema, Cinema, Cinema for 30 years.

Tuna received numerous honors including a star on the Hollywood Walk of Fame in 1990; in 1997, he was voted one of the top 10 L.A. radio personalities of all time; and on July 18, 2008, he was voted into the National Radio Hall of Fame (NRHOF).

JACK F. LEE musical director of both stage and screen, died March 2 in his home. He was 86.

Lee was one of Broadway's leading conductors and musical directors, having worked with composer-lyricists John Kander & Fred Ebb, Cy Coleman & Dorothy Fields, Jule Styne, Richard Rogers, Stephen Sondheim, Charles Strouse, Alan Jay Lerner, Maury Yeston, Robert Wright & George Forrest, Sandy Wilson, Bob Merrill, Betty Comden & Adolph Green and Harvey Schmidt & Tom Jones.

His Broadway, Off Broadway and tour credits include A Funny Thing Happened on the Way to the Forum with Phil Silvers and Nancy Walker; Knickerbocker Holiday with Burt Lancaster; Funny Girl with Marilyn Michaels; No Strings, directed by Joe Layton; Irene with Debbie Reynolds, directed by John Gielgud and Gower Champion; Sweet Charity with Gwen Verdon and Chita Rivera, directed and choreographed by Bob Fosse; Irma La Douce with Juliet Prowse; George M with Joel Grey; Applause with Lauren Bacall; Annie Get Your Gun with Debbie Reynolds, directed by Gower Champion; Peter Pan with Sandy Duncan; My One and Only with Tommy Tune and Twiggy; Grand Hotel, directed and choreographed by Tommy Tune; Nick and Nora with Barry Bostwick, Joanna Gleason and Christine Baranski, directed by Arthur Laurents; My Fair Lady with Richard Chamberlain; and Mad About the Boy, the all-star Noel Coward centennial celebration at Carnegie Hall.

In 1998 Lee conducted the Broadway Cares/Equity Fights Aids concert at Avery Fisher Hall with all the women who played Sweet Charity during its runs (Gwen Verdon, Chita Rivera, Bebe Neuwirth, Donna McKechnie & Debbie Allen) plus Robert Goulet, Whoopi Goldberg, Dom DeLuise and Charles Nelson Reilly. Lee put acts together for Jane Powell, Debbie Reynolds, Sandy Duncan, Georgia Gibbs, Juliet Prowse and Tommy Tune.

He served as musical supervisor on the filming of Sweet Charity and coached Shirley MacLaine in Postcards From the Edge. Lee wrote the dance music for Carol Burnett's television special Calamity Jane.

Mr. Lee was still teaching as adjunct professor in the drama department of the Tisch School of the Arts at NYU last year. Up until the very end, Lee was working on various projects, including All That Glitters, the Liberace Musical, Zarra, the Musical and a new opera by Laurence Guittard.

The Jack Lee Music Theatre Collection will be housed in a newly dedicated space at the Baldwin Wallace University Conservatory of Music.

He is survived by his loved ones Connie Coit Kitchens, Benjamin Lee Kitchens, June Squibb and Harry Kakatsakis.

JOEY FEEK half of the country and gospel duo Joey + Rory, died Friday, March 4, 2016, with her husband by her side, in her hometown of Alexandria, Indiana. She was 40.

In 2014 she was diagnosed with cervical cancer, not long after the birth of the couple's daughter, Indiana, who was born with Down syndrome. In 2015, Joey announced that the cancer had returned and spread to her colon. That October, Rory revealed in a blog post that Joey's cancer was terminal, and they were stopping all treatment.

Joey + Rory signed to Sugar Hill/Vanguard Records. The lead-off single, Cheater, Cheater, from their debut album The Life of a Song was a Top 40 hit on the Billboard country charts.

On March 16, 2010, it was announced that the duo were the winners of the 2010 Academy of Country Music Award for Top New Vocal Duo.

PAT CONROY author of The Prince of Tides and The Great Santini died March 4, 2016 A month ago he announced that he had pancreatic cancer. He was 70.

He survived a brutal childhood and used his traumatic upbringing as thinly disguised plot-lines for his novels.

Several of his novels were turned into movies including Conrack, The Prince of Tides, and The Great Santini.

In May 2014 Conroy announced that a successful negotiation had resulted in vast collection of his handwritten manuscripts, personal papers and family memorabilia being turned over to the University of South Carolina and would be made available to scholars around the world.

The cost of acquiring the archive wasn't disclosed but was made possible by a donation from a USC alum.

Conroy wrote in long hand, because his father had forbidden him to learn to type, terming it "women's work". Throughout his career Conroy never used a typewriter or computer, thus the collection includes 10,000 handwritten pages of all his drafts.

Also included are are 80 scrapbooks of letters, photos, news clippings, baby books, childhood compositions, movie scripts, love letters, divorce papers, and financial records.

Conroy's first two marriages ended in divorce. He is survived by his wife, the writer Cassandra King; four daughters, two step-children, two sisters, ; three brothers, and seven grandchildren.

SHANNON DALTON DORDE New York Mets senior director of media relations died Friday, March 4, 2016 of breast cancer. He was 44.

A graduate of St. John's University, she started working for the Mets in 1994. The Mets called her a "pioneer for women in baseball public relations."

She is survived by her husband John, and children, Nicholas and Kendall.



















Next Column: March 13, 2016
Copyright: March 6, 2016 All Rights Reserved. Reviews, Interviews, Commentary, Photographs or Graphics from any Broadway To Vegas (TM) columns may not be published, broadcast, rewritten, utilized as leads, or used in any manner without permission, compensation and/or credit.
Link to Main Page
---
Laura Deni



For the snail mail address, please E-mail your request.
CLICK HERE FOR COMMENT SECTION