! >
Broadway To Vegas
  
 SHOW REVIEWS CELEBRITY INTERVIEWS GOSSIP NEWS

| | |
| --- | --- |
| | |
DUCHESS OPENS POISON AND DRUG GARDEN - - LAS VEGAS MAYOR LOVES HIS GIN - - HENRY KISSINGER SPEAKS - - THIS IS HOW IT GOES - - MAMMA MIA! DONATES - - DIRTY ROTTEN SCOUNDRELS OPENS TO MIXED REVIEWS - - DENZEL WASHINGTON AS BRUTUS - - GAVIN CREEL PROM KING - - DONATE . . . Scroll Down


DON'T TOUCH THE PLANTS!


There always seems to be an eerie cloud of mist floating through the garden sections of strychnine, cannabis, devil's eye, stinking nightshade and mandrake which - legend has it - because its fleshy root resemble a man, emits an ear-piercing scream when pulled up, and begins to sweat blood.

That scene stealing, man eating plant in Little Shop of Horrors has some serious competition.

It's The Duchess of Northumberland's three-quarter of a million dollar Poison Garden, which officially opened to the public on February 28.

The plants are so dangerous that the Duchess had get a drug permit to be licensed to grow narcotics. The place includes shrubs so lethal that designers advised growing some of them in safety cages.

Not your ordinary flowerbed.

Is you're not careful, the walk through the garden could be your last.

Cannabis, the coca plant - the source of cocaine - are featured in the garden, which is part of the centuries-old Alnwick Garden in Northumberland.

Mind-bending magic mushrooms, opium poppies and seeds are also cultivated in the garden designed by Belgian Peter Virtz.



Nightshade aka Satan's Cherries. Photo; Alnwick Gardens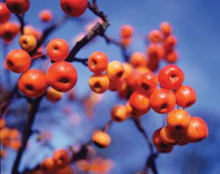 There is Atropa Belladonna. Deadly nightshade. Beautiful, tasty looking buds called Satan's Cherries. So tempting that you might want to nibble a sample. Eat just three and your trip home will be to the great hereafter. Then there is that swaying bush of Heracleum, which is named after the Greek god Hercules. Caress a single leaf and your entire hand will burst into pustulating blisters that cause permanent scarring.

That bed of henblane - so robust. The only thing it makes healthy is the undertaker's pocketbook. Henblane takes you to the edge of death. First you'll collapse, then turn a deathly white and stop breathing. William Shakespeare had Henblane in the back of his mind when he wrote the death scene for Juliet in Romeo and Juliet.

If there was ever a time to mind those Don't Step On The Grass signs - this is the place. The Duchess has sowed it with poisonous Darnel Grass, interspersed with nepata (catnip), which makes cats go mad, and something called Monk's Pepper guaranteed to radically alter the hormones of both men and women.

Stressing educational purposes The Poison Garden shows how plants have poisoned, cured and killed through the ages. To emphasize its hazardous nature the garden's beds are laid in the shape of flickering flames. Because of the danger, the public is escorted around the walled garden by marshals.

One of the beautiful paths in Alnwick Gardens. Photo: Alnwick Gardens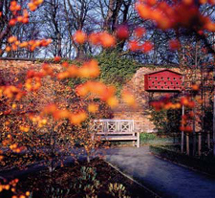 The Grand Cascade sends approximately 93 gallons of water approximately 19 feet into the air every second. Photo; Alnwick Gardens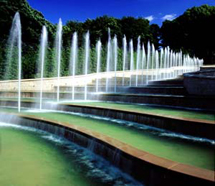 The Duchess of Northumberland, who opened the garden with Northumbria Police Chief Constable Crispian Strachan, stressed it would educate.

"Drugs are a major concern across the country and an emotive issue," she said. "The Poison Garden will offer a new avenue, outside the classroom, to get people talking about the misuse of drugs - most of which grow in nature."

"The garden's appeal of danger presents teachers and parents with a new avenue to tackle drug awareness with young people. After all, young people are more fascinated by what plants can kill you than what plants are good for you."

"We want to ensure that effective drug-awareness messages are delivered in the poison garden within government guidelines. We agree with the central message of the government's drug education campaign, which is 'drugs are illegal but talking about them is not'."

The Poison Garden is designed to tap people's fascination with the plants that cannot be touched, and to educate on the dangers of species such as poppies, magic mushrooms, and castor oil plants used to produce the deadly nerve agent ricin.

As the driving force behind this ambitious and imaginative garden restoration, The Duchess first produced research that showed Europe needed a new poison garden. The 400-year-old Padua Botanical Gardens in Italy does contain one, but that was planted by the Medicis when they were trying to find better ways of killing their enemies - and it's in run down condition. This one is exquisite - and popular. More than 500,000 people visited the existing garden last year, making it the third most-visited, paid-for, garden in Britain.

If the garden is fascinating and unusual - so is the family.



The Duchess in her garden. Photo; Alnwick Gardens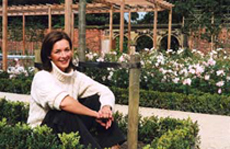 In her 40's, Jane Northumberland - daughter of Walter Maxwell Miller Richard, stockbroker and coal mine manager, of Edinburgh, is the first Duchess to come from the common folk. Petite and gorgeous, her childhood dream was to be an Olympic ice skater. By the time she was entering her teens she decided that a judge holding a "10" card was not in her future.

Instead of the Olympics, she went off to boarding school where, at age 16, she attended a dance and fell in love with 17-year-old Ralph, who felt the same about her. Every Friday he took her to see Rocky Horror Picture Show and the Duchess is proud that today she is still "word-perfect in every song".

She was 20 when they married. His parents agreed to the union provided their son learn land management.

Ralph found a job working for an estate which included living accommodations in the farmhouse. The newlyweds moved in. Elder brother Harry should have inherited the title and castle but suffered from long-term depression and had a drugs habit. In 1995 he died of heart failure brought on by an overdose of amphetamines.

Jane suddenly became mistress of the 14th century castle - the place where the Harry Potter movies were filmed.



Dining Room in Alnwick Castle. Photo: Alnwick Gardens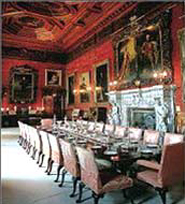 Indeed, the place is for rent as a movie location. Alnwick Castle is promoted as "the ideal setting for historical film locations. Particularly with its medieval exterior and grounds, offering excellent backdrops that require little or no dressing. Combine this with an outstanding landscape which has retained its character since being designed by the landscape architect, Capability Brown in the 18th century. The Guest Hall within the Castle offers a facility that can be used for studio sets during wet weather. Locations can be provided within the Castle grounds for unit vehicles and facilities. The most recent films are Harry Potter and the Philosopher's Stone and the Chamber of Secrets."

Camera crews may love the place but Jane became depressed - worried about how she was suppose to turn a museum like structure into a home for her husband and four children.



Alnwick Castle. Photo: Alnwick Gardens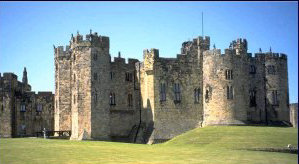 Alnwick Castle is the second largest inhabited Castle in England, the first being Windsor Castle, and has been the home of the Percys, Earls and Dukes of Northumberland since 1309.

To cheer her up for having to move into the place the Harry Potter films called Hogwarts - her husband gave the new Duchess a walled garden and a million pounds to spend on it.

At the sight of the garden Jane, an avid gardener from childhood, perked right up.

The Alnwick Garden potion began brewing in 1996. Nine years later the Poison Gardens - part of the Alnwick Garden - are open for tours.

The Alnwick Garden first phase was opened to the general public in October 2002 by its patron Prince Charles. That phase containes over 65,000 individual plants, making it one of the largest European plant collections in the UK. Over 14,590 boxwood hedges, 10,000 perennials and 32,143 beech trees were included in that phase one planting. The total area of The Alnwick Garden, its Woodland Walk, car parking and facilities is 40 acres with over 2.5 miles of paths.


SPREADING THE WORD


HENRY KISSINGER

Henry Kissinger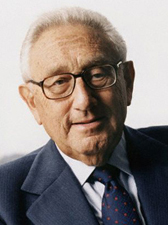 was the 56th Secretary of State of the United States from 1973 to 1977 and Assistant to the President for National Security Affairs from 1969 to 1975.

After leaving government service, the Nobel Peace Prize winner founded Kissinger Associates, an international consulting firm, of which he is chairman.

Kissinger was born in Fuerth, Germany, on May 27, 1923, came to the United States in 1938, and was naturalized a United States citizen on June 19, 1943. He received the BA Degree Summa Cum Laude at Harvard College in 1950 and the MA and PhD Degrees at Harvard in 1952 and 1954 respectively.

From 1943 to 1946 Dr. Kissinger served in the U.S. Army Counter Intelligence Corps and from 1946 to 1949 was a captain in the Military Intelligence Reserve.

He married Ann Fleischer in 1949 and was divorced in 1964. There were two children, Elizabeth and David. In 1974 he married Nancy Maginnes.

On March 15 at Kaufmann Concert Hall in Manhattan, he will be interviewed by Emmy award winning Charlie Rose as part of the Conversations With Charlie Rose Series.

THE POETS' THEATRE I: THE RAGE OF ACHILLES With Kate Burton, Keith David, William Scott Davison, James Gale, George Grizzard, Paul Hecht, Maeve Kinkead, Griffin Matthews, Larry Pine, Scott Shepherd and others A performance of The Iliad with music, adapted and directed by Kathryn Walker. The central conflict of Homer's classic epic of warfare between Achilles and Agamemnon sets the stage for this dramatic interpretation of Robert Fagles's masterful version of Homer's work. Mon, Mar 7, 92nd Street in NYC.

PLAYWRIGHT HAROLD PINTER announced last Monday that he is no longer writing plays but plans instead to focus on his political interests.

Pinter, 74, whose celebrated works include The Caretaker, The Homecoming and The Birthday Party, lives in London with his wife Lady Antonia Fraser, the biographer and historian. Pinter's writing career began in 1957 when, at the age of 26, he penned The Room and then broke the mold of 1960s theatre with a string of hits. Authoring 29 plays, his writings culminated in his final play Celebration which he wrote in 1999.

In 2002 he was diagnosed with cancer of the esophagus and underwent a course of chemotherapy .

Recently he was named the recipient of the Wilfred Owen Poetry Award, for poetry opposing the Iraq war, which will be presented on March 18 in London.



Broadway To Vegas is supported through advertising and donations. Priority consideration is given to interview suggestions, news, press releases, etc from paid supporters. However, no paid supporters control, alter, edit, or in any way manipulate the content of this site. Your donation is appreciated. We accept PAYPAL. Thank you for your interest.


SWEET CHARITY


MAMMA MIA! has contributed $1.2 Million to funding relief for the tsunami-hit regions of South East Asia.

The gift combines the giving of the audiences from post-show collections at performances of Mamma Mia! around the world, with further major donations from the production team including the producers, authors, director, choreographer and designers.

The funds raised will be donated to the registered Tsunami Relief Fund as well as Save The Children Tsunami Relief.



DIRTY ROTTEN SCOUNDRELS opened to mixed reviews. Compared to The Producers it comes in a poor second. Viewed on its own merits it is a delightful, entertaining show. Adapted from the 1988 movie starring Michael Caine and Steve Martin, this Broadway production has a book by Jeffrey Lane; music and lyrics by David Yazbek. Directed by Jack O'Brien. Stars: John Lithgow (Lawrence Jameson), Norbert Leo Butz (Freddy), Joanna Gleason (Muriel Eubanks), Gregory Jbara (André), Sara Gettelfinger (Jolene Oakes) and Sherie Rene Scott (Christine Colgate).

Choreographed by Jerry Mitchell; musical direction and incidental music arrangements by Ted Sperling. Sets by David Rockwell; costumes by Gregg Barnes; lighting by Kenneth Posner; sound by Acme Sound Partners; associate choreographer, Denis Jones; orchestrations, Harold Wheeler; vocal music arrangements, Sperling and Yazbek; dance music arrangements, Zane Mark; conductor, Fred Lassen; music coordinator, Howard Joines. At the Imperial Theater, NYC.

THIS IS HOW IT GOES by Neil LaBute starring Ben Stiller, Amanda Peet and Jeffrey Wright, will have its world premiere at the Public Theatre in NYC.

Peet is a last-minute addition replacing Marisa Tomei who had to suddenly leave the cast due to a family illness. Ms. Peet began rehearsals Friday, March 4. Previews begin March 10 with the official opening planned for March 27.

36 VIEWS by Naomi Iizuka. Directed by Evan Yionoulis.

With the discovery of a rare and ancient Japanese "pillow book" (the diary of a court lady), an unscrupulous art dealer and a respectable art historian are immediately captivated. They both have designs on the find - for entirely different reasons - and they are quickly drawn into a relationship of mutual intrigue. But when the authenticity of the artifact is questioned, they lose more than just their credibility. Utilizing a fine balance of ancient and modern sensibilities, 36 Views explores questions of reality and perception, in both the world of art and in human interaction.

March 11 - April 10 at the Boston University Theatre.

JULIUS CESAR the Broadway production of the Shakespeare classic will star Denzel Washington as Brutus. Joining him will be Colm Feore as Cassius, Jessica Hecht as Portia, William Sadler as Caesar, Tamara Tunie as Calpurnia, Eamonn Walker as Marc Antony and Jack Willis as Casca. Directed by Daniel Sullivan. Previews begin March 8 at the Belasco Theater. The limited run, opening officially on April 3, ends on June 12.

OLIVER! Dickens' greatest characters (Oliver, Fagin, Nancy, Bill Sikes, The Artful Dodger and Bumble) spring to life once again in this celebrated musical, and Oliver's magical spell has everyone asking for more! The show's unforgettable songs include Food, Glorious Food; Consider Yourself; Where is Love?; You've Got to Pick a Pocket or Two; I'd Do Anything; Oom Pah Pah; and As Long As He Needs Me.

Part of the Broadway in Miami series March 8-13 in the Jackie Gleason Theatre, Miami Beach, Florida.

SUSAN MARSHALL & COMPANY Susan Marshall, artistic director. MacArthur Award-winner Susan Marshall uses her company of seven dancers to tell vivid, poignant stories about the complexity of human relationships.

In her newest creation, a work based on the classic fairy tale, Sleeping Beauty, she addresses themes of separation, isolation, and transformation.

Other Stories is a collection of intimate, emotional dances that explore the multiple forces that define our complicated lives.

Saturday, March 12 at The George Washington University Lisner Auditorium, Washington, D.C.

SONGS FOR A NEW WORLD music any lyrics by Jason Robert Brown. Directed by Jon Lawrence Rivera. Opened Saturday, March 5 at the Rubicon Theatre in Ventura, CA.

AN EVENING WITH JASON ROBERT BROWN a guy who jas a lot of his plate - see above item. Jason will take the stage of the El Portal Theatre in North Hollywood, with his shamefully inexpensive Caucasian Rhythm Kings (featuring the tall guy on guitar and the bald guy on bass) and perform his songs in a special concert setting immediately following the Saturday, March 12 performance of his musical The Last Five Years Audiences can spend an evening of enjoying the music of Jason by doing a two-fer, attending The Last Five Years, starring Stef Tovar and Tricia Small and directed by Calvin Remsberg and then staying to watch Jason and his gang potentially destroy the set on which his musical is being performed.

As always, there's no telling what's going to happen, except that many high notes will be hit, many complicated lyrics will be sung, and hopefully some big movie star will be in the audience.

SERVANT OF TWO MASTERS billed as "Commedia del arté meets the Looney Tunes in Holly Golden's Servant of Two Masters, a fast-paced, punky update of the Italian comedy classic." The production is directed by Holly Golden, with set and lighting design by Owen Hughes, costume design by Jessica Gaffney, and sound design by Ryan Streber. The cast includes Amanda Brown, Dennis Fox, Karl Gregory, Khris Lewin, John Pieza, Dara Seitzman, Michael Stumm, Leigh Williams and Justin Yorio.

Wily servant Truffaldino attempts to slake the demands of his insatiable stomach by secretly taking on two jobs with two separate masters. Twice the work means twice the food, right? But what Truffaldino doesn't know is that his masters - whom he must keep apart at all costs to succeed in his double-dealing plan - are actually looking for each other… Confusion abounds in this comedy of sex, deception, food, and drag in sunny cartoon Italy.

Founded in 2002, Play Practice Theater Company produces new, innovative performance that seeks to explore the unique and singularly powerful qualities of theater. To this end, PPTC eschews realistic, "kitchen sink drama" in favor of explosive, physical, outlandish, experimental plays that use camp and humor to subtly put across cultural critiques.

Off Broadway at P.S. 122 the opening is Monday, March 7.


| | | |
| --- | --- | --- |
| | | |
WHO'S WHERE


THE BOB DYLAN SHOW featuring Bob Dylan and his band, Merle Haggard and the Strangers, and Amos Lee opens a three night engagement Monday, March 7 at the Paramount Theatre in Seattle, Washington. On Friday March 11 it's a one night stand at the University of Portland Chiles Center in Portland, Oregon.

EAGLES on stage Saturday, March 5 at the No. Charleston Coliseum in North Charleston, S.C. Next Sunday, they perform at the Jacksonville Veteran Memorial Arena in Jacksonville, Florida.

GAVIN CREEL: PROM KING Yeah, dude, it's the way cool prom night party you wished you'd had! A pre-release celebration of the original debut album by dope Broadway star Gavin Creel - Thoroughly Modern Millie, The Mystery Plays and now in La Cage aux Folles.

La Cage's Michael Benjamin Washington and guest dudette Shoshana Bean (Wicked) will also be in the crib with bodacious dancers and elite back-up singers gracing the stage. Cool beans.

We're talking 80's covers of Michael Jackson, The Pointer Sisters and Chaka Kahn, plus Gavin's totally original material, which one gnarly Val Girl described as "acoustic pop with a fun and funky edge . . . fer sure. Like, don't be a loser and miss this show!"

The Band: Robbie Roth, David Cook, Adam Roberts and Gavin Brown. The Prom Singles: Dioni Michelle Collins, Whitney Bashor and Christopher Freedman. The Prom Dancers; Christy Candler, Jessica Hope, Joey Dudding and Paul Canaan. Monday, March 7 at Second Stage Theatre, NYC.

THE TEN TENORS with their unmistakable Australian charm, the Ten Tenors have captured the hearts of countless fans worldwide. This season, these classically trained vocal virtuosos make their regional debut at the Philharmonic Center in Naples, Florida. Australia's hottest and hippest export, the Ten Tenors brilliantly blend the Classical tenor repertoire with opera and rock music. Tuesday, March 8, at Hayes Hall, Naples, Florida.

ALICIA KEYS performs March 12 at The Joint at the Hard Rock Hotel in Las Vegas.

OSLO PHILHARMONIC ORCHESTRA André Previn, Music Director and Conductor. On Wednesday, March 9 Anne-Sophie Mutter on Violin performs. On Thursday Mezzo-Soprano Denyce Graves is center stage. Stern Auditorium in Carnegie Hall, NYC.


PIFFLE AND PROFUNDITIES


LAS VEGAS MAYOR OSCAR GOODMAN took part in Nevada Reading Week by visiting Mackey Elementary on Wednesday to read to a class of 4th graders. He also conducted a question and answer session with the tikes. That resulted in a firestorm of tongue wagging and sobriety speculations.

When a child asked him what he would want if he was stranded on a desert island, he replied - a bottle of gin. When asked what his favorite hobby was, he answered - drinking.

Parents complained. The principle called the remarks "inappropriate". Newspaper headlines were seen worldwide.

Hizzhonor, who is paid to endorse a brand of gin, was totally unapologetic. The colorful mayor - who reportedly never met a martini he didn't like - denies he has a drinking problem. Others aren't that sure. Some have posted odds as to whether he is an alcoholic, an alcoholic in denial or just articulating what he feels is appropriate behavior for a mayor of Sin City.
















Next Column: March 13, 2004
Copyright: March 6, 2004. All Rights Reserved. Reviews, Interviews, Commentary, Photographs or Graphics from any Broadway To Vegas (TM) columns may not be published, broadcast, rewritten, utilized as leads, or used in any manner without permission, compensation/credit.
Link to Main Page
---
Laura Deni


CLICK HERE FOR COMMENT SECTION