! >
Broadway To Vegas
  SHOW REVIEWS     CELEBRITY INTERVIEWS     GOSSIP     NEWS 
TOM SELLECK: FOREPLAY ON A UKULELE

Heart throb Tom Selleck who was once billed as the sexiest man on earth - even though he was rejected twice on The Dating Game, and had a bit part playing a dead body in the movie Coma, will be having a long standing personal dream fulfilled when he makes his Broadway debuts in a revival of Herb Gardner's A Thousand Clowns. He'll play the role of Murray Burns, the surly, underemployed writer whose idea of foreplay is to strum the ukulele.



TOM SELLECK

This is the same part that Selleck, a creation of television, used as audition material when he went up for roles. The comedy has been his favorite since Selleck was in school. He's had the part memorized for 20 years.

Just goes to show aspiring actors that if you wait long enough ...

Selleck has been trying to land on Broadway for more than two decades. A couple of times he almost made it. Then success got in the way.

There was the time he had planned to do Mr. Roberts on The Great White Way but then Three Men and A Baby came along. The business side of Selleck took over. "It seemed very stupid to jump right into a play when I should get two or three more films in the can. It seemed like good business."

In l987 he said he was "mulling Broadway. I've had two firm offers for stage work, one a drama and one a musical. I'm going to pick one and do it."

When it was suggested that he do The Rainmaker he answered, "I don't want to do The Rainmaker, I wanna do A Thousand Clowns. I've always been more comfortable making a fool out of myself than being serious. I like silly stuff. A Thousand Clowns was my favorite in acting class.

Being on Broadway also has a certain comfort level for his wife, Jilly Mack.

Selleck met her when she was in the London production of Cats. He sat through the show a dozen times before she would consent to date him. They married in 1987 at Lake Tahoe, Nevada.

Rehearsals for A Thousand Clowns begin in October. They'll take it to Austin, Texas in November before opening on Broadway. Audiences should be relieved to know that Selleck promises to learn how to play the ukulele.


THE PRODUCERS TO STAR SHORT AND LANE
MEL BROOKS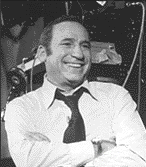 When Nathan Lane hosted The David Letterman Show last Thursday night his first guest was Mel Brooks who whipped what he said was a contract out of his pants and let the cat out of the bag.

Brooks is bringing The Producers to Broadway and intends to have the vehicle star Nathan Lane who divulged his co-star will be Martin Short, which was confirmed by Brooks. "It's a done deal," said Lane.



MARTIN SHORT will put his own genius on the Gene Wilder role. Photo By: Laura Deni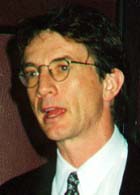 Brooks is a major comedic force. Springtime For Hitler which he wrote three times - as a novel, a play, and a screenplay, which was released in 1968 as The Producers concerns Max Bialstock played in the film by Zero Mostel - which would be the Nathan Lane role - a washed up producer of Broadway plays who convinces a group of elderly women to financially back Springtime for Hitler.

The play is designed to flop on opening night so that the backers don't expect any profit and the producers can embezzle the money. Unfortunately for the producers, the play is a hit.

In this new venture Martin Short would play the Gene Wilder role of the hysterical tax accountant.

The pairing will be brilliant in a vehicle which seems ideal for the two stars. It's also a signal that Short isn't convinced that his interesting talk show - Jiminy Glick has to be everyone's favorite gossip columnist - won't be a multi-season commitment.


WALK OUTS AND APPLESAUCE

Fiona Apple who broke down while performing in New York City is slated to give it another try March 14 at The O'Shaughnessy in St. Paul. The reed thin performer admits having been in therapy for depression since age 8 and was a rape victim when she was 12. She's been called everything from talented to a public relations Molotov cocktail

Meanwhile on Broadway Elton John is feeling the stress with his first full blown Broadway effort Aida.



ELTON JOHN

He's a creative soul, but he's not your typical Broadway composer. In fact, his only other Broadway musical effort was contributing songs to The Lion King.

Officials admit that Aida "comes with an awful lot of visual baggage" and apparently John didn't like what he saw at last Sunday's matinee, when the performer/composer huffed out of the performance at New York's Palace Theater.

It was reported that this was the first time John had seen the show since he attended a performance in Chicago during December. At that time it was announced that John had been in The Windy City during preview week and was tinkering with the score and meeting with Bob Falls and other collaborators.

The show has been drastically revamped since Chicago. The production which is more pop than opera made its debut in Atlanta. Disney's reaction was to ditch most of the production and a virtually new version was being worked on for Broadway. At that time only Sherie Scott and Heather Headley survived the bloodbath.

Scott plays Amneris, Princess of Egypt, who got upgraded from being evil "to merely misunderstood."

The show officially opens March 23.


VIAGRA AND BAYWATCH REV UP NASCAR
THE BODINE FAMILY was well represented in Las Vegas with brothers Geoff, Todd and Brett. Handsome, rich, personable and talented, he was mobbed by women when he entered the NASCAR Cafe. Photo By: Laura Deni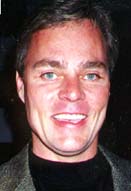 Las Vegas has just experienced race week, which drew over 150,000 speed freaks into Las Vegas, where they could get checked for high body fat and erectile disfunction. Racing is no longer your beer and motor oil party.

It costs anywhere from $2.5 to $4 million sponsor a NASCAR.



Corporate sponsorship has gone broad based and big time. Drug manufacturer Pfizer has plastered VIAGRA all over a Pontiac Grand Prix driven by Jeff Fuller who has heard all of the bad jokes. No, Bob Dole is not the crew chief and it isn't true that when you lift up the hood it takes an hour to get it back down.



COKE is one of the many corporations sponsoring cars. Photo By: Laura Deni
The Pfizer group also set up a Tune up for Life mobile health screening van parked in the Speedway Midway where fans could get checked for erectile dysfunction, prostate diseases and high body fat.

The drug company even contracted Winston Cup drivers Rusty Wallace, Mark Martin and Bobby Labonte to encourage their fans to be tested.

Baywatch signed on to sponsor Bobby Hamilton Jr's Chevrolet Monte Carlo in the Busch series. David Hasselhoff showed up Saturday to watch Hamilton compete in the Sam's Town 300. Van Halen and his rockers were part of the celebrity crowd. Instead of asking for limo rides, and expensive suites all they wanted for perks were grandstand racing tickets.



CARZILLA bar inside the NASCAR Cafe at the Sahara Hotel. Photo By: Laura Deni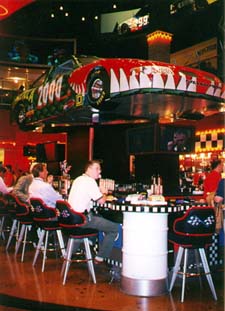 Other corporations kicking in the big sponsorship bucks include M&M'S, Kellogg's and Tide Soap.

Race fans gotta eat and the Sahara Hotel is betting that their new NASCAR Cafe will become the favorite pit stop.

CARZILLA is the centerpiece of the NASCAR Cafe a 75,000 square foot theme attraction which opened last Thursday night.

The eatery is part of a $100 million renovation of the 45 year old resort.

CARZILLA is an oversized Pontiac grand prix that is 34 feet long and 12 feet wide, weighing 6,200 pounds.



STEVE PARK from Northport, N.Y. at 32 drives the Chevrolet/Penzoil car which is owned by Dale Earnhardt. Photo By: Laura Deni
Enjoying the opening were Kyle Petty, Dale Jarrett, Terry Labonte, Ricky Rudd and Jeff Burton.

Lee Greenwood sang God Bless America and Susan Anton welcomed the throng.

Michael Waltrip signed autographs between hands of blackjack.

With career earnings of $9,727,411 the 36-year old driver can afford to play a hand or two.

Dale Earnhardt, who will celebrate his 49th birthday next month and bounced back after having a disc removed from his neck last Dec. 16, unveiled his new car. It's a 2000 Chevrolet Monte Carlo which pop artist Peter Max painted.

That car will have its official run at The Winston in Charlotte, N.C. on May 20.



THE NASCAR CAFE shows off racing gear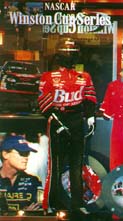 The original NASCAR cafe opened three years ago in Myrtle Beach, S.C. followed by openings in Nashville, Tenn., Orlando, Florida and the Smokey Mountain Resort in Tenn.

Mark Dyer, owner of the cafe, has also taken over operation of Sahara Speedway Speedworld, converting the virtual reality racing simulators from Indy cars to stock cars and renaming it Las Vegas Cyber Speedway.



HOME DEPOT display at the NASCAR Cafe. Photo By: Laura Deni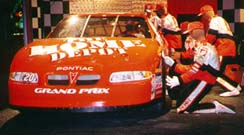 The NASCAR Cafe also includes a merchandise shop, a video arcade and a roller coaster. Baltimore based Premier Rides is building Speed, a 1,400 foot roller coaster. Going from 0 to 50 in two seconds, the coaster will use a linear induction motor to propel thrill seekers through a 79-foot loop at 70 mph and up a 240-foot peak, where they will experience about four seconds of weightlessness before returning to the starting point in reverse.



TONY STEWART drives the Pontiac sponsored by The Home Depot. Termed a young driver leading the Winston Cup into the future, his career earings are $3,190,149. Not bad for a 28-year old. Photo By: Laura Deni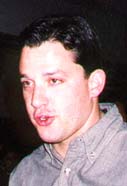 Plans are for the $6 million coaster to be running April lst.

Sounds like a bulimic's ideal night out. Gorge in the cafe and then toss your cookies riding that roller coaster.

The good-natured drivers were enjoying the hoopla spending the week enjoying Las Vegas and their fans. Jimmy Spencer and Darrell Waltrip did a K-Mart visitation.

Jeff Greene said he celebrated his first Busch Race Win in 1997 - considered a milestone in his career - by buying a dog and naming her Vegas.

Mark Martin who underwent lumbar fusion surgery on Nov. 22 has authored a book called NASCAR For Dummies.

Richard Petty served as grand marshall for the 267-lap, 400 mile CarsDirect.com 400 race at the Las Vegas Motor Speedway.

Bill Boyd, chairman and CEO of Boyd Gaming, told them to start their engines at the Sam's town 300 Busch Series with Wayne Newton serving as the honorary started for the event.


PRYOR TO RECEIVE LIFETIME ACHIEVEMENT AWARD
RICHARD PRYOR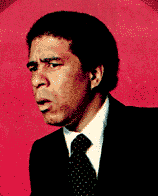 Richard Pryor who is confined to a wheelchair, battling the ravaging of Multiple Sclerosis will receive a lifetime achievement award during the 11-day Santa Barbara International Film Festival.

The 15th Annual film Festival will unreel more than 100 films. The festival includes a tribute to Whoopi Goldberg on March 9 and a March 11 tribute to producer-director Ivan Reitman.

The award for Pryor comes on the heels of police being called after Pryor's eldest son, Richard Pryor, Jr., 37, filed papers in L.A. Superior Court asking to be named his conservator of his father's estate. Reportedly, the ailing Prior refused to see his son and told police he "hated" the boy.

The conservatorship request alleges among other things that Richard Pryor is prevented from seeing his children, cannot bathe or feed himself and is unable to resist fraud or undue influence.

MUSIC DON'T BUY NO CORNPONE


Hoagland Howard Carmichael was warned by his mother not to get too involved with music,"Music is fun, Hoagland, but it don't buy you cornpone." Fortunately for the world he didn't pay her no mind.



HOAGLAND CARMICHAEL was named after a railroad executive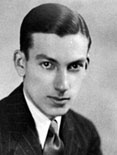 The Bloomington, Indiana born songwriter/actor tried to obey his parents - his itinerant laborer father, Howard Clyde, and mother, Lida, who attempted to augment their meager existence by playing piano at the local movie house and for university dances. Hoagy wrote that "ragtime was my lullaby." He may have been rocked to sleep with a beat, but the parents dreamed of him becoming president of a railroad. In pursuit of that dream he studied law at Indiana University. His body may have been in the classroom, but his heart was in the jazz band he founded - The Carmichael Syringe Orchestra renamed the Carmichael Collegians. He became a Big Man on Campus.

Along the way he felt madly in love with Dorothy Kelly who nicked named him Hoagy. He was headed towards that good life on the hill when in 1922 he heard a cornet player named Bix Beiderbecke and "it threw my judgement out of kilter." The seductive beat of jazz drove Hoagy down a long and rocky road.



THE HOAGY CARMICHAEL ROOM AT INDIANA UNIVERSITY houses memorabilia and hosts concerts

With a law degree in hand he headed to New York where he was forced to sell bonds in a botton-end job at a Wall Street brokerage house, to put food in his mouth while he tried to feed his soul by writing Boneyard Shuffle and Washboard Blues. More than once he considered packing it all in but was haunted by the words of the only person besides his mother who taught him music - Regie Duval a black barber and dance hall pianist in Indianapolis who advised : "Never play anything that don't sound right. You might not make any money- but at least you won't get hostile with yourself."

Hoagy kept plugging away.

While working as a law clerk he happened to hear a phonograph playing Red Nicholas' and The Five Pennies version of his song Washboard Blues. He immediately gave up law and make music his life. On October 31, 1927, Hoagy recorded Star Dust with his band for the first time.



HOAGY CARMICHAEL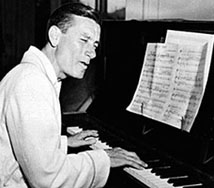 In 1928 when Mills music agreed to publish the song the title became Stardust and Hoagy began recording for Victor Records. He wrote Rockin' Chair, and the following year, with the prompting of band leader Frank Trumbauer, wrote Georgia On My Mind with his roommate Stuart Gorrell contributing the lyrics. The first recording was made on September 15, 1940 by Carmichael with a band that included Bix Beiderbecke in what was to be his last recording session.



BIX BEIDERBECKE'S death devastated Hoagy.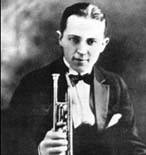 Beiderbecke was one of the great jazz musicians - a child of the Jazz Age who drank himself to an early grave. In 1929 his drinking caught up with him. He suffered from delirium tremens and had a nervous breakdown while playing with the Paul Whiteman Orchestra. He was sent back to his parents in Davenport, Iowa to recover. He was never the same. He returned to New York in 1930 to record with Carmichael. He holed himself up in a rooming house in Queens, New York where he drank. He died at age 28 in 1931 during an alcoholic seizure. The official cause of death was lobar pneumonia and edema of the brain.

Although he had just composed the now standard Lazy River, Bix's death devastated Hoagy who became depressed and so discouraged about jazz that be almost quit music.

Regaining control of himself he wrote Daybreak, and In The Still of the Night and then teamed up with a struggling lyricist Johnny Mercer. Their successful collaboration included overt three dozen songs, the first of which was Lazybones which Carmichael said he wrote in 20 minutes.



JOHNNY MERCER collaborated with Carmichael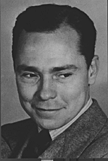 The first Carmichael composition to appear in a Broadway musical was a ditty called Little Old Lady, included in the Broadway show The Show Is On.

In 1937 he married New York model Ruth Meinardi and fathered two sons: Hoagy Bix and Randy Bob named after movie actor Randolph Scott.The happy family called Hollywood home.

Hoagy wrote The Nearness of You for the Paramount motion picture Romantic in the Dark. In 1939 Hoagy began a successful collaboration with Frank Loesser on Heart and Soul.

He teamed up with Johnny Mercer to write the Broadway flop Walk With Music. It ran three weeks. The following year, they had better luck writing Skylark.

In 1942 The Lamplighter's Serenade, a collaboration with Paul Francis Webster, was Frank Sinatra's solo performing debut on records.

Hoagy also became an accomplished actor. He put his face before the camera in To Have and Have Not starring Humphrey Bogart and Lauren Bacall for which he also wrote Hong Kong Blues and How Little We Know. 1946 was a good year for Carmichael. He had three of the top four songs on the Hit Parade, received an Academy Award nomination for composing Ole Buttermilk Sky and his acting in Best Years of Our Lives won praise, as did his acting in the 1950 picture Young Man with A Horn which starred Kirk Douglas, Lauren Bacall and Doris Day.



HOAGY became an accomplished actor
He finally won an Oscar for his song In The Cool, Cool, Cool of the Evening, which was performed by Bing Crosby in the Paramount flick Here Comes the Groom. He then wrote My Resistance is Low for RKO's Las Vegas Story which starred Jane Russell, Victor Mature and Hoagy himself.

While starring with Jeanne Crain and Myrna Loy in 20th Century Fox's Belles on Their Toes he composed Watermelon Weather, a duet for Bing Crosby and Eddie Fisher.

Hoagy was a major star, but his personal life was falling apart. In 1955 his wife filed for divorce. He found joy in writing fifteen songs for children and became Jonesy, the hired ranch hand on the TV western series Laramie. His twenty minute tribute to the Midwest: The Johnny Appleseed Suite was composed in 1963. In 1971 he was one of the ten initial inductees into the Songwriters Hall of Fame.



JANE RUSSELL starred in Las Vegas Story

He married Dorothy McKay in 1977 following what he admitted was "a long courtship." They moved to Rancho Mirage, California where he died on December 27, 1981 at the Eisenhower Medical Center after suffering a heart attack. He was buried at Rose Hill Cemetery in Bloomington, Indiana.

A Broadway musical is planned with British playwright Peter Nichols working on the script tentatively titled Hoagland. This effect is the second effort to bring the music of Hoagy to the theater. In 1995 an attempt was made to tell the story of the friendship between Hoagy and Bix in a musical by the same name.

An abridged staged version was performed on a stage built for the occasion, on the lawn at Hugh Hefner's Playboy Manson, coincidentally, directly across the street from where Carmichael lived for over 20 years. The invited audience of 250 saw Malcolm Getz of NBC's Caroline in the City playing Hoagy. Lillias White, who won a Tony Award for her performance in The Life and eight other actors made up the cast. It didn't take long for the group to realize that this concept didn't jive with the Carmichael music and the idea was scrapped.

The new concept will include at least twenty of Carmichael's favorite songs permitting the musical sequences to take their cues from the core idea behind each of the Carmichael tunes chosen - writing for the music - not for a linear story that the music was not originally written to tell. Nichols recently completed a second draft of the new script, which is being produced by Hoagy's son, Hoagy Bix, who intends to have a staged reading this year.

The Hoagy Carmichael Centennial Celebration will be presented March 10 at Proctor's Theatre, Schenectedy, NY moving to Town Hall, NYC on March 15.

Columbia Artists Management, Concert Production and the Hoagy and Bix Company is presenting a big band centennial celebration tour featuring the music of Carmichael. This tour began in Los Angeles and will play in 50 American cities.

OTHER PEOPLE'S MONEY


THE ROUNDABOUT THEATER COMPANY shall now be known as the American Airlines Theater thanks to an $8.5 million gift. There have been a lot of snide remarks about corporations taking over Broadway. As long as they don't exert censorship say thank you for the money. As far as we're concerned if anybody wants to dump $8.5 million into this website they can call this column anything they want.

CLEAR CHANNEL who could be called this nation's leading radio station owners has bought SFX Entertainment, the largest producer of entertainment events, and owners of 120 venues, in a $3.3 billion stock deal.

SWEET CHARITY


NOTHING LIKE A DAME 2000 presented by Broadway Cares/EquityFights AIDS has a zinging lineup; Lucie Arnaz, Lauren Bacall, Joy Behar, Ann Hampton Callaway, Caitlin Carter, Illeana Douglas, Sandy Duncan, Melissa Errico, that dishy Dame Edna Everage, Lauren Flanigan, Amanda Green, Uta Hagen, Heather Headley, Dee Hoty, Susan Marshall & Company, Marin Mazzie, Rita Moreno. Bebe Neuwirth, Nancy Opel, Jane Powell, Chita Rivera, Joan Rivers, Elaine Stritch, the women of Fosse and the Radio City Rockettes. Tickets $50 to $1,000. Proceeds benefit the Phyllis Newman Women's Health Initiative. This is the place to be March 6, 8. p.m. at the St. James Theater, NYC.

LAByrinth SILENT AUCTION stages a silent auction benefit beginning March 13th, at Center Stage, NYC.
One original work of art from world famous pop artist, Julian Schnabel leads the list of celebrity driven auction items.Highlighted in the auction is the Celebrity Frame - picture frames created for the event by LAByrinth's more vigorous supporters: including Julia Roberts, Susan Sarandon and John Patrick Shanley, who decorates his frame by enclosing a signed original copy of his Oscar winning script Moonstruck.

Also included is an original photograph by internationally acclaimed photographer, Rivka Katvan, of musical theatre legend Angela Lansbury.

Katvan is also about to release her first photo coffee table book featuring rare photographs of Broadway's past and present greats.

Final bids on the auction items will be taken at 7 p.m. on March 20.

Following the bid closings a benefit, directed by Jill DeArmon, will include performances by Philip Seymour Hoffman, Sam Rockwell, Danny Hoch, David Deblinger, and others.



Broadway To Vegas is supported through advertising and donations. Priority consideration is given to interview suggestions, news, press releases, etc from paid supporters. However, no paid supporters control, alter, edit, or in any way manipulate the content of this site. Your donation is appreciated. We accept PAYPAL. Thank you for your interest.



DISTRICT OF COLUMBIA

THE DISTRICT OF COLUMBIA stars (clockwise from top) Brad Bellamy, Joseph Lyle Taylor, Miranda Black, Thomas Lyons, Chris Wight and Geneva Carr. Photo By: Carol Rosegg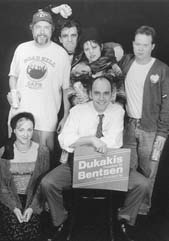 is a serious comedy that opens on Election Day, November 4, 1988. Dukakis is about to be trounced by Bush, and a group of young people - decidedly out of touch with the mainstream - face eviction by a mysteriously devious landlord.

Complicated by secret romances, doomed relationships and rekindled flames, their lives are about to change radically. Set in an era rife with cynicism, the play confronts the alienation of a disaffected generation struggling for a viable alternative.

The Ensemble Studio Theatre presents the NY premiere of District of Columbia beginning officially opening March 6.

Written by Michael Louis Wells, the production will be directed by Jamie Richards.

The set design is by Bruce Goodrich, the costumes by Julie Doyle, lighting design by Greg MacPherson, and the sound design by Rob Gould.

The production runs through March 26.

WASTE written in 1906 (revised in 1926, but not produced) by the acclaimed British actor/playwright Harley Granville Barker. Its behind the scenes look at Tories trying to win an election and a politician caught in an abortion scandal caused it to be banned until 1936. Waste has been produced by the Royal Shakespeare company, Sir Peter Hall and the Shaw Festival.

The production which begins performances on March 7 at The American Place Theatre, NYC is the American premiere. Bartlett Sher, recently appointed Artistic Director of the Intiman Theatre in Seattle, will direct a cast composed of; Byron Kennings, Kristin Flanders, Ross Bickell, Bill Buell, Jordan Charney, Richard Easton, Graeme Malcolm, Pamela Nyberg, Evelyn Page, Henry Stram, Michael Tisdale, Brenda Wehle and Anne Louise Zachry. The design team is: John Arnone (sets), Martin Pakledinaz (costumes), Christopher Akerlind (lights), Peter John Still (sound) and Paul Huntley (hair).

THE TALE OF THE ALLERGIST'S WIFE by Charles Busch, stars the talented Linda Lavin in the pivotal role. Strong cast includes Michelle Lee and Tony Roberts. Lynn Meadow directs the ensemble which also stars; Shirl Bernheim, and Anil Kumar. Sets by Santo Loquasto, costumes by Ann Roth, lighting design by Christopher Akerlind, sound design by Bruce Ellman. Opened to strong reviews. City Center Stage II, NYC.

KING HEDLEY II by August Wilson has its world premier beginning March 6 at the Seattle Repertory Theatre. Directed by Marion Isaac McClinton. Productions runs through April 8.

HONK which has been nominated for the Oliver Award for best new London musical, has a production at the Helen Hayes Performing Arts Center in Nyack, N.Y. Honk is based on the story of The Ugly Duckling.


WHO'S WHERE


MIRA SORVINO makes her Broadway debuts in Naked. This will be the American debut of the Luigi Pirandello drama, in a version written by Nicholas Wright and directed by John Rando. It's the story of a woman hounded by the press following the death of a child. Naked opens March 30 at the Classic Stage Company, NYC.

CHARLEEN TILTON who shot to fame in Dallas and now pens the gossip column for Globe to star in the Los Angeles production of Who's Life Is It Anyway? portraying a paralyzed woman who wants the right to die.

AUDRES McDONALD in her first convert tour arrives in California this week. She performs March 11 at the University of California in Irvine.

MAUREEN McGOVERN March 5, 6, 19 and 20 with Peter Nero and the Philly Pops. Philadelphia, Pa.

BILLY STRITCH Arci's Place, NYC through March 11.

LORNA LUFT Friday and Saturday, Abravanel Hall, Salt Lake City. Tickets $19 to $36.

LEA THOMPSON joins the touring company of Cabaret March 28 in New Orleans.

THE CHIEFTINS The Auditorium Theater, Chicago, March 6.

THE BEACH BOYS Star Plaza Theater, Chicago, March 11.

RONNIE MILSAP March 10-11 at the Turning Stone Casino Resort, Verona, NY. Tickets priced at $25. To $30.

THE JUDDS WITH JODEE MESSINA Allstate Arena, Chicago, March 10.

MARIAH CAREY in concert at the Thomas and Mack Center, Las Vegas. March 18.

KORN at Fargodome, North Dakota on March 10 then on to the Target Center in Minneapolis on March 14.


THIS AND THAT

SHOWEST takes over Las Vegas this coming week. Receiving awards will be: Comedy Star of the Year - Drew Barrmore, Female Star of the Year - Annette Bening, Producer of the Year - Armyan Bernstein, Male Star of the Year - Jim Carrey, Male Star of Tomorrow - Michael Clark Duncan, Supporting Actress of the Year - Angelina Jolie, Director of the Year - Anthony Minghella, Screenwriter of the Year - Alan Ball, Supporting Actor of the Year - Ving Rhames, Female Star of Tomorrow - Hilary Swank and Maestro of the Year - John Williams.



Low Cost Printing Nationwide



SALVADOR DALI'S MILLENNIUM the largest collection of work from private collections ever shown - 500 works by the surrealist master, including paintings, graphics, drawings and tapestries, on display at the Las Vegas Art Museum through April 20.

TURKEY CALLER Chris Parrish of Mexico, Missouri was named best turkey called after winning the senior division of the National Wild Turkey Federation grand championship national calling championship held at the Opryland in Nashville.



Mention BROADWAY TO VEGAS for Special Consideration
Call (800) 942-9027









Next Column: March 12, 2000
Copyright: March 5, 2000. All Rights Reserved. Reviews, Interviews, Commentary, Photographs or Graphics from any Broadway To Vegas (TM) columns may not be published, broadcast, rewritten, utilized as leads, or used in any manner without permission, compensation and/or credit.
Link to Main Page
---
Laura Deni


CLICK HERE FOR COMMENT SECTION