! >
Broadway To Vegas
  
 SHOW REVIEWS CELEBRITY INTERVIEWS GOSSIP NEWS

| | |
| --- | --- |
| | |
FROM SITCOM WRITING TO NON-PROFIT FUNDRAISING - - ELVIS JUMPSUITS ON PARADE - - OPERA AUSTRALIA ENTERS LIVE TRANSMISSION ERA - - SOUTHLAND THEATRE ARTISTS GOODWILL EVENT - - THE IRISH REP - - DANIEL RADCLIFFE IN EQUUS - - GERARD MORTIER TO HEAD NEW YORK CITY OPERA - - MY BROTHER MARVIN - - DONATE . . . Scroll Down


Copyright: March 4, 2007
By: Laura Deni

CLICK HERE FOR COMMENT SECTION
COMEDY WRITER/LAS VEGAS DANCER TURNS THEATRICAL NON-PROFIT RAINMAKER
Joel Kimmel. Photo by Amanda Carter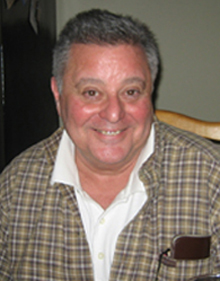 How would you feel about the blanket sucking Linus asking you for money?

Comfortable.

Linus van Pelt is Charlie Brown's best friend and the only one who believes in the Great Pumpkin. Though he occasionally convinces other characters the Great Pumpkin is real, they always lose faith, while Linus keeps his. So it is with Joel Kimmel, who never loses faith that the world of non-profit theatre is deserving of donations.

The off-Broadway production of You're A Good Man, Charlie Brown was the springboard for Kimmel, then a young actor, to morph into a television sitcom writer/playwright into a non-profit fundraiser.

Joel Kimmel's friends say that when they grow up they want to be him. Indeed. Joel Kimmel has the life many in the acting/writing side of the biz long to achieve.

The New York born and raised, Boston University educated, financial director for the non-profit Actors' Gang Theatre spoke with Broadway To Vegas about how the serious business of comedy writing led him into the world of soliciting funds.

"I began my life on the stage in New York. I got my Equity card in the original production of You're a Good Man, Charlie Brown, playing Linus. The year was 1967. I understudied the original cast and I went on to play the role of Linus for two years." Cast as Lucy was Ann L. Gibbs who would eventually become Kimmel's writing partner.

The Linus part brought Kimmel to Los Angeles and he then headed to Las Vegas.



Joel Kimmel as Linus. 1968 Photo by Ray Fisher.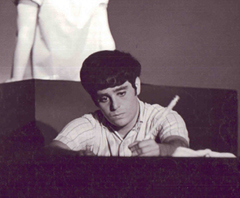 "My next job after Charlie Brown was dancing in Las Vegas. I don't know many people who can say that. But, indeed I was a dancer at the Desert Inn. I did two shows. I was a backup singer/dancer to Abbe Lane. She was very gorgeous and a delightful singing comedienne and I was one of her two "boys." I also did another show which was a musical version of the bad novel Fanny Hill.

While he was kicking it up in Sin City his thoughts keep gravitating towards the written word. He began working with Gibbs who suggested the partnership.

"In those days - we're in the 70s - Ann and I, who were great friends and still are, used to stay home on Saturday nights and watch the following line up on television; All In The Family, Mash, Mary Tyler Moore, Bob Newhart, Carol Burnett, We were particularly fond of Mary Tyler Moore, so we said - Let's see if we can do one of those. We got a sample script and learned about what was called a spec script."

"We wrote one. I happened to be the next door neighbor of a woman who was a writer on staff there, Jenna McMahon. She said she couldn't bring the script in, but if we got an agent to submit it, she would make sure they read it. So, that is the way that worked."

"We got an agent, Peri Winkler, with that script. I guess it was pretty strong and she asked to meet with us. She agreed to send it out."

"The producers of the Mary Tyler Moore Show called us in and said they couldn't use the script but asked if we had any other ideas."

The barnstorming session resulted in the pair being asked to write up one of their suggestions as an outline.

"We called Peri and said - we don't know what that means - write it up? She said - that means you got the job!



The cast of The Mary Tyler Moore Show from left to right, top to bottom: Ed Asner, Ted Knight, Gavin MacLeod, Mary Tyler Moore, Georgia Engel, Betty White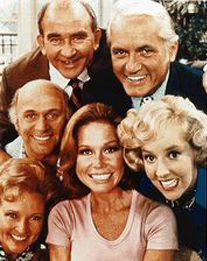 "That was our first writing credit - The Mary Tyler Moore Show," he said of the episode called A Girl Like Mary which aired December 14, 1974. In the episode Lou decides to alleviate Ted's presence with a female newscaster. Mary and Sue Ann both audition for the position.

"It spoiled us for the rest of our writing careers, because it was also the best job we ever had," he confessed. "It was an amazing experience. Two young actors who had actually written a comedy script on spec that resulted in employment," he exclaimed about the equivalent of catching lightning in a bottle.
"We went from that to write for The Love Boat, The Jeffersons, Chico and the Man, Alice. We went on staff for The Facts of Life and were under contract to Norman Lear."

"Our agent was able to set us up with interviews all over town, based on the fact that we were Mary Tyler Moore writers," he related about success begetting success. "We got a lot of jobs. We spent the next decade writing sitcoms."

Little did they know that 30 years later people would still be watching their shows.

"We didn't appreciate at the time that there would be such a thing as Nick at Night, Nickelodeon Network that would be dedicated to reruns of television shows."

Kimmel emphasized that this was employment not an ego feed.

"I don't mean this to sound disrespectful in any way but - we would write episodes for The Love Boat, The Jeffersons or Webster and go - these are not defining parts of who we are. They are just jobs. We had the ability to do that."

"Sitcoms are pretty much a formula," he admitted.

"What you have to bring to it as a writer is a certain sense of imagination and good humor. But, you really have to be true to the characters. Unlike writing a play or a movie, with a sitcom, you have to leave the characters very much as you found them at the beginning of the half hour. In drama people die, have babies, become alcoholics. In a sitcom, Mary isn't going to leave the half hour pregnant. You have to leave her where you found her. You learn to be very true to the characters," he reiterated.

"We never in a million years dreamed that there would be such a longevity to these shows. I watch the Mary Tyler Moore show now and I think - that is funnier than anything that is on today. It's clever."



David Letterman's sidekick Paul Shaffer left Saturday Night Live to co-star with Greg Evigan in the sitcom A Year At The Top in which Kimmel served as Executive Script Consultant. That premiered on NBC on August 5, 1977, and was yanked on September 4. Shaffer and Evigan played rock musicians who left Idaho to seek fame in Hollywood.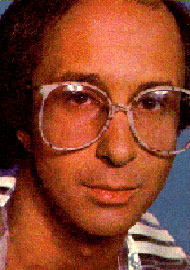 The Norman Lear/Don Kirshner-produced sitcom, A Year at the Top, actually had a soundtrack album - now considered a collector's item. Greg is on the left, Paul on the right.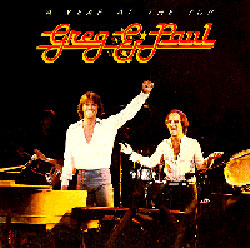 "For each of those sitcoms that I mentioned, we spent a good deal of time in meetings. You go in with half a dozen stories, one or two lines that you can pitch them - the way you would in TV Guide when you read what that week's episode is about. If they like your idea, then you're expected to break it down into an outline - scene by scene - of how you tell the story. We got pretty good at that because we were doing it all the time."

"We wrote over 100 episodes of television - went from being free lance writers to story writers which is sort of a euphemism for head writers. We used to call ourselves Buddy and Sally from The Dick Van Dyke Show," he said referring to the roles played by Rose Marie and Morey Amsterdam. "That is who we thought we were - the Buddy and Sally of sitcoms. Then we became executive story editors, which is like a liaison between the producers and the writing staff. We had a very good life. We were in our 30's. We were young. It was a great life."

If the writers had a great life, many of the stars didn't - especially if they were children.



The Facts of Life Lisa Whelchel, (top) Mindy Cohn, Charlotte Ray and Nancy McKeon. Kimmel-Gibbs penned scripts for the 1980-81 season.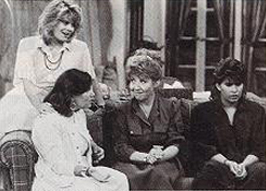 "I didn't write on shows where the children performing on them went on to become suicides or drug addicts. I think one of the most interesting experiences was writing for The Facts of Life because who knew that it was going to be a show that kids were raised on and still watch to this day? We became very protective of those girls and Mrs. Garrett. We were telling stories of them growing up."

"Love Boat didn't use children. I don't think we did any children friendly episodes of Love Boat. The nice part about Love Boat is when you wrote that show you only wrote your story and each show was three different stories. Whether your stories was about the regulars - the cruise director - or the passengers. That was chance for us to explore bringing other characters to life. It gave us a chance to be a little more inventive."

"We worked for Norman Lear. This is a great man. He's 82 years old and still very active. We did a series called The Bakers, which was an experiment of his. It was 24 episodes, which we wrote. They were 15-minutes an episode. They were sold this way; They were stories about a family - a mother, father and three children. The topics were anything that could be controversial - from gun control to at what age should a child tell their parents how late they should stay up. Little stories, big stories, but each story left the question unanswered. It was sold to syndication, who then put it in front of a studio audience to discuss the issue as it was raised in the show. It was a fascinating experiment."



Norman Lear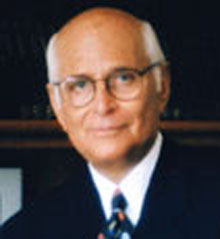 "I have at Norman's request, just copied the 24 episodes that we did on to DVDs because he has asked to see them again," he related.

"This could be used today and I think that is why he is asking to look at them again. We were the only writers on that series. We shot four of them a week - in front of an audience. On the fifth day of the week we read the next four episodes. We did this over six weeks. I remember say to Ann - I can't wait for this to be over so I can remember it fondly. Because, at the time, it was like putting on summer stock shows. It was baptism by fire."

"The best thing about those days is we were writing ever day, so we got paid to hone our writing skills," he admitted. "The chance of sitting in a room with Norman Lear, working on these episodes, was like taking a Master Class in writing," said the man whose admiration for Lear is still evident,

"I wasn't a writer. I was half of a writing team," he stressed. So my journey through the 30s in the life - I had a successful career. I made good money. I did smart things. I'm a Jew from New York. Ann is an Oklahoma City girl," he said referring to his writing partner in explaining how the partnership survived. "We brought very different sensibilities. The fact that we were a team, I learned a lot about collaboration. We made a rule very early that if one of us wanted to do something one way and the other wanted to do it another way - we'd find a third way."

"Unlike other teams who sometimes divvy up the material -you write this scene and I'll write that scene - we wrote every word together. We were and are still good friends."

"Along the later days of sitcom writing I started to be disenchanted. Mary Tyler Moore was the high point and that was our first job. None of the rest of the shows ever came up to the level that I felt about that show. "

"Because of my background, I wanted to write for the theatre. To flex my muscles I wrote a couple of episodes for WKRP In Cincinnati without Ann. Then I took a year off and wrote a play. I was very fortunate that my first play was not only produced, but was done all over the world and brought me a lot of a claim and tremendous obscurity," he about his one man play At Wit's End, which dramatized the life of Oscar Levant.

"I bought the rights to Oscar's life from his widow, June Levant, because again, I'm a Jewish boy from New York. If I'm going to take a year off to write a play I want to make sure it is a play that somebody will produce. I created a fictional concert that I set on Oscar's return to the concert stage after he had been institutionalized," related Kimmel about Levant's frequent mental hospital commitments.



Oscar Levant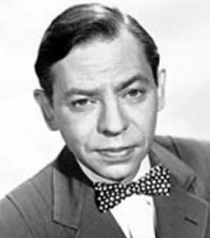 One of the venues that staged the show was Joe's Pub in New York City with Stan Freeman as Oscar Levant and Barbara Karp directing.

Levant emerges as a funny if tormented misanthrope. Interwoven with the barrage of epigrams are performances of Gershwin pieces including Rhapsody in Blue and Levant's own songs. Between 1929-1948, Levant would compose the music for more than twenty movies. During this period he also wrote or co-wrote numerous popular songs that made the hit parade, the most noteworthy being Blame it on My Youth.

"A great artist, very early on in his life he became what we call today drug addicted," Kimmel explained. "They weren't recreational drugs. They were prescribed. One of Oscar's quotes; On the day I met Judy Garland it may well be the greatest moment in pharmaceutical history."

Other famous Levant quotes include:
Happiness isn't something you experience; it's something you remember.
Strip away the phony tinsel of Hollywood and you will find the real tinsel underneath.
The only difference between the Democrats and the Republicans is that the Democrats allow the poor to be corrupt, too.
There is a fine line between genius and insanity. I have erased this line.
I knew Doris Day before she was a virgin.

"He never drank. But he was on all kind of uppers, downers, pep up pills. He smoked none stop at the key board. He was also the greatest interpreter of the George Gershwin concert repertoire. He performed in movies Bandwagon, An American In Paris. He pioneered the television form that we now call the talk show," Kimmel related.

"The experience of writing the play was so delicious to me and, after being a half of a writing team for years, it gave me a voice as a writer. It reenergized me and reintroduced me to the theater. So, I became a playwright," Kimmel recalled. "As a playwright you make a living when the plays are produced. But, when they are not you don't. As a television writer you get residuals and royalties."

"So, I had to find another way to earn a living," he said matter-of-factly.

"That's when I found I had a talent that I never knew I had - the non-profit world, particularly in the arts. Someone has to raise money to do this work. That is what I started doing about 15 years ago." Every study finance?

"No, honey, I can't balance my checkbook."

"I love my work," he chortled referring to The Actors' Gang where he has been the money guy for four years, having previously been the Director of Development at the LA Shakespeare Festival.

"My job, believe it or not, is tremendously creative - doing fundraising in the non profit world," he insisted.

"Do you know why people give to charity?" he queried before proving his own response. "There is only one reason. Because they are asked. The asked is not passing the hat around, by any means. By my going to people who are in a position to contribute to the revenue of the theater - they are able to make a difference in the world."

"One thing I love about the Actors' Gang is that we educate young people. If we weren't here - in this political climate - they would be getting no arts education what-so-ever. So many arts organizations are more and more dependant upon corporate finance. When you present the arts; whether it is museums, symphonies or plays - admissions don't cover your expenses. So even if you sell tickets you are operating at a deficit, if you are a non-profit."

"Here in California I am lucky because if the County of Los Angeles, the City of Los Angeles and Culver City, where we are based, supports The Actors' Gang. Tim Robins is my artistic director. He is visionary - a great American citizen. I've learned a lot from him, in the same way that I learned so much from Norman Lear," emphasized Kimmel.

Two years ago The Actors' Gang found themselves in a rent quandary and needed to move to a more affordable location.

"It was strictly a matter of our landlord increasing our rent. As a theater company we don't own our own space. Very few theaters do. We were faced with a triple of what we had to pay every month. And, we couldn't afford it. So, we needed a new place,"

Kimmel and managing director Greg Reiner ( See Broadway To Vegas column of February 4, 2007 ) went venue hunting. The lease signing was complicated.

"We were among 50-odd arts organizations that had applied for the space. It was a very competitive process. We had to write a proposal. They had to look into our financial and fiscal responsibility and our history, our staff. Well, we got the contract for ten years."

The Actors' Gang found a home.

"One of the remarkable things about the programming we do is we do something that most other small theater companies don't do - we tour," said Kimmel who is currently in Hong Kong with the Actors' Gang participating in the Hong Kong Arts Festival.

"The reason we tour is because we're under Actors Equity so our actors get paid. Our mission is to do work of the highest artistic quality. We have a little bit of a political slant in what we do. For instance the play we are touring right now is 1984 - the stage adaptation. Going to Hong Kong with 1984 is not without its own controversy. For the Actors' Gang it has become a matter of forging an identity and a brand in the public eye. And although that's more marketing than development, I think they go hand in hand."



Broadway To Vegas is supported through advertising and donations. Priority consideration is given to interview suggestions, news, press releases, etc from paid supporters. However, no paid supporters control, alter, edit, or in any way manipulate the content of this site. Your donation is appreciated. We accept PAYPAL. Thank you for your interest.


ELVIS JUMPSUITS ON PARADE
Elvis Presley wearing a Bill Belew creation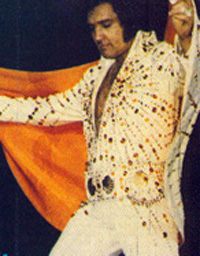 It's billed as "the greatest-ever exhibit of Elvis Presley's iconic stage costumes from the major concert era of his career, 1969-1977," officially opened March 1 in the Sincerely Elvis Museum at Graceland in Memphis, Tennessee.

While the permanent exhibits at Graceland relating the story of Elvis' career include 16 of these costumes, the special new exhibit features a dazzling 56 additional Presley stage outfits. The displays chart the evolution of the design of Elvis' stage-wear of this era, from simple two-piece karate-inspired suits to the famed "jumpsuits" with elaborate rhinestone and metal studding and matching capes. A selection of accessories, photographs and performance footage complete the exhibit, which will be in place for two years.

There are 56 mannequins and for a recent photo shoot the staff dressed each dummy. They became so proficient that they could dress a form in a complicated jumpsuit in only 10 minutes, faster than Elvis could have dressed himself on stage.

The jumpsuits are a legendary part of the Elvis persona.

After focusing much of the 1960s on his career as a movie actor, not performing in front of a live audience for over seven years, the triumph of Elvis' 1968 concert television special prompted a permanent return to the concert stage with a sold-out, critically acclaimed month-long Las Vegas engagement in the summer of 1969. Elvis did not want to wear a tuxedo, which was basically the uniform of male crooners working in that town. He was going there to rock. Wanting something different and special, he called upon Bill Belew,a graduate of the Parsons School of Design in New York, who had designed the now-classic black leather suit and other outfits for the '68 special.



Bill Belew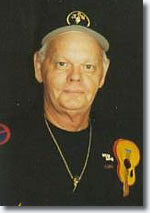 Previously designing for Broadway, the Presley gig would bring Belew to Vegas for the first time. Inspired by Elvis' great interest in karate, Belew came up with simple two-piece gabardine suits in with tunic-style tops and simple, long karate-style belts knotted to one side with the ends dangling from the hip.

In Elvis' two Vegas engagements of 1970, the first one-piece gabardine outfits (jumpsuits) appeared. Most had high Napoleonic collars, which Belew deliberately designed to highlight Elvis's face, mod Italian-style pointed sleeve cuffs and – as was the fashion of the day – flared legs. This became the basic design for most of the jumpsuits to follow as Elvis continued his regular Las Vegas engagements twice a year and as he toured nationally in concert from late 1970 until his death in August 1977. The first jumpsuits were simple in their ornamentation – for instance, some with metal accents, some with long fringe. All had long coordinating belts knotted and dangling to the side – some in cloth with ornamentation to match the suit, some with fringe, some in macramé. In the early 70s, the jumpsuits evolved with increasingly elaborate metal rhinestone studding, matching capes and coordinating big-buckle leather belts. From a point in 1974 on, the jumpsuit designs featured ever flashier and more intricate embroidery work, some depicting animals – eagles, a tiger, a dragon, phoenixes, a zebra – and the capes were phased out.

"When Elvis began wearing the jumpsuits, he and designer Bill Belew created a new style that many popular entertainers of the time incorporated into their own stage-wear," stated Graceland/Elvis Presley Enterprises archives director, Angie Marchese. "The craftsmanship of Bill Belew and his team - including Gene Doucette, who is a master with embroidery – was exquisite and the designs were cutting edge. Each one of the outfits is its own special work of art."

"You could be daring as a designer and put anything on Elvis and he could make it work," stated Bill Belew. "And the simplest outfits that didn't seem particularly remarkable on the rack transformed into something spectacular when Elvis put them on. He was that beautiful and powerful a presence. As a wardrobe designer Bob Mackie had a perfect muse and a perfect canvas in Cher. I got to have that in Elvis."


SPREADING THE WORD


OPERA AUSTRALIA will launch the company's first live transmission from the Opera Theatre to a public space on the evening of Saturday March 10. There will be a direct live relay of Opera Australia's La traviata in the Sydney Opera House Theatre to a big screen on the Sydney Opera House forecourt. It is presented free of charge to an outdoor audience of up to 3,800 with Paul Bevan, breakfast presenter of ABC Classic FM as host of the event.

"It has been a long held ambition of ours to do outdoor broadcasts," said Adrian Collette, Chief Executive of Opera Australia. "It is another important step in ensuring that the work of the national opera company and our artists are enjoyed and seen by as many people as possible."

Opera on the Big Screen is a free, ticketed event with a limit of two tickets per customer. Patrons are encouraged to bring a cushion as no chairs or eskies will be allowed. Dressing for the weather includes "bring sunscreen as well as a jacket for when the sun goes down or if the wind picks up."


SWEET CHARITY


SOUTHLAND THEATRE ARTISTS GOODWILL EVENT will present the music of Sondheim in an all-star gala tribute -- by side, by side, by side, by side by Stephen Sondheim.

Musical Direction by Gerald Sternbach. Directed and Staged by David Galligan. Event Chair Betty Garrett.

Leading artists from theatre and film will join in song in benefit for AIDS Project Los Angeles. This year's line up includes the following: Jamie Anderson, Ann Hampton Callaway, Len Cariou, Patrick Cassidy, Shaun Cassidy, Marc Cherry, Carole Cook, Wilson Cruz, Tyne Daly, Nancy Dussault, Kevin Earley, Betty Garrett, Randy Graff, Sally Ann Howes, Ronobir Lahiri, Sean McDermott, Linda Michele, Michele Nicastro, Michael Nouri, Valarie Pettiford, Charlotte Rae, Cathy Rigby, Alice Ripley, Joan Ryan, Andrew Samonsky, Kevin Spirtas, KT Sullivan, Rip Taylor and Lisa Vroman.

Sign Language Interpretation by Jon Maher.

Amazing music in great performance for an important cause. On March 10 and 11 at the Wilshire Theatre Beverly Hills, CA.

A BENEFIT READING OF THE SISTERS ROSENSWEIG by Wendy Wasserstein. The reading will feature Tony Award winners Christine Baranski and Stockard Channing, Edie Falco, Ari Graynor, John Michael Higgins, Simon Jones, original cast member Robert Klein, Aaron Krohn and Peter Scanavino, and will be directed by the play's original director Daniel Sullivan.

Monday, March 5 at the Vivian Beaumont Theater, NYC.

The evening is a benefit which will raise money for Lincoln Center Theater's productions and education programs.



THE IRISH REP in New York City has received the 22nd Jujamcyn Award, which is worth $100,000 and is given annually to a resident theater for development of creative talent.

The Irish Repertory Theatre received the 2005 Lucille Lortel Outstanding Body of Work award and won the New York Drama Desk Award for Excellence in Presenting Distinguished Irish Drama.

The Jujamcyn Award will be presented March 13 at the Marseille Restaurant in Manhattan.

GERARD MORTIER has been named the new General Manager and Artistic Director of the New York City Opera. The announcement was made by Board Chairman Susan L. Baker. Mr. Mortier will succeed Paul Kellogg, General and Artistic Director of New York City Opera since 1996, who retires in June.

DAVID McCULLOUGH the award-winning author and historian, was recently elected to the Museum of American History's board. The winner of two Pulitzer Prizes, McCullough joins the 28-member board that advises the director on programs, exhibitions, facilities, development, and finance.

He was approved by the Smithsonian's Board of Regents for a three-year term with the option of serving a second term. Other recent additions to the Museum's board include Ambassador Philip Lader, non-executive chairman of WPP Group plc, the worldwide advertising/communications firm and senior advisor to Morgan Stanley; and David M. Rubenstein, co-founder and managing director of The Carlyle Group. Their three-year terms began in October 2006.

Located in Washington, DC, the National Museum of American History collects, preserves and displays American heritage in the areas of social, political, cultural, scientific and military history. Documenting the American experience from Colonial times to the present, the Museum looks at growth and change in the United States.



MY BROTHER MARVIN The sister of the late Marvin Gaye, Zeola Gaye, has written a play which shows the private life of the legendary soul singer in each season of his short but powerful life.

Marvin Gaye was one of the most gifted, visionary, and enduring talents that blazed the trail for the continued evolution of popular black music.

Gaye's sophisticated soulful sound mix with intensely political views formed a powerful artistic self-expression.

His music painted a raw picture of urban life and became a change agent for social justice, but Gaye was more than a musical genius whose work shed light on social concerns. He was a son, a brother and a father who was loved by many.

March 8-11 at the Orpheum Theatre in Memphis.

THE MERRY WIVES OF WINDSOR & SWEET LOVE ADIEU beginning March 8th will kickoff the award-winning Oberon Theatre Ensemble 10th Anniversary Season.

The William Shakespeare comedy The Merry Wives of Windsor directed by Brad Fryman and the New York Premiere of Ryan J-W Smith's Sweet Love Adieu directed by Don Harvey - a tale written in the same comedic milieu (and told all in verse!) as that of the Bard. The two shows will play in repertory starting March 8 at the Lion Theatre at Theatre Row Studios in New York City.

THE TAFFETAS It's 1950-something and Kaye, Peggy, Cheryl and Donna - four singing sisters from Muncie, Indiana - are making their national television debut. Spotlight on Music, a fictitious weekly program on the real-life Dumont Television Network, is the framework for an evening featuring some of the greatest hits of the '50s. A nostalgic nod to girl groups of the era, The Taffetas pays tribute to the sounds of The Maguire Sisters, The Fontaine Sisters and The Chordettes. The Taffetas will play the Garner Galleria Theatre Mar 10-Aug 5 Denver Performing Arts Center.

TURANDOT New Jersey Opera Theater. A Semi-staged Opera in Concert.

Giacomo Puccini's final masterpiece, including the famous aria, Nessun Dorma, is brought to life with delightful staging and singers in full costume with a full orchestra and 120 voice chorus.

The opera is sung in Italian with English supertitles and conducted by New Jersey Opera Theater Music Director Steven Mosteller.

Sunday, March 11, at the State Theatre of New Jersey in New Brunswick, NJ.

THE ATTIC By Yoji Sakate. Translated by Leon Ingulsrud and Keiko Tsuneda. Directed by Ari Edelson.

Featuring Michi Barall, David Wilson Barnes, Emily Donahoe, Fiona Gallagher, Trey Lyford, Brandon Miller, Caesar Samayoa and Ed Vassallo.

The English-language premiere of a dark comedy by celebrated Japanese writer Yoji Sakate about hikikomori, a widespread phenomenon in Japan in which young people withdraw into their rooms, refusing any contact with the outside world. The play imagines a world in which a mysterious corporation manufactures tiny "attics" and sells them to people who "go hikikomori".

59E59 Theaters in NYC.

AMERICAN SOUP by Mary Jane Hansen. Original music composed by Will Severin. Set and Costume Design Robert Anton. Lighting Design Matt Murphy. Production Stage Manager Heather J. Hamelin. Directed by William Fortune.

Featuring the popular songs of the 60s through the new millennium, American Soup features a live rock band and the art and philosophy of Andy Warhol. American Soup tells the stories of an Italian-American family as they live through the Kennedy assassination, the Vietnam War, the first moon landing, civil rights unrest, women's liberation, and other joys and sorrows. These stories are woven together with Andy Warhol's tortured self-examination of his life and art as he reflects on the same tempestuous time period and events.

The Marcello's little Italian restaurant in Queens, New York provides the setting for a classic American story, which spans comedy and tragedy, provokes thought and memories and will resonate with audiences across generations.

Thursday March 8 to Saturday March 17 at The NYS Theatre Institute in Troy, NY.

THE DIARY OF ANNE FRANK adapted by Wendy Kesselman from the Pulitzer Prize-winning dramatization of Anne Frank: The Diary of a Young Girl by Frances Goodrich and Albert Hackett.

Directed by James O'Neil. Starring Rubicon Theatre Company's Producing Artistic Director Karyl Lynn Burns as Mrs. Frank, 14-year-old Lauren Patten as Anne Frank, Linda Purl as Mrs. Van Daan and Bruce Weitz as Mr. Frank.

Second only to the Bible, The Diary of Anne Frank is one of the world's most read books, as evidenced by its translations into over 50 languages. Few books have touched the hearts of so many generations, and this powerful recent adaptation interweaves newly discovered writings from Anne's diary, as well as survivor accounts, into a testament to the power of the human spirit.

The Diary of Anne Frank features an award-winning design team. Scenic and Light Design is by Thomas Giamario. Costume Design is by Alex Jaeger. Property Designer T. Theresa Scarano. Sound provided by Thomas J. Valentino, Inc. Sound Programmer Kenny Hobbs. Voiceover Recordings by David Beaudry and the Stage Manager is Linda M. Tross.

Previews begin Thursday, March 8 for a Saturday, March 10 opening, then continuing for four weeks through Sunday, April 1 at the Rubicon Theatre in Ventura, CA.

LOS ANGELES by Julian Sheppard. Directed by Pulitzer Prize finalist and Obie Award winner Adam Rapp.

Staring Katherine Waterston - daughter of Sam Waterston - with The Bats, the resident acting company at The Flea. The production features set by David Korins, lighting by Miranda Hardy, sound by Eric Shim and costumes by Erika Munro.

Sex. Drugs. Swimming Pools. Traffic. Smog. Carjackings. The search for the next big thing. This is Los Angeles, where one damaged young woman needs more than a map to find her way through the pitfalls of Tinseltown.

Performances through March 17 at The Flea Theatre in NYC.

RABBIT HOLE by David Lindsay-Abaire.

Rabbit Hole tells the story of Becca and Howie Corbett, an ordinary couple whose calm suburban existence is shattered by a terrible accident. Their world is turned upside down, but rather than reaching towards each other for comfort, they find themselves drifting perilously apart.

A revelatory new play directed by Goodman Associate Producer Steve Scott who has assembled an all-Chicago cast for this Midwest premiere, including veteran Lia Mortensen and Chicago newcomer Daniel Cantor as the central characters.Rabbit Hole charts one couple's journey from darkness to light with empathy and great imagination.

The design team for Rabbit Hole includes Birgit Rattenborg Wise (Costumes), Scott Bradley (Set), Robert Christen (Lighting) and Richard Woodbury (Sound).

March 10 - April 15 Goodman Theatre, Chicago.

EQUUS the first major revival of Peter Shaffer's play since 1973.

Alan Strang (Daniel Radcliffe) seems a normal, obedient 17-year old with a passion for horses. Then one night he blinds six horses with a hoof pick. What drove him to it? His life seems routine, his family loving, his pursuits harmless and yet he has been placed under psychiatric surveillance - an unresponsive patient who is woken each night by terrible nightmares. Only psychiatrist Martin Dysart (Richard Griffiths) seems able to grasp the answer to this psychological puzzle.

Richard Griffiths, whose incredible stage and screen career spans two decades and who this year won a Tony Award for his performance in the Broadway production of The History Boys, stars alongside Daniel Radcliffe, best known for playing Harry Potter in all four of the feature films based on J.K Rowling's best-selling books.

In the production, which marks his West End debut, Radcliffe appears nude in a highly charged sex scene with Joanna Christie.

In addition to Radcliffe, Griffiths and Christie the cast includes; Karen Meagher, Jenny Aqutter, Jonathan Cullen, Gabrielle Reidy, Colin Haigh, Will Kemp, Joel Corpuz, Jami Quarrell, Greig Cooke, Temujin Gill and Jonathan Readwin.

Directed by Thea Sharrock and designed by the play's original designer John Napier. Lighting by David Hersey, movement by Scarlett Mackmin and sound by Greg Clarke.

Performances at the Gielgud Theatre in London's West End.


| | | |
| --- | --- | --- |
| | | |
WHO'S WHERE


STEVEN SEAGAL & THUNDERBOX Though best known as one of Hollywood's most successful action film superstars, Seagal has spent the last year with his band Thunderbox indulging his first artistic endeavor - playing the blues. Their album Mojo Preist is a blistering 14-song set that honors the last of the Delta Blues legends. Sunday, March 16 at Shepherds Bush Empire in London.

DOC SEVERINSEN AND HIS BIG BAND will bring their highly touted and long-awaited program to audiences at the Washington Pavilion in Sioux Falls, SD on March 8 in their last tour before Severinsen's retirement.

LADYSMITH BLACK MAMBAZO For nearly 30 years, the South African vocal ensemble Ladysmith Black Mambazo has performed on worldwide stages. The ensemble's acclaimed recordings include the soundtrack to Disney's The Lion King and Graceland by Paul Simon, who says: "It isn't merely the beauty of their singing that rivets the attention, but the sheer joy and love that emanates from their being." Wednesday, March 7 The George Washington University Lisner Auditorium, Washington, D.C.

RED HOT CHILI PEPPERS head to Texas this week. On Tuesday they perform at the AT&T Center in San Antonio following by a Wednesday gig at the Toyota Center in Houston. On Saturday they are on stage at Foro Sol in Mexico City.

EARTHA KITT purrs on the Weinberg Center for the Arts stage in Frederick, MD. Saturday, March 10.

THE CHIEFTANS offering a foot-stomping good time Wednesday, March 7, at Orchestra Hall in Minneapolis.

CHRISTINA AGUILERA performs Monday, March 5, at the Honda Center in Anaheim, CA,. On Tuesday the show is at the Staples Center in Los Angeles. Thursday finds her at the Oracle Arena in Oakland, CA and on Saturday she performs at the HP Pavilion in San Jose.

BILLY JOEL in the spotlight Tuesday, March 6 at the New Orleans Arena in New Orleans.

ROD STEWART will both rock and croon when her performs Wednesday, March 7 at Pengrowth Saddledome in Calgary, Alberta. He has a Friday gig at the Rose Garden Arena in Portland, OR and then takes to the stage Saturday at General Motors Place in Vancouver, BC.

JOSH GROBAN entertains Monday, March 5 at the Air Canada Centre in Toronto. He's in the spotlight on Wednesday at Dunkin' Donuts Center in Providence, RI. Thursday finds him starring at the Mohegan Sun in Uncasville, CT and on Saturday he'll be singing at the Blue Cross Arena in Rochester, NY.

ERIC CLAPTON headlines the Ford Center in Oklahoma City on Monday, March 5. Wednesday finds him at the Pepsi Center in Denver. On Thursday he's on stage at the Energy Solutions Arena in Salt Lake City. On Saturday he can be enjoyed in Las Vegas at the MGM Grand.

MAUREEN McGOVERN performs next Sunday, March 11, at the E.J. Thomas Hall in Akron, OH.

ART GARFUNKEL in entertaining this week in the United Kingdom. He's on stage Friday, March 9, at the Newcastle City Hall in Newcastle and on Saturday the show is at Usher Hall in Edinburgh.

BRANFORD MARSALIS on a European tour performs Monday, March 5. at Victoria Hall in Geneva, Switzerland. On Tuesday he's on stage at Konzerthaus, Vienna, Austria. On Wednesday he begins a two night gig at Concertgebouw in Amsterdam. On Saturday, he can be enjoyed at Teatro Donizetti, in Bergamo, Italy.

JOHN PIZZARELLLI on stage Saturday, March 10 at the Mahaiwe Performing Arts Center in Great Barrington, MA.

THE INK SPOTS with over 80 hits to their name, they bring their unique style, sound and elegant stage presence to the Cumberland County Playhouse in Crossville, TN on March 9.




PIFFLE AND PROFUNDITIES


THE BAND at the High School in Enterprise, Alabama, which was destroyed in that horrific tornado, had been set to perform in a competition over the week-end in Florida. That was canceled because the tornado demolished all of the band instruments.

Next Column: March 11, 2007
Copyright: March 4, 2007. All Rights Reserved. Reviews, Interviews, Commentary, Photographs or Graphics from any Broadway To Vegas (TM) columns may not be published, broadcast, rewritten, utilized as leads, or used in any manner without permission, compensation/credit.
Link to Main Page
---
Laura Deni


CLICK HERE FOR COMMENT SECTION