! >
Broadway To Vegas
  SHOW REVIEWS     CELEBRITY INTERVIEWS     GOSSIP     NEWS 
| | |
| --- | --- |
| | |
Copyright: March 4, 2001
By: Laura Deni
CLICK HERE FOR COMMENT SECTION

SOPRANOS SOUND OFF


JAMES GANDOLFINI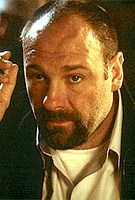 The third season for HBO winner The Sopranos kicks off tonight with a two hour premiere of what has become the boob tube's most critically praised drama. Last week's gala showcasing of the new season took place in New York City's Radio City Music Hall to a full house.

That doesn't mean the cast fritters away their few free moments away from their gangster empire.

New Jersey born James Gandolfini heads to Nashville to film The Castle, starring Robert Redford. Gandolfini, a Rutgers University, Actors Studio graduate, recently spent time in Las Vegas making The Mexican, which also stars Julie Roberts and Brad Pitt.

Widespread rumors have Gandolfini unhappy working opposite Roberts. According to rampant reports Gandolfini, after three days of shooting, asked director Gore Verbinski to replace him. Verbinski's answer: "Shut the *%#! up."

Dominic Chianese has turned into a singing mobster. The songbird will release a CD next month featuring his renditions of numbers dedicated to his grandfather Domenico, who came to America 100 years ago. It seems Chianese has quite the operatic voice.

Michael Imperioli who plays Christopher Moltisanti, the hotheaded thug in the series, is a soft hearted Daddy at home. The guy who studied acting with Lee Strasberg and Stella Adler, is now studying the art of diaper changing. Imperioli and his wife, Victoria, are expecting a baby in September. Victoria's daughter, Isabella, is anxious to become a big sister.

And, former Las Vegas Riviera Hotel and Casino Entertainment Director Steve Schirripa, who left his position to become a regular player on The Sopranos, has a part in the movie See Spot Run, starring David Arquette, which opened Friday. Schirripa stars as the bad guy hired to whack an innocent doggy - Spot.



Broadway To Vegas is supported through advertising and donations. Priority consideration is given to interview suggestions, news, press releases, etc from paid supporters. However, no paid supporters control, alter, edit, or in any way manipulate the content of this site. Your donation is appreciated. We accept PAYPAL. Thank you for your interest.


THEATRE LEAGUE ESTABLISHES AWARDS


Just when you thought that you'd scream if anybody came up with another awards show - another one is created. Only, this one has a different twist - permitting patrons of touring Broadway shows to have a vote.

Touring Broadway shows are by and large wonderful productions, with incredible talent that do backbreaking jobs lugging themselves around the country. It's high time their endeavors were applauded.

Jed Bernstein, President of The League of American Theatres & Producers, has announced that the National Broadway Theatre Awards, will be presented at a Gala dinner at The Supper Club in New York City on May 21st, 2001, to honor performers and creators in productions touring during the 2000-2001 season.

Theatregoers who have attended touring Broadway shows this season are eligible to vote in 10 categories either via e-mail or by mail-in ballot.



HENRY WINKLER and JOHN RITTER in a scene from The Dinner Party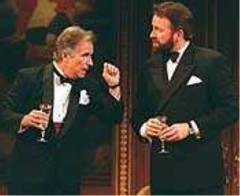 Broadway and TV stars Henry Winkler and John Ritter, currently starring on Broadway in Neil Simon's latest hit comedy The Dinner Party, will co-host the awards dinner celebration.

The National Broadway Theatre Awards (NBTA) is a fan-driven award selected by the very consumers that producers and theatre owners seek to entertain and engage by bringing the best live theatrical entertainment to their cities. Like all-star voting in professional sports, this time theatre fans get to choose their favorites. Approximately 30 Broadway shows touring during 2000-2001 are eligible for the awards. They include:

ANNIE, ANNIE GET YOUR GUN, BARRY MANILOW'S COPACABANA, DISNEY'S BEAUTY AND THE BEAST,CABARET, CHICAGO, CINDERELLA, THE CIVIL WAR, DAME EDNA: THE ROYAL TOUR, FIDDLER ON THE ROOF, FOSSE, THE GATHERING, KING HEDLEY II, LES MISERABLES, MAMMA MIA!, MAN OF LA MANCHA, MISS SAIGON, PARADE, THE PHANTOM OF THE OPERA, RAGTIME, RENT, RIVERDANCE - THE SHOW, THE SCARLET PIMPERNEL, THE SOUND OF MUSIC, SATURDAY NIGHT FEVER, SHOW BOAT, STOMP, SWING!, and THE VAGINA MONOLOGUES

Theatergoers across North America can register on line between now and March 31st at the website www.NATIONALBROADWAYAWARDS.com. Registered theater patrons will receive an e-mail ballot to vote for performers and productions during a three-week period beginning April 1st. Winners will be announced on May 21st.

There are 12 million theatre lovers who attend touring Broadway productions in 140 North American cities each year. Based upon their city of residence, they can vote on line or by filling out and mailing a paper ballot provided by Variety, the official media partner of the Awards, which will be available in the touring Broadway theatres from coast to coast.

Voters are given clear explanations for what they are to consider in voting for the 10 categories for National Broadway Theatre Awards:

Best Musical: Musicals can combine serious themes with stirring melodies, or revel in frivolity. For this category, take everything into account: the script, the songs, the dancing, the acting, the scenery.

Best Play Whether it's a drama or comedy, a one-person show or an epic, the play's the thing. Consider the total theatrical experience: the script, the acting, the physical production.

Best Actor: Which leading man, villain, or sidekick made the most memorable star turn?

Best Actress: Here's to the women who play the heroines, the ingenues, and even the maids

Best Song in a Musical: What single tune best captured a theatrical moment - and stayed with you long after?

Best Score Which show has the best overall music and lyrics? Did you leave the theatre humming?

Best Direction: The director is the person who translates a play or musical from the printed page to the theatre stage. He or she brings the script to life by guiding the actors' movement and characterizations and supervising the entire production.

Best Choreography: This category is all about dance. Which show has the best ballet or jazz, tap or swing - the hottest steps and the coolest moves?

Best Visual Presentation: This award spotlights the show's physical environment. Which had the most memorable sets, lighting, and special effects?

Best Costumes: What do the characters wear, and how well do the clothes fit (or set) the style of the production?

"When it comes to acknowledging excellence in the theatre, our audiences have always given us the most honest feedback," said Bernstein. "We are giving the people who count the most the opportunity to express their opinions about the Broadway shows that visit their city. We are encouraging Broadway fans to play favorites - be a critic! In the 120 years that shows have roamed across North America, this is the first award to celebrate touring productions and their performers. We are proud to originate these awards and finally acknowledge the contribution these touring Broadway shows make to the cultural life of the US and Canada."

What has not been explained is how to handle productions that have different stars in different cities such as The Civil War Or, how you are going to prevent ballot box stuffing by voting through different computers or using different names. And, how does one prove that they actually saw the show? Will a ticket receipt number or some other form of proof have to be listed? Can a minor vote?



JOHN RITTER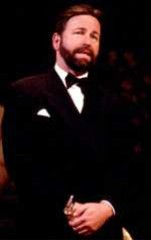 Thus far, these proposed awards have taken a lot of creative thinking and coordinating with the participating theaters. We don't doubt that any loopholes will be sewn shut, and eventually turn into the equivalent of the People's Choice Awards for the theatre community.

NBTA Gala co-hosts Henry Winkler, best-known as The Fonz on Happy Days, and John Ritter, the hapless Jack on Three's Company, both began their careers on stage.

Winkler, a graduate of the Yale School of Drama, made his Broadway debut in 1973 starring in the short-lived 42 Seconds From Broadway and appeared in many productions at the Yale Repertory Theatre. Ritter, son of the legendary country star and Broadway actor Tex Ritter, studied with Uta Hagen and Stella Adler before appearing in over 50 plays throughout the country. Friends since 1978, they have co-hosted many telethons for cerebral palsy raising over $100 million. Ritter appeared in the first TV movie Winkler directed and Winkler appeared in a TV movie produced by Ritter.

Bernstein said, "The Dinner Party is Henry and John's sixth joint venture, so the audience at The Supper Club on May 21st can expect to enjoy their playful tag-team humor during their co-hosting chores."

The League of American Theatres and Producers, Inc., founded in 1930, is the national trade organization for the Broadway industry, operating under the Live Broadway trademark. With over 500 members including theatre owners, operators, producers, and presenters of Broadway productions in New York and 140 cities throughout the U.S. and Canada, the League and its members help bring Broadway to close to 25 million people annually.


MORE TO LAUGH AT


The comedy club Catch A Rising Star returns to Las Vegas on March 29 with a new club at Excalibur Hotel. The club will be housed in a 300-seat plus showroom.

Catch A Rising Star brings live entertainment featuring popular favorite comedy headliners and a musical host who performs for the audience during seating and emcees the shows. Each week has an opening night with a brand new lineup of nationally known comics and seasoned professionals.

Since opening in New York City on December 18, 1972, Catch has featured Saturday Night Live cast members and many of today's top comics including Robin Williams, Billy Crystal, Rosanne Barr, Ray Romano, Jim Carrey, and Bill Maher.

Now in its 29th year, Catch A Rising Star has hosted comedy in Las Vegas for 12 years. The new Catch club in Excalibur joins Catch clubs in Princeton, New Jersey and Reno, Nevada.


SWEET CHARITY


IN THE FOOTSTEPS OF MOSES will stage a benefit performance March 10 on the anniversary of Harriet Tubman's death for the benefit of the Harriett Tubman Home in Auburn, N.Y.

The performance will be followed by a Champagne reception. Members of the honorary benefit committee include Vinie Burrows, Rev. Calvin Butts, Rev. Paul Carter, the Hon. C. Virginia Field, June Havoc, the Hon. H. Carl McCall and the Hon. Walter Mondale.

Harriet Tubman's life was a monument to courage and determination that continues to stand out in American history. Born into slavery in 1819 or 1820, in Dorchester County, Maryland, Harriet Tubman freed herself, and played a major role in freeing the remaining millions. In 1863, Tubman led a group of African American Union soldiers on raids along the Comcahee River in South Carolina. She is believed to have conducted approximately 300 persons to freedom in the North. The tales of her exploits reveal her highly spiritual nature, as well as a grim determination to protect her charges and those who aided them. She always expressed confidence that God would aid her efforts, and threatened to shoot any of her charges who thought to turn back. When William Still published The Underground Railroad in 1871, he included a description of Harriet Tubman and her work.

The Footsteps of Moses is the story of Harriet Tubman by Willis-Whyte. Directed by Elysabeth Kleinhans. Musical director: Kenneth Hanson. Lighting Design: Peter F. Petrino. Set Design: Leo Modrcin and Graphic Design: Tatiana Smith. The cast include Connie Stewart, Seleena Marie Harkness, Michael Cash, Kina Carisse Cliette, Christopher Diaz, Alex Harper, Darrell Kirton, Jerrilyn Montgomery, Bobbi Owens, Ernie Pitts, Chance Dean Taylor and Rashaan Willerforde. Chernuchin Theatre, NYC.

ROBIN HOOD FOUNDATION funds and supports innovative poverty-fighting organizations in New York City. Since its inception in 1988, the Robin Hood Foundation has distributed more than $100 million in grants, goods, and services to organizations fighting poverty in New York City. Because the group's board of directors underwrites all administrative costs, all donations go directly to help those in need. On March 14, Conan O'Brien will host of the Robin Hood Foundation's fund-raiser at Irving Plaza. The Red Hot Chili Peppers perform and Gwyneth Paltrow is "special guest." Last time the foundation auctioned a dinner with her, it went for $275,000.



BELLS ARE RINGING the first major revival of the 1956 musical comedy is a $5.8 million production of the Betty Comden/Adolph Green/Jule Styne musical. Pre-Broadway tryouts at the Palace Theatre in Stamford, CT, Feb. 20-25 received rave reviews.

This revival stars Marc Kudisch as the playboy-playwright Jeff Moss played in the motion picture by Dean Martin and Faith Prince as Ella - the role created by Judy Holiday.

Beth Fowler is Ella's cousin, Sue, who runs Susanswerphone and falls for a con man, Sandor, played by David Garrison. Martin Moran is a singing dentist named Kitchell, Robert Ari and Jeffrey Bean are cops investigating Sandor's illegal bookie operation, which has a classical-music mail-order business as its front. Julio Agustin plays neighbor Carl, who teaches Ella to cha-cha, Darren Ritchie appears as the Brando-like actor, Blake Barton. Caitlin Carter is a socialite sexpot named Olga and Angela Robinson plays Gwynne, a pal of Carl and Ella's who isn't afraid to cha cha.

The company also includes Joanne Baum, David Brummel, Lawrence Clayton, James Hadley, Roy Harcourt, Stacey Harris, Joan Hess, Emily Hsu, Shane Kirkpatrick, Marc Oka, Greg Reuter, Josh Rhodes, Alice Rietveld, Darren Ritchie, Linda Romoff and Kelly Sullivan.

Tina Landau directs. Designers are Riccardo Hernandez on Sets, David C. Woolard in charge of Costumes, Lights by Donald Holder. Don Sebesky handles Orchestrations, David Evans is Musical Director.

As for Tony award winner Prince, rumors are that she tends to nest - bringing into her dressing room loads of personal possessions - such as a rug, an afghan, pillows, towels, a clock, mugs and wall hangings. She's also addicted to violet mints.

Previews begin March 13 at the Plymouth Theatre NYC.

CABARET March 6-18 in Ft. Lauderdale, FL at the Broward PAC.

HONK! opening March 9 at the Crossville, Tenn theater, bested The Lion King in London's Olivier Awards in 1999. This version will star Jason Ross, best-known to Nashville audiences as the preacher in Smoke on the Mountain at the Ryman Auditorium, as the ugly duckling who doesn't fit in. The director will be Broadway veteran John Briggs.

THE TENNESSEE REPERTORY THEATRE has announced their season for 2001-02. West Side Story with the Nashville Symphony (Sept. 4-16), Joe DiPietro and Jimmy Roberts' I Love You, You're Perfect, Now Change (May 1-12, 2002) and Nashville songwriter Marcus Hummon's Francis of Guernica (Feb. 14-26, 2002). The mainstage season also includes Alfred Uhry's Southern drama Driving Miss Daisy (Nov. 28-Dec. 9) starring Karen Grassle best-known as for her role as the mother in the TV series Little House on the Prairie and William Gibson's drama about Helen Keller, The Miracle Worker (Oct. 17-28).

TEN UNKNOWNS a new play by Jon Robin Baitz directed by Daniel Sullivan officially opens March 8 at the Mitzi E. Newhouse Theater in Lincoln Center, NYC.



DONALD SUTHERLAND

Ten Unknowns is the story of reclusive septuagenarian painter Malcolm Raphelson, played by Donald Sutherland, and the three people whose entrances into his life in Mexico have explosive results. The cast will also feature Justin Kirk, Julianna Marguies and Denis O'Hare. Ten Unknowns will have sets by Ralph Funicello, costumes by Jess Goldstein, lighting by Pat Collins, sound by Janet Kalas and original music composed by Robert Waldman.

Sutherland, who began his career as a deejay in Nova Scotia, returns to the New York stage 20 years after starring on Broadway in Edward Albee's adaptation of Vladimir Nabokov's Lolita. The six-foot-four-inch critically acclaimed actor has starred in over 100 films and won an Emmy and Golden Globe Award for Best Supporting Actor for his performance on HBO's Citizen X.

Ten Unknowns marks the third collaboration between playwright Baitz and Lincoln Center and is the 84th production for Lincoln Center Theatre.

THE INVENTION OF LOVE a new play by Tom Stoppard, directed by Jack O'Brien, began previews last Thursday at the Lyceum Theatre, NYC. Byron Jennings, Paul Hecht, Mark Nelson, Robert Sean Leonard and Richard Easton star in this New York debut Also in the large cast are Daniel Davis, Mireille Enos, David Harbour, Brian Hutchison, Andrew McGinn, Peter McRobbie, Matthew Floyd Miller, Guy Paul, Martin Rayner, Peter A. Smith, Michael Stuhlbarg, David Turner and Jeff Weiss.

The production officially opens March 29. Jack O'Brien directs.The play had its U.S. premiere at the American Conservatory Theatre in San Francisco last fall.

URINETOWN John Cullum stars in this musical-comedy which was a hit of 1999's New York International Fringe Festival. The satirical show by Greg Kotis and Mark Hollmann.

Two time Tony award winner Cullum plays the political boss of Urinetown a gotham-esque city where the privilege to relieve oneself is regulated by a single corporation action. Co-starring is Nancy Opel. John Rando directs. The American Theatre of Actors, NYC on April 1 - no fooling.

SOUTHERN DISCOMFORT Tired of getting your news from CNN? Feel like a change from Saturday Night Live? Well, for a limited time, (very limited), there's a fresh alternative to chose from in Southern Discomfort, the musical satire troupe, appearing for One Night Only at the Triad Theatre on Monday, March 19th.

Created by Alan Friedman, a former mild-mannered reporter for a great metropolitan New Jersey newspaper, as well as a former congressional aide and a member of the DC satire group Capitol Steps, the eleven member company of Southern Discomfort - which includes its very own piano player - satires a wide variety of subjects: ranging from the Clintons to George W., from Jerry Springer to Kathie Lee Gifford and Viagra to Atlanta Braves pitcher John Rocker - always a favorite of New York sports fans.

Friedman started Southern Discomfort in Atlanta in 1996 and, over the years, the group has gotten a name for itself all over the Southeast. Now, after several years - and after releasing two CDs - the company is leaving the warmth of its home grounds and is venturing into the Big Apple.

Southern Discomfort will hold court - if it's not being hauled into one - at the Triad Theatre on Monday, March 19th, which is an off-night for theatre folks.

DAVID COPPERFIELD a new adaptation of this Dickens classic is having its world premiere at the Steppenwolf Theatre Company.

It's the story of the abandoned waif who develops a "disciplined heart" through challenging encounters with distress and misfortune. As plots and counterplots effortlessly interweave into one intricate, grand design, Charles Dickens captures the brightness, magic, and terror of the world as seen through the eyes of a child.

This production is adapted and directed by Giles Havergal featuring Steppenwolf ensemble members Robert Brueler, Mariann Mayberry, Rondi Reed, Molly Regan, Rick Snyder, and Jim True-Frost featuring Robert Breuler, Maureen Gallagher, Lacie Goff, Zach Gray, James Houton, Max Kirsch, Christian Kohn, Krista Lally, Mariann Mayberry, Majid Nolley, Dennis Olsen, Julie Marie Paperella, Miranda Pettengill, Rondi Reed, Molly Regan, Ryan Rentmeester, Rick Snyder, Christian Stolte, Jim True-Frost, Troy West, Jay Whittaker.

Scenic design Kate Edmunds; costume design Virgil C. Johnson; lighting design Pete Maradudin; sound design Rob Milburn and Michael Bodeen; composer Joe Cerqua; dialect coach Linda Gates; dramaturg Julie Felise Dubiner; production stage manager Robert H. Satterlee.

Through March 31. On March 14th and 21st Dr. Mary Agnes Doyle will present Playtalks following the Wednesday matinee performances.


WHO'S WHERE

SARAH BRIGHTMAN

SARAH BRIGHTMAN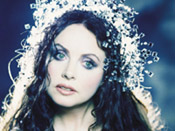 is living proof that there is no justice in this world.

This woman has a face of a goddess, the voice of an angel, the stage presence that is a spellbinding cross between high drama and art nouveau. She not only up and married Andrew Lloyd Webber, but after their divorce she not only ended up financially well fixed but they are still good friends. She's also got boundless energy as her world tour will attest. To top it off, she takes an audience which could be resentful of her seemingly having it all, and holds them in her spell with a performance that captivates and enthralls. She did all that last night in Las Vegas and now takes her La Luna World Tour for an encore performance Arie Crown Theatre, Chicago March 13.

DON McLEAN at the Hemmens in Elgin, IL March 10.

ROGER WILLIAMS March 9-10 with the Tulsa Philharmonic Pops at the Tulsa Performing Arts Center Chapman Music Hall. Tulsa, OK.

CECILIA BARTOLI the Grammy winning mezo-soprano and Daniel Barenboim at the piano in their only New York duo recital March 11 Carnegie Hall, NYC.

BUDDY GRECO a Las Vegas resident, is in New York, performing at Arci's Place through March 24.

JEFF BECK will play Tuesday at the Ryman Auditorium, Nashville.

THE MUSIC OF RICKY IAN GORDON Music Direction, Ted Sperling. Spring arrives early this year with selections from this rising young composer's recording Bright-Eyed Joy to be released this month, filling the air. Hear why today's leading female performers sing his songs and critics sing his praises. With Judy Blazer, Kristin Chenowith, Lauren Flanigan, Adam Guettel, Camillia Johnson, Cherry Jones, Lorraine Hunt Lieberson, Billy Porter and Chris Trakas. Tuesday, March 13. Alice Tully Hall, NYC.

MICHAEL FEINSTEIN in Israel March 4-10 performing with the Israel Philharmonic Orchestra

BETTY BUCKLEY March 11-12 at the Geary Theater in San Francisco, CA.

CLEO LAINE March 8 - Albuquerque, NM - Popejoy Hall, University of New Mexico.

BARRY MANILOW March 6-17 in Crested Butte, CO at the Center For The Arts.

JERRY SEINFELD returns to the world of the stand up comedy stage. Seinfeld has been quietly testing new material in New York comedy clubs for months, will do a one-man show in Oakland, CA on March 29. It's his first theatrical concert since 1998 and will be filmed as part of a documentary Seinfeld is producing about standup comedy.

SCOTT HAMILTON unlaces his ice skates to stop touring, so he can put together a Broadway show.

DOROTHY HAMILL

DOROTHY HAMILL Photo By:Laura Deni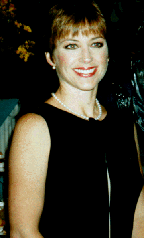 in her skates and back to her old self, after years of suffering with undiagnosed osteoarthritis.


The talented Innsbruck Olympic figure skating gold medallist saw her life take a tumble when pain took over her body as her strength and stamina waned.

Thanks to good medical care and proper medication the lady who made that Hamill wedge haircut a fashion statement, is back on tour with Champions on Ice, having just completed their Winter 2001 tour.

She's a lovely champion that we enjoyed speaking with when she appeared at the Stardust Hotel in Las Vegas and we wish her all the best.



THIS AND THAT


SIEGFRIED AND ROY

ANTHONY HOPKINS SURROUNDED BY SIEGFRIED AND ROY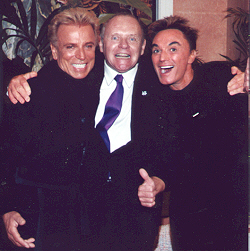 threw a party to announce they have signed a life time contract, which is actually renewable every four years.

No matter if that contract is for a year or a lifetime, what Siegfried and Roy are - are icons.

They started out as a bit players doing a specialty act in a production show and turned magic into an art form. We're not sure if they should be thanked or cursed. Because of them it seems as though every time you turn around a magician appears.

Even Anthony Hopkins couldn't get his fill. He's been to Las Vegas to see Lance Burton do his tricks at the Monte Carlo and watched Siegfried and Roy makes elephants go poof at the Mirage.

HALEY JOEL OSMENT in town to pick up a ShoWest award had something he was determined to do on this Vegas trip - ride the roller coaster at New York New York.

HUGH HEFNER the cock of the loft of the Playboy empire, celebrated his 75th birthday in Las Vegas last Friday. Presents included Viagra and a girl for each night.

The party began at Studio 54 with bunny logos everywhere and a two-tiered cake featuring chocolates shaped like busty naked girls. From what we understand the party is still going on in Hugh's bedroom. The girls are exhausted but Hugh's doing great.

Rumors swirl that the non stop party boy wants to open a Playboy club in Las Vegas.



Mention BROADWAY TO VEGAS for Special Consideration
Call (800) 942-9027









Next Column: March 12, 2001
Copyright: March 4, 2001. All Rights Reserved. Reviews, Interviews, Commentary, Photographs or Graphics from any Broadway To Vegas (TM) columns may not be published, broadcast, rewritten, utilized as leads, or used in any manner without permission, compensation and/or credit.
Link to Main Page
---
Laura Deni



U.S. Postal Address: Post Office Box 60538, Las Vegas, NV 89160
CLICK HERE FOR COMMENT SECTION