! >
Broadway To Vegas
  
  REVIEWS INTERVIEWS COMMENTARY NEWS

| | |
| --- | --- |
| | |
TOM HANKS OWNS THE STAGE IN LUCKY GUY - - FLORIDA THEATRES RENOVATE AND RE-OPEN - - ANDREW LLOYD WEBBER AND PROFUMO SEX SCANDAL MUSICAL - - RIDE THE TIGER - - ASHTON KUTCHER DEBUTS NEW REALITY SHOW - - THE LOUIS ARMSTRONG HOUSE MUSEUM HAS THE WEST END BLUES - - THE EDWARD CURTIS PROJECT - - 2013 OLIVIER AWARDS ANNOUNCE NOMINATIONS - - DONATE . . . Scroll Down




Copyright: March 31, 2013
By: Laura Deni
CLICK HERE FOR COMMENT SECTION


TOM HANKS IS AWESOME IN BROADWAY DEBUT


Tom Hanks is a beloved actor. He first came to prominence in the cross-dressing television sitcom Bosom Buddies and then became a superstar thanks to his amazing movie performances. Having already conquered both the small and large screen Hanks can now add Broadway to his list of bow-down-to accomplishments.

Hanks is currently making his Broadway debut at the Broadhurst starring as the muckraking, polarizing, police beat New York Daily News reporter Mike McAlary. Hanks is amazing. After about a minute you forget it's Hanks, as he becomes absorbed into the role, bringing the storied reporter to life in a way which is consuming both for Hanks and the audience, who remain transfixed throughout the entire production.

Powerfully crafted by the late Nora Ephron, Lucky Guy is a complicated layered gem of power, fame, alcohol, ego, ambition, downfall and redemption.

99.99 percent of the audiences will not have personally known McAlary and almost as many truly haven't a clue what it takes to be a hard hitting reporter.

Ephron knew and brings both the person and the industry to life. Well crafted, accurate. The only down side is that she isn't here to receive the accolades.

During the first act the audience almost becomes part of the play, which opens in a bar. Friends of McAlary, who died at the age of 44 on Christmas Day 1988, are holding his wake, singing Wild Rover, and re-telling stories about both his newspaper experiences and his personal life. The actors talk to the audience as if they were also in the bar. McAlary's hard drinking approach to life and reporting is how he obtain article sources, and the frenetic bar scene is an appropriate tool to both educate and entertain the audience.

Directed by George C. Wolfe, part of the play recreates the day McAlary, who was soon to die of cancer, won the Pulitzer Prize.

In some of the best give and take dialogue, Hanks as McAlary and Courtney B. Vance as McAlary's editor Hap Hairston connect. Just as movie fans long to see Hanks and Meg Ryan perform together, it would be nice to someday see Hanks and Vance reunited. Having a reunited opportunity on this stage are Hanks and Peter Scolari, who co-stared on Bosom Buddies. Scolari plays Michael Daly who is both Mike McAlary's friend and competitor. Scolari effortlessly plays off of and around Hanks as though they were bosom buddies.



Cast for Lucky Guy. Photo by Joan Marcus.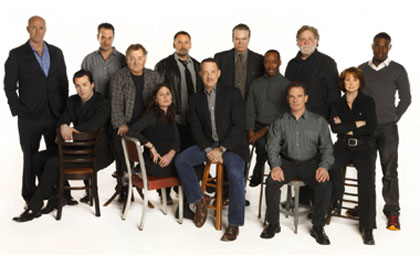 A riveting segment concerns McAlary's reporting of the Abner Louima police beating case.

Louima, a married 30-year-old with a child, had lived in Brooklyn for six years after moving to America from Haiti. He was assaulted, brutalized and forcibly sodomized with the handle of a toilet plunger by New York City police officers after being arrested outside a Brooklyn nightclub in 1997.

According to official reports: The arresting officers beat Louima with their fists, nightstick, and hand-held police radios on the ride to the station. On arriving at the station house, he was strip-searched and put in a holding cell. The beating continued later, culminating with Louima being forcibly sodomized in a bathroom at the 70th Precinct station house in Brooklyn.

Police office Justin Volpe kicked Louima in the testicles, then, while Louima's hands were cuffed behind his back, he first grabbed onto and squeezed his testicles and then sodomized him with the handle of a toilet plunger. According to trial testimony, Volpe then walked through the precinct holding the bloody, excrement-stained object in his hand, bragging to a Police Sergeant that he, "took a man down tonight."

The attack left Louima with severe internal damage to his colon and bladder that required three major operations to repair. He was hospitalized for two months after the incident.

On December 13, 1999, Volpe was sentenced to 30 years in prison without the possibility of parole, a $525 fine and restitution in the amount of $277,495. Volpe is currently serving his 30-year sentence at a minimum security facility at the Federal Correctional Complex, Coleman in Florida and is scheduled for release in 2025.

McAlary won the 1998 Pulitzer Prize for distinguished commentary for his exposé of the brutalization of Louima by NYPD officers.

In Lucky Guy there is a graphic description of this which takes place when McAlary visits Louima in the hospital.

It was McAlary's coverage of the Abner Louima case that redeemed him. Five years earlier he had been brought down with his coverage of another headline making case. In April 1994, a 27-year-old Yale graduate, who has never been named, was walking home through Prospect Park in broad daylight when she was grabbed by a man, dragged up a hill and raped. McAlary wrote that she had made up the rape charge to promote lesbian and feminist causes.

McAlary, who had relied on an anonymous source, continued with his attack on her honesty in two additional columns. The rape victim sued McAlary and the Daily News. She received a substantial settlement and the case never went to trial. In depositions, McAlary admitted he made things up in columns as a "writing device."

Maura Tierney as McAlary's wife Alice, looks like Alice did in 1998. She loves him and tolerates a lifestyle that amounts to his living in two worlds. You sense that while he loves her as his wife, it's his mistress - the newspaper - that pulled his heartstrings.

Deirdre Lovejoy as seasoned reporter Louise Imerman can hold her own in the boy's club - including her X-rated vocabulary. Lovejoy has double duty as editor Debbie Krenek.

The extremely strong cast also includes Richard Masur as editor Jerry Nachman (also doing double duty as Stanley Joyce). Christopher McDonald as flashy New York lawyer (Tom Wolfe dedicated Bonfire of the Vanities to him) Eddie Hayes who represented McAlary in the rape victim lawsuit, Peter Gerety as editor John Cotter, Michael Gaston as columnist Jim Dwyer. Brian Dykstra as Brian O'Regan. Danny Mastrogiorgio as reporter Bob Drury, Stephen Tyrone Williams as Abner Louima and Dustyn Gulledge as Dino Tortoricci.

The show is about McAlary and thus pivots around Hanks, who more than succeeds in the demanding role. It's the name Tom Hanks which initially sells the tickets. After seeing the show the reasons to buy tickets are not just to be able to say you saw Tom Hanks on Broadway, but because of the production: fascinating, intriguing, spellbinding, a great night at the theater.

Rolling sets by David Rockwell. Lighting by Jules Fisher and Peggy Eisenhauer. Costumes by Toni Leslie-James. Sound design by Scott Lehrer. Projections by Batwin + Robin Productions, Inc. Wig and Hair design by Robert-Charles Vallance. The fight director is Thomas Schall. Jane Grey serves as Production Stage Manager while Cambra Overend is the Stage Manager. Kamilah Frobes is the Associate Director.

Seen in previews, this outstanding play officially opens at the Broadhurst on April 1, 2013.



Broadway To Vegas is supported through advertising and donations. Priority consideration is given to interview suggestions, news, press releases, etc from paid supporters. However, no paid supporters control, alter, edit, or in any way manipulate the content of this site. Your donation is appreciated. We accept PAYPAL. Thank you for your interest.


ART AND ABOUT


THE LOUIS ARMSTRONG HOUSE MUSEUM HAS THE WEST END BLUES

Louis Armstrong and Marla Dietrich in a promo photo for a performance at the Riviera Hotel in Las Vegas.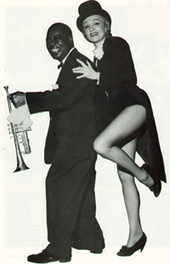 This April the Louis Armstrong House Museum is celebrating Jazz Appreciation Month with several special events.

85 years ago, Louis Armstrong recorded one of his all-time masterpieces, "West End Blues," one of the most important records in jazz history. For Jazz Appreciation Month, our historic house tours will feature an ultra rare recording of Louis Armstrong performing "West End Blues" live at Freedomland in 1961. This performance was recently donated to our Archives by the son of Freedomland sound engineer Peter Denis. Previously unissued and not in any discographies, it will be featured only during Jazz Appreciation Month! This recording ties into our current exhibit, Louis Armstrong at Freedomland that closes April 30, 2012.

Curated by LAHM Archivist, Ricky Riccardi, the Louis Armstrong at Freedomland exhibit paints an intimate portrait of Armstrong on stage and off (1961-1964) during this turbulent time in history, spreading joy to fans young and old with his integrated band of All Stars.

The Louis Armstrong House Museum, located in the northern part of Queens, New York City, close to LaGuardia Airport, is open to the public, offering guided tours of Louis's longtime home. On the tour, audio clips from Louis's homemade recordings are played, and visitors hear Louis practicing his trumpet, enjoying a meal, or talking with his friends. Visitors also get to enjoy an exhibit on Louis's life and legacy, and the Armstrongs' beautiful Japanese-inspired garden

THE FINE ARTS MUSEUM OF SAN FRANCISCO BOARD OF DIRECTORS has appointed Colin B. Bailey to serve as the Director of the Fine Arts Museums of San Francisco.

An internationally-respected art historian and curator, Colin B. Bailey most recently served as the deputy director and Peter Jay Sharp Chief Curator at The Frick Collection in New York, and held a similar position at the National Gallery of Canada. He has also held curatorial positions at the J. Paul Getty Museum in Los Angeles, the Philadelphia Museum of Art, and the Kimbell Art Museum in Ft. Worth.

Born in London, Bailey earned his doctorate in art history at Oxford University. Bailey has organized more than two dozen exhibitions during his career and he was named one of the first fellows by the Center for Curatorial Leadership.

POP ART AND BEYOND: TOM WESSELMANN

Tom Wesselman Bedroom Painting #39, oil on canvas, 1978. Copyright Estate of Tom Wesselman/Licensed by VAGA, New York City.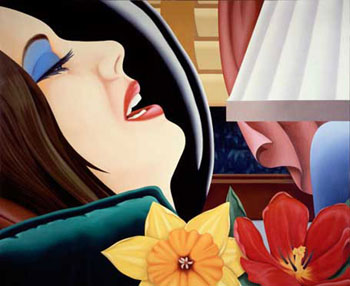 Famous for his Great American Nudes, American painter Tom Wesselmann (1931 – 2004) is widely regarded as one of the leading figures in the vanguard of American Pop Art.

Alongside his contemporaries Andy Warhol, Roy Lichtenstein, and James Rosenquist, he forged a new movement using the materials and images of everyday popular culture.

However, unlike his two fellow Pop artists, Wesselman has never been the subject of a major retrospective exhibition in North America. This exhibition, organized by the Montreal Museum of Fine Arts, shows an artist who constantly reinvented himself long after the Pop Art movement had passed.

He explored all kinds of techniques from plastic bas-relief to laser-cut steel drawings and multi-paneled shaped canvases. In his work, Wesselmann addressed the pressing issues of the art word of his time: the interpretation of the history of art; the status of the image; the relationship between art, industry and technology; and the American canon of beauty.

VMFA will be the only east coast venue for this landmark exhibition. April 5, 2013-July 28, 2013 at the Virginia Museum of Fine Arts in Richmond, VA.


SWEET CHARITY


ROSANNE CASH a Grammy-award winning artist whose family landed in American in 1643 aboard Good Intent in Salem, MA with generations of mariners and musicians in between, performs in concert for the Restoration of Schooner Lettie G. Howard, 1893.

The vessel is among the last of her kind and the evening celebrates her 120th birthday.

Presented by the Museum of the City of New York and the South Street Seaport Museum on April 8, 2013 at the New York Academy of Medicine, NYC.

All ticket buying levels have boat terms. Those who purchase at the jib level and above will be invited to join Rosanne Cash for a champagne reception.

GLAMOUR AT THE MOVIES Career Transition For Dancers Fourth Annual Heart & Soul Celebration takes place Thursday, April 4, 2013 at Club Colette in Palm Beach, FL.

Musical actress Sally Ann Howes will Host and Arlene Dahl is the Special Guest Star.Star of stage, film and television Sandy Duncan is the Special Dance Award Honoree.

The spectacular evening begins with cocktails, then dinner and a dance performance followed by dancing into the night. The benefit will honor Susan Keenan and The Honorable Mary Ourisman. The Chairs are: Anka K. Palitz, Vicki & Chris Kellogg, Cheryl Gowdy, Sandy & Greg Kriser, and George Palladino.

Career Transition For Dancers, with offices in New York City, Los Angeles, and Chicago, has helped over 5,700 professional dancers identify their unique talents in preparation for establishing new careers when dance is no longer an option. Since its founding in 1985, the organization has provided 60,000 hours (equivalent to $6.6 million) of one-on-one career counseling and program services - at no cost - and has awarded millions of dollars in scholarships for education, entrepreneurial grants, and certification programs.

DESTINATION VEGAS, BABY The Omaha Community Playhouse, the largest community playhouse in the country is "doing up Vegas old-style!" on April 6, 2013.

"Come party where the stars come out to play. Bring your Benjamins ... get ready to head to the best carpet joint in town. Dance the night away to the sounds of BossPhilly in our Vegas nightclub. Plus enjoy the sound stylings off Mike Gurcuillo on trumpet and Mitch Towne on keyboard in our piano bar. Our games are hot and the drinks are cold, so bring your folding money and your lucky rabbit's foot. Cocktail attire requested. Omaha Community Playhouse in Omaha, Nebraska.




ANDREW LLOYD WEBBER RELEASES TITLE SONG FROM PROFUMO AFFAIR MUSICAL
Christine Keeler and John Profumo. Photo: PA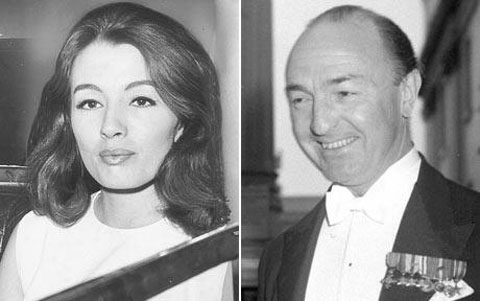 The title song from the Andrew Lloyd Webber new musical about the Profumo Affair, Stephen Ward, was introduced during the ITV special Andrew Lloyd Webber: 40 Musical Years, which was broadcast today, Sunday, March 31. The 90-minute special also featured Simon Cowell, Nicole Scherzinger, Myleene Klass, Tim Minchin, Melanie C, Sir Michael Caine, Sir Alex Ferguson, and Michael Ball.

It marked the first time that any of the music from Steven Ward has been heard in public.

The theme from Stephen Ward, by Sir Andrew, was specially arranged for classical guitar. Miloš Karadagli who played the song on the television special and is also featured on the recorded version. Professor Steve Goss, from the School of Arts, University of Surrey collaborated with the composer on the guitar arrangement.

Stephen Ward, a new musical in development by Andrew Lloyd Webber has a book and lyrics by Don Black and Christopher Hampton. The show tells the story of the Profumo Affair from the perspective of Dr. Stephen Ward, the society osteopath at the center of the scandal. Directed by Richard Eyre, the show chronicles the emergence of 60s cultural revolution and the repression and revolt of the old guard against the new concepts and ideals.

Ward lived with showgirl Christine Keeler. During the summer of 1061, at a house party hosted at Lord Astor's country home, Cliveden, Ward introduced the married British cabinet minister and MP John Profumo to Keeler.

Profumo and Keeler began an affair, which he would subsequently deny in the House of Commons, only to resign in 1963 after the sexual nature of their relationship - and his false statements to parliament – were revealed.

Ward was charged over "immoral earnings" for living off the "earnings of prostitution" three days later. He committed suicide on the last day of the trial by overdosing on sleeping pills.

Ward was attracted to pretty young women from lower-income backgrounds. At his trial he stated that he liked "pretty girls," and he claimed that he was "...sensitive to their needs and the stresses of modern living." Ward introduced these attractive young women to the rich and famous, aristocratic, charming and powerful men from the British establishment of the 1950s and early 60s. Ward had a series of girlfriends that included Eunice Bailey, the top Christian Dior model in the 1950s, Margaret Brown and Vickie Martin, who was killed in a car crash in 1955.

Ward's only marriage took place on July 27, 1949 to Patricia Mary Baines, a fashion model. The marriage ended after six weeks and Baines moved out of Ward's apartment.

Lloyd Webber described Ward as "the most popular man in London who ended up with absolutely nobody after the trial. I kind of think he was a fall guy. A very interesting guy."

Stephen Ward is still in development, but is expected to be in the West End in 2014.


FLORIDA THEATERS RENOVATE AND ANNOUNCE OPENINGS


Those folks in the orange juice state are squeezing a lot of ink from the press.

The Maltz Theatre in Jupiter, Florida announced that on March 28 they closed for renovations.

The professional not-for-profit regional theatre will reopen in October for the start of their 2013-2014 season.

For their 2013-14 season The Maltz Jupiter is holding audition in Jupiter, New York and Orlando. After receiving a John D. and Catherine T. MacArthur Fund grant, the Theatre created the Emerging Artists Series in Musical Theatre Playwriting. Through this new program, the Theatre developed the musical Academy for the New York Musical Theatre Festival, which went on to win Best Musical at South Korea's Daegu International Musical Festival. Also through the series, the Theatre commissioned the world premiere of Fanny Brice: The Real Funny Girl.

In addition to a supportive Board of Directors, the Theatre has more than 400 volunteers and serves over 70,000 people annually in the tri-county area. The Theatre's annual budget is $5.5 million, of which $1.9 is donated. The Theatre recently launched a $10 million endowment campaign to ensure that it continues in perpetuity.

The Caldwell Theatre in Boca Raton, Florida which shuttered April 2, 2012 when the court-ordered receiver dropped the curtain on the 37-year-old theatrical company, has been leased by the famed Costume World, a company which has long been angling to expand into a theatrical venue.

Billed as the largest theatrical costume distributor in the country, Costume World's CEO and President Marilynn Wick signed an agreement late Thursday with mortgage holder Legacy Bank of Florida to lease the property with an option to buy. The news was first reported by Florida Theater On Stage.

The Wick ownership will pony up substantial renovation money with the goal to have a September curtain up in a theatre appropriately renamed the Wick Theatre.

The world famous Broadway theatrical costume collection will move to the Wick Theatre occupying about 12,000 feet. The Costume Museum is slated to open in October. Patrons can either enjoy the ticketed museum tour while attending the theater, or enjoy either separately.

According to Florida Theater On Stage, the Wick Theatre plans to mount a six-show season of classic Broadway musicals with some straight plays, staffed with both Equity and non-Equity performers. The operation will begin as a for-profit company while Costume World invests start up cash, but the plan is to seek non-profit status, Wick told Florida Theater On Stage.

Wick admitted that neither she nor her staff has experience producing shows or managing a theater. To fill that void, she has hired managing and producing director Douglas C. Evans.

It's smart hire.

Evans has produced or presented more than 100 musicals, plays and tours through his 27-year career.

Evans is a principal in the New York City and Boca Raton, Florida firm of Luftig Evans Non-Profit Solutions. Evans recently held the position of Chief Operating Officer of Nederlander Worldwide Entertainment and President of Broadway China Ventures, a division of the Nederlander Organization charged with opening offices in Beijing and Shanghai and creating a network of theaters nationwide in mainland China, Hong Kong and Macao. Prior to that appointment, Evans was Executive Director of the Stamford Center for the Arts in Stamford, Connecticut and Executive Director of the State of Connecticut Commission on the Arts.



Douglas C. Evans has the responsibility of making the new Wick Theatre a success.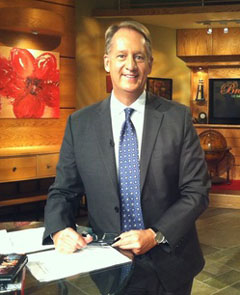 Evans is president and general manager of Classical South Florida, 89.7FM in Miami-Fort Lauderdale and 90.7FM and 101.9FM in the Palm Beaches.

Classical South Florida, founded by Evans in 2007, is a public radio station programming classical music and news that reaches over 350,000 people each week from the Palm Beaches to the Keys.

Evans recently held the position of Chief Operating Officer of Nederlander Worldwide Entertainment and President of Broadway China Ventures with offices in Beijing and Shanghai where he created a network of theaters nationwide in mainland China, Hong Kong and Macao.

He is also a founder of Goehring Evans Productions, launching the national tour of Raisin Cane starring Jasmine Guy and produced the off-Broadway hit Frankenstein starring Hunter Foster and Christiane Noll. Besides managing more than 100 Broadway presentations he also produced the national tour of Stones in His Pockets, starring Bronson Pinchot, as well as national tours of The Who's Tommy, "Company and Chess. He also shepherded Woman in Black to Off-Broadway.

In addition to his work with major foundations including the Heinz and Wallace, Evans, formerly a registered lobbyist in the state of Connecticut, is considered a leader in government relations for support of the arts, having successfully secured arts funding from both federal and state governments.

He is a founding director of the Connecticut Arts Alliance, past governor and member of the Executive Committee of the League of American Theatres and Producers, a Tony Awards voter, a founding member of the Independent Presenters Network and a former director of the National Alliance for Musical Theatre. Evans was presented with a Renaissance Award from the Greater Hartford Chamber of Commerce Downtown Council for his efforts toward the revival of downtown Hartford.

Evans is credited with turning around The Bushnell Center for the Performing Arts in Hartford, Connecticut, where he served as its Chief Executive Officer. Since Evans joined The Bushnell in 1990, the organization grew both in its programming capacity and in its financial stability. Annual attendance was raised to 400,000 with the number of events at an all-time high of 325. Under Evans' leadership, The Bushnell became a top market for touring Broadway productions. In 1995, The Bushnell's presentation of The Phantom of the Opera attracted 146,000 people and established The Bushnell's role in Hartford's tourism and revitalization plans.

Those significant accomplishment play well for his new task of developing the Wick.

He has also authored plays. In July 2012 Spring at the Willowbrook Inn, which Evans co-wrote with Jonathan Van Dyke, had its New York premiere as part of The Fresh Fruit Festival, an international lesbian, gay, bisexual and transgender culture and arts festival, which ran at The Wild Project in Manhattan.

Scott Wojcik directed the play which stared Jason Patrick Sands and Tom White. The comedy-drama had its first reading in Florida in 2011 and had a presentation at the Ft. Wayne Civic Theatre in early 2012.

According to a press release, the play "follows the lives of Cooper Stanwyk and Joshua Hill from their first meeting in 1967 at a motivational conference. The unlikely pair develop a deep relationship based on mutual understanding and love as their lives unfold separately. Through correspondence and decades of meeting at the Willowbrook they become a pivotal role in each other's lives, supporting each other through the unpredictabilities each one faces."

There was no announcement as to whether the Wick also plans to be a launching pad for new works.

Costume World was founded in 1976 and now boasts an inventory of over 1.2 million pieces. Their acquisition of Dodger Costumes in 2005 "made us the largest costume distributor in the United States with original wardrobes from over 35 Broadway productions and revivals with over 90 Tony nominations and 38 Tony winners. Many of these incredible costumes were created by giants in the industry including William Ivey Long (The Music Man, The Producers), Jane Greenwood (Once Upon a Mattress) and Tony Walton (A Funny Thing Happened on the Way to the Forum) and worn by even greater stars such as Judy Garland, Yul Brynner, Sarah Jessica Parker, Jerry Orbach and Nathan Lane," reads the Costume World promo.

The company has two locations in Broward County, Florida, an on-line operation, plus stores in Austin, Pittsburgh and Dallas which service 100 shows a month. There is also a strong rental market for theme parties. As one might suspect, Halloween is also a busy time of year.



SPREADING THE WORD


TALKBACKS WITH DIRECTOR GARRY MARSHALL

Director Garry Marshall will discuss Billy & Ray
will host two talkbacks next week about his current project on the Falcon stage, the world premiere of Billy & Ray.

Attend the show and then stick around to talk with Marshall about the play, the process and impact of Billy Wilder and Raymond Chandler's film noir classic.

The talkback on Wednesday, April 2 will feature playwright Mike Bencivenga and Thursday's talkback will feature assistant director Joseph Bwarie.

The world premiere of Billy & Ray tells the incredible true story of how Billy Wilder (Kevin Blake) and Raymond Chandler (Shaun O'Hagan) wrote the screenplay for Double Indemnity, invented film noir and nearly killed each other in the process.

Set in Hollywood in the 1940's, Paramount producer Joe Sistrom (Anthony Starke) and secretary par excellence Helen Hernandez (Ali Spuck) join the hilarious journey through a war of creativity between two brilliant writers who battled the censors, and each other, to create a motion picture classic.

The Falcon Theatre is located in Burbank, CA.

THE 4th ANNUAL WOMEN IN THE WORLD SUMMIT takes place April 4 and 5 in New York City at Lincoln Center.

Some of those taking part are; Meryl Streep, Oprah Winfrey, Tina Brown, Dr. Hawa Abdi, Tererai Trent, Ambassador Susan E. Rice, Eva Longoria, Barkha Dutt, Ping Fu, Michaela DePrince, Ambassador Melanne Verveer, Diane von Furstenberg, Anne Finucane, America Ferrera, Mary Robinson, Ambassador Sherry Rehman, Lesley Stahl, Susana Trimarco, Mamie Gummer, Rula Jebreal, Cynthia McFadden, Ai-jen Poo, Deborah Roberts, Julie Hamp, Patricia Amira.

Tom Hanks will give a special tribute to Nora Ephron. Hanks is making his Broadway debut in Ephron's Lucky Guy. He'll speak about the magic of Nora. Lucky Guy was the last play she penned before her death.

All proceeds from ticket sales go to the Women in the World Foundation, which promotes solutions that advance women and girls throughout the world.

BARBARA COOK leads a Master Class at Harvard in Boston on Thursday, April 4. Admission free, tickets required.

On April 6 a concert with Barbara Cook and John Pizzarelli on guitar and vocals will take place Saturday, April 6 at Symphony Hall in Boston.

TAKING A CHANCE ON LOVE: THE MUSIC OF VERNON DUKE part of the 92Y's Lyrics & Lyricists series.

Artistic Director David Loud serves as writer & host. Guest vocalists Heidi Blickenstaff, James Clow, and Rebecca Luker.

Few stories are more theatrical than the life of Vernon Duke. Born into Russian nobility, he played Carnegie Hall, penned hits like "Autumn in New York, April in Paris and landmark shows like Cabin in the Sky, and led a double life as the classical composer and pianist Vladimir Dukelsky.

April 6, 7, 8 at the 92Y in New York City.

MICHAEL FEINSTEIN'S AMERICAN SONGBOOK airs as part of PBS Arts, one of broadcast television's only programming blocks dedicated to the best in performing arts, on Fridays, April 5, and April 12, 2013.

SPEAKING EASY, LIVING HARD: MUSIC OF THE PROHIBITION ERA Join Antique Phonograph DJ MAC aka Michael Cumella for a live radio broadcast of his weekly show, The Antique Phonograph Music Program on WFMU, featuring 78 rpm records from the Rodgers and Hammerstein Archives of Recorded Sound played on original horned crank up phonographs.

Part of a new series, Rhapsodic City: Music of New York devoted to exploring some of the unique musical stories of the 20th century.

Tuesday, April 9, 2013, New York Public Library for the Performing Arts, Dorothy and Lewis B. Cullman Center, Bruno Walter Auditorium.

WAR HORSE: INSIDE THE HORSE a very special National Theatre Platform at the New London Theatre. Discover how the breathing, galloping, life-size horses in War Horse come to life. Patrons will get the chance to see just how the puppeteers think like a horse, move like a horse and sound like a horse. Plus, there will be an exclusive opportunity to get up close to Joey, the star of the show.

Saturday, April 6, at New London Theatre in London.

HISTORIC ROYAL PALACE IN THE USA is a Spring Lecture Tour. Called Evelyn Wrench Speaker Program, it's named in honor of the English Speaking Union's founder. The program sends eight eminent British and American speakers across America each year to the "English Speaking Union Branches". This year the locations are; Oklahoma City, Tulsa, Dallas, New Orleans, Austin, Fort Worth, Monroe, Shreveport, Boston and New York, who will host the programs titled - Kensington Palace Revealed, Secrets of the Royal Palaces, and Eighteenth-Century Kitchens and Royal Eating.

The series begins April 6 in Oklahoma City with Historic Royal Palaces' prominent Curator of Historic Buildings, Lee Prosser. A reception is followed by the lecture Secrets of the Royal Palaces and dinner. On Sunday, April 7, the location is Tulsa.

On Tuesday, April 9 the series travels to Austin, Texas with dinner and the lecture Kensington Palace Revealed. On Thursday, April 11, the lecture is preceded by drinks and dinner and takes place in Fort Worth. On Friday the location is Dallas, while Sunday's lecture Eighteenth-Century Kitchens and Royal Eating takes place at The Museum of Fine Arts and is co-sponsored by The English-Speaking Union and Historic Royal Palaces.

The following week cocktails followed by dinner and the lecture Kensington Palace Revealed is set for Tuesday, April 16 in New Orleans. The next night the Secrets of the Royal Palaces lecture is in Monroe, while Thursday's event is in Shreveport.

KRISTIN CHENOWETH giving a well deserved plug to the Music Theatre of Wichita on her Live From Lincoln Center special which aired on PBS.

Early in her career the Tony Award winner appeared in a MTW production of The King and I which the popular production house will again stage July 10-14.

ANN the one-woman show written by and starring Holland Taylor has been extended through September 1 at Lincoln Center's Vivian Beaumont Theater. Ann is a no-holds-barred portrait of Ann Richards, the legendary Governor of Texas.

700 BOOKS that's the number Technical Director Gary Ciarkowski, and his apprentices Jerry Jarvis and Rosemary Ford built as part of the set of 33 Variation.

Technical Director/Master Electrician Ciarkowski has been working for the Purple Rose as the Master Electrician since 1996. He has since taken on the responsibilities of Technical Director, Sound Engineer, Computer Network Administrator and Webmaster. He graduated from the University of Michigan with a Bachelor of Science in Aerospace Engineering.

33 Variations is currently on stage at the Purple Rose Theatre in Chelsea, MI.

Directed by Guy Sandville, 33 Variation by Moises Kaufman has performances through June 1, 2013.


ASHTON KUTCHER DEBUTS NEW REALITY SHOW PITTING OLD AGAINST THE YOUNG
The cast of Forever Young. Shirley Claire is on the far right. Forever Young Production Photo.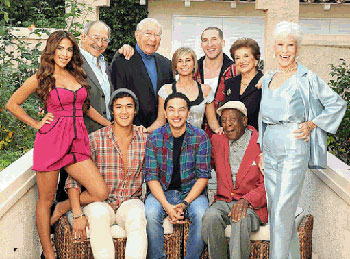 A year ago, intrepid actor/producer Ashton Kutcher decided to conduct a social experiment by mixing up young and old under one roof to see what might happen - and record it for a comedy reality show.

Kutcher contacted the Fabulous Palm Springs Follies, noted for its sexy, senior citizen showgirls. He was looking for possible cast members from among former Follies dancers and singers.

Shirley Claire, 85, who appeared in Follies Seasons 1, 2 and 3 was selected from a field of 2,000 candidates to star in his new reality series, Forever Young, which debuts April 3 on TVLand.

In addition to Shirley the cast of five seniors over 70 and five juniors under 30 are:

Arthur Albert - 80 - Affectionately known as "Double A", Arthur is from New York City and thinks today's youth are like "walking zombies," always glued to their phones and iPods. Arthur is an actor, model, and voice-over actor and has appeared in sketches on Saturday Night Live and in advertisements for Crunch Fitness and Tiffany & Co.

Lou Cordileone - 75 - currently lives in Agoura Hills, CA, and thinks young people today are "little a**holes." Lou played professional football in the NFL for nine seasons in the 1960s. The offensive lineman played for the New York Giants, the San Francisco 49ers, the Los Angeles Rams, Pittsburgh Steelers, and the New Orleans Saints. He is famous for being traded from the New York Giants to the San Francisco 49ers for quarterback Y.A. Tittle.

Emileen Hanna - 74 - lives in Brooklyn, NY, and is a retired knitting instructor. She tries to stay up to date with all the current technology and has even taught a computer software course. However, she thinks technology can cause a lack of communication among today's youth.

Eugene Palmer - 79 - Raised in Pennsylvania and now currently living in California, Gene was in the Air Force for 20 years and served in the Korean War. He loves dancing and in his spare time enjoys golfing and visiting local jazz clubs. He thinks the youth of today need to learn to take responsibility for their actions.

Mike Markiewicz - 27 - Born and raised in Staten Island, NY, Mike is a cancer survivor and strives to make the most out of life. While he respects his elders, he thinks seniors bicker about nothing and nag young people about the way they dress. Mike is now an actor, having just wrapped a movie with Ed Asner.

Andree Martinez - 29 - Andree was born in Mexico, lives in Miami, FL, and is all about living a life of luxury. She loves musical theater, has appeared in several music videos and was even a VJ for MTV Tr3s. Andree thinks older people don't know how to truly live life and can't appreciate her youthful sense of style.

Angelina Mazzone - age 25 - Angelina is from Kings Park, NY, and always speaks her mind. She is "bored to death" by stories her grandparents tell her and is disgusted by certain hygiene issues, like handkerchiefs. She currently works as an insurance agent.

Samuel McLaughlin - 24 - is from San Diego, CA and describes himself as "crunchy." He is very concerned with environmental issues and doesn't understand why people are obsessed with money instead of following their passions. Sam thinks seniors are set in their ways and could stand to learn how to "let go" from today's youth.

Christian Taboada - 25 - lives in Los Angeles, CA, and is passionate about gay rights and thinks that older people will never understand him, and in fact blames a lot of today's financial and environmental issues on the previous generations. He is fiercely proud of his Latino heritage and currently works as a leasing agent.

Kutcher's unique social experiment discovers what happens when fun-loving, uninhibited twenty-somethings are unknowingly picked to live and work with strong-willed, opinionated seventy-somethings.

As they compete in challenges designed to bridge the generation gap, they ultimately learn you don't have to be old to be wise or young to be youthful. The series will air back-to-back episodes for five weeks and will have its finale on Wednesday, May 1st.

The Fabulous Palm Springs Follies is on stage in Palm Springs, CA.


COMPUTER GAME PLAYERS - BE PART OF AN EXPERIMENT
Are you a risk taker? Risk is part of our daily lives - we constantly make decisions about whether we should take a risk or not.

Every Tuesday, Wednesday, Thursday and Sunday throughout April you can be part of a real research experiment exploring risk at the Museum of Science in London.

You are invited to play a 15- minute computer game to help researchers from the Institute of Cognitive Neuroscience at University College of London discover why some age groups are more likely to take risks than others.

Anyone is welcome to take part, but the experiment is recommended for ages 8 and over. The game will involve reading sentences in English.

Written consent is required for everybody. If you are under 18, your parent or legal guardian will have to sign the form.


2013 OLIVIER AWARDS ANNOUNCE NOMINATIONS


The Olivier Award nominations were announced March 26 in London by actors Ruth Wilson and Elaine Paige. The winners will be revealed on Sunday, April 28, a ceremony at the Royal Opera House.

The prestigious awards began in 1976 as The Society of West End Theatre Awards, becoming the Olivier Awards in 1984. Run by Society of London Theatre (SOLT).

The full nominations are as follows:



Rupert Everett in The Judas Kiss Photo by Manuel Harlen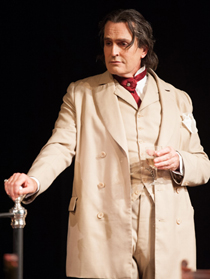 BEST ACTOR
Rupert Everett for The Judas Kiss (Apollo Theatre)
James McAvoy for Macbeth
Mark Rylance for Twelfth Night
Rafe Spall for Constellations
Luke Treadaway for The Curious Incident Of The Dog In The Night-Time WINNER

BEST ACTRESS
Helen Mirren for The Audience WINNER
Hattie Morahan for A Doll's House
Billie Piper for The Effect
Kristin Scott Thomas for Old Times

BEST ACTOR IN A SUPPORTING ROLE
Paul Chahidi for Twelfth Night
Richard McCabe for The Audience WINNER
Adrian Scarborough for Hedda Gabler
Kyle Soller for Long Day's Journey Into Night

BEST ACTRESS IN A SUPPORTING ROLE
Janie Dee for NSFW
Anastasia Hille for The Effect
Cush Jumbo for Julius Caesar (Donmar Warehouse)
Helen McCrory for The Last Of The Haussmans
Nicola Walker for The Curious Incident Of The Dog In The Night-Time WINNER

BEST NEW PLAY
Constellations
The Audience
The Curious Incident Of The Dog In The Night-Time WINNER
This House

BEST DIRECTOR
Stephen Daldry for The Audience
Marianne Elliott for The Curious Incident Of The Dog In The Night-Time WINNER
Jeremy Herrin for This House
Simon McBurney for The Master And Margarita

BEST ACTOR IN A MUSICAL
Michael Ball for Sweeney Todd WINNER
Alex Bourne for Kiss Me, Kate
Tom Chambers for Top Hat
Will Young for Cabaret

BEST ACTRESS IN A MUSICAL
Heather Headley for The Bodyguard
Imelda Staunton for Sweeney Todd WINNER
Summer Strallen for Top Hat
Hannah Waddingham for Kiss Me, Kate

BEST PERFORMANCE IN A SUPPORTING ROLE IN A MUSICAL
Adam Garcia for Kiss Me, Kate
Debbie Kurup for The Bodyguard
Siân Phillips for Cabaret
Leigh Zimmerman for A Chorus Line. WINNER



Tom Chambers and Summer Strallen in Top Hat.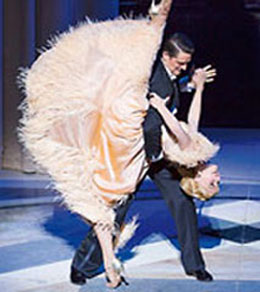 BEST NEW MUSICAL
Loserville
Soul Sister
The Bodyguard
Top Hat WINNER

BEST REVIVAL
Long Day's Journey Into Night WINNER
Macbeth
Old Times
Twelfth Night (Apollo Theatre)

BEST MUSICAL REVIVAL
A Chorus Line
Cabaret
Kiss Me, Kate
Sweeney Todd WINNER

BEST ENTERTAINMENT AND FAMILY
Cinderella (St James Theatre)
Goodnight Mister Tom WINNER
Hansel and Gretel
Room On The Broom

WHITE LIGHT AWARD FOR BEST LIGHTING DESIGN
Paul Anderson for The Master And Margarita
Paule Constable for The Curious Incident Of The Dog In The Night-Time WINNER
Lee Curran for Constellations
Mark Henderson for Sweeney Todd

BEST SOUND DESIGN
Ian Dickinson for The Curious Incident Of The Dog In The Night-Time WINNER
Paul Groothuis for Sweeney Todd
David McSeveney for Constellations
Gareth Owen for Top Hat

BEST COSTUME DESIGN
Bob Crowley for The Audience
Jon Morrell for Top Hat WINNER
Jenny Tiramani for Twelfth Night
Anthony Ward for Sweeney Todd

XL VIDEO AWARD FOR BEST SET DESIGN
Hildegard Bechtler for Top Hat
Miriam Buether & Wang Gongxin for Wild Swans
Bunny Christie & Finn Ross for The Curious Incident Of The Dog In The Night-Time WINNER
Tim Hatley for The Bodyguard

BEST NEW DANCE PRODUCTION
Aeternum by the Royal Ballet at the Royal Opera House, choreographed by Christopher Wheeldon WINNER
Cacti by Nederlands Dans Theatre 2 at Sadler's Wells, choreographed by Alexander Ekman
A Streetcar Named Desire by Scottish Ballet at Sadler's Wells

OUTSTANDING ACHIEVEMENT IN DANCE
Lez Brotherston for the set and costumes for Matthew Bourne's Sleeping Beauty, New Adventures at Sadler's Wells
ILL-Abilities company in Breakin' Convention at Sadler's Wells
Marianela Nunez for Aeternum, Diana & Actaeon and Viscera, The Royal Ballet at the Royal Opera House WINNER

BEST THEATRE CHOREOGRAPHER
Scott Ambler for Chariots Of Fire
Bill Deamer for Top Hat WINNER
Scott Graham & Steven Hoggett for The Curious Incident Of The Dog In The Night-Time
Stephen Mear for Kiss Me, Kate

OUTSTANDING ACHIEVEMENT IN AN AFFILIATE THEATRE
Caroline Horton for You're Not Like The Other Girls Chrissy at the Bush Theatre
The production of Red Velvet at the Tricycle Theatre
The season of new writing at the Royal Court Upstairs WINNER
Kate Bond and Morgan Lloyd for You Me Bum Bum Train, presented by Theatre Royal Stratford East

BEST NEW OPERA PRODUCTION
Billy Budd, English National Opera at the London Coliseum
Caligula, English National Opera at the London Coliseum
Einstein On The Beach at the Barbican Theatre WINNER
La Traviata, English National Opera at the London Coliseum

OUTSTANDING ACHIEVEMENT IN OPERA
Edward Gardner for his conducting of The Flying Dutchman and Billy Budd at the English National Opera, London Coliseum
Bryan Hymel for his performances in Les Troyens, Robert Le Diable and Rusalka at the Royal Opera House WINNER
Music Theatre Wales for In the Locked Room/Ghost Patrol at the Linbury Theatre, the Royal Opera House
The Stage Management teams at English National Opera, London Coliseum and the Royal Opera House

BBC RADIO 2 AUDIENCE AWARD
Billy Elliot The Musical WINNER
Matilda The Musical
The Phantom Of The Opera
Wicked

SPECIAL AWARD
Two special awards were awarded to director/choreographer Gillian Lynne and playwright Michael Frayn in recognition of their outstanding contribution to theatre.

UPDATE NOTE: The winners were posted at the conclusion of the Olivier Awards, which took place in London on Sunday, April 28, 2013.


OTHER PEOPLE'S MONEY


HOTEL MOGUL STEVE WYNN has sold Picasso's Le Rêve painting to billionaire Steven A. Cohen for a record $155 million, the highest ever paid for an artwork by a US collector.

The 1932 painting of Picasso's mistress is a fixer upper. The painting, not the mistress.

In 2006 Wynn had agreed to sell the painting to Cohen for $139 million. Before Cohen took possession of the painting, Wynne decided to show it off to friends, including Nora Ephron, when Wynn hit the art work with his elbow, causing a six-inch tear.

That type of an accident usually causes a decline in the painting's value. In this case the opposite took place.

Wynn received a $45 million insurance payment. Wynn then had the painting restored.

Cohen of SAC Capital, didn't view Le Rêve as damaged goods. Rather, he agreed to pay even more for the Picasso - $155 million.

In the world of art everyone is happy. The person who earned a substantial amount for the restoration; Wynn who received the increased selling price and Cohen who now owns the painting he has long wanted.

Other artists in his collection include works by van Gogh, Manet, de Kooning, Cezanne, Warhol, Francis Bacon and Damien Hirst.


HANG IN THERE


KAREN BLACK the Oscar nominee who has spent the last two years battling ampullary cancer, as announced by her husband Stephen Eckelberry in an effort to raise funds for a European treatment.

According to the Mayo Clinic. "Ampullary cancer is rare and similar to pancreatic and bile duct cancers. The name comes from the ampulla of Vater, where the bile duct and pancreatic duct meet. Ampullary cancer can block bile from flowing through the bile ducts and into the small intestine, causing the skin and eyes to turn yellow (jaundice) and other symptoms. These symptoms can cause people to seek treatment earlier than they would for most pancreatic cancers, leading to better outcomes."

Black appeared on Broadway in Keep It in the Family; Happily Never After; Take Her, She's Mine; The Playroom, and Come Back to the 5 & Dime Jimmy Dean, Jimmy Dean.



THE GRAMMY FOUNDATION has announced grants awarded to 10 Top U.S. Public High Schools for Music Excellence, including six Enterprise Awards granted to economically underserved schools.

The top three schools are designated Gold recipients. The best of the Gold recipients is named the National Grammy Signature School and will receive $10,000, and the two remaining Gold schools each will receive $5,500. One remaining Grammy Signature School recipient will receive a grant of $2,000 to benefit its music programs.

In the Enterprise Award category, which recognizes efforts made by schools that are economically underserved, six schools will receive a grant of $5,500 each. The Signature School winners are:

Neuqua Valley High School — Naperville, Ill. - $10,000
Marcus High School — Flower Mound, Texas - $5,000
York Community High School — Elmhurst, Ill. - $5,000
Northwood High School — Irvine, Calif. - $2,000

The Enterprise Award winners, who each receive $5,000, are:

Colony High School - Palmer, Alaska
Compton High School - Compton, Calif.
John Marshall High School - Los Angeles
North Central High School - Spokane, Wash.
Palacios High School - Palacios, Texas
Sahuarita High School - Sahuarita, Ariz.



RIDE THE TIGER a new political drama by William Mastrosimone who wrote the series Sinatra..

Directed by Gordon Edelstein.

What happens when Jack, a charismatic young senator from Massachusetts, Frank, a crooning movie star, and a Chicago mob boss all get involved with the same woman? A presidency.

You need neither 20/20 vision nor even good hindsight to identify the characters. President Kennedy, Frank Sinatra and Judith Campbell Exner, who claimed to be the mistress to both Kennedy and Chicago mob boss Sam Giancana.

The play is billed as: "During the 1960 presidential campaign, Jack becomes smitten with Judy, a ravishing young woman with connections. Political intrigue mounts as Judy bounces between all three men and powerful forces move to claim the highest office in the land. Questions about the power and honor of those who lead us arise in this fascinating and darkly humorous new drama."

Historical reports recall: "On February 7, 1960, Sinatra and Campbell were in Las Vegas, where he introduced her to John F. Kennedy, then a senator and presidential candidate. In her 1977 memoir, she said that she became one of JFK's mistresses for a period of about two years, frequently visiting him in the White House after he was elected president. Her account was supported by phone records and other documentation, although Kennedy staff and supporters attacked her veracity when she published her memoir. A few months later, Sinatra introduced Campbell to "Sam Flood", who was Sam Giancana, the leading figure in the Chicago Mafia and believed responsible for 200 deaths by 1960. She also became involved with him and knew his associate John Roselli."

Starring: John Cunningham as Joe; Jordan Lage as Sam; Christina Bennett Lind as Judy; Douglas Sills as Jack; Paul Anthony Stewart as Frank.

The production team includes Eugene Lee (set design), Jess Goldstein (costume design), Tyler Micoleau (lighting design), Ryan Rumery (sound design) and Sven Ortel (projections design).

On the Claire Tow Stage in the C. Newton Schenck III Theatre of the Long Wharf Theatre in New Haven, CT through April 21, 2013.

THE EDWARD CURTIS PROJECT written and directed by Marie Clements.

While on assignment in the far north, Angeline, a Métis reporter, stumbles upon a story that is so haunting she is unable to erase the images. It compels her to question the role of reporters as witnesses and the accepted notions of the strength and spirit of aboriginal peoples. Along the way she challenges Edward Curtis, the iconic turn of the century photographer who created a photographic record of "the vanishing race of the North American Indian".

This thought-provoking drama brings her journey to life through video, photography, music and choreography.

In 1930, photographer Edward Curtis' landmark series, The North American Indian, recorded for posterity what he termed a "vanishing people". Decades later, Metis/Dene playwright Marie Clements and Canadian documentary photographer Rita Leistner went in search of those same First Nations peoples and communities. Their three-year journey has become a visually stunning, thought-provoking drama. Present-day Aboriginal journalist Angelina - traumatized by chronicling the freezing death of three Native children - interacts with Curtis' photo images and the controversial man himself, questioning the ethics of her work and assessing the collateral damage of being a witness.

Ivo Valentik Set Designer; Barbara Clayden Costume Designer; John Webber Lighting Designer; Bruce Ruddell Composer and Sound Designer; Troy Slocum Sound Consultant; Tim Matheson Production Photographer and Projection Designer; Jamie Griffiths Projection Designger; Jan Hodgson Stage Manager; Jessica Preece Apprentice Stage Manager; Andreas Kahre Props Designer; Leela Gilday Singer/Songwriter; Paula Danckert Dramaturg; Sarah McVie Assistant Director; John Doucet Assistant to the Set Designer.

Based on the original production commissioned and produced by Presentation House Theatre in Vancouver, BC. NAC English Theatre / Great Canadian Theatre Company (GCTC) co-production in association with Red Diva Projects. This production opens April 2, 2013 at the Irving Greenberg Theatre Centre, home of the GCTC, in Ottawa, Canada.

The Edward Curtis Project Exhibit by Rita Leistner One of Canada's foremost documentary photographers, Rita Leistner's exquisite photographs created during the fieldwork of The Edward Curtis Project will be on display in the Lorraine 'Fritzi' Yale Gallery, upper lobby of the Irving Greenberg Theatre Centre beginning April 2.

The View From In Here The Great Canadian Theatre Company and the National Arts Centre partnered with the Urban Aboriginal Alternative High School and their students on a photography project and exhibit called The View From In Here. The photography exhibit was created by and for the aboriginal students. This project served as a traditional teaching tool for value and community-based learning.

Students were given a camera, and each were asked to go into the community and to answer the question "What does being an Aboriginal, First Nation, Inuit or Métis, look like to you?" The students were challenged to think creatively and give thought to what defines them and how to capture it in photographs. This is a project that inspires pride in community and the student's personal accomplishments and may spark a lifelong interest and career in photography. The exhibit opened to the public on March 27 and will be on display until April 21 in the Studio foyer of the NAC.

NICE FISH by Mark Rylance and Louis Jenkins, based on the poetry of Louis Jenkins. Directed by Claire van Kampen and Mark Rylance.

Created by two-time Tony Award-winning actor Mark Rylance in collaboration with Duluth poet Louis Jenkins, a master of prose poetry whose work is regularly featured on A Prairie Home Companion, this world premiere features original music by Claire van Kampen.

Nice Fish centers on two men who have gone ice fishing on the last day of the season; the ice is melting and the DNR is watching. They are hoping for something essential, immortal, when a construction worker roars across the ice on his snowmobile, spear, dynamite and fancy dress in hand! And the last blizzard of the season is about to begin...

April 6 - May 18, 2013 on the McGuire Proscenium Stage of The Guthrie Theater in Minneapolis.

SMASHED: THE CARRIE NATION STORY Music by James Barry. Libretto by Timothy Braun.

An original production of an original opera about drinking booze (and about the people who don't) based loosely on the life and memoirs of temperance leader Carrie A. Nation.

Smashed is the first full production for Opera on Tap as a company.

April 4-6 at the HERE Arts Center in New York City.

SAY IT WITH FLOWERS a selection of Gertrude Stein works. A selection of Gertrude Stein's work Directed by Katie Mitchell.

Starring Laura Harling, Peter Hobday, Sarah Malin, Sarah Northgraves and Sean Jackson.

For the first time the theatre stages a 'promenade' in Say It With Flowers that will last 45 minutes. A 'promenade' requires an audience to stand and possibly move locations. Explained as; "It will be a totally unique experience and one not to be missed."

Set design by Alex Eales. Lighting Design by Jack Knowles.

April 5 - May 4 at Hampstead Downstairs in London.

A DOLL'S HOUSE a world-premiere adaptation of Henrik Ibsen's 1879 drama. Translated and adapted by Anne-Charlotte Hanes Harvey and adapted and directed by Kirsten Brandt.

Starring real-life married couple Gretchen Hall and Fred Arsenault, who are making their Globe debuts as the imperiled central couple Nora and Torvald Helmer. They are joined by Richard Baird (Nils Krogstad, Porter), Jack Koenig (Dr. Rank), Amanda Naughton (Anne-Marie), Nisi Sturgis (Mrs. Kristine Linde) and Katie Whalley (Helene).

Nora's life is on the upswing. Her husband got a promotion, and their financial struggles are over at last. But when a man from her past reappears, bent on bringing a dangerous secret to light, everything changes: her marriage, her family, even her relationship to the world around her. The opening night of A Doll's House was one of the seminal moments in theatre history. The play's explosive ending and sly, insinuating tone hit its audience like a thunderbolt. A Doll's House is considered a "landmark of modern drama. In a time of financial desperation, a young wife makes a dangerous decision, taking an illegal risk to save her husband's life. Years later, her secret comes back to haunt her, and its revelation shakes the foundations of her entire world."

Scenic Design by Sean Fanning - Costume Design by Alina Bokovikova - Lighting Design by David Lee Cuthbert - Sound Design by Paul Peterson - Casting by Caparelliotis Casting - Stage Manager, Jess Slocum.

Runs through April 21, 2013 at the Sheryl and Harvey White Theatre Conrad Prebys Theatre Center, of the Tony Award winning Old Globe in Balboa Park, San Diego, CA.


WHO'S WHERE




ALICIA KEYS brings her talents to the Air Canada Centre in Toronto for a show on Tuesday, April 2. Wednesday's engagement is at the Bell Centre in Montreal. On Friday she can be enjoyed at Barclays Center in Brooklyn, NY. Saturday's gig is at the MGM Grand at Foxwoods in Mashantucket, CT.

CHRISTIANE NOLL returns to 54 Below, in NYC, the trendy nightspot where she recorded a live CD, for a show Thursday, April 4.

ELAINE STRITCH performs at the Cafe Carlyle in New York City. April 2-6.

JON BON JOVI performs Tuesday, April 2, at the Scotiabank Saddledome in Calgary, Canada. On Wednesday he's on stage at the Rexall Place in Edmonton, Canada. Friday's show is at the MTS Centre in Winnipeg, Canada. Next Sunday, he's in the spotlight at the Xcel Energy Centre in Saint Paul, MN.

ERIC CLAPTON is on stage Tuesday, April 2, at the Time Warner Cable Arena in Charlotte, NC. On Wednesday he's in the spotlight at the PNC Arena in Raleigh, NC. Friday's performance is at the Mohegan Sun Arena in Uncasville, CT. Next Saturday he'll be playing his hits at the Consol Energy Center in Pittsburgh, PA.

FLEETWOOD MAC who will be performing three new songs they have written kick off their world tour Thursday, April 4, at the Nationwide Arena in Columbus, OH. on Saturday the show is at the Fargo Center in Philadelphia, PA.

CHRIS BOTTI entertains Friday, April 5, at the Broadmoor Hotel in Colorado Springs, CO. On Saturday he blows his horn at the McCallum Theatre in Palm Desert, CA. Next Sunday, April 7, he can be enjoyed at Centennial Hall in Tucson, AZ.

MAROON 5 perform April 1, no fooling, at the Veterans Memorial Arena in Jacksonville, FL. Wednesday's show is at the Verizon Center in Washington, DC. On Thursday they'll be on stage at the Wells Fargo Center in Philadelphia, PA. Saturday's tour stop is at the Allstate Arena in Rosemont, IL.

GREEN DAY no foolin' has reunited after the melt down, with a show April 1 in Rochester, NY at the Blue Cross Arena. On Wednesday, they'll be on stage in Philadelphia at the Liacourias Center. Thursday's show is in Fairfax, Va., at the Patriot Center. On Saturday they take to the stage in Uncasville, Conn. at the Mohegan Sun Arena.

AN EVENING WITH ENGELBERT HUMPERDINCK with over 150 million records sold will be singing his hits Sunday, April 7, at The Union County Performing Arts Center in Rahway, NJ.


FINAL OVATION


RICHARD GRIFFITHS a Tony Award winning actor who played Vernon Dursley in the Harry Potter films died March 28, 2013 from complications following heart surgery at University Hospital in Coventry, England. He was 65.

On stage, he played the charismatic teacher Hector in Alan Bennett's The History Boys, winning both a Tony Award for the Broadway production and an Olivier Award for the London mounting. He also recreated the role in a 2006 film version.

His Harry Potter co-star Daniel Radcliffe - who also appeared on stage with him in Equus issued a statement paying tribute. "Richard was by my side during two of the most important moments of my career. I was proud to know him. Any room he walked into was made twice as funny and twice as clever just by his presence."

In 2012 he appeared alongside Danny DeVito in Neil Simon's The Sunshine Boys at London's Savoy Theatre. Having seen that production, the paring was inspired. Just three weeks ago it was announced that Griffiiths would reunite with DeVito for the Los Angeles production, touted as opening the Ahmanson season. The Sunshine Boys listed to run from September 24 through November 3. Opening night is set for October 2.

Griffiths is survived by his wife Heather Gibson whom he married 1980 after they met during a production of Lady Windermere's Fan in 1973.

GORDON STOKER first tenor and manager of The Jordanaires vocal group that backed Elvis Presley, died Wednesday morning . March 27, 2013 at his home in Brentwood, Tennessee. He was 88.

The Jordinaires backed Elvis Presley on Hound Dog, It's Now or Never, and Are You Lonesome Tonight.

The Jordanaires also performed with Patsy Cline on Crazy, with Jim Reeves on Four Walls, on George Jones' 1980 hit He Stopped Loving Her Today, and on Kenny Rogers' Lucille.

They were elected to the Country Music Hall of Fame in 2001.

Neil Portnow President/CEO of The Recording Academy issued the following statement: "Grammy winner Gordon Stoker was known for his stellar tenor voice, which graced countless memorable recordings throughout his more than 60-year career. As a longtime member of the vocal quartet the Jordanaires, he helped to influence the sound of gospel, country and pop music with a unique and versatile style while recording with an impressive roster of artists. Stoker worked with the likes of Patsy Cline, George Jones, Loretta Lynn and played a significant role in the career of Elvis Presley for more than a decade. We have lost a gifted and timeless artist who made significant contributions to music and our industry, and our sincerest condolences go out to his family, friends and all who were inspired by his talents."

FAY KANIN a Tony and Oscar nominated and Emmy Award winner, who wrote for Broadway and Hollywood, often in collaboration with her husband Michael Kanin, died March 27, 2013 in Beverly Hills, CA. She was 95.

Fay Mitchell met her future husband on the lot at RKO. where both of them were then employed. He always referred to it as love at first sight.

Together they wrote such films as Sunday Punch (1942), My Pal Gus (1952), Rhapsody (1954), The Opposite Sex (1956), The Right Approach (1961), in which they adapted a play by his brother Garson Kanin, and Swordsman of Siena (1962). Their most noted success was the 1958 Doris Day-Clark Gable romantic comedy Teacher's Pet, which netted them their sole Oscar nomination.

During World War II, Kanin came up with an idea to promote women's participation in the war effort, and presented the idea for a Woman's Angle radio show to the heads of NBC Radio for which Kanin would write the scripts and do the network commentary. Along those lines, she contributed to the story Blondie For Victory, a low-budget series based on the popular comic strip, where Blondie organizes Housewives of America to perform home front wartime duties much to the dismay of Dagwood.

By herself Fay Kanin wrote the 1948 Broadway comedy Goodbye, My Fancy, set in a dormitory at a woman's college. Directed by Sam Wanamaker and produced by her husband, it was a hit, and won actress Shirley Booth a Tony Award. The play was made into a movie in 1951 starring Joan Crawford.

With her husband, she wrote the 1954 Broadway comedy His and Hers, which starred Celeste Holm, and Rashomon, which was based on the Japanese stories by Ryunosuke Akutagawa, and starred Claire Bloom and Rod Steiger. It was made into a television movie twice, in 1960 and '61.

In 1962, they wrote the book to the Broadway musical The Gay Life, which had music by Arthur Schwartz and Howard Dietz. Barbara Cook starred in the Vienna-set show, which ran 113 performances.

For a time in the 1950s, the Kanins were blacklisted by the House Committee on Un-American Activities. They received that news while on vacation in Europe. They were unable to find work until director Charles Vidor insisted on using them for the 1953 Elizabeth Taylor film Rhapsody.

She won considerable praise for her serious television writing in the 1970s, winning Emmy nominations for a series of socially conscious TV movies, including Tell Me Where It Hurts (1974), about a wife and mother who is looking for something more from life; Hustling (1975), a widely seen movie about a reporter investigating the world of prostitution; Friendly Fire (1979), which starred Carol Burnett about a couple trying to find out the truth about the death of their son in the Vietnam War; and Heartsounds (1985), about an ailing doctor who is confronted with the broken medical system of which he is a part. She won the Emmy for Tell Me Where It Hurts while Friendly Fire won the Emmy as Outstanding Comedy/Drama Special.

She returned to Broadway in 1985, penning the book for the ill-fated Harold Prince musical Grind. Set in a bi-racial burlesque house in 1933, it was a famous flop. It lasted only a few weeks, but got the writer her only Tony nomination.

Kanin served as president of the Academy of Motion Arts and Sciences from 1979 to 1983. She was its second female president, following in the footsteps of earlier president Bette Davis, who left after only one month.

Michael Kanin died in 1993. She is survived by her son Josh. A second son, Joel, died in 1958 at the age of 13.

PHIL RAMONE the legendary record producer who was hospitalized in late February with an aortic aneurysm, died Saturday morning, March 30, 2013 at New York Presbyterian Hospital. He was 72. His son Matt Ramone made the official announcement.

With 33 Grammy nominations - 14 Grammy Awards - he was called The Pope of Pop. His ability to mix recordings created top selling albums for Frank Sinatra, Barbra Streisand, Bob Dylan, Ray Charles, Paul Simon and Billy Joel, among others.

In 1958 he co-founded A & R Recording, Inc., a recording studio at 112 West 48th Street, New York - above what then was Manny's Music. The success of that studio grew into several studios and a record producing company.

Ramone's unique skills make him invaluable to the artists with whom he works. His impeccable list of credits includes collaborations with artists such as: Burt Bacharach, Bono, Ray Charles, Chicago, Natalie Cole, Bob Dylan, Gloria Estefan, Renee Fleming, Aretha Franklin, Etta James, Quincy Jones, BB King, Madonna, Paul McCartney, Liza Minnelli, Sinead O'Connor, Luciano Pavarotti, Peter/Paul and Mary, Andre Previn, Carly Simon, Paul Simon, Frank Sinatra, Phoebe Snow, Rod Stewart, and Stevie Wonder.

Ramone has long been recognized for the diversity of his work, as evidenced by his recordings with artists ranging from James Taylor, Bruce Springsteen, Bonnie Raitt, Gladys Knight, Sheryl Crow, Chaka Khan, Nancy Wilson, Dianne Reeves, Queen Latifah, Ruben Studdard, kd Lang, Keith Urban, Wynonna and the Dixie Chicks to Michael Buble, Dave Koz, John Legend, and Juanes. The 2006 Tony Bennett Duets, An American Classic, which Phil produced, pairs Tony with some of the industries most honored musicians including Bono, Elvis Costello, Billy Joel, Elton John, Paul McCartney, Barbra Streisand, and Sting.

He is survived by his wife and three sons.

Neil Portnow President/CEO of The Recording Academy issued the following statement: "Fourteen-time Grammy winner and Recording Academy Technical Grammy Award recipient Phil Ramone was a prolific and legendary producer, engineer, and composer who made countless significant contributions to the recording industry. As co-founder of A&R Recordings, he was a pioneer of audio technological developments - creating new innovations for the compact disc and surround sound technologies.

"His impressive career spanned all genres in which he collaborated with a diverse group of artists including Tony Bennett, Etta James, Paul McCartney, Luciano Pavarotti, Frank Sinatra, Bruce Springsteen and numerous others. His work with Ray Charles, Billy Joel and Paul Simon have garnered him a total of three Album Of The Year awards, in addition to a Producer Of The Year (Non Classical) honor in 1980.

"Ramone has been a loyal and dedicated member of The Recording Academy for several decades, having served as the Chair Of The Board Of Trustees, a Board member of the MusiCares Foundation, Co-Chair of the Producers & Engineers Wing, and he currently served on the P&E Wing's Advisory Council and as a Board member of the Grammy Museum.

"Our industry has lost an immense talent and a true visionary and genius, and The Academy has lost a very dear and close friend. Everyone who encountered Phil came away a better person for it, professionally or personally. Our deepest condolences go out to his family, his friends, the musicians who had the benefit and privilege of working with him, and all who were inspired by his brilliant vision and work."







Next Column: April 7, 2013
Copyright: March 31, 2013. All Rights Reserved. Reviews, Interviews, Commentary, Photographs or Graphics from any Broadway To Vegas (TM) columns may not be published, broadcast, rewritten, utilized as leads, or used in any manner without permission, compensation and/or credit.
Link to Main Page
---
Laura Deni



For the snail mail address, please E-mail your request.
CLICK HERE FOR COMMENT SECTION