! >
Broadway To Vegas
  SHOW REVIEWS     CELEBRITY INTERVIEWS     GOSSIP     NEWS 
| | |
| --- | --- |
| | |
Copyright: March 31, 2002
By: Laura Deni
CLICK HERE FOR COMMENT SECTION

WHEN THE MOTHER DOESN'T KNOW THE RACE OF THE FATHER


Bill O'Reilly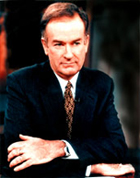 Bill O'Reilly, who hosts the top rated Fox cable network show with his O'Reilly Factor, is coming to the Venetian Hotel in Las Vegas for one, sold out show April 5.

We don't know what he intends to discuss - but the hot topic of conversation last Monday was his interview with Rosie O'Donnell, which drew over six million viewers.

"Would you say it is better for a child - any child - to have a responsible heterosexual mother and father than it would be to be put in a homosexual home?" questioned O'Reilly regarding O'Donnell's involvement in adoption services.



Rosie O'Donnell

"When we have a birth mother who is pregnant and she doesn't know the race of the father. She is using drugs. She is in crisis. Usually, we cannot place that baby with a heterosexual family. Almost all of the time when we have a drug addicted child we place the child with a homosexual family," O'Donnell explained.

Unfortunately, Rosie's answer was quickly passed over.

When O'Reilly took off his bombastic, belligerent, ratings winning facade and conducted this dignified, sit down discussion it was intelligent and sensitive. It was also one of O'Reilly's best interviews.

O'Donnell and O'Reilly have more in common than probably either of them suspect.

Sadly, the subject matter strayed away from the issues of foster care and adoptions and drifted into gun control, and raising money for 9/11 survivors - all important topics but diverting focus from the babies.

Headlines have since trumpeted Rosie's comments about 9/11 monetary contributions from celebrities. While serious and meaningful - the issues on the table were unplaceable children and the options available through foster care and adoption.

Currently three states have laws that do not permit homosexuals to adopt children. In paradoxical state laws, the homosexual who is denied the right to adopt a child can be the caregiver to that same child, as a foster parent, from the day the child is born until the child turns 18.

People who become foster parents receive some financial compensation from the state because foster children are Wards of the State. Parents who adopt children do not receive that income because, through the adoption process, they have assumed financial support for the child.

People need to stop titillating about O'Donnell's sex life - which for the working mother of three probably isn't as exciting as yours - and pay attention to the doomed from birth children that are daily propagated in this country.

There are a multitude of unwanted babies - and we are not talking cute, blonde haired, blue eyed, well bred little darlings who will grow up graduating from Harvard.

These are babies whose race is not exactly known, born addicted to drugs, have low birth weight, below average intelligence, with physical and mental problems. These babies are a mess and nobody wants them.

They arrive into a tax payer supported welfare system and live in an impersonal, taxpayer funded, institutional environment until they are kicked out because they have reached the age of eighteen. Then they live on our streets or in our jails.

Many die young - from diseases they were born with, to being murdered in gang fights, killed by the police while committing a crime, or by court order on death row.

Sometimes there are loving, stable, nurturing families who will serve as foster or adoptive parents to these children.

There must be a special angel division for these people because they are above the flock.

These high maintenance, unwanted children can both emotionally and financially drain the family.

Occasionally, nurture can overcome nature and these doomed from the start, unclaimed creatures survive and thrive - reaffirming that all the effort of that foster or adoptive family wasn't misplaced.

For every heterosexual family that feels it is wrong for an emotionally stable, financially able, loving, supporting homosexual family to become adoptive parents - we have a suggestion - you adopt one of these children.
THE MUSIC GOES ROUND AND ROUND


This glorious CD My Favorite Things - A Richard Rodgers Celebration washes over the listener nourishing the aural soul - from invigorating the tired to calming the tense - just put it on - hit the replay button and let the songs engulf.

My Favorite Things - A Richard Rodgers Celebration is a celebration of the best - songs, musicians, orchestrations, conducting, singing.

Conductor Keith Lockhart and the Boston Pops Orchestra celebrate the music of Broadway's Richard Rodgers with this CD. Lockhart and the Pops pay tribute to the legacy of America's greatest theatrical composer in 13 newly recorded selections from ten of Rodgers' greatest musicals, including Oklahoma!, The King and I, On Your Toes, Carousel and The Sound of Music.



Martina McBride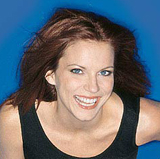 Primarily an instrumental effort, Lockhart is joined by multi-platinum country superstars Martina McBride, doing a knock-out job of performing the title track, and Collin Raye who sings the title song from The Sound of Music.

One of Broadway's newest stars Jason Danieley of The Full Monty and Candide fame, is heard in I Have Dreamed from The King and I.

The disc also features two recording premieres - March of the Clowns from The Nursery Ballet (1938) orchestrated by Roy Bargy, and the Paul Whiteman symphonic version of Slaughter on Tenth Avenue from On Your Toes, orchestrated by Hans Spialek.

Addition highlights on this deserves-to-win-a-Grammy CD include former Boston Pops conductor John Williams' arrangement of The Surrey with the Fringe on Top from Oklahoma! and Grammy winner Don Sebesky's arrangements of Grant Avenue from Flower Drum Song and I Have Dreamed from The King and I.

Completing the recording are the main title from the film version of Oklahoma!, The Carousel Waltz from Carousel, Shall We Dance? from The King and I, the overture from Babes in Arms, D-Day from Victory at Sea and Mountain Greenery from The Garrick Gaieties of 1926.



Richard Rodgers
This year marks the Centennial of composer Richard Rodgers (1902-1979) with commemorations planned through the year.( See Broadway To Vegas column of December 30, 2001)

The Boston Pops, known as America's orchestra - and acknowledged as the most recorded orchestra in the world - will present an all-Rodgers program on the PBS Program Evening at Pops in July, as well as a Rodgers segment during the Pops' annually televised Fourth of July special broadcast on the A&E network.



Keith Lockhart

This year Lockhart marks his seventh anniversary as the orchestra's twentieth conductor. My Favorite Things - A Richard Rodgers Celebration is Lockhart's eighth release with the Boston Pops Orchestra on RCA Victor. Since 1996 he has also tallied up some frequent flyer miles as the conductor of the Utah Symphony.

Anyone who can find fault with either Keith Lockhart or the Boston Pops has a problem. Anything you could ever hope for in a CD from a Pops orchestra is waxed to perfection on this release. Hopefully, every person involved in this effort is proud - they deserve the plaudits. Don't try to analyze the motivation or methods in how they did it. Every once in awhile perfection comes along. When that happens - just enjoy the results.

This CD will be released April 23 on the RCA Victor label. Get your order in early. A must addition. Buy it for a friend. But it for yourself.



Broadway To Vegas is supported through advertising and donations. Priority consideration is given to interview suggestions, news, press releases, etc from paid supporters. However, no paid supporters control, alter, edit, or in any way manipulate the content of this site. Your donation is appreciated. We accept PAYPAL. Thank you for your interest.


RADIO AND TELEVISION SALUTES RICHARD RODGERS


The Museum of Television & Radio both the New York and Los Angeles branches will celebrate Richard Rodgers' centennial with a screening series.



Julie Andrews and Jon Cypher rehearse their roles in Cinderella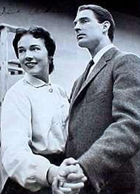 From April 5 through June 30 the Museum, which houses over 100,000 programs, will feature rarely seen and recently discovered footage of several Rodgers TV appearances.

Highlights of A Tribute to Richard Rodgers: The Sound of His Music include April 5-11 screenings of Cinderella starring Julie Andrews, the only Rodgers and Hammerstein musical written expressly for TV.

Also slated April 12-18 is the showing of The Tonight Show Starring Johnny Carson. This program took place during Carson's first year as host and the segment was a tribute to the late composer of South Pacific and Oklahoma!, which included chats with Rodgers and director Joshua Logan as well as performances by Diahann Carroll, Florence Henderson and Earl Wrightson.



Marlon Brando made his Broadway debut as Nils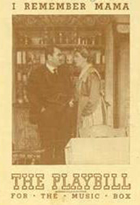 The quiz show What's My Line? in which Rodgers and Hammerstein appeared as mystery guests is scheduled to be run as is The 1979 Tony Awards in which Liv Ullmann and the cast of Broadway's I Remember Mama perform A Little Bit More.

Before Rogers turned I Remember Mama into a musical he brought it to the stage as a drama - encouraged to read the original book by his wife.

Marlon Brando made his Broadway debut in the 1944 I Remember Mama original at the Music Box Theatre. He played son Nils. The cast included Mady Christians, Oscar Homolka, Frances Heflin, and Nancy Marquand.

The New York branch of the Museum will also hold a seminar entitled Music By Richard Rodgers: A Discussion of His Work on April 9. The 90-minute discussion will include a panel of Rodgers' colleagues who will discuss working with the composer. The panel will comprise Ted Chapin, the president and executive director of The Rodgers & Hammerstein Organization; Martin Charnin, Rodgers' collaborator for Two by Two and I Remember Mama; Rodgers' daughter, composer Mary Rodgers; filmmaker Roger Sherman; and Peter Stone, who worked with Rodgers on Androcles and the Lion and Two by Two.

The April 19-25 the presentation will be Androcles and the Lion. Noel Coward, John Cullum, Ed Ames, Geoffrey Holder, Norman Wisdom and Inga Swenson star in the television musical.



Sergio Franchi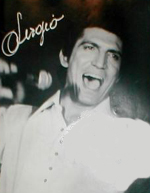 April 26-May 2 showcases The American Musical Theatre. Host Earl Wrightson welcomes Rodgers, who discusses his collaboration with Stephen Sondheim on Do I Hear a Waltz? The show's stars, Elizabeth Allen and Sergio Franchi perform several numbers.

On May 1, 1990, after a courageous battle, the Italian born Franchi lost his life to cancer. When he became an American citizen in 1972, he used to say very proudly, "Now I'm a Yankee Franchi!" He had been a Las Vegas resident performing on a regular basis in Las Vegas hotels, as well as venues around the world. His widow now resides in Connecticut and is head of the Sergio Franchi Music Foundation. Since 1993 over 120 scholarships and awards have been bestowed upon vocal students.

Also part of the Rodgers tribute is ABC Stage 67: Rodgers and Hart Today in which Rodgers and Hart collaborations are given a 60's twist with performances by the Supremes, Petula Clark, Count Basie, Peter Gennaro, the Mamas and the Papas and others.

May 3-9 features Person to Person in which host Edward R. Murrow interviews Rodgers and his wife Dorothy.

An Evening for Richard Rodgers is a production where Rodgers' friends and colleagues pay tribute to him, including performances by Vivienne Segal, Alfred Drake, Mary Martin and Vera Zorna.

From May 10-16 it's Max Liebman Presents: Dearest Enemy. Cyril Ritchard, Robert Sterling and Cornelia Otis Skinner star in an adaptation of Rodgers and Hart's 1925 musical.

General Foods: Presenting Rodgers and Hammerstein is the May 17-23 selection. Yul Brynner, Mary Martin, Ezio Pinza, John Raitt and Jan Clayton re-create their Broadway moments in this tribute to Rodgers and Hammerstein.

From May 24-30 it's Max Liebman Presents: A Connecticut Yankee Eddie Albert stars in a revised version of Rodgers and Hart's 1927 Broadway hit.

May 31-June 6 Victory at Sea: Beneath the Southern Cross highlights an episode from the 26-part documentary series, which featured music by Rodgers.

The Perry Como Show in which Como, Rodgers and the Ray Charles Singers perform a medley of Rodgers songs will also be screened.

Stage 2 Rodgers and Hart Revisited features Stuart Damon, Karen Morrow and Susan Watson singing some of Rodgers and Hart's less familiar tunes.

June 7-13 focuses on Armstrong Circle Theatre: Carousel starring Robert Goulet as Billy Bigelow in an adaptation of the classic Rodgers and Hammerstein musical.

June 14-20 showcases The Ed Sullivan Show. Barbara Cook, Diahann Carroll and Danny Kaye are among the performers who sing Rodgers and Hammerstein tunes during these vintage Ed Sullivan clips.

June 21-30: Rodgers and Hammerstein: The Sound of American Music has Mary Martin as host for this documentary, which includes interviews with the songwriting team, rare TV clips and reminiscences from Shirley Jones, Agnes de Mille, John Raitt, Theodore Bikel and others.


SWEET CHARITY


THE 13th GLAAD MEDIA AWARDS have two celebrations - one in New York City and the other in Los Angeles. The NYC gala takes place on April Fool's Day and the Los Angeles event is on April 13.

The west coast event will fete the icon, Shirley MacLaine, as well as Alan Ball, the producer/writer of HBO's award-winning Six Feet Under. Gossip has Elizabeth Taylor presenting MacLaine her GLAAD accolade.

Nathan Lane and Glenn Close will be honored during tomorrow's New York event. While Nathan has just departed The Producers, Close is talking about returning to Broadway as Blanche Du Bois in the Tennessee Williams masterpiece A Streetcar Named Desire. While on the Oscar red carpet last Sunday she spoke into the microphone saying: "I've been asked to do A Streetcar Named Desire by the National Theater in London. Then, we will bring it to Broadway."

FULLERTON CALIFORNIA CIVIL LIGHT OPERA celebrates its 30th anniversary with two benefit performances April 6-7 starring John Raitt, who got his start in that neck of the woods. Raitt was the original star of Carousel and The Pajama Game.

Joining him will be Broadway's T. Eric Hart (The Scarlet Pimpernel) and Richard Kinsey (Les Miserables). Other talent on stage will include Leslie Tinnaro, John Huntington, Christopher Carothers, Alyson Fainbarg, Patti Diamond, Jack Ritschel, Susan Dohan, Debbi Ebert and Robert Lauder, Jr.

The evening features music from recent FCLO productions including Jekyll & Hyde, Children of Eden and My Fair Lady as well as selections from Side Show, Seesaw, Sweet Charity, Rocky Horror Show, Sweeney Todd and Into the Woods.

Sha Newman and Joe Fletcher direct the event.


OTHER PEOPLE'S MONEY


The LEAGUE OF AMERICAN THEATRES AND PRODUCERS has returned one million dollars of the two and a half million given last fall by the city to eleven Broadway productions.

That donation was to offset the audience shortage after September 11.

The returned money will be used for other art related projects.



BETRAYAL A psychological drama by Harold Pinter Directed by Peter Hackett

Pinter's taut psychological detective story takes a hard look at a variety of betrayals sparked by an adulterous affair. The play begins two years after the affair has ended and, in a masterstroke of narrative, works its way backwards in time nine years. The illicit lovers are Jerry and Emma. Robert is the highly successful writer, who is both Emma's husband and Jerry's best friend. Through sheer mastery of language, Pinter infuses Betrayal with profound emotion and suspense.

Set, costume and light design by Cleveland Play House Associate Artist, Pavel Dobrusky.

The Baxter Stage of The Cleveland Playhouse Apr. 9- May 5.

FORTUNE'S FOOL Mike Poulton's adaptation of the 19th century Turgenev comedy, starring Alan Bates and Frank Langella, opens Tuesday at the Music Box Theater, NYC. Arthur Penn directs.

UNDERPANTS by the multi-talented Steve Martin opens April 4 at the Classic Stages Company, NYC. The play is an adaptation of Carl Sternheim's comedy about a man whose wife shames him when her bloomers fall down in public. Lee Wilkof, Cheryl Bowers, Patrick Boll, Christian Camargo, William Duell, Byron Jennings, Kristine Nielsen are directed by Barry Edelstein.

Scott Pask in charge of set design, Angela Wendt costumes with Elizabeth Rhodes heading up sound and Russell H. Champa lighting director.

Performances through April 28.

CHICAGO has cast changes in the Broadway production. Denise Van Outen, is making her American stage debut as Roxie Hart and Polly Bergan is now Fraulein Schneider in the Tony Award winning Kander and Ebb musical. Slated to also come on board April 19 is Jane Leeves in the role of Sally Bowles. Studio 54. NYC.

THE GRADUATE staring Kathleen Turner as Mrs Robinson and Jason Biggs as her boy-toy Ben officially opens April 4. One of the hits of the season. Plymouth Theatre, NYC.

THE GUYS by Anne Nelson, starring Swoosie Kurtz and Tim Robbins opens April 2 at The Bat in NYC.

The 9/11 inspired drama is a dialogue between a fire captain who has lost most of his men in the Sept. 11 attack and an editor who helps him write the eulogies as she struggles herself to come to terms with the event.

Bat artistic director Jim Simpson serves as director.

Costumes are by Claudia Brown, set and lights are by Kyle Chepulis.

The Bat is located at The Flea, NYC.

TOPDOG/UNDERGDOG about two struggling brothers, opens at the Ambassador in NYC on April 7. Stars Jeffrey Wright and Mos Def. The actors play two rival brothers stuck in an apartment together fighting over the past. Written by Suzan-Lori Parks, who received a MacArthur grant in 2000. She lives in Brooklyn and commutes to Los Angeles to run the drama program at Cal Arts. Her last play, In the Blood, was a Pulitzer Prize nominee two years ago. She's working on Hoops, a musical about the Harlem Globetrotters, which also is headed for Broadway.

MENOPAUSE THE MUSICAL! an effort to find something hilarious about women and The Change - opens at Theater Four in New York City on April 4.

Menopause The Musical!, produced by Mark Schwartz and TOC Productions, in association with Brent Peek, is a musical parody that chronicles the meeting of four women at a lingerie sale in Bloomingdale's fighting over a black lace bra, with nothing in common but memory loss, hot flashes, night sweats, chocolate binges, wrinkles, plastic surgery, hormones, not enough sex, too much sex, and much more.

Twenty-eight parodied lyrics of 60s and 70s tunes such as I Heard It Through the Grapevine, You'll No Longer See 39 to that disco favorite Stayin' Awake, Stayin' Awake documents the baby boomer mantra, "It's not The Silent Passage anymore!"

With book and lyrics by Jeanie Linders and directed by Kathleen Lindsey, Menopause The musical! has musical direction and arrangements by Corinne Aquilina, choreography by Patty Bender, set design by Jesse Poleshuck, costume design by Martha Bromelmeier, lighting design by Michael Gilliam, and sound design by Johanna Doty.

The cast includes Joy Lynn Matthews, Mary Jo McConnell, Carolann Page and Joyce A. Presutti, who play a power professional, an aging soap opera star, an Iowa housewife, and a lost-in-the-sixties hippie.

THE BEST LITTLE WHOREHOUSE IN TEXAS starring Ann-Margret and Gary Sandy open up shop at the Aladdin Hotel, Las Vegas on April 2.

BORN YESTERDAY directed by Suzi Regan. When Harry Brock blows into the nation's capital, he expects the politicians of Washington D.C. to bow to his beck, bellows and commands. Harry's bluster helped him reach the top of his corporate junkyard empire, but he'll need the help of a few crooked pals to increase his mountain of wealth.

Although his drunken lawyer and bumbling cousin are quick to conspire with the scheme, Harry's feisty, beautiful bombshell, Miss Billie Dawn, is not too keen to the shenanigans. Their on-going battle of the sexes, of brawn and bravado versus beauty and brains, take center stage in this classic comedy.

Guy Sanville and Michelle Mountain portray Harry Brock and Billie Dawn, the same roles which were made famous on film by Broderick Crawford and Judy Holiday. The production will also feature Joey Albright, Rhonda English, Randall Godwin, Terry Heck, Tobin Hissong, Tom Mahard and Phil Powers.

Special Student Matinees will take place April 17 and May 8. Reduced ticket price of $10, chaperones free of charge. Talk-back follows with actors and director. Student study guides provided prior to performance. Jeff Daniels' Purple Rose Theatre in Chelsea MI. April 4th - June 15th.

OBSERVE THE SONS OF ULSTER MARCHING TOWARDS THE SOMME

Scott Wolf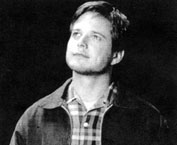 written by Frank McGuinness, directed by Nicholas Martin stars Scott Wolf and Justin Theroux.

In this drama on life, death, and comrades-in-arms, an outfit of World War I soldiers - all Protestant Nationalists from the province of Ulster - discover the value of friendship and the meaning of duty. Whether engaging in barrack banter, falling in love, or searching for answers, the young men form common bonds of understanding. Causes and loyalty change meaning as the action progresses. The undaunted idealism of youth and the reckless actions they give way to is followed by the revelation of truth in the face of mounting combat.

Performances began March 30 continuing thru May 5 at the Wilbur Theatre in Boston.


WHO'S WHERE


MICHAEL FEINSTEIN AND ANN HAMPTON CALLAWAY with the Big Kahuna and thee Copa Cat Pack will delight the crowds April 6 at the Cerritos Center for the Performing Arts in Cerritos, CA. and April 7 at the University of Nevada Performing Arts Center, Las Vegas.

PAUL McCARTNEY center stage April 5-6 in Las Vegas at the MGM-Grand Garden Arena.

ARLO GUTHRIE performing April 6 Roanoak Island Festival Park in Manteo, N.C.

BARRY MANILOW begins a three night engagement on Thursday at the Aronoff Center in Cincinnati, Ohio.

LINDA EDER can be enjoyed Friday and Saturday at the Myerson Symphony Center in Dallas, Texas.

PLACIDO DOMINGO stars in a new production of Ermanno Wolf-Ferrari's Sly, an opera inspired by Shakespeare's The Taming of the Shrew. The tenor's wife, Marta Domingo will make her Metropolitan Opera debut, directing her husband. She has been an operatic director for over ten years and in 1999, she directed tenor Jose Carreras in Sly, when the production was first performed in Washington. April 1 Metropolitan Opera, NYC.

BARBARA COOK in concert: April 3 at Symphony Hall in Boston, MA.

BILL MAHER will perform April 5-6 at the Hilton Hotel in Las Vegas.

ARSENIO HALL telling stories April 6 at Mandalay Bay in Las Vegas.

BERNADETTE PETERS entertaining April 5-6 at the Orange County Perf. Arts Center in Costa Mesa, CA.

CHICAGO entertains Tuesday at the United Spirit Arena in Lubbock, Texas. On Thursday and Friday the group is at the Horseshoe Casino in Bossier City, LA and on Saturday they are in the spotlight at Beau Rivage in Biloxi, Mississippi.


PIFFLE AND PROFUNDITIES






Four chocolate covered marshmallow Easter eggs have 210 calories and 7 grams of fat























Next Column: April 7, 2002
Copyright: March 31, 2002. All Rights Reserved. Reviews, Interviews, Commentary, Photographs or Graphics from any Broadway To Vegas (TM) columns may not be published, broadcast, rewritten, utilized as leads, or used in any manner without permission, compensation and/or credit.
Link to Main Page
---
Laura Deni



U.S. Postal Address: Post Office Box 60538, Las Vegas, NV 89160
CLICK HERE FOR COMMENT SECTION