! >
Broadway To Vegas
  
 SHOW REVIEWS CELEBRITY INTERVIEWS GOSSIP NEWS

| | |
| --- | --- |
| | |
THE TRAGEDY OF RICHARD BURTON - - MARK TWAIN'S BLUES - - THE DANCERS AND CREATIVE TALENTS OF GOWER CHAMPION - - THE NEW CENTURY BY PAUL RUDNICK - - LATW RECEIVES MELLON FOUNDATION GRANT - - BRITNEY SPEARS DELIGHTFUL ON SITCOM; HER CLOTHES UP FOR AUCTION - - VIOLIN HEDGE FUND - - INSTALLING CHIHULY - - DONATE . . . Scroll Down


Copyright: March 30, 2008
By: Laura Deni

CLICK HERE FOR COMMENT SECTION
PLAYING BURTON-THE TRAGEDY OF RICHARD BURTON
Richard Burton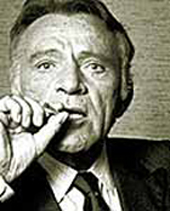 Considered the most successful new Welsh play of the last twenty-five years with over a thousand performances on three continents, Playing Burton by Mark Jenkins is directed by Burton's great nephew, Guy Masterson.

Playing Burton reviews the rise and fall of Richard Burton, one of the most powerful actors and personalities of the twentieth century.

He appeared to waste his talent, squander his millions and drink himself to death.

He was the most nominated actor never to win an Oscar.

Born November 10, 1925 in Pontrhydyfen, South Wales, Burton was the 12th of 13 children of a Welsh miner - although rumors circulated that he was really not a child but a grandchild of the coalminer Richard Jenkins.

The boy who would become Richard Burton was brought up in his sister's house after his mother's death. He was befriended by his English teacher, Philip H. Burton, who encouraged his acting and study of English, and eventually adopted him. He left his modest environment by winning a scholarship to Oxford. Blessed with a thrillingly theatrical voice, Burton took to the stage, acting in Liverpool and Oxford, served in the RAF, and returned to the stage in 1948, when he made his film debut. By 1949 he had been tagged as one of Britain's most promising newcomers.



Richard Burton and Julie Andrews on Broadway in Camelot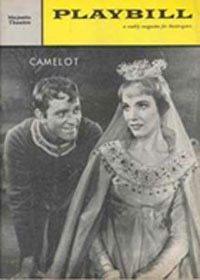 He made his stage reputation in Fry's The Lady's Not for Burning (1949), and had a triumphant season at Stratford (1951).

He acted in Shakespearean productions at the London Old Vic in 1953–60, and gave a memorable performance of Hamlet in John Gielgud's Broadway production of that play in 1964.

The cast includes Hume Cronyn as Polonius, Linda Marsh as Ophelia, Alfred Drake as Claudius, John Cullum as Laertes, Eileen Herlie as Gertrude and Gielgud plays the ghost. This production was filmed and shown across the USA during one weekend.

However, it wasn't until Burton was cast as King Arthur on Broadway in Camelot that his ascent into the supernova took flight.

Following that well-received Broadway run, Burton was signed in 1961 to replace Stephen Boyd on the film spectacular Cleopatra. That resulted in Burton finding himself an international celebrity - not for his acting - but for his tempestuous romance with co-star Elizabeth Taylor.



Richard Burton and Elizabeth Taylor wed March 15, 1964. After 10 years the couple divorced in June 26, 1974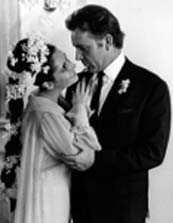 Elizabeth and Richard remarried in October 10, 1975. To again divorce in July 29, 1976.
From humble roots Burton had risen to become the world's first megastar. Rarely out of the papers for three decades and infamously twice married to Elizabeth Taylor, a woman he described as - "The most astonishingly self-contained, pulchritudinous, remote, removed, inaccessible woman I have ever seen.'

The word 'paparazzi' was coined for them.

The real Burton, little Richie Jenkins, was known only to a few.

Presented in Burton's own words and those of the great writers he admired, such as the frequent intertwining of quotes from Shakespeare and Orwell, Josh Richards reincarnates the actor and the myth, in a moving, charming, deeply profound performance. Jenkins also remains true to Burton's roots emphasising his patriotism through outbursts of the Welsh language. This is an emotional helter-skelter ride through the life of a flawed genius, who despised his own work.

How this piece came to be began when Masterson was a starving, impoverished Biochemistry student in 1980 at Cardiff University. He answered an ad to share an apartment. The man seeking a roommate was Josh Richards who was studying at The Welsh College of Music and Drama. They lived together for two terms before going their separate ways. Masterson recalls that Richards "had a fantastic singing voice, he was wild, and he was constantly impersonating my Great Uncle... Richard Burton."



Guy Masterson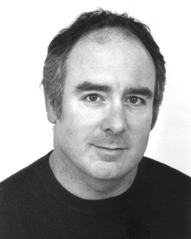 "It was a good impersonation, though, in order to achieve Burton's famed resonance, Josh had to stick his head in the huge yellow bubble acquired from a pedestrian crossing. He looked entirely alien, but, my God, you could swear that Burton was in the room. It was quite a party piece and the girls loved him. I never told him that Burton and I were related," Masterson writes in his director's notes.

Later that year, Masterson drove his Uncle Richie to Switzerland in a red Mini Cooper S. where he spent two weeks with him in Paris and a further two weeks at his home in Geneva prior to the Royal Wedding. He was recovering from neck surgery. Masterson remembers that they "were rarely out of each other's company."

Great Uncle on the ancestral tree can mean somebody far removed and never known. In the case of Burton and Masterson, their relationship was close. They also both enjoyed an extraordinary relationship with Cis - Burton's older sister and surrogate mother - which was Masterson's Grandmother.

Having no intention of becoming a biochemist Masterson left Cardiff and in 1982 ran off to Los Angeles intent on following in Burton's footsteps.

Instead, he worked in hotel restaurant management until 1984 and then as a carpenter to support his acting studies at UCLA.

When his Uncle Richie died suddenly in August 1984 during the Los Angeles Olympics Masterson was stunned.

Masterson wrote of his conversations with Burton - "We chatted endlessly and he extended to me the kind of paternal love that I'd lost when my father died a decade earlier. And once he'd stopped trying to impress his wide-eyed nephew with multitudinous rollicking yarns, he started to really "open up".

"He was in a very vulnerable state... and he constantly reiterated how horrendous the acting world really was. I now know that much of what he said he did not share with anyone else. I grew to love him and was devastated when death came for him that night in August."

After four years of professional acting and with 20 plays under his belt and a handful of healthy reviews, Masterson returned to the UK where he fully intended to become a serious stage actor. Then as fate would have it, while walking through Camden Town, he noticed a decapitated poster with only the words 'With Josh Richards as Richard Burton'. Masterson was stunned that Richards was still impersonating Burton and was curious if he still used the orange traffic bubble. He got in touch with his old flatmate.



Josh Richards as Richard Burton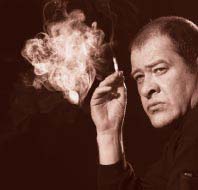 They met for the first time in over a decade and Masterson finally "confessed my connection to the man himself."

"Josh was dumfounded!," recalled Masterson who asked to read the script and then asked to direct him in it.

"He agreed and soon we were working out of my mother's garage in North London. What Josh and writer Mark Jenkins allowed me to do was share with them on the one hand 'the man behind the myth'; The melancholic, ashamed boozer, 'the boy without a shadow' and on the other, the brilliant unassailable genius that seemed to have an apposite Shakespearean quote for anything any-time. The loving, generous, charming, wonderfully erudite man who never forgot his family or his roots. The grossly misunderstood, horrendously misrepresented superstar that, once sacrificed to the gods of celebrity, would never enjoy true peace and privacy again. His life belonged now to the public... and the public could not get enough of him."

Playing Burton achieve depth and polish. Gone was the Burton that everyone expects; the public Burton, the sneering, angry, booming baritone... the sot with endless Welsh repartee. Out shone the spirit of Burton himself, Burton re-incarnate - Gentle, measured, modest, truthful.

Masterson was already invited by Edinburgh's prestigious Assembly Rooms to return his solo version of Under Milk Wood to the Edinburgh Fringe having sold out the Traverse earlier in the year. He pitched that he should bring Burton too."

The production received rave reviews.

"So here he is again, and with a truth and honesty that I can personally attest to," said Masterson. "On stage it's as close a representation of a man that once lived that you will likely see. More to the point, it's good drama - because it's true drama. Sometimes it is too painful for me to watch because we have pulled no punches, but I do believe that the man's 'warts 'n all' made him. No point in trying to hide them. So, what is left is a true living portrait."

Saturday, April 5 at the Island Arts Centre, Lisburn, Ireland.


ART AND ABOUT


INSTALLING CHIHULY

Saffron Tower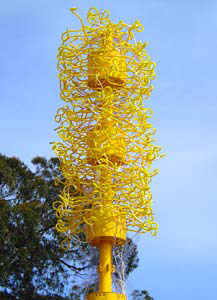 Dale Chihuly's Saffron Tower, 30 vertical feet of carefully composed neon tubes - 420 to be exact - is materializing in the Pool of Enchantment at the de Young Museum in San Francisco.

Chihuly's team of installers arrived at 7 am last Monday to unpack crates and construct the armature to support the sculpture. The Tower installation will have taken two weeks and officially be lit for the Friday Night crowd on April 4.

Meanwhile, at the Legion of Honor, even more crates are being unpacked for three ambitious installations, inside and out. Sun, a 15-foot radiant yellow orb of over 1000 glass elements, is taking shape in the exterior Court of Honor. Inside, the ceiling-mounted Aquamarine Three-Tiered Chandelier and floor-mounted Sea Blue and Green Tower, are taking up temporary residence in the Rodin sculpture galleries.

These four installations take advantage of the spectacular settings and architecture of both the de Young and Legion of Honor Museums and offer a preview of Chihuly at the de Young, a comprehensive exhibition of Dale Chihuly's work, opening on June 14, 2008, in the Herbst Special Exhibition Galleries.



Broadway To Vegas is supported through advertising and donations. Priority consideration is given to interview suggestions, news, press releases, etc from paid supporters. However, no paid supporters control, alter, edit, or in any way manipulate the content of this site. Your donation is appreciated. We accept PAYPAL. Thank you for your interest.


SPREADING THE WORD


IRA GLASS host of the critically acclaimed National Public Radio show, This American Life, will be at the Center for the Arts, College of Staten Island on Sunday, April 6, in his only NYC area-performance of Radio Stories and Other Stories. Sitting behind a desk, utilizing audio clips, Glass will weave stories that captivate, entertain, and inform. A Q&A with the artist will follow the performance.

This American Life premiered in 1995 on Chicago's public radio station, WBEZ. It now airs on over 500 public radio stations weekly with over 1.7 million listeners. Most weeks, the program is the most popular podcast in the U. S. Some of its stories are fiction, others documentaries, and still others indefinable, but whatever their genre, his stories make for compelling material for radio, and now television and the stage.

Under Glass's editorial direction, This American Life has won the highest honors for broadcasting and journalistic excellence, including the Peabody and DuPont-Columbia awards, as well as the Edward R. Murrow and the Overseas Press Club awards.

IN THE COMPANY OF FRIENDS: THE DANCERS AND CREATIVE TALENTS OF GOWER CHAMPION TV host David Hartman and Marge Champion featured in the panel and performance series.

On Monday, March 31, some of the dancers and the creative talents associated with Mr. Champion, from 1951's Make a Wish to his last Broadway show the smash hit musical 42nd Street in 1980, will be represented on the stage of the St. Luke's Theater on NYC.

Two panels will be presented, the first with dancers: Lee Roy Reams Bob Fitch, Iva Withers, Ed Kressley, Lars Rosager, and Johnny Nola. The second, the creative panel, will include: dancer and Gower dance partner Marge Champion, Karin Baker, Gene Bayliss, Nicole Barth, Bert Michaels and Tony Stevens. These panels will be moderated by David Hartman, host of Thirteen/WNET's popular Walking Tours series, who was featured in the original Hello, Dolly! as Rudolph the waiter. There will be performances from Bye, Bye, Birdie; Carnival and 42nd Street, and time to mix and mingle with the dancers as well as an opportunity to support DO40 (Dancers Over 40) with a raffle and door prizes.

In 1948, Gower Champion began to direct and continued to choreograph, and he won the first of eight Tony Awards for his staging of Lend an Ear, the show that introduced Carol Channing to New York theater audiences. From then on he was involved in an eclectic mixture of numerous smash hits as well as others.

The evening will be filmed and donated to the Jerome Robbins Dance Collection at the New York Public Library at Lincoln Center.

NEVADA SENATOR HARRY REID signed to speak at the 92nd Street Y in NYC on Thursday May 8. Those attending will get a rare insider's look at our political process as Senate Majority Leader Harry Reid talks about his personal journey, tireless work in the Senate and the upcoming election


OTHER PEOPLE'S MONEY


VIOLIN FUND Are violins the answer to our economic woes? The cellist Julian Lloyd Webber, the historian and philosopher Theodore Zeldin and the principal of the Royal Academy of Music, Professor Sir Curtis Price hope so. They all sit on the advisory board of Fine Violins Fund, a syndicate set up by the renowned violin restorer and trader Florian Leonhard, which is hoping to attract investment for about 50 pre-9th century Italian violins.

According to published reports throughout the 1920s stock market crash, the Second World War and the oil crises of the 1970s, there was one stock which remained steady – fine violins.

Grabing onto those strings of hope, the hedge fund has been pledged $11m and hopes to be available this summer.

The intent is to loan the instruments to performers since older violins need to be played to maintain their value. Also have a known name attached to having played the instrument can increase the value.

While people have longed hedged their stock bets by investing in antique cars and fine wine - putting money on old violins is raising both eyebrows and interest..

Leonhard, who has 25 years' experience of restoring and valuing violins, will focus on instruments crafted in Italy in the 17th and 18th centuries. Pre-19th century Italian violins are generally considered the finest in the world, because they hail from a period when Italy, because of its moderate climate, became the first country to stage large outdoor classical music concerts.

Historian have pointed out that Germany, France and Britain produced violins that delivered sweeter, baroque sound favored for intimate court music, in Italy increasingly popular amphitheatre venues demanded sound projection. So Antonio Stradivari and his fellow violin makers produced instruments with fuller arching. Other "luthiers" from Italy's golden age of violin-making, which ended in about 1750, include the Guarneri family, Carlo Bergonzi and Giovanni Battista Guadagnini.

Up front money investers afmit that crucial to the fund's success is finding the right performers for the instruments. Leonhard is also handling that element, working with the juries of major international violin competitions to identify suitable candidates, including the Yehudi Menuhin competition in Cardiff, the Benjamin Britten contest in London, the Queen Elizabeth prize in Brussels, and the Paganini and Tchaikovsky competitions in Moscow.

In printed reports Leonhard is quoted as saying; "A violin fund seems a bit strange to people who have nothing to do with violins. We need to first educate our clients. Over the past 100 years, the violin market has just sailed through; while other things crashed they stayed stable."

He added that violins, unlike a house, could be taken into another country, and are a better investment than paintings, because they are kept in use rather than being hidden away in bank vaults. "Using them if anything improves them, because the constant vibrations make the wood more resonant," he said. Leonhard predicted that the violin fund can achieve a net return of from 12 to 15 per cent.

THE MELLON FOUNDATION has awarded $250,000 to L.A. Theatre Works to support The Play's the Thing for Higher Education. This new initiative will provide higher education institutions with an extensively curated and deeply indexed digital database of recorded plays, a rich resource for scholarly research and classroom teaching that will engage students' imaginations and critical thinking skills across the disciplinary spectrum.

"Our collection of plays covers so many themes and topics that one play could be relevant to a host of courses in higher education," notes LATW Producing Director Susan Loewenberg. "Theater enhances academic instruction by illuminating issues in a way that brings them to life."

Through a partnership with Alexander Street Press (ASP), a premier publisher of scholarly databases in the arts and humanities, LATW will archive, catalog, index, market and distribute "digital ready" titles of nearly 300 plays to higher learning institutions, ensuring extensive and integrated academic use. LATW will also include new in-studio audio recordings of plays chosen specifically for their applications to scholarly research, as well as an additional 10-15 titles a year recorded through The Play's the Thing audio recording series at the Skirball Cultural Center in Los Angeles. Audio Drama: The L.A. Theatre Works Collection will be archived at U.C.L.A.'s Digital Library along with supplementary material including interviews, panel discussions, symposia and study guides.



THE NEW CENTURY by Paul Rudnick. Directed by Nicholas Martin.

The New Century is comprised of four short plays - Pride and Joy; Mr. Charles, Currently of Palm Beach; Crafty and The New Century interwoven into an original, new work.

Set in NYC in the present day, The New Century is an outrageous comedy that raises provocative questions not easily answered.

Linda Lavin is Helene, a Jewish matron from Massapequa and the self-proclaimed "most loving mother of all time" to her three gay children.

Peter Bartlett is the flamboyant Mr. Charles, currently of Palm Beach, described by Mr. Rudnick as "an aging homosexual hounded out of New York City by younger gay men, who find his flamboyance a threatening throwback to an earlier tougher time."

Mike Doyle plays two roles: Helene's son, the doctor, David, and Shane, Mr. Charles's partner in life and on their cable television show, "Too Gay."

Jayne Houdyshell is Barbara Ellen, a Midwestern craftswoman and competitive cake-decorator on a visit to New York.

Christy Pusz is Joanne, the cable show's young receptionist.

Ultimately, all of these hilarious and poignant people collide providing evidence of just where our new century might be heading.

Performances to June 8 at the Mitzi E. Newhouse Theater, NYC.

IN THE WINGS

Will Schaub, Annette Reid, Marietta Hartley and Greg Bryan. Photo by Ed Kreiger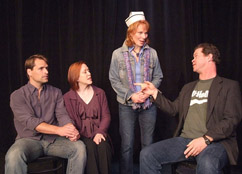 by Jerry Sroka. Don Eitner directs the world premiere of this new comedy.

The playwright plays a supporting role in his semi-autobiographical play-within-a-play, joined on stage by his wife, Mariette Hartley, and his daughter, Liz Sroka. Also in the cast are Daniel Hagan as Sroka's alter-ego, Sam; Greg Bryan; Sean Moran; Annette Reid; and Will Schaub.

A comically dysfunctional cast, a problem-plagued set and a stage manager at his wit's end add to the tension between a writer and his producer-wife in rehearsal for a play about their own struggle with infertility.

"We all know someone who has had difficulty conceiving and the toll that can take on a marriage," says Eitner. "In the Wings is a comedy, but it has serious overtones. At heart it's a love story."

Performances take place April 4 through May 11 at the Whitefire Theatre in Sherman Oaks, CA.

MARK TWAIN'S BLUES a new play with music with book and music by Walt Stepp and lyrics by Stepp and Mark Twain. Directed by Tom Herman with Music Direction by David Wolfson and Choreography by James Beaudry.

Mark Twain Blues opens with the 65-year-old Mark Twain preparing for another of his frequent humorous lectures. But this one will be different, because soon after Twain begins to speak, he is surprised by a voice from the audience: it's Huckleberry Finn, now a full 20 years older than he was in Twain's book. He's soon joined by escaped slave Jim - now 50 years old - and together the two accuse their creator of betraying the truth of their lives in order to boost book sales. Determined to set the record straight once and for all, Huck and Jim reenact some of the scenes in Twain's book...but this time, the way they should have happened.

The production stars Bonne Kramer, Lance Olds, Barry Phillips and Bill Tatum.

Mark Twain Blues transfers to the DR2 Theatre in NYC for an extended six week off-Broadway run, from April 2nd through May 10th with an opening scheduled for Sunday, April 13th.

ALMOST AN EVENING by Ethan Coen, directed by Atlantic artistic director Neil Pepe.

Almost an Evening features F. Murray Abraham, Johanna Day, J.R. Horne, Jordan Lage, Mark Linn-Baker, Tim Hopper, Mary McCann, Del Pentecost and Joey Slotnick.

In the world premiere Almost An Evening, three short plays unsuccessfully tackle important questions. In Waiting, someone waits somewhere for quite some time. In Four Benches, a voyage to self-discovery takes a British intelligence agent to steam baths in New York and Texas, and to park benches in the U.S. and U.K. In Debate, cosmic questions are taken up. Not much is learned.

The design team features scenic design by Riccardo Hernandez, costume design by Ilona Somogyi, lighting design by Don Holder and sound design by Eric Shim and fight choreography by J. David Brimmer.

The Off-Broadway transfer to The Theatres at 45 Bleecker Street officially opens on Wednesday, April 2.


| | | |
| --- | --- | --- |
| | | |
WHO'S WHERE


CELTIC WOMAN begin a two night gig at the Palace Theatre in Louisville, KY on Tuesday, April 1. On Friday they open a three night stand at the Auditorium Theatre in Chicago.

THE KINGSTON TRIO in a two night stand April 4-5 at Blumenthal Performing Arts Center in Charlotte, NC.

CELINE DION winds up the Australia leg of her world tour with shows April 1 at the Rod Laver Arena in Melbourne and on Friday at the embers Equity Stadium in Perth.

JAY LENO will be making the crowds laugh April 4-5 when he performs at the Mirage Hotel in Las Vegas.

BON JOVI on stage Monday, March 31, at the Pepsi Center in Denver. On Wednesday the show is at the HP Pavilion in San Jose, CA. Friday is the start of a two night stand at the Honda Center in Anaheim, CA.

ARLO GUTHRIE opens a two nighter Saturday, April 5, at the Paramount Theatre in Seattle, WA.

SWEET HONEY IN THE ROCK entertain Saturday, April 5, at Zellerbach Hall in Berkeley, CA.

AL JARDINE'S ENDLESS SUMMER BAND an original member of the Beach Boys brings his group to the Suncoast in Las Vegas April 4-6.




PIFFLE AND PROFUNDITIES


BRAVO TO BRITNEY SPEARS

Britney (playing a receptionist) wore this delicious Marc by Marc Jacobs floral print dress tie back dress during the filming of How I Met Your Mother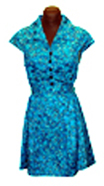 Britney (playing a receptionist) wore this crème Nanette Lepore cardigan with blue beaded flowers when Ted (Josh Radnor) surprised her…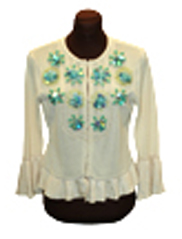 gave a delightfully splendid performance on How I Met Your Mother, which aired March 24th. The pop star, who has experienced more troubles than a soap star character, portrayed a receptionist in a dermatologist's office named Abby who becomes "smitten" with Ted (Josh Radnor). There was even a cleverly written and well executed spoof of herself performed at the end with Neil Patrick Harris.

Spears' wardrobe from her guest-starring stint on the CBS television comedy is being sold at an online auction to benefit the Natural Resources Defense Council, an environmental organization. CBS and 20th Century Fox Television, which produces the show, are sponsoring the auction through their on-line auction site. The weeklong auction closes Monday night, March 31.

A half-dozen Spears-worn items are up for bid, including a navy print Juicy Couture silk printed dress, Juice Couture blue puffed sleeve cardigan, a yellow Nannette Lepore dress, a cream Nannette Lepore cardigan with blue flower details, a Nannette Lepore embroidered rust dress, a Nannette Lepore yellow lace dress, a Marc by Marc Jacobs floral print back tie dress.

As of Sunday morning, March 30, bid prices ranged from $800.00 to $3,001.00.

Next Column: April 6, 2008
Copyright: March 30, 2008. All Rights Reserved. Reviews, Interviews, Commentary, Photographs or Graphics from any Broadway To Vegas (TM) columns may not be published, broadcast, rewritten, utilized as leads, or used in any manner without permission, compensation and/or credit.
Link to Main Page
---
Laura Deni


CLICK HERE FOR COMMENT SECTION