! >
Broadway To Vegas
  
  REVIEWS INTERVIEWS COMMENTARY NEWS

| | |
| --- | --- |
| | |
CABARET MONTH BECOMES OFFICIAL - - HOLLAND TAYLOR STARS IN ANN - - MING MASTERPIECES FROM THE SHANGHAI MUSEUM - - THE BOOK OF MORMON DRAWS THE FAITHFUL - - SEARCHING FOR THE NEXT GREAT MUSICAL - - A-LISTERS PARTIED AT ELTON JOHN'S OSCAR PARTY - - TWO-AND-A-HALF MEN STAR PREGNANT - - PHILIP HIMBERG ARTISTIC DIRECTOR OF SUNDANCE THEATRE PENS PLAY - - DONATE . . . Scroll Down




Copyright: March 3, 2013
By: Laura Deni
CLICK HERE FOR COMMENT SECTION


CABARET IS (FINALLY) OFFICIALLY RECOGNIZED IN NEW YORK CITY
Frank Sinatra reigned in Las Vegas, refusing to perform in Gotham because he called the application process for a Cabaret Card demeaning.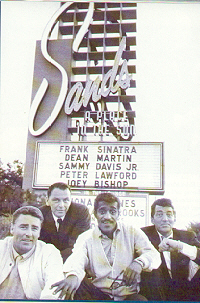 Getting his groove going, the Mayor of the City of New York Michael R. Bloomberg will, on March 6, issue an official proclamation - March is Cabaret Month.

About time.

"Nightclub performing in a Cabaret setting is a classic part of New York's identity in literature, films and television. Cabaret is New York, as much as theater, galleries and Central Park."

The proclamation will be presented during the Cabaret Hotline Anniversary Gala at the Laurie Beechman Theater.

Vocalist Craig Pomranz, who successfully lobbied Mayor Bloomberg for official status, will accept the proclamation on behalf of the cabaret community including the organizations: Cabaret Hotline, Manhattan Association of Cabarets and Clubs (MAC) and The Mabel Mercer Foundation.

Officially recognizing the important of Cabaret in New York City is a far cry from the decades when cabaret performers were looked upon as being - suspect.

The New York City Cabaret Identification Card had its origins in the roaring '20s. In 1926, The Cabaret Law required a special license for any establishment offering "any musical entertainment, singing, dancing, or other similar amusement" in connection with food or drink service. This broad definition of cabaret would apply to just about any entertainment venue other than formal theaters and concert halls. There was, unsurprisingly, an exception made for large, lucrative hotels, according to Gigs: Jazz and the Cabaret Laws in New York City.

But in 1931 responsibility for cabaret licensing was shifted from the Department of Licensing to the New York City Police Department.

With the shift came a new emphasis on stringent enforcement and more careful scrutiny of everyone involved in the operation of a cabaret, from the owners to the busboys. Police kept tightening their scrutiny of musicians.

By 1941 and for more than two decades thereafter, musicians, comedians, and anyone else employed by a New York City nightclub would be fingerprinted, photographed, and interviewed by police in exchange for a license to work.

The card had to be renewed every two years, and it could be revoked on specious grounds.

Performers who had their cards revoked included:

Chet Baker, Charlie Parker, Thelonious Monk, Jackie McLean, Elmo Hope, Billy Higgins, Billie Holiday and Lenny Bruce.

In 1960, Lord Buckley died soon after his card was seized under mysterious circumstances.



Lord Buckley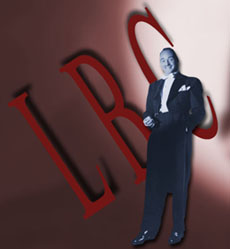 The ensuing scandal led to the abolition of the cabaret card system.

Following the seizure of Buckley's card, a Citizens' Emergency Committee, which included Norman Mailer, David Amram, and Norman Podhoretz, met in the apartment of writer George Plimpton. A contingent confronted Police Commissioner Stephen Kennedy at a raucous hearing.

In January 1961, Mayor Robert F. Wagner, Jr. announced that control of the cabaret card system would be removed from the New York City Police Department.

The system was abolished in its entirety in 1967, with the New York City Council voting 35-1 to eliminate the required cards.

The Council's discussion of the issue included the reading of a message from Frank Sinatra, who wouldn't work in Gotham, refusing to apply for a cabaret card, citing the application and investigation process as "demeaning".

March is Cabaret Month aims to coax audiences out of their apartments during the chilly, slow winter months. March was chosen because it began with the Backstage Bistro Awards and ended with the MAC awards.

An ardent keeper of the Great American Songbook, Pomranz won the coveted MAC Award for Best Male Vocalist in 2012. He has never ceased to sing the praises of However, New York cabaret is not confined to a single month.

Each Fall a multi-day convention in New York celebrates the art form.

Fans and agents alike come to see legends like Michael Feinstein, Marilyn Maye, Barbara Cook, Andrea Marcovicci and Ann Hampton Callaway, or discover cabaret newcomers like actress Emily Bergl who appeared in Cat on a Hot Tin Roof, and Desperate Housewives, and other multi-talents like Lauren Fox, Stacy Sullivan or Gay Marshall. The genre is filled with passionately loyal performers and audiences.

The most recent addition to the New York cabaret scene is 54 Below in the Broadway district. Conceived and designed by Broadway veterans, the venue immediately set the cabaret gold standard. 54 Below was welcomed into the cabaret community by veteran establishments such as: Don't Tell Mama, the Allen Room at Jazz at Lincoln Center, B.B. King's in Times Square, the Metropolitan Room and Joe's Pub at the Public.

While some naysayers feel that cabaret is a dying act, the tony Cafe Carlyle is opening a new late night series, and even the East Village is getting into the "act" as Sidewalk Cafe begins a series of cabaret performances in March in a space that has traditionally been the home of the raucous Antifolk movement for nearly two decades.

All of these venues, at their heart, whatever the genre, are about personal contact with an audience in an intimate space. That's what cabaret is about, set to music. In New York, cabaret can almost be considered an indigenous art form.







Broadway To Vegas is supported through advertising and donations. Priority consideration is given to interview suggestions, news, press releases, etc from paid supporters. However, no paid supporters control, alter, edit, or in any way manipulate the content of this site. Your donation is appreciated. We accept PAYPAL. Thank you for your interest.


ART AND ABOUT


MING MASTERPIECES FROM THE SHANGHAI MUSEUM

Image: An Autumn Grove, Ming Dynasty, 15th–Early 16th century, Du Jin, active circa 1465–circa 1509, Hanging scroll; ink and light colors on paper, Shanghai Museum.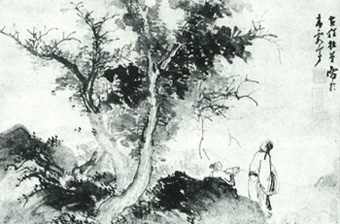 This exhibition presents ten masterpieces of early Ming dynasty court painting executed in the 15th and early 16th centuries in the Forbidden City.

In addition, there is a selection of related Zhe School paintings, all from the permanent collection of the Shanghai Museum.

The Zhe School was a school of painters and was part of the Southern School, which thrived during the Ming dynasty. The school was led by Dai Jin, traditionally considered its founder. The "Zhe" of the name refers to Dai Jin's home province - Zhejiang. The school was not a school in the proper sense of the word in that the painters did not formulate a new distinctive style, preferring instead to further the style of the Southern Song, specializing in decorative and large paintings.

These paintings are of a type that is generally poorly represented in American museum collections, as the prevailing taste in collecting over the past century has been for literati (scholar-amateur) paintings.

The exhibition explores the role of imperial patronage of Ming dynasty painters, paintings as political propaganda, and the revival of earlier Song dynasty (11th-13th century) painting styles for political purposes.

This exhibition was organized by the Los Angeles County Museum of Art.

Opened yesterday, March 2, 2013 and is on display through June 2, 2013 at the Los Angeles County Museum of Art (LACMA).




TWO-AND-HALF-MEN'S HOLLAND TAYLOR WINS BROADWAY AS GOVERNOR ANN RICHARDS


The original intent was to review four Broadway shows in this column. However, after experiencing Ann in previews, becoming so impressed by the creation and performance by Holland Taylor, plans change. The other three shows, which will be around for a spell, will wait until next week. Never mind that Ann hasn't even officially opened. The intimate production in the massive 1,060 seat, Lincoln Center's Vivian Beaumont Theatre officially curtains up on March 7. Yes, this is being published before the show opens. Don't care. Get your tickets now.

Initially, the curiosity draw was Holland Taylor.

She won an Emmy in 1999 for her role on ABC's The Practice. She plays (played?) Evelyn Harper, the mother to Charlie Harper and Alan Harper, played by Charlie Sheen and Jon Cryer, (a co-producer of Ann,) and the grandmother to Jake, played by Angus T. Jones on Two-and-a-Half Men. After the show was re-cast and Aston Kushner came on board, cast members who gave emotional dimension to the show - Rose played by Melanie Lynskey, the maid Berta played by Conchata Ferrell and Taylor's role - were either written out or significantly diminished. A pity. Whether Taylor wanted it that way, so she could do this play, isn't known.

But, it is the household name recognition that Taylor earned on Two-and-a-Half Men which will initially draw people, who don't live in Texas, to this play. After you see the show and word-of-mouth gets out, it will be Taylor's performance as Richards that sells tickets.

Ann is amazing.

Taylor, who only met Richards once in 2004, structured the play based on interviews and research she conducted on Richards, who served as the governor of Texas from 1991 to 1995.

More people know of Taylor from her role as the sexy, quick with a pity remark grandmother on Two and a Half Men than know of Richards, who was the Lone Star State's feistiest female. She rose to national prominence after appearing at the 1988 Democratic National Convention where she criticized George H.W. Bush, saying that he was "born with a silver foot in his mouth."

Coming up with a delightful quip at a political convention is hardly the stuff to warrant a Broadway play.

It is a Texas sized risk to attempt to stage a one women show about a divorced female, recovering-alcoholic, who never discovered the cure for the common cold or rising gasoline prices. As a Democrat who became a one-term governor of Texas - having insulted one Bush to be defeated by his son - is going to be considered a member of the wrong party to a percentage of the ticket buying public.

She is also dead. Some may view her legacy as limited. So, why a play?

Go see the show and find out.

Directed by Benjamin Endsley Klein, Taylor embodies into Richards, delivering a mesmerizing impassioned portrayal offering a fully developed Richards - the smart, sassy, courageous, fearless, and quick with a dirty joke, outspoken champion of not just female rights, but rights for everyone.

The smart, spotless, important suit by Julie Weiss and the perfectly coiffed hair, with wig design and fabrication by Paul Huntley are always seen - augmenting, never detracting.



Holland Taylor in Ann. Impressive sets and lighting by Michael Fagin and Matthew Richards. Production photo by Ave Bonar.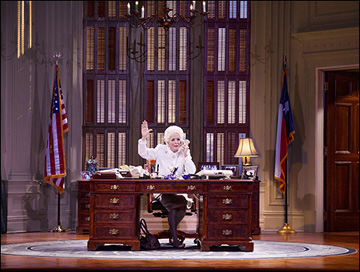 This show isn't Taylor prancing back and forth across a sparse stage talking into thin air. The Michael Fagin sets range from a a rich commencement podium to the elegant, detailed, Governor's office set, accented by effective lighting by Matthew Richards and pleasant sound by Ken Huncovsky. The telephone becomes a marvelous communications' prop. Julie White is the voice of Nancy Kohler. Projection design is by Zachary Borovay.

Richards had a lot of the same qualities as Taylor's character on Two and a Half Men - immaculate, alcohol, hard working, aggressive, sharp tongue and a quick wit. As a person Holland Taylor also shares some of those traits, perhaps providing Taylor a unique comfort zone. Gov. Richards and Holland Taylor are a perfect fit.

Taylor doesn't act Richards, she becomes Richards. The ability to achieve that is acting at its best.

There is no doubt that this is a passionate project for Taylor. She provides a fascinating, revealing look at the a woman who survived a difficult rural childhood, divorced a civil rights attorney, experienced racial and cultural diversities, and argued with Bill Clinton over crossword puzzles.

The show segues to Richards' gubernatorial office, offering insight into the barrage of problems, negotiations, decisions and phone calls that all elected officials experience - from VIPs to her granddaughter, who was the VIP in her personal life.

In many cases, it's not what is said but how the words are delivered that conveys the meaning. Taylor spits out, caresses, wraps around and strips away the dialogue. Her timing is as impeccable as her suit.

The play is billed as a "revealing look at the impassioned woman who enriched the lives of her followers, friends and family." It is. You'll leave the theater impressed with both Holland Taylor and Ann Richards.

The Ann Richards School for Young Women Leaders in Texas is a unique all-girls school founded to educate young women and give them the confidence and skills necessary to succeed in college, in their careers, and in their communities. It is a public school in the Austin Independent School District serving girls in 6th through 12th grade.

The school's Host Committee and the Board of Directors will be in the audience for a benefit matinee performance on Sunday, March 17th. This special performance will be followed by a VIP reception with the show's creator and star, Holland Taylor, and executive producer Kevin Bailey.

Hosts include: John Alexander and Fiona Waterstreet, Joe Armstrong, Kathleen Begala and Yves-André Istel, Cathy Bonner, Beth Brooke, Lisa Caputo, Sandra Castellanos, Ellen Futter, Stacey Hadash and Terry McDonnell, Glenn Horowitz and Tracey Jackson, Tom Jones, Kerry Kennedy, Billie Jean King, Orin Kramer, Leonard Lauder, Geraldine Laybourne, Susan Lyne, Bette Midler, Esther Newberg, Pete Peterson and Joan Ganz Cooney, Jan Pickle, Dan and Jean Rather, Cecile Richards and Kirk Adams, Celina Romero, Shamina Singh and Ashley Bell, Liz Smith, Ann Tisch, and Lana Varney.


BABY
ON BOARD FOR TWO - AND - A - HALF MEN



Sophie Winkleman as Zoey and Aston Kutcher as Walden are snuggled up in bed on Two and-a-Half Men. Photo: CBS.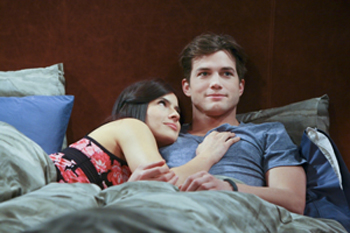 Sophie Lara Winkleman, aka Lady Frederick Windsor, is a recurring star on the hit series Two and a Half Men. She plays Zoey, the love interest of Aston Kutcher's character Walden Schmidt. In real life she is expecting her first child, due to give birth in August.

Sophie is married to the son of Prince and Princess Michael of Kent. Prince Michael is the cousin to both Prince Philip and Queen Elizabeth II. They are elated over news of an expected first grandchild.

Sophie and Frederick wed in a lavish 2009 ceremony at Hampton Court Palace in London. Kensington Palace handled the details. The following day the newlyweds flew back to Los Angeles, so that Sophie would be on time at the Two-and-a-Half Men set.

Hubby Lord Windsor works in Los Angeles as a financial analyst with JP Morgan.

What about the cast of Two-and-a-Half Men? Will the Cambridge-educated Sophie been hidden under the covers of Walden's bed, which is a common location for her to be found in the script. Or, will Walden and Zoey remain broken up until after Sophie gives birth? Other birthing options include the baby being born during hiatus. Or, the kid will be written into the show, in effect, replacing the grown-up Jake, played by Angus T. Jones.

When her character of Zoey isn't snuggled up in bed with Walden, Sophie has been known to attend the Queen Elizabeth hosted Christmas lunch with her in-laws at Buckingham Palace.


JAZZ PIANIST JASON MORAN CREATES FUROR OVER RECITING THE QURAN
Famed jazz pianist Jason Moran. Photo: The Royal Opera House Muscat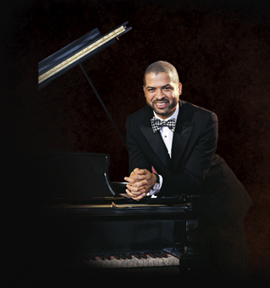 Jason Moran, the famed jazz pianist and composer who is the musical adviser for jazz at the Kennedy Center, caused a firestorm of controversy during a February 28, 2013 performance at The Royal Opera House Muscat (ROHM), which is Oman's premier venue for musical arts.

Moran who has won a number of awards for his playing and compositional skills, which combine elements of stride piano, avant-guarde jazz, classical music, hip-hop, and spoken word got in trouble over the spoken word - reciting verses of the Quran - Al Fatiha - during the performance, in a report first printed in Gulf News.

The Royal Opera House Muscat immediately posted an apology on its website and expressed their "deep regret" stressing that Moran's comments were "a clear violation of the agreement with all visiting artists."

The fact that the 2010 MacArthur Fellow is a Muslim made no difference.

Apologies have been repeatedly posted then removed since the event.

The ROHM did concede that as a Muslim his recitations were done so "in expression of his love for his religion, and with the intention of pleasing the audience being in an Islamic country, and confirmed that his actions were in no way intended to ridicule or mock, or cause offence."

The band, known as The Bandwagon, is comprised of California born bassist Tarus Mateen and New York native drummer Nasheet Waits.

"It should also be noted that the said band member's role in the performance was secondary and not the prime attraction," the ROHM statement pointed out.

"The Royal Opera House Muscat deplores the incident regardless of its source and issues an apology to the audience who witnessed the incident which came as a surprise to the organisers," the ROHM statement read.

"The Royal Opera House Muscat does not accept such actions and confirms that it will be taking legal action regarding the incident."

In a press release a week before the gig, Christina Scheppelmann, Director General of the Royal Opera House Muscat, commented: "The music will do the talking at the Jason Moran's Bandwagon performance at ROHM. The audience will get to witness a dazzling evening by the genius jazz composer and pianist Jason Moran . . . In fact, we promise that this performance is all-set to be etched on the minds of all our audience."

Moran is the husband of mezzo-soprano Alicia Hall Moran, who was in the ensemble of The Gershwins' Porgy & Bess, Broadway's 2012 Tony-winner for Best Musical Revival. She also served as an Understudy - and for a time, the scheduled Wednesday night alternate - to Audra McDonald.


SWEET CHARITY


THE ELTON JOHN AIDS FOUNDATION ACADEMY AWARD VIEWING PARTY

Sir Elton John, David Furnish, Zachary Jackson Levon Furnish-John and Chairman and Executive Vice President of New York Giants Steve Tisch. Photo by Stefanie Keenan/Getty Images for Chopard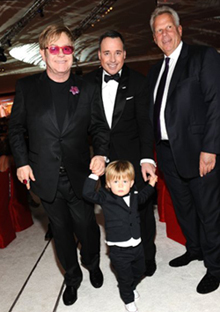 Miley Cyrus and Kelly Osbourne show their affection for Elton John. Photo by Dimitrios Kambouris/Getty Images for EJAF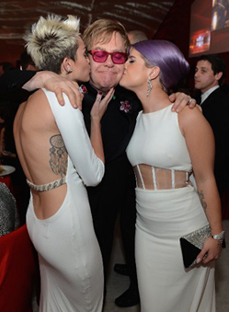 hosted by Sir Elton John and David Furnish raised nearly $6 million for the fight against HIV/AIDS.

The Chopard gala took place on Sunday, February 24, at West Hollywood Park in Los Angeles.

Attendees included Agnes Bruckner, Aisha Tyler, Andrew Rannells, Anna Paquin & Stephen Moyer, Ashley Fink, Benji Madden, Bernie Taupin and Billie Jean King.

Hobnobbing around were Bono, Britney Spears, Bryan Singer, Carmen Electra, Chad Michael Murray, Chelsea Handler, Chris Brown, Chris Colfer, Chris Cornell, Christa B. Allen, Colton Haynes, Dave Grohl, Dustin Lance Black, Emma Roberts, Emmy Rossum, Eric & Janet McCormack, Finola Hughes, George Takei and Heidi Klum.

Also enjoying the evening were Ian Somerhalder, Jaime King, Jane Lynch, Jane Seymour, Jared Harris, JC Chasez, Academy Award winner Jeffrey Katzenberg and Jenna Elfman.

In their party duds were Jennifer Coolidge, Jessica Lowndes, Jim Carrey, Joel Madden, John Ratzenberger, John Waters, Judy Greer, Karina Smirnoff, Katerina Graham, Kelly Osbourne, and those Kardashian girls - Kim, Khloe and Kourtney.

Eating the delicious food were Kyle MacLachlan, Lucy Lawless, Lydia Hearst, Matthew Morrison, Mehcad Brooks, Mel Brown, Mena Suvari and Michael Buble.

Enjoying conversation, hugs and and kisses were Miley Cyrus, Molly Sims, Naomi Campbell, Natalie Imbruglia and Nia Vardalos.

Having a grand time were Nicki Minaj, Nicole Richie, Nina Dobrev, Nina Garcia, Paul Wesley, Paz Vega, Peter Facinelli, Petra Nemcova, Quincy Jones, Rachel Griffiths, Randy Jackson, Rose McGowan, Russell Simmons, Ryan Kwanten, Sandra Lee, Sharon Stone, Skylar Grey, Steven Tyler, Terry Crews, Tim Allen, Topher Grace, Wilmer Valderrama, among others.

Guests arrived at the Academy Awards Viewing Party for cocktails followed by a gala dinner and viewing of the 84th Academy Awards telecast.

This year, Chef Gordon Ramsay, British celebrity chef, television personality, restaurateur, and holder of 14 Michelin stars, prepared an exquisite 5-course meal for guests that included chilled Dungeness crab, braised beef short ribs and sticky toffee pudding.

MOLLS, MOBSTERS AND MAMMOTH'S GALA Join Woolly Mammoth for a swinging evening in the Roaring 20's. Jump, jive and wail to the sounds of the Drew Nugent Band while sipping gin and shaking those tail feathers. On March 9, 2013 benefiting the Woolly Mammoth in Washington, DC.

THE SCHOOL OF AMERICAN BALLET'S 2013 WINTER BALL at Lincoln Center's David H. Koch Theater on Monday, March 11, 2013. Cocktails and dinner are followed by The Encore dessert and dancing.

This glamorous black-tie dinner dance is attended by 500 patrons, including the School's board members and alumni as well as leaders from the New York corporate and social communities.

The event features a one-time-only performance by the advanced students of The School of American Ballet choreographed by Silas Farley, who was selected this year by Peter Martins, artistic director of The School of American Ballet.

Proceeds from the Winter Ball are used to award scholarships, maintain world-class studios and residence halls, and offer vital student programs beyond the ballet studio.

The evening's theme is inspired by Van Cleef & Arpels' collection Le Bal Oriental, which is based on the party of the same name held in Paris in 1969. The Winter Ball will include a thematic tableau featuring the jewels.

The Encore is the Winter Ball after-party. Following dinner, 200 of the city's most sophisticated philanthropic young professionals join the Winter Ball for dancing and dessert. Dinner tickets include admission to The Encore and after-party-only tickets are also available.

Corporate Chair is Nicolas Luchsinger. The event is headed by Honorary Chairs Coco Kopelman, Elizabeth R. Miller, Liz Peek, and Betsy Pitts; Event Chairs Diana DiMenna, Julia Koch, Jenny Paulson, Laura Zeckendorf; and Young Patron Chairs Amanda Brotman, Brie Bythewood, Ann-Marie MacFarlane, and William Yang.

The School of American Ballet, the official training academy of the New York City Ballet, was established in 1934 by legendary choreographer George Balanchine and philanthropist Lincoln Kirstein as the first and most essential step in their quest to create an American classical ballet company.

GUILD HALL ACADEMY OF ARTS LIFETIME ACHIEVEMENT AWARDS Master of Ceremonies / Marshall Brickman.

Honoring: Nathan Lane / Performing Arts. Presented by Jack O'Brien.

John Alexander / Visual Arts. Presented by Lorne Michaels and Dan Aykroyd.

Walter Isaacson / Literary Arts Presented by Ken Auletta.

Mickey Straus / Special Award for Leadership and Philanthropic Endeavors Presented by Alec Baldwin.

A benefit for Guild Hall of East Hampton, NY. Monday, March 4, cocktails followed ay dinner at The Plaza in New York City.

DANCE AGAINST CANCER an evening to benefit the American Cancer Society takes place Monday, May 6, 2013 at AXA Equitable Theater in New York City.

The evening's performance, produced by New York City Ballet's Daniel Ulbricht and Manhattan Youth Ballet's Erin Fogarty, will feature dancers from New York City Ballet, American Ballet Theatre, Martha Graham Dance Company, Alvin Ailey American Dance Theater, Norwegian National Ballet, among others.

Performers include Maria Kowroski, Wendy Whelan, Tiler Peck, Robert Fairchild, Daniel Ulbricht, Herman Cornejo, Clifton Brown, Matthew Rushing, Katherine Crockett, Carrie Walsh, and Charles "Lil Buck" Riley.

VIP tickets include the pre-event reception beginning at 6pm, gift bag, preferred seating and post-event reception.

All proceeds from this event will benefit research initiatives as well as all patient and family services programs that American Cancer Society funds.

Since its inauguration in 2010, Dance Against Cancer has raised over $60,000 in support of the American Cancer Society.




SEARCHING FOR THE NEXT GREAT MUSICAL
Tony Award winner Tonya Pinkins was one of the judges.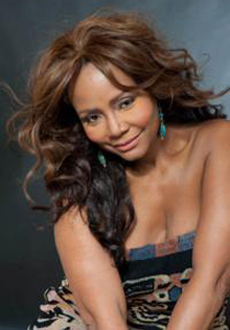 Looking for some bright composers.

To facilitate that end The New York Musical Theatre Festival (NYMF) has announced the selections for their 2013 Next Link Project, NYMF's primary writer service program. The Next Link Project empowers emerging musical theatre writing teams as both artists and entrepreneurs by providing the training and relationships needed to help them move their musicals from readings to fully-realized productions and to advance their careers by maximizing the exposure they receive in the Festival.

Ten of the Festival's full production slots are reserved for participants in The Next Link Project.

Participants attend a special weekend-long symposium featuring seminars on fundraising, marketing, industry outreach, and self-producing, led by industry professionals. The writing teams are introduced to potential collaborators, supporters and producers, and receive dramaturgical support from professional literary managers and dramaturgs. Finally, each Next Link show receives financial support in the form of a $5,000 subsidy toward its production in the Festival.

All entries survived double-blind evaluations by several members of NYMF's reading team, with finalists referred to a grand jury of celebrated industry professionals.

This year's grand jury included Emmy winning choreographer Josh Bergasse, OBIE Award winning composer-lyricist Jeff Bowen, two-time Tony winning actor Michael Cerveris, two-time Tony winning playwright Marsha Norman, Tony winning producer Joey Parnes, Tony winning actress Tonya Pinkins, director Scott Schwartz, Grammy winning and Tony nominated composer Lucy Simon, and Tony nominated actor Tony Sheldon.

Those chosen as 2013 Next Link Project Musicals are:

Bend in The Road with book and lyrics by Benita Scheckel. Music by Michael Upward. Based on Anne of Green Gables by L.M. Montgomery.

A beloved literary classic comes to life in this hilarious and inspiring new musical for the whole family. Adopted by the Cuthberts at Green Gables, precocious orphan Anne takes on town gossip Mrs. Lynde, mean girl Josie Pye, and gorgeous but arrogant classmate Gilbert Blythe, turning each bend in the road into a path straight to your heart.



Castlewalk with book, music, and lyrics by Milton Granger. In addition to his activities as a writer and composer, Granger is a pianist and conductor who has worked in those capacities on five Broadway shows - most recently Mary Poppins. He holds a Doctor of Music degree from Northwestern University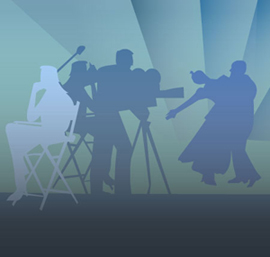 Castle Walk with book, music, and lyrics by Milton Granger.

It's 1938, RKO is making "The Story of Vernon and Irene Castle" with Fred Astaire and Ginger Rogers, and they've hired Irene Castle herself to be an advisor on the film. Torn between the director's desire to make a great film and her own wish to honor her late husband, Irene must sift through a lifetime of memories – and some of the most romantic dance sequences ever created.

Crossing Swords with book, music, and lyrics by Joe Slabe.

When the boys of St. Mark's join the girls of St. Anne's to present "Cyrano de Bergerac," three friends get more of an education than they bargained for. Love blossoms, jealousies flare, and secrets are revealed that may end their youthful innocence as life imitates art in this funny and poignant coming-of-age story.

Gary Goldfarb, Master Escapist with book and lyrics by Omri Schein. Music by James Olmstead.

Gary Goldfarb is a big kid with even bigger dreams. He'll stop at nothing to win the heart of Cheryl Samatasinghar-Stein, the hottest girl in school… even if it means attempting Houdini's most dangerous feat, the Chinese Water Torture Cell Illusion, at the high school talent show. Can Gary's classmate Penelope talk some sense into him before it's too late? With a catchy pop-jazz musical theatre score, Gary Goldfarb conjures up the magic, foolishness, and hilarity of high school romance.

Julian-Po with book and lyrics by Andrew Barrett. Music by Ira Antelis. Based on the book La mort de monsieur Golouja and the screenplay Julian Po by Alan Wade.

Julian Po is determined to end his life at sea, but he finds himself stuck in the smallest, strangest town in Middle America. While waiting for a connecting train, Julian makes friendships that start to sway him from his mission, with repercussions no one anticipated. This darkly comic tale is led by four modern-day muses and set to the quintessentially American sounds of pop, rock and bluegrass.

Mata Hari: Tigress At The City Gate with book and music by David Rhymer. Lyrics by Blake Brooker and David Rhymer.

Imprisoned by the French on charges of espionage, Mata Hari is a famed exotic dancer, courtesan and lover… and even more dangerous, an Emancipated Woman! But is she truly a German spy – or just a woman in love, caught in the wrong place at the wrong time? The most notorious and misunderstood figure in World War One sets the record straight in this one-woman tour de force.

Mother Divine with book and lyrics by Laurel Klinger (Vartabedian). Music by Bill G. Evans. First presented in the 2003 New York International Fringe Festival by the Western Carolina Stage Company.

Mother Divine has a problem: she's just passed away and her husband, Harlem evangelist Father Divine, has already found her younger "reincarnation." With a little help from bumbling taxman Lester Stufflebean, Mother Divine is dead set on proving it's never too late for a first wife to get revenge! Everyone is chasing someone else's secrets in this comic romp set to a rousing, Gospel-tinged score. Inspired by real-life events of a Depression-era Harlem evangelist named Father Divine, who enjoyed mixing Christian doctrine with capitalism, mysticism, socialism and his own brand of wild ideas.

Sasquatched! The Musical with book, music, and lyrics by Phil Darg.

Bigfoot exists! While visiting a national park with his parents, young Sam runs off and encounters Arthur, a kindhearted Sasquatch who is also lost. They join forces to find their way home – but first they'll have to outwit the quirky locals and a sensationalistic media crew. This rockin' musical romp in the woods offers hilarious social commentary on human-Sasquatch relations and a reminder that there's no place like home.



Mike Backes, Ashley Picciallo, Matthew Corr, Jillian Gottlieb & Seth Blum in Standby which received rave reviews when it was staged in the 2012 New York International Fringe Festival. Photo by Brian Camarao.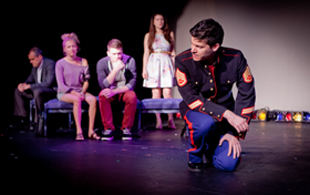 Standby book and lyrics by Alfred Solis and Mark-Eugene Garcia. Music by Amy Baer and Keith Robinson.

Five strangers meet in an airport standby line and must decide among themselves who deserves to get on the next flight. They soon realize that this is no ordinary airport and their meeting is by no means a coincidence. With a pop-rock score, this musical reminds us how interconnected we are.

Swiss Family Robinson with book by John Kennedy and Patrick Kennedy. Music and Lyrics by John Kennedy.

The intrepid Robinson Family finds their ship caught in a monstrous typhoon and their ship's crew nowhere in sight. Marooned on an apparently deserted island, they must rescue their hopes and dreams for a new life. Wait… Do you hear drums? Jungle drums?

NYMF is the flagship program of The National Music Theater Network. Since its inception in 2004, The New York Musical Theatre Festival has premiered more than 320 new musicals - more than 86 of which have gone on to award-winning productions in New York, in regional theaters in almost every state, and in 20 countries worldwide.

NYMF alum Next to Normal won three 2009 Tony Awards and the 2010 Pulitzer Prize for Drama during its Broadway run. NYMF alumni also include: Chaplin and [title of show], which enjoyed Broadway productions. The more than one dozen NYMF shows have enjoyed off-Broadway productions include the long-running hit Altar Boyz, Fat Camp, Fucking Up Everything, The Great American Trailer Park Musical, In Transit, Rooms, The Shaggs, The Other Josh Cohen and Yank! Other shows like Meet John Doe, Nerds: A Musical Software Satire, The Mistress Cycle, and Kingdom have enjoyed award-winning productions around the country.

Now entering its tenth year, The New York Musical Theatre Festival (NYMF) exists to revitalize musical theater culture by discovering and promoting new musical theater artists, producers and projects; nurturing a vibrant and innovative artistic community; and connecting one of America's greatest art forms with a diverse, contemporary audience.


SPREADING THE WORD


CELEBRATE THE 60th ANNIVERSARY OF SINGIN' IN THE RAIN

Debbie Reynolds and Gene Kelly from Singin' in the Rain.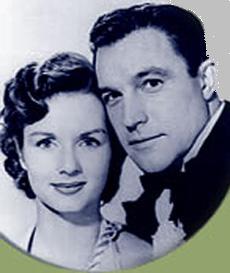 as the Royal Philharmonic Concert Orchestra conducted by Neil Thomson bring the film's iconic soundtrack to life while the re-mastered film is shown on the big screen with the original vocals and dialog intact.

Starring Gene Kelly, Donald O'Connor and Debbie Reynolds, Singin' in the Rain is frequently described as one of the best films ever made, topping the American Film Institute's 100 Years of Musicals list and ranking 5th in its updated list of the greatest American films ever made, testament to the relevance that the film still has on audiences 60 years later.

Audiences will be able to enjoy all the classics such as Broadway Rhythm, Should I?, Make 'Em Laugh and of course Singin' In The Rain, while this stunning film is shown on the big screen.

Friday, March 8 - Saturday, March 9, 2013 at Royal Albert Hall in London.

On a related note, rumors are swirling that the stage musical Singin in the Rain currently at the West End's Palace Theatre will close to make way for a new musical version of The Commitments.

Irish writer Roddy Doyle previously announced that he planned to open the Dublin soul music production in October. Now rumors say it will replace Singin' in the Rain. The stage version of The Commitments is a musical adaptation of his acclaimed 1987 novel and is written by Doyle with Jamie Lloyd is set to direct.

The second book in Doyle's Barrytown Trilogy, The Commitments tells the story of a group of unemployed misfits who start a soul band in Dublin, Ireland. As the band becomes successful, tension builds between the band members and the group must fight to keep from falling apart.

DANNY BOYLE the Academy Award winner comes to 92Y Tribeca in New York City on Tuesday, March 12 for an hour-long conversation about his diverse artistic pursuits and his new film Trance.

The British director rocketed to the top of the film industry in the mid-1990s with his debut film Shallow Grave, followed closely by the cult classic Trainspotting. In the years following, Boyle has kept audiences guessing with such diverse subject matter as zombies (28 Days Later), mountaineers (127 Hours) and Indian game show contestants - Slumdog Millionaire, which earned eight Academy Awards including one for Best Director.

Trance, which opens April 5, features a career criminal, a fine art auctioneer and a seductive hypnotherapist. It stars James McAvoy, Rosario Dawson and Vincent Cassel.

THE STARS OF MODERN FAMILY have inspiration for a new script. Friday night, March 1, they had to be rescued by the Kansas City Fire Department when they became trapped in a crowded freight elevator at the Sheraton Hotel for nearly an hour.

Julie Bowen, Eric Stonestreet, and Jesse Tyler Ferguson were on their way to headline Kids Night Out 2013, a fundraiser for the Boys & Girls Clubs of Greater Kansas City.

The award winning trio were three of 15 stuck in an elevator on the third floor. Those trapped included Stonestreet's mother.

Rescue workers from the Kansas City Fire Department made their way down from the 40th floor to free them while Ferguson and Stonestreet happily tweeted about the situation.

Bowen, Ferguson and Stonestreet, who is a Kansas City, Kansas native, were expected on stage at 9 p.m., but didn't appear until after 10 p.m.

Once on stage, the actors kidded about their rescue. Stonestreet jokingly suggested to the charity audience that they shouldn't use the hotel's elevators.

Many of the Modern Family scripts are based around experiences of the writing team. Perhaps in the near future we'll see a story line about being in a trapped elevator.

OSCAR WINNER RENEE ZELLWEGER will trod the West End boards in a stage adaptation of The Hustler, according to the Daily Mail.

The show will be based on Walter Tevis' 1959 novel The Hustler and its subsequent film adaptation.

GENE FRANKLIN SMITH a veteran playwright in both the United States and Canada, has been named the new artistic director for the Malibu Stage Company, located in Malibu, California.

Smith replaces outgoing artistic director Richard Johnson, who announced his departure in late 2012.

Glenda Jackson is listed as the Malibu Stage Company Patron. The former actress is currently a British Labour Party politician, having been a Member of Parliament since 1992. She is the only British Member of Parliament to win an Oscar.

Supporters of the Malibu Stage Company, both former and current, reads like a Who's Who of Hollywood.

BARNUM a revised version by Cameron Mackintosh, which plays the Chichester Festival beginning July 15, is rumored to then be moving to the West End. The Cy Coleman, Michael Stewart, Mark Bramble musical stars Christopher Fitzgerald.

DOWNTON ABBEY

Shirley MacLaine will return to Downton Abbey.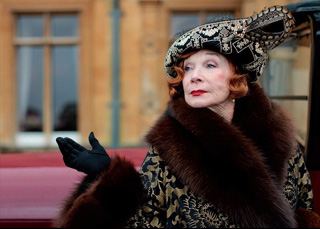 began filming its 4th Season last Thursday in the village of Bampton, Oxfordshire, England. Matthew Crawley (played by Dan Stevens) is dead and scheming maid Sarah O'Brien (played by Siobhan Finneran) is leaving. Finneran announced her departure on March 1. Crawley's demise was the cliffhanger ending of Season 3.

There is an important casting call for a new role, while a casting call that went out in January has been filled.

Up for hire: A black actor to play musician Jack Ross as part of a storyline about race relations in the 1920s. The casting notice states: Jack is '25-30. A musician (singer) at an exclusive club in the 20s. 'He's black and very handsome. A real man (not a boy) with charm and charisma'. The notice states that the actor should 'ideally be able to sing brilliantly'.

'Overall he should be a very attractive man with a certain wow factor.'

Last January a casting call went out for a new love interest for Lady Mary Crawley named Lord Anthony Gillingham. The actor needed was described as a "good looking, very charismatic" 35 to 45-year-old with a "perfect cut glass accent. He's warm and charming, but also a strong man with morals."

Tom Cullen has been cast in the part.

Also coming on board in a guest role is opera star Dame Kiri Te Kanawa who will appear as a house guest. Don't worry, it's a singing role.

American fans will be delighted to see Shirley MacLaine reprise her role of Martha Levinson.

Four addition parts have also been announced.

Olivier Award winner Nigel Harman will play a valet named Green. Harman became a household name for his role in the television series EastEnders. In 2003 when he won the role of Dennis Rickman in the BBC soap opera, he was working for British supermarket Sainsbury's as a delivery van driver. Dame Harriet Walter plays Lady Shackleton, an old friend of the Dowager Countess. Her performance in Mary Stuart at the Donmar Warehouse transferred to Broadway, where it was nominated for numerous Tony awards, including Best Actress nods for her and her co-star Janet McTeer.

Episodic television period actress Joanna David, who is vice-president of the Theatrical Guild, will play a guest role as the Duchess of Yeovil. Julian Ovenden, who was in the second season of Smash, is cast as aristocrat Charles Blake. Ovenden's father is Canon John Ovenden, chaplain to Queen Elizabeth II.


OTHER PEOPLE'S MONEY


THE BOOK OF MORMON DRAWS THE FAITHFUL who in their zealous Broadway version of religious fervor, caused the phone lines at the Kennedy Center in Washington, DC to jam and their website to crash.

Seems so many Kennedy Center Members wanted to bare witness to the July/August performances of the Tony award winning musical, that the zeal of becoming disciples of Elders Cunningham and Price overwhelmed the Kennedy Center box office ushers who were passing their own computerized version of the collection plate.



28th ANNUAL BISTRO AWARDS will take place Monday, March 4, at the Gotham Comedy Club in New York City.

Presenters include: Marilyn Maye, Dee Dee Bridgewater, Nikki Blonsky, Lee Summers and Larry Moss.

Sherry Eaker will host the annual event. Eaker heads the Bistro Committee, and is the former longtime Editor-in-Chief of Back Stage and the producer of the event since its inception. The winners include:

Lainie Kazan / Bob Harrington Lifetime Achievement Award

Maurice Hines / Enduring Artistry

Clint Holmes / Major Engagement / This Thing Called Love: Cole Porter & Paul Simon / Café Carlyle

Sue Raney / Major Engagement / Feinstein's at Loews Regency

Jenifer Lewis / Dazzling Return to New York Cabaret / Black Don't Crack at 54 Below / 54 Below

Barry Levitt / Ongoing Musical Excellence

Liam Forde / Ira Eaker Award

Highlights in Jazz / Special Award to Jack Kleinsinger / series

Ben Rimalower / Special Award / solo play / "Patti Issues" / The Duplex

Justin Vivian Bond / Singular Artistry / 54 Below

Alec Mapa / Comedy Monology / "Baby Daddy" / Laurie Beechman Theatre

Tanya Holt / Vocalist

Deanna Kirk / Jazz Vocalist

Michael Hughes / Debut / Mickey and Judy / The Duplex

T. Oliver Reid / Theme Show / Drop Me Off in Harlem / Feinstein's at Loews Regency

Mary Liz McNamara / Songwriter

Moira Danis / Recording / Some People's Lives

Catherine Russell / Recording / Strictly Romancin'



A GENTLEMAN'S GUIDE TO LOVE AND MURDER a new musical comedy with book by Robert L. Freedman, music by Steven Lutvak and lyrics by Freedman and Lutvak. Based on the novel Israel Rank by Roy Horniman.

Former Old Globe Co-Artistic Director Darko Tresnjak returns to the Globe to direct the production. Choreography by Peggy Hickey.

Set in England's elegant Edwardian era, this witty music hall comedy explores how low we'll go to make it to the top.

When Monty Navarro, the black sheep of the D'Ysquith family, finds out he is ninth in line to inherit a dukedom, he decides to eliminate the other eight heirs standing in his way - all played by Tony Award winner Jefferson Mays. Ken Barnett stars as the charming and vengeful Monty Navarro.

The cast also features Chilina Kennedy (Phoebe D'Ysquith), Lisa O'Hare (Sibella Hallward) and Heather Ayers, Rachel Izen, Kevin Ligon, Kendal Sparks, Price Waldman and Catherine Walker (Ensemble).

The creative team includes Alexander Dodge (Scenic Design), Linda Cho (Costume Design), Philip S. Rosenberg (Lighting Design), Dan Moses Schreier (Sound Design), Aaron Rhyne (Projection Design), Charles LaPointe (Wig Design), Jonathan Tunick (Orchestrator), Mike Ruckles (Music Director), Dianne Adams McDowell and Steven Lutvak (Vocal Arrangements), Binder Casting (Casting), Jan Gist (Dialect Consultant) and Susie Cordon (Stage Manager).

An Insights Seminar takes place Monday, March 11. Insights Seminars are informal presentations of ideas and insights to enhance the theatergoing experience. The seminars feature a panel selected from the artistic company of each production. Reception, 6:30 p.m. Seminar, 7:00 p.m. Admission is free and reservations are not required.

A co-production with Hartford Stage, A Gentleman's Guide to Love and Murder will run March 8 – April 14, 2013 on the Donald and Darlene Shiley Stage in the Old Globe Theatre, part of the Globe's Conrad Prebys Theatre Center. The Old Globe in San Diego, CA.

BREAKFAST AT TIFFANY'S a world-premiere play based on Truman Capote's master novella, with a script adapted by Tony Award winner Richard Greenberg.

Tony Award nominee Sean Mathias directs this stylish and innovative new production of the classic tale about living by your own rules... loving on your own terms... and wearing your heart on your designer sleeve.

Starring Emilia Clarke as Holly Golightly is the woman every man wants to be with and every woman wants to be. Also starring are Cory Michael Smith and George Wendt.

Previews begin March 4 at the Cort Theatre in New York City.

THE LAST FIVE YEARS music and lyrics by Jason Robert Brown who also directs.

Jason Robert Brown's contemporary musical tells the emotionally powerful story of two twenty-something New Yorkers who dive head first into a marriage fueled by the optimism that comes with finding "the one." But in a city where professional and personal passions collide and only the strongest relationships survive, navigating the waters of love and matrimony can sometimes prove too much.

Starring Adam Kantor as Jamie and Betsy Wolfe ad Cathy.

The musical returns to New York City after 11 years in an all-new staging. The production begins March 7, 2013 at Second Stage Theatre.

HONKY a World Premiere comedy by Greg Kalleres. Directed by Luke Harlan.

When violence breaks out in an African American community over a pair of "Sky Max" shoes, sales triple among white teens. Meanwhile, a new pill guarantees to cure racism, advertising that "if you think you don't need it – you're probably a racist."

Honky is a black comedy, in which five people, white and black, navigate the murky waters of race, rhetoric and basketball shoes.

Begins performances March 8 with the official opening slated for March 14 with performances through April 7, 2013 at Urban Stages in New York City.

OLD HATS created and performed by Tony Award winners Bill Irwin and David Shiner, with music by and featuring Nellie McKay.

Directed by Tina Landau.

2003-04 Signature Playwright-in-Residence Bill Irwin reunites with fellow clown David Shiner for a new work combining their inimitable magic, slapstick, and hilarity. Using music, technology, and movement, plus other tricks up their sleeves, Irwin and Shiner create another wild and remarkable outing of theatre for a new generation of audiences. This is their first collaboration since the smash Broadway hit Fool Moon.

The design team includes G.W. Mercier (Scenic and Costume Designer), Peter Kaczorowski (Lighting Designer), John Gromada (Sound Designer), and Wendall K. Harrington (Projection Design). David H. Lurie is Production Stage Manager.

Presented by Signature Theatre Company, Old Hats officially opens March 4 in The Irene Diamond Stage at The Pershing Square Signature Center, NYC.

THE WINSLOW BOY is an English play from 1946 by Terence Rattigan based on a true story.

Directed by Lindsay Posner.

The play's London premiere in 1946 was followed by a 1947 mounting on Broadway. The play was adapted in two movies and a television version.

Set against the strict codes of conduct and manners of the age, The Winslow Boy was inspired by an actual event, which set a legal precedent. It is as relevant today as it was then.

Ronnie Winslow, a fourteen-year-old cadet at the Royal Naval College, is accused of the theft of a five-shilling postal order. An internal enquiry, conducted without notice to his family and without benefit of representation, finds him guilty, and his father, Arthur Winslow, is "requested to withdraw" his son from the college (the formula of the day for expulsion). His elder brother, Major Martin Archer-Shee, was convinced of his innocence and persuaded his father (also called Martin) to engage lawyers. The most respected barrister of the day, Sir Edward Carson, was also persuaded of his innocence and insisted on the case coming to court. To clear the boy's name was imperative for the family's honor; had they not done so, they would have been shunned by their peers and society. The boy's life would have been wrecked by the stain on his character.

On the fourth day of the trial, the Solicitor General accepted that Archer-Shee was innocent, and ultimately the family was paid compensation.

At the age of 19, George Archer-Shee was killed in World War I at the First Battle of Ypres.

Starring award-winning actor Henry Goodman.

The cast also includes Sia Berkeley, Deborah Findlay, Naomi Frederick, Nick Hendrix, Stephen Joesph, Wendy Nottingham, Charlie Rowe, Peter Sullivan, Richard Teverson and Jay Villiers.

March 8, 2013 - May 25, 2013 at The Old Vic in London.

THE AUDIENCE a new play by Peter Morton welcomes BAFTA Award winner Edward Fox to the cast in the role of Winston Churchill. Fox has replaced veteran actor Robert Hardy, 87, who was forced to withdrawn from the London production which stars Oscar winner Helen Mirren.

Despite recently suffering a fall which resulted in cracked ribs, Hardy continued to perform at all of the preview performances. His physician determined such a schedule was not sustainable.

The cast also features Michael Elwyn as Anthony Eden, Haydn Gwynne as Margaret Thatcher, Richard McCabe as Harold Wilson, Nathaniel Parker as Gordon Brown, Paul Ritter as John Major and Rufus Wright as David Cameron. The Equerry is Geoffrey Beevers, and the role of Young Elizabeth is played by Bebe Cave, Maya Gerber and Nell Williams. David Peart plays James Callaghan, who is joined by ensemble members Jonathan Coote, Ian Houghton and Charlotte Moore.

Designs are by Bob Crowley with lighting by Rick Fisher, sound by Paul Arditti, music by Paul Englishby and video by Ian William Galloway.

The world premiere of The Audience directed by Stephen Daldry, officially opens March 5 at the Gielgud Theatre in London.

PETER AND ALICE a new play by John Logan.

Directed by Michael Grandage.

Starring Judi Dench as Alice and Ben Whishaw who plays Peter.

The production also stars Olly Alexander as Peter Pan, Ruby Bentall as Alice in Wonderland, Stefano Braschi as Arthur Davies/Reggie Hargreaves/Michael Davies, Nicholas Farrell as Lewis Carroll and Derek Riddell as JM Barrie.

When Alice Liddell Hargreaves met Peter Llewellyn Davies at the opening of a Lewis Carroll exhibition in 1932, the original Alice in Wonderland came face to face with the original Peter Pan.

In John Logan's remarkable new play - his first play since Red - enchantment and reality collide as this brief encounter lays bear the lives of these two extraordinary characters.

The production features set and costume design by Christopher Oram, lighting by Paule Constable and sound/music by Adam Cork. Preview performances begin March 9 with the opening night set for March 25. The productions runs through June 1 at the Noel Coward Theatre in London.

PAPER DOLLS a world premiere play with music by Philip Himberg, Artistic Director of Sundance Theatre. Adapted from the 2006 documentary film by Tomer Heymann.

Directed by Indhu Rubasingham as the final production of her inaugural season as Artistic Director of the Tricycle Theatre, and one of the Tricycle's biggest productions to date.

Developed, in part, by the Sundance Institute Theatre Program.

"You know, Yossi, we couldn't dress like this in the Philippines... wear earrings, dye my hair, put on make up, lipstick. It's forbidden."

In Tel Aviv, Israel, a group of Filipino immigrants work as live-in carers for elderly Orthodox Jewish men. Six days a week, they provide dedicated support to their employers. But on the seventh day, they transform into a homespun, sassy musical drag act. Meet the Paper Dolls!

The cast features Tom Berish (Yossi), Jane Bertish (Noa), Noa Bodner (Shoshana/Ensemble), Ron Domingo (Chiqui), Ilan Goodman (Shirazi/ Ensemble), Shimi Goodman (Ensemble), Francis Jue (Sally), Jeffry Kaplow (Chaim), Tom Oakley (Ensemble), Angelo Paragoso (Zhan), Jon Norman Schneider (Jiorgio), Caroline Wildi (Adina) and Benjamin Wong (Cheska).

Design is by Richard Kent, with lighting by Oliver Fenwick, sound by Ben and Max Ringham, music by Nigel Lilley and Ben and Max Ringham, choreography by Alistair David, video design by Dick Straker, and assistant direction from Sam Pritchard.

Press night is March 6 with performances through April 13, 2013 at the Tricycle Theatre in London.

On Tuesday, March 12, a Director's Party will take place. The evening will begin with drinks and canapes hosted by Artistic Director Indhu Rubasingham, followed by a performance of Paper Dolls, plus a post-show party with cast and celebrity guests.


WHO'S WHERE


ELAINE PAIGE the Olivier winner who played Carlotta in the Tony-nominated Broadway revival of Follies is staging her first-ever concert tour of the United States with a two nighter March 4-5 at the Crest Theatre in Delray Beach, FL.Thursday's show is at the Birchmere in Alexandria, VA. On Saturday she is at The Town Hall in New York, NY and next Sunday, March 10, at Kean University in Union, NJ.

JON BON JOVI brings his tour to the Tim Warner Cable Arena in Charlotte, NC on Tuesday, March 5. On Wednesday he'll be rocking the Bridestone Arena in Nashville. On Saturday he'll be delighting his fans at the Quicken Loans Arena in Cleveland. The following night the show is at the Nationwide Arena in Columbus, OH.

MAROON 5 are on stage Monday, March 4, at the Xcel Energy Center in Saint Paul, MN. Thursday's performance is at the Scotiabank Saddledome in Calgary, Canada. Saturday's gig is at the Rogers Arena in Vancouver, BC.

JUSTIN BIEBER on Monday, March 4, opens a split four night engagement at The 02 in London. There is no show on Wednesday.

PINK brings her tour to the Palace of Auburn Hills in Michigan on Tuesday, March 5. On Wednesday she's on stage at the Schottenstein Center in Columbus, OH. Friday the show is at the KFC Yum! Center in Louisville, KY. On Saturday she's in the spotlight at the United Center in Chicago.

KENNY ROGERS who has sold more than 120 million records worldwide and recorded more than 65 albums during his storied 52 years in show business will be performing his hits Friday, March 8, at The Union County Performing Arts Center Rahway, NJ.

ALICIA KEYS on stage Thursday, March 7, at the WaMuTheater in Seattle. On Friday she performs at the Rogers Arena in Vancouver, BC. Next Sunday, March 10, she's in the spotlight at the O.co Coliseum in Oakland, CA.


FINAL OVATION


VAN CLIBURN considered the most famous pianist in the world died February 27, 2013 at his home in Fort Worth, Texas. He was 78. The cause of death was bone cancer.

In April 1958, Mr. Cliburn went to Moscow at the height of the Cold War and brought home the gold medal in the new Tchaikovsky International Piano Competition for his rendition of the composer's Concerto No. 1. The contest had been established to showcase the Russian superiority in culture, a mere six months after the scientific triumph of launching Sputnik, the first space satellite. Van Cliburn became the classical version of a rock star, with women fainting upon seeing him, while others tried to rip off his clothes.

RCA Victor signed him to an exclusive contract, and his subsequent recording of the Tchaikovsky Piano Concerto No. 1 became the first classical album to go platinum. It was the best-selling classical album in the world for more than a decade, eventually going triple-platinum.

Cliburn received the Kennedy Center Honors in 2001. He was awarded the Presidential Medal of Freedom in 2003 by President George W. Bush, and, in October 2004, the Russian Order of Friendship, the highest civilian awards of the two countries.

Neil Portnow President/CEO of The Recording Academy issued the following statement:

Two-time Grammy winner and Recording Academy Lifetime Achievement Award recipient Van Cliburn deservedly earned international recognition and success for his immense talent. In 2002, Cliburn was a Grammy Salute to Classical Music honoree - celebrated for his professional achievements and role as an ambassador for the arts. Cliburn made his remarkable professional debut at age 23, winning the gold medal at the International Tchaikovsky Competition in Moscow at the height of the Cold War in 1958, and he spent his illustrious career touring with every major orchestra and playing renowned concert halls around the world - transcending cultural barriers and politics through the power of his music. His legacy will continue to have a great impact not only on classical music, but on our culture as well. Our thoughts and prayers are with his family, friends and those who were inspired by his music throughout the world.

RICHARD STREET a Motown vocalist who spent 25 years as a member of the Temptations died February 27, 2013 at a hospital in Las Vegas. He was 70. Cause of death was a blood clot in a lung.

As part of the Temptations, Street had number of hits including the Grammy award-winning song, Papa Was a Rollin' Stone.

His death came 10 days after his band mate, Otis 'Damon' Harris, died on 18 February at aged 62, after a 14 year battle with prostate cancer.

Street is survived by his wife, two sons and two daughters.

Neil Portnow President/CEO of The Recording Academy issued the following statement: "For more than 20 years, two-time Grammy winner Richard Street was a member of the iconic Motown group the Temptations whose sound reflected social change, politics, love and a unique connection to its audience making them one of music's most influential R&B groups. The soulful vocal act was known for hits such as Papa Was A Rollin' Stone - which earned Street and the group two Grammy Awards and has been inducted in to the Grammy Hall Of Fame. We have lost a wonderfully talented performer and our thoughts and condolences go out to his family, friends and fans."

BONNIE FRANKLIN the Emmy nominated television, and Tony award nominated stage actress, died of pancreatic cancer on march 1, 2013. She was 69.

Franklin gained household name recognition starring as single mom Ann Romano in the hit CBS comedy One Day At a Time, which aired from 1975 to 1984. Her co-stars included Mackenzie Phillips and Valerie Bertinelli.

Once, during her lunch break from rehearsing One Day At a Time, I interviewed her. She was a total delight.

In addition to her television stardom, the multi-talented lady appeared on Broadway and in nightclubs.

She received a Tony nomination for her 10-minute song-and-dance performance on Broadway as a chorus gypsy in Applause, which starred Lauren Bacall.

She also appeared in Dames at Sea and A Thousand Clowns.

Her marriage to Ronald Sossi, a playwright, ended in divorce in 1970. Her second marriage to Marvin Minoff lasted 29 years until his death in 2009. She is survived by her mother, Claire Franklin, and her stepchildren Jed and Julie Minoff.

CARL "CHUCK" GOFF, JR the bassist for country music star Toby Keith was killed in a two-car crash about 35 miles south of Oklahoma City on February 27, 2013. He was 54.

One vehicle was found on top of the other vehicle. The other driver was not injured, and the accident remains under investigation.

Goff had his own signature bass through Dean Guitars.

Keith posted a statement on his website:

"We are deeply saddened by the sudden death of our band member, Chuck Goff. He was a close friend for over 25 years, the band leader and bass player. Our hearts and prayers go out to his family."
-Toby Keith

ARMANDO TROVAJOLI Italian musician and composer - who wrote the scores for around 300 films - has died in Rome at the age of 95. His death occurred in February 2013 but his wife Mariapaola and their son Giorgio did not announced his passing until March 2, 2013.

During a long career he worked with some of the world's great jazz musicians, including Duke Ellington, Louis Armstrong and Miles Davis. His many film credits included the soundtracks for classics such as Two Women, starring Sophia Loren, Scent of a Woman and Bitter Rice.

From 1962-1969 he was wed to actress Pier Angeli. That union produced one son, Andrew.







Next Column: March 10, 2013
Copyright: March 3, 2013. All Rights Reserved. Reviews, Interviews, Commentary, Photographs or Graphics from any Broadway To Vegas (TM) columns may not be published, broadcast, rewritten, utilized as leads, or used in any manner without permission, compensation and/or credit.
Link to Main Page
---
Laura Deni



For the snail mail address, please E-mail your request.
CLICK HERE FOR COMMENT SECTION