! >
Broadway To Vegas
  SHOW REVIEWS     CELEBRITY INTERVIEWS     GOSSIP     NEWS 
| | |
| --- | --- |
| | |
Copyright: March 3, 2002
By: Laura Deni
CLICK HERE FOR COMMENT SECTION

THAT LONG TOBACCO ROAD - FROM PICKING TOBACCO TO PLAYING CAROL CHANNING


Richard Skipper and Carol Channing in San Francisco last week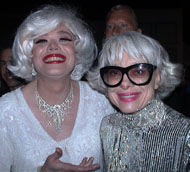 Carol Channing is 81 years old. She's been in show business for over 60 years. She's just penned her autobiography. Last weekend she was honored in San Francisco. Richard Skipper honors her every time he takes the stage performing as Carol Channing. This past weekend they performed on the same stage.

Broadway To Vegas spoke with Skipper after he returned to his home in New York.



Richard Skipper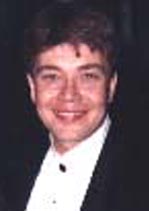 Channing appeared with Skipper and sang with the Gay Men's Chorus at the Palace of Fine Arts to raise cash for gay youth programs. She refused to accept a fee.

"San Francisco proclaimed it Carol Channing Day. She was given a proclamation and she spent the day at City Hall and then attended 5:00 p.m. rehearsals. She is incredible!," exclaimed Skipper.

Channing was a definite hit with the Board of Supervisors. The graduate of Lowell High received not only the proclamation, but applause and admiration from the elected officials. She delivered extended remarks, offering to cut short her thoughts quipping to President Ammiano - "Anytime you'd like me to stop, just say so."

"I wouldn't dare," he replied.

The auditorium at Lowell High is named in Channing's honor. "What I like best about that," she said, "is that my name doesn't come down when I'm not appearing there."



Jerry Herman and Carol Channing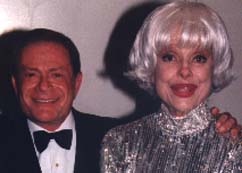 "Never in a million years do impersonators get the opportunity to share the stage with the person they impersonate," continued Skipper. "There I was standing in the wings while she was doing Hello Dolly!"

Skipper is in an awkward performance hard spot. "Gay venues strangely enough are afraid that audiences aren't going to be interested in Carol Channing and straight venues are afraid of getting the gay groups that you see on the Jerry Springer Show," explained Skipper.

"I never do anything off color or anything that would be offensive to anyone in the audience. Booking people are so closed minded that they think they know the audiences better than the audiences do," Skipper complained. "If you attract an audience that is over thirty-five the booking agents aren't interested. Yet, the vast majority of people attending shows are over thirty-five."

"What drives me crazy is to watch entertainment videos where everything is 15 to 20 second thoughts and then the camera angle changes. "You can't focus on anyone's face. That is what made the Garland show so great," he said referring to the Emmy award winning show based on the book by Garland's daughter Lorna Luft.

"There have been reports of studies where students watched that show and they are amazed at the results. The students said they were better able to understand the character, get a good sense of who Judy Garland was, because the camera angles weren't choppy. In a live performance the audience gets a chance to really focus on the character," elaborated the performer.



Richard Skipper as Judy Garland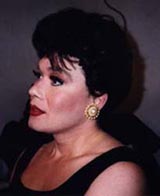 "I did Judy Garland before I developed Carol Channing. My concern with Carol was whether an audience would be interested in a full show," he said referring to his act which was created while Channing was between runs of Hello Dolly and doing her club act. "The problem of most impersonators is that after the initial look - what do you do?"

What Skipper did was to focus on the multi talented career of Channing and know the lady almost better than she knows herself.

"When Gracie Allen was dying she asked Carol to go on tour with George and Carol appeared all over the road doing the George and Gracie routines," continued Skipper. "People should study what she did in Thoroughly Modern Millie. She is under appreciated as a movie actress.

Before Skipper could launch his tribute to Channing he needed to run the routine past the original.

That took place when a friend insisted that he attend - dressed as Channing- an event honoring the real McCoy. Reluctant at first to show up where he hadn't been invited, he put on the Channing get up and showed up. He was seated at Channing's table. He offered to do his act for her and when she agreed they went into a room where Skipper not only did his tribute but found himself bombarded by questions from Channing about her career and life. Skipper never faltered and passed the Channing test.

"After appearing as Carol Channing for Carol and winning the Bistro Awards I knew I was going in the right direction," said Skipper who has just been nominated for another MAC Award.

"My goal with the Carol show is to eventually get it to Broadway. I avoid the word impersonator in any of my press. I refer to my show as a loving tribute."

It is partially an audience interactive show. Question cards are passed out for people to ask questions about Carol's life.'

Carol once made headlines claiming she had sex only twice in her marriage. Does that question ever come up? Skipper replied, "In every show somebody will ask about that. I never see those cards. The questions are screened. I don't want my show to go in that direction. That is where the camp element ends. My performance is a 90 minute party celebrating Carol's life.

Finding a place to throw the party isn't necessarily a piece of cake.

"Booking agents say to me - Can you shake up the character a bit?"

His answer is -"No!"

He indicated that he receives numerous offers from radio stations asking to him to guest on over the edge morning programs where listeners and the hosts would be subjecting his Channing character to possible ridicule.



Carol Channing performing at Caesars Palace, Las Vegas in 1974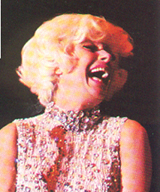 "I do not make fun of her," emphasized Skipper. "That is not what I am about. I have the utmost respect for her. I will continue to take the high road," said Skipper who often donates his time for benefit performances including fund-raisers for TOPA (Towards Older Person Awareness) & Presbyterian Camp.

"Last week Carol did a new routine about how she built San Francisco. She is now capitalizing on her age. She is 81 and proud of it. She talks about how she put the cement down for the Cathedral and was one of the first people to walk across the Golden Gate Bridge. Recently she went into a self-imposed exile to write her autobiography. It's called Just Lucky I Guess, coming out in September."

We threw out an idea that Skipper team up with Channing in some fashion on her book tour. With no reflection upon any authors, book publishers or the book sellers, frequently book signing events can result in nobody showing up. Stores will order extra books that are even autographed by the author. After the author exits the store, the books are boxed up and returned to the publisher.

Skipper could perform in a venue with Channing in attendance and then following his show autographed books would be sold.

From picking tobacco to performing as Carol Channing - it's been a long tobacco road for Skipper.

"I started acting when I was 13 years old. I come from a blue collar background. My father was a welder. My father and both of my grandparents grew up on tobacco farms in South Carolina," said skipper who doesn't smoke.

The life of a tobacco farmer is a hard one. One of four children, Skipper grew up working in the fields.

"A typical season is you lay the tobacco beds.

Once the tobacco stalks start to grow, then pink flowers appear. When they are in full bloom you know you it's time to succar the tobacco which means you cut the top of the stalks. Then you go through the fields and break off the bottom leaves. Next week you go back and do that to the next level. You keep doing that week after week. It's a full summer program. I did that for four summers and hated every minute.



A boy holds a rack of tobacco leaves in South Carolina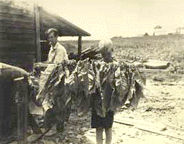 "On August 5, 1979 I announced to my family that I was going to New York. I had never flown or been to New York and I had $500 in my pocket.

"Right before I came to New York I was packing my things. It was Friday night and I was leaving on Sunday. My mother said - You're serious aren't you? That's how much in denial that were. My father said - You'll be back home in three weeks."

Although his parents haven't seen him perform as Channing they have attended his Judy Garland performance. His sister whom Skipper calls "very supportive" has traveled to Atlantic City to watch his act.

Skipper, who performed in Carnegie Hall last December, frequently speaks to groups of aspiring entertainers and sometimes what he says makes the parents cringe. "Many times teachers, parents and friends tell the person to have something else to fall back on. A lot of parents don't like it when I say this - but if you have something to fall back on changes are you'll fall back," he related regarding a safety mattress that has no bounce.

Without a safety net Skipper had a greater focus on creating his Carol Channing and succeeding as an actor.

"I went to every audition, did whatever it would take, took any role that came along. That doesn't mean that I didn't do the survival jobs," he quickly added. "I've waited tables and done temp work. But, I was always focused on my performing career."

Skipper beings his fourth engagement at Windsor Casinos with Undercover Girls starring Richard Skipper with Tommy Femia (as Judy Garland), Scott Cooper as Marilyn Monroe & Bobby Bruno as Mr. Joan Rivers. March 10th - 31st Casino Windsor, Windsor Ontario, Canada. You can visit Richard's website at www.RichardSkipper.com


LOVING LUCY ENOUGH TO PAY THE BILL


Realtors are having trouble getting the childhood home of Lucille Ball off the market. Having been put up for auction on EBay, the property a two story, three-bedroom, 11/2-bath frame house in Celoron, N.Y. about 70 miles from Buffalo, where I Love Lucy star Lucille Ball spent her childhood, had people loving Lucy enough to place bids that met the minimum. The problem is that the deadbeat bidders didn't pay.

The first time it was on EBay, it was as an auction. Real estate agent Bruce Turner said there were a few bids in excess of $100,000. But after the auction, the bidders didn't follow through. This time it is listed under Real Estate and the the asking price is $98,500.

The house, which dates back to 1890, once belonged to Ball's maternal grandparents, Fred and Florabelle Hunt, and is where Ball lived from the age of 8 until midway through high school, when she left upstate New York to attend drama school in Manhattan.

The house is touted to still have a rod on the first floor that held a curtain for Ball's impromptu performances when she'd bring friends home from high school and entertain them.

The real estate agent handling the property informs prospective buyers that you can even bathe in the tub used by the young Lucy, because the second-floor bathroom appears intact from the time she lived there.

Tragically, her grandparents lost the house after she moved away as a result of a backyard tragedy.

Fred Hunt had been outside the house showing a rifle he'd bought to Ball's little brother Fred when the gun accidentally discharged and paralyzed a boy who lived next door. The Hunts were soon forced to sell the house as a result of the ensuing lawsuit. Only one family has lived in the house since then. Turner said that only one family has lived in the house since then. But the last remaining member of that family is now in a nursing home, and her sons are selling the house on Lucy Lane.



Lucille Ball

Last year this house was featured in a CBS network special timed for the 50th anniversary of I Love Lucy.

Turner and his real estate partner, Dave Anderson, figure the place hasn't sold sooner because the Ball connection prompted the owners to raise the asking price. It's about double the price of comparable houses in the village of Celoron.

"I'd have had it sold for $30,000 a dozen times over," Anderson said.

After months of trying to get this place off the market Turner has turned to the sacrilegious. "I said to one of my buddies that we should buy it and take four inches of wood at a time and put them on EBay," Turner said. "We'd probably make a fortune."



Broadway To Vegas is supported through advertising and donations. Priority consideration is given to interview suggestions, news, press releases, etc from paid supporters. However, no paid supporters control, alter, edit, or in any way manipulate the content of this site. Your donation is appreciated. We accept PAYPAL. Thank you for your interest.


READING ACROSS AMERICA
Karen Mason, Louise Pitre, and Judy Kaye in scenes from Mamma Mia! Photo by Joan Marcus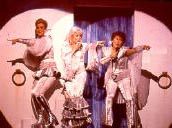 Song and dancing were replaced with reading and rhyming last Friday morning when Louise Petri, currently staring in Mamma Mia! celebrated the NEA's read Across America with preschoolers at Homes For The Homeless Clinton Family Inn.

Louise and her husband, actor Joe Matheson, joined million of others of their peers across this country to celebrate the joy of reading in honor of the birthday of Dr. Seuss.

Petri has received rave reviews for her high voltage portrayal of feisty single mother Donna Sheridan in the musical Mamma Mia!
Homes for the Homeless is dedicated to reducing homelessness and poverty by providing families with the education and training that will enable them to build independent lives. HRH is the largest single provider of transitional housing in New York City, serving over 450 homeless families daily in four American Family Inns.


ACTORS UNION WITHDRAWS FROM LAWSUIT
Actors' Equity Association, with 41,000 members nationwide, was listed first among seven signatories in a friend-of-the-court brief filed Wednesday supporting former University of Utah theater student Christina Axson-Flynn's right to make "modest script modifications" to eliminate the offending words. (See Broadway To Vegas column of August 5, 2001

A statement released on Friday indicates the group's support was based on misleading information. Representatives of Actors' Equity said they thought Axson-Flynn was asking for alternative scripts rather than omissions or changes.

"The brief as published does not reflect representations made to us when we were recently contacted particularly regarding the student's attempt to change the script. . . . Based upon this new information, we are withdrawing from the brief and any support in this matter," the statement says.

Axson-Flynn's attorneys have requested a meeting with Actors' Equity executive director Alan Eisenberg and will ask him to reconsider his position before formally withdrawing with the 10th Circuit Court of Appeals.

When first learning that Actors' Equity was supporting Axson-Flynn, the theater department Chairman David Dynak said he found it "highly unlikely that Actors' Equity would ever support a case that ultimately rested on an actor's right to change language."

The case has never gone to trial, as U.S. District Judge Tena Campbell granted summary judgment to the faculty members, essentially dismissing the case. Should Axson-Flynn win on appeal, the case will go back to federal court for a trial on the merits.


OTHER PEOPLE'S MONEY


PAUL McCARTNEY tickets for his April 6-7 engagement at the MGM-Grand in Las Vegas will top out at $350.00. Cheap seats start at $125.00.

Tickets go on sale tomorrow, Monday, March 4.



SUSAN STROMAN

Susan Stroman Photo By: Laura Deni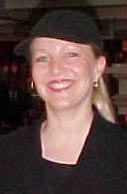 is honored by the Stage Directors and Choreographers Foundation's annual "Mr. Abbott" Award. The five-time Tony winner is saluted for her "extraordinary body of work" of staging/choreography.

The evening, which includes a "star studded performance honoring Ms. Stroman," will include major stars from her current shows, The Producers, Contact and Oklahoma! and from past efforts, Steel Pier, Thou Shalt Not and A Christmas Carol.

Producers expected to attend, including LCT's Andre Bishop and Bernard Gersten, Harold Prince, Bob and Harvey Weinstein, Michael David, Ed Strong, Elizabeth Williams and Anita Waxman.

Founded in 1985 to honor the late playwright and director George Abbott, the prize has previously gone to such notables as Trevor Nunn, Jerry Zaks, Gillian Lynne, Lloyd Richards Graciela Daniele, Vinnette Carroll and Mike Nichols. This year, a portion of the proceeds from the ceremony will go to benefit the newly-created Mike Ockrent Fellowship, named after the London-born director and Stroman's late husband. The Fellowship allows a young director to work with an established musical-theatre director on a Broadway show, "from casting to opening night."

Tonight, Sunday March 3 at the Lighthouse at Chelsea Piers.

HAL DAVID subject of a tribute from The ASCAP Foundation on March 6 at the DGA with its Music Business 101 series.


JABBER, JABBER, JABBER


David Kenney's Everything Old is New Again tonight features the music of Ann Hampton Callaway. Cabaret Month is kicked off with an Interactive On-Air Interview with Cy Coleman, prior to his engagement at Joe's Pub.

Also on the bill is a panel discussion on the state of Cabaret with: Wayman Wong, Editor New York Daily News Stu Hamstra, Editor Cabaret Hotline Online and author and free-lance Cabaret Critic Scott Siegel

Everything Old Is New Again can be heard every Sunday 9-11 PM(EST) over WBAI 99.5 FM and on the Internet at: www.2600.com/offthehook/hot2.ram

THE AMERICAN THEATRE WING stages a seminar moderated by Pia Lindstrom with panelists; actress Michele Lee, producer Liz McCann, writer Peter Stone, publicist Chris Boneau and theatre critic Linda Winer. The topic is Broadway Today. Monday, March 4 in the in Port Jefferson's Jeanne Rimsky Theatre. A reception follows at the Landmark.


MANHATTAN ASSOCIATION OF CABARETS AND CLUBS KICKS OFF CABARET MONTH BY ANNOUNCING NOMINATIONS


The Manhattan Association of Cabarets and Clubs (MAC) kicked off cabaret month March 1 by announcing their nominations The MAC Awards will be presented Town Hall in New York City on April lst



Bucky Pizzarelli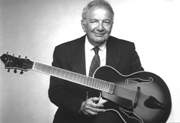 MAC will honor master jazz guitarist Bucky Pizzarelli with the Lifetime Achievement Award. Guitarist John Pizzarelli will perform a special tribute to his father and present him with his coveted award.



Karen Akers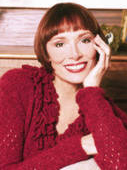 The MAC Board of Directors Awards will go to Karen Akers and the monthly publication Cabaret Scenes.

Among those performing will be Chris Calloway, Peter Cincotti, Scott Coulter, Baby Jane Dexter, Natalie Gamsu, Debbie Gravitte, Audrey Lavine, Heather MacRae, Donna McKechnie, Mark Nadler, Phillip Officer, Martin Pizzarelli, Craig Rubano, Billy Stritch, KT Sullivan, and other special guests.

Presenting awards will be Bill Boggs, John Bucchino, Jim Caruso, Angela La Greca, Margaret Whiting, Julie Wilson, and Jack Wrangler, and more. MAC Award-winning comedian, Ron Poole, will serve as master of ceremonies. D. Jay Bradley is musical director. MAC Awards producer Barry Levitt and director-choreographer Pamela Sousa are chairpersons.

The 2002 MAC nominees are:

FEMALE VOCALIST
Klea Blackhurst, Danny's, Jack Rose
Jeanne MacDonald, Bradstan, FireBird, Odette's
Julie Reyburn, FireBird, Judy's

MAJOR FEMALE VOCALIST
Karen Mason, Arci's
Donna McKechnie, Arci's
Julie Wilson, Algonquin, Cinegrill, Plush Room

MALE VOCALIST
D.C. Anderson, Don't Tell Mama, High Spirits, Downstairs Cabaret Theatre
Craig Rubano, Laurie Beechman
Marcus Simeone, Danny's, Don't Tell Mama

MAJOR MALE VOCALIST
Jeff Harnar, Laurie Beechman
Sam Harris, Arci's
Phillip Officer, Arci's, Laurie Beechman

FEMALE MUSICAL COMEDY
Leslie Anderson, Judy's
Natalie Blalock, Don't Tell Mama
Joan Crowe, Arci's, Don't Tell Mama

MALE MUSICAL COMEDY
Jim Caruso, Arci's
John Flynn, Don't Tell Mama
Michael Vaccaro, Don't Tell Mama, Judy's

FEMALE JAZZ/POP/R&B VOCALIST
Mary Foster Conklin, Danny's
Natalie Douglas, FireBird
Sue Matsuki, Arci's, Don't Tell Mama, Judy's

MAJOR FEMALE JAZZ/POP/R&B VOCALIST
Lea DeLaria, Joe's Pub
Baby Jane Dexter, Arci's
Carol Woods, Arci's

FEMALE NEW YORK DEBUT
Jeanne Resula, Danny's, Don't Tell Mama
Stacy Sullivan, FireBird, Danny's
Anne Steele, Don't Tell Mama

MALE NEW YORK DEBUT
Rock Albers, Don't Tell Mama
Eric Pickering, Don't Tell Mama, Judy's
Johnny Rodgers, Arci's

FEMALE STAND-UP COMEDY
Kim Cea
Colette Hawley
Nancy Witter

MALE STAND-UP COMEDY
Rock Albers
Joe Mozian
Paul J. Williams

MAJOR STAND-UP COMEDY
Mario Cantone
Jim David
Ron Poole

TECHNICAL DIRECTOR
Michael Barbieri, Judy's
Robert Kneeland, Don't Tell Mama
Shawn Moninger, Don't Tell Mama

DIRECTOR
Lina Koutrakos: Rick Jensen, Sally Mayes, Johnny Rodgers
Erv Raible: Tessa Bell, HeartSong: The Heroes' Concert, Nan Selle Lennie Watts: Karen Mack & Michael Holland, Mark McCombs

MUSICAL DIRECTOR
Christopher Denny: Kane Alexander, Steven Brinberg, Karen Mason
Dick Gallagher: Eric Michael Gillett, Craig Rubano, Maureen Kelley Stewart
David Maiocco: James Beaman & Goldie Dver, Eric Pickering, Tommy Femia & Christine Pedi, Richard Skipper

IMPERSONATION/CHARACTERIZATION
Tommy Femia: Judy Garland
Christine Pedi: Multiple Celebrities
Richard Skipper: Carol Channing

VARIETY PRODUCTION
Jamie DeRoy & Friends
Late Breaking Stories: Mark Hartman
Poole Party: Ron Poole

PIANO BAR/RESTAURANT INSTRUMENTALIST
Bobby Peaco, Don't Tell Mama, Rose's Turn
Jerry Scott, Danny's
Tracy Stark, Don't Tell Mama, Judy's, Rose's Turn

PIANO BAR/RESTAURANT SINGING ENTERTAINER
Jennifer Kruskamp, Don't Tell Mama
Trudi Mann, Chez Suzette
Eric Pickering, Don't Tell Mama

SINGER/INSTRUMENTALIST
John Bucchino, FireBird
Tim Di Pasqua, FireBird, Don't Tell Mama
Rick Jensen, FireBird

VOCAL GROUP/DUO
The Accidentals, Bottom Line, Don't Tell Mama
Karen Mack & Michael Holland, Don't Tell Mama
Modern Man, Laurie Beechman

REVUE OF THE YEAR
James Beaman & Goldie Dver, Crazy World: Songs of Leslie Bricusse
D. Jay Bradley, D. Jay Bradley's Christmas Show
Zina Goldrich & Marcy Heisler, Make Your Own Party 2002

SPECIAL PRODUCTION/MUSICAL COMEDY GROUP
Tommy Femia & Christine Pedi, Judy & Liza Live!
Ron Poole & Comapny, The Next Big Broadway Musical
Lennie Watts, Scott Coulter, Heart & Music

FEMALE ARTIST RECORDING OF THE YEAR
Natalie Gamsu, Weave
Heather MacRae, Songs For My Father
Sue Matsuki, A New Take

FEMALE MAJOR ARTIST RECORDING OF THE YEAR
Betty Buckley, "Stars and the Moon: Betty Buckley Live at the Donmar"
Liz Callaway, "The Beat Goes On"
Karen Mason, "When the Sun Comes Out"

MALE ARTIST RECORDING OF THE YEAR
D.C. Anderson, "All Is Calm, All Is Bright"
Jim Caruso, "Caruso Live and In Person"
Tim Di Pasqua, "Monster Under These Conditions"
Sammy Goldstein, "So Far It's Wonderful"

MALE MAJOR ARTIST RECORDING OF THE YEAR
Jeff Harnar, "Sammy Cahn All the Way"
Phillip Officer, "Hoagy On My Mind"

MULTIPLE ARTISTS RECORDING OF THE YEAR
Babbie Green, "Soldiers of the Heart: More Songs of Babbie Green"
Jamie DeRoy & Friends "Tis the Season"
The Lounge-O-Leers, "Now That's What I Call the Lounge-O Leers

SONG OF THE YEAR
"The Boy For Me," music and lyrics by Michael Ogborn
"I Believe," music and lyrics by Ben Moore
"Seventeen on Mars," music by Louis Rosen, lyrics by Thom Bishop & Louis Rosen
"Welcome the Rain," music by Zina Goldrich, lyrics by Marcy Heisler
"The Whole Wide World," music & lyrics by Brett Kristofferson

SPECIAL MATERIAL OF THE YEAR
"The Drinking Song," music by David Maiocco & Michael Conley; lyrics by Michael Conley
"Over-Estimated," music by Curtis Moore; lyrics by Amanda Green
"Where's Shirley," music by John McMahon; lyrics by Jay Jefferies



MISS EVERS' BOYS The Melting Pot Theatre Company presents the New York premiere of this play by David Feldshuh, suggested by the book Bad Blood: The Tuskegee Syphilis Experiment.

It is a fictional account of a true government study carried out from 1932-1972 on what untreated syphilis will do to the Africa American male.

Miss Evers' Boys was nominated for the Pultizer Prize and won seven Emmy Awards as an HBO movie.

Directed by Kent Cash, who is currently the Associate Artistic Director of the Alliance Theater Company in Alabama.

The production stars: Terry Alexander, J. Paul Bochmer, Chad L. Coleman, Helmar Augustus Copper, Byron Easley, Daryl Edwards and Adriane Lenox.

Sets by: Emily Beck. Lighting by William H. Grant III, and Costumes by Earl Battle.

Previews begin March 6 with an official opening slated for March 13. At the McGinn/Cazale Theatre in NYC.

THE GOAT OR WHO IS SYLVIA by Edward Albee opens at the John Golden Theatre on March 10. Bill Pullman and Mercedes Ruehl star.

THE DAZZLE by Richard Greenberg starring Peter Frechette and Reg Rogers opens March 5 at the Gramercy Theatre. The New York debut is being directed by David Warren. The Dazzle revolves around the eccentric Collier brothers, Langley and Homer, a successful pianist and his equally wealthy brother who live in isolation until they bring a beautiful young socialite home one night.

ONE MO TIME the New Orleans jazz musical revue conceived, written and directed by Vernel Bagneris opens March 6 at the Longacre Theatre. The company features Rosalind Brown, B.J. Crosby, Wally Dunn, Roz Ryan, and Bagneris as Papa Du.

Designers are Campbell Baird (set), Toni-Leslie James (costumes), John McKernon (lighting) and Kurt Kullenberger (sound). Eddie D. Robinson choreographs.

One Mo' Time opened Off-Broadway at the Village Gate in 1979 and ran for three and a half years. The show is preserved on a cast album.

One Mo' Time opened the 2001 Williamstown Theatre Festival's mainstage season. The Williamstown Theatre Festival is presenting the Broadway production.

HAR HAR: AN EVENING WITH HARBURG HARRISBRANDT the 2001 FringeNYC Excellence Award for Solo Show winner ---Written & Performed by Joseph Langham / Directed by Richard Hinojosa will stage performances Thursdays-Fridays-Saturdays, March 7th through March 30th at The St. Marks Theater, NYC. Joseph Langham wrote & performs this award-winning one-person show. Harburg is a singer-songwriter afflicted with an extreme case of Attention Deficit Disorder (ADD). He's got a gig in a Lower East Side dive. It is Harburg's intention to perform a set of songs he has written for his audience---but constant distraction, a missing set list, and the most wandering of minds makes this an intensely difficult task.

Hinojosa's film Trapped in Freedom was recently shown at Sundance.

THE CARPETBAGGER'S CHILDREN by Horton Foote is making it's New York debut. Produced by Houston's Alley Theatre last June, will begin previews March 7 and open March 25 at the Mitzi Newhouse Theater in Lincoln Center.

The production stars Hallie Foote, Roberta Maxwell and Jean Stapleton under the direction of Hartford Stage artistic director Michael Wilson.

Unfolding as the monologues of three sisters, Children depicts the offspring of a Yankee carpetbagger who moved to Texas after the Civil War, and how his outcast status affects his daughters.


WHO'S WHERE


HAL LINDEN

Hal Linden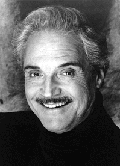 who starred on Broadway in Bells Are Ringing and Wildcat winning a Tony Award for his performance in The Rothschilds, makes his New York nightclub debut at Feinstein's at the Regency March 5-16.

Although the great masses learned of Linden through Barney Miller the entertainer's show at Feinstein's will spotlight the Great White Way.

Titled "Back to Broadway," the show will feature a collection of songs and memories culled from Linden's extensive Broadway experience.

Linden has starred in Las Vegas several times, his last gig being Chicago at Mandalay Bay.

CY COLEMAN and his Trio will perform at Joe's Pub for two nights, four performances only, on March 8 and 9.

Coleman's new Sony CD, It Started With a Dream, features Tony Bennett and Lillias White along with Cy.

NEIL DIAMOND begins a two nighter this evening in Wilkes Barre, PA. On March 6 he is in Providence, RI and the following night Diamond will shine in Hartford, CT. He closes out this week March 9 in Charleston, SC.

JOHNNY MATHIS center stage at the Westbury Music Fair March 8-9.

JOHN PIZZARELLI performs tonight at The Forum in Harrisburg, PA. On Thursday he opens a four night engagement at Benaroya Hall in Seattle, Washington.

TONY BENNETT performs March 9 in Clearwater Florida in Ruth Eckerd Hall and then stages a two nighter at the Van Wezel Performing Arts Hall in Sarasota, Florida on March 9-10.

BARRY MANILOW March 7-9 at the Playhouse Square Center in Cleveland, Ohio.

DON RICKLES opens Thursday at the Stardust Hotel, Las Vegas. Sharing the bill with Mr. Warmth during the four night engagement is Peggy March, who debuted at the age of 15 as Little Peggy March with the nation's best-selling single I Will Follow Him.

BOBBY VINTON stars tonight in Glenside, PA at the Keswick Theatre. He center stage at the Riviera BlackHawk Casino in Clack Hawk Colorado Saturday and Sunday.

KEELY SMITH center stage at Sculler's in Boston March 7-9.

GLEN CAMPBELL performs March 7 in Plant City, FL at the Strawberry Festival. On Friday he can be found in Gulfport, MS on stage in the Grand Casino Gulfport.


PIFFLE AND PROFUNDITIES

CBS SOAPS such as As The World Turns and Guilding Light are staging focus/research study groups to help determine the direction of the long running soap operas.The opinions of regular viewers are being documented - provided the person is under the age of 54. The soaps intends to try to skew younger and nobody over 54 is permitted to participate.













Next Column: March 10, 2002
Copyright: March 3, 2002. All Rights Reserved. Reviews, Interviews, Commentary, Graphics or Photographs from any Broadway To Vegas (TM) columns may not be published, broadcast, rewritten, utilized as leads, or used in any manner without permission, compensation and/or credit.
Link to Main Page
---
Laura Deni



U.S. Postal Address: Post Office Box 60538, Las Vegas, NV 89160
CLICK HERE FOR COMMENT SECTION