! >
Broadway To Vegas
  
  REVIEWS INTERVIEWS COMMENTARY NEWS

| | |
| --- | --- |
| | |
THE AMAZING NATHAN LANE IS A MASTER OF MUSICALS, DRAMA AND COMEDY - - BACK ON BROADWAY: KRISTIN CHENOWETH AND PETER GALLAGHER IN CONVERSATION - - RECONILIATION ACTION PLAN - - DO THE MATH: THE ODD SQUAD IS ENTERTAINING - - THE FANTASTICKS TO CLOSE - - SIMPLY SONDHEIM - - MAN BOOKER PRIZE NOMINEES - - THE AMERICAN CIVIL WAR: THROUGH ARTISTS' EYES - - DONATE . . . Scroll Down




Copyright: March 29, 2015
By: Laura Deni
CLICK HERE FOR COMMENT SECTION


THE AMAZING NATHAN LANE IS A MASTER OF MUSICALS, DRAMA AND COMEDY
Brian Dennehy and Nathan Lane in The Iceman Cometh. Photo: Goodman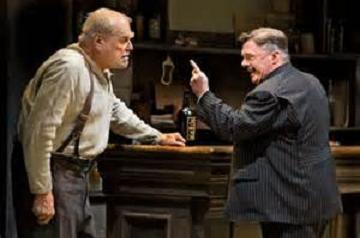 This Broadway season has been an interesting one-two punch for two time Tony Award winner Nathan Lane. He's one of the few who can not only seamlessly segueing between musical, comedy and drama as well a serve as the ticket rainmaker.

Just in the past few months Lane reunited with his frequent stage partner Matthew Broderick to star in It's Only a Play, then departed that comedy to star in the serious drama, a revival of The Iceman Cometh, to then return to starring in It' Only a Play.

If you missed The Iceman Cometh, 'tis a pity. If you haven't yet seen It's Only a Play, do so.

At theatrical awards time Lane could well be competing against himself. He's no stranger to awards having taken home two Tony Awards, two Daytime Emmy Awards, an Olivier Award Lane received a star on the Hollywood Walk of Fame, and in 2008, he was inducted into the American Theatre Hall of Fame.

Lane has the reputation of holding court whenever he is on stage, elevating the production, no matter whether it is a musical, drama or comedy.

The Iceman Cometh is a play written by American playwright Eugene O'Neill in 1939. First published in 1946, the play premiered on Broadway at the Martin Beck Theatre on October 9, 1946. The latest revival of O'Neill's masterpiece was a transfer from the Goodman in Chicago, which reported that it was the most successful production in its history.

The production is directed by its Goodman's Artistic Director Robert Falls, who first helmed the play in 1990.

The mountingr featured the entire Goodman cast, which also included the creative team - brought to the Harvey Theater of the Brooklyn Academy of Music for a six week run beginning on February 5, 2015.

The production paired two of the best actors known to the theater - Brian Dennehy and Nathan Lane. Neither upstaged the other, and together they were a force rarely seen on a stage delivering in-depth, commanding performances.

Set in Harry Hope's decidedly low cast Greenwich Village saloon and rooming house. The patrons, are dead-enders who spend every possible moment seeking oblivion in each other's company. They drift without purpose from day to day, coming fully to life only during the semi-annual visits of the salesman Theodore Hickman, known to them as Hickey. When Hickey finishes a tour of his business territory, which is apparently a wide expanse of the East Coast, he typically turns up at the saloon and starts the party - playing for the drinks. As the play opens, the regulars are expecting Hickey to turn up in time for Harry's birthday party. The first act introduces the various characters and shows them bickering amongst themselves - delusional - with empty promises and pipe dreams

Hickey arrives, only he has changed - sober and exuberant.

Lane played Hickey, and Dennehy's flawless performance brought Larry Slate to life, a man determined to drink himself to death and Hickey's adversary. When a great script is performed by consummate actors, masterfully directed, then theater becomes the art form of great expectation.

In addition to Lane and Dennehy, the other member in the cast were equally strong: Patrick Andrews (Don Parritt), Kate Arrington (Cora), Marc Grapey (Chuck Morello), James Harms (James Cameron), John Hoogenakker (Willie Oban), Salvatore Inzerillo (Rocky Pioggi), John Judd (Piet Wetjoen), Andrew Long (Moran), Larry Neumann Jr. (Ed Mosher), Stephen Ouimette (Harry Hope), John Reeger (Cecil Lewis), Brian Sgambati (Lieb), Tara Sissom (Pearl), Lee Stark (Margie), John Douglas Thompson (Joe Mott) and Lee Wilkof (Hugo Kalmar).

The lighting by Natasha Katz and scenic design by Kevin Depine gave additional depth to the characters' depression, desperation and emotional bunting of nonexistence.

It was a blistering, riveting, chilling production that stayed with the patrons long after they'd left the theatre.

Rupert Grint, Megan Mullally, Matthew Broderick, Nathan Lane and Stockard Channing in It's Only a Play. Photo by Joan Marcus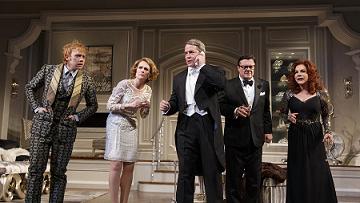 The production closed on March 15 leaving Lane time to do - not much - maybe a nap - before he returns to It's Only a Play on March 29 at the Bernard B. Jacobs Theatre. He's stay put there through the run which is slated to conclude on June 7.

Along with Lane, the production stars Matthew Broderick, F. Murray Abraham, Stockard Channing, Katie Finneran, Maulik Pancholy and Micah Stock in an impressive Broadway debut.

Matthew Broderick playes a serious-minded playwright while Lane is cast as James Wicker, his snarkier friend, a former theater pro who has gone Hollywood.

Martin Short stepped in for Lane while the latter was in The Iceman Cometh. Short plays his final performance in the role on March 29. No slouch himself, if catching the show is an option before Lane returns, take advantage of the opportunity. Short is his own type of performing genius.

It's Only a Play, written by four-time Tony winner Terrence McNally and directed by three-time Tony winner Jack O'Brien, is a celebration of all things back-biting about the theatre.

In the show, it's opening night of Peter Austin's (Matthew Broderick) new play as he anxiously awaits to see if his show is a hit. With his career on the line, he shares his big First Night with his best friend, a television star (Nathan Lane), his fledgling producer (Megan Mullally), his erratic leading lady (Stockard Channing), his wunderkind director, an infamous drama critic (F. Murray Abraham) and a fresh-off-the-bus coat check attendant (Micah Stock).

The production at the Gerald Schoenfeld Theater was promised to be "raucous, ridiculous and tender" and it is. What could be turned into something mean spirited isn't; rather, delightfully theater-obsessed dishy and bitchy.

You don't have to be a Broadway insider to enjoy the celebrity name dropping. The story has been updated with the names of currently relevant celebrities replacing those who were household names when the play was originally written. Names such as Kelly Pipa, Harvey Fierstein and Rose O'Donnell are bandied about - as are Denzel Washington, Liza Minnelli, Bill Gates, Scott Rudin, Audra McDonald, Shia LaBeouf, Faye Dunaway, Bernadette Peters, Lady Gaga, Tom Stoppard, Steven Spielberg,Tommy Tune, Betty Buckley, Pope Francis, Hillary Clinton and New York Mayor Bill de Blasio.

It's a fluffy, fun romp.






Broadway To Vegas is supported through advertising and donations. Priority consideration is given to interview suggestions, news, press releases, etc from paid supporters. However, no paid supporters control, alter, edit, or in any way manipulate the content of this site. Your donation is appreciated. We accept PAYPAL. Thank you for your interest.




ART AND ABOUT


THE AMERICAN CIVIL WAR: THROUGH ARTISTS' EYES

A portion of Gilbert Gaul's (American, 1855–1919), Battery H 1st Ohio Volunteers Light Artillery in Action at Cold Harbor. Oil on canvas, 1893. Framed: 10 x 6 ft. (305 x 183 cm). Lent by the Oregon-Jerusalem Historical Society. Photo courtesy of the Toledo Museum of Art.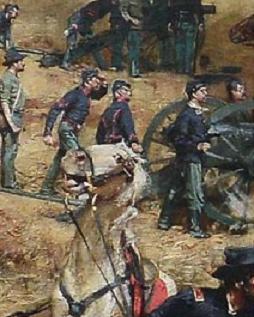 a new exhibition which opens April 3 at the Toledo Museum of Art in Toledo, Ohio, features 50 objects drawn from the Toledo Museum of Art collection, local institutions and private collections, including the massive painting Battery H 1st Ohio Volunteers Light Artillery in Action at Cold Harbor (1893) by Gilbert Gaul, on loan from the Oregon-Jerusalem Historical Society.

Also on display are depictions of the region's Civil War participants, including a portrait of 19th U.S. president Rutherford B. Hayes on loan from Fremont, Ohio's Rutherford B. Hayes Presidential Center. The Center has also lent artifacts, including a sword Hayes carried in battle and a bronze cast of Abraham Lincoln's hand.

Civil War documentation extended beyond artifacts, paintings and sketches; still photography was a budding medium. While cameras of the time couldn't capture the movement of a battle scene, they provided an important historical record of battle sites and posed groups of soldiers.

Photographer Alexander Gardner led a small group of outstanding American photographers documenting major events of the war. His Gardner's Photographic Sketch Book of the War from the Museum's own collection will be on display in the exhibition. It was published in two volumes in 1866, becoming one of the most important books published in American history and one of the most significant works of photojournalism. The fragile volumes are rarely on display.

In its 100 images – selected from 3,000 original photographs – Gardner and other men document work on the battlefields, destroyed cities and burial parties. In one, skulls and boots are assembled on a stretcher in a (possibly staged) image in Cold Harbor, Virginia. Arranging the bodies of dead soldiers for a photograph was not an uncommon practice at the time.

Curatorial staff member Ed Hill spent nearly six months studying public and private collections, as well as the one at the Toledo Museum of Art, for works that would convey the story vividly. The objects on loan come from the William L. Clements Library at the University of Michigan, the Rutherford B. Hayes Presidential Center and the Oregon-Jerusalem Historical Society, among others. "I wanted to do a show not to celebrate the war, but to acknowledge and remember it," said Hill, "There are lessons to be learned, and art can often serve as a starting point for looking back and trying to understand those lessons."

Artists were often embedded with the troops, sleeping, eating and commiserating with soldiers – and enduring the same dangers, according to Hill. They were commissioned by the era's leading newspapers and magazines to provide imagery for the country's citizens, both Confederate and Union, waiting eagerly for news of the battles. Hill believes all of the works retain their poignancy a century and a half later, and help us understand an era whose conflicts still have implications today.

"The hope is that any viewer can spend time in the exhibition and come away with an understanding of what the Civil War was," Hill added. "It was a moment in history that still reverberates." "These were stirring images at the time they were released, and they are equally moving now," Hill stressed. "Our country split itself in two, so the enemy could have been a brother, a cousin, a neighbor. It wasn't as easy to demonize people, yet the level of violence was still astounding."

General admission to the Museum is free. On display April 3-July 5, 2015.





SPREADING THE WORD


BACK ON BROADWAY: KRISTIN CHENOWETH AND PETER GALLAGHER IN CONVERSATION Two consummate Broadway babies are back onstage—she for the first time since 2010's hit Promises and Promises, and he in his first musical appearance since 1992's legendary Guys and Dolls.

On Monday, April 6, join Tony-winning diva Kristin Chenoweth and Golden Globe winner Peter Gallagher as they trade intimate stories of balancing their incredibly varied careers - in theater, film, TV and music - and their lives outside the limelight. Discover how these stars sustain their passion, and hear tidbits on Roundabout Theatre Company's new hot-ticket revival of the madcap musical comedy On the Twentieth Century.

Monday, April 6, 2015 at 92Y in New York City.

AN INVITATIONAL READING of Kurt Vonnegut's Slaughterhouse Five presented as a new musical, is set for Tuesday, April 7 in the Jerry Orbach Theater at The Theater Center in New York City.

Music is by Jed Feuer, with book and lyrics by Adele Ahronheim. The presentation will be directed by Gabriel Barre.

Bobby Steggert is set to play the leading role of Billy Pilgrim in this musical adaptation of Kurt Vonnegut's classic novel, inspired by Vonnegut's own experiences during World War II as filtered through his quirky humor and theatrical, other-worldly imagination. Music direction is by Albert Ahronheim.

Slaughterhouse Five follows Billy Pilgrim, a young man who is ripped from optometry school and thrown into the Battle of the Bulge. As he bounces back and forth from childhood to old age, from WWII POW camps to marriage and alien abduction to the planet Tralfamador, Billy grapples with the trauma of war and struggles to find peace along the way.

LIFE IS SHORTS a free, staged reading written and directed by Kat O'Neill.

Starring Joe Pallister, Lydia Franco-Hodges, Nick Fondulis, Dina Morgan Lotito, and James M. Lotito.

Life Is Shorts is billed as "a night to delight all those suffering from attention deficit disorder and convert all those unfortunates not yet suffering."

The reading weaves together 18 short plays with titles like, A Drama in Five Words, I Met Frida Kahlo at a Dinner And What Bore She Turned Out To Be and It Ain't Over Till the Old Lady Stops Screwing. April 7, 2015 at Guild Hall in East Hampton, NY.

SACRED HEART UNIVERSITY is announcing a new undergraduate degree in Theatre Arts expected to launch in the fall of 2015. The new program will be housed in the Department of Communication and Media Studies and will be based on the university's main campus in Fairfield, CT.

"This major was the exciting next step to our fast growing Theatre Arts Program," says Tony nominated producer Jerry Goehring, Artistic Director of the new major. "Due to overwhelming interest, it seemed like the right time to create an academic track and we are very excited to offer a fresh approach to those who want to pursue theatre academically and as a career."

THE QUEENSLAND THEATRE COMPANY IN AUSTRALIA on March 23, 2015 launched it Reconciliation Action Plan (RAP). According to Artistic Director Wesley Enoch, RAP has "a vision that goes beyond words in the hope of creating lasting change. "The RAP is the first of its kind for a state theatre company in Australia and is about creating change within the organization, the community, the sector, and Queensland and Australia more broadly.

"With the key objectives of Relationships, Respect and Opportunities, it sets out a range of strategies around our artistic programs, audience development, employment pathways, partnerships and cultural awareness," Enoch said. "We aim to be a national leader in reconciliation, demonstrating this through the creation and presentation of theatre as well as meaningful action, how true reconciliation can be achieved between Aboriginal and Torres Strait Islander peoples and the broader community," he said.

After the appointment of Enoch in 2010, the QTC launched its Indigenous Program with an aim of producing, promoting and building audiences for Aboriginal and Torres Strait Islander work. The program includes the commissioning, creative developments, production and presentation of Aboriginal and Torres Strait Islander works (Stradbroke Dreamtime, Bloodland, Mother Courage and Her Children, Black Diggers); research into audience development for Aboriginal and Torres Strait Islander work; scholarships for Aboriginal and Torres Strait Islander young people to attend programs such as Theatre Residency Week and Youth Ensemble; and secondments and apprenticeships of Aboriginal and Torres Strait Islander people.

ROALD DAHL'S JAMES AND THE GIANT PEACH featuring a score by Tony-nominated songwriters Justin Paul and Benj Pasek and a book by Timothy Allen McDonald, has been acquired for licensing in the TYA, student and community theater markets by Music Theatre International (MTI). The musical is based on the beloved best-selling book of the same name by Roald Dahl.


DO THE MATH: ODD SQUAD IS WELL SUITED FOR BOTH CHILDREN AND ADULTS
Sean Michael Kyer (lab coat), Filip Geljo, Dalila Bela and Millie Davis. Photo: Odd Squad.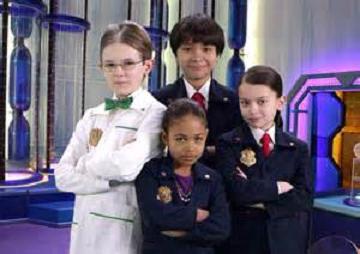 The Odd Squad is a Canadian/American children's live action television series that premiered on TVOKids in Canada and PBS Kids in the United States on November 26, 2014, both on the same day.

Recently, my television remote control stumbled across Odd Squad by accident. Instead of flipping the channel I watched - totally entertained. This is an extremely well written, directed, and acted series.

The episode I saw, Crime At Shapely Manor, was written as a mystery and had the Odd Squad brought in to discover who had stolen an adult's birthday cake. In this episode shapes became crucial clues. This is a show which adults can watch with children. The kids learn and the adults are entertained.

This isn't a slapped together, low budget show. While the agents are in their police garb, in Crime At Shapely Manor the supporting players had stunning hair design, make-up, gleeful costumes and scenery one would expect if Downton Abbey and Neil Simon's Murder By Death had a baby.

No case is too big or fantastical for the pint-size investigators. Designed to help kids ages 5-8 learn math, the show focuses on two young agents, Olive and Otto, who are part of the Odd Squad, an agency whose mission is to save the day whenever something unusual happens in their town. A math concept is embedded in each of their cases, as Olive and Otto work together to problem-solve and correct the oddity du jour in each episode.

Olive is played by Dalila Bela age 13. Her role bills her as "a young veteran agent of Odd Squad, Olive is adapting to working with and training her new partner, rookie agent Otto. Olive is usually calm, brisk, and serious, unless the subject turns to her favorite basketball team, the Bears. She has a morbid fear of pies.

Filip Geljo age 12 is cast as Otto - Olive's partner, the newest Odd Squad agent. He turned ten in the first episode. The fun-loving Otto acts as a comic foil to Olive's straight-man demeanor, frequently annoying her. Although a rookie, Otto frequently uncovers the facts needed to solve the case at hand, even doing so in Olive's absence, proving his worth as an agent.

Sean Michael Kyer is Agent Oscar, Odd Squad's resident scientist and gadgeteer. Oscar is a quirky genius who spends most of his time at Odd Squad Headquarters tinkering with gadgets in his lab. Incredibly knowledgeable, Olive and Otto go to him for technical solutions to their problems. Oscar has a goofy side, delivering his zany scientific rants with a generous dose of hand gestures and vocal sound effects.

Millie Davis, who in real life, has been acting since the age of four appears on the series as Mrs O - first name Oprah. Head of Odd Squad, the stern Ms. O leads the organization with an iron fist. Whenever something goes wrong, she has the tendency to yell and is frequently seen sipping a juice box. Despite appearing younger than most of the agents, Ms. O has worked for Odd Squad since the 1980s, and her actual age remains a mystery.

These young actors have long, successful careers ahead of them.

The large supporting cast members are seasoned professionals who are adept at both farce and melodrama as well as straight acting. The series is created by Tim McKeon and Adam Peltzman. McKeon is listed as the head writer.

From time to time, Olive and Otto are overwhelmed with information and need to work out a problem, at which point they teleport to the futuristic "Mathroom," where they have all the tools they need to work toward a solution. In each adventure, the Odd Squad agents navigate a complicated underground system of giant tubes that allow them to travel to and from headquarters in just seconds. Each case is followed by an interstitial, such as an agent training video, a guide to the Odd Squad headquarters or demonstrations of how to use the Odd Squad's odd gadgets – from the "Pudding-Inator" to "The Make-Anything-Within-Reason-Machine."

The Odd Squad seal is a Jackalope holding a shield depicting himself and a bunch of bananas. The Jackalope makes different sounds during scene transitions.

If you have a chance, watch an episode. You just might get hooked.


OTHER PEOPLE'S MONEY


THE PROVIDENCE BANK FOUNDATION is funding a playwriting residency in partnership with Premiere Stages, the professional theatre company in residence at Kean University, in New Jersey.

The venture is currently offering an innovative seven-week, in-school playwriting residency at the Terence C. Reilly School No. 7 located in Elizabeth, New Jersey. The residency, which affords twenty-one 7th grade students with access to professional actors and teaching artists, is held in partnership with William Culp, a history teacher at the school.

Professional teaching artists are working closely with classroom teachers to specifically tailor each residency to the needs of the students. Over the course of seven weeks, students will learn the basics of playwriting and collaborate to write original short works for the stage.

The residency will culminate in an in-school presentation of student-written plays read by professional actors on Thursday, April 16. Students have the option of writing about the following topics when creating their plays: The Star-Spangled Banner or the Burning of D.C. (War of 1812), The Trail of Tears (American Indian Removal Policy), The Alamo (Annexation of Texas), or The Gold Rush (Expansion West).

"It is exceptionally rewarding to see the students create characters and stories that align with the topics being explored in Bill's class, and funding from the Provident Bank Foundation makes it all possible. I applaud the Foundation's commitment to helping serve the local community with programs that combine the arts and literacy," said John J. Wooten, producing artistic director of Premiere Stages.

"The Provident Bank Foundation places a strong emphasis on educational programs for the youth in the communities served by Provident Bank," said Jane Kurek, executive director of the Provident Bank Foundation. "Premiere Stages' in-school playwriting residency program provides an opportunity to reinforce literacy skills, encouraging creativity and collaboration, and bolstering student self-esteem."

The Provident Bank Foundation was established by New Jersey's oldest bank in 2003 to enhance the quality of life in communities served by Provident Bank. To date the Foundation has provided more than $19 million in grants.


GET WELL SOON TO . . .


ANGELINA JOLIE who recently underwent an operation to have her ovaries and fallopian tubes removed, as a preventative measure against cancer. The courageous star wrote about her experience for The NY Times

Jolie carries a gene that gives her a 50% risk of developing ovarian cancer. Her mother, grandmother and aunt all died of the disease. Two years Julie had a double mastectomy.

In the Times article, titled Angelina Jolie Pitt: Diary of a Surgery, she said a blood test revealed "a number" of elevated inflammatory markers that could be a sign of early cancer, and was told to see a surgeon immediately.

Jolie is married to actor Brad Pitt and the couple are parents to six children.



MAN BOOKER PRIZE NOMINEES have been announced by announced by the chair of judges, Professor Marina Warner, at the University of Cape Town in South Africa. The prize is awarded every two years to an author who has published fiction either originally in English or whose work has been translated into English. The winner will be announced in London on May 19, 2015 and will receive 60,000 pounds. The award recognizes an author's continued creativity, development and overall contribution to literature, rather than a single work. The authors on the list are:

Cesar Aira (Argentina)
Hoda Barakat (Lebanon)
Maryse Conde (Guadeloupe)
Mia Couto (Mozambique)
Amitav Ghosh (India)
Fanny Howe (United States of America)
Ibrahim al-Koni (Libya)
Laszlo Krasznahorkai (Hungary)
Alain Mabanckou (Congo-Brazzaville)
Marlene van Niekerk (South Africa)

None of the writers has previously been nominated for the prize. Lydia Davis won the prize in 2013, Philip Roth in 2011, Alice Munro in 2009, Chinua Achebe in 2007 and Ismail Kadare won the inaugural prize in 2005.


CURTAIN DOWN


THE FANTASTICKS the world's longest running musical, which gave the world the song Try To Remember will close May 3, 2015 after a run of 51 years. The last five years have been mounted at the Jerrry Orbach Theatre - fitting since the beloved musical is where the late Orbach got his start.

The Fantasticks premiered in 1960 at the Sullivan Street Playhouse in Greenwich Village and remained there for an outstanding 42-year run.



NATIONAL PASTIME Music and lyrics by Al Tapper, book by Tony Sportiello.

Directed by Hunter Foster.

A new musical about baseball, love and the golden age of radio. It's 1933 … WBZQ Radio is going under and Barry the owner is trying to save it. Karen, Barry's co-owner, wants to sell the station. Will a crazy scheme involving baseball change Karen's mind and allow a very smitten Barry get to first base?

Starring Matthew Bauman, Meredith Beck, Will Blum, Daniella Mia Diniz, Janine DiVita, Stephanie Gibson, Abe Goldfarb, Andrew Kober, Kelli McGuire, Michael Dean Morgan, Spencer Plachy, and Alexandria Van Paris.

Choreographed by Lorin Latarro. Orchestrations & Arrangements by David Wolfson.

Scenic design by Jason Sherwood; costume design by Jennifer Caprio; lighting design by Jake DeGroot; sound design by David A. Thomas. Greg Santos is associate director and Abbey O'Brien is associate choreographer. Rebecca McBee is production stage manager; Christopher R. Flores is assistant stage manager.

April 2-19 at Bucks County Playhouse in New Hope, PA.

BUYER & CELLAR by Jonathan Tolins.

Directed by Ron Lagomarsino.

Starring David Turner.

What's a renowned diva to do with decades of memories that light the corners of her mind? And where to put the acres of memorabilia bursting the seams of her Malibu estate? If you're Barbra Streisand, you enshrine them in a mini-mall in your basement where you can pretend to go shopping! Out-of-work actor Alex More can't pass up the oddest of odd jobs - an offer to play shopkeeper for one tough customer who doesn't let anyone rain on her parade. Soon it begins to take a toll on his patience, his love life, and his view of people (who need people).

The creative team includes Erik Flatmo (Scenic Design), Charlotte Devaux (Costume Design), Philip S. Rosenberg (Lighting Design), Lindsay Jones (Original Music and Sound Design), Caparelliotis Casting (Casting), and Jess Slocum (Production Stage Manager).

This 'Totally Fictional' Award-Winning Off Broadway Hit Comedy runs April 4 – May 3, 2015 at The Old Globe in San Diego, CA.

MEISNER written and performed by Jim Jarrett.

A one man show about legendary acting teacher Sanford Meisner and his over 60 years training some of the most successful and prominent actors on stage and screen - Gregory Peck, Geraldine Page, Grace Kelly, Joanne Woodward, Robert Duvall, Steve McQueen, Diane Keaton, John Cassavettes, Eli Wallach, Jeff Goldblum, Mary Steenburgen, Susan Sarandon, Sydney Pollack, David Mamet, Mark Rydell and all the rest who've gone on to change the world of acting, theater and film. "Life beats down and crushes our souls and theater reminds us that we have one, at least the type of theater I'm interested in — that is, theater that moves an audience." from Meisner

In 1977, Sanford Meisner was hit by a delivery truck while standing on a street corner in New York City and dragged two city blocks. While in the hospital in critical condition, he was also diagnosed with throat cancer and had emergency surgery to have his larynx removed. Sandy not only fought back, he continued to teach until the morning of February 2nd, 1997 when he died in his sleep at the age of 91.

Meisner returns to San Francisco for the first time in two years with performances March 27-28 at The Meisner Technique Studio in San Francisco.

SIMPLY SONDHEIM a World Premiere of a completely new revue created by Signature Theatre Artistic Director Eric Schaeffer and David Loud.

Music & Lyrics by Stephen Sondheim.

Directed by Eric Schaeffer.

Co-conceived by David Loud & Eric Schaeffer.

Orchestrations by Jonathan Tunick. Musical Supervision & Vocal Arrangements by David Loud.

Choreographed by Matthew Gardiner.

An original tribute celebrating Stephen Sondheim and Signature Theatre's special partnership over the last 25 years. With special permission from Sondheim himself, this completely new revue plays only at Signature and will never be seen again.

Whether you'd like to race Into the Woods with Sweeney Todd and a few Assassins, enjoy A Little Night Music at the Follies on a Saturday Night, or simply relish a Sunday in the Park with George, you'll be in good Company when six Signature favorites and a gorgeous 16-piece orchestra take the stage to honor the genius himself, Stephen Sondheim.

April 2 - 19, 2015 MAX Theatre, Signature Theatre in Arlington, VA.


WHO'S WHERE




DIANA ROSS an ageless diva, who celebrated her 71st birthday last Thursday, returns to Las Vegas for a nine performance star turn at the Venetian Hotel April 1-8.

NEIL DIAMOND brings his tour to the First Niagara Center in Buffalo, NY on Tuesday, March 31. Thursday's show is at Air Canada Centre in Toronto. OnSaturday he'll be delighting the crowd at the Verizon Center in Washington, DC.

BILLY IDOL performs Wednesday, April 1, at the Vector Arena in Auckland, New Zealand. Thursday he's on stage at the TSB Bank Arena in Wellington. On Saturday he stars at the Horncastle Arena in Christchurch, New Zealand.

MAROON 5 perform Tuesday, March 31, at the SAP Center in San Jose, CA. On Wednesday their tour comes to the Viejas Arena in San Diego, CA. On Friday they begin a two night gig at the Forum in Inglewood, CA.

JEFF HARNER performs Saturday, April 4, at Arts Garage in Delray Beach, FL.


FINAL OVATION


THOMAS TRANSTROEMER Swedish poet who was awarded the 2011 Nobel Prize for Literature, died March 22, 2015 in Stockholm after a short illness. She was 83.

His poems - described by Publishers Weekly as "mystical, versatile and sad" - have been translated into more than 50 languages.

Born in April 1931 in Stockholm, Transtroemer graduated in psychology in 1956 and later worked in an institution for juvenile offenders. His first collection of poetry, Seventeen Poems, was published when he was 23.

In 2003 one of his poems was read at the memorial service of Anna Lindh, Sweden's murdered foreign minister.

Transtroemer is survived by his wife Monika and their two daughters, Emma and Paula.

















Next Column: April 5, 2015
Copyright: March 29, 2015 All Rights Reserved. Reviews, Interviews, Commentary, Photographs or Graphics from any Broadway To Vegas (TM) columns may not be published, broadcast, rewritten, utilized as leads, or used in any manner without permission, compensation and/or credit.
Link to Main Page
---
Laura Deni



For the snail mail address, please E-mail your request.
CLICK HERE FOR COMMENT SECTION