! >
Broadway To Vegas
 
  SHOW REVIEWS CELEBRITY INTERVIEWS GOSSIP NEWS



| | |
| --- | --- |
| | |
P DITTY COMBS MAKES BROADWAY DEBUT IN A RAISIN IN THE SUN - - BOMBAY DREAMS BEGINS PREVIEWS - - NASCAR DYE JOB - - PRINCE CHARLES AND CAMILLA DESIRE TO REHABILITATE KING - - YOUNG BLUE EYES THE CROONER IS REMARKABLE - - FESS PARKER CELEBRATES 50 YEARS OF DAVY CROCKETT - - SHOWEST HANDS OUT AWARDS - - AFENI SHAKUR HAS HER SAY - - DONATE . . . Scroll Down


SHOWEST SHOWERS HONORS; FILM FESTS UNSPOOL
Jude Law named Male Star of the Year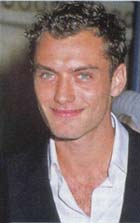 A very pregnant Gwyneth Paltrow, wearing a gorgeous Stella McCartney gown, never looked more beautiful then when she arrived at the Showest Convention in Las Vegas, to receive the special ShoWest 2004 Distinguished Decade of Achievement in Film Award. Jennifer Garner was honored as Female Star of Tomorrow

Jude Law, who has been house-hunting for a bachelor pad in north London, was tapped as the Male Star of the Year for his work in Cold Mountain. Up next for Law is Sky Captain and the World of Tomorrow, which he also produced.

Jack Black of School of Rock took home the award for Comedy Star of the Year.

Finding Nemo writer/director Andrew Stanton was named animation director of the year.



Bernard Gotfryd/Archive Photos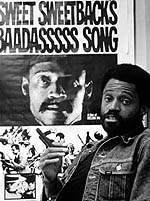 Melvin van Peebles, writer-director-producer of the groundbreaking 1971 film Sweet Sweetback's Baadasssss Song, was awarded ShoWest's 2004 International Lifetime Achievement Award.Van Peebles was introduced by his son Mario, whose Sony Pictures Classics film Baadasssss! about the making of his father's controversial black-empowerment film, was screened at the closed to the public convention and trade show. The elder van Peebles made his ground breaking movie for $500,000, which included $50,000 he borrowed from Bill Cosby. The film grossed over $14 million.

Female Star of the Year Halle Berry was a no-show because of an ear infection that prevented her from flying.

Picking up their trophies were Ryan Gosling as Male Star of Tomorrow. John Davis, who scored with Daddy Day Care and recently produced the Ben Affleck starrer Paycheck, was chosen by the organizers of the ShoWest convention as producer of the year.

Djimon Hounsou was named Supporting Actor of the Year. Nancy Meyers was awarded Director of the Year. They all received their awards at the convention's closing-night awards gala on March 25th.

Marvel Studios CEO and chairman Avi Arad were honored with a new award, the Robert W. Selig Showmanship Award. Arad received the award March 23 at the opening-day luncheon, which was co-hosted by Christie Inc., which specializes in film projection and displays, and Lions Gate Films, which will release The Punisher, on which Arad is one of the producers, on April 16. Based on a Marvel character, The Punisher stars Tom Jane, John Travolta and Rebecca Romijn-Stamos and was directed by Jonathan Hensleigh. With Romihn-Stamos in attendance, the flick was screened for ShoWest attendees Tuesday morning before the luncheon ceremonies.

This year's ShoWest convention ran from March 22nd through the 25th at the Paris and Bally's hotels in Las Vegas. More than 5,000 attendees converged on Vegas for the convention, which annually brings together the nation's top distributors and exhibitors.

Jack Valenti, who announced he was retiring, received the ShoWest Medal of Honor.

While ShoWest was bestowing honors, more film festivals are getting ready to unspool

The ReelWorld Film Festival takes place March 31 to April 4 in Toronto, Ontario. The 12th Annual Aspen ShortsFest is held March 31 to April 4 in Aspen, Colorado and the San Francisco Film Festival opens up on income tax day - April 15. The San Francisco International Film Festival, running through April 29, marks its 47th year with 175 films from 52 countries.

Over 65 films - including 30 world premieres with such stars as Daryl Hannah, Denise Richards and Anthony LaPaglia - will compete for prizes at this year's Tribeca Film Festival, founded two years ago by Robert De Niro and Jane Rosenthal. The festival runs from May 1 to May 8 in The Big Apple.

The past week the festival announced titles that didn't end up on the cutting room. Films to be screen include; Poster Boy, a comedy about a right-wing senator who enlists his just-out-of-the-closet college student son to help in a tightly contested reelection campaign, starring Karen Allen and Michael Lerner.

Whore, a Spanish semi-documentary with Hannah and Richards. Winter Solstice, a suburban drama starring LaPaglia along with Aaron Stanford and Allison Janney.

The world premiere of Tony n' Tina's Wedding, a film version of the long-running off-off-Broadway hit. Tickets will go on sale on April 24.



Nicole Kidman in Dogville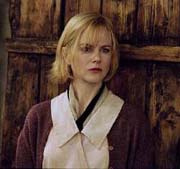 The Museum of Fine Arts, Houston, is the largest art museum in America south of Chicago, west of Washington, D.C., and east of Los Angeles. More than 2.5 million people visit the MFAH each year. Part of the appeal is their film department.

A pre release screening of Dogville, directed by Lars von Trier and starring Nicole Kidman, James Caan and Paul Bettany takes place on March 30.

Curatorial Assistant in Film Tracy Stephenson attended the Gothenburg Film Festival in Sweden last Jan 28-Feb. 2. Founded in 1979 it is the largest film festival in Northern Europe. Last year 112,000 festival tickets were sold with 300 invited guests and 1,500 accredited guests - meaning directors, producers, media and industry.



Henry Thomas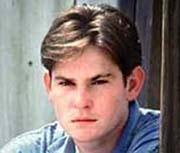 Honey Baby starring Henry Thomas - who was that E.T. kid - caught the attention of Stephenson. Thomas was in attendance for a screening of the Finnish film directed by Mika Kaurismaki. That family has a penchant for telling others on screen what to do. His brother is director Ari Kaurismaki.

Stephenson approached Thomas, who was born in Texas, and asked if he'd be interested in attending a screening of Honey Baby at the Houston Museum of Fine Arts. Stephenson told Broadway To Vegas that she no sooner had returned from the cold to the warmth of Texas when she received an E-mail from the actor/rancher saying he was looking forward to attending. They are currently are working on an Aug 13-15 festival which would also include a showing of E.T.


THE MUSIC GOES ROUND AND ROUND


YOUNG BLUE EYES - BIRTH OF THE CROONER another Frank Sinatra album. That must make about eight million of them. Put them end to end and that's a lot of good music. Only, this isn't just another Sinatra song fest.

Rather, Young Blue Eyes Birth of the Crooner Sinatra with the Tommy Dorsey Orchestra is a fascinating and entertaining history of how musically the future Chairman of the Board paid his air time dues.

On April 6, Bluebird Records will release this CD - a 20-song collection of the Dorsey-Sinatra collaboration from their legendary NBC radio broadcasts in the early 40s. Enjoy the interaction with the band, introductions, and pitches to buy War Bonds. The album features unique interpretations of Sinatra classics such as This Love of Mine as well as rare covers that have previously been unreleased commercially such as I'll Take Tallulah.

Every tract is noteworthy.

There is a Sinatra duet with Jo Stafford on songwriter Bobby Troup's hit Snootie Little Cutie, recorded live at a performance in Washington, D.C. The CD also features Sinatra's first encounter with a song by the great composing team of Jimmy McHugh and Frank Loesser. The laid-back Sinatra-Dorsey take on Say It, a ballad from an early Jack Benny film, was recorded at the Astor Hotel.

The live recordings have been exceptionally remastered by engineer Doug Pomeroy. His contribution cannot be overstated. Having state of the art equipment is important. However, it's Pomeroy's expert ability in using that equipment that makes this CD priceless.



Tommy Dorsey and Frank Sinatra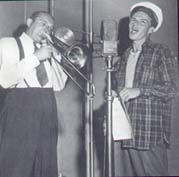 All selections performed by Sinatra with Tommy Dorsey and his Orchestra broadcast live on the NBC radio network. The CD booklet lists "probable personnel" as; The Pied Pipers, Connie Haines, Jo Stafford, Tommy Dorsey, George Arus, Jimmy Skiles, Dave Jacobs, Less Jenkins, Lowell Martin, Jimmy Blake, Zippy Elman, Chuck Peterson, Jimmy Zito, Pay Linn, Shorty Sherock, Clyde Hurley, Harry Schuchman, Fred Stulce, Heinie Beau, Don Lodice, Bruce Snyder, Paul Mason, Johnny Mince, Manny Gershman, Hymie Schertzer, Bill Shine, Johnny Mince, Leonard Atkins, Alex Beller, William Ebrenkranz, Leonard Posner, Irving Raymond, Sam Ross, Bernard Tinterow, Seymour Miroff, Paul Poliakine, Leonard Atkins, Sam Ross, Harold Benke, Ruth Hill, Milt Raskin, Joe Buskin, Clark Yocum, Phil Stevens, Sid Weiss, Jack Kellcher and Buddy Rich.

LULLABY A WINDHAM HILL COLLECTION is a new two CD set which offers the ultimate mind soothing experience whether the goal be sleep, or relaxation and tranquility.

This compilation offers 2 CDs of classic lullaby performances from Windham Hill's biggest stars - Jim Brickman, George Winston and Will Ackerman, plus special guest appearances by Carly Simon, Sinead O'Connor, Amy Sky, and Bobby McFerrin.

One CD features all vocal performances and the other soothing instrumentals creating almost two hours of music listeners will need when it's time to "take the room down a notch."

The selections include traditional children's songs as well as original contemporary compositions with Celtic, Africa, Hawaiian and Latin influences giving the collection a universal flavor. Arrangements vary from Jim Brickman's simple piano accompaniment with Carly Simon's performance of the traditional Hush Li'l Baby and Tuck's guitar to Patti's vocals on Takes My Breath Away you a full band with string and horn sections when Barbara Hignie performs her original composition, Lullaby.

Other highlights on the vocal disc include Brickman singing his own I See the Moon, and his accompaniment for Amy Sky on Love Never Fails, Theresa Schroeder-Sheker's ode to the magic of Sedona, and Patty Larkin's performance of her original Carolina, produced by Grammy Award winner John Leventhal.

The sublime instrumental CD begins with Rock-A-Bye Baby from On A Starry Night performed by Jim Brickman and ends with Cadenza from Echoes performed by pianist Ludovico Einaudi.

In between is a prefect soundtrack to lower the blood pressure and inspire the heart.

Lullaby - A Windham Hill Collection double CD in stores April 6.



Broadway To Vegas is supported through advertising and donations. Priority consideration is given to interview suggestions, news, press releases, etc from paid supporters. However, no paid supporters control, alter, edit, or in any way manipulate the content of this site. Your donation is appreciated. We accept PAYPAL. Thank you for your interest.


SPREADING THE WORD


FESS PARKER CELEBRATING AN AMERICAN ICON

Fess Parker as Davy Crockett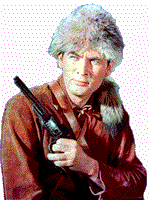 on the 50th anniversary of the Davy Crockett show, actor Fess Parker discusses with Dwight Blocker Bowers, American History Museum's cultural historian, both his film roles as this legendary frontiersman and Daniel Boone, as well as his many experiences on the big screen.

Parker will donate his famous coonskin cap he wore while portraying frontiersman Davy Crockett on television to the Smithsonian Institution's National Museum of American History.

He will also donate the buckskin jacket, fringed boots and shirt and pants he wore when he portrayed Daniel Boone.

Afterwards, Parker hosts a reception featuring wines from his family winery in Santa Barbara.

American History Museum, Carmichael Auditorium in Washington, D.C.

AFENI SHAKUR is welcomed by Borders-Buckhead to a special event featuring the book Afeni Shakur: Evolution of an Evolutionary. Many know her as Tupac's mother, some know her as former Black Panther activist, but few know Afeni Shakur as intimately as actress Jasmine Guy, Afeni's close friend and confidant, who spent the last seven years recording conversations between the two of them. The result is Afeni Shakur: Evolution of A Revolutionary.

She presents her life as she lived it - from the dirt roads of rural North Carolina to the streets of the lower Bronx. She fought through a violent, impoverished childhood to rise to a high-ranking officer in the Black Panther Party. There are the marriages, the pregnancies, the mothering, the drugs, the sex, school and her love of Shakespeare, jail, addiction, recovery, and forgiveness. She survived without destroying herself in the process.

Monday, March 29 at Borders Buckhead in Atlanta, Georgia.


SWEET CHARITY


THE ACTOR'S FUND 2nd ANNUAL SCREENPLAYS ON STAGE takes place April 4 in Los Angeles. This will be an all-star reading of Sunset Boulevard. This classic and beloved Paramount screenplay by Charles Brackett, Billy Wilder and D.M. Marshman, Jr. will be adapted for the reading by David Rambo. Sunset will be directed by multiple award-winner Peter Hunt and will be held at The Pantages Theatre on Sunday, April 4th. Tickets range from $2,500 to $28.


ART AND ABOUT


GEORGE III

George III, portrait by Johann Zoffany (1733/4-1810) The Royal Collection © 2004, Her Majesty Queen Elizabeth II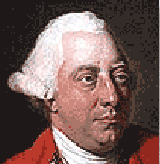 It's tough when people remember you only for losing a country and going mad.

The British Royal Family is determined to rehabilitate the "mad monarch" with the first major exhibition on George III, focusing on his role as a ground breaking, intellectually curious patron of the arts and science.

Heading up the campaign is Prince Charles. The Prince of Wales made a personal appearance on BBC2 last month in a program defending the king, and on March 26, accompanied by Camilla, opened an exhibit titled; George III and Queen Charlotte: Patronage, Collecting and Court Taste.

This major exhibition is the first ever to focus on both George III and his consort, Queen Charlotte, as collectors and to explore their encouragement of the arts. It examines their close association with leading artists and entrepreneurs during one of the most creative periods in British history, which saw the foundation of such bodies as the Royal Academy of Arts and the Royal Society of Arts.

Five hundred objects showing the breadth and depth of George III's interests, from architecture to horology and painting to pottery, are for the viewing. The King had many close friendships with prominent artists including the respected Allan Ramsay and Thomas Gainsborough. He established the Royal Academy and was a patron to writer Samuel Johnson and the astronomer William Herschel. He supported British manufacturers, from Josiah Wedgwood to the metalwork craftsman Matthew Boulton.

The exhibition includes highlights of two collections of art bought by George III, one from the British consul in Venice, which included the finest group of Canalettos in existence as well as a painting later identified as a Vermeer, and the other from a cardinal, which included drawings by Guercino. There are rare examples of the king's library of 65,000 volumes, most of which were given by his son to what became the British Library.



The Gold Royal Coach commissioned by George III. The gilded exterior sports panels painted by Florentine artist Giovanni Battista Cipriani and is decorated with symbols of Britain's victory in the Seven Years' War (1756-63).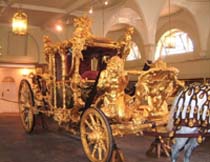 George III (r. 1760-1820) was born on in London, the eldest son of Frederick, Prince of Wales, and Princess Augusta of Saxe-Gotha. He was the third Hanoverian monarch and the first one to be born in England and to use English as his first language.

Unfortunately, George III is widely remembered for two things: losing the American colonies and going mad.

The American war, its political aftermath and family anxieties placed great strain on George in the 1780s. After serious bouts of illness in 1788-89 and again in 1801, George became permanently deranged in 1810. He was mentally unfit to rule in the last decade of his reign; his eldest son - the later George IV - acted as Prince Regent from 1811. Some medical historians have said that George III's mental instability was caused by a hereditary physical disorder called porphyria.

According to the American Porphyria Foundation, Porphyria is not a single disease but a group of at least eight disorders that differ considerably from each other.

The clinical manifestations of the different types of porphyria are not the same. Forms of treatment also depend on the type of porphyria. Therefore, it is difficult to make general statements that apply to all these disorders.

The symptoms arise mostly from effects on the nervous system or the skin. Effects on the nervous system occur in the acute porphyrias. Proper diagnosis is often delayed because the symptoms are nonspecific. Skin manifestations can include burning, blistering and scarring of sun-exposed areas.

Although the exhibition focuses on the 50 years before the onset of George III's final illness and the establishment of the Regency in 1811, it includes poignant items made to celebrate the King's first recovery from porphyria in 1789.



Queen Charlotte The Royal Collection © 2004, Her Majesty Queen Elizabeth II
George III was the most attractive of the Hanoverian monarchs. He was a good family man fathering 15 children - 9 sons and 6 daughters - and devoted to his wife, Charlotte. In 1762 George III purchased Buckingham House - later enlarged to become Buckingham Palace - for his young bride Princess Charlotte of Mecklenburg-Strelitz.

The decorative arts commissioned for their new home began the King's life-long commitment to British 'manufactures'. Mahogany furniture by William Vile, silver by Thomas Heming, porcelain from the Chelsea, Derby, Wedgwood and Worcester factories, and ornamental metalwork by Matthew Boulton are among the superb pieces shown in the exhibition.

Queen Charlotte shared the King's interests in music, books and the theatre but was also known for her love of botany - gathering around her leading figures such as Joseph Banks. This display features some of the rare books that she collected on the subject including the specially bound dedication copy of Lord Bute's Botanical tables, shown within its own decorated cabinet.

However, their sons disappointed him.

The eldest son of George III, was born in 1762 and rebelled against his father's strict discipline. At the age of eighteen he became involved with an actress, Mrs. Perdita Robinson. This was followed by a relationship with Lady Melbourne.



King George IV The Royal Collection © 2004, Her Majesty Queen Elizabeth II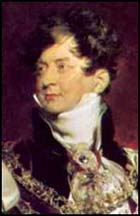 After the brothers of George III made unsuitable secret marriages, the Royal Marriages Act of 1772 was passed at George's insistence. Under this Act, the Sovereign must give consent to the marriage of any lineal descendant of George II, with certain exceptions.

However, in 1784 the Prince of Wales, met a fell in love with Mrs. Maria Fitzherbert, a Roman Catholic. Fitzherbert refused to become his mistress and eventually George agreed to marry her. The marriage was kept a secret as under the terms of 1772 Royal Marriages Act, it was illegal for a member of the royal family to marry a Roman Catholic.

By the 1780s the Prince of Wales had become a gambler, a womanizer and a heavy drinker. He was deeply in debt and when Parliament agreed to increase his allowance, George III remarked that it was "a shameful squandering of public money to gratify the passions of an ill-advised young man."

One of the most cultured of monarchs, George III started a new royal collection of books. 65,000 of those were later given to the British Museum, as the nucleus of a national library. In 1768, George founded and paid the initial costs of the Royal Academy of Arts. He was the first king to study science as part of his education and even had his own astronomical observatory.



Somerset House designed by William Chambers. Archive photo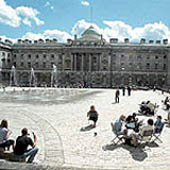 George III had a deep and practical interest in all branches of art and science. He was taught architecture by William Chambers, who designed the dazzling Gold State Coach for the King, and a number of his architectural drawings are included in the exhibition. His commissioning of some of the most sophisticated clocks, barometers and watches ever created stemmed from a fascination with and understanding of their mechanisms. The case for Christopher Pinchbeck's magnificent four-dialled astronomical clock and Matthew Boulton's decoration for the mantel clock by Thomas Wright, both in the exhibition, were partly designed by the King.

George III and Queen Charlotte were depicted by many of the leading British artists of the 18th century, including Allan Ramsay and Thomas Gainsborough. They chose the German painter Johan Zoffany to record scenes of family life with their children. Interestingly, at the time of the long-running dispute over the American colonies, George III commissioned a series of history paintings from the American artist Benjamin West, whose heroic subject matter reflected the virtues of honor, fortitude and chivalry that he particularly admired.

George III also took an avid interest in agriculture, particularly on the crown estates at Richmond and Windsor, being known as 'Farmer George'. In his last years, physical as well as mental powers deserted him and he became blind. He died at Windsor Castle on January 29, 1820, after a reign of almost 60 years - the second longest in British history.



The Queens Gallery The Royal Collection © 2004, Her Majesty Queen Elizabeth II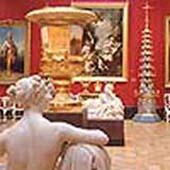 Every museum has a gift shop and this exhibition has inspired it's own enterprise.

Royal Collection Enterprises has commissioned an exclusive new range of products inspired by some of the finest works of art in the exhibition. The range includes limited-edition china, glassware, beautifully boxed linenware, ivory satin cushions and drawstring bags embroidered with flowers, cream silk cushions and purses decorated with fine pearls, embroidered padded hangers, and boxed linen placemats and traycloths.

The design of the King's china is taken from the Worcester breakfast service commissioned by George III in 1805. The Queen's china is inspired by the decoration of the teacup and saucer known as the 'Kew cup'.

The new china range also includes a faithful reproduction of the Worcester mug of 1780, which is thought to have been ordered for the King's personal use. Each of a series of 'motto mugs' is decorated with an inscription taken from an unique Sèvres dessert service produced to celebrate George III's recovery from his first porphyria in 1789.

The 'motto mugs' include Bless the King, The Patron of Arts, The Best of Husbands, The Example of Virtue, and The Best of Fathers.

The full George III and Queen Charlotte range are on sale at The Queen's Gallery, Buckingham Palace The exhibition George III and Queen Charlotte: Patronage, Collecting and Court Taste will be shown at The Queen's Gallery, Buckingham Palace until January 9, 2005. Entry is by timed ticket. The 500 objects, drawn entirely from the Royal Collection, constitute one of the largest and finest groups of Georgian material ever assembled.

EXPLORE THE MIDDLE EAST

Old Babylonian, 1800-1750 BC From southern Iraq A major acquisition for the British Museum's 250th anniversary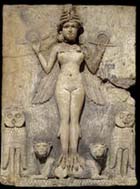 evening opening and family weekend April 2-4 at The British Museum.

Events will include performances by traditional Persian Zurkhaneh gymnasts, Sufi dancers and Armenian dancers, as well as demonstrations by Middle Eastern craftsmen and musicians. The evening opening will feature Transformations of Lilith, a variety of storytellers entertaining throughout the weekend a magical performance of Queen of the Night.

Queen of the Night: The figure of the curvaceous naked woman was originally painted red. She wears the horned headdress characteristic of a Mesopotamian deity and holds a rod and ring of justice, symbols of her divinity. Her long multi-colored wings hang downwards, indicating that she is a goddess of the Underworld. Her legs end in the talons of a bird of prey, similar to those of the two owls that flank her. The background was originally painted black, suggesting that she was associated with the night. She stands on the backs of two lions, and a scale pattern indicates mountains.

The figure could be an aspect of the goddess Ishtar, Mesopotamian goddess of sexual love and war, or Ishtar's sister and rival, the goddess Ereshkigal who ruled over the Underworld, or the demoness Lilitu, known in the Bible as Lilith. The plaque probably stood in a shrine.



A RAISIN IN THE SUN Lorraine Hansberry's timeless story of three generations living and struggling together under one roof returns to Broadway. This acclaimed work has not been seen on Broadway since its legendary original production. This powerhouse cast includes Sean Combs, Audra McDonald, Phylicia Rashad, and Sanaa Lathan, this revival promises to be a rare Broadway event. Three-time Tony-winner McDonald will play Ruth Younger. Rashad plays Lena "Mama" Younger and Sean "P. Diddy" Combs will make his Broadway debut as Walter, a role originated on Broadway by Sidney Poitier, who later reprised his role on film.

Directed by Kenny Leon the creative team includes; Sets by Thomas Lynch. Lighting by Brian MacDevitt. Costumes by Paul Tazewell. Sound by T. Richard Fitzgerald. Original music by Dwight Andrews.

Set in Chicago, the play concerns an African American family whose lives are transformed when the mother receives a life insurance payment: she wants to buy a house in a white neighborhood away from the inner city, while her son wants to invest a business enterprise that will enable him to stop working as a chauffeur.

Raisin in the Sun premiered in 1959. It was the first Broadway play written by, directed by and starring African-Americans. Lloyd Richards directed. In the cast were Poitier, Claudia McNeil as the mother, Diana Sands, Ruby Dee, Louis Gossett, Ivan Dixon, Glynn Turman, John Fielder, Lonne Elder III, Ed Hall and Douglas Turner. It ran 530 performances. A film 1961 version followed, as did a later 1991 TV movie. It was also the basis for the musical, Raisin.

Previews begin on March 30 at the Royale Theatre.Official Opening Night is April 26.

LITTLE SHOP OF HORRORS by Howard Ashman and Alan Menken. Based on the film by Roger Corman. Choreographed by Kathleen Marshall. Directed by Jerry Zaks.

Broadway's first ever production of everyone's favorite boy-meets-girl, plant-eats-world phenomenon arrives at the Ahmanson Theatre in Los Angeles August 24-October 17.

Meek, mild-mannered, out-of-luck Seymour Krelbourn has just discovered an exotic little plant with a strange and unusual appetite. The plant is growing remarkably fast – and so is Seymour's love for Audrey, his co-worker at the flower shop. But she has a boyfriend - and the plant has a bloodthirsty secret that threatens the entire planet. Will true love bloom before Seymour runs out of time (and peat moss)? Will ambition and greed take root in our humble horticultural hero? And just what are those three urchins doing singing doo-wop on every street corner?

THE TALKING CURE Freud, Jung, and Sabina Spielrein. Mysteries of the subconscious. Passions and entanglements. The seductive story of the birth of psychoanalysis. By Christopher Hampton. Directed by Gordon Davidson.

This American Premiere will have Set Design and Projected Images by Peter Wexler. Costume Design by Durinda Wood. Lighting Design by Paulie Jenkins. Sound Design by Philip G. Allen. Original Music by Karl Fredrik Lundeberg.

The production stars; Abby Brammell, Sue Cremin, Taylor Daubens, Bruce Katzman, Henri Lubatti, PJ Marino, Shiva Rose McDermott, Emily Rose Morris, Sam Robards, Harris Yulin.

In the early 1900's in Vienna, Sigmund Freud introduced a radical new therapy, psychoanalysis -- the talking cure. Carl Jung, practicing in Zurich, put the technique to test on a young Russian/Polish patient, Sabina Spielrein. The success of the experiment and the blossoming of their seminal relationship completely changed the face of analysis and perhaps the course of modern history.

In his new play, Christopher Hampton brilliantly reveals the early years of psychoanalysis as a new science, one that dared place sexuality at the center of human relationships.

The Talking Cure tells the captivating story behind the irreconcilable break between the men whose partnership established the 20th century's revolutionary new method of understanding human consciousness, and the woman who was the catalyst.

At the Mark Taper Forum in Los Angeles with performances from April 4 closing on May 28. Post-play discussions take place every Tuesday evening beginning April 20.

FAMILY IDOL AND HOME the first by Edmund Lingan and the later by David Barton are being presented by the TOAST Theatre Company. Family Idol is a four-character drama which critically views the potential - and dangers - of religion as a mode to solve severe family problems. It features: Risa Lingan, Kristen Napiorkowski, Brian Rhinehart, and David Risk.

Home takes a bittersweet look at two young Texans trying to restart a relationship and their conflicting views about the moral dilemma surrounding abortion. It features: Matthew David Barton, Erica Engstrom, and Erel Pilo. The set design will be by Scott Aronow, the costume design by Erica Frank, and the lighting design by Bradley Thompson. Josephine Gallarello and Andrea Patterson will serve as Associate Producers on this production.

Performances run in repertory from April 7 through 18 at Bernie West Theatre at Baruch College in NYC.

WEIRD ROMANCE part of The York Theatre Company's presentation in its Musicals in Mufti, Spring 2004 series of "musical theatre gems in staged concert performances."

"Mufti" means "in street clothes, without the usual trappings"

Starring Karen Ziemba, Devan May, John Hickok, Marcy Harriell, Darius de Haas, Wayne Wilcox, Lisa Datz and Brooke Sonny Moriber. Directed by Sheryl Kaller. Music Direction by Fred Lassen.

Serious-minded science fiction as the stuff of musical theatre - love in alternate universes - such is the purview of Weird Romance, in which two of Science Fiction's most acclaimed stories are adapted by a multi-award winning creative team: Alan Menken (music), Alan Brennert (book) and David Spencer (lyrics and additional book).

The Musicals in Mufti presentation heralds the New York debut of a newly revised version, including two new songs.

While the show was warmly applauded and reviewed, it has yet to have a commercial production in New York - so here's your chance to catch up on an important and vital work that is perhaps the ultimate cult musical!

April 2, 3, 4 at the York Theater Company Theatre at St. Peter's in NYC.

FORBIDDEN HOLLYWOOD hot on the heels of its wicked, long-running predecessor, Forbidden Broadway, this La La Land version has come to town, guns blazing and smokin' with attitude. When the dust settles, industry icons are strewn everywhere in the street, lovingly left there by creator Gerard Alessandrini, whose Broadway blowout has run in New York for 20 years and has toured the world.

Forbidden Hollywood cuts through Tinseltown's bombast and starpower with surgical precision. The bigger the production, the harder it falls. The cast revels in lampooning blockbusters like Shrek, Lord of the Rings, and Moulin Rouge.

In this always topical, constantly updated show, you never know who's going to get skewered! Two shows on Sat., April 3 at the Baird Auditorium, National Museum of Natural History, in Washington, D.C.

BOMBAY DREAMS this smash-hit London musical, featuring music by A. R. Rahman, lyrics by Don Black and a book by Meera Syal and Thomas Meehan, is based on an idea by Shekar Kapur and Andrew Lloyd Webber. The plot centers on a young man who dreams of becoming a huge Bollywood star and will do anything it takes to get there, despite the harsh realities of life on the streets of Bombay. The productions begins previews March 29 at the Broadway Theatre in Manhattan.

Directed by Steven Pimlott the cast includes; Manu Narayan (as Akaash), Anisha Nagarajan (as Priya), Ayesha Dharker (as Rani), Sriram Ganesan (as Sweetie), Marvin L. Ishmael (as Madan), Deep Katdare (as Vikram) and Madhur Jaffrey (as Shanti). The ensemble comprises Jolly Abraham, Mueen Jahan Ahmad, Aaron J. Albano, Celine Alwyn, Anjali Bhimani, Shane Bland, Wendy Calio, Tiffany Cooper, Sheetal Ghandi, Krystal Kiran Garib, Tania Marie Hakim, Dell Howlett, Dani Jazzar, Suresh John, Ian Jutsun, Aalok Mehta, Ron Nahass, Michelle Nigalan, Zahf Paroo, Danny Pathan, Bobby Petska, Kafi Pierre, Sarah Ripard, Darryl Semira, Lisa Stevens, Kirk Torigoe, James R. Whittington and Nicole Winhoffer.

The Bombay creative team includes Anthony van Laast and Farah Khan (choreography), Mark Thompson (scenic and costume design), Hugh Vanstone (lighting design) and Mick Potter (sound design).




| | | |
| --- | --- | --- |
| | | |
WHO'S WHERE


BROADWAY KITCHEN SINK VOLUME ONE your favorites sing their favorites. Veteran singer-actress Anita Gillette and Emily Loesser, daughter of legendary composer Frank Loesser, join cast members from the Broadway productions of 42nd Street (Kate Levering), The Producers (Don Stephenson), Cabaret (Kate Shindle - also Miss America 1998), Rent (Anthony Rapp), Nine (Sara Gettelfinger), The Boy from Oz (Stephanie J. Block), and Hairspray (Shoshana Bean) to sing their favorite hits from the stage and screen. Sunday, April 4 at Theatre @ Makor in NYC.

PETULA CLARK performs Saturday, April 3 at Turning Stone Casino in Veron,a New York. On Monday, April 5th she opens a 5 night engagement at Atlantic City Hilton in Atlantic City, New Jersey.

RAY STEVENS on stage Saturday, April 3 at Nashville North in Taylorville, Illinois.

JEFF FOXWORTHY center stage tonight, March 28, at the Sovereign Center for the Performing Arts in Reading, PA.

TONY BENNETT in the spotlight Friday, April 2 at the Fox Theatre in Redwood City, CA..

PETER CINCOTTI in a two nighter Friday and Saturday at the Roger Berlind Theatre in Princeton, N.J.

BOBBY VINTON singing at Silver Springs Park in Silver Springs, Florida on Saturday, April 2rd.

PAUL ANKA stars at Soaring Eagle Casino in Mount Pleasant, MI on Thursday. On Saturday he can be enjoyed at the Palace Theatre in Cleveland, Ohio.

ROD STEWART performs Friday, April 2 at the Rose Garden Arena in Portland, Oregon. On Saturday he is in the spotlight at the Everett Events Center in Everett, Washington.

ALABAMA in the spotlight today, Sunday, March 28 at the lst Mariner Arena in Baltimore, MD. On Friday they perform at the Mohegan Sun Casino in Uncasville, CT.

JOHN PRINE on stage at the Warner Theatre in Washington, D.C. on Thursday, April lst. On Friday the show is at the Sovereign Center for the Performing Arts in Reading, PA. Next Sunday, he is at the Carpenter Center in Richmond, VA.

JARS OF CLAY perform Friday, April 2nd at the City Centre Theatre in Coral Springs, Florida. On Saturday they are in the spotlight at the Duncan Theatre in Lake Worth, Florida.

JIM BRICKMAN is a staple of adult-contemporary, pop, country and smooth jazz radio playlists. His syndicated weekly radio program Your Weekend had been picked up by more than 75 top A/C stations coast to coast. Wed., Mar. 31 at Barbara B. Mann Performing Arts Hall in Fort Myers, Florida.

DEBBIE REYNOLDS will be aging a year between performances. On March 29 and 31st she'll be on stage at the Reno Hilton Hotel Showroom in Reno, Nevada. Then she celebrates her birthday on April 1st by traveling across country for her April 3rd engagement at the King Center for Performing Arts in Melbourne, Florida.

JOHNNY MATHIS in a two nighter Friday and Saturday at Ruth Eckerd Hall in Clearwater, Florida.

CLARENCE "GATEMOUTH" BROWN this Texas musical legend creates an incomparable mix of blues, country, R&B, jazz, and Cajun. Tuesday, March 30 The Barns at Wolftrap in Vienna, Virginia.


PIFFLE AND PROFUNDITIES


NASCAR DYE JOB one of the biggest attractions at the recent NASCAR races in Las Vegas was a booth with beauticians giving free hair dyes jobs - to men. Witnesses report the most popular color was light brown - so popular in fact that the Just for Men Hair Color booth ran out. An average of 140 men a day queued up to wait their turn for the five hairdressers to color hair, beards and mustaches with "most of the men being encouraged to do it by their wives." Least favorite color - jet black. "They men wanted to look as natural as possible and the wives wanted them to get rid of the gray and look younger."
















Next Column: April 4, 2004
Copyright: March 28, 2004. All Rights Reserved. Reviews, Interviews, Commentary, Photographs or Graphics from any Broadway To Vegas (TM) columns may not be published, broadcast, rewritten, utilized as leads, or used in any manner without permission, compensation/credit.
Link to Main Page
---
Laura Deni


CLICK HERE FOR COMMENT SECTION