! >
Broadway To Vegas
  SHOW REVIEWS     CELEBRITY INTERVIEWS     GOSSIP     NEWS 
| | |
| --- | --- |
| | |
Copyright: March 28, 1999
By: Laura Deni
CLICK HERE FOR COMMENT SECTION

PHYLLIS MCGUIRE ARRESTED
Las Vegas police slapped handcuffs on singer Phyllis McGuire after the entertainer who "appeared to be very intoxicated, slurring her words and smelling strongly of an unknown alcohol-based beverage," got out of her limo which had been stopped by police "yelling and cursing at officers and also began yelling at her driver, telling him he was fired for cooperating with us (the police.)


PHYLLIS MCGUIRE
A CORRECTIONS OFFICER HAD TO HOLD HER HEAD UP.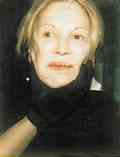 According to the police arrest report, written by police officer Shannon McHale, getting out of her limo the singer was screaming and failing her arms about.

"While waving her arms around, McGuire struck me in the right shoulder. I repeatedly asked McGuire to settle down and at one point McGuire began to quiet down, and then (McGuire) suddenly lunged backwards, striking me in the cheek with her head. I informed McGuire that she was under arrest for battery on a police officer."

The report continues that while she was being placed in the police vehicle she began kicking him and other police officers. Upon arriving at the Clark County Detention Center the singer refused to get out of the patrol car.

"Assisting corrections officers removed McGuire from my vehicle and McGuire struggled with them all the way into the booking area. Inside the booking area McGuire again became violent and was restrained," continued the official report.

The former paramour of Chicago mob boss Sam Giancana, was booked on one count of obstruction of a police officer and one count of battery on a police officer.

Only a few weeks ago the McGuire Sisters, whose hits include Sugartime and Sincerely, performed at the inaugural ball of Nevada Gov. Kenny Guinn. She and her sisters regularly perform in Nevada. Most recently Phyllis has been romantically linked with flamboyant casino owner Bob Stupak.

McGuire, 68, is represented by attorney John Moran, Jr., who maintains that "Miss McGuire is a completely innocent victim of an irrational and irresponsible police action."
REBA HIRED OWN IMPERSONATOR


Reba McEntire's limo driver opened the door so that the singer could be whisked away from her concert. When the entertainer walked right past the car door the driver became upset, worried that he had done something wrong or worse, that something terrible had happened to Reba. The star didn't recognize her own limo and driver!



DAVID LOWMAN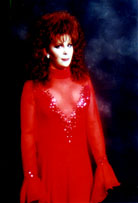 THE REAL REBA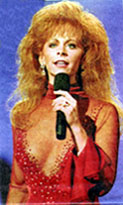 "Reba just loves to tell that story," divulged David Lowman, the man that Reba hired to impersonate her.

Lowman spent a year and a half as part of Reba's show, before moving to Las Vegas to impersonate Reba in La Cage at the Riviera Hotel.

The 35-year-old female impersonator, a native of Huntington, West Virginia, told me; "I started doing Reba as a joke. Somebody put a red wig on me and said that I looked like Reba McEntire."

Suddenly the Marshal University graduate with a degree in business, who spent 12 years working for a telephone company, found himself being hired as a Reba impersonator. He moved to Nashville and that is where Reba's people caught his act. Impressed, they insisted Reba see his show.

"She hired me," he exclaimed. I traveled with her as her concert double. She taught me how to really impersonate her. She taught me how to move my hands like she does and impersonate her on stage. I had the best trainer in the world - Reba herself!"

It was David - not the real McCoy- that opened Reba's concerts. "I kicked off the number Fancy, to open her concert. Then there was the equivalent of a magic trick - a fiery explosion on stage - and I would disappear and Reba appeared. To this day many of the concert goers still don't believe that wasn't Reba opening her own show.

"We had a ball. Reba is the nicest person. She had all of her costumes copied for me. I had an identical Reba wardrobe! We traveled everywhere together and she is great!

When David received the opportunity to star as Reba in La Cage it was an offer he couldn't refuse and one which has Reba's blessing. Many of her band members have already been to the Riviera to see David perform and Reba intends to catch his act the next time she's in Las Vegas.

With performances twice a night, with a third show on Wednesdays and Saturdays, the routine becomes more frenetic than performing in a Reba McEntire concert.

"It takes me 45 minutes to do the make-up," he explained. "I've got a very hairy chest, which I don't shave. It's all foam rubber, make-up and fabric."

The illusion is shocking. You'd swear it really was Reba. Even though David is taller than Reba, the illusion is so exact that the height difference disappears. The illusion works. In real life Reba and David have more than her career in common. They were both born on March 28th! "We exchange cards," he said. Happy Birthday to Reba and "Reba."


ANNETTE BENING BRILLIANT IN GABLER
ANNETTE BENING


She's beautiful, talented and married to Warren Beatty. Annette Bening has it all - including rave reviews for her starring role in Henrik Ibsen's Hedda Gabler at the Geffen Theater in Los Angeles.

The Kansas born mother of three has returned to the stage after an absence of ten years.

Those who eagerly anticipated her return were well rewarded.

Written in 1890, this adaptation by Jon Robin Baitz, working from a literal translation by Anne-Charlotte Hanes Harvey, is directed by Daniel Sullivan.

Byron Jennings co-stars with Bening.

Other cast members include; Paul Guilfoyle, Patrick O'Connell, Carolyn McCormick, Rosemary Murphy, and Marjorie Lovett.

Following this production Linda Lavin stars in Collected Stories, which opens at the Geffen Theater on May 19.


EXACTLY LIKE YOU

Four couples in a highly comic plot mixing jurors and lawyers, plaintiffs and mothers-in-law is the plot of Exactly Like You a musical comedy by Cy Coleman (music and lyrics) and A.E. Hotchner (book and lyrics). Performances begin Wednesday at the New York Theatre Company.



CY COLEMAN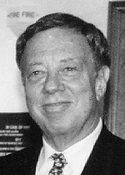 Coleman's legendary career includes three Tony Awards, for On the Twentieth Century, City of Angels, and The Will Rogers Follies, as well as such musicals as Sweet Charity, Little Me, and The Life.

This production marks the first of his musicals to premiere Off-Broadway.

Hotchner's writings include the plays The White House, and A Short Happy Life, as well as several novels and best selling biographies of Ernest Hemingway, Doris Day and Sophia Loren.

Exactly Like You was seen last season in a workshop production at the Goodspeed Opera House's Norma Terris Theatre in Chester, Ct.

Direction and choreography are by four time Tony Award nominee Patricia Birch. The 12 member cast includes Robert Bartley, Frank Graves, Tony Hastings, Doug Katsaros, Donny Kelly, Donya Lane, Kate Levering, Susan Mansur, Edward Staudenmayer, Blair Ross, and Lauren Ward.


FASCINATING RHYTHM
George Gershwin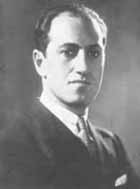 A new Broadway musical with words and music by George and Ira Gershwin, conceived by Mark Lamos and Mel Marvin, The Gershwins' Fascinating Rhythm begins previews this Friday, April, 2, 1999 at the Longacre Theater.

This non-stop, 90 minute new musical will feature everyone's favorite songs sung in a brand new way. Among the highlights are sensuous and innovative versions of Fascinating Rhythm, I've Got A Crush On You, Lady Be Good, The Man I Love, Our Love Is Here To Stay, I Got Rhythm, Embraceable You, Someone To Watch Over Me, They Can't Take That Away From Me, among others.

The Broadway production is a culmination of a year-long series of events celebrating the centenary of George Gershwin's birth and the extraordinary collaboration between George and his brother, Ira.

George Gershwin (1898-1937) was America's premiere composer by the mid-thirties sweeping the country with songs that were instant hits and are now classics. His first full musical score was La, La, Lucille, and then went on to write Rhapsody in Blue, A Second Rhapsody, Concerto in F, and An American in Paris. His last work was for the film Shall We Dance? starring Ginger Rogers and Fred Astaire.

Ira Gershwin (1996-1983) teamed up with his brother to write lyrics for some of the most successful musical comedies George composed including; Lady Be Good, Oh Kay!, Funny Face, Roselie, Strike Up The Band, and Of Thee I Sing.

Their musical collaboration climaxed with Porgy and Bess. Ira continued to write songs for Hollywood including; A Star Is Born, The Country Girl, Kiss Me Stupid, and published Lyrics On Several Occasions, an anthology of all the lyrics he wrote in his career.

Fascinating Rhythm recently played a sold out engagement at the Arizona Theater Company from December to January, 1999 breaking all box office records in the Company's 32 year history. The musical was originally developed at the Hartford Stage Company in 1997.

The creative team consists of Mark Lamos directing. In charge of choreography is David Marques, with Michael Yeargan handling scenic design. Paul Tazewell costume design with Peggy Risenhauser, lighting design. The orchestrator is Larry Hochman. The production is produced by Columbia Artists Management and Manny Kladitis.



Broadway To Vegas is supported through advertising and donations. Priority consideration is given to interview suggestions, news, press releases, etc from paid supporters. However, no paid supporters control, alter, edit, or in any way manipulate the content of this site. Your donation is appreciated. We accept PAYPAL. Thank you for your interest.


L.A. DRAMA CRITICS BESTOW AWARDS

The 30th Annual Los Angeles Drama Critics Circle Awards were presented in ceremonies at the Hollywood Roosevelt Hotel. Noel Coward's Private Lives, staged by David Chambers at South Coast Repertory walked off with six awards, the most for any single show. The Glendale based classical theater company A Noise Within took home eight honors, the most for a single theater company.

Critic Polly Warfield, 85, received a lifetime achievement award. Ms. Warfield writes for Back Stage West/DramaLogue.


FAKE PIGEON POOP A CROWD PLEASER
Lenin
Mandalay Bay Resort in Las Vegas lopped off the head of the statue of Lenin, which stands at the entrance to the Red Square vodka bar, and fake pigeon poop has been sprinkled on top. It seems that patrons weren't too thrilled to see a dignified statue of the guy who founded the Communist Party in Russia. Lenin led the October Revolution of 1917 in which Communists seized power in Russia. His goals were the destruction of free enterprise and the creation of a classless society.

The goals of the publicly traded Circus Circus Corporation, owners of Mandalay Bay, are definitely free enterprise. Regarding that classless society silliness - Mandalay Bay is the joint that houses the hoity-toity Four Seasons Hotel.

Patrons at Mandalay Bay were offended by the statue. Glenn Schaeffer, president of Circus Circus Enterprises, cried - off with his head- and the deed was done.

Then fake pigeon droppings were placed on the headless statue and scattered about.

"It (the statue) was offensive to a few people, but now our Lenin looks like the Lenins that remain standing in the few places in the former Soviet bloc."

According to Schaeffer the fake pigeon poop gives the now bird-brained statue "that lived-on, urban look."

The real Lenin died of a brain hemorrhage on Jan 21, 1924. The government preserved his body - almost turning it into a statue like substance. Lenin's Tomb in Red Square in Moscow, is a favorite tourist stop.

The headless Lenin with the phony bird excrement is also drawing quite a crowd at Mandalay Bay.


OTHER PEOPLE'S MONEY

OSCAR EQUALS DOLLARS for the happy producers of David Hare's Amy's View. Dame Judi Dench winning the Supporting Actress Oscar caused a ticket run for the play which opens April 15. Before the Oscar win, box office sales were about $70,000 a day After the Oscar win, daily sales jumped to over $100,000 - out grossing Nicole Kidman's appearance in another Hare creation, The Blue Room.

GARTH BROOKS MEANS MONEY the country singer turned baseball player will be in Las Vegas when the San Diego Padres, parent company of the Las Vegas Stars, arrive for Big League Week-End.

Stars general manager Don Logan expects a 10-12 percent gate increase because of Brooks.

The Padres play the Milwaukee Brewers on April 2 and the Chicago White Sox the following day.

Logan indicated that Brooks arrival in Vegas "will be a boost to us because the people who didn't get a change to see him in spring training (in Arizona) will get a chance to see him."

The country singer suits up as an outfielder, and is batting .071 (1-for-14). With Brooks accompanying the team attendance is expected to increase, from an anticipated 6,500 for the first game to over 7,000, with over 8,000 for the second game.

Reportedly the Padres were trying to decide what to do with Brooks for the season.


GET WELL SOON TO...


EYDIE GORME The marvelous singer, who along with her husband Steve Lawrence - also a marvelous singer- had a full schedule have been forced to cancel all dates.



Steve Lawrence and Eydie Gorme

Poor Eydie has an acute respiratory infection, which has affected her ears. Her doctors have ordered her not to fly.

First engagements affected by the grounded Gorme were last week at John Ascuaga's Nugget in Sparks, Nevada.

Ticket holders can call for a refund.

Steve and Steve & Eydie will ring in the millennium by celebrating their 42nd wedding anniversary. They exchanged vows in 1957, two days before ringing in the new year of 1958. The singers were married in Las Vegas in the home of Beldon Katleman, who was the owner of the El Rancho Hotel.

The performing duo first got their act together on a Las Vegas stage at the Sahara Hotel in March, 1961.

The veteran singers first climbed up the gold record ladder in the 1960's. Steve in 1962 with Go Away Little Girl and Eydie joined the million seller club in 1963 with Blame It On The Bosa Nova.

JOHNNY CARSON from Heart by-pass surgery. Carson first played Las Vegas when he made his major nightclub debut at the age of 36. He was in his second year of hosting The Tonight Show when he took to the Sahara Hotel stage in 1964. He was a hit - his Deputy John character stealing the show. Carson's salary? $3,000 per week.



THE ICEMAN COMETH written by Eugene O'Neill, directed by Howard Davies with Kevin Spacey as "Hickey," opens April 8 at the Brooks Atkinson Theatre.

The new Broadway cast features Tony Danza (Rocky), Ed Dixon (Piet Wetjoen), Michael Emerson (Willie Oban), Katie Finneran (Cora), Paul Giamatti (Jimmy Tomorrow), Patrick Godfrey (Cecil Lewis), James Hazeldine (Harry Hope), Catherine Kellner (Margie), Robert Sean Leobard (Don Parritt), Clarke Peters (Joe Mott), Tim Pigott-Smith (Larry Slade), Richard Richle (Pat McGloin), Steve Ryan (Moran), Stephen Singer (Hugo), Kevin Spacey (Hickey), Dina Spybey (Pearl), Skipp Sudduth (Chuck Morello), Ned Van (Lieb) and Jeff Weiss (Ed Mosher.)

TESLA'S LETTERS is Jeffrey Stanley's new play about an American graduate student who goes to war-torn Yugoslavia in 1997, to research the life, letters, and inventions of the great scientist Nicola Tesla.

On her quest she is drawn into violence and intrigue. Tesla's Letters will be the centerpiece of The First Light Festival at the Ensemble Studio Theatre.

Curt Dempster will direct.

The cast includes; Keira Naughton, Victor Slezak, Judith Roberts and Grant James Varjas. Performances begin April 6.

ON THE MOVE Either everybody wants him or this guy is running away from something.

Solo acoustical fingerstyle guitarist Nick Thompson closed out an engagement at Kenny's Cataways last Saturday. He opens April l at Downtown, the following night he performs at Eureka Joe's. On the 6th he's on stage at the Dark Star Lounge and the next night he stars at The C Note. All in New York City.


PLAYING IN THEIR PLAYHOUSE

LA JOLLA PLAYHOUSE has named Anne Hamburger the new artistic director. For the last 13 years En Garde Arts, which Hamburger founded, has commissioned and produced more than 25 new plays and musicals. En Garde Arts won seven Village Voice Obie awards, two Drama Desk awards and a special Outer Critics Circle award for its New York production.

En Garde Arts will disband when Hamburger, 45, takes over at the La Jolla. Playhouse.

PHOENIX PLAYHOUSE a Minneapolis performance venue used by many small theater groups, will add a second space in April. The new 49-seat theater will be inaugurated with a JAFA Company production of Christopher Durang's Baby With The Bathwater.


THIS AND THAT


NICE TOUCH Caesars Palace has placed elegant paper cup holders in the restrooms, so that a person can obtain a drink of water.

Traditionally Las Vegas casinos don't have public water fountains - or keep them well hidden - the object being to force a parched patron to buy a drink.

With conventions making inroads into high roller territory, the message is finally getting across that it's nice to be able to get a drink of water.

By the way, since this is a desert community, legally a thirsty person is entitled to be given water. However, the free tap water provider is entitled to charge for the container or the time it takes to fill yours.


ANSWERING QUESTIONS


A reader has E-mailed us asking the following question. What are the names of the two comedians whose first Broadway show was The Streets of Paris. ANSWER Abbott and Costello. The 1939 production The Streets of Paris propelled the comedians from burlesque to Broadway.



Mention BROADWAY TO VEGAS for Special Consideration
Call (800) 942-9027









Next Column: April 5, 1999
Copyright: March 29 1999. All Rights Reserved. Reviews, Interviews, Commentary, Photographs or Graphics from any Broadway To Vegas (TM) columns may not be published, broadcast, rewritten, utilized as leads, or used in any manner without permission, compensation and/or credit.
Link to Main Page
---
Laura Deni




For the snail mail address, please E-mail your request.
CLICK HERE FOR COMMENT SECTION