! >
Broadway To Vegas
  
  REVIEWS  INTERVIEWS COMMENTARY NEWS

| | |
| --- | --- |
| | |
HAUNTED HOUSE TIPS FOR SPIDER-MAN - - RIDING ALONG WITH THE ROYAL MEWS - - KENNEDY CENTER 2011 SPRING GALA SALUTES MICHAEL KAISER - - GUSTAV MAHLER EXHIBITION - - MEMPHIS AND WAR HORSE RECEIVE GRANTS - - RACE AND MUSIC - - DON'T MISS SEEING THE BOOK OF MORMON - - BRET MICHAELS SUES THE TONY AWARDS - - DONATE . . . Scroll Down



HAUNTED HOUSE TIPS FOR SPIDER-MAN


Spider-Man Turn Off the Dark should have read the haunted house playbook.

Last Thursday in a special Spider-Man: Turn Off the Dark performance for network executives, advertisers and journalists at the Foxwoods Theatre, somebody who should have known better took a flash picture. The flash caused the flying actor to miss his mark. That resulted in a show stoppage.

The people who pony up the dough to see the Spider-Man disaster aren't there to enjoy Broadway theater. They want danger, titillating, the scare aspect - some even hoping they are present when an actor gets hurt. It's the same crowd that makes the haunted house industry a billion dollar business.

Broadway To Vegas looked into how the haunted house guide could have benefited Spider-Man.

Randy Bates operates the Bates Motel located in Glen Mills, which is a scream away from Philadelphia. The attraction is consistently rated as one of the best haunted houses in America, lauded for "the most incredible display of terror and mayhem this side of Hollywood. Filled with high-tech special effects, digital sound track, and computerized lighting, the Bates Motel takes Halloween to the next level of horror… up close and personal! The Bates Motel is a no holds barred, high action, haunted house not intended for children under 8 or people with heart conditions. With incredible detail, and stellar acting, the Bates Motel is one of the best haunted houses in America."

Recently Bates penned some safety advise for the Haunted House Association.

In part, his observations and suggestions included: "With insurance prices skyrocketing, and law suits looming . . . safety is an increasingly important issue. I have been operating a successful haunted attraction, including our haunted hayride, for 14 years . . . There is a lot more to it than just safety chains . . . Most of the accidents that plague this industry could be avoided or eliminated completely by following simple safety guidelines . . . actors being run over are just some of the incidents happening around the country. . . We need to be proactive in the pursuit of safety."

Bates suggestions which could have been used by Spider-Man include:

We always keep the customers under control.

No lighters or matches
No Flashlights
No cameras or camcorders

"When you design a scare, always think in terms of safety, and what could possibly go wrong. If you use overhead scares such as falling spiders, flying bats and witches, or actors swinging across the trail, make sure that the support cables are of proper thickness and are clamped as per the manufacturer's specifications. Cable clamps must be installed in a certain manner for them to hold properly. Once your scare is set up, and working, add a backup cable in case the primary cable breaks or comes loose. If you have a falling billboard or building that drops ... build in mechanical stops so that it can not drop all the way down. Make sure it is physically impossible for these types of sets to cause harm to your actors or guests. As the season progresses, you should make visual inspections of all the moving parts and cables. Look for wear, slippage, frayed cables, and worn pulleys. Lubricate tracks and mechanical parts that need it. Maintain all props so they work properly for the entire season."

"Plan for the worst, and figure out how to make it safe. When designing a new set, always try to imagine what could go wrong then reduce that possibility by eliminating that problem. Always have a backup safety plan for every prop and stunt, and follow up with physical checks throughout your season."

For decades theater patrons have been told they were not permitted to record or take pictures. Those rules were put into place because using digital cameras or video recorders violates union rules for the reproduction of a performance.

Customers attending a performance in the hopes of capturing an actor getting hurt couldn't care squat about intellectual property rights.

Years ago any attempt to secretly record a performance would have required a tape recorder hidden in a full size briefcase. Cameras weighed pounds, not ounces and cell phones with cameras didn't exist.

We're in the era of micro. Just about everyone has a picture capability cell phone. That becomes the tricky part. To do an effective pat-down of ticket holders entering the theater would be even more invasive than the airport TSA grope.

It's not just Spider-Man actors who are placed in danger by a camera flash. Shakespeare Dallas tells patrons: "Taking photographs poses a risk to the actors. Please turn off cell phones and pagers during the performance to prevent technical difficulties and interference during the performance."

In explaining the latest Spider-Man problem, show spokesman Rick Miramontez told The Daily: "A patron took a flash photo of the flying Spider-Man, startling him and causing him to miss the landing spot."

"The aerial system is so sophisticated that if a flying maneuver is off by even a couple inches, it automatically shuts down. Safety always comes first," he added.

Of course, the production has injured at least five performers and there have been countless malfunctions. The production has also been cited for safety violations.

The talented and respected PR firm of Boneau/Bryan-Brown, headed by Chris Boneau and Adrian Bryan-Brown resigned in July 2010 after handling the much delayed musical for nearly three years. It was originally slated to open Feb. 25, 2010. The spin doctor role was then assumed by the talented and respected Miramontez - who must by now be up in the middle of the night muttering to himself. Later, when appropriate, he can pen his own how-to PR book called Spinning Spider-Man or The Spider-Man Spin.

The producers of the troubled production announced last Thursday evening that they had hired a new choreographer Chase Brock, 27, to help stage new musical numbers and script revisions.

"We were looking for someone with theater and opera experience, but who specializes in cutting-edge contemporary dance," the producers said in the statement. "We found everything we were looking for, and much more, with Chase."

Brock choreographed a popular Wii video game, the Broadway Experience, which drew on work by his Brooklyn-based dance troupe, the Chase Brock Experience.

Another change is giving the hook to that dreadful Geek Chorus, which will no longer be part of the production when it reopens May 12 after shuttering for a major overhaul April 19-May 11.

The latest official opening date is June 14.



Broadway To Vegas is supported through advertising and donations. Priority consideration is given to interview suggestions, news, press releases, etc from paid supporters. However, no paid supporters control, alter, edit, or in any way manipulate the content of this site. Your donation is appreciated. We accept PAYPAL. Thank you for your interest.



ART AND ABOUT


GUSTAV MAHLER

Gustav Mahler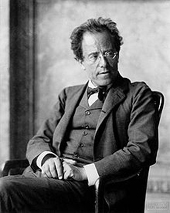 "Only when I experience something do I compose, and only when composing do I experience anything." - Gustav Mahler.

One hundred years after his death, Gustav Mahler is remembered purely as a symphonic composer. This is because the two key roles of orchestra conductor and opera house director that helped transform him into the brilliant composer that we think we know, have disappeared from the collective memory.

His exceptional talent as a conductor propelled him to the top of the most prestigious orchestras of his time. Alongside this, for most of his life he was a director of an opera house.

In this role too, he became totally involved as manager, conductor and sometimes even stage director, thus revealing his overriding desire for control – an element he considered essential to achieve his artistic goals in music. His genius for musical interpretation and his revolutionary approach as an opera director have been almost forgotten, but it was these aspects of his musical life that brought him to "experience" music, an essential precondition for "composing" it.

With the invaluable help of the archives department of the Musikverein in Vienna and the Mahler media library in Paris, a new look at Mahler is presented. With a parallel study of his relationship with literature and nature, key sources for his work, the exhibition aims to put forward a more complete view of Mahler's life and his creative process.

The exhibition, in three sections, offers different perspectives on Mahler's life and work. It adopts a new and original approach to presenting the music and understanding the sources of his inspiration. It has not been designed purely as a display of musical scores and manuscripts, but aims to show exhibits from all disciplines: paintings, drawings, pastels, sculptures, photographs, sound recordings, the work of the stage designers.

A look at women and his links with the painters of the Vienna Secession is also presented through a series of previously unseen photographs. Manuscripts of various symphonies, extremely rare sketches and designs for programs are on show for the first time in France.

Finally, his Symphony no. 4, played in its entirety, can be heard throughout the exhibition and sets symphonic composition at the heart of Mahler's work.

On the centenary of his death, this exhibition pays tribute to a great musician who worked at the time when Romanticism was moving towards Modernism. Curated by Guy Cogeval, director of the public establishment of the Musée d'Orsay and the Musée de l'Orangerie and Pierre Korzilius, director of the French Institute, Düsseldorf. Through May 29, 2011 at the Musée d'Orsay in Paris.


IN THE COURTS


BRET MICHAELS HAS SUED THE TONY AWARDS and CBS Broadcasting. The suit, filed Friday in Los Angeles Superior Court by attorney Alex Weingarten, is over the June 2009 on camera Tony Awards telecast mishap in which a descending set piece hit the rocker in the head. He sustained a lip injury and a broken nose after performing Nothing But a Good Time with the cast of the Tony-nominated Best Musical Rock of Ages.

The lawsuit states, "Michaels was never told that the scenery piece would be descending or given any warning of the existence of the dangers it presented."

In the lawsuit Michaels asserts that the head injury contributed to a brain hemorrhage that nearly killed him.

DAVID SCHUBERT 47, a Clark County (Las Vegas) chief deputy district attorney who prosecuted drug charges against singer/songwriter/producer Bruno Mars and celebrity Paris Hilton was arrested on drug charges.

The veteran attorney was charged with possession of cocaine - the same substance in the Mars and Hilton cases.

District Attorney David Rogers immediately suspended Schubert and began the termination process.

Schubert, a 2001 graduate of the Boyd School of Law at the University of Nevada, Las Vegas had been with the District Attorney's office since 2002.


SWEET CHARITY


KENNEDY CENTER 2011 SPRING GALA

Michael Kaiser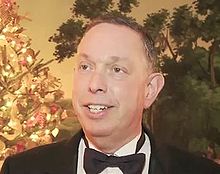 presents Michael Kaiser at the Kennedy Center: A Celebration of Ten Years, featuring an array of stellar performances by celebrated artists that have graced the stages at the Center during the past decade.

Kaiser has an international reputation for his expertise in the arts. He's been dubbed "the turnaround king" for his work at such arts institutions as the Kansas City Ballet, Alvin Ailey American Dance Theater, American Ballet Theatre and the Royal Opera House.

Hosted by Smokey Robinson, the evening includes appearances by Joshua Bell, Barbara Cook, Renée Fleming, Audra McDonald, Brian Stokes Mitchell, Marcelo Gomes and Paloma Herrera of American Ballet Theatre, members of New York City Ballet, the Kennedy Center Opera House Orchestra, the National Symphony Orchestra with Maestro Christoph Eschenbach.

As one of Washington's premier benefit engagements, the Spring Gala provides critical funding to support the Center's performances, education, and outreach initiatives. During the evening, the Kennedy Center hosts more than 1,500 business and philanthropic leaders from across the nation. The event begins with a reception on the River Terrace, followed by an elegant dinner on the Center's Roof Terrace level and a spectacular performance in the Opera House. It culminates with a live band and dancing on the Roof Terrace at the 'Til Midnight Party.

The Kennedy Center is proud to honor Michael Kaiser's ten years of dedicated leadership to the Center, serving as America's preeminent institution for the performing arts and the country's largest provider of arts education. April 3 in the Opera House, the Kennedy Center in Washington, DC.

AMAS MUSICAL THEATRE will celebrate the Centennial Year of its late founder Rosetta LeNoire at a Gala evening on Monday, April 4th, featuring a special Blast from the Past concert of William Finn's songs from the celebrated Romance in Hard Times, starring Tony-Winner Lillias White and a veteran cast of Broadway professionals; J. Bernard Calloway, Victor Trent Cooke, Carmen Ruby Floyd, Robert Fowler, André Garner, Beth Glover, Tim Jerome, Alix Korey, Michael Mandell, Patricia Noonan, and Destan Owens.

The Music Director is Matt Castle. The program will be directed by Michael Bush. Honorary Benefit Chair is Vanessa Williams.

The Amas Benefit Event honors the award-winning director, writer and producer George C. Wolfe with the Rosie Award, named for Amas's founder. The Rosie Award "is bestowed on those individuals who have demonstrated extraordinary accomplishment and dedication in bringing our world more closely together through the performing arts." Previous honorees include Ossie Davis and Rubie Dee, Geoffrey Holder and Carmen deLavallade, Leslie Uggams, Maurice Hines, Phylicia Rashad, Woodie King, Jr., and Dionne Warwick.

The event takes place at the Baruch Performing Arts Center, in NYC.

BAY STREET KICKS OFF 20th SEASON with its Spring Benefit on Sunday, April 3, celebrating East End's own Truman Capote. Patrons can brunch at The Americana Hotel with SNL's Darrell Hammond who stars as Truman Capote in Tru, beginning May 31 and directed by Judith Ivey.

After brunch stroll down to Bay Street for a chance to win a Tiffany & Co. sterling silver necklace. They'll be a champagne toast followed by a screening of Breakfast at Tiffany's. And - a prize for the best Audrey Hepburn costume. All proceeds benefit Bay Street Theatre in Sag Harbor, NY.

THE PASADENA PLAYHOUSE PREMIERE GALA entitled Opening Night will be held at The Pasadena Playhouse on Friday, April 1, 2011.

The theatre's auditorium will transform into a Grand Ballroom for the Gala that will include cocktails, dinner, dancing, merriment and live entertainment.

"We are pleased to be able to celebrate the great Pasadena Playhouse in an unique and extraordinary way. Our plan is to turn the auditorium into a Grand Ballroom and invite all the ghosts of audiences and artists of the past to celebrate with us. It promises to be one of the great nights in the theatre," said Stephen Eich, Executive Director of The Pasadena Playhouse.

HEART & SOUL AWARDS LUNCHEON Career Transition For Dancers Presents Celebrating the "Most Fashionable" of the Palm Beach Spirit Thursday, March 31, 2011 at Club Colette in Palm Beach, FL.

There will be a fashion show of Costumes from the Dance including: Giselle - Orlando Ballet; paguita - Dance Theatre of Harlem; Don Quixote (worn by ABT prima ballerina Gelsey Kirkland) - Costume Archive at Dubé Zakin Management, Inc., NYC; La Bayadere - American Ballet Theatre; Swan Lake - San Francisco and the Pennsylvania Ballet Companies; The Nutcracker - Houston Ballet; Rite of Spring – The Joffrey Ballet; Apollo - Miami City Ballet; Satyric Festival Song - Martha Graham Dance Company; Scotch Symphony - Miami City Ballet; Tchaikovsky PasDe Deux - Costume Archive at Dubé Zakin Management, Inc., NYC; Brazilian Costumes - Ballet Hispanico; Peter Pan.

The models for the costumes are from the Alexander W. Dreyfoos School of the Arts in Palm Beach.

The Honorary Chairs are: Dame Celia Lipton Farris, Alfred Fiandaca, Hermé de Wyman Miro. The Chairs are: Caroline Collings, Cheryl Gowdy, Anka Palitz, Vicki Kellogg. The Committee includes: Paula Butler, Dale Coudert, Jocelyne Dunn, Annette Friedland, Cheryl & Jerre Gowdy, Judy Grubman, Vicki Halmos, Michele Herbert, Hayden Hosford, Sandy Krakoff, Sandy Kriser, Kay Lyons, Grace Meigher, Terri Mercentes, Daniella Ortiz, Mary Ourisman, Amanda Schumacher, Anne Surovek, Celeste Thomas, Lauri Welteroth, Gail Worth.

Career Transition For Dancers Florida dancer-clients and grant recipients are: Darian Aguila, Melissa Alison del Sol, Jennifer Antonnosanti, Alexandre DuFaur, Darya Fedotova, Nicolas Fonseca, Helen Hansen, Christina Heldreth, Christine Hodges, Steven Hoff, Kathryn Homeres, Lorena Jimenez, Roy Johns, Tabitha Johnson, Todd Jost, Elizabeth Keller, Mifa Ko, Kristen Kramer, Giselle Menacho, Rebecca Mitchell, Sergiy Mykhaylov, Joey Panek, Hiroko, Sakakibara Shekitra Starke & Nikki William.

Recently celebrating its Silver Anniversary, Career Transition For Dancers has worked to enable dancers to define their career possibilities and develop skills necessary to excel in a variety of disciplines for 26 years. With of­fices in New York, Los Angeles, Chicago, and a mobile National Outreach Project, the organization has provided over 46,000 hours of individual and group counseling, with a dollar value of over $4 million in educational and entrepreneurial grants. Outside of the or­ganization's 4,800 active clients, the organization has helped thousands of dancers in 47 states take their first steps towards discovering reward­ing post-performance careers.

THE WICHITA GRAND OPERA

Samuel Ramey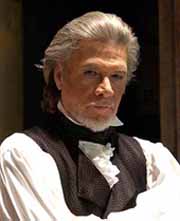 held their 10th Anniversary Gala last night, March 26, at the Century II Performing Arts Center, Concert Hall in Wichita, Kansas.

Coming home for this first ever historic concert by world-renowned Maestro Steven Mercuriio - appropriately titled There's No Place Like Home - were Kansas' Big Three of the Metropolitan Opera - Ramey, DiDonato and Held.

Colby, Kansas native Samuel Ramey graduated in 1968 from Wichita State University - Mezzo-soprano Joyce DiDonato who was born and raised in Prairie Village was a music education major at WSU - Bass-baritone Alan Held earned a masters from WSU in 1983 and then taught at WSU for two years.

Entertainment included the trio from Mozart's Don Giovanni and, for Ramey and Held, the duet Suoni la tromba (Sound the Trumpet) from Bellini's I Puritani, which Mercurio affectionately called "a battle between two male voices" and "a lot of hormones onstage."

The gala's "dessert," according to Mercurio, was a medley of songs from The Wizard of Oz.


RIDING ALONG WITH THE ROYAL MEWS
The Royal Mews

When Kate Middleton travels to her wedding she will be in the Rolls Royce limousine that was damaged when student protesters attacked Prince Charles and his wife Camilla in December, royal officials have said.

Staff are repairing the claret-colored 1977 Phantom VI after it was spattered with white paint and had a rear window badly cracked by rioters opposed to government plans to raise university fees.

After Prince William and Catherine Elizabeth are pronounced husband and wife they will leave Westminister Abbey in a royal coach - the 1902 State Landau. In the event of severely wet weather, the couple will travel in The Glass Coach.



The Landau Coach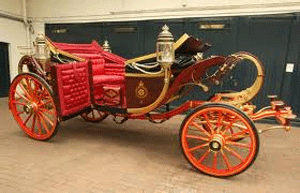 There will be five horse-drawn carriages in the Carriage Procession from Westminster Abbey to Buckingham Palace. The first carriage will be the 1902 State Landau or Glass Coach carrying the Bride and the Bridegroom. The second and third carriages will be Ascot Landaus carrying the Best Man Prince Harry, Pippa Middleton, Kate's maid of honor, and her bridesmaids. The fourth carriage will be a Semi-State Landau carrying The Queen and The Duke of Edinburgh. The fifth carriage will be a Semi-State Landau carrying Prince Charles, Camilla and Kate's parents.

The 1902 State Landau was specifically built for King Edward VII in 1902 and was intended to be used at his Coronation. It is the carriage in most general use at the Royal Mews and is usually used by The Queen to meet Foreign Heads of State when they arrive on State Visits to Britain. The Prince of Wales traveled to St Paul's Cathedral in the 1902 State Landau for his wedding in 1981, returning in it with The Princess of Wales after the service. The Duke and Duchess of York - that's Prince Andrew and Sarah - also used it for their return to Buckingham Palace at their wedding in 1986.



The famed Glass Coach is black, not a white coach associated with Disney's Cinderella weddings.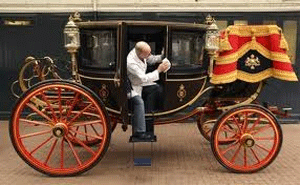 The famed Glass Coach, which weighs almost one ton, was built in 1881 and was originally designed as a sheriff's town coach when it was built by Peters and Sons in 1881. It came into royal hands when it was purchased for George V's coronation in 1911.

The Glass Coach has carried previous Royal brides to their weddings - Lady Elizabeth Bowes-Lyon in 1923, Princess Alexandra in 1963, Princess Anne in 1973, Miss Sarah Ferguson in 1986. It has also carried the bride and bridegroom from the church, as it did when Princess Elizabeth married The Duke of Edinburgh and again when Princess Anne married Captain Mark Phillips.

Prince William's mother, Lady Diana Spencer, used it for her journey to St Paul's Cathedral in 1981, which may have added to the fairytale aspect of the day. However, the vehicle was also chosen for practical reasons: it was one of the few modes of transport capable of holding the Princess's billowing taffeta bridal gown, which featured a 25ft train.

William and Kate's procession will pass by some of London's most well-known landmarks, including the Queen Victoria monument, The Mall, Horse Guards Parade, Whitehall, the Cenotaph and the Houses of Parliament, not to mention two of London's best-loved royal parks, St. James's Park and The Green Park where they will be greeted by masses of daffodils. Those golden beauties were planted to celebrate The Queen's and The Duke of Edinburgh's Golden Wedding in 1997



The Royal Mews Postilion Jackets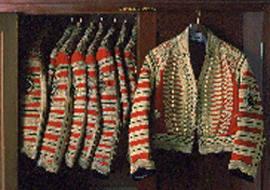 For the Royal Wedding, 14 sides of State Harness will be used with matching appointments for outriders. All the harness requires regular cleaning and polishing which is undertaken by Royal Mews staff in addition to their other duties.

Those visiting London have the opportunity to tour The Royal Mews, which houses the carriage that William and Kate will use on their wedding day. One of the finest working stables in existence, the Royal Mews at Buckingham Palace, which is open for tours, provides a unique insight into the department of the Royal Household that provides transport by road for The Queen and other members of the Royal Family - including both the car that will take Kate to her wedding and the open coach they will use after they leave the 11am church service. taking them to the afternoon reception at Buckingham Palace, hosted by the Queen.

The Royal Mews houses the State vehicles, both horse-drawn carriages and motor cars. There are over 100 carriages in the collection, although not all of them are kept at Buckingham Palace. The State Car collection includes two Bentleys, three Rolls-Royces and three Daimlers.



The Gold State Coach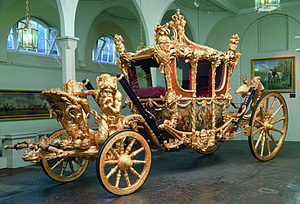 Visitors can see the Gold State Coach which was last used during The Queen's Golden Jubilee in 2002 to carry Her Majesty and Prince Philip to the Service of Thanksgiving at St Paul's Cathedral.

There are five Ascot Landaus in the Royal Mews. These carriages are always used for The Queen's procession up the course at the Royal Ascot Race meeting and also for other visits of an official nature.

There are five Semi State Landaus in service. They have been used for The Queen's coronation visit to Edinburgh, the Investiture of The Prince of Wales at Caernarfon Castle, The Queen's silver Jubilee visits to Glasgow and Cardiff, and on State Visits following the 1902 State Landau. They are also used to transport new High Commissioners of Republics within the Commonwealth when they are received by The Queen.

For most of the year the stables are home to the working horses that play an important role in The Queen's official and ceremonial duties. They are two breeds of horses at the Royal Mews; Cleveland Bays, the only British breed of carriage horse, and the Windsor greys, which by tradition always draw the carriage in which The Queen is traveling. As they may be on duty, undergoing training or having a well-deserved rest away from London, the horses are not always on view.

The Royal Mews is part of the Lord Chamberlain's Office and is run by the Crown Equerry. The Royal Mews, under the direction of Colonel Toby Browne, houses 30 carriage horses and has 38 staff including liveried helpers, coachmen, chauffeurs. Through October 31, 2011 the Royal Mews are open daily to the public from 11a.m. until 7 p.m.


SPREADING THE WORD


CHARLIE SHEEN'S MUSICAL DIRECTOR Rob Patterson, will be playing the official Tigerblood guitar, aka a Paul Reed Smith Custom 24, which according to his Tweet is "the best ax on earth."

Apparently, Patterson is going to be part of each show on Sheen's upcoming sold-out Violent Torpedo of Truth tour.

Sheen has added a second Toronto show, now appearing there April 14-15 at Massey Hall, and a gig at Foxwoods. on April 17.

REMEMBERING LENA HORNE A discussion with Susan Lacy, executive producer and creator of the PBS series American Masters, along with Gail Lumet Buckley, Lena Horne's daughter, Dwight Blocker Bowers, National Museum of American History Curator, and Richard Golden, jazz producer at Sirius XM Radio.

The discussion followed by screening of American Masters Lena Horne: In Her Own Voice which was written and directed by Susan Lacy.

Thursday, March 31 at the Kogod Courtyard, National Portrait Gallery in Washington, DC.

SPEAKERS AT THE POWER OF WOMEN conference April 1 in Toronto include: Sigourney Weaver, Joy Behar, Loetta LaRoche, Michelle Phillips, Peggy Klaus, Jessica Holmes and Brooke Goldstein.

Billed as One Day That Will Change Your Life! "You will learn from real-world experts who are the best-of-the-best, in an incredibly entertaining environment that empowers you to take action immediately to transform your life forever."

The organization is an expanding network that "brings women together to learn, laugh, and celebrate their authentic self, their unique gifts and their personal power! These extraordinary events will educate, motivate, entertain and inspire you to continually strive for excellence."

RACE AND MUSIC From the days of minstrel shows to the creation of race records in the early 20th century to rock and roll, hip hop, and beyond, the African American contribution to American popular music parallels and contributes to the complex history of race relations in the United States.

Dr. Patrick Burke, Washington University, author of Come In and Hear the Truth: Jazz and Race on 52nd Street (University of Chicago Press, 2008); soul, blues, and traditional Native American musician Martha Redbone; and Dr. Maureen Mahon, New York University, author of Right to Rock: The Black Rock Coalition and the Cultural Politics of Race (Duke University Press, 2004), discuss the past, present, and future of popular music and what W.E.B. DuBois called "the color line."

Presented in conjunction with the exhibition Ain't Nothing Like the Real Thing: How the Apollo Theater Shaped American Entertainment and in collaboration with the Apollo Theater Friday, April 1 at the Museum of the City of New York.

THE EDWARD ALBEE FESTIVAL SALON where they will look at the Arena Stage production of At Home at the Zoo, their presentation of Steppenwolf's Who's Afraid of Virginia Woolf? and the twenty-six staged readings that represent the entire canon of Albee's plays.

Production staff from all three parts of the Festival will talk about their experiences. The audience will have the opportunity to talk about their own discoveries during Arena Stage's two-month long celebration of Edward Albee.

The salon will be held on Monday April 4, 2011 in the Kogod Cradle and is free and open to the public. Washington, DC.

FREE ReDISCOVERY READING a reading of a great but lesser-known classic of the Italian theatre. Carlo Goldoni's The Superior Residence translated by Frederick Davies. Anzoletto, a middle-class Venetian, has bankrupted himself to impress his new wife. Things come to a head as he moves from his old home into a fancy new apartment: the rent is due on both homes, the workmen and servants haven't been paid in months, and his wife is feuding with the rest of his family.

Presented by the Shakespeare Theatre Company, Monday, April 4, at the Lansburgh Theatre, Washington, DC.


MUSIC TO WATCH PLANTS GROW


It was a quiet crowd - no applauding or standing ovations. Just a bunch of potted plants.

In an experiment to see whether music helps plants grow, last week the Royal Philharmonic Orchestra performed a three-hour recital in Cadogan Hall in London, with 33 musicians playing pieces including Mozart's Symphony Number 40, it announced Thursday.

In front of the orchestra who is accustomed performing before tuxedo and ball gown wearing swells, there were instead more than 100 different varieties of plants and bulbs including geraniums, fuchsias and perennials.

"We've played some unusual recitals before but this has to be one of the strangest," said the orchestra's conductor, Benjamin Pope.

"The audience was the most fragrant we have ever played to," Pope quipped to The Daily Mail, confessing "it was slightly unnerving to see row upon row of bowed heads instead of applauding human beings. Hopefully the sound of classical music resonated with the plants and will result in a genuine growth spurt over the spring months."

The recital was organized by shopping channel QVC to test the controversial theory that the reverberation of sound waves stimulates protein production in plants and may lead to increased growth.

A 45-minute album based on the performance, The Floral Seasons: Music to Grow To, is available free to download to allow gardeners to draw their own conclusions.

The plants are also available to buy.


MEMPHIS AND WAR HORSE RECEIVE GRANTS


The Broadway League has awarded coveted New York Education Grants to the Broadway productions of Memphis by Joe DiPietro and David Bryan, and War Horse by Michael Morpurgo. Each production receives a $5,000 grant towards its 2011 educational initiatives. The grants are important to the growth and development of theatre education in the city as they encourage theatres to create more opportunities for young people and to exchange ideas about education.

The Broadway League established the New York Education Grants in 2002 to recognize education initiatives and to support further programs for Broadway shows. "The New York Education Grants are designed to inspire professional and personal development," said Charlotte St. Martin, Executive Director of The Broadway League. "These two shows especially reflect how theatre can be inspired by world events to tell a story. Innovative programs that educate about the craft of theatre, motivate social awareness, and instill a deep appreciation of the arts are crucial for the growth and survival of Broadway, and we applaud and thank these recipients."

"Inspire Change with Memphis the Musical" fosters collaboration with teaching artists and local public school teachers to create a workshop using themes from Memphis that best suits the interests and curriculum of individual classrooms. The topics range from historical lessons on the Civil Rights Movement, theatrical performances based on scenarios from the musical, interpretation and analysis of music, or a flexible combination of different elements. The workshop will be followed by a performance of Memphis at the Shubert Theatre, where students will see the ideas they explored in class come alive onstage. After the performance, students will participate in a post-show workshop that revisits previously discussed topics with more depth and understanding because of the students' experiences at the show. They will be guided to create a final project, such as forming an alternate ending for Memphis, in order to foster critical analysis and creativity.

War Horse - Approximately 930 high school students will partake in three workshops that culminate with a final performance of Lincoln Center Theater's North American premiere of the National Theatre of Great Britain's production of War Horse at the Vivian Beaumont Theater.

Lincoln Center Theater teaching artists will conduct workshops that combine the history of World War I with the artistry of theatre and puppetry.

Students will learn about the role that horses played on the front lines, act as if they are historical characters, and discover New York's significance in the conflict. The participants will then create puppets and bring them to life with the assistance of teaching artists and company members. The creation of the puppets will prepare students for the all-student matinee performance of War Horse, while also revealing that with a bit of imagination, everyday objects can be transformed into unique artistic endeavors. After the show, students will continue their exploration through dramatic writing, as they create and perform monologues, translating their ideas about War Horse from the page to the stage.



HAPPY BIRTHDAY TO . . .


QUENTIN TARANTINO AND MARIAH CAREY blow out the candles on March 27.

REBA McENTIRE star of recordings, film, television and Broadway opens her presents on March 28. She is currently on tour with George Strait.

LADY GAGA who was born on March 28, last week raised $1.5 million for Japan's earthquake and tsunami relief efforts by designing a special prayer wristband which she sold to fans. Designed for the Haus of Gaga the wristbands say ''We pray for Japan'' in both English and in Japanese.

CELINE DION who is starring at Caesars Palace in Las Vegas celebrates her birthday on March 30.

PIERS MORGAN the talk show host and Celebrity Apprentice winner gets to eat ice cream and cake on March 30.

RHEA PERLMAN gets to wear the party hat on March 31.

DEBBIE REYNOLDS, SUSAN BOYLE, ALI MacGRAW AND VINCE VAUGHN open their presents on April 1.

RON "HORSHACK" PALILLO, EMMYLOU HARRIS and LEON RUSSELL are the center of attention on April 2. Russell will receive additional attention on the eve of his birthday appearing on Saturday Night Live with Elton John. Russell and John and their record label Decca have partnered VEVO for the video platform's first-ever Make Your Own Music Video contest.






CHICAGO the internationally acclaimed revival of John Kander, Fred Ebb and Bob Fosse's Tony Award-winning musical on Friday, March 25, 2011 became the fifth-longest running production in Broadway history, surpassing Oh! Calcutta with a total of 5,960 performances.

As of that date, the Broadway's top-five longest-running productions of all time are as follows:

1. The Phantom of the Opera (9,633)
2. Cats (7,485)
3. Les Miserables (6,680)
4. A Chorus Line (6,137)
5. Chicago (5,960)






THE BOOK OF MORMON a new musical by Trey Parker, Matt Stone and Robert Lopez. Directed by Casey Nicholaw and Trey Parker.

When something is really good you don't need to rapture on, determined to convert another to your belief. In the case of The Book of Mormon, it's very simple - The Book of Mormon is smart, sharp, clever, with an original score actually written for the Broadway stage, making it a strong contender to join Wicked as a long running, money making success.

In many ways The Book of Mormon ranks right up there with The Producers.

It's not going to sweep the Tony Awards the way The Producers did, but it will be on the winner's list.

Get past the XXX-rated language and don't miss seeing this show.

A pair of Mormon missionaries venture from Salt Lake City to AIDS-ravaged Uganda in the hopes of converting villagers with the story of Joseph Smith and the founding of the Mormon Church. The problem is: one of them is more of a crib notes type person and hasn't actually read the book.

The satire of the Mormon Church stars Josh Gad as Elder Cunningham, Andrew Rannells as Elder Price, Rory O'Malley as Elder McKinley, Nikki M. James as Nabalungi and Michael Potts as Mafala Hatimbi.

The cast also includes Lewis Cleale, Scott Barnhardt, Justin Bohon, Darlesia Cearcy, Kevin Duda, Asmeret Ghebremichael, Brian Tyree Henry, Clark Johnsen, John Eric Parker, Jason Michael Snow, Benjamin Schrader, Michael James Scott, Brian Sears, Lawrence Stallings, Rema Webb, Maia Nkenge Wilson, Tommar Wilson, Graham Bowen, Ta'Rea Campbell, Jared Gertner, Tyson Jennette and Nick Spangler.

The choreographer is Casey Nicholaw. Set Design by Scott Pask. Costume Design by Ann Roth. Lighting Design by Brian MacDevitt. Sound Design by Brian Ronan.

At the Eugene O'Neill Theatre in New York City.

KING LEAR by William Shakespeare. Experience Synetic's wordless adaptation of King Lear - the 7th installment of Synetic's renowned Silent Shakespeare.

Presented by Synetic Theater, DC's Premier Physical Theater.Directed by Paata Tsikurishvili, choreographed by Irina Tsikurishvili.

Synetic Theater emerged from the creative vision of founders Paata and Irina Tsikurishvili, Georgian artists who moved to the United states in the 1990s. Trained in innovative dance, theater and film, the Tsikurishvilis combined traditions of the Caucuses with Hamlet (Hamlet...the rest is silence).

Nine years later, Synetic annually produces four Main stage productions, three family series productions, houses an educational studio for ages 4 through adult, conducts outreach programs and tours family and Main stage productions, reaching over 36,000 patrons. Overall, Synetic has earned 65 Helen Hayes Nominations and received 17 Helen Hayes Awards, garnering acclaim for its Silent Shakespeare repertoire - Hamlet…the rest is silence, Macbeth, Romeo and Juliet, A Midsummer Night's Dream, Antony and Cleopatra and Othello - as well as its text- and movement-based classical pieces, such as Host and Guest, Frankenstein, Carmen and The Master and Margarita.

March 24-April 24 Lansburgh Theatre in Washington, DC.

THE GENE KRUPA STORY takes you on a musical journey about the legendary jazz drummer, Gene Krupa, who as a young boy knew the only thing he wanted to do was play the drums and make music.

Written and performed by producer and drummer, Arthor von Blomberg, who was taught to play drums by Krupa for about three years while he was a boy living in New York. von Blomberg has also worked with Anita Ö'Day, The BeeGees, KoRn, Freddie King and Eric Clapton.

The Gene Krupa Story features a 16-piece orchestra and Krupa favorites such as Boogie Blues; Sing, Sing, Sing; No Name Jive and How High is the Moon.

The theatre is installing a dance floor in the "A" section for dancing.

Monday, April 4, at the Dutch Apple Dinner Theatre in Lancaster, PA.

NEW EYES written by Yafit Josephson and Suzanne Bressler. Directed by Sammie Wayne.

Starring Yafit Josephson which has been playing at the Whitefire Theatre in Sherman Oaks, CA for nine months, has been extended through Sunday, June 26, 2011.

New Eyes tells the true story of Yafit Josephson, a young woman living in Israel who joins the Israeli army to serve heroically for her country. Upon completing her service, she moves to Los Angeles to follow her dream of becoming an actress but finds herself constantly cast only as a Middle Eastern villain.

Just as her native country wrestles with the world's false perceptions, Yafit must decide how far she's willing to go to challenge, change, or accept how others see her, and what she is willing to risk to fulfill her dreams and destiny. New Eyes explores universal themes of self-esteem, family, identity and cultural differences. Yafit Josephson portrays over 18 characters from over 5 different countries as she conveys the story of how she sees the world, and it sees her.

WONDERLAND: A NEW ALICE with a book by Gregory Boyd and Jack Murphy, lyrics by Jack Murphy, music by Frank Wildhorn, choreography by Marguerite Derricks and directed by Gregory Boyd.

A new spin on the classic story of Alice and her Looking-Glass world, Wonderland is about a modern-day woman who goes on a life-changing adventure far below the streets of New York City, where a colorful cast of strange but familiar characters help her rediscover what's really important.

The musical stars Janet Dacal as Alice, Darren Ritchie as Jack the White Knight, E. Clayton Cornelious as Caterpillar, Jose Llana as El Gato, Karen Mason as The Queen of Hearts, Kate Shindle as The Mad Hatter, Carly Rose Sonenclar as Chloe, Edward Staudenmayer as The White Rabbit and Danny Stiles as Morris the March Hare.

The ensemble includes April Berry, Grady McLeod Bowman, Joey Calveri, Sae La Chin, Mallauri Esquibel, Derek Ferguson, Wilkie Ferguson, Laura Hall, Natalie Hill, Lauren Lim Jackson, Morgan James, Ryan Link, Kate Loprest, Renee Marino, Heather Parcells, Stefan Raulston, Julius Anthony Rubio, and Tanairi Vasquez.

The design team is comprised of Neil Patel (set), Susan Hilferty (costume), Paul Gallo (lighting), Peter Hylenski (sound) and Sven Ortel (video and projection).

In previews at the Marquis Theatre, NYC with the official opening set for Sunday, April 17, 2011.

RAFTA, RAFTA welcomes Kamal Marayati to the role of Eeshwar Dutt in San Diego's Old Globe production. Ranjit Chowdhry who was set for the role of Eeshwar Dutt withdrew from the show due to illness. Thus the first preview and opening night dates were moved to provide the production with additional rehearsal time. The first preview of Rafta, Rafta began on Tuesday, March 22 and the official opening is set for this evening, March 27 at The Old Globe which is located in San Diego's Balboa Park.

ORANGE FLOWER WATER by Six Feet Under co-writer Craig Wright. Directed by Byron Kaye.

Two married couples live with their children in relative bliss … until two of them begin a passionate affair. A dark, funny, and ultimately life-affirming examination of the cruelties people inflict on the ones they love – or once loved – in order to stay alive.

Starring Megan Alston, Joseph Del Re, Sebastian Goldspink and Amy Mathews.

Set Design by Tom Bannerman.

Through April 17 at the Darlinghurst Theatre Company in Potts Point, Australia. A Q&A session takes place this evening, March 27, after the performance.

SOME COUPLES MAY . . . . a World Premiere by Carey Crim.

Directed by Guy Sanville.

This bittersweet comedy charts one woman's journey with her family through the challenges and heartbreak of infertility to the promise of motherhood.

Starring Alex Leydenfrost, Michelle Mountain, Aphrodite Nikolovski, Jim Porterfield, Jan Radcliff, Rhiannon Ragland and Bill Simmons.

Set Designer is Vincent Mountain; Properties Design by Danna Segrest; Costume Design by Christianne Myers; Lighting Designer is Dana White; Sound Design by Quintessa Gallinat; The Stage Manager is Stephanie Buck.

Performances through Saturday, May 28, 2011 at the Purple Rose Theatre in Chelsea, MI.

SISTER ACT the disco-scored stage production based on the 1992 film comedy of the same name. A score by Academy Award winner Alan Menken and Glenn Slater. The original book by Cheri and Bill Steinkellner has been given a Broadway slant by Tony Award nominee Douglas Carter Beane. Tony Award winner Jerry Zaks directs.

"When disco diva Deloris Van Cartier witnesses a murder, she is put in protective custody in the one place cops are sure she won't be found - a convent! Disguised as a nun, she finds herself at odds with both the rigid lifestyle and an uptight Mother Superior. Using her unique disco moves and singing talent to inspire the choir, Deloris breathes new life into the church and community, but in doing so blows her cover. Soon the gang are giving chase, only to find themselves up against Deloris and the power of her new found Sister Hood."

The Broadway musical stars American actress Patina Miller, who earned an Olivier Award nomination for originating the role of Deloris Van Cartier in the successful London run.

The cast also features Tony Award winner Victoria Clark as Mother Superior, Fred Applegate as Monsignor, Sarah Bolt as Sister Mary Patrick, John Treacy Egan as Joey, Demond Green as TJ, Chester Gregory as Eddie, Kingsley Leggs as Curtis, Marla Mindelle as Sister Mary Robert, Audrie Neenan as Sister Mary Lazarus and Caesar Samayoa as Pablo.

The ensemble includes Jennifer Allen, Natalie Bradshaw, Charl Brown, Christina DeCicco, Holly Davis, Madeleine Doherty, Alan H. Green, Blake Hammond, Wendy James, Carrie A. Johnson, Kevin Ligon, Louise Madison, Marissa Perry, Ernie Pruneda, Corbin Reid, Lance Roberts, Rashidra Scott, Jennifer Simard, Lael Van Keuren, Roberta Wall and Alena Watters.

The Broadway production features the work of original London creative team members, including choreographer Anthony Van Laast, scenic designer Klara Zieglerova, costume designer Lez Brotherston and lighting designer Natasha Katz. John Shivers is the sound designer for the Broadway run. Michael Kosarin serves as musical supervisor, with dance music arrangements by Mark Hummel, orchestrations by Doug Besterman and electronic music by Andy Barrett. Music director is Brent-Alan Huffman.

Sister Act arrives on Broadway after a London run at the Palladium Theatre, which concluded in October 2010. Previews begin last Thursday and officially opens April 20. Whoopi Goldberg, who was performing her stand-up comedy act at Treasure Island Hotel in Las Vegas last Friday, is a producer of this stage musical. She also created the role of Deloris Van Cartier on film.


WHO'S WHERE


KATY PERRY on stage Monday, March 28 at the 02 in Dublin, Ireland. Wednesday show is at the Trent FM Arena in Nottingham, England. On Thursday she's on stage at the International Centre in Boumemouth, United Kingdom. On Friday the tour stops at the International Arena in Cardiff, United Kingdom.

CHRIS BOTTI opens a two night gig on Friday April 1 at the Lasells Stewart Center in Corvallis, OR.

JAMES TAYLOR on stage Tuesday, March 29, at Chrysler Hall in Norfolk, VA. On Wednesday the show is at the Landmark heater in Richmond, VA. Friday's performance takes place at the Hershey Theatre in Hershey, PA. On Saturday he's in the spotlight at the Stranahan Theater in Toledo, OH.

TIM ALLEN will be getting laughs at the Venetian Hotel in Las Vegas April 1-2.

K T SULLIVAN perform her new show Colored Lights on Saturday, April 2 at Bob Egan's New Hope Cabaret, at the Ramada of New Hope, PA. Sullivan is a regular headliner at the Oak Room of New York's Algonquin Hotel since 1992 as well as for several years at the Neue Galerie's Sabarsky Café on Fifth Avenue and Live on the Park in London. Most recently, KT was a guest star on Garrison Keillor's Prairie Home Companion.

ADELE performs Wednesday, March 30, at the Magazzini Generali in Milan, Italy. On Friday the show is at the Bikini in Barcelona, Spain. On Saturday she'll be singing her chart topping hits at the Caracol in Madrid, Spain.

JAMES BLUNT is on stage Monday, March 28, at the 02 World in Hamburg, Germany. On Tuesday he's in the spotlight at the Konig-Pilsener Arena in Oberhausen, Germany. On Wednesday the show is at the Lanxess Arena in Cologne, Germany. Thursday's stop is the Zenith in Paris and on Saturday the show is at the Halle Tony Garnie in Lyon, France.

LINDA EDER performs March 30 at the McCallum Theatre for the Performing Arts in Palm Desert, CA.




FINAL OVATION


ELIZABETH TAYLOR

Elizabeth Taylor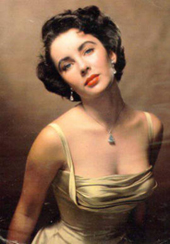 surrounded by her four children died March 23, 2011 at Cedars-Sinai Medical Center in Los Angeles. She had entered the hospital over a month ago for treatment of symptoms of congestive heart failure. She was 79.

In a statement, her son Michael Wilding called her "an extraordinary woman who lived life to the fullest". "We know, quite simply, that the world is a better place for Mom having lived in it," he continued. "Her legacy will never fade, her spirit will always be with us, and her love will live forever in our hearts." We know, quite simply, that the world is a better place for Mom having lived in it"

In November 2004, Taylor announced that she had been diagnosed with congestive heart failure, a progressive condition in which the heart is too weak to pump sufficient blood throughout the body, particularly to the lower extremities: the ankles and feet. She broke her back five times, had both her hips replaced, survived a benign brain tumor operation and skin cancer, and faced life-threatening bouts with pneumonia twice.

The Oscar winning actress turned AIDS activist received as much attention for her love life as she did her acting career.

Eddie Fisher left wife Debbie Reynolds for Elizabeth. Nine months after Eddie and Liz started their romance, and three and a half hours after he divorced Debbie, Eddie and Elizabeth were married on May 12, 1959 in Las Vegas, Nevada at Temple Beth Shalom.



Eddie Fisher and Elizabeth Taylor immediately after their 1959 marriage in Las Vegas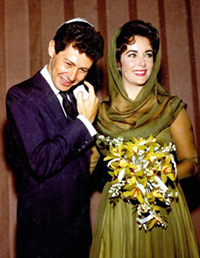 Eddie: "I divorced Debbie and married Elizabeth the day I finished my run at the Tropicana ... It was a typical two-rabbi Jewish ceremony. As usual, Elizabeth was late for her own wedding. We invited very few people, among them our parents and some friends. Mike Todd Jr. was my best man. We were married under the chuppah, a canopy, and as is traditional, at the end of the ceremony I stomped on a wineglass." Source: Eddie Fisher with David Fisher. Been There, Done That. 1999. pg. 185.

A former child star and incredible beauty, Taylor was one of the great actresses of Hollywood's golden age. The American Film Institute named Taylor seventh on its Female Legends list.

In 1960, Taylor became the highest paid actress up to that time when she signed a one million dollar contract to play the title role in 20th Century Fox's lavish production of Cleopatra, which would eventually be released in 1963. During the filming, she began a romance with her future husband Richard Burton, who played Mark Antony in the film. The romance was considered the greatest of that decade - through both were married to other spouses at the time.

Taylor made her Broadway and West End stage debuts in 1982 with a revival of Lillian Hellman's The Little Foxes. That was followed in 1983 by a production of Noel Coward's Private Lives, in which she starred with her former husband, Richard Burton. She also was the lead producer on The Corn is Green that same year.

The student-run Burton TaylorTheatre in Oxford was named for the famous couple after Burton appeared as Doctor Faustus in the Oxford University Dramatic Society (OUDS) production of the Marlowe play. Taylor played the ghostly, wordless Helen of Troy, who is entreated by Faustus to "make [him] immortal with a kiss".



Elizabeth Taylor and Michael Wilding in this posed shot for Las Vegas Sahara Hotel's scrapbook. Taken by the pool in early 1956.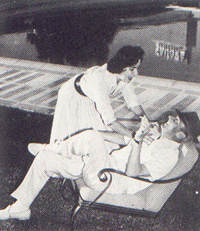 She last appeared on stage on December 1, 2007 when she appeared opposite James Earl Jones in a benefit performance of the A.R. Gurney play Love Letters.. for Taylor's AIDS foundation.

She won Best Actress Oscars for her performances in Butterfield Eight and Who's Afraid of Virginia Woolf?

Born in London on Feb. 27, 1932, her parents were originally from Arkansas City, Kansas. Her father was an art dealer and her mother a former actress whose stage name was Sara Sothern. A dual citizen of the UK and the U.S., she was born a British subject through her birth on British soil and an American citizen through her parents.

Although the family returned to America was Elizabeth was 7, because of her dual citizenship was possible for Queen Elizabeth in 1999 to appointed Taylor a Dame Commander of the Order of the British Empire - making her Dame Elizabeth Taylor.

Dame Elizabeth's most famous films included National Velvet, Cleopatra, Giant, Butterfield 8 and Who's Afraid of Virginia Woolf?

Following the death of Rock Hudson, her giant co-star, Taylor became the backbone of amFar - The Foundation for AIDS research. This was at a time when AIDS wasn't understood and Taylor was the recipient of death threats.

Widowed once, Taylor was married eight times to seven husbands: Conrad "Nicky" Hilton (1950-51), Michael Wilding (1952-57), with whom she had two sons, Michael Todd (1957-58) who whom she had one daughter, Eddie Fisher (1959-64), Richard Burton (1964-74 and 1975-76) with whom she adopted a daughter, John Warner (1976-82) and Larry Fortensky (1991-1996). Todd died in a plane crash, leaving her a widow; she divorced all the others.

In addition to her four children - Michael Wilding, Christopher Wilding, Maria Burton-Carson and Liza Todd-Tivey - Dame Elizabeth is survived by 10 grandchildren and four great-grandchildren. A private family funeral will be held later this week. Instead of flowers, the family has requested that contributions be made to the Elizabeth Taylor Aids Foundation.

The marquees of Broadway theatres in New York were dimmed in her memory on Friday, March 25th, at exactly 8:00pm for one minute.

LANDFORD WILSON the Pulitzer Prize winning playwright died on Thursday, March 24, 2011 in Wayne, N.J. He was 73 and lived in Sag Harbor, on Long Island.

Wilson won the 1980 Pulitzer Prize for drama for Talley's Folly, which played 286 performances on Broadway that year.

Fifth of July, a comedy that explores the disillusionment of the Vietnam era, came to Broadway in November of 1980. The production, which starred Christopher Reeve as Kenneth Talley Jr., a gay, paraplegic Vietnam veteran, ran for 511 performances at the New Apollo Theater, it also starred Jeff Daniels and Swoosie Kurtz.

Wilson's other Broadway plays include Burn This (1987), Angels Fal (1983) and Redwood Curtain (1993).

His Off Broadway work included The Hot l Baltimore.

Wilson was one of the founders of the Circle Repertory Company, a highly regarded collective of actors, directors, playwrights and others known for its collaborative approach.

He was elected in 2001 to the Theater Hall of Fame, and in 2004 was elected to the American Academy of Arts and Letters.

HELEN STENBORG a Tony-nominated Broadway actress for more than 50 years, who was the widow of Tony Award-winning actor Barnard Hughes and mother to the Tony Award-winning stage director Doug Hughes, died on Tuesday, March 22, 2011 of cancer. She was 86.

She appeared in the original US production of Noel Coward's Waiting in the Wings, in which her husband starred. She also was in the Lanford Wilson plays The Rimers of Eldritch a chilling story of a small town's revenge against an outsider and Talley & Son.

Her last Broadway performance was in 2002 in Arthur Miller's The Crucible with Liam Neeson and Laura Linney. Other Broadway appearances included the 1995 production of A Month in the Country, starring Helen Mirren, and Hugh Leonard's A Life in 1980-81.

She last appeared off-Broadway In September 2009, in Morris Panych's Vigil with Malcolm Gets, winning the Richard Seff Award for the best performance by a veteran female character actress in a supporting role

She portrayed Helga Lindeman on the soap opera Another World from 1977 to 1978.

In addition to her son, Doug, she is survived by daughter, Laura.

LOLEATTA HOLLOWAY a singer known for disco songs such as Hit and Run and Love Sensation died March 21, 2011. She was 64.

Holloway once performed in the Chicago production of Don't Bother Me, I Can't Cope.

She made six studio albums and 18 songs of hers charted on the Hot Dance Music/Club Play chart, including four #1s. However, it was a ballad that proved to be another big R&B hit for her. Only You was written and produced by Bunny Sigler, who also sang with Holloway on the track, and it reached #11 in 1978.

Another of her hits Love Sensation became controversial after it emerged the Italian dance act had used Holloway's performance without crediting her, and she went on to successfully sue the band.

Holloway leaves behind four children and nine grandchildren. A private service for the family and a public memorial at Rev Jesse Jackson's church in Chicago are due to be held.

SCOTT O'NEIL died on stage Thursday afternoon, March 24, in front of an audience of about 500 who were attending The Dennis Bono Show at the South Point Hotel in Las Vegas.

Paramedics attempted but were unable to revive him on stage. A former KJUL-AM radio announcer, O'Neil had served as Bono's radio sidekick since 2000. A cause of death has not been stated. He was 69.

Bono released the following statement: "I am sad to announce the passing of my dear friend and co-host Scotty O'Neil. Scotty was an important part of my life as both a personal friend and a working partner. For over eleven years, he has been a pivotal part of The Dennis Bono Show. Scotty was a very talented consummate professional and a man of great integrity and character. Scotty passed onstage doing what he loved. We are devastated at his loss. Our thoughts and prayers are with his family during this difficult time. Scotty's voice will continue to be heard over the airways as the voice of The Dennis Bono Show. I will always miss my sidekick."

The Dennis Bono Show is recorded before a live audience and is heard on several radio stations.

O'Neil is survived by his wife Kristy Killian.

GLADYS LUCKIE of Las Vegas spent 40 years as the chef, house manager and confidant of Liberace. She died March 16, 2010 at the age of 100.

Liberace referred to her as his "second mother." She was at his side as he met the Queen of England. In Hollywood, she was known as "the celebrity chef." She prepared meals and had friendships with Michael and Janet Jackson, Tony Orlando and Johnny Mathis.

During his lifetime Liberace's gifts to her included a mink coat. His will left Luckie a house and a car. In 1970 her cookbook Delicious Recipes from Liberace's #1 Cook was published.








Next Column: April 3, 2011
Copyright: March 27, 2011. All Rights Reserved. Reviews, Interviews, Commentary, Photographs or Graphics from any Broadway To Vegas (TM) columns may not be published, broadcast, rewritten, utilized as leads, or used in any manner without permission, compensation and/or credit.
Link to Main Page
---
Laura Deni



For the snail mail address, please E-mail your request.
CLICK HERE FOR COMMENT SECTION