Broadway To Vegas
  
 SHOW REVIEWS CELEBRITY INTERVIEWS GOSSIP NEWS

| | |
| --- | --- |
| | |
TENNESSEE WILLIAMS LITERARY FESTIVAL - - MINIMALIST JUKEBOX - GLASS & ADAMS - - ACADEMY AWARD WINNER OLYMPIA DUKAKIS IN BROADWAY MUSICAL DEBUT - - JAMES EARL JONES AS THURGOOD MARSHALL - - BEVERLY GARLAND'S FIRST 50 YEARS IN SHOW BUSINESS - - CINDY LAUPER ON BROADWAY - - CRITICS DISAPPOINTED WITH LORD OF THE RINGS - - NIGHT OF A THOUSAND GOWNS - - DONATE . . . Scroll Down


Copyright: March 26, 2006
By: Laura Deni

CLICK HERE FOR COMMENT SECTION
"STELLA-A-A" TRUMPS KATRINA: TENNESSEE WILLIAMS/NEW ORLEANS LITERARY FESTIVAL
Tennessee Williams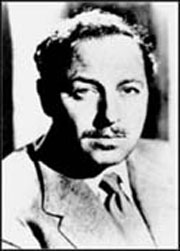 Katrina may have slightly altered the plans of the 2006 Tennessee Williams/New Orleans Literary Festival, but the spirit and dedication of the Festival's programmers - and the commitment of the participants - are stronger than ever.

"If we have to shine flashlights at the stage, the Tennessee Williams/New Orleans Literary Festival will take place as scheduled, March 30-April 2, in our beloved French Quarter," said Patricia Brady, Festival board president.

"Writers who love New Orleans and the Festival have rushed to our support" she added. The list includes Pulitzer Prize winners Michael Chabon, Rick Bragg, Robert Olen Butler and Tom Oliphant; New York Times bestselling authors Mark Kurlansky and Nora Roberts; and literary stars Dorothy Allison, Elizabeth Berg, Kent Haruf, Ayelet Waldman, John Barry, Elizabeth Dewberry, Bev Marshall, and Douglas Brinkley, among others.



Tennessee Williams at work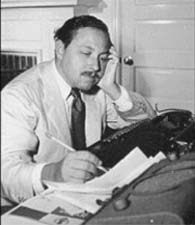 The four-day fete, celebrates the life and cultural legacy of the eponymous playwright in his adopted city that he called his spiritual home.

The Festival Opening Night Gala Fundraiser allows patrons to spend an evening with Tennessee and award-winning actor Richard Thomas, who embodies "America's greatest playwright" in Blanche and Beyond, a staged reading culled from Vol. 2 of Williams' published letters. Directed by Steve Lawson. A star-studded reception atop the Hotel Monteleone follows.

One of the greatest playwrights in American history, he was born Thomas Lanier Williams in Columbus, Mississippi in 1914. Williams wrote fiction and motion picture screenplays, but he is acclaimed primarily for his plays - nearly all of which are set in the South, but which at their best rise above regionalism to approach universal themes.

He won the Pulitzer Prize for Drama for A Streetcar Named Desire in 1948 and for Cat On A Hot Tin Roof in 1955. In addition to those two plays, The Glass Menagerie in 1945 and The Night of the Iguana in 1961 received the New York Drama Critics' Circle Awards. In 1952 he received the Tony Award for best play for The Rose Tattoo dedicated to Frank Merlo. His physical and emotional relationship with his secretary, Frank Merlo, lasted from 1947 until Merlo's death from cancer in 1961,

Williams lived in the French Quarter of New Orleans having first moved there in 1939 to write for the WPA and lived first at 722 Toulouse Street. He wrote A Streetcar Named Desire (1947) while living at 632 St. Peter Street.

Tennessee Williams was the victim of a gay-bashing in January 1979 in Key West, being beaten by five teenage boys.

Williams died at the age of 71 after he choked on a bottle cap. However, some (among them his brother, Dakin) believe Williams was murdered. Alternately, the police report from his death seems to indicate that drugs were involved, as it states that pills were found under his body.

The U.S. Postal Service honored Williams on a stamp in 1994.

Those attending the Tennessee Williams/New Orleans Literary Festival can participate in two days of master classes; a roster of panel discussions and celebrity interviews; theater and music events; food and wine tastings; a scholars conference; literary and other French Quarter walking tours; a book fair; and - in playful homage to the bellowing mates in Williams' masterpiece, A Streetcar Named Desire - a Stanley and Stella Shouting Contest.

Contestants vie to rival Stanley Kowalski's shout for "STELLAAAAA!!!" in the unforgettable scene from A Streetcar Named Desire. Women contestants are welcome to try a little role reversal and yell for Stanley. Free and open to the public. Prizes will be awarded.



Tab Hunter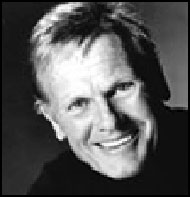 Theater highlights include a conversation with Tab Hunter, the 1950's teenage heartthrob who starred with Tallulah Bankhead in the 1964 Broadway production of Williams' The Milk Train Doesn't Stop Here Anymore.

Relive your "Young Love" for the Hollywood heartthrob who made a generation swoon with such films as Island of Desire, Battle Cry, and Damn Yankees; In this tell-all interview with Rex Reed, Hunter will discuss his recently published memoir, providing insight into the man behind the icon and life as a closeted gay actor in the 1950s Hollywood.



Stephanie Zimbalist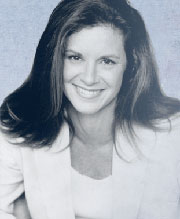 Longtime Festival enthusiast Stephanie Zimbalist, who has appeared in many Williams productions, will also be interviewed. Perhaps best known for her role as Laura Holt, opposite Pierce Bronson, in the 1980s TV series Remington Steele, Friends of the Festival, however, are also familiar with her more recent starring roles in our staged readings of Williams' The Night of the Iguana and Lady of Larksburg Lotion. Join Rex Reed as he and Zimbalist discuss her ever-evolving career, the difference between stage and screen, and her "desire" to play Blanche.

On another stage, critically acclaimed actor/playwright Jeremy Lawrence will reprise his one-man show, Talking Tennessee - a sell-out last year - in which he conjures up the genius of Williams the playwright/poet and the highs and lows of Tennessee the man. Also back by popular demand are two readings of the stage adaptation of John Kennedy Toole's classic novel, A Confederacy of Dunces.

A panel of actors, writers, and directors talk about their experiences with the person of Tennessee Williams as a stage character. From writing, directing and performing Tennessee in a one-person show to reinterpreting Williams as a "fictional" character, to acting the role of the playwright as a host for his own plays, to adapting Williams' nonfiction prose into a theatrical evening - these professionals share their creative processes. They also examine what are often challenging questions related to the public perception of the playwright versus historical accuracy. Moderated by Thomas Kaith, the panelists include: Jeremy Lawrence, Steve Lawson, Kathy Randels, Richard Thomas, and Stephanie Zimbalist.

In light of the recent hurricane disaster, there will be several panels devoted to the effect Katrina has had on Southern life and culture.

Most of the events take place in New Orleans' historic French Quarter. Sites hosting events include Le Petit Théâtre du Vieux Carré, the Historic New Orleans Collection, the Cabildo, Southern Repertory Theatre, the Monteleone Hotel, the Bourbon Orleans Hotel, Muriel's Jackson Square, Brennan's Restaurant and the Palm Court Jazz Café.

( For a complete list of plays by Tennessee Williams click here )


ART AND ABOUT


MICHELANGELO DRAWINGS: CLOSER TO THE MASTER

Michelangelo, Ideal head of a woman, c. 1525-8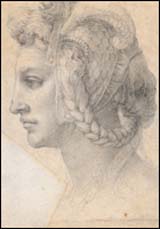 The exhibition traces sixty years of Michelangelo's stormy life, from intimate studies made when he was in his early twenties to the visionary Crucifixion scenes carried out shortly before his death. It reunites material not seen together since the dispersal of the artist's studio more than 400 years ago, offering a wholly different perspective on the defining genius of the Italian Renaissance This exhibition reunites material not seen together since the dispersal of Michelangelo's studio more than 400 years ago, offering a wholly different perspective on the defining genius of the Italian Renaissance.

Opened March 23 and is on display until June 25 at The British Museum. In conjunction with this exhibition, on Friday, March 31 there will be a screening of the 1965 film The Agony and the Ecstasy - the epic retelling of Michelangelo's struggle to paint the Sistine chapel for the explosive Pope Julius II.

ELLSWORTH KELLY

Ellsworth Kelly White Black Red 2004 Oil on canvas, three joined panels 206.7 x 102.9 cm Private Collection © 2006 Ellsworth Kelly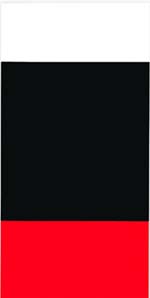 is among the greatest living artists. He pioneered an abstract aesthetic that has been vital to the evolution of post-war art. Throughout a career that has spanned more than 50 years, he has worked independently of trends and movements and the resulting body of work is one of the major achievements of American art.

Kelly's career began in Paris, where he lived and worked from 1948-54. There he was influenced by European modernism, particularly the work of artists Jean Arp, Constantin Brancusi, Henri Matisse and Pablo Picasso. He began to create his rigorously spare and elegant approach to abstraction, inventing a vocabulary of forms, colors, and strategies that would become the core of his practice.

For his exhibition at the Serpentine Gallery in London, Kelly himself has selected 18 works from the huge volume of work that he has produced over the last eighteen years, which will be shown together for the first time. Kelly's hand in the curating of this show gives a uniquely personal insight into how he views his own work. These works exemplify the breadth of scale, color and forms that characterize his art, including multi-panel works and reliefs in vibrant contrasting colors, as well as shaped canvases and sculpture.

Born in Newburgh, New York in 1923, Kelly lives and works in Spencertown, New York. His work has been the subject of numerous surveys and retrospectives and his work is also represented in major museums and private collections worldwide.

Through May 21 at The Serpentine Gallery in London.


NATIONAL CHERRY BLOSSOM FESTIVAL - THIS BUD'S FOR YOU


The 2006 festival - March 25-April 9 - marks the 94th celebration of the original gift of the 3,000 cherry trees from the city of Tokyo to the people of Washington, DC in 1912.

The Kennedy Center commemorates the beauty of the cherry blossoms with a festival of free and ticketed performances celebrating the Center's long-time relationship with Japan.

Set among cherry blossoms, fans and kimonos, The Washington Savoyards presents a short version of The Mikado, the most popular opera ever written. Performances March 29 - April 9 at the Atlas Performing Arts Center.

One of Washington's fondest traditions - the Parade of the National Cherry Blossom Festival steps off at 10:00 AM April 8 and marches along historic Constitution Avenue with Grand Marshall Pat Sajak.



Anthony Federov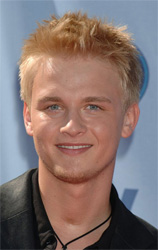 Anthony Fedorov, an American Idol season four Top 4 Finalist, and was voted Number 2 most popular performer in the 2005 Idol summer tour will be performing in the Parade..

Grammy-nominated artist Martha Wash - the powerhouse voice from such hits as Everybody Dance Now, It's Raining Men and Strike It Up - will be bringing her distinct vocal styling to Downtown DC on Parade day.

Also taking part in this year's petal procession down Constitution Avenue is Miss America 2006, Jennifer Berry.

Then a unique tradition that celebrates the nation's maritime history, which began in small fishing villages and continues today will take place - the annual Blessing of the Fleet. This begins with a performance by the United States Navy Band.

The sailors from the Navy Ceremonial Guard pour water from seven seas into the Navy Memorial's fountains, "charging them with life" for the spring season. A Navy Chaplain blesses the fleets around the world from this national memorial site.

The White House Mess then serves traditional Navy Bean Soup and the Navy Memorial unveils a new maritime exhibit for the public.The Blessing will be followed with a public opening of a new exhibit at the Naval Heritage Center, located adjacent to the Navy Memorial.

Also on Saturday, April 8, the Japan-America Society of Washington, DC will present its annual Sakura Matsuri for the 44th year. The festival will take place on Pennsylvania Avenue.



Broadway To Vegas is supported through advertising and donations. Priority consideration is given to interview suggestions, news, press releases, etc from paid supporters. However, no paid supporters control, alter, edit, or in any way manipulate the content of this site. Your donation is appreciated. We accept PAYPAL. Thank you for your interest.


SWEET CHARITY


BEVERLY GARLAND'S FIRST 50 YEARS IN SHOW BUSINESS

Beverly Garland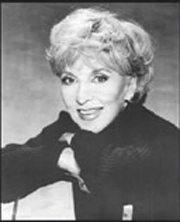 Legendary star of 41 movies and nearly 700 TV Shows candidly shares highs and lows of her Hollywood experiences, including dating Frank Sinatra, as Fred MacMurray's wife on My Three Sons, as Bing Crosby's wife on his TV series, as Kate Jackson's mother on Scarecrow and Mrs. King, losing the Emmy Award for Best Dramatic Actress to Dame Judith Anderson's Lady Macbeth, plus her fun with and foibles of 20 of her leading men, from Charles Boyer to Vincent Price.

All proceeds realized from this special event will benefit various programs at the Long Beach Playhouse.

Sunday, April 2, at the Long Beach Playhouse Mainstage Theatre in Long Beach, CA.

Established February 18,1929, the Playhouse is one of the oldest continuously operating theatres west of the Mississippi. After performing at various locations, construction on the Playhouse at its present site was completed in 1950. Performances are held 50 weeks out of the year and the Playhouse brings in over 30,000 patrons annually with 326 performances. In addition to producing 16 plays each year in its Mainstage and Studio Theatres, the Playhouse presents four staged readings of playwright's new works, has ongoing workshops for youth and adults, active internship programs in its scene and costume shops and a professional full-time production staff.

20TH ANNUAL NIGHT OF A THOUSAND GOWNS a charity ball and silent auction to benefit God's Love We Deliver, New York's oldest provider of meals to those living with HIV/AIDS and other life-threatening illnesses.

Celebrating diversity and raising needed funds with humor, heart and humanitarianism, The Imperial Court of New York led by Emperor Tony Monteleone and Empress Robin Kradles will bring a palpable excitement and frenetic razzmatazz to Times Square, as majestic personages in jewels and gowns, white tie and tails, and royal splendor descend upon the ballroom. As the culmination of a year of fund-raising, close to 1,000 people will attend the event from Anchorage to Boston, from Toronto to Tijuana.
The evening will include Broadway-caliber entertainment, a 5-hour open bar, full course dinner, a Viennese dessert buffet, dancing, a silent auction, and the midnight coronation of the new reigning monarchs.

Honorary co-chairs of the event are Oscar winner Whoopi Goldberg, Joan Rivers and Blaine Trump.

Saturday, April l, at The New York Marriott Marquis.


OTHER PEOPLE'S MONEY


GLORIA ESTEFAN

John G. Clarkson, M.D., Gloria Estefan, Marc Buoniconti, Nick Buoniconti, Emilio Estefan, Donna Shalala and W. Dalton Dietrich, Ph.D.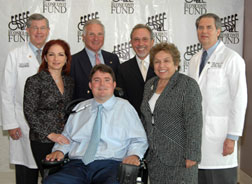 her husband Emilio, along with Miami Project Co-Founders, NFL Hall of Famer Nick and Marc Buoniconti, announced a $1 million gift to help establish a human clinical trials program at The Miami Project to Cure Paralysis located at the University of Miami Miller School of Medicine.

Gloria was temporarily paralyzed 16 years ago in a tour-bus accident that broke her back.

The gift is earmarked to fund cutting edge human clinical trials at research center and will fast-track promising Miami Project findings to help hasten a cure for paralysis. Recent breakthroughs in paralysis research at The Miami Project suggest that clinical trials are on the horizon and this gift will position researchers to move quickly to human trials as additional promising research is discovered.

The Gloria Estefan Foundation gift represents a continuation of the Estefans' generosity towards The Miami Project. Gloria serves on the Board of Directors of The Buoniconti Fund to Cure Paralysis, the national fundraising arm of The Miami Project, and served as the Chairperson for the Capital Campaign that raised $40 million to build the Lois Pope LIFE Center, the home of The Miami Project, which opened in 2000.

ETHAN STIEFEL a principal dancer at American Ballet Theater, has established an annual scholarship for its pre-professional training program, the Jacqueline Kennedy Onassis School. The scholarship will provide a male student with full tuition for three years.

THE WILLIAM T. KEMPER FOUNDATION (Commerce Bank, Trustee) has granted $10,000 to the William Inge Center for the Arts for support of the Silver Anniversary William Inge Theatre Festival at Independence Community College, Independence, Kansas. This grant is increased from previous years in order to help bring added events and even more special guest artists to this celebratory 25th Annual Festival, April 26-29.


SPREADING THE WORD


LINCOLN CENTER PLATFORM SERIES presents Michael John LaChiusa, the bookwriter and composer/lyricist of the new musical, Bernarda Alba, currently playing at the Mitzi E. Newhouse Theater. This conversation will be moderated by Ira Weitzman, LCT Associate Producer, Musical Theater. Wednesday, March 29 at the Beaumont Theater Lobby Lincoln Center Theater on NYC.



THURGOOD a new play based on the life of Thurgood Marshall, the first African-American Supreme Court justice.

The production will star Tony Award winner James Earl Jones. Producer George Stevens Jr., of Kennedy Center Honors and AFI fame - 11 time Emmy Award winner and two time Peabody Award winner - wrote the play. Directed by Leonard Foglia, this is a special limited engagement, April 30th through May 14th at the Westport Country Playhouse in Connecticut.

The one man show is the remarkable, triumphant and exciting story of Thurgood Marshall, who rose from a childhood in the backstreets of Baltimore to the Supreme Court of the United States. Along the way, Mr. Marshall overcame many adversities but through them all, remained focused and positive to maintain the great country he wanted to serve.

The production is seen as a coup for the newly renovated year-round theater, which is launching its first shows under new artistic director Tazewell Thompson.

THE THREEPENNY OPERA by Bertolt Brecht and Kurt Weill. New Translation by Wallace Shawn. Directed by Scott Elliott.

Cindy Lauper makes her Broadway debut in this presentation. Starring Alan Cumming, Jim Dale, Ana Gasteyer, Nellie McKay and Lauper.

The Threepenny Opera cast also features Christopher Innvar, Carlos Leon, and Brian Charles Rooney.

The full cast also includes Adam Alexi-Malle, Terry Burrell, Brian Butterick, David Cale, Romain Frugé, John Herrera, Nehal Joshi, Christopher Kenney, Maureen Moore, Brooke Sunny Moriber, Deborah Lew, Valisia Lekae Little, Kevin Rennard and Lucas Steele.

The Threepenny Opera serves up a deliciously dark satire of "respectable" society, with dashing thieves, saucy prostitutes, and lingering melodies. Based on Elizabeth Hauptmann's German translation of John Gay's eighteenth-century The Beggar's Opera, The Threepenny Opera thrusts the audience into the seedy underworld of Mack the Knife, a dapper criminal and his wry love affair with Polly Peachum.

The Threepenny Opera will feature choreography by Aszure Barton and musical direction by Kevin Stites. The design team for The Threepenny Opera includes Derek McLane (sets), Isaac Mizrahi (costumes), Jason Lyons (lights) and Ken Travis (sound).

Through June 18 at Studio 54 in NYC.

LANDSCAPE OF THE BODY by 1998/99 Playwright-in-Residence John Guare. Directed by Michael Greif.

Sherie Rene Scott takes a break from Dirty Rotten Scoundrels to appear in this production opposite Lili Taylor.

What are we after we lose everything? 1970s Greenwich Village hosts a slew of mysterious and seemingly isolated events that connect a group of people on a nightmarish quest for the American Dream. Through twists in time and with some help from a singing narrator back from the dead, John Guare weaves an amazingly entertaining tale of their tragic and comic collisions that force them to discover what it is like to be left with-or blessed with-nothing but themselves.

March 28-May 21 at the Signature Theatre in New York City.

THE SEX HABITS OF AMERICAN WOMEN By Julie Marie Myatt. East Coast Premiere of this comedy directed by Michael Baron.

A voyeuristic peep into the sex lives of American women during the era of pointy bras and pompadours. A respected male psychotherapist in the '50s is writing a handbook on female sexuality. Meanwhile his wife of 47 years and their unmarried daughter are conducting their own "research."

Juxtaposed against this mid-20th Century story is a videotaped interview with a contemporary single mom — a feisty product of women's lib. Bridging the 50 years between these moments in social history, the intertwined stories ask provocative questions and take a hard and hilarious look at the unexpected repercussions of the sexual revolution.

Julie Marie Myatt received Walt Disney Studios Screenwriting Fellowship in 1992-1993, Jerome Fellowship at the Playwrights' Center in 1999-2000, McKnight Advancement Grant for 2001-2002, and is a participant in the Guthrie Theater New Play Project.

March 28 – May 7 at Signature Theatre in Arlington, VA.

GIVE 'EM HELL, HARRY Directed by Larry Carpenter. Written by Samuel Gallu.

The Kansas City Rep is proud to bring to life one of the most important figures in Kansas City history - Harry S. Truman, the haberdasher who became president. Come with us to the Oval Office as this unpretentious Missourian copes with the day-to-day challenges of leading America. Meet the man who doted on his daughter, answered to his better half, and never became too grand to chat with neighbors at his Independence home. Artistic Associate Gary Neal Johnson will portray Truman in this marvelous one-man show. Through April 23 with performances at Union Station in Kansas City.

13P the OBIE Award-winning collective of 13 playwrights, returns to New York City this spring with two exciting back to back premieres at two different downtown spaces. First out will be Gary Winter's drama At Said premiering at Performance Space 122, from May 13 through June 4, followed by Kate E. Ryan's docu-play Mark Smith premiering at Walkerspace, from June 3 through July 2.

At Said, developed at the Long Wharf Theatre, is the story of Sybil, an immigrant mother who is typing her memories of a childhood spent under an oppressive regime. Her apartment building seems to lie at the end of the world, shared by her shut-in daughter, her drug-dealing boyfriend, and the super who has Jesus in his back pocket. Sybil's typewriter sucks history from anyone who touches the keys, threatening to swallow all their lives. Tim Farrell will direct the cast which includes (alphabetically) Lia Aprile, Gilbert Cruz, Marisa Echeverria, and Anita Hollander.

Mark Smith hints at the story of an 80's rock star who has fallen into obscurity. We go behind the music to the people who knew him—his high school music teacher, his mother, his hair stylist. Told mainly in documentary form the play takes us on an unusual drive through a mythical town complete with reenactments and special concerts. Mark Smith was developed with the support of the Soho Rep Writer-Director Lab. Ken Rus Schmoll will direct. Ken Nintzel will be the production designer.

ENCHANTED APRIL a romantic comedy by Matthew Barber from Elizabeth von Arnim's 1921 best-selling novel.

Winner of the 2003 John Gassner Award for Outstanding New American Play, and nominated for the 2003 Tony, the Outer Critics Circle Award, and the Drama League for Best Play. When two frustrated London housewives decide to rent a villa in Italy for a holiday from their bleak marriages, they recruit two very different ladies to share the cost and the experience. Under the wisteria vines and the Mediterranean sun, the ladies discover their true selves, forge lasting friendships, and rediscover romance. A popular film of this story premiered in 1992. Through April 15 at the Carpenter Square Theatre in Oklahoma City.

ANYTHING GOES music and lyrics by Cole Porter, book by Guy Bolton and P.G. Wodehouse. Directed by Brad Watkins.

Set sail aboard the S.S. American for one of the splashiest musicals ever! Join a debutante, a businessman, a nightclub singer, an English Lord, and even a gangster as they come together for this comedic love story. Filled with such Cole Porter classics as I Get a Kick Out of You, You're the Top, It's De-lovely, and the beloved title song, Anything Goes will have you toe-tapping, humming, and laughing your way through this exciting trip at sea! On the New Mainstage of the Olney Theatre March 29 – April 30. Olney, MD.

EVERYTHING BAD AND BEAUTIFUL starring Sandra Bernhard which promises comedy, social commentary and "reckless rock 'n' roll." The show begins previews in New York City on March 29 at the Daryl Roth Theater and is to open April 5.

FRAGMENT 174 inspired by a lost play of Sophocles. Staged by Pavol Liska. Test by Charles L. Mee.

Through April 9 at the Classic Stage Company in New York City.

LORD OF THE RINGS the Tolkien-inspired $27 Million (Canadian) stage spectacle created by an international team of artists, and billed as the production that would save the Toronto tourist industry - never rose from a dark abyss according to the critics. The production, which boasts 70 actors performing in the 2,000 seat venue, officially opened on March 23 at the Princess of Wales Theatre The only ones receiving raves were lighting and scenic design - that massive tree trunk and its twisting roots - an earthbound and metaphoric image, designed by Rob Howell, which gives The Lord of the Rings its focus.

The three-act production - with a running time of more than three hours - is nothing if not ambitious. Director Matthew Warchus co-adapted the novel with Shaun McKenna for the stage.

With a score penned by A.R. Rahman, the Finnish band Värttinä, and Christopher Nightingale - with lyrics by McKenna and Warchus - is not so much a musical as a drama with music. See Broadway to Vegas columns of ... ( See Broadway To Vegas column of February 5, 2006 ) and ( See Broadway To Vegas column of March 20, 2005 )

Set and costume design is by Ron Howell; lighting design is by Paul Pyant; sound design is by Simon Baker for Autograph; music supervision is by Christopher Nightingale; moving image design is by The Gray Circle; "Tolkien creative consultation" is by Laurie Battle; special effects design is by Gregory Meeh; illusions and magic effects are by Paul Kieve; musical direction is by Rick Fox; orchestrations are by Christopher Nightingale, Rahman and Värttinä; and choreography is by Peter Darling.

70, GIRLS, 70 a concert staging of composer John Kander and lyricist Fred Ebb's creation. Based on the play entitled Breath of Spring by Peter Coke; Adaptation by Joe Masteroff. Originally produced on the New York Stage by Arthur Whitelaw.

Stars Academy Award winner Olympia Dukakis making her debut in a Broadway musical, Charlotte Rae, Tony winner George S. Irving and MGM movie alumnus Carleton Carpenter. Also in the fabulous cast are Ronn Carroll, Carole Cook, Bob Dishy and Anita Gillette.

Watch as this group of senior citizens living on New York's Upper West Side regain their zest for life by forming a ring of unlikely thieves, wreaking havoc in stores from Sadies' Second Hand Furs to Bloomingdales. John Kander and Fred Ebb provide a score that is, by turns, sweet and brassy, and includes Broadway, My Street, Coffee In a Cardboard Cup and See the Light.

Kathleen Marshall will direct and choreograph. Paul Gemignani is Music Director.

March 30-April 2 at City Center, NYC.


| | | |
| --- | --- | --- |
| | | |
WHO'S WHERE


MINIMALIST JUKEBOX - GLASS & ADAMS

John Adams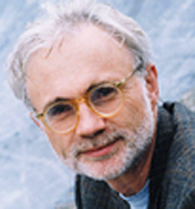 The Los Angeles Philharmonic with John Adams, Conductor. Glass: Akhnaten, selected scenes (43 minutes) Intermission followed by Adams: Harmonielehre (40 minutes).

Holland Taylor, narrator (Scribe). Daniel Bubeck, countertenor (Akhnaten). Michael Slattery, tenor (Amon the Priest). Hugh Russell, baritone (Horemhab). Jeremy Galyon, bass (Aye). Los Angeles Master Chorale, Grant Gershon, music director.

In Philip Glass' trilogy of operas about men who changed the world, each focuses on a single subject. Einstein on the Beach concentrated on science; Satyagraha on politics. The third, Akhnaten, about a pharaoh in the 14th century B.C. who promulgated monotheism, dwells on religion. Historian Shalom Goldman helped compile texts for the libretto.

Glass says that the music for the funeral of Akhnaten's father "does not resemble any funeral music I have ever heard before. The drumming that begins it, the flourishes for brass and winds and the emphatic entrance of the singing, give it a raw, primitive, quasi-military sound."

At the end of Act II we hear Akhnaten sing the Hymn to the Sun (a prayer which resembles some Old Testament psalms and may have been written by the real pharaoh). Glass cast Akhnaten as a countertenor (frequently shadowed by solo trumpet) to emphasize his otherworldly individuality.

Harmonielehre (roughly translated "the book of harmony" or "treatise on harmony") is the title of a huge study of tonal harmony, part textbook, part philosophical rumination, by Arnold Schoenberg.

The final movement's title, Meister Eckhardt and Quackie, refers to a dream in which Adams' daughter ("Quackie") rides on the shoulder of the medieval mystic Meister Eckhardt as they hover among the heavenly bodies.

Performances at Walt Disney Concert Hall in Los Angeles. Upbeat Live is a free pre-concert event in BP Hall one hour before the concert: John Adams participates on March 31 and on April 2. Philip Glass takes part on April 1.

BILLY JOEL performs Tuesday, March 29 at the Hardford Civic Center in Hartford, CT.

COLDPLAY have a two nighter Thursday and Friday, March 30-31 at the United Center in Chicago.

GENE PITNEY continues his town of the United Kingdom this week with a stop Wednesday, March 29 in Hull at City Hall. On Thursday the show is in Nottingham at the Royal Centre. Friday finds the performance in Sheffield at City Hall. Saturday he'll be in the spotlight at St. George's Hall in Bradford. Next Sunday the show is in Birmingham at Symphony Hall.

JAMIE CULLUM dynamic British singer, songwriter, and pianist performs Wednesday, March 29, at Town Hall in NYC.

BID BAG VOODOO DADDY has a two night gig March 27-28 at the Oneida Casino in Green Way, Wisconsin. On Saturday they'll be swingin' at the House of Blues in Lake Buena Vista, FL.

MAYNARD FERGUSON AND THE BIG BOP NOUVEAU perform Monday, March 27m at the Unionville High School in Kenneth Square, PA. On Tuesday they're on stage at the West Morris Mendham Auditorium in Mendham, NJ. Wednesday finds them at the North Pocono High School in Moscow, PA. On Friday they are on stage at Tarrytown Music Hall in Tarrytown, NY.

THE BACON BROTHERS perform a two nighter Friday-Saturday at Niagara Fallsview Casino in Niagara Falls, ON.

CHRIS BOTTI stars at the Desert Diamond Casino in Tucson, Arizona on Tuesday, March 28. On Wednesday he's in the spotlight at the McCallum Theatre in Palm Desert, CA.

MICHAEL BUBLE brings his show to Abravanel Hall in Salt Lake City on Tuesday, March 28. ON Wednesday she can be enjoyed at Temple Buell Theatre in Denver. Friday the performance is at the Orpheum Theatre in Minneapolis.

BILL CHARLAP entertains Friday, March 31 at Lackawanna Junior College in Scranton, PA. On Saturday he's on stage at the Quick Center for the Arts in Fairfield, CT.

OAK RIDGE BOYS in the spotlight at the Coral Ridge Church in Fort Lauderdale, FL on Friday, March 31.

GEORGE JONES singing at the Marina Civic Center in Panama City, Florida on Friday, March 31. On April Fool's Day he promises to show up on time - no foolin' - at the Memorial Auditorium in Chattanooga, TN.

THE IRISH ROVERS putting everyone into a good mood Monday, March 27 at the Newberry Opera House in Newberry, SC. On Thursday they star at the Heritage Theatre in Brampton, ON. Friday finds them at the Theatre for the Arts in Markham, ON and on Saturday they can be enjoyed at the Living Arts Centre in Missisauga, ON.
















Next Column: April 2, 2006
Copyright: March 26, 2006. All Rights Reserved. Reviews, Interviews, Commentary, Photographs or Graphics from any Broadway To Vegas (TM) columns may not be published, broadcast, rewritten, utilized as leads, or used in any manner without permission, compensation/credit.
Link to Main Page
---
Laura Deni


CLICK HERE FOR COMMENT SECTION