! >
Broadway To Vegas
  
  REVIEWS INTERVIEWS COMMENTARY NEWS

| | |
| --- | --- |
| | |
DAVID MERRICK PRESENTS HITS FROM HIS BROADWAY HITS CD REVIEW - - THEATRES STEP UP TO DEFEND MIKE DAISEY - - AN OFFICER AND A GENTLEMAN STAGE MUSICAL STARTS IN AUSTRALIA - - JIMMY BUFFETT GETS HIS LAS VEGAS CASINO - - MARTINA NAVRATILOVA DISCLOSES INSIDER INFORMATION ABOUT DWTS - - GHOST THE MUSICAL - - REGIONAL PREMIERE OF CHESS - - BUDDY RICH 25th ANNIVERSARY MEMORIAL CONCERT - - DONATE . . . Scroll Down


Copyright: March 25, 2012
By: Laura Deni
CLICK HERE FOR COMMENT SECTION

ANIMAL DAVID MERRICK: TOO MEAN TO LOVE AND TOO TOUGH TO EAT

If he had been an animal he would have been considered too mean to love and too tough to eat. In a way, the prolific Tony Award winning producer David Merrick, who died April 25, 2000, was an animal.

Cunning and ruthless, colorful and controversial, he protected his turf and lived by primitive survival-of-the-fittest rules.

No other producer had the clout of David Merrick.

Famous for his publicity stunts, he no doubt would have approved of the re-release by Masterworks Broadway of David Merrick Presents Hits From His Broadway Hits. Masterworks Broadway has earned a solid reputation of carefully and expertly crafting the re-release of important recordings. Masterworks Broadway lives up to its reputation with this CD.

Frequently, musical releases pay homage to composers or singers. In this case, the CD pays homage to a producer.

In one of the biggest Merrick ego pumps, title credits almost ignore the composers, while touting the Merrick musicals.

Those who listen to this collection won't care why it was put together - they'll simply enjoy wonderful song renditions - many of which have become standards.

After Merrick took home the Tony in 1964 for Hello Dolly! record producer George R. Marek suggested this album and used his own recording artists, John Gary, Ann-Margret and the Merrill Staton Voices - performers who aren't immediately noted for Broadway.

Dr. Merrill Ostrus Staton, who died on October 13, 2000 at the age of 81, had a 50-year career in music as a singer, conductor, producer and educator. His Merrill Staton Singers were a go-to group for performers and recording studios.

Staton sang and recorded with such artists as Robert Shaw, Robert Goulet, Richard Burton, Maurice Chevalier, Julie Andrews, Elvis Presley, Bobby Darin and Nat "King" Cole. He was music director and featured his Merrill Staton Singers on early television shows, such as Ernie Kovaks, Hallmark Hall of Fame, Omnibus, and specials on Lerner and Lowe and Cole Porter.

During the Las Vegas showroom heyday of tux wearing, sexy crooners, tenor John Gary was a Sin City regular. Gary, who died from prostate cancer January 4, 1998 at age 65, sang in movies, on Broadway, had his own television show, and appeared at Carnegie Hall, with numerous symphonies. He was a stylized singer, who recorded 23 albums for RCA Victor Records. Gary was considered by many to be one of the best crooners, due to his extraordinary breath control and tonal quality of his voice. That was partially due to his being an award winning under sea diver.

Gary was a diver who held two underwater endurance records. He and a friend, Dick Alba, developed a method of using closed-circuit underwater television to view the ocean floor, and they later sold the technology to oil companies, who used it to view their offshore drilling rigs. He also put his underwater experience to work training Apollo astronauts, who used scuba equipment and underwater practice to learn to move and do tasks in zero gravity.

During this time, Gary also set a world record for underwater endurance, staying under water for 41 hours and 1 minute. He later beat his own record by staying under water for 78 hours and 45 minutes. He patented two underwater propulsion devices, the diving buddy and the aqua-peller.


Producer David Merrick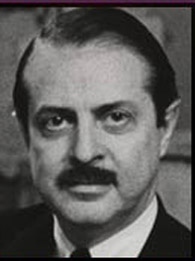 When he wasn't holding his breath he was displayed an exceptionally wide range of three and 1/2 octaves. His singing ranged from robust baritone to a high sweet tenor often in the same song. Many popular songs of the time were suited to his intimate style.

Ann-Margret is the Swedish-American actress singer and dancer who had one dynamite of a Las Vegas act and is best know for her performances in Bye Bye Birdie, Viva Las Vegas, Carnal Knowledge and Tommy, Although she has received two Grammy nominations she has never been considered a recording powerhouse.

Thus, the selection of these performers to lay down the tracks, which were in homage to Merrick, is unusual. That doesn't mean they don't deliver.

All of the snazzy selections performed by The Stanton Singers are vibrant, robust, and a toe-tapping infusement of aural happiness.

John Gary shines in all of his selections.

Ann-Margret's light and airy voice are used to best advantage in Love Makes the World Go 'Round, which has as many instrumental segments as vocal passages. The smoldering sex symbol has a delicate delivery on Our Language of Love, and a clear, crisp, bell note delivery on the lesser known Is It Really Me? The actress surprises with her delivery of As Long As He Needs Me. Granted, the orchestrations are the best for her range and generally breathy vocal quality. However, Ann-Margret is impressive with her delivery. She puts feelings behind the lyrics and it's a powerful rendition.

Originally produced by George R. Marek. Arranged and conducted by Henri Rene and Joe Lipman.

David Merrick Presents Hits from His Broadway Hits

1. Fanny [Fanny] – John Gary
2. Love Makes the World Go 'Round [Carnival] – Ann-Margret
3. Make Someone Happy [Do Re Mi] – The Merrill Staton Voices
4. Small World [Gypsy] – John Gary
5. Our Language of Love [Irma La Douce] – Ann-Margret
6. Take Me Along [Take Me Along] – The Merrill Staton Voices
7. What Kind of Fool Am I? [Stop the World, I Want to Get Off] – John Gary
8. As Long as He Needs Me [Oliver!] -Ann-Margret
9. Once in a Lifetime [Subways Are for Sleeping] -The Merrill Staton Voices
10. Anyone Would Love You [Destry Rides Again] – John Gary
11. Is It Really Me? [110 in the Shade] – Ann-Margret
12..Hello, Dolly! [Hello, Dolly!] – The Merrill Staton Voices.







Broadway To Vegas is supported through advertising and donations. Priority consideration is given to interview suggestions, news, press releases, etc from paid supporters. However, no paid supporters control, alter, edit, or in any way manipulate the content of this site. Your donation is appreciated. We accept PAYPAL. Thank you for your interest.



ART AND ABOUT


TANJA ALEXIA HOLLANDER: ARE YOU REALLY MY FRIEND

(Image credit: Tanja Hollander (b.1972), June Fitzpatrick, Portland, Maine, 2011, archival pigment prints, 9 ½ x 9 ½ inches, Courtesy of Carroll & Sons, Boston, Massachusetts.)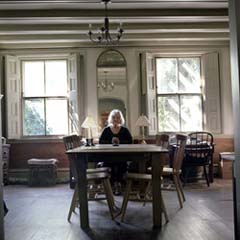 Social media has become a fundamental part of society. Its convenience allows instantaneous communication and a level of familiarity with those we know well and many we don't know at all. Tanja Alexia Hollander: Are You Really My Friend? on view through June 17, 2012, at the Portland Museum of Art in Portland, Maine, includes photographic portraits that explore friendships in the context of social media.

Maine photographer Tanja Alexia Hollander captures the intimacy of friendship by stepping away from the computer and into the private homes of her more than 600 Facebook friends.

Since January 2011, Hollander has traveled around the country, and soon the world, to visit all of her Facebook friends: some new, some old, some very close, and some not so close. Beginning in December 2011, Hollander started conducting a multi-phased series of public exercises. Some phases are designed to foster audience participation and others are about collaborative curation and are intended to explore, emulate, and remark upon the various stages and layers of "friendship" in a Facebookian sense. Each phase is intended, as social media is purported to do, to maximize public involvement and invite feedback as to what it means to intertwine the private into the hyper public.

The exhibition features 59 photographs that will remain constant throughout the show with many more being added. The process for the selection of the additional images will be open, collaborative, and participatory for Museum visitors. Visitors will also be invited to comment on questions such as: Are we supposed to acknowledge the artist's creativity, photographic skill, role within the tradition of portraiture, or should we critique the management of the artist's Facebook page?

On view through June 17, 2012, at the Portland Museum of Art in Portland, Maine.

THE ALLURE OF JAPAN A fascination for all things Japanese swept the United States in the period around 1900.

An influx of Japanese goods and emissaries into America sparked a wave of interest in a foreign culture once seen as impossibly remote.

Artists and collectors gathered Japanese objects, studied Japanese traditions, and integrated Japanese styles and techniques into their own work.

The Allure of Japan celebrates this cultural moment with a rich display of rarely exhibited American prints, posters, watercolors, and decorative arts complemented by a selection from the Museum's renowned Japanese collections.

Opened yesterday and runs through December 31, 2012 at the Museum of Fine Arts in Boston.

A Gallery Talk on this exhibition given by Jane Braun, research associate, Prints, Drawings and Photographs will take place on April 18.


SWEET CHARITY


CONCERT FOR THE RAINFOREST FUND takes place April 3 at Carnegie Hall.

Produced by Trudie Styler, the show includes appearances by Sting, Elton John, James Taylor, Vince Gill, Rosanne Cash, Meryl Streep, Channing Tatum, Bruno Mars and Jennifer Hudson.

The Rainforest Fund was founded in 1989 by Sting and Trudie Styler in response to a direct request for help from a Kayapo Indian leader in Brazil who was seeking to protect his people's land and culture.

Over the past 23 years, the Rainforest Fund has worked in partnership with more than 100 local organizations in all major rainforest areas and successfully protected over 115,000 sq km of forest.

In 2012 the Rainforest Fund continues supporting a range of long term projects including comprehensive policy programs, empowerment of the indigenous groups, mapping of territories, securing their rights, improving forest management, lobbying governments, creating law reform, and developing organizations, with a particular focus on climate change initiatives.

DAYTIME QUACKS is an online fundraiser presented by two-time Emmy award winner Michelle Stafford, to benefit Project Cuddle. Stafford is a member of their Advisory Board and the recipient of their 2012 Media Awareness Award.

Project Cuddle, which has rescued over 690 babies in the United States and Canada, aims to prevent newborn abandonment. Thousands of newborns are abandoned every year in dumpsters, trash cans, toilets and other horrific places. Project Cuddle offers safe and legal alternatives to prevent these tragedies.

Last Thursday the organization sent out the following message:

"We have been very busy the past few months. Babies #689 & #690 were just born! Both are little boys. One is only 3lb 9oz and his nickname is "little guy". He is now stable and is breathing on his own. Then we have our strapping 6lb 9oz "big boy" that was born just a day later. "

"Currently we are working on cases all over the country. We have a little 15-year-old due in the next week and she has been a very challenging case. We are thankful that she called us, and look forward to a safe conclusion. Please keep her in your thoughts."

Project Cuddle's latest fundraiser, Daytime Quacks (bidding ends today, March 25) adorable rubber ducks - and other unique items - signed by cast members from soap operas: All My Children, Bold & The Beautiful, Days Of Our Lives, General Hospital, One Life To Live, and Young & The Restless went up for bid. There were also some quacktastic items signed by John Stamos, Project Cuddle's National Spokesperson.

When last checked, bidding was near $6,000.

AMAS MUSICAL THEATRE GALA BENEFIT EVENT featuring Tony Award winner Lillias White in concert.

Honorary Benefit Chair Leslie Uggams. Artistic Producer Donna Trinkoff.

The Amas Benefit Event honors the iconic restaurateur, author and transcultural lifestyle pioneer B. Smith with the Rosie Award, named for Amas founder Rosetta LeNoire. Established in 2002, the Rosie Award is bestowed on individuals who have demonstrated extraordinary accomplishment and dedication in bringing our world more closely together, and on businesses that have distinguished themselves through their leadership and commitment to diversity as a core business strategy. Ms. Smith is being recognized on both counts. April 2, 2012 Baruch Performing Arts Center, NYC.

Honorary Benefit Chair for the event is Broadway and TV star Leslie Uggams, who is also a past Rosie Award winner. Additional past honorees include Ossie Davis and Rubie Dee, Geoffrey Holder and Carmen deLavallade, Maurice Hines, Phylicia Rashad, Woodie King, Jr., Dionne Warwick, and George C. Wolfe, Jr. Previous corporate honorees include Ernst & Young, JPMorganChase, Verizon, and PWC.

The evening will also include a special performance by teen students of the Rosetta LeNoire Musical Theatre Academy and will conclude with the presentation of the eighth annual Rosetta LeNoire Scholarship, which is given to a deserving college-bound student attending the Amas Academy.


MARTINA NAVRATILOVA DISCLOSES FAKE JUDGES ON DANCING WITH THE STARS
A stunningly beautiful Martina Navratilova dances the foxtrot with Tony Dovolani. The tennis great divulged that the judges' scores were the same as the ones the judges had given them in rehearsal. Photo: Dancing With The Stars ABC.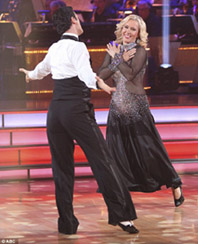 Tennis great Martina Navratilova made a slip - only it wasn't on the dance floor. The startling news wasn't that the athlete, who hasn't worn a dress in 20 years, looked sexy and glam dancing a foxtrot with partner Tony Dovolani on Dancing With the Stars. Rather, when asked how she felt about the judge's scores - which left her in a three way tie at the bottom of the leader board - the women who won 18 Grand Slam singles titles, first winning Wimbledon in 1978, lobbed one at the judges, disclosing that the scores on the telecast were the same scores the judges had given them during the rehearsal, so she wasn't surprised.

Host Tom Bergeron - obviously surprised - did his own dance routine when he tried to side step around and over the disclosure by declaring that the rehearsal judges are pretend judges and - on air - said that Martina "lied."

Gorgeous and multi-talented opera singer and now dancer Katherine Jenkins, who with her partner Mark Ballas tied for top of the leader board in the season debut of Dancing With the Stars, is already planning for Christmas. She'll perform a very special Christmas concert on Monday, December 10, at the Royal Albert Hall in London will include a selection of songs from Katherine's latest album and Christmas carols for all to join in. Katherine will be accompanied by the National Symphony Orchestra and London Philharmonic Choir, conducted by Anthony Inglis, and joined by some very special guests: The Boy Choristers of St George's Chapel, Windsor Castle and The Band of the Welsh Guards.

As for DWTS, the Welsh opera singer was told by judge Carrie Ann Inaba that she and partner Mark Ballas' foxtrot was the 'best first dance on the first episode ever'.


THE BUDDY RICH 25th ANNIVERSARY MEMORIAL CONCERT


He was billed as the world's greatest drummer. Known for his virtuosic technique, power, groove, and speed. Rich's technique has been one of the most standardized and coveted in drumming. His dexterity, musicality of playing style, speed and smooth execution are considered "holy grails" of drum technique and have been considered next to impossible to duplicate.

He began playing drums in vaudeville when he was 18 months old, billed as "Traps the Drum Wonder." At the peak of Rich's childhood career, he was reportedly the second-highest paid child entertainer in the world - after Jackie Coogan. At 11 he was performing as a bandleader. In 1938, he was also hired to play in Tommy Dorsey's orchestra where he met and performed with Frank Sinatra. Eventually Rich formed his own band with financial support from Sinatra, and continued to lead different groups on and off until the early fifties.

Buddy Rich remained active performing until the end of his life. On April 2, 1987, Rich died of heart failure following surgery for a malignant brain tumor. He was 69.

One of the legendary drummer's last requests to his only child, daughter Cathy, was to keep his band working, his music alive, and to do something for young people. No easy task, but eventually Cathy decided that an annual memorial concert seemed the way to go.

The first sellout memorial concert was in 1988 at the celebrated Carnegie Hall in New York. Since then, shows have followed in Los Angeles, Las Vegas and Boston with the who's who of the drumming world taking part and the shows being described as 'The Greatest Drum Show Of All Time'. Artists to grace the stage in previous years have included Mel Tormé, Joe Williams, Stan Getz, Steve Gadd, Dave Weckl, Vinnie Colaiuta and Dennis Chambers.

The Buddy Rich 25th Anniversary Memorial Concert takes place for the first time in the UK at the world-famous London Palladium on April 2, 2012 - the exact date of the 25th anniversary of Buddy's death.

The world-class lineup includes Dave Weckl, Gregg Bissonette, known most recently for his work with the Ringo Starr band; John Blackwell, currently playing with Prince; and Gregg Potter from the Buddy Rich Big Band. From the UK, Deep Purple's distinguished drummer, Ian Paice; the renowned Cream drummer, Ginger Baker; respected session drummer Gavin Harrison; and Elliott Henshaw, veteran of over 20 West End shows and drummer for Tony Christie and Bruce Dickinson from Iron Maiden. Plus singing supremo Tony Christie will also appear.

Co-hosted by Cathy and British comedian and drummer John Thomson, the evening will also see Cathy present Lifetime Achievement Awards to three rock drumming legends.


THEATRES STEP UP TO DEFEND MIKE DAISEY - PUBLIC FORUM TO TAKE PLACE
Mike Daisey rehearsing his monologue The Ugly American, which he created and performed as part of The Cape Cod Theatre Project in 2007.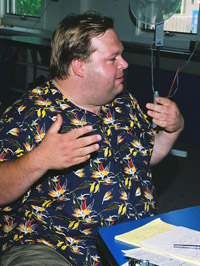 The swirling debate over Mike Daisey's crafting of The Agony and The Ecstasy of Steve Jobs isn't dying down. ( See Broadway To Vegas column of March 18, 2012 ).

Rather, the headline making controversy over combining fiction with non-fiction is prompting those who have worked with Daisey to issue statements and stage discussions.

The Cape Cod Theatre Project has expressed its support for playwright Mike Daisey. Artistic Director Hal Brooks issued the following statement:

"The Cape Cod Theatre Project, which supported monologuist Mike Daisey in the development of The Agony and the Ecstasy of Steve Jobs in 2010, expresses its support for this important theater artist. We have had a long and fruitful relationship, having developed Tongues Will Wag and The Ugly American as well.

In light of recent revelations brought forth by Ira Glass's This American Life produced by Chicago Public Radio, we regret the inaccuracies that were uncovered in The Agony and the Ecstasy of Steve Jobs.

Mike is a theater artist and a master storyteller. He is not a journalist. It is important to note that Mike brought to light to a wider audience the harsh conditions that Chinese workers face at Foxconn, while at the same time, he asked his audience to consider the human cost of the iDevices we hold so dear.

It would be a shame to forget that it was Mike's passion to explore this topic that caused legitimate journalists to further investigate Apple's labor practices in China.

We support all works of theater that illuminate society's deeper truths. We look forward to producing more work of this important, American theater artist."

For the past 17 years, The Cape Cod Theatre Project, located in Falmouth, MA, has brought top theater artists together to present staged readings to help develop the best new American plays and playwrights in the country. Of the 60 plays they have produced, 38 have gone on to Broadway, Off-Broadway, to the country's finest regional theaters and around the world. Plays developed at The Cape Cod Theatre Project have later been produced at The Manhattan Theater Club, Playwrights Horizons, The Roundabout Theater, The Daryl Roth Theater, The Rattlestick Theater, The Public Theater, The La Jolla Playhouse, Rep Theater of St. Louis, Dallas Theater Center, and many others.



Mike Daisey in The Agony and the Ecstasy of Steve Jobs (2011). Photo by Stan Barouh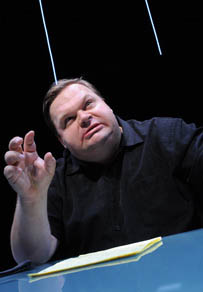 Woolly Mammoth Theatre Company, which staged a production of Mike Daisey's monologue The Agony and Ecstasy of Steve Jobs last March and also has it on their boards for this summer, issued another statement defending the "essential truth of Mike's storytelling" but apologizing "for including the line 'a work of non-fiction' in our playbill."

"When you last heard from us, the transcripts from the retraction episode of This American Life had not been published, and we had yet to hear the conversation between Ira Glass and Mike Daisey about fabrications in The Agony and the Ecstasy of Steve Jobs. We made a statement supporting Mike, that the performances of our summer remount of the show were going ahead as planned, and that Mike's piece had - and continued to - spark conversation and dialogue around a topic of great importance. Many of you have sent us emails, called us, commented on our blog and through social media. Some of you have praised us, and others have expressed anger and disappointment. We value all your responses.

"Our initial statement was not our final word on the matter, rather, the beginning of a series of conversations about truth, about art, about activism, and about this particular decision," continued the Woolly Mammoth statement.

"Having heard the episode now, we can all admit to feeling discomfort, anger, pity, disappointment, and a whole host of complex emotions. We acknowledge, as Mike does, that nothing excuses his deception of Ira Glass and This American Life. There were so many moments when Mike could have clarified the difference between things he actually witnessed in China, things he only heard in China, and the storytelling inventions he deployed to illustrate each. He could have accurately labeled his work from the outset - to his producing partners in the theatre and on the radio - as something other than a work of non-fiction. He didn't, and many who saw the piece in the theatre or heard it on the radio felt betrayed."

"We have spent every minute of the last several days confronting this issue, and trying to best articulate - for ourselves and you - why we have made the decision to go ahead with our scheduled performances of the show.

"We believe in the essential truth of Mike's storytelling. Mike's performances fuse fact, memoir, and polemics with healthy doses of bombast and, for comic effect, exaggeration in order to passionately deliver an urgent message. But his account of working conditions in China is not made up out of thin air. He went there. He talked to people and visited factories when few other Americans were doing so. All of the specific conditions he includes in his show have been corroborated by The New York Times and others - indeed, in the very same retraction episode where he was condemned.

"We believe in the power and impact of Mike's work as a theatrical piece. When Mike Daisey made his trip to China, the US was barely focused on the appalling conditions for Chinese workers. We blithely ignored the fact that Apple and many other companies were exporting working conditions that no American would tolerate to millions of people worldwide. The best art opens our eyes and makes us want to take action, and that is what Steve Jobs accomplished. Letters were written, stories reported, and Apple actually committed to revealing a list of its suppliers and investigating its supply chains. The problem was big, and Mike's show had a significant impact on the way it is now being addressed.

"We believe in conversation, discussion, and lively debate. Woolly deeply values active dialogue around vital socio-political topics. After the run of Steve Jobs at Woolly, audiences left the theatre wanting to learn more, ask more questions, and argue. The death of Steve Jobs (after the Woolly run) changed the show and added new layers of complication. Now this episode on This American Life has revealed important new questions about art and artifice and truth that Woolly is excited and committed to explore further. Mike's shows are not scripted; they are living things that evolve as they interact with audiences and events.

"We believe the brief run at Woolly this summer will be an important chapter, perhaps the most important chapter, in the evolution of this show and the relationship between the show and the world around us.

"We believe there is a difference between art and journalism. We don't think that the show should have aired on This American Life, and we believe it should have been represented accurately in the theatre. But journalism seeks to be as objective as possible, while theatre and storytelling are more subjective, and they both have an important role to play. Journalism helps us know what we're looking at, but theatre, and art in general, helps us know where to look. The Agony and the Ecstasy of Steve Jobs did that, and this is something we stand behind.

"For Woolly's part, we want to specifically apologize for including the line "a work of non-fiction" in our playbill. In hindsight, we wish we had interrogated Mike on this point. (In a recent radio interview, we said this line was not included in our playbill, and we were mistaken - a case of bad fact-checking on our own part.)

"By his own admission, Mike stepped over some inappropriate boundaries in his zealousness to get his point across in Steve Jobs. We are confident that he will learn important lessons, as we have, from the scandal surrounding this show. "We have a long-standing history with Mike, and believe he is an artist of passionate commitment and bravery who invests himself in each new piece with a level of purpose and determination that are rare. Moreover, we are committed to our artists, without whom Woolly would not and could not be what it is today. We believe Mike understands the impact of what he has done, and has, and will continue to, apologize. To make mistakes is human. But as a member of our artistic community, we will not abandon him in tough times." The statement from Artistic Director Howard Shalwitz and Managing Director Jeffrey Herrmann, also announced a public forum at Woolly on Tuesday, March 27 "[i]n the spirit of further dialogue."

Although Tuesday's open forum on Daisey and The Agony and Ecstasy of Steve Jobs will be free and open to the public, space is limited and Woolly urges those who wish to attend to make reservations.

For the seriously disgruntled, Woolly Mammoth is also offering "refunds to patrons who purchased tickets to this run of The Agony and the Ecstasy of Steve Jobs prior to March 21, 2012. All refunds must be claimed by April 21, 2012. Tickets purchased after March 21 will not be refunded under any circumstances."


IN GREAT BRITAIN BEER IS CHEAPER THAN WATER - BUT NOT FOR LONG
Several months pregnant Snooki has promised to give up drinking while pregnant.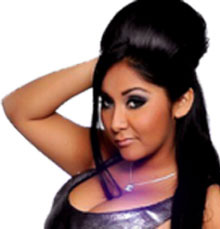 Beer Bong Binge Beer Drinking. A favorite pass time of those on spring break - the annual rite of passage which should end today, although the hangovers linger.

During spring break, the average male reported drinking 18 drinks per day and the average woman reported 10 drinks per day, according to Journal of American College Health.

While celebrities can afford alcohol at any price, some have paid the high price of treatment programs and career slumps, thanks to too much booze: Betty Ford, Buzz Aldrin, Eric Clapton, John Larroquette, Larry Gatlin, Craig T. Nelson, Robert Downey, Jr., Richard Burton, Mercedes McCambridge, Anthony Hopkins, Kiefer Sutherland, Kristen Johnston, race car driver Al Unser, Jr., Charlie Sheen, Gary Crosby, singer/songwriter Paul Williams, Colin Farrel, Drew Barrymore, Kate Moss, Heather Locklear, Mel Gibson, Days of Wine and Roses author JP Miller, drummer Denny Seiwell, linebackers D. D. Lewis, Creighton Pendarvis and Larry Grantham, Cy Young Award winner Don Newcombe are just a few.

The recent big news announcement came from Nicole Elizabeth "Snooki" Polizzi saying she will give up drinking now that she is several months pregnant. Her Jersey Shore co-star Michael "The Situation" Sorrentino is "resting" in a rehab facility.

While nobody is ever going to stop people from abusing their bodies, when beer is cheaper than water, those on a budget have use that flawed financial rational as a cop out. Not amused, British Prime Minister David Cameron intends to make it a more expensive to drink yourself to death.

It a tough stand release of March 23, 2012 The Prime Minister said:

"Binge drinking isn't some fringe issue, it accounts for half of all alcohol consumed in this country. The crime and violence it causes drains resources in our hospitals, generates mayhem on our streets and spreads fear in our communities.

"My message is simple. We can't go on like this. We have to tackle the scourge of violence caused by binge drinking. And we have to do it now.

"So we're going to attack it from every angle. More powers for pubs to stop serving alcohol to people who are already drunk. More powers for hospitals not just to tackle the drunks turning up in A&E – but also the problem clubs that send them there night after night. And a real effort to get to grips with the root cause of the problem. And that means coming down hard on cheap alcohol.

"When beer is cheaper than water, it's just too easy for people to get drunk on cheap alcohol at home before they even set foot in the pub. So we are going to introduce a new minimum unit price - so for the first time it will be illegal for shops to sell alcohol for less than this set price per unit. We're consulting on the actual price, but if it is 40p (63 cents) that could mean 50,000 fewer crimes each year and 900 fewer alcohol related deaths per year by the end of the decade.

(A pint of beer in an American bar sells for $3 to $6. )

"This isn't about stopping responsible drinking, adding burdens on business or some new kind of stealth tax - it's about fast immediate action where universal change is needed.

"And let's be clear. This will not hurt pubs. A pint is two units. If the minimum price is 40p (63 cents) a unit, it won't affect the price of a pint ($1.62). In fact, pubs may benefit by making the cheap alternatives in supermarkets more expensive."

In 2009 Britain's biggest pub chain JD Wetherspoon announced 'indefinite' price cuts, slashing the price of a pint of beer to 99p which led to binge drinking fears. That low price was a level not seen for 20 years and went into effect at all of Wetherspoon's 713 pubs, which led to rival chains promising to drop their prices. Alcohol Concern condemned the 'irresponsible' move, and warned that if the alcohol industry didn't regulate itself, then the Government had a duty to step in, which is precisely what Cameron is doing.

"Of course, I know this won't be universally popular," continued the Prime Minister. "But the responsibility of being in government isn't always about doing the popular thing. It's about doing the right thing.

"Binge drinking is a serious problem. And I make no excuses for clamping down on it."


SPREADING THE WORD


TAKE ME OUT TO THE BALLGAME The Story of Katie Casey and Our National Pastime.

Using archival research material almost exclusively from the collections of The New York Public Library, George Boziwick, Chief of the Music Division and The Red Skies Music Ensemble present a descriptive performance on the creation, evolution and timeless message of Take Me Out to the Ball Game.

Monday, April 2, 2012 at the New York Public Library for the Performing Arts, Dorothy and Lewis B. Cullman Center, Bruno Walter Auditorium, NYC.

MY OCCASION OF SIN TALKBACK Mary Clark Moschella Professor of Pastoral Care and Counseling from Yale Divinity School will participate in a March 31 talkback after the matinee performance at Urban Stages in NYC and respond to the play as a Catholic Theologian and as a feminist. Books written by Prof. Moschella include Ethnography as a Pastoral Practice: An Introduction and Living Devotions: Reflections on Immigration, Identity, and Religious Imagination.

On April lst Kurt Andersen host of popular NPR show, Studio 360, will join playwright Monica Bauer and share his insight on the play. Like Bauer, Mr. Andersen is also a native of Omaha, Nebraska where the play is set and was in high school during the 1969 race riot. Mr. Andersen's written work include his New York Times bestselling novel Heyday and his earlier best selling novel Turn of the Century as well as numerous works for television programs and pilots. April 1st at Urban Sages in New York City.

1969. Jazz sweeps the segregated city of Omaha, Nebraska. Two unlikely characters, an African American jazz musician and a Polish music store owner join forces to bask in this music revolution. Yet, the racial tension all around them is inescapable, it festers and grows and explodes all in the name of a young girl named Vivian Stone. Based on true events.

LILY RABE AND RICHARD THOMAS will announce the 62nd Annual Outer Critics Circle 2011-12 Nominations April 23rd at the Friars' Club in NYC.

Outer Critics Circle, the organization of writers covering New York theatre for out-of-town newspapers, national publications and other media beyond Broadway, will post award nominations in 23 categories and are the first major Broadway/Off-Broadway award nominees of the New York theater season.

In addition, the OCC will present an honorary award to The Public Theater on its 50th Anniversary presenting free theater at the Delacorte Theater in Central Park. As a special treat, Jerry Stiller and Anne Meara alumni of Shakespeare in the Park and Public Theater productions will present on this day - which also happens to be Shakespeare's birthday - the special award to The Public's Artistic Director Oskar Eustis and Executive Director Patrick Willingham.

IRISH REP READING SERIES presents 16 Possible Glimpses by Marina Carr.

16 Possible Glimpses flashes through the life of Chekhov, the master story-teller, master playwright, doctor, lover, brother, son. A kaleidoscope of dialogues and images - tea and vodka, petal-filled gardens, oceans of champagne, a black monk traveling through time - reveal a life in which eternity is the only thing worth talking about. A poetic imagining of the life of a brilliant man. courtesy of Ulster Bank Dublin Theatre Festival.

Friday, March 30th at the Irish Rep in New York City. The Reading is free, but reservations are requested.

THE NAKED STAGE presents a staged reading The Heidi Chronicles by Wendy Wasserstein. Lead Artist: Josh Gladstone and featuring Dana Segal, Licia James Zegar, Kate Meuth, Joseph Brondo, Josh Perl and an Ensemble Cast.

Tuesday, April 3, at Guild Hall in East Hampton, New York.

SEATTLE OPERA WELCOMES VISITORS One of the world's newest and most beautiful opera houses is in Beijing, China - the National Centre for Performing Arts, which opened in 2007. Seattle Opera has been making friends with their colleagues across the Pacific; three members of our staff were brought to Beijing last summer for the NCPA's third annual World Theatre Forum, which featured several days of guest speakers from opera companies around the world.

This month, Seattle Opera was able to return the honor. Four staff members from the NCPA visited Seattle last weekend: Mr. Deng Yijiang, Vice President; Ms. Zhu Jing, Director Department of Brand Promotion; Ms. Wei Lanfen, Deputy Director Programming Department; and Mr. Wang Dayu, Director Department of Education and Outreach. The group from the NCPA toured McCaw Hall and met and dined with several members of Seattle Opera's staff and board sharing ideas about advancing this great art form at home and abroad. Ms. Wei Lanfen, who is fluent in English, acted as translator.


OTHER PEOPLE'S MONEY


AN OFFICER AND A GENTLEMAN

Sharleen Cooper Cohen at the Sydney Launch Party of An Officer and a Gentleman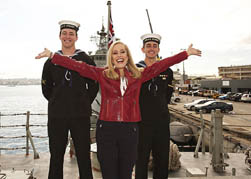 a stage musical adaptation of the hit movie, which will have its world debut beginning May 10, at the Lyric Theatre in Sydney, Australia, began rehearsals March 19 at the ABC Studios Ultimo.

George Souris, NSW Minister for Tourism, Major Events and Arts 'launched' the rehearsals.

Directed by Simon Phillips, the musical is co-authored and produced by Sharleen Cooper Cohen and has music and lyrics by Ken Hirsch and Robin Lerner.

At the opening rehearsal several executives spoke to the cast.

Sharleen Cooper Cohen stated:

"More people are seeing the marvelous talent pool in Australia, the wonderful facilities that are available and the opportunities to get away from the mainstream gossip of America and work on a product free from that where you can really see it from the ground up."

"It's a much better investment because we can do a commercial run here and our investors can earn money rather than what goes on in the United States. If you were to mount a brand new musical in a regional theatre, it would be a short run … and the investors don't make money."

JIMMY BUFFETT has been granted a Nevada gaming license by the Nevada Gaming Commission. The agency approved the entertainer's licensing request Thursday, permitting the singer-songwriter - now gambling mogul - to share in the gambling revenues from his company, Margaritaville Holdings LLC, which now can receive an unspecified capped level of gaming revenue generated at the Margaritaville Casino and Restaurant at the Flamingo Hotel with Caesars Entertainment. Buffett's Margaritaville casino has 220 slot machines and a bar called 5 o'Clock Somewhere.






LOS ANGELES DRAMA CRITICS CIRCLE announced the winners and special awards for excellence in Los Angeles and Orange County theatre for the year 2011. The 43rd Annual Los Angeles Drama Critics Circle Awards ceremony took place Monday, March 19 at A Noise Within in Pasadena, and was co-hosted by Jason Graae and Lesli Margherita.

In addition to the various production, acting and technical awards there were several Special Award Recipients.

The Ted Schmitt Award for the world premiere of an outstanding new play was awarded to David Wiener for Extraordinary Chambers. The award was accompanied by an offer to publish by Samuel French, Inc.

The Polly Warfield Award for an excellent season in a small to mid-size theater was awarded to Rogue Machine. The award was accompanied by an honorarium, funded by the Nederlander Organization.

The Bob Z award for career achievement in set design was awarded to Kurt Boetcher.

The Angstrom Award for career achievement in lighting design was awarded to Lap Chi Chu. The award was accompanied by an honorarium, funded by Angstrom Lighting.

The Margaret Harford Award for sustained excellence in theater was awarded to the Odyssey Theatre. The award was accompanied by an honorarium, funded by contributions from the theatrical community.

The Joel Hirschhorn Award for outstanding achievement in musical theatre was awarded to Lee Martino. The award was accompanied by an honorarium, funded by an anonymous donor.

The Milton Katselas Award for career or special achievement in direction was awarded to Matt Shakman. The award was accompanied by an honorarium, funded by The Katselas Theatre Company.

GREGORY DORAN who has been appointed the new artistic director of Britain's Royal Shakespeare Company. He will succeed Michael Boyd and formally take up the post following the company's Annual General Meeting in September.

Doran is currently the company's chief associate director.

In a press statement, Doran commented, "I am delighted to be appointed as artistic director of this great company. I joined the RSC 25 years ago, first as an actor, then as assistant director and then chief associate, so I guess if my appointment represents something, it represents a long term commitment to the disciplines and craftsmanship required to do the astonishing plays of our 'Star of Poets,' William Shakespeare. Michael Boyd and Vikki Heywood have done an exceptional job in the last decade, rebuilding the theatre and reasserting the principles of ensemble and collaboration, which I hope to continue and extend. My first task is to assemble an exciting new artistic team, with whom I shall start planning the Company's future from 2014."

The RSC's chairman Nigel Hugill led the selection panel for the recruitment, which included RSC Deputy Chairman Lady Sainsbury of Turville CBE and Board members Gilla Harris, Baroness McIntosh of Hudnall and David Tennant. Sir Richard Eyre acted as external adviser, and the selection process involved extensive consultation, including discussions with actors, directors, designers and current RSC staff.

DRAMA LEAGUE AWARDS will honor Alan Menken, Rosie O'Donnell and Diane Paulus for their outstanding contributions to the American theater at the 78th Annual Drama League Awards ceremony, which is set for May 18 at the Marriott Marquis Times Square in New York City.

Eight-time Academy Award-winning composer Alan Menken will receive the Distinguished Achievement in Musical Theatre Award in "recognition of his contribution to the musical theatre"; stage, Emmy Award winning television and movie star Rosie O'Donnell will receive the Unique Contribution to the Theatre Award "for her continuing efforts in promoting live theatre"; and Drama League Directors Project alum Diane Paulus, the artistic director of the American Repertory Theatre, will receive The Founders Award for Excellence in Directing, formerly named the Julia Hansen Award.


CURTAIN DOWN


CARRIE the Off-Broadway revised production of the 1988 flop musical, will stop the fake blood flow April 8, two weeks prior to its announced extension of April 22.

Carrie began Off-Broadway previews January 31 at the Lucille Lortel Theatre. The hype resulted in a four-week extension through April 22 announced in late February. The musical officially opened March 1 and received mixed reviews, with the exception of Marin Mazzie as Margaret who won consistent raves.



GHOST THE MUSICAL featuring a book by the hit 1990 film's Oscar winning screenwriter Bruce Joel Rubin and a brand new original score by Grammy Award winners Dave Stewart and Glen Ballard. Book by Bruce Joel Rubin, who has adapted his Academy Award winning original screenplay for the stage.

Directed by Tony Award winner Matthew Warchus.

Set in modern day New York City, Ghost The Musical is a timeless fantasy about the power of love. Walking back to their apartment one night, Sam and Molly are mugged, leaving Sam murdered on a dark street. Sam is trapped as a ghost between this world and the next and unable to leave Molly, who he learns is in grave danger. With the help of a phony storefront psychic, Oda Mae Brown, Sam tries to communicate with Molly in the hope of saving and protecting her.

Richard Fleeshman and Caissie Levy reprise their starring roles as Sam and Molly, which they originated in London's hit West End production. They are joined by newcomer Da'Vine Joy Randolph as Oda Mae Brown and Bryce Pinkham as Carl Bruner.

The cast features Tyler McGee, Lance Roberts, Moya Angela, Jason Babinsky, Michael Balderrama, James Brown III, Stephen Carrasco, Jeremy Davis, Sharona D'Ornellas, Josh Franklin, Albert Guerzon, Afra Hines, Carly Hughes, Karen Hyland, Alison Luff, Vasthy Mompoint, Jennifer Noble, Joe Aaron Reid, Constantine Rousouli, Jennifer Sanchez, Daniel J. Watts, and Jesse Wildman.

Illusions by Paul Kieve. Choreographed by Ashley Wallen.

Ghost The Musical is in previews at the Lunt-Fontanne Theatre, NYC.

MOSCOW by award-winning South Florida playwright and Zoetic Stage co-founder Michael McKeever. A World Premiere comedy about changing tides in Miami.

Miami, 1962. Three sisters of a once-prominent South Florida family find their world challenged by the life-changing events of the era. The Kennedy assassination, the Cold War and the sudden influx of Cuban immigration into Miami set the stage for an all-out showdown as past and present, East and West all collide in this comic look at how we got to where we are today.

Moscow is the third installment in McKeever's Miami Trilogy - the first two being the award-winning Melt and South Beach Babylon. Like the two plays before it, Moscow is a love letter to Miami. The story takes place at a time of changing tides that would eventually redefine the city and set it on the course that would lead to where Miami is today.

March 29-April 15 at the Adrienne Arsht Center for the Performing Arts in Miami.

REGRETS by Matt Charman, considered Britain's fastest-rising young playwright, makes his New York debut at MTC with this world-premiere play. Directed by Carolyn Cantor.

Starring Alexis Bledel, Curt Bouril, Ansel Elgort , Brian Hutchison , Tony Award winner Adriane Lenox, Lucas Caleb Rooney, and Richard Topol.

"Caleb Farley (Ansel Elgort) is the youngest man ever to show up at Mrs. Duke's cabins (Tony Award winner Adriane Lenox), a ramshackle retreat in the Nevada desert and one of the few places men can go to secure a quick divorce in 1950s America. Caleb claims he fled his Hollywood home for the same reason as the other men in camp – to shed the lives and wives they've known to begin anew. But in an era of heightened fears and political distrust, accusations that Caleb is hiding more than just a broken heart test each man's loyalty – to country and to one another. This fascinating new drama is an uncommon tale of friendship, loss and finding the courage of one's convictions."

The creative team includes: Rachel Hauck (scenic design), Ilona Somogyi (costume design), Ben Stanton (lighting design), Jill BC Du Boff (sound design), and Thomas Schall (fight direction).

Manhattan Theatre Club's Regrets officially opens Tuesday, March 27 at New York City Center – Stage I, NYC.

MY FAVORITE THINGS: THE SONGS OF RODGERS & HAMMERSTEIN World Premier Production. Original Arrangements by: Kim Scharnberg. Conceived and Directed by: Vincent Marini.

Four singers - Dustin Brayley, Guy LeMonnier, Erin Mosher, and Carolann M. Sanita - and a forty-member chorus put a new spin on the music of America's greatest songwriting tandem. Performing iconic songs from Flatrock Playhouse favorites such as The King and I, Oklahoma, The Sound of Music and more.
On the Mainstage March 28 - April 22 at The Flatrock Playhouse in Flatrock, NC.

NAKED BEFORE GOD Written and Directed by Leo Geter.

What do a porn star, a stripper and a soldier have in common with a Christian, a Muslim and a Mormon? In Naked Before God, Kristen Burrows (Jennifer A. Skinner) has hit upon a brilliant way to transform the sins of her youth into lots of cash: she's going to combine her adult film past with a born again future. But things get more than a little out of hand when the Christian radio talk show host Kristen has invited for dinner (William Salyers) meets her teenage son Duncan (Morgan McClellan), Duncan's wife Carly (Jen Kays), and a few unexpected visitors (Larry Clarke, Christopher Foley and Aly Mawji). Geter's wild and darkly comic farce is an R-rated romp through the intersection of religion and commerce with a couple of side trips through lust and greed.

Featuring Larry Clarke, Christopher Foley, Jen Kays, Aly Mawji, Morgan McClellan, William Salyers, Jennifer A. Skinner.

Set and lighting design are by Brian Sidney Bembridge; sound design is by Corinne Corillo; wardrobe design is by Ann Closs-Farley; props are by Heather Ho; production stage manager is Kat Haan.

Presented by Circle X Theatre Co. with performance through April 28 at [Inside] the Ford in Hollywood, CA.

CHESS, A MUSICAL the professional regional premiere of an all-new version, alive with powerful music by Benny Andersson and Bjorn Ulvaeus (founding members of Swedish pop group ABBA), and lyrics by Tim Rice. The show is based on an original idea by Tim Rice who has allowed theater companies to take creative license when staging the play. Directed by Rod Lansberry.

Featuring Gregg Goodbrod (Freddie), Tally Sessions (Anatoly), Sydney James Harcourt (Arbiter), Stephen Day (Molokov), Colin Alexander (Walter), Lisa Karlin (Florence) and Megan Van De Hey as Svetlana. The ensemble comprises Matthew Dailey, Daniel Herron, Ellen Kaye, Angela Mendez, Adam Pellegrine, Mercedes Perez, Susie Roelofsz, Jacob Lewis Smith, Alan Swadener and Anne Vick.

Originally debuting in London's West End and later on Broadway, Chess is a rock opera that uses the game of chess – with all of its power plays, manipulations, and sacrificial pawns – as a metaphor for the universal conflicts in love and life as well as global strife and the desire for a peaceful coexistence.

The creative team includes David Nehls (musical director), Kitty Skillman Hilsabeck (choreographer), Brian Mallgrave (scene design), Clare Henkel (costume design), Jacob M. Welch (light design) and Steve Stevens (sound design).

The show will run March 27 – April 15, 2012 in the Main Stage Theater of the Arvada Center in Denver.


WHO'S WHERE


GARY PUCKETT AND THE UNION GAP will take the stage of the Downtown Cabaret Theatre for two performances on Saturday, March 31. One of the most successful musical groups they achieved worldwide prominence garnering six consecutive Gold Records and Top 10 Billboard hits and sold more records in 1968 than any other recording act - including The Beatles. In addition, Gary is one of the few artists whose first five releases went gold - not even Elvis accomplished this. Among the group's hit singles are Woman Woman, Young Girl, Lady Willpower, Over You, Don't Give Into Him and The Girl Is a Woman Now. The Downtown Cabaret Theatre is at the located in downtown Bridgeport, Connecticut.

BRUCE SPRINGSTEEN AND THE E STREET BAND rock the place Monday, March 26, at the TD Garden in Boston. On Wednesday they open a two night stand at the Wells Fargo Center in Philadelphia.

DIANA KRALL has a busy week. On Monday, March 26, she's at the Kravis Center in West Palm Beach, FL. Tuesday's show is at the Van Wezel Performing Arts Hall in Sarasota, FL. Wednesday finds her at Ruth Eckerd Hall in Clearwater, FL. On Friday she's in the spotlight at the Sandler Center for the Performing Arts in Virginia Beach, VA. On Saturday she's in the spotlight at the Ferguson Center for the Arts in Newport News, VA.

HUMAN NATURE perform Tuesday, March 27, at the Palace Theatre in Cleveland. On Wednesday they star at the Palace in Louisville, KY. Friday finds them at the Palace Theatre only this one is in Columbus, OH. On Saturday they can be enjoyed at the Murat Theatre in Indianapolis. Next Sunday, April 1, they perform at the Taft Theatre in Cincinnati.

A FOOL'S PARADISE with Kevin Kling and accordionists Simone Perrin, who return to Seattle Rep for special performances of stories and songs on March 31 and April 1, 2012.

LILY TOMLIN in the spotlight on Saturday, March 31, at the Atwood Concert Hall in Anchorage, Alaska.

VAN HALEN performs Monday, March 26, at the Sovereign Center in Reading, PA. On Wednesday the show is at the Verizon Center in Washington, DC, On Friday the show is at the Consol Energy Center in Pittsburgh, PA. Next Sunday, April 1, the performance is at the Allstate Arena in Rosemont, IL.

STRAIGHT NO CHASER on tour with a performance tonight, March 25, at The Smith Center in Las Vegas. Tuesday's show is at the Vilar PAC in Beaver Creek, CO. On Thursday they open a three night stand at Lincoln Center in Fort Collins, CO.

KISS performs at the NCAA Big Dance on Friday, March 30 at Woldenburg Riverfront Park in New Orleans.


FINAL OVATION


ULU GROSBARD Tony nominated stage and film director died March 18 in Manhattan. He was 83.

After directing The Days and Nights of BeeBee Fenstermaker off-Broadway, he earned his first Broadway credit with Arthur Miller's The Subject Was Roses, for which he was nominated for the Tony Award for Best Direction of a Play in 1964. That same year he won the Obie Award for Best Direction and the Drama Desk Award for Outstanding Director of a Play for an off-Broadway revival of the Miller play A View from the Bridge, for which Dustin Hoffman served as stage manager and assistant director.

Grosbard's additional Broadway credits include Miller's The Price; David Mamet's American Buffalo, which earned him Tony and Drama Desk Award nominations. In that production Grosbard agreed to serve as director provided Robert Duvall was cast in the lead role of Teach.

. In 1979, he staged Mamet's The Woods at the Public Theater. The 1980s saw him helm productions of Woody Allen's The Floating Light Bulb, Beth Henley's The Wake of Jamie Foster, and a revival of Paddy Chayefsky's The Tenth Man. He returned to Henley's work in 2000, directing an Off-Broadway production of Family Week.

Ulu Grosbard was born Israel Grosbard on Jan. 9, 1929, in Antwerp. He was called Ulu as a child and legally made it his name when he became a U.S. citizen. His family fled the Nazis in 1942. He lived six years in Havana, working as a diamond cutter, before emigrating to the U.S., where he was educated at the University of Chicago and then went to the Yale School of Drama. He began directing for the stage in 1957.

He began his film career with an adaptation of The Subject Was Roses in 1968.

Mr. Grosbard is survived by his wife, actress Rose Gregario, whom he married in 1965.

CRIS ALEXANDER who played Chip, one of the three sailors, in the original Broadway production of On The Town died March 7, 2012. He was 92.

Subsequent Broadway appearances included Present Laughter opposite Clifton Webb, Wonderful Town and Auntie Mame.

Prior to retiring, Alexander was a successful photographer, noted for his celebrity portraits. For many years he was the official photographer for the New York City Ballet.

MARTHA GALLUB ESPOSITO wife of Joe Esposito died March 20, 2012, surrounded by her family and friends, after a long battle with cancer. She was 61.

Joe Esposito was Elvis Presley's best friend and best man at his wedding to Priscilla. His first wife Joan Roberts Esposito, now Kardashian, served as matron of honor.

Joe was married to Martha for over 25-years. Formerly a professional children's photographer, Martha was diagnosed with cancer of unknown primary (meaning it is unclear where the cancer originated) in February 2007. Biopsies showed that her lymph nodes all the way up her neck were filled with cancer. Later she was diagnosed with thyroid cancer.

In addition to Joe, other survivors include their son Anthony and step children Debbie Esposito and Cindy Esposito Bahr.

There are two 'Elvis' Events planned with fundraising for Martha's medical bills taking place March 31, 2012 in Lexington Kentucky. Her cancer treatments were not covered by insurance.








Next Column: April 1, 2012
Copyright: March 25, 2012. All Rights Reserved. Reviews, Interviews, Commentary, Photographs or Graphics from any Broadway To Vegas (TM) columns may not be published, broadcast, rewritten, utilized as leads, or used in any manner without permission, compensation and/or credit.
Link to Main Page
---
Laura Deni



For the snail mail address, please E-mail your request.
CLICK HERE FOR COMMENT SECTION