! >
Broadway To Vegas
  SHOW REVIEWS     CELEBRITY INTERVIEWS     GOSSIP     NEWS 
| | |
| --- | --- |
| | |
Copyright: March 25, 2001
By: Laura Deni
CLICK HERE FOR COMMENT SECTION

FRANK GORSHIN BRINGS GEORGE BURNS TO LIFE


FRANK GORSHIN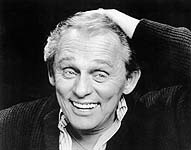 Say Goodnight, Gracie a touching tribute by impressionist Frank Gorshin, to the life of comedian George Burns that Gorshin hopes to bring to Broadway. The premise is that at age 100, George must do one final audition by telling his life story to gain entrance into heaven to be with his late beloved wife, Gracie

Performances begin April 26 for a run ending May 27 at the Coconut Grove Playhouse, Coconut Grove, Florida.



DON RICKLES on stage in Las Vegas. His Run Silent, Run Deep role was meant for Gorshin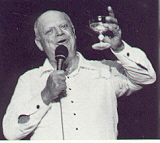 Gorshin has a track record both on Broadway and in Las Vegas. He was the first to "break through" as a headliner in Las Vegas' main showrooms with an act that emphasized impressions.

His startling talent first manifested itself in 1949, when Gorshin was fifteen and working as an usher at a movie house in Pittsburgh. He recalled that when the new Kirk Douglas movie, Champion, was playing, he would enter the theater happy and relaxed, and leave it so intense, he was gritting his teeth.



FRANK GORSHIN starring in Las Vegas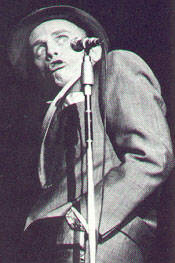 Then, at 17 Gorshin won a talent contest in his hometown of Pittsburgh, his prize being a one week engagement at Jackie Heller's Carousel night club, where Alan King was headlining, It was Gorshin's first paid job as an entertainer.

Two nights before Gorshin opened at the Carousel, his 15 year old brother was hit and killed by a car. At the insistence of his family, Frank went through with the engagement, which launched his show business career.

In 1957, while visiting his folks in Pittsburgh, Gorshin was phoned by his agent to rush back to California to screen test for the Clark Gable film, Run Silent, Run Deep. Gorshin drove 39 consecutive hours, fell asleep at the wheel, crashed, suffered a fractured skull, and woke up in the hospital four days later. He later discovered that the role went to Don Rickles - a part that considerably boosted Rickles' career.



GEORGE BURNS at the Sahara Hotel, Las Vegas flanked by Tommy Smothers, Carol Channing and Robert Goulet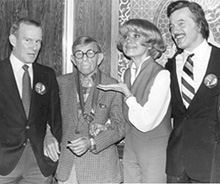 Gorshin also discovered that one of the Los Angeles newspapers had erroneously reported him killed. Although fate prevented him from landing that role, Gorshin subsequently appeared in the motion picture The Bells Are Ringing which starred the late Judy Holliday and Dean Martin, in the part of a Brando-like method actor. This led to a role as a myopic bass player in Where the Boys Are- which led to co-starring with David Janssen in Ring of Fire - all for MGM. In 1958 Gorshin made his first Hollywood night club appearance at The Purple Onion.

He was then signed for five appearances on The Steve Allen Show and subsequently, twelve guestings on The Ed Sullivan Show. In turn, this led to his landing the recurring role of a shore patrol sailor in the Jackie Cooper series, Hennessy.

Several years later, Gorshin was signed for his first Las Vegas engagement, at The Flamingo, opening for Bobby Darin. It was during the '60s that a major breakthrough in his career occurred. He was signed for the role of The Riddler on the Batman television series, and received an Emmy nomination. "I could feel the impact overnight," Gorshin recalled.



GEORGE BURNS and GRACIE ALLEN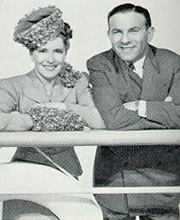 As a result of the major impact of Gorshin on television, he was given headliner status in Las Vegas at the MGM Grand, The Sahara, The International (now Las Vegas Hilton) and the Aladdin.

In 1970 Gorshin made his Broadway debut, as the star of Jimmy, based on the life of New York's Mayor James J Walker.

He also starred in touring companies of What Makes Sammy Run?, Promises, Promises, Peter Pan, Prisoner of Second Street, Death Trap, Doubles, Ah Wilderness, On The 20th Century, Breaking Legs and Guys and Dolls.

His staying power has been credited to his not just "doing" an impression, but literally seeming to transform himself into the person - posture, stance, mannerisms, facial characteristics, voice - subtly capturing the inner essence of his subject.

Gorshin always admired Burns and Allen and this show is something that has been on Gorshin's mind for several years.

As for George Burns and Gracie Allen, they teamed up in vaudeville in 1923. Gracie played the straight man, but she kept getting the laughs, while Burns couldn't pull in a giggle. Then George made a decision that kept the team on top for the next 30 years - he reversed their roles.



Broadway To Vegas is supported through advertising and donations. Priority consideration is given to interview suggestions, news, press releases, etc from paid supporters. However, no paid supporters control, alter, edit, or in any way manipulate the content of this site. Your donation is appreciated. We accept PAYPAL. Thank you for your interest.


TUNING UP


Frank Sinatra insisted his piano was tuned every time it was moved. Some Las Vegas casino bosses deemed that request eccentric. Sinatra brought in high roller so if Frank wanted his piano tuned every day, his piano was tuned. Ol Blue Eyes wasn't eccentric - his thinking was on par with the world's greatest classical pianists, who won't leave home without their personal piano tuner.

Enter Franz Mohr

He's played more frequently in Carnegie Hall than any master pianist. For more than a quarter of a century, the German native - who watched two brothers die in a World War II attack on his hometown that killed 24,000 - has turned music into his own personal salvation. In doing so he's tuned pianos for such classical music icons as Vladimir Horowitz, Arthur Rubinstein, Van Cliburn, Glenn Gould and Andras Schiff.

For more than three decades Mohr was chief concert technician for piano maker Steinway & Sons.



VLADIMIR HOROWITZ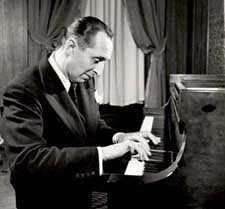 Horowitz, the famed Ukrainian pianist who died in the late 1980s, wouldn't give a concert without him. While on a 1986 European tour, Mohr went to New York during a weeklong hiatus between concerts. He received a frantic call asking him to fly to Berlin, because Horowitz was thinking about performing an unscheduled show.

Horowitz told the German press that if his tuner didn't make it from New York in time, there wouldn't be a concert. Mohr showed up and the concert took place. Mohr also has accompanied Rudolph Serkin on tour.

Mohr, who now resides in New York, is also a published author. His 1992 book, My Life With the Great Pianists, recounts his travels and friendships with many musicians.


SWEET CHARITY


INVISIBLE THEATRE'S CELEBRATION CABARET Tucson on April 1 as Ann Hampton Callaway, Sandra Reaves Phillips and Steve Ross join Tucson artists in a fundraising Celebration Cabaret in honor of the Invisible Theatre's 30th Anniversary. The Invisible Theatre has a long history of producing cabaret in the "old Pueblo" Celebration Cabaret at The Doubletree Hotel, Tucson, AZ.

CATHERINE ZETA-JONES AND HUBBY MICHAEL DOUGLAS share a Women of Courage award March 27 at the annual Cedars-Sinai Research for Women's Cancers and Saks Fifth Avenue dinner in Los Angeles. This marks the first time a man has been honored. Douglas' mother Anne Douglas was previously honored and this year the actor could be accused of hanging onto the coattails of his wife. The truth is - he's been a hard working charity kind of guy for this organization.

SIEGFRIED AND ROY have compiled a collection of their family recipes as well as recipes from the cast and crew, past and present of their show at the Mirage Hotel in Las Vegas. Cooking In The Spotlight features more than 250 recipes from the talented artists who have made the Siegfried & Roy performances a legend in the entertainment business. The cookbook also features color photographs of the show and the magnificent animals. All proceed from the sale of Cooking in The Spotlight help support Golden Rainbow which strives to improve the quality of life for persons living with HIV/AIDS.


APPLAUSE, APPLAUSE


30th ANNIVERSARY OF THE CABARET AMENDMENT will be celebrated on March 31 at the Blue Note.

The cabaret laws were written right after prohibition to regulate an industry that had been dominated by criminal figures. In the 1920s, lawmakers reasoned that the cabaret law would protect patrons from the immoral influences of New York nightlife.

University law professor Paul Chevigny speculates that the law was written to zone jazz out of existence.The cabaret law originally restricted both dancing and music: Specifically, it required a cabaret license for bars where more than three musicians were playing, or where the instruments played included percussion or a horn.

Fourteen years ago, Chevigny successfully challenged the constitutionality of the portions of the law that applied to music.

Thirty years ago singer Phyllis Lynd, took on City Hall and managed to get singers reclassified as musicians and thus opened the doors, permitting them to perform in countless New York clubs.

Those scheduled to perform at the Blue Note include Toby Altman, Fredrick Bush, Linda Ciofalo, Mary Foster Conklin, Deborah Davis, Peter Eldridge, Dena DeRose, Giacomo Gates, Miles Griffith, Leslie Gwin, Melissa Hamilton, Val Hawk, Diane Hubka, Pucci Amanda Jones, Sheila Jordan, Laurie Krauz, Marya Lawrence, Amy London, Trudi Mann, Sue Maskaleris, Kate McGarry, Mary Pearson, Cynthia Scott, Nanette Scott-Jones, Rich Siegel, Barbara Sfraga, Kendra Shank, Joan Stiles, String Of Pearls, Sue Halloran, Jeanne O'Conno, Holli Ross, Gabrielle Tranchina, Roseanna Vitro, Carla White, Andrea Wolper and guest of honor Phyllis Lynd.



STONES IN HIS POCKETS by Arie Jones and directed by Ian McElhinney began performances at the John Golden Theatre, NYC on Friday with the official opening on April 1st. Set in an Irish village in Country Kerry where a Hollywood film is being shot, Stones in His Pockets stars Sedu Campion and Conleth Hill who play 15 different characters on a film location including the extras, a spoiled American star, the crew and various locals. The play is partly based on playwright Jones' acting experience in films shot in Ireland. Design is by Jack Kirwan, lighting design by James C. McFetridge.

COPACABANA Civic Center, Des Moines, IA. March 28-April 1.

FEET OF FLAMES starring the multi award-winning Michael Flatley. The USA is the finale to Michael's highly successful world tour, which has broken box office records in Japan, South Africa and Europe, and is reputed to be his last tour. Flatley will demonstrate the depth of his talent as he performs an exquisite flute solo and will lead his troupe of over 50 dancers performing on three different levels of the 86' wide x 42' deep set. Tickets go on sale March 26 for the June 23 performance at the Jerome Schottenstein Center Ohio State University Columbus, OH

DAME EDNA Shubert Theatre, Chicago March 27-April 8

SIDE BY SIDE BY SONDHEIM Vignettes from many of Sondheim's musicals such as West Side Story, A Funny Thing Happened on the Way to the Forum, Follies, Gypsy and more. The production stars Karen Mason, Florence Lacey, Kevin Gray and Cris Groenendaal. Performances through April 22. Coconut Grove Playhouse, Coconut Grove, Florida

HELLO DOLLY! Lamb Productions Theatre, Sioux City, IA through April 8.

SIDEMAN opened Friday at the Civic Center's Stoner Theater, Des Moines, IA. Continues through April 1.

WIT at the Denver Performing Arts Complex, through April 21.

BEE The world premiere of Bee by Prince Gomolvilas tells the story of a young gay Korean American man, who is invisible, and an older African American woman, who is the only person who can see him. In their search for a cure for his invisibility, they explore contemporary views of race, class, gender, and friendship. Part comedy, part drama, part parable that sees the world in more than black and yellow. Lorraine Hansberry Theatre, San Francisco March 30 to April 15

THE SOUND OF MUSIC STARRING RICHARD CHAMBERLAIN at the Orange County Performing Arts Center through April 2. The 2 p.m. performance on Saturday, April 1 will be sign language interpreted.

THE SOUND OF MUSIC STARRING BARRY WILLIAMS of Brady Bunch fame. Warner Theatre, Washington, D.C. April 3-8

SWING! The Shubert New Haven Theatre will present Swing!, May 8-20. Last June, Shubert performing Arts Center president and CEO Caroline Werth announced that the show will be part of the New Haven theatre's 2000-2001 subscription series. By the time it plays New Haven, Swing! will have run in Los Angeles, Seattle, East Lansing, Baltimore, Miami, Dallas, Philadelphia, Chicago, Cleveland, and Las Vegas, where tonight Swing closes a five night gig at the Aladdin Hotel.

THE GLORY OF EASTER The largest and most spectacular passion play in America is brought to life through drama, song and pageantry at the Crystal Cathedral in California. A cast of over 100 volunteer actors are supported by professionals playing the lead roles of Jesus, Pilate, Mary Magdalene, Herod, and Mary. Utilizing the latest in special effects, the Easter pageant is famous for its lifelike recreation of earthquakes, thunder storms and lightening inside the all-glass building. Flying angels soar overhead while live animals parade down the aisle March 30 through April 14 with sign language interpreted on April 3 and 8.

INVENTING VAN GOGH by Steven Dietzhas its the world premiere April 7-28 at the Temple of Music and Art in Tucson before moving to Phoenix for performances May 3-20 at the Harberger Theatre Center.


WHO'S WHERE

ANDREA BOCELLI

ANDREA BOCELLI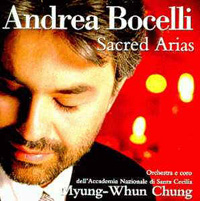 performed Saturday night in Las Vegas at Mandalay Bay with Elizabeth Taylor in the audience.

Tonight the singer takes center stage in Philadelphia, PA at the First Union Center. On Wednesday he's in the spotlight at the Schottenstein Center Ohio State University Columbus, OH.

Since being discovered in 1992, Bocelli has quickly established himself as one of the worlds' most exciting tenor voices able to interpret all forms of music, from ballads to operatic arias, with ease.

Born in 1958 on the family farm in Lajatico in rural Tuscany where his father still produces "Chianti Bocelli" from the family vineyard.

ROSEMARY CLOONEY & Big Kahuna and the Copa Cat Pack at Feinsteins at the Regency NYC opening Mar 27th for an engagement running through Apr 7th.

MARGARET WHITING and PAUL BERNHARDT open March 27 at Arci's Place, NYC. Performances through April 7th.

JULIE WILSON March 27 through April 21 at the Algonquin Hotel, NYC. A former beauty queen who made her mark in films, Julie segued to the musical comedy stage with appearances on Broadway in Kismet, The Pajama Game, Jimmy and Legs Diamond, for which she received a Tony nomination. She toured in Kiss Me, Kate, originating the role of Bianca in the London production. In London she also starred in Bells are Ringing and South Pacific.

CATRIN FINCH the Welch harpist that Prince Charles appointed to the position of royal harpist - the first time there has been a royal harpist in England in 130 years - will be plucking the notes in America this week. She's in concert Thursday in the Libby Gardner Concert Hall at the University of Utah, Salt Lake. She first played for Prince Charles on his 50th birthday and now plays for him whenever it suits his fancy, which is perhaps eight times a year at various dinners. The rest of the time she is free to live her life on her own terms with the deferment - she can't gossip about the Royal Family - lest she lose her royal appointment, if not her head.

PAUL ANKA With album and single sales collectively more than 42 million, Anka performs in a sold out engagement tomorrow night at the Kravis Center in Miami, FL.

GEORGE STRAIT CHEVY TRUCK COUNTRY MUSIC FESTIVAL starring Strait, Alan Jackson, Lonestar, Lee Ann Womack, Brad Paisley, Sara Evans and Asleep At The Wheel April 1 at the Las Vegas Motor Speedway. Tickets $49.50 and $59.50.

BERNADETTE PETERS March 29 at Proctor's Theatre in Schenectady, NY.

DEBBIE REYNOLDS is keeping busy. On March 31 she entertains at the Mohegan Sun Casino in Uncansville, CT. The unsinkable one celebrates her birthday April 1 then performs April 4th at the Riverside in Laughlin, NV. She'll also be on hand to open New Jersey's TheatreFest 2001 season with concerts on June 8, 9 and 10, Montclair State University's Memorial Auditorium Upper Montclair, NJ.

ROBERT GOULET on Larry King Live CNN Television March 29.

JOHNNY MATHIS in Fort Wayne, IN at the Allen Co. Mem. Coliseum March 29.

MICHAEL FEINSTEIN in Vero Beach, FL at St. Edward's School March 28.

WYONNA closed a three night engagement last night at the Las Vegas Hilton. Now she takes it on down the road for a one night stand March 29 at the Flamingo in Laughlin, NV.

MATCHBOX TWENTY have a busy week. On March 26 they're in Colorado Springs, CO at the World Arena. On Tuesday they can be found on stage in Albuquerque, NM at the Tingley Coliseum. Thursday and Friday they star at the Universal Amphitheatre in Universal City, CA, On Saturday they've found they're way to San Jose, CA where they are in the spotlight at the Compaq Center.

LORETTA LYNN remains in a Tennessee hospital battling pneumonia. Loretta was listed in good condition, the statement said. Doctors say she's being treated for pneumonia in her right lung and she's responding well to medication. At this point she is still slated to open April 12 at Boulder Station in Las Vegas.

CAROLINE RHEA

CAROLINE RHEA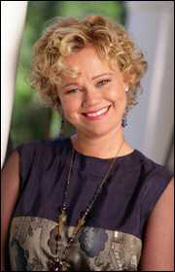 who plays the feisty Aunt Hilda on Sabrina, the Teenage Witch is the headliner for the opening of Catch A Rising Star Comedy Club at the Excalibur Hotel in Las Vegas.

Rhea is a Catch alumni, a regular on the new Hollywood Squares and recently worked with Jim Carrey in a supporting role in Man on the Moon, the story of the late comedian Andy Kaufman.

Rhea continues to play to sold out audience in top comedy clubs.

Ever since Kathie Lee Gifford insulted her, Rhea has used the comedy club stages as her podium for verbal retorts towards the former Regis sidekick. Don't expect Rhea to hold back in Vegas.

March 28. Excalibur Hotel, Las Vegas.


THIS AND THAT


GEORGE CLOONEY has a keg of Guinness draft beer in his Las Vegas Ocean's Eleven dressing room.

FORMER PRESIDENT JIMMY CARTER in Vegas this week-end. On Thursday Carter and his wife, Rosalyn, went to the Magical Empire at Caesars Palace where they and their Secret Service agents became part of the magic act.

Pick pocket artist Apollo Robbins managed not to get arrested after he picked the pockets of the Secret Service agents. The Carters were also entertained by pianist David Osborne who is on the regular invite list at the White House.

On Friday Carter did a book signing, autographing copies of his latest tome An Hour Before Daylight. This is his 15th book and chronicles his childhood in rural Georgia during the Depression. Hundreds of residents and visitors stood in line to buy the book and get his autograph.



Mention BROADWAY TO VEGAS for Special Consideration
Call (800) 942-9027









Next Column:April 1, 2001
Copyright: March 25, 2001. All Rights Reserved. Reviews, Interviews, Commentary, Photographs or Graphics from any Broadway To Vegas (TM) columns may not be published, broadcast, rewritten, utilized as leads, or used in any manner without permission, compensation and/or credit.
Link to Main Page
---
Laura Deni
broadway@broadwaytovegas.com U.S. Postal Address: Post Office Box 60538, Las Vegas, NV 89160
CLICK HERE FOR COMMENT SECTION