! >
Broadway To Vegas
  
  REVIEWS INTERVIEWS COMMENTARY NEWS

| | |
| --- | --- |
| | |
HANDS ON A HARDBODY HAS REVVED UP BROADWAY - -JUDI DENCH IN PETER AND ALICE - - DAVIE BOWIE EXHIBITION SETS RECORD - - TONY AWARD FOR LIFETIME ACHIEVEMENT RECIPIENTS ANNOUNCED - - BETTE MIDLER TWITTERS ABOUT HER UPCOMING SHOW - - MICHAEL JACKSON CIVIL LAWSUIT BEGINS APRIL 2 - - THE BOOK OF MORMON BREAKS BOTH BROADWAY AND WEST END RECORDS - - GANGSTERS & GUNSLINGERS - - DONATE . . . Scroll Down




Copyright: March 24, 2013
By: Laura Deni
CLICK HERE FOR COMMENT SECTION


GANGSTERS & GUNSLINGERS: THE GOOD, THE BAD & THE MEMORABILIA
A fascinating exhibition called Gangsters & Gunslingers: The Good, The Bad & The Memorabilia, opened yesterday at the American Museum in Bath, England.

The exhibition brings together two defining chapters in the history of the United States that shaped America's national identity:

the Wild West (mid 1860s to the late 1880s) and the wild years of the Prohibition/Depression era (1920s and early 1930s).

Oh, and then there is the Hollywood contribution.

They all produced legendary characters, who have become famous and infamous - Buffalo Bill, Calamity Jane, Bonnie and Clyde, to name but a few.



Wyatt Earp's gambling dice and secret card feeder.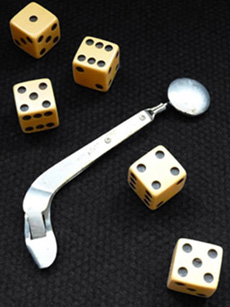 The Hollywood aspect is strong.

On display are guns worn by Wyatt Earp, Frank James, and John Dillinger – whose stories were all commemorated (and glamorized) by Hollywood.

Like the dime novels of the previous generation, Hollywood never let the facts get in the way of a good story.

The silent film era rediscovered and refashioned the West in a potent new visual language.

Many former cowboys became movie extras, other westerners drifted to Hollywood to become (usually unpaid) film consultants.

One of these largely forgotten men was Wyatt Earp from Gunfight at the O.K. Corral. During his days in 'silent' Hollywood, Earp befriended the people who would later make him and his earlier brothers-in-arms immortal.

A studio apprentice and a bit-part player brought Earp cups of coffee on the set so they could listen to the old man's recollections of times past.

Together, these two young men – the director John Ford and the actor John Wayne – would go on to create some of the greatest visions of the West ever committed to film and, by extension, an ideal of American masculinity.



Cigarette case decorated with cloisonné enamel work, given to Hollywood heartthrob Tyrone Power by studio head, Spyros Skouras. One of Tyrone Power's most popular films was Jesse James (1939) with Power in the title role, a wildly inaccurate and romanticized version of the outlaw's story, which did much to glamorize the myth of the James brothers. Henry Fonda played Frank.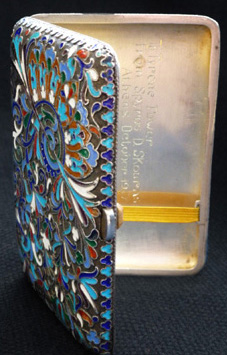 Also included in the exhibition are memorabilia owned by Hollywood gangsters and gunslingers, including Tom Mix, Humphrey Bogart, Tyrone Power and Elvis Presley.

Tom Mix, Hollywood's first cowboy superstar, made almost 300 silent westerns and his heroic screen persona influenced John Wayne, arguably the screen's greatest cowboy hero.

In one of Wayne's most memorable collaborations with John Ford, the 1962 movie The Man Who Shot Liberty Valance, a character observes:

"When the legend becomes fact, print the legend".

There has never been a better précis of how the history of the Wild West and the wild years of the Prohibition/Depression era have been represented and misrepresented in print and on film.

Historical artifacts and memorabilia in Gangsters & Gunslingers include:

Native American weapons confiscated in reprisal for the Battle of Little Big Horn, Custer's Last Stand, (Montana Territory) in 1876, including a European trade rifle decorated with traditional beadwork and Chief Gall's war club.

Gall, whose wives and children had been massacred by the US Cavalry, was one of the commanders at this landmark battle. It was largely due to Gall's strategic planning that Custer's forces were annihilated.



Rita Hayworth's Cigarette Case The red-haired bombshell Rita Hayworth is still acclaimed as one of the most alluring of all Hollywood beauties. As well as starring in romantic comedy musicals, Hayworth made her mark as a dramatic actress, most notably in her signature role as a seductive gangster's wife in Gilda (1946).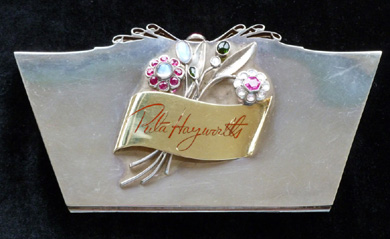 Gall later claimed that surviving soldiers shot themselves rather than face their Sioux and Cheyenne adversaries in the final stages of the battle.

That white men should show such cowardice was repudiated by the authorities, who ruthlessly avenged this native victory.

The medicine bag owned by Doc Holliday, a survivor of the gunfight at the O.K. Corral (Tombstone, Arizona Territory) in 1881, containing the tools of his dental trade and a photograph of his uncle.

Holliday had moved West, hoping that the drier and warmer climate would help ease his tuberculosis.

Here he made more money from gambling than dentistry and also gained, through hearsay rather than fact, a reputation as a ruthless and efficient gunfighter. To his surprise and amusement, he died in bed – with his boots off.

The watch worn by Clyde Barrow when he was gunned down with Bonnie Parker in 1934. Before the corpses had been taken away, a crowd of souvenir hunters gathered around the bullet-riddled car, tearing strips from the stained garments and cutting bloody locks of hair.



John Dillinger allegedly used this fake gun to break out of a jail that authorities had boasted was escape-proof.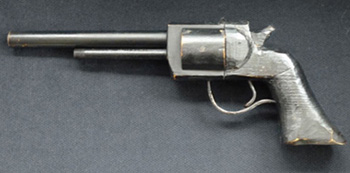 With their gang, Bonnie and Clyde robbed banks, small stores, and gas stations. As well as killing civilians, the gang shot nine lawmen.

The petite and pretty Bonnie assured the gang notoriety in the press so that they became celebrity criminals. She was characterized as a cigar-chomping moll.

The initial admiration at the gang's bravado quickly turned to public revulsion, as killing followed killing.

One of the two death masks of John Dillinger with the exit wound of the bullet that killed him clearly visible below his right eye, when he was ambushed by federal agents outside a Chicago cinema in 1934.

Of all the Depression-era outlaws, Dillinger was the most infamous in his lifetime. His notoriety rested not on his being a vicious killer, such as Clyde Barrow, but rather on his swagger and audacity as a bank robber.

In one of his most celebrated exploits, Dillinger used a fake wooden pistol to break out of a jail that authorities had boasted was escape-proof.

This was his undoing: Dillinger brought upon himself the wrath of J. Edgar Hoover (first Director of the F.B.I.) by making lawmen look foolish and incompetent.



Boxing Trophy won by Jack Dempsey, with real diamond, in the 1919 World Heavyweight Championship (sponsored by promoter Tex Rickard, who also built the stadium. Dempsey's opponent was 'Cowboy' Jess Willard, the then world heavyweight champion. So much damage was inflicted on Willard that it was widely suspected that Dempsey's hand wrappings hidden in his gloves were hardened with plaster of Paris. Willard claimed that he had been defeated by gangsterism.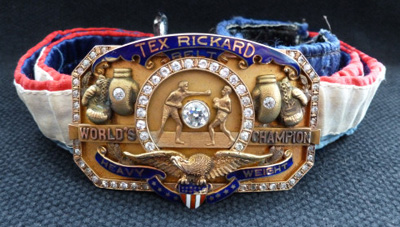 Silver cigarette cases presented by Chicago mob boss John Torrio to his successor, Al Capone, and by Bosie Douglas to his disgraced lover, Oscar Wilde.

Capone was the greatest of Chicago's crime lords during Prohibition and was almost certainly responsible for orchestrating the infamous St Valentine's Day massacre in 1927.

During his trial for income tax evasion in 1931, Capone attempted to bribe and threaten those selected for jury duty.

His scheme was discovered by Eliot Ness and his incorruptible band of federal agents, the legendary Untouchables. The jury pool was thus switched with one from another case. Capone had no time to act and he was consequently sentenced to eleven years in prison.

To launch Gilbert and Sullivan's latest operetta Patience in America – a satire on Aestheticism – the impresario Richard D'Oyly Carte paid Wilde to undertake an extensive lecture tour of the United States in 1882. To everyone's surprise (including his own), the flamboyant author and professional aesthete won over America – and the West – to such an extent that his lecture tour was extended into the following year.

For the benefit of the inhabitants of America's industrial eastern cities, homegrown 'western' heroes and villains performed acts of derring-do, penned by writers who had seldom (if ever) abandoned their urban comforts for the inconveniences of travelling to the frontier or even to small Midwestern towns.

The debilitating lives endured by many in squalid city sweatshops, unregulated factories, and cramped offices fuelled the mass market for 'real life' western adventure stories in dime novels, the pulps, and sensational newspapers.

Individuals immortalized in print became victims of the popular fiction they inspired: their literary namesakes appeared more alive, even to them, than their all too frail corporeal selves.

Just like the heroes in ancient tales, America's gangsters and gunslingers showed hubris and began to act as if they were indestructible. Their ends, however, were often anything but heroic.

For Gangsters & Gunslingers, the American Museum in Britain will showcase treasures from the comprehensive Americana collection and Hollywood archive of David Gainsborough Roberts.

On exhibit to November 3, 2013 at the American Museum in Bath, England.





Broadway To Vegas is supported through advertising and donations. Priority consideration is given to interview suggestions, news, press releases, etc from paid supporters. However, no paid supporters control, alter, edit, or in any way manipulate the content of this site. Your donation is appreciated. We accept PAYPAL. Thank you for your interest.


ART AND ABOUT


HENRI LABROUSTE: STRUCTURE BROUGHT TO LIGHT

Henri Labrouste: Structure Brought to Light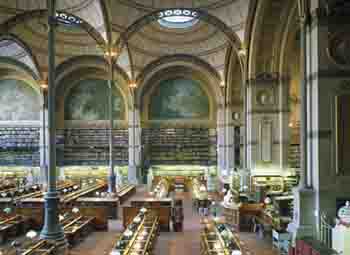 The first solo exhibition on Labrouste in the United States, Henri Labrouste: Structure Brought to Light establishes his work as a milestone in the modern evolution of architecture.

Labrouste made an invaluable impact on 19th-century architecture through his exploration of new paradigms of space, materials, and luminosity in places of great public assembly.

The exhibition highlights his two magisterial glass-and-iron reading rooms in Paris - the Bibliothèque Sainte-Geneviève (1838–50) and the Bibliothèque nationale (1859–75) - which gave form to the idea of the modern library as a temple of knowledge and as a space for contemplation.

Henri Labrouste: Structure Brought to Light presents a monographic portrait of the architect's voyage of discovery and invention of a challenging new language of architecture within a larger investigation of his influence - from the work of his direct pupils to later architectural masters, including Auguste Perret, Frank Lloyd Wright, and Pier Luigi Nervi.

The exhibition includes over 200 works, including models, drawings, period and contemporary photographs, and film projections.

The exhibition is organized by Barry Bergdoll, The Philip Johnson Chief Curator of Architecture and Design, The Museum of Modern Art; Corinne Bélier, Chief Curator, Cité de l'architecture & du patrimoine; and Marc Le Cœur, art historian, Bibliothèque nationale de France, département des Estampes et de la photographie.

On March 28 a symposium exploring Labrouste and his influence in the digital age will take place.

The exhibition can be viewed through June 24, 2013 at the March 10–June 24, 2013 The Museum of Modern Art in New York City.




HANDS ON A HARDBODY HAS REVVED UP BROADWAY


Refreshing, unique, entertaining - Hands On a Hardbody a new musical which has officially opened at the Brooks Atkinson Theatre in The Big Apple.

Based on a 1997 film directed by S. R. Bindler documenting an endurance competition that took place in Longview, Texas.. The yearly competition at a Nissan dealership pits contestants against each other to see who can keep their hand on a pickup truck for the longest amount of time. Whoever endures the longest without leaning on the truck or squatting wins the truck. Five minute breaks are issued every hour and fifteen minute breaks every six hours.

The documentary follows the 1995 competition which lasted for seventy-seven continuous hours. The film garnered the audience award for best documentary at the 1997 Los Angeles Film Festival.

Trying to bring such a film to the stage has more than a few challenges, all of them overcome by Doug Wright who wrote the book, director Neil Pepe and and who ever got that truck mounted on industrial strength office furniture casters. Credit the LaJolla Playhouse for commissioning the work in the first place.

This heartbeat in the heartland musical is a production that is meant to tour. With the exception of the truck, it's all practically carry on luggage. It's also a press agent's dream. That truck just begs for promotional tie-ins to local car dealerships.

Real life can be constraining. Attempt to break free or climb upward and a bungee cord of problems can snap a person back into dead center. Hands On a Hardbody has appropriately sparse sets by Christine Jones who knows how to capture the heart or heartache of a used car lot.

Even though Sergio Trujillo knows how to move a car, wild, exotic production numbers would be out of place. It's limited movement choreography - and that's important. The story is the standing - hanging on for dear life to that red Nissan which implies a way to travel out of their individual predicaments.

While individual movement is an up and down tight pivot, what moves the show along is the dialogue - taken from current headlines. Each of the participants has a story. Their underlying factor - none of them has the money to buy a $22,000 truck. If they did, they wouldn't be in this contest. All tend to blame circumstances or others. Yet, you end up being concerned about all of them.



Cast of Hands On a Hardbody. Production photo.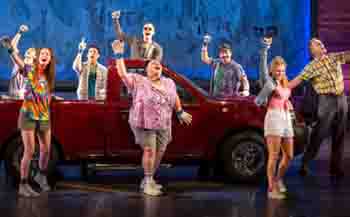 Each has a turn at telling their tale of woe - plights which have a relevance to every part of the country. If you can afford a ticket, then these people aren't you. However, chances are they are somebody you know. And, you may be two paychecks away from being one of them.

The costumes by Susan Hilferty look appropriately thrift store/on sale at a local discount store. While Texas is noted for women with bouffant hair and detailed make-up, these world weary contestants mostly look as thought they consider rolling out of bed enough of a grooming effort.

The lighting by Kevin Adams serves as another form of set design, effectively showing the realities of the Texas climate and the passing of time, as the dialogue delivers the passing of hope to the reality of desperation.

This is a not a consortium of corporate movers-and-shakers, but of working class poor whose street smarts are as sharp as their life skills are dull.

Appropriately, the lyrics by Amanda Green aren't complicated. These people wouldn't be singing Chaucer set to music. The lyrics don't dumb down the audience as much as they address the narrow focused intellect among the financially desperate, who may well look at that vehicle as their future residence.

The music by Trey Anastasio of the indie jam-band Phish is rough edged and bluesy soulful.

The LaJolla Playhouse cast has transferred, giving the New York crowd a chance to be introduced to a bright light named Keala Settle. Previous to this show, she was in the ensemble of Priscilla, Queen of the Desert. The basic information about her was that she has a pet Flemish Giant rabbit named Tincy. After this production, the audience will be aware that she can stop a show with a gospel song.

As Norma Valverde, Keala plays the character who knows that God is on her side and has her church prayer group offering up instructions to the Almighty that Norma should be the winner.

The production doesn't have a weak cast member. The Tony nominated and Oscar winning Keith Carradine portrays D Drew, a fired oil rig worker who is determined to do better by his wife Virginia - played by Mary Gordon Murray - than having her slave at a Wal-Mart. Repeat contender and former car winner Benny Perkins is played to be fare-thee-well by Tony nominee Hunter Foster. Jay Armstrong Johnston as Greg Wilhote longs for fame and a paycheck as a Hollywood stuntman. His car winning concentration is equaled by his desire for Kelli Mangrum, a U.P.S. worker played by Allison Case; proud Meixcan Jesus Peña played by Jon Rua, has the lofty goal is becoming a veterinarian.

On a sugar high is Ronald McCowan played by Jacob Ming-Trent. His car holding training and performance routine amounts to the non-stop consumption of Snickers. Dale Soules plays Janis Curtis, who may be middle-aged, but has the tenacity of a determined in-it-to-win-it contestant.

There is also a sub plot concerning the legitimacy of the contest. The guy who runs the dealership, played by Jim Newman, is in his own desperate state. He needs a winner who will look good on television and can be used as an promotional commodity to boost sales. His eye is on gorgeous blonde contestant Heather Stovall played by Kathleen Elizabeth Monteleone.

Connie Ray plays the dealership assistant Cindy Barnes. Ray is the talent who wrote the book for the hilarious Smoke on the Mountain musical comedy, which was originally workshopped at the McCarter Theatre in 1988, given a full staging at the McCarter in 1990, and was subsequently moved by the McCarter to Lamb's Theatre in NYC in 1990 running for 475 performances. The Lamb's revived it in 1998. The production is regularly staged across the country. This year will mark the the 20th consecutive year it has been mounted at the Cumberland County Playhouse in Crossville, TN.

Hands on a Hardbody has musical staging by Sergio Trujillo; musical direction/vocal arrangements by Carmel Dean; sound by Steve Canyon Kennedy; interesting and effective orchestrations by Anastasio and Don Hart; music coordinator, Michael Keller; associate choreographer, Lorin Latarro.

Seen in early previews at the Brooks Atkinson Theatre.


SWEET CHARITY


THREE PHANTOMS IN CONCERT

Craig Schulman holds the world record for his role of Jean Valjean in Les Miserables - nearly 2,000 performances.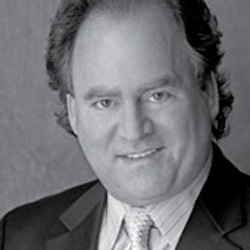 billed as an Evening of MASK-uline Broadway Entertainment, will take the stage of the Edgerton Center in Fairfield, CT on Saturday, April 6 as an integral part of 2013 Discovery Gala, with proceeds benefitting the Sacred Heart University Scholarship Programs.

Starring Broadway's Cris Groenendaal, Mark Jacoby and Craig Schulman, who have collectively worn the 'Phantom' mask a few thousand times over a 10-year period.

They will be performing with members of the Bridgeport Symphony Orchestra.

The evening's program will feature solo numbers from the shows that made Groenendaal, Jacoby and Schulman the stars that they have become.

In addition, there will be duets and trios, all from the Broadway male repertoire from such musicals as Les Misérables, Miss Saigon and Phantom Of The Opera, and may include numbers from Guys And Dolls, Annie Get Your Gun, Kiss Me Kate, South Pacific, The Secret Garden, Jesus Christ, Superstar, Damn Yankees, and others.

Sacred Heart University's Edgerton Center for the Performing Arts (ECPA) is an intimate 776-seat theatre located in beautiful Fairfield, CT.

ECPA is dedicated to creating and presenting high quality programming for families, students and the community that will entertain, educate and challenge. ECPA strives to extend and supplement the intellectual life of the classroom for students from Pre-K through college.

ANNUAL RUBBER DUCKY DERBY takes place March 30 on Catalina Island, CD.

The annual fundraising event supports the local children's theatre company Kids At Play.


MICHAEL JACKSON CIVIL LAWSUIT BEGINS APRIL 2 - MOLESTATION TRIAL CAN BE INCLUDED IN DEFENSE
Katherine Jackson, mother of the late pop star Michael Jackson is, on behalf of her late son's three children, suing AEG Live for his wrongful death, alleging that the concert promoter was negligent in hiring Dr Conrad Murray to care for the singer ahead of a series of London comeback concerts set for July 2009.

On March 21 Los Angeles Superior Court Judge Yvette Palazuelos ruled that attorneys for AEG Live could include Jackson's molestation trial as part of their defense in the wrongful death case, as it may be relevant to his history of drug abuse and despondency.

In a 2005 trail Michael Jackson was acquittal on child sex abuse charges of molesting a 13-year-old boy he had as a guest at his Neverland Ranch.

Jackson, 50, died June 25, 2009 in Los Angeles after a rehearsal for the concerts.The Los Angeles County Coroner ruled his death a homicide, and in 2011 Murray was convicted of involuntary manslaughter by giving Jackson the surgical anesthetic propofol as a sleep aid, and is serving a four-year sentence for involuntary manslaughter.

The judge also ruled that Jackson's two oldest children, Prince and Paris, could be called as witnesses, The ay on April 2 and could last up to three months.


SPREADING THE WORD


BETTE MIDLER posting on her Twitter account on March 15th: "Acting again in @I'llEatYouLast is so challenging. I know tix ain't cheap, but can you believe they expect you to know ALL your lines."

Then on March 18th she added: "So. They say that learning your lines gets easier with age and experience. They don't know WTF they're talking about!"

Midler stars as Hollywood super-agent Sue Mengers in I'll Eat You Last. Previews begin April 5. For over 20 years, Sue's clients were the talk of the town and her dinner parties were the envy of Hollywood. The Broadway play, written by Tony Award winner and three-time Academy Award nominee John Logan, takes patrons into her glamorous Beverly Hills home for an evening of dish, dirty secrets and all the inside showbiz details only Sue could tell you about.

Directed by two-time Tony Award winner Joe Mantello who will prefer that Midler know the script, although we suspect she could easily adlib her way through.

MY NAME IS ASHER LEV: A CONVERSATION WITH THE CAST featuring Ari Brand, Mark Nelson and Ilana Levine. Moderated by Adam Feldman who covers theater and cabaret music for Time Out New York. He is president of the New York Drama Critics' Circle.

A discussion about this highly-praised new play based on the best-selling novel by Chaim Potok. The cast will also perform a few of their favorite excerpts from the show.

Set in post-war Brooklyn, My Name is Asher Lev tells the coming- of-age story of a boy prodigy who must be an artist at any cost – against the will of family, community and tradition. It is the powerful telling of a young artist with a universal theme to follow our passion – against everything.

Thursday, March 28, at the 92YTribeca, NYC.

BROADSIDES AND BANJOS: THE FOLK MUSIC REVIVAL Writer and musician Elijah Wald, co-author of Dave Van Ronk: The Mayor of MacDougal Street, a memoir which serves as the source material for the upcoming Coen Brothers film, Inside Llewyn Davis, presents a history of Greenwich Village in the 1950s and 1960s.

This program will include a performance by Wald and rare audio recordings from the NY Folk Singers Guild archive.

This program is part of a new series, Rhapsodic City: Music of New York devoted to exploring some of the unique musical stories of the 20th century.

Tuesday, April 2, at the New York Public Library for the Performing Arts, Dorothy and Lewis B. Cullman Center, Bruno Walter Auditorium, NYC.

DEBBIE REYNOLDS will make her only New York appearance at the 92nd Street Y on Wednesday, April 3rd.

Her new memoir, the aptly named Unsinkable, comes out the day before her 92Y talk - which is the only public event she has in New York City for this book tour. At 92Y, patrons who buy the book can then meet Ms. Reynolds. During her appearance at 92Y she will be interviewed by WNYC's Leonard Lopate.

FEINSTEIN'S is going to be moving into the Hotel Nikko in San Francisco. The cabaret will occupy the space formerly the home to The Rrazz.

HISTORY ON FOOT WALKING TOURS the popular staged walking event, presented by Ford's Theatre in Washington, DC have resumed.

Investigation: Detective McDevitt written by Richard Hellesen; directed by Mark Ramont runs through October.

On the night of April 14, 1865, Detective James McDevitt was on duty at the Washington Metropolitan Police headquarters, a half-block from Ford's Theatre. Just before 10:30, frantic witnesses rushed in with horrifying news: President Lincoln had been shot at the theatre. Join Detective McDevitt as he revisits the sites and reexamines the clues from the investigation into the Lincoln Assassination Conspiracy.

Investigation: Detective McDevitt lasts approximately 2 hours and makes at least eight stops throughout the story. The distance walked is approximately 1.6 miles from Ford's Theatre to the White House.


NO MORE STRIKE UP THE MILITARY BANDS


Victims of the sequestration are all military band concerts whose travel funds have been cancelled.

Hundreds of venues around the country, which had booked and were promoting the concerts, are affected by the cancellations.

The Army, Navy, Marine Corps and Air Force, along with many National Guard units, maintain some 148 bands, with an estimated total cost of about $388 million a year. All concerts are free to the public.

The Riverside Jazz music festival was slated for April 9 at Riverside Park, in Florida with the U.S. Army's Jazz Ambassadors - America's Big Band - headlining.

"It's just the most unpatriotic thing that has ever occurred to me in my 62 years of living, to have someone pull the rug out from under us like that," Mike Bode, a Vietnam veteran and music lover who was putting on the show, told the Naples News. "I had just confirmed with my printer to run 1,000 posters and 1,000 fliers," the paper quoted him as saying.

Bode then had to meet with sponsors to return their money.

The same sad tale is told about military concerts large and small.



The United States Army Field Band conducted by Col.. Thomas H. Palmatier

The Peabody in Daytona Beach was scheduled to present the U.S. Army Field Band in concert April 15. The Daytona Beach News-Journal, the City of Daytona Beach and Bright House were collaborative sponsors of the event and expressed disappointment at the change of plans.

Traditionally, this time of year, soldiers in the Army Field Band are getting ready for the yearly Spring Concert Tour. This year's destination was scheduled for the Southeast.

"Among steps taken to preserve funding for the military's most essential missions, the Under Secretary of Defense directed that military bands and other ceremonial units stop all travel effective Tuesday, March 5," said Gary J. Volesky, Brigadier General, U.S. Army and Chief of Public Affairs. "This means that the Army Field Band and its components, the Jazz Ambassadors, the Concert Band and Soldier's Chorus, and the volunteers were forced to cancel all 139 performances of the Spring Tour."

Under new orders, the Army Field Band now can travel only as far as 150 miles from Fort George G. Meade, its home base, which will save money on lodging costs and a daily travel allowance for the band members.

The Army Field Band includes 150 soldiers. In addition to musicians, the staff includes an administration personnel, an instrument repair technician, librarians, information management personnel, producers, production managers, tour coordinators, support team members, and supply technicians. There are also a dozen civilian support staff handling transportation, budget analysis, supply, and public relations.



Members of the Air Force Heritage Brass Quintet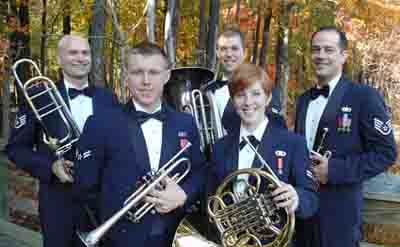 The Air Force Heritage Brass Quintet whose musicians hold master's degrees from several of the nation's music schools, including Eastman, Indiana, and Carnegie Mellon, and bachelor's degrees from Texas University at Austin, Lynn University, Roberts Wesleyan College, and California State University, East Bay, were slated to blow their horns on St. Patrick's Day at the Sterett Hall Auditorium in Charleston. The lack of funds caused them to put their instruments back into their cases.

The United States Coast Guard band had eight concerts scheduled. They were about to sound off at Ruth Eckerd Hall, Clearwater, FL followed by stops in Georgia, Alabama, Tennessee and Mississippi when they got the word to mute the music.

The famed U.S. Army band, "Pershing's Own," canceled its anniversary concert at the Strathmore Music Center in North Bethesda as well as canceling all other concerts.

Strathmore, with 2,000 seats, "was going to cost $35,000 in rental and related costs," said Col. Thomas Palmatier, the band's leader.

The national tour of the Navy's Sea Chanters are a no-go, as are the concerts of the Navy's six other performing units.

The military concerts are more than just playing music. It's also recruitment and education.

According to the official Navy explanation:

"The national concert tours of the Navy Band serve audiences with entertaining performances but also allow the Navy direct access to both former and future members of the United States Navy.

"National tours also allow the Navy Band to fulfill one of its other priorities. The Navy Band routinely extends its commitment to educational outreach during its tours through the Music in the Schools program. It is not uncommon for Navy Band musicians to take the time to perform recitals and give masterclasses and clinics in local schools and universities. In addition to these special appearances, the Navy Concert Band continues its tradition of inviting talented young musicians to perform with them on stage."


OTHER PEOPLE'S MONEY


DAVID BOWIE exhibition at London's V&A Museum has set a record as selling the most advanced tickets in the museum's history.

More than 42,000 advance tickets were sold for the retrospective which opened to the public on Saturday. March 23. ( See Broadway To Vegas column of March 17, 2013 ).

Bowie sales were more than double the number of advance tickets to any of the museum's previous exhibitions.

THE BOOK OF MORMON earned the highest one day gross in both West End and Broadway history! The take on Friday, March 22, 2013 was $3,210,441. Also no surprise that the musical opened to 90% rave reviews in London. There was one critic who was negative. He just needs to be converted.

The West End show at the Prince of Wales theatre is sold out until the end of July. The booking period has just been extended to January 11, 2014.



THE TONY AWARDS COMMITTEE announced the recipients of the Special Tony Award for Lifetime Achievement in the Theatre.

The prestigious awards will be presented to Bernard "Bernie" Gersten, executive producer of Lincoln Center Theater; scenic designer Ming Cho Lee; and Paul Libin, executive vice president of Jujamcyn Theaters.

The Special Tony Awards for Lifetime Achievement in the Theatre will be presented at the 2013 Tony Awards on June 9.



PETER AND ALICE a new play by John Logan.

Directed by Michael Grandage.

Starring Judi Dench as Alice and Ben Whishaw who plays Peter.

The production also stars Olly Alexander as Peter Pan, Ruby Bentall as Alice in Wonderland, Stefano Braschi as Arthur Davies/Reggie Hargreaves/Michael Davies, Nicholas Farrell as Lewis Carroll and Derek Riddell as JM Barrie.

When Alice Liddell Hargreaves met Peter Llewellyn Davies at the opening of a Lewis Carroll exhibition in 1932, the original Alice in Wonderland came face to face with the original Peter Pan.

In John Logan's remarkable new play - his first play since Red - enchantment and reality collide as this brief encounter lays bear the lives of these two extraordinary characters.

The production features set and costume design by Christopher Oram, lighting by Paule Constable and sound/music by Adam Cork. Preview performances began March 9 with the opening night set for March 25. The production runs through June 1 at the Noel Corward Theatre in London.

BILLY & RAY written by Emmy winner Mike Bencivenga. Directed by Garry Marshall.

Starring Kevin Blake, Shaun O'Hagan, Anthony Starke and Ali Spunk.

The world premiere of Billy & Ray tells the incredible true story of how Billy Wilder (Kevin Blake) and Raymond Chandler (Shaun O'Hagan) wrote the screenplay for Double Indemnity.

They invented film noir and nearly killed each other in the process.

Set in Hollywood in the 1940's, Paramount producer Joe Sistrom (Anthony Starke) and secretary par excellence Helen Hernandez (Ali Spuck) join the hilarious journey through a war of creativity between two brilliant writers who battled the censors, and each other, to create a motion picture classic.

March 27 - April 28, 2013 a the Falcon Theatre in Burbank, CA.

HAMLET by William Shakespeare.

Directed by James Bundy.

Original music composed by Sarah Pickett, Starring Academy Award nominee Paul Giamatti in the title role. The cast also includes Mamoudou Athie, Gerry Bamman, Chris Bannow, Jarlath Conroy, Austin Durant, Lisa Emery, Robert David Grant, Felicity Jones, Patrick Kerr, Marc Kudisch, Erik Lochtefeld, Michael Manuel, Brooke Parks, Paul Pryce, Tommy Schrider, Mickey Theis, Charlie Tirrell, Nicholas Tucci, Harriet Weaver and Remsen Welsh.

The musicians comprise Michael Compitello, Brian Ellingsen, Christopher Scanlon, Bill Solomon and Maura Valenti.

Set design by Meredith B. Ries, costumes by Jayoung Yoon, lighting by Stephen Strawbridge, sound by Keri Klick, fight direction by Rick Sordelet, vocal coaching by Grace Zandarski, movement coaching by Erica Fae, dramaturgy by Dana Tanner-Kennedy and stage management by Geoff Boronda.

This production is part of Shakespeare for a New Generation, a national program of the National Endowment for the Arts in partnership with Arts Midwest. All performances are sold out. The production is mounted through April 13 at University Theatre Yale Repertory Theatre in New Haven, CT.

HONKY the Greg Kalleres comedy, directed by Luke Harlan, has been extended through April 14, 2013 at Urban Stage in New York City.


WHO'S WHERE




LEE ROY REAMS dishes on Carol Channing, Juliet Prowse, Gwen Verdon, Bob Fosse, Jerry Herman, Richard Rodgers, Lauren Bacall and many more legendary performers during his Song and Dance Man cabaret show, April 3, at 54 Below in New York City.

ALICIA KEYS brings her tour to the Landers Center in Southaven, MS on Wednesday, March 27. Friday's show is at the Philips Arena in Atlanta, GA. On Saturday she'll be on stage at the Coliseum in Greensboro, NC.

AN EVENING WITH BURT BACHARACH the three-time Academy Award winner and eight-time Grammy winner who has written 48 Top 10 hits, nine #1 songs, and more than 500 compositions that helped define the music of the 20th and 21st centuries will perform with his band of three singers and seven musicians his most beloved hits, from Alfie to Walk on By. March 28 at The Smith Center in Las Vegas.

JUSTIN BIEBER brings his tour to the Halle Tony Garnier in Lyon, France on Monday, March 25. On Tuesday the show is at the Hanna Martin Schleyer Halle in Stuttgart, Germany. On Thursday the performance is at the Olumpiahalle in Munich. Saturday's show is at the Wiener Stadthalle in Vienna, Austria. Next Sunday, March 31, he takes to the 02 World stage in Berlin.

TAYLOR SWIFT begins a three night engagement Wednesday, March 27, at the Prudential Center in Newark, NJ.

ERIC CLAPTON entertains Tuesday, March 26, at the Veterans Memorial Arena in Jacksonville, FL. Wednesday's show is at Gwinnett Center in Duluth, GA. On Friday he opens a two night stand at the Seminole Hard Rock in Hollywood, FL.

CHICK COREA & BELA FLECK DUET Two master songwriters, musicians and band leaders meet in a historic duet of piano and banjo. The Grammy-winning duet will combine Corea and Fleck's most recognizable tunes with the music from their Latin Grammy-winning album The Enchantment! March 29 at The Smith Center in Las Vegas.

MAROON 5 have a busy week. On Tuesday, March 26, their on stage at the BJCC Arena in Birmingham, AL. Wednesday's performance is at the Philips Arena in Atlanta. On Friday they're in the spotlight at the BB&T Center in Sunrise, FL. Saturday's show is at the Amway Center in Orlando, FL.

GREEN DAY has returned to touring with a show Thursday in Chicago at the Allstate Arena. Friday's gig is in Moline, Ill., at the I Wireless Center. Next Sunday, March 31, their tour stops at the Consol Energy Center in Pittsburgh.

BRUCE SPRINGSTEEN AND THE E STREET BAND continue their Australia gig with three shows at the Rod Laver Arena in Melbourne. Those take place tonight, Sunday, March 24, Tuesday, March 26 and Wednesday, March 27. On Saturday, March 30, they opened a two nighter at Hanging Rock in Woodend.

PINK brings her tour to the Veterans Memorial Coliseum in Uniondale, NY on Monday, March 25. Wednesday's show is at the Mohegan Sun Arena in Uncasville, CT. On Thursday she performs at the TD Garden in Boston.

ANN HAMPTON & LIZ CALLAWAY those two talented sisters perform March 26-30 at The colony Hotel in Palm Springs, Florida.

AN EVENING WITH FAITH PRINCE AND JASON GRAAE unites Tony Award-winner Faith Prince and L.A. Drama Critics Circle Award-winner Jason Graae in a delightful evening of song. March 29 at The Smith Center in Las Vegas.

MELBOURNE INTERNATIONAL COMEDY FESTIVAL is billed as "the greatest comedy caper in the Southern Hemisphere." The Comedy Festival doesn't come cheap on talent, but the tickets are. There's even an extensive free program to suit the most fiscally challenged of punters. Great value laughs are dished out by the most popular of local comics and some very special international guests - from stand-up to theatre, music, film and even visual art. March 27, 2013 - April 21, 2013 at the Town Hall and other various venues in Melbourne Australia.


FINAL OVATION


FRANK THORNTON who played Capt. peacock on the BBC comedy Are You Being Served? which is currently aired on many American PBS channels, died in his sleep at home on Saturday, March 15, 2013. He was 92.

Thornton also played Herbert 'Truly' Truelove in Last of the Summer Wine another popular British comedy seen on many American PBS outlets.

His theatre credits included the West End musical Me & My Girl in 1984, for which he was nominated for an Olivier award for his role as Sir John Tremayne.

Thornton is survived by Beryl, his wife of 67 years, their daughter Jane and three grandchildren.

EMILIO SANTIAGO the Latin Grammy award winning singer died on March 20, 2013. The Brazilian singer was being treated in the ICU at Samaritan Hospital in Botafogo, Rio de Janiero. According to the hospital, Santiago died due to complications from a stroke he suffered on March 7. He was 66.

His funeral took place March 21 at Memorial do Carmo in Chestnut, Region Port of Rio. He was laid to rest next to his mother.

His latest album was released in 2012 along with a DVD, Just Dance Samba (Live).

Gabriel Abaroa Jr. President/CEO of The Latin Recording Academy issued the following statement: Latin Grammy winner Emílio Santiago was one of Brazil's most romantic voices, with a career spanning more than four decades and such memorable hits as Saigon, Lembra De Mim, Vai E Vem, and Verdade Chinesa. Recognized as one of the first Brazilian artists to contribute to the Música Popular Brasileira movement of the '70s, he was an ongoing champion in protecting the native rhythms of his country such as samba and bossa nova and launched a new movement known as Aquarela Brasileira, a seven-part music series preserving the legendary sound of MPB. It is with sadness that we bid farewell to this remarkable velvet voice artist, and our deepest condolences are extended to his family, friends, colleagues, and fans.

RISE STEVENS the famed mezzo-soprano, who sang with the Metropolitan Opera for more than 20 years, died March 20, 2013 in her New York City home. She was 99.

Among her greatest roles was the title character in Carmen in the 1950s, which she sang for 124 performances. In 1945 Lloyds of London insured Stevens' voice for $1m.

Stevens also had a brief Hollywood film career in the 1940s, starring in The Chocolate Soldier with Nelson Eddy and the Oscar-winning Bing Crosby film Going My Way.

The New York City born Stevens spent three years as director of the Met's touring company. She was also a managing director of the Met, board member of the Metropolitan Opera Guild and president of the Mannes College of Music from 1975 to 1978. She received the Kennedy Center Honor in 1990, where she was hailed as a singer "who raised the art of opera [in the US] to its highest level". She is survived by her son, the actor Nicholas Surovy, and a granddaughter.

BEBO VALDEZ the multiple Grammy Award winning pianist and composer/arranger, who was a prime mover in the international musical exchange that was Havana in the middle of the 20th Century, died in Sweden on March 22, 2013. He was 94.

Among his numerous accomplishments was serving as the musical director of nightclub shows at the Tropicana in Havana.

Valdés was first married to Pilar Valdés. That marriage produced five children. In 1960, after the revolution, the Valdés fled Cuba leaving his wife and children in Cuba. He first went to Mexico, where he worked in television and in the recording studios, and then to Spain. In Stockholm, on a European tour with a group called Lecuona's Cuban Boys, he met and fell in love with Rose Marie Pehrson. He was 44, and she was 18. In 1963 they married. According to the NY Times: "He wanted to relocate to New York, but, as a black man with a white wife, he was warned by friends against moving to the United States. . . . He stayed in Stockholm, starting a new family (Swedish born sons, Rickard and Raymond) and playing piano in hotel lounges for more than 30 years.

One of his children from his first marriage, Chucho, became a piano virtuoso - considered one of the greatest pianists in the world - co-founding his own jazz-influenced, genre-crossing band called Irakere. When Chucho Valdes and Irakere played a date at Carnegie Hall in 1977, Bebo Valdes crossed the Atlantic Ocean to reunite with his son. It set into motion a reconciliation which resulted in several collaborations, in concert and on recordings like the Latin jazz performance film Calle 54 and the duet album Juntos Para Siempre.

Neil Portnow President/CEO of The Recording Academy and Gabriel Abaroa Jr. President/ CEO of The Latin Recording Academy issued a joint statement:

"Three-time Grammy and six-time Latin Grammy winner Bebo Valdés was a renowned pianist, composer, bandleader, and musical director who made major contributions to two of the most recognized movements in Cuban music: Big Band and Latin Jazz.

"Beginning his career in Havana in the '40s, his orchestra, Sabor de Cuba, became a mainstay at the internationally known Tropicana nightclub. During this time he would become a giant of mambo, creating his own rhythmic style known as batanga. In the late '50s, his love of jazz would become his second trademark, working with the legendary Nat King Cole on his album Cole Español.

"He defected from Cuba in 1960 to pursue his musical career, and made Sweden his official home. He relaunched his career in the '90s with his first release in more than 30 years, Bebo Rides Again, and 10 years later he collaborated with Spanish singer/songwriter Diego El Cigala on Lagrimas Negras, earning him his first Latin Grammy in 2004 for Best Traditional Tropical Album. In 2009, he and his son, pianist Chucho Valdés, released Juntos Para Siempre, which won a Grammy and Latin Grammy Award.

"A true native son of Cuba, his legacy and contributions to its musical heritage will forever be remembered. Our deepest condolences go out to his family, friends, colleagues, and to the fans of this incomparable musician's indelible achievements."







Next Column: March 31, 2013
Copyright: March 24, 2013. All Rights Reserved. Reviews, Interviews, Commentary, Photographs or Graphics from any Broadway To Vegas (TM) columns may not be published, broadcast, rewritten, utilized as leads, or used in any manner without permission, compensation and/or credit.
Link to Main Page
---
Laura Deni



For the snail mail address, please E-mail your request.
CLICK HERE FOR COMMENT SECTION