! >
Broadway To Vegas
  
  REVIEWS INTERVIEWS COMMENTARY NEWS

| | |
| --- | --- |
| | |
JARROD SPECTOR WITH A LITTLE HELP FROM MY FRIEND 54 BELOW CD REVIEW - -NEWSIES CELEBRATES 2ND ANNIVERSARY ON BROADWAY WITH FREE TICKETS - - THUNDER FROM DOWN UNDER FOILS GUNMAN - - PLAYWRITING RESIDENCIES FOR SENIORS IMPROVE QUALITY OF LIFE - - THE GRAMMY FOUNDATION ANNOUNCES 2014 GRAMMY SIGNATURE SCHOOLS - - THE COLORFUL WORLD OF KAFFE FASSETT - - MANHATTAN ASSOCIATION OF CABARETS ANNUAL GALA - - CITY ROCKS - - DONATE . . . Scroll Down




Copyright: March 23, 2014
By: Laura Deni
CLICK HERE FOR COMMENT SECTION


FORMER JERSEY BOYS STAR JARROD SPECTOR WON'T BE TYPECAST


Although Jarrod Spector made his Broadway debut as Gavroche in Les Miserables, he didn't become a known commodity until he toured as an alternate for the Frankie Valli role in the national tour of Jersey Boys, taking over the lead role when the show began its run in Chicago. After a little less than a year entertaining Chicagoans Spector accepted the daunting task of stepping into the large-shoes-to-fill of Broadway's original Frankie Valli, none other than the Tony Award winning John Lloyd Young. Such a leading man change could have torpedoed the musical. Spector held his own and the show didn't falter.

As for Young he was appointed by President Barack Obama to the President's Committee on the Arts and Humanities. He was sworn in by Justice Elena Kagan, November 2013, at the Supreme Court of the United States of America. Young currently is in London where he stars as Valli in Jersey Boys at the Piccadilly Theatre through April 27.

Spector, the Philadelphia born tenor, who attended Princeton University and the Atlantic Theater Conservatory, starred for six years in Jersey Boys - over 1500 shows - which afforded Spector something very few in the business ever experience: a steady pay check big enough to cover the bills and put something aside.

The downside is a fear of being type cast. That insecurity tormented Spector. Now he's trodding the boards in Beautiful: The Carole King Musical where he plays neurotic, hypochondriac songwriter Barry Mann. That transition may help Spector conquer any role casting doubts. He should expect to be up for several theatrical awards in the Best Supporting Role in a Musical category.



Jarrod Spector and Anika Larsen in Beautiful: The Carole King Story. Photo by Joan Marcus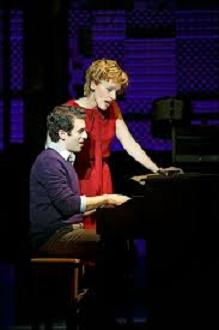 When he's not at the Stephen Sondheim Theater on stage in Beautiful he spends his days off in what amounts to a busman's holiday - performing at 54 Below. During his last November gig those shows were recorded with engineer Brandon Loewit. Then mixed by Kontinuous Jams Studios and mastered by Greg Reirson at Rare Fore Mastering. The result of that technical effort can be enjoyed in Jarrod Spector's Little Help From My Friends: Live At 54 Below, which Broadway Records releases digitally and on CD Tuesday, March 25, 2014.

Initial thoughts on hearing the CD the first time - Wow!

A full throttle With a Little Help From My Friends opens up the performance as Spector shows how one generation of singers affects the following generation, generally through style and sound. Along the way listeners are treated to music by Queen, Billy Joel, Enrico Caruso, Little Richard, Freddie Mercury, Stevie Wonder, Paul McCartney and Bono.

To his credit, Spector didn't just 'walk like a man,' but proved he is one when he did what few do - gave credit for who came up with an idea. In this case, the idea for this CD. In the accompanying CD booklet Spector writes: "And, a special shout out to my bass player Mat Fieldes for the kernel of an idea of a tenors-by-the-decade show."

One high octane song leads into another, interspersed with clever patter in which he declared that he was in kindergarten when his parents were listening to Good Vibrations.

Guitarist Jake Schwartz shows off his skills on Sweet Home Chicago which leads into When You Wish Upon Star. The musicians can wail, get down with gut bucket dirty blues or tug at your heartstrings.

The selections are exceptional and the pairings sheer genius.



Jarrod Spector performing at 54 Below. Photo: Broadway Records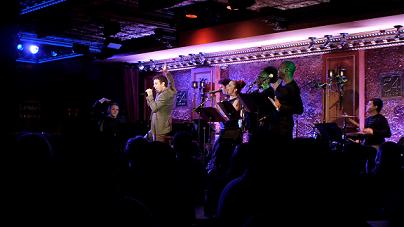 Una Furtive Lagrima from Donizetti's opera L'elisir d'amore coupled into Freddie Mercury's Somebody To Love can match point the Queen rendition.

Spector offers an interesting commentary on the powerful Jim Steinman song It's All Coming Back to Me Now which was originally meant for Meat Loaf on his Bat Out of Hell album, then pulled from under him and given to a then relative unknown named Celine Dion, who catapulted it into a mega chart hit. Spector teams with Rachel Stern in a beautiful duet which takes It's All Coming Back To Me Now, a song of reunited lost love and makes it even more powerful than the Dion version. The duet broadens the base, from what has long been considered a woman's song, into a show stopping, heartbreaking rendition which gives a deeper dimension, encompassing both men and women.

His rendition of Good Golly Miss Molly/Twitti Fruiti rivals Little Richard and will make you smile.

A tinkling piano provides background music for Spector's short conversational bits. Never boring or dull this tribute to music of earlier generations is an "in the now" compilation of songs we all know and love.

The totally impressive, dynamite musicians help rock the house. Geez, this group can sing and play.

Musical director and keyboardist Adam Ben-David comes with a musical pedigree. He's the son of two accomplished musicians. His mother was a contralto soloist at The Metropolitan Opera for 24 years and his father was the first person to receive a Doctorate in Voice from The Juilliard School. Adam went on to study piano and composition following in his parent's footsteps, at The Juilliard School. As a successful Broadway conductor for many years he's conducted Jersey Boys, Spring Awakening, Wicked, High Fidelity, Aida, Bombay Dreams and Once Upon a Mattress and is currently the Associate Conductor for the Tony Award winning musical The Book Of Mormon. Adam also is the musical director and accompanist for his sister, Sheera, who was the 2009 Julie Wilson Award winner,

Bassist Mat Fieldes, a native New Zealander now living in New York, has played regularly with the Auckland Philharmonia Orchestra and the New Zealand Symphony Orchestra. Versatile in both the double bass and electric bass guitar, his numerous recording and tour dates have included performances with a variety of artists from Placido Domingo, Kin Te Kanawa, and the New Zealand String Quartet, to Shirley Bassey, Joe Williams, and Arturo Sandoval.

Drummer Sean McDaniel is currently the drummer for The Book of Mormon on Broadway. He's also the drummer for American Idol Runner Up/RCA Recording artist Clay Aiken. He has performed and recorded with Audra McDonald, Kristin Chenoweth, Jennifer Hudson, and Dolly Parton. If that's not enough to keep him busy, Sean and Ben Cohn (assistant conductor and pianist for Wicked on Broadway) are parents to Allister Jean who won't turn two until July 29th.

Guitarist Jake Schwartz's credits include The Book of Mormon, 9 to 5, The Coast of Utopia and Wicked. He's also got his own funk-rock band Van Davis.



left to right Matt Bogart as Nick Massi, Jarrod Spector as Frankie Valli, Sebastian Arcelus as Bob Gaudio, Dominic Nolfi as Tommy DeVito. Photo by Joan Marcus.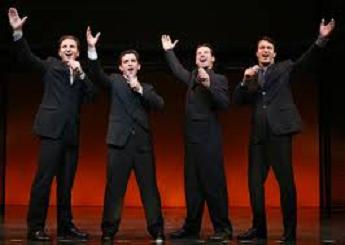 Possessing a Classical Guitar/Music Education Degree from William Paterson University in New Jersey, the New York native taught middle school music and choir for three-and-a-half years before the urge to rock drew him to Broadway where his first Great White Way gig was subbing on Footloose.

Together they help make this CD soar.

Billy Joel's Uptown Girls/ Walk Like a Man is, of course, a song which Spector could sing in his sleep. He understands that people attending his live show look forward to watching him perform something from Jersey Boys. He acknowledges that audiences want the association. "I expected that some people were waiting for something like that," he comments after Walk Like a Man.

Unchained Melody is more smooth jazz than the Righteous Brothers' arrangement. Spector commandeers the piano to accompany himself on an up-tempo Maybe I'm Amazed. It's a soft rock Goodbye Yellow Brick Road, and a medley of Bruno Mars When I Was Your Man, George Michael's Faith and The Beach Boys' Good Vibrations.

Then there is that take no prisoners stompin' good, Good Golly Miss Molly.

Everything about this CD is spot on; the concept, musicians, backup singers, selections, arrangements and sound balancing. Back up vocalists are John Edwards who currently performs in Jersey Boys, Teresa Gattison who has also done background vocals for Cissy Houston, Rachel Stern whose Broadway credits include Shrek The Musical, High Fidelity and Tarzan. Also lending his vocal chops is the afore mentioned Adam Ben-David.

If the performers left the stage exhausted, the audience left 54 Below exhilarated. Listening to the CD has the same effect.

As successful as he has been, for anyone listening to this CD there is no doubt that Spector is a talent whose future lies ahead.

Jarrod Spector appears on March 23, 24, 31 and April 9 at 54 Below in New York City. Get yourself down there and while you're at it, buy a copy of the CD after the show. You won't be disappointed. This is also the type of show PBS ought to tape to air during their frequent pledge break sessions. Too many of their musical presentations include singers who years ago passed on - from old age. Jarrod Spector is in the now while singing songs from other generations.





Broadway To Vegas is supported through advertising and donations. Priority consideration is given to interview suggestions, news, press releases, etc from paid supporters. However, no paid supporters control, alter, edit, or in any way manipulate the content of this site. Your donation is appreciated. We accept PAYPAL. Thank you for your interest.





ART AND ABOUT


THE COLORFUL WORLD OF KAFFE FASSETT

Vegetable Rug. Needlepoint, 177 X 133 cm. Courtesy of Hugh Ehrman. © Kaffe Fassett Studio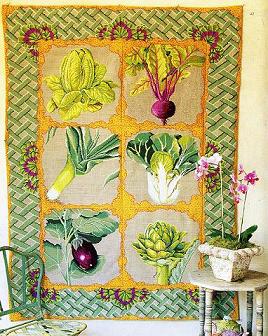 opens March 22 at the American Museum in Britain.

World-renowned knitwear and textile designer Kaffe Fassett returns to the American Museum to celebrate his fifty years working as an artist and colorist.

Born in San Francisco in 1937 and raised in the creative community of Big Sur, California, Kaffe has a long association with the American Museum, first exhibiting there in 1994.

When he came to live in Britain in the early 1960s, Kaffe stayed in Bath and was much inspired by the Museum's diverse collections - especially its many antique quilts. Kaffe was fascinated not only with the block patterns created in these textile masterworks but also by their audacious use of juxtaposed colors and printed fabrics.

The Colorful World of Kaffe Fassett showcases how Kaffe lives by his maxim to find color in a grey world. Designed by celebrated theatrical designer Johan Engels, the exhibition promises to be as colorful as the dazzling pieces on display. Over one hundred sumptuous works of textile art - a kaleidoscope of knitwear, needlepoint, beading, and quilts - will be on display in the dramatic exhibition alongside vibrant mosaics and still life paintings by the Fassett.

Nearly all the objects on view are from Kaffe's personal collection - the much-loved pieces that surround him as he creates. The cornucopia of works on view thus offers a glimpse of the private man behind the public façade.

The exhibition features works spanning Kaffe's creative life, including drawings he made as a boy in California. These monochrome pictures are a far cry from the explosions of color that made Kaffe a household name from the 1970s as one of the great practitioners of contemporary craft. Visitors to the exhibition will discover zones, each showcasing a variety of materials by color, from knitted shawls to gorgeous coats inspired by Shakespearean heroines, and cushions decorated with his detailed needlepoint designs.

Complementing the exhibition will be exquisite pen drawings that Kaffe made of the American Museum's popular Period Rooms in 1964 on display in Claverton Manor. These delicate room portraits have not been exhibited to the public before and are a reminder that Kaffe began his career in the visual arts as a painter and illustrator. Four years after making these drawings, Kaffe went to Scotland where he became enthralled by the hand-dyed woolen yarns he discovered there. On the long train journey home, he persuaded one of his travelling companions to teach him to knit. The rest, as they say, is history - a captivating story of a life lived in color. There will be a diverse program of events from talks and lectures to concerts and workshops. On display to November 2, 2014.


SWEET CHARITY


CITY ROCKS will come to the Royal Albert Hall to celebrate the 275th birthday of Coram, the UK's oldest children's charity, with a unique line-up of artists including Lily Allen, The Feeling, Maverick Sabre, Sophie Ellis-Bextor and Brian May and Kerry Ellis.
Iconic rock legend Brian May will perform alongside singer Kerry Ellis. In 2011, the duo partnered to write and produce Kerry's debut album Anthems and they are currently working together on her follow-up.

Tuesday, April 1, at Royal Albert Hall in London.

The event is being produced by Harvey Goldsmith CBE and Don Black OBE, in association with Rocket Music Entertainment.

Founded by Thomas Coram, in the past year 852,000 primary school children were inspired to make healthy choices by Coram Life Education's innovative health and drug education program. 155,000 parents, children and young people received advice or support from Coram Children's Legal Centre and the Child Law Advice Line. The Coram Voice helpline listened to and supported over 1,200 vulnerable children and young people. They also helped more than 13,000 vulnerable children and young people through their Housing and Youth Support service, their family parenting support and Coram Adoption.


DRAMA BACKSTAGE FOR MALE STRIPPERS THUNDER FROM DOWN UNDER
Police mug shot of Joey Kadmiri whose facial makeover is courtesy of Thunder From Down Under.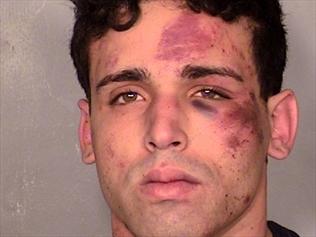 While March Madness has captured the attention of sports fans glued to their television sets, the fight for the record books took place on Tuesday, March 18, backstage at Las Vegas' Excalibur Hotel.

The police awarded the decision to members of the Australian show Thunder From Down Under and escorted the loser, Joey Kadmiri, 24, of Las Vegas to University Medical Center, where police reported he was violent with medical personnel and required sedation. He was treated for injured inflicted upon him by Thunder From Down Under cast members. Later he was charged with attempted murder with a deadly weapon, attempted robbery with a deadly weapon, and burglary with a deadly weapon.

Police also took possession of an unregistered .44 Magnum - the type that Clint Eastwood made famous in his Dirty Harry films - and a box of .44-round ammunition as evidence.

Sounding like a script for one of the CSI shows, the thought of somebody getting backstage at a Las Vegas resort, stealing possessions belonging to the entertainers, pointing a loaded .44 Magnum at the head of a performer and then pulling the trigger, sounds more like a script, although that's what actually took place at the Strip resort.

Members of the long running Las Vegas male stripper show Thunder From Down Under first saw somebody back stage dressed in a SWAT hat and shoes and a firean's shirt. Because the get-up was similar to those worn by the beefy dancers, the performers assumed he must be a new hire.

Wrong guess.



Thunder From Down Under perform at the Excalibur Hotel in Las Vegas.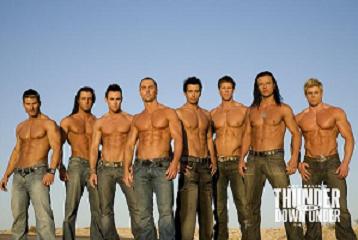 As the beefy hunks began donning their stage costumes, police reported, cast members noticed they were missing items they'd seen the man wearing, plus some makeup.

According to the official report, dancer Ryan Paki became suspicious when he noticed a suitcase, several of the show's props and even some of his own costumes in a clump by an exit. Paki grabbed the show's director Karen D'ihm and while the pair were inspecting the suitcase, the suspect approached them.

"What are you doing? I just bought all that stuff for my girlfriend," the suspect said.

Five dancers went to see what was happening, and together the performers tried to take back the props and costumes.

An argument broke out and the suspect pulled a gun.

"I got a gun, I'm gonna shoot," the suspect said as he whipped out an unregistered .44 Magnum handgun and put the gun to performer Scott Berchtold's head.

As the suspect started to pull the trigger, one of the Thunder dancers, trained to execute choreographed moves, proved his ability to improvise when he pushed the loaded gun away from Berchtold's head, "as it fired", according to police reports.

The bullet hit a wall and the gun skidded to the floor, permitting six cast members to pummel the suspect, physically restraining him until hotel security arrived.

Dancer Matthew Fardell suffered minor powder burn injuries related to the gun discharging, but was treated on the scene and went back to performing as though nothing had happened.

Promoted as "Australia's hottest export", the extremely popular show debuted in 1991 and has 12 performances a week at the Excalibur. The backstage standoff was a one off event.








PLAYWRITING RESIDENCIES FOR SENIORS IMPROVE QUALITY OF LIFE
Senior writing residency programs will take place at Sunrise of Westfield. Photo: Premiere Stages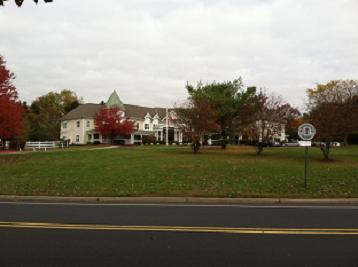 Premiere Stages the professional theatre company in residence at Kean University, in Union, NJ has announced its first playwriting residency for senior citizens, funded by the Westfield Foundation.

On March 18 Premiere Stages began an eight week in-house playwriting residency for residents of Sunrise of Westfield. The residency, modeled after Premiere's successful Play Factory program for K-12 students, incorporates professional teaching artists and actors to create original works for the stage.

Premiere Stages' senior residencies are designed to provide artistic engagement and stimulation to seniors while helping to document and preserve family histories and memories through dramatic storytelling and narratives. The senior residencies provide structured theatre exercises, bolster self-esteem, improve vital creative thinking, and encourage and celebrate the accomplishments of participating seniors. The Sunrise of Westfield residency will culminate in a showcase of living histories produced by Premiere Stages using Kean students and professional actors and presented for Sunrise residents, family, and friends on Wednesday, May 7.

Seniors and family members will also be provided with printed copies of the plays. John Wooten, the Producing Artistic Director of Premiere Stages, will lead the residency.

"The aim of the residencies is to provide creative engagement and fulfillment to seniors while honoring and celebrating their legacies," stated Wooten. "I am very excited that the showcase of scenes will be presented as part of 'Family Night' and hope these plays will be passed down from generation to generation as part of each family's unique history."

Activities and Volunteer Coordinator Christine Harris is the founder of a weekly drama club at Sunrise of Westfield, and hopes the club has been successful in raising residents' awareness and appreciation for theatre in preparation for the residency. Harris arranged a field trip for residents to Premiere Stages' reading of the 2013-2014 Liberty Live Project, James Christy's At Liberty Hall, last fall, and is convinced the residency will align well with Sunrise's own philosophy, which is "to champion the quality of life for all seniors and to bring joy to residents each day."

Sunrise Senior Living, a McLean, Virginia-based company, employs approximately 29,000 people. As of January 1, 2014, Sunrise operated 290 communities in the United States, Canada and the United Kingdom, with a unit capacity of approximately 26,400 units. Sunrise offers a full range of personalized senior living services, including independent living, assisted living, care for individuals with Alzheimer's disease and other forms of memory loss, as well as nursing and rehabilitative services. Sunrise's senior living services are delivered by staff trained to encourage the independence, preserve the dignity, enable freedom of choice and protect the privacy of residents.


SPREADING THE WORD


TONY AWARD WINNER BARRY BOSTWICK

Barry Bostwick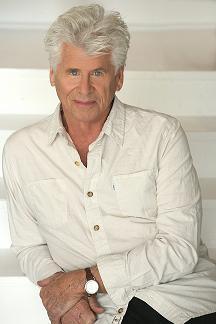 headlines a staged reading of Arthur Kopit's comedic techno-thriller BecauseHeCan which kicks off the 33rd William Inge Theatre Festival at Independence Community College in Independence, Kansas on March 26.

Directed by Jane Unger the cast also includes Nathan Darrow who plays Edward Meechum, Kevin Spacey's "Bodyman," in Netflix' hit series, House of Cards, George West Carruth, John Gleeson Connolly, and Elyse Knight.

Arthur Kopit, this year's Inge Festival Honoree, is a two-time Pulitzer Prize finalist and three-time Tony Award nominee. BecauseHeCan is set in a dangerous new world, and tells of Joseph and Joanne Elliot, a high-powered New York City couple who awake one day to discover that their private lives are no longer private, thanks to a teenage computer hacker with a warped sense of fun.

Arthur Kopit will be at the Inge Festival all four days.



Nathan Darrow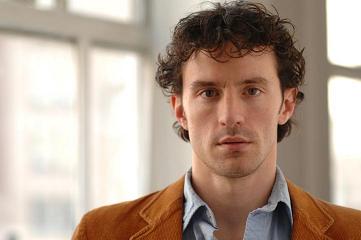 Several other William Inge Theatre Festival events will headline actress and jazz vocalist Yvette Freeman who will share her musical and dramatic talents throughout four day event, which runs March 26-29.

Freeman is a featured performer at the March 29 show Arthur Kopit: What is the meaning of this?, a salute to the work of Inge Festival Honoree Arthur Kopit.

Inge Festival audiences will be treated to her singing during the March 28 Gala Performance, a fund-raiser for the continued restoration of the William Inge Boyhood Home, which is used an artist retreat.

Perhaps best known for her role as Haleh Adams, a registered nurse, on the NBC drama ER, she is one of the longest serving recurring characters on the show, having appeared in every season since 1994, with her first appearance in the two hour pilot episode.

Yvette has starred in the Broadway, First National, Paris and International companies of Ain't Misbehavin'. She won the Obie for Best Actress for starring in the New York production of Dinah Was, based on the life of the legendary jazz singer Dinah Washington.

In 1999, Yvette Freeman added director to her credits when she completed the American Film Institute's program Director's Workshop for Women.

NEWSIES the delightfully spunky 2012 Tony Award winning show for Best Score and Best Choreography, celebrates its second anniversary on Broadway March 29th at the Nederlander Theatre.

To celebrate and thank show fans a Newsies lottery will be staged resulting in completely free tickets for the eight performances leading up to the anniversary. Beginning two and a half hours before every performance from March 23rd through the evening of March 29th, patrons are invited to enter the lottery for the chance to win up to two free tickets for that performance; winners will be drawn two hours before each performance.

Additionally, following each performance from March 23rd through the evening of March 29th, one lucky audience member will be chosen to receive a backstage tour.

If you don't happen to be around Broadway, Newsies will launch a national tour - not free but worth the price - beginning in October in Philadelphia, followed by stops all across the country and Canada. Their Las Vegas mounting is March 17-22, 2015 followed by shows March 24-April 19 in Los Angeles. The lengthy tour eventually winds up in Waterbury, CT.

LONDON'S APOLLO THEATRE which has been closed since a partial collapse of its ceiling plaster injured more than 80 people, seven of them seriously, during a performance of The Curious Incident of the Dog in the Night-time December 19, 2013 is to re-open on March 26.

According to an official statement from the Apollo: "the fourth (balcony) level and above has been sealed by the construction of a new temporary floor that has been built under the supervision of and signed off by the District Surveyors Department of Westminster City Council and the Health and Safety executive. When it opens the theatre will have been meticulously refurbished by three separate teams of contractors and their specialist craftsmen - one for the auditorium, one for the front of house areas and one for the backstage and dressing room block."

The cause of the accident hasn't been determined. In a press statement, Nica Burns, CEO of Nimax Theatres stated, "If there was a simple answer we would know it by now. The fact that we don't know, points to a complex set of circumstances. Our solution to reopen the theatre enables performances to take place safely whilst this important investigation continues."

The National Theatre of Scotland production of Let the Right One In, previously seen in London at the Royal Court, will transfer to the Apollo, beginning performances March 26, prior to an official opening April 7.

Based on the Swedish novel and cult film by John Ajvide Lindq, Let the Right One In is described as a chilling tale of loneliness, love and legend. It revolves around Oskar, a lonely boy from a broken home. He's bullied at school and is longing for friendship. Eli is a troubled girl who's just moved in next door. She never goes to school and is compelled to fill an eternal emptiness. When a series of brutal killings plagues the neighborhood, these two young misfits make a deep connection, sensing in each other a kindred spirit. But the shocking truth about Eli tests Oskar's loyalty - and love - beyond all imaginable limits.

The production is directed by Tony Award winner John Tiffany, who was recently been appointed associate director at thee Royal Court, after previously being associate at National Theatre of Scotland. The book and film has been adapted for the stage by Jack Thorne. The creative team also includes associate director Steven Hoggett and designer Christine Jones.

Rebecca Benson and Martin Quinn will reprise their roles as Eli and Oskar. Other cast members include Graeme Dalling, Angus Miller, Cristian Ortega and Susan Vidler.

SWAN DAY ACTION FEST a free theater festival celebrating Support Women Artists Now Day takes place Saturday, March 29.

The Los Angeles Female Playwrights Initiative and Little Black Dress INK are behind the event, presenting a day of playreadings and connections to celebrate Support Women Artists Now Day. SWAN Day Action Fest takes place at Samuel French Bookshop in Hollywood on Saturday, March 29. Admission is free.

The day's events include readings of plays written and directed by women, as well as two sessions of Micro-Reads and opportunities for theatermakers (of all genders) to network and find future collaborators - women artists working in Los Angeles.
The plays presented will be: Civilization by Velina Hasu Houston, directed by Laura Steinroeder; Douds, Iowa by Debbie Bolsky, directed by Katherine Murphy; The Stiff by Kathryn Graf, directed by McKerrin Kelly; Over Ripe by Becca Anderson, directed by Gloria Iseli; and Awesome Big Somebody by Sarah Tuft, directed by Holly L. Derr.

The impromptu Micro-Reads: one page of writing performed on-the-spot, will be directed by Lynne Moses and Laurel Wetzork.

March 29, 2014 marks the seventh International SWAN Day, a holiday designed to showcase the power and diversity of women's creativity. Sponsored by the Bay Area organization WomenArts, SWAN Day has been celebrated with over 1,000 events in 23 countries. This is the first public arts event in Los Angeles created for the holiday.

Samuel French Theatre & Film Bookshop has partnered with the Los Angeles Female Playwrights Initiative since January, 2013, opening its doors for quarterly Gatherings and Micro-Reads. SWAN Day Action Fest will inaugurate the Bookshop's new Green Room performance space.

MARK RAVENHILL One of Britain's most celebrated contemporary playwrights ill travel to Dublin, Ireland to give a Masterclass as an extension of Dublin Theatre Festival and Theatre Forum's The Next Stage program. Mark will give this Masterclass, touching on integrity, truth and risk, for Next Stage graduates and playwrights on Friday March 28, 2014.

Mark is currently Writer-in-Residence at the Royal Shakespeare Company, where his most recent play, inspired by Voltaire's Candide, played in the Swan Theatre in autumn 2013. Mark is also writing a new libretto for the Norwegian National Opera.


OTHER PEOPLE'S MONEY


THE GRAMMY FOUNDATION ANNOUNCES 2014 GRAMMY SIGNATURE SCHOOLS which have been awarded cash grants totaling $58,500. Created in 1998, the Grammy Signature Schools program recognizes the top U.S. public high schools that make an outstanding commitment to music education during an academic school year.

2014 GRAMMY Signature Schools:

2014 National Grammy Signature School ($6,000) - Diamond Bar High School - Diamond Bar, Calif.

2014 GRAMMY Signature Schools Gold ($5,000 each)
Las Vegas Academy of the Arts - Las Vegas
Mira Costa High School - Manhattan Beach, Calif.

2014 GRAMMY Signature Schools ($2,000 each)
Cherry Creek High School - Greenwood Village, Colo.
Northwood High School - Irvine, Calif.

2014 GRAMMY Signature Schools Enterprise Award ($5,500 each)
Ashland High School - Ashland, Wis.
Bend High School - Bend, Ore.
Mount Vernon High School - Alexandria, Va.
Northland Preparatory Academy - Flagstaff, Ariz.
Savannah Arts Academy - Savannah, Ga.
West Valley High School - Fairbanks, Alaska
Winnetonka High School - Kansas City, Mo.



MANHATTAN ASSOCIATION OF CABARETS ANNUAL GALA takes place Thursday, March 27th at BB King's blues Club in NYC.

The event will be hosted by singer, band leader, and multiple MAC Award winner, Terese Genecco.

Two Lifetime Achievement Awards will be given: one to Tony winner and Emmy nominee Linda Lavin, who recently returned to the cabaret stage at Metropolitan Room and 54 Below; and the second to 85-year-old Grammy nominee and Jazz Legend Marilyn Maye, who has been club-hopping to sold-out crowds all over New York City since her star turn at the Mabel Mercer Foundation Cabaret Convention in 2006.

The Board of Directors Award will be given to the Eugene O'Neill Cabaret and Performance Conference "for their dedication to the art of cabaret."

MAC will also continue its tradition of awarding a scholarship to a teen, who will perform at the awards show, through WINGSPAN, which provides a year of after-school music education.

MAC winners in 20 categories will be announced. Several of the winners are expected to perform after receiving their award.

FUNNYMAN GEORGE WALLACE one of the best story tellers in the business celebrated his 10th anniversary headlining at the Flamingo Hotel in Las Vegas on Friday, March 21. Best buddy and former roommate Jerry Seinfeld was in for the occassion.



VANITIES written by Jack Heifner.

Starring five-time Emmy Award-winner Heather Tom.

One of the longest running Off-Broadway plays on record, the story centers on the lives and friendship of three Texas cheerleaders starting from high school in 1963, continuing through college as sorority sisters in the late 1960s, and ending with the dissolution of their friendship in the mid-1970s as their interests and livelihoods change.

March 26–30, 2014 at the Parker Playhouse in Fort Lauderdale, Florida.

TIME AND THE CONWAYS by J.B. Priestley.

Directed by Rebecca Taichman.

The curtain rises on a gorgeous English country home in 1919 in the middle of a game of Blind Man's Bluff played by the young Conway family at a birthday party with their friends. Flash forward to 1937 in the same house: the grown children have gathered to settle family accounts in a world not so bright as it was.

Previews March 29-April 2, opens April 3, closes May 4 at the Donald and Darlene Shiley Stage, Old Globe Theatre, Conrad Prebys Theatre Center in San Diego, CA.

SEEDS by Annabel Soutar.

Directed by Chris Abraham.

Featuring Eric Peterson.

"This passionate and provocative docudrama - part courtroom confrontation, part social satire - sows the seeds of doubt. Centering on the four-year legal showdown between biotech giant Monsanto and Saskatchewan farmer Percy Schmeiser, the highly-acclaimed Seeds leads us through a high-voltage labyrinth of political manoeuvering, patent wars, and cash-fuelled science. Quite simply, Seeds is about the food we eat. Thought-provoking and irreverent, this deft piece of theatrical storytelling is an intellectual and emotional tour de force.

"Much of the text is taken verbatim from court trial transcripts, news broadcasts, and interviews with the case's stakeholders."

A Porte Parole (Montreal) production March 26-April 12, 2014 at the National Arts Centre in Ottawa, Canada.

CLARK GABLE SLEPT HERE a new satire by multiple Carbonell Award-winning playwright and Zoetic Stage co-founder Michael McKeever.

Directed by Stuart Meltzer.

Featuring Lela Elam, Clay Cartland, Robert Johnston and Vanessa Elise.

As one of the silver screen's brightest stars charms his way through the Golden Globe Awards ceremony, his staff tries to figure out what to do with the dead male prostitute on his hotel room's bedroom floor. South Florida favorite Michael McKeever takes a look behind the closed doors of the Hollywood elite, and presents a jet-black satire on what it means to be a "man" in the make-believe world of motion pictures, where nothing is ever what it seems and closets are used for so much more than hanging up your Tom Ford tuxedo.

Performances through April 6 at Zodiac Stage at the Adrienna Arts Center in Miami, Florida.

BLITHE SPIRIT by Noel Coward.

Directed by Michael Blakemore.

Starring five time Tony Award winner Dame Angela Lansbury in her return to the West End stage after an absence of nearly 40 years. She's earned rave reviews and makes the production an event. In the show she plays the eccentric medium Madame Arcati.

Other members of the outstanding cast are include Charles Edwards as the novelist haunted by his laste wife, Simon Jones reprises his Broadway role as Dr. Bradman, Janie Dee and Jemima Rooper, who plays Elvira, the ghost.

Also in the cast are Serena Evans and Patsy Ferran, with Sandra Dickinson, Sarah Lawn, Hugh Osborne and Melissa Woodbridge as understudies.

In order to observe a spiritualist first-hand for a planned novel, writer Charles Condomine (Edwards) and wife Ruth (Dee) invite friends the Bradmans (Jones and Evans) to dinner and a séance with local clairvoyant Madame Arcati (Lansbury), whom they are certain is a fake. That all changes when the ghost of his first wife, Elvira (Rooper) is summoned - and overstays her welcome in the following days, causing a rift between Charles and his at first disbelieving and then jealous second wife. The feuding wives, ghost and flesh, hatch plot and counter plot to sabotage each other's and Charles' existence but will they succeed?

Stage design by Simon Higlett, with lighting by Mark Jonathan and sound by Ben and Max Ringham. Costumes are by Martin Pakledinaz.

At the Gielgud Theatre in London.

PAUL ROBESON resumed performances on Friday, March 21, 2014 at the Ebony Repertory Theatre, the resident company and operator of the Nate Holden Performing Arts Center, in Los Angeles, after two-time Emmy Award-winner Keith David, who stars in this one-man play, recovered from a knee injury.

Paul Robeson, written and directed by Phillip Hayes Dean, also includes accompaniment by pianist/musical director Byron J. Smith.


WHO'S WHERE


MILEY CYRUS entertains Monday, March 24 at the Amway Center in Orlando, FL. On Tuesday the musical action will be at the Philips Arena in Atlanta, GA. Saturday she's in the spotlight at the Bell Centre in Montreal, QC.

BRUNO MARS performs Monday, March 24, at the Mata Elang International Stadium in Jakarta, Indonesia. On Wednesday he headlines the Indoor Stadium in Singapore. On Saturday he opens a two nighter at the Asia World-Arena in Hong Kong.

ELTON JOHN and his Million Dollar Piano tour stops in Las Vegas opening at Caesars Palace on Saturday, March 29. Performances on selected dates through April 25.

LADY ANTEBELLUM perform Thursday, March 27, at the Century Link Center in Omaha. Friday's gig is at the BOK Center in Tulsa, OK.

MICHAEL BOLTON opens a two night gig, Saturday, March 29, at the Moon Palace Resort in Cancun, Mexico.

CELLIST ADRIAN DAUROV WITH PIANIST DI WU perform March 28, at the Embassy of the Russian Federation hosted by Ambassador Sergey I. Kislyak. The program of music by Russian composers like Tchaikovsky and Rachmaninov plus Beethoven will be followed by a reception at the glittering embassy noted for its artwork, with equally memorable Russian cuisine. Part of the Embassy Series.

LILY TOMLIN will take the audience on a comedic trip with more than a dozen of her timeless characters from Ernestine to Mrs. Beasley to Edith Ann. There will be a special pre-show performance at by the New Jersey Gay Men's Chorus. Sunday, March 30, at the State Theatre in New Brunswick, NJ.


FINAL OVATION


MED FLORY actor and alto saxophonist who founded the Grammy-winning jazz group Supersax died Wednesday, March 12, 2014 at his home in North Hollywood, CA. He was 87. He had suffered from heart problems.

His musical career spanned six decades.

Credited with being a success in "two creatively demanding arenas," as a character actor, Flory's career began in the 1960s, when he appeared in series such as Wagon Train, The Rifleman, Maverick and Route 66. He amassed nearly 100 credits, mostly in television, although he also appeared in a few films, including the Jerry Lewis comedy The Nutty Professor.

Neil Portnow President/CEO of The Recording Academy issued the following statement: Grammy winner Med Flory was a multitalented individual who thrived in two creatively demanding pursuits: music and acting. He learned to play music at a young age, and as an alto saxophonist and clarinetist, he was deeply influenced by classic bebop, most notably The Music of Charlie Parker. Flory's approach to his own music reflected his reverence for Parker's sound, ultimately leading him and bassist Buddy Clark to form the successful jazz group Supersax, whose recordings and live performances enjoyed critical and commercial success. The entertainment industry has lost a unique renaissance man, and his work in music and acting will live on to inspire future generations. Our sincerest condolences go out to his family, his friends, and all who had the pleasure of working with him.

Before he began to have heart problems, Flory spent several years caring for his wife, Joan Barbara Fry, after she contracted Alzheimer's disease. He is survived by his son Rex, his daughter, Ava, and two granddaughters. Joan Barbara Fry died in 2000.

MITCH LEIGH Tony Award winning composer and commercial jingle writer died March 16, 2014. He was 86.

His most famous Broadway work was Man of La Mancha. He began his career as a jazz musician, and writing commercials for radio and television. In 1955 the little-known LP recording of Jean Shepherd Into the Unknown with Jazz Music was produced, Leigh writing the music for the jazz interludes between radio broadcaster Jean Shepherd's improvisations. (The multi-talented Shepherd's best-known work is the creation of the movie A Christmas Story, for which he did the narration.) In 1965 Leigh teamed with lyricist Joe Darion and writer Dale Wasserman to write a musical based on Wasserman's 1959 television play, I, Don Quixote. The resulting show, the musical Man of La Mancha opened on Broadway in 1965 and in its original engagement ran for 2,328 performances.

Leigh's next show was Chu Chem. This show followed Man of La Mancha by exactly one year, but closed on the road. Produced by Leigh, it opened on Broadway in 1989 for 68 performances.

Cry for Us All, based on the play, Hogan's Goat, opened on Broadway in 1970 but ran for 9 performances. Leigh was the producer as well as composer. His next musical was Home Sweet Homer, starring Yul Byrnner, which opened on Broadway officially in January 1976 but closed after 1 performance. He produced as well as was the composer for Saravà which ran for 101 performances in 1979. Leigh both produced and directed the 1985 revival of The King and I starring Yul Brynner. Lee Adams asked Leigh to collaborate on a musical, entitled Mike, about producer Mike Todd, but it closed on its pre-Broadway tryout in 1988. After renaming it Ain't Broadway Grand!, the show made it to Broadway, but closed after 25 performances in 1993.

He also wrote the musical Halloween with Sidney Michaels, which starred Barbara Cook and Jose Ferrer. However, it never made it to Broadway.

A prolific jungle writer, his first commercial was for Revlon, a parody on London Bridge is Falling Down in which he and his partner were required to include the words 'delightfully scented silken net.'" Other clients included American Airlines and Polaroid. Leigh also composed music for the commercial jingle: "Nobody Doesn't Like Sara Lee", for the ad agency Doyle Dane Dembach. Soon after Leigh established Music Makers, Inc., in 1957 as a radio and television commercial production house and was its creative director.

Leigh won a Tony Award for composing the music for Man Of La Mancha. He was also nominated for a Tony Award as the director of the revival of The King and I. He received the Contemporary Classics Award from the Songwriter's Hall of Fame for The Impossible Dream.

A building in The School of Music at Yale University was named Abby and Mitch Leigh Hall in 2001. Leigh endowed a chair in jazz at Yale University, the Willie Ruff Chair in Jazz, in 2006.

Mr. Leigh's first marriage, to Renee Goldman, ended in divorce. His survivors include his wife of 42 years, the former Abby Kimmelman who is a painter, their children, singer David and theatrical director Rebecca (Eve) who works in London; and a son from his first marriage, Andy.

He was preceded in death by a sister who died at the age of 14. Another sister lives in California.

The Broadway community mourned the loss of composer, director, and producer Mitch Leigh by dimming the theatre lights in his memory on Wednesday night, March 19th, at exactly 7:45pm for one minute.

"Mitch Leigh was a multi-faceted talent whether he was composing, directing, or producing for Broadway or Madison Avenue," said Charlotte St. Martin, Executive Director of the Broadway League. "Our thoughts go out to his family, friends, and fans of his work."

KATHLEEN RAITT Tony nominated producer and executive with the Nederlander Organization, died March 15, 2014 ar her home in Manhattan.

Kathleen's Broadway projects included The Scarlet Pimpernel, The Civil War, Bonnie & Clyde, and The Molly Maguires.

Also on Broadway, she was an associate producer of James Whitmore's Bully, Peter Allen's Legs Diamond and Grand Hotel.

She also co-produced tours of Carousel; Kiss Me, Kate; Camelot; and Seesaw, all starring her former husband, the musical theatre star John Raitt.

Before taking up producing, she was a professional dancer, worked as a press representative, and in personal, stage and company management.

She was a founder of the Astaire Awards for Excellence in Dance and a member of the board of the Theatre Hall of Fame.

At Kathy's request, no funeral or visiting. A party celebrating her life will be announced. Memorial contributions, if desired, to Visiting Nurse Services of New York.

GENE FEIST who founded the theatre troupe that would grow into the multi-theatre Broadway behemoth, the Roundabout Theatre Company, died March 17 at the Lillian Booth Actor's Home in New Jersey. He was 91.

Gene Feist was born in New York City on January 16, 1923. In 1951 he graduated from Carnegie Institute of Technology with a BFA in directing and playwriting. One year later, he received an MA from New York University in Educational Theatre.

In the 1950s and early '60s, he worked in various capacities at theatre such as Two by Four Theater, Stamford Playhouse, Renata Theatre (which he founded), Sharon Playhouse and New Theatre Nashville, where he was artistic director. In a two-year career tangent, he was a drama critic for the Chelsea-Clinton News from 1962-1964.

He married stage actress Irma "Kathe" Schneider (February 26, 1928 — March 7, 2005; known professionally as Elizabeth Owens) on February 10, 1957. They revived the New Theater in Nashville, Tennessee, and, in 1965, Gene and Kathe Feist founded the Roundabout Theatre Company, first located in the basement of a supermarket building owned by the housing development in Manhattan where the Feists lived, known as Penn South. Owens appeared in more than 30 plays over the next 25 years. Gene Feist served as Artistic Director until he stepped down in 1988.

Kathe Feist died from breast cancer, aged 77, on March 7, 2005. Gene Feist is survived by their two daughters, and grandchildren.















Next Column: March 30, 2014
Copyright: March 23, 2014. All Rights Reserved. Reviews, Interviews, Commentary, Photographs or Graphics from any Broadway To Vegas (TM) columns may not be published, broadcast, rewritten, utilized as leads, or used in any manner without permission, compensation and/or credit.
Link to Main Page
---
Laura Deni



For the snail mail address, please E-mail your request.
CLICK HERE FOR COMMENT SECTION