! >
Broadway To Vegas
  
  REVIEWS INTERVIEWS COMMENTARY NEWS

| | |
| --- | --- |
| | |
MADE IN HOLLYWOOD - - HAMILTON HAS IMPRESSIVE SALES - - MUHAMMAD ALI CALLS PRINCE CHARLES AND CAMILLA 'THE GREATEST' - - HONORING NAT KING COLE'S BIRTHDAY - - THE GATCHELL AND NEUFELD MANAGER GRANT - - 2015 LYRIC OPERA BALL - - APPLICATION PENDING - - JOAN MIRO: INSTINCT & IMAGINATION - - DONATE . . . Scroll Down




Copyright: March 22, 2015
By: Laura Deni
CLICK HERE FOR COMMENT SECTION


MADE IN HOLLYWOOD
John Dolphin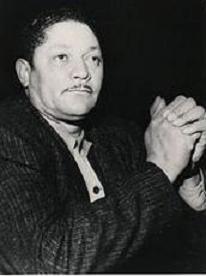 In the cut throat world of music publishing John Dolphin was one of the first and most notorious black independent record label owners, although his contributions to the formative years of rock & roll are often overshadowed by the cutthroat business practices that ultimately led to his death, music historians have declared.

A former car salesman, Dolphin knew how to close the deal and pocket the profits.

His career is about to be brought to the stage in the form of an original musical, crafted by Dolphin's grandson. Broadway To Vegas was told that "Jamelle Dolphin and Matt Donnelly initially partnered to write a screenplay treatment, and then decided it would make a great musical and went from there."

Jamelle's father was 7 years old when his father was murdered.

"John started from scratch and evolved into one of the most important figures in the history of American music," says Jamelle Dolphin, whose biography of his grandfather, inspired by years of colorful stories he heard growing up, was based on extensive research of historical records and hundreds of hours of verbal interviews with family and friends. "When he realized that no one was going to let him open his record store on all-white Hollywood Blvd., he brought Hollywood to Central Avenue. By naming the store 'Dolphin's of Hollywood,' he was telling the world that he was going to stare discrimination in the face and not blink."

In 1948, a decade before Motown, black Dolphin opened his soon-to-be world famous Dolphin's of Hollywood record store in South Los Angeles. A big man with a big cigar, big talk and big promises, he was the kind of hustler that often gave the record business a bad reputation. He was one of the first black independent record label owners and probably also the most notorious one. Dolphin relocated from Detroit to L.A. after the Second World War. He bought his shop in 1948 from another hustler, "War" Perkins.

The deejays were expected to feature records on Dolphin's labels. An innovator who pioneered the crossover music concept, Dolphin featured a DJ broadcasting over local white radio station KRKD from inside the store window and played a black music format, marketing black music to whites.

The concept began with Ray Robinson and most famously including Hunter Hancock and a white DJ, Dick "Huggy Boy" Hugg.

White kids would pack the Dolphin's of Hollywood record shop in the all-black neighborhood of South Central L.A. every night, bringing the races together during a time of segregation - and leading to increasing tension with Police Chief William H. Parker and the L.A.P.D.

Experts tip their hats to his enterprising spin on payola - it served Dolphin well, as he could instruct the DJs on his payroll to play the records his labels produced. His motto: "We'll record you today and have you a hit tonight."

Finally he mounted his own label, Recorded in Hollywood, in 1950. Inaugurated via jazz pianist Erroll Garner's Lotus Blue, the imprint scored its first major hit with its sophomore release, R&B singer Precy Mayfield's Two Years of Torture. Records from crooner Jesse Belvin Dream Girl and tenor saxophonist Illinois Jacquet Jacquet Blows the Blues, followed in the months to come. In mid-1951 Dolphin cut a licensing deal with King Records that resulted in close to two dozen Recorded in Hollywood masters earning national release on King's Federal imprint.

Recording artists appeared at the store and performed live on-air interviews, greeting and signing autographs for customers. Dolphin's was the first business to stay open 24 hours - even on Sundays - and to popularize a brand new marketing strategy: "Buy One, Get One Free."

In 1954, Dolphin organized a protest of 150 Black business owners and employees in reaction to an ongoing campaign of intimidation directed at interracial trade. Dolphin's of Hollywood was outselling other White-owned stores in the city and continued to attract White customers who spent their money not only at the store, but also in the neighborhood.



John Dolphin with Billie Holliday. Man on the right is not identified.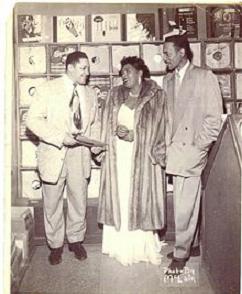 Encouraged by his success Dolphin set about recording local performers, mainly in the R&B, blues and jazz field, with bassist George "Red" Callender handling most of the A&R chores. Among the artists on Dolphin's roster were Scatman Crothers, Harry Caesar (who recorded as Little Caesar), Tony Allen, Gene Forrest (later of Gene and Eunice), Percy Mayfield, Damita Jo, Pee Wee Crayton, Marvin Phillips, Jesse Belvin, Illinois Jacquet and Linda Hayes. The latter lady was the sister of Tony Williams of the Platters (her real name was Bertha Williams) and scored two hits on RIH, Yes I Know (What You're Putting Down), an answer record to Willie Mabon's I Don't Know, and Take Me Back.

Dolphin was noted for bypassed distributors whenever possible, delivering boxes of records direct to rival retailers' doors. As a result, few Recorded in Hollywood releases made the industry trade charts, but Dolphin's empire flourished nevertheless, and in 1953 he scored again with Little Caesar's The River, a record later banned by New York's influential WINS for fear its emotional intensity might have led listeners to contemplate suicide.

Dolphin sold Recorded in Hollywood and its catalog in 1954 to Decca, soon after founding a new label, Lucky. This new venture proved short-lived, releasing only nine singles including efforts from the Hollywood Flames, Joe Houston and Jimmy Wright.

A pair of additional labels, Money and Cash, soon took Lucky's place. Money was the more successful of the two, notching local smashes including Ernie Freeman's Jivin' Around, Johnny Fuller's Mean Old World, and Don Julian & the Meadowlarks' The Jerk.

Dolphin sold Money and its holdings in 1956 to Don Pierce's Hollywood Records. None of his artists saw a dime from the deal, and on February 2, 1958, the inevitable occurred.

Dolphin was murdered in his office by Percy Ivy, a disgruntled "wanna-be" songwriter.

Teenaged songwriter and piano player, a white kid named Bruce Johnston was a witness. He'd traveled to South Central in the hopes of interesting Dolphin in signing his unknown band - The Beachboys.

Also witnessing the shooting was another white boy, future session drummer Sandy Nelson.



Dolphins Of Hollywood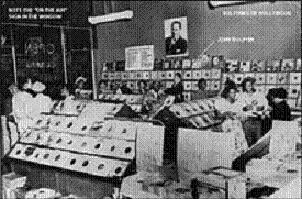 According to the L.A. Times, John Dolphin, 42 of 3918 Edgehill Dr. was murdered behind the desk of his office at 1252 S. Berendo St., Hollywood, on Feb 1, 1958 by frustrated singer Percy Ivy, 26, a shipping clerk who lived at 1124 W. 45th St. Teenaged songwriter and piano player Bruce Johnston witnessed the murder at Dolphin's office in Hollywood. With him were musicians Dave Shostac, 16, of 10304 La Grange Ave. and drummer Sandy Nelson, both of whom were waiting with Ivy outside of Dolphin's office for the man to arrive.

"Ivy said he submitted four songs to Dolphin three or four weeks ago, but failed to collect a promised payment of $250 each." One of the songs was You're Going Away. Ivy stated he "reached for the gun," a 32-caliber Italian automatic, "when Dolphin pulled out a switch blade knife." Ivy fired five or six shots at a close range. "Ivy let us in," said Johnston. "He argued with Dolphin, then pulled out a gun and shot John, who landed on a heater.

"Sandy Nelson was drinking a soft drink and when he ran out of the office to get some help, it was fizzing all over the place." Shostac was grazed in the leg by a ricocheting bullet. Nelson recalled that when he returned with the police to Dolphin's office, Johnston was making a deal with Ivy to have some songs recorded when he got released from prison.

Bringing this little-known but intriguing slice of L.A. history to life on stage is Recorded in Hollywood which opens at the Lillian Theatre in Los Angeles on April 11.

Featuring a live on-stage band and a 19-member ensemble, Recorded in Hollywood, based on the biography Recorded in Hollywood: The John Dolphin Story by Jamelle Dolphin, features a book by Matt Donnelly and Jamelle Dolphin.

The score includes 16 original songs by Andy Cooper plus covers of hit songs launched by Dolphin in his store, including Sam Cooke's You Send Me, The Penguins' Earth Angel and Wheel Of Fortune by The Hollywood Flames.

Four-time NAACP Best Director recipient Denise Dowse directs; musical direction is by Stephan Terry and choreography is by Cassie Crump.

Stu James who appeared as Benny in Rent on Broadway, stars in the role of "Lovin'" John Dolphin; Jade Johnson is his wife and partner, Ruth; Eric B. Anthony plays songwriter Percy Ivy; Godfrey Moye takes on the role of Sam Cooke; Nic Olsen is Dick "Huggy Boy" Hugg; Rahsaan Patterson plays Los Angeles Sentinel founding publisher Leon Washington; and Nic Hodges portrays Jesse Belvin.

The ensemble, with each member playing multiple roles, includes Brooke Brewer, Justin Cowden, John Devereaux, Richie Ferris, Jenna Gillespie, Franklin Grace, Philip Dean Lightstone, Jake Novak, James Simenc, Matthew Sims, Jr., Sha'Leah Nikole Stubblefield and Katherine Washington.

"The pre-rock 'n' roll epoch is not at all unlike the independent hip-hop world from which I come," notes composer Andy Cooper, a founding member of hip-hop trio Ugly Duckling who jumped at the chance to create original songs that capture a key era in American musical history. "Street-wise entrepreneurs like John Dolphin had to be two steps ahead of the industry and faced all the risk and peril of a highly competitive and unregulated business. The predominantly black music, sometimes called "race music," was promoted and sold on a local level, and places like Dolphin's of Hollywood set the trends that the mainstream would soon emulate."

Set design for Recorded in Hollywood is by Joel Daavid; lighting design is by Christina Schwinn; costume design is by Mylette Nora; graphic design is by Jason Meza; and casting is by Michael Donovan, CSA. The stage manager is Ronn Goswick.






Broadway To Vegas is supported through advertising and donations. Priority consideration is given to interview suggestions, news, press releases, etc from paid supporters. However, no paid supporters control, alter, edit, or in any way manipulate the content of this site. Your donation is appreciated. We accept PAYPAL. Thank you for your interest.




ART AND ABOUT


JOAN MIRO: INSTINCT & IMAGINATION

Woman, Bird, and Star (Homage to Pablo Picasso) (Femme, oiseau, étoile [Homenatge a Pablo Picasso]). Feb, 15, 1966/April 3-8, 1973. Oil paint on canvas. Museo Nacional Centro de Arte Reina Sofía. © Successió Miró / Artists Rights Society (ARS), New York / ADAGP, Paris 2014.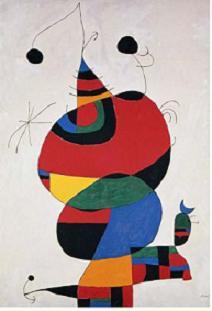 focuses on artworks the Spanish artist created during the last two decades of his career (1963-1981).

Joan Miró's (pronounced Jwan mr-OH) imagination and creativity extended well into his old age.

Later in life, he continued the inventive forms for which he is known and began exploring new materials, including bronze.

This exhibition features bronze sculptures - including Woman and Bird (Femme et oiseau) - which have rarely been seen outside of Europe.

Joan Miró was a Catalan, Spanish painter, sculptor, and ceramicist born in Barcelona. A museum dedicated to his work, the Fundació Joan Miró, was established in his native city of Barcelona in 1975, and another, the Fundació Pilar i Joan Miró, was established in his adoptive city of Palma de Mallorca in 1981.

Earning international acclaim, his work has been interpreted as Surrealism, a sandbox for the subconscious mind, a re-creation of the childlike, and a manifestation of Catalan pride. In numerous interviews dating from the 1930s onwards, Miró expressed contempt for conventional painting methods as a way of supporting bourgeois society, and famously declared an "assassination of painting" in favor of upsetting the visual elements of established painting.

An exhibition catalog published by the Seattle Art Museum in collaboration with the Museo Nacional Centro de Arte Reina Sofía and in association with Yale University Press, New Haven, and London will be available in The Shop at the Denver Art Museum.

Joan Miró: Instinct & Imagination is organized by the Seattle Art Museum and the Museo Nacional Centro de Arte Reina Sofía.

March 22, 2015 – June 28, 2015 at the Denver Museum of Art.





SWEET CHARITY


2015 LYRIC OPERA BALL presented by the Kansas City Lyric Opera Circle on Saturday, March 28, 2015 in the Grand Ballroom at the Kansas City Convention Center.

The Lyric Opera Circle is positively bubbling with enthusiasm. This season's Champagne Ball promises divine flavors and more than a hint of celebration.

Honorary Ball Chairman: Ann Dickinson. Lyric Opera Circle President: Jackie Middelkamp. Ball Co-Chairmen: Mary Leonida and Carolyn Price.

IN HONOR OF NAT KING COLE'S BIRTHDAY who was born March 17, 1919, The Historic North Theatre Performing Arts Center in Danville, VA, announced it will donate to charity one night's rent and 10% of room rent for a month from The Nat King Cole Room in the theatre's Celebrity Bed & Breakfast.

The donation will be given to Nat King Cole Generation Hope, a 501(c) (3) non-profit organization whose mission is to provide music education to children with the greatest need and fewest resources.

The organization is operated by Casey Cole who is the youngest identical twin daughter of Mr. Cole along with her sister Casey. The Celebrity B&B's rooms/suites, when not being used by visiting performers are available for rent to the general public as a Bed and Breakfast.

The Nat King Cole Room is filled with memorabilia collected from all over the country, which includes sheet music, photos, books, albums, and movie posters.

The Celebrity B&B is decorated in the Retro look of 1947 when the theatre opened. It is graced with period antiques, reproductions, and show business collectibles. The entertainment theme includes memorabilia from stars that have appeared at The Historic North Theatre as well as many of the famous movies that were shown there.


SPREADING THE WORD


CAMILLA, THE DUCHESS OF CORNWALL

Clarence House made available the letter Muhammad Ali sent to Prince Charles and Camilla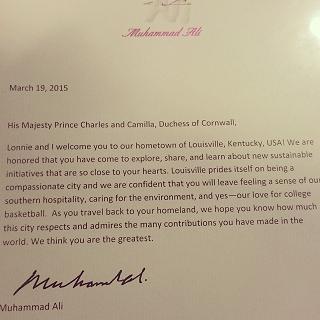 paid a visit to the Shakespeare Theatre Company in Washington DC last Thursday. The wife of Prince Charles had been on a three day trip to America with her husband to Washington, DC and Louisville, Kentucky.

She clapped enthusiastically as a group of teenage actors at the Shakespeare Theatre Company performed the wrestling scene from As You Like It, re-imagined as a dance-off to the song Staying Alive.

. The Duchess, seated in the front-row almost eye-level with the stage, watched a series of carefully choreographed dance-moves, including what was reported as "several pelvic thrusts aimed in her general direction."

The performance was part of a visit to promote two key elements of the Duchess's charitable work - literacy and the arts - which Michael Kahn, the company's artistic director, said had "intersected" on the stage. The visit to the theatre also included her hearing a soliloquy from Act III of Richard II delivered by Richard Thomas, the Shakespearean actor who first shot to fame as John-Boy in The Waltons and more recently has appeared in the popular Cold War drama, The Americans.

Earlier, the Duchess had been treated to a performance by three young actors. It included a recitation of Mark Anthony's speech from Act 3, Scene ii of Julius Cesar - "Friends, Romans, countrymen, lend me your ears" - by an 11-year-old boy. Jackson de Vallance remembered every line and then presented The Duchess with a bouquet of flowers.

Camilla met the company's artistic director, reps from the board of trustees, costume designers, the wig mistress "What a title," remarked Camilla

On their trip to Louisville, Kentucky the Prince and Duchess also visited the home city of legendary boxer Muhammad Ali.

Ali was born in Louisville, Kentucky and Their Royal Highnesses toured the city which features a cultural center dedicated to the life and achievements of the three-time former heavyweight boxing champion.

During their visit to his house, Charles and Camilla received a letter from the man known as The Greatest who turned his title towards them by dictating: "We think you are the greatest.'

Ali who is in the advanced stages of Parkinson's disease wasn't physically able to be present during their visit, but indicated in his letter that he was thrilled at their visit.

Mayor Greg Fischer reading Ali's words said: "(My wife) Lonnie and I welcome you to our hometown of Louisville, Kentucky, USA. We are honored that you have come to explore, share and learn about new sustainable initiatives that are so close to your heart."

Ali added: "Louisville prides itself on being a compassionate city and we are confident that you will leave feeling a sense of our southern hospitality, caring for the environment, and yes - our love for college basketball.

"As you travel back to your homeland, we hope you know how much this city respects and admires the many contributions you have made in the world.

"We think you are the greatest."

Later in the day, The Duchess visited the Food Literacy Project in Oxmoor Farm, where students are given the opportunity to learn more about the food sources, nutrition and health.

Her Royal Highness also attended a reception for The Brooke, a charity dedicated to improving the lives of working horses, donkeys and mules across the world. The Duchess has been President of the charity since 2006, and helped to launch The Brooke USA during her latest visit.

GLEE STAR DIANNA AGRON has been signed to star opposite Stephen Wright in a new play about British fashion designer Alexander McQueen. The actress will make her British stage debut in the production, where she plays Dahlia, a devoted fan who breaks into McQueen's house. Wright will play the fashion designer who died in 2010. Written by James Phillips, the play is billed as "a journey into the visionary imagination and dark dream world" of McQueen, considered fashion's greatest contemporary artist.

Alexander McQueen Savage Beauty the first and largest retrospective of McQueen's work to be presented in Europe is on display through August 2, 2015 at the Victoria & Albert Museum in London. The new play takes its cue from a McQueen statement:: 'I've got a 600-year-old elm tree in my garden. I made up a story: a girl lives in it and comes out of the darkness to meet a prince and becomes a queen.' Alexander McQueen, 2008.

Set on a single London night, it is more than a bio-play. It is stepping into the fairy story landscape of McQueen's mind, the landscape seen in his immortal shows, where with a dress an urchin can become an Amazon, where beauty might just help us survive the night.

Dahilia has watched McQueen's Mayfair house for eleven consecutive days. Tonight she climbs down from her watching tree and breaks into his house, to steal a dress, to become someone special. He catches her, but, instead of calling the police, they embark together on a journey through London and into his heart.

McQueen will be staged at the St. James Theatre in London from May 12 until June 6, 2015.

THE MUSIC AND LIFE OF HOAGY CARMICHAEL who wrote with some of the greatest lyricists in the American Songbook, and went on to become a movie star. Cabaret performer/producer.

Harvey Granat plays such classics as Stardust, Georgia on My Mind, The Nearness of You, Two Sleepy People, Skylark, Lazy River" and his Academy-Award winning In the Cool, Cool, Cool of the Evening, while son Hoagy Bix Carmichael tells stories about his life and work.

Tuesday, March 24, at the 92Y in New York City.

AEA ACTORS SET TO PICKET their own union over proposal to end 99-Seat Theater Plan in Los Angeles. The march takes places Monday, March 23, 2015.

A group of over 200 actors will march the one-mile route, starting at the intersection of Lankershim, Vineland and Camarillo in the NoHo Arts District and ending in front of the AEA offices on Tujunga near Burbank Blvd.

Frances Fisher, French Stewart and Kirsten Vangsness are part of the protect march.

Actors unable to appear who have sent statements of support to be read aloud at the rally include Jason Alexander, Alfred Molina and John Rubinstein.

Other actors who have voiced support include Tony Abatemarco, Patrick J. Adams, Sam Anderson, Ed Asner, Barbara Bain, Orson Bean, Bill Brochtrup, Dennis Christopher, Blythe Danner, Harry Groener, Arye Gross, Valerie Harper, Ed Harris, Gregory Harrison, Roxanne Hart, Simon Helberg, Gregg Henry, Gregory Itzin, Jane Kaczmarek, Martin Landau, Jack Laufer, Dan Lauria, Sharon Lawrence, Amy Madigan, Alan Mandell, Joe Mantegna, Dylan McDermott, Allan Miller, Helen Mirren, Megan Mullally, Nick Offerman, Tim Omundson, Austin Pendleton, Linda Purl, Jeff Perry, Annie Potts, John C. Reilly, Jason Ritter, Tim Robbins, Eva Marie Saint, Tony Shalhoub, Stephen Tobolowsky, Steven Weber and Vanessa Williams.


OTHER PEOPLE'S MONEY


HAMILTON the new musical by Lin-Manuel Miranda is a hit. Miranda is the rap musician who has given a respectable image to the rap music culture.

The rap musical about - of all people - Alexander Hamilton, the United States' first Treasury Secretary, sold a remarkable $6.5 million in tickets in the 11 days since it's Broadway box office opened.

Currently the production is mounted off Broadway at the Newman Theater in the Public Theater complex. It's sold out run continues through May 3.

The production then goes dark so the cast can pinch themselves at catching lighting in a bottle. Hamilton will begin previews July 13 with the official Broadway opening taking place August 6, 2015 at the Richard Rodgers Theatre.

THE GATCHELL AND NEUFELD MANAGER GRANT has been established to honor the legacy of R. Tyler Gatchell, Jr. and Peter Neufeld.

As founders of the powerhouse general management firm Gatchell and Neufeld, Ltd., started in 1971, they managed complex and challenging shows during an equally complex and changing time. They were true men of the theatre who loved Broadway with passion, humor, requisite skepticism and were extremely nurturing of young people starting out on Broadway many of whom now run their own management offices and theatres.

Their DNA is a part of Broadway today and to honor that legacy The Gatchell and Neufeld Manager Grant" has the intent to select yearly one manager at the start of his or her Broadway career and to give that manager $1,000 to further his/her career. Applicants will be sought from the ATPAM apprentice program and Broadway producing, general management, and theatre owner offices.

This grant is being hosted by The Broadway League Foundation, Inc.

ILLUSIONIST DAVID COPPERFIELD'S magical ability to make things go away goes only so far. Currently starring at the MGM Grand in Las Vegas, he wished it was only an illusion when informed that his New York City rooftop swimming pool atop his East 57th Street penthouse spontaneously burst on March 8, and flooded his apartment, dripping down into other apartments as far as 30 stories below. The water leak also knocked out the tower's elevators for more than a day. His insurance company was immediately notified.

While other occupants aren't terrible thrilled that their apartments will have to be repaired, Copperfield was relieved that while walls and floors were completed drenched, his priceless collection of vintage Coney Island machines, irreplaceable antiques, including a fortune teller, strength testers, an electric shock machine and shooting galleries were spared.



FUN HOME a finalist for the Pulitzer Prize featuring music by four-time Tony Award nominee Jeanine Tesori and book and lyrics by Tony Award nominee Lisa Kron. Based on the best-selling graphic memoir by Alison Bechdel, award-winning author and recipient of the 2014 MacArthur "Genius" Award.

Directed by Sam Gold.

Fun Home is billed as a "groundbreaking, refreshingly honest new show about seeing your parents through grown-up eyes."

As Alison rummages through her father's boxes, memories of her uniquely dysfunctional family – her mother, brothers and her volatile, brilliant, enigmatic father – connect with her in surprising and revealing new ways.

This Sundance-supported new musical, stars Tony winner Michael Cerveris and three-time Tony nominee Judy Kuhn.

Transferring to Broadway following a sold-out, critically lauded run at the Public Theater and multiple workshops at the Sundance Institute Theatre Labs, previews begin March 27 at Circle in the Square in New York City.

THE WAR PLAY a world premiere by Philip Braithwaite.

Directed by Roy Ward.

In a brand new play that blurs the line between the real and the imaginary, playwright Philip Braithwaite searches for answers about his great uncle, Jack Braithwaite, who was in WW1.

What he uncovers is a truth that has been locked away for nearly a century. Across several generations, spanning from Dunedin to half way around the world, two men's lives become inextricably bound. What are the connections between fathers and sons in Dunedin's Braithwaite family, and what was Jack's grave injustice? Politics, art, family and the nature of truth come together in The War Play - an exciting Fortune Theatre commission from one of New Zealand's prominent award-winning playwrights.

March 28 – April 18, 2015 at the Fortune Theatre in Dunedin, New Zealand.

CLINTON THE MUSICAL Music and Lyrics by Paul Hodge. Book by Paul Hodge and Michael Hodge.

Directed/ Choreographed by Tony Award nominee Dan Knechtges.

Starring Emmy Award-winning actress and comedian Judy Gold as Eleanor Roosevelt and Kerry Butler as Hillary Rodham Clinton.

Playing President "WJ" Clinton is Tom Galantich and Duke LaFoon will take on the role of "Billy" Clinton. John Treacy Egan as Newt Gingrich, Veronica Kuehn as Monica Lewinsky, Kevin Zak as Kenneth Starr with Kara Guy, Dale Hensley, Rob Richardson, and Gretchen Wylder.

Described as: "If President William Jefferson Clinton behaved like two different people - one moment noble, the next naughty - that's because he was! Clinton The Musical explores the two very different sides of the 42nd President of the United States: "WJ," the wholesome, intelligent one, and "Billy," the randy, charming one. With Hillary (Rodham) Clinton at their side, the two will handle issues from The White House to Whitewater, the sax to the sex, social security to social climbers, and in the process make history. Maybe."

Creative team includes Tony Award Winner, Beowulf Boritt (Scenic Design), and Tony Award Nominees, David Woolard (Costume Design) and Peter Fitzgerald (Sound Design).

Performances begin March 25, 2015. Opening on April 9, 2015 at New World Stages in New York City.

SKYLIGHT written by David Hare.

Directed by Stephen Daldry. Featuring Carey Mulligan, Bill Nighy, and Matthew Beard.

On a bitterly cold London evening, schoolteacher Kyra Hollis (Carey Mulligan) receives an unexpected visit from her former lover, Tom Sergeant (Bill Nighy), a successful and charismatic restaurateur whose wife has recently died. As the evening progresses, the two attempt to rekindle their once passionate relationship, only to find themselves locked in a dangerous battle of opposing ideologies and mutual desires.

Design by Bob Crowley, lighting design by Natasha Katz, and sound design by Paul Arditti, and original music by Paul Englishby.

Currently in previews and opening on Thursday, April 2 at the Golden Theatre in New York City.

APPLICATION PENDING a new comedy by Greg Edwards & Andy Sandberg.

Directed by Andy Sandberg.

Starring Christina Bianco portraying rookie admissions office Christine Evans as well as forty other roles. Christine Evans (Bianco) is a kindergarten assistant at Edgely Prep, an elite Manhattan private school with an acceptance rate that puts Harvard's to shame. On the day applications are due, Edgely's head of admissions is ousted in a scandal, and Christine is unexpectedly thrust into the job. With phones ringing off the hook, Christine must balance beleaguered applicants, venal administrators, and an army of parents who will stop at nothing to get their kids in.

A timely and incisive comedy, Application Pending pokes loving fun at America's obsession with getting our children into the school that will not only teach finger-painting but also determine the rest of their natural lives. This new Off-Broadway play is billed as "send(ing) up our perceptions about opportunity, how we attain it, and what it ultimately means to be a good parent."

Scenic design by Colin McGurk, costume design by Tony Award nominee Michael McDonald, lighting design by Tony Award winner Jeff Croiter, and sound design by Bart Fasbender. The production stage manager is Pamela Edington. Performances through April 19, 2015 at the Westside Theatre in New York City.


WHO'S WHERE




LEA SALONGA will star in Do You Hear the People Sing, which celebrates the musicals of Boublil and Schönberg, which will be presented at the Kennedy Center for the Performing Arts March 27-28. The concerts will also feature the National Symphony Orchestra conducted by Steven Reineke.

TREVOR NOAH the comedian known for being a regular correspondent on Jon Stewart's satirical news program, The Daily Show returns to Ductac in Dubai for shows March 25-28. The popular funnyman will bring his new show, Lost in Translation, for a run of four shows. In Dubai. Last year, he was in the city for two shows, both of which sold out.

USHER entertains Monday, March 23, at the Phones 4u Arena in Manchester, UK. Thursday's gig is at he 02 in London.

JOSHUA BELL IN RECITAL with Sam Haywood on piano. Violinist Bell returns to the NAC stage after 25 years. March 30, 2015 at the NAC in Ottawa, Canada.

NEIL DIAMOND performs Monday, March 23, at the TD Garden in Boston. Thursday's show is at Barclays Center in Brooklyn. On Saturday he can be enjoyed at the Mohegan Sun Arena in Uncasville, CT.

MAROON 5 are in the spotlight Monday, March 23, at the Xcel Energy Center in Saint Paul, MN. Wednesday's show is at the Sask Tel Centre in Saskatoon, SK. Thursday they can be found at Rexall Place in Edmonton, AB. On Saturday they headline the Tacoma dome in Tacoma, WA.

NATALIE COLE the nine-time Grammy Award winner performs in concert, Sunday, March 29, 2015 at the State Theatre in New Brunswick, NJ. The R&B and jazz vocalist will perform classics such as these as well as hits from her new, Latin Grammy Award-nominated album, Natalie Cole En Español.

THE LONDON SYMPHONY CONDUCTED BY MICHAEL TILSON THOMAS featuring Yuja Wang, opens a two night stand on Monday, March 30 at The Smith Center in Las Vegas.

BILLY IDOL entertains Tuesday, March 24, at the Margaret Court Arena in Melbourne, Australia. On Saturday he appears at A Day on the Green at Bimbadgen Estate in Pokolbin. Next Sunday, March 29, he stars at Sirromet Winery in Brisbane, Australia.

EARL THOMAS the blues and soul singer in a musical cabaret at the Rock in the Park live concert series at the Reuben H. Fleet Science Center in San Diego on Friday, March 27. Opening act will be Michael Tiernan. He has hung with monks deep in desert monasteries and lived in the Vatican, but he left the seminary for the higher calling of music.


FINAL OVATION


MIKE PORCARO bass player noted for his work with Toto died March 15, 2015. He retired from touring in 2007 as a result of being diagnosed with amyotrophic lateral sclerosis (ALS), also known as Lou Gehrig's disease. He was 59.

Mike Porcaro began recording and touring in the mid-1970s with such popular artists Michael Franks, Seals and Crofts, Boz Scaggs and Toto.

The group was inducted into the Musicians Hall of Fame in 2009. Toto's first new studio album in 10 years, Toto XIV, is scheduled for release later this month. A European tour is slated for the spring and summer.

Neil Portnow President/CEO of The Recording Academy issued the following statement: "Mike Porcaro, three-time Grammy winner and longtime bassist for the multi-platinum selling rock group Toto, was a dynamic musician and performer. Mike joined his brothers Steve Porcaro and the late Jeff Porcaro in the band in 1982, around the time of the release of Toto IV, which ultimately earned Album Of The Year honors. Throughout his career, his love for music and performing was always evident, and was showcased frequently due to the group's relentless touring and international popularity. Our music community has lost an influential and charismatic creator, and his legacy will continue to inspire and entertain. Our thoughts go out to his family, friends, and fellow group members, as well as to all who have been entertained by his exceptional talent."

He is survived by his wife Cheryl and their three children. Brianne, Sam, and Jeffrey; his brother and Toto band mate Steve Porcaro and his father, the jazz drummer-percussionist Joe Porcaro.

















Next Column: March 29, 2015
Copyright: March 22, 2015 All Rights Reserved. Reviews, Interviews, Commentary, Photographs or Graphics from any Broadway To Vegas (TM) columns may not be published, broadcast, rewritten, utilized as leads, or used in any manner without permission, compensation and/or credit.
Link to Main Page
---
Laura Deni



For the snail mail address, please E-mail your request.
CLICK HERE FOR COMMENT SECTION