! >
Broadway To Vegas
  
 SHOW REVIEWS CELEBRITY INTERVIEWS GOSSIP NEWS

| | |
| --- | --- |
| | |
TRADE SHOWS TOUT CELEBRITIES - - BARBARA COOK'S BROADWAY - - SAN FRANCISCO SYMPHONY ON TOUR - - PURPLE ROSE THEATER BURNS MORTGAGE - - DR PEPPER ECONOMICS - - 'EDDIE' THE FRAZIER POOCH HAS SUCCESSFUL BENEFIT - - ALBERTO MIZARHI ON STAGE IN VEGAS - - NEW ZEALAND ARTS FESTIVAL DRAWS ROYAL BLOOD - - DONATE . . . Scroll Down


Copyright: March 21, 2004
By: Laura Deni

CLICK HERE FOR COMMENT SECTION
FROM BAR MITZVAH'S TO CORPORATE EVENTS
He's re-tooled and spit polished his own career, now Rod Stewart is set to sing at a Vegas shoe convention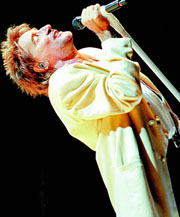 Performers who honed their craft playing at weddings, bar mitzvah's and birthday parties thought they had arrived when they no longer performed at private events.

Coming full circle are today's stars who command top dollar to perform at functions not open to the public.

Corporate functions and trade show gigs are a lucrative and competitive marketplace.

A good bet is - the venue will be in Las Vegas.

A random spot check of upcoming Las Vegas conventions discovered more star power than is usually available to the tourist eyeballing Strip hotel marquees.

Tradeshow Week magazines has for nine years listed Las Vegas as the nation's top trade show and convention destination.

It is not unusual for top corporations to annually spend upwards of $200,000 on conventions.



Rudy Giuliani will spend Memorial Day week-end at a Las Vegas convention
A chunk of that goes into the pockets of performers.

Rod Stewart will headline the World Shoe Association convention August 1 at Mandalay Bay.

The 9th Annual Discus Dental Las Vegas Extravaganza, at the Paris Hotel and Casino, Memorial Day Weekend, May 28-30, will feature former NYC mayor and Time magazine's Person of the Year 2001, Rudy Giuliani, plus a special motivational program from former Superbowl quarterback and current Fox NFL commentator, Terry Bradshaw.

October's AARP convention encourages registration by promising speakers Maya Angelou, Dave Barry, Mariel Hemingway, Coretta Scott King, Jerry Lewis, Mary Tyler Moore, Jane Bryant Quinn, Cybill Shepherd and entertainment by James Taylor, The Smothers Brothers, The Capitol Steps and Smokey Robinson.



One Jerry Lewis' first appearances since being weaned off medication will be at the Las Vegas AARP convention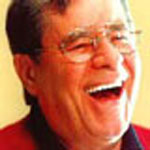 An Evening with Penn and Teller kicks off the International Car Wash Expo April 29. Among other events is a vote for the most washable car.

Famous athletes, politicians and celebrities available for corporate functions, speaking engagements, corporate golf outings, meet and greets, after dinner speeches, corporate entertainment, trade shows, motivational stories and charity functions are promoted by managers and agency divisions specializing is this high ticket category.

Bob Costas has a fee range of $50,001 and above while George Foreman is in the fee range of $100,000 and above.

Vegas is a city with non stop trade shows. Vendors routinely hire models, musicians, magicians and celebrity impersonators to draw crowds to their product. The lesser known performer - before the agency cut - can rake in from $125-$350 per day.

Attending corporate functions and charity events can be an expensive proposition for a paying attendee. Dangle a top star in front of a potential registrant and the incentive to sign-up is sweetened. The star may not appear near the person's hometown. Or, the ticket prices may be as elevated as the nose bleed seat the ordinary guy would be occupying in a large venue. At a trade show event that person may well find himself at one of company's ringside tables. The best seat in the house frequently is occupied by the salesman who is being rewarded for having met his quota.

For the artist performing at a trade show the perks mean they don't have to advertise, participate in publicity events or worry about the press reviewing the performance.

While some celebrities list the events on their schedules, others simple ignore the date or list it as a "private function."


A SOFT DRINK ECONOMY


Drink soda pop and learn an economics' lesson. Head to Texas and visit the Dr. Pepper Museum and you might learn a thing or two about how to run a business. Donald Trump take note. On an episode of The Apprentice the teams may have been challenged to market a water called Trump Ice, but at the Dr. Pepper Museum in Waco, the Trump concept is one upped by requiring the contestants to invent and market a soft drink.

Dr. Pepper is the oldest soft drink in America. It was first served in 1885 by Dr. Charles Alderton in Morrison's Old Corner Drugstore, Waco, and remains virtually unchanged. This 1906 bottling plant and museum in Waco, Texas is on the National Register of Historic Places.



The artesian well at the Museum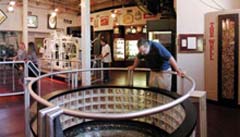 Thousands of students from places near and far visit the Museum and Institute on field trips, learning elements of economics and free enterprise by participating in a very unique and fun program.

The Museum is home to W. W. Clements Free Enterprise Institute. The Institute was created in 1997 for the purpose of educating school children and adults about the economic system that underlies American life. The program uses the soft drink industry as a model to teach students about developing, producing, and marketing products. This is the only Museum in Texas to provide educational programming in the principles of economics.



Theater in the Dr Pepper Museum and Free Enterprise Institute
The flagship program is designed to teach students the history of advertising and marketing and reveal "secret" marketing techniques that companies use to entice consumers to buy. The highlight of the day is creating a new and original soft drink and an ad campaign-name, slogan, logo, label design, and filming a commercial!

Competition is a part of the free enterprise system, and it is a part of Advertising and Marketing Kid Style! Prizes are awarded at the end of the day to the teams with the best tasting drink, best name, best slogan/logo, best label design, and best commercial.

Although this program is written on an upper elementary grade level, they can present this challenging and fun program to students in several grade levels although students must be at least in the 3rd grade. The cost is $10.00 per student, with a maximum of 30 students. The fee includes admission to the Museum, FEI workbook, soft drink supplies, and a sample-size fountain treat.

The Institution employs a staff of museum professionals and educators and has an operating budget of over $900,000 that it derives from contributions, memberships, admissions, and the sale of merchandise through its for profit subsidiary, DP Museum Enterprises.

Last November the Museum opened a new exhibit dedicated to everything associated with Dr Pepper that has wheels! From tiny collectibles and trains, to pedal cars, go-karts and NASCAR, the exhibit has hands-on interactives and a program dedicated to the mechanics and physics of the wheel.

Dr. Pepper is a "native Texan," originating at Morrison's Old Corner Drug Store. It is the oldest - beginning in 1885 - of the major brand soft drinks in America. Like its flavor, the origin of Dr Pepper is out-of-the-ordinary.

Charles Alderton, a young pharmacist, educated in England, working at Morrison's store, spent most of his time mixing up medicine for the people of Waco, but in his spare time he liked to serve carbonated drinks at the soda fountain.

He had noticed that customers soon tired of drinking the same old fruit flavors.

Alderton liked the way the drug store smelled, with all of the fruit syrup flavor smells mixing together in the air. He decided to create a drink that tasted like that aroma.

After numerous experiments he finally hit upon a mixture of 23 fruit syrups that had an absolutely wonderful flavor but whose individual components could not be determined by taste.

To test his new drink, he first offered it to store owner Morrison, who also found it to his liking. Alderton began offering his new drink to some of the fountain customers. A hit from the first sip, the word was out and soon customers began ordering it by asking him to shoot them a "Waco."

Morrison is credited with naming the drink. According to the Dr. Pepper corporation "Wade Morrison, the drug store owner, named it "Dr. Pepper" after Dr. Charles Pepper, a Virginia doctor who had given Morrison his first job." Pepper, an 1855 graduate of the University of Virginia Medical School, practiced medicine at his pharmacy in Rural Retreat, Virginia in the late 1800s.

The pesky period, which caused confusion in reading the label, was dropped in the 1950s.

Dr Pepper became so popular that other soda fountain operators in Waco began buying the syrup from Morrison and serving it. As demand surpassed supply a problem developed for Alderton and Morrison.

Robert S. Lazenby, a young beverage chemist, had also tasted the new drink and he, too, was impressed. Alderton, the inventor, was primarily interested in pharmacy work and no interest in developing a beverage. He suggested that Morrison and Lazenby develop it further.

In 1891 Morrison and Lazenby formed the Artesian Mfg. & Bottling Company, which later became Dr Pepper Company. Lazenby and his son-in-law, J.B. O'Hara moved the company from Waco to Dallas in 1923.

In 1904, Lazenby and O'Hara introduced Dr Pepper to almost 20 million people attending the 1904 World's Fair Exposition in St. Louis. That's the same exposition that launched hamburgers and frankfurters served on buns, and the ice cream cone was introduced.

From 1910 to 1914, Dr Pepper was identified with the slogan, "King of Beverages."



The Dr Pepper Buddy Holly cruiser poster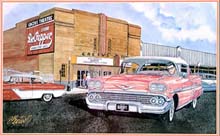 "Old Doc," a typical country doctor character with monocle and top hat, became the Dr Pepper trademark character in the 1920s and 1930s. During that era, research was discovered proving that sugar provided energy and that the average person experiences a letdown during the normal day at 10:30 a.m., 2:30 p.m. and 4:30 p.m. A contest was held for the creation of an ad using this new information. The winner of the ad campaign came up with the famous advertising slogan, "Drink a bite to eat at 10, 2, and 4."

Dr Pepper's slogan in the 1950s was "the friendly Pepper-Upper," which led the brand into the 1960s when it became associated with rock and roll music and on Dick Clark's American Bandstand TV show.

With changing times came changing slogans. To broaden its appeal across the nation, Dr Pepper hailed itself as "the most misunderstood soft drink," and then in the 1970s became "the most original soft drink ever in the whole wide world." In 1977, Dr Pepper advertising was marked by the famous "Be a Pepper" campaign, and today Dr Pepper's slogan is "Be You."

A special edition Dr Pepper can was created to show support for the patriotic fervor since the tragic events of Sept. 11, 2001, and "to show the world that we are a united nation of people who place a high value upon freedom," stated the corporation.



Dr Pepper World War II poster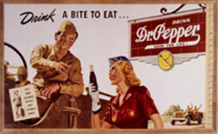 Limited edition Dr. Pepper November, 2001 to February, 2002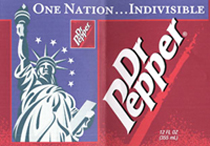 The can, released in November 2001, featured an image of the Statue of Liberty along with the words "One Nation … Indivisible." According to the corporation, "The special packaging was designed to reflect our pride in this country's determination to stand together as one. The Statue of Liberty and Pledge of Allegiance were chosen as two of the greatest symbols of American freedom. Only three words were used from the Pledge of Allegiance. Those three words were in concert with the patriotic mood of the nation." "More than 41 million special edition cans were ordered by Dr Pepper bottlers in portions of a dozen states. The limited edition patriotic was retired in February 2002 and will not be used again."

The Dr Pepper Museum and Free Enterprise Institute, a private non-profit organization which opened to the public in May of 1991, attracting over 65,000 visitors each year is open seven days a week.



Broadway To Vegas is supported through advertising and donations. Priority consideration is given to interview suggestions, news, press releases, etc from paid supporters. However, no paid supporters control, alter, edit, or in any way manipulate the content of this site. Your donation is appreciated. We accept PAYPAL. Thank you for your interest.


SWEET CHARITY


THE KIRI TE KANAWA FOUNDATION INAUGURAL DINNER

Dame Kiri Te Kanawa

at Marlborough House in London on March 31st will be attended by Princess Anne.

Kiri Te Kanawa has long been a favorite of the Royal Family. The soprano In 1981, the soprano was chosen to sing Let the Bright Seraphim at St. Paul's cathedral at the marriage of Prince Charles to the Lady Diana Spencer.

The following year she was created a Dame of the British Empire by HM Queen Elizabeth II. She also performed at Her Majesty's Golden Jubilee celebration.

WICKED starring Kristin Chenoweth, Idina Menzel and the incredible company of Wicked will give their Actors' Fund Special Performance on Sunday, March 28th at The Gershwin Theatre. Tickets are $100, $75 and $50.

MORE MARATHON sponsored by More magazine and NY Road Runners is the first ever marathon for woman over 40. Mary Steenburgen currently starring on the television hit Joan of Arcadia will be in New York's Central Park March 21 to help step off the run.

MICHAEL FEINSTEIN AND JIMMY WEBB perform March 27 at the Manhattan Center as a fundraiser for the Community School.

FRASIER GOES WILDE

Moose aka Eddie on Frasier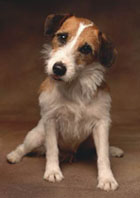 was a successful one night only event last week to benefit the Center Theatre Group - home of the Mark Taper Forum, the Ahmanson Theatre at the Music Center and the new Kirk Douglas Theatre in Culver City. It was Moose aka Eddie who sent out the announcements.

"You may know me as Eddie, the star of the television show Frasier - the talented one - the one you tune in for - the only one who walks on four legs and still has his tail. I'm writing to let you know that the Center Theatre Group is doing a benefit reading of The Importance of Being Earnest starring, well, you guessed it, me!" "And, just as Kelsey Grammer, John Mahoney, Peri Gilpin, Jane Leeves and David Hyde Pierce handle the smaller, less important roles on my weekly television show (they really are the wind beneath my wings), they will be also performing with me during this One Night Only benefit. We are calling the event Frasier Goes Wilde. (The CTG staff wanted to call it At Long Last Moose, but in deference to the rest of the cast, I felt that Frasier Goes Wilde was the better title.)"

"The event will feature Kelsey Grammer as Jack, Peri Gilpin as Gwendolen, Jane Leeves as Cecily, David Hyde Pierce as Algernon and John Mahoney as Lady Bracknell. I will star as Lady Bracknell's canine companion. I haven't decided whether to play it as a Dachshund or a Poodle, and of course the whole accent thing is up in the air."

"At any rate, as I mentioned before, this is a One-Time Only event. It will most likely be the last time that I will tread the boards (my movie career is really taking off) and possibly, the last time the cast of Frasier will perform together live."

Proceeds from the event are earmarked for Center Theatre Group's new play development programs.


OTHER PEOPLE'S MONEY


THE PURPLE ROSE THEATER COMPANY Jeff Daniels, Executive Director of the Chelsea, Michigan theater, is overjoyed to announce that "on March 30th, we are burning our mortgage. That's right! Our new state-of-the-art building has been completely paid off!"


SPREADING THE WORD


ANNE CARSON'S TRANSLATION OF EURIPIDES' HEKABE (HECUBA)

Anne Carson. Photo by Allen McInnis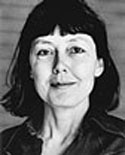 the World Premiere of this new work created expressly for the 92nd Street Y Poets' Theatre with original music by Robert Black and Paul Guerguerian.

The cast includes Kathryn Walker, David Strathairn, Kate Burton, Mary Beth Hurt, James Gale, Larry Pine, Maduka Steady, and Maeve Kinkead. Anne Carson introduces the evening. This performance is presented in association with Diane Wondisford of Music-Theatre Group.

Anne Carson is a Canadian poet and classicist who became the first woman to win the T.S. Eliot Prize for Poetry in 2002. Though her subject matter is about as far from pop-culture as it gets, Carson's poems and translations have a cult following and have been widely embraced.

This 92nd Street Y Poet's Theatre production will be a staged reading. There will be movement, costumes, and an original score. The actors will have script in hand. Kathryn Walker takes the title role; Kate Burton plays Hekabe's surviving daughter, Polyxena; David Strathairn plays Talthybios, the messenger; James Gale plays Polymestor, the local Thracian king; Maduka Steady plays the ghost of Hekabe's son, Polydoros; Larry Pine plays Oydsseus; Maeve Kinkead plays the servant of Hekabe; Mary Beth Hurt plays the Chorus of Trojan Women. Monday, March 29, Kaufman Hall in Manhattan.



BARBARA COOK'S BROADWAY

Barbara Cook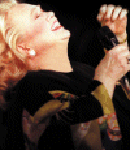 performing in New York's Beaumont Theatre.

The incredible performer will astound and delight audiences - taking those lucky enough to see her shows on a tour of the Golden Years of Broadway musicals.

Joined on stage by longtime musical director Wally Harper with Richard Sarpola performing on bass. Official opening night for the show is set for March 28, and the concerts will run through April 18. A don't miss event.

THE SWEETEST SWING IN BASEBALL by Rebecca Gilman.

Dana was the toast of the art world - a hot property. After her latest exhibition bombs, she is admitted to a psychiatric hospital. It might be the safest place for her but her insurance will only pay for ten days. As unlikely friendships and strange alliances develop, Dana draws on the inspiration of American baseball star Darryl Strawberry - he had the sweetest swing.

Rebecca Gilman previous plays for London's Royal Court Theatre are Boy Gets Girl, Spinning Into Butter and The Glory of Living - winner of the 1999 George Devine and Evening Standard Awards for Most Promising Playwright.

Directed by Ian Rickson the cast includes; Gillian Anderson, Nancy Crane, Demetri Goritsas, Kate Harper, John Sharian.

Design: Hildegard Bechtler.

March 25 through May 15 with a post show talk taking place on April 27.

Sign-interpreted performance on April 13 signed by Mary Connell. Audio described performance on May 1st. The Royal Court's Jerwood Theatre in London.

FANNY part of The York Theatre Company's presentation in its Musicals in Mufti, Spring 2004 series of "musical theatre gems in staged concert performances."

"Mufti" means "in street clothes, without the usual trappings"

Directed by Michael Montel. Music Direction by Kevin Wallace.

Arguably Harold Rome's masterpiece, certainly his most lush and romantic score, this musicalization of Pagnol's Marius trilogy was the first musical produced by the legendary David Merrick.

It starred Ezio Pinza and Walter Slezak, and introduced audiences to Florence Henderson in the title role.

S.N. Behrman & Joshua Logan's incisive and funny book cleverly highlight the gems in Rome's score to tell a moving and warm story of romance in Marseilles.

March 26, 27, 28 at the York Theater Company Theatre at St. Peter's in NYC.

NEW ZEALAND INTERNATIONAL ARTS FESTIVAL the country's most extensive and celebrated multi-arts event opened February 27 and closes tonight, March 21. The festival was highlighted by The Earl of Wessex - better known as Prince Edward - attending a performance of The Prophet at the Downstage Theatre, Cambridge Terrace in Wellington, New Zealand.

Audiences wondering about the heavy police presence at Downstage Theatre had their questions answered when Prince Edward entered the auditorium. Sitting between writer Hone Kouka and director Nina Nawalowalo, the Prince seemed to greatly enjoy The Prophet, laughing loudly several times during the production.

This new play, by internationally acclaimed playwright Kouka, is the third in a trilogy of plays beginning with Waiora and Home Fires.

Five teenage cousins have returned to their 'home' on the East Coast for another cousin's unveiling (cemetery headstone ceremony). Over the three days there, they deal with the new roles they must accept as adults. Against the backdrop of basketball, cool urban sounds and the beautiful East Coast of the north island of New Zealand, The Prophet has been called "moving, funny and definitely unforgettable."

THE COLOR PURPLE the Broadway bound musical will have it's world premiere at The Alliance Theatre in Atlanta, Georgia as part of their 04-05 Season.

Book by the Pulitzer Prize-winning playwright Marsha Norman. Music and Lyrics by Brenda Russell, Allee Willis and Stephen Bray. Based on the novel by Alice Walker. Directed by Gary Griffin. A soul-stirring version of Alice Walker's Pulitzer Prize-winning novel. The Color Purple is a family saga of hope, inspiration and triumph as Walker's diverse and unforgettable characters come vividly to life on stage, while blending dance with the sounds and rhythms of blues, gospel, jazz, swing, rural roots and African music. This acclaimed, sweeping epic -- which Ms. Walker has called a universal story with music in its soul -- sings with emotion, wit and love of life. World Premiere September 9 – October 17.

LIMONADE TOUS LES JOURS by Charles L. Mee. Tony Award-winner Zoe Caldwell directs a cast headed by Alan Alda. The romantic comedy opens Bay Street's 2004 Target Mainstage Season on May 25th. The production will play through June 6 at Sag Harbor's acclaimed Bay Street Theatre which has Co-Artistic Directors of Sybil Christopher and Emma Walton. Sag Harbor, Long Island, New York.

MRS. ROBINSON starring Kelly McGillis at the Shubert Theatre in New Haven, CT March 23-28.

DAISY IN THE DREAMTIME by Lynne Kaufman. Enter a spirit world beyond time and place. In 1913, Daisy Bates abandoned the comforts of civilization, pitched a tent in the Australian outback and lived with the Aborigines for 30 years. She became the first white woman to enter the magic of the "Dreamtime". A true story. Live didgeridoo music! starring: Jay Bell, Eve Brenner, Lance Guest, Anthony J. Haney, Lisa Pelikan, Suanne Spoke, and Andjru Werderitsch on the didjeridu. Directed by Simon Levy. Performances through April 25 at the Fountain Theatre in Los Angeles.


| | | |
| --- | --- | --- |
| | | |
WHO'S WHERE


MUSIC DIRECTOR MICHAEL TILSON THOMAS AND THE SAN FRANCISCO SYMPHONY have embarked on a ten-concert, seven-city U.S. tour. The concert programs will feature composers with whom Michael Tilson Thomas and the SFS are strongly identified, including John Adams and Gustav Mahler, and include the East Coast Premieres of two SFS commissions. American violinist Gil Shaham joins the orchestra for four concerts during the tour, performing Alban Berg's Violin Concerto.

The tour began with two concerts in Kansas City and Champaign-Urbana, and then shifted to the orchestra's debut in Cleveland, Ohio for a special three concert mini-residency in Severance Hall which ended last night, March 20. The Cleveland concerts are part of a unique orchestra exchange program between the SFS and the renowned Cleveland Orchestra, which will perform three concerts with Franz Welser-Möst in San Francisco next season. The concerts marked the first time since the 1920-21 season that a visiting orchestra performed on The Cleveland Orchestra's subscription series.

The SFS heads to the East Coast for performances in Boston tomorrow, March 22, and two concerts in New York's Carnegie Hall, March 23 & 25. The SFS makes its Philadelphia debut in the new Kimmel Center, March 24, and ends the 2004 U.S. Tour in Newark, New Jersey, March 26.
Tour repertoire includes the East Coast premieres of two SFS commissions, John Adams's My Father Knew Charles Ives and Robin Holloway's orchestration of Debussy's En blanc et noir.

ELTON JOHN returns to the Colosseum at Caesars Palace in Las Vegas on March 23 for performances through April 4.

LARRY GATLIN entertaining Saturday at the Kuss Auditorium @ Clark St. College in Springfield, Ohio, On Sunday, March 28 he can be enjoyed at College of Lake County in Grayslake, Ill.

STING doing turn away business Monday at the Place des Arts in Montreal. On Tuesday he's at the Corel Centre in Ottawa.

JIM BRICKMAN on stage Thursday at the Lyric Theatre in Stuart, Florida. On Thursday the performance takes place at the Newberry Opera House in Newberry, S.C.

BOBBY VINTON who recently became ill while on stage performing shrugged off whatever was bothering him and isn't letting any bug slow him down. He's in the spotlight tonight at Resorts International in Atlantic City. On Tuesday he's on stage at Charlotte Auditorium in Port Charles, Florida and on Saturday the show is at the Macomb Center in Clinton Township, Michigan.

BOB NEWHART getting laughs Saturday, March 27 at the Performing Arts Center in San Luis Obispo, CA.

PAULA POUNDSTONE telling funny stories Friday, March 26 at Centre East in Skokie, Ill.

ITZHAK PERLMAN plays and conducts in a program featuring the Perlman Music Program Ensembles on March 28 at Carnegie Hall in NYC.

THE TWO CANTORS sounds like a farce on The Three Tenors only it's legit. Cantors Alberto Mizrahi and Daniel Friedman - who happen to be tenors - perform March 28th in concert at the Orleans Showroom in Las Vegas.

Greek-born tenor Alberto Mizrahi, called "the Jewish Pavarotti" made his New York Philharmonic and Jerusalem Symphony debuts in 1995. He was part of the performances of Dave Brubeck's Gates of Justice in Chicago, Des Moines, Connecticut and, in March 1995, in the chapel of Princeton University, with the Brubeck Quartet and the combined choirs of Harvard, Yale, and Princeton. He sang the tenor solo in the world premiere of Samuel Adler's The Challenge of the Muse, with the Juilliard Symphony Orchestra at Avery Fisher Hall in 2003

Cantor Daniel Friedman came to Las Vegas Temple Beth Sholom after a career on Broadway. Friedman began his theatrical career playing Jesus in the high school production of Godspell. With a college degree in theater he then went to New York, auditioned for Les Miserables and was in their first national tour. He toured in Cats and starred in Forever Plaid both off-Broadway and in the production, which enjoyed a long run, at the Flamingo in Las Vegas. While starring as Sparky in Forever Plaid in Sin City he volunteered his services as Cantor of Temple Beth Sholom, left the stage to enter the seminary, then officially returned to Beth Sholom. Last year he married Steve Wynn's daughter.

The Two Cantors program will run the gamut from operatic arias, to traditional Jewish songs and popular music.

MELISSA MANCHESTER AND PAUL WILLIAMS in their Songs and Stories Tour today, March 21, at the Mccomb Center in Clinton Township, MI. On Wednesday the duo are at the Wharton Center in East Lansing, Michigan. Friday finds them at SUNY in Purchase, New York. Saturday they are on stage at the State Theatre in New Brunswick, N.J.

JOSH GROBAN the multiplatinum-selling artist in his completely sold-out 40-date world tour is center stage Friday at the Tower Theatre in Upper Darby, PA. On Saturday he'll give a great performance at the DAR Constitutional Hall in Washington, D.C.

ROD STEWART with a mix of rock and romance Tuesday at the Staples Center in Los Angeles and on Saturday at the Glendale Arena in Glendale, Arizona.

MICHAEL BUBLE performing tonight at the Aladdin Theater in Portland, Oregon. On Thursday he can be enjoyed at the Belly Up Tavern in Solana Beach, California. Friday finds the singer at The Fillmore in San Francisco. He closes out the week, Saturday, at the Wiltern in Los Angeles.

STING performs Monday, March 22 at the Place des Arts in Montreal and on Tuesday at the Corel Centre in Ottawa.

YANNI is taking Tuesday off. Other than that it's a week full of one nighters. Tonight, March 21 he's at the RBC Center in Raleigh, N.C. Monday finds him at the No. Charleston Coliseum in North Charleston, S.C. Wednesday he's on stage at the New Orleans Arena in New Orleans, LA. Thursday the show is at the Pensacola Civic Center in Pensacola, Florida. Friday he's in the spotlight at the Leon County Civic Center in Tallahassee, Florida and he closes out the week, Saturday, at the Lakeland Center in Lakeland, Florida.

TONY BENNETT will be delighting the crowd Thursday, March 25 at the Soaring Eagle Casino in Mount Pleasant, MI.

JEFF FOXWORTHY explaining the Red Neck Philosophy Saturday at the Orpheum Theatre in Minneapolis and on Sunday at the Sovereign Center for the Performing Arts in Reading, PA.

BEACH BOYS giving off some good vibrations Friday March 26 at Turning Stone Casino in Verona, New York.

MANHATTAN TRANSFER performing March 26 at the Goldstrike Casino in Tunica, Mississippi.

SATURDAY NIGHT LIVE STARS featuring Kevin Nealon, Joe Piscopo & Victoria Jackson. Catch some SNL stars of seasons past in a night of blockbuster comedy. Victoria Jackson brings her handstand poetry and plays ukulele ditties. Kevin Nealon, a popular Weekend Update anchorman, will "pump, you up" like Hanz and Franz from the stage. Joe Piscopo, famous for his Frank Sinatra portrayals and a wide range of celebrity impersonations, will razzle dazzle. March 27 at Ruth Echerd Hall in Clearwater, Florida.
















Next Column: March 28, 2004
Copyright: March 21, 2004. All Rights Reserved. Reviews, Interviews, Commentary, Photographs or Graphics from any Broadway To Vegas (TM) columns may not be published, broadcast, rewritten, utilized as leads, or used in any manner without permission, compensation/credit.
Link to Main Page
---
Laura Deni


CLICK HERE FOR COMMENT SECTION