! >
Broadway To Vegas
  
  REVIEWS INTERVIEWS COMMENTARY NEWS

| | |
| --- | --- |
| | |
SWEET CHARITY LONDON CAST ALBUM CD REVIEW - - ROGER DALTREY AND PETE TOWNSHEND OPEN TEEN CANCER CENTERS - - RAIN WORLD PREMIERE - - SOPHIA LOREN ON TOUR - - VEGAS ILLUSIONIST ARRESTED ON CHILD PORN CHARGES - - COCKTAIL SHAKERS AND MARTINI GLASSES: THE HISTORY OF BARWARE - - RUSSIA AND THE ARTS - - MUSIC! ECHOES FROM THE PAST OF A CITY - - DONATE . . . Scroll Down






Copyright: March 20, 2016
By: Laura Deni
CLICK HERE FOR COMMENT SECTION


SWEET CHARITY IS A LISTENING CONFECTION


Sweet Charity is a timeless, fun musical. The 1967 London cast recording starring Juliet Prowse has been released by Masterworks Broadway.

The production's West End launching pad was Caesars Palace in Las Vegas. It opened December 29, 1966 and for the first six months of 1967 Caesars Palace was where Juliet Prowse could be found starring in Sweet Charity. Also in the Vegas stand as Brothe Ben was Ben Vereen who didn't accompany the show to London.

Eventually Sweet Charity enjoyed a two year run in Sin City. See Broadway To Vegas column of December 12, 1999

Las Vegas has always had a cordial relationship with Broadway, but during that decade Caesars Palace and other hotels were Broadway suburbs. At Caesars, Tony Randall and Mickey Rooney starred in The Odd Couple, August 24-September 13, 1968 while Theo Bikel toplined Fiddler On The Roof, December 28-June 26, 1968. Susan Hayward had the title role in Mame from December 16, 1968-February 19, 1969 with Celeste Holm taking over the role February 20-April 2, 1969. Later Smokey Joe's Cafe would feature Gladys Knight and 42nd Street would hold court.

Prowse also starred as Mame at the then International Hotel. Match books were passed out with the promo: "Juliet Prowse breathes fire into Mame - so sexy you'll never recognize the new Mame."

In that era men wore tuxedos into showroom to accompany the lady on their arm who was dressed in a floor length gown. Vegas loved glamour and sophistication. Women especially wanted elaborate musicals. Their men obliged. Hotel big wigs bet the gamblers would approve while the production would also bring in more visitors who couldn't see that type of show in their neighborhood.

Vegas also loved Prowse. She had both beauty and talent. Men who generally preferred insult comedians queued up to see her 39-inch long legs - and left drooling - over her talent.

Some legitimate stage performers weren't all that comfortable with Vegas showroom audiences, because of eating and drinking distractions. Prowse could focus in the middle of a brawl. She came on stage and mesmerized the crowd.

It made sense to run the show in Vegas before taking it across the pond.

Sweet Charity was already a polished gem during its sold out Caesars' run. The gambling and drinking crowd adored the show. From Sin City the production transferred to London. Due to international work restrictions only Prowse and Paula Kelly made the trip. The musical opened at London's Prince of Wales Theatre on October 11, 1967 going on to win the 1967 London Evening Standard Award for Best musical.

Charity Hope Valentine is a taxi dancer at a dance hall. With a shoulder bag and a heart tattooed on her left arm, Charity has only experienced the dark side of life through bad relationships. The other rent-a-body dancers encourage her to get more street smarts, while continuing to ply their trade, looking for another "Big Spender" to spend a little time with on the dance hall floor.

Desperate for love and security Charity is victimized by a series of men. Eventually, the always optimistic Charity finds the courage to believe in herself.



Juliet Prowse, Paula Kelly and Josephine Blake in the London production.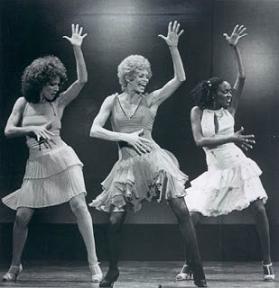 The CD is a listening pleasure. Brilliant sound. With pity lyrics by the late Dorothy Fields and music by the illustrious Cy Coleman, the cherry on the sundae is Juliet Prose. The CD also features Josephine Blake, Paula Kelly, John Keston, Rod McLennan, Fred Evans, Roger Finch, Ken Walsh, Laurie Webb and Ross Macpherson.

There are some subtle changes from the Broadway mounting which starred Gwen Verdon, or the film version which has Shirley MacLaine in the title role. Although this CD is captured from the West End show, it's delivered in a 'New York minute' tempo. The acceleration was to accommodate strict Las Vegas show limits. Back in those days performers couldn't exceed the time contraints. Go one minute over and the act would be given a signal to stop. Continue and the bosses would have the curtain dropped. It didn't matter if it came down during the middle of a joke or song. The casino bosses wanted the customers back out into the casino, not seated in a showroom.

There are also two songs cut from the Broadway version - Charity's Soliloquy and I'm the Bravest Individual.

Just as the transfer of the British musical Matilda to Broadway resulted in the altering of a few phrases to more Americanized words, Sweet Charity substituted a handful of names to those fitting the London scene. The minimalistic changes, be they in tempo or expressions, will only be noticed by the most ardent of Sweet Charity historians.

The release of this CD comes as the 20th anniversary of the death of Juliet Prowse from pancreatic cancer approaches on September 14, 1996. She was 59.

Prowse was devoted and dedicated to her career. There was also a part of her which had a touch of Charity - a longing for love and a stable home life. Her appearance in Charity followed her well publicized, stressful, short engagement to Frank Sinatra and preceded her two marriages, each ending in divorce.

A personal high point in her life was her son Seth from her second marriage to soap opera star John McCook.

One of her last appearances was in Las Vegas starring at the Desert Inn Hotel opposite Mickey Rooney in Sugar Babies.

This Sweet Charity CD permits Prowse to show off something besides those legs - her voice.

She may have drawn on her personal vulnerability as her lyric delivery is impressive.

The music reflects Charity's mood from manic romantic highs in I'm a Brass Band and If My Friends Could See Me Know, to depressive heartbreak. Prowse shows pain, desperation and despair in her rendition of Where Am I Going?

Orchestra numbers such as Rich Man's Frug and the Overture are dance hall floozy with a sequined glitter.

The other stars on this CD also sparkle. Josephine Blake and Paula Kelly, who would reprise their roles in the 1969 film version, are nothing short of terrific. Their rendition of Baby Dream Your Dream tugs at your hearts strings.

Orchestrations by Ralph Burns. Music direction by Alyn Ainsworth. Recording produced by Norman Newell. Recording Engineer Malcolm Addey. Original album on Columbia was released in 1967.






Broadway To Vegas is supported through advertising and donations. Priority consideration is given to interview suggestions, news, press releases, etc from paid supporters. However, no paid supporters control, alter, edit, or in any way manipulate the content of this site. Your donation is appreciated. We accept PAYPAL. Thank you for your interest.




ART AND ABOUT


MUSIC! ECHOES FROM THE PAST OF A CITY

Music exhibit in Helsinki, Finland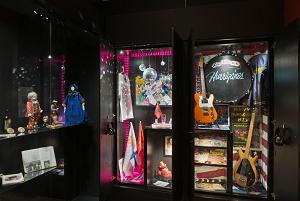 a new kind of a story of musical history with music lovers, listeners and enthusiasts in the main role.

The Music! exhibition provides glimpses of the diversity of music in Helsinki, Finland before and now. The entertaining trip from music's yesterday to the present day brings up lots of experiences related to music, stirring up memories and emotions in many visitors - such as songs from school, instrument lessons, Christmas hymns, park concerts, walkmans or band T-shirts.

The colorful and visually enchanting, surprising exhibition allows you to enjoy music ranging from the sounds echoing from the arched ceilings of a chapel and the silvery sounds of salon music to the booming beats of a basement band. You can test your taste in music, feel the nerves of taking a common school singing test and learn a minuet. Eurovision Song Contest and Hurriganes collectors have decorated their own fan treasure cabinets.

The imaginative visualization of the Music! exhibition is a series of surprises in which each room is a world of its own. The items presented in the vitrines range from a square piano to a solid body guitar, from functionalism style radios to 70s music store plastic bags, from a Charleston dress to the graffiti-covered door of the Lepakko youth culture building.

The glorious hall of the Hakasalmi Villa, once Aurora Karamzin's salon, acts as a concert hall during the Music! exhibition. There will be a matinee concert in the hall every Sunday. Also several evening concerts will be arranged in the villa.

On display through January 8, 2017 at the Hakasalmi Villa which is part of the Helsinki City Museum in Helsinki, Finland.

COCKTAIL SHAKERS AND MARTINI GLASSES: THE HISTORY OF BARWARE Jutta Page, the Toledo Museum of Art's senior curator of glass and decorative arts, along with Toledo mixologist Jim Moore, will examine the history of barware and the multitude of functional glass objects used in the creation and serving of the perfect cocktail.

The event is free and includes a cash bar with cocktails, mixed drink classics, and small bites.

The talk is inspired by A Spring Fling with Pink Martini, featuring China Forbes, presented by the Toledo Symphony Orchestra, which begins at 8 p.m. in the Peristyle.

March 24 in the GlasSalon at the Toledo Museum of Art in Toledo, Ohio.

RUSSIA AND THE ARTS

Baroness Varvara Ikskul von Hildendandt by Ilia Repin, 1889. State Tretyakov Gallery.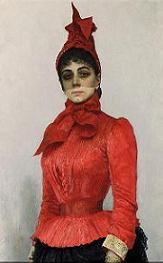 is a once-in-a-lifetime opportunity to see masterpieces on loan from the State Tretyakov Gallery in Moscow.

The exhibition's focus is on the great writers, artists, composers and patrons, including Tolstoy, Chekhov and Dostoevsky, whose achievements helped develop an extraordinary and rich cultural scene in Russia between 1867 and 1914.

The exhibition will also show how Russian art of the period was developing a new self-confidence, with the penetrating Realism of the 1870s and 1880s later complemented by the brighter hues of Russian Impressionism and the bold, faceted forms of Symbolist painting.

In the portrait shown here, the artist is Ilia Repin who was the most renowned Russian artist of the 19th century, when his position in the world of art was comparable to that of Leo Tolstoy in literature.

He played a major role in bringing Russian art into the mainstream of European culture.

Russia and the Arts opened on March 17 and is on display through June 26, 2016 at the National Portrait Gallery in London.





SWEET CHARITY


ROGER DALTREY AND PETE TOWNSHEND of The Who joined together to form Who Cares Teen Cancer America, have donated $1 million to Memorial Sloan Kettering Cancer Center in New York City to open The Lounge, an 800-foot facility that caters to teenagers and young adults.

Daltrey was present for the facility's grand opening last Friday.

The Lounge features a snack bar, comfy chairs and couches along with a dry erase graffiti wall. It is stocked with board games, books, video games and a state-of-the-art television and sound system. Young patients can hang out in The Lounge for movie nights, video game tournaments and art projects.

Operating under the glow of any personal spotlight, Daltrey and Townshend have opened 30 such lounges in UK hospitals. This is the 10th Lounge in America.

A fund was established and administrated by UCLA to cover expenses of the launch of Teen Cancer America. The first unit was opened in the Ronald Reagan UCLA Medical Center in November 2012.

Roger Daltrey has been a patron of Teenage Cancer Trust for over 10 years and, with Pete Townshend at his side giving his full support, has helped raise millions for the charity.

One dollar from every ticket sold on The Who's current North American Tour is being donated to Teen Cancer America.

They perform Monday, March 21 at the BMO Harris Bradley Center in Milwaukee. On March 24 they are at the Verizon Center in Washington, DC. On March 26 the show is at the Scottrade Center in St. Louis, MO. On Tuesday, March 29 they are in the spotlight at the Pepsi Center in Denver and on Tuesday, April 4, they perform at the Air Canada Centre in Toronto, ON.


VEGAS ILLUSIONIST ARRESTED FOR CHILD PORN
Rouven's show at the Tropicana has been cancelled after he was arrested on felony child pornography.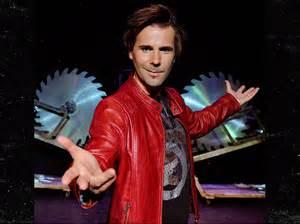 Award winning illusionist Jan Rouven who headlined the New Illusions show at the Tropicana Hotel in Las Vegas was arrested by FBI agents on a felony child pornography charge.

German born Jan Rouven Fuechtener, 38, pleaded not guilty March 16, 2016 in U.S. District Court to one charge of receipt or distribution of child pornography, and was ordered jailed by U.S. Magistrate Judge Peggy Leen pending trial as a danger to the community and a flight risk. Rouven residents in America on a Green Card.

Leen stated graphic images of child pornography involving "very young children" were discovered at his Las Vegas home during a court-approved FBI search.

Trying to make the allegations vanish is Rouven's lawyer, Jess Marchese, who denied the allegations in court.

According to the criminal complaint, which was filed under seal on Monday, March 14, 2016 the investigation of Rouven began in August when a Buffalo, New York undercover FBI agent, cracked an Internet file-sharing network trafficking in child pornography.

A criminal complaint says the FBI traced a computer user named "Lars45" to Fuechtner. In January, FBI agents seized two computers and an external hard drive from Rouven's home. An analysis of the hard drive found 3,235 videos and 105 images depicting child pornography, the complaint put forth.

At least 250 videos were of children as young as three and four years of age, including videos of young boys engaging in sex with men, the complaint alleges.

Tropicana officials immediately staged their own disappearing act, cancelling the show New Illusions, removing all promotional material and legally severing all ties with Rouven.

The serious charges outweighed collateral damage of seven full time and five part-time show employees being put in the unemployment line.

On May 2 Rouven took part in the annual Nevada Reading Week program, posting on Twitter that he had read The Bunny and the Magician and talked about Europe to students at Mendoza elementary school.

Negative feedback erupted since the ages of the students approximated some of those discovered on the videos.

As a magician, his peers have presented him with their most prestigious awards including: the Merlin Award for Illusionist of the Year in 2014 by the New York-based International Magicians Society.; Magician of the Year following David Copperfield and Siegfried & Roy, the Audience Award Monte Carlo Magic Stars, presented by Princess Stephanie of Monaco



SPREADING THE WORD


SOME ENDANGERED LIONS

Queen Elizabeth II accompanied by Prince Philip, Duke of Edinburgh officially opens the Land of the Lions enclosure at London Zoo on March 17, 2016 in London, England. Prince Philip looks on as his wife is presented with a photograph taken of her when she visited the zoo in 1976, when she also open a Lion Terrace. At that visit she would have seem the current two lionesses' grandmother, Ruchi. Photo: Pool PA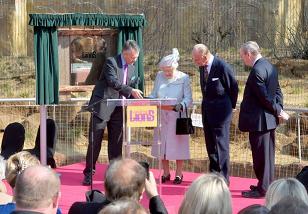 have a new home. On Thursday, March 17, 2016 Queen Elizabeth and Prince Philip helped commemorate the opening of the new Land of the Lions enclosure at the ZSL London Zoo, which will initially house four endangered Asiatic lions in the elaborate breeding center.

The first inhabitants are three females; Rubi, six, and twins Heidi and Indi, five, and the only male, Bhanu. The zoo is expecting two more lions from Sakkarbaug zoo in Gujarat, India, to arrive in the near future.

Costing $7.5 million to develop the enclosure which covers almost 27,000 sq ft and has been inspired by Gujarat in India, with rickshaws, bicycles, sacks of spices and a life-size truck dotted both inside and out of the lion's space.

The Land of the Lions enclosure will officially open to the public on March 25, and is promised to play a "vital role" in the European breeding program for the endangered species, of which only 500 remain in the wild.

THE ACADEMY OF MOTION PICTURE ARTS AND SCIENCES in an effort to diversify its leadership has appointed three new governors: African American director Reginald Hudlin, Latino writer Gregory Nava and Asian American animator Jennifer Yuh Nelson.

Other changes announced by Academy president Cheryl Boone Isaacs included restricting Oscar voting rights to only those active in the movie business.

The academy also released a statement stating it "regrets that any aspect of the Oscar telecast was offensive" referring to complaints regarding a skit during the Academy Awards telecast that was criticized by the Asian community.

CITIZEN: AN AMERICAN LYRIC adapted for the stage from Claudia Rankine's award-winning book of poetry by Rankine and Fountain Theatre co-artistic director Stephen Sachs, will headline Primary Stages' 2016-17 season at off-Broadway's Cherry Lane Theatre in New York City. Citizen premiered at the Fountain Theatre in Hollywood last summer to critical acclaim.

"We are thrilled that yet another Fountain project has succeeded in moving onward and upward," says Sachs. "In 2007, our world premiere production of Athol Fugard's Exits and Entrances was presented off-Broadway by Primary Stages, so this continues our relationship with them. Claudia and I are working together on a new draft for the New York premiere."

An intensely provocative and unapologetic rumination on racial aggression in America, Rankine's Citizen: An American Lyric has been heralded as one of the best books of the past decade and received the National Book Critics Circle Award for poetry. In this new stage adaptation by Rankine and Sachs, seemingly everyday acts of racism are scrutinized as part of an uncompromising testimony of "living while Black" in America.

Other plays written by Sachs that were created and launched at the Fountain's intimate venue include Bakersfield Mist, now produced worldwide including London's West End starring Kathleen Turner; Heart Song, produced at Florida Repertory Theatre; Miss Julie: Freedom Summer (adapted from August Strindberg's Miss Julie) at Canadian Stage Company in Toronto; and Sweet Nothing in My Ear which has been produced nationwide and was adapted into a TV movie starring Jeff Daniels and Marlee Matlin.

JUDD HIRSCH a two-time Tony winner for I'm Not Rappaport and Conversations with My Father, has been cast as Leonard Hofstadter's (Johnny Galecki) father on an upcoming episode of the hit series Big Bang Theory.

Christine Baransk, also a Tony award winner, plays Leonard's mother.

SOPHIA LOREN is on a speaking and Q&A tour appearing Tuesday, March 22 at the Center for the Performing Arts in Carmel, Indiana. On Thursday, March 24 he'll be talking about her life and career at the Copernicus Center in Chicago. Saturday, March 26, she'll be delighting the audience with her experiences at the Venetian Hotel in Las Vegas.

DUCHESS KATE known as Prince William's wife and mother to George and Charlotte, took part in taping a tribute to her grandmother-in-law, Queen Elizabeth II, celebrating her upcoming 90th birthday.

In that special the mother of two discloses that her son calls his great-grandmother Gan Gan.

When her husband William was George's age, like most children, he also had trouble pronouncing letters and called his grandmother Gary. As an adult he and his brother, Harry, call her Granny.

Our Queen at Ninety will air on ITV in the U.K. on Easter Sunday, March 27. The queen will celebrate her 90th birthday on April 21.






OTHER PEOPLE'S MONEY


THE SCHOOL OF AMERICAN BALLET'S 2016 Winter Ball which took place at the David H. Koch Theater in New York City on Monday, March 14, 2016 raised nearly $1.2 million for scholarships and school programs.

For this year's Winter Ball, designer Ron Wendt was inspired by the rich emerald greens of the Northern Lights. The sparkle of forest green sequin tablecloths added glamour to the evening while clouds of crisp white azaleas sprung from velvety moss in gold polished brass boxes with pillar candles. Fifteen-foot tall gold and silver mobiles were suspended above the dining area, evoking the aurora borealis in the gilded ceiling of the David Koch H. Theater.

The event was led by Chairmen Joyce C. Giuffra, Julia F. Koch, and Serena Lese; and Young Patron Chairmen Noreen K. Ahmad and Amanda Brotman Schetritt.

Famed French jeweler, Van Cleef & Arpels, again acted as the lead corporate sponsor for the gala. This long-standing partnership is a tribute to the friendship shared between SAB founder, George Balanchine, and one of the Van Cleef & Arpels founding brothers, Claude Arpels, who established the Maison in New York in 1939. Their shared passion for exceptional stones inspired a creative partnership that resulted in Balanchine's Jewels ballet and its sumptuous costumes.

TONY AWARD WINNING THE OLD GLOBE in San Diego, CA has received a significant $5 million gift from Dr. Andrew Viterbi, which will create The Erna Finci Viterbi Artistic Director Fund. This Fund, which supports the theatre's artistic and arts engagement programs, will name the Globe's artistic leadership position and confer on Barry Edelstein the honor of a new title: the Erna Finci Viterbi Artistic Director of The Old Globe. This visionary gift will help sustain the flagship San Diego institution during the next 10 years while also encouraging others to contribute to the Globe's long-term stability. Dr. Viterbi has designed this gift to be an inspiration to other philanthropists to join him in his support of the theatre.

"Erna and Andrew Viterbi have generously supported The Old Globe for more than two decades and in 2008 made a leadership gift of $2 million to permanently name the Viterbi Family Lobby of the in-the-round theatre. This spring, Dr. Andrew Viterbi created The Erna Finci Viterbi Artistic Director Fund in memory of his beloved wife, who passed away in 2015 and was a longtime supporter of the arts," according to the official statement.

THE NATIONAL MUSIC PUBLISHING ASSOCIATION has announced its successful brokering of a $30 settlement between Spotify and its constituents over unmatched and unpaid song royalties because Spotify didn't identify the publishers. .

The settlement concerns mechanical licensing rights, which refer to a copyright holder's control over the ability to reproduce a musical work.

The lawsuit demanded $150 million in damages from Spotify for unpaid royalties. The deal covers all content between Spotify's inception and June 30, 2017.

In addition, under the agreement Spotify will establish a larger bonus compensation fund for unmatched royalties.

HULK HOGAN received a jury award of $115 million in his sex tape lawsuit against Gawker Media. The Florida jury ruled that Gawker violated the former wrestler's privacy by publishing a sex tape in 2012 in which he was having sex with his friend's wife.



FINALISTS FOR THE HAROLD AND MIMI STEINBERG/AMERICAN THEATRE CRITICS ASSOCIATION NEW PLAY AWARD nominees have been announced. The award recognizes playwrights for the best scripts that premiered professionally outside New York City during 2015.

The top award of $25,000 and two citations of $7,500 each, plus commemorative plaques, will be presented April 9 at Actors Theatre of Louisville during the Humana Festival of New American Plays. At $40,000, Steinberg/ATCA is the largest national new play award program of its kind.

This year's six finalists are:

Steven Dietz, Bloomsday
Samuel D. Hunter, Clarkston
Qui Nguyen, Vietgone
Jonathan Norton, Mississippi Goddamn
Lynn Nottage, Sweat
Jen Silverman, The Dangerous House of Pretty Mbane

Since the inception of ATCA's New Play Award, honorees have included Lanford Wilson, Marsha Norman, August Wilson, Arthur Miller, Mac Wellman, Adrienne Kennedy, Donald Margulies, Moises Kaufman, Craig Lucas, and Robert Schenkkan. Last year's honoree was Rebecca Gilman's Luna Gale, which tonight, March 20, closes a rave review run at the Cleveland Playhouse in Cleveland, Ohio.



TURANDOT by Puccini.



Turnadot March 24-April 24, 2016 on Opera Australia's floating harbor stage in Sydney, Australia.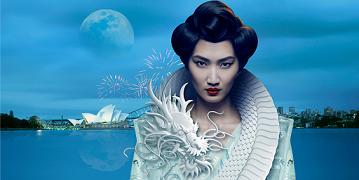 Conductor by Brian Castles-Onion.

Director & Choreographer Chen Shi-Zheng.

Turandot is a beautiful and brutal princess, who challenges her many suitors to answer three riddles on pain of death. No one has ever succeeded. Calaf is a brave, selfish prince from a different land, who watches the princess behead a rival suitor and falls instantly in love. Despite the wishes of his exiled father and the pleas of a slave-girl who loves him, he rings the gong and declares his suit to the princess. She presents her riddles, and in triumph, the unknown prince answers. Turandot despairs and the prince takes pity – offering the ice-cold princess a riddle of his own. But Calaf's riddle risks more than his own life – everyone else's hangs in the balance.

Turandot is played by Dragana Radakovic and Daria Masiero. Calàf is portrayed by Riccardo Massi and Arnold Rawls. Hyeseoung Kwon and Eva Kong are cast as Liu. Timur is played by Conal Coad. Pong is portrayed by John Longmuir while Pang is Graeme Macfarlane. Luke Gabbedy plays Ping. David Lewis is the Emperor and Gennadi Dubinsky is Mandarin.

Chinese director Chen Shi-Zheng's take on this Chinese fable is called "one for the history books." it is explained that "as a child of the Cultural Revolution, Chen Shi-Zheng grew up in a China where cruelty and beauty coexisted. Taken in by a Chinese opera troupe, he grew up surrounded by music, but witnessed great suffering. It's a duality he finds utterly compelling, and a juxtaposition that ties in perfectly with the ice-hearted, impossibly beautiful princess at the heart of Puccini's Turandot.

"As a director, his work forms a bridge between Chinese and Western artistic approaches, drawing on the Hollywood film tradition, theatrical acrobatics and traditional Chinese opera to create works that thrill visually and cut to the heart."

Set & Costume Design by Dan Potra. Building the set was considered an interesting challenge. Built on a floating stage on Sydney Harbour, it's visible 24 hours a day to tourists and locals alike enjoying the sights and sounds of Sydney Harbour and the Royal Botanic Gardens. Potra used modern, high-contrast materials to show a China that is "sleek and confident. "We wanted to find a spirit that spoke of today's China, which is moving at an incredible pace," Potra has been quoted as stating.

A tower made of shattered mirror reaches to the starlit sky, and a huge ivory dragon dominates the set. In parts, its tail references the Great Wall of China, with the idea of keeping out foreigners.

There are real challenges in designing for a space that is open to the elements. "We have to temper the aesthetics to the weather and to keep the performers safe, but still make everything look dangerous and exciting. But I've always felt as a designer that the more your back is put against the wall, the more you'll find solutions," he said.

Lighting Design by Scott Zielinski. Video Designer is Leigh Sachwitz / flora&faunavisions. Sound Design by Tony David Cray. Site Design by Adrienn Lord.

Performed in Italian with English and simplified Chinese subtitles.

Presented by Handa Opera March 24-April 24, 2016 on Opera Australia's floating harbor stage in Sydney, Australia.

RAIN world premiere musical by composer and lyricist Michael John LaChiusa and book writer Sybille Pearson. Based on the short story by W. Somerset Maugham.

The Old Globe Artistic Director Barry Edelstein makes his musical directing debut with Rain.

The year is 1924, the setting a boarding hotel on the island of Western Samoa, where a missionary, a doctor, and their wives are scandalized by Sadie's arrival, particularly when they learn what she does for a living. But the missionary has secrets of his own, and when he tries to shut down Sadie's business and save her soul, more heats up than the South Pacific sun.

The cast includes Marie-France Arcilla as Noi Noi, Elizabeth A. Davis as Anna Davidson, Jeremy Davis as Jo, Eden Espinosa as Sadie Thompson, Betsy Morgan as Louisa MacPhail, Rusty Ross as Kiwi, Mike Sears as Quartermaster and Hopper,Tally Sessions as Alec MacPhail, Jared Zirilli as Alfred Davidson.

The creative team includes Patrick McCollum (Movement), J. Oconer Navarro (Music Director), Bruce Coughlin (Orchestrations), Mark Wendland (Scenic Design), Katherine Roth (Costume Design), Russell H. Champa (Lighting Design), Ken Travis (Sound Design), Telsey + Company/Andrew Femenella CSA and Patrick Goodwin CSA (Casting), and James Latus (Production Stage Manager).

Rain will play March 24–May 1, 2016 on the Donald and Darlene Shiley Stage in the Old Globe Theatre, part of the Conrad Prebys Theatre Center in San Diego, CA.

THE CARETAKER by Harold Pinter.

A new production directed by Matthew Warchus.

Starring Timothy Spall as Davies; Daniel Mays as Aston and George MacKay as Mick.

Disturbed handyman Aston has invited an irascible tramp to stay with him at his brother's jumbled London flat. At first it seems that the manipulative guest will take advantage of his vulnerable host. But when Aston's brother Mick arrives, an enigmatic power struggle emerges between the three men that is in equal parts menacing, touching and darkly comic.

Associate director is Sean Linnen.

Designs by Rob Howell. Lighting by Hugh Vanstone. Music by Gary Yershon. Sound by Simon Baker. Casting by Jessica Ronane CDG.

Saturday, March 26 – Saturday, May 14, 2016 at The Old Vic in London.


WHO'S WHERE




THE ROLLING STONES will perform a free outdoor concert in Havana, Cuba, on March 25.

BRUCE SPRINGSTEEN AND THE E STREET BAND perform Tuesday, March 22, at the Moda Center in Portland, Oregon. On Thursday they can be enjoyed at the Key Arena in Seattle.

THE MOODY BLUES entertain Tuesday, March 22, 2016 at Cale Fear Community College in Wilmington, NC. On Thursday their tour stops at the Durham Performing Arts Center in Durham, NC. On Friday the show is at the Altria Theater in Richmond, VA. Saturday finds them at the Ferguson Center for the Arts in Newport News, VA.

MARIAH CAREY entertains Monday, March 21, at the Motorpoint Arena in Cardiff, UK. Wednesday's show is at The 02 in London. Saturday's performance is slated for the Rockhal in Luxembourg. Next Sunday, March 27, she appears at Forest Nationa in Brussels, Belgium.

ELLIE GOULDING wraps up her UK tour this week with a stop Monday, March 21, at Barclaycard Arena in Birmingham. On Thursday she begins a two night stand at the 02 in London.

RIHANNA is on stage Tuesday, March 22, at the Verizon Center in Washington, DC. On Wednesday the show is at the First Niagara Center in Buffalo, NY. Thursday finds her at the Palace of Auburn Hills in Auburn Hills, MI. on Saturday her tour stops at the XL Center in Hartford, CT. Next Sunday, March 27, she's in the spotlight at Barclays Center in Brooklyn, NY.

GUY MINTUS TRIO performs a jazz evening sponsored by the Embassy of Israel. March 28, 2016 at the Israeli Embassy in Washington, DC. Part of the Embassy Series.


FINAL OVATION


SIR PETER MAXWELL DAVIES a prolific English composer died March 14, 2016. He was 81.

Davies was Artistic Director of the Dartington International Summer School from 1979 to 1984. In 1988, he was Music Director of the Ojai Music Festival in California, alongside Nicholas McGegan and Diane Wittry, and returned in 1991 (with John Harbison). From 1992 to 2002 he was associate conductor/composer with the Royal Philharmonic Orchestra, a position he also held with the BBC Philharmonic Orchestra, and conducted a number of other prominent orchestras, including the Philharmonia, the Cleveland Orchestra, the Boston Symphony Orchestra and the Leipzig Gewandhaus Orchestra. In 2000 Davies was Artist in Residence at the Barossa Music Festival when he presented some of his music theatre works and worked with students from the Barossa Spring Academy. Davies was also Composer Laureate of the Scottish Chamber Orchestra, for whom he wrote a series of ten Strathclyde Concertos

Davies was made a CBE in 1981 and knighted in 1987. He was appointed Master of the Queen's Music for a ten-year period from March 2004.

ROBERT HORTON an actor/singer for six decades, died March 9, 2016 in a rehabilitation clinic in Los Angeles, California. He was 91.

From 1957 to 1962, Horton played Flint McCullough on Wagon Train alongside Ward Bond. Horton quit the popular television series to become a musical theater performer.

He spent years performing in theaters and nightclubs all over America and in Australia as a singer (sometimes with his wife, the former Marilynn Bradley). In 1963, producer David Merrick hired him as the male lead in the musical version of N. Richard Nash's play The Rainmaker entitled 110 in the Shade, in the part played on the screen by Burt Lancaster. The musical, which boasted a score by Tom Jones and Harvey Schmidt, ran for 330 performances on Broadway.

Horton returned to television to play an amnesiac on the Western series A Man Called Shenandoah. His TV credits also include the soap opera As the World Turns, on which he played Whit McColl from 1983 to 1984.

Horton was also an accomplished pilot and aircraft owner, having once said in a Plane and Pilot interview, "His three greatest thrills were his first solo flight, a performance before Queen Elizabeth II, and being featured on Ralph Edwards' This Is Your Life. His frequent copilot was his French Poodle, "Jamie". In addition to his love of flying, he spent a great deal of time on his hobby, collecting and driving, vintage, mid-century automobiles.

He was married three times. He is survived by his third wife of more than 55 years, Marilynn Bradley. The couple had no children.

FRANK SINATRA, JR unexpectedly suffered a massive cardiac arrest and died Wednesday, March 16, 2016 at Halifax Medical Center in Daytona, Florida. He was 72.

He had been scheduled to perform that night at The Peabody in Daytona Beach.

Originally he was dubbed Franklin Wayne Emmanuel Sinatra - the Franklin after President Roosevelt and Emmanuel after his father's "dear friend and second father" Manny Saks. The first name was later changed to Francis and eventually Emmanuel dropped from legal papers. From almost the start the boy was known as Frankie, then Frank Sinatra, Jr. He was born into a spotlight that both shone on him while his father's shadow trapped him.

His relationship with his father was convoluted.

Frank Sinatra wanted to support the careers of his children, only he didn't necessarily want them to know his involvement in trying to protect them.

That became problematic.



If laughter is good for the digestion, then we all had a healthy meal after Nancy's show opened. The bald head in front belongs to Jack E. Leonard who spent the entire dinner insulting Frank Sinatra, Jr much to the delight of all of us, including Frank. I've never been a fan of put down humor, but Leonard established that he could deliver non-stop mirth without being vulgar. Household names in the photo are famed conductor/arranged Nelson Riddle (seated far left), Nancy Sinatra; Sonny Burke arranger, conductor, composer, and record executive who wrote Midnight Sun and < i>Black Coffee, and was artists-and-repertoire director for Decca Records for fourteen years and Reprise Records for three years; Frank, Jr; Nancy's husband Hugh Lambert is to Frank's left. Photo: Chet Kranz. Property of Laura Deni.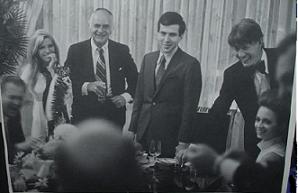 Nancy Sinatra was staging a family show at the then International Hotel in Las Vegas. In addition to herself, the show featured her brother Frank Sinatra, Jr, her husband Hugh Lambert, The Muppets, Jimmy Joyce Singers, Hal Blaine and Billy Strange. Called Nancy 71 it opened on June 16, 1971.

A feature article about Nancy putting together the show was to appear in Billboard magazine. I was given the assignment with some unusual instructions. I was to enter the showroom when her show began rehearsal and sit down. If a security guard tried to evict me I was to try to talk him into letting me stay. Only if it became absolutely necessary was I to explain to security that I was there under the instructions of her father and give them information on how they could verify. That ended up being what happened and everything suddenly turned peaceful.

Almost immediately I informed the publication that we were missing a crucial element - Frank Sinatra, Jr. The article shouldn't be how Nancy put on her show, but the relationship between brother and sister. Sinatra, Jr had an unappreciated depth.

I was told that a concept change needed to be approved by Ol' Blue Eyes. Soon thereafter I was told "go ahead and do Jr."

My review of the show appeared in the July 3, 1971 issue of Billboard while the feature article Nancy Cavorts and Frank Jr Croons as Vegas Brings the Brother-Sister Together ran in the September 11, 1971 issue of Billboard.

The above the headline explanation read: . . . the senior Sinatra is in retirement, leaving the boards to two of his children Nancy and Frank Jr. In June they appeared for the first time at the International Hotel. Laura Deni watched the 10-days of rehearsals. This is her behind the scenes diary."

Since Nancy's security had been informed from day one that her father had okayed the article, it never occurred to me to specifically mention to Frank Jr that my idea to prominently include him had to be flown past his father. Nor did I think it mattered.

Later I would write the lead article about his father for the Billboard issue November 24, 1973 Retirement Isn't The Life for Frank Sinatra; Ol' Blue Eyes is Back.

A decade or so later when I inadvertently let it slip to Frank, Jr that his father had been the one to okay the article idea with the missive "go ahead and do Jr" his son became furious at me. He stood up and actually spun around in anger. Usually extremely reserved, he was almost uncontrollably livid. Even though the article concept of including him was mine and I did the pitch, Frank, Jr somehow felt belittled that, although he was an adult, his father's approval had been sought. Because I hadn't told him, Frank, Jr felt betrayed.

There was never an opportunity to explain.

Frank, Jr had a long and busy career. In 1965 he worked 358 days out of 365. For the next several years he managed one free day off every three months.

On December 8, 1963, at the age of 19, he was kidnapped from room 417 at Harrah's Lake Tahoe. He was released two days later after his father paid the $240,000 ransom demanded by the kidnappers. See Broadway To Vegas column of July 13, 1998

While the younger Sinatra was released physically unharmed, he was emotionally scarred.

Although he had previously appeared with Phil Harris and Harry James, in 1967 Frank, Jr kicked off his own eight year gig at the Frontier Hotel in Las Vegas where he was a lounge mainstay performing in a twin headline bill with sarcastic insult comedian Jack E. Leonard.

Frank, Jr put on an excellent show, but personally he wasn't particularly comfortable. Performing was the way he attempted to connect with his father. Out of the limelight he wrote songs including Spice, Believe In Me, Black Night, What Were You Thinking Of? and later Missy written about Melissa Sue Anderson (who played Mary Ingalls on Little House on the Prairie) whom he had dated.

Spice was also the name of his solo album released on the Daybreak label. He also scored movies. I'm the person who discovered his hidden life as a composer and included details in that lengthy feature article I wrote for Billboard.

Frank Jr's 45-year earlier composition Black Night, written and sung by him, was used as the theme song to Rick Alverson's 2015 feature film Entertainment, starring Gregg Turkington and John C. Reilly.

Starting in 1988, at his father's request, Frank, Jr became his father's musical director and conductor which also permitted the two to actually bond. After his father's death, the son kept his father's music alive.

In life, some who called themselves his friends and associates were really interested in his father. A couple even sold him out.

Frank, Jr died the way most performers hope to end their life - performing to the end - although no doubt Frank, Jr would have preferred that his passing had taken place after the performance, so that the musicians and audience wouldn't have been inconvenienced.

ERNESTINE ANDERSON a Grammy-nominated jazz and blues singer died March 10, 2016 at her home in Seattle, WA. She was 87.

In a career spanning more than six decades, she recorded over 30 albums. She was nominated four times for a Grammy Award. After leaving Concord Records in 1993, Anderson signed on with her old Seattle jazz scene pal, and fellow Garfield High School grad Quincy Jones, and his happening new label, Qwest, which issued two albums - 1993's Now and Then, and 1996's Blues, Dues & Love News - that also both received Grammy nominations. By the late 1990s she was signed to the Koch International label which issued her Isn't It Romantic album, in 2003 her High Note label CD, Love Makes the Changes was a breakout hit, and her 2004 JVC CD, Hello Like Before, brought further accolades.

Anderson was one of 75 women chosen for the book, I Dream a World: Portraits of Black Women Who Changed America (1999), by Pulitzer Prize winning photographer Brian Lanker. Within this book Ernestine Anderson joined such company as Rosa Parks, Coretta Scott King, Oprah Winfrey, Lena Horne, and Sarah Vaughan.

GOGI GRANT the singer whose hit The Wayward Wind, a ballad about a woman yearning for her wandering beloved, knocked Elvis Presley's Heartbreak Hotel off the top of the Billboard singles chart in 1956, died on Thursday, February 17, 2016, at her home in Los Angeles. She was 91.

In 1955 Grant signed with a small record company, Era Records, and had her first top ten hit with Suddenly There's a Valley. The next year, she had an even bigger hit, reaching number 1 on Billboard 's Top 100 chart with The Wayward Wind and holding there for six weeks. The song sold over one million copies in the United States alone, and peaked at No. 9 in the UK Singles Chart. She was voted the most popular female vocalist by Billboard magazine.

In 1957, she supplied the vocals for Ann Blyth's portrayal of Helen Morgan in the biographical film, The Helen Morgan Story. The soundtrack album on RCA Victor climbed to No. 25 in the Billboard album chart.

Grant stopped touring and recording in 1967 to take care of her family. She returned to performing in the mid-1980s.

Grant survived cancer surgery and was in remission. In 2004, aged 80, she made an appearance on the PBS 1950s pop music special Magic Moments and sang The Wayward Wind.

Grant headlined with The Fabulous Palm Springs Follies in Palm Springs, California. One of her more notable appearances of her later years was with the Follies on December 31, 2006. She was still performing as late as 2013, at the age of 89.

Survivors include a daughter, Jeri Brown; a son, Joshua Beckett, and two granddaughters.

PAUL DANIELS a magician who also who designed special effects for the stage productions of Cats and Phantom Of The Opera died March 17, 2016 at his home in Berkshire, England. He was 77 and had been diagnosed with a brain tumor.

From 1977-1990 he was a mainstay of prime time Saturday night television programming.

The Magic Circle said Daniels had "been an inspiration to many magicians" and is of "legendary status" in the world of magic. In a statement, it said: "At the height of his career The Paul Daniels Magic Show on BBC One pulled more than 20 million viewers - that was more than one third of the British population regularly tuning in on a Saturday night to watch a magician make them laugh and witness feats of wonder such as his famous Chop Cup routine. "In this day and age of fragmented media platforms, no other magician is likely to be able to achieve such a TV ratings record." It added that "the magic world owes Paul a huge debt".

Daniels was known for a string of catchphrases, including the line: "You'll like this... not a lot, but you'll like it."

He was commissioned by the English National Ballet to create magical effects for The Nutcracker.

As well as his wife Debbie McGee, who had been his on-stage assistant, Daniels leaves his three sons from a previous marriage - Martin, Paul and Gary.



















Next Column: March 27, 2016
Copyright: March 20, 2016 All Rights Reserved. Reviews, Interviews, Commentary, Photographs or Graphics from any Broadway To Vegas (TM) columns may not be published, broadcast, rewritten, utilized as leads, or used in any manner without permission, compensation and/or credit.
Link to Main Page
---
Laura Deni



For the snail mail address, please E-mail your request.
CLICK HERE FOR COMMENT SECTION