! >
Broadway To Vegas
  
  REVIEWS INTERVIEWS COMMENTARY NEWS

| | |
| --- | --- |
| | |
BIG FISH ORIGINAL BROADWAY CAST CD REVIEW - - GAUGHIN: METAMORPHOSES - - THE RELENTLESS AWARD - - BARRY MANILOW'S HARMONY - - BRUNO MARS ESTABLISHES SCHOLARSHIP - - WALK ME HOME - - GOODBYE YELLOW BRICK ROAD: 40th ANNIVERSARY - - LES MISERABLES RETURNS TO BROADWAY - - DONATE . . . Scroll Down




Copyright: March 2, 2014
By: Laura Deni
CLICK HERE FOR COMMENT SECTION


SHORTLIVED BROADWAY MUSICAL GETS ENCORE WITH CAST RECORDING AND TOUR


Just because the curtain has gone down doesn't mean the music can't live on.

The latest post mortem CD is the original Broadway cast recording of Big Fish which has been released on Broadway Records.

Music and lyrics by Andrew Lippa with a book by John August. It is based on Daniel Wallace's 1998 novel, Big Fish, A Novel of Mythic Proportions, and the 2003 film Big Fish, written by August and directed by Tim Burton.

The Broadway musical may have been reeled in three months after opening October 6, 2013 at the Neil Simon Theatre, but the top tapping, exuberant, feel good music can be enjoyed through this excellent Broadway cast recording. Top notch production quality with beautiful sound and easy to understand voices.

For the listener who hasn't seen the stage version, a certain knowledge of the storyline is helpful. The accompanying booklet has the lyrics to each song, but not a show synopsis.

Big Fish revolves around the relationship between Edward Bloom, a travelling salesman ("if I don't catch a fish, my family's gonna starve!"), and his adult son Will, who doesn't understand why his father has always told such whoppers of tall tailed fish stories.

Like Walter Mitty, Edward Bloom has his own other world coping skills, which his son, try as he might, doesn't understand.

The story shifts between two timelines. In the present-day real world, sixty-year-old Edward Bloom faces his impending mortality while Will prepares to become a father himself. In the storybook past, Edward ages from a teenager, encountering a Witch, a Giant, a Mermaid, and the love of his life, Sandra. The stories meet as Will discovers the secret his father never revealed.

The story has drawn comparisons to The Music Man and The Wizard of Oz, while the score can occasionally make one hear a few words, or a bar, that brings to mind Wicked.

Why it failed on Broadway has to do with empathy and a balance between the music which was overpowered by the stage elements. Big Fish isn't the strongest score from Tony nominated Andrew Lippa, who penned both the music and lyrics for The Wild Party and The Addams Family.

Walter Mitty's fantasies elicited a smile and nod. With Willy Loman in Death of a Salesman the sense of hard work, futility and desperation hits the audience between the eyes. In Big Fish salesman Edward Bloom is an ego maniac who lives in a world which revolves only around him. It's tough to get audience empathy, especially if many of the lyrics are trite.

"Give a man a fish, you feed him for a day. Teach a man to fish, you feed him for a lifetime. Teach a man the Alabama Stomp and you feed his soul," Edward sings in Be The Hero.

In many ways the music captured on this CD is better than what was heard live on Broadway. Listening to the CD prior to seeing the show can help to understand and appreciate the production, which should do well in regional tours.



Norbert Leo Butz as Edward Bloom. Photo: Paul Kolnik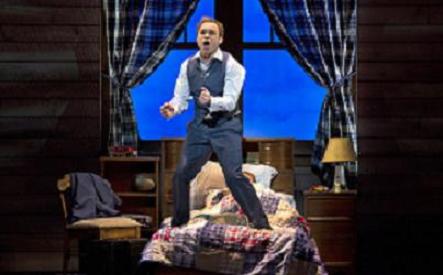 In the Susan Stroman helmed Broadway mounting, William Ivey Long's costumes all but stole the show, as they did with Cinderella. The difference is that Cinderella boasts the magnificent score by Richard Rodgers and Oscar Hammerstein II.

While the Big Fish lighting by Donald Holder was spectacular as were the sets by Julian Crouch, and projections by Benjamin Pearcy for 59 Productions, the story line wiggles like a fish trying to escape.

However, the CD offers the opportunity for listeners to get caught up in the musical performances.

While many of the lyrics are sappy, the orchestrations and performances lift the goo and create positive exhuberance.

Big Fish was orchestrated by Tony Award and 4-time Emmy Award winner Larry Hochman, with additional orchestrations by Tony Award winner Bruce Coughlin, for a fourteen-piece orchestra. The instrumentation calls for two keyboards, two guitars, bass/bass guitar, drums, percussion, two woodwind players, trumpet, French horn, violin, viola, and cello. This orchestration was used on Broadway, conducted by Mary-Mitchell Campbell and will be licensed with the show. Additional string players were added for the cast recording.

Theatrical Rights Worldwide recently secured licensing rights for the musical and last Thursday it was announced that Musical Theatre West will produce the regional premiere of Big Fish featuring the original sets and costumes.

The sea of Broadway is different than regional waters and it would be expected that Big Fish will do - swimmingly - well.

Big Fish will run October 31-November 16 at the Carpenter Performing Arts Center in Long Beach. Those contemplating attending a regional performance ought to consider getting a nibble with the music and purchase the Broadway cast CD as well as a ticket to the show.

With the heavy musical lifting falling on Hochman's shoulders, he utilized almost all musical styles except operatic and a funeral dirge. Although not Lippa's best work, the orchestrations and the stellar performances elevates the score into a feel good experience. Your spirits will be lifted. Before you pop a mood enhancer or anti-depressant, give this CD an opportunity to perk you up. For instance, Start Over which explains that "If you start over, tomorrow begins today."

Two-time Tony Award winner Norbert Leo Butz plays the dying Edward Bloom who isn't known for parenting skills, Kate Baldwin as Sandra, who is Edward's devoted wife and Will's loving mother and Bobby Steggert as the alienated son Will, bring to the CD the same shiny star turns they exhibited on the stage.

Butz brings an all consuming exuberance to all of his performances; Kate Baldwin has a glorious voice and the talented Bobby Steggert has a long future ahead of him on The Great White Way.

The opening Prologue brings to mind the ocean, the tinkling beautiful waves and dramatic undercurrents, leading into Be the Hero, the Pollyanna toe-tapping number that proffers the optimistic: "Anything you desire, boy/ Anything on a plate/ All within your power to create." Two Men in My Life is a love song sung by Baldwin as Sandra expressing her heartache about having the two men she loves - her husband and her son - at odds with each other. "He tells a harmless tale/ That always drives you mad/ But aren't you telling stories too/ Your point of view/ Just different from your Dad."

There is the lovely I Don't Need a Roof sung by Sandra to her husband on his deathbed. Baldwin has a beautiful soprano voice, which is a pleasure to hear.

"Fight the Dragons performed by Butz as the father speaking to his son trying to explain why and how he copes with his ordinary life through the use of fantasy and What's Next, is the song of reconciliation between father and son.

The CD songs also include the voices of Ciara Renee, Ryan Andes (Karl), Robin Campbell, Lara Selbert, Ben Crawford (Don Price), and Brad Oscar, (Amos Calloway).

The CD features a bonus track This Rivers Between Us, sung by Staggert and Butz.

Edited by Michael Croiter. Mixed by Douglas Derryberry. Associate Engineer Matthias Winter. Mastered by Michael Dosssenkemper Turtle Tone Studio. Tracking Engineer Isaiah Abolin. Assistant tracking engineers Fred Sladkey, Gloria Kaba, Dan Fyfe and Raphael Lee. Recorded by MSR in NYC. Edited and mixed at Yellow Sound Lab, NYC.

Orchestra:

Conducted by Mary-Mitchell Campbell. Assistant Conductor Shawn Gough. Reeds: Charles Pillow, Richard Walbum. Trumpet: Dylan Schwab. French horn: David Byrd-Marrow. Violin: Cenovia Cummings. Viola: Liuh-Wen Ting. Cello Summer Boggess. Keyboard 1: David Gardos. Keyboard 2: Shawn Gough. Guitar: Jim Hershman and Alec Berlin. Bass: Brian Hamm. Drums: Perry Cavari. Percussion: Billy Miller.

Additional strings for the recording: Violins: Belinda Whitney and Emily Yarborough. Viola: Richard Brice. Cello: Sarah Hewitt-Roth.

Music Coordinator: Michael Keller. Synthesizer Programmer: James Abbott. Music Preparation: Kaye-Houston Music. Orchestrations: Larry Hochman. Dance Music Arrangements by Sam Davis. Vocal Arrangements and Incidental Music by Andrew Lippa. Associate Music Director: Shawn Gough. Closer To Her and Red, White and True orchestrated by Bruce Coughlin.





Broadway To Vegas is supported through advertising and donations. Priority consideration is given to interview suggestions, news, press releases, etc from paid supporters. However, no paid supporters control, alter, edit, or in any way manipulate the content of this site. Your donation is appreciated. We accept PAYPAL. Thank you for your interest.





ART AND ABOUT


GAUGHIN: METAMORPHOSES

Paul Gauguin. Tahitian Woman with Evil Spirit. c. 1900. Oil transfer drawing, sheet: 22 1/16 x 17 13/16" (56.1 x 45.3 cm). Private collection. Photo: MoMA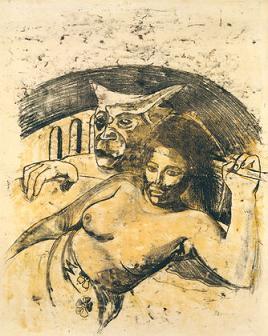 see a new side of modern master Paul Gauguin's artwork in this MoMA exhibition focusing on the beloved artist's rare and extraordinary prints and transfer drawings, and their relationship to his paintings and his sculptures in wood and ceramic. Comprising approximately 120 works on paper and a critical selection of some 30 related paintings and sculptures, Gauguin: Metamorphoses is the first exhibition to showcase this lesser-known yet highly innovative aspect of his work.

Created in several discreet bursts of activity from 1889 until his death in 1903, these remarkable works on paper reflect Gauguin's experiments with a range of mediums, from radically "primitive" woodcuts that extend from the sculptural gouging of his carved wood reliefs, to jewel-like watercolor monotypes and large, mysterious transfer drawings.

Gauguin's creative process often involved repeating and recombining key motifs from one image to another, allowing them to evolve and metamorphose over time and across mediums. Printmaking, which by definition involves transferring and multiplying images, provided him with many new and fertile possibilities for transposing his imagery.

Gauguin embraced the subtly textured surfaces, nuanced colors, and accidental markings that resulted from the unusual processes that he devised, for they projected a darkly mysterious and dreamlike vision of life in the South Pacific, where he spent most of the final 12 years of his life.

Though Gauguin is best known as a pioneer of modernist painting, this exhibition showcases a lesser-known but arguably even more innovative aspect of his practice.

Organized by Starr Figura, The Phyllis Ann and Walter Borten Associate Curator, with Lotte Johnson, Curatorial Assistant, Department of Drawings and Prints. This exhibition is supported by an indemnity from the Federal Council on the Arts and the Humanities. The Indemnity Program was created by Congress in 1975 for the purpose of minimizing the costs of insuring international exhibitions. In 2007, Congress expanded eligibility under the Program to include coverage for works of art owned by U.S. entities while on exhibition in the United States. The Program has indemnified more than 1200 exhibitions, saving the organizers over $375 million in insurance premiums.

March 8–June 8, 2014 at MoMA in New York City.

WHITNEY MUSEUM OF AMERICA ART 2014 BIENNIAL

Anthony Elms, Stuart Comer, and Michelle Grabner. Photograph by Filip Wolak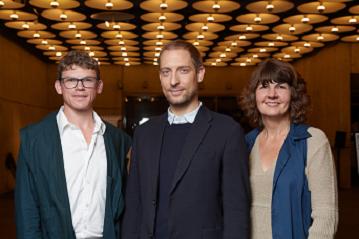 will take a bold new form as three curators from outside the Museum - Stuart Comer (Chief Curator of Media and Performance Art at MoMA), Anthony Elms (Associate Curator at the Institute of Contemporary Art, Philadelphia), and Michelle Grabner (artist and Professor in the Painting and Drawing Department at the School of the Art Institute, Chicago) - each oversee one floor, representing a range of geographic vantages and curatorial methodologies.

Donna De Salvo, Chief Curator and Deputy Director for Programs at the Whitney, noted: "The 2014 Biennial brings together the findings of three curators with very distinct points of view. There is little overlap in the artists they have selected and yet there is common ground. This can be seen in their choice of artists working in interdisciplinary ways, artists working collectively, and artists from a variety of generations. Together, the 103 participants offer one of the broadest and most diverse takes on art in the United States that the Whitney has offered in many years."

This Biennial will be the last to take place in the Whitney Museum of American Art's building at 945 Madison Avenue at 75th Street before the Museum moves downtown to its new building in the spring of 2015. This is the 77th in the Museum's ongoing series of Annuals and Biennials begun in 1932 by Gertrude Vanderbilt Whitney.

Whitney curators Elisabeth Sussman and Jay Sanders, who organized the widely acclaimed 2012 Biennial, will advise on the exhibition.

March 7–May 25, 2014 at the Whitney in New York City.


SWEET CHARITY


LEAGUE OF PROFESSIONAL THEATRE WOMEN AWARDS CELEBRATION takes place Monday, March 10, at the Irene Diamond Stage, The Pershing Squares Signature Center in New York City.

The event will honor Zoe Caldwell in an award presented by Audra McDonald. Judity Dolans will be honored by Gregory Boyd. Susan Feldman will do the honors for Meiyin Wang. Joanna Sherman will be honored by Cynthia P. Schneider. Mary Miko will honor Sondra Gorney and a special award will acknowledge Katherine Kovner.

The Big Mingle committee includes: Richarda Abrams, Susan Bernfield, Angelina Fiodellisi, Joan Firestone, Fenger Gael, Mahayana Landowne, Dorothy Leeds, Shellen Lubin, Janice Maffei, Kristin Marting, RomyNordlinger, Carmel Owen, Amanda Pekoe, Lorca Peress, Deborah Savadge Sheila Speller and Ludovica Villar-Hauser.

The evening will begin with cocktails followed by the awards presentation and then The Big Mingle.

I SEE YOU MADE AN EFFORT a special benefit Monday, March 10, 2014 at Second Stage Theatre in New York City.

Is 50 the new 40 or is 50 just still 50? In this wickedly funny new evening, actress and writer Annabelle Gurwitch explores the hazards of turning 50, including outsourcing your endocrine system and falling in lust at the Genius bar. Adapted from her upcoming book, I See You Made An Effort will feature Gurwitch and special guests Amy Brenneman, Judy Gold, Jessica Hecht and Tonya Pinkins turning an unflinching and hilarious eye towards the myriad of issues women can expect to encounter in their middle years.

THE DISCO BALL benefitting Theatre Aspen takes place March 8, 2014 at the Hotel Jerome in Aspen, Colorado.

With a dress code of Sizzlin' 70s, the evening features a silent and live auction, dinner, Disco Divas, Let's Dance and a dessert bar.

Former Theatre Aspen President, innovator, and theatre enthusiast Darlynn Fellman will be honored. "Not only has she appeared on the TA stage, but along with husband Tom, has provided invaluable guidance, encouragement and financial support to the organization."

THE OREGON SHAKESPEARE FESTIVAL (OSF) has distributed the $133,250 raised during the Festival's 2013 Daedalus Project to 10 local and international organizations dedicated to fighting the spread of HIV/AIDS and supporting those affected by the disease.

The organizations to receive funds include: the Alan F. Collins AIDS Project at On Track, Inc., the HIV Alliance serving Josephine, Douglas, Coos and Curry Counties; Siskiyou County HIV/AIDS Foundation (SCHAF); Africare; G. R.A.C.E. USA; Strength for the Journey; Light, Broadway Cares/EquityFights AIDS; S.A.F.E., Ghetto; and SCHAP Community School in Kenya.

OSF's company members and audience have come together in August for decades for the Daedalus Project, which includes several fundraising events, including a play reading and variety show. The annual event raises money to end the spread of HIV/AIDS, and to remember and celebrate those who have died from this disease.








SPREADING THE WORD


FOR THE FIRST TIME in a major city outside of China, the Chinese National Award-winning dance drama, The Red Dress by the China Ningbo Performance & Arts Group will be performed at the David H. Koch Theater at Lincoln Center in New York City March 6 – 9, 2014.

The Red Dress is directed by Wang Xlaying, with choreography by Yim Mei and the Composer is Lan Tian. The Stage Art designer i s Dai Yannian and the Lighting Designer is Xing Xin. The spectacular production is presented by The China Arts & Entertainment Group (CAEG), a creative enterprise under the administration of the Ministry of Culture for the People's Republic of China.

The engagement is the third production in the hope of an ongoing relationship between CAEG and the David H. Koch Theater. These presentations showcase China's historical contribution to the world of theater and art by presenting the finest in Chinese contemporary and classical performing arts to the United States.

The Red Dress tells the touching love story of a young man and young woman from two rich families in an ancient town in southern China. Sweethearts since they were young, they fell in love then moved apart. A promise of marriage makes the beautiful bride-to-be wait for many years for her dream of a red wedding dress. A tale of loyalty, tradition and love, The Red Dress features a company of more than 45 dancers who bring this tale to life through grand spectacle and movement.

TOP HAT DEVELOPMENTAL LAB staged by Tony Award winner Christopher Gattelli is aimed at a new version of the award winning West End production of the Irvin Berlin musical Top Hat - based upon the classic film starring Fred Astaire and Ginger Rogers.

The London version had a book by Matthew White and Howard Jacques, based on the original 1935 screenplay by Dwight Taylor and Allan Scott. It was directed by Matthew White and choreographed by Bill Deamer.

The March 7-20 lab will feature a new book by Chad Bequelin. Gattelli who won a Tony Award for Newsies will direct and choreograph the new version.

GOODBYE YELLOW BRICK ROAD: 40th ANNIVERSARY will be celebrated on March 24 - March 25th in North America. My, how time flies - it's been four decades since Elton John released what has become a classic.


STREET LEGAL REPLICA OF THE BATMOBILE - MINUS FLAME THROWER - UP FOR SALE
This Batmobile replica could be yours - for $1million. Photo: JamesEdition.com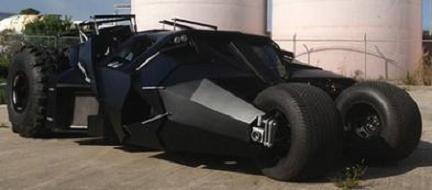 If you like your toys large and impressive, with a Hollywood flare - but no flame thrower - and have an extra $1 million to shell out, you can own a replica of the original "Tumbler," which was driven by Batman in The Dark Knight starring Christian Bale. The car is listed for sale by JamesEdition.com known as The World's Luxury Marketplace.

The auto is currently in Indialantic, Florida.

This concept vehicle features an LS1 motor with a custom built frame, chassis and drive line. It has an automatic transmission, dually rear end featuring four 44" super swamper tires with custom rims! It has a custom cut windows, seating for two, 5 driver assist cameras, Double den stereo with blue tooth, CD/DVD, Ipod integration for all of your entertainment needs. This vehicle also features GPS Navigation worldwide as well as a custom interior. It is a limited edition of only 5 worldwide. According to the ad promo "We have built this insane vehicle to be street legal however please understand that this is not a daily driver!"

In other words, keep the expensive toy parked in front of your personal Bat Cave.

When you do want to take it for a spin around the block, the driver sits on the left-hand side of the two seater.

On the negative side, don't cancel your security system contract. This Batmobile is minus a burglar deterrent flame thrower.

This isn't the first time a road legal Batmobile replica has gone up for sale. In November 2013 a Batmobile replica with a working flame thrower was put up for auction in England. That bunch of steel was built in the UK on custom chassis, the rear-wheel drive Batmobile featured a fully operational flame thrower at the back and hydraulic suspension which can raise the car by a further nine inches.

The auction site claimed that car could hit 60mph in less than five seconds, although the visibility has been compared to that of a fighter jet.

The jet black replica, which took a year to build, was based on the Batmobile driven by Michael Keaton's caped crusader in the 1989 blockbuster.

In January 2013 spectators cheered when the original Batmobile was sold for $4,200,000 - the first time the famed movie car was put up for public sale.


OTHER PEOPLE'S MONEY


BRUNO MARS has partnered with the Hawaii Community Foundation and the Grammy Foundation to establish a Grammy Camp Scholarship Fund. Five students will receive financial assistance for Grammy Camp through the Bruno Mars Scholarship Fund. The scholarship fund was established through a grant from the Hawai'i Community Foundation at the recommendation of Bruno Mars. The fund will cover the tuition of one qualified high school student each year for the next five years with preference to students from Hawaii. Mars is of Hawaiian and Puerto Rican heritage.

Grammy Camp, now celebrating its 10th year, is the Grammy Foundation's signature music industry camp for U.S. high school students.

THE RELENTLESS AWARD in honor of the late Philip Seymour Hoffman, presented by the American Playwriting Foundation, will award an annual prize of $45,000 for an unproduced play - the largest award in theatrical history.

Funded by a libel settlement from The National Enquirer, the annual award will be awarded "for years to come"

The Relentless Award, is named in recognition of the late star's pursuit of artistic truth and integrity.

A panel of four theatre writers will form the selection committee: They include David Ber Katz, Eric Bogosian, John Patrick Shanley and Jonathan Marc Sherman.

The National Enquirer published a story making allegations about the relationship between Hoffman and Mr Katz, asserting that Katz and Hoffman were lovers and had taken cocaine together the night before his death. The article also reported that Katz said he had seen Hoffman using heroin repeatedly.

A married father of four, Katz quickly established that Hoffman never took drugs in his presence and that he had never spoken to the National Enquirer.In an interview with the NY Times Katz emphasized that he had communicated with Hoffman frequently about his addiction and determination to remain sober.

Katz was one of the two people who had found Hoffman's body at his apartment following an apparent heroin overdose. Katz filed a libel suit shortly after the publication of the story, and the National Enquirer withdrew the article and apologized within two days.

The Relentless Award is funded by The Enquirer and its publisher, American Media Incorporated, under a settlement of the lawsuit. The agreement also stipulated that The Enquirer purchase a full-page advertisement in the main news section of The New York Times. That printed ad ran February 26, 2014.

The text of the advertisement follows:

"On February 5, 2014, the National Enquirer released an article about Philip Seymour Hoffman and David Bar Katz that purported to be an exclusive interview with Mr. Katz. Following a lawsuit brought by Mr. Katz, the Enquirer investigated further and learned that it had made a good faith error by publishing an interview with a person who falsely and convincingly claimed to be Mr. Katz. The Enquirer promptly and responsibly acknowledged its error and publicly apologized to Mr. Katz, his family and Mr. Hoffman's family. Mr. Katz acknowledges his appreciation for the Enquirer's apology for its error, and accepts that apology.

"Instead of seeking a purely personal reward for the harm done to him, Mr. Katz brought the lawsuit as a vehicle to let the truth be known, and at the same time create something positive out of this unfortunate turn of events. The Enquirer understood and agreed with these goals, and, after extensive discussions with Mr. Katz's attorney, Judd Burstein, agreed to take complete responsibility for its error."

TICKETS TO THE BURNING MAN FESTIVAL are always a hot commodity. This year is no expceition. Tickets to the festival took 44 minutes to sell all 38,000 tickets offered last Wednesday.

The burning Man Festival takes place August 25-September 1 in Northern Nevada's Black Rock Desert.



LES MISERABLES a reimagined revival by Alain Boublil and Claude-Michel Schönberg of their Tony Award winning musical, based on the 19th-century vocel by Victor Hugo. Music by Schönberg, lyrics by Herbert Kretzmer and original French text by Boublil and Jean-Marc Natel, original adaption by Trevor Nunn and John Caird and additional material by James Fenton. The reimaged version is touted for featuring fresh scenic and narrative elements as well as new orchestrations.

Directed by Laurence Connor and James Powell.

The Broadway revival stars West End actor Ramin Karimloo as Jean Valjean, Andy Mientus as Marius, Tony Award nominee Will Swenson as Javert, West End and Broadway actress Caissie Levy as Fantine, Tony Award winner Nikki M. James as Eponine, Kyle Scatliffe as Enjolras, Canadian actor Cliff Saunders as Thenardier and Tony Award nominee Keala Settle as Madame Thenardier and Samantha Hill as Cosette.

Joshua Colley and Gaten Matarazzo, both of whom appeared in the 25th anniversary tour of Les Misérables, share the role of Gavroche; with Angeli Negron and Mckayla Twiggs sharing the role of Little Cosette and Young Eponine. Mia Sinclair Jenness is part of the ensemble as well as covering the roles of Little Cosette and Young Eponine.

The ensemble includes Erin Clemons, Emily Cramer, Natalie Charle Ellis, Jason Forbach, Heidi Giberson, Nathaniel Hackmann, Andrew Kober, Chris McCarrell, Melissa Mitchell, Dennis Moench, Adam Monley, Betsy Morgan, Melissa O'Neil, Max Quinlan, John Rapson, Terance Reddick, Arbender Robinson, Christianne Tisdale, and Aaron Walpole.

The swings are Cathryn Basile, John Brink, Ben Gunderson, Rachel Rincione and Weston Wells Olson.

Designed by Matt Kinley and inspired by the paintings of Victor Hugo with costumes by original designer Andreane Neofitou and additional costumes by Christine Rowland, lighting by Paule Constable, sound by Mick Potter and projections by Fifty-Nine Productions.

The original orchestrations are by John Cameron with new orchestrations by Christopher Jahnke and additional orchestrations by Stephen Metcalfe and Stephen Brooker. The original London production is still running and is in its 29th year.

Returning to the Imperial Theatre where the show played for nearly 13 years and 5,244 performances, previews began March 1 with the official opening slated for March 23, 2014.

HARMONY music by Barry Manilow. Book and lyrics by Bruce Sussman.

Directed by Tony Speciale.

An unforgettable true story of friendship. They were the first sensational boy band: six talented young men who came together in 1920s Germany and took the world by storm with their signature blend of sophisticated close harmonies and uproarious stage antics. The Comedian Harmonists sold millions of records, starred in a dozen films and packed the houses of the most prestigious concert halls around the globe until the world they knew forever changed.

Featuring: Matt Bailey, Will Blum, Hannah Corneau, Chris Dwan, Shayne Kennon, Leigh Ann Larkin, Will Taylor, and Douglas Williams.

Harmony runs March 4 - April 13 at the Ahmanson Theatre in Los Angeles.

WALK ME HOME an original play created and performed by Theatre by the Blind.

Written by Caitlin Hernandez.

Directed by Greg Shane.

Starring Arnette Coates, Connor Head, Megan Miller, Maria Perez, Ernest Pipoly, Cookie, Melanie Hernandez, Arnette Coates, and James Hoeve.

Tristan and Ashley, two blind teenagers living across the street from one another, navigate the turbulent waters of their senior year. When they are both faced with life-changing decisions, the two realize how deeply they are connected. Will their love for each other withstand the current, or will the tide pull them apart?

Musicians: Laywood Blocker and Willie Robinson.

Presented by CRE Outreach and Theatre by the Blind, the country's only theater troupe composed entirely of blind actors.

A Previews performance takes place March 6. Performances: March 7 - March 16 at the Promenade Playhouse in Santa Monica, CA.

I'D RATHER GOYA ROBBED ME OF MY SLEEP THAN SOME OTHER ARSEHOLE by Rodrigo Garcia. Translated by William Gregory.

Directed by Jude Christian.

Steffan Rhodri plays a man at rock bottom. When his whole life falls apart, his options are: a) spend his life savings on a bottle of Glenfiddich, b) discuss the meaning of life with a fashionable German philosopher or c) stare at Goya paintings all night.

But his kids just want to go to Disneyland.

The show also has piglets. Seriously.

Design by Fly Davis. Lighting by Joshua Pharo. Sound and composition by Adrienne Quartly.

March 6-29 at The Gate in London.

TALES FROM RED VIENNA a new play by David Grimm.

Directed by Kate Whoriskey.

Starring Tony Award winner Nina Arianda, Lucille Lortel nominee Tina Benko, Outer Critics Circle, and Obie Award winner Kathleen Chalfant; Michael Esper; Michael Goldsmith and Lucas Hall.

Tony Award winner Nina Arianda returns to MTC as Heléna, a woman who has lost her husband in World War I, and with him, her financial security. Struggling to maintain her way of life, she reluctantly turns to the oldest profession. Heléna manages to separate her secret life from her public persona - that is until she crosses paths with a man who has the power to expose and ruin her.

The creative team includes John Lee Beatty (scenic design), Anita Yavich (costume design), Peter Kaczorowski (lighting design), Rob Milburn & Michael Bodeen (sound design), Tom Watson (hair and wig design), and Thomas Schall (fight direction).

In previews in preparation for a Tuesday, March 18 opening presented by the Manhattan Theatre Club at MTC at New York City Center – Stage I, NYC.


WHO'S WHERE


BRUNO MARS continues with his Down Under tour with two nighter beginning Tuesday, March 4, at the Rod Laver Arena in Melbourne. On Friday he's on stage at the Brisbane Entertainment Centre in Boondall. Saturday finds him at the Qantas Credit Union Arena in Darling Harbour.

MILEY CYRUS performs Tueaday, March 4, at the Pepsi Center in Denver. On Thursday she'll gyrate her hits and hips at the Century Link Center in Omaha, NE. Friday finds her at the Allstate Arena in Rosemont, IL. Next Sunday, March 9, the show is at the BMO Harris Bradley Center in Milwaukee, WI.

LADY ANTEBELLUM are performing in Canada this week. On Wednesday, March 5, they are at the MTS Centre in Winnipeg. Thursday's performance is at the Credit Union Centre in Saskatoon. Friday the tour stops at the Rexall Place in Edmonton. On Saturday they can be enjoyed at the Scotiabank Saddledome in Calgary.

THE EAGLES Monday, March 3, take over the U.s. Bank Arena in Cincinnati. OH. On Wednesday the show is at the Nationwide Arena in Columbus, OH.

MICHAEL BOLTON on stage Tuesday, March 4, at the Ferguson Center for the Arts in Newport News, VA. Thursday's show is at the Opera House in Newberry, SC. On Saturday the tour stops at the Magic City Casino in Miami, FL.

MICHAEL BUBLE continues his gig at the Phones 4U Arena in Manchester, UK with shows Tuesday, March 4 through Thursday, March 6. On Saturday and Sunday he's on stage at the SSE Hydro in Glasgow, Scotland.

ELVIS COSTELLO entertains Saturday March 8 at Caesars in Atlantic City.

THE MINETTI QUARTET performs March 7 at the Embassy of Austria in Washington, DC as part of the Embassy Series. The quartet will bring musical offerings from Beethoven and Mendelsohn. To go with the atmospherics of gemuetlich Vienna, Austrian chef Willi Jonach will present his famous Strudel as part of a glittering reception that includes wine, cheese, hors-d'oeuvres and other desserts.

IL DIVO with guest star Tony and Olivier Award winner Lea Salonga perform Monday, March 3 at the Casle Hall in Osaka, Japan. On Wednesday the show is at the Festival Hall, also in Osaka. Thursday's show is at the Sun-Plaza is Hiroshima. On Saturday they are on stage at the Ishikawa Sogo Sports Center in Kanazawa, Japan.




FINAL OVATION


HAROLD RAMIS comedic actor, director and writer, died in Chicago ob February 24, 2014. He was 69.

Ramis suffered from autoimmune inflammatory vasculitis, a rare autoimmune disease, in his later years. A flareup in May 2010 caused Ramis to lose the ability to walk. But after relearning his capacity to do so, he suffered a relapse of the disease in late 2011.

His best-known film acting roles are as Egpn S[engler in Ghostbusters, (1984) and Russell Ziskey in Stripes (1981), both of which he co-wrote. As a writer/director, his films include the comedies Caddyshack (1980), Groundhog Day (1993), and Analyzer This (1999). Ramis was the original head writer of the television series SCTV( in which he also performed), and one of three screenwriters for the film National Lampoon's Animal House (1978).

Ramis is survived by three children. His daughter Violet from his first wife, Anne, and sons Julian Arthur and Daniel Hayes with his second wife, Erica Mann.

ERV RAIBLE founder and Executive Director of Cabaret & Concert Artists International and former owner/manager of Eight Eight's, Don't Tell Mama and The Duplex died February 19, 2014 at New York's Lenox Hills Hospital after a long illness. He was 68.

In a career that spanned 40 years, Erv Raible presented more than 4000 artists – many went on to achieve recognition and stardom on Broadway and television. He also worked with student and longtime friend Sarah Jessica Parker. For years, he was regarded as cabaret's strongest, most vocal champion of the art form and even fought authorities, unions and politicians for musicians' and performers' rights.

Along with New York Post critic Curt Davis, Erv co-founded the Manhattan Association of Cabarets (MAC) – later renamed the Manhattan Association of Cabarets & Clubs and remained president for 13 years.

He was also the Executive/Artistic Director of the Cabaret Conference At Yale University which was developed in conjunction with the Yale School of Drama and the Yale Repertory Theater and is an international teaching program that offers an intensive look at the art of performance technique training professionals for the live entertainment industry. Aside from Erv Raible Cabaret & Concert Artists' International, he served on the Advisory Boards of the Washington DC Cabaret Network, Boston Association Of Cabaret Artists, Chicago Cabaret Professionals, Cabaret West/Los Angeles, Pacific Northwest Cabaret Association and the West Michigan Cabaret Association.

He will be interred in Cincinnati next to his parents, Erwin and Dorothy Raible and his life-partner Rob Hoskins who died in December 1984.

IAN CUTTLER the Grammy Award winning art director died in a Los Angeles car crash on Sunday, February 23, 2014. He was 43.

Cuttler was a pannenger in a two seat sports car being driven by Salma Hayek's brother, Sami Hayek. e was pronounced dead at the scene

Hayek, 40, was driving eastbound on Sunset Boulevard in Holmby Hills when he lost control of his 2006 Ford GT shortly before 5 p.m. and veered into the path of an oncoming Toyota Tacoma truck traveling westbound, the Los Angeles Police Department said.

Hayek and the 20-year-old driver of the truck he collided with escaped without major injuries.

Neil Portnow President/CEO of The Recording Academy issued the following statement: "Grammy winner Ian Cuttler was a remarkable photographer and art director whose images and creativity drove visual campaigns for artists such as Beyoncé, Billy Joel and Ricky Martin, among others. His work ranged from fun and glamorous to gritty and dramatic, yet always compelling, and his vision and art direction for Johnny Cash's boxed set The Legend garnered him a Grammy in 2006. We have lost a gifted talent who brought a unique visual element to music, and our sincere condolences go out to his family, friends and colleagues during this difficult time."

PACO DE LUCIA Spanish flamenco composer, guitarist and producer died February 25, 2014 from a heart attack wile on vacation in Mexico. He was 66.

Described as "one of history's greatest guitarists," in 2012, a double album of live concerts earned him his second Latin Grammy Award for best flamenco recording. His first came in 2004 for Cositas Buenas (Good Little Things), which features another major flamenco guitarist, Tomatito.

One of his most famous recordings was Friday Night in San Francisco, recorded with fellow guitarists John McLaughlin and Al Di Meola in 1980.

In 1995 he played with Bryan Adams on the song Have You Ever Really Loved a Woman.

In 1977, de Lucía married Casilda Varela, the daughter of General Varela, they had three children who survive him.

Gabriel Abaroa Jr. President/CEO of The Latin Recording Academy issued the following statement: "Two-time Latin Grammy winner Paco de Lucía was a renowned composer, producer and undoubtedly one of the greatest flamenco guitarists whose talent and passion transformed the traditional Spanish folk art of flamenco music into a modern, vibrant and respected sound that has influenced countless artists and exposed generations of international music lovers to the genre. Although celebrated in his beloved field of flamenco, he also crossed over into classical and jazz guitar collaborating with such artists as Eric Clapton, Al Di Meola, John McLaughlin, Carlos Santana, and Chick Corea. His musical legacy will continue to inspire, captivate and touch our hearts. Our deepest sympathies are extended to his family, friends, colleagues, fans and to the people of Spain who have truly lost a national treasure."















Next Column: March 9, 2014
Copyright: March 2, 2014. All Rights Reserved. Reviews, Interviews, Commentary, Photographs or Graphics from any Broadway To Vegas (TM) columns may not be published, broadcast, rewritten, utilized as leads, or used in any manner without permission, compensation and/or credit.
Link to Main Page
---
Laura Deni



For the snail mail address, please E-mail your request.
CLICK HERE FOR COMMENT SECTION