! >
Broadway To Vegas
  SHOW REVIEWS CELEBRITY INTERVIEWS GOSSIP NEWS

| | |
| --- | --- |
| | |
MUSICIANS ARE AN ENDANGERED SPECIES - - DON'T GIVE UP THE DAY JOB - - CARMEN JONES - - WIT & WISDOM - - ONE DOLLAR THEATRE TICKETS - - PIGS NEED BALLS - - SMOKEY ROBINSON HONORED - - WALDEN FAMILY PLAYHOUSE - - DONATE . . . Scroll Down


Copyright: March 2, 2003

By: Laura Deni
CLICK HERE FOR COMMENT SECTION


DON'T GIVE UP YOUR DAY JOB
Jim Pelegano - told not to give up his day job. Photo by: Jim Baldassare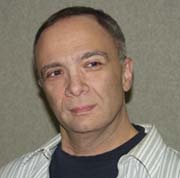 Usually when an actor/director is told - don't give up your day job - it's considered an insult.

James Pelegano is an actor turned director who is helming Alma and Mrs. Woolf, which opens March 7 at the Blue Heron Theatre in New York City. People constantly tell him to never give up his day job.

In his case the comment is a compliment.

When the man isn't directing plays, James Pelegano, M.D. is Director of the Division of Neonatology and Neonatal Intensive Care Unit (treatment of critically ill newborn infants) at Maimonides and Lutheran Medical Centers in Brooklyn.

Broadway To Vegas spoke with him about his unique ability to expertly travel both forks in the road.

Of Italian heritage, the Waterbury, Connecticut native was born with theatre in his blood. "My mother's father was a Broadway playwright named Joseph Carole. He wrote about 30 plays. The first, Separate Rooms, ran in New York for about a year-and-a-half," he related about the original comedy staged by William B. Friedlander. It opened March 23, 1940 at the Maxine Elliott's Theatre, transferring to the Mansfield Theatre and then to the Plymouth Theatre, where it closed September 6, 1941 for a total of 631 performances.

"Then he went out to Hollywood for awhile and wrote in B movies," he said referring to his grandfather's profession from 1940-1949. One of those flicks was a light, musical romance Ladies of the Chorus, which starred Marilyn Monroe - making her second appearance on film - as a chorus girl infatuated with a wealthy man who had once loved her mother.

Pelegano was also born with a few drops of business blood. His mother is a college English professor and he father was a business manager for a school system.

"My Dad's family was in the produce business. I think they ran a vegetable stand," continued Pelegano. "But, my mother's father was a playwright. So, the theatre was always in me. When I was a very young boy, 13-years-old, I said to my father - I want to be an actor. My father almost had a heart attack - as most Italian fathers would do. He said to me - You can be an actor, but get a really good day job first. I remembered that."

"When I graduated from medical school, at the age of 26, I came to him and said - Okay, I've got a good day job. Now can I be an actor?"

His road out of medical school is a story usually found only in a script.



Dramashop design and illustration by Eddie Kohler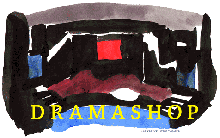 "I went to school at MIT," he related about the highly regarded Massachusetts Institute of Technology. "Their drama department is huge. MIT is fairly well off," said Pelegano who rattled off what would be the envy of most off Broadway theatres. "We had our own theatre. We had our own prop department, three full time people, a designer, a construction stage manager and a director who worked basically with us."

"It was run at the time by Professor Joseph Everingham. In fact, my claim to fame was I worked with Jimmy Woods. Jimmy Woods and I were contemporaries. We acted together a few times," recalled Pelegano about the lean, intense actor who attended MIT on a full scholarship majoring in Political Science, but dropped out of school just a few credits shy of graduating.

"Professor Everingham was a great believer in the classics. We did Chekhov, Shakespeare and Gorki. I was pretty heavy into what was called the MIT Dramashop. My senior year I was president of the Dramashop."

MIT Dramashop is a co-curricular student theater group open to all members of the MIT community which offer opportunities for people interested in acting, directing, stage managing, writing, and designing or building sets, lights, sound, and costumes. Dramashop presents two major productions each year, one during IAP and one during spring term; during the fall term, they produce a set of student-written, student-directed one-act plays.

He graduated, not with a degree in drama, but with a B.S. in geology and geophysics. "I was an oceanographer. I worked at Scripps Institute of Oceanography for awhile."

Then he entered the Peace Corps. It was while he was in the Peace Corps stationed on the South Pacific island of Tonga that the oceanographer became friends with the island physician. That friendship inspired Pelegano to enter medical school.

"I was accepted at the University of Rome in Italy," he continued. Rome, Italy? "To be honest with you, at the time, it was very difficult to get into school here. I applied to a number of American schools and to a number of Italian schools. We had some good friends who lived in Italy."

Fortunately, he had learned the language as a child. "By the time I was there for six months I was fluent. I think it was the old story that it was already programmed into my head from when I was about two years old. The classes were taught all in Italian. All of the exams were oral and in Italian."

"So, we lived there for five years. I graduated and came back to this country. It is like anyone else who goes to a foreign school. The Educational Council for Foreign Medical Graduates - ECFMG - puts forth what you have to do at any particular time. I took their exam and I took licensing exams. I did all of the things that I needed to do to be able to come to this country and get a license."

"I did a residency here in the United States. I started my residency at Poly Clinic Hospital in Harrisburg, Pennsylvania which is one of the Hershey affiliates. Then I went to Bridgeport Hospital in Bridgeport, Connecticut which is a Yale affiliate."

The future theatrical director was now a full fledged pediatrician.

While his life may have a wide focus, his vision was always on children. "I find children very honest. I find them easy to deal with and they seem to feel comfortable with me. Eventually, after training and working in private practice for four-and-a-half-years, as a general pediatrician in Connecticut, I decided I wanted to go into neonatology. I did a fellowship in neonatology at the University of Connecticut in Farmington."

With that sub-specialty under his belt the family moved to Milwaukee. "I don't think very many people realize that Milwaukee is a very big theatre town - community theatre, professional theatre, semi-professional theatre."

"So, we were out there, settled in. It was sort of like - now I have all of this free time. I was working, but I still had extra time," said Pelegano who has boundless energy. "My wife said to me - Look, why don't you go back to the theater."

"I hadn't done any acting since college. I just didn't have the time. I auditioned for a community theatre production of Dial M for Murder. I'm a character actor. I auditioned for the part of Hubbard, which is the inspector. The English accent came out and the next thing you know, I was cast. Over the next six years I appeared in about 12 different productions. I played Nathan Detroit in Guys and Dolls. I played Max in The Sound of Music."

"Then my wife wondered - What did I let loose here," he laughed.



Janine Pelegano starring in The Miracle Worker which her father directed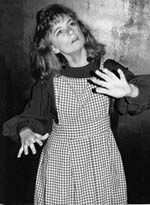 Their three children were not only at the theatre watching daddy perform, they got bit by the bug. "My daughter played the lead in The Miracle Worker, which I directed. A little nepotism there, but - she actually was the best one for the part. She did a bang up job."

So did Pelegano who was game for anything.

"I did stage managing and directing, design work for a couple of productions and I appeared in The Fantasticks as the old actor, which was interesting because when I was in college I played the mute."

"Then we decided that we wanted to come back East. My wife is originally from Brooklyn. I got a job at Columbia Presbyterian Hospital, part of Columbia University, where I was on the faculty. But, I didn't want to let the theatre stuff go."

Pelegano has a good friend who writes for a major New York newspaper. "I had gone to medical school with her husband. She offered to put in a good word for me with a producer she knew who was doing a play that needed a cast of 19."

Aspiring actors who think all they need is a connection should think again. Pressure on a producer can even backfire. The strong suit is ability, versatility and a willing to help attitude.

"The audition was on a night I was in a medical conference. The producer and I became friends and later she told me that she looked at that as her way out - we were auditioning one night, you were busy - sorry. She would have kept the reporter happy and not felt pressured to hire me."

"When I missed the audition I said - Well, if you need anybody to take tickets, or whatever you need, I'm here. About a week later I got a phone call. She said they had lost their production stage manager and would I be interested? This was for an off-off Broadway. I said sure. So, I started stage managing in New York. I stage managed over a dozen productions, mostly with Blue Heron Theatre."



The Rescuers by Elizabeth Striker had Pelegano as director/stage manager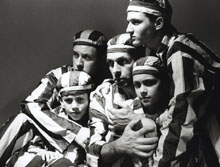 "The play I was the original stage manager for, The Rescuers, was going to tour. The director couldn't come back and half the cast found other things. She approached me and asked if I would be willing to restage it, mount it and direct it for the tour. I said sure. I did that and then I went out of town with it as the production stage manager. I took a leave of absence from the hospital. It wasn't a long tour, about four weeks. We went to Washington and then Purchase, New York and then back to Manhattan for another couple of weeks. It did really well. It was an Equity tour, so I signed an Equity contract and became a member."

"That was my beginning as a director in this city."



Medal of Honor Rag directed by Jim Pelegano. Sets & Lights by Roman Tatarowicz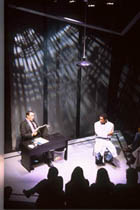 "Two years ago a very fine actor, Tom O'Leary, who played the Phantom in Phantom of the Opera on Broadway for a year-and-a-half, came to me and said he really wanted to do something different - to get away from musicals. We found a play called Medal of Honor Rag, which was written in the 70s. I'll never forget we were reviewed by The New York Times. The guy showed up to review it and you never think about what is going to happen after that. You just hold your breath. I picked up the newspaper and on the front page of the weekly arts section, there was this headline and a picture of the actors. I thought I can't believe it! They loved us!"

From that point on Pelegano maintained a dual life.

"I continue to work in the theatre. I have optioned a play for the fall that I am hopefully going to do through the same production company. I try to do a production a year, plus help out here and there."



Director Jim Pelegano (far right) confers at rehearsal of Alma and Mrs. Woolf with (from left to right): Nicole Orth-Pallavicini and Joan Grant. Photo by Jim Baldassare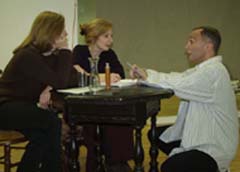 Currently he is directing Alma and Mrs.Woolf by award winning French-Canadian playwright Anne Legault, translated by Daniel Libman, which is concluding the 15th season of the Blue Heron Theatre.

A musical prodigy from Western Canada, Alma Rattenbury (1897-1935) led and intriguing life of celebrity and scandal. Accused of murdering her third husband, a jury in a sensational trial acquitted her. She nonetheless found herself publicly reviled and friendless.



Nicole Orth-Pallavicini and Joan Grant in Alma and Mrs. Woolf Photo By: Richard Termine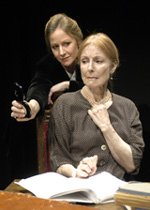 In Alma and Mrs. Woolf, Alma finds herself, shortly after her trial, imprisoned in a library reading room with none other than the distinguished British feminist essayist, critic and novelist Virginia Woolf. Joan Grant and Nicole Orth-Pallavicini portray Virginia Woolf and Alma Rattenbury respectively.

"Along the same lines I am a volunteer physician for the Actors Fund, which runs a program called Physician Volunteers for the Arts," explained the doctor/director. "This is a group of physicians in New York, under the guidance of Dr. Barry Kohn, who provide free services to people who work in the arts, primarily theatre people. The Actors Fund gives us physical facilities, but we are independent of them, to a certain extent. I work two half days a month. I see people who have no insurance, or are underinsured, and we try to get them deals if they need some special tests, or a sub-specialist who doesn't work with us. It's all free. It's a really wonderful service."



Dr. Barry Kohn administers a free flu shot as part of Physician Volunteers for the Arts, supported with a grant from BC/EFA.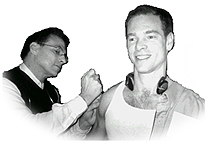 The program was started by a physician with a passion for the theater Barry A. Kohn, MD, a retired San Francisco pediatrician, allergist and immunologist. In 1999, Dr. Kohn received a $100,000 grant from Broadway Cares/Equity Fights AIDS that allowed him to hire a full-time coordinator and actively recruit other physicians to volunteer at the clinic.

"Then we do other things," continued Pelegano. "Like this year, Barry, myself and a couple of other docs went to all the Broadway houses and gave flu shots to all the Broadway casts. That is my other tie in to the theater in New York City."

"At Maimonides Medical Center I am director of Neonatology. Five years ago I was recruited by the new Chairman of Pediatrics. We re-structured the neonatal division at Maimonides."

The history of Maimonides Medical Center spans a period of over eight decades. It was originally founded in 1911 as the New Utrecht Infirmary in the rural settlement called Brooklyn. With 24 fully accredited residency and fellowship programs, 700 full-time and voluntary faculty; over 350 residents and fellows and approximately 800 medical student rotations per year, it is one of the largest independent academic medical centers in the United States.



Dr. James F. Pelegano examining a tiny patient at Maimonides Medical Center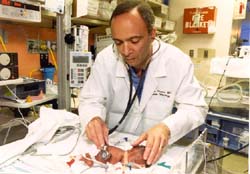 "We have one of the largest obstetrical delivery services in the state of New York," continued Pelegano who is self-effacing about his own accomplishments. "We have over 5,500 deliveries a year. Lutheran Medical Center is about 10 blocks away and I am also the director there. I work with six other neonatologists. It's a huge service. About a year ago the State of New York designated us as one of 17 regional perinatal centers in New York state. So, I am also the director of the regional perinatal center for Maimonides and Lutheran which is part of a huge state network."

For all his success Pelagano is not without his quirks. For instance, the letter J.

"I like the J's. It's an affectation I've had since I was young."

His wife's name is Janice. Their three grown children are Janine, Justin who is a budding playwright, and Jonathan. Even the pets. "We have two cats at the moment. Their names are Jack and Jitters."



Broadway To Vegas is supported through advertising and donations. Priority consideration is given to interview suggestions, news, press releases, etc from paid supporters. However, no paid supporters control, alter, edit, or in any way manipulate the content of this site. Your donation is appreciated. We accept PAYPAL. Thank you for your interest.


THE MUSIC GOES ROUND AND ROUND


CARMEN JONES has been released by Decca Broadway. The original 1943 cast recording is now available for the first time on CD.

The remastered disc features two songs not previously available on LP versions of the musical, new liner notes including essays by Oscar Hammerstein, photos from the original Broadway production and recording session, as well as a bonus track, a rare version of Beat Out That Rhythm On A Drum, by Kitty Carlisle with Russ Morgan and his Orchestra.

The original Carmen is one of the most beloved and performed operas of all time. The sexually charged production shocked Parisian audiences more than a century ago, and its gripping drama and tantalizing music have been electrifying audiences ever since.

In the opera, Carmen, Officer Don Jose sacrifices his fiancee and his career for the gorgeous but fickle gypsy Carmen. When she inevitably tires of his affections and falls under the spell of the celebrated toreador Escamillo, Don Jose exacts his revenge in a final, deadly encounter outside the bullring gates.

Taut plotting, a colorful Spanish setting, and Bizet's intoxicating music -- from the Flower Song to the Toreador Song to Don Jose's final despairing lament - have always made Carmen both an operatic masterpiece and a spectacular evening of theater.

By 1923 Hammerstein found his niche with some of the greatest composers of his day, breathing new life into the moribund artform of operetta with such classics as Rose Marie music by Rudolf Friml, The Desert Song music by Sigmund Romberg, The New Moon music by Romberg, and Song of the Flame music by George Gershwin. It would have come as no surprise that Hammerstein wanted to update an opera. What stunned the theatrical community into disbelief was that Hammerstein wanted to rewrite Carmen as a black story set in America.

This wasn't on a whim. Hammerstein had toyed with the idea of rewriting Carmen since he had first heard it in concert at the Hollywood Bowl during the 1930's.

He eventually completed his libretto for Carmen Jones in 1942, his last musical before embarking on an exclusive partnership with Richard Rodgers in which they were to work on a musical version of Lynn Riggs' play, Green Grow the Lilacs, later to be named Oklahoma!



Muriel Smith (1923-1985) when she starred as Carmen Jones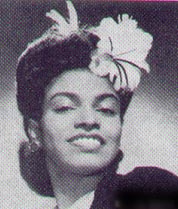 Muriel Smith from one of her last LPs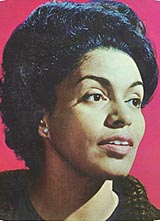 In Hammerstein's Carmen Jones, the scene is laid near a typical Southern defense town during World War II. Joe, an army corporal, is stationed near a parachute factory where Carmen Jones is employed. This reputed hussy soon manages to steal Joe away from his fiancee, and the army as well, and they run off to Chicago together. But the fickle Carmen loses interest in Joe when she meets and successfully woos Husky Miller, a prize fighter on his way to the top. Mad with jealousy, Joe waits for Carmen outside the stadium the night of Husky's big fight to make a last desperate plea for her love. When she denies him resolutely, he stabs her to death in a rage of passion to the eerie accompaniment of the crowd inside the stadium cheering Husky's victory.

Hammerstein shopped the project to various Broadway producers, all of whom rejected the idea. Black actors with operatic singing abilities were not well known on Broadway. There was also doubt among the theatre community as to whether audiences would accept a serious and classical music piece performed by a non-white cast. Eventually, the impresario Billy Rose agreed to mount the project.

Thus, before there was Rent or La Boheme there was Carmen Jones - now considered a landmark creation. A 1992 London revival garnered three Olivier Awards including Best Musical.



Oscar Hammerstein II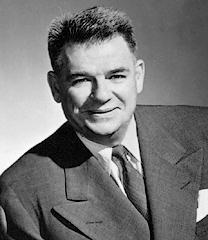 Hammerstein worked with the original Carmen score and libretto and with the exception of two arias, he did not alter Bizet's music in any way. All of those rousing numbers are there - The Toreador Song in the opera Carmen is transformed in Carmen Jones as Stan' Up an' Fight. Because of both its marching beat and lyric sentiment the song was immediately picked up by the U.S. military as a marching song. Opening at the Broadway Theatre on December 2, 1943 Carmen Jones was a hit - running almost two years, for 502 performances.

With the chorus conducted by Robert Shaw and the orchestra conducted by Joseph Littau the performers include; Luther Saxon, Muriel Smith, Glenn Bryant, Sibol Cain, Jack Carr, Edward Christopher, Robert Clarke, Cozy Cole, Tony Fleming Jr., Carlotta Franzell, June Hawkins, Melvin Howard, William Jones, Fredye Marshall, Dick Montgomery, Alford Pierre, Napoleon Reed, J. Fashe Riley, Edward Roche, Jessica Russell, P. Jay Sidney, Edward Taylor, and Royce Wallace.

Carmen Jones is an excellent addition to a musical collection, both from an enjoyment as well as a Broadway historical perspective.


LET THE MUSIC PLAY ON


Musicians are an endangered species. We first wrote that in the 1970s when Las Vegas hotels began eliminating showroom orchestras and productions opted for recorded music.

Broadway musicians voted 482 to 15 to give their union, Local 802 of the Associated Musicians of Greater New York, authority to call a strike if necessary against theater producers, a walkout that would affect virtually every musical on Broadway. The only exception is Cabaret which operates under a different contract because the production takes place in Studio 54, the former discotheque.

The vote gives the union's negotiating committee authority to call a walkout if the committee thinks it necessary. The contract expires at midnight Sunday. Negotiations between New York Musicians Union Local 802 and the League of American Theatres and Producers are continuing in hopes of averting a strike.

The sticking point remains the minimum number of live musicians needed for a show.

Local 802 representative Shawn Sachs passed out press statements that read, in part, "On March 3rd ... Broadway producers are planning to end the use of live music on Broadway."



Musicians Union Local 802 ad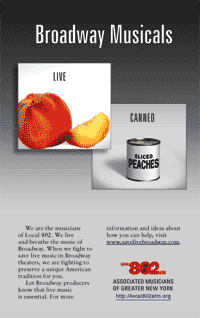 On their website Local 802 lists supporters which include; Patty Duke, Tom Wopat, Bob McGrath, Judy Kaye, Marin Alsop, Sally Struthers, Bette Midler, Jonathan Schwartz, Tony Danza, John Pizzarelli, Christine Ebersole, Max Weinberg, Joel Grey, Chita Rivera, Bebe Neuwirth, Jerry Boch, Sheldon Harnick, James Naughton, Robert Goulet, Christine Baranski, Jerry Herman

In a radio commercial for the union, Tony winner Audra McDonald said, "Performing in front of a full orchestra is nothing short of amazing. I know music and I know how live music sounds and feels. I can't imagine singing to a computer-generated sound."

The League of American Theatres and Producers hotly deny that they want to can the musicians.

"Every show will be prepared in one way or another with music in the event of a work stoppage," Jed Bernstein, president of the League of American Theatres and Producers told the press. Should musicians strike, producers are preparing to keep productions running by using "virtual orchestras," which are synthesizers creating the sound of an entire orchestra in real time. Programming those is between $50,000 and $60,000, not including the weekly equipment rental and operating personnel.

Some 19 Broadway musicals will be running when the deadline is reached. For the past week those productions have been rehearsing with virtual orchestras.

At odds: minimum orchestra size requirements which are determined by the size of the theatre. Minimums currently exist at all Broadway houses and the League wants to abolish them.

According to the websites of both factions: Orchestra minimums currently range in number from three at the Ambassador, Belasco, Biltmore, Booth, Circle in the Square, Cort, Golden, Walter Kerr and Lyceum Theaters to 26 at the Broadway and the Majestic. They apply to any musical attraction that plays at a given Broadway house, but can be appealed to a Special Situations committee composed of two Local 802 members, two members of the League and three theoretically impartial orchestrators or arrangers. The producers of Mamma Mia! challenged the union minimum policy and the musical now employs only nine musicians, though the minimum at the Winter Garden is 24.

In order to meet minimums, shows that would not normally fulfill those quotas have options. The most commonly used is "scoring up," - creating new parts for or adding instruments to an existing score. Les Miserables selected that option. The show has 23 orchestra players in London, but its Broadway minimum was 26, so players were added. In the sixteen years Les Miz has been running on Broadway these three extra players have cost over $3.4 million.

The second option is to hire "walkers," personnel who do not play in the orchestra but are compensated as if they did. Hairspray uses walkers as did the recent productions of Seussical and Saturday Night Fever. As the term implies, walkers must physically enter the building and sign in.

The last option producers have is to try to circumvent the rule by getting actors already in the cast to play musical instruments onstage - including a toy - thereby establishing them as musicians. These actors are paid no additional money but Local 802 is paid pension, welfare, etc. as if the actor was in fact a musician.

In 1975 when musicians staged a three week strike, which shut down most Broadway productions, we were there and found The Great White Way silent and bleak.

The League said in a statement: "Broadway producers remain committed to live music, but if musicians strike, Broadway shows will go on with virtual orchestras or other forms of music to accompany the live performers on stage. We are committed to live music. The only thing that will stop live music on Broadway is a strike by the musicians union."



SMOKEY ROBINSON will be awarded a National Medal of Arts for 2002 at a White House ceremony scheduled for March 7.


SPREADING THE WORD


A PIGS RIGHT NOT TO BE BORED Under new European Community animal-welfare regulations, farmers will face fines if they do not provide toys such as balls for their pigs to play with. "Farmers may also need to change the balls so the pigs don't get tired of the same ones," said a British official. There is still no law requiring that human children be given toys, which suggests that "animals have a stronger constituency than children have in certain EU countries."

That is just one of the case studies Walter K. Olson has posted on his website overlawyered.com. Olson is the author of The Litigation Explosion and The Excuse Factory. A senior fellow at the Manhattan Institute, Olson has written on law and lawyers for The Wall Street Journal, The New York Times, City Journal. His new book The Rule of Lawyers published by St. Martin's Press asks: "Who picks these lawyers, and who can fire them? Who protects the public's interest when settlements get negotiated behind closed doors? Where are our elected lawmakers in all this? The answers may determine whether we slip from the rule of law to the rule of lawyers."

Olson speaks in San Diego, California on March 5 and on March 6 he is in Sacramento. On March 6 Olson will also be a guest on the Bert Lee Show KTKT Tucson, Arizona.

THEATRE FOR A NEW AUDIENCE presents Zoe Caldwell, a four-time Tony Award winner, who will speak at a celebration for New York City's public school teachers, at Gallagher's Steak House, on Monday, March 3. As part of the event Caldwell will announce a new scholarship program for high school seniors, underwritten by The Richard and Mica Hadar Foundation. TFANA also sponsors the World Theatre Project as a way of introducing elementary and middle school students to the works of Shakespeare and other classics. Begun in 1984, the programs to introduce Shakespeare and classic drama have served nearly 100,000 students, ages 9 through 18, in New York City Public Schools city-wide. Students see full productions at our Off-Broadway theatre in a coordinated program which also includes staff development workshops for teachers, teaching artists' visits to the classroom and a culminating event.

Their New Voices project is a 15-week playwriting program for high school students in which students write their own plays inspired by a classic they see produced at Theatre for a New Audience.

Founded in 1979 by Jeffrey Horowitz, Theatre for a New Audience is an esteemed, non-profit classical theatre. For more than 20 years, it has continually produced acclaimed, imaginative productions of Shakespeare and the classics and offered major arts education programs.


OTHER PEOPLE'S MONEY


GREAT BARGAIN, CUTE GIMMICK the award winning British comedy The Play I Wrote begins previews March 7th at Broadway's Lyceum Theatre with tickets priced at $1 - one dollar. In one of the most delightful events staged in a long time, tomorrow the director and cast will be outside the Lyceum Theatre serving tea and scones to people who are lined up to purchase those tickets. If you miss out on the dollar deal, tickets for the next night double in price - to two dollars. On March 9 the price is $3, $4 for March 9th and finally $5 for March 11th.

The Play What I Wrote, a celebration of Britain's greatest comedy double act Morecambe and Wise. It's about two comedians who are breaking up that are asked to do a tribute show. The last 20 minutes of the play will feature the classic skit, and each evening there will be a surprise A-list celebrity guest. The Play What I Wrote will also feature original scripts from the two giants of comedy. Kenneth Branagh directs Sean Foley, Hamish McColl and Toby Jones.

Morecambe and Wise were two of Britain's best-loved comics and their show on BBC remains a strong draw for audiences. Ernie Wise died in 1999, 15 years after his comedy partner Eric Morecambe died. They were best known for their inventive comedy sketches, song and dance routines, the catchphrase The Play Wot I Wrote and appearances from stars such as Shirley Bassey. Produced by David Pugh, Mike Nichols, Joan Cullman, Stuart Thompson, Charles Whitehead and Hamilton South. Written by Hamish McColl and Sean Foley. The bargain tickets will only be available at the Lyceum box office beginning tomorrow.



GOLDA'S BALCONY starring Tovah Feldshuh, directed by Scott Schwartz. Golda's Balcony is the New York premiere of William Gibson's one-woman portrait of former Israeli Prime Minister Golda Meir. This biographical drama is an intimate look at the woman who, after a lifetime of public service, came out of retirement at age 70 to become Israel's fourth Prime Minister.

Tony Award-winning playwright William Gibson - The Miracle Worker, Two for the Seesaw - spent eight months with Golda Meir in 1977, and the text of Golda's Balcony is largely derived from his conversations with her. Contemporary audiences will inevitably draw parallels between the current situation in the Mideast and Meir's Israel of 1973, when she agonized over the decision of whether to employ Israel's nuclear arsenal during the Yom Kippur War.

Thirty years later, as the region teeters on the brink of war once again, Golda's Balcony may be one of the few plays of the season that tackles head-on the subject of the Arab-Israeli conflict. Audiences will also find, in her unflinchingly pro-Israel stance, an articulate if unmitigated point of view from one side of the tragedy.

Anna Louizos is the set designer, Jess Goldstein is costume designer, Howell Binkley serves as lighting designer. Sound by Mark Bennett. Projection designs by Robin Silvestri. Wigs by Paul Huntley. John Caglione, Jr. responsible for the Golda Meir makeup.

Begins March 14 at the Manhattan Ensemble Theater, New York City.

24 EVENINGS OF WIT & WISDOM writings by celebrated authors on the pleasure, the amusement and amazement of the extraordinary phenomenon of growing older, presented by The Colleagues Theatre Company starring Kitty Carlisle, Marge Champion, Joan Copeland, Carmen de Lavallade, Sandy Duncan, Alvin Epstein, Rita Gam, Tammy Grimes, Ben Hammer, Rosemary Harris, Dina Merrill, Margery Beddow, Michael Fischetti, Robert Ierardi and Peggy Pope among others.

The Musical Director will be John Mulcahy with lighting design by Marcia Madeira; costume coordination by Karin Beatty and sound design by John Phifer. The Production Stage Manager will be Alan Fox.

Opening Night of Wit & Wisdom has a post-performance reception benefiting The Colleagues Theatre Company. In addition, four of the performances will benefit The House for Elder Artists. Performances of Wit & Wisdom March 5-30 at The Arclight Theatre, NYC.

BARBRA'S WEDDING a new comedy by Daniel Stern who lives in Malibu as does Streisand. Stern was trying to work when his concentration was interrupted by helicopters, police, press and crowds - all because his neighbor was getting married to James Brolin.

The frustration of that experience spawned Barbra's Wedding which concerns Jerry Schiff, a celebrity-obsessed unemployed actor and former television star who happens to be Barbra Streisand's next-door neighbor. When Barbra fails to invite Jerry to her wedding, it triggers a madcap, comic reflection on our media culture of celebrity, and causes reverberations within Jerry's marriage. Presented by Dodger Stage Holdings and Manhattan Theatre Club, at West Side Theatre. The production stars John Pankow as the actor and opens Wednesday.

ETTA JENKS by Marlane Meyer in which an aspiring Hollywood actress falls into a career in pornography. The revival stars several of the cast members of the HBO television series The Sopranos, including Vincente Pastore who starred as Big Pussy, Robert Funaro who plays Eugene Pontecorvo on the series and also directs this production and Maureen Van Zandt who, in the role of Gabriella Dante, is an original cast member of the series.

In addition to The Sopranos cast members, Etta Jenks cast of 14 will feature Ruth Aguilar, Sharon Angela, Neil Barsky, Richard Boccato, Heather Hanemann, Tom Hitchcock, John Koprowski, Ernest Mingione, Susan Mitchell, John Prada, Lori Santoro and Chesney Snow.

March 3-22 at the Pantheon Theatre, NYC.

MARISOL Jose Rivera's Obie-award-winning play, a darkly comic millennial drama of a New York gone terribly wrong, is playing at the playing at The Viaduct in Chicago through April 6.

The play takes place in New York City at the beginning of the new millennium when - among terrible acts - Citicorp is kidnapping and torturing people who have exceeded their credit limit. The story revolves around a woman named Marisol who struggles to survive and searches for protection when her guardian angel abandons her.

ROCK ODYSSEY a contemporary musical interpretation of Homer's Odyssey is the premiere offering of the new 462-seat Walden Family Playhouse in Denver. Book by Stephen Cole, Music and Lyrics by Emmy winner Billy Straus.

Emmy winner for Sesame Street Steven Feldman directs. The production stars Kelby Thwaits, Sheryl Renee, and Jesse Johnson. The cast includes Scott Foster, Steve Miles, Tim Grant, Amy Rightmer, Andrew Kelso, Jason Veasey, Eric Mather, Chad Scott and Juli Redson-Smith.

Walden Playhouse has a guest-artist contract with Equity and actors will be paid $370 a week, equal to Equity's requirements for Theatre for Young Audiences, giving eight to 10 75-minute performances a week.

Walden Media - a Philip Anschutz property - hopes to develop children's shows at the theater, then turn them into touring shows and movies. This is the first year-round, professional theater dedicated exclusively to live children's theater in Denver. The multimillion-dollar theater and school are being privately financed by Denver billionaire Anschutz who hopes the project becomes the prototype for a national chain of children's theaters. The Walden Family Playhouse and school represent an unprecedented collaboration between Anschutz's New York-based Walden Media and his Englewood-based United Artists.

The Walden Family Playhouse will present a minimum of five original musical productions per year by a professional company of local and national adult actors and technicians. Walden's works eventually will be produced with the intention of being toured nationally. Also offered are year-round classes for children ages five through high school in subjects ranging from creative dramatics to acting for the camera.

Producing Artistic Director is Douglas Love, 34, who created the Disney Channel's popular Out of the Box children's television show, and at the age of 20 wrote the stage adaptation for Marlo Thomas' Free to Be You and Me. Rock Odyssey opens Tuesday at the Walden Family Playhouse located at the Colorado Mills Mall in suburban Denver. Performances through March 30.


WHO'S WHERE


MARCEL MARCEAU has arrived in the United States to begin his final tour of 14 states with performances in 19 cities. After 46 years of touring the renowned international mime intends to focus on special engagements and his work as a teacher and visual artist. During the tour, Mr. Marceau will attend a reception in New York City for the new non-profit Marcel Marceau Foundation for the Advancement of the Art of Mime, Inc., established and seeking support both to preserve and perpetuate the work of this unique artist for future study, and to support the next generation of mime artists and audiences. He opens his tour March 2 in Clearwater, Florida. On March 4 he will be on stage in Gainesville, Florida. Then he has a three day performance March 5-8 in Hampton, Virginia.

DAVID CASSIDY performs Friday in Lancaster, Pennsylvania at the America Music Theatre. On Saturday the show is at Casino Rama in Rama, Ontario.

THE IRISH ROVERS on stage tonight at the Mainstage Theatre in Grayslake, Illinois. On Thursday they are in the spotlight in Warren, Michigan at the McComb Community College. Friday the performance takes place in the McMorran Arena in Port Huton, Michigan and they close out the week, Saturday, in University Park, Illinois at Governors State University.

PAUL ANKA in Japan for a show Friday in Osaka at the Osaka Festival Hall. On Saturday the entertainer is on stage in Fukuoka, Japan.

JOE COCKER AND LEON RUSSELL have reunited after more than 30 years for the Return of Mad Dogs and Englishmen tour. They stop next Sunday at the Orange Peel in Asheville, North Carolina.

JOHNNY MATHIS in a two nighter Friday and Saturday at the Orpheum Theatre in Memphis, Tenn.

PAT BOONE on stage Friday and Saturday at Cypress Gardens in Cypress Gardens, Florida.

KLEA BLACKHURST Everything the Traffic Will Allow: The Songs and Sass of Ethel Merman. Singer, actor and comedienne Klea Blackhurst has earned raves for this loving tribute to the songs, style and unique humor made famous by Broadway legend Ethel Merman. Accompanied by Michael Rise and the Pocket Change Trio, Blackhurst breathes new life into classic Merman numbers like I Got Rhythm You're the Top, There's No Business Like Show Business, Blow, Gabriel, Blow, I Got Lost in His Arms, and others. March 8 at the Performing Arts Center in Newark, New Jersey

MELISSA ERRICO opening tonight at Joe's Pub - named in honor of The Public Theater/NYSF's founder, Joseph Papp. Melissa will be accompanied on guitar and vocals by her brother, Mike Errico.

LIZ CALLAWAY March 3 at the Wintergarden in the NYC World Financial Center in New York, NY

MAUREEN McGOVERN, BARBARA FASANO AND RICK JENSEN in studio guests tonight with David Kenney and his Everything Old Is New Again radio show which can be heard on the Radio over WBAI 99.5 FM and on the Internet at: http://www.2600.com/offthehook/hot2.ram. Next Sunday David's in studio guests include Melissa Errico and Barbara Lea, who is appearing March 7 and 14 at Judy's Chelsea.

MAUREEN McGOVERN March 4-15 at Feinstein's at the Regency in New York City.

GREGORY HINES entertaining Saturday in Morristown, New Jersey at the Community Theatre. Next Sunday the multi talented performer will be strutting his stuff in Reading, Pennsylvania at the Sovereign Center for the Performing Arts.

GREG PAGE AND ELVIS' BANDMATES perform at the Stardust Hotel in Las Vegas March 9-10. Rock singer Page will be joined by the legendary TCB Band - the initials stand for Taking Care of Business - who earned notoriety as Presley's rhythm section on live concerts, TV specials and recordings during the latter stages of his career. Band members are guitarist James Burton, pianist Glen F Hardin, bassist Jerry Scheff and drummer Ronnie Tutt.

SHAUNA HICKS & 70S MIX presented by Caroline Rhea, written and performed by Shauna Hicks, directed by Michael Schiralli with musical director James Followell on piano. A look at the effect the woman's movement had on girls coming of age in the 70's. Using a backdrop of the music of the decade, Hicks makes observations on everything from pop culture to the political climate of the time, packaged in a humorous, intelligent and touching memorial to young adulthood. This multi-media show is full of sound bites, familiar songs and imagery including I Am Woman, The Hustle, The Exorcist and Farrah.

Hicks played Linda in Blood Brothers on Broadway opposite David and Shaun Cassidy with Petula Clark, Carole King and Helen Reddy. She played Rosemary opposite Ralph Machio in the first national tour of How to Succeed in Business Without Really Trying winning Florida's Carbonell Award and a Jeff Award nomination for Best Leading Actress in a Musical. She won a MAC nomination at The Firebird Cafe' with Jeff Harnar in Shauna and Jeff Sing Mickey & Judy.

Don't Tell Mama, New York City on March 8, 16, 22, and 29.

BOBBY BELFRY in his Rented Realities show featuring songs written by Bobby w/ David Friedman, David Budway, Mark Hartman & Steven Ray Watkins. Directed By Thommie Walsh Musical Direction by Steven Ray Watkins March 5, 12, 26 & April 2 at The Duplex Cabaret/Theatre, NYC.
















Next Column: March 9, 2003
Copyright: March 2, 2003. All Rights Reserved. Reviews, Interviews, Commentary, Photographs or Graphics from any Broadway To Vegas (TM) columns may not be published, broadcast, rewritten, utilized as leads, or used in any manner without permission, compensation and/or credit.
Link to Main Page
---
Laura Deni



U.S. Postal Address: Post Office Box 60538, Las Vegas, NV 89160
CLICK HERE FOR COMMENT SECTION