! >
Broadway To Vegas
  SHOW REVIEWS     CELEBRITY INTERVIEWS     GOSSIP     NEWS 
SEND IN THE CLOWNS

The annual Oscars will be awarded next Sunday, unfortunately the envelopes opened after our deadline. Therefore, in advance, we congratulate the winners.



BILLY CRYSTAL the Oscar host has been told to stay away from Bell, California for fear he might disappear, too.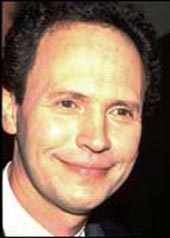 At least we assume the Academy Awards - now a media circus - will take place.

First the post office thinks the ballots are third class junk mail and puts the mail bags on the back burner. Then the box containing the Oscars "fell off the truck." The Chicago based manufacturer R.S. Owens is now working 24 hours a day to replace the 55 statues. "We always put only our best people on the job and we can't rush it," said an Owens spokesman "Each Oscar takes 40 work hours to make. Normally it takes us one-and-a-half to two-months to make the 55 Oscars."

The statues are valued at $327 each. The publicity generated to the Oscar Awards telecast is priceless. Sounds like a credit card commercial. The FBI has put their art theft experts on the case and a $50,000 reward is on the table.

The trophies were in an unmarked crate when snatched from a loading dock in Bell, California - the same city where the ballots were lost by the post office. Maybe the folks in Bell just don't like movies. This time the gold-covered pewter figures will be picked up by a security guard who will place them on a United Airlines cargo plane, which will be met by another security guard who will personally deliver the shipment.



KEVIN SPACEY: tension time for the nominees. Photo By: Laura Deni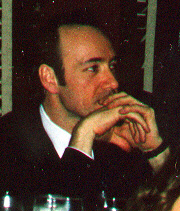 One talented comedy writer pointed out that this isn't the first time an Oscar has been stolen -"when you think of some of the people who have won them."

In addition to the Academy being on edge so are many of the nominees.

It's nail biting time for Kevin Spacey whom many consider the front runner to bring home a Best Actor statue to join the one he already has for Best Supporting Actor. Spacey has been in Las Vegas filming Pay It Forward

Alan Ball Oscar-nominee and Golden Globe winner for his American Beauty screenplay, visited Las Vegas catching Siegfried and Roy's Show at the Mirage.
Ball stopped back stage asking for some magical advice. Ball told the illusionists that if he "learned anything from his experiences, it's that it pays to write from the heart and not guess how the marketplace will respond." The magicians gave Ball a good luck charm to carry with him until the Oscars are announced

Perhaps the illusionists should have given good luck charms those trying to get this show up and running.


RODNEY DANGERFIELD RUSHED TO HOSPITAL

For a guy who gripes about not gettin' no respect, Rodney Dangerfield got everyone attention when he was taken to Sunrise Hospital following his closing show of a six-night engagement at the MGM Grand Hotel in Las Vegas.

A lid of secrecy has been slammed on the reason for the comedian's hospitalization. Officials at the hospital would say that his condition is "stable" but refused to say what prompted the hospitalization or list a diagnosis.

The comedian is a Vegas regular and owns Dangerfield's Comedy club in New York City.

STEPHEN SONDHEIM TURNS 70

American treasure, that prolific composer Stephen Sondheim, celebrates his 70th birthday on March 22.

Sondheim's first Broadway effort was in 1957 with a show called West Side Story. His last Broadway effort was Carol Burnett starring in Putting It Together. In between, the creative genius changed the face of Broadway with Company, Follies, Sunday in The Park With George, and Sweeney Todd.

The birthday boy is not being ignored. In May The New York Philharmonic will stage Sweeney Todd, in a three-night concert starring Bryn Terfel and Patti LuPone. For three months - on both coasts - The Museum of Television and Radio is honoring Sondheim.

KURT WEILL: MUSES TO MUSIC

He married, divorced and then remarried his muse Lotte Lenya, for whom the female lead in The Three Penny Opera was written..

The sounds of Kurt Weill are a fusion of opera, folk, and jazz idioms created by a composer who was equally at home in the concert hall and the cabaret. "I have never acknowledged the differences between "serious" and "light" music, he once told an interviewer. "There is only good music and bad music."



KURT WEILL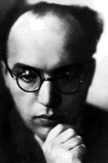 Lotte Lenya was married to Weill at the time of his death. She turned her widows weeds into a Renaissance cape. Championing a revival of Three Penny Opera in the 50s, the production played to sold out audience world wide.The production first reached Broadway in 1933, in what has been called a "muddled version." The script is now lost, but the show made a musical statement. The strains of Bobby Darin's hit Mack the Knife which emanated from jukeboxes and car radios; There was a live televised spectacular of One Touch of Venus and Lady In The Dark lit up the sets from coast to coast.

Following Lenya's death, the torch to keep Weill's music in the spotlight has been held by Louis Armstrong, Lou Reed, Teresa Stratas and Ute Lemper.



UTE LEMPER

She's been called a cross between Marlene Dietrich and Edith Piaf. With her unique blend of cabaret intimacy and concert hall brio, who better than Uta Lemper to salute Kurt Weill. On March backed by Skitch Henderson conducting The New York Pops, Lemper and Henderson present Kurt Weill at 100, a special centennial tribute to the composer and his music.

German composer Weill was born 100 years ago on March 2, 1900, the son of a cantor. A figure central to both the post-World War I political/musical culture of central Europe and the development of American musical theater, Weill displayed musical talent at an early age. By 1925, a series of performances in Berlin and at international musical festivals established him as one of the leading composers of his generation.

By the time he was 19 he knew that theater would be his calling. His theatricals debut was Der Protagonist, a one-act opera on a text by George Keller. The reaction was sensational. Weill considered Der neue Orpheun his 1925 cantata for soprano, violin and orchestra on a poem by Iwan Goll, to be the turning point in his career - development of his own sounds.


LOSCH & KENYA as Anna II and Anna I from the original Paris production of 1933.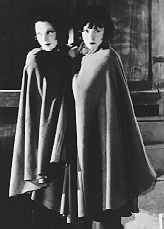 As the 30s unfolded Weill's works began to outrage the Nazi's. Riots broke out and orchestrated campaigns discouraged production of his work. In March, 1933 Weill and Lenya fled Nazi Germany for Paris and then divorced. Weill completed "a ballet with singing" for George Balanchine's troupe Les Ballets 1933. In September 1935 the couple came to America to oversee Max Reinhardt's production of Franz Werfel's biblical epic Der Weg der Verheissung. Deciding to remain in American, Lotte and Kurt remarried and applied for American citizenship.

In America his collaborations with Maxwell Anderson, Ira Gershwin, Ogden Nash and Langston Hughes led to such memorable shows as Knickerbocker Holiday. Although only a modest success, it never-the-less showcased Weill's first American "standard" September Song



STING starred in a revival of Three Penny Opera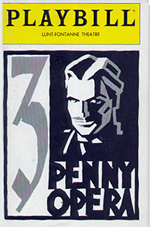 Weill's Lady In The Dark was a musical play about psychoanalyses by Moss Hart with lyrics by Ira Gershwin, his return to the theater after the death of his brother George. This was considered a daring experience, with music restricted to only the dream sequences - a technique analogous to the use of color in The Wizard of Oz. Lady in the Dark broke Broadway records for production costs but recouped it all during its 777 performance run. Gertrude Lawrence appeared as Liza both on Broadway and in the national tour.

Weill was considered the finest craftsman in the business.

He achieved even greater success with One Touch of Venus with a book by S. J. Perelman, lyrics by Ogden Nash. The show has such gems as Speak Low and I'm A Stranger Here Myself. The charming tale which follows the amorous complications that ensue when a soon to be married window dresser brings to life a statue of the goddess of love.



AVA GARDNER as Venus Jones in One Touch of Venus.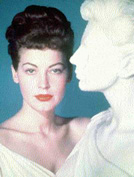 When Ava Gardner was only 25 years old Universal Studios took her on a loan out from MGM-Studios and cast her in what would become one of her first signature roles - as the Goddess of Love in the movie version of One Touch of Venus. The studio selected Ava over stage actress Mary Martin, who portrayed the part on Broadway.

The Oscar nominated Weill scored the farcical musical - one of a number of films in which Ava appeared to be singing but is actually dubbed by somebody who could carry a tune.

The success of One Touch of Venus gave Weill the credibility to embark on Street Scene, an American opera considered the first real successor to Porgy and Bess.

Weill then teamed with Alan Jay Lerner for the original musical Love Life which was the first "concept musical" - using musical idioms and a vaudeville frame to chronicle in no-linear form the impact of 150 years of "progress" on the marriage and family of Sam and Susan Cooper, who never age. Even Stephen Sondheim admitted that he found Love Life "very useful" for his creations.

Weill died in New York City of a heart attack. He was 50.

The Worldwide Weill Centenary continues with productions, recordings, radio and television broadcasts and performances culminating in a multimedia exhibit at the Lincoln Center Library for the Performing Arts in spring of 2001.

Skitch Henderson conducts The New York Pops: Kurt Weill at 100 with special guest artist Ute Lemper, Carnegie Hall, NYC, March 24.

REVISITING THE CRIME SCENE


In the very theatre where President Lincoln was assassinated - The Ford Theatre, Washington, D.C. - a musical has opened that reenacts the murder.

Reunion is about a vaudeville troupe of six actors performing a Civil War drama 135 years to the day after John Wilkes Booth shot President Lincoln.
Written by Jack Kyrieleison, from a story by Kyrieleison and Ron Holgate, the script which is really a play within a play, weaves the actual words of Union men and women during the Civil War into a patriotic celebration of struggle, inspiration and freedom.

Highlighting the Union army's leadership the author has incorporated the real words of Abraham Lincoln, Louisa May Alcott, Gen. George McClellan who was Lincoln's opponent in the 1864 election, Frederick Douglas and diaries and historical papers of people who witnessed the events.

Michael O'Flaherty, musical director of the Goodspeed Opera House in East Haadam, Conn. arranged the music, which is a series of songs from the Civic War era.

Actor James Judy portrays Harry Hawk, the actor who was delivering his lines during the production of the farce Our American Cousin when the shot rang out. Ric Ryder plays Booth.

During the assassination the audience laughing and applauding muffled the sound of the single shot that was fired from a short-barreled derringer into the back of President Lincoln's neck. Booth than jumped to the stage. In the 12-foot fall Booth broke his foot when his spur caught in a flag. He managed to hobble to a rear exit where his getaway horse was waiting.

Performances through June 18, including a performance on the 135th anniversary of the assassination.



Broadway To Vegas is supported through advertising and donations. Priority consideration is given to interview suggestions, news, press releases, etc from paid supporters. However, no paid supporters control, alter, edit, or in any way manipulate the content of this site. Your donation is appreciated. We accept PAYPAL. Thank you for your interest.


THE LAST SUPPER


Leonardo da Vinci was an Italian artist and scientist who lived between 1452-1519. By 1495 he had risen to the exalted ranks of fame reserved for those artists society deemed to be geniuses. While Leonardo is best known as a painter, he primarily worked for the military producing designs of tanks, airplanes, and submarines hundreds of years before such war machines were created. Describing himself as an artists/inventor/enginneer/sculptue/scientist/architect, he desperately accepted the opportunity to obliterate the disgrace of his illegitimate birth to a Florentine notary.



LEONARDO de VINCI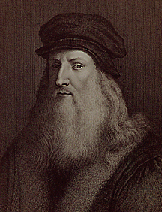 He was "received" with the respect afforded the nobility. Glory was within his reach. Offered a commission by the house of the Duke of Milan, he accepted the invitation immediately with thoughts of unending financial backing for the arsenal of creativity.

But his dreams began to crumble. Promises, made with the greatest enthusiasm, were not kept. Military designs that inspired awe were never financed. His inventions became the subject of ridicule. Those flowing spigots of money, originally discussed, had been turned off. He was left with one assignment - to paint a mural on the wall of the dining hall in the Monastery Santa Maria delle Grazie with a depiction of The Last Supper.



THE LAST SUPPER by Leonardo de Vinci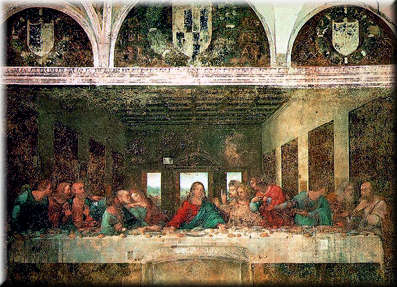 He had not painted in ten years. And here was his hell - the excruciating torment of the white surface.

In 1495 Leonardo da Vinci faced a blank white canvas and himself. In 1497 he finished The Last Supper. Some claim there was an Angel involved. The authors of The Last Supper believe this to be true.

The Last Supper, The Musical was originally conceived by Chaplain Andrew Krey in 1994 while he was assigned minister to thousands of Haitian and Cuban refugees on the U.S. naval base at Guantanamo Bay. Chaplin Krey, who now serves as a Director of Chaplaincy for Seafarers and International House in New York City, began the project with those under his protection. When he arrived back in the States, he enlisted the services of book writer Thomas Mitz who in turn enlisted composer Gary William Friedman - and the result is The Last Supper: The Musical.

The Angel is played by Ms. Stevie Holland, who will be backed by the Time Warner Singers, led by choir director Laurie Vargas.

The cast of the musical is the cast of the painting - the 12 men who sat at the table during The Last Supper

The Last Supper: The Musical opens March 22 at St. Luke's Church NYC. Performances Wednesdays through Sundays.

SWEET CHARITY


ASIAN WEEK at the Seventh Regiment Armory NYC with a preview party this Thursday which benefits the Asia Society. Chairmen are Wendi and Rudolph Murdock, with Mrs. Randolph Hearst as honorary chair. The International Asian Art Fair runs through March 29 with 61 dealers from 8 countries, including China.

CONCERT OF LOVE an annual event that has been taking place in Las Vegas for 25 years took place last Sunday at Caesars Palace and raised $150,000 for the group that helps developmentally disabled adults. Rock legend Chicago performed. Rich Little opened the show doing his presidential impressions. Wayne Newton did a walk on presenting an award from President Bill Clinton to Glenn Smith for his work on behalf of developmentally disabled adults in conjunction with the fundraiser. Newton performed in the very first Concert of Love 25 years ago and has remained an active supporter of the organization.

OTHER PEOPLE'S MONEY


MUSICIANS RETIREMENT HOME is one step closer to reality in Los Angeles. The county approved the proposal to build Encore Hall, a senior housing project for music-industry retirees.The site would have six stories of apartment units, with retail shops located on the ground floor.

"This will provide a place where seniors from the music industry can come together in an innovative and unique setting that will have music rooms and an auditorium," stated Adam Sandler, a spokesman for the National Academy of Recording Arts and Sciences.

The $20 million project is a joint effort of the academy's charitable wing, MusiCares, and Emeritus Assisted Living, which is a private, for-profit developer.

CAESARS PALACE in Las Vegas is going to turn their Circus Maximus Showroom into a bunch of high-priced suites, reported The Las Vegas Sun newspaper. That will kick to the curb their roster of artists who may be able to play off their contracts at other corporate held properties. Andy Williams opened the resort's 800 seat showroom. Co-starring with him in a Bill Moore presentation titled Rome Swings was Elaine Dunne, who was noted for her Broadway role in Bye, Bye, Birdie.


KELSEY GRAMMER who as the star of the hit TV series Frasier gets into some intriguing scenes with Eddie the dog, will now tackle a terror of another breed - Macbeth.



KELSEY GRAMMER

Grammer already knows the part. He's been fascinated by Shakespeare since he was a teen and is proud that by the time he was 14 he had memorized Macbeth's major monologues. After spending two years at Julliard he joined the Old Globe Theatre in San Diego where his love of The Bard could be transferred to the stage.

Nor will this be Grammer's first turn on Broadway. He's been on the Broadway stage - in Plenty, Sunday In The Park with George, and A Month in the Country. Grammer isn't deserting Frazier - just stretching his theatrical wings during hiatus periods. Macbeth will open in Boston for a three week stint before heading into The Great White Way in June for an eight-week run.

SMOKEY JOE'S CAFE starring Gladys Knight opened in Las Vegas at Caesars Palace. Mob lawyer turned Las Vegas Mayor Oscar Goodman got up on stage opening night as a backup singer -sort of - offering a line from Charley Brown. Wearing a multi-hued propeller beanie, Hizzonner crooned "Why is everyone always pickin' on me?"

JESUS CHRIST SUPERSTAR with music by Andrew Lloyd Webber and lyrics by Tim Rice begins previews March 23 at the Ford Center, NYC.

THE VAGINA MONOLOGUES is utilizing a revolving cast of super talent to keep the hit off-Broadway production fresh. Marlo Thomas, who closes tonight, has totally enjoyed her turn in a role which "That Girl" admits would have caused her father - the late Danny Thomas "to faint." From one verbal extreme to the other Thomas is also starring in a remake of the G rated Bedknobs and Broomsticks. Taking over as stars of The Vagina Monologues beginning Tuesday are Shirley Knight, Andrea Martin and Alanis Morrissette. Westside Theatre, NYC.

TALLER THAN A DWARF by Elaine May starring Matthew Broderick, Parker Posey with Joyce Van Patten with Alan Arkin directing begins March 24 at the Longacre Theatre, NYC.

THE BARBER OF SEVILLE featuring the New York City Opera at the Saenger Theatre in their Broadway Series. Pensacola, Florida.

MIZLANSKY/ZILINSKY a comedy about the shady side of Hollywood by Jon Robin Baitz stars Mury Ginsburg, David Groh, Richard Kline, Michael Lerner, Will McCormick, Dina Platias, Wayne Rogers and George Wyner. Directed by Nicholas Martin. Performances begin March 21 at the Geffen Playhouse, Los Angeles.

FOXY LADIES LOVE/BOOGIE 70s EXPLOSION! enters its 6th month of sold out performances. The 85 minute revue traces the changes in women in the 1970s, through an extensive selection of pop, rock, folk, disco and even TV theme songs. The show incorporates 43 songs and 46 costume changes as it pays tribute to female musical legends such as Joni Mitchell, Cher, Patti Smith, Donna Summer and Barbra Streisand. Emmy nominee Fritz Brekeller is the director and creator of Foxy Ladies Love/Boogie 70s Explosion! which stars Maggie Anderson, Marie LaFerrara, Anne Lauterbach, Abigail-Spencer, and Jen Ward. Musical director is Tracy Stark; choreographer Ashley Wren Collins; costume design DeWayne Kircher, and technical director Thomas Honick.

THE RAT PACK IS BACK which went ta-ta at the Desert Inn Hotel after the Sinatra estate objected to merchandising, is back. This time the tribute show to the Rat Pack will call the 550 seat Congo Show Room of the Sahara Hotel home. Co-created by David Cassidy the original cast members are expected to be part of this show. In the Desert Inn production Cassidy would occasionally appear as Bobby Darin. That's not possible this time out, since Cassidy has his own show at the Rio Hotel.

BLUE MAN GROUP

Serving those special clothing needs nationwide



opened at the Luxor Hotel in Las Vegas. Judge Reinhold flew in for the opening, which was attended by an interestingly attired crowd - and we don't mean the patrons in the first rows who are outfitted in "Gear" so they don't get splattered from the action. We're talking men - guys wearing small dark glasses, berets and straw cowboy hats. Toss up as to whether it's more interesting to watch the audience or keep your eyes on the stage.

DOWN THE DRAIN a play based on the life of Susan Smith, the mother who drowned her two infant sons, begins performances March 22 at the Ohio Theater.

RAGTIME in a national touring company production, continues through March 26 at the Tennessee Performing Arts Center's Jackson Hall.

BELLS ARE RINGING that glorious musical by Betty Comden and Adolph Green is being revived, with the composers also scripting any updated revisions. Producers Mitchell and Victoria Maxwell open the show at the Pasadena Playhouse, CA Nov. 12-Dec.27 and then take it to Broadway.


WHO'S WHERE

LILLIAS WHITE who won the Tony for her portrayal of Sonja, the hooker, in the Cy Coleman-Ira Gasman musical The Life, performs her one-woman show From Brooklyn to Broadway at Arci's Place, NYC.


LILLIAS WHITE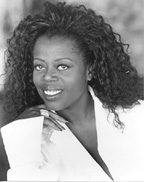 Her show is a musical journey from the place of her birth to her performances on Broadway. Accompanying her is musical director Timothy Graphenreed on piano, with Gary Haase on bass and Buddy Williams on drums.

On last Thursday's Rosie O'Donnell show musical director John McDaniel, who has his own list of Broadway credits, talked about seeing the show. It seems the busy McDaniel made time to see Lillias' show and raved about both her and Arci's Place - calling it his new favorite place.

Then Liza Minnelli, who is about to begin her own tour of Minnelli On Minnelli, celebrated her March 15th birthday by attending Lillias' show. Also helping Liza celebrate her natal day was Ruth Warrick, whose roles included playing Orson Welles' first wife in Citizen Kane. In addition to The Life Lillias also received rave reviews for her portrayal of Jonesy in the 1995 revival of How To Succeed in Business Without Really Trying. Her engagement at Arci's Place marks her return to New York since she completed filming a role in the new Ron Howard film The Grinch That Stole Christmas staring Jim Carrey - scheduled for a late fall release. Lillias sings the songs of Titanic's composer James Horner, on camera, in the new flick. Lillias performs at Arci's Place, NYC through April 1.

JONATHAN MILLER AND IRENE WORTH in a literary reading of Prometheus Bound at The 92nd St Y, NYC. Tickets are $15.

KISS known for face paint and hard rock theatrics takes the stage March 21 at the Bakersfield Centennial Gardens, CA, in what they are billing their farewell tour. The tour opened at the Blockbuster/Sky Pavilion in Phoenix and played The Mandalay Bay Events Center in Las Vegas last night. This tour coincides with the release of Alive IV, on March 28 on Mercury Island/Def Jam. About 75 North American shows are planned which could gross between $40million-$50 million. The group insists that this tour is not a promotional gimmick to hype the record, but really is a "real thing" farewell tour.

CROSBY, STILLS, NASH & YOUNG at the FleetCenter, Boston on March 27. Tickets $39.50-$200.

THE RAMSEY LEWIS TRIO March 26 at the Rialto Square Theatre, Chicago.

THE BRITISH ROCK SYMPHONY STARRING BILLY PRESTON performing the music of The Beatles, The Rolling Stones, Led Zeppelin, Pink Floyd and The Who March 22 at the Cerritos Center for the Performing Arts, CA.


THIS AND THAT


FLIRTING 101

Low Cost Printing Nationwide



is a legitimate college class taught in Las Vegas. In addition to classroom study the students participate in field trips and lab studies to local bars for some hands on experience in how to flirt.

MARLA MAPLES AND DAUGHTER TIFFANY TRUMP have been in Nevada taking part in the celebrity challenge at Lake Tahoe International Spring Snowfest 2000. If anyone would like to see six year old Tiffany make her television debut turn into PAX Television on March 25. It wasn't just a mother-daughter event. Keeping a close watch on both of them was Marla's intended, Michael Mailer.



Mention BROADWAY TO VEGAS for Special Consideration
Call (800) 942-9027









Next Column: March 26, 2000
Copyright: March 19, 2000. All Rights Reserved. Reviews, Interviews, Commentary, Photographs or Graphics from any Broadway To Vegas (TM) columns may not be published, broadcast, rewritten, utilized as leads, or used in any manner without permission, compensation and/or credit.
Link to Main Page
---
Laura Deni


CLICK HERE FOR COMMENT SECTION