! >
Broadway To Vegas
  
 SHOW REVIEWS CELEBRITY INTERVIEWS GOSSIP NEWS

| | |
| --- | --- |
| | |
FANTASTIC NANETTE FABRAY - - AN EVENING WITH GENE WILDER - - TIBETAN ENCOUNTERS: CONTEMPORARY MEETS TRADITION - - CICADAS CAUSE RAVINIA FESTIVAL TO ALTER STAGING - - BROADWAY STARS IN SONGS FOR DARFUR: THE WATER PROJECT - -DANCING BACKWARDS IN HIGH HEELS ABOUT GINGER ROGERS - - ORFEO ED EURIDICE - - OUR LEADING LADY STARS KATE MULGREW - - DONATE . . . Scroll Down


Copyright: March 18, 2007
By: Laura Deni

CLICK HERE FOR COMMENT SECTION
FANTASTIC NANETTE FABRAY
Nanette Fabray on stage in The Damsel Dialogues. Photo by Ed Krieger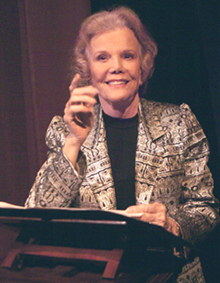 Nanette Fabray, 86, who started out in vaudeville, was the star attraction on a cruise ship voyage, during which time she fell ill. She was advised to spend three days in bed, which she did. Scheduled to open in The Damsel Dialogues at the Whitefire Theatre in Los Angeles, the production postponed the official opening for one week, instead using an understudy to read Nanette's part.

Nanette then appeared to have bounced back and began rehearsals for The Damsel Dialogues.

Broadway To Vegas taped an interview with her the morning after a rehearsal in her home. "I feel fine," she insisted.

Unfortunately, Nanette managed to perform in three previews before again becoming ill and being forced to drop out of the show, being replaced by Dick Van Patten. Broadway To Vegas wishes Nanette Fabray a speedy and complete recovery.

When Nanette spoke with Broadway To Vegas last week she discussed a variety of topics including her life, causes and career.

She is intelligent, articulate, dynamic. A real estate mogul, social advocate - performer.

People take for granted that when they enter a theatre, hearing assisted devices are provided - headsets which amplify the sound.

Thank Nanette Fabray.

Notice that there are closed captions for the hearing impaired on television? Thank Nanette Fabray.

Born in San Diego, Fabray was herself handicapped for most of her adult life by a hearing problem. She wore discreet hearing aids throughout her career until four inn-ear operations restored her hearing. She has been in the forefront of the rights of all disabled people.

Long before it became popular to have a cause, Nanette was beating the drums hoping somebody would hear the importance of the aural.

"I was the first celebrity ever to speak up and say I'm not perfect. After that every celebrity wanted something to hook onto," she recalled still astonished at the inquiries. "I've even had press agents call and say - Do you know of any cause that isn't taken?"

Being the first to forge a cause is a hard-fought battle. "Yes, it is," she agreed. Like a tiny noise turning into a roar, little by little one theatre after another installed hearing-impaired devices. At that time Nanette did receive a bow. Today the devices are taken for granted.

"I did get the credit but as time passes people forget," she related.

Unfortunately, hearing problems aren't forgotten and baby boomers who jacked up the rock music sound are now increasing the volume controls of their hearing aides.

"The statistics are that hearing impairment is the number one medical problem around the world. It's a bigger problem than cancer, blindness, TB, MS. I have a long list," Nanette emphasized. "If you lump them all together hearing is still the greater problem."

Her dedication to the handicapped resulted in her receiving the President's Distinguished Service-vice Award and the Eleanor Roosevelt Humanitarian Award. She and Helen Keller are the only women to receive the Public Service Award from the American Academy of Otolaryncology.

For many years, she worked to bring sign language and captioning to television. She has made well over 100 radio, newspaper and TV interviews concerning the needs of the disabled.

At Gallaudet University she established the Annual MacDougall Creative University Writing Award, named in honor of her late husband, to encourage deaf people to explore careers in writing. Deadline for this year's award is Friday, March 23.



Fred Astaire, Nanette Fabray and Jack Buchanan in the famous Triplets number from Bandwagon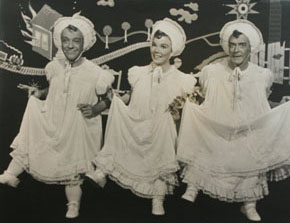 Nanette has turned millstones into stepping stones achieving success in virtually every performance medium - stage, film and television. She's won three Emmy Awards and the Tony.

In vaudeville from the age of six, Nanette was a teenager when she first appeared on Broadway.

"It was a show called Meet The People," Nanette recalled.

Produced by the Hollywood Theatre Alliance, the Jay Gorney/Henry Myers musical revue Meet The People played the Mansfield Theatre in New York City opening December 25th, 1940 and ran for 160 performances. The ensemble cast included three talents making their Broadway debuts including Nanette Fabray - then known as Nanette Fabares - Jack Albertson and Jack Gilford.

"It started here in Los Angeles and then went to Broadway. I just stayed there. I did 12 Broadway shows. That's my favorite thing - to be in front of a live audience."

She took home the Tony in 1949 for her role as Susan Cooper in Love Life.

Love Life boasted music by Kurt Weill with a book and lyrics by Alan Jay Lerner. It opened at the 46th Street Theatre (now the Richard Rodgers) on October 7, 1948 and closed on May 14, 1949 after having played 252 performances. In addition to Fabray the original production starred Ray Middleton and was directed by Elia Kazan with choreography by Michael Kidd.

The show told the story of a married couple, Sam and Susan Cooper, who never age as they progress from 1791 to 1948, encountering difficulties in their marriage (and thus the very fabric of American marriage) as they struggle to cope with changing social mores. The production had done down in history as one of the earliest examples of the concept musical in which, the story line is interspersed with vaudeville-style numbers that commented on the story. Cabaret is frequently used as another example of the concept musical.

A strike prevented the recording of an original cast album.

In that production as well as other early Broadway and film appearances, Fabray was credited as Fabares.

Is it true that you changed your name because Ed Sullivan mispronounced it?

"Yes, it is," answered Fabray verifying an embarrassing moment on Ed Sullivan's Toast of the Town, when the host, reading a cue card, mispronounced her name on live television as "Nanette Fa-bare-ass."



Nanette Fabray and Michael Falcone. Rear: Dawn Notagiacomo, Catrina Quintanilla, Rene Petrello and Shannon Watson. Cast photo of The Damsel Dialogues by Ed Krieger.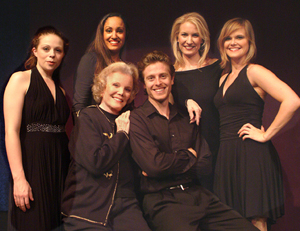 "It was a lot of fun," she said of the cruise in which she first became ill. "I was there as a guest speaker giving several lectures on my life and areas where I have outside interests."

Hopefully, they paid attention. Nanette has something to say.

"There never will be a parity," she declared referring to jobs offered men versus women. "That's the way it is. It's been that way in show business and in business. They talk about the glass ceiling for executives. Maybe they have made a break through. I can remember, in my very early age, when women could hardly do anything. We didn't even get to vote until 1920!"

Fabray has been married twice. Her first husband was Dave Tebet (1947-51), a vice-president of NBC. Her second husband was screenwriter/director Ranald MacDougall (1957-73), with whom she had one child.

"Do you know that when my husband died in 1973 I found out that all my credit cards were canceled, because a woman couldn't have a credit card unless it was in her husband's name?" she exploded. "We have come a long way."

Fabray has.

Among other things the word land comes to mind.

"The one thing I know about is land," she stated. "You can make money if you are wise and smart. The old cliché about "location, location, location" is true. I finished remodeling my ninth house a couple of years ago. That's what has sustained me through all these years."

"Sometimes I rent, rather than sell. I don't necessarily remodel - sometimes I've torn the old house down and built a new house. It depends upon what the situation."

Her real estate education?

"Instinctive," she replied about the best type of knowledge. "You really have to learn a lot about the building business," she added.

"I almost became an investor and then I decided - no - I want something where I can go to it every day. See it. See what is going on. I need to have hands on control."

"I love it. It's very challenging. It's as challenging as performing."

Anything Fabray ever received, she earned.

"The only thing they hand you on a silver platter is the bill," she ruefully remarked.

"Today, anybody who has a press agent or gets a job anywhere is instantly labeled a star. In the old days you had to have your name above the title before you got the star acclamation. Today the word star is thrown around," she lamented.

She's philosophical and says "I just keep going."

While she professes no special diet or exercise routine, Nanette quickly injects that "exercise and diet are the most important things that maintain us"

Then she giggled and admitted, "I'm a chocoholic. I could never give up chocolate!"

NOTE ON THE CAST CHANGE: Fabray performed in the show for three previews, on March 9-11. The show's writer, the Emmy-nominated composer Dick De Benedictis then revised the role - which consists five monologues - for a male. No performances were held March 12-15. Fabray's understudy performed in the show March 16, and Van Patten took over the role for the new press opening which took place last night, March 17.

"The show is working because the show is a musical and everyone has their own distinct parts," co-star Rena Petrello explained to Broadway To Vegas. "There is either none or limited interaction with the other performers. The part Nanette played is so distinct from the rest of us that it can just be plugged in and it will still work."

The show runs through April 7.


ART AND ABOUT


SURREAL THINGS

Salvador Dali and Edward James, Mae West Lips Sofa, 1938, The Trustees of the Edward James Foundation © Salvador Dali, Gala-Salvador Dali Foundation, DACS, London 2006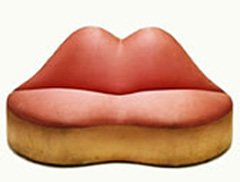 a rare opportunity to see 300 of the most extraordinary objects ever created, in a spectacular theatrical setting.

This exhibition is the first to explore the influence of Surrealism on the worlds of fashion, design, theatre, interiors, film, architecture and advertising. It will show how artists engaged with design and how designers were inspired by Surrealism.

Alongside paintings by Magritte and Ernst will be Elsa Schiaparelli's dramatic Skeleton' dress, Meret Oppenheimer's Table with Bird's Legs, and many world-famous works by Salvador Dali including paintings, the Mae West Lips Sofa and the Lobster Telephone.

With nearly 300 exhibits, Surreal Things will look at how artists like Dalí engaged with design and how designers were inspired by Surrealism. It will emphasize the tensions that arose from the increasing commercialization of Surrealism's visual aesthetic. Among the highlights of the exhibition will be Giorgio de Chirico's costumes and set designs for Diaghilev's Le Bal; Dalí's Venus de Milo aux tiroirs; Oscar Dominguez's satin-lined Wheelbarrow armchair and a case study of Monkton, the purple-painted Sussex home of the English Surrealist patron and friend of Dalí, Edward James.

The exhibition will look at those Surrealist artists and designers who were productive before 1939 and follows their subsequent post-war careers. Among the key figures featured will be Salvador Dalí, René Magritte, Elsa Schiaparelli, Marcel Duchamp, Meret Oppenheim, Man Ray, Alberto Giacometti, Jean Arp, Joan Miró, Giorgio De Chirico, Isamu Noguchi, Eileen Agar, Jean Michel Frank, Frederick Kiesler and Max Ernst.

March 22-July 22 at the Victoria & Albert Museum in London.

TIBETAN ENCOUNTERS: CONTEMPORARY MEETS TRADITION

Lhasa girl by Ang Sang. Acrylic on canvas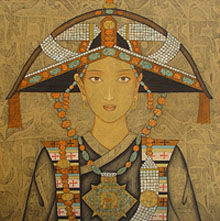 an exhibition of Tibetan art both old and new will be staged by London-based dealer Rossi & Rossi at the Neuhoff Gallery, New York City from Monday, March 19 to Tuesday, March 27. The exhibition coincides with Asia Week, which also includes major auctions and the International Asian Art Fair.

The artists include;

Ang Sang who is currently senior dress designer of the Tibet Song and Dance Group.
Banor (Tsering Namgyal) whose work Dream was nominated at the National Exhibition of Minority Regions of China in Beijing.
Tsering Nyandak and Gade both founding members of the Gedun Choephel Artists' Guild, Tibet University graduate Dedron.
Gonkar Gyatso Artist in Residence at the Pitt Rivers Museum in Oxford.
Jhamsang who he became an apprentice to the thangka master Tenpa Rapten in 1987.


Aluminum beer can and photographic print by Kesang Lamdark who noted for unusual mediums from butter to finger nail polish. In this beer can creation, pinpoints of light enter from the illuminated can bottom to reveal the scene. Using the 17-18th century pages from a tantric manual's instructions for the imprisonment of enemies within 'wheels' into contemporary satire, George W. Bush is encircled within the Maddening Wheel in the clutches of a monkey.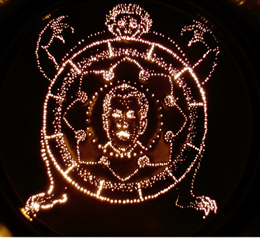 Kesang Lamdark who studied at the Parson's School of Design in New York, and Columbia University.
Losang Gyatso who lives in Boulder, Colorado studied traditional painting in a Tibetan monastery in India for two years and co-founded the Mechak Centre for Contemporary Tibetan Art.
Nortse who studied at Tibet University in Lhasa, and the Art Academies of Guangzhou and Tainjing.
Penba Wangdu who teaches at Tibet University.
Palden Larz Weinreb who was born and raised in New York City. He graduated from Skidmore College in 2004.
Sonam Dolma has exhibited in several galleries in Switzerland as well as at the Wereldmuseum in Rotterdam, Holland.
Tashi Norbu (Tanor) graduated from the Art School of the Tibet Autonomous Region in 1998.
Tenzing Rigdol studied art and art history at the University of Colorado where he is currently pursuing an MA in philosophy.
Tsewang Tashi who completed a Master's Degree from the National College of Art and Design in Norway and is currently Associate Professor at Tibet University.
Bianba Qiongda (Benpa Chungdak) is a recipient of a grant from the Trace Foundation International Exchange Program, New York.

Contemporary Tibetan artists are very aware of their spiritual and artistic heritage and the seventeen whose works will be exhibited in New York have responded to these ancient pieces with a deep understanding of their Tibetan roots while expressing themselves as artists who truly belong in the 21st century. The works are executed in a wide variety of media and all are imbued with a profound spirituality and an aesthetic that does indeed cross the boundaries between eastern and western artistic traditions.



Broadway To Vegas is supported through advertising and donations. Priority consideration is given to interview suggestions, news, press releases, etc from paid supporters. However, no paid supporters control, alter, edit, or in any way manipulate the content of this site. Your donation is appreciated. We accept PAYPAL. Thank you for your interest.


SPREADING THE WORD
AN EVENING WITH GENE WILDER interviewed by Letty Cottin Pogrebin, a founding editor of Ms. magazine.

Gene Wilder was nominated for a Best Supporting Actor Oscar for his role as Leo Bloom in The Producers. That led to a role in Blazing Saddles and to another Academy Award nomination, this time for writing Young Frankenstein.

His memoir, Kiss Me Like a Stranger, was a bestseller. Wilder has now written his first novel, My French Whore, an intimate love story set inside a classic spy adventure.

Sunday, March 25, Kaufmann Concert Hall in NYC.

THE MIND'S EYE Stories & Music from the Bridge between Mental Despair and Hope.

Part One: Seduction focuses on the intense power of depression and schizophrenic vision to separate an individual from social connection and into a vortex of illness. The act features the stories Silent Snow, Secret Snow by Conrad Aiken, read by John Hutton; Silver Water by Amy Bloom, read by Kathleen Brady; and The Bell Jar by Sylvia Plath, read by Tony-nominated Jeanne Paulsen.

Part Two: Reclamation focuses on the experience of healing, and celebrates the enormous courage and stamina that people summon to fight their way back into the world. It also acknowledges the critical part played by medication, therapy, and the support of loved ones. Stories include Sights Unseen by Kay Gibbons, read by Julia Pace Mitchell; Hello to All That by John Falk, read by David Iversy; and Darkness Visible by William Styron, read by John Hutton.

Musical selections will be woven throughout the show featuring singers Rene Marie, Voted Best Jazz Vocalist by the Association for Independent Music Critics and Melissa James. Matinee and evening readings on Sunday, March 25 at Seawell Ballroom, Denver Center for the Performing Arts.

POCAHONTAS AND ENGLAND, SPECTACLE AND TRAGEDY: NATIVE AMERICA AND THE ORIGINS OF THE WILD WEST SHOW 1607–1887 Dr. Jonathan King, Keeper of the Department of Africa, Oceania and the Americas at the British Museum and author of First Peoples, First Contact: Native Peoples of North America, will speak.

Native Americans were brought to Europe, forcibly or otherwise, from the 15th century onwards.While many died from disease or were abandoned, others appeared on stage at fairs and theatres. By the 19th century these popular entertainments had become Wild West Shows and were first brought to London by Buffalo Bill in 1887.

Thursday March 22 at the British Museum in London.


SWEET CHARITY


SONGS FOR DARFUR: THE WATER PROJECT will feature performances by co-hosts Tony Award-winning actress Victoria Clark, Broadway star Cheyenne Jackson, and singer/songwriter Jane Kelly Williams, and appearances by celebrated Broadway stars including Maureen McGovern, Kelli O'Hara, Everett Bradley, Malcolm Gets, Elizabeth Stanley, Marilyn Torres, and world-renowned opera singer Marvis Martin. Musicians Ted Sperling and Dave Richards will perform.

This benefit concert is to raise money for The United Methodist Committee On Relief (UMCOR Sudan) And The Darfur People's Association Of New York. Proceeds will benefit UMCOR Sudan to improve access to water and sanitation and increase food security for displaced people living in camps in Darfur and the surrounding communities of Adilla and Al Daein. Proceeds will also go to The Darfur People's Association of New York, to help raise funds for school supplies to be sent to refugee camps in Darfur and Chad.

The one-night-only concert will take place at the Church of St. Paul & St. Andrew on Monday, March 26.



MASSACRE (SING TO YOUR CHILDREN) a darkly comic thriller by Academy Award-nominee José Rivera, makes its world premiere in a Teatro Vista production in association with Goodman Theatre.

Chuck Smith directs the play Chicago audiences first heard as a staged reading as part of Teatro Vista's Tapas Reading Series in Pilsen and then at the Goodman's 2006 New Stages Series.

After an eight-year absence from acting, Goodman Resident Artistic Associate Henry Godinez returns to the stage to reunite with the Teatro Vista ensemble. The cast includes Teatro Vista Artistic Director Edward F. Torres; Teatro Vista ensemble members Sandra Delgado, Sandra Marquez, Joe Minoso and Juan Francisco Villa; and Anthony Moseley and Sona Tatoyan.

Covered in blood, seven people rush into the living room of an old New England farmhouse clutching ice picks, cleavers and pitchforks. Members of the closely knit Latino community of bucolic Granville, New Hampshire, have just murdered their fellow citizen Joe, town bully and local tyrant.

They are exhilarated, having liberated the town of Joe's outrageous crimes after six years of terror. But as the excitement wears off, the seven begin to have doubts about the righteousness of their act, about each other's trustworthiness and, worst of all, about Joe: is he really dead? Massacre explores the courageous and volatile connections between members of a community forced to bond together and act against terrifying oppression, and the emotional toll of such an act.

The design team for Massacre includes Christine Pascual (Costumes), Brian Sidney Bembridge (Set), Mary Badger (Lighting) and Mikhail Fiksel (Sound).

This world premiere is the culmination of Teatro Vista's 15th Anniversary Season. Massacre runs March 24 - April 22 in the Owen Theatre, Chicago.

THE PALM SPRINGS FOLLIES on March 20, after a 14-year absence, The Palm Springs Follies welcomes back Mimi Hines. She spent decades as a Las Vegas regular with the Phil Ford/Mimi Hines show and was in New York City Center's recent production of Stephen Sondheim's Follies.

The Palm Springs Follies is on the Plaza Theatre stage in Palm Springs, CA.

OUR LEADING LADY by Charles Busch.

Directing is Manhattan Theatre Club's Lynne Meadow.

Laura Keene (Kate Mulgrew), a 19th-century American stage luminary, prepares to perform at Ford's Theatre on the fateful night when Abraham Lincoln is in the audience.

In addition to Mulgrew the production features Reed Birney, Barbara Bryne, Maxwell Caulfield, Ann Duquesnay, J.R. Horne, Kristine Nielsen, Amy Rutberg and Billy Wheelan.

Set design by three time Tony Award winner Santo Loquasto. Costumes by Jane Greenwood. Scott Lehrer Sound Designer. Tom Watson Hair and Wig Design. J. David Brimmer is the Flight Director and Angelina Avallone is the makeup designer.

Officially opens March 20 at Manhattan Theatre Club's Stage 11 with performances through April 22.

WOUNDED with Walter Reed Army Medical Center in the national headlines on a daily basis, the critically-acclaimed Los Angeles Theatre Ensemble production of Wounded returns to The Powerhouse Theatre on April 13 following its sold-out, limited engagement last spring.

Collaboratively conceived and written by the Los Angeles Theatre Ensemble and directed by Tom Burmester, Wounded is based on true accounts of soldiers returning from Iraq and Afghanistan. Set in the Fisher House rehabilitation home at the Walter Reed Medical Center in Washington DC, the main point of re-entry for wounded soldiers, sailors, and Marines, Wounded follows four young veterans and their families on their quest to readjust to life back home and get on with lives newly transformed by physical and emotional injury. With their time in the war behind them, these men and women discover that their real battle is about to begin.

"We had great reviews and strong word-of-mouth, but had to close the show prematurely because the theater was committed to another production," explains Powerhouse managing director Eric Sims. "We're delighted that the entire original cast is available to bring back this exciting new work for the longer run it deserves."

Countless hours of research, interviews, improvisation, transcriptions, revelations, and conversations went into developing the Wounded script. After months of negotiating a maze of military bureaucracy, the Ensemble managed to arrange a trip to Fisher House to interview returning veterans and their family members. There, they were privileged to spend time with three outstanding individuals whose experiences and stories provided the inspiration for the fictional characters in the play: Navy Corpsman Joe Dan "Doc" Worley, who ran into open fire to save an injured Marine; Sgt. Jason Pepper, who lost his eyes to a roadside bomb; and Major Tammy Duckworth, a Blackhawk pilot who wants to fly again after losing both her legs and who was narrowly defeated in her bid for Congress last November.

Wounded, the first in Los Angeles Theatre Ensemble's War Cycle; had its world premiere at the Edinburgh Fringe Festival in August, 2005, and premiered for an American audience last May at The Powerhouse Theatre with special preview performances at UCLA as part of the UCLA Live series.

The six-week run, features original cast members; Albert Meijer, Emeka Nnadi, Emily Rose, Morgan Early, Carly Reeves, Carrie Bradac, Spencer Nicholas, Lauren Eckstrom, and Eric Ancker. Scenic and lighting design are by Francois-Pierre Couture; fight choreography is by Spencer Nicholas; and dance choreography is by Rebecca Rainboldt. April 13 - May 19 at The Powerhouse Theatre Company in Santa Monica, CA.

BACKWARDS IN HIGH HEELS Conceived and Developed by Lynnette Barkley and Christopher McGovern. Book/Musical Arrangements/Original Songs by Christopher McGovern. Directed and Choreographed by Lynnette Barkley.

The world premiere of a musical about the remarkable life and times of the multi-talented entertainment powerhouse, Ginger Rogers. Full of memorable music and glorious dancing, this backstage look at the private life of this timeless beauty is a celebration of that charming dame who could dance before she could walk!

Perhaps best known as Fred Astaire's dance partner, Ginger Rogers was also an acclaimed actress and singer, a woman who had a profound effect on the recognition of female performers. It was her seeming effortless approach to her performance that prompted critics to observe 'she does everything that Fred Astaire does, but backwards and in high heels.'"

Amber Stone stars as Ginger Rogers. The cast also includes Jeremy Benton as Fred Astaire. Dirk Lumbard as Jack Culpepper. Erin Maguire as The Impersonator. Brendt Reil as Joe. Lourelene Snedeker as Lela.

Musicians include Glen Rovinelli (woodwinds), Neel Shukla (drums), Madalina Macovei (cello) and Rupert Ziawinski (bass).

The creative team includes scenic designer Jeremy C. Doucette, lighting designer Jim Fulton, costume designer Suzette Pare and sound designer Matt Kelly.

Backwards in High Heels was partially funded by the National Alliance for Musical Theatre Producer-Writer Initiative.

Opened March 17 at Florida Stage with performances through April 29. Located in Manalapan, FL, near West Palm Beach.

ORFEO ED EURIDICE by Gluck. Mark Morris will make his Met debut directing the company's new production of Gluck's Orfeo ed Euridice, marking the first time a choreographer has directed at the Met in 50 years. A creative force in the world of opera and dance, Morris is joined by a team of designers and previous collaborators, including famed fashion designer Isaac Mizrahi, who makes his Met debut designing the costumes; set designer Allen Moyer makes his Met debut. James F. Ingalls returns to the Met stage as lighting designer.

Countertenor David Daniels who made his role debut as the grief-stricken Orfeo last season in Chicago, becomes the first countertenor to sing the role at the Met. Orfeo's wife Euridice, lost to the underworld, will be sung by Latvian soprano Maija Kovalevska.

Heidi Grant Murphy, whose roles for the company have ranged from Sophie in Der Rosenkavalier to Nannetta in Falstaff, sings Amor, the god of love who reunites the couple.

Not since 1953, when George Balanchine directed The Rake's Progress, has a choreographer directed a Met production. For Morris's interpretation of the original 1762 version, a chorus of 100 singers and a small corps of dancers, including members of Mark Morris Dance Group, will join the principals on stage. The production is pared down to one single-unit set and no intermission in order to showcase the dramatic force of the music and dance.

Met Music Director James Levine conducts the four-performance run May 2 through May 12 at the Metropolitan Opera in New York City. The performances are dedicated to the memory of mezzo-soprano Lorraine Hunt Lieberson.

FUGUE A new play by Lee Thuna. Directed by two tiny Tony Award winner Judith Ivey.

Starring Charlotte Booker, Ari Butler, Lily Corvo, Liam Craig, Deirdre O'Connell, Danielle Skraastad, Rick Stear and Catherine Wolf.

Scenic design by Neil Patel. Costumes by Gail Cooper Hecht. Lighting by Pat Dignan. Sound by T. Richard Fitzgerald and Carl Casella.

Sometimes the hardest memories to run away from are the ones that you can't even remember...

A woman is found wandering in Chicago, her feet blistered and bloody. Doctors at the hospital immediately recognize this as a symptom of the "fugue" state of amnesia, where the patient is literally running away from an intolerable memory. A young psychiatrist assigned to work with her is running from his own demons as well - a mistake he made with a patient which had a devastating effect on his own life. His job is to make her remember, but if she does, will HE be repeating the mistake that he made?

Officially opens March 21 in a limited engagement through April 22. Cherry Lane Theatre in NYC.

DANCES PATRELLE 18th Repertory Season, will be presented Mach 23–25 at The Ailey Citigroup Theater - The Joan Weill Center for Dance - a program which will include two World Premieres to commissioned scores as well as two of the past dance classics. The company includes principal dancers from some of America's foremost dance companies.

What Do We Do About Mother a world premiere with commissioned score. Choreography: Francis Patrelle; Music: new score by Patrick Soluri. Francis Patrelle tackles one of the most important and difficult issues in modern American life — the challenges and burdens of caring for an aging parent. Starring New York City Ballet principal dancers Jenifer Ringer and Stephen Hanna..

Pair of Jacks a world premiere with commissioned score. Choreography:Leda Meredith; Music: new score by Groovelily composed of Brendan Milburn, Gene Lewin and Valerie Vigoda. Performed by Duncan Cooper, Principal, Dance Theatre of Harlem and Julie Voshell, Movin' Out tour.

American Dreamer with Choreography by Francis Patrelle; Music: score by Rod Hausen, based on the melodies & lyrics of Stephen Foster. The ballet explores the history, mythology and fondest hopes of our nation. Performed by Melissa Morrissey, Member of Dance Theatre of Harlem and Eric Otto, formerly of American Ballet Theatre and Movin' Out on Broadway.

American Overture with choreography by Francis Patrelle; Music: Leonard Bernstein. Uncle Sam like you've never seen him - sexy, controversial and thought-provoking! It will be danced by Pacific Northwest Ballet principal Jonathan Porretta as a modern look at the United States and the ideals it ought to stand for.


| | | |
| --- | --- | --- |
| | | |
WHO'S WHERE


DIAHANN CARROLL has brought her new Both Sides Now act to Feinstein's at the Regency in NYC. You can enjoy her there through March 24.

THE CELTIC TENORS All natives of Ireland, the three young tenors create a unique harmonic blend with their distinctive voices. Songs on their albums include inspired renditions of Danny Boy, Mull of Kintyre and You Raise Me Up. The show also features guest soprano Deirdre Shannon who was chosen by Michael Flatley to be the vocal soloist in his phenomenal show Lord of the Dance! March 24 at the La Mirada Theatre for the Performing Arts in La Mirada, CA.

CHRISTINA AGUILERA in the spotlight Monday, March 19, at Xcel Energy Center in Saint Paul, MN. On Friday she's on stage at Madison Square Garden in NYC. Next Sunday, March 25, she can be found at Air Canada Centre in Toronto, ON.

MARY CHAPIN CARPENTER performs Friday, March 23, at the Paramount Center in Peekskill, NY.

ART GARFUNKEL in the spotlight Wednesday, March 21 at the Olympia in Paris, France. On Friday he performs at Alsion Concert Hall in Sonderborg, Denmark and on Saturday the show is at Portalen in Greve, Denmark.

THE BACON BROTHERS perform Saturday, March 24 at the Executive Inn Rivermont in Owensboro, KY. Next Sunday, March 25, they appear at the Raue Center for the Arts in Crystal Lake, IL.

BRANFORD MARSALIS on stage Wednesday, March 21, at Sanat Hall in Istanbul, Turkey.

THE KINGSTON TRIO singing their hits Monday, March 19 at Glenwood Springs High School in Glenwood Springs, CO. On Thursday the show is at the Paramount Theatre in Saint Cloud, MN. Saturday finds the guys at Fergus Falls Middle School in Fergus Falls, MN. Next Sunday, March 25, they can be enjoyed at Historic Holmes Theatre in Detroit Lakes,MN.

JOHN PIZZARELLI in the spotlight Saturday, March 24, at the Weinberg Center for the Arts in Frederick, MD. Next Sunday, March 25, he can be enjoyed at the South Orange Performing Arts Center in Sough Orange, NJ.

CHRIS BOTTI performs Friday, March 23 at the State Theatre in State College, PA. On Saturday he'll be tooting his own horn at the Tilles Center for the Performing Arts in Greenvale, NY.

JOY BEHAR A co-host of ABC's The View, Joy Behar is among today's leading comic talents. Whether performing standup comedy or interviewing, she is an intelligent comedic delight. Years ago she was a Las Vegas regular who never failed to generate laughs. She'll bring her storytelling stand up Saturday, March 24 to the Stamford Center for the Arts in Stamford, CT.




PIFFLE AND PROFUNDITIES


CICADA CANTATA those noisy bugs which appear about every 17-years, are playing the diva role at this year's Ravinia Festival in Chicago, which begins in June - coinciding with the expected Cicada visit. Officials of the 103-year-old musical festival are moving several events indoors so they won't have to compete with the Cicadas' vocalizing.

Next Column: March 25, 2007
Copyright: March 18, 2007. All Rights Reserved. Reviews, Interviews, Commentary, Photographs or Graphics from any Broadway To Vegas (TM) columns may not be published, broadcast, rewritten, utilized as leads, or used in any manner without permission, compensation and/or credit.
Link to Main Page
---
Laura Deni


CLICK HERE FOR COMMENT SECTION