! >
Broadway To Vegas
  
  REVIEWS INTERVIEWS COMMENTARY NEWS

| | |
| --- | --- |
| | |
THE BRIDGES OF MADISON COUNTY REVIEW - -REVIEW OF BEAUTIFUL THE CAROLE KING MUSICAL - - THE NEVADA FILM OFFICE AWARDS TAX BREAKS - - THE 2014 JONATHAN LARSON GRANT RECIPIENTS - - KEVIN SPACEY KEEPS THE ELEVATOR MOVING - - CAMP DAVID - - FAMILY MATTERS: PORTRAITS AND EXPERIENCES IN FAMILY TODAY - - A NIGHT AT SARDI'S - - DONATE . . . Scroll Down




Copyright: March 16, 2014
By: Laura Deni
CLICK HERE FOR COMMENT SECTION


CURRENT BROADWAY SEASON FEATURES STRONG FEMALE PERFORMANCES


A common lamant is that there are few strong roles for women.

Not in the case of the current Broadway season. Two not to be missed productions are dominated by female star power: The Bridges of Madison County and Beautiful.

BRIDGES OF MADISON COUNTY

Kelli O'Hara and Steven Pasquale star in The Bridges of Madison County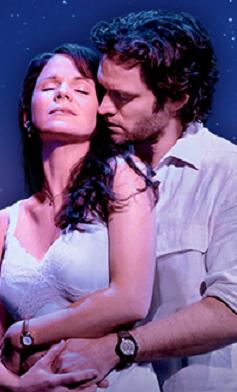 based on the novel by Robert James Waller, which was turned into a tear-jerker of a movie, is mounted at the Gerald Schoenfeld Theatre with a book by Marsha Norman; lush music and lyrics by Jason Robert Brown who also does the full bodied orchestrations, and starring Kelli O'Hara as Francesca - the part played by Meryl Streep in the movie version.

Four time Tony nominee O'Hara makes the role of Francesca her own.

Madison County, Iowa is a real place - the birthplace of John Wayne and home of the historic covered bridges popularized by Robert James Waller's 1992 book The Bridges of Madison County, which tells the story of Francesca, a married but lonely Italian woman, living in 1960s Madison County, Iowa, who engages in an affair with a National Geographic photographer from Bellingham, Washington who is visiting Madison County for a few days in order to create a photographic essay on the famed covered bridges in the area. Their never-to-be forgotten four-day romantic interlude is made possible when Francesca's husband and two children take a trip to the state fair.

The novel is presented as a novelization of a true story, but it is in fact entirely fictional. However, the author has stated in an interview that there are strong similarities between the main character and himself.

The novel is one of the bestselling books of the 20th century, with 50 million copies sold worldwide.

I was prepared not to particularly enjoy the production. I was one of the throngs of women who was affected by the movie, which tended to roll around in your mind long after leaving the theater.

Thus, seeing the stage musical version came with doubts.

If you are a woman who was struck by the potency of the large screen version, don't be hesitant to watch the stage adaptation. Perhaps it's the addition of music or simply the different medium of a live performance, but while the Broadway version is powerful as directed by Bartlett Sher, with superb lighting by Donald Holder, the Broadway staging isn't overwhelming as is the movie; or sappy - as many men viewed the best selling book.

Joining O'Hara, the excellent cast includes Steven Pasquale as National Geographic photographer Robert Kincaid (the part played by Robert Redford in the movie). He and O'Hara have appeared together in the past and have an ease together which melds into the seamless coupling that makes this production gel. Pasquale has a wondrous voice and coupled with O'Hara - they are a musical experience.

Hunter Foster is husband Bud with Caitlin Kinnunen as teen-age daughter Carolyn and Derek Klena as teen age son Michael.

Michael X. Martin appears as neighbor Charlie and Cass Morgan is neighbor Marge, characters which have been added for the stage production in an attempt to provide sub-plot balance, so that the script doesn't get slogged down in mush. Whitney Bashor as Marian, Robert's ex-wife, has a powerful surreal scene in which she doesn't say a word, but sings Another Life, a heart-broken account of her failed marriage - just as Kincaid and Francesca become close.

Among the songs in the production are: Falling Into You, Who We Are & Who We Want to Be, One Second & A Million Miles and When I'm Gone.

BEAUTIFUL

Jessie Mueller as Carole King. Photo: Joan Marcus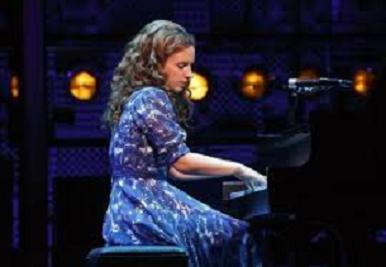 the musical which tells the true story of Carole King's remarkable rise to stardom, stars Tony award nominee Jessie Mueller in a break-out performance as the Grammy Award winning songwriter.

Mueller's performance turns a run-of-the-mill musical into something really worth seeing.

While the plotline of the bio-musical - from Carole King's Brooklyn beginnings to superstardom - trudges along, the music which features 25 songs, is awesome.

The chart topping legend wrote music that defined a generation.

Her career struggles also defined that generation.

At times the dialogue is corny and it helps if you remember that era. King was part of the generation of songwriters dominated by men. King blossomed in an era that taught women to doubt their own importance and success. You were who you married, not what you made of yourself. If you attempted to forge a career on your own, you became a target to destroy. King had to overcome her own upbringing and fears.

At the Stephen Sondheim Theater Beautiful hits all the notes in showing her relationships as part of a songwriting team with her husband Gerry Goffin, played by Jake Epstein, to her relationship with fellow writers and friends Cynthia Weil, played by Anika Larsen and Jarrod Spector as Barry Mann, to becoming one of the most successful solo acts in popular music history.

Beginning with her appearance at Carnegie Hall, and presented in flashbacks, her songs are injected to move the dialogue.

With sets by Derek McLane, costumes by Alejo Vietti Peter Kaczorowski's lighting, and excellent sound by Brian Ronan, the fine cast includes Liz Larsen as Carole's mother and Jeb Brown as music producer Don Kirshner. Josh Prince choreographed the show which includes numerous production numbers bringing to life the groups of that day, such as the Drifters, the Shirelles and the Righteous Brothers.

I'm not particularly fond of contrived plotlines to showcase somebody's hit songs. With the exception of two sensational musicals, Smokey Joe's Cafe which simply presents the hits of Leiber & Stoller, and Jersey Boys, which accurately tells the dramatic story of Frankie Valli and the Four Seasons, I'm not a big fan of juke-box musicals. However, this is a loaded note musical production without a contrived storyline. The production provides an opportunity to enjoy Carole King's music while gaining knowledge and respect for her. And, don't forget Jessie Mueller. She steals the spotlight.





Broadway To Vegas is supported through advertising and donations. Priority consideration is given to interview suggestions, news, press releases, etc from paid supporters. However, no paid supporters control, alter, edit, or in any way manipulate the content of this site. Your donation is appreciated. We accept PAYPAL. Thank you for your interest.





ART AND ABOUT


FAMILY MATTERS: PORTRAITS AND EXPERIENCES IN FAMILY TODAY

Ottonella Mocellin (Italy, b. 1966) and Nicola Pellegrini (Italy, b. 1962) E adesso che sei arrivata tu la nostra prospettiva si è nuovamente capovolta, 2009 (And now that you have arrived, our perspective has been turned upside down) Lambda print 100 x 70 cm, ed. 5 Courtesy Galleria Lia Rumma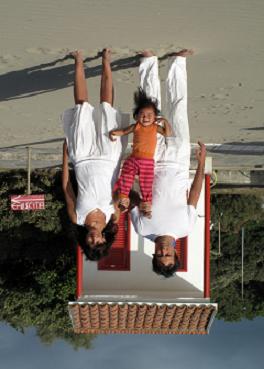 presents the works of eleven international artists (Guy Ben-Ner, Sophie Calle, Jim Campbell, John Clang, Nan Goldin, Courtney Kessel, Ottonella Mocellin and Nicola Pellegrini, Trish Morrissey, Hans Op de Beeck, Chrischa Oswald, Thomas Struth) that encourage an investigation into the images, dynamics and structures that define the concept of family in the contemporary world.

What do we mean by family? One of the foundations of this apparently natural concept lies in Article 29 of the Italian Constitution which states that "the family is a natural unit of society founded on marriage". However, as sociologist Chiara Saraceno provocatively states, "nothing is less natural than the family".

The argument over "what the family is", in ideological terms, is accompanied by the complex political definition of the rights, obligations and responsibilities of its component parts and by broader sociological deliberations, which have recently identified the family not only as the primary setting for socialization and cultural and symbolic transmission, but also a place of inequalities. At the same time, there are the considerations in terms of its representation, the construction of its image and its dynamics in both private and the public spheres.

This exhibition revolves around a topic which anyone can relate to because of individual experiences of family realities, images, languages, settings; either because of the presence or absence of such ties in our own lives. It will attempt to develop a participative meditation on values and images that are part of everyone's lives and that become a crucial instrument for reflecting on the dynamic between the individual and a community, the single man or woman in relationship with the collective.

The concept of family has changed over the centuries, not only reflecting but also actively influencing changes in society as a whole. The term familia referred to all the persons and things placed under the hierarchical protection and authority of a pater familias to whom they literally "belonged". The factor that defined the family was its members' dependence on a family head, to whom they owed respect and whose honor they must defend, as representative of their own identity group. In a continuation of this pattern, the traditional farming family was based on the concept of an economic and productive bond, as was the aristocratic family, with the transmission of title or of social or economic status.

Today, what is left of the family and what is its value or image? Through the work of different contemporary artists the exhibition will spark reflections on the contradiction between the nature and the naturalness of the family, the tension between freedom and authority, the persistency of traditional iconography and moral principles opposed to the deconstruction and the ambiguities of these values.

The exhibition is accompanied by a fully-illustrated catalogue, published by Mandragora in Italian and English, featuring critical essays about the artists and contributions from such internationally renowned academics as historian and political theorist Paul Anthony Ginsborg, University of Florence, and sociologist Chiara Saraceno, Honorary Fellow at the Collegio Carlo Alberto in Turin, formerly a professor at the University of Turin and the Centre for Social Research in Berlin.

On display through July 20, 2014 at the Palazzo Strozzi in Florence, Italy.

THE HISTORIC ARTISTS' HOMES AND STUDIOS PROGRAM a documentary installation which shines light on the Historic Artists' Homes and Studios (HAHS) program of the National Trust for Historic Preservation.

HAHS is a consortium of institutions across the United States committed to the conservation, interpretation, and public accessibility of artists' homes and workspaces.

With the opening of the Winslow Homer Studio, the Portland Museum of Art became a member of HAHS. This exhibition features information about the consortium and documentary photographs of its nearly 40 member sites, which range from the paint-splattered barn used by Jackson Pollock and Lee Krasner in East Hampton, Long Island, to the carriage house in which Grant Wood painted American Gothic in Cedar Rapids, Iowa, to the hand-crafted woodworking shop of Sam Maloof in Alta Loma, California.

In addition to educating audiences about HAHS, the exhibition will place the Homer Studio in a larger discussion about the importance of preserving historically significant structures as part of the nation's cultural heritage.

March 22 - June 1, 2014 at the Portland Museum of Art in Portland, Maine.

THE ASSOCIATION OF ART MUSEUM DIRECTORS (AAMD) which represents 236 directors of leading US art museums, has sanctioned the Maier Museum of Art in Virginia for selling George Bellows' Men of the Docks to the National Gallery in London.

The 1912 painting was purchased by the London gallery in early February at a price of $25.5m. The money will go towards operating costs at Randolph College in Virginia, which owns the Maier Museum. AAMD called upon the college "to stop this practice."

In a statement the AAMD said it was "deeply disturbed to learn of Randolph College's continuing sale of works of art from the collection of its Maier Museum of Art to provide general operating funds for the College". "The prohibition against the sale of works of art from museum collections for such purposes is a violation of one of the most fundamental professional principles of the art museum field," charged the statement.


SWEET CHARITY


A NIGHT AT SARDI'S - BROADWAY is the Alzheimer's Association's 22nd annual celebrity musical-revue gala held in Beverly Hills, California.

The celebrity musical revue and awards dinner benefits the care, support and research efforts of the Alzheimer's Association. More than 1,000 prominent entertainment industry leaders and celebrities gather to recognize advances in the fight against Alzheimer's - and rally around the growing movement to end the disease.

Cocktail reception, dinner and program.

Honoring the cast of The Big Bang Theory, Glen Campbell and his family.

Event Chairs are Laurie Burrows Grad and Peter Grad.

To date, A Night at Sardi's has raised more than $23 million to address this rapidly growing health crisis. The Alzheimer's Association funds cutting-edge research, raises awareness and helps to address the needs of Americans living with the disease and their caregivers.

March 26, 2014 at The Beverly Hilton Hotel, Los Angeles.

THE SHAKESPEARE THEATRE OF NEW JERSEY'S ANNUAL GALA La Nuit des Rêves or The Night of Dreams - invites guests "behind-the-scenes," into the Theatre's renovated "theatre factory" on Saturday, March 22nd, 2014.

Hundreds of patrons, artists, and community leaders will participate in the Theatre's largest fundraising event of the year, featuring "beautiful, theatrical dreamscapes," said Artistic Director Bonnie J. Monte.

The event begins with a glittering black-tie reception including sumptuous passed hors d'oeuvres and gourmet food stations. Guests will dine, mingle, and explore the amazing spaces of the behind-the-scenes facility as well as bid on silent auction offerings.

Guests will then enter the Grand Ballroom for more libations, dessert, coffee and the Dream of a Cabaret– the star-studded cabaret performance featuring the Theatre's renowned company of artists and guest celebrities performing an array of musical numbers about dreams and dreamers. At the start of the main festivities, the Theatre will present the rarely-given Mighty Quill Award to longtime Shakespeare Theatre trustee, community leader, and New Jersey philanthropist Heath B. McLendon. Following the presentation and performance, guests may gather around the Sandman Piano Bar in the spacious cabaret-like rehearsal hall, take photos in the Dream Boat, or visit the evening's Dream Interpreter in her "salon."

The acclaimed Shakespeare Theatre of New Jersey is an independent, professional theatre company located on the Drew University campus. One of the leading Shakespeare theatres in the nation, serving 100,000 adults and children annually, it is New Jersey's largest professional theatre company dedicated solely to Shakespeare's canon and other world classics.

March 22 at the The Shakespeare Theatre of New Jersey Support Facility in Florham Park, NJ.

NASHVILLE OPERA BENEFIT takes place March 25 at the Westhaven Golf Club in Nashville, Tennessee.

Dinner followed by Mary Ragland Young Artists performing opera favorites and special selections between courses.


SPREADING THE WORD


NEW YORK CITY DIRECTOR HILARY ADAMS

Hilary Adams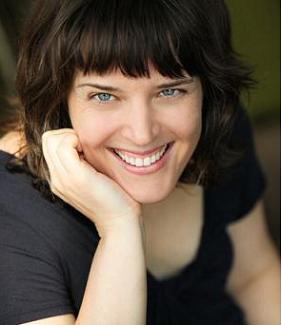 begins her tenure as the new Artistic Director of The Omaha Community Playhouse on May 1, 2014, taking over full responsibilities on July 1st, the start of The Playhouse's 90th Anniversary Season.

Adams will assume the position held by Carl Beck who announced his plans to retire in October of 2012. Beck has been with the Playhouse for over 30 years, spending the last 15 years as Artistic Director. Before Beck, the job belonged to Charles Jones.

Born and raised in Washington DC, Adams spent last several years working in New York City where she has directed multiple productions for the New York Musical Theatre Festival, at the Manhattan Theatre Club and at other venues.

Also on Broadway, Hilary assisted Richard Jones (Titanic), David Henry Hwang (Flower Drum Song), and assistant directed for Robert Falls (Aida).

Lynne Meadow, Artistic Director, Manhattan Theatre Club is one of the professionals who recommended Adams for the position.

Hilary has a Masters Degree in Applied Theatre from The City University of New York, School of Professional Studies. The process of finding a new Artistic Director at the Omaha Playhouse began with over 78 applicants and lasted over 6 months. The selection was narrowed down to 9 for video interviews and then 4 who came to Omaha Theatre for final interviews.

During her first season at The Omaha Playhouse Adams will direct The Drowsy Chaperone and Hands on a Hardbody.

The Omaha Community Playhouse in a nationally recognized community playohuse.

Founded in 1924, the Playhouse's first president was Alan McDonald, architect of the Joslyn Art Museum, and its first play, directed by Greg Foley in April 1925, was The Enchanted Cottage, which starred Dodie Brando, mother of Marlon Brando.. When, later in the Playhouse's first season, the need arose for a young man to play the lead for You and I, Brando suggested that twenty-year-old Henry Fonda, son of her friend Herberta Fonda, contact the director. The Playhouse would later see the acting debut of Marlon Brando, Dorothy McGuire, and Julie Wilson.

The Playhouse features two state-of-the-art performance spaces – the 558-seat Howard and Rhonda Hawks Mainstage Theatre and the intimate Howard Drew Theatre. Added in 1986, the Howard Drew Theatre is a "black box" theatre, which allows for more progressive productions. Depending on the production's specific scenic/stage requirements, the Howard Drew Theatre's flexible risers allow for audiences of between 200 and 230.

OPENING OF PAUL ROBESON POSTPONED according to a statement issued by Wren T. Brown, the production of Ebony Repertory Theatre "Due to an injury to lead actor Keith David, the opening performance of Paul Robeson by Phillip Hayes Dean has been postponed. A new performance schedule will be announced shortly. Mr. David looks forward to returning to the stage immediately after his prescribed rest. The Ebony Repertory Theatre family and the Company of Paul Robeson are wishing Mr. David a speedy recovery."

Paul Robeson was scheduled to open on Friday, March 14 at the Nate Holden Performing Arts Center in Los Angeles.

A STAGED READING OF AMERICAN BOYS a new play by Chris Phillips will take place Monday, March 24, 2014 at the Roy Arias Studios, Stage II in NYC. Examining the gray area between condemnation and compassion, American Boys concludes Chris Phillips's trilogy The Monster Cycke and "takes an unflinching look at how we define genuine change in a country ruled by conflict."

The cast includes: Matthew Drennan, Nina Millin, Clancy O'Connor, Travis Russ, and Dana Steer.

THE CENTER FOR NEW MUSIC at the Boston University College of Fine Arts welcomes Grammy Award-winning composer Joan Tower for the second of season's three residencies - March 25–29, 2014. The Muir String Quartet will perform, Joan Tower at 75, a portrait concert in celebration of the lauded American composer's 75th birthday - March 28th at the CFA Concert Hall.

This concert will feature major chamber works from Tower's illustrious career, performed by Boston University College of Fine Arts Artist in Residence, Muir String Quartet, the group with which she has collaborated most closely.

"This is a rare occasion to hear a creator performed by her muses," said Joshua Fineburg, Director of the Center for New Music. "The Muir String Quartet and Joan Tower have a multi-decade close collaboration and it is a fitting tribute to this very important composer. We are honored to have Joan visit Boston University three times this season, working with students and faculty, and bringing her music and ideas to the greater Boston community."

The performance will feature CFA Faculty Members Peter Zazofsky (violin), Lucia Lin (violin), Steven Ansell (viola), and Michael Reynolds.








KEVIN SPACEY KEEPS THE ELEVATOR MOVING-AND PHOTOSHOPPED A PICTURE
Kevin Spacey conducting a master class for Kevin Spacey Foundation participants last November at Regents University in London. Photo: Regents University.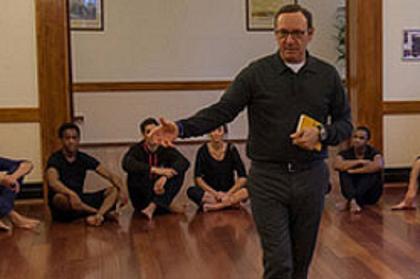 The Mayor of Toronto is ready for his close-up.

Making headlines this weekend is the tit-for-tat of Toronto Mayor Rob Ford and his brother, Doug, who took umbrage to comedic remarks made by Kevin Spacey, who appeared on Jimmy Kimmel Live, on March 3, as did the controversial mayor.

The Canadian duo have a YouTube show and used that platform to carp that they were instructed to neither speak to the star nor ask for a photo.

The embattled mayor said he wouldn't know Spacey "if I ran over him."

Ford's brother described the actor as "an arrogant SOB."

Doug Ford opined:"In my opinion, he's an arrogant S.O.B., and I'll tell you the reason why. Any actor that makes a living off the people that watch his shows - he wouldn't take a picture with anyone? We were told you can't take a picture, and you can't speak to him. Who does this character think he is?"

"He thinks he's God? He's up there? That no common folk can take a picture?" lambasted Doug Ford.

He concluded by saying, "You know, Kevin, why don't you get off your high horse and be real and take pictures with people?"

Spacey responded by tweeting a photo shopped image of himself between the mayor and his brother. With the photo came the tweet: "All you had to do was ask, guys. Here's your pic."

When former shoe salesman Spacey isn't obliging with photographs - photo shopped or otherwise - he is promoting his Foundation which benefits many an up-and-coming professional.

Spacey started out as a stand-up comedian/impressionist. When his act started to be noticed Jack Lemmon offered Spacey some encouragement and advice, which the Oscar and Tony Award winner hasn't forgotten.

"When I first started out, I was lucky enough to meet Jack Lemmon who encouraged me to become an actor. He subsequently became a great mentor in my life. Jack had a phrase that he used all the time that I've now adopted as my own. He believed that if you've been successful in your chosen path, if you've been able to realize your ambition, then you are obligated to 'send the elevator back down'," the star of House of Cards explains on his Foundation's website.

Called The Kevin Spacey Foundation (KSF), "We train, through the KSF Scholarships, and develop creative projects via KSF Grants so that emerging artists with passion and potential can succeed in the competitive worlds of performing arts and film."

The Kevin Spacey Foundation works in partnership with Regent's University London to offer KSF Scholarships to the most talented applicants for the Acting & Global Theatre - BA (Hons) and the Screenwriting & Producing – BA (Hons), accepting applicants in both the UK and the US. The program is designed to develop the next generation of writers and producers for the screen - individuals who will work on both sides of the film and television industry.

In addition, Acting & Global Theatre and Screenwriting & Producing students will experience master classes with Kevin Spacey twice a year.

Last November he came to Regent's University London to deliver a workshop to 29 students, as part of his work with the Kevin Spacey Foundation. He listened to each of their monologues, met with each student and offered individual critiques.

The KSF Scholarship covers £10,000 ($16,600 USD) of tuition fees each year for the three years. "Applicants in need of further financial support to cover subsistence and travel should state this on the KSF Scholarship application form."

In addition to the scholarship division there are The KSF Grants which support emerging artists to develop creative projects in the performing arts (drama, dance and music) or film. The grants are intended to provide up-and-coming artists with "the time you need to get your project off the ground."


OTHER PEOPLE'S MONEY


THE NEVADA FILM OFFICE has awarded its first tax credit to Sony Picture Entertainment for the filming of the slapstick comedy Mall Cop: Blart 2.

Sony Pictures was the first to formally apply for a tax credit under Nevada's new $20 million program to help bring movie production to the Silver State.

Sony said the Mall Cop sequel features Kevin James as an overly earnest mall security guard at a Las Vegas casino resort. The producers previously indicated they want to film at the Wynn, primarily between April and June.

"The production will receive $4.3 million in tax credits provided that the filming takes place in Nevada and that production costs are in line with those proposed in the application, along with other qualifying criteria," the news release said. "I'd like to thank Sony Pictures for their interest in filming in Nevada and for working with our office so well," said Eric Preiss, director of the Nevada Film Office. Three additional applications for film tax credits will be heard on April 14. They include a television pilot and two feature films.

PHARRELL WILLIAM'S BUFFALO GALS HAT has sold on eBay for $44,100.00. The buyer was none other than the fast-food chain, Arby's.

The oversize Vivienne Westwood Mountain hat became a fashion conversation piece after he wore it to the 2014 Grammys ceremony. During the televised live awards show, the official Arby's Twitter account tweeted at Williams, "Can we have our hat back?"

The hat sale proceeds are being donated to Williams' From One Hand to Another Charity, which helps children learn through technology and the arts.



THE 2014 JONATHAN LARSON GRANT RECIPIENTS have been announced by the American Theatre Wing.

The recipients are the writing team Sara Cooper (lyricist/bookwriter) & Zach Redler (composer), receiving $12,500 and the Running Deer Residency; and Shaina Taub (composer/lyricist), receiving $12,500. The prestigious grants, which total $15,000 more than last year's grants, will be presented on Monday, April 7, 2014 at a private event at the WNYC Greene Space. The event will feature special performances of the recipients' work.

The grants, given annually to honor emerging composers, lyricists and book writers, help to continue Tony Award-winning composer Jonathan Larson's dream of infusing musical theatre with a contemporary, joyful, urban vitality. Dedicated to celebrating excellence and supporting theatre, the American Theatre Wing awards the Larson Grants to artists to recognize and showcase their work with no strings attached – except to put it to the best use possible to help further the artists' creative endeavors.

Past recipients of the Larson Grants include Benj Pasek & Justin Paul, Dave Malloy, Tom Kitt & Brian Yorkey, Chad Beguelin & Matthew Sklar, John Bucchino, Laurence O'Keefe, Michael Korie, and Amanda Green.


CURTAIN DOWN


WE WILL ROCK YOU the hit musical written by Ben Elton, based on the songs of Queen, is to close in the West End after a 12-year run. The show, which is the longest-running production in the history of the Dominion Theatre, will bite the dust on May 31, 2014.

The West End production has staged 4,600 we will rock you performances, seen by over 6.5 million people - and ranks among the top 10 longest-running musicals in West End history.



CAMP DAVID penned by Pulitzer Prize winner Lawrence Wright.

Under the direction of Arena Stage Artistic Director Molly Smith.

Starring Emmy Award winner Richard Thomas as President Jimmy Cater, Tony Award winner Ron Rifkin as Israeli Prime Minister Menachem Begin, Tony Nominee Hallie Foote as First Lady Rosalynn Carter, and Egyptian actor/activist Khaled Nabawy as Egyptian President Anwar Sadat.

Sixty-two miles north of Washington, DC, nestled in Catoctin Mountain Park, lies the clandestine retreat known as Camp David. For thirteen tumultuous days, President Jimmy Carter (Emmy winner Richard Thomas) and his wife Rosalynn host Israeli Prime Minister Menachem Begin (Tony winner Ron Rifkin) and Egyptian President Anwar Sadat in an attempt to create the impossible: Peace in the Middle East. How could such a massive thing be done in such a short amount of time?

An incredible new play based on incredibly true events.

Camp David is a recipient of an Edgerton Foundation New American Play Award and support from the National Endowment for the Arts' Art Works program.

The world premiere of Camp David runs March 21- May 4 in the Kreeger Theatre, Washington, DC.

A SONG AT TWILIGHT by Noël Coward.

Art Manke directs Coward's rarely produced and final play of his illustrious career.

Starring Bruce Davison, Sharon Lawrence and Roxanne Hart.

In A Song At Twilight, first produced in 1966, an elderly closeted writer hesitantly accepts a visit from his former mistress, leading to a confrontation of past secrets, forbidden affections and surprising confessions.

Celebrated author Hugo Latymer has reached the autumn of his days with everything a man could wish for: wealth, success, fantastic friends, and a life filled with laughter, luxury and travel. A profound fear of intimacy and public scandal, however, kept him from embracing the one true love in his life, and now he wonders if he would trade the success for a chance to do it all again.

The set designer is Tom Buderwitz; costumes by David K. Mickelsen; lighting by Peter Maradudin; and sound by Steven Cahill.

March 18 - AprilL 13, 2014 at The Pasadena Playhouse in Pasadena, CA.

THE LAST ACT OF LILKA KADISON written by Nicola Behrman, David Kersnar, Abbie Phillips, Heidi Stillman, Andy White.

Directed by Dan Bonnell.

Featuring Usman Ally, Nicholas Cutro, Mindy Sterling, Brittany Uomoleale.

At age seventeen, Lilka Kadison flees Poland on the eve of World War II. Seventy years later in Los Angeles, she's spending her afternoon hassling her son, wrestling her caregiver, and arguing with the ghost who keeps rearranging her furniture - and her memories. A journey about the power of story, humor and grace in the face of loss. Originally premiered at the Tony Award winning Lookingglass Theatre.

March 19 - April 19 at the Falcon Theatre in Burback, CA.

IN THE VALE OF HEALTH four plays by Simon Gray based on the same characters, in the same situation but all telling a different story with opposite conclusions.

Simon Gray's dark comedy Japes, directed by Peter Hall, enjoyed a successful run in the West End in 2001. Watching rehearsals, the playwright realized the characters might have made different choices and arrived at a different outcome, so he set to work on Japes Too. Concerned that he had still only told one side of the story he then set down Michael. But the characters continued to haunt him so he kept writing, and Missing Dates is a further attempt to put them to rest.

Five years after Gray's death, Hampstead Theatre presents this extraordinary cycle of his work: premieres of three unperformed plays alongside a revival of Japes, the play that started it all off. The plays will be performed in repertory over 9 weeks.

Tamara Harvey directs.

The cast for this ambitious project will be Gethin Anthony, Jamie Ballard, Imogen Doel and Laura Rees.

Across 9 weeks, as each play is added to form the full quartet, the cast will rehearse by day and perform by night. As the run progresses, the performances will change organically in response to the actors' deepening knowledge of the characters, gained as each new play meets the audience.

The accidental death of their parents when Michael and Jason (Japes) were in their teens made them as close as brothers can be: the family home they inherited remains unchanged, part playground, part shrine. But their lives change forever when Michael falls in love with Anita… and so does Japes… and a passionate triangle develops.

Lighting is by Joshua Carr and sound by Matt McKenzie.

March 20 - May 17, 2014 Hamstead Theatre in London.

THE COMMITMENTS Roddy Doyle's novel which also became a cult classic film is now brought to life on stage.

The Commitments is set in Dublin in the 1980's and is the tale of an band manager, Jimmy Rabbitte and a group of aspiring musicians who get together in the hope of forming a band. Jimmy wants to manage the world's greatest soul band and, like a true businessman, he holds auditions at his parents' house along in the hope of discovering musical talent. Unlike Jimmy's soul idols such as Aretha Franklin and Ottis Reading, Jimmy finds himself with a group of "white and weedy" musicians. Hell bent on transforming the group into something great, Jimmy names the band The Commitments and together they attempt to head up an Irish soul revolution.

The production features classic soul hits Try a Little Tenderness, Mustang Sally, Chain of Fools and In the Midnight Hour.

The lead role of Jimmy Rabbitte, the band's manager, is played by Denis Grindel.

The arrogant but gifted lead singer Deco, is played by Killian Donnelly. The back up singers are three young Dublin girls, all making their West End debuts – Sarah O'Connor, Stephanie McKeon and Jessica Cervi. Playing the trumpet playerJoey "The Lips " Fagan, is Ben Fox while Jimmy Rabbitte's father is played by Sean Kearns.

The West End premiere is at the Palace Theatre in London.

HELLMAN V. McCARTHY a world-premiere play by Brian Richard Mori.

Directed by Jan Buttram.

The greatest literary feud in modern American history began on January 25, 1980 when literary critic Mary McCarthy appeared as a guest on The Dick Cavett Show and declared that "every word [playwright Lillian Hellman] writes is a lie, including 'and' and 'the.'" Hellman went ballistic and sued McCarthy for libel, sparking a law suit that spanned more than four years. Hellam V McCarthy is a roller coaster ride filled with comedy and pathos.

Set between 1979-1984 in New York City, Martha's Vineyard, MA and Castine, ME, Emmy Award-winner Dick Cavett portrays himself, recreating his role in the historical events. Joining him are Drama Desk and Obie Award-winner Roberta Maxwell as Lillian Hellman and Tony Award-nominee Marcia Rodd as Mary McCarthy.

Completing the cast are Peter Brouwer, Rowan Michael Meyer, and Jeff Woodman.

The design team includes set design by Andrew Lu, lighting design by Travis McHale, costume design by Tony Award-nominee Jane Greenwood, and sound design by Ian Wehrle. Production Stage Manager is Mark Hoffner, Assistant Stage Manager is Deidre Works. The Production Manager is Libby Jensen, Assistant Director Vincent Scott and Costume Assistant Catherine Siracusa.

Previews began March 14, prior to an official press opening March 26 in Abingdon Theatre Arts Complex's June Havoc Theatre, NYC. Off-Broadway performances run through April 13, 2014.


WHO'S WHERE


ROBIN THICKE supposedly without his wedding ring, will be entertaining Monday, March 17, at the Fox Theatre in Atlanta. On Tuesday he'll be appearing at the Houston Livestock Show and Rodeo. Thursday finds him at Austin City Limits Live at The Moody Theater in Austin, TX. On Friday he'll be performing at the Global Event Center at Winstar World Casino in Thackerville, OK. Next Sunday, March 23, he's on stage at the Fillmore Auditorium in Denver.

BILLY JOEL in the spotlight at Madison Square Garden for a show Friday, March 21.

MILEY CYRUS rocks it at the Arena in New Orleans on Tuesday, March 18. On Thursday her tour stops at the Times Forum in Tampa, FL. Saturday she'll be all over the stage at the American Airlines Arena in Miami.

BRUNO MARS continues his tour with a performance Thursday, March 20, at the Arena in Nonthabun, Thailand. On Saturday he'll be entertaining the crowds at the Mall of Asia Arena in Pasay City, Philippines.

LADY ANTEBELLUM entertain Tuesday, March 18, at the Staples Center in Los Angeles. Friday's show is at Mandalay Bay in Las Vegas. On Saturday they are on stage at the Sleep Train Amphitheatre in Chula Vista, CA. Next Sunday, March 23, the show is at the Ak-Chin Pavilion in Phoenix, AZ.

SOPRANO CLAUDIA GALLI sings March 22 at the Embassy of Luxembourg in Washington, DC, hosted by Ambassador Jean-Louis Wolzfeld as part of the Embassy Series. Galli will perform a program of Schumann, Richard Strauss, Brahms, Wolf, Zemlinsky and Berg. Her performance will be followed by a reception featuring the embassy's noted cuisine prepared by award-winning Chef Stephan Beauvallet.

MICHAEL BOLTON is in the spotlight at Barbara B. Mann Performs Arts Hall in Fort Myers, Florida on Tuesday, March 18.




FINAL OVATION


GERARD MORTIER a revolutionary opera director, who spearheaded an operatic production of Brokeback Mountain at Madrid's Teatro Royal, died on March 8, 2014 at his home in Brussels after a protracted battle with pancreatic cancer. He was 70.

In a career spanning more than three decades, Mortier was also head of the Paris Opera from 2004-9 and ran the Salzburg Festival from 1990-2001.

Brokeback Mountain, based on a story about two gay cowboys, took six years to come to the stage. Despite his illness, Mortier attended the premiere in January.

His tenure at Teatro Royal had come to an end the previous September when he announced that he was being treated for cancer and urged the institution to consider a list of non-Spanish successors.

In a statement, the institution said Mortier "contributed to promoting Spain's operatic and cultural landscape and placing the Teatro Real among the world's leading international opera houses".

JACKIE GAUGHAN a Las Vegas casino pioneer died March 12, 2014. He was 93.

The son of a Nebraska bookmaker Gaughan was raised in Omaha. He graduated from Creighton University there and moved to Las Vegas in 1951, the year his family bought a stake in the Flamingo on the Strip.

Gaughan quickly sold it preferring to focus his efforts on the downtown "Casino Gulch" area. During his career, Gaughan owned parts of the Union Plaza, Golden Nugget, Showboat, Boulder Club, Gold Spike, the Western, Las Vegas Club and the El Cortez.

He is best known for his ownership of the El Cortez, where he resided until his death. Gaughan at one time owned more than 25 percent of available real estate in Downtown Las Vegas.

According to Omaha.com Gaughan was "known for giving free rooms to Omahans and for hiring ex-Nebraskans."

Gaughan is the namesake for the Jackie D. Gaughan Multicultural Center at the University of Nebraska-Lincoln. John Gaughan, a grandson and a UNL alumnus, agreed in 2007 to an undisclosed amount to built the center in honor of his grandfather.

John Gaughan is the son of Michael Gaughan, Jackie Gaughan's son and a casino magnate in his own right.

His wife of 54 years Roberta Mae "Bertie" Gaughan died in 1996. They had two children michael Gaugham and John F. "Jackie Jr." Gaughan who died in his sleep on November 10, 2002 at age 54. Gaughan has seven grandchildren, among them John Gaughan owner of Las Vegas Dissemination Company and Gaughan Gaming. Michael Gaughan, Brendan Gaughan], who is a NASCAR Nationwide Series driver, Katie and several great-grandchildren.

DAVID BRENNER the comedian who set a record by appearing on The Tonight Show more than 150 times as guest and substitute host, died from cancer at his home in New York City on March 15, 2014. He was 78.

The popular comedian spent decades as a Las Vegas headliner.

A native of Philadelphia, The Broadcast Pioneers of Philadelphia named Brenner their Person of the Year in 1984 and inducted him into their Hall of Fame in 2003.

Before stepping on stage, he enjoyed a successful career as the writer/producer/director of 115 television documentaries and headed the distinguished documentary departments of both Westinghouse Broadcasting and Metromedia Broadcasting. Brenner's documentary work earned him a total of nearly thirty awards and citations including an Emmy Award.

Brenner had three children: Slade, Wyatt and Cole. He and the mother of his first son, Cole, fought a custody battle lasting several years. Brenner finally won custody in 1992. Brenner married Elizabeth Slater of New York, the mother of his sons Slade and Wyatt, in the closing minutes of his Live from The Venetian Hotel show in Las Vegas, Nevada HBO Special on February 19, 2000. They divorced a little over a year later and fought two custody battles, both of which Brenner won. Brenner married figure skater Tai Babilonia on March 7, 2011.

THE MEMORIAL SERVICE FOR SIR DAVID FROST took place Thursday, March 13, 2014 at Westminster Abbey in London.

Prince Charles and his wife, Camilla the Duchess of Cornwall were among more than 2,000 people paying tribute to late broadcaster..

Other members of the Royal family attending the serivce included The Countess of Wessex. Prince Andrew, The Duke of York, Princess Beatrice and Sarah Ferguson the Duchess of York arrived together. Viscountess Serena Linley wife of Princess Margaret's son David Armstrong-Jones, Visount Linley also attended.

Prince Charles was joined by Sir David's widow, Lady Carina Fitzalan-Howard, to lay flowers on a memorial stone dedicated to the broadcaster who died of a heart attack aboard a cruise ship last August at age 74. Sir David was on the Queen Elizabeth on its way from Southampton to Lisbon, preparing to give a talk later in the cruise about his career, when he collapsed.

They were joined by famous faces from the worlds of politics and show business including BBC's director-general Lord Hall, Sir Michael Parkinson, Lord Owen and Joanna Lumley.

Dean of Westminster the Very Rev Dr John Hall said Sir David was "amongst our greatest communicators". He said: "Surely it was the warmth of his humanity, his interest in people, and what made them tick, that made his 'Hello, good evening and welcome' welcome in the world's living rooms."

Two of Sir David's sons delivered poems during the service and hymns included He Who Would Valiant Be and Jerusalem.

Ronnie Corbett, who worked with Sir David in the 1960s satire boom that launched both their careers, was among those reading prayers during the service. The service reflected the thread of humor and satire which ran through his career with a comic tribute from Lumley called A Sonnet Of Sorts For A Star, which she co-wrote with musician Sir Richard Stilgoe.

Known for his incisive interviews, Sir David spent more than 50 years as a television star, interviewing more public figures than any other living broadcaster. He was the only person to have interviewed all six British prime ministers serving between 1964 and 2007 and the seven US presidents in office between 1969 and 2008. A highlight of his 40-year career was his interview with President Richard Nixon in 1977.

The memorial was a star studded affair, attended by Pippa Middleton, Rowan Atkinson, Sir Michael Caine, Sienna Miller and Jemima Khan.

Among those who came to pay tribute were comedian David Walliams and his wife, model Lara Stone, as well as Sir Julian Fellowes, Terry Wogan, Claudia Winkleman, Sue Lawley, Esther Rantzen, Stephen Fry, Anne Robinson, John Sergeant and Angus Deayton from the world of television. Guests from the political sphere included Cherie Blair and her son Euan and Sarah Brown.















Next Column: March 23, 2014
Copyright: March 16, 2014. All Rights Reserved. Reviews, Interviews, Commentary, Photographs or Graphics from any Broadway To Vegas (TM) columns may not be published, broadcast, rewritten, utilized as leads, or used in any manner without permission, compensation and/or credit.
Link to Main Page
---
Laura Deni



For the snail mail address, please E-mail your request.
CLICK HERE FOR COMMENT SECTION