! >
Broadway To Vegas
  SHOW REVIEWS  CELEBRITY INTERVIEWS  GOSSIP  NEWS

| | |
| --- | --- |
| | |
JIGGS UP ON CORNED BEEF - - DINNER THEATRE SUCCESS - - BROADWAY STAR USES PET PSYCHIC - - SHEAR MADNESS - - CELEBRATING ELIZABETH - - MAE WEST'S THE PLEASURE MAN - - KATE AS KATHARINE - - SUGAR DADDIES NEW AYCKBOURNE PLAY - - DONATE . . . Scroll Down


DINNER THEATRE ATTRACTS MAJOR STARS AND NATIONAL SUBSCRIBERS
Dennis D. Hennessy and Richard Carrothers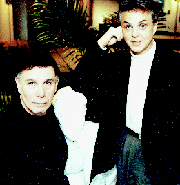 Dinner theatres are wonderful venues which can have a loyal following and provide work for local thespians. Financially, most are lucky to stay open.

The small town of Overland Park, Kansas has a dinner theatre - The New Theatre Restaurant - that attracts household name stars and brings in patrons from around the country. Financially, they are one of the most successful in the country.

Gary Burghoff is currently at the venue starring in Marvin and Me, with performances through April 13.

Broadway To Vegas spoke with theatre officials about their success.

"The two gentleman that own the company, President and Co-Artistic Director Richard Carrothers and Chief Executive Officer and Co-Artistic Director Dennis D. Hennessy, started working together in the early 70's and owned two other dinner theaters in Kansas and Missouri," explained network and marketing administrator Jeff Metzger, referring to the pair's first ventures - Tiffany's Attic Dinner Playhouse and the Waldo Astoria.



Morgan Fairchild appeared there when she was Patsy Calmes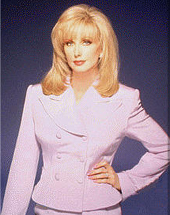 The first show at Tiffany's was Neil Simon's Last of the Red Hot Lovers and in the show was a young actress named Patsy Calmes - who later made a name for herself as Morgan Fairchild. There would be 121 productions at Tiffany's Attic during its 18-year history. Waldo Astoria, the companion theater Hennessy and Carrothers opened the following year was the site of 98 shows.

Hennessy and Carrothers prospered to the extent that they were able to take their profits from their original investment of $120,000 in Tiffany's Attic and put money into Broadway and off-Broadway shows including Tribute and Elephant Man.

"They also spent quite a few years in Los Angeles producing films and they made quite a few contacts there," said Metzger. That period included the 1985 movie Movers and Shakers co-produced by Carrothers and Hennessy which starred; Walter Matthau, Charles Grodin, Vincent Gardenia, Tyne Daly, Bill Macy, Penny Marshall, Steve Martin, Gilda Radner, Earl Boen, and Michael Lerner.

The pair preferred the dinner theatre to a sound stage and returned to Kansas. Hennessy was born and raised in Kansas City. Carrothers was born in Iowa and spent his childhood and adolescence on a farm near Liberty, Kansas. Both had been students at the University of Missouri-Kansas City.

In Overland Park, Hennessy and Carrothers found a site. A developer put together a partnership that raised $3.5 million for the building and $1 million for the property, which included a parking area for 300 cars. Carrothers and Hennessy raised another $1.5 million for furnishings and fixtures.



Tiered seating, name stars and great food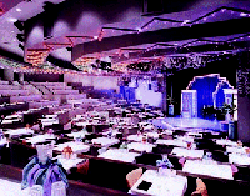 The New Theatre Restaurant, featuring an exterior designed by noted New York artist Greg Hill, whose designs can be seen throughout Broadway's theatre district, opened as a 602-seat facility with a revolving stage, orchestra pit, computer-controlled light and sound systems, and spacious rehearsal and production facilities.

The theater sold 10,000 subscriptions before the first show in August, 1992.

"One of the main things that happened was once people came - like Don Knotts, Marion Ross, Jamie Farr - from there the networking of those stars helped us bring in more and more people," Metzger elaborated.

"Dennis and Richard have spend a majority of their time on building those relationships and treating people extremely well, to make sure that they are happy and have a good time when they come here," emphasized Metzger.

"We provide kind of a unique environment because we are typically sold out. Between the name of the star and the marquee value of the shows that we perform, we have acquired a little over 22,000 season ticket holders. It's a great chance for these bigger stars of TV and film to come to a place where they know they are going to have a packed house. It's not an extremely long run. Typically, they are only in town for 10 weeks. The ones I've talked to - Tom Poston for instance - really enjoy doing theatre. If you go to into a Broadway show, you are there for months on end. This is a nice escape for them as well as a chance for them to get back on stage. It really has worked out well."

Great food is also a big plus. "The food is exceptional quality," he stressed. "I don't think you'd find another dinner theater in the country that provides this good of a meal and selection."

Executive Chef Wayne Cox is responsible for the mouth watering fare. Served as a country club-style buffet that changes with each show, there is table service for salads, beverages and the award winning pastries, created under the direction of pastry chef Damian Fraase. Fresh baked breads are from their in-house bakery.

Currently on stage is Marvin & Me starring Gary Burghoff, who became a household name in his Emmy Award-winning role as Cpl. Walter "Radar" O'Reilly in the TV series M*A*S*H.

The classically trained actor received his off-Broadway breakthrough in 1967 as the title character in You're a Good Man, Charlie Brown, for which he won the Outer Circle Critics Award.

That led to his role as the ESP-gifted Radar in Robert Altman's 1970 film, M*A*S*H - Altman's anti-war comedy about an irreverent outfit of Army medics during the Korean War.



Philip Le Strange as Mel Weiner, Jennifer Aguilar as Marie Gomez and Gary Burghoff as Marvin Durbin in Marvin & Mel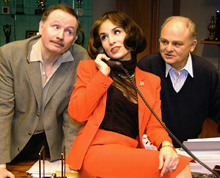 As Marvin Durbin in Marvin & Mel, Burghoff plays a formerly successful veteran TV comedy writer who discovers that age bias of younger TV network executives prevent him and his longtime partner, Mel Weiner (Philip LeStrange), from getting jobs. It seems network executives want youth, not experience. Even the duo's longtime agent, Arnold Rotham (Jim Korinke), isn't much help.

Desperate to resuscitate their careers, Marvin and Mel ask young and pretty Marie Gomez (Jennifer Aguilar), a service industry worker with no writing experience, to become a "front" for them and pitch their scripts to the networks. What transpires is both funny and soul-searching as Marvin and Mel come to terms with Hollywood and each other.



Eye to Eye II - part of the Gary Burghoff Eye to Eye Series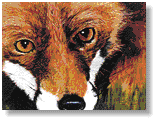 "We provide housing for the stars," continued Metzger. "They have a nice house they stay in. We try to make it as easy on them as possible to be here," he said of the pet friendly accommodations. "A lot of people bring their pets. Gary Burghoff, for instance, has at least one of his dogs with him right now."

The actor who is also a gifted artist also has with him a collection of his art work.

"We have it displayed in the lobby," Metzger related. "They are excellent. All the paintings in the lobby are for sale and I think we have sold almost half of them."

"We are privately owned. Dennis and Richard have spent 30 years building relationships and making this company into what it is today. They are on site every day. Their offices are right here in the theater and they are very involved in every aspect of the company. So, nothing gets missed. They are here all the time to make sure that the stars are happy that the shows are going well - that the staff stays up and interested in everything that is going on."

Next on board is Catch Me If You Can, a comedy thriller by Jack Weinstock and Willie Gilbert starring Jamie Farr, who may be co-directing with Dennis Hennessy. "Jamie doesn't mind directing a show that he is in, but he prefers to have a second eye there to kind of keep an eye on his performance, while he is busy directing other people."

"Dennis and Richard are two of the most open minded gentlemen that I've run across, especially in the business world," emphasized Metzger. "Since we are a for profit theatre company they have to keep the business in mind."

In a time of economic turmoil many dinner theatres are suffering from financial indigestion.

"Our season members have really helped us not feel as much of the pain as probably some of the other arts companies in this country are feeling," reasoned Metzger. "When you figure that we have a little over 22,000 season ticket holders. That's about 110,000 or 115,00 seats a year that are sold even before the season begins. Our capacity is only about 250,000. So, we only have to fill half the place going into a season. Our groups' department is eager to reach out to different groups, get out there to sales conferences and let people know about the company and draw people. The marketing of the shows is very important. We have people come in from Nebraska and Iowa on bus tours," continued Metgzer.

The theatre also has a strong patronage from tourists who fly to Kansas City and stop at The New Theatre Restaurant on their way to Branson.

"We have one season member who flies his own plane from Florida. He comes five times a year - flies into town, sees the show, stays the week-end and goes back home."

"I really just attribute all of the success of the company to the two owners who make sure that everything is looked out for."


JIGGS UP ON CORNED BEEF AND CABBAGE


Planning on celebrating St. Patrick's Day by chowing down on corned beef and cabbage? Maybe wash it down with a little green beer? Don't thank the Irish. Although the origin of corned beef goes back to the 16th century, its traditional use on St. Patrick's Day is more recent. Give a tip of the bowler to a corned beef eating comic strip character - the beloved Jiggs, in the popular comic strip Bringing Up Father. Because of him Americans adopted corned beef and cabbage as the holiday's official dish.



Bringing Up Father (1946) Jiggs (Joe Yule, right) sits down to a big plate of corned beef and cabbage with pal, Dinty Moore (Tim Ryan)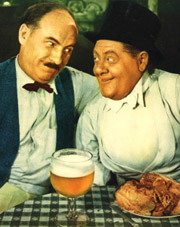 Bringing Up Father was a conceptual burlesque of American life in the early part of this century. It told the story of Irish-American Jiggs, a former bricklayer, and his wife Maggie, an ex-laundress, who achieved sudden wealth, supposedly by means of a lucky sweepstakes ticket. While the snobbish Maggie and their beautiful daughter, constantly try to "bring up" Father to his new social position, Jiggs can think of nothing finer than sitting down at Dinty Moore's restaurant to finish off several helpings of corned beef and cabbage, followed by a night out with the boys from the old neighborhood. The clash of wills that ensued often resulted in flying rolling-pins, smashed crockery, and broken vases, all aimed in the general direction of Jiggs' skull.

Jiggs' love for corned beef and cabbage - a dish not generally known in Ireland - is because poor Irish families always had it for Sunday dinner when cartoon creator George McManus was a boy growing up in St. Louis. It was cheap and filling, but stunk up the place when it was cooking. The reason Jiggs is so fond of corned beef and cabbage, and the reason Maggie so thoroughly detests it, according to social historians, is because it's a reminder of what they were compelled to eat before their sudden wealth - a lifestyle that Maggie would rather forget.



William Gill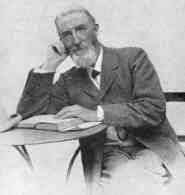 In the 1890's when cartoonist George McManus was a boy in St. Louis, several times he saw a touring production of The Rising Generation when it played at the Grand Opera House in St. Louis, where his father served as manager. The Rising Generation, a musical comedy written by popular librettist William Gill, told the story of Martin McShayne, played by comedian Billy Barry, about an Irish family's difficulty coping with sudden riches. McManus remembered it years later, when trying to come up with a theme for his new King Features comic strip.

On January 2, 1913, he debuted Bringing Up Father, about an Irishman named Jiggs, who doesn't understand why his ascension to wealth means he can't hang out with his friends, and his nagging, social-climbing wife, Maggie. Although the freely acknowledged debt owed to Gill's play is apparent from the basic premise of Bringing Up Father, McManus imbued his characters with recognizable human traits and human foibles, albeit in exaggerated form. Jiggs' nostalgia for the simplicity of his working-class roots and Maggie's often misguided attempts to gain acceptance among the social elite were situations that practically everyone could identify with, or at least understand, regardless of their own social position.

Bringing Up Father began in 1913 as an intermittent daily strip before establishing permanent status in 1916. The first Sunday episode appearing on April 14, 1918. Bringing Up Father, one of the most popular comic strips of all time, appeared on the first page of Hearst's comic section for many years. It is reported to be the first comic strip that achieved fame world wide.

The strip was an instant hit, inspiring reprint books, several films, and stage plays. The most unusual spin-off was done by restaurateur James Moore, whose eatery was one of McManus' favorites, and who was convinced he was the inspiration for Jiggs' friend, tavern keeper Dinty Moore. He changed the name of his establishment to "Dinty Moore's", and made a fortune from the connection to the popular comic. Later, the name was applied to a line of canned foods, now owned by Hormel.

Not too surprisingly, given the theatrical inspiration for Bringing Up Father, one of the first and most popular adaptations of McManus' strip was on the musical comedy stage.

In 1914, Bringing Up Father opened on Broadway. The composer was Frank H. Grey, lyrics by Elven E. Hedges, the libretto by John P. Mulgrew and Thomas Swift, the choreographer was Edward Hutchinson, and the show was directed by Frank Tannehill, Jr. Songs included Adam and Eve; All the Girls are Lovely at the Seaside; Beautiful Girl; I'm Proud to Be a Yankee; The Irish Suffragette; Love is a Gift; Love, Love, Love; Moving Picture Mary; The Tango Moon; Way Back in Old Dubuque; When I Was Twenty-One and Wild Irish Rose. The cast included John E. Cain, Grace Hanson, Lyda Kane Tom Meade, Blanche Newcombe, and Harry Truax.

Produced by Gus Hill, there were five more shows in this series, three of which played on Broadway. While the Bringing Up Father shows didn't made theatrical history, the touring productions were extremely popular.

In the 1920's, a play called Father toured and McManus played the lead in some productions.

Jiggs was even involved in the World War II war effort. A characterization of Jiggs carrying a bomb adorned B-25's in the 11th Bomb Squadron.

McManus died October 22, 1954 in Santa Monica, California.



President Grover Cleveland loved corned beef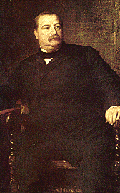 As for corned beef, Jiggs wasn't the only character who loved the dish.

President Grover Cleveland once noticed the smell of corned beef and cabbage coming from the servants quarters at the White House. He asked to trade his dinner for that of the servants. He commented that this New England Boiled dinner was "the best dinner I had had for months.....this Boeuf corne ay cabeau!"

From that point on corned beef and cabbage with brown bread was considered his meal of choice.

At 5 feet-11 inches with a weight of 260 pounds, there are some that speculate the second helpings of corned beef helped establish the girth. 3oz of corned beef has 199 calories, 14g of fat with 5 grams of that being saturated. There are also 73 mg of cholesterol.



Broadway To Vegas is supported through advertising and donations. Priority consideration is given to interview suggestions, news, press releases, etc from paid supporters. However, no paid supporters control, alter, edit, or in any way manipulate the content of this site. Your donation is appreciated. We accept PAYPAL. Thank you for your interest.


SWEET CHARITY


YOU DON'T HAVE TO CLEAN UP an Oscar dress up party benefiting the Theatre Building Chicago Music Theatre Workshop. Sunday, March 23. Dress Code: "Creative Black-Tie; See if you can outdo Bjork & that gawd-awful swan dress or Lara Flynn Boyle's pink tutu!" Attendees will be interviewed by their own "Joanne Rivers" on their own Red Carpet. Watch the Academy Awards show on a giant screen T.V. Prizes awarded for every Oscar announcement, surprise raffle, Complimentary food and open bar included! $25 tickets.

12th ANNUAL ACADEMY AWARDS BENEFIT PARTY FOR MONTEREY COUNTY AIDS PROJECT Sunday, March 23 at the Embassy Suites, Seaside, California.

The theme of this year's event will be a tribute to Carmen Miranda.

There will be a look-alike contest and a silent auction. Guests can sample foods and wines from local restaurants.

MAE WEST'S THE PLEASURE MAN has a special performance on Monday, March 17. The gala staged reading of Mae West's notorious 1928 play to benefit The Actors' Fund and The Hourglass Group starring Charles Busch, Cynthia Darlow, David Drake, Peter Jacobson, Alice Playten, Flotilla deBarge and many others. At The Culture Project. Ticket price: $50, includes a post-show dessert reception with the cast.

NAME THAT TUNE COSTUME PARTY AND BENEFIT The Manhattan Association of Cabarets and Clubs (MAC) with Bradley Whitford and Jane Kaczmarek present the Come Dressed As Your Favorite Song Title benefiting the MAC Outreach Fund. Sunday, March 30, at the New Copacabana Club, NYC. Guests should dress as their favorite song title and compete for prizes in Best Individual, Best Couple and Best Group categories. free vacations, auctions and raffles, silent art auction, souvenir photo booth, food, beer, wine and dancing to the top tunes of the past 8 decades all night long.

Celebrity judges include; Thoroughly Modern Millie composer Dick Scanlan, Up the Week Without a Paddle creator Amanda Greene,The Producers' stars Brad Oscar and Jennifer Smith, Emmy Award-winning Saturday Night Live hair and wig designer Bobby Grayson, cabaret legend Julie Wilson, club manager Lola del Rivero, casting director Tara Rubin, former Village People Cowboy Randy Jones, and comic Yakov Smirnov

Tickets to this benefit event range from $125.00 to $5,000.00

All proceeds benefit the MAC Outreach Fund, founded in 1999, which promotes the art of live performance, and introduces the Great American Songbook to young audiences through educational programs and community organizations. As schools continue to eliminate their music curriculum, the MAC Outreach Fund works hard to insure that these programs continue to educate and entertain audiences both young and old.


SPREADING THE WORD


TO FOOL THE EYE

Katherine Helmond, Tony Danza and Judith Light on Who's The Boss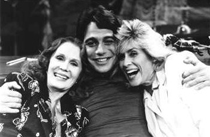 Katherine Helmond, teams up with director John Miller-Stephanie, Associate Artistic Director of The Guthrie, for one-night-only in To Fool the Eye, a stage reading to benefit The Acting Company on Monday, March 24, at The Culture Project.

Helmond may be best known for her role as Jessica Tate in ABC's groundbreaking sitcom, Soap, after which followed an eight-year run as Mona on Who's the Boss, three seasons on Coach, and can currently be seen in her recurring role on Everybody Loves Raymond as Raymond's mother-in-law.

Joining Helmond in the cast are Bryan Cogman, Brian Reddy, Erika Rolsfrud, and Erik Steel. The Acting Company, founded in 1972 by John Houseman and Margot Harley and considered America's foremost touring classical repertory company and arts education program. Its 30th national tour has just begun a 17,000-mile journey to 65 under-served and disadvantaged communities in 34 states. The tour culminates at The Lucille Lortel Theatre in New York in May. Tickets for all readings are $35 and $55 and include a post-performance reception with the director and cast.

ALMA AND MRS. WOOLF in French. The Blue Heron Theatre is currently presenting the world premiere of French-Canadian playwright Anne Legault's Alma and Mrs. Woolf translated into English by Daniel Libman. A special reading in the original French will take place Saturday, March 29. Studio Theatre at the Blue Heron Arts Center, NYC.

The reading will be directed by Lucie Tiberghien and feature Veronique Harvey as Alma Rattenbury and Emanuela Villorini as Virginia Woolf. Author Anne Legault will be present.



SHEAR MADNESS by Paul Portner. World-renowned concert pianist Isabel Crzney has been murdered in a unisex hair salon somewhere on Buffalo's Elmwood Avenue.

It's up to the audience to decide whodunit in this mad-cap mystery romp.

The audience gets to take center stage, interrogating suspects and crushing alibis, as the crime is reconstructed and solved.

Shear Madness is the longest running non-musical play in the country's history, and still hasn't played Broadway.

Studio Arena in Buffalo, New York. March 16 to April 13.

TEA AT FIVE by Matthew Lombardo starring Kate Mulgrew in a one woman performance that is certain to garner her several award nominations. Although Mulgrew has never met, or even spoken with Katharine Hepburn, she conveys the emotional highs and lows of Hepburn's tempestuous career and personal life in a stunning manner. Sets by Tony Straiges. Costumes by Jess Goldstein. Directed by John Tillinger. At the Promenade Theatre, NYC.

STOMP March 18-30 at the Wilshire Theatre, Los Angeles.

COMMUNICATING DOORS a comic thriller by Alan Ayckbourn. Last night's champagne opening performance was followed by a reception with the director, cast, crew, and playhouse staff. Steven Fiorillo directs the production, which features Reed Boyer, Juliet Granger, Pamela Nicholson, Allen Sewell, Gina Torrecilla and Jozeph Wise.

Scenic design is by Vincent Roca; Sound Design by Barry Schwamm; Costume Design by Donna Fritsche and Lighting Design is by Vincent Roca.

Performances through April 19 at the Long Beach Playhouse Studio Theatre in Long Beach, California.

As for Ayckbourn, he is polishing his latest effort Sugar Daddies, a bittersweet comedy about a Father Xmas, who is nearly run down on a street by a young, innocent catering student. The author calls it "a play about role-playing and first impressions."

ELIZABETH THE QUEEN by Maxwell Anderson, directed by Richard Clifford, starring Michael Learned - perhaps best known as Olivia Walton from TV's The Waltons.. The stormy relationship between Queen Elizabeth I and the Earl of Essex is the focus of Anderson's 1930 verse drama. In a sea of political posturing and assorted self-interests, schemes are hatched to undo a relationship already strained by conflicting forces. Elizabeth is forced to choose between her love as a woman and her duties as a Queen. Michael Learned stars in the title role. Recreating one of the most important eras in western history, Elizabeth the Queen is part of the Folger's multidisciplinary celebration of the 400th anniversary Elizabeth I's reign.

Elizabeth I, Then and Now is a blockbuster exhibition, drawn from the Folger's extensive collection -- the largest on the Tudor monarch outside the UK, exploring the reign of Elizabeth I exactly 400 years after her death.will be celebrated March 21 - August 2

Elizabeth The Queen starring Michael Learned is at the Folger Theatre, Washington, D.C. March 22-May 4.

SEAGULL Anton Chekhov's classic The Seagull inspires this Redmoon Theatre production that explores the limits of art, fame and desire. March 20 - April 20 at Steppenwolf

AMBASSADOR SATCH THE LIFE AND TIMES OF LOUIS ARMSTRONG by James Mirrione and Andre De Shields. Ambassador Satch tells the exciting story of an American icon his triumphs, his heartaches and how he changed the world of music forever. Broadway's Andre De Shields (The Full Monty, Play On!, Ain't Misbehavin', The Wiz) is Louis Armstrong. Featuring a live five-piece jazz band. March 22-April 6 at the Helen Hayes Theatre Company in Nyack, New York.

NONE OF THE ABOVE

Alison Pill and Kel O'Neill in None of the Above Photos by Carol Rosegg.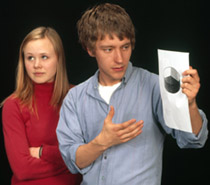 by Jenny Lyn Bader, directed by Julie Kramer is a modern romantic comedy set in a penthouse on the Upper East Side. Jamie (Alison Pill) goes to the most expensive private school in New York City. Clark (Kel O'Neill) is her high-priced S.A.T. tutor. And, as they first meet, Jamie is unaware that Clark has entered into a morally impossible bargain with her father. In a society obsessed with numbers, from stock quotes to bank balances to test scores, Jamie and Clark's bold and lively rapport raises questions about entitlement, intelligence, the pressure to succeed and the nature of risk.

Previews begin at the Ohio Theatre in New York City on March 15, with the official opening night on March 19. Performances through April 5, which happens to be the date S.A.T tests will be given.


WHO'S WHERE


CLEO LAINE & JOHN DANKWORTH Friday, March 21 Pepperdine University, Center for the Arts, Malibu, California.

SHEENA EASTON on stage at the Potawatomi Casino in Milwaukee Wisconsin on March 20.

GREGORY HINES brings his talents to the Marsee Auditorium in Torrance, California on March 21. On March 22 he'll be in the spotlight at the Marin Center in San Rafael, California.

CAROL'S CABARET CAVALCADE Richard Skipper as Carol Channing with Ken Lundie on piano featuring Lynne Charnay, John DeMarco & Joe Agosta, Joan Jaffee, Leslie Orofino, Dana Lorge at The Triad in N.Y.C on March 18. Skipper has a busy schedule. On March 21 at 8:30 am New York time on WB Channel 11 morning news, it's Richard Skipper as Carol Channing delivering the weather with Linda Church, followed by schmoozing with the anchors.

On March 22 at the Rockland Center for the Arts in Nyack, New York Richard Skipper's performance as Carol Channing will feature John Bowen on piano. On March 27 at The Triad in New York City Carol's Cabaret Cavalcade with Michael Levine on piano, featuring Frans Bloem, KimCea, Wendy Coates, The Decibelles, & Stu Sagen is a benefit performance for Broadway To Vegas. We sincerely thank Richard Skipper and all those who participate and attend.

PEKING OPERA entertaining March 19-20 at Centennial Hall in Tucson, Arizona. On March 21 the troupe is center stage at the Macey Center in Socorro, New Mexico.

BRUCE SPRINGSTEEN in Australia on Thursday at the Telstra Dome in Melbourne. On Saturday at the Cricket Grounds in Sydney.

STEVE & EYDIE performing Thursday at the Barbara B. Mann Hall in Fort Myers, Florida. They close out the week, Saturday, at the Maxwell C. King Center in Melbourne, Florida.

MIKE SMITH keyboard player and vocalist of the Dave Clark Five. From 1964-1971, Smith's distinctive voice dominated the international airwaves as the Dave Clark Five accumulated 30 global hit singles, most written by Smith & Clark, including Glad All Over and Bits & Pieces. He performs a rare solo gig Sunday at B.B. King's Club in N.Y.C

STEVE ROSS currently performing at the Stanhope in NYC is the in studio guest tonight on David Kenney's Everything Old Is New Again radio program WBAI 99.5 FM.

BARBARA COOK center stage at the Flynn Center in Flynn, Michigan on March 21.

HOOTIE AND THE BLOWFISH perform tonight, March 16 at the Wild Adventures Theme Park in Valdosta, Georgia.

DIANNE REEVES AND TRUMPETER TERENCE BLANCHARD bring their powerhouse brand of jazz to the Terrace Theater at the Kennedy Center for the Performing Arts in Washington, D.C. The music includes selections from the Grammy-nominated recording Let's Get Lost. This program is part of the Louis Armstrong Legacy Series. March 21


PIFFLE AND PROFUNDITIES


ANA GASTEYER the Northwestern University alumnus who plays the role of Debra in Kimberly Akimbo at the Manhattan Theatre Club, telling Conan O'Brien that she paid $65 to a pet psychic to communicate with her cat. After Ana gave birth to a daughter the feline ignored the litter box and began using an expensive rug. The pet psychic - or as Ana told Conan they like to be called - the "pet communicator" explained to the tabby that it didn't need to be jealous of the baby.

HANK WILLIAMS, JR has a lot of fans stationed with a tank company of the 3rd Infantry in the Kuwaiti desert. The troops have named an M1A1 tank in his honor.













Next Column: March 23, 2003
Copyright: March 16, 2003. All Rights Reserved. Reviews, Interviews, Commentary, Photographs or Graphics from any Broadway To Vegas (TM) columns may not be published, broadcast, rewritten, utilized as leads, or used in any manner without permission, compensation and/or credit.
Link to Main Page
---
Laura Deni



U.S. Postal Address: Post Office Box 60538, Las Vegas, NV 89160
CLICK HERE FOR COMMENT SECTION