! >
Broadway To Vegas
  
  REVIEWS INTERVIEWS COMMENTARY NEWS

| | |
| --- | --- |
| | |
KEVIN SPACEY HAS HIS OWN MIDEAST DIPLOMATIC MISSION - - COMEDIAN WILL FERRELL PLAYS BASEBALL - - UNESCO CITIES OF LITERATURE - - PRINCE CHARLES AND CAMILLA WANT YOUR PHOTOS OF THEIR TRIP - - ON THE TWENTIETH CENTURY - - RELIGION IN EARLY AMERICA - - ALEXANDER McQUEEN SAVAGE BEAUTY - - NEW YORK: SONGS OF THE CITY - - DONATE . . . Scroll Down




Copyright: March 15, 2015
By: Laura Deni
CLICK HERE FOR COMMENT SECTION


KEVIN SPACEY HAS HIS OWN MIDEAST DIPLOMATIC MISSION
Kevin Spacey teaching the members of the Middle East Theater Academy in January 2015. Photo: Middle East Theater Academy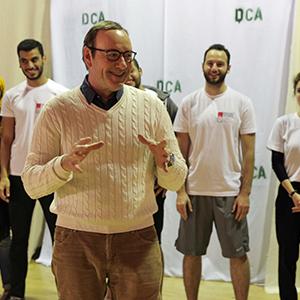 In a manner of speaking, Tony and Oscar winner Kevin Spacey is in the diplomatic corps. As a matter of fact, he's accomplished more in the troubled mid-east than most.

Spacey has recently returned from the latest of several trips he's made to that area of the world, bridging a wide divide through performing arts.

Four years ago he formed the Middle East Theater Academy, a Kevin Spacey Foundation project which he promised would "travel across the region to provide instruction in all aspects of theater and offer a path for Middle Eastern works to travel to Broadway and other international sites."

People didn't exactly scoff; it was more of a polite - "Sure, Kevin."

Spacey gets the last laugh.

Instead of being on hand at the Screen Actors Guild awards, which handed him a win for his star turn on House of Cards, the retiring artistic director of the Old Vic in London was in the United Arab Emirates (UAE) watching 34 young actors in Sharjah as part of his foundation's Home Grown initiative supporting local talent.

The cast, all 25-years-old or younger, hailed from war-torn Syria, Egypt, Yemen, Iraq and other parts of the Middle East.

For many of them, the play marked the first time they had ever left their home countries.

Many are from areas where women aren't permitted to drive automobiles, and can't be in close proximity to a man unless accompanied by their husband, father or brother.

The Middle East is conservative.

For many, Spacey's efforts are deemed daring and controversial.

Spacey putting on a student production in the Middle East doesn't find him walking on a mine field, but it does require him to navigate with respect and caution.

Even driving a car has convoluted rules. With the exception of Dubai, it is illegal for women to drive in Saudi Arabia.

Women can drive in Dubai but the government supports women-only pink taxis driven by women for women. In Qatar, driving is legal, but few families allow their female members to drive.

The issue is that taxis and public transportation throw women into close physical proximity with male strangers.

Women from other countries working in the UAE must adhere to a conservative dress code. Showing too much skin is a serious infraction.



The cast of Dhow Under the Sun. Photo: Middle East Theater Academy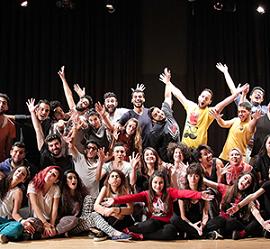 A general rule of thumb is: Nothing above the lower thighs, nothing with no sleeves, no deep necks, and no bare midriffs.

Teens are prone to push boundaries and can forget their party manners. Spacey putting together a group of young adults requires selecting not just those talented in the arts, but those who are emotionally mature.

Those worthy to be selected are: Abduljabbar Alsuhili, 25, Country: Yemen - Ahmad Al-Tamimi, 25, Country: KSA - Alaa Masri Zadh, 24, Country: Syria - Alhasan Yousef, 23, Country: Syria - Amina Adel Mohamed, 19, Country: Egypt - Beyan Avci, 23, Country: Iraq - Bilal Berakdar, 25, Country: Syria - Cyril Kokozaki, 25, Country: Lebanon - Dalia Shawky, 21, Country: Egypt - Duna Fakhouri, 23, Country: Jordan - Ebrahim Al Hajaj, 21, Country: KSA - Hala Albassar, 25, Country: Syria - Hamzeh Shaker, 19, Country: Jordan - Haydi Koussa, 25, Country: Egypt - Hossam Soliman, 22, Country: Egypt - Laila Laila, 20, Country: Syria - Lama Al-Amine, 25, Country: Lebanon - Lea Hariri, 22, Country: Iraq - May Fady Adra, 22, Country: Lebanon - Meera Al Midfa, 24, Country: UAE - Mohamad Alrefai, 25, Country: Syria- Mohamed Habib, 21, Country: Egypt - Mona Ragab, 23, Country: Egypt - Muna El-Basha, 18, Country: Palestine Nada Mahfoud, 24, Country: Syria - Nairuz Al Ajlouni, 21, Country: Jordan - Nour Eddine Kahil, 22, Country: Algeria Nour Hossini, 22, Country: Syria - Rabee' Mahmood, 21, Country: Palestine - Rashed Alnuaimi, 22, Country: UAE - Rawan Naser Musleh, 23, Country: Palestine - Raya Khatib, 23, Country: Jordan - Walid Saliba, 21, Country: Lebanon - Zyne El Abidine Mastouri, 23, Country: Tunisia.

In what should have made eye popping headlines, a major milestone took place. For the first time - males and females appeared on stage together.

Without the buffer of Spacey's Home Grown Initiative, such as statement making act wouldn't have been possible. Attempting something so brazen as males and females on the same stage together would have risked the possibility of serious physical consequences for the participants when they returned home.

Launched under the patronage of Sheikha Jawaher Bint Mohammed Al Qasimi, Chairperson of Sharjah's Supreme Council for Family Affairs and wife of His Highness Dr Sheikh Sultan Mohammed Al Qasimi, Supreme Council Member and Ruler of Sharjah, the Middle East Theatre Academy, is a joint initiative launched in 2011 with the Kevin Spacey Foundation (KSF) and Emirati businessman Badr Jafar.

In partnership with the UAE-based Crescent Investments, Spacey formed the Middle East Theatre Academy at the Capital Club in Dubai.

The Middle East Theatre Academy premiered its inaugural project, Home Grown, discovering and celebrating the artistic talent that saturates the youth of the Middle East, a community consisting of over 200 different nationalities and cultures.

Created and facilitated by the The Kevin Spacey Foundation, this unique philanthropic program offered 34 talented youth across the region a once-in-a-lifetime, expense-free opportunity, to realize their potential in the areas of art, theatre and music.

The intensive two week theatre training program, which took place for the first time in the Emirate of Sharjah, UAE, culminated in the production of Dhow Under the Sun, commissioned specifically for the workshop. It was written by Iraqi-British playwright Hassan Abdulrazzak.

Spacey, one of only a handful of Americans to have ever been knighted by Queen Elizabeth, lead acting classes and directed rehearsals of the new play, performed by the students in their various Arabic dialects and English.



Kevin Spacey's selfie with Prince Charles in the background. Spacey posted it on his Twitter account with the caption: 'At The Prince's Trust Celebrate Success Awards. "He's behind you"! #CelebrateSuccess.'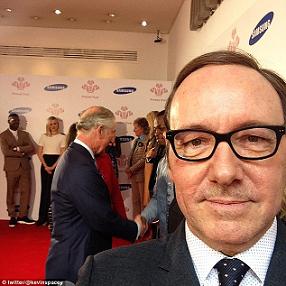 The play is set in a fictional refugee camp where issues of poverty, corruption, love and hope form the narrative.

It began and ended with the same thought provoking question: Do you want to be safe or do you want to happy?

The two-night run was staged before an intimate gathering that included the ruler of the emirate of Sharjah, Sheikh Sultan bin Mohammed al-Qasimi.

A unqualified success, the young actors are still basking in the glow. Spacey is back in London at the Old Vic where he is starring through April 11 in a one-man show, Clarence Darrow.

The Middle East Theater Academy program now stretches across the Global Corporate Challenge (GCC), encourages Arab youth and instills confidence through a series of workshops and lessons run by industry professionals.

Spacey has a long history of supporting youth. Last Thursday, March 12, 2015 he attended The Prince's Trust Celebrate Success Awards and snapping a selfie with an unsuspecting Prince Charles, which Spacey posted on his Twitter account.

Spacey has been an ambassador for the Prince's Trust since the very first awards. The Prince's Trust helps give disadvantaged young people the skills and confidence to find a job, with three quarters of them moving into work, training or education.

Spacey steps down as director of the Old Vic later this year. The former shoe salesman will be honored with a special award during this year's Olivier Awards, which take place April 12, 2015 at the Royal Opera House in London.

The young actors he mentors are stepping up into their own spotlight.






Broadway To Vegas is supported through advertising and donations. Priority consideration is given to interview suggestions, news, press releases, etc from paid supporters. However, no paid supporters control, alter, edit, or in any way manipulate the content of this site. Your donation is appreciated. We accept PAYPAL. Thank you for your interest.




ART AND ABOUT


ALEXANDER McQUEEN SAVAGE BEAUTY

Bird's Nest headdress with Swarovski gemstones, Widows of Culloden, A/W 2006–07. Philip Treacy and Shaun Leane for Alexander McQueen. Model: Snejana Onopka, Image: Courtesy Swarovski Archive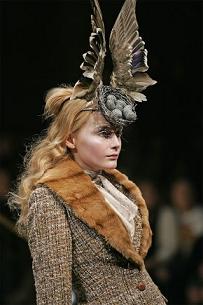 celebrating the extraordinary creative talent of one of the most innovative designers of recent times, Alexander McQueen: Savage Beauty is the first and largest retrospective of McQueen's work to be presented in Europe.

The exhibition will showcase McQueen's visionary body of work. Spanning his 1992 MA graduate collection to his unfinished A/W 2010 collection, McQueen's designs will be presented with the dramatic staging and sense of spectacle synonymous with his runway shows.

The original version of Alexander McQueen: Savage Beauty at the Metropolitan Museum of Art, New York in 2011 was organized by the Costume Institute and became one of the museum's top 10 most visited exhibitions.

London was the epicenter of McQueen's world. The son of a taxi-driver, he grew up in the city's East End and left school at 15 to become a tailor's apprentice on Savile Row in Mayfair. In 1990 he joined the prestigious MA Fashion course at Central Saint Martins. Already a highly proficient and inventive tailor, here he learned how to be a fashion designer, drawing inspiration from London's history, its world-class museums and emerging 'Brit art' scene.

Working with a small, closely-knit team, he produced a series of low budget, enthralling and provocative shows set in gritty, industrial locations across the capital. He recalled, 'There was so much repression in London fashion. It had to be livened up.'

He did.

Swarovski has partnered with the V&A in bringing Alexander McQueen: Savage Beauty to London. The crystal house and Alexander McQueen share a rich history, beginning in the 1990s when Isabella Blow introduced the young maverick designer to Nadja Swarovski. Swarovski went on to support McQueen's Spring/Summer 1999 collection, the first of numerous collaborations including the creation, alongside Tord Boontje, of the V&A's Grand Entrance crystal Christmas tree in 2003; and the dramatic Swarovski Gemstone-encrusted Bird's Nest Headdress for his Autumn/Winter 2006 collection.

Opened yesterday and is on display through August 2, 2015 at the Victoria & Albert Museum in London.





SWEET CHARITY


COMEDIAN WILL FERRELL made history on Thursday, March 12, 2015, when he arrived for baseball spring training in Arizona as part of a new HBO special from Funny Or Die in partnership with Major League Baseball to support the fight against cancer.

Ferrell not only played every position on the field, but he did it while suiting up for 10 teams - including the Oakland Athletics, San Francisco Giants, San Diego Padres, Cincinnati Reds, Arizona Diamondbacks, Seattle Mariners, Chicago White Sox, Chicago Cubs, Los Angeles Angels and Los Angeles Dodgers.

Before the event Ferrell indicated he expected to raise $1million for charity. He also told ESPN's Mike and Mike. "What if today I play out of my mind, and what if I make the regular roster? … That's kind of what the goal of today is - I'm hoping to land with a club."

He was given a quick physical and then began suiting up.

He played shortstop for the Oakland Athletics, and then during the Cubs vs Angels game it was announced that Ferrell has been traded to the Cubs for a washing machine.

CAREER TRANSITION FOR DANCERS presents the 10th anniversary Latin Dance Party on Tuesday, March 24th, 2015 at the Columbus Citizens Foundation, New York City.

The benefit includes cocktails/open bar & hors d'oeuvres at, a three-course sit-down dinner, and dancing to the sounds of Louis Bauzo & Musicians along with a special performance by Arthur Murray Dance Center, Columbus Circle. There will also be a Latin dance lesson.

Career Transition For Dancers presents this special Benefit Gala to support the multifaceted life span of dancers. Whether performing, creating choreography, starting a business, or leaving the dance world altogether, "our goals are to raise funds to ensure positive futures for these talented artists."

The dress code is 'Whatever Makes You Dance. This fun-filled evening of Latin entertainment "will capture the glamour of a sophisticated Manhattan supper club with a beautiful dance floor and food and drink to warm up the March night."


SPREADING THE WORD


NEW YORK: SONGS OF THE CITY Deborah Grace Winer will serve as Artistic Director and Host. John Oddo, Music Director and Mark Waldrop, Stage Director.

The cast includes Peter Cincotti who will be making his L&L debut on both vocals and piano, Darius de Haas and Jeffrey Schecter.

There are eight million stories in the Naked City - and a song to go with each of them. For decades, songwriters like Porter, Rodgers & Hart, Ellington, Bernstein and Coleman have been fueled by this city's places -Manhattan, Lullaby of Broadway - and roller coaster existence - Sophisticated Lady, Another Hundred People. A show for New Yorkers - or anyone who's ever wanted to be one.

Part of the Lyrics & Lyricists series. March 21, 22, 23 at the 92Y in New York City.

THE MUSIC OF TWO JERRYS Enjoy live music, singing, and an enlightening exploration of the stories behind the music of Jerry Bock (Fiddler on the Roof, Fiorello!) and Jerry Herman (Hello Dolly, Mame, La Cage aux Folles).

Carla Innerfield is a musicologist, music educator and performer. Chris Coogan is a jazz and gospel musician who has been called "masterful" by The New York Times.

Thursday, March 19, at the 92Y in New York City.

RELIGION IN EARLY AMERICA is a one-day symposium presented by the Smithsonian's National Museum of American History on Friday, March 30, 2015.

Led by Stephen Prothero, renowned Professor of Religion at Boston University, the symposium will explore three major themes that characterize the role of religion in the formation and early development of the United States.

A major goal of the symposium is to inform about the planning of the Religion in Early America exhibition that will be opening at the Museum, along with companion exhibitions on Democracy in America, and Many Voices, One Nation, which focuses on American immigration, migration, and diversity. The new religion exhibition, which has the same themes as the symposium, will display a stellar array of objects, including The Bay Psalm Book, The Washington Inaugural Bible, and The Jefferson Bible.

The symposium will be free and open to the public and webcast live, for those who wish to participate remotely. Friday, March 20 in the Warner Brothers Theater at The National Museum of American History in Washington, DC.

THE PASADENA PLAYHOUSE has announced that Executive Director Elizabeth Doran will leave at the end of April for a position with San Diego Theatres, a non-profit public benefit corporation that manages the San Diego Civic Theatre and the Balboa Theatre. The announcement was made by Board Chairman David DiCristofaro. "We are grateful for the many contributions Elizabeth has made in her nearly three years as our Executive Director, and we know she will be successful in her new position," he stated.

Elizabeth Doran said, "The Pasadena Playhouse is a venerable institution and I am honored to have been a part of The Playhouse family and community. While the decision to leave was a difficult one, the opportunity offered to me as new President and CEO of San Diego Theatres, including the 3,000 seat Civic Theatre and the historic Balboa Theatre, was too great to pass up."

In addition to the announcement of Doran's departure, DiCristofaro announced that senior staff members Joe Witt, General Manager/Production Manager, and Meredith Min, Director of Finance, will oversee The Pasadena Playhouse on an interim basis together with Artistic Director Sheldon Epps.

A search for a new Executive Director will begin immediately.

The Pasadena Playhouse began in 1917 and was recognized by the State Legislature as the State Theatre of California for bringing national and international renown to the state as a center for dramatic art in 1937.

5th ANNUAL BENEFIT READING OF VOICES INSIDE OUTannual Benefit Reading of six plays written by Incarcerated Prisoners of the Northpoint Training Center, takes place March 23, 2015 At The COW, New York City.

Cast includes: Ashlie Atkinson, Phil Chorba, Duane Ferguson, Peter Jay Fernandez, Mary Hodges, Michael Markham, and Ruffin Prentiss and will be staged by established directors including Ivette Dumeng, Tony Award winner David Elliott, Melissa Firlit, Erica Gould, Kelly O'Donnell with original music by Duane Ferguson, projection design by Justin Asher.

Voices Inside/Out is an organization dedicated to the artistic exchange between theatre makers from inside and outside of prison walls. VIO presents inmate-authored plays in New York City and sponsors a playwriting residency at a medium security prison in Kentucky.

A MODERN AGE ROYAL TOUR when Prince Charles and Camilla hit the US on Tuesday, they are going to be all a twitter - or at least hoping those in America who catch a glimpse of them will be.

As part of The Prince and The Duchess's visit, Clarence House (the official residence of the couple) will be producing a Shorify blog with the latest photos, videos and updates from the Royal visit and they want your pictures.

"For live tweets and pictures from the USA follow Clarence House on Twitter and Instagram. During Their Royal Highnesses' visit to Washington and Louisville, we will be using #RoyalVisitUSA - you can use this on Twitter and Instagram to send us your photos of their visit too. We will try to feature as many as we can in our coverage of The Prince and The Duchess's visit."

The royal duo will undertake a broad range of engagements to promote the UK's partnership with the United States in key areas such as sustainability and climate change, creating youth opportunities, encouraging corporate social responsibility and promoting historical and cultural links. Their tour ends on March 20th.


UNESCO CITIES OF LITERATURE


UNESCO Cities of Literature work together to build strong global partnerships: encouraging literary exchanges, creating cross-cultural initiatives and developing local, national and international literary links. Each City is dedicated to pursuing excellence in literature on a local level, engaging citizens in a dynamic culture of words.

To date  11 cities have been  designated  UNESCO Cities of Literature, with four being given that honor last December.  They are:

EDINBURGH   was designated the first UNESCO City of Literature in 2004, and the Edinburgh UNESCO City of Literature Trust was formed with the aim to use creativity to promote an enlightened approach to literature in Edinburgh and across the globe. With its rich legacy of literature spanning centuries, its geniuses of the Enlightenment and its contemporary stable of beloved writers, Edinburgh is a wizard city of literature.

MELBOURNE Australia, was appointed as the second UNESCO City of Literature in August 2008. Melbourne has the biggest publishing network in Australia, and four literary festivals: Melbourne Writers' Festival, the Overload Poetry Festival, the Alfred Deakin Innovation Lectures and the Emerging Writers' Festival. More people borrow books from libraries in Melbourne than anywhere else in Australia, and is also home to excellent literary hub The Wheeler Centre.

IOWA CITY Iowa, designated a UNESCO City of Literature in  2008, produced the world's first Master of Fine Arts degree program in Creative Writing with Iowa Writer's Workshop, setting the bar for Creative Writing teaching globally. It has produced over 25 Pulitzer Prize-winning authors since 1955.

DUBLIN Ireland was designated a UNESCO City of Literature in 2010.  Dublin is of course most closely associated with James Joyce, but is also home to Nobel Prize for Literature laureates George Bernard Shaw, W.B. Yeats, Samuel Beckett and Seamus Heaney. Dublin has the world's richest literary prize for a single work – the International IMPAC Dublin Literary Award.

REYKJAVIK  was designated a UNESCO City of Literature in 2011. Iceland might be the only country in the world with its own word for the pre-Christmas publishing rush, the 'Jolabokaflod.' The festival that springs up around it is phenomenal, with writers becoming book assistants, readings taking place all over town, and the public flocking to events. Reykjavik cherishes its medieval literature, the Sagas of the Icelanders and the Poetic Edda, and Reykjavik is a centre for excellence in translation, manuscript preservation and linguistic study.

NORWICH in  May 2012,  became England's first UNESCO City of Literature. Writers from Norwich have changed the world. Thomas Paine's Common Sense treatise influenced the course of the American Revolution, while Julian of Norwich wrote the first book in English by a woman in 1395. Norwich is the UK's first City of Refuge for threatened writers and was a founding member of the International Cities of Refuge Network (ICORN). With 5 percent of the UK's publishing sector and the new International Centre for Writing, it remains a hub for literary excellence.

KRAKOW was designated a UNESCO City of Literature in 2013.  Krakow is the cradle of Polish language and literature, and is a city of Polish Nobel Prize-winners in literature. It contains some of the most beautiful and valuable scriptoriums and libraries in the world, and is home to two major literary festivals and a thriving book market.

In December 2014 four cities were declared a City of Literature.

They are:

DUNEDIN  the ancestral home of the Ki people whose legends and stories have been woven over centuries by the oral histories and traditions. It is also the home of the Centre for the Book, a unique centre of excellence in book history, print culture, and investigations into new platforms and models of publishing.

HEIDELBERG is home to Germany's oldest university, the Institute of Translation and Interpretation, the Manesse Codex, a beautifully illustrated collection of medieval German poetry, as well as fifty publishers and the Centre of Creative Industries to help establish more.

GRANADA has been a centre for literature for centuries and home to one of the greatest poems in stone, the Alhambra as well as the forthcoming El Centro Federico García Lorca. Over 10,000 people attend the annual Festival Internacional de Poesía de Granada poetry festival and Granada is a partner with the HAY Festival.

PRAGUE Since the fall of Communism the city has exploded with creativity and literature. Empty buildings across Prague have become a grassroots base for new ventures and collectives, there are around 200 libraries in the city and it has one of the highest concentrations of bookshops in Europe. Writers including Franz Kafka, Max Bod and Jaroslav Hašek have called it home and its airport is named after writer and statesman Václav Havel.


OTHER PEOPLE'S MONEY


THE CHILDREN OF MARVIN GAYE have been awarded nearly $7.4 million by a federal jury who on March 10, 2015 found that the 2013 hit song Blurred Lines infringed on the 1977 Marvin Gaye chart-topper Got to Give It Up. Jurors found against singer-songwriters Pharrell Williams and Robin Thicke, but held harmless the record company and rapper T.I. The trial lasted more than a week and focused on the similarities between the song and the legendary soul singer's 1977 hit. The jurors began deliberating Thursday afternoon and returned a verdict the following Tuesday. An attorney for the Gaye children, Richard Busch, told the jury there were copied elements, including the bass and keyboard line, the hook and a repeated theme - in all but two bars of Blurred Lines.

Also explained to the jurors were the financial details behind Blurred Lines, 2013's biggest hit. The song brought in $5.6 million for Thicke, $5.2 million for Williams and another $5 million to $6 million for the record company, as well as an additional $8 million in publishing revenue.

The attorney who represented Robin Thicke and Pharrell Williams said he would be appealing the verdict.



ON THE TWENTIETH CENTURY featuring a book and lyrics by Betty Comden and Adolph Green and music by Cy Coleman.

Directed by Scott Ellis.

Starring Kristin Chenoweth and Peter Gallagher.

Choreographed by Warren Carlyle.

It's nonstop laughs aboard the Twentieth Century, a luxury coach travelling from Chicago to New York City. Luck, love and mischief collide when the bankrupt theater producer Oscar Jaffee (Gallagher) embarks on a madcap mission to cajole glamorous Hollywood starlet Lily Garland (Chenoweth) into playing the lead in his new, non-existent epic drama. But is the train ride long enough to reignite the spark between these former lovers, create a play from scratch, and find the money to get it all the way to Broadway?

On the Twentieth Century opens officially on March 12, 2015 at the American Airlines Theatre in New York City.

CLASS written by Charles Evered.

Class tells the story of Elliot, a veteran acting teacher in New York City who is visited in his studio by Sarah, a mysterious young starlet. In the course of their work together, they learn more about themselves than acting - and in doing so change each others' lives forever.

A West Coast Premiere. Previews begin Wednesday, March 18, 2015. Opening Night Friday, March 27, 2015. Closing Performance Saturday, April 19, 2015 at the Falcon Theatre in Burbank, CA.

PAINT YOUR WAGON New York City Center Encores! mounting of the 1951 Lerner and Loewe musical with music by Frederick Loewe and book and lyrics by Alan Jay Lerner.

Directed by Marc Bruni. Rob Berman is music director.

Tony Award nominee Keith Carradine and Alexandra Socha will co-star.

The cast will also feature Jenni Barber, Robert Creighton, Caleb Damschroder, Justic Guaarini, Nathaniel Hackman, Robyn Hurder, Melissa van der Schvff, Scott Wakefield, William Youmans, Darien Crago, Steve Czarnecki, Nicolas Davila, Casey Garvin, Shonica Gooden, Timothy Hughes, Naomi Kakuk, Justin Keyes, Jenny Laroche, Melissa Hunter McCann, Harris Milgrim, Kevin Munhall, Kristin Piro, Robbie Roby, Jason Simon, Kevin Vortmann, Nicholas Ward and Mikey Winslow.

Choreographed by Denis Jones.

Songs include They Call the Wind Maria, Talk to the Trees and Wand'rin' Star.

Presented March 18-22 at Lincoln Center in New York City.

HMS PINAFORE or The Lass That Loved A Sailor by Gilbert and Sullivan was first performed at the Opera Comique, London, on May 25, 1878, and has remained popular on both sides of the Atlantic ever since. The show's satirical jabs at the vaunted British Navy and at rigid Victorian class distinctions remain as readily understandable in the new millennium as they were over 100 years ago.

Ride a wave of music and laughter as romantic sailors, sisters, cousins, and aunts sing and dance their way across the deck of the fanciful British naval vessel with the improbable name. The very proper Captain Corcoran and ridiculously pompous Sir Joseph Porter preside, the villainous Dick Deadeye speaks the ugly truth, and Little Buttercup reveals the outrageous mistake that allows true love to overcome the problems of class distinction. Memorable signature tunes abound on board ship and the riotous Bell Trio sparks a celebration in Act II.

The New York Gilbert & Sullivan Players' production of HMS Pinafore features an elaborate setting of a ship's deck, based on drawings by Gilbert himself, and beautiful Bell Epoch costumes. Besides the lush sounds of legitimate voices and a full orchestra, this production offers energetic action, lively choreography, and broad comedy.

New York Gilbert & Sullivan Players production of HMS Pinafore is staged Friday, March 20, 2015 at Sunset Center in Carmel, CA.


WHO'S WHERE




BERNADETTE PETERS regarded by critics and audiences alike as the foremost interpreter of Stephen Sondheim's works, three-time Tony Award winner Bernadette Peters brings her incomparable voice, wit and charm to St. Paul for an exclusive, one-night-only performance. Experience a true stage and screen legend as she lights up the stage with your favorite show tunes and the lullaby from her children's book. Saturday, March 21, 2015 at the Ordway in St. Paul, MN.

USHER brings his talents to the SSE Hydro in Glasgow, Scotland on Tuesday, March 17. Wednesday's gig is at the Metro Radio Arena i Newcastle upon Tyne, UK. On Friday the tour stops at the 3 Arena in Dublin, Ireland. On Saturday the show is at the Odyssey Arena in Belfast, Ireland.

NEIL DIAMOND entertains Wednesday, March 18, at the Schottenstein Center in Columbus, OH. On Friday he can be enjoyed at The Palace of Auburn Hills in Auburn Hills, MI.

MAROON 5 perform Monday, March 16, at the Air Canada Centre in Toronto, ON. On Wednesday the show is at The Palace of Auburn Hills in Auburn Hills, MI. Thursday finds them on stage at the United Center in Chicago andon Saturday their tour stops at the Spring Center in Kansas City.

DON McLEAN with over 40 gold and platinum records world-wide and, in 2004, inducted into the Songwriters' Hall of Fame, performs Tuesday, March 17, at the McCallum Theatre in Palm Desert, CA.

CHICK COREA AND HERBIE HANCOCK perform Tuesday, March 17, at the Boettcher Concert Hall in Denver. Thursday's gig is at Zellerbach Auditorium in Berkeley, CA. Friday finds them at Copley Symphony Hall in San Diego. On Saturday they are in the spotlight Walt Disney Concert Hall in Los Angeles. Next Sunday they'll be making music at The Granada in Santa Barbara, CA.

BILLY IDOL stars at he Win Entertainment Centre in Wollongong, Australia on Wednesday, March 18. On Thursday he's at the Qantas Credit Union Arena in Darling Harbour. On Saturday he appears at A Day on the Green at the Rochford Eyton Winery in Yarra Valley. Next Sunday, March 22, the show is at the Leconfield Wines in McLaren Vale, Australia.















.

Next Column: March 22, 2015
Copyright: March 15, 2015 All Rights Reserved. Reviews, Interviews, Commentary, Photographs or Graphics from any Broadway To Vegas (TM) columns may not be published, broadcast, rewritten, utilized as leads, or used in any manner without permission, compensation and/or credit.
Link to Main Page
---
Laura Deni



For the snail mail address, please E-mail your request.
CLICK HERE FOR COMMENT SECTION