! >
Broadway To Vegas
  SHOW REVIEWS     CELEBRITY INTERVIEWS     GOSSIP     NEWS 
| | |
| --- | --- |
| | |
Copyright March 15, 1999
By: Laura Deni
CLICK HERE FOR COMMENT SECTION

SHOWEST SHOWS OFF

The 25th annual ShoWest convention, which is the largest trade show for theater owners and operators, wrapped up in Las Vegas on Thursday.

Between Nicole Kidman and Tom Cruise steaming up the screen with naked caresses in Eyes Wide Shut, and the latest Star Wars flick being released early - the 3,000 participants in ShoWest, could barely cope.
Nicole Kidman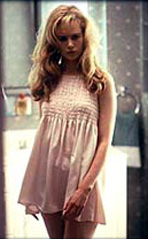 Erotic Nudity In "Eyes Wide Shut"

The buzz about Kidman and Cruise exploring their sexual obsessions in the movie, which has a July release, stopped the show. The movie moguls, mostly men dressed in black suits, sat in stunned silence, followed by the noise of their collective mouths shutting.

After their breathing settled down to a more normal level, the big wigs burst into applause.

All that fuss over Kidman in Broadway's The Blue Room became laughable. The steamy clip, backed by the pulsating sound track of Chris Isaak's Baby Did a Bad Thing, is big time erotica.

Following interest in sex, Star Trek commanded the attention.

Star Wars Episode I: The Phantom Menace, has customers so anxious that director George Lucas will release the film to between 3,800 and 4,000 screens nationwide - three days early, on May 19. Fox officials warned the audience not to attempt to film or record the trailer. Security searched handbags before anyone was allowed inside the hall.

The film, a prequel to the Star Wars trilogy, goes back in time to explain how Luke Skywalker's father, Anakin Skywalker, became the evil Darth Vader.

Worldwide all three Star Wars films - including the re-releases - have garnered $1,766,453,695, according to Fox.

Lucas, who has always been technically on the cutting edge, announced that he intends to film all of Episode II with digital cameras.

Almost forgotten were the powerfully serious opening remarks by Fox Films Entertainment Chairman Bill Mechanic. While between 3,000-4,000 attended the Eyes Wide Shut event, about 600 listened as Mechanic cautioned that the gravy ride may be over for the mega bucks stars.

"The days of the $20 million (salary) with 20 percent against the gross may be coming to an end," he warned. He emphasized that Titanic, which was the most expensive movie in Hollywood history, was an aberration with production costs exceeding $200 million. "We ended up making Titanic for an ungodly amount," he told the gathering. "But since then we haven't produced a single film for more than $70 million."

The convention, which closed last Thursday, featured a bevy of stars who came to promote their new releases, schmooze with the theater moguls who determine if their chain will show a picture and receive awards. The celebrities arrived in Las Vegas in a mood to party while promoting.

GWYNETH PALTROW: Announced That Prostitution Is Legal In Nevada.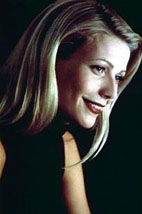 Gwyneth Paltrow presented John Madden, who directed her movie Shakespeare In Love with his Best Directing Award. The beautiful star was tongue in cheek when she announced she had come to Las Vegas to "get lost in the underbelly of Vegas. I'm going straight to the strip bars." Then with a glint in her eye she playfully announced, "Did you know that prostitution is legal in Nevada?"

George Clooney confirmed that he will returned to ER next season. Several guest star episodes are being written for him -as he put it - "right now."

Sean Connery, who is one of the producers of the Broadway smash Art, made light of his Lifetime Achievement Award.

"It's like one foot in the grave. It says you're well down the line. It's more a tribute to longevity," quipped the actor who discovered he had been declared dead in 1995.

The bogus bit of info was announced in Japan, picked up by a South African newspaper, wired to Europe where a French radio station broadcast it to the continent. Connery, who once competed in the Mr. Universe contest, was out playing golf.

The seasoned Scottish actor, who exudes charm, wit, and sex appeal, never made it through high school. At 16 he joined the Royal Navy, but was discharged after three years of a 12-year hitch, because of bleeding ulcers.



SEAN CONNERY Reports Of His Death Were Premature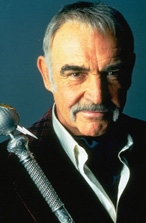 Next up for Connery is the heist thriller Entrapment, in which he co-stars with the gorgeous Catherine Zeta-Jones, who plays an international art thief in tandem with Connery.

She was named Supporting Actress of the Year for her role in The Mask of Zorro and appeared delighted to be working with Connery, who after seeing her in Zorro asked to work with her.

"I like older men, actually," she remarked.

"So do I," shot back Connery.

William H. Macy, who carted home a Best Supporting Actor Award, is mighty happy with his movie success, but his first love is the theater. It's also where he met his wife, actress Felicity Huffman, who currently stars in the ABC hit sitcom Sports Night.

Macy taught acting in New York and Huffman was one of his students. It is Macy along with his former acting teacher, David Mamet, who founded New York's Atlantic Theater Company.

Adam Sandler took home the Comedy Star of the Year award and gave credit to Rodney Dangerfield, whom he called one of his biggest influences - specifically referring to the film Caddyshack, in which he co-starred with Bill Murray.

Dangerfield, who stars through Wednesday at the MGM Grand in Las Vegas, is known as a mentor for bright new comedians. For 30 years the comedian has operated his Dangerfield Comedy Club in New York City - a harbinger for new talent.



TOM HANKS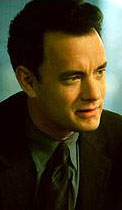 At 17 Sandler did his first open mike gig at the Boston nightclub Stitches. He was wearing retainers on his teeth and the crowd hated him. Despite complete rejection Sandler was hooked on comedy. Even after mega bucks movie success he still performs his stand-up act.

Physically absent was Tom Hanks who received taped tributes from his celebrity friends which were beamed into his hospital room.

The actor, received the Box Office Star of the Year award was felled by an infected blister.

The quips were funny, but when the cameras were turned off the comments were worrisome and serious about the condition of the well loved Hanks.

His right knee became infected after a small blister became infected resulting in painful swelling. Hanks was in Fiji filming his latest movie Cast Away when he got the silly blister.

Between the tropical climate and filming in the water, the blister became seriously infected, landing the Oscar winner in a hospital bed.

In addition to screening, awards and speeches ShoWest introduces that latest in everything that pertains to theater owners; from more comfortable seats to; the latest in the soft and filled pretzel war; the multi-million dollar candy concession business - I taste tested Nestle's Tarzan - a banana flavored chocolate bar, which made me hanker for those orange colored, banana flavored marshmallow circus peanuts - to doing away with the box office as we know it today. Humans will be replaced.

I visited the TICKET booth, the European based company, International Software Trading GmbH & Co. KG, with American offices in New York City, whose products include tic o mat. This state-of-the art multimedia system shows trailers of today's and future movies, displays current show times, and even presents animated information about movie related topics.

The customer selects and issues their own ticket. For venues with assigned seats, the customer can even pick their favorite. The machine also functions as a will-call window. For seats that have been booked in advance by phone or through the Internet, the tickets are available at the machine for pick-up. Payments for all tickets can be made through credit cards, bank cards or smart cards.

One or more tic o mats can be located inside or outside the movie theater, helping to reduce the queues at the box office without increasing the payroll.

The company stresses that tic o mats can be located almost anywhere; in shopping malls, banks, grocery stores - or any other high traffic area. Remote locations are connected to the local area networks in one or more movie theaters through leased phone lines or dial up connections via modems or ISDN.


1999 AWARD HONOREES
TOM HANKS
Box Office Star of the Decade
SEAN CONNERY
Lifetime Achievement Award
JERRY BRUCKHEIMER
Producer of the Year
JOHN MADDEN
Director of the Year
WILL SMITH
Actor of the Year
MEG RYAN
Actress of the Year
WILLIAM H. MACY
Supporting Actor of the Year
CATHERINE ZETA-JONES
Supporting Actress of the Year
GIOVANNI RIBISI
Male Star of Tomorrow
HEATHER GRAHAM
Female Star of Tomorrow
ADAM SANDLER
Comedy Star of the Year
PETER & BOBBY FARRELLY
Screenwriters of the Year
MICHAEL CAMPBELL
ShoWester of the Year
JEROME A. FORMAN
Silver Jubilee Award,
ENRIQUE RAMIREZ VILLALON
International Exhibitor of the Year
JIM MURRAY
B. V. Sturdivant Award
MAUREEN ARTHUR
Ida Schreiber Award
CHARLES CRETORS
Bert Nathan Memorial Award


MEGA STAR ASCENDING


British teen-age singing sensation, Charlotte Church, whose album Voice of an Angel sold 2 million just in the United Kingdom, made her American debut in Las Vegas. This 13-year-old offers Barbra Streisand and Celine Dion serious competition.

Off stage she drinks Pepsi, cons music executives to give her piggy back rides, enjoys playing in her hometown park, where she feeds the ducks. She's an excellent student, who loves to play computer games and invite her friends to sleep over so they can watch The Simpsons.

Charlotte lives in Llandaff, Wales with her parents, James a supervisor for a firm that installs security devices, and Maria a former government housing official, who gave up her career to travel with her daughter as chaperone.

On stage, she been heralded as having "the voice of an angel." She's listed in the Guinness Book of World Records as the youngest artist ever to hit No. 1 on the U.K. charts.

Sony has signed her to a five year deal.

She's performed before the Pope at the Vatican and at Prince Charles' 50th birthday party. In Las Vegas she received a thundering ovation when she astounded and captivated the crowd of over 3,000 attending the National Association of Recording Merchandiser's Convention, with her rendition of Andrew Lloyd Webber's Pie Jesu.

She left Las Vegas for New York where - to coincide with the release of her album in America - she'll guest on the Rosie O'Donnell and David Letterman shows. She's a mega star ascending
RIVERDANCE ROLLS ALONG


Our roving reporter Trudy Knight-Peek caught up with Riverdance at the 2,100 seat Peace Center in Greenville, South Carolina.

"It a classy venue, like an opera hall. The Cottage Cuisine at The Peace Center is open for dinner whenever there is a show in the Concert Hall. There are also devices for the hearing impaired," she reported. Knight-Peek had previously been anxious to cover Lord of the Dance and was both disappointed and furious. See Broadway To Vegas column of December 7, 1998. It was with a "they'd better be good" attitude that Knight-Peek traipsed towards Riverdance, where ducats went for $35, $50 and $65.

The first thing she discovered were that the stars Michael Patrick Gallagher and Niamh Roddy weren't going to appear- to be replaced by their understudies, Kevin McCormick and Clara Kennedy. "They didn't say why - they just handed us a piece of paper and said the stars were to be replaced," fumed Knight-Peek.

It took just a downbeat to win Knight-Peek over. "It was just breathtaking - and very surreal.You had the feeling of being with them thru every scene. I find it totally amazing that this phenomenon began as a seven minute performance," she said referring to the production's evolution.

"They had real musicians," chortled Knight-Peek, who is still smarting that she wasted her time seeing Lord of the Dance, which utilizes only canned music.

As for the performing substitutions - it didn't matter. "McCormick won his first World Dancing Championship at age 11, going on to win an additional nine world individual titles, as well as All Ireland, Great Britain and North American championships. He was a dancer in the original seven minute version. The dance captain, McCormick has toured with Riverdance in the United States, Canada, Britain and Australia," reported Knight-Peek.

"Clara Kennedy is from Manchester, England. As an Irish dancer, she won numerous championships including the All Ireland and World Championships," continued Knight-Peek. She's toured with Riverdance since l996."

Knight-Peek stressed that "all 34 dancers in this Irish Dance Troupe are equally as talented and should be given just as much credit."

FIREDANCE/ANDALUCIA SEGMENT OF RIVERDANCE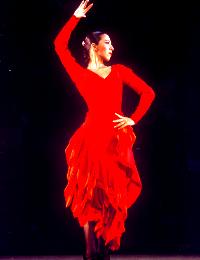 The Flamingo/Spanish dancing seqment features Marta Jimenez Luis and, a product of the Escuela del Ballet National de Espana and Arantxa Jurado who has her own dance company, Casa Patas. Knight-Peek categorized them both as "extremely strong dancers."

The show effectively utilizes ten Riverdance Singers.While Knight-Peek thought their "voices blended well," she did spotlight two of the singers. Raphael Darrell Sligh "a local from Columbia, South Carolina, is a senior music major at Morehouse College in Atlanta, Georgia. He was a bass soloist with the Atlanta Symphony Orchestra, and has understudied the bass lead in Onyx Opera Atlanta's production of Coleridge's Dream Lovers. Recently he was featured soloist for Atlanta's City Choir's production of Cantamos."

Slip Into Spring/Home and the Heartland performed by fiddle player Niamh Ni Charra was also singled out by Knight-Peek. "She is the All-Ireland champion on both fiddle and concertina," reported Knight-Peek. "She also was the supporting act for The Chieftains and Noel Hill, getting that under her belt before she even reached her teens."

"Van The Man Porter, Martin Dumas III, and Dexter Jones are known as Trading Taps and they are just fabulous," exclaimed Knight-Peek. "Porter was a featured dancer in the Broadway production of Black and Blue and was in the movie Tap with Gregory Hines. Jones also make his Broadway debut in the Tony Award winning show Black and Blue Soap opera lovers will recognize him from his appearances on All My Children, and One Life to Live. Dumas has spent the last two years as a member of the funk-tap trio Stepping Out. These guys were terrific and they really added to the show."

"I can't leave out the nine musicians,"quickly added Knight-Peek. "It was beautiful music and it surely does make a difference when the music is live and not canned as in The Lord of the Dance. It was a wonderful performance and I would go see it again in a heartbeat. They received a number of standing ovations. The scenery was awesome. Applause should go out to composer Bill Whelan; producer Moya Doherty and director John McColgan."

Riverdance opens tomorrow, March 16, at the Tennessee Performing Arts Center, running through March 28. Don't miss. You won't be disappointed.



Broadway To Vegas is supported through advertising and donations. Priority consideration is given to interview suggestions, news, press releases, etc from paid supporters. However, no paid supporters control, alter, edit, or in any way manipulate the content of this site. Your donation is appreciated. We accept PAYPAL. Thank you for your interest.


OTHER PEOPLE'S MONEY


CIRCUS CIRCUS ENTERPRISES the publicly traded corporation that just opened Mandalay Bay Resort in Las Vegas is changing it's corporate name and image. Although the new name won't be announced until the June stockholder's meeting, the new image is already taking shape.

President and CFO Glenn Schaeffer calls the new image committed to "hip, modern architecture of fun," with a commitment to "hip and cool." Schaeffer also announced that a huge entertainment complex and a 1.5 million square foot shopping center - which will be "a little village" - will be constructed between the Circus Circus owned Luxor Hotel and Mandalay Bay.

Schaeffer emphasized that Las Vegas is "on the leading edge of entertainment center development."


SWEET CHARITY


THE NEW YORK POPS 16TH BIRTHDAY GALA

BeBe Neuwirth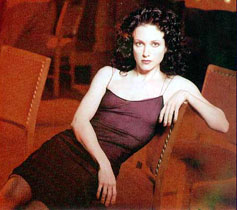 is going to be a swinging affair. The over-the-top musical extravaganza will include performances by stage and screen stars BeBe Neuwirth, Lea DeLaria, Christine Baranski, Brian Stokes Mitchell, David Campbell, and The New York Pops Allstars.

Journalist Liz Smith will host the evening and Walter Cronkite and Kevin Kline will guest conduct.

Carnegie Hall is the place and Monday, May 17 is the date. Mark it on your calendar now.

This black-tie fundraiser supports The New York Pops and its education programs. Founded by Masetro Skitch Henderson in l983, The New York Pops is the largest independent symphonic orchestra in the United States that specializes in time honored favorites of popular American music.

Susan and John Jacobs chair the event with Paula Gabriele and Thomas E. McInerney working hard as corporate chairs.

Prices for concert only tickets range from $35-$150. Individual tickets for both the Concert and Dinner Dance range from $500-$1,500, while tables and boxes go for $5,000-$15,000.



MATTHEW BRODERICK tries hard but isn't believable in Night Must Fall Lyceum Theater, NYC.

BERNADETTE PETERS is an absolute treasure of a talent.



BERNADETTE PETERS

Whoever instructed her in dialect and delivery should go stand in a corner and act ashamed.

Bernadette needs to lose whatever accent that is she is trying to imitate and speed up the delivery.

However, if that's the worst that can be said for Annie Get Your Gun the revival with all of those exquisite Irving Berlin songs, then that's not criticizing a lot.

Bernadette first appeared in Las Vegas at the Riviera Hotel in June, 1978. She took command of the stage with her versatility as a singer, dancer and comedian - all of which she demonstrates in Annie Get Your Gun.

Co-star Tom Wopat impresses.

Marquis Theater NYC.

VIA DOLOROSA David Hare's political and funny monologue about visiting Israel opens Thursday, March 28 at the Booth Theatre, NYC.

M.M. - THE HARLOT is a musical story about the most famous prostitute ever known ... Mary Magdalene.

Written and performed by Maureen Tomson/Villante, M. M. the harlot tells the story of Mary Magdalene and how she met and fell in love with Jesus.

Told on the evening of Good Friday after Christ had been killed, a horrified Mary has witnessed the crucifixion and has returned to her brothel. While there she recalls their tumultuous relationship with love, anger, humor and rage. She remembers how they first met ...No, you did not just see this on a Barbara Walters interview - although the author has performed before a president.

Tomson/Villante sang for President Nixon at the Waldorf Astoria.

M. M. the harlot begins performances March 23 at Arci's Place.

DRALION is the name of the new Cirque du Soleil touring show. The production takes it name from a legendary Chinese creature than is half-dragon, half-lion. The world premiere takes place April 22 in Montreal. Following the Montreal run Dralion will have a two year tour. The Montreal based circus has two productions in Las Vegas - O at the Bellagio Hotel and Mystere at the Mirage.

MANHUNT starring Premium Bob began performances last Thursday at FourFront, NYC with the official opening night set for March. 22.


WHO'S WHERE


ELTON JOHN AND TINA TURNER have inked a deal to ring in the millennium in Las Vegas.

John and Turner will kick off the Y2K festivities performing December 30 at the Thomas and Mack Center in a performance presented by Caesars Palace.

The two pop icons's stop in Las Vegas is part of a tour which begins in the fall. Tickets go on sale March 20 ranging in price from $100-$600, plus $1.50 for parking.

John is also one of the first to have an album honored with the Recording Industry Assoc. Of America's newest certification - the diamond award. Tomorrow, March 16 at New York's Roseland Ballroom, John, Boston, Boyz II Men, Fleetwood Mac, Billy Joel and the Eagles will be honored.

Other acts who have also qualified for the new Diamond Award are; Michael Jackson, Alanis Morissette, Celine Dion, the Back Street Boys and Garth Brooks. The new Diamond Award recognizes sales of 10 million units for an album or a single.

LINDA LAVIN AND SAMANTHA MATHIS set to star in Donald Margulies' Collected Stories May 19-June 13 at the Geffen Playhouse, Los Angeles.

JEAN SMART stars in the wonderful Jule Styne/ Comden & Green musical Bells Are Ringing which kicks off Reprise Broadway's Best in Concert's third season at UCLA's Freud Playhouse, May 12-23


THIS AND THAT


ROYAL ROMPINGS

Prince Charles and Eddie Izzard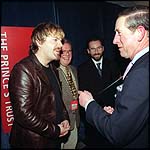 While Prince Edward, known as Edward Windsor, producer/write/narrator of marvelous documentaries, was in New York dedicating a statue of Noel Coward, his big brother, Prince Charles doing his own show biz thing.

The Prince of Wales last week proved His Royal Highness knows how to tango.

He demonstrated his foot work with leggy Adriana Vasile, at a dinner in Buenos Aires, Argentina, during his South American tour.

Prince Charles was also at an SRO performance of comedian Eddie Izzard's Dressed To Kill show, which benefited youth targeted through programs run by The Prince's Trust.

Over 11,000 fans packed London's Wembley Arena. The Prince of Wales joked with Izzard before he took to the stage and divulged that his son Prince Williams is a fan who has seen all of the comedian's videos.

Already in ink on Prince Charles' calendar is showing up at The Odeon, in Leicester Square, London, for the 1999 Royal Film Performance of Star Wars - Episode I: The Phantom Menace, slated for July 14. That event aids the Cinema and Television Benevolent Fund.

RIVIERA HOTEL doesn't intend to be outdone by any of the new mega-resorts. The hotel, which prides itself on catering to adults, unveils it's new convention area this Friday night with a gala bash.

MILLS LANE former prosecutor, boxing referee, real-bench-judge-turned-TV-judge got out of his television make up long enough to testify last Tuesday before the Nevada Senate Judiciary Committee.

Lane was acting as a lobbyist for Nevada's bail bond industry. Lane endorsed Sen. Bill-273l that would temporarily block release of anyone with a history of violence or missing court appearances - many of whom were released on their own recognizance.

"You shouldn't willy-nilly release people without some kind of investigation," stated Mills, who hosts the syndicated Judge Mills Lane Show.

LES MISERABLES celebrated it's 12th year on Broadway last Friday.

It's now the fourth longest running show of all time on Broadway.

Cats holds the top spot followed by A Chorus Line, and Oh Calcutta! is third.

The original cast featured Colin Wilkinson, as Valjean, the man who spends 19 years in jail for stealing a loaf of bread.

The production has been translated into 17 languages with a Finnish speaking show slated to open in Helsinki and another production mounts in Japan next year.

In the 12 years Les Miz has been on Broadway, it has played over 4,900 performances, seen by 7,100,000 people. During that same period, 339 shows opened on Broadway, and 371 have closed.

Each performance uses 392 costumes, consisting of 1,782 items. Since its March 12, 1987 opening 4,940 loaves of bread stolen; 50,400 ounces of hairspray used; 691,200 Wet Ones used to remove makeup; 508,032 Ricola cough drops consumed; and 312,000 Advil tablets swallowed.

Suffering no headaches are the backers. Les Miz cost $4.5 million to mount. Before the curtain went up Les Miz had taken in over $11 million in sales - at a time when the top ticket price was $45. On it's 12th anniversary the Tony Award winning musical has grossed over $345 million.

MAUREEN O'HARA is queen of this year's St. Patrick's Day Parade in New York City. It's a day when everyone is Irish, so enjoy.



Mention BROADWAY TO VEGAS for Special Consideration
Call (800) 942-9027









Next Column: March 22, 1999
Copyright: March 15 1999. All Rights Reserved. Reviews, Interviews, Commentary, Original Photographs from any Broadway To Vegas (TM) columns may not be published, broadcast, rewritten, utilized as leads, or used in any manner without permission, compensation and/or credit
Link to Main Page
---
Laura Deni




For the snail mail address, please E-mail your request.
CLICK HERE FOR COMMENT SECTION