! >
Broadway To Vegas
  
 SHOW REVIEWS CELEBRITY INTERVIEWS GOSSIP NEWS

| | |
| --- | --- |
| | |
FROM SERIOUS OPERA TO ANNA NICOLE, OPERA CAN BE CONFUSING - - FIRST LADIES AT THE SMITHSONIAN EXPANSION - - 2010 SHOWEST HONORS THEIR OWN - - KATHLEEN TURNER IN RED HOT PATRIOT - - MICHAEL JACKSON, ELVIS PRESLEY, BRITNEY SPEARS, JIMI HENDRIX AUCTION - - SHOULD OF BEEN CHARGED WITH BEING A PUBIC NUISANCE - - MODERNISM AND MASQUERADE: MAX BECKMANN - - ABC DAYTIME SALUTES BROADWAY CARES/EQUITY FIGHTS AIDS BENEFIT - - DONATE . . . Scroll Down


FROM OPERA SERIA TO ANNA NICHOL, OPERA CAN BE CONFUSING


Opera.

General perception - Stuffy; Highbrow; Something old people go to; Fat ladies who sing; Boring.

If Phantom of the Opera is called a musical, why are Tommy and Hair called rock operas? How can anything associated with either Jerry Springer or Anna Nicole be called an opera? Why does New Orleans call itself The First City of Opera? And, for years some stars of operettas were prostitutes. Who knew that high priced hookers knew how to sing?

"Unfortunately there isn't a very easy answer to "What's the difference between an opera and a musical" apart from the very important technical one: in opera, amplification is a big no-no, whereas it's normal and assumed for singers of musicals to use microphones," Jonathan Dean, an executive with Seattle Opera, told Broadway To Vegas.

"Opera singers test themselves against roles that have challenged the world's greatest singers for generations, and using a mike would be akin to cheating - i.e. they didn't have mikes, back when such-and-such an opera was written, and singing with a microphone means you don't have to do the work of projection yourself. It's more of an accomplishment if you can sing the role acoustically, without depending on machinery to help you."

"Apart from that, composers, writers, librettists, and producers have enjoyed blurring the line between opera and musical for almost a hundred years," continued Dean. "I tend to take the historical approach: "Opera" refers to a wide variety of different traditions that combine music with drama, starting about the year 1600 and continuing today, largely in Europe and the Americas (western opera companies don't perform Chinese opera, for instance). The art form of the "Musical", thus, is one of the many varieties of opera, one that developed in New York City in the mid-20th century, and then started getting done more widely in Europe and America. Once upon a time, they didn't use mikes when they performed on Broadway; when amplification became ubiquitous, in the 60s and 70s, it turned musicals into something that could no longer be considered opera."

Prompted by three performances of Stephen Sondheim's Sweeney Todd by the New York Philharmonic at Avery Fisher Hall, in April, 2000 the NY Times put the question to several seasoned musicians.

Opera star Beverly Sills told the paper: "Operas and musicals are interchangeable only up to a point. While an opera singer can appear in Sweeney Todd, it is another thing for a singer in Sweeney Todd to appear in La Boheme In terms of vocal needs, they are not interchangeable."

Tony award winner Audra McDonald answered The Times by saying; "In terms of what is being written today, the line is becoming more and more blurred between the two forms.

The Times article, quoted orchestrator Jonathan Tunick as saying; "This is a panel discussion classic. Opera is associated with classical music and its style of singing, where the voice and the notes are more important than the text. Opera is generally defined as sung throughout and it is generally driven by the music.

"The attitude on casting in opera is you look for someone who can sing. In a musical you look for someone who can best play the role and if the music needs adjusting that will be done."



Robert Lyall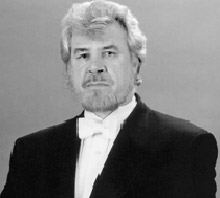 Robert Lyall is in his 11th season as General and Artistic director of the New Orleans Opera. A conductor by profession, he has been the musical conductor for two symphony orchestras and - simultaneously - the artistic director of four opera companies; 17 years as General Director of the Knoxville Opera; beginning his 21st year as Artistic Director of Opera Grand Rapids in Michigan and Artistic Director of the Mississippi Opera for three years on an interim basis. He literally travels from production to production and has amassed an enviable number of frequent flier miles.

Articulate and knowledgeable, he acknowledged that opera seems to confuse a lot of people.

"People will go to Phantom of the Opera or Les Miz and they will come bask and say they thought this was a Broadway musical, but people talk about it like it is an opera. They want to know the difference? I say, there are a couple of interesting things to consider."

"One is the history of Broadway. Remember American Broadway, as we know it, came from the Viennese Operetta. Now, Viennese Operetta and French Offenbach kinds of operettas were essentially plays with incidental music," he explained referencing the salacious, ripped from the headlines subject matter that has been a part of musical theater/opera for centuries.



Emma Elizabeth Crouch whose father was the cellist and composer Frederick Nicholls Crouch. Growing up to become famous courtesan Cora Pearl, she starred in Jacques Ofenbach's Orpheus in the Underworld wearing diamonds and little else. A skilled craftsman of the time earned between two and four francs a day; she earned 5,000 a night. Acts she performed included dancing nude on a carpet of orchids and then bathing before her dinner guests in a silver tub full of champagne.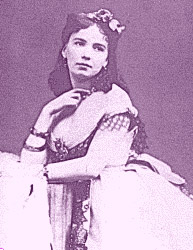 Jacques Offenbach is usually credited with having written the first operettas. What characterizes Offenbach's operettas is the grotesque way they portray life, but also the extremely frivolous way this is done, often bordering on the pornographic.

The mostly male, Upper Class audience - meaning they had the money to pay for the tickets - packed the theaters to see Offenbach's operettas. Just as today, casting the right star can sell tickets. A crowd pleaser was the legendary courtesan Cora Pearl, who appeared in a revival of Offenbach's Orphée in 1867 completely covered in diamonds, and little else.

That explains the scandalized reaction to operettas by certain parts of the general public. It also explains why operetta has always been considered a 'frivolous' art form. Indeed, together with the grotesque qualities, frivolity is one of the defining elements of 'authentic' operetta à la Offenbach.

"On its American side, the landmark piece, Showboat is one of the most important, bringing to the light of day, commercially, the history of minstrel shows and the use of the dance component," Lyall continued. "The Viennese Operetta always had dance in it, because of the Viennese Waltz. That made its way into both the subject matter of early operettas but as any indigenous music theater does, it starts to take on American qualities. We didn't do the waltz the way the Europeans did, but we certainly had rag time and we had dance components as part of our theater. Showboat broke those down along racial lines. You had the entertainers who were the black minstrel characters and they did the song and dance acts. Then you had the drama, carried primarily by the rest of the cast."

"Then comes Gershwin's Porgy and Bess and it was written for Broadway. Yet, he calls it a folk opera. There you get much more of an operatic structure. The critical thing is that, instead of a play with incidental music, it becomes really European - dialogue set to music. That probably reached it's height with the works of Rodgers and Hammerstein. You still have dance. After all, one of the most famous segments in classic Broadway is Agnes DeMille's choreography for Oklahoma. But it is still essentially a play with incidental music."

"Then you started to see some interesting things happen. You had the works of Leonard Bernstein," Lyall said about the conductor, composer, author, music lecturer and pianist - among the first conductors born and educated in the United States of America to receive worldwide acclaim.



Leonard Bernstein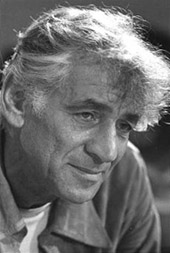 "Leonard Bernstein's musical theater pieces started with Wonderful Town and On The Town. They were American jazz based, a continuation of the melding of the popular and classic. That is also the Gershwin language and present in all of their stage pieces. Then you have Bernstein's language. There are some interesting distinctions. Leonard Bernstein wrote an opera called A Quiet Place and he called it an opera. He wrote Wonderful Town and On The Town and called them musicals. Then he wrote West Side Story and Candide. He called West Side Story a choreographic musical and called Candide and operetta," related Lyall about the piece with its sweeping, lyrical passages.

"What is the distinction in Leonard Bernstein's mind between an opera, an operetta or a musical, "Lyall rhetorically asked and then answered his own question. "The one that is the easiest to define is the choreographed musical, because of the dance component. In West Side Story dance furthers the narrative, not just as entertainment, in say the style of the Viennese Waltz, or the minstrel show component from Showboat."

"The 50's and 60's Broadway musical continued as essentially a play first, but the musical component and dance components grew. Then we come to the modern era where things are composed. You have the Andrew Lloyd Webber musicals. Many of them pretty much set aside spoken dialogue and become what people associate with an opera. By definition, to them, an opera is a sung play throughout."

"By any technical definition, these Broadway pieces are opera. And yet, what's the difference between those which are called musicals and the Menotti works - half a dozen of which were written for Broadway? He called them operas. Yet, look at the difference in the subject matter," Lyall commented about The Old Maid and the Thief, (1939) the first opera written for radio; The Medium (1946), The Telephone (1947), The Consul (1950), The Saint of Bleecker Street (1954), and Maria Golovin (1958) which were the first operas (besides Gershwin's Porgy and Bess) to run on Broadway; Amahl and the Night Visitors (1951) was the first opera specially written for television.

Amahl is the most frequently performed opera in the United States and a Christmas classic the world over. There was his Pulitzer Prize winning The Consul, and in 1986 Goya, written for Plácido Domingo,
"Another thing that was crucial in the emergence of American musical theater," continued Lyall "are the Romberg operettas, which are closer in style to the Viennese and French operettas, which tended to be almost sheer comedy. We call Broadway musical comedy, even though much of it is very serious. That comes from the fact that almost all of the Viennese and French origins of this, were comic spoofs on politics and social issues of the day. And, the bawdier the better, particularly with Offenbach."

"Even in the works of Johann Strauss there is always a strong sexual undercurrent. The people who enjoy Die Fledermaus (The Revenge of the Bat) the best are a married couple that goes to watch it and realizes the fun of a man trying to seduce his own wife in a masked ball. That kind of humor."

"We get into the modern era, where the structural elements - musical and theatrical - are blended."

"Then, you can complicate it even further because Carmen was written with spoken dialogue," said Lyall about the comic opera by Georges Bizet with the libretto by Henri Meilhac and Ludovic Halevy, based on the novella of the same title by Prosper Merimee. "It wouldn't be performed in the biggest houses because they thought that was a lower art form," continued Lyall. Bizet died shortly after the composition of Carmen. Ernest Guiraud, the house composer at the Paris Opera House, was commissioned to tone down some of the more extreme elements - so that it would have enough dignity to be performed on the stage of the great Paris Opera House.

"Bizet's final opera not only transformed the opera comique genre that had been static for half a century, it virtually killed it. Within a few years, the traditional distinction between opera (serious, heroic and declamatory) and opéra comique (light-hearted, bourgeois and conversational with spoken dialogue) disappeared. Moreover, Carmen nourished a movement that was to win both celebrity and notoriety first in Italy and then elsewhere: the cult of realism known as verismo," wrote Dean W. Carmen's place in history. Booklet to Decca recording conducted by Solti, 1976.

"Today we come back to Carmen and we strip away the settings of other composers to get back to the original," added Lyall. Carmen appears as number four on Opera America's list of the 20 most-performed operas in North America.

What about Jerry Springer - The Opera and the upcoming Anna Nicole - The Opera?



Galliy-Marie was the first Carmen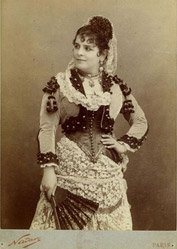 "That is pure sensationalism," Lyall quickly answered. "I don't think there is anybody who doesn't know who Jerry Springer is, or Anna Nichol Smith. Does that then entice them to go to the opera house to see an opera about these people? Not necessarily. But remember, opera has thrived in the past over certain kinds of scandal. Carmen is one of the most famous because - to have women smoke on stage was horrifying to that very starch collar French public. The opera comedic, for which it was written, was a house of entertainment and generally family entertainment. You took your children," he said about the practice of opera boxes being used by parents to interview prospective sons-in-law.

"Low and behold not only did a woman smoke on stage, but she was a woman of easy virtue. The loves of Carmen only last six months - then she gets stabbed on stage. If the morality didn't shock them, then the violence certainly did!"

Sex, violence and headline driven performances sell tickets.

It's not much of a jump from Offenbach to composer Richard Thomas, not to be confused with the actor.

Thomas is the composer/librettist for Jerry Springer, The Opera and the upcoming Anna Nicole - The Opera. His musical background amounts to having some classic piano lessons as a kid. Later, he'd become mesmerized by jazz. When he was 17 he saw Guys and Dolls at the National Theatre, which starred Richard Eyre and became hooked on musicals.

Thomas started out as a comedian. He'd come home from a gig and watch The Jerry Springer Show becoming increasingly fascinated by the audience reactions. He knew a low brow, ticket buying crowd when he saw one.

Thomas staged a one man gig called How to Write an Opera about Jerry Springer. Then he branch out to bribery - "beer for an idea."

"For a good idea you got a name brand; for a bad one an "un-brand" that's like raw sewage. It was fun. I really enjoyed it," he told SpeakEasy Stage.

The next thing he knew he had a one-act version with a cast of 12 in a 150-seat theatre as part of the Opera 2001 Festival at Battersea Arts Centre (BAC) in South London. The production went on to be a hit at the Edinburgh Festival. From there the musical hit the big time, winning rave reviews.

Thomas refers to the show as a "calling card that's gotten me commissions." Indeed. Shortly after the Olivier Award-winning Jerry Springer - The Opera struck pay dirt, he was commissioned by the Royal Opera House to writing a script [with composer Mark-Anthony Turnage] based on the life on Anna Nicole Smith which will open there on February 17, 2011.

The Dutch soprano Eva-Maria Westbroek will play the Texas born Smith, who died in 2007 at the age of 39 after taking an accidental overdose of prescription drugs. Starting her career as a stripper, she was selected as Playboy's Playmate of the Year in 1993. The following year, at the age of 26. she wed oil baron J. Howard Marshall. He was 89. After his death in 1995, she fought a protracted estate court battle with his son over his estimated $500 million fortune.

The year before her own death, her 20-year-old son Daniel died of a drugs overdose, just three days after Anna Nicole gave birth to her second child, daughter Dannielynn.

The Anna Nichole project, conducted by Covent Garden Music Director Antonio Pappano and directed by Richard Jones, is part of the Royal Opera House's commitment to producing a new opera for its main stage every two years. It described the production as "a major event in the UK arts calendar."

Neither Jerry Springer - The Opera nor the soon to be mounted Anna Nicole should be confused with a contemporary historical opera, whose emergence in the 20th century was seen in The Death of Klinghoffer; Nixon in China and Doctor Atomic by John Adams, and Dead Man Walking by Jake Heggie which exemplify the dramatization on stage of events in recent living memory, where characters portrayed in the opera were alive at the time of the premiere performance.

Brigadoon; Evita; The Light in the Piazza and others tell dramatic stories through complex music and are now sometimes seen in opera houses. Some musicals, beginning with Tommy (1969) and Jesus Christ Superstar (1971) and continuing through Les Miserables (1980), Rent (1996) and Spring Awakening (2006), use various operatic conventions, such as through composition, recitative instead of dialogue, leitmotifs and dramatic stories told predominantly through rock, pop or contemporary music.

"Because there are so many different kinds of operas," continued Seattle Opera's Dean, "it's just like the movies, it's hard to make a blanket statement that applies to everything that calls itself an opera (or a movie). So most of us at opera companies don't worry too much about the term being misapplied."



Amelia premiers at Seattle Opera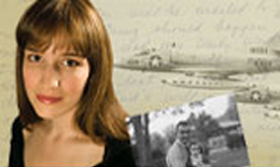 Dean is proud that Seattle Opera will be premiering Daron Aric Hagen's Amelia with libretto by poet Gardner McFall, and story by Stephen Wadsworth. The first opera commissioned by Speight Jenkins, Amelia will have eight performances May 8 through May 22 in McCaw Hall.

"Commissioning a new work is one of the most important responsibilities any leader in our field can undertake and I firmly believe we must renew our 400-year-old art form if it is to survive," said Jenkins. "I waited a long time to commission an opera, and the experience of working with Daron, Gardner, and Stephen has been a fascinating journey. The glory of opera is the power of music to enrich words and I am honored to be the general director of the company that will bring this remarkable new work to life."

Amelia spans a 30-year period from 1966 to 1996, interweaving one woman's emotional journey, the American experience in Vietnam, and images of flight - the romance of flight and the moral dilemmas that arise when vehicles of flight are used for exploration, adventure, and war. Poet Gardner McFall has written an intensely personal libretto, with inspiration from her book of poems, The Pilot's Daughter, an elegy for her father, Commander A. Dodge McFall, who flew over 100 sorties in Vietnam and was lost in the Pacific. The story, developed by director Stephen Wadsworth, follows the protagonist, Amelia, as she deals conclusively with the loss of her father in the final days of her first pregnancy.

In addition to his role in creating the story, Stephen Wadsworth also serves as stage director and dramaturg. He heads an experienced and award-winning production team featuring scenic design by Thomas Lynch, who won an Eddy (Entertainment Design) Award for Seattle Opera's 2001 Ring; costumes by Ann Hould-Ward, who won a Tony for her work on Beauty and the Beast; and lighting design by Duane Schuler, who also lit the world premieres of John Harbison's Great Gatsby and Tan Dun's First Emperor at the Metropolitan Opera. Seattle Symphony Music Director Gerard Schwarz will conduct Amelia. Schwarz, conducting his orchestra, has recorded more American music than any other current music director in the United States.

Mezzo-soprano Kate Lindsey, who sang Nicklausse in the new production of The Tales of Hoffmann at the Metropolitan Opera, makes her Seattle Opera debut in the title role. Tenor William Burden creates the role of Dodge, Amelia's father.

In The Big Easy, a new production of The Flying Dutchmen opens on March 19. New Orleans has yet to fully recover from Katrina, and then there is the economy in general. Has the New Orleans Opera taken any cost cutting measures?



Bass-Baritone Evgeny Nikitin stars in the New Orleans Opera production of The Flying Dutchman, opening March 19 in the Mahalia Jackson Theater in New Orleans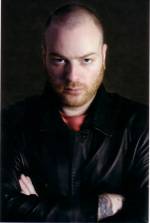 "Not so much on musicians, because Wagner called for a specific number of people. But, yes, we are using some projections and slightly different visual components rather than big, three-dimension sets," Lyall answered. "We own handsome three-dimensional sets of The Flying Dutchmen, which are rented out quite frequently, but this staging is very literal and traditional. The frame in which the story is told is slightly different, because it will use some cinemagraphic things. By doing that you eliminate a lot of crew costs, because you can do things with lights and projectors that don't require 50 people on a stage crew."

"We have certainly re-focused," Lyall admitted. "We're still giving our four, full productions next season and we're looking at the season past that with major works we're going to mount. We're being very careful at the expense side of our budget, so that we stay out of trouble."

New Orleans - noted for Mardi Gras, beignets, jazz and Marie Laveau - calls itself The First City of Opera.

"The first operas given on the North American continent were given in New Orleans," Lyall proudly reported. "The first documented performance was May 22, 1796. So its 213 years that opera has been presented in this city. The theater life in New Orleans 250 years ago was amazingly active. The building of the Opera House became the most famous and important building in New Orleans in the 19th century. It became the center of social, political and artistic activities. Opera was the signature of this city in many respects. That is why we call ourselves the First City of Opera."

Lyall is devoted to all of his opera companies. "Opera Grand Rapids, I've been there 21 years, and it's a company that is dear to my heart. We're doing Porgy and Bess next month."



Broadway To Vegas is supported through advertising and donations. Priority consideration is given to interview suggestions, news, press releases, etc from paid supporters. However, no paid supporters control, alter, edit, or in any way manipulate the content of this site. Your donation is appreciated. We accept PAYPAL. Thank you for your interest.


ART AND ABOUT


FIRST LADIES AT THE SMITHSONIAN EXPANSION: A FIRST LADY'S DEBUT

First Lady Michelle Obama presents her inaugural gown to the Smithsonian's National Museum of American History March 9, 2010. Photo Credit: Richard Strauss, Smithsonian Institution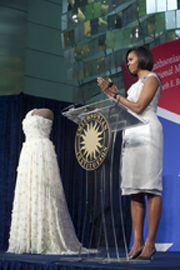 First Lady Michelle Obama formally presented the gown she wore to the 2009 inaugural balls to the Smithsonian's First Ladies Collection Tuesday, March 9, during a ceremony at the National Museum of American History. The gown, shoes and jewelry will be displayed in the center of a new gallery addition to the museum's popular exhibition, The First Ladies at the Smithsonian. The new gallery, A First Lady's Debut, opened to the public March 10.

The one-shouldered, white-silk chiffon gown, created by designer Jason Wu, is embellished with organza flowers with Swarovski crystal centers.

For decades, the First Ladies Collection has been one of the most popular attractions at the Smithsonian Institution. The original first ladies exhibition of 1914 was the first display at the Smithsonian to prominently feature women. The exhibition itself has changed in size, location, style and story several times over the years.

"Today Michelle Obama continues a nearly century-long tradition that is important to American history and beloved by the public," said Brent D. Glass, director of the museum. "The donation of an inaugural gown is a long-held tradition and the most visible of the objects our historians collect to document and explore the contributions of first ladies to the presidency and American society."



Jason Wu created Michelle Obama's inaugural gown. Photo Credit: Richard Strauss, Smithsonian Institution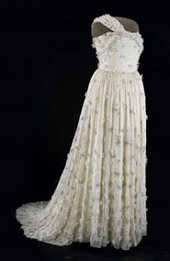 "When we look at the dress that Jackie Kennedy wore 50 years ago, or the one that Mary Todd Lincoln wore 100 years before that, it takes us beyond the history books and the photographs and helps us understand that history is made by talented people," said First Lady Michelle Obama. "The dress I donated today, made by Jason Wu, is a masterpiece. It's simple, it's elegant and it comes from the brilliant mind of someone who is living the American Dream."

Beginning with Mamie Eisenhower, the new gallery focuses on each first lady's public introduction during the inauguration or beginning of her husband's presidency and includes contemporary accounts of initial impressions about each woman and the role she might play in the White House. A First Lady's Debut, features life-size photos of the 11 women who have filled the position over the past 50 years, each one wearing her displayed gown.

Together, the two galleries that make up "The First Ladies at the Smithsonian" showcase 24 dresses and more than 100 other objects, including portraits, White House china, personal possessions and related artifacts from the Smithsonian's unique collection of first ladies' materials. Among the dresses displayed in the exhibition's first gallery are Martha Washington's silk taffeta gown, Grace Coolidge's flapper-style evening dress and Helen Taft's 1909 inaugural ball gown - the first to be presented to the Smithsonian by a first lady.

The exhibition is divided into four main sections: the evolution of the First Ladies Collection, the tradition of the inaugural gown, a first lady's contribution to the presidency and American society and the public debut of America's more recent first ladies.

The Smithsonian asks each one to donate something that represents her. While donating the inaugural ball gown has become a tradition, it is not required.

All first ladies since 1912 have contributed to the collection.

MODERNISM AND MASQUERADE: MAX BECKMANN (1884–1950) an exhibition of the graphic work of Max Beckmann, one of the most significant German artists of the modern era. opened yesterday, presenting approximately 40 prints from Portland Museum's permanent collection and private collections.

Focusing predominantly on Beckmann's portraits, this exhibition will provide important insights into the artist whose powerful approach to the human condition continues to move and inspire viewers. The exhibition also highlights Beckmann's treatment of scenes of both gaiety - the circus and theatre - and alienation.

The exhibition juxtaposes masterpieces such as Self-Portrait (1911), a haunting lithograph in which the artist's face emerges from darkness; and Self-Portrait (1922), a later woodcut which has the look of a Roman bust. Other images, including Behind the Scenes (1921), with its frieze of clowns, musicians, and dancers, and Portrait of the Dancer Sent M'Ahesa (1921) will demonstrate Beckmann's fascination with theatre and masquerade. Images of individual women and men, such as Woman with a Candle (1920), which depicts his first wife Minna, are coupled with claustrophobic scenes of jostling merrymakers. Full of drama and power, these images form an impressive tribute to the multi-faceted Max Beckmann.

Though he began his career working in a conservative style, Max Beckmann was profoundly affected by the human drama that he witnessed as a medical orderly during World War I; his outlook on both life and art radically changed. His works began to overflow with relentless raw realism, expressive incisive power, and sharp social critique. The techniques of lithography, woodcut, and drypoint etching particularly suited his acute perceptions of society. When Hitler declared modern art "degenerate" in 1937, Beckmann fled to the Netherlands before eventually making his way to the United States where he taught art in St. Louis and New York, influencing generations of American artists.

Through May 23, 2010 at the Portland Museum of Art in Portland, ME.





MICHAEL JACKSON'S FANCY FURNITURE ON DISPLAY AND UP FOR SALE - ALSO STUFF FROM ELVIS PRESLEY, BRITNEY SPEARS AND JIMI HENDRIX
A monumental parcel gilt nine seat sofa commissioned by Michael Jackson with red velvet button tufted upholstery and details in 24 carat gold (Est. $130,000/$150,000)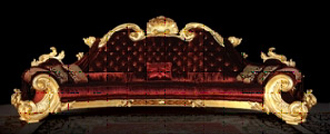 On June 25 Julien's Auction will be at Planet Hollywood in Las Vegas to gavel down furniture belonging to Michael Jackson. Before then the objects will be on display. Not just any old display. Julien's Auctions is scheduled to execute the recreation of Michael Jackson's Kent home for the public viewing for the first time at Newbridge Silverware's Museum of Style Icon's in Ireland from Tuesday, March 16th - Sunday May 30th and at Planet Hollywood Resort and Casino in Las Vegas starting Monday, June 14th and concluding on Friday, June 25th with the Music Icon's summer auction.

Up for bid are a parcel gilt, ebonized wood writing desk with mother of pearl and precious wood inlay, and French gold bathed brass elements, finished with an antiqued patina finish. The desk is titled "Il '600" designed by Maurizio Chiari and handmade in Italy to exacting specifications by Colombostile. Michael Jackson ordered the desk for his residence in Kent, England, where he was to stay during the This Is It concert series in London, at the retail price of over $190,000.00.

Leading this magnificent offering and unprecedented event is a selection of twenty-two exquisite furniture lots commissioned by Jackson for his planned residence in Kent, England. Jackson died shortly before the tour was to start.



Jacket worn by Michael Jackson when he married Debbie Rowe. (Est. $6,000/$8,000)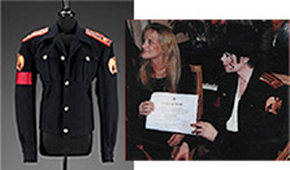 Colombostile Artisans have supplied luxurious handmade Italian furnishings to countless embassies, palaces, historical homes and sumptuous hotels in every continent. Michael's fans and the public will experience how the entertainer's home would have looked like with his custom designed Colombostile furniture ordered by the icon himself. As a tribute to the late King of Pop, Colombostile will be donating a generous portion of the proceeds from the sale of these items to benefit MusiCares and Joshua's Heart, charities.

In addition to the writing desk, highlights from this opulent collection include:

Elvis Presley Stage Played Acoustic Guitar (Est. $50,000.$70,000)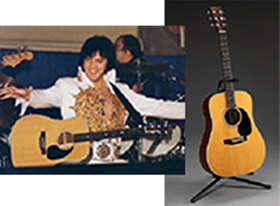 An elegant seashell encrusted silk upholstered "Shells" bergere with silver leaf front legs from the "Haute Couture" collection (Est. $16,500/$18,500)

A lavish "Swarovski" crystal embellished bergere finished in platinum-gold leaf and upholstered in metallic leather from the "Haute Couture" collection (Est. $16,500/$18,500)

A luxuriant faux leopard and Ostrich feather trimmed "Wild Cat" bergere from the "Haute Couture" collection (Est. $16,500/$18,500)

A regal pair of red velvet armchairs with gold double-headed eagle embroidery from the "Kalamos" collection (Est. $57,000/$60,000)

A monumental Baroque/eclectic style red velvet and parcel gilt sofa with hard stone inlay from the "Esmeralda" collection (Est. $130,000/$150,000).



Jimi Hendrix Stage Played Guitar (Est. $150,000/$200,000)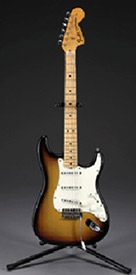 In addition to the Colombostile collection commissioned by Michael Jackson, this auction will include more than 200 items from his life and career as well as other Music Icon's. These additional highlights will tour for the first time to Ponte 16 in Macau, China from April 30th – May 9th. Ponte 16 is a world-class integrated casino-entertainment resort located in the culturally rich Inner Harbor of Macau.

Some of the additional highlights include:

The Collection David Nordahl - Michael Jackson's commissioned artwork by the famed artist includes his study art supplied to Michael Jackson to approve his work prior to creating the masterpieces that adorned the walls at Neverland. Collection includes: Study for "Tryptych" (Est. $6,000/$8,000), Study for "Michael" (Est. $4,000/$6,000), Study for "Prince, The Boy King" (Est. $6,000/$8,000).

Michael Jackson Signed "Beat It" Jacket (Est. $8,000/$12,000), Michael Jackson Stage Worn Sunglasses Gifted to Actor Corey Feldman (Est. $2,000/$4,000), Michael Jackson's Military Jacket That He Wore When He Married Debbie Rowe (Est. $6,000/$8,000), Michael Jackson's White Swarovski Crystal Glove (Est. $20,000/$30,000), Beaded Shirt (Est. $10,000/$12,000) and Sequined Jacket ($14,000/$16,000) Iconic Ensemble Worn on Stage During the "Victory" Tour, Michael Jackson Handwritten and Signed "Bad" Lyrics (Est. $2,000/$4,000), Elvis Presley's lock of hair from army buzz cut won by a fan in the 1950's (Est. $6,000/$8,000), Jimi Hendrix Stage Played Fender Guitar (Est. $150,000/$200,000), Britney Spears Stage Costumes and many more.


SWEET CHARITY


ACTORS FUND READING OF VALLEY OF THE DOLLS presented March 15 at the Gerald W. Lynch Theatre at John Jay College in Manhattan.

A stage adaptation penned by Bob Hess and Doug Miller from the screenplay by Helen Deutsch and Dorothy Kingsley. Directed by Carl Andress. Jacqueline Susann wrote the original novel.

The all-star cast: Nancy Anderson, Craig Bierko, Hunter Bell, Heidi Blickenstaff, Tovah Feldshuh, Julie Halston, Troy Britton Johnson, Julia Murney, Brad Oscar, Martha Plimpton, Ed Watts, and starring Charles Busch as "Helen Lawson".

Valley of the Dolls, follows the lives of three women - naive New Englander Anne Welles, aspiring singer Neely O'Hara, and buxom beauty Jennifer North - as they attempt to achieve fame and fortune in show business. "As this legendary story unfolds, each starlet discovers that Hollywood is full of pitfalls and heartbreak. Instead of the happiness they seek, the trio descends into a dark world of sex, alcoholism, suicide and a chemical dependence on a variety of prescription 'dolls.'

The Actors Fund, which was founded in 1882, is a non-profit organization that provides for the social welfare of all entertainment professionals. Some of the many programs The Actors Fund provides include a nursing home and assisted living care facility; senior and disabled programs; mental health services; chemical dependency services; entertainment industry assistance programs; the Phyllis Newman Women's Health Initiative; the AIDS Initiative; and supportive housing on both coasts.

ABC DAYTIME SALUTES BROADWAY CARES/EQUITY FIGHTS AIDS BENEFIT the 6th annual event brings together stars of All My Children; One Life to Live; General Hospital and the Broadway stage. The event will be hosted by Cameron Mathison (Ryan, All My Children). Appearing from All My Children will be Rebecca Budig (Greenlee), Melissa Claire Egan (Annie), Bobbie Eakes (Krystal), Ricky Paull Goldin (Jake), Adam Mayfield (Scott), Cornelius Smith Jr. (Frankie) and the one and only Susan Lucci (Erica).

From One Life to Live, expect to see Scott Evans (Fish), Kassie DePaiva (Blair), Mark Lawson (Brody), Nicholas Rodriguez (Nick), Tika Sumpter (Layla), Jason Tam (Markko) and Brittany Underwood (Langston) and Bree Williamson (Jessica).

From General Hospital, watch for Bradford Anderson (Spinelli), Brandon Barash (Johnny), Anthony Geary (Luke), Jonathan Jackson (Lucky) and Nathan Parsons (Ethan). That's not all, though. This year's event will feature a special musical performance by Sherri Shepherd of The View!

This one-night-only event takes place March 21 at Town Hall in New York City.

UP CLOSE AND PERSONAL WITH ALAN & MARILYN BERGMAN Moderated by Michael A. Kerker (ASCAP). Michael Orland, Musical Director for Maureen McGovern Bill Cantos, Musical Director for Alan Bergman and Lari White.

A special evening celebrating two of music's most celebrated lyricists, whose collaborations have earned them 16 Academy Award nominations, multiple Emmys, Grammy's and three Oscars for The Windmills of Your Mind; The Way We Were and the score for Yentl.

Part of The Actors Fund Musical Monday Benefits - a special series of intimate concerts with some of theatre's finest performers including Brian Stokes Mitchell, Melissa Manchester, Peter Gallagher, Valarie Pettiford, Alice Ripley and Emily Skinner, Sam Harris and Stephen Schwartz.

The evening begins with cocktails and hors d'oeuvres. Following the performance there is a post-show coffee and dessert reception with the performers. Monday, March 15 in the Pantages Theatre Lobby, Los Angeles.




SPREADING THE WORD


THE GRAPES OF WRATH the world premiere of a two act concert version of Nobel Prize-winner John Steinbeck's epic Pulitzer Prize-winning novel.

Music by Ricky Ian Gordon and libretto by Michael Korie. The Collegiate Chorale, led by Music Director James Bagwell, Featuring the American Symphony Orchestra, conducted by Ted Sperling. Directed by Eric Simonson with Jane Fonda as the narrator.

An all-star cast from Broadway and the classical world comes together to present a rare mingling of opera and theatre. Originally commissioned and produced by the Minnesota Opera and called The great American opera by Musical America, composer Gordon and libbrettist Korie's new work melds popular musical styles of the '20s and '30s (song-and-dance, soaring love songs, banjo ballads, jazz choruses, and a barbershop quartet) with the classic drama of grand opera, all to a heart-wrenching yet uplifting effect.

The starry cast includes Victoria Clark, Christine Ebersole, Nathan Gunn, Elizabeth Futral, Anthony Dean Griffey, Peter Halverson, Steven Pasquale, Stephen Powell, Andrew Wilkowske and Matthew Worth and the role of Tom Joad's young sister, Ruthie, will be sung by Nathan Gunn's daughter Madelyn Gunn.

lighting design by Frances Aronson and projection design by Wendall Harrington. "In this concert version, we convey the story of the Joad family's journey across America in approximately two hours. We have retained many of the big musical set pieces, arias and choral ensembles, and we have eliminated much of the recitative, replacing it with a narrator who reads sections from the novel, allowing segues from those powerful passages seamlessly into music that continues the drama without loss of suspense or momentum. In addition, this version will feature music never heard in the original full staging of the opera. This is not only a concert version of the full opera, but a different version," said Michael Korie.

March 22, 2010 at Carnegie Hall, NYC.

RFK: THE JOURNEY TO JUSTICE

John Wesley as civil rights activist and presidential advisor Louis E. Martin, with Henry Clarke as RFK. Photo Courtesy University of Notre Dame DeBartolo Performing Arts Center.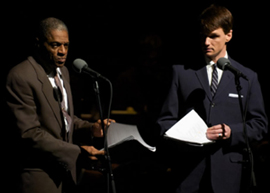 Written by Murray Horwitz and Jonathan Estrin. Directed by John Rubinstein. Starring Michael Leydon Campbell, Philip Casnoff, Henry Clarke, Kyle Colerider-Krugh, Kevin Daniels, Ross Hellwig,Thomas Vincent Kelly, Sheilynn Wactor and John Wesley.

L.A. Theatre Works presents a major new docudrama about Robert Kennedy's personal and political journey during the civil rights movement. How did RFK ultimately grow into his role as a leader within the Civil Rights Movement?

RFK explores the sequence of events that transformed Kennedy from a political player to a true believer in a higher cause. His moving story provides a compelling and dramatic illumination of the 1960s, enabling a new generation to hear the words, feel the tension, and explore the issues that still resonate today.

L.A. Theatre Works wraps up a two-month, ten-city national tour when it records five performances at the Skirball Cultural Center in Los Angeles March 17-21 for broadcast on its nationally syndicated radio series.

PATRICK JOHNSON discusses his upcoming show, Sweet Tea-Black Gay Men of the South. His acclaimed book of the same name, is a fascinating oral history of black, gay southern life which will be brought to life in a production at Chicago's About Face Theatre beginning April 29, 2010.

Johnson, who is Professor and Chair of the Department of Performance Studies at Northwestern, will be interviewed by Jane M Saks of the ESB Institute for the Study of Women and Gender in the Arts and Media at Columbia College, where he developed this play as a fellow. Sunday, March 21, at the Landmark Grill and Lounge in Chicago.

A WEEKEND WITH PABLO PICASSO begins a workshop production March 21 at The Lyceum Theatre in San Diego, CA.

Though he is best known for his comedic work with the Latino performance troupe, Culture Clash, Herbert Siguenza was first a visual artist. His new one-man show allows him to demonstrate his writing, acting and visual art skills, as he takes on the role of legendary artist Pablo Picasso. A Weekend With Pablo Picasso invites audiences into Picasso's private studio for an intimate and revealing weekend, as he prepares to deliver six new works of art to a buyer on Monday morning. Directed by San Diego REP Associate Artistic Director Todd Salovey, A Weekend With Pablo Picasso features a set designed by Giulio Perrone, with original music by Bruno Louchouarn and a visual landscape of Picasso's paintings with projections by Victoria Petrovich. The workshop event continues through April 11, 2010.





OTHER PEOPLE'S MONEY


THE MOB MUSEUM which is a conversion of the old Las Vegas Post Office into The Las Vegas Museum of Organized Crime and Law Enforcement - known to locals as The Mob Museum - has received a $220,000 grant from the state Nevada Commission for Cultural Affairs.

The Mob Museum, slated to open Spring 2011, promised to "present a bold and authentic view of organized crime's impact on Las Vegas history and its unique imprint on America and the world."

The Mob Museum has received $3 million from the state through the years. Officials from the Mob Museum promised the commission this would be the last time they would request money from the state.



SHOWEST taking place March 15 - 18, 2010 at Bally's & Paris in Las Vegas is the largest annual convention for the motion picture industry and the largest international gathering of motion picture professionals and theater owners. The convention is expected to draw more than 5,000 delegates from more than 50 countries.

Sex and the City stars Sarah Jessica Parker, Kim Cattrall, Kristin Davis and Cynthia Nixon will receive The Ensemble Award during ShoWest's Final Night Banquet and Award Ceremony.

Vanessa Hudgens and Alex Pettyfer, stars of the upcoming film Beastly will receive the ShoWest 2010 Female and Male Star of Tomorrow Awards. Jerry Bruckheimer will be honored with the Lifetime Achievement Award. Katherine Heigl takes home the Female Artist of the Year trophy. Zach Galifianakis, star of Warner Bros.' upcoming laugher Due Date, will be honored as comedy star of the year. Pixar Animation Studios goes home with the Big Ten Award. Sam Worthington is named Male Star of the Year. Todd Phillips is Director of the Year. Amanda Seyfried will be bestowed Breakthrough Female Star of the Year.



THE ADDAMS FAMILY Based on the bizarre and beloved family of characters created by legendary cartoonist Charles Addams. Book by Marshall Brickman and Rick Elice, music and lyrics by Andrew Lippa, direction and design by Phelim McDermott and Julian Crouch and choreography by Sergio Trujillo.

Starring two-time Tony Award winners Nathan Lane and Bebe Neuwirth as Gomez and Morticia, The Addams Family features two-time Tony Award nominee Terrence Mann as Mal Beineke, two-time Tony Award nominee Carolee Carmello as Alice Beineke, two-time Tony Award nominee Kevin Chamberlin as Uncle Fester, Jackie Hoffman as Grandma, Zachary James as Lurch, Adam Riegler as Pugsley, Wesley Taylor as Lucas Beineke and Krysta Rodriguez as Wednesday.

The Addams Family features an original story. It's every parent's nightmare. Your little girl has suddenly become a young woman, and what's worse, has fallen deliriously in love with a sweet, smart young man from a respectable family. Yes, Wednesday Addams, the ultimate princess of darkness, has a "normal" boyfriend, and for parents Gomez and Morticia, it's a shocking development that turns the Addams house upside down when they are forced to host a dinner for the young man and his parents.

Lighting design by two-time Tony Award winner Natasha Katz, sound design by Acme Sound Partners and puppetry by acclaimed Obie Award-winning puppeteer Basil Twist.

The production also features music direction by Mary-Mitchell Campbell, orchestrations by Larry Hochman, dance arrangements by August Eriksmoen, hair design by Tom Watson, make-up design by Angelina Avallone and special effects design by Greg Meeh.

In previews with the official opening set for Thursday, April 8, at the Lunt-Fontanne Theatre, NYC.

RED a new American play by John Logan. Directed by Donmar artistic director Michael Grandage.

Starring Alfred Molina and Eddie Redmayne.

Red is set in 1958 as abstract expressionist artist Mark Rothko (Alfred Molina) has received the art world's largest commission to create a series of murals for The Four Seasons restaurant in the new Seagram building on Park Avenue. Under the watchful gaze of his young assistant, Ken (Eddie Redmayne) and the threatening presence of a new generation of artists, Rothko faces his greatest challenge yet: to create a definitive work for an extraordinary setting.

The production is designed by Christopher Oram, with lighting design by Neil Austin. Composer and sound designer is Adam Cork.

Red received its world premiere in late 2009 at the Donmar in London. Red is currently in previews at the Golden Theatre in NYC with the official opening set for Thursday, April 1, 2010.

RED HOT PATRIOT: THE KICK-ASS WIT OF MOLLY IVINS by Margaret Engel and Allison Engel. Directed David Esbjornson. Starring Tony Award nominee Kathleen Turner as the fiery political columnist.

The world premiere of this one-woman show draws on the words of the late Texas-bred writer. In Red Hot Patriot: The Kick-Ass Wit of Molly Ivins, Kathleen Turner portrays the unsinkable Molly Ivins, the famously brassy newspaper columnist and best-selling author. A true Texas original, Ivins was a sharp-tongued wit who skewered the political establishment and the 'good ole boys' with her unforgettable humor and wisdom. Written by twin sisters, themselves longtime journalists, the play celebrates Ivins' courage and tenacity - even when it seemed like a complacent America wasn't listening."

Ivins' column was syndicated in over 350 newspapers nationwide. Her voice was developed in the early 1970s as the co-editor of the profane bi-weekly political paper The Texas Observer, which remained her spiritual home. She coined the nickname "Shrub" for George W. Bush, the subject of her two best-selling books: Shrub: The Short but Happy Political Life of George W. Bush and Bushwhacked.

A graduate of Smith College, she began her newspaper career at the Houston Chronicle and Minneapolis Tribune (now the Star Tribune). She worked at The New York Times for five years before moving back to Texas to work at the Dallas Times Herald and then The Fort Worth-Star Telegram. She also wrote for Esquire; Atlantic Monthly and The Nation.

A woman of conviction in her beliefs who possessed a deep-running passion for the power of words, Ivins valiantly fought inflammatory breast cancer, succumbing to the disease in 2007 after several recurrences. Red Hot Patriot is billed as "offering a beautiful tribute to the career woman as well as the woman who courageously took her fights against breast cancer into the public arena to help increase awareness."

Arena Stage had an early hand in the development process of Red Hot Patriot: The Kick-Ass Wit of Molly Ivins, hosting a workshop and producing an invited reading in August 2009 with Kathleen Turner. The production runs March 19-April 18, 2010 at the Philadelphia Theatre Company, Philadelphia, PA.

NEXT FALL by Geoffrey Nauffts. Directed by Sheryl Kaller. Transferring from off-Broadway to Broadway's Helen Hayes Theatre with additional financial backing by Elton John and David Furnish.

The romantic comedy-drama explores questions of love, sexuality, religion, family and tolerance.

The company includes; Patrick Breen as Adam, Maddie Corman as Holly, Sean Dugan as Brandon, Patrick Heusinger as Luke, Connie Ray as Arlene and Cotter Smith as Butch.

Heusinger and Breen play gay partners: One is a devout Christian and the other is an atheist.

According to the production; While the play's central story focuses on the five-year relationship between Adam and Luke, Next Fall goes beyond a typical love story. This timely and compelling new American play forces us all to examine what it means to 'believe' and what it might cost us not to."

The creative team includes Wilson Chin (set design), Jeff Croiter (lighting design), John Gromada (sound design) and Jess Goldstein (costume design).

MILLION DOLLAR QUARTET conceived by Floyd Mutrux who also penned the book with Colin Escott. Directed by Eric Schaeffer. A musical inspired by the famed recording session that brought together rock 'n' roll icons Johnny Cash, Jerry Lee Lewis, Carl Perkins and Elvis Presley for the first and only time.

According to the production; "On Dec. 4, 1956, an auspicious twist of fate brought Johnny Cash, Jerry Lee Lewis, Carl Perkins, and Elvis Presley together. The place was Sun Records' storefront studio in Memphis. The man who made it happen was Sam Phillips, the 'Father of Rock 'n' Roll,' who discovered them all. The four legends-to-be united for the only time in their careers for an impromptu recording that has come to be known as one of the greatest rock jam sessions of all time. Million Dollar Quartet captures the infectious spirit, freewheeling excitement and thrilling sounds of a singular moment when four of the music industry's most extraordinary talents, all in their creative prime, came together for one of the most memorable nights in music history."

Eddie Clendening, Lance Guest, Levi Kreis and Rob Lyons, who all appeared in the Chicago cast, re-create their work for Broadway audiences. Clendening plays Elvis Presley, Guest is Johnny Cash, the Jeff Award-nominated Kreis portrays Jerry Lee Lewis, and Lyons is Carl Perkins. All four are making their Broadway debuts.

The foursome is joined by Tony nominee Hunter Foster as legendary music producer Sam Phillips, and Elizabeth Stanley as Dyanne, a woman who arrives at Sun Records with Elvis on the night of the recording session.

The production features such classics as Blue Suede Shoes; Fever; Sixteen Tons; Who Do You Love?; Great Balls of Fire; Riders in the Sky; Fever; Hound Dog; I Walk the Line; That's All Right; Matchbox; Folsom Prison Blues and Whole Lotta Shakin' Goin' On.

The design team includes Derek McLane (scenic design), Howell Binkley (lighting design), Jane Greenwood (costume design), Kai Harada (sound design) and Chuck Mead (musical arrangements and supervision).

Million Dollar Quartet comes to Broadway from Chicago with previews which began March 13. at the Nederlander Theatre with an official opening scheduled for April 11.

THE PSYCHIC a murder mystery (of sorts) by Sam Bobrick. Directed by Susan Morgenstern.

Starring Cyrus Alexander, Jeffrey Cannata, Bridget Flanery, Dana Green, Richard Horvitz and Phil Proctor.

The Psychic follows the chaotic life of Adam Webster (Jeffrey Cannata), a befuddled, down-on-his-luck writer, who has put a sign in his apartment window, in desperation to make the rent: "Psychic Readings $25." The sign soon draws the interest of the lovely and conflicted Laura (Dana Green), her shady husband Roy (Cyrus Alexander), Roy's mistress Rita (Bridget Flanery), a gangster named Johnny Bubbles (Richard Horvitz) and ace Detective Norris Coslow (Phil Proctor). A comedic cacophony follows.

March 17 - April 18, 2010 at The Falcon Theatre in Burbank, CA.





WHO'S WHERE


JOY BEHAR brings her intelligence and clever wit to the stage of the State Theatre in New Brunswick, NJ, on Friday, March 19.

LOUISE PITRE brings her show-stopping belter's voice in tribute to Pure Piaf. Wednesday, March 24, Peabody Auditorium, Daytona Beach, FL.

THE MOODY BLUES perform Tuesday, March 16 at the Tennessee Theatre in Knoxville. On Thursday the show is at Andrew Jackson Hall in Nashville. Friday finds the group at the Fox Theatre in Atlanta. On Saturday the tour stops at the Performing Arts Center in North Charleston, SC.

ARETHA FRANKLIN on stage Friday, March 18, at the Amphitheatre in Saint Augustine, FL.

MICHAEL FEINSTEIN at the Auditorium in Knoxville, TN on Saturday, March 13.

BON JOVI entertains at the Sprint Center in Kansas city on Monday, March 16. On Wednesday they are in the spotlight at The Palace in Auburn Hills, MI. On Friday they open a two nighter at the Bell Centre in Montreal.

TAYLOR SWIFT has a two night gig beginning Thursday, March 18, at The Wachovia Center in Philadelphia.

JAZZ AT LINCOLN CENTER ORCHESTRA WITH WYNTON MARSALIS perform St. Pat's Day at the Hill Auditorium in Ann Arbor, MI. On Friday the performance takes place at Orchestra Hall in Chicago. Saturday they can be enjoyed at the Center for the Arts in Buffalo.

PATTI LuPONE AND MANDY PATINKIN have a two nighter at the Callum Theatre in Palm Desert, CA beginning Friday, March 19.

WEDNESDAY NIGHT AT THE IGUANA with hosts Dana Lorge and Richard SKipper. Bill Zeffiro on keyboard & Saadi Zain on bass. Special St Patrick's Day Show with Cindy Marchionda, Leslie Orofino, Vickie Phillips, J. Michael Reeds, Sally Swallow, Martina Vidmar and some surprises. Wednesday, March 17, Iguana VIP Lounge, NYC.

MAGGIE MOORE and musical director/pianist Geoffrey Kiorpes combine their talents for a rare performance of original pop/jazz and eclectic covers songs. For the first time they will be joined on stage by Gail Ann Dorsey (bassist for David Bowie) debuting on drums and Alyson Palmer of the band BETTY on bass Saturday, March 20, at 92Y Tribeca in NYC.




PIFFLE AND PROFUNDITIES


SHOULD OF BEEN CHARGED WITH BEING A PUBIC NUISANCE Indiana native Megan Mariah Barnes, 37, was charged with a variety of offenses after she caused a two-vehicle crash, while driving south on Florida's Overseas Highway, when she crashed into the rear of an SUV on March 2, injuring two passengers in the SUV. Police reports indicate she was shaving her bikini line, while her ex-husband Charles Judy held onto the steering wheel from the backseat.

We're not sure why the ex-husband was in Barnes' 1995 Thunderbird but Barnes told police she was "meeting her boyfriend in Key West and wanted to be ready for the visit," Trooper Gary Dunick told the media.

Barnes should have left the driving to somebody else, because she was convicted of DUI with a prior and driving with a suspended license just one day earlier. According to the arrest report, it was the sixth time her license had been suspended. This time she was charged with driving with a revoked license, reckless driving, leaving the scene of a wreck with injuries and driving with no insurance. She faces a maximum of a year in jail.

According to the arrest affidavit, the trooper asked Barnes afterward why she didn't hit the brakes when she saw the SUV. She answered bluntly, "I told you, I was shaving."



Next Column: March 21, 2010
Copyright: March 14, 2010. All Rights Reserved. Reviews, Interviews, Commentary, Photographs or Graphics from any Broadway To Vegas (TM) columns may not be published, broadcast, rewritten, utilized as leads, or used in any manner without permission, compensation and/or credit.
Link to Main Page
---
Laura Deni



U.S. Postal Address: Post Office Box 60831, Las Vegas, NV 89160
CLICK HERE FOR COMMENT SECTION