! >
Broadway To Vegas
  
 SHOW REVIEWS CELEBRITY INTERVIEWS GOSSIP NEWS

| | |
| --- | --- |
| | |
LITTLE BLACK DRESS STAR OF SHOW - - BRAD PAISLEY HONORED - - HELEN HAYES AWARDS - - JUDGE WAPNER PRESIDING IN LAS VEGAS - - A SPAGHETTI WESTERN OF AN OPERA - - NEW STAR TREK EXPERIENCE - - THEATER STAGES LIZ TAYLOR LOOK-ALIKE CONTEST - - FREE MUSEUMS ARE POPULAR - - DONATE . . . Scroll Down


Copyright: March 14, 2004

By: Laura Deni
CLICK HERE FOR COMMENT SECTION


CELEBRITIES LAUNCH NEW STAR TREK EXPERIENCE
BORG the most menacing villains in all of the Star Trek universe attempt to assimilate humans in BORG invasion 4-D Photo by Mark Fellman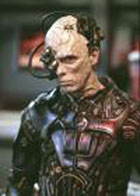 Las Vegas will experience a new entertainment attraction called: BORG Invasion 4D beginning March 18 at the Hilton Hotel.

Seinfeld's Jason Alexander is slated to be the guest at the party marking the VIP opening on March 17. Scott Bakula from Enterprise will be at the March 18 public opening of this multi-million dollar galactic experience.

BORG Invasion 4D will combine live actors and special effects to create an realistic Star Trek experience. As you tour a futuristic research facility, the terrifying drones of the BORG collective attempt to capture and assimilate you using 24th century cybernetic technology. 3D and 4D effects will merge in a chilling realization of state-of-the-art technology to provide an all-immersive tactile experience.

Numerous special effects were created for this attraction to enhance the experience. In addition, one of the highlights of BORG Invasion 4D is an original 3D film, featuring Robert Picardo (The Doctor), Alice Krige (BORG Queen) and Kate Mulgrew (Admiral Janeway).



Robert Picaro who stars as the doctor in Borg Invasion 4-D is pictured here with a BORG. Photo by Mark Fellman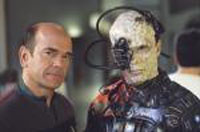 For the first time Star Trek fans will be able to experience their beloved universe in 3D (4D!) "reality". The attraction features the first use of 3D with an overhead screen and a live-action steady cam stereo shot with live 3D onscreen playback. 4D promises to take Star Trek fans to new heights with an edgier and darker environment.

This new experience is a separate entertainment attraction at STAR TREK: The Experience that allows visitors to truly become a part of The Star Trek environment by utilizing their sense of sight, sound and touch. Guests will be able to enjoy one or both attractions.

While a true Trek fan loves anything Trek, this new addition has the promise of offering an exciting experience to those visitors that don't have every Star Trek episode committed to memory and in fact may not have even watched the series.


THAT MUST BE SOME DRESS
Deborah Voight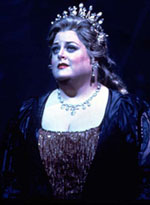 Knock-off designers get your sketch pads ready. Never mind who wore what to the Oscars or any other red carpet event. Keep your eye out for that black dress.

World-renowned soprano Deborah Voigt, who will have her first solo disc released April 6 by Angel/EMI Classics, has been replaced in a Royal Opera production of Richard Strauss' Ariadne auf Naxos because she can't fit into a black dress.

Voight has been replaced a slimmer singer, German soprano Anne Schwanewilms, who can get into the dress.

American fans may have enjoyed Schwanewilms in the Dallas Opera November, 2002 production of Fidelio.

According to an explanation from Peter Katona, casting director for the Royal Opera House in London, the staging of this particular production requires the title character to wear a black evening dress as opposed to the traditional Grecian-style costume.

"Although Ms. Voigt is a wonderful singer, the costume and type of production made it not such a fortunate suggestion that she should be in it," Katona said.

Now, let's see the dress.



Broadway To Vegas is supported through advertising and donations. Priority consideration is given to interview suggestions, news, press releases, etc from paid supporters. However, no paid supporters control, alter, edit, or in any way manipulate the content of this site. Your donation is appreciated. We accept PAYPAL. Thank you for your interest.




PUCCINI'S SPAGHETTI WESTERN AN OPERA


It takes a certain savior faire to carry off playing a cowpoke with an Italian accent. A spaghetti western written as an opera. La Fanciulla del West (The Girl of the Golden West), is not Puccini's most performed opera, but one which has merit and has been given new life in a co-production by Austin Lyric Opera and Arizona Opera, currently being staged by the Utah Opera. The seldom-played 1910 opera has a five-performance run that closes March 21.

What more could your typical opera lover want? Miners singing in Italian, a woman fighting for her man - all set in California during the Gold Rush of 1849-50.

Three main characters are Minnie, Jack Rance and Dick Johnson. Rance, the sheriff of the mining camp, wants Minnie for his wife. Minnie, who runs the town's only saloon, rejects him and instead falls in love with Johnson, a stranger to the town, whom Minnie knew years before. But Johnson turns out to be a bandit. Therein lies the plot.

La Fanciulla del West: opera in 3 acts, libretto by Guelfo Civinini and Carlo Zangarini, based on the play The Girl of the Golden West by David Belasco, music by Giacomo Puccini, first performed December 10, 1910 at the Metropolitan Opera House, New York with Enrico Caruso as Johnson and Arturo Toscanini conducting.

Puccini and his son Tonio traveled to New York in November for what was to be the first world premiere in Met history. It was a triumphant success. Belasco himself, although not officially given billing as stage director, attended all rehearsals and instructed the cast.

Shortly after the Met premiere there were productions in Chicago, Baltimore, Philadelphia, St. Louis and Boston, all enthusiastically received. Deutsche Grammophon's recording features Placido Domingo, with the Royal Opera House chorus conducted by Zubin Mehta.

Before anyone could yell encore! the work became one of Puccini's least performed operas - not seen again at the Met until 1929.

Too difficult to sing complained the stars.

Leontyne Price lost her voice after singing Minnie at the Met, forced to take a year off to recover.

Occasionally there are revivals and a few fortunate patrons have the opportunity to see this work on stage under the baton of Anton Coppola, who conducts the Utah Opera's production. His famous nephew is film director Francis Ford Coppola, whose vast contact list became an interracial part in creating this production.

There are two American Indian roles in Fanciulla, Billy Jackrabbit and Wowkle. In this production there is a first - both speak a native dialect - Maidu - instead of Italian. Maidu was the language that the Indians in the Sacramento, California area spoke 150 years ago. The listener can thank both of the Coppola men for that accomplishment. Anton called Francis who had his librarian track down a University of California at Berkeley professor, who put Coppola in touch with her mentor, who knew the language.

Tonio di Paolo as Dick Johnson, Lori Phillips as Minnie Johnson, and Guido LeBron as Jack Rance, star in Girl of the Golden West at the Capitol Theatre in Salt Lake City. The opera is sung in Italian, with Supertitles



BRAD PAISLEY

Brad Paisley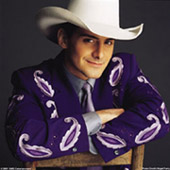 has been recognized by the Country Radio Broadcasters (CRB) as Artist Humanitarian of the Year for Extensive Charitable Contributions.

The CRB announcement stated "with a notable list of credits and extensive service to communities across the country and worldwide, this year's Selection Committee found Paisley deserving of this recognition. From his earliest days as a performer, Brad has donated his time and talents to others, from performing at nursing homes, civic organizations, church functions, and local and state ceremonies."

"Just two years ago, Paisley created his own charitable foundation in support of a half-dozen local agencies and charities in his hometown of Glen Dale, West Virginia. As a result, a local student from John Marshall High School (Brad's alma mater) is currently attending Juilliard as a recipient of the Brad Paisley Scholarship for the Performing Arts; the Glen Dale United Methodist Church will be able to rebuild after a devastating fire; and dozens of local charities from Big Brothers/Big Sisters to the Soup Kitchen of Greater Wheeling will continue their good work with the help of donations from Paisley's foundation."

Paisley has helped "to nurture and encourage the talent of the future by giving back to his college alma mater, Belmont University, Nashville." Last year he received the Distinguished Alumni Award from Belmont.

"Additionally, as an avid fisherman, Brad found a way to combine his passion for fishing and his heart for children with the Brad Paisley Celebrity Invitational Fishing Tournament (formerly known as Hook, Line and Singer) which benefits the children of St. Jude Children's Research Hospital."

The performer also supports: the Schjon Podein Foundation, the Michael J. Fox Foundation for Parkinson's Disease Research, the Elizabeth Glaser Pediatric AIDS Foundation, Wal-Mart's Take A Kid Fishing Day, the Salvation Army's Angel Tree program, the T.J. Martell Foundation and many more."

Paisley joins previous CRB Artist Humanitarian Award winners: Billy Ray Cyrus, Reba McEntire, Charlie Daniels, Garth Brooks, Kenny Rogers, Vince Gill, Clint Black, Collin Raye, and label mates, Lonestar and Brooks & Dunn.

HELEN HAYES AWARDS named for the first lady of American theater and Washington, D.C. native, honors achievement in professional theater in the D.C. area. The Helen Hayes Awards will be presented on May 10, 2004 at the John F. Kennedy Center. CLICK FOR 2004 NOMINATIONS


SWEET CHARITY


UNITED BLOOD SERVICES 2004 "IMAGES" CHARITY AUCTION masks contributed by celebrities, artists, and assorted Las Vegas big wigs.

These busy souls actually took a lot of time and effort - putting more than a little thought into decorating masks for this auction, which takes place at a gala event March 20 at the Rio All-Suite Hotel and Casino in Las Vegas.

Masks decorated by Entertainers and Performing Artists include;

Carrot Top, Lance Burton, Gustav Mauler, Clint Holmes, Phyllis Diller, Rita Rudner, Tony Curtis.

Tia Carrere, Dr. Prince Spenser, Al Martino, The Scintas, Russ Merlin,

Mask by Susan Anton. Photo United Blood Services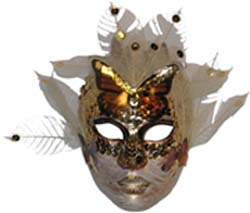 Tom Cavanaugh, Amy Abrams, Susan Anton, Penn & Teller and the Cast of Mamma Mia!.

Renowned Artists contributing masks include;

Wyland, Stallings, Ruby Mazar, Gloria Weller, Sylvia D. Robertson, Tormadro, Tonya Matson, Ann Noel, Paula W. Thompson, Michelle Hutchins.

Sophy Block, Ruth Bush, Carol "Ladama" Binford, Tom Holder, Jocelyn Amelia Turner, James B. Pink, Bill Leaf & Joyce Nelson-Leaf.



Artist Roy Purcell's creation. Photo United Blood Services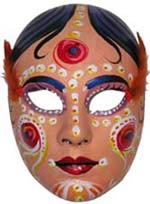 Carol E. Klink, Aldag, Mallea, Cierra Denton, Piero Resta, Roy Purcell, Dr. Steven Sinert, Dray, David Wilkinson, John Banks.

Vital, Christian Riese Lassen, John G. Schmitz, Mary Warner and Daria Kniazena.

For the high bid you can own a mask decorated by the local hoity-toity including Mayor Oscar Goodman and Congresswoman Shelley Berkley.

Proceeds from the event will provide educational materials and incentives to involve young people in the community blood program administered by United Blood Services.



Rita Rudner's creation. Photo by United Blood Services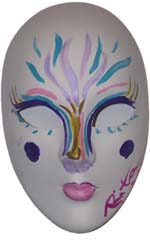 Artist Ruby Mazur's mask. Photo by United Blood Services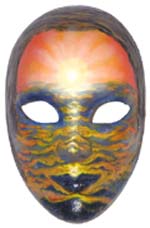 The primary goal is to eventually increase the number of blood donors from less than 3 percent to the national average of 5 percent.

That increase is neccessary in order to meet the need for nearly 225 of blood required daily by 20 medical facilities - without importing from other communities.

United Blood Services is a non-profit agency that has provided blood donation services to Southern Nevada for 50 years.

The service also collects and distributes blood during national emergencies such as the recent war in Iraq and the attack on the World Trade Center.


SPREADING THE WORD


THE PEOPLE VS. ABRAHAM comes to Las Vegas with People's Court Judge Joseph Wapner presiding.

Las Vegas Judge Michael Cherry plays the Prosecutor on behalf of the People, and Las Vegas Mayor Oscar Goodman is center stage as Abraham's defense attorney as Abraham is tried for the attempted murder of his son, Isaac.

The audience is the jury.

The morning of March 21 at Temple Beth Sholom in the Summerlin section of Las Vegas. $18 per person includes a continental breakfast.

GOLDIE HAWN brings her experiences and wisdom to the stages this week with an informative presentation. Tuesday, March 16 at the Barbara B. Mann Hall in Fort Myers, Florida. On Thursday the chat takes place at Ruth Eckerd Hall in Clearwater, Florida and on Friday the brainy and beautiful performer will be at the Maxwell C. King Center in Melbourne, Florida.

PRIME TIME'S HOT ADDRESSES: THE IMAGINATION OF DARREN STAR who is the creator of such era-defining television as Beverly Hills, 90210; Melrose Place; and Sex and the City. A protégé of prime-time soap legend Aaron Spelling, Star sold his first screenplay at twenty-four. He has created numerous other series since, including Grosse Point, Central Park West, and The $treet, and recently co-created Miss Match, starring Alicia Silverstone.

Star will discuss how he is able to write both comedy and drama, how he appeals to a wide demographic, and the differences between writing for cable and the networks.

Monday, March 22 at The Museum of Television & Radio in New York City.

"YIP" HARBURG: BEYOND THE RAINBOW

Yip Harburg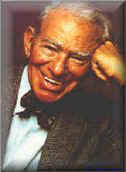 is the next selection of the 92nd Street Y Center for the Arts' Lyrics and Lyricists program. Artistic director Ted Sperling will host this tribute to Harburg which features a stellar line-up of Broadway singers, including; Jeffrey Klitz, music director & piano, vocalists Victoria Clark, Romain Frugé, Marva Hicks, Capathia Jenkins, Clarke Thorell, and Eric Jordan.

Musicians are; Aaron Heick, clarinet & saxophone, Antoine Silverman, violin, Jay Berliner, guitar, Peter Donovan, bass, David Ratajczak, drums.

E.Y. "Yip" Harburg was the first lyricist on stage with Maurice Levine in the inaugural Lyrics & Lyricists show. Now, 34 years later, Ted Sperling and guests celebrate the legacy of the Russian-Jewish immigrant who brought us Finnian's Rainbow and much of The Wizard of Oz and penned such hits as April in Paris.

Lyrics & Lyricists celebrates the words and music of the American songbook. Each of the shows, conceived and directed by one of five leading artistic directors, continues the Lyrics & Lyricists tradition of a seamless mix of song and talk, with a particular focus on the lyrics.

March 20 - March 22 at Kaufmann Concert Hall, NYC.

MIKHAIL GORBACHEV the former Soviet leader in Las Vegas to speak at the Cox Pavilion March 22 as part of UNLV's Barrick Lecture Series. Admission is free.

A.R. GURNEY author of Big Bill now at the Newhouse Theatre in Manhattan through May 16, reveals why tennis makes great theatre as part of the Lincoln Center's Platform Series. Tuesday, March 16. Seating for Platform events is limited and available on a first-come, first-served basis only, beginning 30 minutes before the event, which is free.

BELL, BOOK & CANDLE by John Van Druten has a special reading tonight, March 14, staged by the Drama Dept. and the Lucille Lortel Theatre Foundation. Directed by Carl Andress the event stars Charles Busch and Howard McGillin. At Off Broadway's Lucille Lortel Theatre.


ORIGINAL PLAYS RECEIVE STAGED READINGS AT THE LONG BEACH PLAYHOUSE


Staged readings of four original full-length plays will be presented at the Long Beach Playhouse at its 14th Annual New Works Festival. The Festival is part of the Playhouse's ongoing commitment to help established and emerging Playwrights develop new work. The four plays have been selected out of 260 plays submitted countrywide to the Playhouse Literary Group as possibilities for staged readings and/or full productions in the Mainstage or Studio Theatre. To date 13 plays have been given full productions in the Studio Theatre; the latest being Accidental Dancers by Stephen Ludwig, Spinelli by Dan Riley and Scales of Justice by William Kovacisk.

All readings are held in the Long Beach Playhouse Studio Theatre and are presented, admission-free, to the public. After the reading an open discussion is held with the Playwright, Director and Cast.

The readings are scheduled as follows: Hattie by multiple Emmy winner William Blinn on Saturday, March 27. A play with music examining the life of Hattie McDaniel, America's first Black Oscar winner, during the time she fought for the role of "Mammy" in Gone with the Wind and the subsequent turmoil this event brought into her life.



Chambers Stevens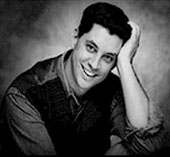 Shaw and Twain Do Lunch by Chambers Stevens, founder of the Nashville Shakespeare Festival. The reading takes place on Saturday, April 24. A comedy which finds Shaw and Twain quoting liberally from one another's works, each considering the other to be the paramount writer on his side of the Atlantic.

Oranges & Lemons by New York Playwright Catherine Bush, who will be attending the Saturday, May 29 reading. The year is 1483 and Henry Tatersall, in line to become Head Executioner in the Tower of London, is forced to choose between love and loyalty, friendship and duty - a choice which provides an interesting perspective on capital punishment and one that will alter his life - and history - forever.



David Hopes The Class of 1940 by North Carolina Playwright David Brendan Hopes who is Professor of Literature, Language, and Humanities at UNCA and received a Pulitzer nomination for A Childhood in the Milky Way. The reading takes place on Saturday, June 26. Ruth, Betty and Juanita reunite for their 52nd college reunion. Ruth, whose days on earth are numbered, mistakes a waiter for the past love of her life and reveals and relives the most passionate, secret moments which long ago made her a "hero of the heart."

Established in 1929, The Long Beach Playhouse in Long Beach, CA - open 50 weeks of the year - is one of the oldest continuously operating theatres west of the Mississippi and is celebrating its 75th year of continuous operation.


ART AND ABOUT


IF IT'S FREE THEY WILL COME free admission to museums and galleries in England has resulted in hordes flocking to soak up the atmosphere.

People want culture. They just don't want to ante up for the process.

Museum visits have risen by nearly 11 million since the introduction of the free admissions in December 2001. There were 5.3 million extra visitors in the first year, and an extra 5.6 million last year.

Arts Minister Estelle Morris said the government's investment has led to 13.3 million people visiting the former charging museums last year. Only 7.7 million went when they had to pay.

"Our national museums and galleries have an international reputation for excellence and innovation. That they are free for all is something that is the envy of the world. We are determined to continue this policy for the benefit of everyone," said Morris.

Over the last two years, visits to the Science Museum have increased by 120 per cent, to the V&A by 117 per cent, and to the Natural History Museum by 74 per cent.

Outside London, visits to the former pay to get in museums have also soared. Visits to the National Museums Liverpool have increased by 106 per cent, the National Railway Museum in York has seen a 38 per cent rise, and at the Royal Armouries in Leeds visits have gone up by 22 per cent.

Estelle Morris said the "figures show that when obstacles like admission charges are removed, the public has a huge and growing appetite for the best of the country's cultural heritage."

BYZANTIUM: FAITH AND POWER (1261-1557) opening on March 23 brings together 350 masterpieces of Byzantine art from 30 countries on loan to the Metropolitan Museum of Art. In conjunction with the international exhibition the ecumenical patriarch, Bartholomew I, l spiritual leader of the worldwide Orthodox Christian Church, will deliver a public lecture, Byzantine Icons: A Legacy for Humanism, on March 18 in the Grace Rainey Rogers Auditorium at the Metropolitan Museum of Art. The lecture is free with museum admission. Reservations are required.

SIR ANTHONY CARO considered Britain's greatest living sculptor, celebrated his 80th birthday last week with a tribute to his work at the Tate Britain gallery in London. Among his numerous contributions was helping to design the famous Millennium Bridge, crossing the Thames between Tate Modern and St Paul's Cathedral. His birthday year will be marked by a two months display of his works in the garden of the Tate Britain gallery. Then a retrospective exhibition of his work will open at the gallery next January, prior to touring Europe.
OTHER PEOPLE'S MONEY


CHRISTMAS ON BROADWAY a South Carolina show, is experiencing a bah humbug. The production is being sued by two companies behind the famed Radio City Christmas Spectacular. Papers filed in Manhattan federal court last Tuesday allege trademark and copyright violations.

The lawsuit, which seeks damages of more than $1 million, took particular offense at promotional materials for the show that featured a photograph of dancers in costumes similar to those worn by the Radio City Rockettes.



THREE MO DIVAS Written and Directed by Marion J. Caffey. A world premiere musical feast from the creator of this past season's smash-hit Cookin' At the Cookery and the international sensation 3 Mo' Tenors.

A trio of female musical stars will raise the roof in this concert celebration of the African American female voice that crosses seven different musical forms and spans 400 years of music in one evening - jazz, blues, soul, gospel, opera, Broadway, and much more.

Performances began last night and run through April 18 at San Diego Rep in San Diego, CA.

DALLAS SUMMER MUSICALS the 64th season - will kick off with two special performances by Bill Cosby on May lst. He will be followed by a season of Broadway musicals. First up May 25 is Miss Saigon, followed by Lord of the Dance, Yankee Doodly Dandy, The King and I, Big River, Little Shop of Horrors, Tap Dogs, Joseph and the Amazing Technicolor Dreamcoat, and Jesus Christ Superstar.

LYRIC OPERA OF SAN DIEGO celebrates their twenty-fifth anniversary with an exciting mix of classic revivals and San Diego premieres. They begin the celebration March 26 with the crown jewel of the operetta repertoire, Die Fledermaus by Johann Strauss, Jr. Leon Natker and Chris Thompson head a star-studded cast that features J. Sherwood Montgomery as Frosch. The sparkle of champagne and the bubble of the waltz king's great score conducted by Martin Wright in a stylish new production with all words in English.

That will be followed by a June Champagne Concert that will look back at twenty-five years of music and laughter.

The Beggar's Opera a San Diego premiere of this setting of the first English ballad opera by the great British master, Sir Benjamin Britten, in a new production. This is a Lyric Opera San Diego premiere as well as a San Diego premiere and it will be conducted by James Low of Houston Grand Opera. Princess Ida (Castle Adamant) by William S. Gilbert & Sir Arthur Sullivan closes out the season in November.

13P is New York City's newest theater company - an exciting and innovative collective of playwrights known as 13P (Thirteen Playwrights, Inc.) whose initial mandate is to produce 13 plays, one by each member of the group.

The members of 13P are some of the hottest and most lauded young writers in New York. Among their number are four veterans of Actors Theatre of Louisville's Humana Festival, three veterans of the O'Neill Playwrights Conference, two Manhattan Theatre Club Fellows, two Princess Grace Award winners, a Helen Merrill Award winner, a Whiting Fellow, a Jerome Fellow, and as of last month a Susan Smith Blackburn Award winner.

The playwrights who comprise 13P are; Sheila Callaghan, Erin Courtney, Madeleine George, Rob Handel, Ann Marie Healy, Julia Jarcho, Young Jean Lee, Winter Miller, Sarah Ruhl, Kate Ryan, Lucy Thurber, Anne Washburn, and Gary Winter.

For each production the resources of the company will be placed at the disposal of the playwright at work, who will serve as the company's artistic director during the production of their play. Rob Handel will serve as managing director for the company.

In April the company's premiere production will be Anne Washburn's The Internationalist.

WHO'S AFRAID OF VIRGINIA WOOLF? is currently being staged at the Alliance Theatre in Atlanta, Georgia. In honor of that - last Thursday the theatre hosted an Elizabeth Taylor Look-a-like costume contest.

SAY THE WORD Hollywood's top writers and comedians step out from behind the scenes to perform fresh original comedy written for their own voices. Lounge-style with cocktails and snacks. Hosted by Un-Cabaret's Beth Lapides. Guests will include George Meyer ("The Simpsons"), Rob Cohen ("The Ben Stiller Show"), Gary Janetti ("Will and Grace"), and Merrill Markoe (It's My *&%$#@! Birthday: A Novel). Friday, March 19 at the Skirball Center in Los Angeles. Ages 21 and up.

TWENTIETH CENTURY by Ben Hecht and Charles MacArthur. Based on a play by Charles Bruce Millhollandin a new adaptation by Ken Ludwig. Directed by Walter Bobbie. The comedy stars Alec Baldwin and Anne Heche.

Twentieth Century is the comedic story of Oscar Jaffe, a successful and egomaniacal Broadway director, who has transformed a chorus girl, Lily Garland, into a leading lady. As Lily rises to stardom and heads to Hollywood, Oscar begins a career downslide. Bankrupt and on his way out, Oscar boards a train, the Twentieth Century Limited, where he coincidentally runs into Lily again. Oscar pulls out all the stops to persuade the now temperamental star to return for another show.

The show's cast includes Alec Baldwin as "Oscar Jaffe," Anne Heche as "Lily Garland," Tom Aldredge as "Matthew Clark," Terry Beaver as the "Conductor," Patrick Boll as "Detective," Teagle F. Bougere as the "Porter," Dan Butler as "Owen O'Malley," Stephen DeRosa as "Beard" & "Max Jacobs," Julie Halston as "Ida Webb," Kellie Overbey as "Anita Highland," Ryan Shively as "George Smith" and Jonathan Walker as "Dr. Grover Lockwood."

The production officially opens on March 25 and has already been extended to May 30 at the American Airlines Theatre in NYC.


| | | |
| --- | --- | --- |
| | | |
WHO'S WHERE


ROD STEWART entertaining tomorrow, March 13 at Pengrowth Saddledome in Calgary, Alberta. On Wednesday he's at General Motors Place in Vancouver and on Friday the show is at the HP Pavilion at San Jose in San Jose, CA.

YANNI has a busy week. Tonight he's in the spotlight at the Kemper Arena in Kansas City. Tuesday the performance is at the Allen Co. Memorial Coliseum in Fort Wayne, Indiana. Thursday finds the musician on stage at Assembly Hall in Champaign, Ill. Friday the show is at Freedom Hall in Louisville, KY and he closes out the week, Saturday, at Thompson-Boling Arena in Knoxville, TN.

JOHNNY MATHIS in a two-night Saturday and next Sunday at the Raymond Kravis Center in West Palm Beach, Florida.

NEIL YOUNG on stage Wednesday and Thursday at Radio City Music Hall in NYC.

MELISSA ERRICO entertains at the Oak Room in Manhattan March 16 - April 3.

TONY DANZA brings his talent and charming personality to Don Laughlin's Riverside Resort in Laughlin, NV March 16-21.

MICHAEL FEINSTEIN AND JIMMY WEBB perform together with the San Diego Symphony Orchestra March 19-20 at the Copley Symphony Hall in San Diego, CA.

DIETRICH HENSCHEL baritone, gives his New York recital debut with a program of Beethoven, Schubert, and Wolf. March 19 at Carnegie Hall, NYC.

AN EVENING WITH CAROL CHANNING! STARRING RICHARD SKIPPER takes place March 19 at the 12 Miles West Theatre Company in Montclair, New Jersey. In this intimate evening with one of Broadway's greatest treasures, Skipper takes his audience back to a time of clean wholesome entertainment, featuring highlights from two of Channing's greatest hits, Gentlemen Prefer Blondes and Hello Dolly!

JON STEWART telling stories Friday at Foxwoods Casino in Mashantucket, CT. On Saturday he's in the spotlight at the Orpheum Theatre in Boston.

CHRIS ROCK getting laughs March 17 at the Palace Theatre in Albany, NY.

MELISSA MANCHESTER AND PAUL WILLIAMS in their Songs and Stories tour Friday at Miller Auditorium in Kalamazoo, Michigan. On Saturday they are on stage at the State Theatre in Sandusky, Ohio and next Sunday the performance is at the Macomb Center in Clinton Township, Michigan.

STEVE AND EYDIE bring mirth and music to the McCallum Theatre in Palm Springs, CA March 18-21.

STING opens a three night engagement Monday at the Orpheum Theatre in Boston. Then it's a two-night Friday and Saturday at Massey Hall in Toronto.

MANHATTAN TRANSFER in harmony Friday at the Macomb Center in Clinton Township, MI and on Saturday at the Miller Auditorium in Kalamazoo, Michigan.

DAVID CASSIDY the former Las Vegas resident brings his act to the Mohegan Sun Casino in Uncasville, CT. on Friday and Saturday.

THE NEW CHRISTY MINSTRELS The world famous singing group will take you back to a gentler and perhaps wiser time. Whether you enjoy toe tapping or just singing along, it's a stroll down music's memory lane. March 19, 20 & 21 at the Crest Theatre in Delray Beach, Florida.
















Next Column: March 21, 2004
Copyright: March 14, 2004. All Rights Reserved. Reviews, Interviews, Commentary, Photographs or Graphics from any Broadway To Vegas (TM) columns may not be published, broadcast, rewritten, utilized as leads, or used in any manner without permission, compensation/credit.
Link to Main Page
---
Laura Deni


CLICK HERE FOR COMMENT SECTION
ALIGN=middle>