! >
Broadway To Vegas
  
 SHOW REVIEWS CELEBRITY INTERVIEWS GOSSIP NEWS

| | |
| --- | --- |
| | |
FABULOUS FASHIONS OF THE 40'S - - STARS RECALL BEING FIRED - - ON THE TOWN HAS FIRST EVER LONDON REVIVAL - - BETTE MIDLER RETURNS TO AUSTRALIA - - A BEN KINGSLEY WEEKEND - - THE RETURN OF BILL HALEY'S COMETS - - JERRY ORBACH MEMORIAL - - RUBY WAX MAKES WEST END DEBUT - - DONATE . . . Scroll Down


A DOWN UNDER BETTE MIDLER


It's been 26 years since the world-renowned entertainer Bette Midler toured Australia on her record breaking The Divine Miss M Tour, which sold out, an unprecedented 34 shows in 1979. Now the Divine Miss M return to Australia in April to perform her lavishly staged, critically acclaimed hit show Kiss My Brass! to Australian audiences.

It's been almost thirty years since Midler made her first appearance in Las Vegas and I reviewed her show for Billboard magazine. The review ran as follows: Laura Deni Sahara Hotel - May 20, 1972

"A capacity group was in the Congo Room because Johnny Carson was the star. Opening the act was Bette Midler newly signed to Atlantic Records making her major nightclub debut. If her outlandish make-up and campy outfits cause people to notice her and thereby hear her voice then the gimmicks served their purpose. Unfortunately, Miss Midler doesn't realize that she has enough genuine singing talent to eliminate the put-ons. With the lights down and playing it straight with a pleasant piano backing her Miss Midler sounded and even looked good during the Carpenters' hit "Superstar." But she ruined the effect when midway through the song she started flopping her legs and her bosom bounded out of her bodice. She has a voice. She has comedy timing. There is a part for her someday in a Broadway musical. She showed that she could act brash, loud and dramatic, but she never let on that she could act like a lady."



Bette Midler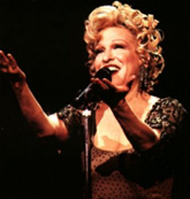 While she once flashed an audience, Midler established she is a lady a long time ago - the brass being turned on at her own discretion. Although her theatrical career is not as extensive as her foray onto the silver screen - her starring role in The Rose being the vehicle that caused people to take her seriously - her Bette! Divine Madness show of 1973 earner her a special Tony award - presented to her by Johnny Carson.

Now she is set to make her Australian encore.

Kiss My Brass will tour Brisbane on Friday April 8 , Sydney on Wednesday April 13 and Melbourne on Monday April 18.

This will be Midler's biggest show to date will feature all the songs and characters for which she is famous, including such classics as The Rose, Boogie Woogie Bugle Boy, Wind Beneath My Wings, and selected songs from her recent release, Bette Midler Sings the Rosemary Clooney Songbook."

The two hour show is which has been described as a Broadway-esque concert event features multiple costume changes and is framed by a huge spectacular stage set, which re-creates Coney Island at the turn of the 19th century. Bette is backed up on stage by a 12-piece band plus the singing and dancing trio of Harlettes.


FABULOUS FASHION OF THE 40'S


The fashions of the 1940s, as much as its dance, music and theater, represented the determination and hopes of the American people during the war years, the subsequent economic expansion, and the beginnings of new social movements that marked the decade. The Center and the Fashion Institute of Technology in New York City will present Fashions of the 1940s> from The Museum at FIT, in the Center's Terrace Gallery, March 18-April 15.

Included in this stunning exhibition will be a selection of more than 30 fashions and accessories from some of the top designers of the decade, including Adrian, Claire McCardell, and Norman Norell. Fashions of the 1940s is curated by Ellen Shanley, curator of costume at The Museum at FIT.

The Museum at the Fashion Institute of Technology is the repository for one of the world's most important collections of costume and textiles, with particular strength in 20th-century fashion.

Dedicated to the documentation of fashion and style as manifested at all levels of society, the museum interprets fashion and design - from magnificent Balenciagas to sturdy denim - within social and cultural contexts. Its collections are actively used by FIT students and faculty, as well as by textile and fashion and accessories designers, other industry professionals, and scholars. Exhibitions inform and inspire thousands of visitors each year.

The 1940's in America was a decade of great social change and artistic exploration. The Kennedy Center in Washington, D.C. is also saluting that decade. From January through June, the Kennedy Center celebrates the rich spectrum of music, dance, theater, film, and fashion produced by the many remarkable American artists who struggled, created, and triumphed during this turbulent and exhilarating era.



Broadway To Vegas is supported through advertising and donations. Priority consideration is given to interview suggestions, news, press releases, etc from paid supporters. However, no paid supporters control, alter, edit, or in any way manipulate the content of this site. Your donation is appreciated. We accept PAYPAL. Thank you for your interest.


SPREADING THE WORD


FIRED

Annabelle Gurwitch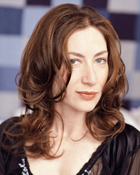 After her role in a Woody Allen play was "rethought," actress Annabelle Gurwitch was devastated. Then, she got funny. Gurwitch and a revolving cast of fellow show-biz veterans, including Carl Capotorto (The Sopranos), Illeana Douglas (Ghost World), Paul Feig (creator of Freaks and Geeks), Dana Gould (Comedian/producer -The Simpsons), Stephen Adly Guirgis (playwright, Our Lady of 121st Street), Jason Kravits (The Practice), Taylor Negron (comedian/author), Sandra Tsing Loh (The Loh Life), Ann Magnuson (Wanda at Large), Jim Turner (HBO's Arli$$), Matt Walsh (Old School), Charlayne Woodard (Pretty Fire), and other surprise guests, share their stories when L.A. Theatre Works records Fired: Tales of Jobs Gone Bad to air on The Play's The Thing, LATW's nationally-syndicated radio theater series broadcast weekly on public and satellite radio.

There are some things everyone can count on in life: death, taxes, and - if you have to earn a living - that at some point you will get fired. Whether the CEO of a corporation, a burger-flipper at a fast food joint, or an actor on a sitcom, no one can escape being fired, let go, downsized, made redundant, outsourced, or - the latest euphemism for getting canned - decruited. Some of the stories that will be recorded range from getting the boot while working as a gravedigger; waiting tables; and singing telegrams while dressed as a Teenage Mutant Ninja Turtle; to getting canned by one's agent, manager and network - all during the course of the same afternoon.

Fired was first produced Off Broadway at the Second Stage Theatre over the course of five evenings last winter. Gurwitch is also collecting stories for a book version.

Performances of Fired! at the Los Angeles Skirball Cultural Center take place March 16-18 and March 20. Bring a "pink slip" or proof of unemployment insurance, and get in for only $15.00.

A MOON FOR THE MISBEGOTTEN takes part in the Sunday Symposium Series where a panel of artists and scholars discuss issues related to the play following the Sunday matinee of each Mainstage show. March 20 at the Long Wharf Theatre in New Haven, CN. The production, which opened February 23, runs through March 27.

ROCK IS FIFTY! THE RETURN OF HALEY'S COMETS

Bill Haley and the Comets circa 1955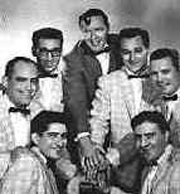 Panel: The Comets: Joey Ambrose, Saxophone and Vocals; Franny Beecher, Lead Guitar; Johnny Grande, Piano; Marshall Lytle, Bass and Vocals; Dick Richards, Drums. Hosted by: "Little" Steven Van Zandt.

In March 1955 the movie Blackboard Jungle unwittingly jump-started rock 'n' roll when it used Bill Haley and the Comets' (We're Gonna) Rock Around the Clock over the film's opening credits. According to music historian Fred Bronson, the song "created a dividing line between all that came before and all that followed.... It was the beginning of the rock era."

On the fiftieth anniversary of Blackboard Jungle, the Museum of Television & Radio will screen a new compilation of pioneering early rock performances from The Ed Sullivan Show, 1955-60, featuring the first appearance of Bill Haley and the Comets. After the screening, the original Comets will discuss their role in the birth of rock.

Tuesday, March 22 at The Museum of Television & Radio in New York.

Presented in association with the Rock Is Fifty! committee, SOFA Entertainment, and Sirius Satellite Radio's Underground Garage, The Museum of Modern Art, and The American Cinematheque.

SUTTON FOSTER AND MAUREEN McGOVERN stars of Little Women in a discussion moderated by Roma Torre.

One of the best-loved stories of all time comes to Broadway as a major new musical - Little Women. Be there as Tony Award winner Sutton Foster - fresh from her breakout star turn in Thoroughly Modern Millie - and sensational Broadway and recording star Maureen McGovern talk about the roles of Louisa May Alcott's heroines. Little Women is a tireless tale about the power of family, friendship and romance and how the dreams of a young woman affect the world in astonishing ways.

Sunday, March 20 at the 92nd Street Y in NYC.

BLANCHE AND BEYOND THE SELECTED LETTERS OF TENNESSEE WILLIAMS VOLUME II 1945-1957

Richard Thomas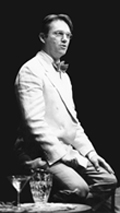 Edited by Albert J. Devlin, co-edited by Nancy M. Tischler. Adapted and Directed by Steve Lawson. Featuring Richard Thomas.

A Distant County Called Youth, drawn from Williams' correspondence as a budding writer, was the first WIP event to enjoy further life and has been performed across America.

This sequel picks up where Vol. I left off - as a no-longer obscure playwright faces the seismic shock of international fame.

Presented through special arrangement with The University of the South, Sewanee, Tennessee.

March 21 at New York City Center Stage I.

HOLLYWOOD & HOLOCAUST: IMAGINARY WITNESS Panel:Danny Anker, Director/Producer, Imaginary Witness. Walter Bernstein, Screenwriter/Director. Annette Insdorf, Professor and Film Historian, Columbia University. Martin Starger, Executive Producer, Sophie's Choice.

The American film industry played a crucial role in supporting United States and Allied military interests during World War II, but Hollywood never directly condemned Nazi anti-Semitism. It took decades after the war before American filmmakers began to offer a realistic, dramatic look at the horrors of Hitler's "final solution." Using resonant archival footage, this provocative and revealing new film examines how only a few Hollywood directors reacted to the persecution and murder of millions of Jews, and how the Holocaust was finally brought to the screen in a meaningful way by independent filmmakers. Cosponsored by the Center for Communication. Thursday, March 17, at the Museum of Radio and Television in New York.

REAL MEN DON'T WEAR TUTUS. OR DO THEY? Out Professionals Panel presents writer, performer, radio host Frank DeCaro who grills the divas of the celebrated all-male comedy ballet troupe, Les Ballets Grandiva, on the make-up, muscles and mayhem that make Ballets Grandiva an international sensation. Panelists include Grandiva Artistic Director Victor Trevino, who founded the company in 1996, Choreographer Peter Anastos, longtime artistic associate of Mikhail Baryshnikov, Grandiva ballet master Paul Boos, stager of works for the Balanchine Trust, and Out Professionals' Ian Archer-Watters, who makes his debut during Grandiva's spring season. Monday, March 21 at GLBT Community Center, NYC.

ROBERT BRUSTEIN

Robert Brustein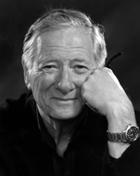 one of the most distinguished celebrities in the American theater, shares his extensive knowledge of contemporary criticism from a historical point of view.

Founding director of the Yale Repertory and American Repertory Theatres, Robert Brustein has authored 13 books on theater and society, in addition to acting in and directing numerous productions, including his own adaptations.

March 21, in the Kreeger, Arena Stages, Washington, D.C. The event is free; however, reservations are required.

OFF THE PAGE READING SERIES presented by National Actors Theatre's (Tony Randall, founder) and Heather Randall, Steven Ditmyer co-producers, will present Christopher Hampton's Tales From Hollywood, on Monday, March 14th, at the Michael Schimmel Center For The Arts At Pace University in New York City.

Where would you find Bertolt Brecht, Thomas Mann, The Marx Brothers and Tarzan rubbing shoulders?

Where else but in the Hollywood of Christopher Hampton's imagination! Tragic and funny, this film-noir fantasia examines the lives of the great German writers who fled WW II Europe for the razzle-dazzle of Hollywood.

The reading, directed by NAT's Artistic Advisor, Ethan McSweeney, features Fritz Weaver, John Benjamin Hickey, Elizabeth Marvel and Remak Ramsey.

BEN KINGSLEY WEEKEND

Ben Kingsley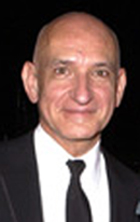 has been taking place yesterday and today, March 13, at the Prince Theatre in Philadelphia. Professor Annette Insdorf, Director of Film Studies at Columbia University will open the festival with clips and a lecture on Ben Kingsley's work. Three of his films were shown in their entirety and a Q&A with this famous actor took place both yesterday and today, March 13.

The Philadelphia Weekend Film Festival hosts this internationally acclaimed, academy award winning actor, Sir Ben Kingsley who has made more than 40 films. Some of his most famous are Gandhi, Schindler's List, Betrayal, Death and the Maiden, Sexy Beast, The House of Sand and Fog in addition to many other wonderful films such as The Confession, Pascali's Island, Anne Frank and Bugsy.

Last night cocktail and dinner with the star took place at the Ritz Carleton. This morning Kingsley was the featured attraction at a breakfast fund raiser.


SWEET CHARITY


TWELVE ANGRY MEN this searing courtroom drama concerns a jury deliberating what seems to be an open-and-shut murder case. As prejudices are tested and evidence weighed, the entire jury is forced to look past the show of the courtroom to unearth the shocking truth. The acclaimed company featuring Cast: Tom Aldredge, Mark Blum, Robert Clohessy, Robert Foxworth, Peter Friedman, Boyd Gaines, Kevin Geer, Byron Jennings, Michael Mastro, Matte Osian, John Pankow, James Rebhorn and Adam Trese will give their Special Performance for The Actors' Fund on Sunday, March 13 in New York City at the American Airlines Theatre.


OTHER PEOPLE'S MONEY


SHAKESPEARE'S GRAVE has problems. if John Browen's body was "a moldin' in his grave," the grave around William Shakespeare 's body is crumbling around his. His tomb at Holy Trinity Church in Stratford-upon-Avon, where he was buried on April 25, 1616, is in dire need of repairs - as is the church.

"We have horrendous problems," said Philip Cheshire, the chairman of the Friends of Shakespeare's Church, which is raising funds.

Actress Dame Judi Dench is among its patrons.

In the next five years it is estimated that $4.8 million is needed for restoration.



ON THE TOWN Leonard Bernstein's 1944 musical with book and lyrics by Betty Comden & Adolph Green and based on an idea by Jerome Robbins is having it's first ever London revival.

There is a cast and orchestra of over 100.

The cast includes Willard W. White,Timothy Howar, Adam Garcia, Aaron Lazar, Helen Anker, Caroline O' Connor, Lucy Schaufer, Sylvia Syms, Janine Duvitski, Philip Ball, Greg Winter. The Sailors/Waiters: Stuart Dawes, Tom Dwyer, Bob J Harms, Nick Holmes, Stori James, James O'Connell, Darragh O'Leary, Craig Scott, Nick Searle, Tristan Temple and Liam Mikhail Wrate. NY City Girls/Eddie's Girls: Lucy Anderson, EJ Boyle, Chloë Campbell, Julia Hinchcliffe, Rebecca Lee, Jane McMurtrie, Jo Morris, Alexis Owen-Hobbs, Amy Ellen Richardson, Lorraine Stewart.

Directed by Jude Kelly, designed by Robert Jones, lighting by Mark Henderson and choreography by Stephen Mear. The assistant choreographer is Nikki Woollaston. Simon Lee conducts ENO's orchestra.

Previews began Mar 5 and officially opens March 10 with 17 performances playing in repertory until May 24 in the 2364-seat London Coliseum in London which is the city's largest theatre.

PORGY AND BESS the George & Ira Gerswins' masterwork returns to Toronto after an absence of more than 20 years. The limited one week engagement March 15-20 will be at the Elgin Theatre.

Porgy and Bess is based on the DuBose Heyward novel that tells the moving story of Porgy and the residents of Charleston's famed Catfish Row.

Recognized as an American masterpiece, the story entwines pride, prejudice, pathos and passion through an unforgettable jazz and blues-influenced score. Porgy and Bess introduced classic Gershwin songs like Summertime, I Got Plenty O' Nuttin' and It Ain't Necessarily So, as well as magnificent and enthralling choruses that stunned critics and audiences alike at its premiere in 1935.

Produced by Living Arts Inc., a New York-based production company, this production originally premiered in 1992 and has played to standing ovations and worldwide acclaim on six continents and in over 500 cities, including London, Sydney, Melbourne, Hong Kong, Tokyo, Buenos Aires, Mexico City, Beijing and Shanghai.

WHAT OF THE NIGHT based on the writing of the novelist, journalist, playwright and poet Djuna Barnes, a fixture on the Paris literary scene in the 1920's and 30's. Starring Jane Alexander. Presented by MCC Theatre and created by Ms. Alexander, Birgitta Trommler and Noreen Tomassi and directed and choreographed by Trommler, this American premiere begins previews at the Lucille Lortel Theater on March 16. The official opening night is April 6, and the limited engagement runs through April 23.

BIG RIVER: THE ADVENTURES OF HUCKLEBERRY FINN by Mark Twain. Directed by Jeffrey Calhoun. A Co-Production with Deaf West Theatre.

Climb aboard for an extraordinary version of Mark Twain's sweeping adventure as Big River comes to Ford's Theatre. Big River won great critical acclaim on Broadway, receiving a Tony Award nomination for best Musical Revival this year.

This musical retelling of Huckleberry Finn is a fresh, unique experience that incorporated both signing for the Deaf and soaring vocal talent. The use of a non-speaking actor as Huck Finn and a speaking actor as Jim, the runaway slave, affords a re-examination of the pair's friendship, which is one of literature's more memorable treatments of race relations.

Both hearing and Deaf audiences will be delighted by the energy and spirit of this magnificent, truly unique production.

March 18 through May 1 at Ford's Theatre in Washington, D.C.

GREASE WITH FRANKIE AVALON Book, Music and Lyrics by Jim Jacobs and Warren Casey. Grab your poodle skirts and slick back your ducktails for this brand new production of Grease. One of Broadway's longest-running musicals, Grease brings back the great rock 'n' roll sounds of the '50s and features hit songs from the movie, including Hopelessly Devoted to You, You're The One That I Want and Barry Gibb's Grease. Frankie Avalon reprises his movie role as Teen Angel in this energized journey back to the fabulous '50s. March 18-20 at Hayes Hall in Naples, Florida.

SPAMALOT the eagerly awaited musical that tells the legendary tale of King Arthur and the Knights of the Round Table, and their quest for the Holy Grail, Monty Python's Spamalot features a chorus line of dancing divas and knights, flatulent Frenchmen, killer rabbits and one legless knight who create unforgettable musical production numbers that Python-alum/book writer Eric Idle promises will be "as good as or quite likely better than any other show with killer rabbits and a legless knight opening on Broadway this season."

The production stars David Hyde Pierce, Tim Curry, Hank Azaria, Michael McGrath, Steve Rosen, Sara Ramirez. In answering Tony Danza's question as to why he isn't starring in the show Eric Idle explained: "I live in Los Angeles and the commute is terrible. You have to be on stage- every night - eight shows a week."

Those eight shows a week officially open at the Shubert Theatre on March 17.

A MIDSUMMER NIGHT'S DREAM and THE WINTER'S TALE by William Shakespeare. The two works, presented in repertory, will hold court at the Lion Theatre in Manhattan starting March 18th. Both plays are Equity Showcases and each will be helmed by ShakespeareNYC Artistic Director Beverly Bullock.

Running March 18th - April 3rd, the cast of The Winter's Tale features David Blatt, Carrie-Ann Brown, Lisa Came, Jon Dean, Geoffrey Dawe, Sri Gordon, Kristen Hammer, Peter Herrick, Gretchen Howe, Tyler Ashby Jones, Jonathan J. Lidz, Katherine Kelly Lidz, Patricia McNamara, Matt Mercer, John Montague, Jeff Riebe, Benjamin Rishworth, Nicholas Stannard, Kaleb Szabo, Kristen Walsh and Hannah Wolfe.

Running March 19th - April 2nd, the cast of A Midsummer Night's Dream features: David Blatt, Carrie-Ann Brown, Geoffrey Dawe*, Jon Dean, Sri Gordon, Kristen Hammer, Catherine Hennessey, Peter Herrick*, Gretchen Howe, Tyler Ashby Jones*, Jonathan J. Lidz, Katherine Kelly Lidz, Patricia McNamara, Matt Mercer *, John Montgomery, Jeff Riebe*, Benjamin Rishworth*, Joanie Schumacher*, Nicholas Stannard*, Kaleb Szabo, Lisa Came and Hannah Wolfe.

ShakespeareNYC is a new theatre company dedicated to performing the plays of William Shakespeare.

THE CAPE PLAYHOUSE America's longest running professional summer theatre, will celebrate its 78th Anniversary Season starting June 20th and will feature six main-stage productions with performances slated through September 10th. Under the artistic direction of Evans Haile, the summer season will consist of four plays, two musicals, and will be filled with "froth, frolic and adventure!" The six productions will feature a combination of regional premieres as well as some old favorites and are planned to open on the following schedule: June 20th, July 4th, July 18th, August 1st, August 15th and August 29th. Considered by many as one of the most significant and architectural stunning summer playhouses in America, the theatre is located in historic Dennis on Massachusetts's famous Cape Cod.

THE GREAT DIVIDE the world premiere reading of Charles Messina's new play features Tony 'n Tina's Wedding cast members Ernie Curcio, Johnny Tammaro and Gina Ferranti.

When Paul admits to his wife Sara that he has a "feeling" for his co-worker, Nicole, it triggers a series of events that change his life forever. In the end, Paul finds himself torn between Sara and Nicole, and unable to choose between the two. That's where the audience comes in.

The Great Divide offers its audience an interactive theater going experience: They get to decide Paul's fate. Should he stay with his wife or leave his marriage for his co-worker? Should he be on his own? This unique twist allows the audience to vote for the ending of their choice. Only they can bridge the Great Divide.

The play will be read on Monday March 21, at The Irish Rogue, in New York City.

Badlands Stage and Film Company in association with NahNotOutsideMyHouse! Productions Inc. NahNotOutsideMyHouse! Productions' name was inspired by Robert DeNiro's response to Messina when the young writer attempted to pitch a script to the movie star outside his TriBeCa home.

THE WITCHES a stage adaptation of Roald Dahl's story of a seven-year-old boy and his magical grandmother - played by Dilys Laye - battling with real-life witches. Ruby Wax. making her West End debut, stars as the Grand High Witch - the most powerful villainess of them who is plotting to get rid of all the children in England. Her hideous plan is to take over all the sweet shops, poison the children with chocolate and transform them into mice!

Featuring illusions by Paul Kieve, who created magic effects for Harry Potter and the Prisoner of Azkaban and moonlights as the personal magic tutor to Harry Potter star Daniel Radcliffe.

Designed by Simon Higlett, lighting by Mark Jonathan, choreography by Jenny Arnold.

Jonathan Church directs the cast which includes - in addition to Wax - Dilys Laye (Grandmother), Giles Cooper, Isabel Ford, Chris Hawley, James Hirst, Peter Holdway, Katerina Jugati, Camilla Mathias, Keith Saha , Catherine Skinner.

This show, which opened last week, is part of the UK tour, produced by The David Wood Company and Ambassador Theatre Group in association with Birmingham Repertory Theatre Company. Ruby Wax will only be starring in the West End production at the Wyndham's.


| | | |
| --- | --- | --- |
| | | |
WHO'S WHERE


THE BOB DYLAN SHOW featuring Bob Dylan and his band, Merle Haggard and the Strangers, and Amos Lee begin a three night engagement Monday, March 14 at the Paramount Theatre in Oakland, California. On Friday they can be enjoyed at the Reno Hilton in Reno, Nevada. Then on Saturday, March 19 Merle Haggard sits out the one night gig at the Aladdin Theatre for the Performing Arts in Las Vegas.

TONY DANZA performs March 15th – 26th at Feinstein's at the Regency in NYC.

EAGLES in the spotlight Tuesday, March 15 at Hampton Coliseum in Hampton, VA. On Wednesday they can be enjoyed at the Wachovia Arena in Wilkes-Barre, PA. Friday finds them at the Sovereign Center in Reading, PA and on Saturday they'll be on stage at the Dunkin Donuts Civic Center in Providence, RI.

WILLIE NELSON AND MARY GAUTHIER perform March 18-19 at The Backyard in Austin, Texas.

JOSH GROBAN in the spotlight March 19 at the Events Center in Mandalay Bay in Las Vegas.

DEBBIE REYNOLDS stars at the Orleans Hotel in Las Vegas March 17-20.

KATIE McMAHON is probably best known for her exquisite soaring soprano solo in the original Riverdance single, which topped the charts in Ireland for three months. March 18 at the Pantages Theatre in Minneapolis.

MICHAEL MCDONALD Wednesday, July 13 at the State Theatre in New Brunswick, N.J.

PATTI LuPONE with her The Lady with the Torch show. Part o the Carnegie Goes Pops series. Monday, March 14 at Stern Auditorium in Carnegie Hall, NYC.

SAN FRANCISCO SYMPHONY Michael Tilson Thomas, Music Director and Conductor on stage Wednesday and Thursday at Carnegie Hall in NYC. Sharing the stage Wednesday will be pianist Leif Ove Andsnes. On Thursday the spotlight will fall on soprano Barbara Bonney.

STEVE TYRELL performs Wednesday, March 16 at the McCallum Theatre in Palm Desert, CA. On Thursday he's on stage at the E Country Performing Arts Center in El Cajon, CA.

CANADIAN BRASS tooting their horns Saturday at the Long Beach Arena in Long Beach, CA. Next Sunday they'll sound off at the McCallum Theatre in Palm Desert, CA.

JOHNNY MATHIS performs March 18 at the Kennedy Center in Washington, D.C.

DIANNE REEVES on stage at the La Roche Sur Yon in La Roche, France on Monday, March 14. On Tuesday she is center stage at Odyssud in Toulouse, France. She performs Thursday at Karstadt in Mogdeburg, Germany and on Friday she show is at the Karstadt in Numberg.

GLEN YARBOROUGH AND THE KINGSTON TRIO singing their hits Tuesday at the Paramount Center for the Arts in Bristol, TN. On Friday they'll be delighting fans of all ages at the Adler Theatre in Davenport, Iowa. Saturday finds them at the Center for the Performing Arts in University Park, IL and next Sunday they are on stage at the College of DuPage in Glen Ellyn, IL.

BID BAD VOODOO DADDY getting the place jumpin' Saturday, March 19 at the Fox Theatre in Redwood City, CA.

TOM WOPAT in the spotlight Saturday, March 19 at the New Jersey Performing Arts Center in Newark, NJ.


FINAL OVATION


JERRY ORBACH Angela Lansbury, Chita Rivera, Sam Waterston, Law & Order creator and executive producer Dick Wolf, Karen Ziemba, and other notable members of the entertainment community will honor the life and career of the legendary actor Jerry Orbach, who died on December 28 at the age of 69, with A Celebration of Jerry Orbach. The special memorial service will take place at the Richard Rodgers Theatre on Thursday, March 24 at 2 p.m.

"This gathering is a loving celebration of Jerry's life, a salute to the many wonderful shows he did, and a testament to the incredible joy he brought to his family, friends, colleagues, and fans throughout his career," Elaine Orbach explains. "We chose the Richard Rodgers Theatre because Jerry and I met there in 1976 when we both appeared in Chicago. That theatre always had a special place in our hearts."

Jerry Orbach, best known to television audiences for his long-running role as New York City police detective Lennie Briscoe on the popular NBC series Law & Order, won a Tony Award for his performance in the 1968 musical Promises, Promises. His famous stage roles also include El Gallo in the original Off-Broadway production of The Fantasticks, Billy Flynn in the 1975 musical Chicago, and Julian Marsh in the original 42nd Street. A limited number of seats will be available to the public on a first-come, first-serve basis the day of the event.
















Next Column: March 20, 2004
Copyright: March 13 2004. All Rights Reserved. Reviews, Interviews, Commentary, Photographs or Graphics from any Broadway To Vegas (TM) columns may not be published, broadcast, rewritten, utilized as leads, or used in any manner without permission, compensation/credit.
Link to Main Page
---
Laura Deni


CLICK HERE FOR COMMENT SECTION