Broadway To Vegas
  
 SHOW REVIEWS CELEBRITY INTERVIEWS GOSSIP NEWS

| | |
| --- | --- |
| | |
NASCAR WEEK-END IN LAS VEGAS - -DANIEL SULLIVAN AND DOUG HUGHES CHAT - - ADRIENNE BARBEAU AS JUDY GARLAND - - HARRY ANDERSON'S SPIRIT OF VAUDEVILLE - - JERRY LEWIS CELEBRATES 80TH BIRTHDAY & WHAT HE GAVE RONALD REAGAN - - SEE WHAT I WANNA SEE IS A POWERFUL CD - - AMERICANS IN PARIS 1860-1900 - - GUILD HALL ACADEMY OF THE ARTS - - DONATE . . . Scroll Down


Copyright: March 12, 2006
By: Laura Deni

CLICK HERE FOR COMMENT SECTION
GET IN TOUCH WITH YOUR INNER-LEPRECHAUN


Ireland's largest annual party, St. Patrick's Festival will be in full swing from March 15th - 19th. St. Patrick's Festival is now by far the biggest annual event in Ireland providing entertainment for all interests and ages. The Festival program has music, theatre, family carnivals, comedy, street arts, visual arts, dance, a treasure hunt, symposium.... 4000 performers - 1.5 million spectators and 5 days of fantastic festival fun for all! St. Patrick would be very proud!

New York City has been staging a St. Patrick's Day parade for 245 years. On the streets of New York since 1762 - it's touted as "the oldest, largest, and best in the world"

This year is dedicated to the fighting 69th- Taskforce Wolfhound who served in Iraq and the 19 who were killed in action.

Then there is the First Ever 3rd Annual World's Shortest St. Patrick's Day Parade which takes place in Hot Springs, Arkansas. The parade will include Comedian Pauly Shore, MTV series Totally Pauly, as the celebrity Grand Marshall, the world's largest leprechaun, a pub-crawl featuring several of Hot Springs favorite watering holes, dancing, and green firework finale!

The lads and lasses in Atlanta, GA have been stepping off since 1858. 2006 promises to be the largest, best publicized St. Patrick's Parade since the first such event 148 years ago. The 2006 Atlanta St. Patrick's Parade, which takes place March 18th, will have 200 units, including at least 25 major floats, bands of every kind, military units, 6 Bagpipe & Drum Corps, thousands of children, Irish dancers, clowns, high tech firefighting equipment, police units, drill teams, dogs, horses, antique cars, dignitaries from Ireland, our own Government leaders, Celebrity Grand Marshall Ronald McDonald and Grand Marshal Atlanta Mayor Shirley Franklin.

This year marks Cleveland's 139th parade. Rolla, Mo. is rolling out their 98th St. Pat's Parade. O'Neill, Nebraska- populations 3,700- bills itself as the Irish Capital of Nebraska and brags that they have the world's largest shamrock - painted on the main intersection in downtown O'Neill - who knew? Irish dancers jig all over it on St. Pat's Day.

Washington, D.C. is a bit out of step (insert your own joke) and will celebrate St. Patrick's Day with The Nation's St. Patrick's Day Parade today, March 12th.


ART AND ABOUT


AMERICANS IN PARIS 1860-1900

Detail from John Singer Sargent, Madame X (Madame Pierre Gautreau, 1883-4. © The Metropolitan Museum of Art, New York. Arthur Hoppock Hearn Fund, 1916, photo 1997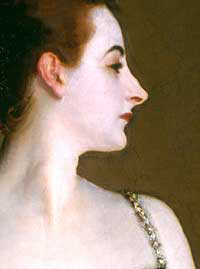 Paris was the centre of the art world in the 19th century, and a magnet for American art students and artists, eager to experience the cosmopolitan delights of the city and to steep themselves in its artistic atmosphere.

For the first time in Britain, this exhibition at The National Gallery looks at why American artists were drawn to Paris, the city seen as a center of debauchery, hedonism and romance.

They flocked there in the hundreds to starve in garrets and be artists.

What they produced there, and how their art changed.

Many Americans who came to Paris spoke little or no French, and struggled even to order a meal. They tended to create American colonies, isolated from the French way of life. Others, such as John Singer Sargent, James McNeill Whistler Mary Cassatt, all fluent French speakers, had less trouble feeling 'at home' in Paris.

The Louvre offered an unparalleled experience of art from different ages and countries. It was a magnet for all art students, who studied the lessons of the art of the past, copied works there, and made contacts with fellow students.



Willard Leroy Metcalf, In the Café (Au Café), 1888. © Terra Foundation for American Art, Chicago, Illinois. Daniel J. Terra Collection, 1992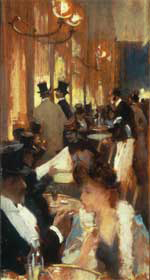 The annual Paris Salon was the largest exhibition of contemporary art in the world. Each year, thousands of paintings and sculptures jostled for space in the halls of the Palais de l'Industrie, and it was here that reputations were made.

A network of studios offered tuition in art, ranging from the very structured system at the Ecole des Beaux-Arts to opportunities to draw and paint from a life model with little or no support from a teacher.

The artistic mass migration produced some of the most talented and influential artists of this time period.

The exhibition includes well-known artists - James McNeill Whistler, John Singer Sargent, Mary Cassatt - and others such as Cecilia Beaux, Elizabeth Nourse and Theodore Robinson.

Highlights include Whistler's White Girl from the National Gallery of Art, Washington DC, Sargent's astonishing painting of the daughters of Edward Darley Boit, from the Museum of Fine Arts, Boston, and his notorious Madame X from the Metropolitan Museum of Art, New York.

Americans in Paris 1860 - 1900 is organized by the National Gallery, London and the Museum of Fine Arts, Boston, in association with The Metropolitan Museum of Art, New York.

The National Gallery in London through May 21.


THE MUSIC GOES ROUND AND ROUND


SEE WHAT I WANNA SEE (2005 ORIGINAL OFF-BROADWAY CAST) a new musical inspired by the Japanese short stories of Ryunosuke Akutagawa as translated by Takashi Kojima had an all too short run at the Public Theatre October 11, 2005 - December 4, 2005. The original cast recording is now available. Don't miss this one.

Words and Music by Michael John LaChiusa. Directed by Tony Award winner Ted Sperling.

A park. A thief. A priest. A psychic. A miracle. A lie. The truth - incidents recounted by various witnesses and participants, offering different views of "truth." From a mysterious murder in Central Park to the miracle of a devastated city's rebirth, New York stories of faith, loss and redemption are explored in this new musical by Michael John LaChiusa complete with a significantly important, contemporary, lush score.

One of the job descriptions of an artistic director is to hype their own production. Perhaps the reasoning is that if the puff contains enough hot air the production will soar. In the case of Oskur Eustis' liner notes - phrases such as "tough, unsentimental and clear-eyed... the storytelling moves in a compelling, breathless forward motion unrivalled in the contemporary musical theater" ... are almost understated.

An awesome CD which captures the profound, romantic yearning for belief with LaChiusa's imaginative, fearless, powerful music and lyrics.

Compositions/performers/musicians fuse a powerful pyramid which becomes a riveting CD - almost transporting the listener back to Grandpa's day when people sat around the radio and actually stared at the device while mesmerized by the program.

The cast features the talented Marc Kudisch, Aaron Lohr, Idina Menzel, Henry Stram and Mary Testa.

Musical director/Conductor Chris Fenwick with orchestrations by Bruce Coughlin. The superb musicians are; Reed 1 Todd Groves, Reed 2 John Winder. Percussion: Diana Herold and Mark Sherman. Bass Mark Vanderpoel. Drums Norbert Goldberg.

Recorded on October 31, 2005. Recorded and mixed by Joel Moss. Recorded and edited by Jan Folkson. Mastered by Scott Hull.

The CD was officially released on March 7 with various CD release parties taking place including one on March 24 at Club Cafe in Boston.

In a 2004 production at the Williamstown Theatre Festival, the project was known as R Shomon and featured Audra McDonald.

Broadway To Vegas is supported through advertising and donations. Priority consideration is given to interview suggestions, news, press releases, etc from paid supporters. However, no paid supporters control, alter, edit, or in any way manipulate the content of this site. Your donation is appreciated. We accept PAYPAL. Thank you for your interest.



THE BOARD OF TRUSTEES OF THE PRINCESS GRACE FOUNDATION congratulated two of their current recipients for winning two of the highest honors in filmmaking this past weekend.

Eric Simonson, a 2005 Princess Grace Statue Award winner received an Academy Award for his Best Short Documentary A Note of Triumph: The Golden Age of Norman Corwin. The documentary heralds the CBS radio talent, educator and critic Norman Corwin who turns 96 in May. The Oscar was shared with his producing partner Corinne Marrinan and marked the creative pair's second nomination. The documentary will air on HBO in August.

Ian Olds, who received a 2005 Princess Grace Graduate Film Award to support his Columbia University thesis film received the Truer Than Fiction Independent Spirit Award and $25,000 given to an emerging director of non-fiction features for his candid portrait of a squad of American solders deployed in the Iraq city of Falluja during the winter of 2004. The award is shared with Ian's filmmaking partner, the late Garrett Scott.

"We are thrilled for Eric and Ian and congratulate them on their remarkable achievements. They demonstrate the continued success of our recipients and illuminate the potential of all our Princess Grace Award winners," says Toby E. Boshak, Executive Director.

The next Princess Grace Awards will be handed out at the Foundation's annual gala on November 2, 2006.

MENOPAUSE THE MUSICAL already Detroit's longest running show, will pass another milestone on March 17 when it celebrates its second Detroit Birthday at The Gem Theatre.

The celebrations starts Wednesday March 15 with prize give-aways all week long to lucky audience members. And they'll be a big party after the show on Friday March 17th.

JERRY LEWIS a long time Las Vegas resident, celebrates his 80th birthday on March 16. We don't know what the birthday boy will be receiving, but on April 6, 1985 gagster Lewis sent his friend, President Ronald Reagan, a Fed Ex letter containing a Nevada National Bank check for $15 with the words "gift" written on the bottom. The note indicated that Lewis "didn't have time to find something for your birthday" thus the enclosed check so that Reagan could "get something for yourself."

The best present Lewis can receive is good health. He's doing a million times better than he was a few years ago. Lewis films an episode of Law & Order: SUV this month.

THE FABULOUS PALM BEACH FOLLIES

From Left: Follies Man Riff Markowitz, Mayor Ron Oden and Long-Legged Lovely, Leila Burgess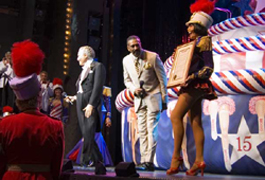 was honored by Palm Springs Mayor Ron Oden at two recent ceremonies, one during a Palm Springs City Council Meeting and the other during the finale of a Follies performance. During its fifteen seasons The Fabulous Palm Springs Follies has delighted more than two-and-a-half million theatergoers.

As of the matinee show on March 3, 2006, The Fabulous Palm Springs Follies presented its 3,236 performance, thereby exceeding the number of performances given during the multi-year run of the original Ziegfeld Follies under the direction of Florenz Ziegfeld.

A proclamation was presented to Follies Founders Riff Markowitz and Mary Jardin for having broken Ziegfeld's record of total Follies performances. On March 3, 2006, each patron at the Follies' matinee performance also received a copy of the proclamation as a memento of this historic event.


SWEET CHARITY


GUILD HALL ACADEMY OF THE ARTS 21ST ANNUAL LIFETIME ACHIEVEMENT GALA will honor Stephen A. Schwarzman, CEO, Chairman and co-founder of The Blackstone Group and Chairman of the Board of the John F. Kennedy Center for the Performing Arts with a Special Lifetime Patron of the Arts Award in recognition of his business and philanthropic endeavors. Veteran Broadway producer, Roy Furman, President of the Academy will present the award.

Guild Hall Trustee and President of the Academy of the Arts. Six-time MAC Award winner Angela LaGreca of ABC's The View will emcee.

Two time Tony Award winner and Kennedy Center Honoree, Chita Rivera will perform.

The gala, the official kickoff of Guild Hall's 75th Anniversary Celebrating Creativity, will also honor the over 60 artists who have been recognized for sustained excellence in the last 20 years; a veritable who's who in arts & letters including Edward Albee, Alan Alda, Lauren Bacall, Alec Baldwin, Louis Begley, Chuck Close, Cy Coleman, Willem de Kooning, Eric Fischl, Jane Freilicher, Betty Friedan, April Gornik, Sheldon Harnick, Sidney Lumet, Itzhak Perlman, George Plimpton, Larry Rivers, Jerome Robbins, Marshall Rose, Cindy Sherman, Steven Spielberg, Robert A. M. Stern, Elaine Stritch, Kurt Vonnegut and Mort Zuckerman.

Monday, March 13 at The Rainbow Room in NYC.

Proceeds benefit arts, entertainment and educational programming at Guild Hall of East Hampton, which is a fine art museum, a professional theater, and a community education center considered the premiere cultural institution on Long Island's East End.


OTHER PEOPLE'S MONEY


ROD STEWART has been ordered to pay a $2 million verdict against him over a concert he never performed at Harrah's in Las Vegas, plus $981,926 in interest on the outstanding debt. In finalizing the verdict U.S. District Judge Larry Hicks also tacked on a $154,483 sanction for failure to turn over information to Harrah's lawyers before a 2002 civic trial in this case.

This is a long stand lawsuit stemming from Stewart being paid $3 million in 1999 for a millennium eve concert at the Rio Hotel in Las Vegas. A second show was also arranged for a later date, with an additional $2 million being given to Stewart. The first concert took place. The second show did not because Stewart underwent throat surgery for thyroid cancer. The Rio wanted their $2 million back. Stewart wanted to reschedule the concert. The singer is appealing the verdict.


SPREADING THE WORD


DANIEL SULLIVAN AND DOUG HUGHES in a panel discussion. This is a special edition of the Stage Directors and Choreographers Foundation's "One-on-One Conversation Series" with Tony Award winning directors Doug Hughes and Daniel Sullivan with moderator Mandy Greenfield, Manhattan Theater Club Director of Artistic Operations, on Monday, March 13 at New York City – Stage I.

The SDCF's One-on-One Conversations Series explores the careers and creative processes of some of the theatre's foremost directors and choreographers. These evenings provide the rare opportunity to interact with masters of the theatre, and hear them speak on a broad range of topics. Each 90-minute session is an in-depth interview of artists by the moderator, with questions from an audience of directors, choreographers, students, theatre artists and theatre enthusiasts.



THE PROPERTY KNOWN AS GARLAND

Adrienne Barbeau as Judy Garland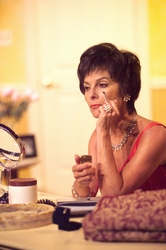 a new play by Billy Van Zandt and directed by Glenn Casale, is a fictional backstage account of the legendary singer's final concert at the Falkoner Center in Copenhagen, 1969.

Adrienne Barbeau,60, returning to the stage for the first time in three decades, stars as Judy.

Barbeau has starred in over 25 musicals and plays. She made her Broadway debut as Tevye's second daughter, Hodel, in Fiddler on the Roof and was last seen on Broadway as Rizzo in the original cast of Grease, for which she received a Tony nomination. She rose to television fame as Carol, Bea Arthur's daughter, on the '70s TV sitcom Maude.

In March of 1997, Adrienne gave birth to identical twin boys making her "the only woman on the maternity ward who was a member of AARP". She lives in Los Angeles with her husband, Billy Van Zandt, the twins, William and Walker, and her older son, Cody.

Adrienne has just completed work on her first book for Carroll and Graf (Avalon Publishing Group), a memoir entitled There Are Worse Things I Could Do., set for release on April 10.

The Property Known As Garland also features the New York City stage debut of Kerby Joe Grubb as Ed.

Scenic design by Charlie Smith. Lighting design by Richard Winkler. Costume design by Cynthia Nordstrom. Sound design by Jill Duboff. David H. Lawrence is the hair designer. Stacey Panepinto serves as makeup consultant.

The 13-week limited engagement runs Monday, March 13th through Sunday, June 4th at The Actors' Playhouse, NYC.

The Actors' Playhouse was a pioneer in the Off-Broadway movement that began after World War II in New York's Greenwich Village and has been presenting plays at 100 7th Avenue South between Christopher and Bleecker Streets for over 55 years.

FEATHERS IN THE WIND Book & Lyrics by David Rush, Music by Errol Pearlman. Chicago Jewish Theatre is very excited to be presenting the World Premiere of this touching, funny and bittersweet musical based on the always amusing stories of the "wise fools" of Chelm. Reb Itzik, the Rabbi of Chelm, is searching the world over to try to find all the residents of his town, now scattered to the four corners of the world.

Along the way, he recounts the many trials and tribulations of his village. You'll meet the young lovers Berel and Esther, Esther's foolish, but resourceful father Schossel, the thrifty café owners Mendel and Bendel and maybe even one of the Rothschilds.

March 16-April 16 at the Chicago Jewish Theatre.

MRS. CALIFORNIA Doris Baizley's comedy-drama about the Problems Rosie the Riveter faced After World War II.

"We helped make the housewife rediscover that homemaking is more creative than to compete with men - Ernest Dichter, leading American Media Adviser - from Patricia Baker's book Fashions of a Decade The 1950s.

During the Second World War, over six million women from across the United States took industrial jobs while men were overseas. But when the fighting ended, these women were expected to return to their "traditional" roles (and kitchens). This River Heights Productions looks at the subject via this comedy.

Set in 1955, Baizley's serio-comic work looks at the problems Rosie the Riveter faced when the "fighting" men came home from the Second World War and society tried to go back to pre-12/07/41. Here, Dot, a former ensign the WAVES, who was instrumental in saving a navel convoy, struggles to maintain her individuality and not become just another "happy homemaker" as she competes for the title of Mrs. California.

The cast of Mrs. California will feature Elizabeth Burke, Heather E. Cunningham, Matilda Downey, Dave DiLoreto, Jim Kilkenny, India Myone McDonald, Kristen Vaughan, and the voice talents of Jack H. Cunningham, Reginald V. Ferguson and Kimberly Greene.

Directed by Megan R. Wills, with design by Viviane Galloway, the show will have its New York City Premiere at the 78th Street Theatre Lab, beginning March 15th.

SHENANDOAH

Scott Bakula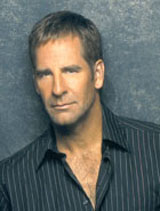 Director/Choreographer Jeff Calhoun returns to mount a musical with songs by Peter Udell and Gary Geld.

Former Star Trekker Scott Bakula, plays a father who is determined to protect his daughter and six sons from the war. the role played by Jimmie Stewart in the movie on which the musical was based.

It tells the story of Shenandoah valley farmer, Charlie Anderson, who refuses to take sides during the Civil War. He won't support the Confederacy because he opposes slavery but he won't support the Union because he's opposed to war.

March 17 - May 21 at Ford's Theatre in Washington, D.C.

THE AUTUMN GARDEN a psychological drama by Lillian Hellman, was first produced in 1951. The plot involves seven middle-age people at a guesthouse outside New Orleans who look back on their lives, the choices they made, and the choices they face. Steven Scott Mazzola directs. March 16 to April 15 at the American Century Theatre in Arlington, Virginia.

SHILOH RULES

Kate Weiman as Clara and Judi Lewis Ockler as LucyGale. Photo by Kila Packett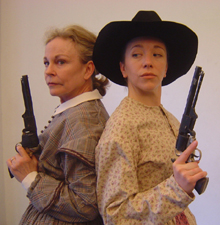 written by Doris Baizley.

Michaela Goldhaber directs this sharp satire set on the eve of one of the Civil War's bloodiest engagements, the Battle of Shiloh. Well, the reenactment of the Battle of Shiloh, that is. When rival, hardcore Civil War buffs begin the battle prematurely, it sets off a firestorm. Six women caught up in this madness, hilarity and drama fight each other, help each other and learn that there is more to remembering the American Civil War than "Authentic" costumes, bandages and chloroform. The play delves into the madness that drove American citizens to take up arms against each other in a bloody Civil War, and how, nearly 150 years later, we often find ourselves staring at each other over those same lines, re-enacting similar battles in our everyday lives.

The cast includes Gwen Eyster, Cordis Heard, Janine Kyanko, Judi Lewis Ockler, Samarra and Kate Weiman. The production team is made up of Scott Boyd (Scenic and Lighting Design), Alisha Engle (Costume Design), Christopher Colucci (Sound Design), Chris and Judi Ockler (Fight Choreography) and Phebe Taylor/Amanda Rosenberg (Stage Managers).

Shiloh Rules was developed at The Mark Taper Forum in LA and had its world premiere at The Alabama Shakespeare Festival.

Flying Fig Theater and Middle Tennessee State University presents the NY Premiere March 18 to April 9, at the Gene Frankel Theatre, NYC.

LUCIA DI LAMMERMOOR by Gaetano Donizetti.

In a feud between the Scottish families of Ravenswood and Lammermoor, Enrico (Lord Henry Ashton of Lammermoor) has gained the upper hand over Edgardo (Edgar of Ravenswood), killing his kinsmen and taking over his estates. By the time of the opera's action, however, Enrico's fortunes have begun to wane. In political disfavor, he stakes all on uniting his family with that of Arturo (Lord Arthur Bucklaw), whom he means to force his sister, Lucia (Lucy Ashton), to marry.

Narc Verzatt directs the cast which features Angels Turner Wilson as Lucia; Jianyi Zhang as Edgardo; Troy Cook as Enrico; Harold Wilson as Raimondo; Jonathan Thomas as Arturo; Daniel Erbe as Normanno and Jennifer Powell as Alisa.

Performed in Italian with electronic translations above the stage Opened last night at the Lyric Opera of Kansas City with performances ending March 19.

THE LIEUTENANT OF INISHMORE by Martin McDonagh. The Atlantic Theater Company's critically acclaimed production makes the jump from Off-Broadway to Broadway's Lyceum Theater on April 18th and officially open on May 3rd.

The production is currently playing off-Broadway at the Atlantic where it will close on April 9th.

Starring in the production are Jeff Binder as James, Kerry Condon as Mairead, Andrew Connolly as Christy, Dashiell Eaves as Joey, Peter Gerety as Donny, Domhnall Gleeson as Davey, Brian d'Arcy James as Brendan, and David Wilmot Padraic.

The creative team includes set design by Scott Pask, costume design by Theresa Squire, lighting design by Michael Chybowski, sound design by Obadiah Eaves, and fight direction by J. David Brimmer. Wilson Milam directs.

Billed as a dark comedy, The Lieutenant of Inishmore is set in 1993 in County Galway, Ireland on the rocky island of Inishmore, off the coast of Ireland. Padraic is a terrorist with no feeling for those he blows up, but has an obsessive attachment to Thomas, his beloved cat. But someone has killed Thomas. Was it an accident or an execution? Either way, the death must be concealed before 'Mad Padraic' returns from a stint of torture and bombing. Otherwise the recriminations will be horrifying.

The play premiered at the Royal Shakespeare Company, The Other Place, Stratford-upon-Avon in April of 2001. It then transferred to London's Barbican Pit in December 2002, and then moved to the Garrick Theater in June of 2002 where it went on to win the Olivier Award for Best New Comedy.

CRADLE OF MAN By Melanie Marnich. Directed By Sandy Shinner.

Starring David Eigenberg, Sex and the City's Steve Brady, the quintessential New York bartender with whom Cynthia Nixon's independent, relationship weary Miranda couldn't seem to live with or without. Eigenberg will be making his Victory Gardens debut in this production.

Cradle of Man, a new dramatic comedy, is a mid-season replacement for A Fair To Middling Woman by Kristine Thatcher, who was recently named the new Artistic Director of BoarsHead Theatre in Lansing, Michigan. "Everyone at Victory Gardens is absolutely thrilled for Kristine," said Victory Gardens Artistic Director Dennis Zacek. "Due to the demands of her new position, we have opted to produce A Fair To Middling Woman in an upcoming season, after Kristine has set up shop in Michigan, when her schedule allows."

In its place, Victory Gardens will present the newest work by one of America's top contemporary playwrights. A fast-moving dramatic comedy, Cradle of Man is set in Africa near Olduvai Gorge, the birthplace of mankind, where two American couples meet and their comedic, romantic and existential crises are exposed. Facades crack under the sub-equatorial sun to reveal the evolution of the human heart. Lives come apart and bodies come together in this extraordinary place, where the drama of what makes us human - and humane - plays out on a daily basis. And where the survival of the fittest means only one couple will survive.

March 24 - May 7 at the Victory Gardens Theatre in Chicago.

THE INNOCENT EYE TEST a farce by Michael Healey.

The setting is a grand hotel in Tuscany, a gathering-place for people from across the globe. Two transactions are about to take place. In one, art is for sale; in the other, weapons-grade plutonium.

Sam is the quintessential Canadian - a trusting, polite consensus-builder. But nothing has prepared him for the Ukrainian arms dealer, the crooked casino owner, the clairvoyant cabaret performer and the pair of international spies who are trying to stiff, swindle and seduce him.

The Innocent Eye Test is directed by Christopher Newton and stars Kevin Bundy, Susie Burnett, Tanja Jacobs, C. David Johnson, Tom McCamus, Lisa Norton, Paul O'Sullivan, Gord Rand and Peter Treadwell.

Opened March 11 with performances through April 23 at the Royal Alexandra Theatre in Toronto, Canada.


| | | |
| --- | --- | --- |
| | | |
WHO'S WHERE


EXILES IN PARADISE Created & Performed by soprano Constance Hauman. Featuring David Wolff, piano. Tereza Stanislav, violin. Cecilia Tsan, cello. Gary Bovyer, clarinet.

The latest event in the Falcon Theatre's Garry Marshall Presents series, Exiles in Paradise, explores the journey of Europe's exiled composers during the Nazi uprising and Holocaust of World War II. Music, film and documentary recreate the exile and influence of these artists in Hollywood, leading up to their trial and persecution during the McCarthy Era.

This explosive period in history is brought to life through original 16mm films by Louis Klar, film collages by Richard Baim, historical footage, rare home movies and studio clips, as well as the songs of Fredrich Hollander, Arnold Schoenberg, Emmerich Kalman, Erich Wolfgang Korngold, Eric Zeisl, Walter Jurmann, Ralph Benatsky, Hanns Eisler and Kurt Weill. A six-performance limited engagement, beginning Friday, March 17th with performances through April 2. The Falcon Theatre in Burbank, CA

BILLY JOEL headlines the Wachovia Center in Philadelphia on Monday, March 13.

COLDPLAY in the spotlight Friday, March 17 at the Corel Center in Ottawa, ON. Next Sunday they star at the Bradley Center in Milwaukee.

GENE PITNEY is across the pond performing Friday, March 17 in Dartford, UK at The Orchard. On Saturday the show is in Northampton, UK at The Deco and next Sunday he'll be singing his hits in Peterborough, UK at The Broadway.

EMMYLOU HARRIS is on stage Friday, March 17, at the Progress Energy Center for the Performing Arts in Raleigh, NC On Saturday she is in the spotlight at the Lucas Theater in Savannah, GA.

ANN HAMPTON CALLAWAY opens a four night engagement at Jazz at the Bistro in Saint Louis on Wednesday, March 15.

AMERICAN BRASS QUINTET in residence at the Aspen Music Festival and School since 1970, performs a diverse program spanning four centuries that includes works by the Renaissance masters Giovanni Gabrieli and Thomas Morley, recently recorded Civil War brass band favorites from the archives of the 26th North Carolina Regimental Band, and Charles Whittenberg's Triptych (1962), the very first ABQ commissioned work. Friday, March 17 at Harris Concert Hall in Aspen, Colorado.

THE CHIEFTAINS started playing Carnegie Hall on St. Patrick's Day back in the 60s. They keep the tradition alive with their Friday performance. On this tour, they are paying tribute to their harpist, Derek Bell, who died in 2002; they are joined by stepdancers and a Celtic group from Cape Breton, Nova Scotia, the Cottars. On Saturday they'll be on stage at the New Jersey Performing Arts Center in Newark.

RONAN TYNAN who was part of the Three Irish Tenors group on Friday brings his magnificent voice to the Society for Ethical Culture Auditorium, NYC.

HARRY ANDERSON'S SPIRIT OF VAUDEVILLE with Mickey O'Conner, Nicholas Night and Kinga and very special guests The Storyville Stompers Brass Band New Orleans.

Before there was Judge Judy and Judge Joe Brown, there was Judge Harry Stone on Night Court, the popular long- running sitcom that made Harry Anderson a household name. Now, the well-loved comedian and actor returns to his first love in an all-new old-fashioned vaudeville show, Harry Anderson's Spirit of Vaudeville. Join us for two shows of true family entertainment at its finest! Harry and his ensemble of comedians and magicians will delight and dazzle you and your family. Cerritos Center for the Performing Arts in Cerritos, CA on March 18-19.


PIFFLE AND PROFUNDITIES


NASCAR WEEK-END IN LAS VEGAS John Schneider sang the national anthem for the Sam's Town 300 NASCAR Busch Series race on Saturday, March 11.

Country music group Trick Pony did the same for the ninth annual UAW-DaimlerChrysler 400 NASCAR Nextel Cup race taking place today, Sunday, March 12.. At the conclusion of the national anthem, the United States Air Force Thunderbirds staged a flyover in their famous Delta Formation. Country band Thunder Road performed for one hour as part of the UAW-DaimlerChrysler pre-race show.

And for the third consecutive year, Robin Leach was the master of ceremonies for the Nextel Cup event yelling - start your engines - for the 400 mile, 267 lap race with its purse of $6.2 million.
















Next Column: March 19, 2006
Copyright: March 12, 2006. All Rights Reserved. Reviews, Interviews, Commentary, Photographs or Graphics from any Broadway To Vegas (TM) columns may not be published, broadcast, rewritten, utilized as leads, or used in any manner without permission, compensation/credit.
Link to Main Page
---
Laura Deni


CLICK HERE FOR COMMENT SECTION