! >
Broadway To Vegas
  SHOW REVIEWS     CELEBRITY INTERVIEWS     GOSSIP     NEWS 
SHOWEST SHOWS UP AND SHOWS OFF

The annual dog and pony show that trots box office stars has completed another successful presentation to the industry that wields make or break power - the theater owners.



JIM CARREY referring to his Oscar shut out said "F--- the Academy."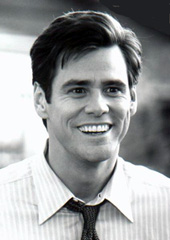 Jim Carrey was named Male Star of the Year. He accepted his award by playing a bogus answering machine recording that informs the caller "F--- the Academy!" referring to the shut out Carrey received for his portrayal of Andy Kaufman in Man on the Moon.

Carrey, whose life has been riddled with anger and humor, was cuddling up to his current significant other Renee Zellweger. They fell in love during production of Irene, although things didn't take a turn for the serious until Halloween when Renee had a pumpkin carving party.



ANNETTE BENING about to give birth any day now blamed her husband Warren Beaty for her outward appearance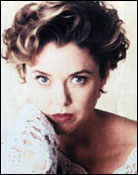 A very pregnant Annette Bening attended and looking radiant assured those who were concerned that she hadn't flown commercial coach, but received the star treatment on the company's private jet. Since the flight was only 47 minutes each way her physicians had approved the trip. The wife of Warren Beaty took home the Female Star of the Year Award. In accepting her award she thanked her husband "who's responsible for not only the shape I'm in on the outside but for helping me to enjoy and celebrate these kinds of moments."

Also in a birthing mood was Ving Rhames who announced that his girlfriend, Debra, was going to make him a father in six months.



DREW BARRYMORE says great-grandfather John watches over her.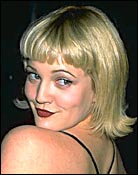 Drew Barrymore was celebrating her Comedy Star of the Year Award. The lass who has had a troubled past, referred to her great-grandfather John Barrymore, saying "He looks over me. I really think he's happy."

The actress looked relaxed and happy with her new guy, actor Tom Green. She said what attracted her to him was his "gift of laughter."

Matt Damon was pitching his new movie and Arnold Schwarzenegger took time off from his current production, The Sixth Day flying in from Canada to promote The Sixth Day.



VING RHAMES announced he is going to become a father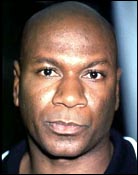 Muhammad Ali attended proving that he was still able to verbally spar with the best of them. The three-time world heavyweight boxing champion, who used to live in Las Vegas when he was Cassius Clay, had a few sassy thoughts on Will Smith portraying him in the new autobiographical movie Ali which will be made this year.

"He can't fit my shoes - or my boxing gloves," quipped Ali.

It wasn't all a star parade. Serious business was discussed. New Line Cinema announced it was returning to what made it famous - urban appeal comedy and mayhem.

The Time-Warner studio showing no less than 17 lengthy clips from as many pictures while parading around Adam Sandler, Harvey Keitel, Patricia Arquette, Jimmy Smits and that Austin Powers 1 Mini-Me, Verne Troyer.



MUHAMMAD ALI may not be able to "float like a butterfly," but he can verbally still "sting like a bee."
Expect online movie ticket sales to skyrocket by Memorial Day.

Movie theater owners including chains Loews, Regal, Cinemark, General Cinema, Edwards and Century have determined that the Internet is how to sell tickets.

A popular seminar was Marketing Movies and Moviegoing On Line.

Another hot topic was digital cinema including seminars and daily cinema digital demonstration.

Even though the cost is awesome - even by Hollywood standards - costing about $4 billion just to install digital systems in this country's 37,000 cinema screens, the advancement is touted as the only way to go.

The bottom line was; If it isn't digital - don't do it.



Chicago tints their river green and the New York cops dip their Irish wolf hounds in green food color, then strut them in the St. Patrick's Day parade. Even the Empire State Building has an Irish history. Ex-governor of New York, Alfred E. Smith, an Irish-America of legendary magnetism was as president of Empire State, Incorporated, the highly glamorous front man for the construction of this world famous tower. Construction was set to begin but Smith requested that requested that the ironworkers, who were ready to set steel on March 8, delay the start until St. Patrick's Day, in honor of the mayor's Irish heritage



ST. PATRICK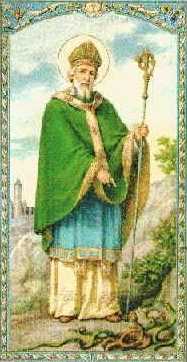 St. Patrick is the missionary credited with converting the Irish to Christianity. However, his real name was Maewyn Succat who picked up the Patrick moniker when he became a priest. Born in 373 A.B. he wasn't Irish but either Scottish or of Roman British lineage -the Romans left Britain in 410A.D. Far from being a saint, until he was 16, he considered himself a pagan. At that age, he was sold into slavery by a group of Irish marauders that raided his village. During his captivity, he became closer to God. After escaping he went to Gaul where he studied in the monastery. He almost didn't get the job of bishop of Ireland because he didn't exactly ace his exams.

No matter the background or intelligence, the gent is the man behind a holiday that causes everyone to become Irish once a year.

In America the first St. Patrick's Day was celebrated in Boston in 1737. This year in Boston the Irish Tenors will perform at Boston's Fleet Center

Maybe it's been too many centuries of too much green beer, but Patrick carries with him a truckload of fokelore baggage. It's said that Patrick raised people from the dead. He also is credited with giving a sermon from a hilltop that drove the snakes from Ireland. He's the one who put the shamrock on the fast track to fame, by using it to illustrate the Trinity.



TOO MUCH CELEBRATING Photo By: Laura Deni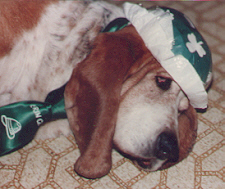 The United States boasts three cities named Shamrock. They're in Florida, Texas and Oklahoma, whose Shamrock once boasted 12,000 during the 1915 oil boom. That has shrunk to 149 but on St. Pat's Day they all turn green with enthusiasm hosting everything from a parade to a freckle contest.

Shamrock, Texas puts out a tall Texas tale that has enough blarney in it to make the place seem authentic. If you believe the spiel, in 1898 a secret decree was issued by a representative of St. Patrick himself, stating that a spot in Texas should prosper and be called Shamrock and that a great piece of the Blarney Stone be planted there. That mystical stone kept appearing and disappearing so many times it was enough to tire out even the most diligent leprechaun. The stone was finally recovered, cleaned off and is used as a cornerstone in The Irish Village in Shamrock. The town has a delightful gazebo in the middle of the square, in among murals painted on all the surrounding buildings.



THE IRISH VILLAGE in Shamrock, Texas.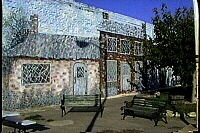 In 1959 another piece of the Blarney Stone was brought over from Ireland, placed in Elmore Park, so that all may kiss the stone for good fortune and the "gift of gab."

Shamrock's biggest day of the year is - of course - St. Pat's Day which causes the entire town to celebrate in their annual St. Patrick's Day Celebration which this year is March 17-19.

St Patrick, Mo. Is the only place in America that has a post office for the saint. The entire town celebrates and a cottage industry has taken root mailing St. Patrick's Day cards in designated envelopes from the Shrine of St. Patrick that includes a stamp, special post mark and a shamrock cachet designed by Fr. Francis O'Duignan in 1936.

Church volunteers address the envelopes, write the senders return address, sign the cards with the person's name and mail them. Any day between March 17 and March 30 can be placed on the special postmark and mailed that day. Only about $1.20 each. Send orders to: Shrine of St. Patrick Box 34, St. Patrick, MO 63466 or call (660)754-6028

The town's Shrine of St. Patrick, fashioned after St. Patrick's Memorial Church of Four Masters in Denegal, Ireland recalls in motif and design the Golden Age of Celtic Christianity in the round tower belfrey which may be the only one America, the semicircular recessed doorway, the central rose window and the Celtic crosses - plus 37 stained glass windows - all made in Dublin.

And if anyone forgets St. Patrick's Cathedral in New York City they will probably be struck by lightening. Kicking up their heels in New York City is Riverdance at the Gershwin Theatre. The production with an international cast of 80, has original music and lyrics by Bill Whelan and stars world champion Irish dancers Pat Roddy and Eileen Martin.


COOL CAT WITH A HOT HORN


He was a cool cat with a hot horn. Louis Armstrong infused the musical bloodstream with a treble that expressed America's emotion. The Carnegie Hall Jazz Band, led by Jon Faddis, salutes this musical icon with Louis Armstrong: One Hundred Years on March 16, Carnegie Hall, New York City.



LOUIS SATCHMO ARMSTRONG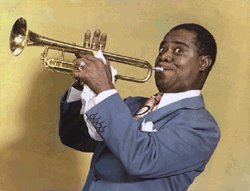 The man beloved as Satchmo spent his entire life thinking he was born in 1900. Twelve years after his death it was discovered he was really born on August 4, 1901.What has never been disputed is that he came into this world on the poor side of New Orleans to Mayanne and William Armstrong, who congratulated his wife on the birth of their son by deserting the family.

Grandmother Josephine Armstrong came to the rescue, taking in the infant, raising Louis until he was five. He returned to live with his mother and sister Beatrice "Mama Lucy." They existed in stark poverty in a two-room house in Jane Alley.

His first foray into the world of performing came at age six when Louis and three of his friends formed a quartet singing on street corners for tips. The Karnofskys, a family of Russian Jewish immigrants who owned a junk yard hired Louis to work on their junk wagon. Impressed with his interest in music the Karnofskys loaned him the money he used to purchase his first cornet.

The hard working kid was surviving until he got carried away with celebrating New Year's Eve, that December 31, 1912. The eleven-year-old fired a pistol into the air to welcome in the New Year. His action was seen by a police office who arrested the lad. The following day Louis was sent to the Jones Home for Colored Waif's, where he remained until June 16, 1914.



LOUIS ARMSTRONG at Waif House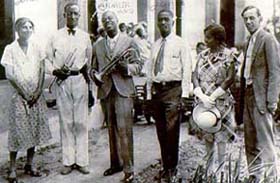 During his Waif stay band director Peter Davis saw the budding talent and offered Louis music lessons.

After release from the home Louis delivered coal and sold newspapers to support himself his mother and his sister. Joe Oliver, one of the finest trumpet players in New Orleans tutored Armstrong. Soon Louis was getting gigs on the honkey tonk circuit. He palled around with the prostitutes that frequented the place and in 1919 he also married one, Daisy Parker.

His reputation began to flourish and in 1922 he divorced Daisy and moved to Chicago to join Oliver's band - now called The King Oliver's Creole Jazz Band. Along with way he fell in love with the group's piano player, Lil Hardin, whom he married in February of 1924.

Two years later they moved to New York where Armstrong joined the Fletcher Henderson Orchestra and began recording with blues singers including Sipple Wallace, and Clara Smith.

In reflecting back on her husband's Hot Five recordings, Lil Harden Armstrong had said: "We had no idea in the beginning that jazz was going to be that important, that someday people would want to know how we got started, what we did, what records we made, and it's amusing to read in books people telling why we did this. I'm glad they know, because we didn't."

He may not have known what drove him but Louis was anxious to front his own band and in 1925 stepped out into the main spotlight. He also met the man that would become his best friend - and years later manager him - Joe Glaser.



ARMSTRONG with his HOT FIVE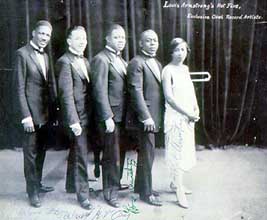 Armstrong made his Broadway bow in 1929 appearing in Hot Chocolate. Within another two years his marriage to Hardin ended and Armstrong appeared in his first film. 1931 was also the year that Armstrong recorded what would become his signature song, When It's Sleepytime Down South.

On June 28, 1928 he recorded West End Blues which has gone down in history as one of the most famous recordings in early jazz.

In 1931 Armstrong headed towards Europe where he became the toast of the continent. Over 10,000 people greeted him at the railway station in Denmark. Enjoying the first class treatment that was denied him in segregated America, for most of 1934 Louis called Paris home.

In 1935 he returned home and Glaser became his manager, a position that he would hold until his death.

His portrait of a bandleader in the 1936 motion picture Pennies From Heaven with Bing Crosby earned him an even bigger following. But what skyrocketed him into the musical stratosphere was his recording of Swing That Music in which he hit 42 high C's followed by a high E Flat.

Satchmo had climbed the mountain and the view was now his.

If his professional life was hitting the high notes his personal life was in a minor chord. In October, 1928 he married Alpha Smith, a union which quickly ended. In October, 1942 he tried the wedded state for the fourth time to Lucille Wilson. That union would remain intact for the remainder of his life.

In 1955 he recorded Mack The Knife for Columbia Records. The following year he was reunited on film with Bing Crosby in High Society which also starred Frank Sinatra, Grace Kelly and Celeste Holm



LOUIS ARMSTRONG backs ROBERT MERRILL in Las Vegas at the Sands Hotel with the famed Copa Girls in the show's finale. Sophisticated opera star Merrill singing Honeysuckle Rose while Satchmo wails on the trumpet. The year was 1954.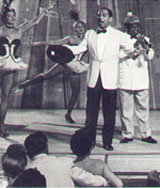 Armstrong first appeared in Las Vegas in 1954 in a show called High Hat and Low Down. The presentation was considered a coup for the Sands hotel. In a cutting edge booking, Metropolitan Opera star Robert Merrill and Armstrong co-starred in a two-week gig.

Ten years later the boy born into abject poverty in New Orleans was given the key to that city.

He made his first tour of Africa performing before 10,000 at the polo grounds in Accra. Even Edward R Murrow made a documentary on the entertainer Satchmo the Great. By the following year the waif from the poverty streets of New Orleans had risen to the ranks of those with political muscle. He flexed his against racial injustice. In protest of the refusal of Little Rock Arkansas to integrate its schools he canceled his tour of Russia. He kept busy by recording with Ella Fitzgerald for Verve Records.

A regular on the Newport Jazz Festival scene his appearance was captured in the motion picture Jazz on A Summer Day.

In 1959 he was briefly hospitalized in Spoleto, Italy after suffering his first heart attack.

In 1961 his only collaboration with Duke Ellington took place in the recording studio.Said Ellington: "Louis Armstrong was the epitome of jazz and always will be."

In 1963 Hello Dolly was the Number One hit and Armstrong returned to the Las Vegas stage. It was the height of the Twist dance craze and Armstrong and Marlene Dietrich demonstrated the dancing during a 1962 appearance at the Riviera Hotel.

Riding that crescendo, Armstrong recorded What A Wonderful World for ABC in 1967. By the following year it was a world wide hit.



SATCHMO and MARLENE DIETRICH at the Riviera Hotel, Las Vegas.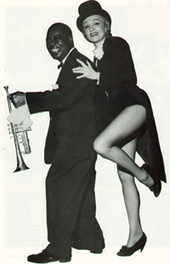 1969 was the year Satchmo spent from February to April in Beth Israel Hospital with heart problems. Compounding his faulty ticker problems was his emotional heart ache at the death of his longtime friend Joe Glaser, who had been his personal manager since 1938.

Armstrong managed to travel to London to record the soundtrack for Her Magesty's Secret Service.

In 1970 the Newport Jazz Festival honored Satchmo with a tribute that featured Mahalia Jackson, Dizzie Gillespie, Bobby Hackett, and the Eureka Brass Band.

In the den of his Corona home he recorded the poem The Night Before Christmas which was his last commercial recording. His last live performance was a two-week gig in the Empire Room of the Waldolf Astoria hotel in New York City.

On July 6, 1971 while asleep in his home Gabriel blew his horn, and signed Satchmo on for a heavenly gig."When I go to the Gate, I'll play a duet with Gabriel," Louis had said. "Yeah, we'll play Sleepy Time Down South, and Hello, Dolly!. Then he can blow a couple that he's been playing up there all the time."



Broadway To Vegas is supported through advertising and donations. Priority consideration is given to interview suggestions, news, press releases, etc from paid supporters. However, no paid supporters control, alter, edit, or in any way manipulate the content of this site. Your donation is appreciated. We accept PAYPAL. Thank you for your interest.


THE MUSIC GOES ROUND AND ROUND

CRYSTAL GAYLE has released an album saluting Hoagy Carmichael (See Broadway To Vegas March 5, 2000) called Crystal Gayle Sings the Heartland Soul of Hoagy Carmichael on Platinum Records. The album includes 15 classic songs from the great American composer including Stardust, Georgia On My Mind and Heart and Soul.

CHRISTOPHER McGOVERN composer and coauthor of Lizzie Borden, which starred Alison Fraser, is thrilled over her new solo CD Men In My Life. McGovern produced it and says it contains two previously unrecorded Bill Finn songs - one of which he sings with Alison. McGovern terms it "very fun." Musicians include Sean Harkness on guitar. Men In My Life will be released March 23.

DOUG FLUTIE best known for quarter backing the Buffalo Bills and winning the Heisman Trophy along with his Flute Gang entertained last Friday at Sunset Station in Las Vegas. The group recently released its first CD, Ramblin; Scramblin' Man, and is actually on a cross country concert tour to promote it A portion of the CD proceeds goes to the Doug Flutte Jr. Foundation for Autism.


OTHER PEOPLE'S MONEY


THE MGM GRAND GOBBLES UP MIRAGE RESORTS probably won't make much of a difference to Las Vegas visitors wanting an upscale hotel room, but there are some entertainment changes.

Even before the merger offer was tendered and accepted, rumors were flying that the Jerry Herman Miss Spectacular musical set to open next year wasn't such a sure deal. Also in limbo is the massive Art Collection currently housed in the Bellagio. That assortment of artistic treasures drew 650,000 people last year who anted up a $12 admission charge. The MGM may keep some and sell some of the artworks as part of liquidating unwanted property. The Bank of American Corp. Is providing $4 billion in credit to finance the MGM Grand purchase of Mirage Resorts.



FORBIDDEN BROADWAY Y2KLA!

ELLEN MARGUILES portrays The Tony Award winning legend Bernadette Peters and Mark-David Kaplan perform Stayin' Awake. Photo By: Carol Rosegg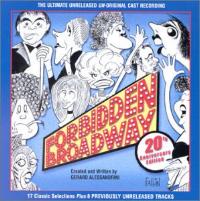 offers folks on the other side of the Mississippi a chance to see what's been entertaining New York audiences for eons.

Being skewed in Forbidden Broadway means you've made it. If some of the spoofs are well worn that doesn't mean the show is stale. In the Los Angeles version, Susanne Blakeslee's turn as Barbra Streisand is a golden vintage barb. That doesn't signify that the current crop gets a free pass.

If you qualify to be pummeled then stand back. Recently, New York's Forbidden Broadway has added Annie Get Your Gun to the kidding on the square revue, which can be enjoyed at the Stardust Theatre. In Los Angeles the musical dig is at the Tiffany Theater.

TRUE WEST a revival of the Sam Shepard play stars Phillip Seymour Hoffman and John C. Reilly in what they term - the secret acting fantasy to play all of the leads. They do. The two actors switch roles every three or four days. To determine who went first, and in which part, they flipped a coin. This isn't some cheap promotional gimmick. It's a strong innovative casting concept that wins in this story of two brothers - one a systematic Hollywood screenwriter and the other a snarky outcast. This isn't the first time Hoffman and Reilly have worked together. They first met in Reno, Nevada when they were both filming a movie. True West co-stars Robert LuPone and Celia Weston. Matthew Warchus directs the production which is at Circle In The Square, NYC.

A MOON FOR THE MISBEGOTTEN stars Cherry Jones, Gabriel Byrne and Roy Dotrice. Daniel Sullivan directs. Walter Kerr Theatre, NYC. Limited engagement only thru June 18.

AMERICAN BUFFALO the David Mamet revival starring William H. Macy at the Atlantic Theater Company NYC has been extended a month thanks to recording breaking ticket sales. The production is now in to May 21.

SAVION! THE CONCERT starring Tony winner Savion Glover opens March 29 at the Wilshire Theatre, Beverly Hills, CA. Show co-stars tap legends Jimmy Slyde and Buster Brown. Performances through April 2nd.

ROLLIN ON THE T.O.B.A. by Ronald Smokey Stevens and Jaye Stewart (see Broadway To Vegas columns of February 1, 1999 and Feb 22, 1999) El Portel Center for the Arts March 14-April 9, Los Angeles.

SMOKEY JOE'S CAFE STARRING GLADYS KNIGHT swings into Las Vegas with a Shimmy contest Wednesday noon at Planet Hollywood with the curtain going up that night. Gladys and the gang will be yakety yaking it up at Caesars Palace through June 11. Following the current entertainment contract obligations, a major entertainment shift will ensue.

THE BLUE MAN GROUP officially opens Tuesday at the Luxor in Las Vegas. Jeffrey Katzenberg, the big cheese at Dreamworks, is expected to attend. During previews the odd-ball group made Las Vegas Mayor Oscar Goodman part of the act. Wonder what they'll do to Katzenberg.


WHO'S WHERE

AUDRA McDONALD in her first concert tour is at the Saroyan Theater in Fresno, CA on March 12, then on to the McCarter Theater in Princeton, NJ on March 10. The following night she is on stage at the New Jersey Performing Arts Center in Newark, N.J.

SYLVIA McNAIR will be making her Carnegie Hall debut on March 15. The famed soprano will perform the world premiere of a work by John Corigliano.

LILLIAS WHITE opens at Arci's Place, NYC March 14 through April l.

B.B. KING brings along his guitar Lucille when he plays the feel good blues Wednesday at the House of Blues, Las Vegas. The 74 year old Las Vegas resident has a new album Let the Good Times Roll in which he salutes Louis Jordan, the guy who fused jazz and the big band sound to create the jump blues. Tickets $48-$78.

ELTON JOHN may end up with writer's cramp. The entertainer/composer is slated to sign autographs for two hours on Tuesday at Tower Records on Sunset Blvd. in Los Angeles. He doesn't need practice signing his name. He's promoting his new release The Road to El Dorado which is his musical accompaniment to the animated film which opens March 31. The movie producers - that would be Dreamworks - must have a lot of influence, since this will be John's first in-store appearance in five years. Expect the line to be around the block.

CHRISTINE ANDREAS through April 1 at the Algonquin's Oak Room, NYC.

TOM JONES at the Brooklyn Center for the Performing Arts at Brooklyn College, March 18. Tickets $30-$45.

MARC ANTHONY The Tabernacle in Atlanta, GA on March 19. Tickets $30-$38.

BOB DYLAN returns to Omaha, NE and tickets have gone on sale for the May 4 performance at the Civic Auditorium Arena. Dylan's first Omaha performance in 978 sold out the 9,808 arena in two hours with tickets going for $7 to $10.50, with scalpers raking in as much as $1,000 per ticket. In 1992 Dylan didn't sell out, but did draw a respectable 2,200 at the Orpheum Theater. This time there are 6,500 seats up for the taking with ducats priced at $33.

STEPHEN SONDHEIM at the 92nd Street Y on March 18. Ned Rorem hosts. Tickets $35.

LANCE BURTON takes a vacation from performing at the Monte Carlo Hotel in Las Vegas to work magic at the Cerritos Center for the Performing Arts, CA. Four shows March 17-19

D.L. HUGHLEY brings his comedy to the Crown Coliseum, Fayetteville, N.C. on March 18. $25.50-$27.50.

BLUE COLLAR COMEDY TOUR starring Jeff Foxworthy and Bill Engall with special guests Ron White and Craig Hawsley, March 17, Carlson Center, Fairbanks, Alaska.

PILAR RIOJA dubbed "The Queen of Spanish Dance" returns to the Gramercy Arts Theatre for a one month engagement March 21 through April 23rd, in a program made possible in part by the Dance Program of the New York State Council of the Arts. The famed dancer will also offer special daytime student lecture-demonstrations which are also open to the public.

TOM ANDERSEN the 1999 MAC Award winner for Outstanding Male Vocalist and Recording of the Year - The Journey - makes his Washington, D.C. debut March 30 at The Kennedy Center as part of the Millennium Stage series.


THIS AND THAT

OUTHOUSE RACES

Low Cost Printing Nationwide



where participants are anxiously squirming to go. The annual Chatanika Days event has the final flush today with participants competing with their commodes, pushing those privies from the Chatanika Lodge - which does boast indoor plumbing - down as far as a roll of double ply toilet paper will travel - or at least one mile. The overflowing event has a line waiting to get to the outhouse. The quickest to reach the finish line got the job done in 5 minutes, 27 seconds. All of the fun isn't confined to the pre-Crapper invention. The festival also includes a Snow machine tug-of-war.

BARNUM & BAILEY'S GREATEST SHOW ON EARTH first opened on March 18, 1881.



Mention BROADWAY TO VEGAS for Special Consideration
Call (800) 942-9027









Next Column: March 19, 2000
Copyright: March 12, 2000. All Rights Reserved. Reviews, Interviews, Commentary, Photographs or Graphics from any Broadway To Vegas (TM) columns may not be published, broadcast, rewritten, utilized as leads, or in any manner without permission, compensation and/or credit.
Link to Main Page
---
Laura Deni


CLICK HERE FOR COMMENT SECTION