! >
Broadway To Vegas
  SHOW REVIEWS     CELEBRITY INTERVIEWS     GOSSIP     NEWS 
| | |
| --- | --- |
| | |
Copyright: March 11, 2001
By: Laura Deni
CLICK HERE FOR COMMENT SECTION

JULIE ANDREWS HOPING TO SING AGAIN

In just a few weeks Julie Andrews is slated to meet with two medical specialists to discuss the possibility of undergoing new treatments which might restore her singing voice, divulged Robert Goulet.


JULIE ANDREWS hopes to sing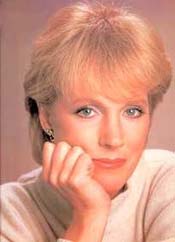 Andrews and Goulet co-starred in Camelot. During the PBS airing of My Favorite Broadway The Love Songs Goulet made an appearance at the Las Vegas affiliate to encouraging pledges and adding color commentary to the special, which was taped during a performance at Lincoln Center, New York City.

Goulet told the audience that, during the October 16th taping, Andrews confided in him that this spring she was set to meet with medical experts who had hopes of restoring her voice. Goulet said that would be taking place in a few weeks.

Andrews sustained damage to her vocal chords during throat surgery in 1997. Since then she has not been able to sing except for the few notes she attempted during that special. According to Goulet she really wasn't singing but - talking in a musical style.

As for Goulet, he's off to Los Angeles for a March 13-14 shoot of Two Guys And A Girl for ABC television. That has an April air date.


INNOVATORS AND NAVIGATORS
Peter Jennings
Talk magazine has a list of VIPs who are coming to Santa Barbara March 13-15 for the Talk/PaineWebber Innovators and Navigators conference.

The list of people expected to jabber on ought to qualify for the Guinness Book of World Records.

Christiane Amanpour, Joe Armstrong, Peter Arnell, Michael Bloomberg, Marcy Carsey, Barry Diller, Michael Eisner, Ari Emanuel, Susan Estrich, Tom Friedman,Tom Freston, David Frost, Henry Louis Gates, Arne Glimcher, Rudy Giuliani,Charles Gwathmey, Bill Haseltine, William Randolph HearstIII, Don Hewitt, Kevin Huvane, Arianna Huffington, Bob Iger, Mort Janklow, Peter Jennings, Donald Marron, Larry Martin, Mark McKinnon, Tom Middlehoff, Georgette Mosbacher, Peter Osnos, George Pataki, Queen Noor, Mitch Rosenthal, David Schneiderman, Karenna Gore Schiff, John Silber, Judge Leslie Crocker Snyder, Lesley Stahl, George Stephanopoulos, David Westin, Lally Weymouth, Naomi Wolf, George Weidenfeld, Harvey Weinstein, Jack Welch, Mort Zuckerman, - and that's only a partial list.



Broadway To Vegas is supported through advertising and donations. Priority consideration is given to interview suggestions, news, press releases, etc from paid supporters. However, no paid supporters control, alter, edit, or in any way manipulate the content of this site. Your donation is appreciated. We accept PAYPAL.

Thank you for your interest.


BLARNEY, JOKES, AND BLESSINGS


Is fear rith maith n  drochsheasamh is Irish for A good run is better than a bad stand.

New York has the largest St Patrick' s Day parade. Held since 1762, the New York City parade draws more than one million spectators each year.

Meanwhile, the city of Chicago has developed a unique tradition of coloring the river water green It started in 1962 when 100 pounds of green vegetable dye were added to its river, enough to keep it green for a week. Tradition continues although now 40 pounds of a green food coloring keep the river green for only a few hours.

If one is suppose to be the loneliest number, three is Ireland's magic number. Hence the Shamrock. Crone, Mother and Virgin. Love, Valour and Wit. Faith, Hope and Charity. Father, Son and Holy Spirit. Numbers played an important role in Celtic symbolism. Three was the most sacred and magical number. It multiplies to nine, which is sacred to St. Brigit. Three may have signified totality: past, present and future - or - behind, before and here - or - sky, earth and underworld.

Everything good in Ireland comes in threes. The rhythm of story telling in the Irish tradition is based on threefold repetition. This achieves both intensification and exaggeration. Even today in quality pub talk, a raconteur can rarely resist a third adjective, especially if it means stretching a point. "Three accomplishments well regarded in Ireland: a clever verse, music on the harp, the art of shaving faces."

The Leprechaun is an Irish fairy. He looks like a small, old man about 2 feet tall, often dressed like a shoemaker, with a cocked hat and a leather apron. According to legend, leprechauns are aloof and unfriendly, live alone, and pass the time making shoes. They also possess a hidden pot of gold. Treasure hunters can often track down a leprechaun by the sound of his shoemaker's hammer. If caught, he can be forced (with the threat of bodily violence) to reveal the whereabouts of his treasure, but the captor must keep their eyes on him every second. If the captor's eyes leave the leprechaun - and he often tricks them into looking away - he vanishes and all hopes of finding the treasure are lost.

The Blarney Stone is a stone set in the wall of the Blarney Castle tower in the Irish village of Blarney. Kissing the stone is supposed to bring the kisser the gift of persuasive eloquence - blarney. The castle was built in 1446 by Cormac Laidhiv McCarthy - Lord of Muskerry. Its walls are 18 feet thick, necessary to thwart attacks by Cromwellians and William III's troops. Thousands of tourists a year still visit the castle. The origins of the Blarney Stone's magical properties aren't clear, but one legend says that an old woman cast a spell on the stone to reward a king who had saved her from drowning. Kissing the stone while under the spell gave the king the ability to speak sweetly and convincingly. It's tough to reach the stone -- it's between the main castle wall and the parapet. Kissers have to stretch to their back and bend both backward and downward, holding iron bars for support.

Jokes and stories are part of Irish DNA.

Five frogs are sitting on a log. Four decide to jump off. How many are left? Answer: five. Why? Because there's a difference between deciding & doing.

A young gentleman sitting at a bar with his pet pig asks for a couple of drinks. The confused bartender said no animals were allowed at the bar. The man proceeded to say "Ah, but this is a very special pig. Just last week there was a fire in the house and that pig came charging out of his pen into the house and woke us all up. Then a few days later my son fell into the pool and that pig was grazing out on the lawn, and he came running and jumped into the pool and saved my son."

"Well," said the bartender "I guess this pig is very special so I'll get him a drink. By the way I noticed that he is missing one leg, what happened?"

"Well," said the young man, "when you got a pig this good you don't eat him all at once !!!"

If the Irish are noted for their blarney they are revered for their blessings.

May you always have: Walls for the winds, A roof for the rain, Tea beside the fire, Laughter to cheer you, Those you love near you, And all your heart might desire!

As you slide down the banister of life, May the splinters never point in the wrong direction!

'Tis better to buy a small bouquet And give to your friend this very day, Than a bushel of roses white and red To lay on his coffin after he's dead.

May the best day of your past be the worst day of your future.

May those who love us, love us And those who don't love us, May God turn their hearts. And if he can't turn their hearts, May he turn their ankles So we will know them by their limping!

God is good, but never dance in a small boat.

Go mbeannai Dia duit (May God Bless You)



THE SOUND OF MUSIC starring Barry Williams as Capt Von Trapp closes tonight in Omaha at the Orpheum and then heads to Reno, NV for a March 14 - 17 engagement at the Pioneer Center. Williams, familiar to television viewers as Greg Brady on the long-running sitcom The Brady Bunch, has been in this national tour for the past seven months.



BARRY WILLIAMS as Capt Von Trapp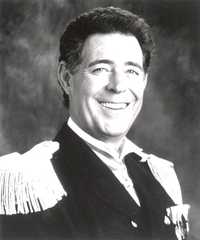 Williams is no stranger to musicals, having appeared on Broadway in Romance/Romance and Pippin and toured in productions such as City of Angels.

Williams is also no stranger to controversy, since this tour has been wrought with a legal battle since Williams donned his Von Trapp outfit.

On Jan 16 Williams was fined $50,000 by the Equity union for appearing in this non-Equity tour of The Sound of Music. The fine is believed to be the largest ever leveled at a performer, and is meant as a warning to other Equity members that the union will no longer tolerate their participation in non-Equity shows.

Actors' Equity Association is the labor union representing over 40,000 American actors and stage managers working in the professional theatre. For 88 years, Equity has negotiated minimum wages and working conditions, administered contracts, and enforced the provisions of their various agreements with theatrical employers across the country.

"We think Williams, for his own benefit, has turned his back on what the union stands for and what the union has accomplished," Alan Eisenberg, Equity's executive director said in a statement."It is heinous."

Williams responded by calling himself a "pawn" in a large scale battle between Equity and the producers of non-union tours. "Mr. Eisenberg has very colorful language, but I am disappointed he has taken that view. I am not anti-union and I am certainly not trying to bust the union's goals. Equity is involved in a complex dialogue with the producers of non-union shows and I am being leveraged for that purpose, in an unfair manner."

Eisenberg denied Williams was being singled out because of his celebrity. "We intend to do this to any member who takes part in a non union production, regardless of whether they are famous or not," he said.

The dispute between Equity and Williams has been simmering since the summer, when the actor signed on to play Captain Von Trapp in The Sound of Music tour for Troika Productions.

Troika specializes in producing shows whose casts are made up of non-union performers. The actors are paid about $400 a week, a far cry from the $1,200 a week minimum salary for an Equity member.

Williams is said to be earning $15,000 a week in the show. Officially, union members are barred from taking part in non-union productions, though in fact Equity has long turned a blind eye to the issue, since acting jobs, union or not, are difficult to come by. The union is putting its foot down now for two reasons: non-union tours are becoming more prevalent i.e. a non-Equity Cats tour will purr down the road this summer; and, producers are starting to recruit television and movie names who, although perhaps not noted for theatre work, sell tickets.



EDDIE MEKKA and CINDY WILLIAMS at the opening of Grease in Las Vegas. Photo By: Laura Deni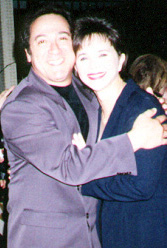 Laverne and Shirley stars Cindy Williams and Las Vegas resident Eddie Mekka also faced the wrath of Equity for appearing in a non-union tour of Grease.

Barry Williams said he should not be subject to Equity's fine because he resigned from the union before joining The Sound of Music.

But the union believes he can still be disciplined because he began negotiating for the job while he was still a member. Williams says he will appeal the $50,000 fine. "I look forward at some point to reaching an understanding with Equity," he said.

Ironically in 1961 Williams' "mother" on The Brady Bunch Florence Henderson was Maria in the first national tour.

Williams credits Henderson for encouraging his musical theatre efforts. "There's been some stuff made of the 'date' that she and I went out on," he said. "And that was the purpose of that date. I knew I wanted to do musical theater, and I wanted to learn more about it, and that was the bulk of our conversation." So, the date was really business meeting?

CABARET March 20-25 in Tampa, FL at the Tampa Bay PAC


MAMMA MIA! - the infectious musical built around the pop hits of ABBA continues at the Shubert Theatre, Los Angeles. The show, a smash in London, Toronto and now America, with disco hits like Dancing Queen and Super Trouper charmingly entwined into a simple plot about a young girl in search of her real father.

WHO'S AFRAID OF VIRGINIA WOOLF? by Edward Albee. Directed by David Esbjornson with Mercedes Ruehl, Patrick Stewart, Carrie Preston and Bill McCallum. The Guthrie Theater, Minneapolis, MN through April 1.

BEEN THERE, DONE THAT a Gospel play starring Judge Greg Mathis & Fred Hammond with Radical For Christ, will be at The Theater at Madison Square Garden, NYC March 20-March 25

SALTZBURG MARIONETTE THEATRE March 17-19 Orange County Performing Arts Center presents in Segerstrom Hall Salzburg Marionette Theatre Audiences will delight as the music of Mozart comes to life via the worldly troupe of marionettes from Salzburg, Austria. Founded in 1943 by sculptor Anton Aicher, the Salzburg Marionette Theatre has traveled the world performing to the music of some of the world's greatest operas. The life-like puppets will perform The Marriage of Figaro on March 17, Don Giovanni on March 18 and close their Center appearances with The Magic Flute on March 19.

THE MUSIC OF BILLY STRAYHORN performed by Darius de Haas. This Broadway star who shined in Marie Christine, Carousel, and Rent brings Strayhorn standards such as Lush Life, Satin Doll, and Take the A Train to life. March 22, 8 p.m. and 10 p.m. at Lincoln Center, NYC.

CATHY RIGBY AND AARON CARTER the 13-year old little brother of the Backstreet Boys' Nick Carter, will join the Broadway musical Seussical for five weeks beginning May 6. He'll play JoJo, the littlest Who. Rigby, who has been on tour in Peter Pan, will bring a new dimension to the role of the Cat thanks to her considerable acrobatic and dance skills. She scampers on board March 15.

STORM has its world premiere at Mandalay Bay, Las Vegas on March 22. Expect Ricky Martin to attend. His management is behind this new production which incorporates weather elements, including the gentle dusting of patrons with artificial snow.


WHO'S WHERE


MERLE HAGGARD

MERLE HAGGARD

the country artist performs tonight at the Peppermill in Reno, NV. Haggard, the only California born singer in the Country Music Hall of Fame; and the only artist who's done stints both as an invited entertainer at the White House and in San Quentin's infamous solitary confinement "hole" wants to run the risk of adding an assault charge to his list of credits by pasting one on Mike Curb, the founder of Curb records. Haggard is serious. "I've challenged him to a public boxing match, but he won't come out," Haggard tells anyone who would like to listen. "He's too big a coward." The fisticuffs challenge has to do with money - $200,000 in cash to be exact. He also claims Curb used Haggard's name to lure young artists such as Tim McGraw and LeAnn Rimes to his little California-based label and then sabotaged his career by not promoting his records and intentionally putting them in ugly packaging. "He tried to kill my career any way he could," Haggard charges.

MICKEY ROONEY performs March 17 at The Peppermill, Reno, NV.

SALLY KELLERMAN and musical conductor Michael Orlando end a four-night engagement at Founders Hall Orange Country Performing Arts Center, CA this evening. Kellerman has made more than 60 movies, but is best remembered as Hot Lips from the movie MASH. The multi-talented performer's cabaret act received rave reviews.

ALL-STAR TRIBUTE TO BRIAN WILSON at Radio City Music Hall. On Thursday, March 29, Sir Elton John, Ann and Nancy Wilson from Heart and Sir George Martin will be part of the all-star cast coming together to honor the legendary composer, arranger and producer in a one-time only event. This special concert will be taped for future broadcast on TNT.

SARAH BRIGHTMAN March 12 in St Louis; March 13 in Chicago, March, 14, in Madison, March 16 East Lansing, March 17, Detroit and March 18 is Milwaukee.

BACKSTREET BOYS performed last night in Las Vegas at the MGM Grand Garden. Then they're on to Phoenix, AZ for a show March 12 in the America West Arena.

LINDA EDER at the Thomasville Cultural Center in Thomasville, GA on March 17.

BETTY BUCKLEY tonight and tomorrow night at the Geary Theater in San Francisco, CA. Then it's a flight across country for a March 16-17 engagement at the Bottom Line in New York, NY

MAUREEN McGOVERN March 13 at the Emens Auditorium -- Ball state University in Muncie, IN March 14 at the Wharton Center in East Lansing, MI March 16 - 17 at Yardly Hall - Johnson County Community College in Overland Park, KS

CLEO LAINE March 16 - Medford, OR - Criterion Theatre

GLADYS KNIGHT March 24 Tallahassee, FL Leon Co. Civic Ctr.

JOHNNY MATHIS entertains at the Memorial Coliseum in FT. Wayne, IN on March 29. His new CD Mathis on Broadway on Columbia features hit songs from recent Broadway shows, including Stephen Sondheim's ballad Loving You from Passion; and a combination of Children Will Listen from Into the Woods and Our Children from Ragtime, sung with Betty Buckley.

MATCHBOX TWENTY tomorrow take center stage in Wilkes-Barre, PA at the First Union Arena. On March 13 it's Buffalo, NY HSBC Arena. Thursday finds the group in Worcester, MA at The Centrum. On March 16 they perform in New York, NY at Madison Square Garden and on Saturday they do it again in Camden, NJ at the Blockbuster - Sony E Center.

FRANK SINATRA, JR brought his show As I Remember It, to Abravanel Hall, Salt Lake City, UT this week-end. Backed by the Utah Symphony under the baton of the orchestra's assistant conductor Kory Katseanes, Sinatra presented a program devoted to his late father, Frank Sinatra. The younger Sinatra released his CD As I Remember It on Angel Records in 1996. His stage program is based on that CD, offering delicious music made famous by Ol' Blue Eyes, interspersed with personal insight into his father's legendary career.

RONAN TYNAN at the North Shore Music Theater, approximately 25 miles from Boston March 17, and Sunday March 18th.


THIS AND THAT


ROB REINER was presented the Career Achievement Award at the 16th Santa Barbara (CA) International Film Festival. Albert Brooks made the presentation.

CHOCOLATE COVERED GUMME BEARS Some might think it interesting or downright sad that during the ShoWest convention in Las Vegas Russell Crowe had to be surrounded five deep with assorted security because of kidnap threats against him. Members of the press were covering the security that covered Crowe.

The real buzz around ShoWest wasn't the stars but an item - something that theatre owners were chortling over - a product they claim will turn a tidy profit - chocolate covered gumme bears.



Mention BROADWAY TO VEGAS for Special Consideration
Call (800) 942-9027









Next Column: March 18, 2001
Copyright: March 11, 2001. All Rights Reserved. Reviews, Interviews, Commentary, Photographs or Graphics from any Broadway To Vegas (TM) columns may not be published, broadcast, rewritten, utilized as leads, or used in any manner without permission, compensation and/or credit.
Link to Main Page
---
Laura Deni



U.S. Postal Address: Post Office Box 60538, Las Vegas, NV 89160
CLICK HERE FOR COMMENT SECTION