! >
Broadway To Vegas
  
  REVIEWS INTERVIEWS COMMENTARY NEWS

| | |
| --- | --- |
| | |
CINDERELLA OPENS ON BROADWAY REVIEW - - CHRISTIANE NOLL GIFTS CD REVIEW - - ELVIS: LIVE FROM VEGAS EXHIBIT - - BOLSHOI BALLET SOLOIST CONFESSES - - GOLDEN SHAMROCK GALA - - KINKY BOOTS TO CAST RECORD - - ALFRED MOLINA AND JONATHAN GROFF TO RECORD RED - - KRISTIN CHENOWETH'S UK TOUR SUDDENLY CANCELLED - - DONATE . . . Scroll Down




Copyright: March 10, 2013
By: Laura Deni
CLICK HERE FOR COMMENT SECTION


CINDERELLA IS SPECTACULAR: BUT, IS IT A BAIT-AND-SWITCH?
Laura Osnes and Santino Fontana. Looks are deceiving. This isn't your traditional Cinderella. In this version, Ella rescues Prince Topher. Photo by Carol Rosegg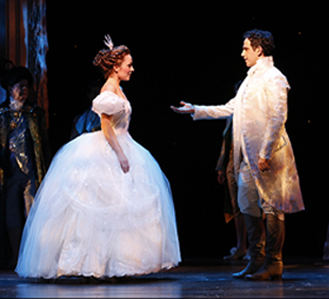 Totally spectacular in almost all respects. However, Cinderella which just opened on Broadway, can come across to some as a bait-and-switch, resulting in - loved the show, disappointed with the script. This show should have been given a different titled with the added - inspired by/loosely based on Cinderella.

It is possible to successfully revise or update a classic.

By whatever name A Christmas Carol or Scrooge has been updated umpteen times and each time it works, because none of the updates - be it the musical, play, television or movie - altered the characters' personalities or the basic story line.

The success of Wicked as the backstory to The Wizard of Oz, is just that, a backstory, without bastardizing the iconic musical.

When Rodgers and Hammerstein took the hit Disney movie Cinderella and revisioned it for 1957 television, the musical duo didn't alter the script's characters, staying faithful to the original Charles Perrault version.

Hammerstein was interviewed by the Saturday Review about the adaptation: "We want the kids who see it to recognize the story they know. Children can be very critical on that score. But, of course, their parents will be watching too, so we have tried to humanize the characters without altering the familiar plot structure."

It's too bad the current Broadway version didn't follow Hammerstein's wisdom.

When Rodgers updated the 1957 version starring Julie Andrews with a 1965 production starring Lesley Ann Warren, the re-make used a new script commissioned by Rodgers and written by Joseph Schrank, since Hammerstein had died in 1960. Nearly all of the original songs were retained and sung in their original settings followed by a further updated 1997 version featuring Brandy as a more assertive Cinderella and a more socially conscious Prince, played by Paolo Montalban. That version didn't alter the character development, either. Since Cinderella has the weakest score even penned by Rodgers and Hammerstein, both the 1965 and 1997 versions added songs from other R&H shows.

They also changed the names of some characters and re-positioned some scenes. However, Cinderella wasn't destroyed, it was simply buffed up a bit. It's possible to totally enjoy all 4 of those versions of Cinderella (1 Disney, 3 Rodgers & Hammerstein) with all their numerous changes and feel connected to them.

The problem with this revised Cinderella is that it's not Cinderella. The characters have become politically correct, empowering.

The Prince Charming aspect has been castrated. Prince Topher, who means well, is an easily conned, naive neurotic. Sort of makes you wonder if what Ella, as she is called in this production, sees in the guy is his money and social position. Never-the-less, she aggressively sets out to boost his confidence and give him his lacking backbone.

She not only doesn't lose her shoe, she brings it to him. Perhaps she really is nothing more than a beautiful manipulator - the type of who knows how to play sweet - finds a titled rich guy, comes on to him, then proceeds to mold him to her needs. It works. She ends up with a title and a tiara. Even the romantic wedding is apparently staged as an occasion to divert attention away from the mistreatment of the common folk.

If you know up front that the storyline is 80 percent different than Cinderella then this Cinderella would be more enjoyable, because there wouldn't be the expectation of the real deal. However, it is not compatible with either the Disney nor the three other Rodgers and Hammerstein's Cinderellas. This Cinderella is an entity unto itself. That doesn't make it bad. It does make it different. That requires the audience to get a mind set on the new mind set.

We are in an age where, for fear of not being politically correct, it can be difficult to even have a conversation. Empowerment is a high profit industry. Cinderella is banking on it.

If what was wanted was a musical about the stepmother and her daughters, then write that musical. This Cinderella over analyzes the step mother and step sisters. You're suppose to understand them, like them, root for one of them. The character of Cinderella is no longer the central focus.

There are some funny lines, delivered by incredible talent, but it's not Cinderella. It's entertaining, but it's also sending the wrong message.



Harriet Harris, Ann Harada, Marla Mindelle and Laura Osnes. Photo by Carol Rosegg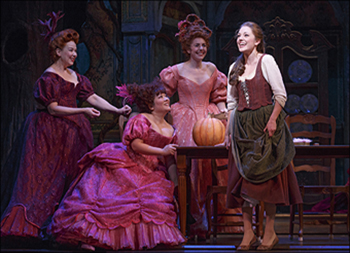 There is nothing wrong with a good romantic story and Cinderella is just that - from the original Disney version, where songs such as Some Day My Prince Will Come provided escapism for females who were having a bad day. It was, in fact, Dorothy Rodgers who invented the toilet bowl brush. Many a woman has sung Some Day My Prince Will Come while scrubbing her toilet. Romantic fantasy can be a good thing. That's why romance novels sell. To replace pure fantasy romance in a classic romantic story, with politically correct empowerment, is sadly misguided.

When you tell a little girl that she can be anything, you are telling her a lie equal to the one about Fairy Godmothers and Prince Charmings. Women's Lib wasn't about having it all. It was and is about Having Choices and having Equality, which is different that being told you can have it all. Nobody can. Life is a trade off. Learn to cope.

To sell Cinderella T-shirts that read "I can be whatever I want to be" (fine as a Hammerstein lyric within the context of a song) profits from a lie. You can be the best you can be. You can endeavor to make your dreams come true. You have the right to be happy and not abused. But, you cannot be whatever you want to be.

Eleven-year-olds rule Broadway. Cinderella will appeal to the girls while Matilda, currently in previews, will appeal to both boys and girls. Cinderella places the blame of being put down and abused squarely on the shoulders of the victim, while preaching that the abuser should be understood and liked.

Matilda takes the more accurate position that an abusive childhood is the fault of the adults and those adults should be punished.

The are scenes in the current Cinderella which are throw backs to the previously known versions. Ten Minutes Ago is a beautiful, romantic, endearing segment because it reverts back to the original romantic concept.



Kendal Hartse, Shonica Gooden, Linda Mugleston, Stephanie Gibson, Ann Harada, Jill Abramovitz, Kirstin Tucker, Kristine Bendul and Laura Irion. Photo by Carol Rosegg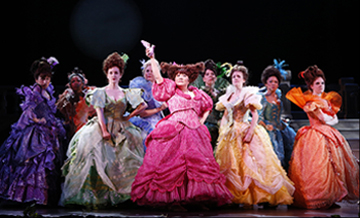 This may be the only time a Broadway musical has costumes which deserve credit above the title. People leave the theater raving over the William Ivey Long creations. Incredible, spectacular, show-stopping. William Ivey Long now has a problem many wish they had: making sure he doesn't give the same acceptance speech at all of the awards shows where he will be picking up his tangible kudos.

Tickets will be sold for the express purpose of patrons wanting to worship at the hem of the costumes. Both the costumes and the special effects will be a serious study in schools with design and theatrical departments.

Working with Long to created that shoe was Stuart Weitzman, who not only co-designed the show's glass slipper but created a line of Cinderella-inspired footwear, currently being shipped to stores. His promotions for his Clearly Timeless line include "Glass slippers are so back," as well as "Cinderella is proof that a shoe can change your life." At least Weitzman does cut so that a woman can find a shoe which is both stylish and comfortable.

The one on stage is made from Plexiglas with a welded-construction technique that uses no screws, normally used in high heels.

The visual effects are dazzling. The sets, which sometimes have trouble fitting in, are by Anna Louizos, with technical supervision by Hudson Theatrical Associates. Thomas Schall serves as fight director.



Laura Osnes soars. The feet on the stage choreography by Josh Rhodes is energetic and romantic. Rhodes pulls off a difficult task, given the costumes and special effects. Photo by Carol Rosegg
The choreography by Josh Rhodes is energetic and romantic. Not an easy accomplishment, since dancing in those costumes and around the special effects requires both expert dancers and seamless choreography. Effectively framing it all is lighting by Kenneth Posner, with balanced sound by Nevin Steinberg. The statement making hair and wigs designs are Paul Huntley creations.

The cast of Cinderella appears to have been created by a Fairy Godmother - you couldn't have wished for anything better. They up-lift the script by playwright Douglas Carter Beane who has a long list of accomplishments.

Beautiful, talented Laura Osnes as Ella is paired with the untapped talent of Santino Fontana, who gives a memorable performance as Topher. Together they are charismatic.

Ann Harada and Marla Mindelle are the step-sisters Peter Bartlett as the politically manipulative Sebastian, Greg Hildreth portrays Jean-Michel the town's political revolutionary, Phumzile Sojola as Lord Pinkleton, Harriet Harris as the step-mother and Victoria Clark as fairy godmother Marie perform their parts as directed by Mark Brokaw.

The music adaptation, supervision and arrangements by David Chase and orchestrations by Danny Troob deserve much applause, as do the musicians.

This Cinderella is a magnificent stage production which will run for ages and cross-promotes all the way to the bank.

Tiaras are on sale in the gift shop and the Palace Hotel in New York promotes Cinderella weekend packages, which include a chocolate shoe and Cinderella themed cocktails.

Seem in previews. Broadway Theater, NYC.







Broadway To Vegas is supported through advertising and donations. Priority consideration is given to interview suggestions, news, press releases, etc from paid supporters. However, no paid supporters control, alter, edit, or in any way manipulate the content of this site. Your donation is appreciated. We accept PAYPAL. Thank you for your interest.


ART AND ABOUT


ELVIS: LIVE FROM VEGAS

On Elvis opening nights members of the press were given stuffed hound dogs and teddy bears. Photo: Elvis Enterprises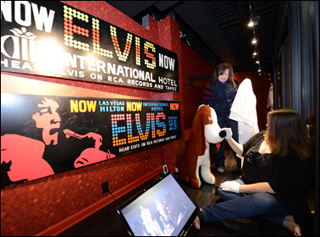 Col. Tom Parker was a master of marketing. A 30-foot marquee stood outside the New Frontier Hotel. Photo: Presley Enterprises.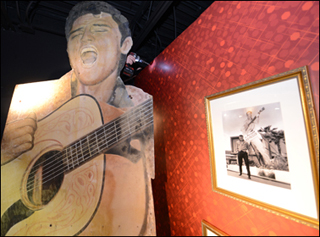 is the latest exhibit at the Sincerely Elvis Museum, located across from Presley's Graceland in Memphis.

Elvis: Live From Vegas officially opened on March 5 and allows guests to experience Las Vegas through the eyes of Elvis Presley.

The exhibit features part of the 30-foot marquee Presley's manager Col. Tom Parker had made to stand outside the New Frontier Hotel in 1957.

It was there that the 21-year-old Presley made his Vegas debut in a show which Col. Parker dubbed "The Atomic Powered Singer."

Although the Presley recording Heartbreak Hotel, became his first No. 1 hit during that gig, his Vegas performance wasn't a hit.

When Presley returned to Sin City, opening at The International Hotel in 1969, it was a different story in many regards, including Presley making a fashion statement.



Over 30 of the iconic Presley jumpsuits are on display. Photo: Presley Enterprises.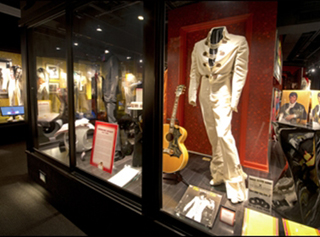 Bill Belew was the designer who created the Presley trademark jumpsuits. Photo: Presley Enterprises.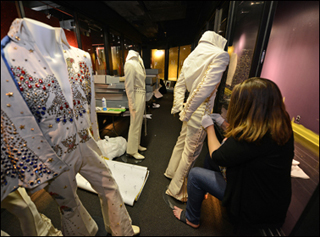 30 jumpsuits which Presley wore in Las Vegas are on display, including the first jumpsuit worn on-stage by Elvis in 1970.

From 1968 on they were created by costume designer Bill Belew, who died in 2008.

They included a tall collar, pointed sleeves and bell bottoms, plus a matching cape and wide belts.

"I think when he got to the '70s, Elvis did have complete confidence in Bill's designs. Bill said they'd made the point about Elvis' masculinity and didn't have to worry about that," Julie Mundy, author of the book Elvis Fashion, told The Associated Press in 2003.

About 120 piece of memorabilia from his glory days in Vegas dominate the exhibition.

Jumpsuits include Elvis' Leather and Chains suit worn in his August 1970 Las Vegas engagement, and prominently featured in his first concert documentary Elvis: That's The Way It Is.

Elvis' three-piece Spanish Flower suit worn in 1972, that was an alternative to one of the jumpsuits he wore in Las Vegas, is also on display.

Another popular one is Elvis' I Got Lucky jumpsuit also worn in 1970 in various cities including Las Vegas, Oakland, Tampa and Los Angeles.

That jumpsuit can be seen on the cover of the 1971 I Got Lucky album.

Bill Belew, who crafted Elvis' famous eagle jumpsuit, created all of the above mentioned costumes.

Many of the beaded and embroidered suits with colored stones cost as much as $1,500 in the 1970s and, adjusted for inflation, would today cost more than $8,500.



The exhibit also includes suits from Presley's first Las Vegas gigs at the New Frontier Hotel. Photo: Presley Enterprises.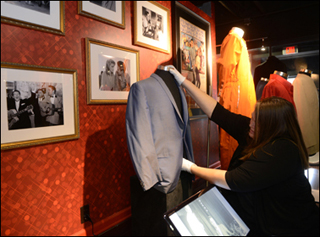 Elvis Presley on stage in Las Vegas at the New Frontier Hotel.The engagement was a flop.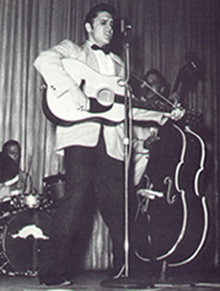 According to Jerry Hopkins's book, Elvis' jumpsuits were actually made of wool suiting imported from Italy with a similar weave to what you would see in an Italian wool suit on today's market. The fabric was much heavier than the polyester gabardine that many tribute artist use today. It was more suited for the heavy stones that were affixed to Elvis' suits so that there would be no drooping of the material.

The suits that many people believe to be white, such as the Fringe suit, the Aloha Eagle, the Peacock, and the Sundial, are actually ivory.

Another costume designer for Presley was Nudie Cohen. His most famous creation was the $10,000 gold lame' suit, worn by the singer on the cover of his 50,000,000 Elvis Fans Can't Be Wrong album.

Col. Parker was a dominating force in Presley's career and, thus, is strongly represented in this exhibit.

That includes a Las Vegas performance contract signed by Parker, and hotel management. The contract is written in ink on a tablecloth with Col. Parker signing for Elvis and agreeing he would perform two shows a day in two four-week engagements each year for five years. A "show statement" for one appearance also is part of the exhibit, showing Elvis' earnings for one month as $130,000 and Col. Parker's earnings $65,000.

Parker also promoted Elvis on bus benches. The backs of two painted benches advertising Elvis shows are mounted behind costumes in one display case.

There is also a silver and gold belt decorated with diamonds, rubies and sapphires that was given to Elvis for breaking attendance records during 57 sold out shows at the International.

The exhibit features video screen placed throughout the exhibit which show footage from some of The King's more memorable Vegas performances.

Although Elvis was not on stage in Vegas between 1957 and 1969, he came to Sin City to "play" on a regular basis. A quick one hour flight from Los Angeles, while filming movies in Hollywood, he and his friends would fly to Vegas on week-ends, attending the shows of other entertainers and gambling, usually blackjack.

Other Vegas tie-ins for Elvis are two marriage ceremonies - one for the movies and one for real. The first marriage ceremony was to actress Ann-Margret's character in the 1963 movie Viva Las Vegas. The second was four years later was genuine, to Priscilla Beaulieu. The eight-minute ceremony took place in the suite of the Aladdin Hotel's owner.

Archivist for the exhibit is Dee Dee Antle. Angie Marchese is the director of archives. The exhibit took a year to plan.




THE MUSIC GOES ROUND AND ROUND


CHRISTIANE NOLL GIFTS recorded live at 54 Below and released by Broadway Records.

Numerous cabaret artists, who both sing and talk, backed by only a piano, attempt to record a "live performance." Those efforts frequently are disasters, because the singer and accompanist are miked for the room, not for a recording and any sound balancing and professional mixing is poor, if not non non-existent. The results are career hampering products equivalent of home made audition tapes put together by the eager who don't know what they are doing.

Gifts released on the Broadway label, a new CD by Tony nominated Christiane Noll is how a cabaret act with both song and conversation should be captured.

This is a live recording from her engagement at 54 Below in New York City, beginning with her being introduced. The audience can be heard. Christiane Noll talks. Too many times when cabaret performers talk, their cabaret conversations are of interest only to themselves. In this case, the between song patter - always in relationship to her own life - is funny or poignant, and interesting.

For the vast majority of the time Ross Patterson accompanies on the piano. The musical director knows how to tinkle those ivories.

Properly miked, balanced and mixed, her words are easily understood, the audience's laughter is heard, the piano doesn't overpower, but holds it's own and Christiane's voice - that incredible, wonderful, pure voice - isn't distorted or trod over.

This CD is the gold standard all musical/talk cabaret acts.

This CD is unique in several respects. Her conversation is - again - interesting. Having made her stage debut at the age of four, she talks about instances which took place during that time period, as well as disclosing anecdotes about her parents, husband and daughter. She grew up in a home filled with record albums. Her father was Ron Noll, conductor and Emmy Award-winning Music Supervisor for CBS and the manager of the CBS musical library. Her mother was soprano Sara-Ann Noll. She may have inherited her voice from her mother, claiming her mother was the one in the family with the beautiful voice. Although, in listening to Christiane, that is difficult to believe.

It doesn't matter whether she is chirping faster than lightening or crooning, Noll knows how to sing. She is more than a singer, she is a total performer.

Far more than a selection of songs, this is a cabaret performance. There is a difference - a big difference. When you finish listening to this CD you really feel that you have been to her 54 Below nightclub show, which is composed of a variety of songs spanning Rodgers & Hammerstein, Gilbert & Sullivan, Strouse & Charnin, Kander & Ed to Flaherty & Ahrens, Cy Coleman to Marvin Hamlisch, Puccini to Sondheim.

Directed by Castellino. Mixed at Aerial View Studio by Aaron Ankrum. Mastered by Gregg Reierson - Rare Form Mastering.

The track listing:

1. Somewhere Out There
2. Growing Up Medley - Part 1
3. Growing Up Medley - Part 2
4. Waiting For Life
5. Maybe
6. "The Record Wall" (talk)
7. Museum Song
8. Some Enchanted Evening
9. "My Parents" (talk)
10. The Sound Of Music 11.
11. "Julie Andrews" (talk)
12. Audition Medley
13. How Lucky Can You Get/ Get Happy
14."The Tuxedo" (talk)
15. In His Eyes
16. I Want It All
17. "My Daughter" (talk)
18. Send In The Clowns
19."Mommy, Mum, Mother" (talk)
20. Back To Before
21. "Thank You" (talk)
22. The World Goes 'Round
23. "Encore" (talk)
24. Mr. Paganini


SWEET CHARITY


TEENAGE CANCER TRUST takes place March 19-24, 2013 at Royal Albert Hall in London.

Curator Noel Gallagher has revealed the line-up for the 2013 season, including: Primal Scream, Kasabian, Ryan Adams, Rizzle Kicks + Labrinth, Noel Gallagher with Damon Albarn & Graham Coxon and comedy from Russell Brand and Noel Fielding.

Teenage Cancer Trust is the only UK charity dedicated to improving the quality of life and chances of survival for the six young people aged between 13 and 24 diagnosed with cancer every day.

They build specialist units within NHS hospitals bringing young people together to be treated by teenage cancer experts in a place designed just for them. They want every young person with cancer to have access to this specialist support, no matter where they live.

Eleven years of concerts have raised over $25 million for Teenage Cancer Trust, making a real difference to the lives of thousands of young people with cancer.

GOLDEN SHAMROCK GALA an annual event staged by the Gingold Theatrical Group's Project Shaw, takes place on St. Patrick's Day, March 17th.

The gala chair is Tyne Daly. The evening will honor Judith Ivey and Robert Osborne - and of course, George Bernard Shaw. All of Shaw's plays champion Human Rights and the power of the individual.

Irish music, traditional Irish dinner and Shaw. Performances by Charles Busch, Joel Grey and Kate Mulgrew.

The cocktail attire event will be hosted by GTG Artistic Director David Staller.

Reception, dinner and presentation at The Players in New York City.


BOLSHOI BALLET SOLOIST PAVEL DMITRICHENKO CONFESSES TO ACID ATTACK
Sergei Filin was seriously injured in an acid attack.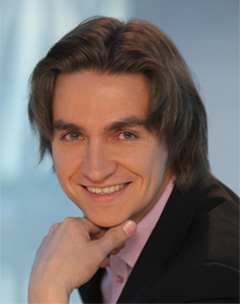 Pavel Dmitrichenko who has been performing the lead role in Sergei Prokofiev's Ivan The Terrible and in 2010 appeared in Spartacus at Washington's Kennedy Center, has confessed to masterminding the January 17, 2013 sulphuric acid attack on the Bolshoi's artistic director, Sergei Filin. ( See Broadway To Vegas column of January 20, 2013 )

He is in police custody as are Yuri Zarutsky who confessed to actually carrying out the attack outside Filin's home. Andrei Lipatov accused of driving a getaway vehicle is also being held.

"At the current time all three have signed confessions and have been placed under arrest," Moscow police said.

During the court hearing two days later, Dmitrichenko, 29, defended himself by telling the court that he had told Yuri Zarutsky about corrupt practices at the Bolshoi Ballet. He stated: "When he said: 'OK, let me beat him up, hit him over the head', I agreed. But that is all that I admit to doing. It's not true that I ordered him to throw acid at Filin."

It is alleged that Dmitrichenko paid his alleged accomplices $1,600 for the attack.

The court denied bail, ruling that the three would remain in custody pending a trial. The three were formally charged with grievous bodily harm.

Filin's eyesight was badly damaged. He has undergone a series of eye operations and has now been transferred to a German hospital where physicians are optimistic that months of further treatment may help restore his vision.

Filin also sustained facial disfigurement. The attack brought into open details of bitter infighting and rivalries inside the Bolshoi theatre.


JAMES FRANCO TO FINALLY MAKE BROADWAY DEBUT


James Franco, star of Sam Raimi's Wizard of Oz prequel, Oz: The Great and Powerful has been cast as George Milton in a Broadway production of the John Steinbeck classic Of Mice and Men.

This will mark the Oscar-nominated star's Broadway debut.

The play is the tragic tale of two migrant workers during the Great Depression. Lennie has yet to be cast. The play was last seen on Broadway in 1974, with James Earl Jones and Kevin Conway playing the two friends.

In 2011 Franco was set to make his Broadway debut alongside Nicole Kidman in Tennessee Williams' Sweet Bird of Youth, but dropped out without stating a reason.

At that time the actor was filming Oz: The Great and Powerful while studying for a doctorate in English at Yale.




SPREADING THE WORD


KINKY BOOTS currently in previews for a Broadway opening at The Al Hirschfeld Theatre on Thursday, April 4, 2013 will be captured on an original cast recording.

Produced by Cyndi Lauper, William Wittman and Stephen Oremus, the album will be recorded on March 14, 15 and 25 in anticipation of a May 2013 release by Masterworks Broadway.

SHAMROCK-N-ROLL the Pasadena Playhouse stages its free Saint Patrick's Day community block party and concert celebrating the opening of One Night With Janis Joplin takes place on Sunday, March 17, in front of the theatre.

Janis Joplin's psychedelically painted 1965 365c Porsche Cabriolet will be on display, in partnership with the Grammy Museum and courtesy of the Rock 'n' Roll Hall of Fame. Janis had purchased the Porsche in 1968 from a Beverly Hills dealership for $3,500 and asked friend Dave Richards to paint it psychedelic colors for $500. She was known to drive around Los Angeles with the top down, laughing with her carefree spirit.

The Sierra Madre Collection will host a photo opportunity with the Porsche for a charitable donation, and additional classic Porsches will be on display.

The Shamrock-n-Roll will also feature an outdoor stage where Dread Zeppelin, Cerny Brothers, Shillaly Brothers and Aquarius will perform free concerts. The Cherry Boom Boom dancers will perform 60s-style dancing in the evening hours of the event.

A beer garden, local food trucks, assorted craft events will also be available.

Zona Rosa will be hosting live music, a local rock 'n' roll themed art gallery and selling coffee beverages.

One Night With Janis Joplin, created, written and directed by Randy Johnson and starring Mary Bridget Davies, who gives an acclaimed performance as Janis Joplin, is a full-on concert experience and musical journey into the life and inspirations of one of rock 'n' roll's greatest legends. With a voice like whiskey and a laugh like pure joy, Janis Joplin took the music scene by storm. Simultaneously rough and vulnerable, Joplin was dubbed the Queen of Rock 'n' Roll; proving music wasn't just a man's world anymore.

One Night With Janis Joplin also shines a spotlight on the great African-American blues artists who influenced Janis' musical style and career, including Bessie Smith, Etta James and Aretha Franklin. This new musical event includes a live onstage band and features Joplin hits and classic songs such as Piece of My Heart, Mercedes Benz, Me and Bobby McGee, Ball and Chain and Summertime – creating a compelling portrait of an artist through the words and music of one of America's greatest Rock 'n' Roll icons.

Performances are March 15-April 11 at The Pasadena Playhouse in Pasadena, CA.

EXPERT WITNESSES: SENATOR FRED THOMPSON Bard Association Chair Abbe Lowell who is with Chadbourne & Parke LLP, kicks off the Shakespeare Theatre Company's new legal series, Expert Witnesses with former Senator and actor Fred Thompson.

Before joining the cast of the critically-acclaimed and long-running series, Law and Order, Senator Thompson represented Tennessee as a U.S. Senator for nearly a decade.

This program will be the first of many discussions with prominent individuals - actors, authors, directors - who have bridged the worlds of law and theater and the arts.

A reception follows. Monday, March 18, 2013 Lansburgh Theatre in Washington, DC.

ANN ARBOR FILM FESTIVAL Started in 1963, the longest-running independent and experimental film series in North America exhibits 6 days of screening films of all lengths and genres celebrating film as art. The festival also includes panels, workshops, multimedia installations, and parties. March 19-24 at the Michigan Theater in Ann Arbor, Michigan.

ALFRED MOLINA AND JONATHAN GROFF reprise their roles in John Logan's Tony Award-winning Red with L.A. Theatre Works recording six performances for public radio at UCLA's James Bridges Theater March 14-17.

Winner of six Tony Awards, Red is an intimate glimpse into the world of outspoken and opinionated artist Mark Rothko. Alfred Molina, reprising the role he created in London and was Tony-nominated for on Broadway, is joined by his co-star from the CTG production, Jonathan Groff.

All performances will be recorded live, without sets or costumes, in front of an audience to air on L.A. Theatre Works' syndicated radio theater series, which broadcasts weekly on public radio stations nationwide and can be streamed on demand.

Directed by Rosalind Ayres, the live recordings take place March 14-17 at the James Bridges Theater UCLA School of Theater, Film and Television in Los Angeles.

ERA OF THE ENGINEER is part of a Grammy U, a program created by The Recording Academy to prepare college students interested in pursuing a career in the music industry. They've announced an Era Of The Engineer tour with three-time Grammy-nominated engineer/producer Young Guru will launch April 8, 2013, in Philadelphia and make 13 stops across the United States.

This new platform will offer college students the opportunity to explore the importance of the audio engineer's role in today's do-it-yourself recording climate through town hall discussions and in-studio sessions.

Recognizing the accessibility people have to make music in today's world, Young Guru created the Era Of The Engineer lecture series to emphasize and teach about the importance of audio engineers and the record-making process.

The 13-city tour, will launch Monday, April 8 in Philadelphia and conclude on Sunday, April 28 in Memphis.

OUTER CRITICS CIRCLE the organization of writers covering New York theatre for out-of-town newspapers, national publications and other media beyond Broadway, has announced that multi award-winning stars Robert Cuccioli and Laila Robins will announce the nominees for the 2012-13 season on Monday, April 22 at The Friars Club in New York City.

Award nominations in 23 categories will be announced and are the first major Broadway/Off-Broadway award nominees of the New York theater season.

The winners will be announced on Monday, May 13 and the annual awards ceremony will be held on Thursday, May 23rd at the legendary Sardi's Restaurant.

LUCIE ARNAZ AND HUSBAND LAURENCE LUCKINBILL new resident of Palm Springs, CA stopped by the Plaza Theatre to attend The Fabulous Palm Springs Follies, and then went backstage afterwards to chat with star Lou Christie, who closed out his successful star slot last night, March 9.

Leslie Gore reigns in the star slot March 12 through May 19.

SWEDISH AND AMERICAN THEATER DIALOGUE in association with the U.S. debut of Backa Theatre of Sweden at the Nordic Cool 2013 Festival at the Kennedy Center in D.C., Randy Gener and the Embassy of Sweden in Washington, D.C., are collaborating on a seminar about the growing genre of documentary theater.

Entitled Can Documentary Theater Attract New Groups of Audiences?: A Swedish and American Theater Dialogue, the seminar takes place Monday March 11, at the House of Sweden, in Washington, DC.

Swedish playwright and artistic director of Backa theatre Mattias Andersson, who specializes in creating and staging theatrical projects grounded in sociological research methods, will discuss this hot topic with Robert McNamara, artistic director of SCENA theatre; and Otis Ramsey-Zöe, Lecturer of Theatre Arts at Howard University. Randy Gener, who will moderate the talk, is the winner of the George Jean Nathan Award, the highest award for dramatic criticism in the U.S., Gener is a specialist of Nordic performing arts, which includes work from Sweden, Norway, Iceland and Finland.

JOY BEHAR WITH JUDY GOLD Enjoy an evening of irreverence and hilarity as Judy Gold sits down with Joy Behar, the award-winning talk show host, comedian, writer and actress. Hear anecdotes and highlights from her life and career, as well as behind-the-scenes stories from her new TV show, Joy Behar: Say Anything! Tuesday, March 12, at 92nd Street Y in New York City.

SONJA HANSEN is the drama director who was forced to resigned or be terminated for staging a production of Legally Blonde-The Musical at the Loveland High School in Ohio. ( See Broadway To Vegas column of December 23, 2012 ).

She has secured a similar contracted drama position at St. Gertrude School in Madeira, a Catholic middle school, in the Archdiocese of Cincinnati. The principal is a nun.

Hansen's first production at St. Gertrude, The Wizard of Oz, took place this week-end.

HOLLY MADISON the former Playboy model and Las Vegas star, gave birth in Las Vegas on March 5 to a daughter whom she named Rainbow Aurora.

Yeah, the painkillers they give you during labor can do that to you.

Proud father is Madison's boyfriend Pasquale Rotella.


OTHER PEOPLE'S MONEY


KRISTIN CHENOWETH'S

Kristin Chenoweth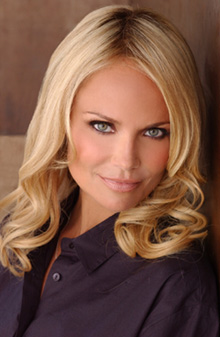 UK tour was abruptly canceled three days before she was to appear in London.

The booking agency Speckulation Entertainment issued the following announcement:

"We regret to announce that we are unable to present our planned UK tour with Tony and Emmy Award winning star Kristin Chenoweth and that the tour has therefore been cancelled. We are deeply sorry to disappoint Kristin's many UK fans, who so readily bought tickets to see her in London, Manchester, Edinburgh and Cardiff. We wish to make it clear that the decision to cancel the tour is a result of Speckulation Entertainment's unforeseen circumstances, and that Kristin is saddened not to be able to perform here as planned. She was looking forward to performing to her sold-out audiences. Ticket holders should contact their point of purchase from 10.00am onwards on Saturday 9th March for a full refund."

Chenoweth was slated to kicks off a short European tour at the West End's London Coliseum on March 11. She then was to have performed at the Manchester's Opera House March 13, followed by the Edinburgh's Festival Theatre on March 15 and Cardiff's Wales Millennium Centre next Sunday, March 17. Richard Jay Alexander was slated to have directed with musical direction by Rob Fisher. Other affected by the cancellation include singer/dancers Will Taylor, Jennifer Diamond and Tyler Hanes, who also did the choreography. Sound and lighting design was by Matt Berman.

The company described itself as: "a company dedicated to producing high quality entertainment and working on a wide range of projects in a variety of genres. Formed by producers Neil Eckersley and Paul Spicer, who also co-founded the West End's highly successful and critically acclaimed Notes from New York series, it operates both in the West End and beyond.

Chenoweth is "devastated" by the sudden cancellation.

A post which Chenoweth retweeted on her own account stated: "basic reason why the KC tour was cancelled heres why: no tickets, no work permits, and nothing done. Thats why."



HELLO DOLLY! music and lyrics by Jerry Herman. Book by Michael Stewart. Original production directed and choreographed by Gower Champion. Music direction by James Moore. Choreographed by Karma Camp.

Directed by Eric Schaeffer.

The ironic musical has returned to where it all came together, where 50 years ago the pre-Broadway tryouts were held in Washington, DC.

This time around, a new mounting, which opens Friday at the Ford's Theatre, is a co-production with Virginia's Signature Theatre.

In the Tony-winning musical farce Hello, Dolly!, the cantankerous half-a-millionaire Horace Vandergelder hires matchmaker Dolly Levi to find him a wife. Dolly soon hatches a plan to woo and win Vandergelder's hand herself, while simultaneously arranging romantic prospects for his niece, his clerks and two of Manhattan's most eligible shop girls.

Starring Nancy Opel as Mrs. Dolly Gallagher Levi.

The rest of the cast include, in alphabetical order, Ermengarde; Carolyn Cole - Barnaby Tucker; Zack Colonna - Ernestina/Mrs. Rose; Maria Egler - Horace Vandergelder; Edward Gero - Ambrose Kemper; Ben Lurye - Cornelius Hackl; Gregory Maheu - Irene Molloy; Tracy Lynn Olivera - Rudolph/Judge; Stephen F. Schmidt - Minnie Fay; Lauren Williams.

Ensemble: Morgan Cowling, Harris Milgrim, Alex Puette, Jp Qualters, Kyle Vaughn, and Merrill West. Swings: Carolyn Agan and Peter Mills with Dance Captain Kyle Vaughn.

Musicians: Keyboard I/Conductor James Moore - Keyboard II/Associate Conductor Gabriel Mangiante - Violin; Jeff Thurston - Bass; Frank Higgins - Reeds; Lee Lachman - Trumpet; Craig Taylor - Trombone; Gus Mitchell - Percussion; Danny Villanueva.

Scenic Design by Adam Koch. Costume Design by Wade Laboissonniere. Lighting Design by Colin K. Bills. Sound Design by David Budries. Wig and Make-Up Design by Cookie Jordan. Orchestration by Kim Scharnberg. New York Casting by Laura Stanczyk Casting, CSA. Production Stage Manager is Craig A. Horness. Assistant Stage Manager is Taryn Friend.

March 15-May 18, 2013 with the March 20 performance being a private performance. Ford's Theatre in Washington, DC.

GREY GARDENS based on the 1975 documentary by the Maysles brothers. A Tony Award-nominated score by composer Scott Frankel and lyricist Michael Korie, and a book by Pulitzer Prize-winning playwright Dough Wright.

A.C.T. artistic director Kurt Beattie directs.

The Tony Award winning Grey Gardens tells the fascinating story of a mother and daughter who were infamous New York socialites. Little Edie is a dazzling socialite on a downward spiral into a life of illusions and hoarded junk. Just exactly how did Jackie Kennedy's cousin end up living in a decaying 42-room mansion full of cats? First captured in a cult-hit documentary, this true-story-turned-musical will take you on an unforgettable journey.

Starring Tony award nominee Patti Cohenour as Little Eddie opposite Seattle veteran Suzy Hunt with Jessica Skerritt as Little Eddie in Act 1. The cast also includes Mark Anders as George Gould Strong, Allen Fitzpatrick at Major Bouvier Beale, Matt Owen as Joe Kennedy and Jerry, Ekello J. Harrid as Brooks, Montserrat Fleck as Lee Bouvier and Analiese Ermerson Guettinger as Jackie Bouvier.

Songs include Drift Away and The House We Live In.

Musical direction by Chris DeStefano, musical staging by Noah Racey, scenic design by Matthew Smucker, costume design by Catherine Hunt, lighting design by Mary Louise Geiger and sound design by Brendan Patrick Hogan.

A co-production with ACT - A Contemporary Theatre March 16-May 26, 2013 at the 5th Avenue Theatre in Seattle, WA.

THE HONEYMOONERS has been postponed, "due to a conflict with artist scheduled," announced The Old Globe in San Diego.
The world premiere musical by Dusty Kay and Bill Nuss (book), Stephen Weiner (music) and Peter Mills (lyrics) was originally set to run at the Globe from Sept. 8 – Oct. 27, 2013 under the direction of Jerry Mitchell.

"We are disappointed that we will not produce The Honeymooners this season, but we hope that San Diego audiences will be able to enjoy this delightful musical in the future," said Artistic Director Barry Edelstein.

He continued: "We are hard at work seeking an exciting replacement for the show."

ON THE SPECTRUM written by Ken LaZebnik. Directed by Jacqueline Schultz.

Not your (neuro)typical love story. The West Coast premiere of a funny, touching and unconventional love story when an online e-chat blossoms into a heartfelt courtship between two exceptional young people with autism.

Starring, Jeanie Hackett, Virginia Newcomb, Dan Shaked.

In On the Spectrum, Mac (Shaked), whose mother (Hackett) provided years of mainstreaming and therapy, passes as "typical." He connects online with Iris (Newcomb), an activist who proudly champions her autism as a difference, not a disorder.

Winner of the 2012 Steinberg/American Theatre Critics Association New Play Award citation and the 2011 Edgerton Foundation New American Play Award.

Director Schultz is an award-winning actress and a theater director at The Help Group's Summit View School for students with learning differences. The Help Group is the largest and most innovative nonprofit of its kind in the U.S. serving children with autism, learning differences and other special needs.

Previews began March 9 with performances continuing through April 28 at The Fountain Theatre in Los Angeles.

FOR LOVE by Laoisa Sexton. Directed by Tim Ruddy.

A Dark Blue Romantic Comedy.

Ireland is experiencing one of the greatest economic downturns in its history, the great recession, and three women in Dublin are throwing down their handbags and looking for love, no matter what it costs.

For Love promises a relentless ride, a romp through the urban sexual experiences of three women in modern day central Dublin. Is there more than a one night stand in Val's future? Can Tina find the right dress if she's got the wrong man? Should Bee hop into bed with a married man or just go to the zoo? Or is there something else out there?

Witness what it means to be single to three Irish women, what they will put themselves through and what they will or won't do...FOR LOVE... Performances March 13th- April 5th are in the W. Scott McLucas Studio Theatre, Irish Rep, in New York City.

A GENTLEMAN'S GUIDE TO LOVE AND MURDER book by Robert L. Freedman. Music by Steven Lutvak. Lyrics by Robert L. Freedman and Steven Lutvak, who also did the vocal arrangements. Based on the novel Israel Rank by Roy Horniman.

Directed by Darko Tresnjak. Choreography by Peggy Hickey.

When Monty Navarro finds out he is ninth in line to inherit a dukedom, he decides to eliminate the other eight heirs standing in his way - all played by Tony Award winner Jefferson Mays.

The cast also includes: Ken Barnett (Monty Navarro), Heather Ayers (Miss Barley, Lady Eugenia), Rachel Izen (Miss Shingle), Chilina Kennedy (Phoebe D'Ysquith), Kevin Ligon (Tour Guide, Magistrate), Lisa O'Hare (Sibella Hallward), Kendal Sparks (Farmer, Guard), Price Waldman (Barber, Detective) and Catherine Walker (Sibella's Maid, Phoebe's Maid).

Alexander Dodge (Scenic Design), Linda Cho (Costume Design), Philip S. Rosenberg (Lighting Design), Dan Moses Schreier (Sound Design), Aaron Rhyne (Projection Design), Charles LaPointe (Wig Design), Jonathan Tunick (Orchestrator), Mike Ruckles (Music Director), Dianne Adams McDowell and Steven Lutvak (Vocal Arrangements), Binder Casting (Casting) and Susie Cordon (Stage Manager).

Officially opened March 8 with performances through April 14, 2013 at the Donald and Darlene Shiley Stage, Old Globe Theatre in San Diego, CA.

Insights Seminar takes place Monday, March 11. The Seminar series features a panel of artists from the current show. A reception precedes the show. Post-Show Forums are slated for Tuesdays, March 19 and 26 and Wednesday, April 3. Patrons can discuss the play with members of the cast following the performance.


WHO'S WHERE




ALICIA KEYS is center stage at the Staples Center in Los Angeles on Tuesday, March 12. Wednesday's show is at the Valley View Casino Center in San Diego. On Friday she in Las Vegas for a gig at Mandalay Bay Events Center.

ELAINE PAIGE continues her first-ever concert tour of the United States with a performance March 12 at the Cabaret at Theater Square in Pittsburgh, PA.

BRUCE SPRINGSTEEN AND THE E STREET BAND are Down Under with a split two night gig with shows Thursday, March 14 and Saturday, March 16 at the Brisbane Entertainment Centre in Boondall, Australia.

PINK has a busy week with a tour stop Monday, March 11, at the Air Canada Centre in Toronto. Tuesday's performance is at the Bell Centre in Montreal. Thursday finds her at the Verizon Center in Washington, DC. On Saturday she's on stage at the Time Warner Cable Arena in Charlotte, NC. Next Sunday, March 17, she'll be celebrating St. Patrick's Day with a show at the Wells Fargo Center in Philadelphia.

DA CAMERA CONCERT: DIAGHILEV'S PARIS featuring Sarah Rothenberg and Marilyn Nonken, piano music from two of Diaghilev's legendary Ballets Russes productions: The circus-themed 1917 ballet Parade, with a libretto by Jean Cocteau, music of Erik Satie, and sets and costumes by Pablo Picasso and Stravinsky's seminal 1913 masterwork, The Rite of Spring (Le Sacre du printemps). Presented in conjunction with the exhibition Picasso Black and White. Wednesday, March 13, at the Museum of Fine Arts in Houston.

JOAN RIVERS performs her uncensored, uninhibited standup comedy at the Mystic Lake Casino Hotel in Prior Lake, Minnesota on Thursday night, March 14th. On Friday she'll express her opinions at the Missouri Theatre in Columbia, MO. Saturday finds her at the Holland Performing Arts Center in Omaha, Nebraska.

JUSTIN BIEBER will be delighting his fans Monday, March 11, at the Pavilhao Atlantico in Lisbon, Portugal. On Thursday the show is at the Bizkaia Arena in Ansio-Barakaldo, Spain. Saturday's show is at the Palau Sant Jordi in Barcelona, Spain.

JON BON JOVI entertains Wednesday, March 13, at the Scottrade Center in St. Louis, MO. On Thursday he's on stage at the KFC Yum! Center in Louisville, Ky. Saturday's performance is at the Chesapeake Energy Center in Oklahoma City. Next Sunday he can be enjoyed at the United Spirit Arena in Lubbock, TX.

ITZHAK PERLMAN in the spotlight tonight, Sunday, March 10, at the Tilles Center in Greenvale, NY. Wednesday's concert is at the Philharmonic Center for the Arts in Naples, FL. On Thursday he can be enjoyed at the Van Wezel Performing Arts Hall in Sarasota, FL.

ERIC CLAPTON performs Thursday, March 14, at the US Airways Center in Phoenix, AZ. On Saturday the show is at the Toyota Center in Houston. Next Sunday, March 17, he'll be performing his hits at the Frank Erwin Center in Austin, TX.

MAROON 5 bring their tour to the Key Arena in Seattle, WA on Monday, March 11. On Wednesday the show is at the HP Pavilion in San Jose, CA. Friday's show is at the Staples Center in Los Angeles and on Saturday they return to Mandalay Bay in Las Vegas.

GLEN PHILLIPS performs Tuesday, March 12, at the Zilker Hillside Theater in Austin, TX.

CHRIS BOTTI performs this week in Poland with a show on Friday, March 15, at the Miedzynarodowe Targi Pozanskie in Poznan. On Saturday the show is at the Hala Sportowo Widowiskowa in Gdyna. Next Sunday, March 17, he'll be blowing his horn at the Natolinski Osrodek Kultury in Warsaw.

TAYLOR SWIFT opens two night stand Wednesday, March 13, at the Century Link Center in Omaha.

FAITH PRINCE the Tony Award winner performs her cabaret act March 12-23 at The Colony Hotel in Palm Beach, Florida.


FINAL OVATION


KENNY BALL famed trumpet jazz musician died March 7, 2013 at Basildon hospital in Essex, England where he was being treated for pneumonia. his wife and children were at his bedside. He was 82.

His Dixieland band was at the forefront of the early 1960s UK jazz revival.

In 1961 his band's recording of Cole Porter's Samantha became a hit, and in March 1962 they reached No. 2 on the Billboard Hot 100 chart with Midnight in Moscow. Other hits included a version of March of the Siamese Children from The King and I.

Ball continued to tour until shortly before his death.

Ken's son, Keith Ball, has been 'fronting' the Jazzmen while his father was hospitalized. Ken's wish was that Keith and the jazzmen carry on Kenny's music which Kenny played for the past 55 years..

Survivors include wife Betty and three children.

ARTHUR STORCH actor and Broadway director died March 5, 2013. He was 87.

A life member of The Actors Studio, he founded Syracuse Stage in 1974.

In a career spanning 45 years Storch directed Al Pacino in The Local Stigmatic, John Savage in Of Mice and Men, Geraldine Page in Clarence, Alvin Ailey in Talking to You, Shelley Winters in Under the Weather, Anne Jackson and Eli Wallach in The Typistand the Tiger, Hume Cronyn in Promenade All, Joanne Woodward in Hay Fever, Jack Lemmon in Tribute, Alan Alda in The Owl and the Pussycat, Alan King in The Impossible Years, and a national tour with Rudolph Nureyev in The King and I.

At Syracuse Stage where, as Producing Artistic Director, he directed thirty plays ranging from Shakespeare to Beckett and supervised the production of more than 100 others.

During the same period ('74-'92), he was Chairman of Syracuse University's Drama Department. He left Syracuse in 1992 with the Mayor's Achievement Award and the Arthur Storch Theatre named in his honor.

In addition to serving almost 20 years as producing artistic director of Syracuse Stage, he served three years as artistic director of the Berkshire Theatre Festival. As an actor Storch made his Broadway debut in 1953, performing in End As a Man, Calder Willingham's stage adaptation of his own military-set novel. He went on to take roles in Time Limit!, Girls of Summer, the hit Thomas Wolfe adaptation Look Homeward, Angel, The Night Circus, The Long Dream and Gore Vidal's The Best Man, in which he stepped into the part of brash presidential hopeful Joseph Cantwell.

Storch was married five times and is survived by his three children, two sons and a daughter.

The Syracuse Stage and Syracuse University Drama Department co-production of A Midsummer Dream's Night, which opened Friday, March 8, was dedicated to his memory.







Next Column: March 17, 2013
Copyright: March 10, 2013. All Rights Reserved. Reviews, Interviews, Commentary, Photographs or Graphics from any Broadway To Vegas (TM) columns may not be published, broadcast, rewritten, utilized as leads, or used in any manner without permission, compensation and/or credit.
Link to Main Page
---
Laura Deni



For the snail mail address, please E-mail your request.
CLICK HERE FOR COMMENT SECTION