!>
 
 SHOW REVIEWS     CELEBRITY  INTERVIEWS     GOSSIP     NEWS 
| | |
| --- | --- |
| | |
Copyright: March 10, 2002
By: Laura Deni
CLICK HERE FOR COMMENT SECTION

GREEN BEER AND CORNED BEEF

St. Patrick's Day is approaching and many will celebrate by wallowing in their green beer and scarfing down corned beef.

Not everyone.


Tom Bosley in his Fiorello days. The ad says No wonder Fiorello can't wait to taste it!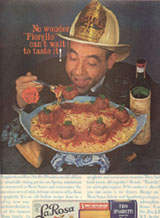 Some well known celebrities have gone on record as advertising other gastronomic pleasures.

The delightful Tom Bosley, who won a Tony Award for Fiorello, donned a New York Fireman's hat when he touted the pleasures of spaghetti.

Bosley's career is characterized by more than 50 years of successful performances in theatre, movies and TV broadcasts, but he is best known as perfect father Howard Cunningham in Happy Days.

The Chicago born actor went from being a car park attendant for Tavern on the Green to being cast in the 1955 off - Broadway edition of Thieves Carnival, written by Jean Anouilh.

In 1959 George Abbott wanted Tom to star as Fiorello La Guardia in the Jerry Bock / Sheldon Harnick musical Fiorello! which would also star Patricia Wilson, Ellen Hanley, and Howard DeSilva. Fiorello! was about man who served as major of New York from 1933 to 1945.

Bosley nailed the part and the Tony Award was his.

He performed the role 796 times, and was so convincing that in 1961 he received 300 write in votes to be elected the real major of New York.

We're not sure if horse track lover Jack Klugman tints his yogurt green, but the actor seems to enjoys sucking up the Yoplait.

Klugman made his Broadway debut starring with Ethel Merman in Gypsy. (See Broadway To Vegas column of April 25, 1998) The versatile character actor is best known for playing sportswriter Oscar Madison in the TV comedy series The Odd Couple from 1970-75 with Tony Randall playing his roommate Felix Unger. From 1976 to 1983 Klugman played a Crime fighting medical examiner on another series, Quincy M.E.

Something with some kick to it seems to be a favorite for washing down the grub.

The ever dapper and ageless Tony Randall is a delight in the 1966 Heublein Cocktail ads.

The multi-talented actor may need a stiff one to help him relocated his National Actors Theatre, the project he founded ten years ago with the goal of staging classic plays with a seasoned, European-style ensemble of performers.

His most successful accomplishment in that theatre involved a woman. It's where he met his wife, who was an intern at the place. While the marriage has received two ovations in the form of a son and daughter, the on stage efforts had mixed reviews.

Receiving critical acceptance were The Gin Game with Julie Harris and Charles Durning, Judgment at Nuremberg, Saint Joan starring Maryann Plunkett, The Master Builder, featuring Earle Hyman and Lynn Redgrave, The Seagull with Tyne Daly, Ethan Hawke, Laura Linney and Jon Voight, and Inherit The Wind, which was plagued by the illness of George C. Scott in what ended up being his last Broadway performance.

Randall is packing up the props and moving the venture from it's expensive Broadway location to Pace University's Michael Schimmel Center for the Arts. Beginning in mid-September Randall will offer a 40-week season of four-to-six plays.

The university will offer the auditorium and office space rent free. Randall will also teach at PACE and consider students for roles in NAT productions.

Johnny Carson started out as a magician, and ended up being the king of late night television before making himself disappear.

He may have been sitting on a throne chair, but he played second banana to an adorable St. Bernard dog in the 1969 vodka ad that proclaimed "Smirnoff makes the blizzard howl."

The guy isn't languishing on his money. Recently he sent an Express Mail envelope containing a check for $75,000 to his hometown of Corning, Iowa - population 1,783 - so a skateboard park could be constructed. It's not the first time Carson has sent the eagle flying in that direction. A few years ago he contributed $15,000 to the elementary school playground.

The guy known as Mr. Las Vegas - Wayne Newton - only looks like he's not old enough to drink. The entertainer who kids on stage about "firewater" and his Indian heritage during performances at the Stardust Hotel in Las Vegas, made his adult status official in a 1975 Lauder Scotch ad.

Houdini, who elevated hocus pocus to an art form, was also used in a vodka ad - for Absolut - which may explain where he got his courage for those underwater tricks.



Robert Wagner and Betty Davis touting Generation After Generation Jim Beam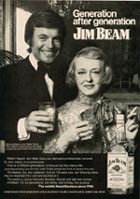 Detroit, Michigan born Robert Wagner began his Hollywood career as a golf caddy for Clark Gable. His first bit part in a movie was in MGM's The Happy Years in 1950. In his only scene, he wore a catcher's mask.

Wagner cried his way to stardom. One of the few men who can cry on cue, an ability that he demonstrated in the Susan Hayward movie With A Song In My Heart, as the crippled soldier responding to a song. Although the part lasted a scant minute his powerful performance brought immediate public reaction.

In addition to his film and television ventures Wagner has traveled the world performing in A.R. Gurney's Love Letters with Stefanie Powers. They were the first to launch the tour internationally, including a stop in Las Vegas. Currently Wagner performs Love Letters at charity events with his wife, Jill St. John.

Las Vegas resident Robert Goulet took Broadway by storm and won the Theatre World Award with his debut as Sir Lancelot in the original Camelot (1960) which also starred Richard Burton and Julie Andrews. Goulet went on to win a Tony Award for The Happy Time.

He didn't play favorites when it came to liquor. The handsome and popular singer had his likeness plastered on 1965 Hubelein Cocktails and 1963 Smirnoff Vodka ads.

With a career spanning 50 years Goulet has been signed by Barry and Fran Weissler to star as Emile de Becque, in Rodgers & Hammerstein's memorable and enduring classic, South Pacific.

Rehearsals begin last week for the production which opens March 19 at the Aronoff in Cincinnati.

That engagement runs through March 31 on a tour that is nonstop through September 15.


JERRY LEWIS DESERVES TECHNICAL OSCAR

Jerry Lewis deserves an Academy Award and director Peter Bogdanovich is spearheading a drive to award the Las Vegas resident an Oscar for inventing the video monitor.



Jerry Lewis Photo By: Laura Deni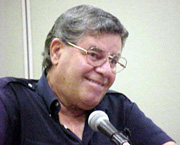 ( See Broadway To Vegas column of August 20, 2002 )

Lewis, who celebrates his 76th birthday March 16, invented and holds the patent rights to video assist, which is currently used on virtually every movie and on many television sets.

Jerry created this closed circuit television system to facilitate motion picture and television production. It was engineered and perfected by the Paramount Television Department under supervision of Bruce Denny.

As to what prompted him to invent such a gizmo Lewis answered, "I needed it to help me do what I wanted to do. It made my job easier and possible," he told us referring to an actor directing himself.

It was used for the first time in February 1960, when he began shooting The Bellboy. With the monitor placed just out of camera range, Lewis could set up his shots while playing the scene and more easily gauge complicated shots with other actors.

When pressed as to whether he received royalties, owned the patent or whether he had sold any interest and whether he still invents the comedian went for the joke.

"I'm inventing all the time," he answered without hesitation. "I've just invented something that causes a car to ride in complete silence. Total silence, no noise at all while you're driving the car. It's a muzzle that you put over your wife."

Rim shot.

Then he got serious. "I own the patent. And, let's just say my daughter will never have to go to a community college."

In 1967 Jerry became a professor at the University of Southern California, where he taught graduate students a course in film direction. "The Total Film-Maker", based on recordings of 480 hours of his classroom lectures, was edited by Jerry and published by Random House in 1971. The USC library also houses an extensive collection of Jerry's original documents relating to motion picture production.

In February of 1995, Jerry made his first Broadway appearance as the star of Damn Yankees at the Marquis Theater on Broadway. He called the subsequent 185 performances the fulfillment of his lifelong dream.


WATCH OUT FOR THE FIGHT SCENES

Fortunately the woman who got beaned by a piece china thrown by Tony and Academy Award winning Mercedes Ruehl is a long time theater patron who, after receiving six stitches to her noggin, intends to return to the theater and see the part of the show she missed.

Edward Albee's The Goat Or, Who Is Sylvia?, which officially opens tonight at the Golden Theatre, about a married man's revelation to his wife of an extramarital affair of the four-legged variety, had a come-to-blows scene that got out of control.

In a set designed by John Amone, a style conscious, fighting mad couple played by Bill Pullman and Ruehl have a well-appointed home with art, china and pottery.

Last Tuesday, during Scene Two of the intermission less play, the character played Ruehl smashes a piece of china in anger.

As expected the plate broke, but unexpectedly a shard of the prop struck the forehead of a woman in the front row.

She sat stunned for several minutes with blood streaming down her face. The production was not halted as patrons alerted the house staff who assisted the woman, who was taken to a nearby hospital where she received six stitches.

The producers paid the hospital bill and have offered the woman a comp ticket to come back and see the entire play. Cast members, which include Jeffrey Carlson and Stephen Rowe, sent her flowers.

The world-premiere play, directed by David Esbjornson, opens tonight, March 10, at the Golden Theatre.



Broadway To Vegas is supported through advertising and donations. Priority consideration is given to interview suggestions, news, press releases, etc from paid supporters. However, no paid supporters control, alter, edit, or in any way manipulate the content of this site. Your donation is appreciated. We accept PAYPAL. Thank you for your interest.


THE MUSIC GOES ROUND AND ROUND
BERNADETTE PETERS LOVES RODGERS AND HAMMERSTEIN is the newest CD by Bernadette Peters. Tunes featured on the disc include It's a Grand Night for Singing, Mr. Snow, It Might as Well Be Spring, Some Enchanted Evening, You'll Never Walk Alone and There Ain't Nothing Like a Dame.

The CD, arranged and conducted by Jonathan Tunick, hits the stores March 12 on the Angel label. Peters will make an in-store appearance March 15 at the Virgin Megastore in Times Square, where she will autograph copies of the release.


SWEET CHARITY

ACTORS FUND PERFORMANCE in Los Angeles on Friday, March 15. Trolls A New Musical Play at The Coast Playhouse. In New York City Bea Arthur On Broadway - Just Between Friends has a Special Actors' Fund Performance on Sunday, March 17th at The Booth Theatre, NYC.



CELEBRATING ET CALLING HOME Steven Spielberg will use a live orchestra to accompany the 20th-anniversary screening of E.T. at the Shrine Auditorium in L.A. March 16. Conductor John Williams, who won an Oscar for the film's score, will lead 100 musicians; the movie's music track will be muted.

JASON ROBARDS AWARD FOR EXCELLENCE IN THEATRE

Christopher Plummer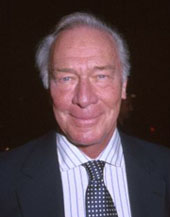 will be inaugurated by the Roundabout on Monday, April 22 at their 2002 Spring Gala. The Jason Robards Award honors a theatre professional who has provided unique and extremely valuable contributions to the theatre. Christopher Plummer will be the first recipient of the award.

The event will be hosted by Whoopi Goldberg and take place at Cipriani. Following a private cocktail reception dinner will follow with the presentation of the striking award designed by sculptor, Arthur Carter. Lois Robards, along with friends of Jason and Chris, will join in the celebration by sharing anecdotes and stories of their work with these theatre legends.

JULIE HARRIS up and about after suffering a seizure some months ago, will be honored by Trio Popular Arts TV. The special tribute takes place March 18 at Alice Tully Hall.

MELISSA GILBERT former Little House on the Prairie star was elected - or re-elected - president of the Screen Actors Guild after a challenge was filed regarding the results of the first election held in November - forcing a second election. ( See Broadway To Vegas column of February 17, 2002 ) Gilbert defeated Valerie Harper, winning the election with 57 percent of the vote. In the November election Gilbert had won with 43.5 percent of the vote.



RAGS On March 15 and 16 two-benefit performances of Rags in Concert, will be presented by The Storefront at Metro Baptist Church, New York City.

Rags premiered on Broadway in 1986, closing after just four performances and several weeks of previews.

Rather than remaining in the rag bag, Rags has turned into a cult hit.

Broadway To Vegas spoke with Storefront Artistic Director Phil Geoffrey Bond about this event.

"Rumors are that the producers didn't put enough money into the production," speculated Bond regarding the early demise of the original production which starred; Theresa Stratas, Larry Kert, Lonny Price, Marcia Lewis, Dick Latesa, Judy Kuhn and Marcia Lewis.

"1985 was a strange year," he continued. " Phantom came in and people didn't necessarily expect this type of a musical from Strouse."

"And, this musical has changed a lot in previews. I'd say this is the ninth rewrite that we're doing." While the two performances benefit the theatre The Storefront, the nonprofit company devoted to plays, musicals, cabaret talent and new songwriters, Bond has invited to attend the type of Broadway angels who have the financial wings to make a production fly. Having Rags revived on Broadway would be Bond's dream wish coming true.

The Storefront concert production will feature celebrated vocalist Anne Runolfsson who was excellent in Victor/Victoria, and Les Miserables, in the lead role, and Leslie Kritzer who was Fanny in the Papermill Playhouse production of Funny Girl and more recently the Mother in Bat Boy, as Bella.



Marilyn Caskey-Jonathan and Drew Bleicher in a production of Rags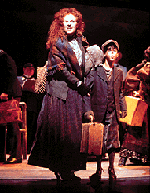 The story of Rags and its various incarnations is a compelling one. Since it's Broadway debut, the show has been continually rewritten by its celebrated authors, Charles Strouse (music), Stephen Schwartz (lyrics), and Joe Stein (book). This latest version of Rags has never before been seen in New York.

The title Rags refers not just to music of the period, but also to the "rag trade" that so many immigrants worked at - in often stifling conditions - in New York City.

Set against the backdrop of 1910 New York the plot concerns Russian immigrants and the struggles they face adapting to American society, socially, politically and financially.

At its heart, it is a patriotic story about people who are willing to sacrifice virtually everything, even their lives, in order to live in America.

The Storefront was founded in November of 1999 by Bond, a former press agent. He calls this endeavor his most "ambitious, compelling and rewarding." He serves as artistic director, is directing this production, handling publicity and on call for anything else it takes to make a success happen.

The young theatre has developed a reputation of becoming a theatrical force in New York, contributing quality works, celebrated for their strength and insight. Their previous musical evenings include Taking the Wheel: The Music of John Bucchino, It's An Art: The Music of Stephen Schwartz, Beginnings: The Music of Brett Kristofferson, Arise, a poignant and star-studded benefit concert for the World Trade Center, and the highly-lauded Gashole: The Wit and Wisdom of the 70's, still running in New York after five months.

Rags in Concert will be directed by Bond, with Musical Direction by Sean Michael Flowers and Musical Staging by Robert Jay Cronin, who is also the Artistic Director of the Ergo Theatre Company.

Featured in the cast: James Beaman, Diane Bers, Stephen Dean Brennan, Christopher Caswell, Michael Coco, Peter Cormican, Brandon Cutrell, Camille Diamond, Eric Forand, Courtney Gable, David Gaspin, David Gurland, Stephanie Judkins, Don Juhlin, Teresa Kelsey, Karie Koppel, Matt Leahy, Karen Mack, Marina MacNeal, Sidney Myer, Libby Anne Russler, Noelle Teagno, and Alex Odya-Weis.

THE PRODUCERS last week to see Nathan Lane and Matthew Broderick starring in this Tony winning delight. They leave the show next Sunday. Henry Goodman and Steven Weber, take over for Lane and Broderick, respectively, beginning March 19. Both Lane and Broderick are headed towards television. CBS has ordered a new pilot, Life of the Party, in which Lane plays TV-star-turned-congressman Charlie Lawrence - who happens to be gay. The show was created by ex-Frasier writer Jeffrey Richman. Broderick will star in the television version of The Music Man.

THUMBS a comedy thrilled written and directed by Rupert Holmes, opened it's world premiere last night at the Helen Hayes Theatre Company in Nyack, NY.

Kathie Lee Gifford and Diana Canova star.

Gifford plays an odd ball devious diva - a has been film star desperately trying to make a come back on television. Set in a small Vermont town the Sheriff, played by Diana Canova, is on the trail of a serial killer, whose perverse predilection he cuts off people's thumbs thus the play's title.

Cast members also include Tom Beckett, Brad Bellamy, Brian Letscher, Hardy Rawls and Nicola Royston. Performances continue to March 24.

THE SUNSHINE BOYS starring Dick Van Patten and Frank Gorshin scheduled to perform March 23-34 in Salt Lake City has cancelled due to "routing issues," according to Clear Channel Entertainment, parent company of the Broadway in Utah series. Full refunds may be obtained by returning or mailing tickets to the ArtTix outlet where they were purchased.

BEST LITTLE WHOREHOUSE IN TEXAS presented by the Portland Opera, starring Ann-Margret and Gary Sandy sets up shop March 12-17 in Portland, OR; at the Civic Auditorium

AIDA March 12-24: Cleveland, Ohio. Aida's three leads are Simone as the titular slave, Patrick Cassidy as her captor and lover, and Kelli Fournier as his royal girlfriend, Amneris.

MR GOLDWYN starring Alan King (See Broadway To Vegas column of February 17, 2002 ) opens Wednesday at the Promenade Theater, NYC.

THE CRUCIBLE Arthur Miller's classic parable of mass hysteria draws a chilling parallel between the Salem witch-hunt of 1692 one of the strangest and most awful chapters in human history' - and the McCarthyism which gripped America in the 1950s. The story of how the small community of Salem is stirred into madness by superstition, paranoia and malice, is a savage attack on the evils of mindless persecution and the terrifying power of false accusations.

Liam Neeson and Laura Linney star as fiery farmer John Proctor and his prudish wife Elizabeth in Richard Eyre's revival of Arthur Miller's The Crucible.

The production, at the Virginia Theatre, opened March 7 to exceptionally strong reviews and a ten minute standing ovation for Miller who was in attendance.

The cast includes John Benjamin Hickey, Christopher Evan Welch, Anglea Bettis, Tom Aldredge, Stephen Lee Anderson, Kristen Bell, Laura Breckenridge, Jennifer Carpenter, Betsy Hogg, J.R. Horne, Patrice Johnson, Sevrin Anne Mason, Paul O' Brien, Jeanne Paulsen, Frant Raier, Dale Soules, Helen Stenborg, Henry Stram, Jack Willis, and Brian Murray.

Former former head of the UK's Royal National Theatre, Richard Eyre, directs this revival. Paul Gallo in charge of lighting, Tim Hatley sets and costume designer and Scott Myers on sound, with David Van Tieghem providing original music.

The production runs through June 8. Don't miss.


WHO'S WHERE

ALAN CAMPBELL joins the cast of Cabaret on Broadway on March 19. He'll replace D.W. Moffett joined the cast last Sept. 4 and gave his last performance on March 3. Campbell will play the suicidal advertising exec created by Boyd Gaines, who won a Tony Award for his performance. Charlotte d'Amboise and Colleen Dunn, who also joined on Sept. 4, remain with the cast. Vivian Beaumont Theatre in NYC.

JOHN PIZZARELLI performs March 14 in Liverpool N.Y at Liverpool High School. On Saturday he can be enjoyed in Hartford, CT in Belden Hall.

CHRISTINE EBERSOLE who won the Best Actress in a Musical Tony Award for her portrayal of Dorothy Brock in 42nd Street returns to the part on March 12 after a 10-week leave of absence.

K T SULLIVAN starring at the Algonquin Hotel in New York City in Follies & Scandals: A Century of Musical Theater March 12-30.

MAUREEN McGOVERN March 13-18 at the Cinegrill's grand reopening in Los Angeles.

JANA ROBBINS will sing the songs of Cy Coleman over four Sundays in March, at Arci's Place, NYC. Doyle Newmeyer serves as musical director, accompanying on piano. March 10, 17, 24 and 31.

EDDIE MONEY center stage March 15 at Casino Aziar in Evansville, Indiana.

DAVID BENOIT performs March 14 at the Norris Center AAS Chamber Presentation Pavilion in Palos Verdes, CA.

BOBBY VINTON opens a four night engagement Thursday at the Orleans Hotel in Las Vegas.

KENNY ROGERS opens a four night engagement Thursday at the Hilton Hotel in Las Vegas.

KEELY SMITH opens a five night engagement on Friday at the Raymond F. Kravis Center in West Palm Beach, Florida.

THE SMOTHERS BROTHERS have a two night gig Wednesday and Thursday at the Potawatomi Casino in Milwaukee, Wisconsin.

TONY BENNETT performs March 12 in Fort Myers, Florida at the Barbara B. Mann Hall. On Thursday the crooner will be center stage in Boca Raton, Florida at Florida Atlantic University and the ageless singer entertainers Friday in West Palm Beach, Florida at the Raymond F. Kravis Center.

STYX is on the road setting up the equipment for a gig March 14 in Melbourne, Florida at the Maxwell C. King Center. On March 15 they can be found in Jacksonville, Florida at the Florida Theatre. They'll close out the week Saturday in Hallandale, Florida at the Gulfstream Park.

BILL COSBY making the crowds laugh March 15 in Cincinnati, Ohio at the Proctor & Gamble Hall. On Saturday the multi talented guy will be in Evansville, Indiana performing in the Centre Theatre.

JACKIE MASON opens a two week engagement tomorrow night in Chicago, Illinois at the Palace Theatre.

DAVID COPPERFIELD beginning Friday will make things appear and disappear for three nights at the Fox Theatre in Detroit, Michigan.

NATALIE MERCHANT has a busy week. On Monday she is in Miami Beach, Florida at the Jackie Gleason Theater. Tuesday finds her in St. Petersburg, Florida at the Mahaffey Theater. On Thursday she is on stage in Birmingham, Alabama at the BJCC Concert Hall. She'll be in the spotlight on Friday in Little Rock, Arkansas at the Robinson Center Hall. She'll close out the week Saturday in Tulsa, Oklahoma at the Brady Theatre.

BOYS CHOIR OF HARLEM performs Friday and Saturday at the Heritage Theatre in Saginaw, MI.

ALICIA KEYS tonight on stage at Copley Symphony Hall in San Diego,CA.

ENRIQUE IGLESIAS brings his "One Night Stand Tour" to Radio City Music Hall on Saturday, March 16th.

PLACIDO DOMINGO in concert with the Las Vegas Philharmonic conducted by Eugene Kohn. Special guest soprano Ana Maria Martinez, Saturday March 16 at Mandalay Bay, Las Vegas.


PIFFLE AND PROFUNDITIES


FRANK MARINO

Las Vegas Mayor Oscar Goodman presents a key to the city to impersonator Frank Marino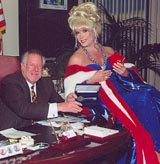 who stars at the Las Vegas Riviera Hotel as Joan Rivers had wanted to rename Crane Lake Way, the street he has lived on for 17 years, in his honor - an idea first presented to him by his neighbor.

The impersonator, who was recently presented a key to the city by Mayor Oscar Goodman, saw his attempt to immortalize himself on a street sign rejected by the Las Vegas City Council. The officials sided in with the president of the West Sahara Homeowners Association agreeing that "Frank Marino Street" wouldn't fit in with the water-themed street names in The Lakes residential area, which include names like Lake North Drive and Sandy Shore Drive. An argument that Marino means "the sea" in Italian, didn't float with the officials.

"It would set a precedent," said Councilwoman Lynette Boggs McDonald, who represents the area. "We have many outstanding individuals that live in this residential area .

"I think there possibly will be a Frank Marino Drive somewhere, someday, but I think it should not be in this area where all of the names have that consistency," she said. Streets in Las Vegas are named after entertainers such as Wayne Newton and Duke Ellington. Anyone may petition to have a street named in their honor - subject to approval.













Next Column: March 17, 2002
Copyright: March 10, 2002. All Rights Reserved. Reviews, Interviews, Commentary, Photographs or Graphics from any Broadway To Vegas (TM) columns may not be published, broadcast, rewritten, utilized as leads, or used in any manner without permission, compensation and/or credit.
Link to Main Page
---
Laura Deni



U.S. Postal Address: Post Office Box 60538, Las Vegas, NV 89160
CLICK HERE FOR COMMENT SECTION