! >
Broadway To Vegas
  
  REVIEWS INTERVIEWS COMMENTARY NEWS

| | |
| --- | --- |
| | |
SIDE SHOW CD REVIEW - -HIP HOP POETRY AT OREGON SHAKESPEARE FESTIVAL - - THE GREAT FESTIVAL OF CREATIVITY IN SHANGHAI - - STEVIE BY HUGH WHITEMORE - - GUILD HALL'S ACADEMY OF THE ARTS LIFETIME ACHIEVEMENT AWARDS & DINNER - - BASKETBALL TEAM KINGS COMMISSIONS ARTIST KOONS - - EIGHT OVER EIGHTY HONORED - - KEVIN SPACEY IN CLARENCE DARROW - - DONATE . . . Scroll Down




Copyright: March 1, 2015
By: Laura Deni
CLICK HERE FOR COMMENT SECTION


2014 ORIGINAL BROADWAY CAST SIDE SHOW BECOMES A HAUNTING CD


Twice it was mounted on Broadway -Side Show - the tale of Daisy and Violet Hilton, conjoined twins bonded together - literally - at the hip. While the productions were separated by several years, the fate of the two productions resembled being conjoined - both closed early and at a loss. The vastly retooled second version, which is the production captured on this CD, deserved a considerably longer run.

Important: If you own the original cast album of the first Broadway production, you definitely need to purchase this one. Just as the story structure was smoothed to make it easier to understand, with elaborate costumes adding to the drama, 12 of the original 27 songs were realigned or eliminated, with others added.

The result is a powerful score; impressive music by multiple Grammy winner, Academy Award winner and Tony award nominee Henry Krieger with lyrics by Tony Award nominee Bill Russell.

The show, which opened on Broadway at the St. James Theatre on November 17, 2014, has been released by Broadway Records as a glorious CD.

This CD features Emily Padgett as Daisy Hilton, Erin Davie as Violet Hilton, David St. Louis as Jake, Ryan Silverman as Terry Connor, Matthew Hydzik as Buddy Foster, Robert Joy as The Boss/Sir, Blair Ross as Auntie and Javier Ignacio as Houdini.

You don't need to have seen the show to be captivated by this CD, which stands on its own. The booklet contains the storyline, songs and lyrics - as well as opulent photographs by Joan Marcus, enabling the reader to appreciate the important costumes by Paul Tazewell and make-up design by Cookie Jordan.

The musical numbers clearly explain the storyline, making this an emotionally stirring CD.

Told almost entirely in song, Side Show, with excellent arrangements by Sam Davis and Harold Wheeler orchestrations, is one of heartbreak and triumph, brilliantly captured in the score.

The conjoined twins were born in Brighton, England, in 1908, to an impoverished, unmarried, sixteen year-old barmaid. The infants were "sold" two weeks after their birth to the midwife who delivered them. She was a cruel owner who regularly beat her wards with the buckle-end of a belt. Violet and Daisy were given music and dance lessons as soon as they were able to walk and talk, and were placed on exhibit by the time they were three. When they reached America in 1916, they were already a sensation throughout Europe and Australia.



Cast of Side Show. Photo: Joan Marcus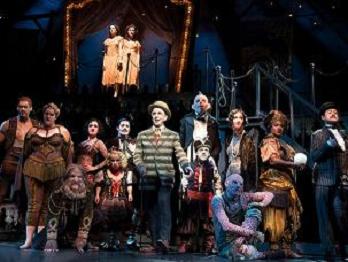 Their act was top-notch and brought in tens of thousands of dollars, but the sisters never saw their earnings. Their "management" stole every farthing they made.

Daisy was attracted to the excitement of show business and wanted to make it her life, while Violet was more demure; she wanted to settle down and raise a family. This potentially irresolvable conflict was rectified after they met the famous magician Harry Houdini while the two acts were sharing the stage at a vaudeville house in Detroit. The "King of Handcuffs" advised them to "live in your minds, girls. It is your only hope for private lives. Just recognize no handicap."

Javier Ignacio as Houdini explains that in the number All In The Mind.

Side Show is a musical which gives a peak into the real world of carnivals, where human beings earn a living as "freaks."

It's a secretive world; with fierce loyalty and equally fierce control and ego. All of this is captured by the powerful triple threat: score, arrangements/orchestrations and performance.

The world of Side Show is set against the backdrop of 1920's and '30s which is reflected in the musical structure of Ready to Play, Stuck with You/Leave Me Alone, and One Plus One Equals Three.

"It will never leave you" promises the promo. Indeed, the score which is both dramatic and melodic, and the performances, are haunting.

The opening number Come Look at the Freaks, both taunts and begs prospective ticket buyers. Eerie, almost sinister, Carny barker Sir (powerful performance by Robert Joy) tempts the customers, with promises of "the pygmies and the freaks", a man with three legs, touting "malformations/grotesque physiques." He barks: "Come see God's mistakes/The freaks that God forsakes." Those who take the bait and pay their admission price, then leave the exhibit awestruck and mesmerized. The same experience awaits listening to this CD.

Stars of the freak show Daisy and Violet may need to exist in a conjoined body, but their personalities are unique, effectively captured in their singing performances. Daisy the extrovert, and the more reserved Violet.

The lovely, tender and gentle Like Everyone Else, lets sopranos Emily Padgett and Erin Davie explain in soaring and blending voices how they are alike - and different.

Would-be impresario Terry Connor (Ryan Silverman) and his associate Buddy Foster (Matthew Hydzik), encourage the twins to leave the side show in the jaunty new song Very Well Connected.

Ryan Silverman, who has appeared as Raoul in The Phantom of the Opera and Billy Flynn in Chicago, uses his dynamic baritone coupled with Matthew Hydzik's pure and exquisite tenor to bring to life the opposite personalities of the sleazy Connor and the naive Buddy.

Buddy an enterprising yet innocent young talent scout and vocal coach/theater usher, who serves as the Hilton sisters' choreographer takes his star turn in A Private, Exclusive Show.

The Devil You Know is powerful, brash and vibrant. David St. Louis, who possess an extremely rich voice and has been enjoyed in Jesus Christ Superstar and The Scarlet Pimpernel, is cast as Jake the side show attraction who interacts with the freaks and tells it like it is. "We don't work/In the best of situations/We don't live very well/Don't reside/in the neighborhood of heaven/We live somewhere closer to hell."

Balancing this - the tangled and entwined Daisy and Violet who want people to think of them as "the typical girl next door." They bake bread, swim, play golf, eat with the fork - and fall in love as explained in the anguished and poignant Who Will Love Me As I Am?, and the overwhelming awakening of emotions in Buddy Kissed Me.

Stuck With You/Leave Me Alone, shows the girls' conflicted life. There is the rousing One Plus One Equals Three, and the heart tugging, romantic You Should Be Loved, both led by Jake, who does his best to protect the twins while longing for Violet. The Wedding Show is pointed and sassy pondering if the wedding night will be a three way event.

Blair Ross ably displays her chops as the twins' legal guardian, the dominating, intimidating Auntie who excels at self serving manipulations as demonstrated in You Should Thank Me Every Day, Cut Them Apart and The Wedding Show.

All of the performers know how to bring a lyric to life.

In many Broadway musicals there is the soaring, dramatic bring-down-the-curtain number at the end of each act - a showstopper, if you will. This production isn't limited to those powerful keep-the-audience-in-the-theater numbers, and a show closer meant to inspire the audience to talk about the production as they leave. This CD is filled with flourishing statement making songs, balanced by the tender and sweet. There isn't a weak or throw away number in the repertoire.

Casting for this production had unique hurdles. Those cast as Violet and Daisy not only need to look as if they could be twins, but their voices require the capability for perfect blending. It's a high bar which Emily Padgett and Erin Davie easily scale over.

This CD does provide a Bonus Track, the emotional title number which was cut from the original production, reinstated for the pre-Broadway La Jolla Playhouse mounting, and then cut again for the revised Broadway show.

Bill Condon who provided additional book material and directed the show, penned the liner notes in which he states: "Of course, the show appeals on many levels, but ultimately it's the voluptuous sweep of Henry Krieger's music and the scorching clarity of Bill Russell's words that leave an indelible mark."

Couldn't be said better.

Side Show Orchestra:

Conductor: Sam Davis - Keyboards/Assoc. Conductor: Greg Jarrett - Keyboards/Assistant Conductor: David Gardos - Drums Larry Lelli - Percussion: Billy Miller - Woodwinds 1: Greg Thymius - Woodwinds 2: Deborah Avery - Horn: Kyle Hoyt - Trumpet/Flugelhorn: Alex Bender - Trombone/Tuba: Nate Mayland - Guitars/Banjo: Brian Koonin - Bass: Steve Count - Violin countermaster: Cenovia Cummins - Violin: Keats Dieffenbach - Violin: Todd Law - Cello: Stephanie Cummins.

Music copying: Emily Grishman, Katherine Edmonds. Keyboard Programmer: Randy Cohen. Music coordinator: Howard Joines - Piano on bonus track: Henry Krieger.

Arrangements by Sam Davis. and orchestrations by six-time Tony award nominee Harold Wheeler. Recorded and mixed by Frank Filipetti. Edited and additional engineering Derik Lee. Bonus track recording: Ira Yuspeh M&I Recording, NYC. Pro Tools operation/Assistant Engineers: Aki Nishimura, Nate Odden. Recorded at Avatar Studios, NYC. Mixed at The Living Room, West Nyack, NY. Mastered by Ryan Smith, Sterling Sound, NYC. CD. Package and layout Van Dean. Photos, Joan Marcus.






Broadway To Vegas is supported through advertising and donations. Priority consideration is given to interview suggestions, news, press releases, etc from paid supporters. However, no paid supporters control, alter, edit, or in any way manipulate the content of this site. Your donation is appreciated. We accept PAYPAL. Thank you for your interest.






ART AND ABOUT


THE KINGS BASKETBALL TEAM AND THE CITY OF SACRAMENTO

Artist rendering of proposed sculpture. Photo: Sacramento Kings.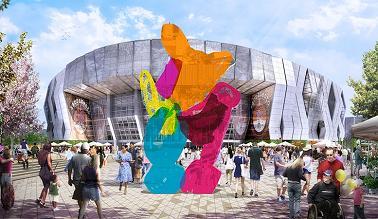 have commissioned famed artist Jeff Koons to create an 18-foot tall and 9-foot wide sculpture, which will be displayed outside the new downtown Entertainment and Sports Center (ESC) which is slated to open in October 2016.

Koons will be paid $6 million.

The sculpture marks the first artwork by Koons purchased by a municipality for permanent display.

In May 2014, the city and the Kings announced that $5.5 million of the ESC construction budget would be invested in the Sacramento Metropolitan Arts Commission's (SMAC) Art in Public Places program, representing the largest commitment in City history. A nine-member panel of prominent artists, curators and community leaders were appointed to recommend the acquisition, exhibition and maintenance of the artwork, including artist selection and artwork design approval.

The panel has now selected, and SMAC approved, a sculpture from Koons' Coloring Book collection, a towering design of stainless steel. Coloring Book is a quintessential element from the artist's Celebration series. The sculpture is intended to capture a child's ecstatic enjoyment of the world, according to the Kings' press release.

In what is the largest budget for a public art installation in the region's 38-year history of Arts In Public Places Program - $9.5 million - the Kings announced in May that $5.5 million from the arena construction budget would go toward public art at the facility and in the surrounding public plaza that is under construction. Roughly half of that money is from the city of Sacramento's contribution to the arena financing. Team chairman Vivek Ranadive and minority owners Kevin Nagle and Phil Oates have agreed to contribute an additional $1 million apiece to help commission the Koons sculpture.

The panel also announced a $1.5 million investment to commission regional art for the ESC. Sacramento philanthropist and artist Marcy Friedman will gift $1 million, and $500,000 will come from the initial $5.5 million contribution to the Art in Public Places program which requires developers of public buildings to commit 2 percent of construction costs to public art.

Koons' sculpture will be the fifth in his Coloring Book collection, a series of towering stainless steel sculptures which are colorful and "intended to capture a child's ecstatic enjoyment of the world," according to a Kings news releases. The artistic concept for the Sacramento sculpture is to resemble the character Piglet from the Winnie the Pooh books, as colored by a young child.

"Jeff Koons is perhaps the biggest art star in the world today," said Crocker Art Museum Director and CEO Lial Jones. "His work is featured in collections of major museums around the world. It is significant that the City of Sacramento and the Kings are purchasing his sculpture for permanent exhibition in the public realm."

"With all of the excitement around the new arena, I'm thrilled to have the opportunity to have my work prominently displayed in Sacramento," said Koons. "Over the years I've spent a lot of time in Sacramento, from discovering the downtown area to visiting the train museum for inspiration. To have Coloring Book interact with the vibrancy of the city and its citizens is going to be fantastic."

"The Sacramento region has long been an incubator for artists who have earned both national and international prominence," said Friedman. "Ensuring that the ESC reflects the voice of the regional art community will guarantee, through artistic expression, the unique character of Sacramento."

A native of York, Pa., Koons is considered one of the most important and influential artists of the postwar era. Since his first solo exhibition in 1980, Koons' work has been shown in major galleries and institutions throughout the world.

His Celebration series was the subject of exhibitions on the rooftop of the Metropolitan Museum of Art in New York and at the Neue Nationalgalerie in Berlin. Château de Versailles opened its doors to a living artist for the first time with Jeff Koons: Versailles, where a selection of his works was presented within the Grand Apartments.

The Whitney Museum of American Art presented the most comprehensive survey of Koons' career to date, Jeff Koons: A Retrospective, which closed October 19, 2014, and will also travel to the Guggenheim Museum Bilbao in June 2015.

Koons has received numerous awards and honors in recognition of his cultural achievements. Notably, Koons received the Governor's Awards for the Arts Distinguished Arts Award from the Pennsylvania Council on the Arts; President Jacques Chirac promoted Koons to Officier de la Legion d'Honneur; and Hillary Rodham Clinton, serving as Secretary of State, honored Koons with the State Department's Medal of the Arts for his outstanding commitment to the Art in Embassies Program and international cultural exchange.

Koons has been a board member of The International Centre for Missing & Exploited Children (ICMEC) since 2002, and co-founded the Koons Family International Law and Policy Institute with ICMEC; for the purpose of combating global issues of child abduction and exploitation and to protect the world's children.

The Sacramento Kings are a professional basketball team, based in Sacramento. The Kings are the oldest franchise in the NBA, and one of the oldest continuously operating professional basketball franchises in the nation. After the San Antonio Spurs lost the 2013 NBA Finals to the Miami Heat in seven games, the Kings are the only franchise to never trail in a single NBA Finals series.

On January 30, 2015, Demarcus Cousins was named to replace the injured Kobe Bryant as a Western Conference All-Star in the 2015 NBA All-Star Game. Cousins' selection marked the first time a Kings player earned All-Star honors since Brad Miller and Peja Stojakovic represented Sacramento in 2004.





SWEET CHARITY


EIGHT OVER EIGHTY

Arlene Alda. Her latest book Just Kids From The Bronx will be released March 3, 2015 by Henry Holt and Co. It's a collection of autobiographical recollections that evoke the history of one of America's most influential boroughs - the Bronx. All author proceeds from this book will be donated to several organizations that benefit children in the Bronx today.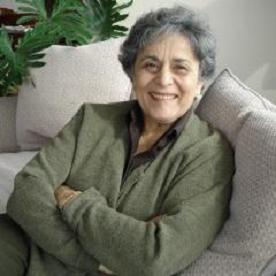 eight extraordinary individuals who are over the age of eighty will be celebrated at the Jewish Home Lifecare's Eight Over Eighty Benefit Gala which takes place Wednesday, March 11, 2015 at the Mandarin Oriental New York.

Honorees Arlene Alda, Barbara Carroll, Charles M. Diker, Milton Glaser, Joel Grey, Irwin Hochberg, Pat Jacobs, Fred & Rita Richman represent the best of the arts, entertainment, business, graphic design, volunteerism and philanthropy.

Arlene Alda, author and photographer and wife of Alan Alda, graduated Hunter College, Phi Beta Kappa, received a Fulbright Scholarship and realized her dream of becoming a professional clarinetist, playing in the Houston Symphony under the baton of Leopold Stokowski. She switched careers when her children were young and became an award winning photographer and author, who has written nineteen books.

Barbara Carroll, 90, is an elegant jazz pianist, composer and vocalist, long recognized as one of the premier players of swinging jazz piano and expressive vocals. Carroll was awarded a Lifetime Achievement award.

Charles M. Diker, Managing Partner at Diker Management, LLC, a registered investment adviser which manages several small and mid-cap funds. He is the Founding Chairman of the National Museum of the American Indian. His many board positions include the Board of Trustees of the Guggenheim Museum.

Milton Glaser, 85, is an American graphic designer, best known for the "I (Heart) NY" logo, his Bob Dylan poster, the DC bullet logo used by DC Comics from 1977 to 2005, and the Brooklyn Brewery logo.



Tony and Oscar winner Joel Gray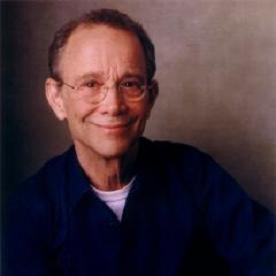 Joel Grey, 82, is the Tony and Oscar awarding winning actor, singer, dancer, and photographer. He was recently honored for his illustrious television career by The Paley Center for Media in both NYC and Los Angeles. Joel is also an accomplished photographer. He has four books of photographs, Pictures I Had to Take (2003), Looking Hard at Unexamined Things (2006), 1.3 – Images From My Phone (2009), and The Billboard Papers, which was released in fall 2013 in conjunction with an exhibition at The Steven Kasher Gallery in NYC.

Irwin Hochberg, a co-founder and president of the accounting firm, Bloom Hochberg & Co., P.C. He was chairman of the board of UJA-Federation of New York from 1991 through 1994, is a former national campaign chairman of State of Israel Bonds.

Pat Jacobs is a longtime board member, fundraiser and volunteer for Jewish Home Lifecare and numerous other organizations.

Fred & Rita Richman, Fred Richman developed Richloom Fabrics Group, a multi-faceted global firm supplying home products to customers worldwide. They have endowed the African Art department and a curatorial position at the High Museum of Art in Atlanta, and are responsible for the Art of Island Southeast Asia Collection at the Metropolitan Museum of Art.

As part of the gala festivities each honoree will be celebrated in a video vignette created by Nick Davis Productions.

"With 30 percent of the U.S. population expected to reach 80 or above by 2030, Eight Over Eighty reflects the changing times in which we live," said Audrey Weiner, President and CEO of Jewish Home Lifecare. "The event also captures what Jewish Home Lifecare is about: celebrating the vitality of older adults, honoring their lives and respecting their individuality."

Funds raised by Eight Over Eighty will support Jewish Home Lifecare's person-directed approach to eldercare. The approach is represented most dramatically by a new long-term care residence being the organization is developing for the Upper West Side of Manhattan. Called The Living Center of Manhattan and slated to break ground later this year, the 414-bed structure will be the first Green House's home in New York City and the first to be built in a major metropolitan, high-rise environment.

BROADWAY AND TV CELEBRITIES including Megan Hilty, Darren Criss, Benj Pasek and Justin Paul and Thomas Schumacher, helped raise funds for JumpStart Theatre, a new program which will build self-sustaining musical theater programs in middle schools.

The stars signed auction items during the recent Junior Theater Festival, an annual event held in Atlanta celebrating young people and the transformative power of musical theater.

JumpStart Theatre is a collaboration between Cincinnati-based Educational Theatre Association, Music Theatre International and iTheatrics.

JumpStart Theatre will train educators to develop sustainable musical theater programs at underserved middle schools that do not currently offer theatre in the curriculum or after school. JumpStart will conduct a pilot program in three Cincinnati area middle schools during the 2015/16 school year, and will then expand the program on a national level.

Selected schools make a three-year commitment. Each school will receive services and materials valued at $12,000 annually in the form of training, mentoring, and producing a full-scale show for their community. Students will be involved in every aspect of the production: performance, costumes, sets, and design. EdTA will also host a yearly JumpStart Theatre showcase, bringing participants together to share their work.

FROM GALWAY TO BROADWAY Ciarán Sheehan and Gwen Eagleton, Broadway stars of The Phantom of the Opera and Les Misérables, will perform at this one-night-only musical event on Thursday, March 5th to benefit The Shakespeare Theatre of New Jersey's young artist education and training programs.

Just in time for St. Patrick's Day, Dublin native Sheehan and Eagleton will perform a medley of traditional Irish songs, Broadway standards, and beloved pop tunes.

Sheehan made his Broadway debut in Les Misérables as Babet and Marius. Shortly after, Sheehan was cast as Raoul in the Phantom of the Opera's third national tour. He went on play the Phantom for two years and over 1,000 performances, both on Broadway and in Toronto, where he replaced Colm Wilkinson.

Eagleton is also a classically trained actor and veteran of The Phantom of the Opera, both on Broadway and on national tour. As a soloist, she has performed across the country and in New York City at The Metropolitan Room and 54 Below.

Sue Anderson will serve as music director and instrumentalist for this St. Patrick's Day celebration.

The Shakespeare Theatre is New Jersey's largest professional theatre company dedicated solely to Shakespeare's canon and other world classics.

Thursday, March 5 at The Shakespeare Theatre of New Jersey, an independent, professional theatre company located on the Drew University campus in Madison, NJ.

THE 2015 THEATRE ASPEN COSTUME GALA takes place Saturday, March 7, at the Hotel Jerome in Aspen, Colorado.

"Hot! Hot! Hot! is this year's sizzling theme, so get ready to put on your Red Hot feathers, fishnets and fedoras to celebrate Theatre Aspen and the age of the speakeasy, Cabaret-style!"

Highballs, auctions, dinner, dancing and dessert.

"Come celebrate everything hot" about Theatre Aspen and help us honor Board Member Betty Gates for a decade of dedicated and inspired service. A Hot Tribute to a Hot Lady."

Gala Chair: Kimberly Schlosser. Gala Committee: Lisa Baker, Terri Caine, Barbara Carson, Tracy Eggleston, Clare Evert-Shane, Ed Foran, Melinda Goldrich, Theresa Chase Sachdeva.

GUILD HALL'S ACADEMY OF THE ARTS LIFETIME ACHIEVEMENT AWARDS & DINNER honoring Matthew Broderick, Jules Feiffer, and Ralph Gibson takes place Monday, March 9, 2015 at Sotheby's in NYC.

Martin Short, Laurie Anderson, Robert Caro, Michael Lynne are the presenters while Eric Fischl hosts the evening.

Linda and Harry Macklowe will Receive the Special Award for Leadership and Philanthropic Endeavors.

Co-Chairs of Guild Hall's Academy of the Arts Lifetime Achievement Awards are:

Magda and Edward Bleier; Eric Bregman and Arlene Slavin; Marty and Michele Cohen; Strong Cuevas; Blythe Danner; Roy Furman; Agnes Gund; Ted Hartley and Dina Merrill; Edmund Hollander and Wendy Powers; Susan and Steven Jacobson; Barbara and Richard S. Lane; Bonnie Englebardt Lautenberg; Linda Lindenbaum; Jenny Ljungberg; Ninah and Michael Lynne; Susan and Morris Mark; Cheryl and Michael Minikes; Pamela and Edward Pantzer; Clifford Ross; Peggy and Henry Schleiff; Paola and Michael Schulhof; Cassandra Seidenfeld; Sue and Spencer Sherman; Renée and Richard Steinberg; Judith Shubow Steir and Berton Steir; Robert A.M. Stern; Bonnie and Tom Strauss; Stephanie Todd, MD; Susan Vecsey; Peter M. Wolf; and Barbara and Donald Zucker.

Funds raised from the Awards dinner benefit Guild Hall's mission of celebrating the artistic spirit on the East End by educating, inspiring, and enriching diverse audiences with excellent and engaging year-round programming.

Guild Hall is located in East Hampton, New York.

THE ELTON JOHN AIDS FOUNDATION'S 23rd annual Academy Awards Viewing Party raised $5.8 million for the fight against AIDS.

The event featured a 5-course dinner prepared by Chef Gordon Ramsay and a special performance by Grammy winner Nile Rodgers & CHIC.


SPREADING THE WORD


FROM BOOK TO BROADWAY: A CONVERSATION WITH WOLF HALL'S HILARY MANTEL and DIRECTOR JEREMY HERRIN takes place Sunday, March 8, at 92Y in New York City.

Dame Hilary Mantel is the two-time winner of the Man Booker Prize for her best-selling novels, Wolf Hall, and its sequel, Bring Up the Bodies - an unprecedented achievement.

The Royal Shakespeare Company recently adapted Wolf Hall and Bring Up the Bodies for the stage to colossal critical acclaim, which opens on Broadway in April. There is also a BBC/Masterpiece six-part adaption of the novels, which will be broadcast on PBS in 2015.

Dame Hilary discusses discusses the production with director Jeremy Herrin.

EUDORA WELTY'S ASPHODEL: A READING BY OLYMPIA DUKAKIS AND OTHERS A place that ever was lived in is like a fire that never goes out.

In advance of the inaugural Eudora Welty Biennial, which opens in April 2015 "down in Jackson" with a theme of Classical Mississippi, the Poetry Center presents a reading of Asphodel, a story of three women visiting a country estate in memory of an eccentric friend who recently passed away. To travel with Eudora Welty "was to have the world narrated to you, recalibrated and transformed into language that was surprising, sometimes shocking, always sympathetic, frequently hilarious and full of perception, wonder and delight," wrote Richard Ford.

Wednesday, March 11, at the 92Y in New York City.

THE OREGON SHAKESPEARE FESTIVAL (OSF) will host three free Hip-Hop Poetry Open Mic events on March 9, April 6 and May 4. All Hip-Hop Poetry Open Mic events will take place. at the Black Swan on the OSF campus in Ashland, OR

In addition to opening the stage for the community to share their talents via all styles of poetry, music, dance and theatre, each night will highlight a different featured artist: the SOU Performance Poetry Team on March 9, Clementine von Radics on April 6 and T-Poe on May 4. Phil Ortega's Life Art students will also be creating visual art based on poetry, to be shared at some point during the open mic series.

"We look forward to celebrating youth, women and our military community with great poets over the next three months," said Claudia Alick, OSF's Associate Producer, Community. The first featured artists of the three-event series, the SOU Performance Poetry Team, are students with a goal to bring people together through words, performance and passion. The team aims to foster and continue the inclusive and supportive SOU community where poets and poetry enthusiasts can share ideas.

These events provide performers an opportunity to work on original material in front of live and deeply supportive audiences. OSF has been producing poetry slams and open mics since 2007.




OTHER PEOPLE'S MONEY


THE GREAT FESTIVAL OF CREATIVITY IN SHANGHAI takes place March 2-4 with Prince William doing the opening honors.

The festival supports British businesses looking to secure opportunities in China. More than 500 world leading British companies including those in design, film, food, and luxury goods will use the festival to reach the Chinese and global business audience to show how British creativity can help their businesses innovate and grow.

Sajid Javid, Secretary of State for Culture, Media and Sport, said:

"British companies should seize the chance to make new partnerships in Shanghai. Our innovation and creativity is in demand from Chinese consumers, from Truro grown tea to Sherlock's stories. This festival is our chance to make new connections and boost exports, a key part of the government's long term economic plan."



KEVIN SPACEY will be honored with a special award during at this year's Olivier Awards which take place April 12, 2015 at the Royal Opera House in London.

In 2010 the 55-year-old Oscar and Tony award winner received an honorary CBE for his services to theatre. Since 2004 he has been the artistic director of the Old Vic. He steps down later this year. Matilda director Matthew Warchus assumes the position in the autumn.

Spacey is being honored by The Olivier Awards for his outstanding contribution to the Old Vic.

The Olivier Awards, established in 1976 and named after Laurence Olivier, are the UK's most prestigious stage honors.


HANG IN THERE . . .


KRYSTA RODRIGUEZ 30, an actress in Smash who also appeared in the Broadway musicals First Date and Spring Awakening, has been forced to become the star player in her personal fight with breast cancer.

She's been posting some pithy and extremely accurate comments on her new blog, dedicated to the "many young, vibrant and fashion loving women out there who want to look their best, even when we're feeling like crap."



CLARENCE DARROW David W Rintels' compelling one man drama.

Directed by award-winning director Thea Sharrock.

Starring Kevin Spacey.

The larger than life Darrow known for his legendary wit, relives some of his pivotal experiences, including the infamous Scopes 'Monkey' and 'Thrill Killers' trials, which established his reputation as a courtroom giant and civil rights hero.

Kevin Spacey will be in conversation on stage after the performance of Clarence Darrow on Sunday March 29. Kevin will discuss his experience as the Artistic Director of The Old Vic as well as his remarkable career as a multi-award winning stage and screen actor, including his collaboration with Sam Mendes and the hit series House of Cards.

March 3-April 11 at The Old Vic in London.

STEVIE by Hugh Whitemore.

Directed by former Associate Director of the National Theatre, Christopher Morahan.

Featuring Zoë Wanamaker, Lynda Baron, and Chris Larkin, A biographical snapshot of both the poet and the private woman, Stevie Smith.

'You expect me to behave in a certain way, to think a certain way, to lead a certain life. Well, I don't think I can do it'

Stevie Smith wrote nine volumes of poetry. The first was titled A Good Time Was Had By All, which became a catchphrase referenced everywhere in popular culture. Her most famous poem is Not Waving but Drowning. She also wrote three novels, Novel on Yellow Paper, Over the Frontier and The Holiday.

Designer: Simon Higlett - Lighting: Tim Mitchell - Sound: John Leonard.

A co-production with the Chichester Festival Theatre. Runs March 6-April 18 on the Main Stage of the Hampstead Theatre, London.

THE ORIGINALIST by John Strand.

Directed by Molly Smith.

Four-time Helen Hayes Award winner Edward Gero stars as one of America's most brilliant and polarizing figures - Supreme Court Justice Antonin Scalia - in this world-premiere political drama.

When a bright, liberal law school graduate embarks on a nerve-wracking clerkship with Justice Scalia, she discovers him to be both an infuriating sparring partner and unexpected mentor. How will their relationship affect one of the most incendiary cases ever to reach the nation's highest court?

Co-starring with Gero are Kerry Warren as Cat, a young clerk who becomes a sparring partner for Justice Scalia, and Harlan Work as Brad, an eager Scalia devotee and Cat's opposite in every way.

Misha Kachman set designer. Joseph P. Salasovich costume designer. Colin K. Bliss lighting designer. Eric Shimelonis sound designer. Susan R. White stage manager.

March 6 - April 26, 2015 at Arena Stage in Washington, DC.

HARVEY a brand new production based upon Mary Chase's Pulitzer Prize-winning comedy.

Directed by Lindsay Posner.

Starring James Dreyfus as Elwood P. Dowd alongside Maureen Lipman as Veta. They are joined by David Bamber as William R. Chumley, Desmond Barrit as Judge Omar Gaffney, alongside Felicity Dean as Betty Chumley, Ingrid Oliver as Myrtle Mae Simmons, Amanda Boxer as Miss Ethel Chauvenet, Sally Scott as Nurse Ruth Kelly, Youssef Kerkour as Duane Wilson, Jack Hawkins as Lyman Sanderson and Linal Haft as E J Lofgren.

The much-loved classic about Elwood P. Dowd and his unwavering friendship with a six foot tall, invisible rabbit called Harvey. Maureen Lipman plays Veta in the show, who tries to get her brother, Elwood P. Dowd played by James Dreyfus, committed rather than risk the family's reputation.

Harvey is designed by Peter McKintosh, with lighting by Howard Harrison and sound by Paul Groothuis.

This hilarious comedy, which was immortalized in the classic film starring James Stewart, comes to the West End following a tour. The limited production will be staged at the Theatre Royal Haymarket, London, from March 7 to May 2, 2015.


WHO'S WHERE




THE EAGLES entertain Monday, March 2 at the Qantas Credit Union Arena in Darling Harbour, Australia. On Wednesday they're on stage at the Allphones Arena in Sydney, Australia and then appear there again on Friday, March 6. Saturday's show is at the Hope Estate Winery in Pokolbin, Australia.

USHER is on stage Monday, March 3, at the Lanxess Arena in Cologne, Germany. Wednesday finds him at the Ziggo Dome in Amsterdam, Netherlands.

NICKELBACK performs Monday, March 2 at the Sprint Center in Kansas City. On Tuesday the show is at the Denny Sanford Premier Center in Sioux Falls, SD. On Thursday they are on stage at the Century Link Center in Omaha. Friday their tour stops at the Target Center in Minneapolis.

MAROON 5 bring their tour to the Verison Center in Washington, DC on Monday, March 3. On Tuesday they are in the spotlight at the TD Garden in Boston. Thursday finds them opening a two nighter at Madison Square Garden in New York. City.

BRIAN STOKES MITCHELL has enjoyed a rich and varied career on Broadway, television and film, along with appearances in the great American concert halls. Known for his powerful baritone, he performs songs from his album Simply Broadway, featuring new interpretations of classic recordings of the 1940s, '50s and '60s. Saturday, March 7, at the Scottsdale Performing Arts Center in Scottsdale, AZ.

FLEETWOOD MAC in the spotlight Wednesday, March 4, at the American Airlines Center in Dallas, Texas. Saturday finds them at the Time Warner Cable Arena in Charlotte, NC.

NEIL DIAMOND stars at the Budweiser Gardens in London, Ontario Canada on Wednesday, March 4. Saturday's show is at the Canadian Tire Center in Ottawa.


FINAL OVATION


LEONARD NIMOY the Emmy nominated actor, died Friday, February 27, 2015 in his home in Bel Air, Los Angeles from Chronic Obstructive Pulmonary Disease (COPD). He was 83.

A few days before his passing, Nimoy shared some of his poetry on his Twitter page. The final tweet that he sent out read: "A life is like a garden. Perfect moments can be had, but not preserved, except in memory. LLAP" (Live Long And Prosper).

The actor, film director, poet, singer, and photographer was best known for his role as Spock in the original Star Trek series (1966–69).

At the time of his death, Nimoy still had the last pair of Spock's ears he wore on the series. He has said that the character of Spock, which he played twelve to fourteen hours a day, five days a week, influenced his personality in private life. Each weekend during the original run of the series, he would be in character throughout Saturday and into Sunday, behaving more like Spock than himself: more logical, more rational, more thoughtful, less emotional and finding a calm in every situation. It was only on Sunday in the early afternoon that Spock's influence on his behavior would fade off and he would feel more himself again – only to start the cycle over again, on Monday morning, according to an interview he did.. May 9, 2009. on Channel 4.

Nimoy began acting at the age of eight in children's and neighborhood theater. His first major role was at 17, as Ralphie in an amateur production of Clifford Odets' Awake and Sing!

On the stage, Nimoy played the lead role in a short run of Gore Vidal's Visit to a Small Planet in 1968, which was shortly before the end of the Star Trek series. He also appeared at the now shuttered Pheasant Run Playhouse in St. Charles, Illinois.

Nimoy's interest in photography began in childhood; until his death in 2015, he owned a camera that he rebuilt at the age of 13. His photography studies at UCLA occurred after Star Trek and Mission: Impossible, when Nimoy seriously considered changing careers. His work has been exhibited at the R. Michelson Galleries in Northampton, MA and the Massachusetts Museum of Contemporary Art.

His marriage to actress Sandra Zober in 1954 ended in a1987 divorce. On New Year's Day of 1989, he married actress Susan Bay who survived him as do a son and a daughter and six grandchildren from his first marriage.

CLARK TERRY a musician's musician died February 21, 2015. He was 94.

He had received over 250 awards, medals and honors, including:

Inducted into the Jazz at Lincoln Center Nesuhi Ertegun Jazz Hall of Fame (2013) - The 2010 Grammy Lifetime Achievemnt Award - The National Endowment for the Arts Jazz Master Award (1991) and Sixteen honorary doctorates.

Neil Portnow President/CEO of The Recording Academy issued the following statement:

"Jazz legend and Recording Academy Lifetime Achievement Award recipient Clark Terry was a multi-instrumentalist and bandleader whose significant contributions to the jazz world are unparalleled. Known most famously as a trumpeter, he worked with the orchestras of both Duke Ellington and Count Basie, and recorded with leading jazz artists including Quincy Jones, Charles Mingus, Thelonious Monk and many more. Highly respected by his fellow musicians, his extraordinary career spanned seven decades, and his love for music led him to be a staunch advocate for jazz education, authoring several jazz instruction manuals and teaching workshops in schools. Our music community has lost a true pioneer, and his legacy will continue to influence jazz for years to come. Our thoughts go out to his family, his friends, his many collaborators, and all who have been entertained by his exceptional talent."

















Next Column: March 8, 2015
Copyright: March 1, 2015 All Rights Reserved. Reviews, Interviews, Commentary, Photographs or Graphics from any Broadway To Vegas (TM) columns may not be published, broadcast, rewritten, utilized as leads, or used in any manner without permission, compensation and/or credit.
Link to Main Page
---
Laura Deni



For the snail mail address, please E-mail your request.
CLICK HERE FOR COMMENT SECTION