! >
Broadway To Vegas
  
  REVIEWS INTERVIEWS COMMENTARY NEWS

| | |
| --- | --- |
| | |
2013 TONY AWARDS - - KINKY BOOTS CD REVIEW - - COURAGEOUS MICHAEL DOUGLAS AND COLLEEN ZENK HELP OTHERS - - IN SCENA! ITALIAN THEATER FESTIVAL NY - - AFTER 23 YEARS THE FABULOUS PALM SPRINGS FOLLIES WILL CLOSE - - SHANGAA: ART OF TANZANIA - - BROADWAY BARES 23: UNITED STRIPS OF AMERICA - - OREGON SHAKESPEARE FESTIVAL - - DONATE . . . Scroll Down





Copyright: June 9, 2013
By: Laura Deni
CLICK HERE FOR COMMENT SECTION


THE FABULOUS PALM SPRINGS FOLLIES TO CLOSE AS PALM SPRINGS INTERNATIONAL FILM FESTIVAL TAKES OVER THEATRE


Shows close all the time and nothing lasts forever. Somehow, this one is different.

Sending shock waves throughout the entertainment community was the unexpected announcement last Wednesday that The Fabulous Palm Springs Follies would, after more than two decades of enthusiastic, wall-to-wall audiences and worldwide acclaim, close its doors forever.

The Follies announces its final edition, entitled The Last Hurrah!, would open November 1, 2013 with its closing performance on May 18, 2014.

110 people will be out of work.

The Fabulous Palm Springs Follies has been more than a production show drawing world wide attention. For many associated with the Follies, being involved with the show is life force. The Follies has served as a family, a support system, the motivation to get up in the morning, stay fit and alert. For many, it's their purpose in life. Dropping the curtain means more than losing a job.

Ironic, during this final season, the three-millionth audience member will be welcomed into the theater. The Fabulous Palm Springs Follies has been a success.

"Our 23rd season will be a 'greatest hits' version of our show," said Follies Producer and Co-Founder Riff Markowitz, "with the best dance production numbers and variety acts of past years, and three iconic headliners packed into one last spectacular Follies season. It will be a fitting and exciting last hurrah!"

Bucking the trend of many live stage productions, attendance was up last year and

Co-founder Riff Markowitz, 74 never missed a performance through 4,463 shows.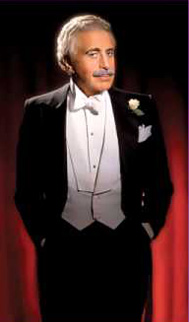 Markowitz, 74, is in excellent health. He's never missed a performance through 4,463 shows and just felt it was time to retire.

Markowitz was the one-man band who co-created, managed and appeared in the Follies. For the last 22 years it's been more than a full-time career. "Many folks don't realize that the Follies is 9:00 a.m. to 11:00 p.m., six-days-a-week, eleven or more months of the year. And it's time to be with family, grandchildren, friends...and my dog."

However, there is no doubt that the decision to ring down the curtain on the leased theatre was a sudden one.

Founders Markowitz and Mary Jardin "met with the mayor on Tuesday and we announced it to the staff and cast on Wednesday. More than a few tears were shed," Greg Purdy, the show's Senior Communications Manager for the past 13 years, told Broadway To Vegas.

"One of our dear Follies regulars, Lisette Haigler, said to me when she heard the news, I'm going to bed now and have a good cry. I don't know what I'm going to do without my Follies.' I'm sure that sentiment will be echoed by many," Purdy added.

The success of the Follies was certainly not a foregone conclusion when its run began. At that moment in history, the local entertainment landscape was vastly different than today. The Palm Springs International Film Festival was in its infancy, the now historic McCallum Theatre was just three years old, and the Coachella Valley had yet to welcome its first casino.

The Follies was a smash hit. So much so that the cover story of the October, 1997 edition of Palm Springs Life magazine was headlined: "How The Fabulous Palm Springs Follies Saved Downtown."

"It has been an amazing, wonderful ride," said Markowitz. "We have always adored our Follies, this tiny jewel box theatre, our town and most of all, our people, comprised of the Follies cast and staff - numbering more than a 110 souls. We all feel that we have saved the very best for last. We also take great comfort in knowing that this wonderful theater will continue as a center of Palm Springs' glamour and show biz legend."

Adds Markowitz, "We have discussed with Film Festival Chairman Harold Matzner and Mayor Steve Pougnet that next May, when the final curtain of our Follies comes down, it will initiate a retrofitting in preparation for the theatre's next incarnation. I know that this historic house, that has contributed so much to our downtown, will continue to be a theatrical and creative focal point in the decades ahead."

The Palm Springs International Film Festival, which was originally promoted by Mayor Sonny Bono, started in 1989. The 19th Anniversary Palm Springs International ShortFest takes place June 18-24, 2013. The 25th Anniversary Palm Springs International Film Festival will unspool January 3-13, 2014.

The festival regularly attracts around 135,000 people, with some 70% coming from outside of the Coachella Valley, including Canada and Europe. It is also noted for its Award Ceremonies where such actors as Brad Pitt, Clint Eastwood, Sean Penn, Dustin Hoffman, Anne Hathaway and Leonardo DiCaprio have appeared. In January 2011, the festival's honorees included Ben Affleck and Danny Boyle.

For years Palm Springs Mayor Pougnet has stressed that the Festival's financial impact is substantial, "generating major tax revenues from our hotels and inns, our restaurants, our retail and recreational outlets and our hospitality service industry partners. The Festival fuels year round tourism and fosters an image that retains our image as a sun-dappled resort destination that is frequented by stars and others in the entertainment industry."

"The Fabulous Palm Springs Follies has been an outstanding 22-year success story in the City of Palm Springs," said Harold Matzner, Chairman of the Palm Springs International Film Festival. "Founders Riff Markowitz, Mary Jardin and their tremendous cast are to be commended for their incredible talent and creative vision -- and the Film Festival looks forward to utilizing the historic Plaza Theatre for screenings."



Earning the title of Oldest Performing Showgirl in the World, Dorothy Kloss born in 1923 is pictured in the 2007 edition of the Follies. She retired in 2010.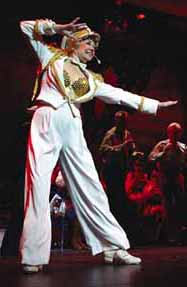 The Fabulous Palm Springs Follies celebrates the music and dance of Mid-Century America with a cast currently ranging in age from 55 to 83 years young. The show features lavish, Broadway-caliber production numbers, and plays five days a week.

In 1999, it was the subject of an Academy Award-nominated short-subject documentary, directed by Mel Damski and produced with David and Janice Kaminsky titled Still Kicking: The Fabulous Palm Springs Follies. Some of the performers featured in the short were Dorothy Kloss, Henry LeTang and Tempest Storm.

The sets are also Broadway caliber. For instance, in 2000 R.A. Reed Productions, a Portland-based scenic company, built three of the sets for a new Holiday Show which recalled a 1930s and 40s Winter Fantasy. Reed Productions built the opening scene, the Christmas scene and an Old West scene.

The company worked with designer David Mitchell to bring to the show its expertise in engineering a multitude of chase sequences required for the opening scene, Theatre Marquis, which was required to strike in four minutes. Building the scenery was relatively easy; the challenge came in creating a set that could come together and apart, out a side door, in a quick scene change, while containing all the electronics for 7,000 lights. Reed Productions added all the extra touches to assure a smooth strike and set up.

Dancing through the sets are dancers who have come from the best of Broadway and Las Vegas. Leggy beauties who just happened to be of a certain age. Several have danced until the age of 86.



Follies showgirl Stephanie Eley began her dance career as part of the Folies Bergere at the Tropicana in Las Vegas. On Broadway she appeared in the original productions of Dreamgirls and My One and Only, including understudying Twiggy in the lead role for the latter. She also appeared in the Broadway and touring productions of A Chorus Line.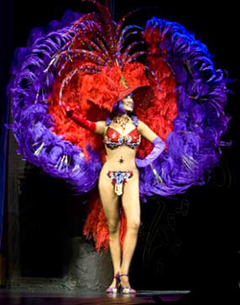 It's a glam production show that kept in step with its patrons.

"When we started out we had the music of the 20s, 30s, 40s. We were very much identified with those eras," Purdy told Broadway To Vegas. "The greatest generation was out target demo. Those people are now in their late 80s early 90s and aren't traveling as much."

"So, we've moved the show to the 50s, 60s and 70s. Now we're having to address the Baby Boomers. For example, they don't travel by bus. That was a third of our business in the past. The Boomers want access travel, but not necessarily on a bus. We had to find new ways to attract patrons. The Boomers want an experience. That was the genesis for our Dinner With the Cast program this year. We did Backstage with the Follies, a pre-show experience. We would give them a tour. We have a lot of ex-Disney employees, who know how to work the stations in our theater."

Showgoers were offered face time opportunities. "Patrons can sit down and have a one-on-one with cast members. They go to lunch and then come and see the show," Purdy explained.

"Towards the end of the season Mr. Markowitz said, 'Why don't we try cocktails for a chance?' So, we had a big cast party at the new restaurant beneath us. The entire cast was there and worked the entire room."

For patrons, the cast is an inspiration. The women have legs men would follow. They wear high heels and heavy headdresses. Their sexy costumes are capable of exposing all body flaws, although the beauties seem not to possess any.

"Our patrons really want to know what makes the cast tick," continued Purdy referring to audiences who are determined to remain vital. "They want to know about their exercise routines and their vitamins. Their vitamin is this," Purdy said as he leaned back and - applauded.

The Follies has always had a star slot, in which a major star 'headlines.' That can be tricky. These are major stars who, at the pinnacle of their long and storied careers, were the major recording, film and Vegas stars who had entourages and could command anything. The showgirls in their act were backup performers. Now, it's the Follies dancers that star and the guest star is really the backup performer. The roles have flipped and that can be an ego problem.

The skill of the production staff has made navigating that pool of quick sand an easy swim.



Las Vegas resident Susan Anton will be one of the stars in the final season.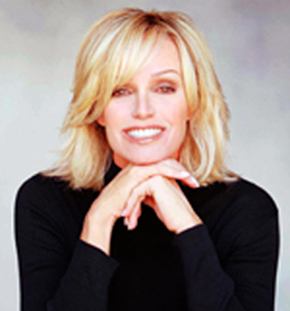 Working at the Follies is "different from other places where they have worked," explained Purdy. "There is a knock on the dressing room door and somebody escorts them to the stage. By the end of the (contract) they all say, 'We've never been taken care of so well.'"

A few of the almost 100 stars who have performed in the Follies include: Kaye Ballard, Carol Lawrence, Lorna Luft, Lou Christie, Lesley Gore, The Four Aces, Donald O'Connor, John Davidson, Rita Coolidge, The Four Preps, Melba Moore, Mimi Hines, Gogi Grant and Gloria Loring.

Guest stars for the final season will be Susan Anton, Maureen McGovern and Darleen Love with specialty acts Frank Olivier, Rejean St. Jules and ventriloquist Brad Cummings & "Rex".

"Every single need has been met and they all want to come back," emphasized Purdy who came to the Follies with a background in hotel management, as well as serving as entertainment director of a tribal casino.

Two cast members with long ties to Las Vegas are Greta and Wayne Albritton, both of whom have more zip than those 20 years younger. The couple recently returned to Sin City to participate in the AARP Convention and sat down with Broadway To Vegas.



Greta Albritton helps Las Vegas Rancho High School ballet dancer and honors student Shannon Thomas try on a headdress. Photo: Greg Purdy.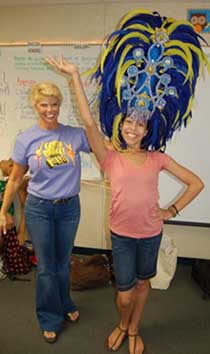 Before Greta donned a 25-pound lion head and some tail feathers at the convention, the duo spent the AARP's Day of Service visiting Rancho High School, speaking with Natalie Dey's dance students. English teacher Natalie, along with her parents, Delores and Ken Dey are limited partners in The Fabulous Palm Springs Follies where Delores is the senior sales manager.

"The students wanted to know, first of all, what we had done," explained Greta. "One question was what type of dance did we start out with. In other words, was it ballet, jazz, or modern?"

"They asked how much the head dresses weight." Gesturing towards the lion's head she explained, "This is 20 to 25 pounds."

"There are three basic styles of back packs," injected Purdy. "One is the head dress, one rests on the shoulders and one rests on the hips. That one - the lion - is extremely difficult. It is strictly a head."

That means it's easy to develop neck soreness.

"They depend upon us to acknowledge an health issues we might have before we ever get the job," continued Greta. "If, at any point, we are in pain they are always the first to get us to the proper attention. They're very concerned about our welfare. They watch us and if we have a complaint - something is hurting - we have to go to the doctor."



Wayne and Greta Albritton speak to Las Vegas Rancho High School dancers about their careers. Photo: Greg Purdy.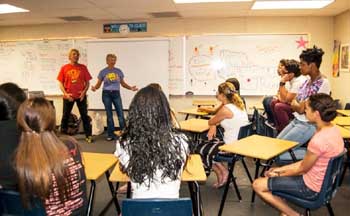 Physicians listed as the Medical Support Staff include: cardiologist Dr. Lester Padilla, dentist Dr. Richard Brown, ear, nose and throat specialists Drs. Stuart Barton and Robert Gebhart, emergency and preventative medicine expert Dr. David Tang, gastroenterologist Dr. Howard Congress, gynecologist Dr. Ava Mahapatra, internal medicine specialist Dr. Howard S. Baer, orthopedic surgeon Dr. Vincent P.Picchinone, otolaryngologist Dr. Michael Gatto, pathologist Dr. David Kaminsky, and podiatrist Dr. Dennis Marta.

Sometimes it's more a case of mind control.

"We had a lady in her 80s who developed a little nervous twitch," divulged Wayne. "Mr. Markowitz just mentioned it to her, that they'd noticed a little twitch, and we don't know what to do," a subtle way of indicating that if she kept twitching she'd be out of the show.

"She quit twitching," stated Wayne. "She just put it out of her mind."

Greta and Wayne met in 1986 through a choreographer in Vegas. They married in 1988. On June 11 they leave for to Rome, to celebrate their 25th wedding anniversary.

"I worked there for a year when I was 22. Hermes Pan, Fred Astaire's choreographer, took five Americans over. Hermes Pan was so wonderful. I ended up living for a whole year in Rome," recalled Wayne.

This will be Greta's first visit. "Going to Rome was on my wife's bucket list," explained Wayne who has piercing robin's egg blue eyes, a rare color that also set apart Paul Newman and Jack Benny.



Wayne and Greta Albritton. Photo: Laura Deni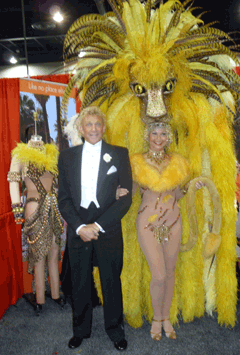 At the age of 19 Wayne appeared in the Broadway production of Carnival. He then migrated to Las Vegas becoming a Moro Landis dancer at the Sahara Hotel and the principal singer and dancer for Ann-Margret's Las Vegas production show at the Hilton Hotel. He was the lead singer for 13 years in four Don Arden shows, including the Lido de Paris at the Stardust and Hallelujah Hollywood! at the MGM Grand.

For those who know the old Las Vegas, there were a couple of neighborhood bars, Duffy's Tavern and later Patty's Pub which were legendary Vegas watering holes. Both were owned by Wayne.

"The first one was Duffy's Tavern. We were on the Boulevard first and then we moved out to East Charleston and Lamb, the original Duffy's Tavern. What was funny is that the building had been the Alcoholics Anonymous building. After we opened, the phone number was still there and we were getting calls every morning: 'Are you having a meeting?' So, I said, 'Well, yes, come on down and we'll talk about it.'"

"My partner was dancer Bob Elwood. We worked together in Rome with Hermes Pan. He came back and decided to move to Vegas. So, we ran across each other again. His father had been in the bar business in California. So, we said - hey, let's give it a go."

"Duffy's was 1982. We had to apply for a gaming license and go up to Carson City," he said referring to the state capitol, which is where the Gaming Control Board is located. "Thank goodness we had never been in the Big House, so we got our gaming and our liquor license. It's the only way you can operate on a 24-hour basis. We had to go through the whole situation."

"Basically, we knew nothing about the business. If you treat them (customers) right, like I say, they'll treat you right. We really made people feel comfortable. But, it's a real hard business to run."

Especially when a gun gets pointed at your head.

"One morning we're doing the money drop, six in the morning. A guy comes running in with a gun and a bandana on, saying 'get down.' I didn't have hearing aides at the time so I said, 'What?' I thought it was some joke. I had a .38 pointed at my head. My graveyard bartender, Joe, said 'I think you'd better get down.'

"So, I got down and crawled around the bar. Joe went around and gave him the cash drawers. He runs out the front door. But, as he was getting the cash drawers, his bandana fell off his face. I thought 'Oh, no,'" recalled Wayne thinking he was about to be shot, because he could now identify the robber.

"It was a very scary moment," said Wayne as his voice took on a serious tone. "I didn't know what he was going to do. A customer could have walked in. We were very lucky. He got away. His buddy had a car, a dark colored car, outside. He jumped into that and they took off."

The Las Vegas Metropolitan Police Department (LVMPD) has the incident on file in their Cold Case section: in which a "21 to 30 years old entered Duffy's ..... and producing a handgun, ..... passenger of a dark colored 1980's Pontiac TransAm or Chevrolet Camero."

Greta kept herself overly busy by obtaining a real estate license. "I've let it go now, but it was in Nevada. I was in Reno in the show Hello, Hollywood Hello and I really had a captive clientele. I was doing the show and selling real estate at the same time. A lot of people wanted properties, so it worked out well for me."

For the insecure world of performers, it's always nice to have another business on the side.

"I really wouldn't suggest the bar business," admitted Wayne. "That is a real rough business. If someone doesn't show up, you do the cleaning. And, real estate also, isn't a gimmick," he said looking at his wife. "It's a hard occupation. It just depends upon how hard you work at it. And, how much you want to succeed in it. I'd much rather keep my tap shoes on."

"Get into anything that they are interested in. The passionate the better," Greta advised. "The show business we are passionate about. We love to dance. Whatever one is going to do, be passionate about it. With the real estate, when Wayne and I met, we did a lot of buying and selling of properties for ourselves. So, in a way, that become a passion."

"I love my job," Greta exclaimed. "It's such a gift. Here we are a married couple, dancers and we get to go to work together."

"This is the whole thing in show biz," added Wayne, "if you can handle it, perform up to the standard, you've got the job. That's it. That's the way it's been all my life. We call it Show Up, Suit Up and Shut up. Don't miss a day, go through the pain, and some reason it goes away the next day. Find something you love to do. I worked in Vegas during the best times."

"The Follies patrons are wonderful," Wayne emphasized. "Meeting the people after the show is so rewarding. I want to say to them 'thank you for giving me a chance to perform.' I don't know how much longer I'll be performing."

Last Wednesday he found out.



Broadway To Vegas is supported through advertising and donations. Priority consideration is given to interview suggestions, news, press releases, etc from paid supporters. However, no paid supporters control, alter, edit, or in any way manipulate the content of this site. Your donation is appreciated. We accept PAYPAL. Thank you for your interest.


ART AND ABOUT


SHANGAA: ART OF TANZANIA

Nyamwezi, Tanzania, Guardian Post, pair, circa 1900, wood, metal, hide, 82 x 16; 74 x 16 inches, respectively. Private Collection, USA.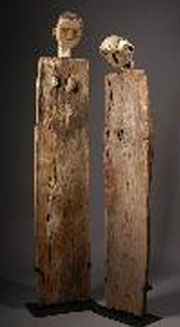 is the first major exhibition in the United States to focus on the traditional arts of Tanzania.

"Shangaa" means "to amaze" in Swahili, the primary shared language in East Africa.

This exhibition features 155 objects on loan from private and institutional collections throughout the United States and Europe.

The form range from expressionistic to abstract, from raw to refined.

Mostly sculptural, these works highlight how Tanzanian cultures use art to channel energy to heal, embody authority, mark initiation adulthood, address the spirits, and celebrate life and competition.

The objects range in date from the 19th century to recent works made by celebrated artists for contemporary events.

They underscoring the vibrant, living traditions of art and culture in Tanzania.

Shangaa: Art of Tanzania was organized by Queensborough Community College Art Gallery of the City University of New York (CUNY) and curated by Dr. Gary van Wyk.

Officially opened June 8 and is on display through August 25, 2013 at the Portland Museum of Art, Portland, Maine.





THE MUSIC GOES ROUND AND ROUND


KINKY BOOTS original Broadway cast recording with music and lyrics by Grammy Award-winning rock icon Cyndi Lauper. Nominated for 13 Tony Awards and winning six, including Stephen Oremus receiving the Tony for Best Orchestrations, Lauper taking home the Tony for Best Original Score and the production willing Best Musical.

This is the cast recording everyone has been waiting for, debuting at #1 on the Billboard's Top Broadway Albums Chart and at #51 on Billboard's Top 200 Chart. This is the highest charting Broadway cast recording in over two years, since The Book Of Mormon.

Released by Masterworks Broadway, a label of Sony Masterworks.

Kinky Boots opened on Broadway at the Al Hirschfeld Theatre on April 4, 2013 to rave reviews. As the song on this CD says: "Everybody say yeah!"

Cyndi Lauper has always been ahead of the curve - be it in fashion (she actually altered the way teens dressed) her stage show or - now - her composing debut on Broadway. Lauper is a tunesmith, a wordsmith. She's made an auspicious Broadway entrance, gifting with a richly diverse musical score.

She's also on a roll - and about to embark on a tour which kicks off Wednesday, June 12, at Humphrey's Concerts by the Bay in San Diego. That is followed by a Thursday show at the Greek in Los Angeles. On Saturday she's at the Britt Pavilion in Jacksonville, Oregon. Next Sunday her star turn is at the Pantages Theater in Tacoma, WA.

The musical attitude of Kinky Boots is a reflection of Lauper: hard driven, intense, pulsating. It's high energy, rocking voices of today with a vision of a better tomorrow.

Poignant elements of longing and desperation; of hope and success.

Hold Me in Your Hand is beautiful.

There are several anthem songs.

"Just be
Who you wanna be
Never let 'em tell you
Who you ought to be
Just be
With dignity
Celebrate yourself triumphantly
You'll see, you'll see
Just be, just be."

Others that inspire and stay with you are Soul of a Man, Just Say Yeah! and Raise You Up.

Yeah!

Featured on the CD are: Stark Sands, Billy Porter, Annaleigh Ashford, Celina Carvajal, Daniel Stewart Sherman, Marcus Neville, Eugene Barry-Hill, Stephen Berger, Sebastian Hedges Thomas, Marquise Neal, Tory Ross, Andy Kelso, Paul Canaan, Kevin Smith Kirkwood, Kyle Taylor Parker, Kyle Post, Charlie Sutton, Joey Taranto, Jennifer Perry, John Jeffrey Martin, and Adinah Alexander.

The cast also includes: Eric Anderson, Caroline Bowman, Cole Bullock, Sandra DeNise, Jonah Halperin, Eric Leviton, Ellyn Marie Marsh, Nathan Peck, Robert Pendilla, Lucia Spina, and Timothy Ware.

The album was recorded March 14, 15 and 25, 2013 at MSR Studios, NYC. Brian Usifer, conductor. Music supervision, arrangements and orchestrations by Stephen Oremus. The original cast recording is produced by Cyndi Lauper, Stephen Oremus, William Wittman and Sammy James, Jr.

Kinky Boots Orchestra:

Brian Usifer, conductor, keyboard
Will Van Dyke associate conductor, keyboard
Sammy Merendino, drums
Michael Visceglia, bass
Michael Aarons and John Putnam, guitar
James De La Garza, trumpet
Keith O'Quinn, trombone
Dan Willis, reeds
Hiroke Taguchi, concertmaster
Philip Payton, violin
Denise Stillwell, violin, viola
Allison Seidner, cello.

Mastered by Ryan Smith at Sterling Sound, NYC
Engineers: William Wittman, Derik Lee
Assistant Engineers: Brett Mayer, Dan Fyfe (MSR); Wes Hovanec (Pie)
Mixed by William Wittman at Pie Studios, Glen Cove, NY
Electric Drum Programmer: Sammy Merendino
Synthesizer Programmer: Randy Cohen
Music Coordination: Michael Keller
Additional Arrangements Brian Usifer
Associate Synthesizer Programmer: Tim Crook

The track list:

1 Price and Son Theme / The Most Beautiful Thing in the World
2 Take What You Got
3 Land of Lola
4 Charlie's Soliloquy
5 Step One
6 Sex Is In The Heel
7 The History of Wrong Guys
8 Not My Father's Son
9 Everybody Say Yeah
10 What A Woman Wants
11 In This Corner
12 Charlie's Soliloquy Reprise
13 Soul of a Man
14 Hold Me in Your Heart
15 Raise You Up / Just Be


SWEET CHARITY


BROADWAY BARES 23: UNITED STRIPS OF AMERICA will take place June 23 at Roseland Ballroom in New York City.

This year's fundraiser will be directed by Nick Kenkel.

Produced by and benefiting Broadway Cares/Equity Fights AIDS, Broadway Bares 23 promises to "crisscross the country in a racy, raucous road trip, exploring the United States," according to press notes. "More than 200 of New York's sexiest and most desirable dancers will discover - and uncover - amber waves and mountain majesties that only Broadway Bares could find. This trip across the fruited plains of America will most certainly be the stuff patriot dreams are made of."

Since 1988 BC/EFA has raised more than $225 million for essential services for people with AIDS and other critical illnesses across the United States.

BAY-ATLANTIC OYSTER FESTIVAL enjoy all the oysters you can devour, plus much more to eat and drink at the Bay-Atlantic Oyster Festival fundraising event benefiting the Bay-Atlantic Symphony on Saturday, June 15, at the historic 1808 home of Bob and Merry Woodruff, in Alloway Township, NJ.

"This is the perfect way to enjoy a delightful summer afternoon in a beautiful country setting, with lots of food, great camaraderie, and, at the same time, raise money to keep the music playing in South Jersey," said Bob Woodruff, Bay-Atlantic Symphony Board of Trustees President.

Now entering its 30th year, the Bay-Atlantic Symphony, in addition to being consistently praised for its astonishing level of artistry and precision, is also viewed throughout New Jersey as a model for how professional orchestras can become a vital focus and source of identity in their communities.

The Bay-Atlantic Symphony is the resident orchestra of the Stockton College Performing Arts Center and the Guaracini Fine and Performing Arts Center at Cumberland County College, as well as being the orchestra-in-residence at the Cape May Music Festival since 2003. Avalon is the summer home of the Symphony, which is orchestra-in-residence of the resort's Symphony by the Sea series.

THE SHAKESPEARE SOCIETY will host their First Playing Shakespeare Celebration at The Century Club in New York City on Monday, June 10.

Enjoy hors d'oeuvres and drinks with Stephen Spinella, Kathleen Chalfant, Jay O. Sanders, Patrick Page, Mark Nelson, Elizabeth Waterson and The Shakespeare Society's Board of Directors as they celebrate Jacob Fishel with the first presentation of the Linda Gross Playing Shakespeare Award.

Proceeds will support The Shakespeare Society's artistic and education programming.

Dedicated to increasing the enjoyment, understanding, and appreciation of William Shakespeare's works through performance, commentary, and educational activities, a portion of the Society's membership dollars is used to support educational activities in New York City Schools. This season, the Shakespeare Society is in its sixth year of partnering with the Hunts Points Alliance for Children on the Children's Shakespeare Ensemble, which culminates with a performance in May.

Shakespeare in Schools is the Society's education program that brings Teaching Artists into New York City pubic schools to integrate students' study of Shakespeare with performance. The newly formed Shakespeare Roundtable invites educators from across the city to come together and share ideas and pool resources, as well as seek new ways to serve students and teachers in the city.


COURAGEOUS MICHAEL DOUGLAS AND COLLEEN ZENK HELP OTHERS
Michael Douglas pictured here at the 2012 Tribeca Film Festival has given an interview which has created conversation about oral and throat cancer. Photo by David Shankbone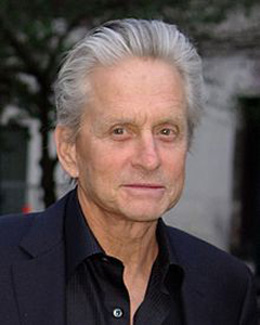 When a celebrity has the courage to disclose personal information that has the potential to save the lives of others, they are using their celebrity to the best advantage. Two who have done just that are Michael Douglas and two time Emmy nominee Colleen Zenk.

Talking about oral sex causes people to feel uncomfortable. It's even more uncomfortable to come down with cancer.

Last week a fire storm of controversy broke after The Guardian published an interview with Michael Douglas who has been treated for stage four throat cancer, undergoing an intense course of chemotherapy and radiation. Douglas stated that it was caused by the human papilloma virus (HPV), a sexually transmitted disease that he contracted after performing oral sex on women.

Human papilloma virus (HPV), the most common sexually transmitted disease in the US.

Douglas made the disclosure after being asked if he had regretted smoking and drinking in the past.

Douglas candidly replied: 'No. Because without wanting to get too specific, this particular cancer is caused by HPV, which actually comes about from cunnilingus.'

Within hours, his remarks were questioned by Dr Michael Brady, medical director of the British sexual health charity Terrence Higgins Trust, who said while oral sex could have contributed to the cancer, it was very difficult to pinpoint a single cause.

That caused Douglas to retracted his comments. The actor's spokesman Allen Burry said that Mr. Douglas never said that HPV was the cause of his cancer; he said Douglas was discussing what causes oral cancer during the interview.

That resulted in the newspaper releasing the audio tape of the Douglas interview.

The ruckus seems to center on all parties wanting it understood, loud and clear, that Douglas did not contract the virus from his wife.

Last year Cancer Research UK said that the rising rates of HPV-positive cases of oral cancer could be linked to oral sex. World Health Organization figures have also linked HPV to more than 5 per cent of cancers worldwide.

A vaccine which protects against the virus has routinely been given to 12 and 13-year-old girls in the UK since 2008.

Last year Professor Margaret Stanley of Cambridge University said boys must be given the vaccine for HPV as well as girls.

In the US, HPV is blamed for up to 80 per cent of tumors of the tonsils and the back of the tongue, which experts say could be due to increasing popularity of oral sex.

Currently, both the Centers for Disease Control and Prevention and the American Academy of Pediatrics recommend the vaccine for all children (boys and girls) at age 11 or 12. It's intended to be administered well before a child becomes sexually active. But some have argued, contrary to the evidence, that the vaccination can encourage promiscuity.

In 2010, just 32 percent of American girls aged 13-17 were fully vaccinated against HPV.



Colleen Zenk is an oral cancer survivor.
A strong advocate for Oral Cancer Awareness is stage and two time Emmy nominated actress Colleen Zenk who spent decades as Barbara Ryan on As The World Turns. During that time she was diagnosed with oral cancer.

She went public on the CBS Early Show. Zenk revealed how a seemingly stubborn canker sore turned out to be a stage-two malignant oral cancer, requiring several surgeries to reconstruct her tongue, and months of radiation treatments.

She stated she believes that her cancer was caused by the human papilloma virus. "I had absolutely none of the historic risk factors for this cancer, I never used tobacco and only drank socially," she said, referring to the two other common causes of the disease.

Guesting on the show with Zenk was Dr. Mark Lingen, Professor of Pathology at the University of Chicago School of Medicine. He said: "Colleen was very typical of most Americans in their lack of knowledge of oral cancer. Awareness and routine screening is particularly important, since early discovery is directly correlated to positive outcomes from treatment. HPV is the most common sexually transmitted disease in the United States. At least 50 percent of American adults will acquire the virus at some point in their lives. HPV16, one of the most destructive strains of the virus, was definitively linked to oral cancer in 2001. Research has also established that the virus, which can easily be transferred, may even be a more significant risk factor than tobacco in the younger portion of the population."

Thanks to a great medical plan and the unswerving support of her family and the ATWT executives, cast and crew, Colleen Zenk survived.

She remains healthy and is about to star in Matthew Lombarso's Looped July 20-38 at Stageworks Theatre in Hudson, New York.

Zenk becomes only the third actor to play the role after Valerie Harper on Broadway, and Stephanie Powers now on tour, who took over the role after Ms. Harper's brain cancer diagnosis.

Based on a true story. When an inebriated Tallulah Bankhead staggers into the studio to re-record one line of dialogue for her 1965 horror flick Die! Die! My Darling! and botches every take, what ensues is a hilarious showdown between an uptight film editor and an outsized legend

In related news, Zenk has also been cast in the role of Sofia DiGiacomo in NYC Brand Productions' Tainted Dreams, a scripted dramedy about behind-the-scenes of producing a daily soap opera, thus . Zenk should feel right at home.

Others in the cast are Dina Manzo, Alicia Minshew, Kelley Menighan Hensley, Walt Willey, Marnie Schulenburg, Michael Lowry, Austin Peck, Anthony Wilkinson, Lisa Marie Varon and Jessie Godderz.

Tainted Dreams is the brain-child of two-time Emmy-winning producer/director Sonia Blangiardo who is currently serving as Supervising Producer of Prospect Park's reboot of Agnes Nixon's iconic soap All My Children.

Planning ahead, Zenk and her As The World Turns co-stars Trent Dawson (Henry Coleman), Martha Byrne (Lily Walsh Snyder) and Michael Park (Jack Snyder) will host a Soap Reunion 2014 Cruise to the Western Caribbean.

In the meantime, Dawson opened June 5 in Dead Man's Cell Phone by Sarah Ruhl, presented by the International City Theatre in Long Beach, CA.

Michael Douglas is basking in the glow of his performance as Liberace in the HBO movie Behind the Candleabra.





IN SCENA! ITALIAN THEATER FESTIVAL NY


The one phrase you won't hear is -fuhgeddaboudit!

Backers of the first Italian theater festival, to take place annually in all five New York City boroughs and beyond, want the festival to be remembered. Their initial mounting takes place June 10-20, 2013. All events are free.

Kairos Italy Theater (KIT), billed as "the preeminent Italian theater company in New York City" organized the festival.

In Scena!, Italian for "on stage!," aims to create an annual celebration of Italian theater, both 'made in Italy' and 'made in the United States.' The program includes different types of theater that have been presented in Italy plus a sprinkling of Italian theater companies based in the United States that root their work in Italian culture.

This festival is part of "Year of Italian Culture" in the United States, presented under the auspices of the President of the Italian Republic with the patronage of the Ministry of Foreign Affairs and the Embassy of Italy in Washington, D.C. Year of Italian Culture takes place all over the US during 2013. Other presentations in NY include events at the Metropolitan Museum, at the Lincoln Center Festival and at the Frick Collection among others.

Toplining the festival is the New York debut of Solo Anna, a tour de force performed by Lidia Vitale, written by Franco D'Alessandro, in which Anna Magnani, the great Italian film star, explores dramatic, funny and touching aspects of her illustrious career and fascinating life. The piece is presented on the 40th anniversary of the great actress' death.

All events of this festival are completely accessible to English-speaking audiences. The performances are in a combination of English and Italian and the staged readings are in English.

The festival includes two other full productions that are US premieres, three special events and four staged readings. It ends in an evening of three plays by America's most famous Italian playwright, Mario Fratti.

The June 19th closing event of the festival is a tribute to Fratti, a Tony Award wining producer, whose works have been translated into 20 languages and produced in 600 theatres all over the world. Three one acts by the author of Nine, directed by Kevin Albert, will take place at The Secret Theater, in Queens. The performance is fully booked.



THE 2013 TONY AWARDS hosted by Neil Patrick Harris, were presented tonight, June 9th, airing live on NBC.

Congratulations to all!

BEST PLAY The Assembled Parties - Lucky Guy, The Testament of Mary - Vanya and Sonia and Masha and Spike WINNER

BEST MUSICAL Bring It On, A Christmas Story - Kinky Boots WINNER - Matilda

BEST BOOK OF A MUSICAL Joseph Robinette for A Christmas Story - Harvey Fierstein for Kinky Boots - Dennis Kelly for Matilda WINNER - Douglas Carter Beane for Rodgers & Hammerstein's Cinderella

BEST ORIGINAL SCORE (Music and/or Lyrics) Written for the Theatre Cyndi Lauer for Kinky Boots WINNER - Tim Minchin for Matilda - Paske and Paul for A Christmas Story - Trey Anastasio Amanda Green for Hands on a Hardbody

BEST REVIVAL OF A PLAY Golden Boy - Orphans - The Trip To Bountiful - Who's Afraid of Virginia Woolf? WINNER

BEST REVIVAL OF A MUSICAL Annie - Pippin WINNER - The Mystery of Edwin Drood - Rodgers & Hammerstein's Cinderella

BEST PERFORMANCE BY AN ACTOR IN A LEADING ROLE IN A PLAY David Hyde Pierce in Vanya and Sonia and Masha and Spike - Tom Sturridge in Orphans - Tom Hanks in Lucky Guy- Nathan Lane in The Nance - Tracy Letts in Whose Afraid of Virginia Woolf WINNER

BEST PERFORMANCE BY AN ACTRESS IN A LEADING ROLE IN A PLAY Holland Taylor in Ann - Cicely Tyson in A Trip to Bountiful WINNER - Laurie Medcalf in The Other Place - Amy Morton for Whose Afraid of Virginia Woolf? - Kristine Nielsen for Vanya and Sonia and Masha and Spike

BEST PERFORMANCE BY A LEADING ACTOR IN A MUSICAL Bertie Carvel in Matilda The Musical - Santino Fontana in Rodgers + Hammerstein's Cinderella - Rob McClure in Chaplin - Billy Porter in Kinky Boots WINNER - Stark Sands in Kinky Boots

BEST PERFORMANCE BY A LEADING ACTRESS IN A MUSICAL Stephanie J. Block in The Mystery of Edwin Drood - Carolee Carmello in Scandalous - Valisia LeKae in Motown The Musical - Patina Miller in Pippin WINNER - Laura Osnes in Rodgers + Hammerstein's Cinderella

BEST PERFORMANCE BY AN ACTOR IN A FEATURED ROLE IN A PLAY Danny Burstein for Golden Boy - Richard Kind for The Big Knife - Billy Magnussen for Vanya and Sonia and Masha and Spike - Tony Shalhoub for Golden Boy - Courtney B. Vance for Lucky Guy WINNER

BEST PERFORMANCE IN A FEATURED ROLE BY AN ACTRESS IN A PLAY Carrie Coon for Whose Afraid of Virginia Woolf? - Shalita Grant for Vanya and Sonia - Judith Ivey for The Heiress - Judith Light for The Assembled Parties WINNER - Condola Rashad for The Trip To Bountiful

BEST PERFORMANCE BY AN ACTOR IN A FEATURED ROLE IN A MUSICAL Gabriel Ebert for Matilda WINNER - Terrence Mann for Pippin - Chari Brown for Motown the Musical - Keith Carradine for Hands on Hardbody - Will Chase for Edwin Drood

BEST PERFORMANCE BY AN ACTRESS IN A FEATURED ROLE IN A MUSICAL Annaleigh Ashford in Kinky Boots - Victoria Clark for Cinderella - Lauren Ward for Matilda - Keala Settle for Hands on a Hardbody - Andre Martin for Pippin WINNER

BEST DIRECTION OF A PLAY Bartlett Sher for Golden Boy - George C. Wolfe for Lucky Guy - Pam MacKinnon for Whose Afraid of Virginia Woolf? WINNER - Nicholas Martin for Vanya and Sonia and Masha and Spike

BEST DIRECTION OF A MUSICAL Diane Paulus for Pippin WINNER - Mathew Warchus for Matilda - Scott Ellis for Edwin Drood - Jerry Mitchell for Kinky Boots.

BEST CHOREOGRAPHY Jerry Mitchell for Kinky Boots WINNER - Chet Walker for Pippin - Andy Blankenbuehler for Bring It On - Peter Darling for Matilda

BEST ORCHESTRATIONS Chris Nightingale for Matilda - Stephen Oremus for Kinky Boots WINNER - Ethan Popp and Bryan Crook for Motown the Musical - Danny Troob for Cinderella

BEST SCENIC DESIGN OF A PLAY John Lee Beatty for The Nance WINNER - Santo Loquasto for The Assembled Parties - David Rockwell for Lucky Guy - Michael Yeargan for Golden Boy

BEST SCENIC DESIGN OF A MUSICAL Rob Howell for Matilda WINNER - Anna Louizos for Edwin Drood - Scott Pask Studio for Pippin - David Rockwell for Kinky Boots

BEST COSTUME DESIGN OF A PLAY Albert Wolesky for The Heiress - Catherine Zuber for Golden Boy - Soutra for Cyrano de Bergerac - Ann Roth for The Nance WINNER

BEST COSTUME DESIGN OF A MUSICAL William Ivey Long for Rodgers & Hammerstein's Cinderella WINNER - Dominique Lemieux for Pippin - Gregg Barnes for Kinky Boots - Rob Howell for Matilda

BEST LIGHTING DESIGN OF A PLAY Jennifer Tipton for The Testament of Mary - Japhy Weideman for The Nance - Jules Fisher and Peggy Eisenhauer for Lucky Guy WINNER - Donald Holder for Golden Boy

BEST LIGHTING DESIGN OF A MUSICAL Kenneth Posner for Kinky Boots, Pippin and Rodgers & Hammerstein's Cinderella - Hugh Vanstone for Matilda WINNER

BEST SOUND DESIGN OF A PLAY Leon Rothenberg for The Nance WINNER - Peter John Still and Marc Salzberg for Golden Boy - John Gromada for A Trip To Bountiful - Mel Mercier for The Testament of Mary

BEST SOUND DESIGN OF A MUSICAL Jonathan Deans and Garth Helm for Pippin - Peter Hylenski for Motown the Musical - John Shivers for Kinky Boots WINNER - Nevin Steinberg for Cinderella

SPECIAL TONY AWARD FOR LIFETIME ACHIEVEMENT IN THE THEATRE Bernard Gersten, Paul Libin and Ming Cho Lee

REGIONAL THEATRE TONY AWARD The Tony Awards Administration Committee has announced that it will present the 2013 Regional Theatre Award to the Huntington Theatre Company of Boston, Massachusetts.

ISABELLE STEVENSON AWARD will be awarded to Larry Kramer.

TONY HONOR FOR EXCELLENCE IN THE THEATRE Career Transition For Dancers - William Craver - Peter Lawrence - The Lost Colony


HAPPY BIRTHDAY AND GET WELL TO . . .


PRINCE PHILIP THE DUKE OF EDINBURGH who turns 92 on June 10. The birthday boy will be spending his natal day in the London Clinic where he is recovering from exploratory abdominal surgery which required general anesthesia. Biopsy results are expected this week.

A personal favorite, he is noted for speaking what everyone else is thinking. The accomplished artist is his wife's backbone, somehow managing to neither upstage Queen Elizabeth nor lose his manhood.

He is expected to be in the hospital for two weeks, followed by a lengthy recovery at home.



THE SHOW OFF By George Kelly. Directed by Nicholas Martin, a 2013 Tony Award nominee for his direction of the current Broadway hit, Vanya and Sonia and Masha and Spike.

An unconventional story of a conventional American family.

Starring Jayne Houdyshell as the imperious Mrs. Fisher, Will Rogers as Aubrey Piper with Adam LeFevre, Karl Baker Olson, Marc Vietor, Nat DeWolf; Mia Barron, Robert Eli and Clea Alsip.

Aubrey Piper is a blow-hard, a first rate annoyance, and a shameless liar—a show-off of the worst kind. He also happens to be marrying into the Fisher family. Whatever will they do? Join the Fishers as they learn to cope with this human oddity who has blustered his way into their lives. In this classic and unexpected comedy, George Kelly explores the unique combination of reserved skepticism and swaggering confidence that make up two sides of the American character.

The Sunday Symposium for The Blow Hard is set for Sunday, June 16. Guest speaker will be Murray Biggs, associate professor (adj.) of English and Theater at Yale University. Playhouse associate artistic director David Kennedy will moderate the symposium. The Playhouse Sunday Symposium program, free and open to the public, provides the audience with guest speakers' in-depth insights and observations about the production, followed by an interactive dialogue. It is open to all, including those who attend a performance of The Show-Off at another time.

June 11 – 29, 2013 at the Westport Country Playhouse in Westport, CT.

LES CARMELITES by Francis Poulenc, based on events that took place during the French Revolution and a screenplay by Georges Bernanos.

Directed by John Doyle. Conducted by Stephen Barlow

The cast includes: Marquis de la Force: Matthew Stiff - Blanche de la Force: Hye-Youn Lee - Chevalier de la Force: Nicky Spence - Madame de Croissy: Anne-Marie Owens - Madame Lidoine: Fiona Murphy - Mère Marie: Sara Fulgoni - Mère Jeanne: Kathleen Wilkinson - Sœur Constance: Rosie Bell - Soeur Mathilde: Olivia Ray.

Blanche, a young noblewoman wants to become a Carmelite nun. The Old Prioress suspects that her vocation is misguided but eventually accepts her as a novice.

French revolutionists are demanding the dissolution of religious houses. Monks and nuns who fail to renounce their faith will be sent to the scaffold. The Old Prioress falls fatally ill and dies, and the nuns agree that they will choose collective martyrdom rather than betray their faith.

Blanche's friend, the novice Constance, rebels against her sisters. She would rather give up her faith than die. Blanche must make the decision whether or not to join the march to the guillotine.

In the final scene, Poulenc's juxtaposition of lush harmonies, the chanting of the nuns and the horrific sound of the guillotine's descending blade makes for one of the most moving scenes in opera.

Designer: Liz Ascroft. Movement: Nikki Woollaston. Lighting Designer: Paul Keogan.

First performed (in Italian) La Scala, Milan on January 26, 1957; the original French version premiered on June 21, 1957 at Théâtre National de l'Opéra, Paris.

Sung in French with surtitles With the English Chamber Orchestra. June 11-July 12, 2013 at the Grange Park Opera in Hampshire, England.

IF ONLY by David Edgar. Directed by Angus Jackson.

JO OK. I've written down the thing which, if it became known, would destroy my political career. And I'm going to give it to Sam. As long as he does the same and gives his to Peter, and Peter does the same and gives his to me. And we know that if we reveal the thing that we've been given, then the person who's revealed it will reveal our thing.

SAM How do you know there'll be a thing?

JO Because there always is.

It's April 16, 2010, the day after the first prime ministerial debate. Stranded in Malaga Airport by the Icelandic ash-cloud, a Labour special advisor, a Lib Dem staffer and a Tory candidate consider their options.

Can their parties survive without them? How will they get back home? And who'll end up in government?

And now it's August 4, 2014. As the nation settles down to commemorate the outbreak of the First World War, the three politicians meet again. One of them knows something that could change the outcome of the 2015 election.

Should they reveal it? And at what cost?

June 14 - July 27, 2013 at the Minerva Theatre, part of the Chichester Festival, England.

SHREK Music By Jeanine Tesori. Book & Lyrics by David Lindsay-Abaire.

Based on the DreamWorks film & book by William Steig.

Directed by Pierre Brault. Music Director is Eddie Carney.

Shrek, an unsociable ogre, becomes an unlikely hero who finds himself on a life-changing journey alongside a wisecracking Donkey, a feisty princess who resists her rescue, and a cast of banished fairy tale misfits. Through heroic feats, Shrek reverses a curse and learns to raise his Freak Flag high. It's a story of adventure, friendship and ogre love that's bringing ugly back!

The area premiere version for young people & families June 14-15; 20-23 and 27-29 at Mercury Summer Stock in Cleveland, Ohio.

WINDJAMMERS book by Robin Share. Music by Clay Zambo. Lyrics by Robin Share & Clay Zambo.

Lake Michigan, 1876.
A coming of age tale of courage and adventure
amid high waves, fresh air, legend, and song.

Inspired by tales and tunes of 19th century Great Lakes sailors, Windjammers was developed in partnership with the Academy for New Musical Theatre (ANMT) in Los Angeles. After initially penning a musical review, Share and Zambo expanded the piece into a book musical with an original story and all new music set on Lake Michigan in 1876.

A world premiere opening Wednesday, June 12, at the American Folklore Theatre in Fish Creek, Wisconsin.

THE OREGON SHAKESPEARE FESTIVAL opens its flagship theatre the weekend of June 14–16 with two Shakespeare productions, Cymbeline and A Midsummer Night's Dream, and the U.S. premiere of David Farr's The Heart of Robin Hood.

On June 14, Cymberline will be directed by OSF's Artistic Director Bill Rauch.

This romance features banishment, revenge, kidnapping, love, disguises, a beheading, rescues, reunions, forgiveness and more love. The newly, secretly wed Posthumus (Daniel José Molina) and Imogen (Dawn-Lyen Gardner) are separated because of a father's fury and a stepmother's ambitions. Their wanderings and often dire experiences eventually lead them back together where confessions and revelations bring peace between lovers, family and nations. Also in the cast are Howie Seago as Cymbeline, Robin Goodrin Nordli as the Queen, Al Espinosa as Cloten, Tony DeBruno as Pisanio, Kenajuan Bentley as Iachimo, and Jeffrey King as Belarius.

Designers are Michael Ganio (set), David Woolard (costumes), David Weiner (lights), Paul James Prendergast (music/sound), Alexander V. Nichols (video projections), Jessica Wallenfels (choreography), U. Jonathan Toppo (fight director). The dramaturg is Lydia G. Garcia, Ursula Meyer is voice and text director and Mandy Younger is stage manager.

On Saturday, June 15 the Elizabethan Stage will be filled with the denizens of Sherwood Forest in David Farr's The Heart of Robin Hood, a U.S. premiere directed by Joel Sass.

In this fresh look at the Robin Hood tale, Marion (Kate Hurster) takes center stage. Daughter of the Duke of York, Marion decides to flee to the forest and join Robin Hood's band in order to elude the cruel Prince John (Michael Elich), who is scheming to usurp the throne from his brother King Richard and to marry Marion. When she first meets Robin (John Tufts), he is more hood than hero and far from the noble outlaw she thought he would be. She formulates a plan, and disguised as Martin of Sherwood, Marion beats Robin at his own game, robbing from the rich and providing for the poor. As Martin/Marion's fame spreads, Robin and his brutish men eventually learn that there can be honor among thieves and even love for Robin Hood.

Others in the cast are Erica Sullivan as Alice, Daniel T. Parker as Pierre, Michael J. Hume as Makepeace and K.T. Vogt as Marion's Chaperone.

Designers are Michael Ganio (set), Paloma Young (costumes), Mary Louise Geiger (lighting), Paul James Prendergast (music/sound), Alexander V. Nichols (video projections), Jessica Wallenfels (choreography) and Christopher DuVal (fight director). Philippa Kelly is dramaturg, David Carey is voice and text director, and Amy Miranda Warner is stage manager.

On stage June 16 is A Midsummer Night's Dream. Christopher Liam Moore directs this comedy with a cast of memorable characters: Titania, Oberon, Puck and her Fairies; the lovers Hermia, Lysander, Helena and Demetrius; and, of course, Nick Bottom and his rustic crew.

In this staging, a Catholic school set on the edge of a magical forest - a lush, fantastical Elizabethan fairy world - is the backdrop for youthful urges, parental commands, mechanical aspirations and unearthly interventions.

The cast includes Richard Howard as Theseus, Judith-Marie Bergan as Hippolyta, Ted Deasy as Oberon, Terri McMahon as Titania, Gina Daniels as Puck, Christiana Clark as Helena, Tanya Thai McBride as Hermia, Wayne T. Carr as Demetrius, Joe Wegner as Lysander, and Brent Hinkley as Nick Bottom.

Designers are Michael Ganio (set), Linda Cho (costumes), David Weiner (lighting), Alexander V. Nichols (video projections), Sarah Pickett (music/sound), Jessica Wallenfels (choreography), U. Jonathan Toppo (fight director). Philippa Kelly is dramaturg, Rebecca Clark Carey is voice and text director and Gwen Turos is stage manager. The Oregon Shakespeare Festival is located in Ashland, Oregon.

MOTHERS AND SONS a world premiere by four time Tony Award-winning playwright Terrence McNally. Directed by Tony Award nominee Sheryl Kaller.

Starring Tony and Emmy Award-winner Tyne Daly. The cast also includes Tony Award nominees Manoel Felciano and Bobby Steggert.

The story of the mother of a young man who died from AIDS and his partner at the time of her son's death. In the many years since they last met, both their lives have changed - more than either of them could have possibly imagined. This new play asks us to consider how far we have come as a society in need of healing and how far we still have to go.

Scenic Design: Wilson Chin - Costume Design: Jess Goldstein - Lighting Design: Travis McHale - Sound Design: John Gromada.

June 13, 2013-June 23, 2013 at the Bucks County Playhouse in New Hope, PA.


WHO'S WHERE




JUDY KUHN a three time Tony nominee makes her debut at 54 Below in New York City with shows on Monday, June 10 and Wednesday June 12. Titled All This Happiness the cabaret performance features Dan Lipton, Musical Director, cellist Peter Sachon and percussionist Damien Bassman.

OPERA ON THE MOUNTAIN presented by Nashville Opera. Patrons are invited to "bring a picnic, a bottle of vino, and a group of good friends. We'll supply the music." Saturday, June 15, at Vanderbilt Dyer Observatory. The concert is followed by Saturn viewing through the grand telescope.

BARBRA STREISAND, CHRIS BOTTI, JASON GOULD AND ROSLYN KIND finish their European tour with a performance June 10 in Paris, at the Bercy. Wednesday, June 12, the show is in Cologne, Germany at the Lanxess Arena. Saturday's stop is in Berlin, at the O2 World Arena.

ERIC CLAPTON performs in Europe this week with a show Tuesday, June 11, at the Wiener Stadthalle in Vienna, Austria. On Wednesday the show is at the Hanns Martin Schleyer Halle in Stuttgart, Germany. Friday's gig is at the Konig-Pilsener Arena in Oberhausen, Germany. On Saturday he'll be playing his hits at the Lanxess Arena in Cologne, Germany.

JIM CARUSO'S CAST PARTY with musical director and pianist Billy Stritch will bring their wildly popular weekly soiree to the Cabaret Jazz Club at the Smith Center in Las Vegas on Wednesday, June 19. Billed as "It's a cool cabaret night-out enlivened by a hilariously impromptu variety show. Showbiz superstars hit the stage alongside up-and-comers, serving up jaw-dropping music and general razzle-dazzle."

FLEETWOOD MAC perform Monday, June 10, at the Philips Arena in Atlanta, GA. On Wednesday the hit makers perform at the Joe Louis Arena in Detroit, MI.

JON BON JOVI is on stage Wednesday, June 12, at the Stadium in Cardiff, UK. Thursday's show is at the Stadium of Light in Sunderland, UK. On Saturday he can be enjoyed at the Slane Castle in Dublin, Ireland. On Sunday, June 16, he'll be appearing at the Isle of Wight Festival in Newport, UK.

TAYLOR SWIFT opens a two night gig Friday, June 14, at the Rogers Centre in Toronto, ON.

BARRY MANILOW will appear live in concert at The Greek Theatre in Los Angeles on June 14, 15 & 16, 2013.

ALICIA KEYS continues her European tour with a show Monday, June 10, at the 02 World in Hamburg, Germany. Wednesday's show is at the 02 Arena in Prague, Czech Rep. On Thursday she stops at the Wiener Stadthalle in Vienna, Austria. On Saturday the show is at the Hallenstadion in Zurich, Switzerland. Next Sunday, June 16, she is on stage at the Olympiahalle in Munich, Germany.

DEPECHE MODE brings their tour to the Red Bull Arena in Leipzig, Germany on Tuesday, June 11. Thursday's show is at the Parken National Stadium in Copenhagen, Denmark. On Saturday they are on stage at the Stade de France in Paris.

TAYLOR SWIFT opens a two night stand Friday, June 14, at the Rogers Centre in Toronto, Canada.

BRUCE SPRINGSTEEN AND THE E STREET BAND will be rocking the house Saturday, June 15, at Wembley Stadium in London.


FINAL OVATION


ESTHER WILLIAMS

Esther Williams performed a nightclub act at the Sahara Hotel in Las Vegas. Circa 1954. Photo: Las Vegas News Bureau. Press hand out from the Sahara Hotel.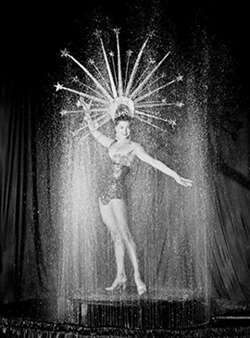 major film star who appeared in a nightclub act at the Sahara Hotel in Las Vegas, died peacefully in her sleep in Los Angeles on June 6, 2013. She was 91.

The US swimming champion-turned-movie star became known as Hollywood's Mermaid, became one of Hollywood's biggest box-office stars in the 1940s and 1950s, famously appearing lavish song-and-dance musicals, known as "aquamusicals," which featured elaborate performances with synchronized swimming and diving.

Co-stars included Gene Kelly, Frank Sinatra, Red Skelton, Ricardo Montalban and Howard Keel.

She was married four times. Her first husband was Leonard Kovner and her second husband was singer/actor Ben Gage. They had three children. During her marriage to Gage the couple performed a nightclub act at the Sahara Hotel in Las Vegas.

She retired from the movies in 1962, following her marriage to her third husband, Hollywood heartthrob Fernando Lamas. Williams and Lamas were wed for 20 years until his death in 1982. She and her last husband Edward Bell lived in Beverly Hills.

She is survived by Mr. Bell; a son, Benjamin Stanton Gage; a daughter, Susan Tenney Beardslee; three stepsons, the actor Lorenzo Lamas, Tima Alexander Bell and Anthony Bell; three grandchildren; and eight stepgrandchildren. Her son Kimball Austin, who was born October 30, 1950, died May 8, 2008.

JEAN STAPLETON was honored on Broadway with the dimming of marquee lights on Wednesday, June 5, 2013. The actress passed away on Friday, May 31, 2013.

HELEN HANFT a 1960-70s off-Broadway and film comedic actress died from intestinal complications May 30, 2013 at Roosevelt Hospital in New York City. She was 79.

She started her theatrical career in experimental theater at such venues as La Mama ETC and Caffe Cino and in a few years she became known as "the Helen Hayes of off-off-Broadway."

She appeared in the Tom Even hits Why Hanna's Skirt Won't Stay Down, Women Behind Bars, Italian American Reconciliation and The Neon Woman co-starring with Devine. She also appeared in the David Rabe play In the Boom Boom Room at Joseph Papp's Public Theater, Edward M. Cohen's Cake With Wine at Playwrights Horizons, John Patrick Shanley's Italian American Reconciliation at Manhattan Theatre Club, and Albert Innaurato's Gus and Al at Playwrights Horizons.

She is survived by her sister, a niece and nephews.

BEN TUCKER jazz musician who performed with the likes of Quincy Jones and Peggy Lee, was killed when the golf cart he was driving near Savannah, Georgia was struck by a speeding car, on June 4, 2013. He was 82.

Tucker was driving a golf cart across a road when a dark blue Chrysler 300 hit him at high speed, according to Savannah-Chatham Metropolitan police spokesman Julian Miller.

A 52-year-old Robert William Martin from Spicewood,Texas has been charged with racing, vehicular homicide and reckless driving.

Tucker, who played the double bass, had been a working musician for over four decades. He had come to Savannah from New York to run radio station WSOK-AM that he and several other investors had purchased. Tucker changed the station's programming from featuring R&B and gospel music to focusing on jazz. Tucker is credited with reviving jazz in the Savannah area. He was a founder of the Coastal Jazz Association.

By the end of the 1960s, Tucker had performed and recorded with such jazz greats as Dexter Gordon and Buddy Rich.

For the last decade Tucker had performed at the Westin Resort's Sunday Jazz Brunch. He was also a fixture on Savannah Harbor Foundation and helped organize the Savannah Jazz Festival.

He is survived by Gloria, his wife of more than forty-five years.








Next Column: June 16, 2013
Copyright: June 9, 2013. All Rights Reserved. Reviews, Interviews, Commentary, Photographs or Graphics from any Broadway To Vegas (TM) columns may not be published, broadcast, rewritten, utilized as leads, or used in any manner without permission, compensation and/or credit.
Link to Main Page
---
Laura Deni



For the snail mail address, please E-mail your request.
CLICK HERE FOR COMMENT SECTION