! >
Broadway To Vegas
  SHOW REVIEWS     CELEBRITY INTERVIEWS     GOSSIP     NEWS 
| | |
| --- | --- |
| | |
SIEGFRIED AND ROY HAVE AN HEIR - - DEPRESSED LAWYERS - - NAUGHTY BIG BAND LEADERS - - SHERMAN HEMSLEY DOES DAISY - - WYATT EARP ON STAGE - - GAS PUMPING TONY CURTIS - - ALAN KING RETURNS TO VEGAS - - MAGICAL MUHAMMAD ALI - - CHRISTINE EBERSOLE LEAVES 42nd ST . . . Scroll Down


THE BEST TRICK - MAKING AUDIENCES APPEAR

Backed by deep pockets, fueled by determination, Siegfried and Roy may have presented their finest illusion - creating an image that there is an enormous, untapped goldmine of customers clamoring for high quality matinee shows in Las Vegas.

Spring boarding that concept into reality is their anointed heir - Darren Romeo.

The master illusionists have set the wheels moving to accomplish what no other entertainer has ever achieved - creating a new dimension in Las Vegas entertainment, which could revolutionize marketing strategy and booking practices. Sinatra established a Vegas image within an existing booking concept. So did Presley and Liberace. Evening quality entertainment presented in the afternoon is a new concept.

Over the years Vegas has offered mid-day entertainment. While some of the burlesque/comedy type shows developed a cult status, most of the presentations have been token, low budget efforts. None caused the resort industry to reevaluate marketing concepts or consider booking top drawer entertainers in an afternoon gig. Siegfried & Roy presenting Darren Romeo is being closely monitored.



Siegfried and Roy who is at the podium, lauding Darren Romeo during the elegant post opening dessert reception. Photo By: Laura Deni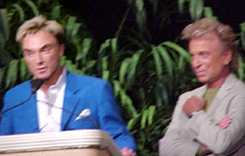 While it may not have been their original intent, S&R kick starting the mid-day ticket buyer could turn into a feasibility analyzation of shear genius.

Lynch-pin in the S&R marketing configuration is Romeo, the youngest performer to ever star in the off-Broadway smash The Fantasticks. He's a singer/magician who belts out mostly well known Broadway songs while performing prestidigitations.

S&R turned the Romeo show into a work of art, fitting an evening performance. The draw hindrance is that Romeo is an unknown. Undaunted, S&R put together a top notch production and then placed it in an afternoon time slot in their Siegfried & Roy theatre at the Mirage Hotel.

The market is there for the plucking.



Darren Romeo Photo By: Laura Deni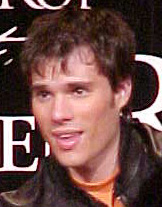 There are only so many things to occupy a Sin City tourist.

Many visitors don't consider it a trip high point to throw up while riding a roller coaster.

It's not a lot of fun to walk from casino to casino in 120 degree summer heat.

In much the same way New York theatres are flooded with people coming in for Wednesday and Saturday matinees, a Las Vegas afternoon show permits bus tour day trippers from California, Arizona and Utah to come to Vegas, have lunch, gamble, tour the city, see the Darren Romeo show and return home before midnight.

The average two-to-three day tourist frequently has idle afternoon hours - they've already exceeded the UV dose at the pool, been to the spa, the malls and a high class afternoon production fills a void. Traditionally, gamblers prefer risking their money during evening hours. If forced to pick gambling over a seeing a show, many opt for the casino. Now, they can have both.

While building an audience will take time, the marketing possibilities are endless.

Las Vegas residents, topping over one million, have a higher than norm age - most of whom have discretionary income, enjoy entertainment, but prefer not to drive long distances at night.

The $30 price, which includes one drink, is steeper than the usual afternoon fare. S&R are betting that customers will feel they got a bargain and blab to friends that they have to see this show.

Muhammad Ali, who enjoys magic, saw the show last Friday afternoon and afterwards went backstage to meet Romeo.

Assuming Romeo doesn't turn arrogant or the ticket price skyrockets, word of mouth will eventually elevate his career to high profit status. He'll be ready to take over a magical superstar slot when S&R - who are almost eligible for Social Security benefits - eventually decide they can't stomach the thought of putting on spandex and jumping on that elephant one more time.

So, what is a Darren Romeo?



Siegfried and Roy with Romeo saluting The Fantasticks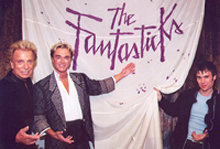 Years ago he developed a concept no other magician was using - the singing of known Broadway musical numbers to tell the story of the trick he is executing.

There are tributes to The Fantasticks, Phantom of the Opera, Aspects of Love, Barnum, his hero Bobby Darin, for whom he was named, and Andrew Lloyd Webber offered some thoughts.

The concept works.

Serendipity also played a role. Romeo had a small low budget afternoon musical/magic show at the Flamingo Hotel in 1999. The so-so offering ran out the contract and then was dropped by the hotel, making it possible for S&R to take charge. At first the duo thought about mounting it as an evening show, then opted for the afternoon.

Vegas is over run with magicians. We've all seen variations on the same ten illusions executed umpteen different ways. There are saturation points - more magicians will cause audiences to disappear.

Another evening show with an unknown magician wouldn't have worked. As a big budget, high class afternoon production - it will be ground breaking.

In an era of gimmicks, where most wizards would be out of work without a lighting designer, smoke and mirrors, Romeo had a trick handed to him by the estate of Harry Blackstone, Jr., whose family was present both during rehearsals and on opening night.

It's the floating light bulb trick and is the only illusion performed without singing.

Romeo gives Blackstone his due, mentioning that the trick was invented before the high tech era.

At 26, Romeo has caught lightening in a bottle. There isn't anybody who wouldn't love to be tapped on the shoulder and told there would be unlimited promotion, financial backing and top assistance to make the person succeed.

That kind of support breeds detractors. For those who say that if they had all the money in the world they could succeed, too - take note. What Romeo had before he ever met S&R was a unique concept - Broadway tunes and magic tricks - and the ability to deliver both. A CD is in the works. S&R were just smart enough to recognize a rough gem when they saw one.



Broadway To Vegas is supported through advertising and donations. Priority consideration is given to interview suggestions, news, press releases, etc from paid supporters. However, no paid supporters control, alter, edit, or in any way manipulate the content of this site. Your donation is appreciated. We accept PAYPAL. Thank you for your interest.


DANCING AT THE STARDUST BALLROOM


When you're too old for a mosh pit and too young for a walker, what is a person to do?

The Stardust Resort in Las Vegas thinks they have the answer. Big band dancing - but not with any old big band. While clubs in Los Angeles, San Francisco, Dallas, Chicago, Cleveland and New York, have had packed dance floors filled with young people twirling and jumping to the big band music dressed in vintage clothing of the 1930s, 40s and 50s, the Stardust is the only hotel in the world to offer regularly scheduled dances featuring superstar Big Bands.

First to hit the downbeat was Les Brown. "Les was alive then and his was the first band," reported hotel vice president Jim Seagrave, who helped develop the concept in 1996.

"Myself and some others at the hotel, who liked the music, thought there might be a market for it and we didn't see anybody else doing it," he told Broadway To Vegas.

Big band dance concerts are held throughout the year in the Stardust Ballroom. The popular series has featured the orchestras of Ray Anthony, Les Brown, Glenn Miler, Russ Morgan, Tommy Dorsey, Jimmy Dorsey, Nelson Riddle, Guy Lombardo, Benny Goodman and Woody Herman. The Billy May orchestra, under the direction of Andy Prior, performs this coming Saturday.



Billy May. His orchestra performs Saturday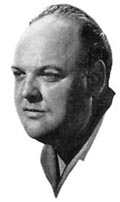 May composed the theme to the detective series, Naked City, and wrote the scores for the films Johnny Cool, Tony Rome, and Sergeants Three. He penned the theme songs for the TV series The Mod Squad and Emergency. He did the Frank Sinatra Come Fly With Me album and arranged and conducted the first album of Sinatra's Trilogy series.

The Stardust knew their Big Band series was a success when people packed the place and the telephone started ringing. Bands from across the country called wanting a contract.

"Once we got established we had a lot of calls. Most big bands only work cruises and special events. We're the only hotel in the world that has big bands on a regular basis. We only book name bands," emphasized Seagrave.

The Stardust has received calls from the Horace Heidt Orchestra now led by Horace Heidt, Jr. and the Les Elgart Orchestra. Seagrave indicated he hopes a deal can be struck with both.

"We'd love to have a Peter Duchin or an Artie Shaw, but they work mainly on the East Coast," related Seagrave. "We finally had the Tommy Dorsey Orchestra when they had a couple other engagements on this coast and we able to work them in."

"These are bands with books of really good arrangements that they have inherited," he stressed.

The demographics of those putting on their dancing shoes are 50 percent tourists, staying at a variety of strip properties. "Many of the tourists have told us they'd rather come to one of our Big Band Dances than see a major headliner," reported Seagrave. The other 50 percent are locals "which have turned into a loyal following, attending every event."

With the resurgence of swing music by artists like The Cherry Poppin' Daddies - The Brian Setzer Orchestra - Big Bad Voodoo Daddy, there's been an interesting convergence of musical styles -- with jazz moving a little more mainstream, a resurgence of swing, and a generally raised visibility of the use of American popular standards in film and TV.

That translates to a desirable customer mix.

The Stardust Big Band crowd were raised on rock, not big band. Think about it. Big bands were at their peak in the 30s and early 40s. The person who was 19 in 1938 would be 83 today. While the attendees are mostly an over 40 crowd there is an increasing number of younger toe tappers who like to dance and appreciate good music. "Dancing is the big draw and those wonderful musical arrangements," repeated Seagrave.

"They are well groomed, really nicely - elegantly - dressed. It's a well behaved crowd that enjoys band music and dancing."

The ballroom can hold 1,000 with an average attendance of about 500-700 making the events slightly above the break even point.



Glenn Miller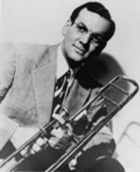 The hotel has a $15 per person admission charge.

The group that holds the attendance record is the Glenn Miller band, whose annual Glenn Miller Festival takes place June 13-16, in Miller's birthplace of Clarinda, Iowa.

In addition to tripping the light fantastic, the Stardust Big Band couples tend to "make an evening of it - having dinner and gambling," said Seagrave.

The hotel only books and average of 6-8 big band events a year because they are held in the ballroom "where the bookings need to work around planned conventions and trade shows," Seagrave related.

Signing big bands is a booking agent's dream.

"They are easy to get along with - easy to deal with," said Seagrave reporting no unusual or difficult contract riders.

"They are just happy to be playing Las Vegas."

Generally a big band needs the Stardust Hotel to provide 8-10 hotel rooms. "They don't need dressing rooms because they are staying in the hotel. They come down already in their tuxedos or the singers in their gowns.We do have sort of a green room set up for them backstage. Many of the bands augment by hiring players who live in Las Vegas."

As for the orchestra leaders - they were as colorful as the rock stars of today. Billy May, who is 85 and no longer travels with the band, was by most accounts, not just a drinker - but a primo guzzler. One member who worked with him told the press that May was "the only man I ever knew who could conduct a full orchestra and chorus while he was stone drunk." Others recall May giving a studio band the downbeat by chugging a fifth of vodka or sticking his finger up his nose and then pulling it out with a flourish.


SWEET CHARITY


ACTORS FUND SHOW The final performance of Arthur Miller's The Crucible starring Tony nominees Laura Linney and Liam Neeson - Special Actors' Fund Performance tonight, June 9th, at The Virginia Theatre, NYC.



THE FASHION INSTITUTE OF TECHNOLOGY on June 10 will honor Florence Klotz, winner of six Tony Awards for best costume design, with their 2002 Patricia Zipprodt Award. Hal Prince will present, in an evening where Cy Coleman, Christine Andreas, Marian Seldes, Angela Lansbury, Joy Abbot and Lee Roy Reams celebrate her accomplishments.

ALBERT SCHWEITZER LEADERSHIP AWARDS pay tribute to outstanding individuals whose philanthropic endeavors and business leadership provide inspiration and motivation to our youth. Honored at the Regent Beverly Wilshire in Los Angeles on June 12 will be William F. Austin Founder, Chairman and CEO Starkey Laboratories, Inc. honored with the Schweitzer Leadership Award; Arnold Shapiro, Award-Winning Television Producer receiving the Leadership in Media Award; Christopher J. McCarty, Director, Marketing & Public Relations, HM Health Services honored with the Volunteer of the Year Award. Sharon L. Allen Managing Partner Pacific Southwest Deloitte and Touche and Television Pioneer Art Linkletter awarded the International Inspirational Corporate Citizen Award.

THE OOBR AWARDS for excellence Off-Off-Broadway officially end the theatrical award season.

Held on Monday, June 24th, the Awards will be handed out at the Union Square Theatre.

This year's 19 winners were chosen from the approximately 238 shows reviewed by the oobr staff this past year.

This year, works by Ibsen, Ionesco, Moliere, O'Neill, Shakespeare, Strindberg and Wilder account more than half of the winners

For a complete list of 2002 OOBR Award winners click here


JAZZ FEST

Queen of Soul Aretha Franklin headlines the first Rochester International Jazz Festival. Franklin will be the grand finale singer at the week long festival June 9. More than 50 jazz and contemporary music artists have been signed up, and the festival will have performances ranging from formal concerts to free appearances at museums and grocery stores.

Also scheduled to appear are Dr. John, Sonny Rollins, Dianne Reeves, the Blue Brothers Band, the Rippingtons and the Average White Band.

The 60-year-old Franklin, the first female performer inducted into the Rock and Roll Hall of Fame, has won 15 Grammy Awards, the Grammy Legend Award and the Grammy Lifetime Achievement Award. Her voice has been designated a natural resource of the state of Michigan.



WYATT EARP: A LIFE ON THE FRONTIER a one-man play written by Terry Earp chronicling adventures and misadventures in the old West.

The play takes place in the mid-1920's as an elderly Wyatt Earp tells of his adventures and misadventures during the fight for the American Frontier from Arizona to Alaska.

Lawman and gunfighter, Earp was one of the heroic figures of the American West.

The fourth of seven children, Wyatt Berry Stapp Earp was born in Monmouth, Ill., on Mar. 19, 1848. By his late 20's he had been wagoner, stagecoach driver, hunter, and peace officer and had won himself a reputation as a gambler and a gunfighter.

In October 1881 he took part in the famous shoot-out at the OK Corral in Tombstone in the Arizona Territory. Earp and his two brothers, Morgan and Virgil, along with Wyatt's close friend "Doc" Holliday, acting in the name of the law, met in a gun battle five men, members and associates of the Clanton family, whom they had labeled outlaws. Three of the outlaws were shot to death in the duel, which has been celebrated in several Hollywood films. Widely reported at the time, the Earps came to symbolize the romantic violence associated with the Old West.

In about 1883 Wyatt left Arizona, having killed several well-known outlaws in gunfights to avenge the ambush slaying of his brother Morgan. He finally settled in California where he spent his remaining years in a variety of occupations, including saloonkeeper and rancher. He died in Los Angeles on Jan. 13, 1929.

This play stars namesake Wyatt Earp, who is a great nephew of the historical Earp. This one-man play by Terry Earp (Mrs. Wyatt Earp) - an award-winning Arizona playwright - was originally written for Hugh O'Brian the star of the 1950's American TV series The Life and Legend of Wyatt Earp.

O'Brian starred on Broadway in Destry Rides Again, First Love, and in the Broadway revival of Guys and Dolls. He also starred in the national company of Cactus Flower, The Odd Couple, The Tender Trap, A Thousand Clowns, and Plaza Suite.

It was O'Brian playing the lead role in the Life and Legend of Wyatt Earp, that catapulting O'Brian to stardom. The top-rated series aired on ABC television from 1955-61.

This play had its world premier in Scottsdale, Arizona, in April of 1996. It has been presented in Arizona, Colorado and California. The play also had a private performance in Harrogate, England and later was part of the 1996 Edinburgh Fringe Festival in Scotland.

This production is currently at Cyrano's Playhouse in Anchorage, Alaska. The opening was June 7 with performances continuing through June 23.

STOMP once more banging its pots and cans, June 11-July 14, Shubert Theatre, Chicago, IL.

MOSCOW BALLET one of the leading Russian companies. With a large varied repertory, featuring contemporary works as well as revivals of legendary classics and twentieth-century classic ballets, they perform in the Auditorium Theatre, Denver, Colorado June 12-16.

ANYTHING GOES the three-time Tony Award winning Cole Porter classic will be staged by the Ordway Center for the Performing Arts with Sandy Duncan coming to Ordway Center for the first time ever, playing nightclub singer Reno Sweeney.

The madcap musical features all-time Porter favorites such as I Get a Kick Out of You, You're the Top and Anything Goes. The fast-paced musical takes us to 1930s glamour, trans-Atlantic crossings, shipboard romance, telling stories of lost love, mistaken identities, second-rate gangsters and rekindled romances.

Along with Duncan, the Anything Goes cast includes Broadway star Jim Walton as Billy Crocker, Michael Brindisi, Jay Russell, Shannon Warne, Tari Kelly, Richard Ooms, and Claudia Wilkens.

David Armstrong directs. Previewing Tuesday, June 11, opening Thursday, June 13, and playing through Sunday, June 30, as part of the U.S. Bank Theater Season.

MR. GOLDWYN by Marsha Lebby and John Lollos starring Alan King closes tonight after 18 previews and 91 performances at The Promenade Theatre in NYC. The production will begin a U.S. tour in the fall. King returns to Las Vegas performing at Texas Station on Sept. 27.

42nd STREET star Christine Ebersole, who won a 2001 Tony Award for Best Actress in her role as Dorothy Brock, leaving the show this evening, replaced by her standby, Beth Leavel, on June 11. The production is at The Ford Center, NYC.

BROADWAY BY THE YEAR by Scott Siegel ends its 2002 season June 10th with Tom Andersen, Brent Barrett, Liz Callaway, Richard Skipper playing Carol Channing in the 1964 season, honoring Hello, Dolly!, Steven Brinberg playing "Simply Barbara" in tribute to Funny Girl, Sharon McKnight, Alex Korey, & Craig Rubano singing The Broadway Musicals of 1964. Ross Patterson is the musical director for the intimate evening, directed by Ray Roderick.

Monday at Town Hall, NYC.

AIDA performances in Philadelphia, PA. June 11-July 7

SWEENEY TODD:THE DEMON BARBER OF FLEET STREET is the first production in Connecticut Repertory Theatre's 2002 Nutmeg Summer Series at the University of Connecticut in Storrs.

Gary English, artistic director, presents the Stephen Sondheim-Hugh Wheeler musical about a barber who extracts odd revenge against exile by providing a pie shop with new ingredients for its meat pies. The play opened Friday and runs through June 22.

BROADWAY UNDER THE STARS a 90-minute free concert in Manhattan's Bryant Park is sponsored by the League of American Theatres and Producers and the tourism marketing outfit NYC & Company. They'll present a unique mix of film, music, dance and theatre. The evening will blend a film montage of clips take from movies shot in New York City with live performances of dance and musical theatre. A full orchestra will provide accompaniment for scheduled performers Norbert Leo Butz, Linda Eder, James Gandolfini, Savion Glover, Jane Krakowski, Lachanze, Donna Murphy, John Pizzarelli, Jessica Molaskey, Lillias White, and Karen Ziemba. Bryant Park, NYC Monday, June 10.

SOME LIKE IT HOT starring Las Vegas resident Tony Curtis inaugurates the new Hobby Center for the Performing Arts in Houston as part of the Theatre Under the Stars season. The press opening was last night. This is the first stop on a year long, 50-city tour. If you'd like to get up close and personable with the blue eyed star try self service gas stations. Curtis prefers the pump it yourself experience.

Curtis and Jack Lemmon originated the roles in the Billy Wilder film comedy, Some Like It Hot. This is Curtis' musical stage debut, at the age of 77. In this production Curtis plays the Joe E. Brown role of aging millionaire Osgood Fielding III.

The roles of Joe and Jerry are played by Timothy Gulan and Arthur Hanket, respectively. They play the roles of Depression-era musicians who flee the Chicago mob in 1931 by disguising themselves as women in an all-girl band. Curtis as Fielding falls in love with "Daphne" (Jerry in drag) when the band books a gig in Miami. Joe (or Josie) has his eye on the comely blonde in the band, Sugar played by Jodi Carmelli.

The director-choreographer is Dan Siretta. The cast includes Lenora Nemetz, Gerry Vichi, William Ryall, Scott Burrell, Bobby Clark, Timothy Joe Falter, Mark Adam, Sarah Anderson, Jacqueline Bayne, Ashlee Fife, Brenda Hamilton, Pamela Jordan, Elise Molinelli, Heather Parcells, Elizabeth Polito, Marisa Rozek, Karen Sieber, David Monzione, Derek Isetti, Ryan Migge, Gair Morris, Todd Bradley Smith and Shannon Hudson.

Designers are James Leonard Joy (scenery), Suzy Benzinger (costumes), Ken Billington (lights). Lynn Crigler is musical director. Diane Masters and Jeffrey Spolan are producing the tour.

DEATH IN VENICE a stage adaptation of Nobel-prize winner Thomas Mann's classic novella, is receiving its American premiere at the Manhattan Ensemble Theatre in New York City.

This production comes from one of the most acclaimed theater companies in Great Britain-the Citizens' Theatre, Glasgow--and has filled houses throughout Europe and won praise from critics.

The production follows an aristocratic German intellectual to Venice, where his secret passions threaten to derail his ordinary life.

Directed by and starring Giles Havergal. For the Citizens' Theatre Sets and Costumes by Philip Witcomb. Lights by Zerlina Hughes. Opened June 4 with performances through June 30.


WHO'S WHERE


SHERMAN HEMSLEY has been starring in Driving Miss Daisy at the Alabama Theatre in Birmingham, Alabama.

MAYA ANGELOU speaks tomorrow, June 10, Bushnell Center for the Performing Arts, Conn. as part of the Unique Lives & Experiences lecture series. Angelou is a poet, author, inauguration speaker and civil rights activist who also has her own imprint of greeting cards with Hallmark.

ANNE MURRAY in the spot light Saturday and Sunday at the Crystal Grand Theatre in Wisconsin Dells, WI.

USHER on stage tonight at the TD Waterhouse Centre in Orlando, FL. On Thursday the show is at the PNC Baks Arts Center in Holmdel, N.J. Friday finds the action at the Jones Beach Amphitheatre in Wantagh, NY. He closes out the week Saturday at the Tweeter Center in Mansfield, MA.

TONY DANZA brings his delightful personality and talent to Las Vegas opening Friday at the Suncoast Hotel for a three night engagement.

MARTIN SHORT making the crowds laugh Thursday in Verona, New York at Turning Stone Casino.

MARC ANTHONY Saturday at the Rose Bowl in Pasadena,CA.

ANDREA BOCELLI June 13 at Madison Square Garden in New York City. On Saturday he is center stage in Washington, D.C. at the MCI Center.

NATALIE MERCHANT entertains Tuesday in Orono, Maine at the Maine Center. On Thursday she is in Geneva, New York at the Smith Opera House. On Friday the show moves to Buffalo, New York at the Shea's Performing Arts Center.

HARRY CONNICK, JR. at the microphone tonight in Philadelphia, PA at the Mann Music Center. Tomorrow the performance is in Newark, New Jersey at the New Jersey Performing Arts Center. On Thursday the show can be enjoyed in Canandaigua, New York at the Finger Lakes Community College. On Friday Connick is in Wallingford, CT at the Careerbuilder.com Oakdale Theatre. He closes out the week Saturday in Boston, Mass. at the FleetBoston Pavilion.

DEE DEE BRIDGEWATER in a two nighter Friday and Saturday in Buffalo, New York at the Kleinhaus Music Hall.

CELINE DION Saturday at the Rose Bowl in Pasadena, CA.

GOO GOO DOLLS June 11 in Atlanta, Georgia at the Tabernacle. On Wednesday the group is in New Orleans, LA at the UNO Lakefront Arena. Friday finds the gals in Orlando, Florida performing at Hard Rock Live. They close out the week, Saturday, in Tampa, Florida at the Tampa Bay P.A.C.

ELVIS COSTELLO center stage Wednesday in Toronto, Ontario at the Molson Amphitheatre. On Friday he is in the spotlight in Boston, Mass at the Fleet Boston Pavilion. Saturday the show is in Wallingford, Conn at the Careerbuilder.com Oakdale Theatre.


PIFFLE AND PROFUNDITIES


CAN YOUR LAWYER PASS A SANITY TEST? All of those lawyer jokes may be going to waste. Your attorney may be so depressed the poor soul can't comprehend that you're in a mocking mood. Michael Sweeney director of the Oregon lawyer assistance program has some statistics;

45 states have program providing intervention and mentoring for attorneys with substance abuse and mental illness.

18 percent of lawyers in Arizona and Washington suffer from alcohol addiction and 3 percent from drug addiction. This compares to a 10 percent addiction rate among the general public.

26 percent of North Carolina lawyers are clinically depressed (compared to 3 percent to 9 percent of the general population) and 12 percent said they contemplated suicide at least once a month.

Lawyers are in the most depressed profession in the country, according to a study by Johns Hopkins University.













Next Column: June 16, 2002
Copyright: June 9, 2002. All Rights Reserved. Reviews, Interviews, Commentary, Photographs or Graphics from any Broadway To Vegas (TM) columns may not be published, broadcast, rewritten, utilized as leads, or used in any manner without permission, compensation and/or credit.
Link to Main Page
---
Laura Deni



U.S. Postal Address: Post Office Box 60538, Las Vegas, NV 89160
CLICK HERE FOR COMMENT SECTION