! >
Broadway To Vegas
  
  REVIEWS INTERVIEWS COMMENTARY NEWS

| | |
| --- | --- |
| | |
2014 TONY AWARDS - - PALM SPRINGS FOLLIES BLOWOUT SALE - - FROZEN TO HEAT UP THE STAGE - - THE AMBASSADOR CD REVIEW - - THE ALAN ALDA CENTER FOR COMMUNICATING SCIENCE - - TRACY MORGAN IN CRITICAL CONDITION - - EAST POINT POSSUMS ANNUAL DRAG SHOW - - RAISE IT UP! ANTHEM FOR AMERICA - - DONATE . . . Scroll Down




Copyright: June 8, 2014
By: Laura Deni
CLICK HERE FOR COMMENT SECTION


2014 TONY AWARDS TAKE THE SPOTLIGHT


The 68th Annual Tony Awards will be held on June 8, 2014, to recognize achievement in Broadway productions during the 2013–14 season. The ceremony will held at Radio City Music Hall in New York City, and will be televised live on CBS. Hugh Jackman will serve as host for the fourth time.

Broadway To Vegas will post the winners after the Tony Awards. ( Click here for the list of Nominees and Winners )





Broadway To Vegas is supported through advertising and donations. Priority consideration is given to interview suggestions, news, press releases, etc from paid supporters. However, no paid supporters control, alter, edit, or in any way manipulate the content of this site. Your donation is appreciated. We accept PAYPAL. Thank you for your interest.





ART AND ABOUT


RAISE IT UP! ANTHEM FOR AMERICA Celebrate the 200th Birthday of the Star-Spangled Banner with the Smithsonian.

On Flag Day, Saturday, June 14, the Smithsonian invites Americans around the globe to join Raise It Up! in a worldwide commemoration of the flag and the anthem. Raise it Up! Anthem for America will be a call to millions of Americans to participate in singing The Star-Spangled Banner simultaneously, led by a celebrity artist on the National Mall, steps from the original flag that flew over Fort McHenry in 1814.

This historic event, broadcast live across the world promises to be a shared moment in our Nation's history that Americans will remember for decades to come.

The Star-Spangled Banner is one of our nation's most treasured objects. The Smithsonian's National Museum of American history is proud to be the home of the flag that inspired Francis Scott Key in 1814 to write what became the national anthem of the United States.


Both the anthem and the banner are the most recognized symbols of our country and this year, the flag serves as a lens through which the museum will present a series of exhibitions, programs and special events to allow our visitors to examine American identity and to celebrate our shared culture.

Not to be missed will be a rare opportunity to see Key's original manuscript of the Star-Spangled Banner lyrics reuniting it for the first time with the flag Key saw at the "dawn's early light." The manuscript is on loan for a special short-term display, June 14 and July 7, from the Maryland Historical Society.

ALEX KATZ one of America's foremost painters, will speak at the Westin Portland Harborview Hotel in Portland, Maine on Wednesday, June 11, hosted by the Portland Museum of Art's Bernard Osher Lecture series. Katz will discuss his career and decades-long connection with Maine.

Katz is one of the most celebrated artists working today and has had hundreds of exhibitions during his long career. A selection of his paintings opened May 28, 2014 at the Tate Modern, London, and is on display through March 1, 2015.


SWEET CHARITY


PALM SPRINGS FOLLIES BLOWOUT SALE takes place June 13 & 14 in Oasis Room 4 of the Palm Springs Convention Center, in Palm springs, CA. The Admission Donation will benefit Friends of the Palm Springs Animal Shelter.

The Fabulous Palm Springs Follies opened in 1992 and welcomed nearly four million patrons during its 23-season run. Throughout 4,849 performances, the show celebrated the music, comedy and dance of Mid-Century America with a cast ranging in age from 55 to 88 years young. Featuring lavish, Broadway-caliber production numbers, it played from November through late-May in Palm Springs' historic Plaza Theatre and closed forever on May 18, 2014.

Everything in the Follies' warehouses, offices and theater are being sold. Items include costumes, shoes, fabrics, wigs, computers, hats, lighting and sound equipment, memorabilia, Follies' souvenirs - and did they mention even more costumes? The Follies Wardrobe Department is renowned for not only spectacular design work, but for the exquisite workmanship of its talented cutters, drapers and stitchers.

The $5 per person admission donation will go entirely to Friends of the Palm Springs Animal Shelter, which then entitles shoppers to a $5 credit toward any purchase of $25 or more.

According to Friends Vice President and Treasurer Stephen Boyd, "We are thrilled with the Follies offer to again support our shelter. While the show's closure is a huge loss for our community, our board and volunteers are so appreciative that they decided to make us the beneficiary of their warehouse sale. What a wonderful way for the community to say good-bye while raising much-needed funds for our shelter."

EAST POINT POSSUMS ANNUAL DRAG SHOW a benefit for Lost and Found Youth in partnership with Atlanta Pride takes place June 14, 2014 in East Point, Georgia. Over 20 acts will be performing.

The East Point Possums began performing in drag in 1998 rather informally, but as their supporters grew they saw it as a way to raise money for their favorite charities. For the past thirteen years, they have raised tens of thousands of dollars. After more than a decade they are responsible for one of the most well attended drag shows in the southeast. One of the 4 founding members passed away in 2004, and now the group performs in his honor.

The show is outdoors on the Commons in Downtown East Point, Georgia. The show is free with all proceeds from Tips and Drink Sales going to charity.


THE MUSIC GOES ROUND AND ROUND


THE AMBASSADOR an arts and culture think piece set to music. All songs written and arranged by Gabriel Kahane, released by Sony/Masterworks.

The alternative folk song cycle is a sociological musical statement about 10 addresses in Los Angeles.

The songs neither reflect the hoity toity fake image of Hollywood, nor Valley Girl speak; rather the dysfunctional side of a city fueled by the complexities of both anguish and irony - many played out in headlines.

There is a harmonic and rhythmic complexity of Kahane's musical notes, creating intensely textured compositions through the use of strings and horns. New age meets the desperation of reality. Intriguing, not boring.

As his website explains the album: "Bruce Willis' hair, detective fiction, modernist architecture, and race riots all provide fodder for Gabriel Kahane's major label debut, The Ambassador (Sony Masterworks)."

Kahane sings each track from a different person's perspective; for example the title track has Kahane singing through the persona of a doorman at the now-demolished Ambassador Hotel. Bradbury Building is a song about Blade Runner.

Empire Liquor Mart (9127 S. Figueroa St.), is dedicated to and sung from the perspective of 15-year-old Latasha Harlins, an African-American girl shot to death by a store owner in 1991. Words aren't minced,

As the booklet states: "Though the structure of The Ambassador suggests a geographer's rational approach - ten songs, ten addresses - Kahane's Los Angeles is a city coming in and out of focus, rather than straining for some kind of perfectly composed overview."

Veda at 1 Pierce Drive is dedicated to Joan Crawford. Kahane assumes the persona of James M. Cain's iconic protagonist, Mildred Pierce.

It begins:
Take my blood and take my marrow,
Scrape the meal from my bone,
Pierce my heart if you please,
With your arrow,
But Veda, my darling,
Come home."

The songs ends:
Yes, for darling,
In this town of light and shadow
Dreams become crooked and low,
If I've lost my way it was only to please you,
But Veda, my darling, you already know."

As a songwriter, Los Angeles born Gabriel Kahane, the son of psychologist Martha Kahane and pianist and conductor Jeffrey Kahane, the music director of the Los Angeles Chamber Orchestra, has released two albums, most recently the critically acclaimed Where are the Arms hailed by The New York Times for its extravagant poise and emotional intelligence.

In 2012 he made his recital debut at Carnegie's Zankel Hall and saw the New York premiere of February House a musical about a communal literary house in Brooklyn Heights that ran in 2012 at the Public Theater in New York. His 2006 song cycle Craigslistlieder, which uses Craigslist ads as the lyrics, has been performed at Lincoln Center.

As a composer of concert works, Kahane has been commissioned by Carnegie Hall, the Los Angeles Philharmonic, Kronos Quartet and Orpheus Chamber Orchestra. He's been guest artistic director of the Laguna Beach Music Festival and performed or recorded with Sufjan Stevens, Rufus Wainwright, Chris Thile and Audra McDonald to name a few.

The CD booklet contains a well thought out essay by Los Angeles Times architecture critic Christopher Hawthorne as well as complete lyrics.

Additional Musicians:

Background vocals: Aoife O'Donovan, Holcombe Waller and Shara Worden. Violin 1 - Jesse Mills, Colin Jacobsen, Anna Elashvili and Caroline Shaw. Violin 2 - Rob Moose, Nick Kendall, and Ana Milosavljevic. Viola - Jessica Troy, Christina Courtin and Gillian Gallagher. Cello - Jeremy Turner and Clarice Jensen. Trumpets - CJ Camerieri, and Gareth Flowers French Horn - RJ Kelly Trombone - Mike Boschen Tuba - Marcus Rojas Tenor and Baritone Saxophones - Hideaki Aomoki

Mixed by Casey Foubert Engineered by Alex Venguer, Mastered by T. W. Walsh; Assistant Engineer: Henri Bardot.

Recorded at The Bredouw Barn, Orcas Island, WA; Manhattan Sound Recording , New York, NY; Oktaven Studios, Yonkers, NY; The Bunker Studios, Brooklyn, NY; 2nd Story Sound, New York, NY; Casey's house , Madison, Wisconsin; Gabriel's house in Brooklyn, NY; and Holcombe's house in Portland, Oregon.

A June tour is taking place with performances June 8 at The Underground Arts in Philadelphia. Monday's show is at Jammin' Jave in Vienna, VA. On June 10 the show is at The Drake Hotel in Toronto, Ontario. June 13's gig is at Schuba's Tavern in Chicago. On Saturday the performance is at the Icehouse in Minneapolis. The tour continues through June 25.


SHOWCASING IRVING BERLIN
Michael Townsend Wright as Irving Berlin and Giuseppe Bausilio as the young visitor. Photo provided by Chip Deffaa.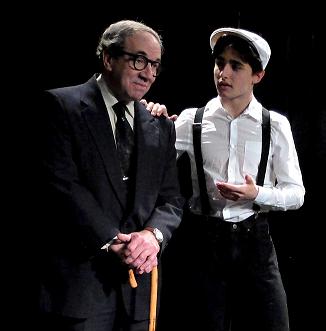 Irving Berlin liked his privacy. Just ask former NY Post music critic Chip Deffaa.

"Berlin was zealous about guarding his privacy," Deffaa told Broadway To Vegas. "I wrote for the NY Post for 18 years. I once wrote a preview piece about a salute to Berlin that a supper club was planning. Berlin read my article, called the club and threatened legal action if they didn't cancel the salute. He was up in his 90s but still feisty as hell. It intrigued me that he'd read my article and then stop people from saluting him."

A 100th birthday celebration concert was permitted and took place on May 11, 1988 benefiting Carnegie Hall and ASCAP, which Berlin co-founded in 1913. Berlin died September 22, 1989 at the age of 102.

Undaunted at the prospect of Berlin's spirited wrath from The Great Beyond, ASCAP/Deems Taylor Award-winner Deffaa is developing a five-play cycle about Berlin. The first, Irving Berlin's America opens June 15 at the 13th Street Repertory Theater in New York City.

"His music is irresistible," Deffaa says. "We'll mix Berlin songs everyone knows, like I Love a Piano and Alexander's Ragtime Band, with rarities and rediscoveries unheard in decades."

Richard Danley will music direct. Choreography is by Tyler DuBoys and Scott Thompson. Peter Charney is Assistant Director.

Co-starring stage/screen veteran Michael Townsend Wright - one of those actors whose name you might not know but whose face you just know you've seen somewhere, and young Giuseppe Bausilio from Broadway's Billy Elliot and Newsies.

"We had a well-received staged reading in NYC last year, to which we invited the Rodgers & Hammerstein Organization," he told Broadway To Vegas answering a question about R&H who represents the works of Berlin.

"Since then, we've had successful tryout engagements in New Jersey and the Catskills; this will be our first New York production," he continued.

"This is a two-man musical play - a fantasy - co-starring stage/screen veteran Michael Townsend Wright and young Giuseppe Bausilio. Wright plays Irving Berlin at age 101. Bausilio, who is 16, plays a young visitor, who may be just a kid from the neighborhood - or may be the Angel of Death; he gets Berlin to review his whole life."

"I've written five different shows, each looking at Berlin's life and career from a slightly different perspective," he continued. "This will be the first one to get a New York production. The Irving Berlin Ragtime Revue is a rollicking revue for 10 players. Irving Berlin & Co. tells Berlin's life, using 12 or more players. The Irving Berlin Story is a full-scale musical, suitable for a cast of 25 or 30 (or more) players. Irving Berlin– In Person is a one-man show. All of the shows are actually available for licensing now, except for the one-man show which will be available in the fall."

This isn't the first time Deffaa had worked with Wright.

On July 12, 2012 Deffaa's musical comedy The Seven Little Foys, was presented as part of the York Theatre Company's Developmental Reading Series.

The show starred Michael Townsend Wright and Beth Bartley as Mr. and Mrs. Foy, respectively.

The story of Eddie Foy and his family inspired the hit 1955 Paramount motion picture, The Seven Little Foys, in which Bob Hope portrayed Eddie Foy, as well as a subsequent TV special, in which Eddie Foy Jr. portrayed his father. Deffaa's stage adaptation of the Foy story mixes original songs by Deffaa with standards introduced or popularized by the Foys, such as Chinatown My Chinatown and Moonlight Bay.

Foy's grandson, Eddie Foy III, has been a prolific casting director for over 40 years. He lived in Las Vegas and was director of entertainment for the then powerful Sahara Hotel.

As for Irving Berlin's America, Deffaa wrote the play with Wright in mind. "I've known Michael for 25 years - going back to when he was Joey Faye's sketch-partner and was a regular on television's Uncle Floyd Show," he said referring to the 1974-1995 half-improvised, low-to-no budget show with sketch comedy and live music ranging from local talent to star performers.

"And Giuseppe has been such a strong performer on Broadway, he's a perfect co-star for Wright. For four weeks, Bausilio may be the only actor in New York simultaneously featured in two shows. He'll perform eight shows a week in Newsies – and on his "off nights" from that Broadway show he'll appear in Irving Berlin's America." Deffaa added: "He's that real rarity - a genuine triple-threat singer/dancer/actor, and he's totally committed; for this tryout run, we're working around his availability. I really admire his energy - doing two shows at once."








SPREADING THE WORD


ALAN ALDA

Alan Alda will be at the Alan Alda Center for Communicating Science, participating in the Center's Summer Institute June 10-13, 2014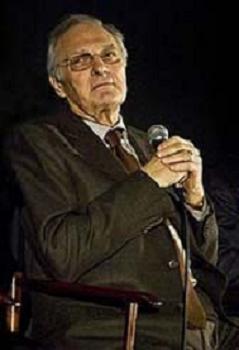 will be spending his summer vacation at the Alan Alda Center for Communicating Science participating in the Center's Summer Institute June 10-13, 2014.

"Our Summer Institutes are intended for university administrators and faculty members who want to move their own institutions toward a greater focus on communicating science to the public. Our primary goals are to share the Alan Alda Center for Communicating Science's experiences, techniques, materials, and lessons learned, to help inspire and facilitate efforts by others; to learn from others who are active or interested in this field, and to begin building a network of universities committed to improving public communication of science."

Participants will be introduced to Alda Center methods for better science communication, and undergo the kind of small-group, interactive training that we have been providing for science graduate students and postdocs. This training will include sessions in Improvisation for Scientists, Distilling Your Message, and Dealing with the Media. In addition, the program will include presentations and discussions about best practices, the role of science communication, and strategies for initiating or expanding science communication training on campus.

Sessions will be led by Alan Alda Center for Communicating Science instructors, as well as by distinguished guest presenters, including Alan Alda, a founding member of the center.

Alda an actor, director, screenwriter, and author is a six-time Emmy Award and Golden Globe Award winner, two time Tony Award nominee, and Oscar nominee is best known for his starring roles as Hawkeye Pierce in the TV series M*A*S*H. An active science enthusiast hosted Scientific American Frontiers for PBS.

He is currently a Visiting Professor at the State University of New York at Stony Brook of Journalism. He's a member of the advisory board of the Future of Life Institute and serves on the board of the World Science Festival. The Alan Alda Center for Communicating Science is located at Stony Brook University in New York.

THE CAST OF IF/THEN Idina Menzel, LaChanze, Anthony Rapp, James Snyder and Tom Kitt will sign the new Broadway Cast Recording CD at the Sony Store in NYC on Thursday, June 12. Wristbands will be limited and provided on a first come first served basis to those who purchase the CD.

FROZEN INTENDS TO HEAT UP THE STAGE The Oscar-winning creators of the animation Frozen have announced their plans to transfer Frozen into a stage musical entitled Up Here.

Husband and wife team Robert Lopez - who co-wrote The Book of Mormon and Avenue Q - and Kristen Anderson-Lopez are writing a romantic comedy, which will premiere as part of the 2015-16 season at the Tony Award winning La Jolla Playhouse in San Diego, CA.

Up Here will be directed by Tony Award-nominee Alex Timbers.

"Bobby Lopez, Kristen Anderson-Lopez and Alex Timbe rs are the new musical theatre rock stars of this generation. We're tremendously excite d to collaborate with them on developing this extraordinarily witty and wonderful piece that taps into the zeitgeist of Millennials everywhere," said Playhouse Artistic Director Christopher Ashley.

About Up Here: "Dan is an ordinary guy with a boring social life, an unused gym membership and a lot going on upstairs. When he finds a potential spark with Lind say, his attempts at love are jeopardized by his chaotic subconscious mind. Academy Award-winning composers Robert Lopez and Kristen Anderson-Lopez team up with acclaimed writer/direct or Alex Timbers to create this new musical comedy about moving past ourselves – and those little voices in our head - to find happiness."

WANNA FLY IN A MILITARY JET? you can do the next best thing when the Royal Air Force Red Arrows' precision flying team visits the Science Museum in London to launch a new 3D film for the popular Red Arrows 3D motion simulator experience, to celebrate the team's 50th performance season.

The new 3D film will allow visitors to experience the thrill of flying with the Red Arrows during the team's latest aerobatic display, filmed in Cyprus earlier this year. Viewed from the cockpit of the Red Arrows' jets, with a commentary from Squadron Leader Mike Ling, Red 10, "the audience will get a 'full on' insight into what it's like to fly with the iconic team."

The public will get to meet the Red Arrows team during their visit on Monday, June 16.

Red Arrows 3D is one of the highlights of the Science Museum's Fly Zone gallery, which includes Fly 360° flight simulators, the new RAF Typhoon simulator, and the Red Arrows kiddie pods.

The Red Arrows' 2014 season runs until the end of September, with the team expected to fly more than 80 displays across the UK and overseas.

Squadron Leader Jim Turner, Team Leader of the Red Arrows and Red 1, said: "This amazing 3D footage at the Science Museum will allow people of all ages to get a feel for what it's like to fly with our team, in close formation and with the precision required for aerobatics.

TONY AWARD WINNER BEN VEREEN will co-host the the Southwest Region Ben Vereen Awards on June 14, 2014 as well as teach a special master class to the student finalists. The Ben Vereen Awards, is a local high school competition in which two talented students from the Southwest region will be crowned Best Actor and Best Actress and go on to compete at The National High School Musical Theatre Awards in New York this June.

Upon confirming his involvement, Vereen said, "I was so pleased to be asked by the Nederlander Organization to lend my name to support the Southwest Region of the National High School Musical Theatre Awards. Arts in Education is so vital to the fabric of our society, and it is one of my main passions."

Vereen will also co-host a pre-show VIP meet-n-greet prior to the June 14th competition.

The National High School Musical Theater Awards (NHSMTA), also known as The Jimmy Awards, named for Chairman of the Nederlander Producing Company of America James M. Nederlander, is a national celebration of outstanding student achievement in high school musical theater that recognizes individual artistry in vocal, dance and acting performance, and honors teachers and their schools' commitment to performing arts education. The Jimmy Awards inspired a PBS 3-part documentary series called Broadway or Bust, which followed students on a journey from their hometown competitions to their debut on Broadway.

THE 33rd ANNUAL BLOOMSDAY ON BROADWAY celebrates 100 years of James Joyce's Dubliners and his masterpiece Ulysses.

Performances include readings by Cynthia Nixon, Malachy McCourt, Marin Ireland, National Book Award-winning author Colum McCann, and others of several of the book's stellar stories, including the beloved final story The Dead.

Between readings, songs from the stories will be performed by soprano Lisa Flanagan.

Co-produced by Symphony Space and Irish Arts Center Monday, June 16, at Symphony Space in New York City.

PRINCE WILLIAM disclosed that he's a find of Coldplay and Linkin Park. He made the revelation during a visit last Wednesday to Goole High School in East Yorkshire, England.

Seven time Grammy Award winning Coldplay is a British alternative rock band formed in 1996 by lead vocalist Chris Martin and lead guitarist Jonny Buckland. Record sales for Coldplay have exceeded 80 million records worldwide.

Two-timeGrammy winner Linkin Park is an American rock band from Agoura Hills, California. Formed in 1996, Linkin Park has sold over 60 million albums worldwide. Linkin Park will headline the first ever mtvU Fandom Awards and MTV Fan Fest, both of which will be held on Thursday, July 24, at Petco Park during San Diego's Comic-Con. Then on Sunday, July 27, the final day of Comic-Con, MTV and mtvU will air the 60-minute mtvU Fandom Awards special, showcasing the musical performances from the Linkin Park-headlined show.

FATHER OF THE YEAR AWARDS it's that time of year - Father's Day - when, traditionally, various charities and organizations stage fund raising events in which some man is honored as their version of Father of the Year. Because it's a fund raising event, the person so honored needs to have a name that sells tickets. That limits the gents. Over the years there have been many honored who are wonderful, deserving men who are not only leaders in their chosen professional, but also role models as fathers. Then there are the handful whose power and name recognition trumps kindness and decency. They may be giants in their industry and interested in their own children, but as human beings they are megalomaniac horrid creatures. Here's hoping that this year's list of honored pops are the best kind.


HANG IN THERE
TRACY MORGAN the Emmy nominated actor and comedian, along with comics Harris Stanton, Ardie Fuqua and Jimmy Mack who were on tour with Morgan, traveling in a Mercedes Sprinter limousine, when it was reared ended by a truck, whose driver has been arrested and charged. A chain reaction occurred involving six vehicles on the New Jersey Turnpike early Saturday, June 9, 2014. The bus overturned killing one of the comics, 63-year-old James "Jimmy Mack" McNair of Peekshill, New York.

Three are in the hospital, including Morgan, the 45-year-old former Saturday Night Live and 30 Rock star who is in intensive care at Robert Wood Johnson University Hospital Center in New Brunswick, New Jersey. He is listed in critical condition. One other passenger was treated and released.

Morgan and the other comics had performed at Dover Downs Hotel & Casino in Dover, Delawareon Friday night.



THE LAST SHIP a new musical with music and lyrics by 16-time Grammy winner Sting and book by Tony winner John Logan and Pulitzer Prize winner Brian Yorkey.

Directed by Joe Mantello.

Choreography by Olivier Award winner and Tony nominee Steven Hogggett.

Starring michael Esper, Rachel Tucker, Jimmy Nail, Fred Applegate, Aaron Lazar, Sally Ann Triplett and Collin Kelly-Sordelet.

The ensemble includes Ethan Applegate, Craig Bennett, Dawn Cantwell, Jeremy Davis, Bradley Dean, Alyssa DiPalma, Colby Foytik, David Michael Garry, Timothy Gulen, Shawna M. Hamic, Rich Hebert, Leah M. Hocking, Todd A. Horman, Sarah Hunt, Jamie Jackson, Sean Jenness, C. David Johnson, Drew McVety, Johnny Newcomb, Gregory North, Matthew Stocke, Cullen Titmas and Jeremy Woodard.

The orchestra includes Wayne, IL native Martha McDonnell, 22, who missed her college graduation ceremonies from Lawrence University in Appleton, Wisconsin because she's playing the violin in the Chicago production of Sting's Broadway-bound musical.

The Last Ship is described as: "set in the English seafaring town of Wallsend, a close-knit community where life has always revolved around the local shipyard and the hardworking men construct magnificent vessels with tremendous pride. But Gideon Fletcher dreams of a different future. He sets out to travel the world, leaving his life and his love behind. When Gideon returns home 14 years later, he finds the shipyard's future in grave danger and his childhood sweetheart engaged to someone else. As the men of Wallsend take their future into their own hands and build a towering representation of the shared dream that defines their existence, Gideon realizes that he left behind more than he could have ever imagined." Set and costume design by Tony nominee David Zinn, lighting design by Tony winner Christopher Akerlind and sound design by Tony winner Brian Ronan. Casting by Telsey + Company/Craig Burns, CSA.

A pre-Broadway engagement begins June 10 and continues through July 13 in Chicago at the Bank of America Theatre. A Broadway transfer begins previews September 30 at Broadway's Neil Simon Theatre with an official opening on October 26, 2014.

THE COUNTRY HOUSE Written by Pulitzer Prize winner Donald Margulies.

Directed by Tony Award winner Daniel Sullivan.

Featuring Blythe Danner, Scott Foley, Eric Lange, David Rasche, Sarah Steele & Emily Swallow.

Inspired by Anton Chekhov's pastoral comedies.

Gathering in their Berkshire home during the Williamstown summer theater season, a family of actors wrestles with fame, art and, as always, each other. But when the events of the weekend go off-script, secrets are spilled and bonds are broken - threatening an already fragile foundation of a home brimming with old memories, new love and discarded dreams.

Performances through July 13, 2014 at The Geffen Playhouse in Los Angeles, CA.

THE FIRST FIFTY YEARS the first success of Henry Myer (1893-1975) who later wrote screenplays, including Destry Rides Again.

Directed by ELTC's artistic director Gayle Stahlhuth.

Myers was an American writer and lyricist who wrote in many genres of fiction including plays, musicals, motion pictures, revues, and novels. Before becoming a writer, Myers was a composer and classical pianist. While taking a playwriting class at Columbia, he befriended lyricist Lorenz Hart, who produced Myers' first play, The First Fifty Years, at the Princess Theater in 1922.

The First Fifty Years is about the ups and downs of a married couple from 1872, after their honeymoon, all the way to their golden anniversary, in 1922.

Stahlhurth tracked down the only known script of this forgotten gem at The Billy Rose Collection at The Library of Performing Arts in NYC.

Playing the roles of Anne and Martin Wells are Beckley Andrews and Samuel Douglas Clark.

From June 11 to July 19 at the East Lynne Theater Company in West Cape May, NJ.

FADED GLORY by Tim Burns.

Directed by David Ellenstein.

This comedic romp tells the improbable, but true, story of Daniel Sickels, a 19th-century congressman, friend to presidents, Civil War general, lover of Queen Isabella II of Spain, notorious philanderer, embezzler, murderer, and the officer who almost cost the Union victory in perhaps the most pivotal battle of the Civil War, only to receive the Congressional Medal of Honor. Based on this real figure from American history, funny, poignant and filled with astonishing little-known historical information, Faded Glory promises audiences "a rollicking comedic romp through this amazing life."

Starring Andrew Barnicle, Ben Cole, Frances Anita Rivera, Bruce Turk, Rachel VanWormer, and Shana Wride.

Ryan Ford is the assistant director. The design team includes Aaron Rumley,* Stage Manager; Marty Burnett, Scenic Design; Matt Novotny, Lighting; Sonia Elizabeth, Costumes; Melanie Chen, Sound; and Peter Herman, Hair & Wig Design.

The World Premiere runs through June 22 at North Coast Repertory Theatre in Solana Beach, CA.

AVENUE Q music and lyrics by Robert Lopez and Jeff Marx. Book by Jeff Whitty.

Directed by Jason Loewith.

Choreographed by Bobby Smith with music direction by Christopher Youstra.

When a show opens with a song called What Do You Do With a B.A. in English?, sung by a lead puppet named Princeton, you know you're in for something exciting.

And that's what you'll get with the seismically hilarious, seriously-for-adults Tony-winning Best Musical of 2004. Songs like Everyone's a Little Bit Racist, The Internet Is For Porn and If You Were Gay rocketed Avenue Q the list of longest-running Broadway shows, satirizing (with its very big heart) the "you can do anything" message of kids' shows from the 70s and 80s. Princeton and friends Kate Monster, Christmas Eve, and Gary Coleman might not be special in the grand scheme, but they're awfully special to each other – and that's even more important.

June 11 - July 6, 2014 at the Olney Theatre in Olney, MD.

THIS IS OUR YOUTH by Kenneth Lonergan.

Directed by ensemble member Anna D. Shapiro.

Starring Michael Cera, Kieran Culkin and Tavi Gevinson.

Set in New York in 1982, This Is Our Youth follows forty-eight hours in the lives of three very lost young souls: Warren, a dejected nineteen year old who has just stolen $15,000 from his abusive, tycoon father; Dennis, his charismatic drug-dealing friend who helps Warren put the stolen money to good use; and Jessica, the anxiously insightful young woman who Warren yearns for.

Billed as: "Funny, painful and compassionate, This Is Our Youth is a living snapshot of the moment when many young people go out into the world on their own, armed only with the ideas and techniques they developed as teenagers - far more sophisticated than their parents realize, and far less effectual than they themselves can possibly imagine."

The Steppenwolf Theatre Company production of This Is Our Youth will be produced on Broadway by Scott Rudin in Fall 2014 at the Cort Theatre.

Beginning June 10 in the intimate 300-seat Upstairs Theatre. Steppenwolf Theatre in Chicago.

LEGALLY BLONDE THE MUSICAL Book by Heather Hach. Music and Lyrics by Laurence O'Keefe and Nell Benjamin. Based on the novel by Amanda Brown and the Metro-Goldwyn-Mayer motion picture.

Based on the hilarious MGM film, Legally Blonde The Musical follows sorority star Elle Woods, an underestimated blonde who doesn't take "no" for an answer.

When her boyfriend dumps her for someone more "serious," Elle puts down the credit card, hits the books, and sets out to go where no Delta Nu has gone before: Harvard Law. Along the way, Elle proves that being true to yourself never goes out of style.

This musical juggernaut features such instant classics as Omigod You Guys, Bend and Snap, Take It Like a Man and more.

June 13-22, 2014 Pitttsburgh Light Opera.

HOBSON'S CHOICE by Harold Brughouse.

Directed by Nadia Falls.

When cobbler Henry Hobson takes umbrage at his daughter's decision to marry boot-maker Willie Mossop, they decide to get married anyway and set up a rival shop nearby. It is Willie who ultimately triumphs in this unlikely love story, which presents a vivid mix of working class life and uplifting humor.

Starring Mark Benton as Henry Hobson and co-starring Jodie McNee.

June 12-July 12, 2014 at Regent's Park Open Air Theatre in London.

The seating area and stage are completely uncovered. Performances are never cancelled or abandoned before the advertised starting time. If cancellation is unavoidable due to bad weather, ticket holders will be entitled to equivalent seats for any other performance in the main repertoire. Refunds are not given for cancellation as a result of the weather.

THE BOOK OF MORMON a religious satire musical by Trey Parker and Matt Stone.

Co-direction and choreography by Casey Nicholaw.

The Tony Award winning mega-hit Book of Mormon tells the story of two young Mormon missionaries sent to a remote village in northern Uganda, where a brutal warlord is threatening the local population. Naïve and optimistic, the two missionaries try to share the Book of Mormon, one of their scriptures - which only one of them has read - but have trouble connecting with the locals, who are more worried about war, famine, poverty, and AIDS than about religion.

Starring David Larsen as Elder Price, Cody Jamison Strans as Elder Cunningham, Denee Benton as Nabulungi, Pierce Cassedy as Elder McKinley, James Vincent Meredith as Mafala Hatimbi. Featuring Christopher Shyer and David Aron Damane.

Scenic Design by Scott Pask, Ann Roth costume design, Brian MacDevitt lighting, Brian Ronan sound design. Stephen Oremus serves as music irector/vocal arranger and co-orchestrator. Larry Hochman co-orchestrator.

June 10 - July 6, 2014 Reynolds Hall of The Smith Center in Las Vegas.

SIDE SHOW a re-imagining of the acclaimed 1997 Broadway musical inspired by the true life story of conjoined twins Daisy and Violet Hilton. Developed in association with the La Jolla Playhouse, this production features new songs as well as new characters.

Featuring music by Henry Krieger and book and lyrics by Bill Russell, the original production of Side Show went on to earn four Tony Award nominations including Best Musical, Best Book, and Best Original Score. Directed by Academy Award winner Bill Condon.

Chronicling their rise from freak circus attractions to famous vaudeville entertainers during the Great Depression, Side Show follows the Hilton sisters' heartwarming search for fortune and love through the high and low points in their careers.

June 14-July 13, 2014 in the Eisenhower Theater at Kennedy Center in Washington, DC.

RUGANTINO Book and Lyrics by Pietro Garinei and Sandro Giovannini. Book in collaboration with Pasquale Festa Campanile and Massimo Franciosa. Artistic Collaborator: Luigi Magni. Music by Armando Trovajoli.

Original direction by Pietro Garinei and Sandro Giovannini, with Mise-en-Scene by Enrico Brignano.

Rugantino, one of Italy's most successful musicals, comes to New York City Center to celebrate the 50th Anniversary of its Broadway debut. The show stars Italy's top comedian Enrico Brignano as Rugantino, with 50 actors, dancers and singers, including Armando Silverini, who played Cardinal Severini in the original production as Banditore/Vegliante/Conte Leopoldo.

In addition to Brignano and Severini, the production features Serena Rossias Rosetta, Vincenzo Failla as Mastro Titta, and Paola Tiziana Cruciani as Eusebia.

Set in 19th century Rome, Rugantino tells the story of a fun-loving rogue who has plenty of ruganza, or arrogance. When he makes a bet that he can seduce the wife of one of Rome's most prominent citizens, he gets more than he bargained for.

Rugantino debuted at Teatro Sistina in Rome on December 15, 1962. It later opened on Broadway at the Mark Hellinger Theater, where it played an exclusive three-week engagement in February of 1964.

Rugantino was celebrated not only for its storyline, but also for the accuracy of the scenery, the gorgeous costumes by Giulio Coltellacci, the choreography by Gino Landi, and the melodies of the maestro Armando Trovajoli that reign supreme in the picturesque set of the vanished Rome.

The tour will bring eight containers of equipment including updated costumes and hand-painted sets that were restored from the original production.

The 50th Anniversary production has Choreography by Gino Landi. Scenery and Costumes by Giulio Coltellacci.

June 12, 13 &14, 2014 at New York City Center, NYC.


WHO'S WHERE


KEITH URBAN is spending June performing in Australia. On Saturday, June 14, he'll be at the 1300 Smiles Stadium in Kirwan.

DOLLY PARTON is across the pond with a show tonight, Sunday, June 8, at the Liverpool Echo Arena in Liverpool, England. On Tuesday she stars at the Odyssey Arena in Belfast, UK. Wednesday's show is at the 02 Arena in Dublin, Ireland. Thursday's gig is at the Marquee in Cork, Ireland. On Saturday her tour stops at the Metro Radio Arena in Newcastle upon Tyne and next Sunday, June 15, she'll be entertaining her fans at the GE Oil & Gas Arena in Aberdeen, UK.

BRUNO MARS performs Tuesday, June 10, at the Verizon Arena in North LittleRock, AR. Wednesday's show is at the BJCC Arena in Birmingham, AL. On Friday he's in the spotlight at the Colonial Life Arena in Columbia, SC. Saturday finds him at the PNC Arena in Raleigh, NC.

ROD STEWART is across the pond with a show Friday, June 13, at the American Express Community Stadium in Brighton, UK. Saturday's gig is at the Britannia Stadium in Stoke-On-Trent, UK.

BLACK SABBATH hads a date at the Impact Festival in Lodz, Poland on Wednesday, June 11. On Friday they perform at the Konigsplatz in Munich, Germany. Next Sunday, June 15, their tour stops at the Pannonia Fields in Nickelsdorf, Austria.

MIRANDA LAMBERT appears at the Florida Country Superfest in Jacksonville, FL on Sunday, June 15.

IL VOLO the massively popular teenage Italian pop vocal trio who breathe new life into old standards perform Saturday, June 14, at the Palace Theatre in Stamford, CT.

LIONEL RICHIE brings his tour to the Usana Amphitheatre in Salt Lake City on Tuesday, June 10. Wednesday's show is at Red Rocks Amphitheatre in Morrison, CO. Next Sunday, June 15, he performs at the First Midwest Bank Amphitheatre in Tinley Park, IL.

MARILYN MAYE returns in her 92Y solo concert debut for the annual Kathryn W. Stein Memorial Concert. Tuesday, June 17 at 92Y in New York City.

LAUREN FOX presents The Songs of Joni Mitchell & Leonard Cohen at the Downtown Cabaret Theatre in Bridgeport, Connecticut on June 14. Fox is the 2012 recipient of the MAC and Bistro Award for Debut Artist, as well as the 2013 recipient of a Nightlife Award for Outstanding Cabaret Performer.


FINAL OVATION


STEVE KING the Grammy-winning recording engineer best known for his work with Eminem, died Tuesday, June 3, 2014 at Harper University Hospital in Detroit. He was 56.

King had been hospitalized and released last month amid complications from liver-related issues. He was rushed to Harper early Tuesday after collapsing at home in White Lake Township, and died that afternoon from internal bleeding, according to published comments from friend and band mate M.L. Liebler.

King was the in-house engineer at 54 Sound in Ferndale, where he built a lengthy, eclectic discography with acts ranging from Aretha Franklin to the Winans. He'd gotten his start in the early 1980s under the tutelage of musician-producer Don Was.

He is survived by his wife, Roberta King, and a 25-year-old son, Nick King, whom he was mentoring in studio work in recent years.

Neil Portnow President/CEO of The Recording Academy issued the following statement:

"Grammy winner Steve King was a remarkable engineer whose eclectic and diverse work crossed multiple genres including rap, R&B, gospel, rock, and jazz. In addition to his technical expertise, King was a musician, performer and songwriter, which infused his musical intuition and made him an even more valuable contributor in the studio. His unassuming nature and dedication to his craft earned him well-deserved respect, and he used his success to give back to his community, sharing his knowledge and insights at local youth centers. Our music community, and the city of Detroit, has lost a passionate professional whose noteworthy legacy will always speak for itself. Our heartfelt condolences go out to his family — both at home and in the studio — his friends, and all those who benefited from his unique talents."

ANN B. DAVIS an Emmy award winning actress died June 1, 2014 after falling in the bathroom at her home where she was living in San Antonio, Texas. In excellent health, she hit her head and suffered a subdural hematoma, never regaining consciousness. She was 88.

Davis had been living with Episcopal Bishop William C. Frey and his wife, Barbara, since 1976.

Davis achieved prominence for her role in The bob Cummings Show (1955–59) for which she twice won the Emmy Award for Outstanding Supporting Actress in a Comedy Series, but she was best known for playing the part of Alice, the housekeeper in The Brady Bunch series (1969–74).

In the early 1990s, Davis focused on theater. She performed in a production of Arsenic and Old Lace, and a world tour production of Crazy For You.















Next Column: June 15, 2014
Copyright: June 8, 2014 All Rights Reserved. Reviews, Interviews, Commentary, Photographs or Graphics from any Broadway To Vegas (TM) columns may not be published, broadcast, rewritten, utilized as leads, or used in any manner without permission, compensation and/or credit.
Link to Main Page
---
Laura Deni



For the snail mail address, please E-mail your request.
CLICK HERE FOR COMMENT SECTION