! >
Broadway To Vegas
  
  REVIEWS INTERVIEWS COMMENTARY NEWS

| | |
| --- | --- |
| | |
2015 TONY AWARDS - -BROADWAY AN AMERICAN IN PARIS CAST CD REVIEW - - ABBOTT AND COSTELLO ESTATE SUES HAND TO GOD - - HYMAN'S PIANO MEETS HIRSCHFELD'S PEN - - CALENDAR GIRLS - - SHOES: PLEASURE AND PAIN - - PRINCE WILLIAMS WEIGHS IN ON FIFA SCANDAL - - JACQUELINE HUMPHRIES ART EXHIBITION - - DONATE . . . Scroll Down
















Copyright: June 7, 2015
By: Laura Deni
CLICK HERE FOR COMMENT SECTION


2015 TONY AWARDS!


The most important night of the year for Broadway is at hand - The Tony Awards, presented tonight at Radio City Music Hall in a show hosted by Kristin Chenoweth and Alan Cumming. Congratulations to all of the winners!

See a list of the nominees and winners.



Broadway To Vegas is supported through advertising and donations. Priority consideration is given to interview suggestions, news, press releases, etc from paid supporters. However, no paid supporters control, alter, edit, or in any way manipulate the content of this site. Your donation is appreciated. We accept PAYPAL. Thank you for your interest.






ART AND ABOUT
Coxton Shoe Co: Ltd. Active in the early 20th century men's shoes Gilded and marbled leather. Northhampshire, England c. 1925 V&A Photo: Victoria & Albert Museum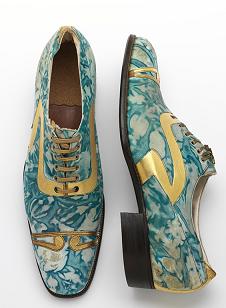 SHOES: PLEASURE AND PAIN this exhibition will look at the extremes of footwear from around the globe.

Around 200 pairs of shoes will be presented, ranging from a sandal decorated in pure gold leaf originating from ancient Egypt to the most elaborate designs by contemporary makers.

It will consider the cultural significance and transformative capacity of shoes and will examine the latest developments in footwear technology creating the possibility of ever higher heels and dramatic shapes.

Examples from famous shoe wearers and collectors will be shown alongside a dazzling range of historic shoes, many of which have not been displayed before.

June 13, 2015 – January 31, 2016 at the Victoria and Albert Museum in London.

JACQUELINE HUMPHRIES

Canvas by Jacqueline Humphires. Photo:Carnegie Museum of Art.

Over the course of her nearly 30-year career, Jacqueline Humphries (b. 1960, New Orleans) has emerged as a singular force in contemporary art, an influential "artist's artist" whose signature abstract works in metallic and ultraviolet pigments must be experienced firsthand.

Jacqueline Humphries is the artist's first solo museum exhibition in nearly a decade, and the most extensive presentation to date of both her silver and black-light paintings. The exhibition comprises entirely new works, created with CMOA's unique spaces in mind.

Humphries's densely layered, atmospheric canvases activate and are activated by the space around them. The muted metallic surfaces of the silver paintings respond to shifting natural light and the movements of the viewer, positioning abstract painting as a theatrical, time-based art.

The black light paintings reveal their true nature - and actually emit light - only when "excited" by ultraviolet bulbs. In their presence within a darkened room, viewers are immersed in spectacular fluorescence, their awareness of viewing and being viewed amplified.

Both bodies of works self-consciously engage the history of art and refer to popular culture as well, melding the drips, zips, and Ben-day dots of mid-century abstraction with psychedelia and cinema's silver screen.

The opening event on Wednesday, June 10, will be free and open to the public. Jacqueline Humphries is the 75th installment of Carnegie Museum of Art's Forum series. June 12–September 28, 2015 Forum Gallery Carnegie Museum of Art in Pittsburgh, PA.





SWEET CHARITY


FORD'S THEATRE IN WASHINGTON, DC hosted its annual gala, on Sunday, May 31, which benefits the Theatre and its programming, including exhibitions at the Ford's Theatre Center for Education and Leadership.

National Security Advisor Susan Rice, Secretary of the Interior Sally Jewell, Department of Transportation Secretary Anthony Foxx, House Minority Leader Nancy Pelosi, former United States Attorney General Eric Holder, United States Secretary of Department of Veterans Affairs Robert A. McDonald, United States Air Force Secretary Deborah Lee James, actor George Newbern, members of Congress and other distinguished guests attended the event.

The evening included the presentation of the Ford's Theatre Lincoln Medal to Diane Nash. The award was given in recognition of her extraordinary character, service, accomplishments and work reflecting Lincoln's legacy of humanity, wisdom, eloquence and vision.

Additional highlights from the Ford's Theatre Annual Gala included a toe-tapping Little Jazz Bird performed by Tommy Tune; an extraordinary performance of Michael Jackson's Smooth Criminal by 2CELLOS; Martina McBride singing Wild Night (originally by Van Morrison); Joss Stone and the full ensemble performing Glory from the film Selma; Boyz II Men performing End of the Road; and more. During the performance, Ford's Theatre Director Paul R. Tetreault also recapped this spring's Ford's 150 commemorative events that commemorated 150 years since the assassination of Abraham Lincoln at the historic theatre.









THE MUSIC GOES ROUND AND ROUND


AN AMERICAN IN PARIS CD the original Broadway cast recording has been released by Masterworks Broadway, a division of Sony Music Masterworks.

An American In Paris is the romantic story of a young American soldier, a beautiful French girl and an indomitable European city, each yearning for a new beginning in the aftermath of war. As the Broadway To Vegas review of the production states: "George and Ira Gershwin's songs are the above the title attraction." See Broadway To Vegas column of May 10, 2015

The score includes the songs I Got Rhythm, Liza, 'S Wonderful, But Not For Me, I'll Build a Stairway to Paradise, and orchestral music including Concerto in F, Second Prelude, Second Rhapsody/Cuban Overture and An American In Paris.

A fabulously wonderful musical, the show deserves to run for years, and the CD or download belongs in everyone's collection. A scrumptious, gourmet listening banquet.

The cast of An American In Paris stars Robert Fairchild as Jerry Mulligan, Leanne Cope as Lise Dassin, Veanne Cox as Madame Baurel, Jill Paice as Milo Davenport, Brandon Uranowitz as Adam Hochberg, and Max von Essen as Henri Baurel.

The cast also includes Caitlin Abraham, Will Burton, Attila Joey Csiki, Michael Cusumano, Taeler Cyrus, Ashlee Dupré, Rebecca Eichenberger, Sara Esty, Laura Feig, Jennie Ford, Kurt Froman, Heather Lang, Dustin Layton, Nathan Madden, Gia Mongell, Candy Olsen, Rebecca Riker, Adam Rogers, Sam Rogers, Shannon Rugani, Garen Scribner, Sam Strasfeld, Sarrah Strimel, Charlie Sutton, Allison Walsh, Scott Willis and Victor J. Wisehart.

This is a physical Gershwin musical where the orchestrations and musical numbers accommodate superb dancing.

Unlike some musicals where, if the piano player failed to show the drummer and a guitarist could cover, An American in Paris has a score which has heavy reliance on the piano - masterfully played by veteran Broadway musician/conductor Greg Anthony Rassen who received his Masters degree from the Cincinnati Conservatory of Music.

One show stopping number after another. The optimistic I've Got Beginner's Luck, is exuberantly delivered by Robert Fairchild.

Max von Essen's rendition of I'll Build a Stairway to Paradise brings back joyous memories of seeing him perform that tune in the production, which was an all but show stopping segment.

He also joins Jill Paice in Who Cares? Her beautifully clear soprano offers a sublime rendition of Shall We Dance. In the Broadway production, Fidgety Feet is effectively used to show patron boredom at attending a swellegant (as Cole Porter coined) but dull artsy evening - definitely a toe tapper with some nifty xylophone work.

You Can't Take That From Me, and S'Wonderful are trio songs, performed by Robert Fairchild as Jerry Mulligan, Brandon Uranowitz as Adam Hochberg and Max von Essen as Henri Baurel - each of whom is secretly in love with Lise Dassin, played by Leanne Cope. Great blending of voices.

The Man I Love is given a wistful rendition by leading lady Leanne Cope who has fallen in love with Jerry Muligan but feels an obligation to Henri Baurel. And then there's the famous An American in Paris suite, danced to perfection by Fairchild and Cope. This is a musical meant for dancers. Thus, there are four outstanding orchestral numbers; Concerto in F, Second Rhapsody/Cuban Overture, Entr'acte and Epilogue.

If you've seen the musical this CD is a must-have souvenir. If you haven't yet seen the production, listening to this memorable CD will entice you to buy tickets. This CD may also find itself in a collector's item category. An America in Paris is a major Broadway hit. This original Broadway production is choreographed and musically orchestrated to showcase the stellar dancing abilities of ballet superstars Fairchild and Cope.

There is nothing Broadway normal about their movements.

Finding tour stars who can ballet/tap/jazz dance and sing as well as Fairchild and Cope could be difficult. To take this show on the road might require tweaking the choreography. A tour show with the credit billing of "choreography based upon the original Broadway . . . ."

That might trickle down to tweaking the sparkling orchestrations which are perfect for the Broadway mounting. That would warrant a tour cast recording.

Fans of this musical, or of the Gershwins, will want to own any and all CDs of this production. Start with this one. You won't be disappointed.

Orchestra:Conductor Todd Ellison. Assistant Conductor/Piano Greg Anthony Rassen. Flute: Kathleen Nester; Woodwinds: Lino Gomez, Deborah Avery, John Winder; French horn: Russ Rizner; Trumpet: Dominic DeRasse, Alex Holton; Trombone: Bruce Eidem, Jeff Caswell; Percussion/Asst. Conductor Andrew Blanco; Drums: Warren Odze; Accordion: William Schimmel; Violin/Concert Master: Martin Agee; Violin: Robin Zeh; Viola: Richard Brice; Cello: Stephanie Cummins, Alisa Horn; Bass: Mark Vanderpool.

For the original cast recording, the Broadway musical orchestra is augmented with six additional musicians: Timothy Leopold - trumpet. Robert Zubrycki, Lorra Baylis - violin. Carla Fabiani - viola and Deborah Assaei Caryl Paisner - celli.

Score adapted, arranged and supervised by Rob Fisher; orchestrations by Christopher Austin; dance arrangements by Sam Davis; musical supervision by Todd Ellison; additional orchestrations by Don Sebesky and Bill Elliott and musical direction by Brad Haak.

Recorded and Edited by Alex Venguer at Avatar Studios, New York City. Mixed by Scott Lehrer at 2nd Story Sound, New york City. Executive in charge of production Brian Drutman. Production manager Jill Dell'Abate. Additional Recording: Akihiro Nishimura.

Assistant engineers: Thom Beemer, Nate Odden, Tyler William and Luke Klingensmith. Mastered by Oscar Zambrano for Zampol Productions.


ABBOTT AND COSTELLO ESTATE SUES HAND TO GOD


The five-time Tony nominated play Hand To God has been hit with a legal lightning bolt. Last Thursday, June 4, 2015, the estates of Abbot and Costello offered their own version of the Ten Commandments - one of which is 'thou shalt not use the baseball routine Who's on First?'

The suit alleges federal and New York common law copyright infringement against the playwright, producers, and promoters of Hand to God, for featuring a significant portion of the legendary Who's on First? routine, currently being performed eight times a week, without license or permission from the plaintiffs. Cease-and-desist requests were sent after the play opened on Broadway in April. The lawsuit seeks damages and lawyers' fees.

Marc Rachman, intellectual property litigation partner at law firm Davis & Gilbert represents the heirs in this case. With more than 110 lawyers, Davis & Gilbert is well-known for its intellectual property and marketing communications expertise.

Rachman's official release says:

"This case is about the infringement of one of the most iconic comedy routines of all time, created by Abbott & Costello, the legendary comedy duo. This comedy scene is being used in Hand to God without permission from the heirs of Bud Abbott and Lou Costello."

"Although Hand to God is an innovative and creative new American play, there is one critical scene in the play that flies in the face of the very originality and creativity that the play hopes to embody. That is the scene that uses Abbott & Costello's Who's on First without permission. And that is what this lawsuit is about."

"This lawsuit, is about putting copyright law 'on First' for all artists and creators of original works, including Abbott & Costello. These priorities and values should be regarded as essential to all artistic endeavors."

"The heirs of Abbott & Costello notified the producers and the playwright nearly two months ago and simply were stonewalled, never receiving a meaningful response. My firm was hired recently when the prior efforts to compensate the heirs of Abbott & Costello for their original work had not succeeded. We then contacted the producers and playwright prior to commencing litigation, but the producers left us no alternative but to file the lawsuit."

The complaint claims the defendants are willfully capitalizing on Abbott & Costello's world-famous reputation and plaintiffs' copyrighted works, despite requests that they cease and desist. The heirs are seeking damages and attorney's fees for copyright infringement, and injunctive relief, under the Copyright Act, 17 U.S.C. § 101 et seq., and under New York copyright common law.

Plaintiffs are TCA Television Corp., Hi Neighbor and Diana Abbott Colton.

Defendants are Kevin McCollum; Broadway Global Ventures; CMC; Morris Berchard; Mariano V Tolentino Jr.; Stephanie Kramer; Lams Productions, Inc.; Desimone/Winkler; Joan Raffe; Jhett Tolentino; Timothy Laczynski; Lily Fan; Ayal Miodovnik; Jam Theatricals Ltd.; Ensemble Studio Theater, Inc.; MCC Theater; Robert Askins; Key Brand Entertainment Inc., And Does And ABC Companies 1-10.

In the section of the play in question, a teenager named Jason tries to impress a girl by performing part of the routine with a sock puppet.

Abbott and Costello performed Who's on First? numerous times in their careers, rarely performing it exactly the same way twice. In 1956 a gold record of Who's on First? was placed in the National Baseball Hall of Fame and Museum in Cooperstown, New York.

Who wrote the sketch and who owns the copyright can be two different things. In the case of Who's on First many claimed to have penned it. A 1993 obituary of comedy sketch writer Michael J. Musto, stated that shortly after Abbott and Costello teamed up, they paid Musto $15 to write the script. The 1996 obituary of songwriter Irving Gordon states that he had written the sketch.

The US Copyright Office does hold documents for Abbott & Costello Enterprises, including one referring to the radio script and another for the "Colorized version".

Twentieth Century Fox Film Corporation and CBS Worldwide, Inc. were listed as copyright owners for all cinematographic material excluding preexisting television screenplay.

The Abbott and Costello estates list the following licensing information:

"The estates have licensed the images of Abbott and Costello, the routine Who's On First and other routines and materials by Abbott and Costello for placement on all kinds of merchandise, and for the promotion of everything from McDonald's Hamburgers to the fall television line-up for a local TV station. The Who's On First routine, for example, has proven to be a powerful demonstration tool at sales conventions.

"Licenses are required for any use of material owned and controlled by the estates, including but not limited to use of all or any portion of the Who's On First routine, images of Abbott or Costello, use of the trade name Abbott and Costello or Who's On First, as well as any and all other copyrighted, trademarked or controlled material of the estates.

"If you would like to license any of these materials for use in a book, advertisement or promotion, stage play, sales convention or other use, please E-mail us so we can provide you with the appropriate licensing quote. The estates do not issue gratis licenses except under very extraordinary circumstances."


PRINCE WILLIAMS WEIGHS IN ON FIFA SCANDAL


Last week Prince William delivered a speech to the Football Association ahead of the FA Cup Fina.

In part he stated:

"As a football fan and the impartial President of the FA, I always look forward to the Cup Final with huge enthusiasm and this year has been no exception. I sincerely believe that the FA Cup represents all that is good in this beautiful game and the Cup Final is always a fitting celebration of the joy, passion and unity that the game can bring.

"I don't wish to bring down the tone of this party too much, but if I may I would like to say some words about events this week in Switzerland.

"There seems to be a huge disconnect between the sense of fair play that guides those playing and supporting the game, and the allegations of corruption that have long lingered around the management of the sport internationally.

"The events in Zurich this week represent Fifa's Salt Lake City moment, when the International Olympic Committee went through a similar period of serious allegations. Fifa, like the IOC, must now show that it can represent the interests of fair play and put the sport first.

"Those backing Fifa, such as sponsors and the regional confederations, must do their bit to press these reforms – we are doing football and its fans no favours if we do not. I have no doubt that when Fifa reforms, its mission to spread the benefits of the game to more people, especially those in developing countries, can only be enhanced.

"At this juncture, if I may, I know I join with all of you in commending David Gill for his decision to stand down from the ExCo, and to lead by example by doing so.

Prince William's comment references Fifa Vice President Gill objecting to Blatter being re-elected.

Wills continued: "Our own game in this country has been taking a critical look at itself under Greg Dyke's leadership. As we all know in this room, to improve, to better represent the modern game, we must take tough decisions. We must ensure that the quality and the richness of the game at the highest levels is shared more generously at the grassroots; we must ensure that home-grown talent is better nurtured; and we must continue to kick out racism for good from our game."

On June 2, 2015 Fifa's embattled leader Sepp Blatter confirmed that he will step down and will call a vote for a new president to replace him.

Following Blatter's resignation Gill announced that he would stay in the FIFA vice-president position.


OSF TO HOST NATIONAL FACILITATOR TRAINING PROGRAM


A facilitator training initiative for theatre companies nationwide, known as artEquity, is being launched by the Oregon Shakespeare Festival. Supported by a $145,000 grant from the Andrew W. Mellon Foundation, artEquity will provide facilitation skills and capacity building in the areas of diversity, inclusion and equity.

Directed and founded by Carmen Morgan, a national consultant to theatres on inclusion and equity issues, Nijeul Xaviere Porter serves as artEquity's Program Manager and lead facilitator. They are joined by: Ty Defoe (Equity, Diversity, Inclusion Fellow for Theatre Communications Group); Lydia G. Garcia (Resident Dramaturg at OSF); Leslie Ishii (Stage Director and Arts Educator); and Michael Robertson (Managing Director of The Lark).

The program will annually bring together 25-35 individuals from the field of theatre who will participate in intensive skills-based and analysis-building workshops, in addition to individual and team learning assignments. The sessions will address issues of identity, privilege, structural power and ally-building, as well as best practices for organizational change.

In order to maximize participants' experiences, the training will take place over two intensive retreats in Ashland, Oregon, on the OSF campus. The first will take place September 3-6, 2015 followed by a session on October 15-17, 2015. The trainings are set at least a month apart to allow participants time to reflect on the themes presented and to practice facilitation competencies. Participants will be expected to attend both retreats.

Another key component of the artEquity training will be immersion in the OSF theatre experience. The cohort will have an opportunity to experience plays and seminars that connect theory with practice, addressing issues such as color-conscious casting, gender diversity, accessibility, audience engagement and other topics that inform equity-based theatre making.


SPREADING THE WORD


DRAWING MUSIC—HYMAN'S PIANO MEETS HIRSCHFELD'S PEN a Jazz in July preview event takes place Wednesday, June 10, at the 92Y in New York City.

Dick Hyman performs songs drawn from Al Hirschfeld's magically inked images of Broadway shows and music stars, while a selection of these drawings is shown on stage. Louise Kerz Hirschfeld, president of the Al Hirschfeld Foundation, and David Leopold, curator of The Hirschfeld Century exhibition at the New-York Historical Society through October 12 and author of the upcoming companion book, Hirschfeld Century: Portrait of an Artist and His Age, discuss the life and work of this original and iconic artist, and the stories behind his drawings.

THE 37th ANNUAL PLAYBOY JAZZ FESTIVAL June 13-14 at The Hollywood Bowl in Hollywood, CA.

The weekend's all-star line-up will include: Herbie Hancock & Wayne Shorter with Monk Institute Ensemble, Aloe Blacc, Eddie Palmieri Afro-Caribbean Jazz Band, Snarky Puppy and many more, hosted by George Lopez.

ACTORS COLLEGE OF THEATRE AND TELEVISION OPEN DAY takes place in Sydney, Australia on June 14, 2015.

From the big screen - Great Gatsby, Killer Elite, Wolverine, Matrix Re-loaded - to the small - Underbelly, Packed to the Rafters, All Saints - the Actors College of Theatre and Television graduates have excelled by drawing upon a bedrock of proven techniques structured to build energy, autonomy, dynamism, confidence, commitment to excellence and unsurpassed delivery across a range of opportunities.

During the Open Day, people are able to join a drop-in acting workshop, find out about preparing for an audition, see actors on set in a production environment, participate in a Q and A with Head of Acting on Eric Morris Methodology and speak to Scholarship winners, current students, recruitment advisers and Lecturers. Attendees will also be able to visit the co-located International Film School Sydney which provides unprecedented opportunities for cross collaboration between film-makers, actors and technical production.



OTHER PEOPLE'S MONEY


SKYLIGHT by David Hare starring Carey Mulligan, Bill Nighy and Matthew Beard has recouped its entire original investment, producers announced May 31, 2015.

Directed by two-time Tony Award winner Stephen Daldry, Skylight transferred to Broadway from a sold out West End mounting and plays through June 21 at the John Golden Theatre in New York City.




OUT OF THE CACCOON


CAITLYN JENNER gorgeous looking woman who garnered the cover of Vanity Fair - also parent, personality and athlete - at an age past 60, gives new life to the term 'senior citizen.'



WESLEY ENOCH director of the Queensland Australia Theatre Company who has been appointed director of The Sydney Festival. Enoch will leave QTC in October 2015.

Executive Director of Queensland Theatre Company, Sue Donnelly said the Company was excited for Wesley as he leaves the artistic family he has so strongly led for southern shores.

"Wesley will remain one of the great Artistic Directors to lead QTC. His vision, his sense of social justice, his bravery, his ability to empower and enthuse is admired throughout our ranks. From the stage to behind the scenes, he is a man of the arts through and through, and we all wish him the absolute best," she said. "That he will take Sydney Festival to new heights, we have no doubt," she added.

"In 2010 Wesley Enoch became the Queensland Theatre Company's sixth artistic director and the first Indigenous head of an Australian state theatre company. He is a renowned playwright and director, and is comfortable breaking new artistic ground wherever he steps. He leaves QTC with flagship new programs, an artistic calendar that is full and a vision that will remain for years to come."

Ms Donnelly said a global search for the company's new Artistic Director was already underway, with an announcement to come later this year.

AMERICAN PHAROAH the horse with the misspelled name has become only the 12th winner of the Triple Crown by hoofing ahead of the others to snag the 147th Belmont Stakes. The last horse to earn that title was in 1978. Enough to make any man feel inadequate, American Pharoah's sexual prowess was so assured that his stud rights were sold before the race.

It's also trainer Bob Baffert's first Triple Crown and Victor Espinoza became the first Latino jockey to win the Triple Crown.



CALENDAR GIRLS Written by Tim Firth.

Directed by: Jacqueline Hubbard.

One of the best-selling plays in British theatre history is making its US premier. This dazzlingly funny and shamelessly sentimental story of the ladies of the Women's Institute who pose au natural for a fundraising calendar is guaranteed to make you laugh, cry and walk out singing Jerusalem!

The fundraising phenomenon of the Calendar Girls was inspired by the death of Angela Baker's husband John Richard Baker, an Assistant National Park Officer for the Yorkshire Dales National Park Authority, who died from non-Hodgkin's lymphoma at the age of 54 in 1998. During his illness Angela's friends began to raise money, initially with the aim of purchasing a sofa for the visitors' lounge in the hospital where John was treated. Nothing could have prepared them for the way their original calendar took off selling 202,000 copies in its first year. To date they have raised almost $5 million for Leukemia & Lymphoma Research, the UK's leading blood cancer charity.

Stage Manager: Laura Gonzalez. Set Designer: Tony Andrea. Lighting Designer: Marcus Abbott. Costume Designer: Cully Long.

Wednesday, June 10 and Wednesday, June 17. Part of the Summer 2015 The Events at the Ivoryton Playhouse in Ivoryton, CT.

Casual, pre-theatre events with a bar, light refreshments, music, and some promotions and competitions. All events are free for theatre ticket holders to enjoy.

ALL MY SONS by Arthur Miller.

Directed by Stephen Hamilton.

Starring Alec Baldwin, Laurie Metcalf, Bethany Caputo, Ryan Eggold, David McElwee, Caitlin McGee, Tuck Milligan, Cashus Lee Muse, Ben Schnickel, and Alicia St. Louis.

An American classic as relevant today as when it opened on Broadway in 1947. Two families struggle to come to terms with the brutal reality of what they have lost and gained in the aftermath of World War II. Provocative and heart-breaking, the play questions American idealism as the dire consequences of a patriarch's past choices come to light.

June 9-28 at Guild Hall, East Hampton, NY.

AIDA inspired by Verdi's classic opera, with music by Sir Elton John, lyrics by Tim Rice, and book by Linda Woolverton, Robert Falls, and David Henry Hwang.

The triumphant love story between an Egyptian prince and a slave transcends warring nations and brings a country together.

Winner of four 2000 Tony Awards, Elton John and Tim Rice's Aida is an epic tale of love, loyalty and betrayal chronicling the love triangle between Aida, a Nubian princess stolen from her country, Amneris, an Egyptian princess, and Radames, the soldier they both love.

An enslaved Nubian princess, Aida, finds her heart entangled with Radames, an Egyptian soldier who is betrothed to the Pharaoh's daughter, Amneris. As their forbidden love blossoms, Aida is forced to weigh her heart against the responsibility she faces as leader of her people. Aida and Radames's love for one another becomes a shining example of true devotion that ultimately transcends the vast cultural differences between their warring nations, heralding a time of unprecedented peace and prosperity.

With an unforgettable score featuring soaring ballads and rousing choral numbers, Aida is a modern crowd pleaser that embraces multicultural casting and exuberant dancing, staging, and singing for a large cast.

The 2015 company includes: Cassie Austin, Katie Barna, Caitlin Belcik, Matthew Borchers, Quintan Craig, Aaron Patrick Craven, Lexis Danca, Hannah Fernandes, Patrick Garr, Kat Geertsen, Erik Hernandez, Cameron Hill, Willie Hill, Liz Jarmer, Lily Kaufmann, Trevor McChristian, Kyle McClellan, Carolyn Anne Miller, Kevin Nietzel, Jessie Peltier, Tanner Pflueger, Christiani Pitts, Sarah Quinn, Jared Thomas Roberts, Jon Paul Roby, Ximone Rose, Jeremy Seiner, Avery Smith, Halli Toland, Emily Vargo, Gina Ward, Daisy Wright.

The show was last presented by MTWichita in 2005. June 10-14 at the Music Theatre Wichita in Wichita, Kansas.

A FUNNY THING HAPPENED ON THE WAY TO THE FORUM book by Burt Shevelove and Larry Gelbart. Music and lyrics by Stephen Sondheim. Based on the plays of Plautus.

Directed by Jonathan Flom. Music Direction by Thomas Albert. Choreography by Edward Carignan.

A musical farce set in ancient Rome, with a crafty slave, his young master, a beautiful but slow-witted courtesan, and a plot full of twists, turns, mistaken identities, slamming doors, and a showgirl or two.

June 11 – 21 at the Shenandoah Summer Music Theatre which produces four Broadway musicals each summer in the beautiful 630-seat Ohrstrom-Bryant Theatre on the campus of Shenandoah University in Winchester, VA. Eleven performances are given of each musical over a two-week period, drawing audiences from a 150-mile radius with groups traveling in from as far away as Ohio and North Carolina.

CINDERELLA by Richard Rodgers & Oscar Hammerstein II - Music/Lyrics and Original Book. A new book by Douglas Carter Beane.

Directed by Mark Brokaw.

Josh Rhodes: Choreographer.

The Tony Award-winning Broadway musical delights audiences with its contemporary take on the classic tale. This lush production features an incredible orchestra, jaw-dropping transformations and all the moments you love - the pumpkin, the glass slipper, the masked ball and more - plus some surprising new twists.

Be transported back to your childhood as you rediscover some of Rodgers + Hammerstein's most beloved songs, including In My Own Little Corner, Impossible/It's Possible and Ten Minutes Ago, in this hilarious and romantic Broadway experience for anyone who's ever had a wish, a dream... or a really great pair of shoes.

Featuring Paige Faure as Ella - Andy Huntington Jones as Topher - Kecia Lewis as Marie - Beth Glover as Madame - David Andino as Jean-Michel - Kaitlyn Davidson as Gabrielle - Aymee Garcia as Charlotte - Blake Hammond as Sebastian - Antoine L. Smith as Lord Pinkleton and Jennifer Evans as Lady of Ridicule.

Anna Louizos: Scenic Design - William Ivey Long: Costume Design - Kenneth Posner: Lighting Design - Nevin Steinberg; Sound Design - David Chase; Music adaptation, supervision and arrangements - Danny Troob; Orchestrations.

Presented by Dallas Summer Musicals June 9 – 21, 2015 at Music Hall at Fair Park. Dallas, Texas.


WHO'S WHERE




ROLLING STONES bring their tour to Bobby Dodd Stadium in Atlanta, GA on June 9. Friday's show is at Citrus Bowl in Orlando, FL.

BETTE MIDLER brings her tour to the Palace of Auburn Hills in Detroit, MI on Wednesday, June 10. Friday's show is at the TD Garden in Boston. On Saturday she stars at the Mohegan Sun in Uncasville, CT.

CHICK COREA AND BOBBY McFERRIN entertain Thursday, June 11, at the Concert Hall in Vienna, Austria. On Saturday they can be enjoyed at the KKL Pavilion in Lucerne, Switzerland. Next Sunday, they are at the Alte Oper in Frankfurt, Germany.

NEW KIDS ON THE BLOCK are in the spotlight Tuesday, June 9, at the Scope Arena in Norfolk, VA. Wednesday finds them at the Verizon Center in Washington, DC. On Friday they are on stage at the Mohegan Sun Arena in Uncasville, CT. Saturday's stop is at the Sands Event Center in Bethlehem, PA. Next Sunday, June 14, they star at the Consol Energy Center in Pittsburgh, PA.

U2 iNNOCENCE + EXPERIENCE TOUR open a two night stand Friday, June 12 at the Bell Centre in Montreal, QC.

TAYLOR SWIFT appears on a bill with Vance Joy Monday, June 8 at the Time Warner Cable Arena in Charlotte, NC. On Tuesday they are on stage at the RBC Center in Raleigh, NC. Taylor opens a two nighter Friday at Lincoln Financial Field in Philadelphia.

RUSH perform Monday, June 8, at the Nationwide Arena in Columbus, OH. On Wednesday they can be found at the First Niagara Center in Buffalo, NY. On Friday they star at the United Center in Chicago. Next Sunday, June 14, the show is at the Palace of Auburn Hills in Auburn Hills, MI.


FINAL OVATION


BETSY PALMER stage, television and film actress died May 29, 2015 of natural causes at a hospice care center in Danbury, Connecticut. She was 88.

Best shown as a panelist on the television series I've Got a Secret she appeared in seven original Broadway shows and replaced Ellen Burstyn in Same Time, Next Year in 1977 and Lauren Bacall in Cactus Flower in 1967.

A life member of The Actors Studio, Palmer's stage work included a tour of South Pacific as Nellie Forbush and the title role in Maggie, a 1953 musicalization of What Every Woman Knows.

She acted in a Mayfield Dinner Theatre production of On Golden Pond in Edmonton, Alberta in 1997

Palmer married Dr. Vincent J. Merendino on May 8, 1954. They divorced in 1971. The couple had one daughter, Missy, who survives her.

JIM BAILEY female illusionist, actor and singer, died May 30, 2015 at his home in Los Angeles from pneumonia. He was 77.

Bailey's fame began in the late 1960s when he created the "illusions" of singers Judy Garland, Barbra Streisand, and Peggy Lee by vocally mimicking them in his own operatically trained voice. Bailey appeared on concert stages throughout the world, including headlining in Las Vegas, at Hotels such as The Thunderbird, Caesars Palace, The Desert Inn, The Sands, Harrah's, and The Dunes. A mainstay in Las Vegas showrooms during the 1970s, he was named Las Vegas Entertainer of the Year.

He also performed at New York's Carnegie Hall a total of nine times and The Palladium Theater in London a total of seventeen times . Bailey also performed for the British Royal Family twice and for four United States Presidents.

From the mid to the late 1960s, 1966 through to 1968, Bailey played summer stock in such shows as The Boy Friend, Calamity Jane with Ginger Rogers, Bells are Ringing and Wildcat with Gale Storm.

In 1968, Bailey moved to Los Angeles and put together a nightclub act with Michael Greer, performing at the Redwood Room, this time adding Judy Garland to his repertoire. When Garland herself came to see Bailey's show, she jumped up on to the stage and asked him to sing a song with her. Bailey agreed and the two sang a duet of "Bye Bye Blackbird", which Bailey had intended on singing as himself. The two later became friends, and Garland became Bailey's mentor. The two remained friends until Garland's death in 1969.

Bailey's impersonation show was unusual in that he also performed as himself.

Also in 1973, Bailey teamed with Liza Minnelli, daughter of his mentor Judy Garland, in Las Vegas at The Flamingo. The two put together a concert recreating the performances by Minnelli and her late mother in London, with Bailey standing in as Garland. The "Judy and Liza Concert" met with great success, they opened the show with Jim as Judy singing "Well, Hello Liza" just as they had done at the Palladium years earlier. Later, Minnelli made a gift to Bailey of one of her late mother's treasured pearl rings.

He is survived by his brother Claude and manager of 27 years Stephen Campbell.

GUNTHER SCHNEIDER-SIEMSSEN one of the most successful and important stage designers of the 20th century died June 2, 2015 in Vienna. He was 88.

His stage designs have become landmarks of 20th century opera, theatre and ballet history. He was the pioneer of stage holography

The Vienna State Opera, which announced his death, dedicated the June 3 performance of Beethoven's Fidelio, which he was dedicated to his memory.

He worked in all forms from designing seven different productions of Wagner's Ring cycle to the sets for the Salzburg Marionette Theater.

Schneider-­Siemssen originally wanted to be a conductor. Born on June 7, 1926, in Augsburg, Germany, he studied conducting in Munich. He later said that it was the conductor Clemens Krauss who saw some of his drawings and urged him to become a stage designer instead, telling him that opera needed artists who could "visually interpret the music."

He is survived by his wife, Eva, and their children, Philipp, Vivien, Alexander and Christopher.




















Next Column: June 14, 2015
Copyright: June 7, 2015 All Rights Reserved. Reviews, Interviews, Commentary, Photographs or Graphics from any Broadway To Vegas (TM) columns may not be published, broadcast, rewritten, utilized as leads, or used in any manner without permission, compensation and/or credit.
Link to Main Page
---
Laura Deni



For the snail mail address, please E-mail your request.
CLICK HERE FOR COMMENT SECTION